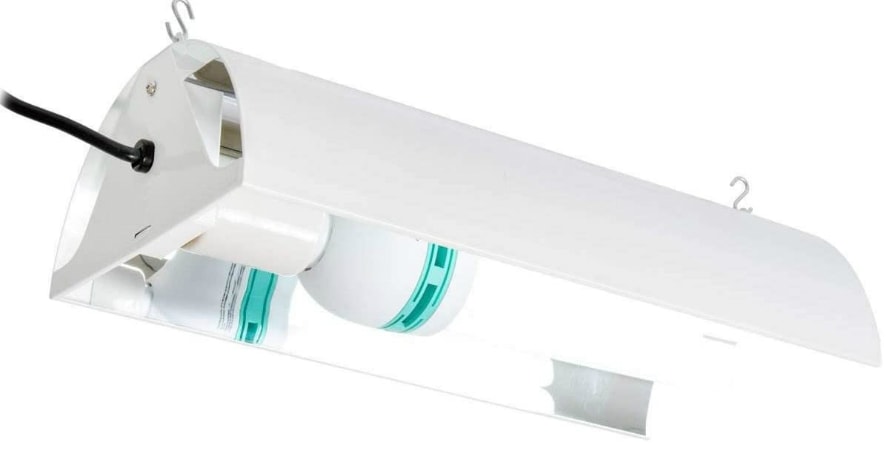 The Best CFL Grow Lights: Top 6 Models and How to Choose Them
When it comes to growing weed at home, light is just as critical as the watering regimen and which growing medium you're using. CFLs, or Compact Fluorescent Lights, have become extremely popular as a plant growing aid.
The main reason is that CFL bulbs are ideal for small growing spaces and don't generate high temperatures while burning, which is a common problem with other common forms of lighting. This allows you to place them really close to your precious vegetation, making cramped areas less of a challenge.
Chances are high that you'll also need less extraction to keep the place cool if you choose to grow weed with CFL lighting.
Pros
Fits any Medium base socket.
Pros
Fits any Medium base socket.
With the stores full of various lights, it might be hard to choose the best CFL grow lights. Simple as they might seem, CFL bulbs still differ in a number of aspects such as brightness and color temperature, and the amount of investment will differ too.
Below, we have included our CFL grow lights reviews focusing on six products that will do a great job of keeping your marijuana happy. There's also a Buyer's Guide section to help you understand what to consider and the answers to commonly asked questions.
Top 6 Best CFLs Grow Lights Reviews
The models below all differ in price as well as performance, while all will work for CFL pot growing. We've mostly included standalone bulbs for the sake of versatility plus one fixture system in case you want to save time and hassle.
1. SunBlaster CFL Self Ballasted Propagation Lamp: Top CFL Grow Lamps
Registered in Canada, SunBlaster specialized exclusively in indoor agriculture. The company has been making products for home gardens, in particular lighting systems and accessories, for over two decades now. It offers a wide range of CFL models to choose from depending on your needs (and those of your weed).
The lamp under review here is a part of SunBlaster's Small Watt CFL series designed for smaller growing spaces, which makes it ideal for growing cannabis at home. This is a powerful model that's equivalent to 60–100 Watt traditional bulbs while only consuming 26 Watts.
With a color temperature of 6,400 Kelvins, the lamp produces very bright cool natural light that might resemble the sun at around noon. The manufacturer rates this model's light output at 1,700 lumens.
This SunBlaster lamp will last you approximately 10,000 hours. It can be screwed into any standard-sized socket.

---
PROS:
Highly specialized, trusted brand;
Energy-efficient;
Produces bright, cool natural light perfect for the vegetative stage;
Fits most sockets.
2. MaxLite Compact Fluorescent Light Bulb: The Best Warm CFL Grow Lights Bulbs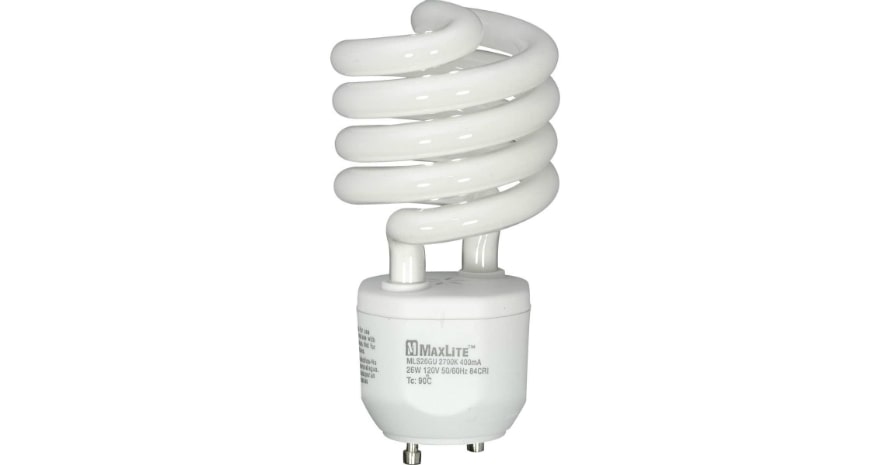 Based in the US with a large customer support and distribution network around the country, MaxLite has been offering lighting appliances of various uses since 1993. Although less focused on growing plants indoors than the company above, it is still a well-trusted lighting brand.
Unlike the model above, this GU24 lamp generates a very warm 2,700 Kelvin light, which is ideal for the flowering/budding stage rather than vegetative.
This 26 Watt light bulb is as bright as 1,850 lumens. Just like the previous option, it will only cover a small area of vegetation, but you can always combine several for bigger rooms.
The model can only be used with GU24 bases, which are characteristic of CFL lights. Installing the lamp is not likely to be a challenge, and the procedure is easy due to the twist-lock base.
Although the product is advertised as long-lasting, we find it somewhat frustrating that it will only serve you 9 years based on 3 hours a day, while what you need for flowering weed is closer to 12 hours a day. This means a solid 2 years, though, which is acceptable.

---
PROS:
Made by a well-known company;
Moderately priced;
Good for the flowering stage;
Energy-efficient;
A breeze to install.
CONS:
Not as long-lasting as you might think;
GU26 only.
3. Agrobrite Spiral Compact Fluorescent Grow Light Bulb: Highly Energy Efficient CFL Lights for Growing Weed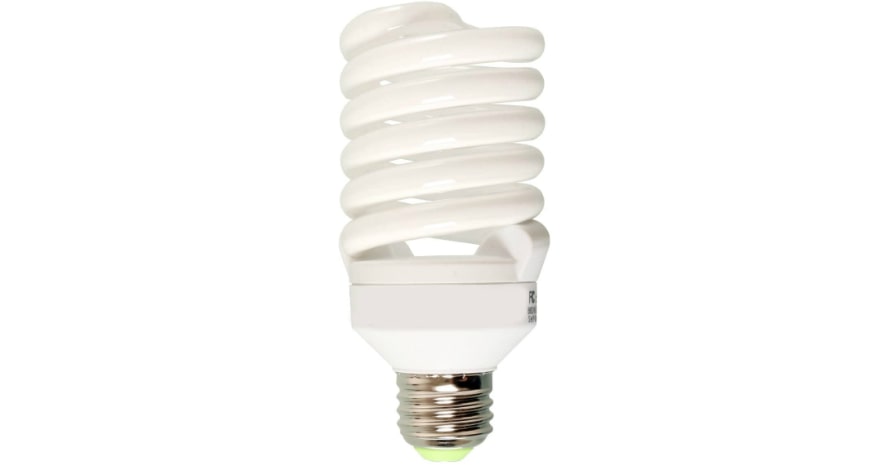 Agrobrite is a brand of the US-based Hydrofarm with over four decades of experience in horticultural lighting. More specifically, it prioritizes high-lumen output that helps growers save energy and costs.
What makes the relatively inexpensive compact fluorescent light under review stand out is the fact that it produces 1,600 lumens at just 26 Watts of power consumption, making it equivalent to a 130 Watt incandescent bulb. Despite the popular idea that lumens have nothing to do with how much light your plants will be getting, the number is more or less indicative of the intensity of lighting.
With a color temperature of 6,400 Kelvins, this bright CFL is great for nurturing your weed through the vegetation stage, which is when it needs intense cool light.
This light bulb is very easy to install and can be used with any Medium Base socket, that is, one labeled E26. Since this is the North American standard for regular incandescent lights, also used to accommodate CFLs, the model has great socket compatibility.
FLC26D will last you 10,000 hours.

---
PROS:
Experienced, highly specialized manufacturer;
Extremely energy-efficient;
Produces very bright cool natural light great for the vegetation stage;
Fair price;
Compatible with any Medium base socket.
CONS:
Might come defective due to suboptimal packaging.
4. Westinghouse CFL Light Bulb: The Best CFL for Clones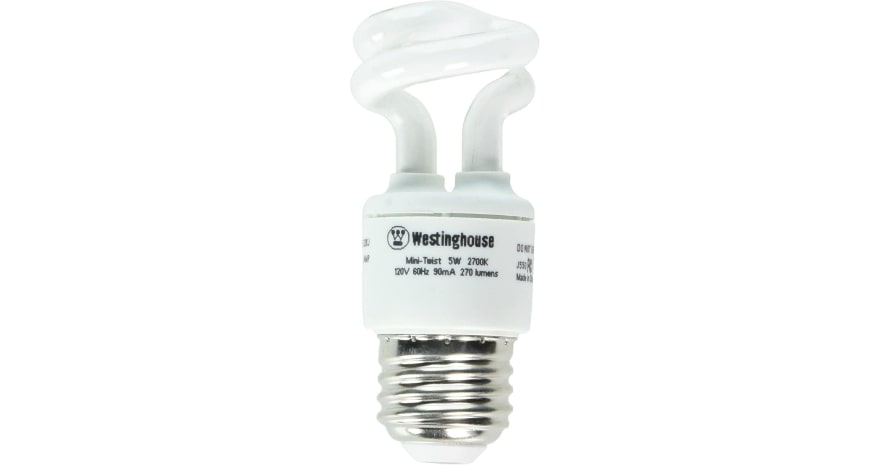 Driven by a large American brand, Westinghouse Lighting is a family-owned company with over 70 years of experience. Combined with a global presence, the long history of operation makes it a trusted manufacturer. Westinghouse Lighting makes all kinds of lighting appliances, from ceiling fans to lighting fixtures plus everything in between.
The model under review stands out among the rest of this list due to its low wattage. This CFL bulb only consumes 5 Watts while generating an equivalent of a 25 Watt incandescent lamp, i.e. just 270 lumens. This makes it ideal for marijuana clones as these generally require very gentle light.
In terms of color temperature, this is a soft white 2,700 Kelvin CFL, which again is good for clone nurturing. Like most good-quality bulbs of the kind, this lamp is rated to last 10,000 hours.
This is a highly versatile Medium Base model that will fit any E26 socket. A more compact size would be a welcome improvement, though, especially for a low-lumen lamp like this.

---
PROS:
Made by one of the industry's giants;
Perfect for growing clones due to low light intensity;
Fits any Medium base socket;
Low power consumption.
CONS:
Could be smaller;
On the pricey side.
5. Satco Hi-Pro Spiral CFL: Ultra Bright CFL Bulbs for Growing Weed
Another well-known name in the lighting industry, Satco dates all the way back to 1965 when a family-owned company was founded by two brothers-in-law from New York. Now based in Brentwood, Satco offers a wide variety of lighting appliances designed specifically for commercial, decorative, and everyday use.
S7334 produces light equivalent to the output of a 150 Watt incandescent light, making it the brightest on the list. This makes it a good option for larger areas, especially during the flowering stage. It's also a way of saving energy since the model only consumes 40 W to generate the 2,600 lumens it's rated for.
One possible downside is that the lamp produces 2,700 Kelvin soft white light rather than the higher-rated bluish/green that's generally preferred for the vegetative stage. However, it's a viable all-around solution for those who don't want to switch between CFL bulbs depending on the plant's stage of growth.
The lamp is rated for an average of 10,000 hours in operation. We'd say its key disadvantage is the size, although it's possibly natural for a powerful bulb like this to be on the bulky size. It's still easy to install since it fits any E26 socket.

---
PROS:
Not at all a no-name brand;
Extremely bright;
Energy-efficient;
Fits any Medium Base socket (base down only).
CONS:
Might be too warm given the intensity;
Bulky.
6. Hydrofarm Agrobrite Compact Fluorescent System with CFL Bulb: A Ready-Made Solution for Growing Cannabis with CFLs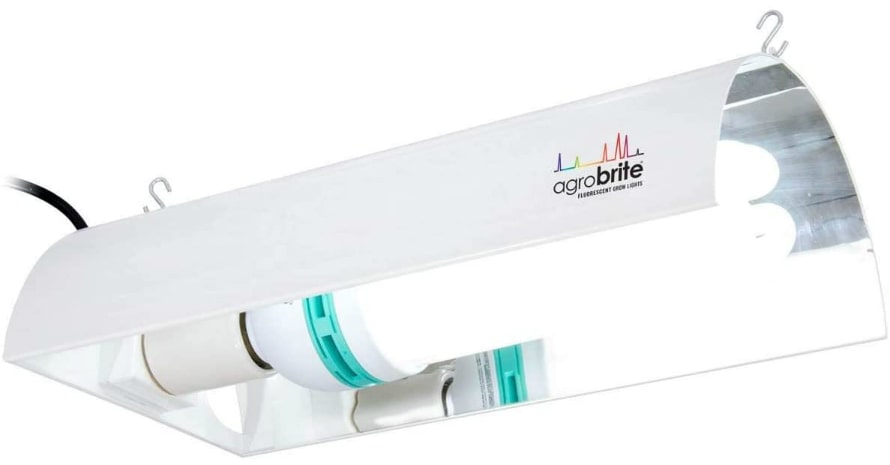 While most CFL bulbs are made with maximum versatility in mind, many users still prefer ready-to-use light systems to spare them the headache of installation. Made by the highly specialized Agrobrite (see above), this product is a breeze to set up as it comes with a junction box and even hanging hardware included.
The system comes with a powerful 125 Watt bulb that generates about 7,000 lumens of daylight white light. Please mind that it features a Mogul-type socket, so finding a replacement CFK that's higher in Kelvins can be a challenge (although not impossible). Larger outage bulbs of up to 200 Watts can be used, too.
One benefit of the system is that is features a tubular-shaped bulb, meaning the distribution is light is more homogeneous compared to the traditional spiral shape.

---
PROS:
Trusted brand;
Generates a lot of light (cold);
Great for the vegetative stage;
Flexible in terms of wattage;
Efficient bulb shape.
CONS:
Expensive;
Not the most common socket type.
What to Consider When Buying a CFL Grow Light
Here are some recommendations for those shopping for weed-friendly CFLs so that you can make a weighted decision.
CFLs differ in wattage, brightness (usually measured in lumens), and color temperature. The first two parameters strongly correlate and aren't particularly difficult to interpret.
What you should look for is an energy-efficient bulb that will consume little power and generate bright enough light. It's common practice to indicate what incandescent light wattage it's equivalent to help you make the right decision.
Unfortunately, the lumens parameter is more about how visible the light is than how much use the plant can make of it. It still helps to know the brightness when parameters such as PAR (photosynthetic active radiation) aren't specified. 2,000 lumens is generally the bare minimum per square foot, while 7,000+ lumens is considered to be the optimum.
How much light your weed needs is also determined by its current growth stage (vegetative or flowering/budding). This influences the choice of color temperature, too. It's a common solution to moderate lighting intensity by switching from 18-24 hours of lighting a day for the vegetative stage to just 12 for budding, so it's not necessary to replace the bulb from stage to stage if you grow weed with CFLs.
However, cool natural light rated at around 6,400 Kelvins (daylight to cool/bright white) is preferable for the vegetative period, while flowering requires more of red (about 2,5700 Kelvins, warm white to soft white).
Please mind that clones, i. e. cuttings of an existing mother plant that you can use for asexual propagation, need less intense light than mature plants.
Benefits of Using A CFL Grow Light
Artificial lighting is a must when growing pot indoors as it's key to the plant's growth. While other technologies can be used, compact fluorescent lights are known to deliver a number of benefits.
First of all, CFLs tend to be the most budget-friendly solution as compared to HID (high-intensity discharge) lamps and LED lighting systems.
They are also extremely easy to use and set up and can be found virtually anywhere, which makes them a good option for beginner cannabis growers. One advantage that adds to this simplicity is that they don't require additional ballast, unlike most LED tubes, so all you need to do is screw them into a socket.
Probably the greatest benefit of the CFL marijuana grow technique is that compact fluorescent lights don't produce as much heat as most other lighting appliances do.
Plants are generally very sensitive to burning, which makes light placement a problem in tight spaces. That is, CFLs are the most likely solution if you have a small growing room or your space has a very low ceiling. This is not to say that CFLs don't heat up at all; this normally depends on the wattage, so adequate spacing must be provided (see below).
What You Need to Get Started on Growing Cannabis
Here's a brief entry-level guide in case you're just thinking about starting your very own pot farm.
Space
It doesn't take much to grow cannabis indoors, but you'll need a dedicated space where you can create and maintain the perfect climate. This includes lights as well as exhaust ventilation and temperature control. It's also essential that you can access the plants freely while checking on them. The place must be light-tight with no light leaking during the dark part of the day to avoid confusion when your plants are at the flowering stage.
Light
Lights aren't just welcome; they are essential. While it's common practice to help marijuana grow with CFL lights, you don't have to be limited to this technology. While CFLs are the cheapest and easiest of all bulbs, making them great for beginners, HID and LED lights can be more efficient, especially for larger setups. (We do recommend starting small, though).
Make sure to get at least two lighting systems to cover both key growth phases, vegetative and flowering/budding. Remember that these require different color temperatures (explained above).
Fan
You'll also need an exhaust fan and possibly a wall-mounted circulating fan to maintain a cool temperature (avoid windburns!). A thermostat to switch the fan automatically will be welcome, just like a way to monitor temperature and a light timer.
Growing Medium and Container
Finally, you want a container and a growing medium. The latter can either be soil or a hydroponic-friendly medium such as rock wool and coco coir, meaning that you'll need to feed the plants' roots directly by osmosis, promoting fast growth but also increasing the risk of overfeeding and unwanted reactions.
The size and configuration of the pot depending on your medium of choice and how big the plant is. While many "smart" options are available, cloth bags are an acceptable budget-friendly solution.
FAQ About CFL Grow Lights
Below are the answers to some of the most popular questions that cannabis growers ask regarding CFL use.
How many CFL lights do I need for one plant?
This depends on a lot of factors, including the size of your weed. It's easier to calculate the amount of light per unit of area, which is at least 60 Watts per square foot (100 and more won't hurt during the flowering stage). The number here refers to actual CFL power Watts rather than the incandescent bulb equivalent rating.
How many lumens does a CFL plant need?
Again, it's hard to tell without knowing the plant's size. One that roughly covers one square foot of area will need at least 2,000 lumens. However, cannabis is a light-loving kind of plant, so 7,00 lumens or more sounds like a more favorable setting. The number should be larger for flowering than for the vegetative stage, while clones and seedlings might be happy with as little as 375 lumens.
How long do CFL grow lights last?
Every model has a rated life that's usually expressed in hours. However, it's not uncommon for poor quality bulbs to start flickering over time or stop working long before it's expired. Ideally, however, 10,000 hours in operation (the usual rating) means the bulbs will last over a year with a 24h/day schedule and about two if you use the 12/12 regimen.
Takeaways
Growing weed with CFL lights is a widely adopted newbie-friendly approach to providing your pot with a sufficient amount of light as it's a cheap and easy-to-use technology. Besides, it's safer to use in cramped spaces where you have to place the lights really close to the vegetation as it doesn't produce as much heat as other bulb types.
Since the needs of marijuana vary depending on the growth phase, it's important to choose the right color temperature and lighting schedule. And, of course, you want your CFL lights for growing weed to last, so it's advisable to choose ones by a trusted, specialized brand.
What kind of lights are you currently using for your pot (if any)? Please tell us why you want to switch to CFLs if it's not your current technology of choice!