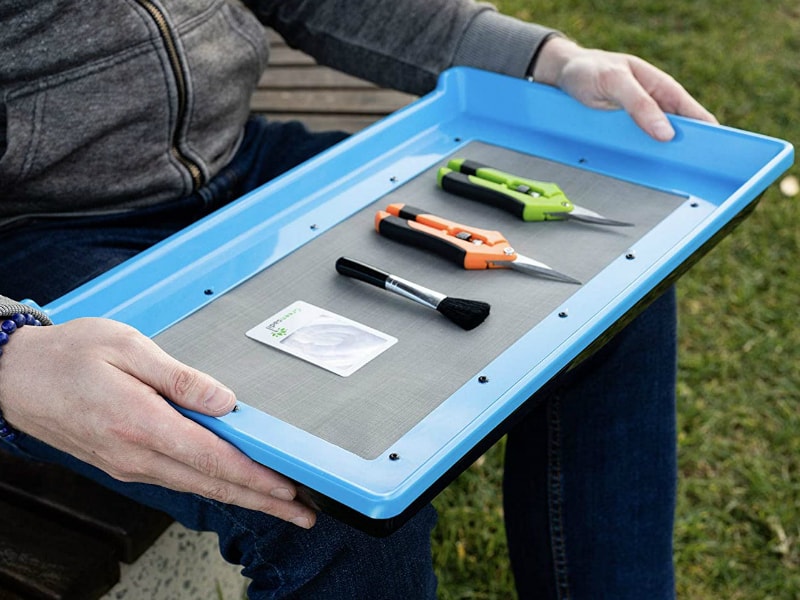 Best Trimming Tray for Your Cannabis Harvest
Growing a crop is half the battle; you still need to know how to harvest and process it correctly. If you follow all the instructions and get an excellent marijuana crop, it's time to pick it up. Trimming cannabis might seem easy, but it's not that simple. It is a rather lengthy and challenging task. To facilitate it, you need ergonomic equipment.
Since you spend a lot of time cropping weed, it is important not to overload your back and arms; otherwise, attention will decrease, and the quality of processing will become worse due to fatigue. High-quality trimming trays will remove an unnecessary load from your body and make the whole process as convenient as possible. Of course, you could stick to the usual trays, but it is better to choose professional equipment, especially if you need to trim a lot of plants. It is a worthwhile investment that will pay off quickly enough.
Pros
Convenient cut-away front.
Pros
Convenient cut-away front.
In online stores, there is a wide range of trimming trays with different characteristics, so choosing the right one can be difficult. In this article, I would like to tell you about those items that are worth your attention, share my top pick, and answer the most popular questions.
Top 6 Cannabis Trimming Trays That Are Definitely Worth a Try
Specialized trays from my list will help you get the most out of your crop and minimize waste. You can place them in any place convenient for you, work at the table, or put a tray on your lap. The main thing is that you should monitor your body position; try to keep your back straight, forearms at floor level, and shoulders relaxed. And take regular breaks to make work a pleasure.
1. Trim Bin Tray With Mesh Pollen Screen — The Best Trimming Tray I Tried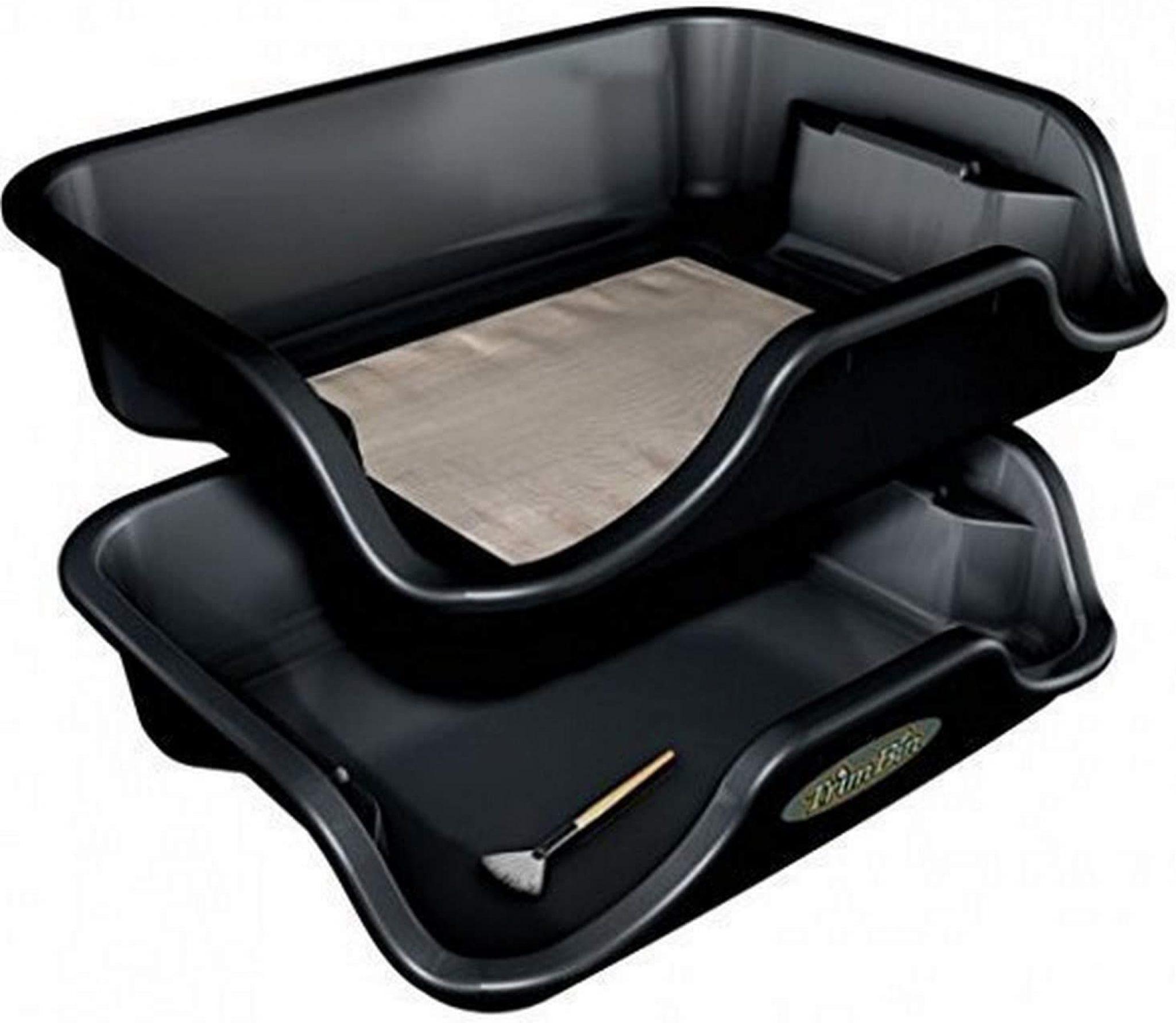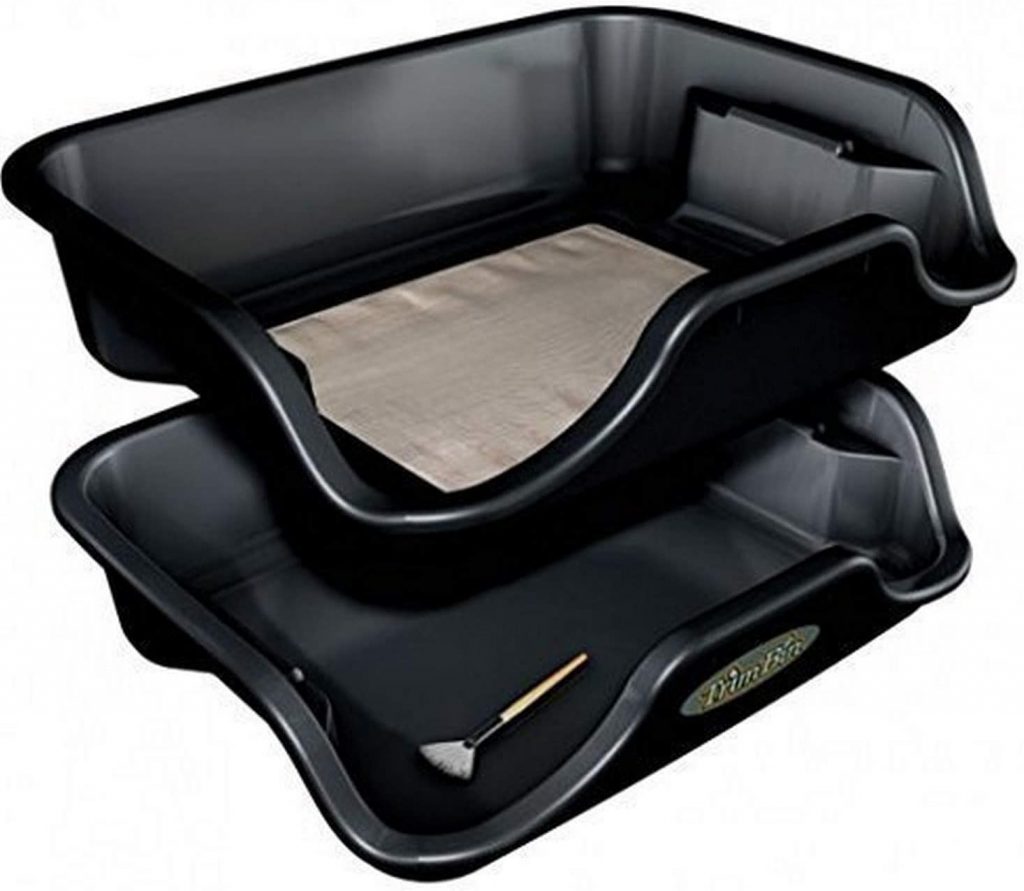 In my opinion, Harvest More is currently one of the best gardening companies. Their trim bin for weeds has an ergonomic design that allows you to work for a long time without getting tired. Thanks to the wide rounded edges of the item and convenient dips for hands, you can lean on it without experiencing pain in your wrists. A lap-friendly bottom shape allows you to work not only at the table but also on your favorite sofa. Unlike many models by other manufacturers, this tray has rather high walls (6 inches/15.24 cm), so valuable plant parts will not accidentally fly out.
This best trim bin consists of two parts: an upper tray with a stainless steel screen for sifting (150-micron mesh) and a lower one with a smooth surface. The shallow top mesh allows only small elements to pass through to create a perfect kief collector tray. Also, there is a static brush in the kit, with which you can collect the accumulated pollen. By the way, if necessary, you can replace the upper screen with a larger 220-micron mesh to get even more pollen.

---
PROS:
Ergonomic design;
High walls;
Replaceable mesh screen.
CONS:
Not the lightest model (3.4 pounds);
A bit pricey.
2. Greensadi Trimming Tray for Herbs After Harvest — Full Package of What You Need for Trimming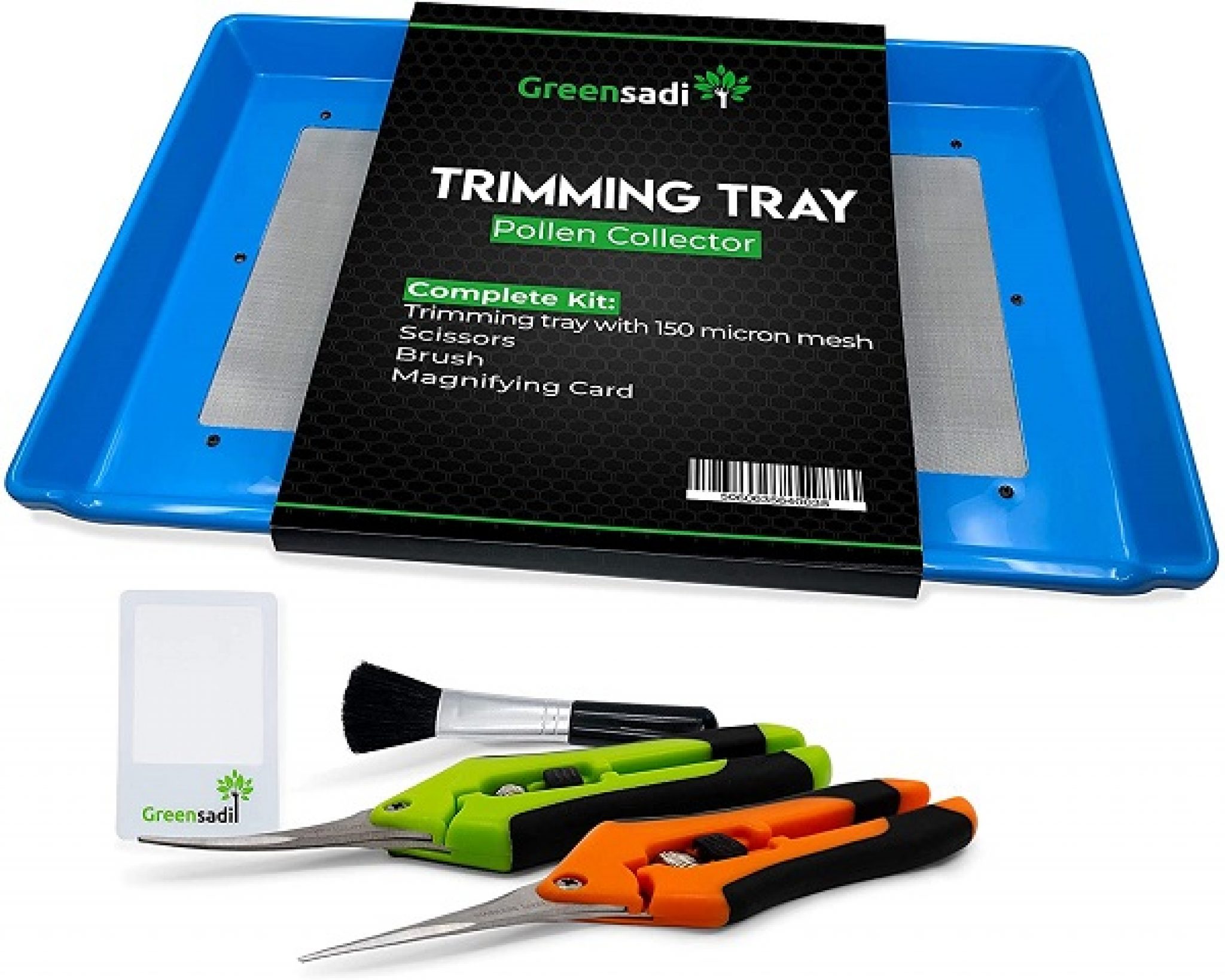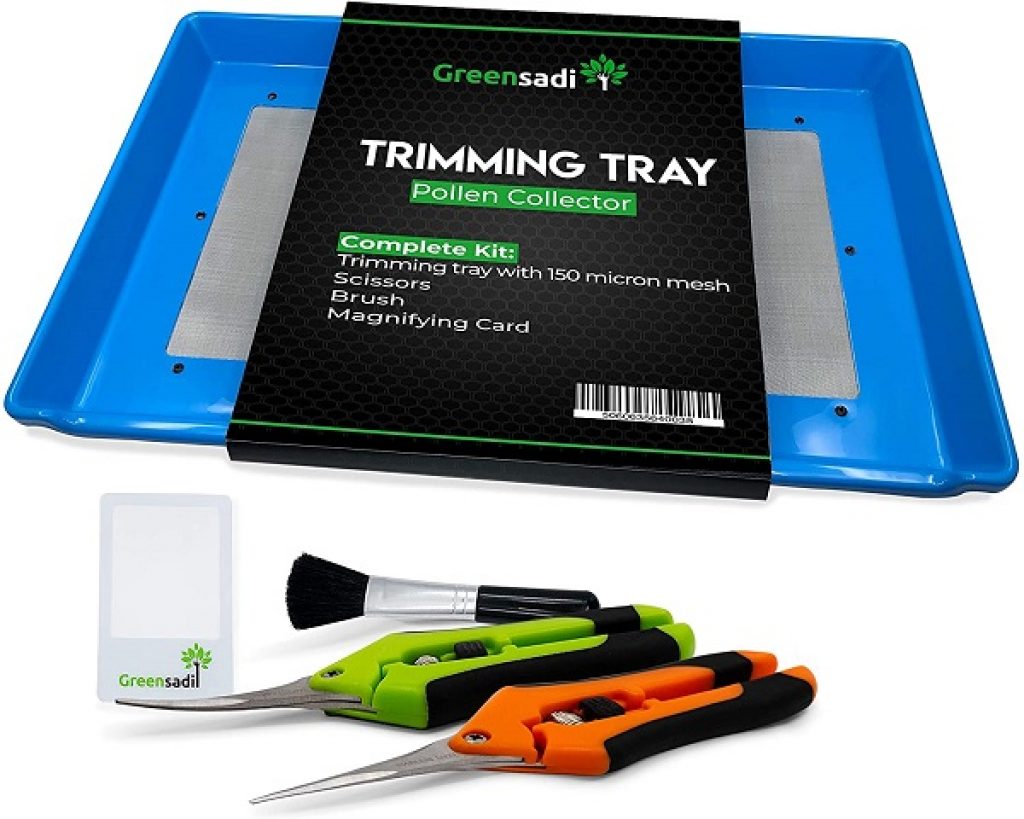 Relatively small size and lightweight (only 2 pounds) make the Greensadi Trimming Tray versatile and portable. And although its walls aren't very high (only 2.36 inches), it has a non-slip rubber bottom. Thanks to this, you can put the trim trays on any surface without being afraid that they will tip over from the table or slip off your knees.
This model also has an upper tier with an integrated 150-micron stainless steel mesh and a lower pollen-collecting pan. I would like to note that the mesh screen is connected to the upper tray with rivets. Due to this marijuana trimming tray, there are small gaps that let in larger plant pieces than pollen. The Greensadi kit includes additional tools for processing plants: a brush, two pairs of scissors (curved and straight), and a magnifying glass.

---
PROS:
Lightweight;
Anti-slip bottom;
There are high-quality scissors in the set.
CONS:
Looks a bit flimsy;
There are small gaps between the mesh and the upper tray.
3. Argee Portable Potting Tray — Large Trim Tray for Big Harvest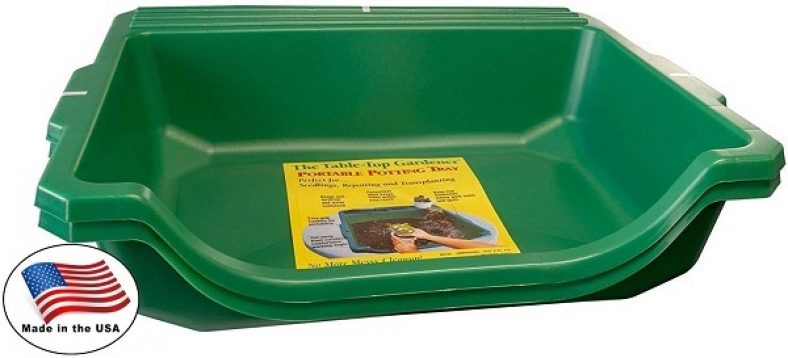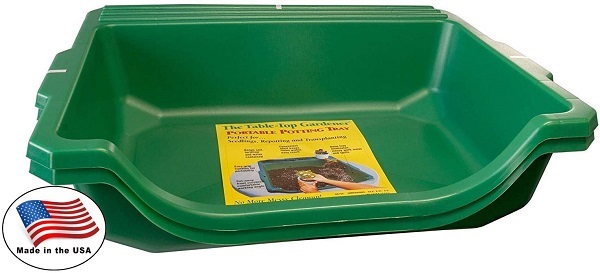 The Argee Corp. specializes in the production of various gardening equipment. Their RG155-2 Table-Top Gardener Portable Potting Tray does not have a top pan with a mesh but can be used to work with weeds. It is one of the biggest models that I have seen; this tray's wall height is 6.25 inches. At the same time, one side is lower than the others, which creates a comfortable working angle and makes it convenient for long trimming. And the backside has a shelf with a corrugated surface where you can put tools.
Due to its size, as well as dense and durable plastic, this sifting tray for weeds is quite heavy — 5.94 pounds. But it is equipped with convenient carrying handles. If you manage to grow a rich harvest, you will appreciate the advantages of a large size. And if you value falling pollen, I can advise you to separately purchase a mesh screen and insert it on top of the Argee Corp. tray.

---
PROS:
Large and deep;
Convenient cut-away front;
Made of high-quality plastic.
CONS:
Heavy;
There is no top screen with a mesh.
4. Heavy Harvest Trim Tray — Comfortable and Stylish Trim Station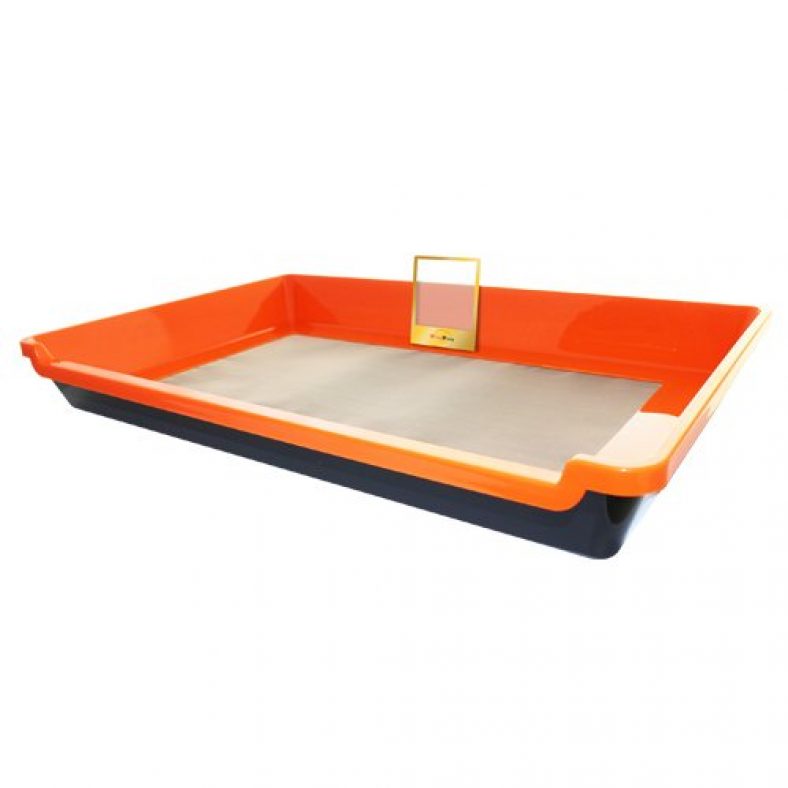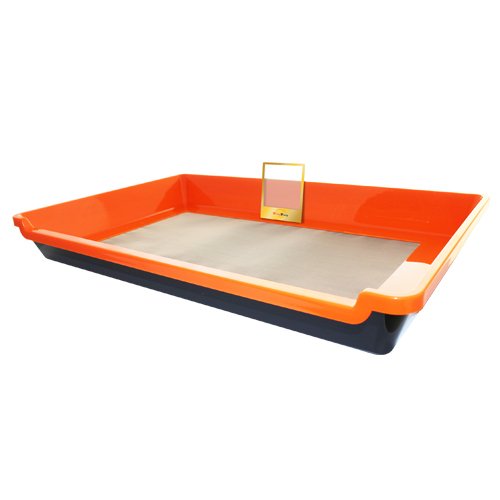 A marijuana trim bin made by Heavy Harvest has a very nice design and is painted bright orange, which distinguishes it from other models. It is quite lightweight (only 1.5 pounds) and compact. However, the low walls of 3 inches may be a disadvantage, due to which your buds might fall to the floor. The front wall of the tray is lower than the others so that you can work comfortably for a long time.
The upper pan has an integrated stainless steel mesh (150 microns); the lower tray is equipped with a non-stick and non-slip base so you can put it on any surface. For this model, you can additionally get interchangeable screens with a mesh of 100 and 200 microns for a finer dry sift. There is a magnifying glass with which you can crop your plants more closely — a pleasant bonus to the best trim tray.

---
PROS:
Lightweight;
Equipped with a non-slip base;
You can purchase extra 100 or 200 micron screens.
5. Harvest More Trim Bin Filter — Sorting Tray with a Bag for Collection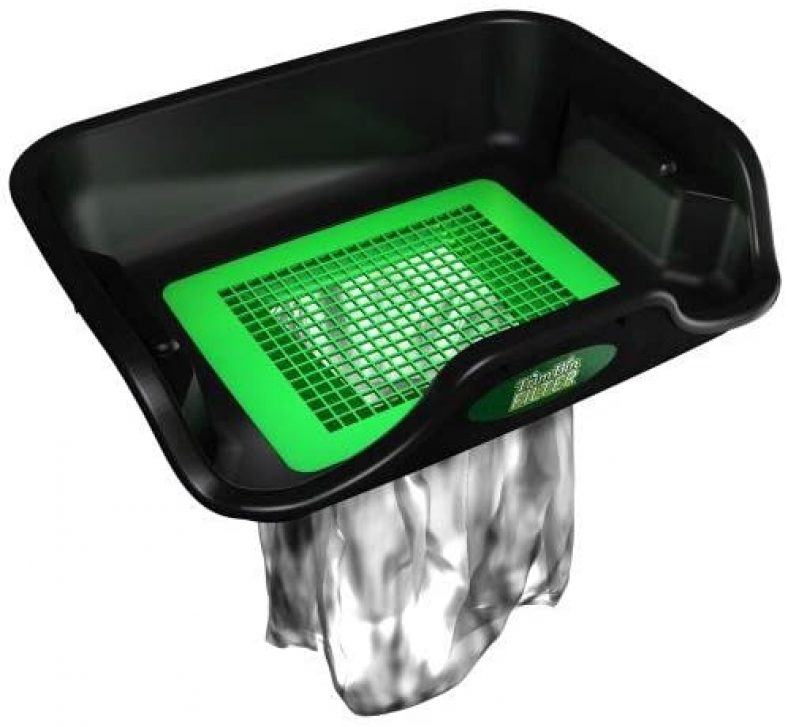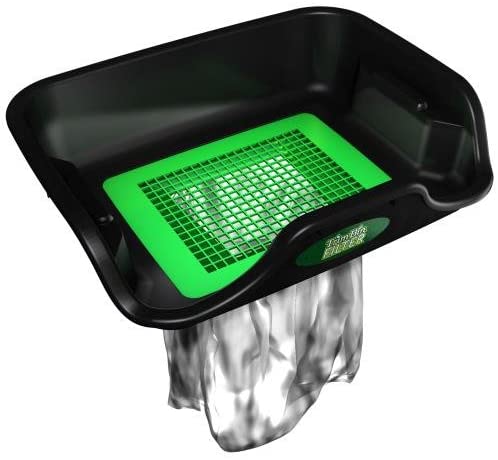 Another product from Harvest More, this weed trim tray has a larger grid for sorting big plant pieces. There's also an oven bag attached from below to collect materials, measuring 16×17.5 inches. So you can quickly pack buds for storage or sale. If you wish, you can remove the bag and insert this screen into the lower tray of a Trim Bin, which I mentioned above. That way, you'll get an excellent set for integrated crop processing.
This model has the highest sides among the reviewed trays: 8 inches while remaining quite light (2.29 pounds). Like the previous product by this company, it has thick rounded edges and special recesses for hands. The only disadvantage is that the kit comes with only one bag, while Harvest More does not release replaceable ones.

---
PROS:
Large grid for sorting plants;
Fits other Harvest More trays;
There is a bag for quick packaging.
CONS:
There are no replaceable bags.
6. Happy Hydro Kief Collector — The Most Lightweight Cannabis Trim Tray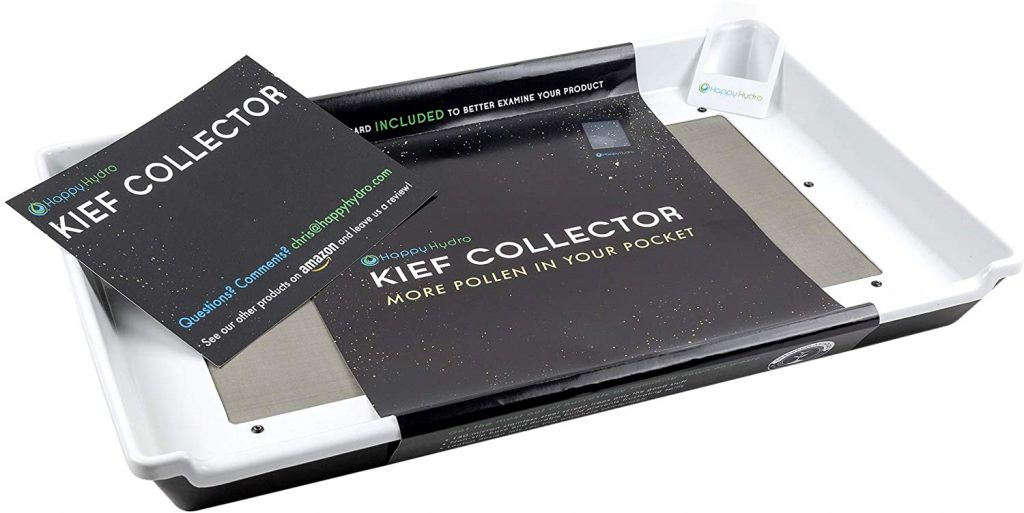 It is the most affordable model on my list. Despite its low price, it can compete in quality with more expensive products. A distinctive feature of the Happy Hydro Kief Collector is its weight — only 1.4 pounds. You literally won't feel it if you keep it on your knees during work. The tray has low walls (2.25 inches), which is convenient as your hands do not get tired of constant pressure. But, on the other hand, it is likely that while you are trimming buds, other flowers will fall out.
The upper pan has a built-in stainless steel mesh (150 microns); the lower tray has a mirror finish and is reinforced with a non-slip rubberized bottom to eliminate any unpleasant tipping situations. A magnifying glass comes free of charge as a bonus. You can not only use it to look at plants and trichomes, but also to pick pollen from the bottom tray.

---
PROS:
Lightweight;
Budget-friendly;
Has a rubberized bottom.
Buyer's Guide: What You Should Know Before Getting a Trimming Tray
If you decide to get the most out of your cannabis crop, you probably already know how important it is to separate pollen from a plant to get a high-quality kief. Since this process takes a lot of time, you need to find equipment that will not inconvenience you. Here are some things to look out for:
Weight. Weed trimming can be done not only at the table but also in the chair. In this case, you put a tray on your lap. It should not be too heavy to put pressure on your legs. Over time, you will begin to feel it, and this will cause discomfort.
Non-slip bottom. Make sure the bottom of your trimming tray weed has a rubberized base. So you can put the equipment on any surface and be assured that it will not accidentally slip on the floor, resulting in crop loss.
Ergonomics. If you like to work not at the table, but sitting in your favorite chair, then you need to look for a model that has a lap-friendly shape. Besides, it is convenient when in a front wall, there are recesses for hands so that the edges do not press on the wrists. And for carrying, it is good to have a tray with handles on its sides.
Size. Most items' width and length are pretty standard, although there are also small models of 6.625 inches wide. But I recommend first of all paying attention to the height of the walls. High sides (around 6 inches) ensure that your buds do not fall out of the tray by accident.
Material. Trimming trays should be made of durable materials that can withstand regular washing and several seasons of crops. Most items are made of plastic, so give preference to more dense models. It is better to choose screens for sifting from stainless steel since you should clean them with a brush.
It is good if a manufacturer produces additional screens with a mesh of different sizes. Most often, on the market, you can find 150-micron screens; however, you can buy 100 and 200-micron ones. Meshes of different sizes can be useful for multi-stage sifting. First, place the screen with a coarse mesh on the tray and trim the buds. Sift the fallen pollen through another screen with a finer mesh to obtain the highest quality product.
What Is a Trimming Tray Use For?
Depending on the size of cells, trimming trays can be used for different purposes. Most companies produce trays with 150-micron meshes. Such equipment is used to collect pollen and trichomes during bud trimming to make kief later. You do not have to come up with additional DIY devices for this.
A quality weed trimming tray makes this process more convenient and reduces waste. With its help, you create a comfortable working area and avoid leaks, and get third-party materials into the final product. Well and, of course, it is much easier to wash a tray and screen than to clean all surfaces onto which plant parts have fallen.
What Should I Do with My Trim?
Cannabis trim is not just a byproduct or waste that remains after trimming buds. It has great value since it almost wholly consists of glandular trichomes, which means that the concentration of resin in it is higher than in other parts of plants. Depending on the size of the screen used and the amount of plant debris in it, kief of higher or lower quality is obtained. The greener the product, the more unnecessary materials it contains.
You can collect pollen from the lower pan and keep it as it is after curing, or you can use a press to compact it and get hashish. If you use your hands for this, you will get a lower quality product. By the way, THC contained in pollen is fat-soluble. You can add the product to milk, oil, or butter and use it in your daily recipes. Remember only to strain the finished mixture through a strainer.
FAQs
In this section, I picked the most popular questions about trimming trays.
What micron is in a trim bin?
The top tray has a 150-micron screen. Most often, garbage and other plant clippings are much larger and do not pass through such a mesh. In general, depending on the maturity of your plants, it is recommended to take a screen of 70 to 150 microns. I believe that 150 microns are the most optimal option: it does not pass garbage, and you do not lose larger trichomes.
How to remove the screen on my trimming tray?
A stainless steel mesh is inserted into an aluminum frame and attached to the upper tray with small rivets, so replacing the screen is easy. Unscrew these rivets, take out the screen, insert the replacement part, and use the hardware from the kit to fix it. When buying a replacement screen, you get a set of rivets, so you shouldn't be afraid to lose them. You can install the original 150-micron mesh or choose a 220-micron screen if you want to collect more pollen.
How to clean a trimming tray?
It is enough to wipe a bottom tray with paper towels or a soft cloth soaked in medical alcohol. Repeat the process several times until the fabric is clean, then rinse the container with clean water and leave to dry.
An upper pan requires more thorough treatment due to an integrated mesh. It is recommended to use alcohol and a nylon brush for this. Apply alcohol to the entire surface of the screen (you can spray it or just wipe it with a copiously dampened towel) and rub it with a brush until it is clean. After that, the upper pan can be washed with soapy water. Just be careful that there are no soap pieces left on the mesh.
Harvest More recommends an alternative way to clean mesh screens. Place one of them in the freezer for a quarter of an hour and clean the frozen plant particles with a brush. It'll really speed up the process.
Final Thoughts on Choosing the Right Trimming Tray
I think that after this article, the benefits of using trimming trays will become apparent to you. With their help, you can not only get a clean product using dry sift, but also organize a comfortable workspace. There are many ways to use sifted pollen, so do not deny yourself the pleasure and do not throw it away. I hope my trimming tray review will help you decide on the right tool. They all have their own characteristics, so choose the one that suits your requirements best.
Do you use trimming trays in your work? If so, which company do you prefer? Tell me, what do you do with your trim? And, of course, if you still have questions, ask me in the comments section below. Enjoy your harvest!