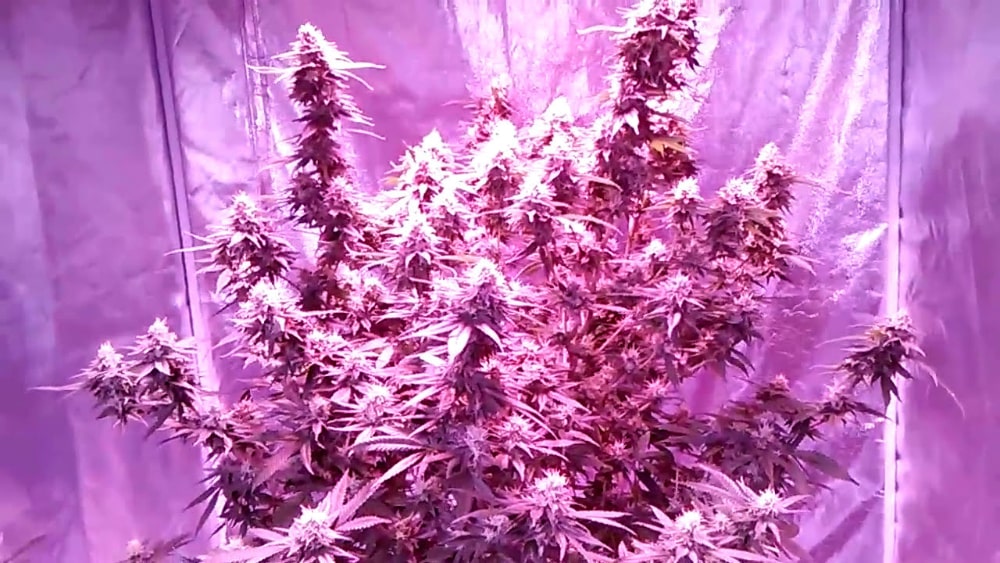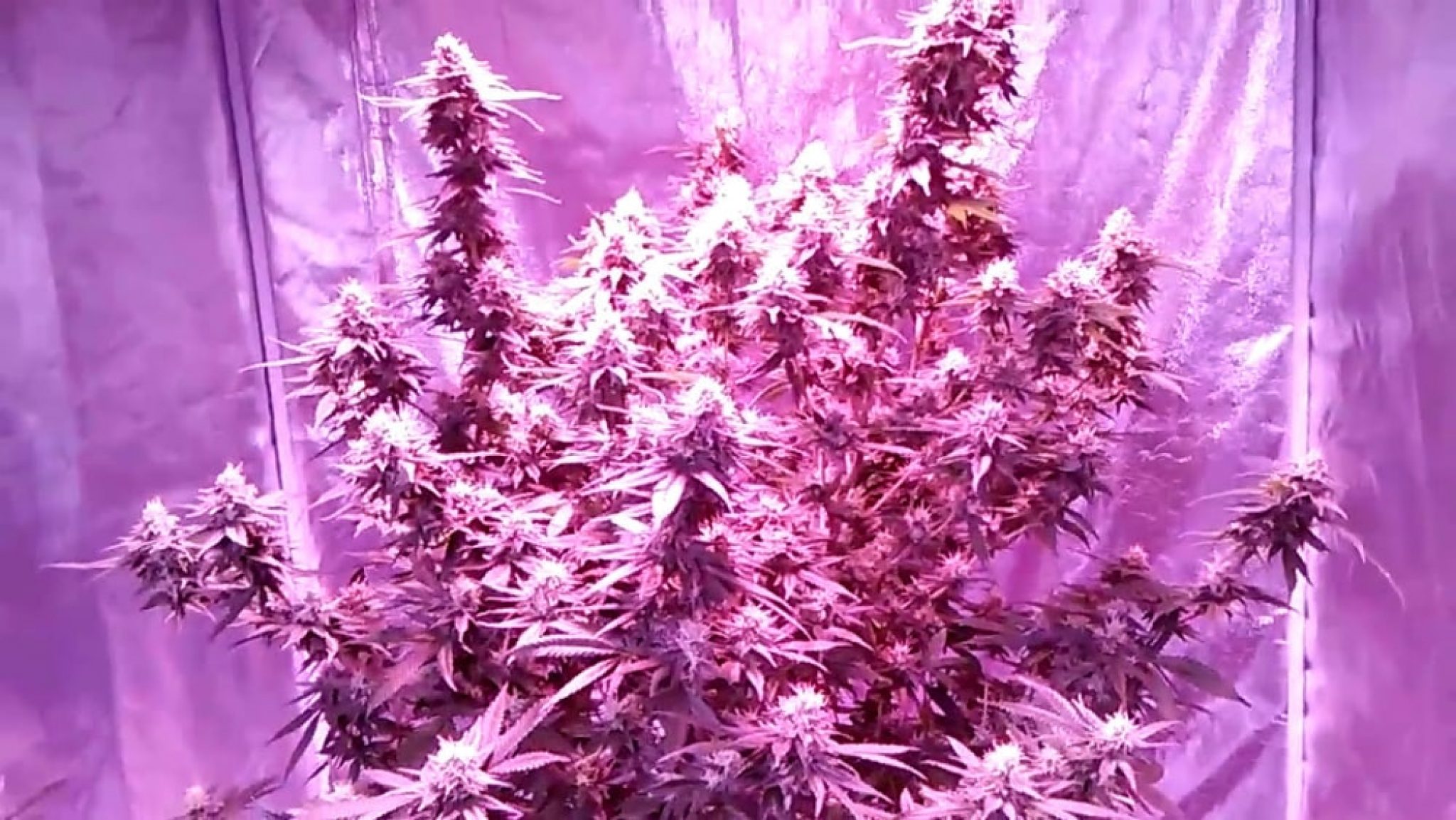 Best 4×8 Grow Tent: Reviews of the Best Options on the Market
Do you want to grow more plants indoors? Then, a 4×8 grow tent is what you need. Getting such a large tent means you can grow many plants in your home, compound, or garage. I think that a 4×8 grow tent has an ideal size for indoor gardening needs. Such items are big enough to ensure your plants are not crowded, yet compact to fit in small spaces in your attic or basement.
These grow tents are double the size of basic 4×4 options. As such, they provide more space for plants, and nowadays, it is the most preferred choice for growing indoor crops. But how many plants in a 4×8 grow tent can fill the space well and give good yields? You can grow about fifteen to twenty small plants in a tent of this size. Thus, your crops will not be cramped, and you will grow any indoor plants easily.
I want to note that you will need two grow lights for 4×8 grow tents, each of 1000 watts or less, to light the entire cover properly. You will also have to install ventilation and carbon control systems in place.
The best thing about this tent size is that such models are available everywhere. Whether it's the high-end ones, durable, those with pitched roofs, or tents with adjustable heights, you will find the right item. Almost all brands manufacture this size of tents. For example, you can get a sun hut to grow tent 4×8 from well-known brands like Vivosun and Ultra Yield, and there are many other options to consider.
Pros
Access doors for full control.
Pros
Access doors for full control.
As an experienced gardener, I have tried many 4×8 grow tents from different companies. Thus, I have had both good and bad experiences with these products. Now, I want to share my knowledge to help you to select the tent that will serve you best. Below, I've reviewed five of the best 4×8 grow tents I have used so far so that you could consider a high-quality item for your place.
Top 5 Best 4×8 Grow Tents Reviews
Below, you can find some of the top-rated and durable grow tents available on the market today. These products are perfect for indoor plant growing and fitted with many useful features.
1. Zazzy 96" x 48" x 78" 600D – The Best 4×8 Grow Tent Overall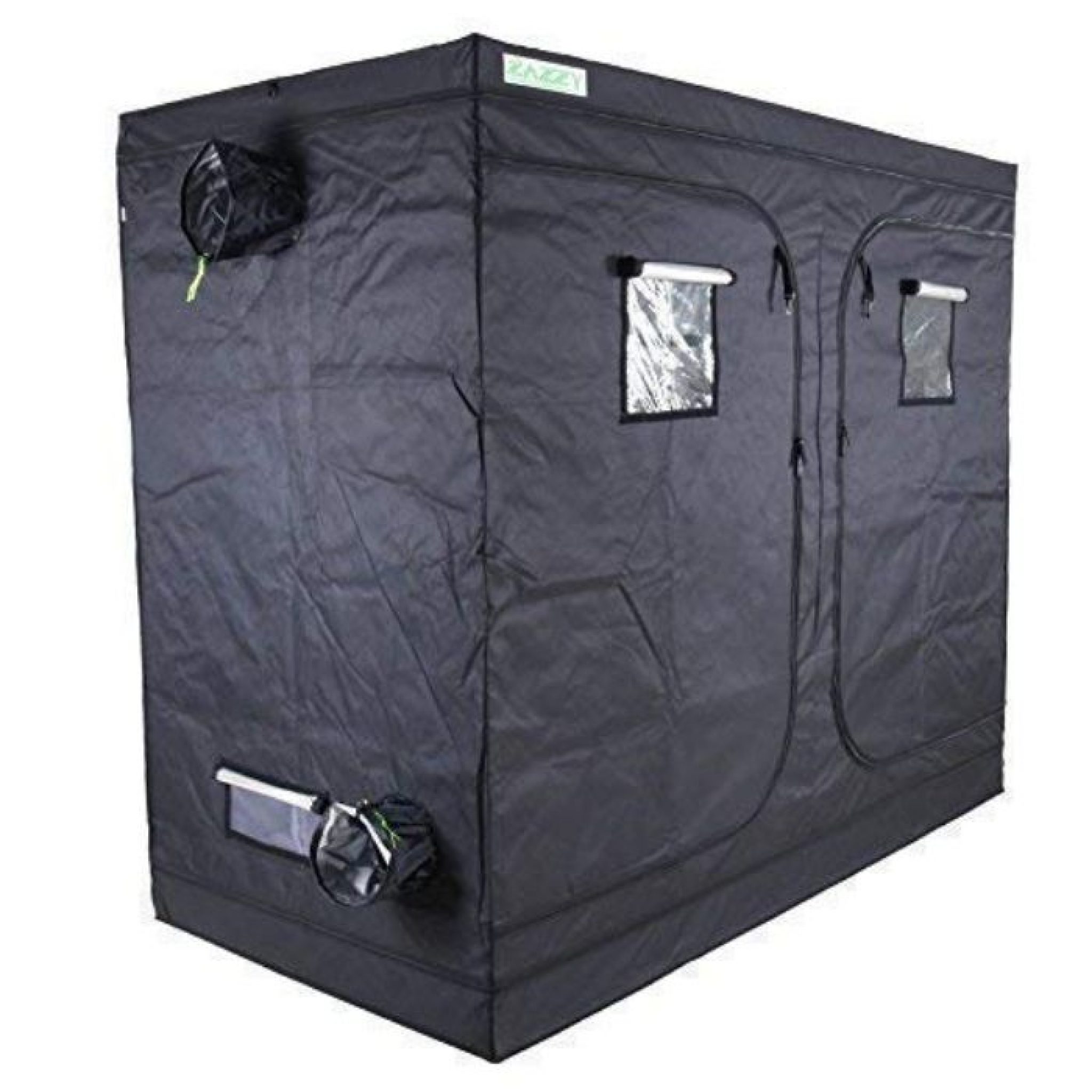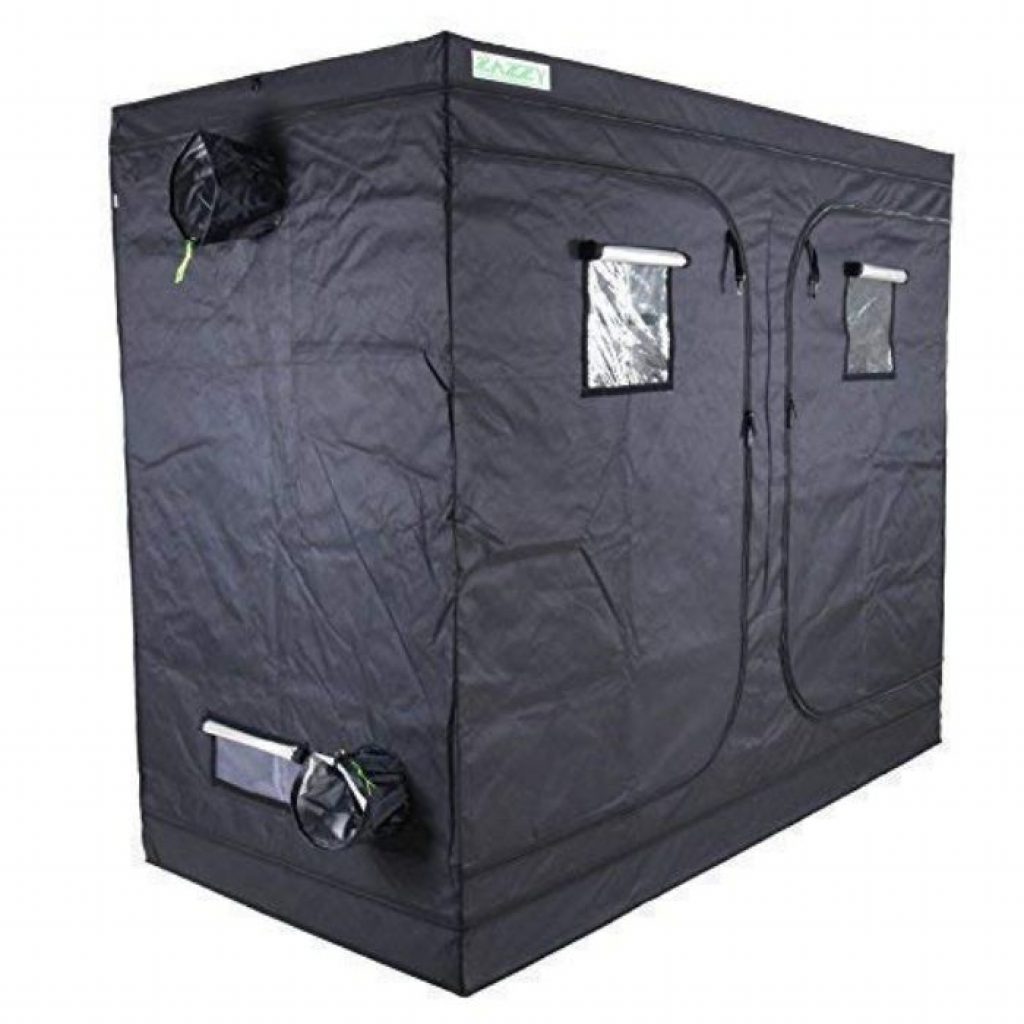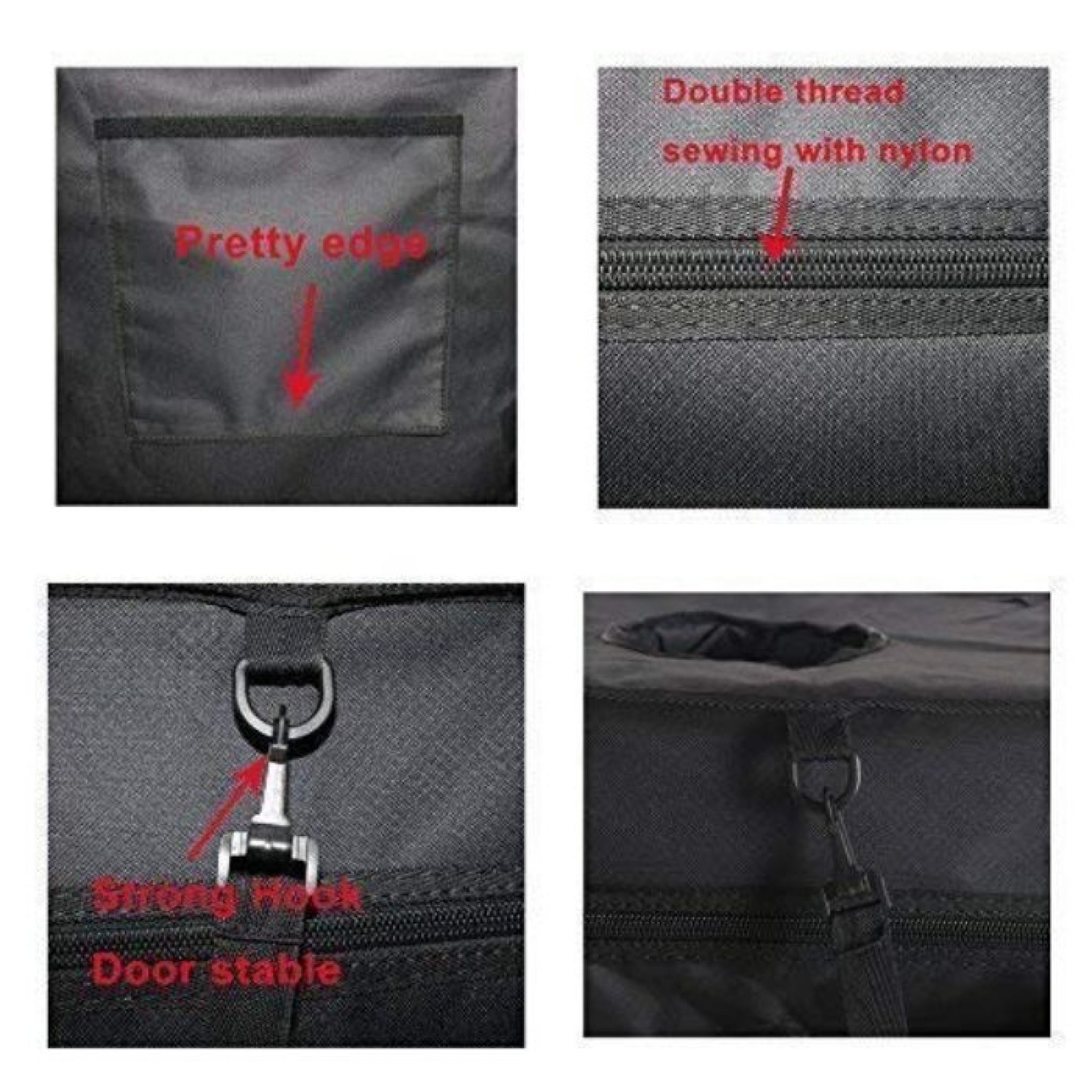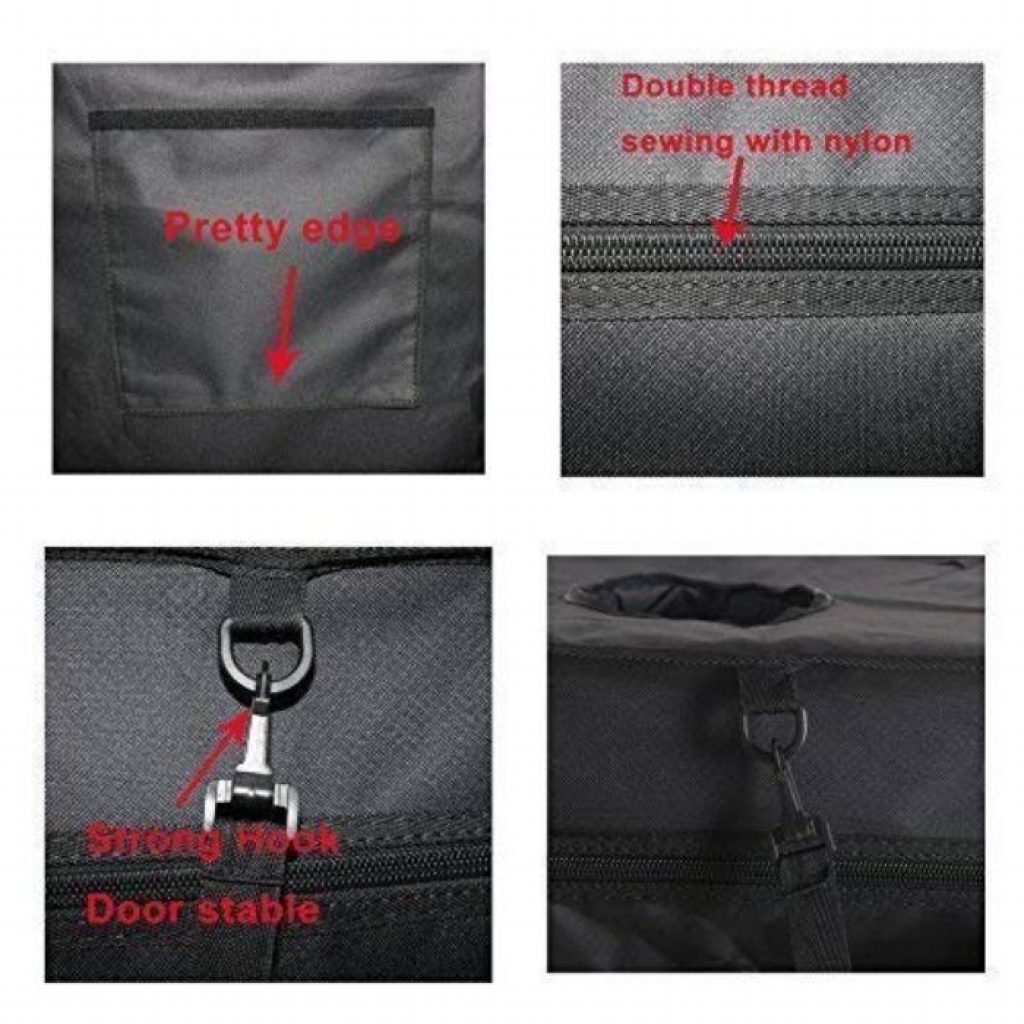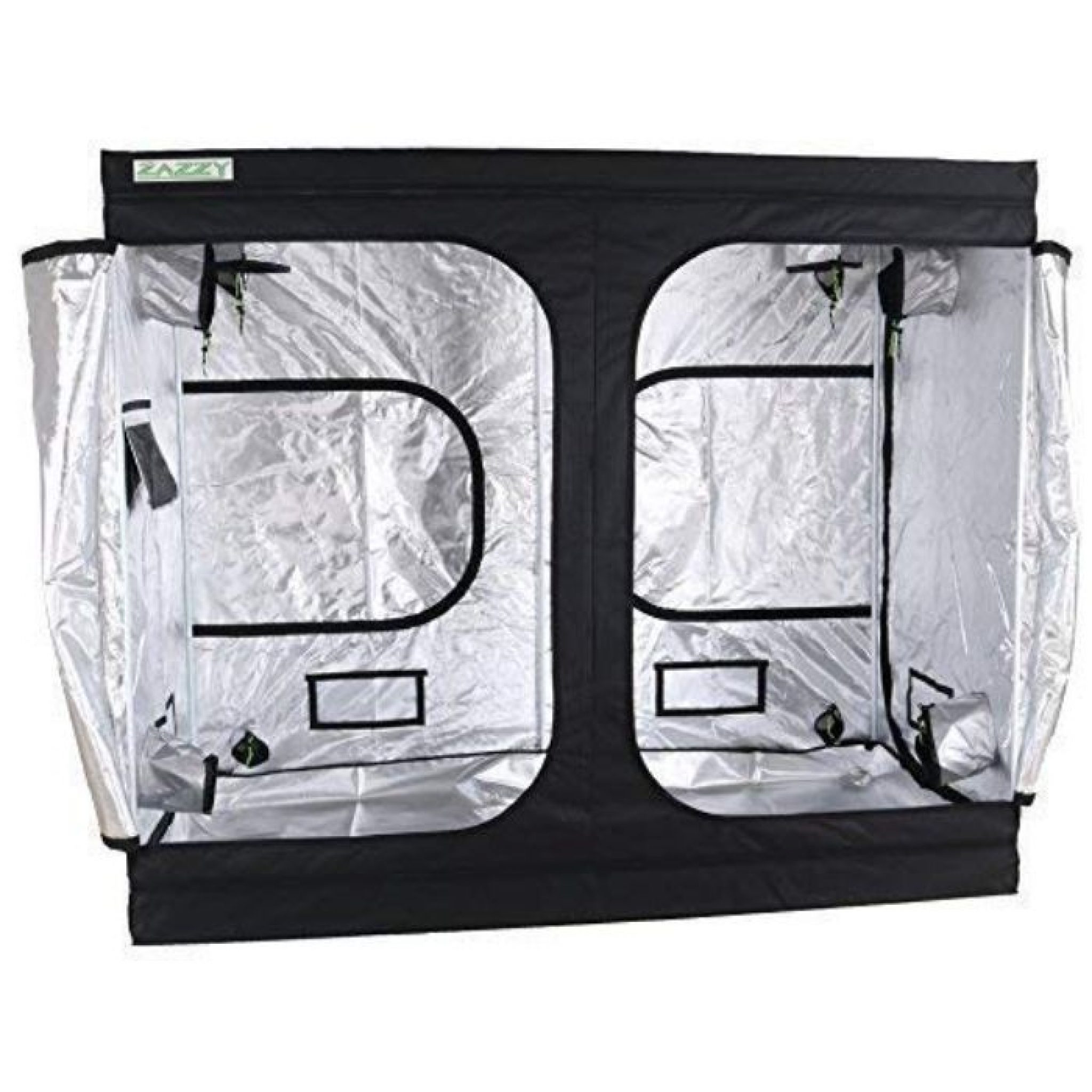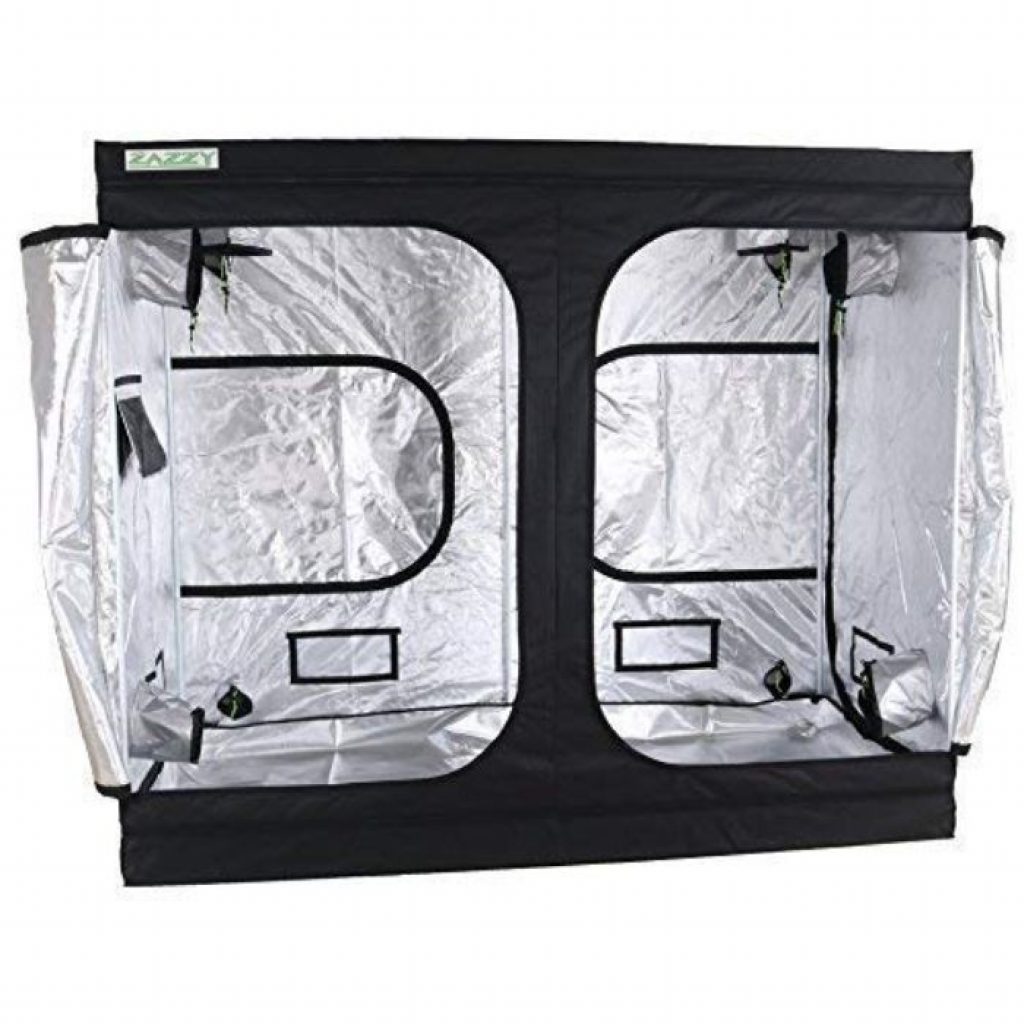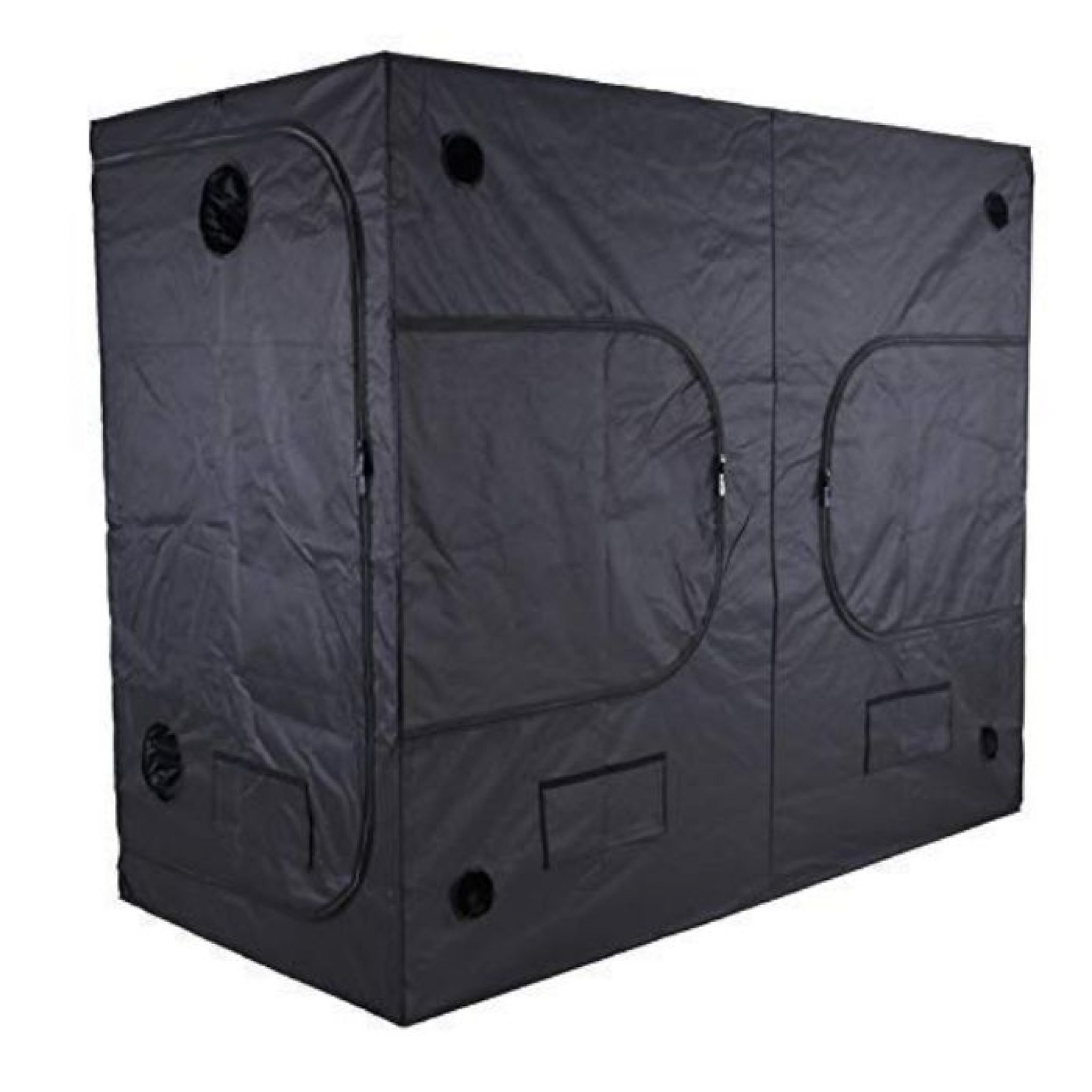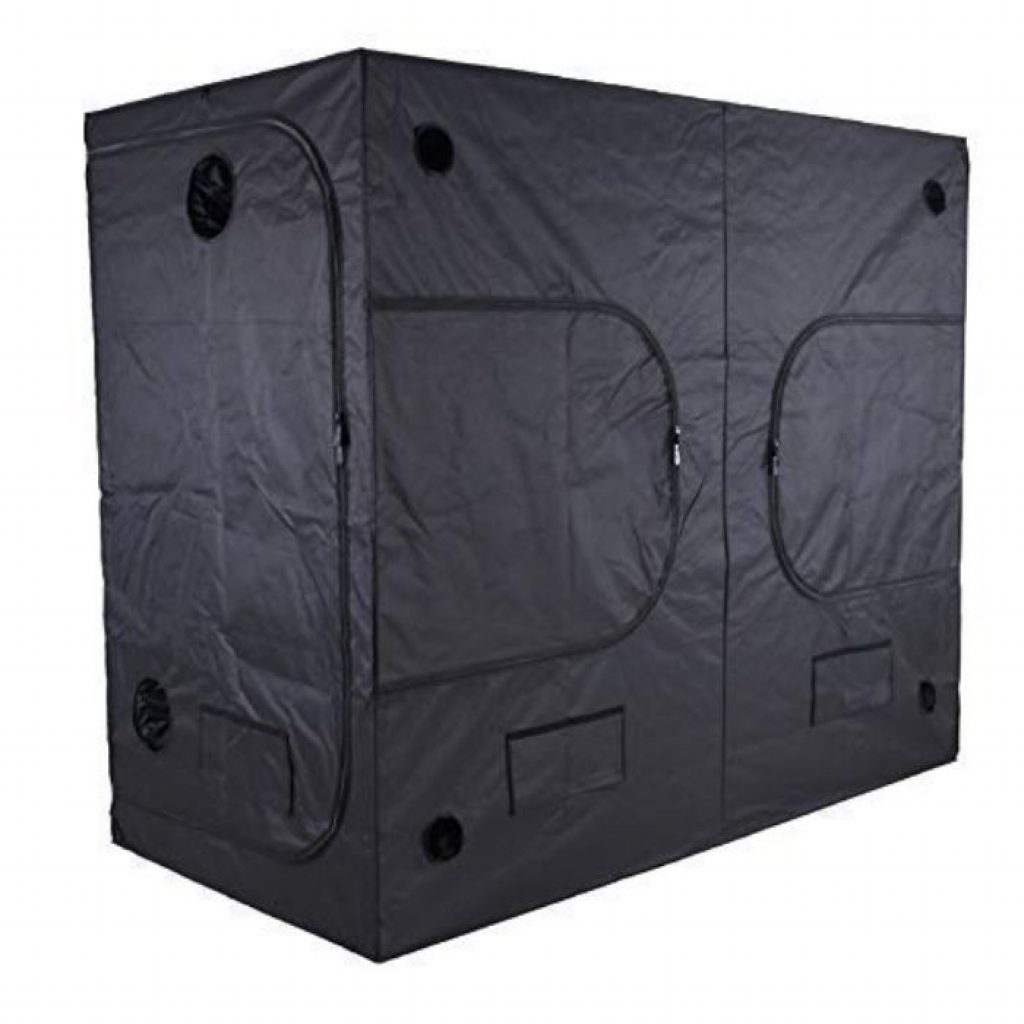 Zazzy is one of my favorite brands producing various gardening equipment, including grow tents. The dimensions of this model allow enough space for the plant growth so that they are not constricted.
This first-quality tent is easy to assemble, thanks to its detailed manual. Also, this product has coded poles that easily fit together when assembling. On top of that, the item has a finely finished frame that makes handling easy and installation safe.
Generally, assembling can be carried out by one person in less than thirty minutes. You can cut down the installation time if assembling the tent with someone. The model can be set up indoors in many places, including condominiums, apartments, garages, or many other options.
This indoor grower comes with a removable floor tray that simplifies the cleaning process. It also has an inner mylar lining that makes the item very reflective, thus, ensuring the distribution of light is even for all plants to thrive. This lining also allows keeping a stable temperature and light inside the grower, even if it is dark and chilly outside.
Zippers on this grower are heavy-built for comfortable handing and won't break soon. They are also protected with a ribbon to avoid light leaks. With this item, you can keep an eye on your plants through a transparent window. The window also helps to prevent the air from getting out so that you can control lighting and temperatures in the tent easily.
Durability is another perk that you will enjoy if going for this grow tent. This model has a strong frame and steel poles with metal corners to support accessories like the lighting of not more than 110 lbs. The grower is made of a thick, durable material that ensures it won't rip easily.
I like that the grower features an elegant diamond mylar lining. I bet you'll also love its beautiful design and comfortable size, among other features. Let's take a look at the pros and cons of this model:
---
PROS:
easy to assemble;
has a sturdy construction;
clear viewing doors made from plastic;
highly reflective;
a nice design.
CONS:
not completely light-proof.
2. Vivosun 96" x 48" x 72" Roof Cube – Great 4×8 Grow Tent with Pitched Roof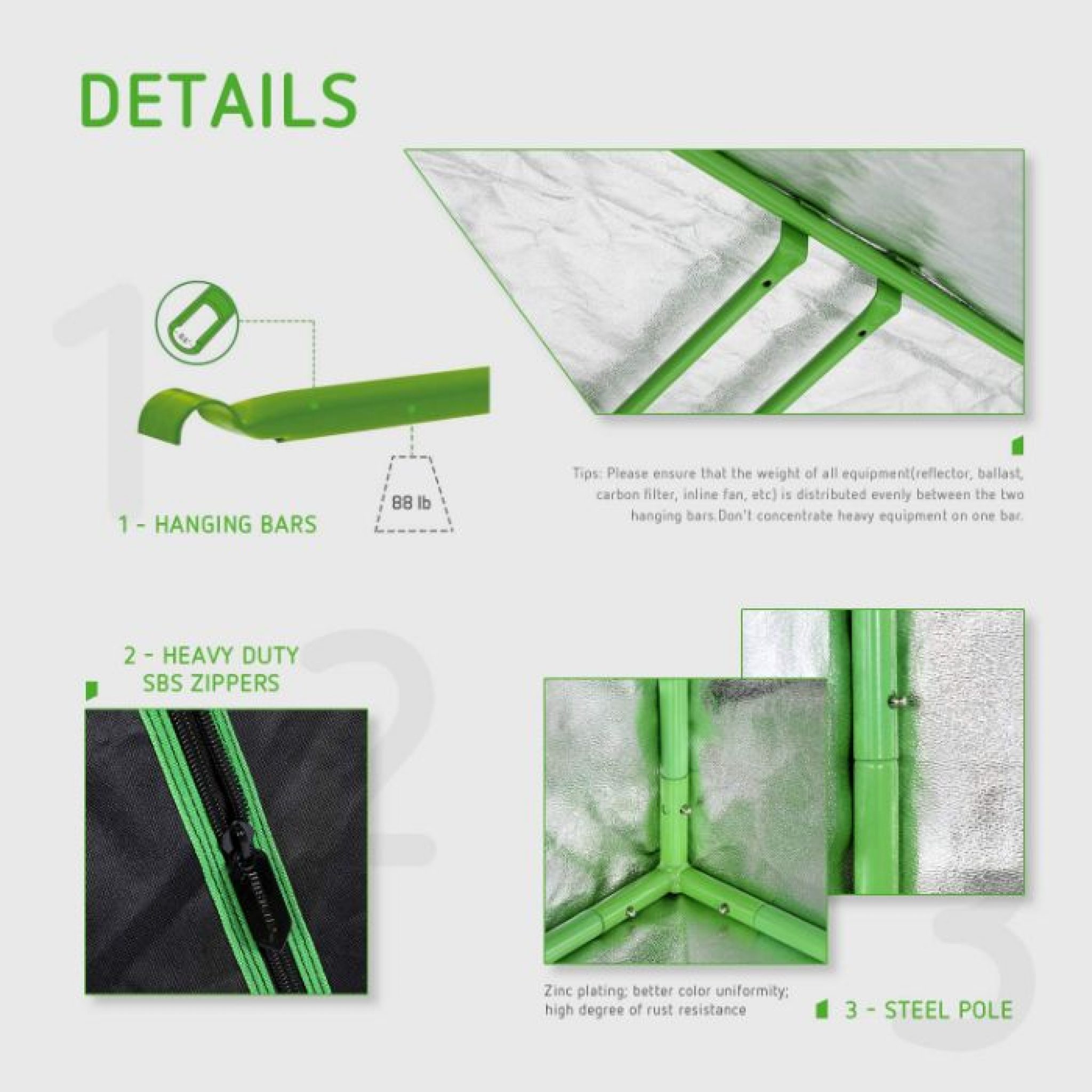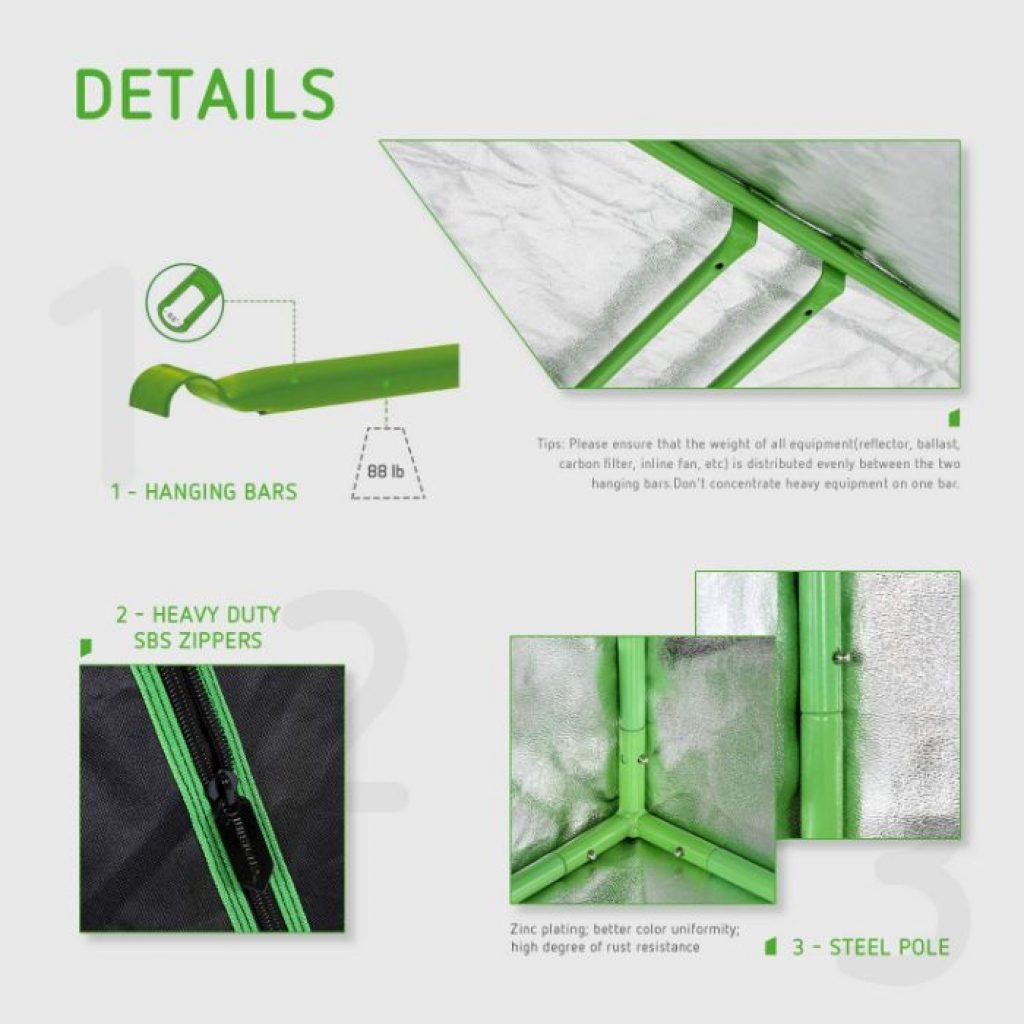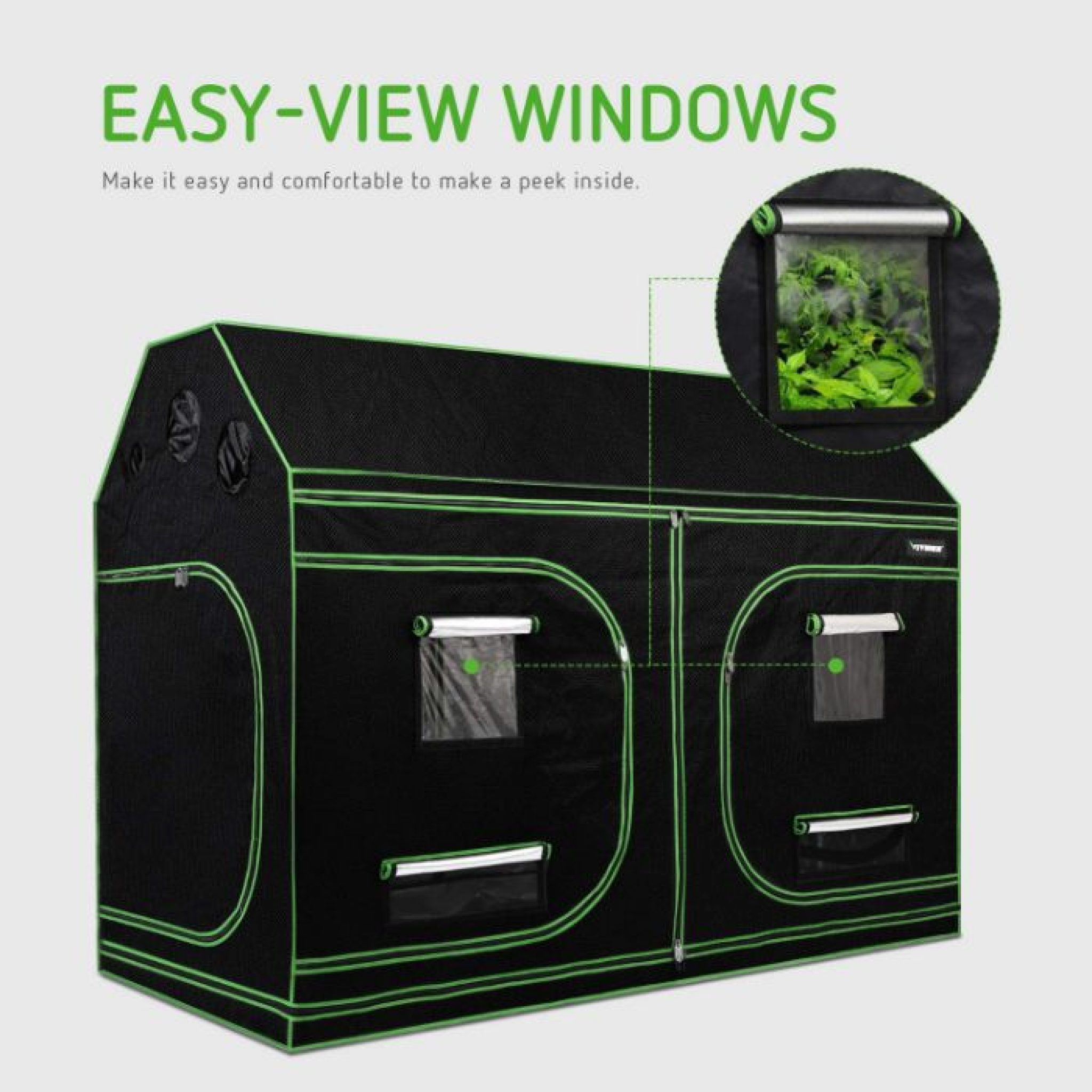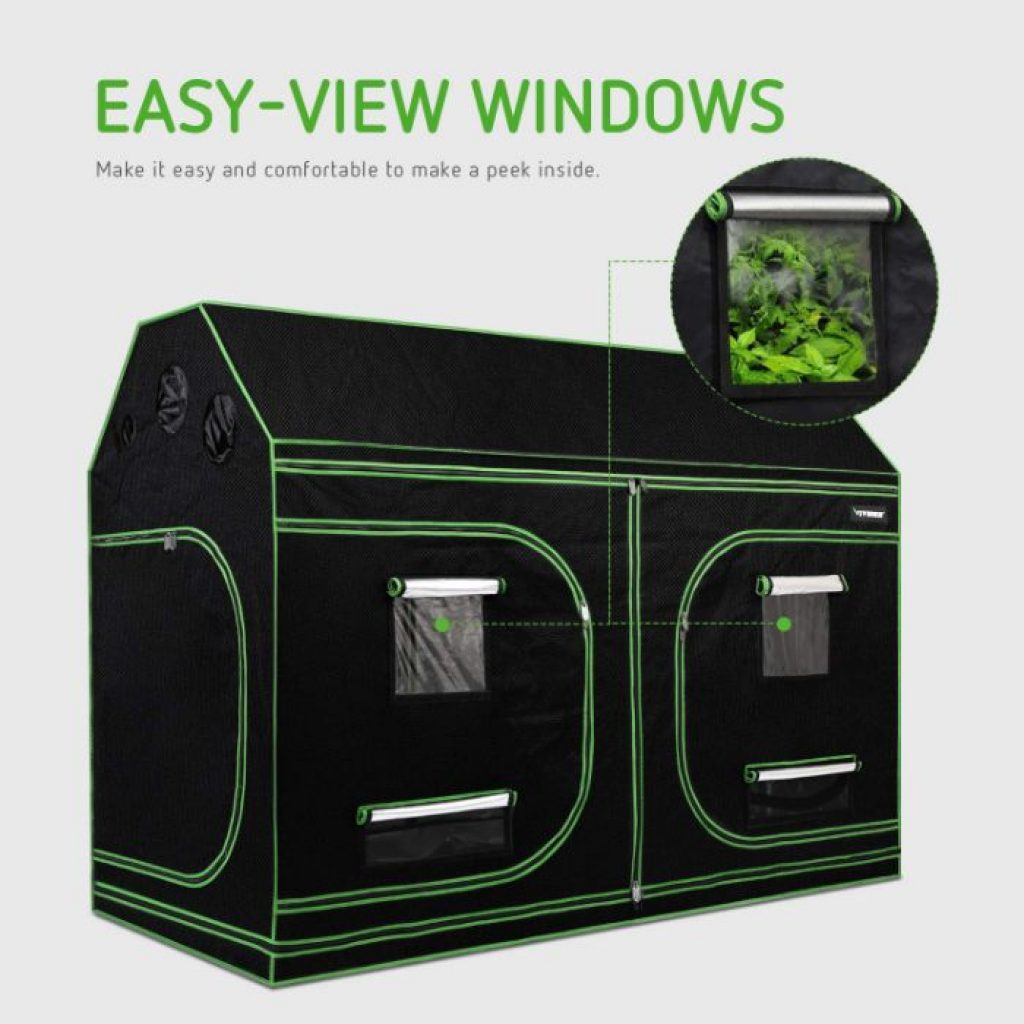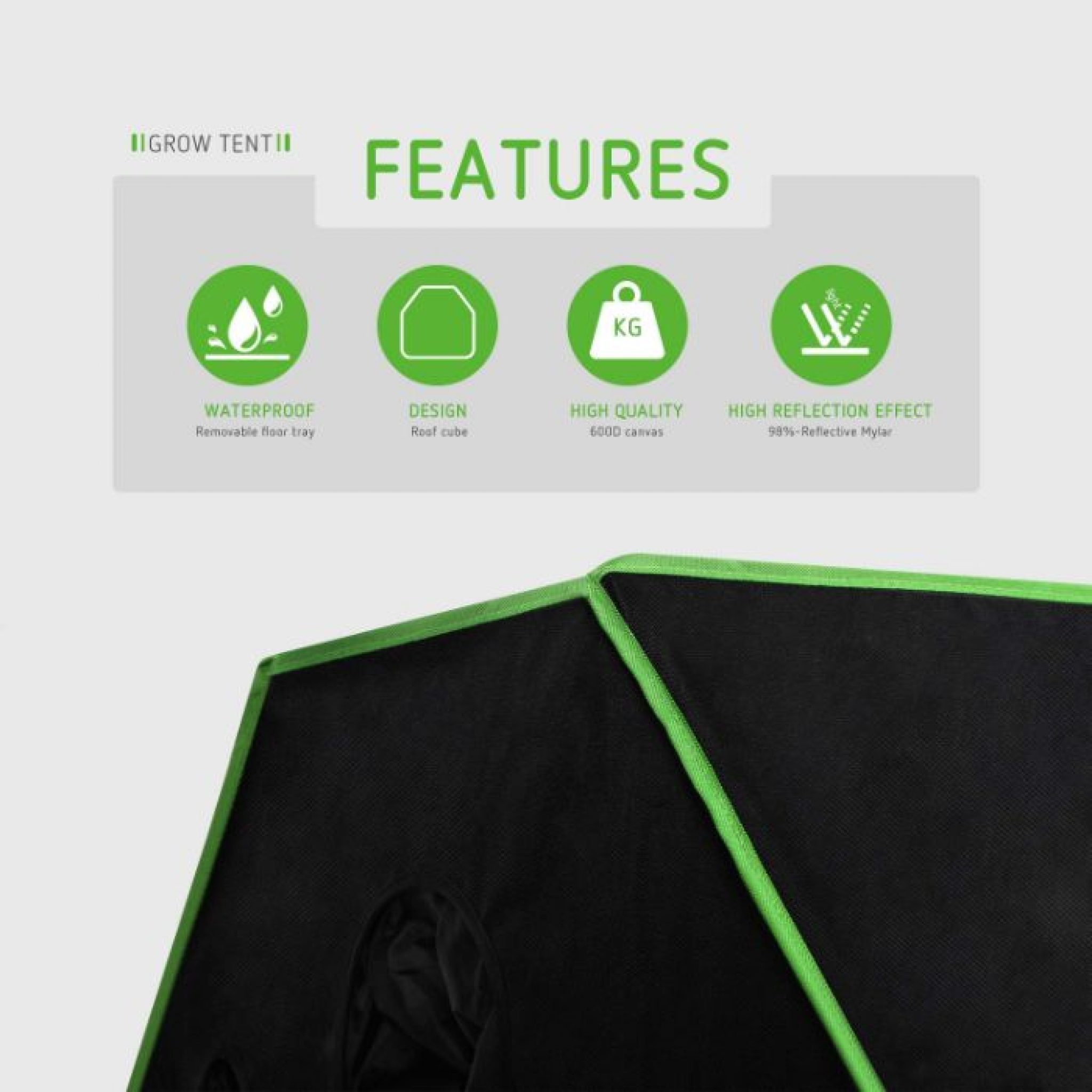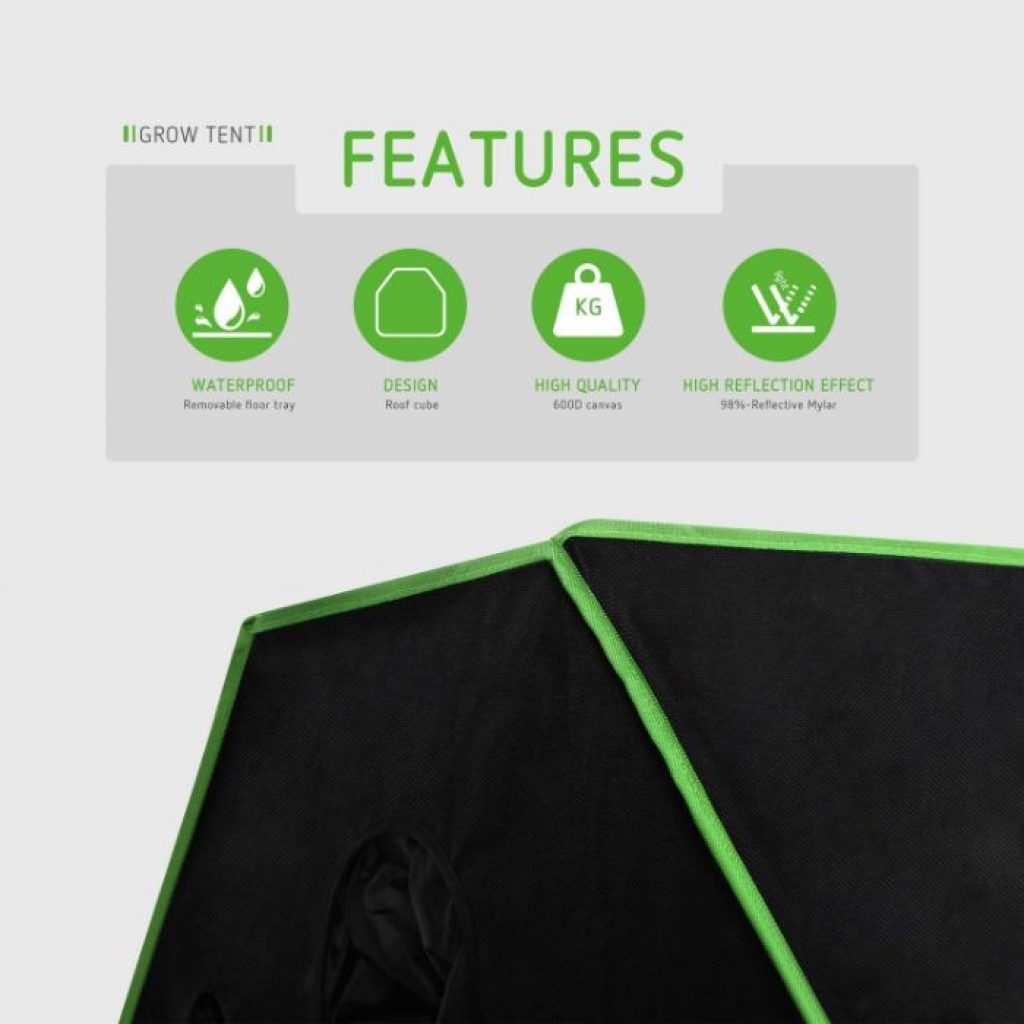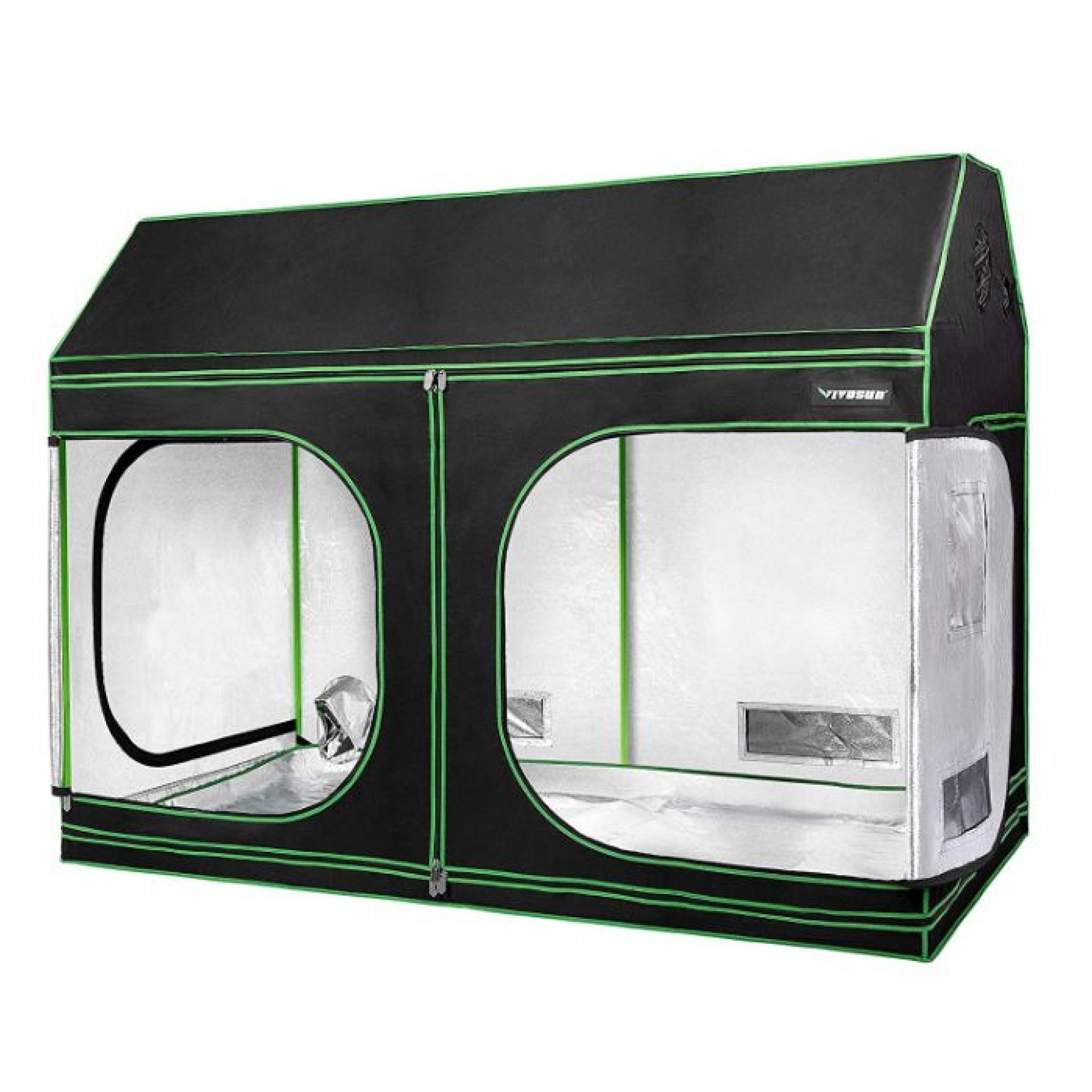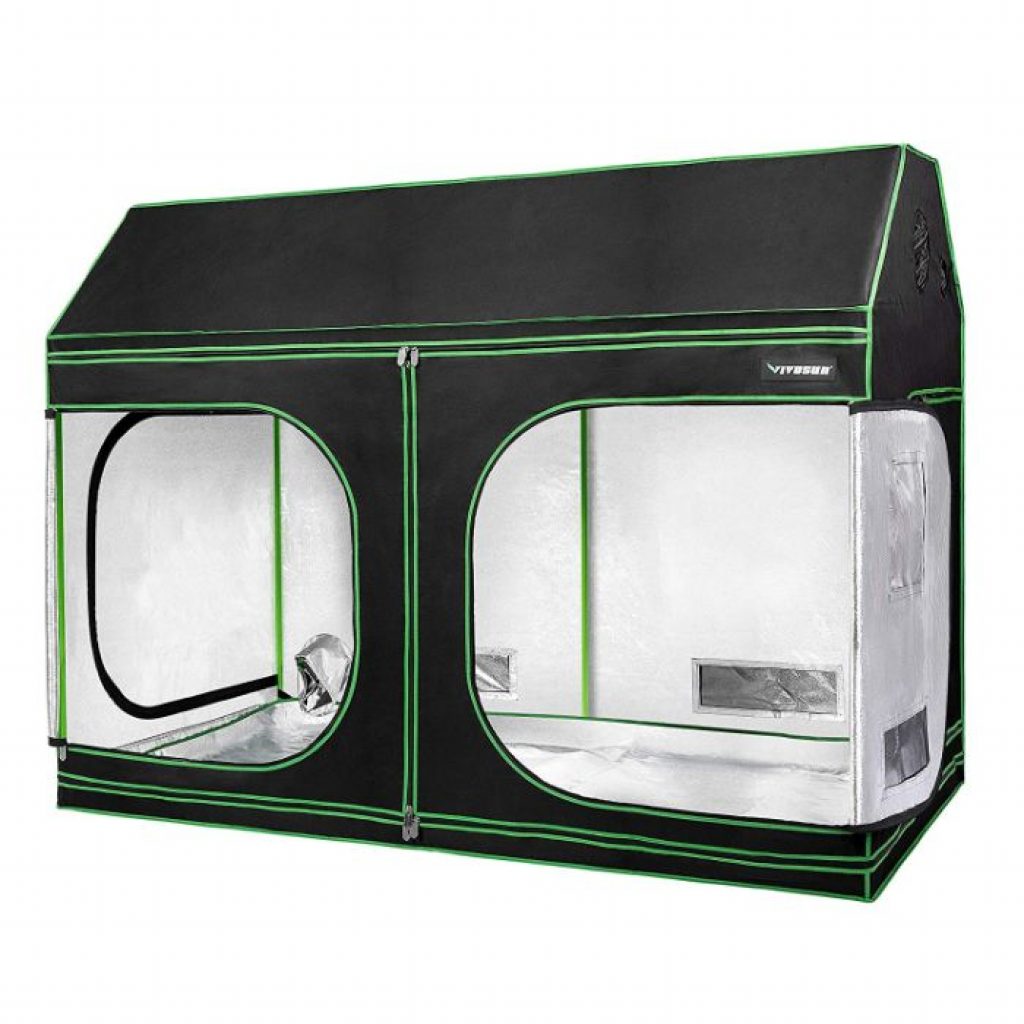 Do you want to make use of small spaces in your home? Then, consider going for this tent that was manufactured spacious and compact at the same time. This grower can fit in small spaces, including roofs, attics, and basements. It allows you to make good use of little areas you have indoors and grow plants easily.
The item is manufactured of the thick double-stitched canvas. It is made from polyester to prevent any possible light leaks. The 600D material is tear-proof, making it highly durable.
The tent also features a sturdy and durable metal frame that allows the grower to support heavyweights. The frame has fine finishing for safe handling and easy installation. The poles are easy to fit into place, making the installation quick and simple.
The tent comes with massive, durable zippers that won't get jammed easily. They ensure your tent will stay in good shape for an extended period.
Indoor plant growth requires the right amount of light in the tent. A Vivosun indoor grower is an ideal option for installing the best LED grow light for a 4×8 tent. It has a 98% reflective lining to ensure efficient lighting, even when the power configuration is poor.
There is also a pitched roof that allows for proper air regulation inside the tent. Such a roof also comes in handy during flowering when the plans do not require much lighting, and the cover provides enough space for recess.
This Vivosun model is among the tents that provide you with advanced control of your plants. It has two access doors from each side that you can use to get to your crops without messing with the configuration. I also want to mention that the high quality of this product is backed by a two-year warranty offered by the manufacturer. Let's take a closer look at its advantages and disadvantages:
---
PROS:
nice big zippers for comfortable use;
pitched roof for light to recess;
access doors for full control;
a sturdy frame with fine finishing.
CONS:
instructions are confusing.
3. Vivosun 96" x 48" x 80" – Indoor Hydroponic Mylar Grow Tent 4×8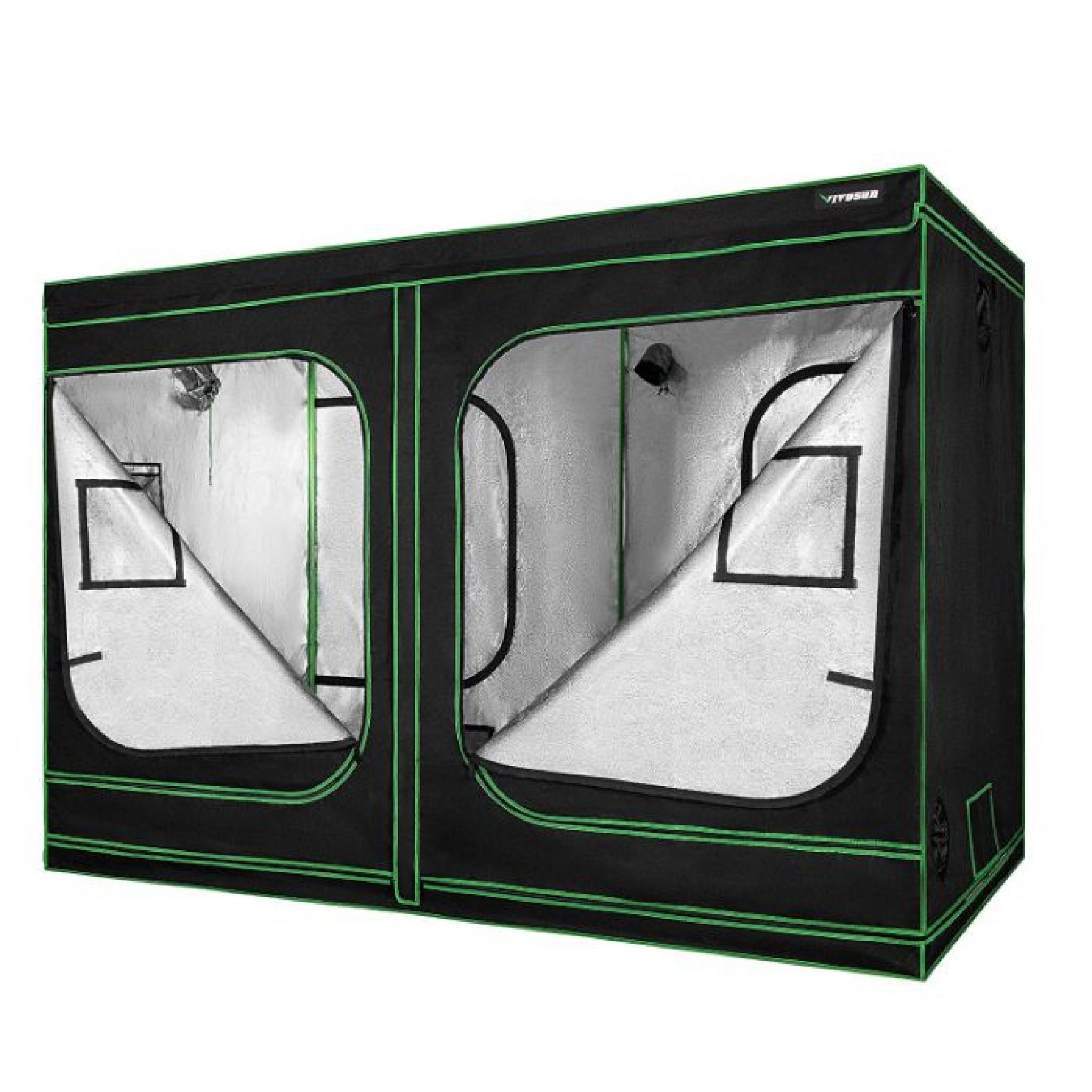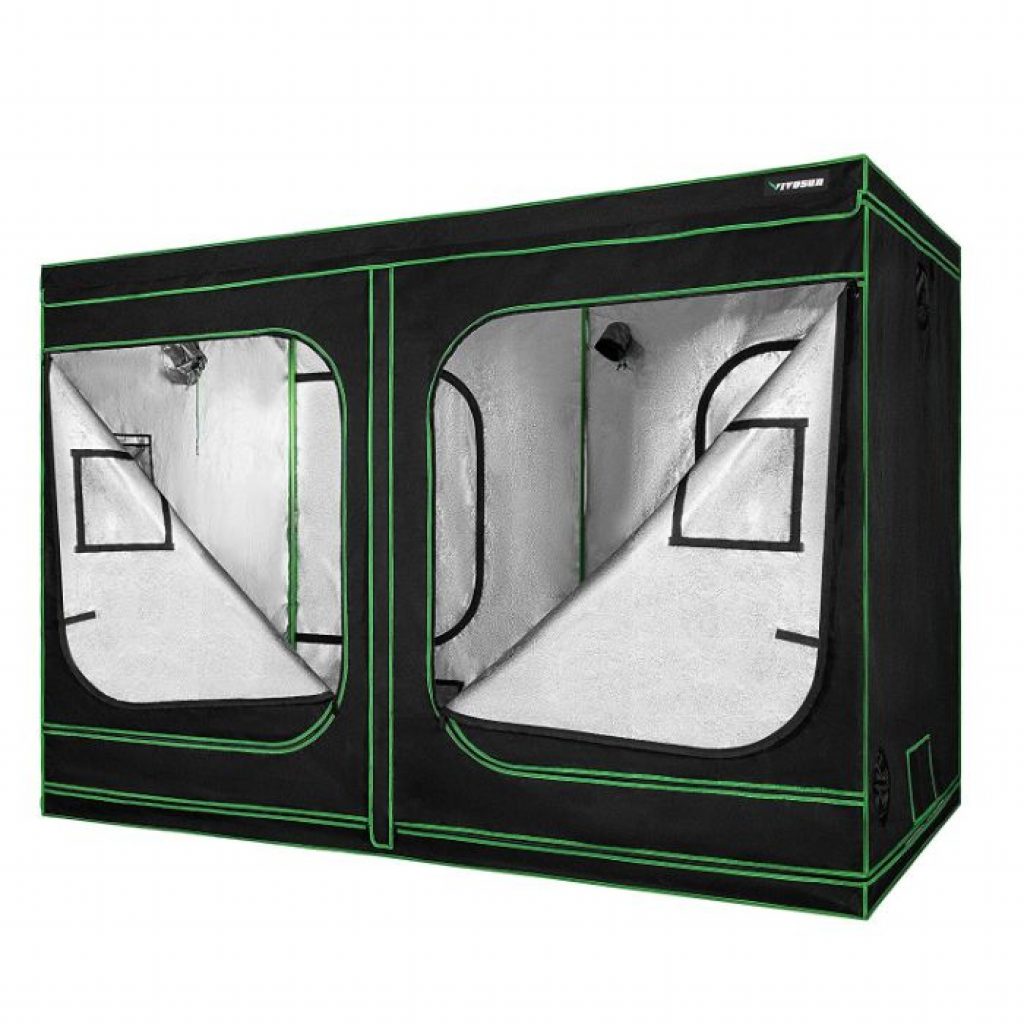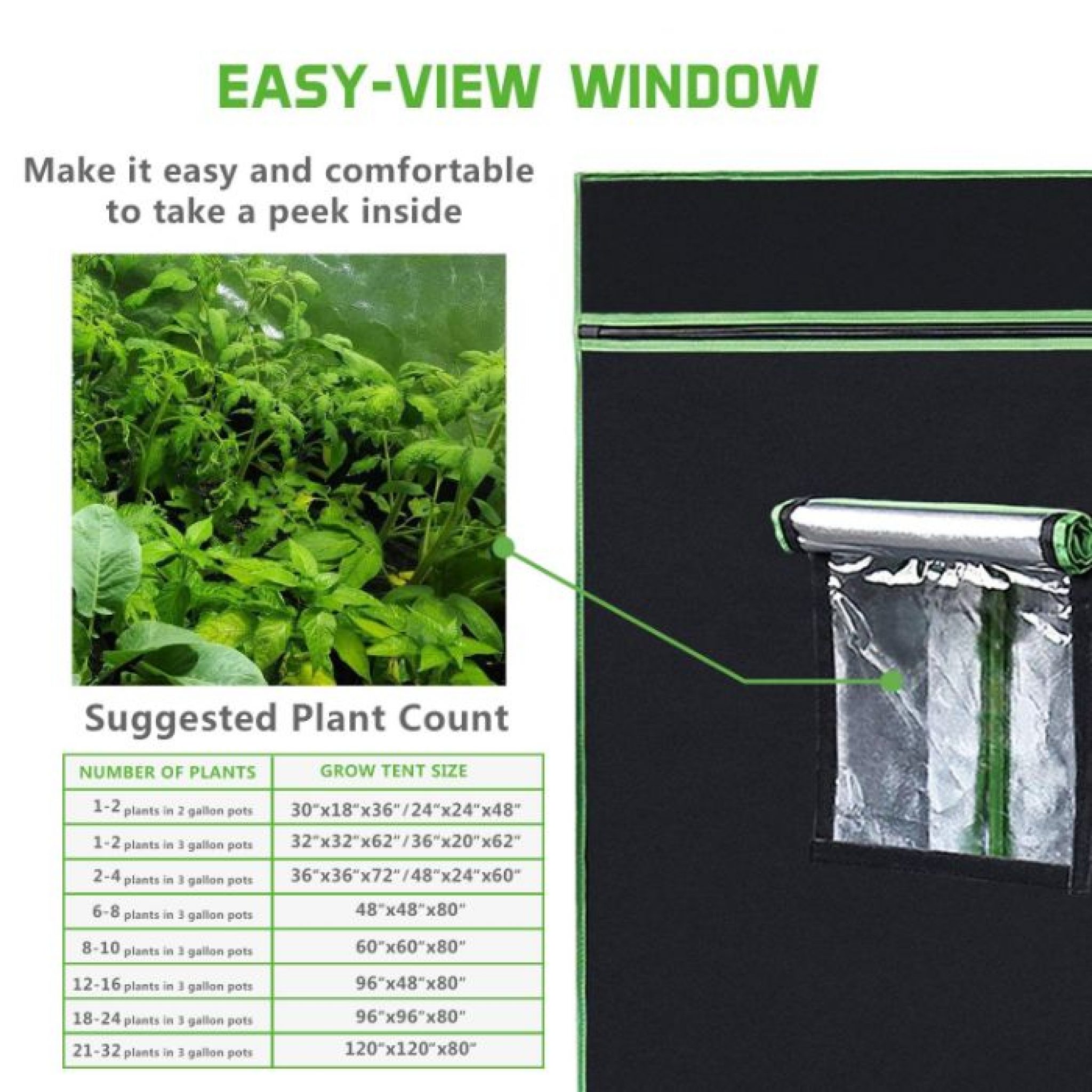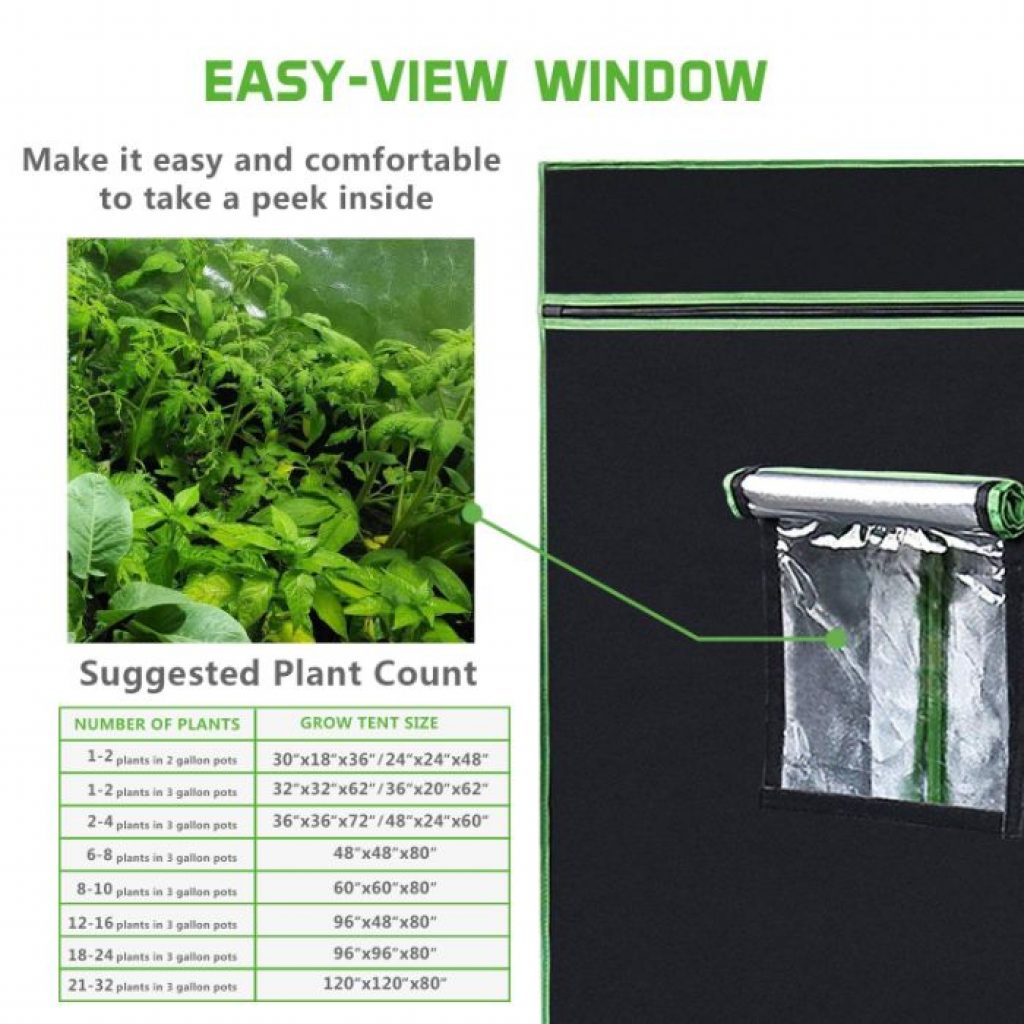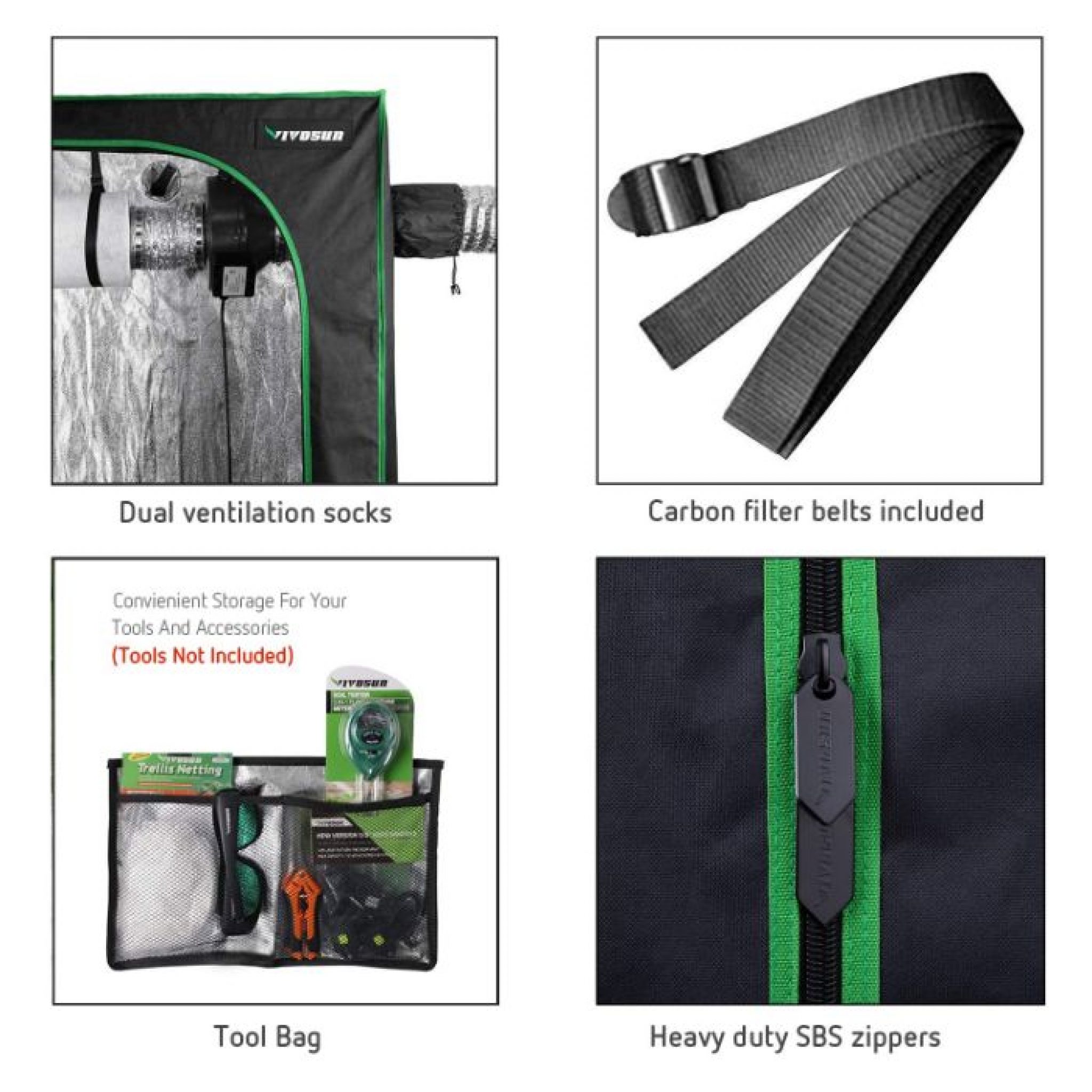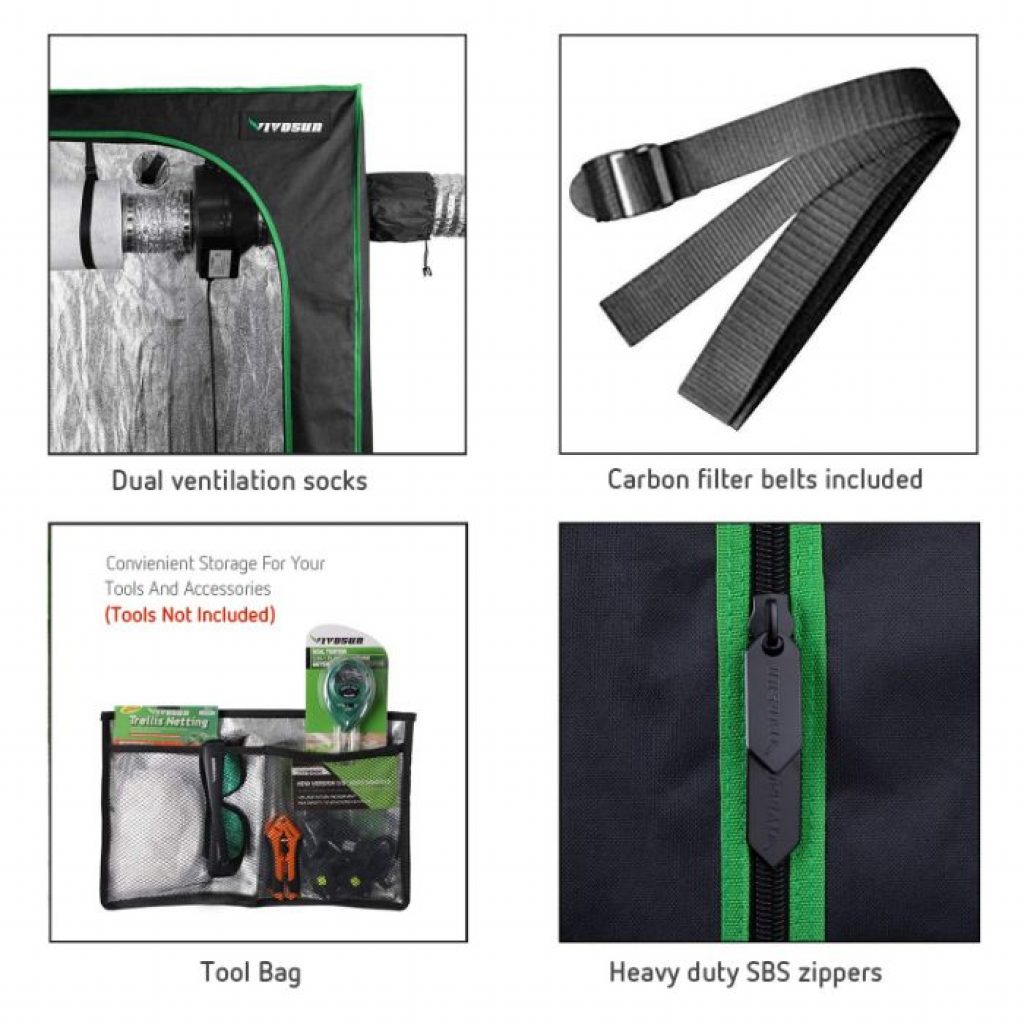 This grower is a product of Vivosun company that specializes in producing equipment for indoor gardening by retails growing accessories across the world. The brand is famous for manufacturing some of the highly-rated tents and gardening tools in the world.
This grower is made from mylar material and suits best for indoor use. The tent comes with a detailed and easy-to-understand user guide, making the installation process simple even for first-time users. Also, you won't need additional tools to set up this model. You just need to put the poles in place, and they will fit with no hassle. The installation will take about thirty minutes or even less if you have assembled such tents before.
The tent is light-proof with a 600D thick canvas that blocks light from getting in and out of the tent. For increasing light impermeability, its zippers are designed with seals to avoid loss of light and ensure you get the best light for 4×8 to grow tent. Besides, it has a 98% reflective lining made from mylar material to ensure the outside light does not compromise the quality of inside lighting, and the item has proper light distribution.
This hydroponic grow tent is made of tear-resistant polyester. Its extra thickness adds to the durability of the item and easy maintenance.
If you are in search of a durable and long-lasting indoor grower, then this tent should be on your shopping list. I want to mention a zinc-coated metal frame of this model that allows keeping the item rust-free. The grower also features hanger rods that are extremely strong to support additional weight from lighting systems.
The access window of this grower will allow you to monitor your small garden as your plants grow. The window is also created using plastic to ensure the outside environment does not compromise the inside conditions. Let's sum up the good and bad points of this grower:
---
PROS:
has comfortable back panel doors;
a great design;
an easy-to-understand user guide;
highly durable and sturdy;
has a transparent access window.
CONS:
zippers can easily break.
4. Ultra Yield 48" x 96" x 84" with 12" Extra – Durable Sun Hut Grow Tent 4×8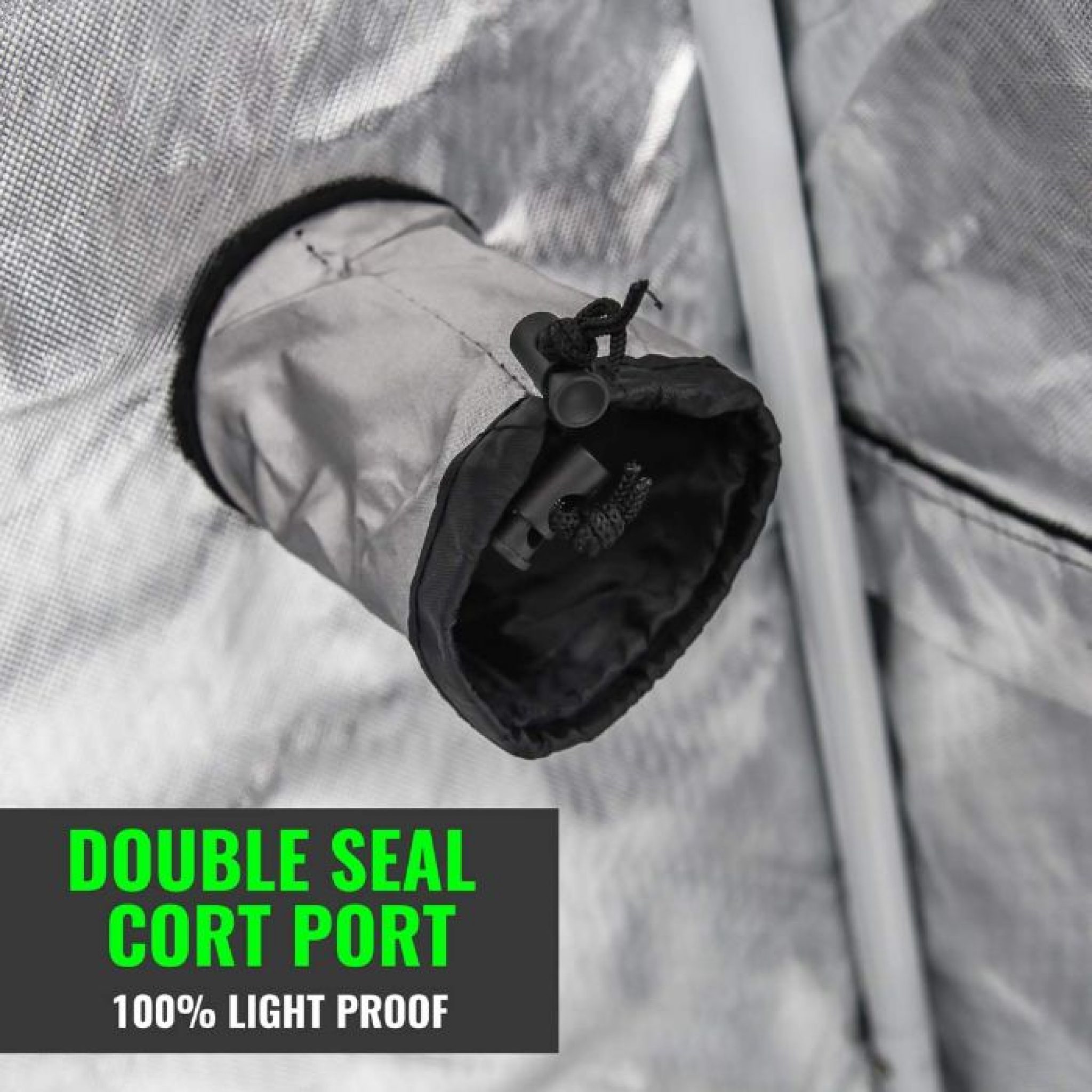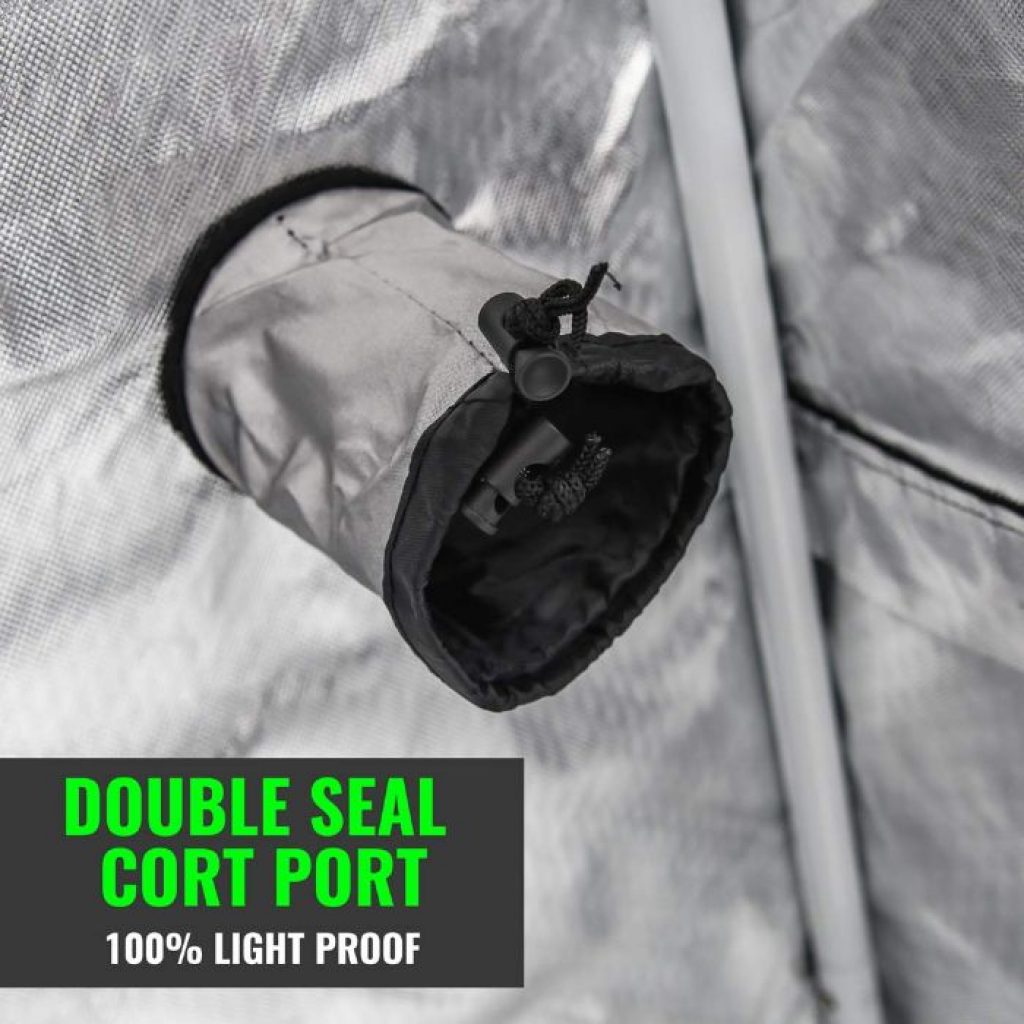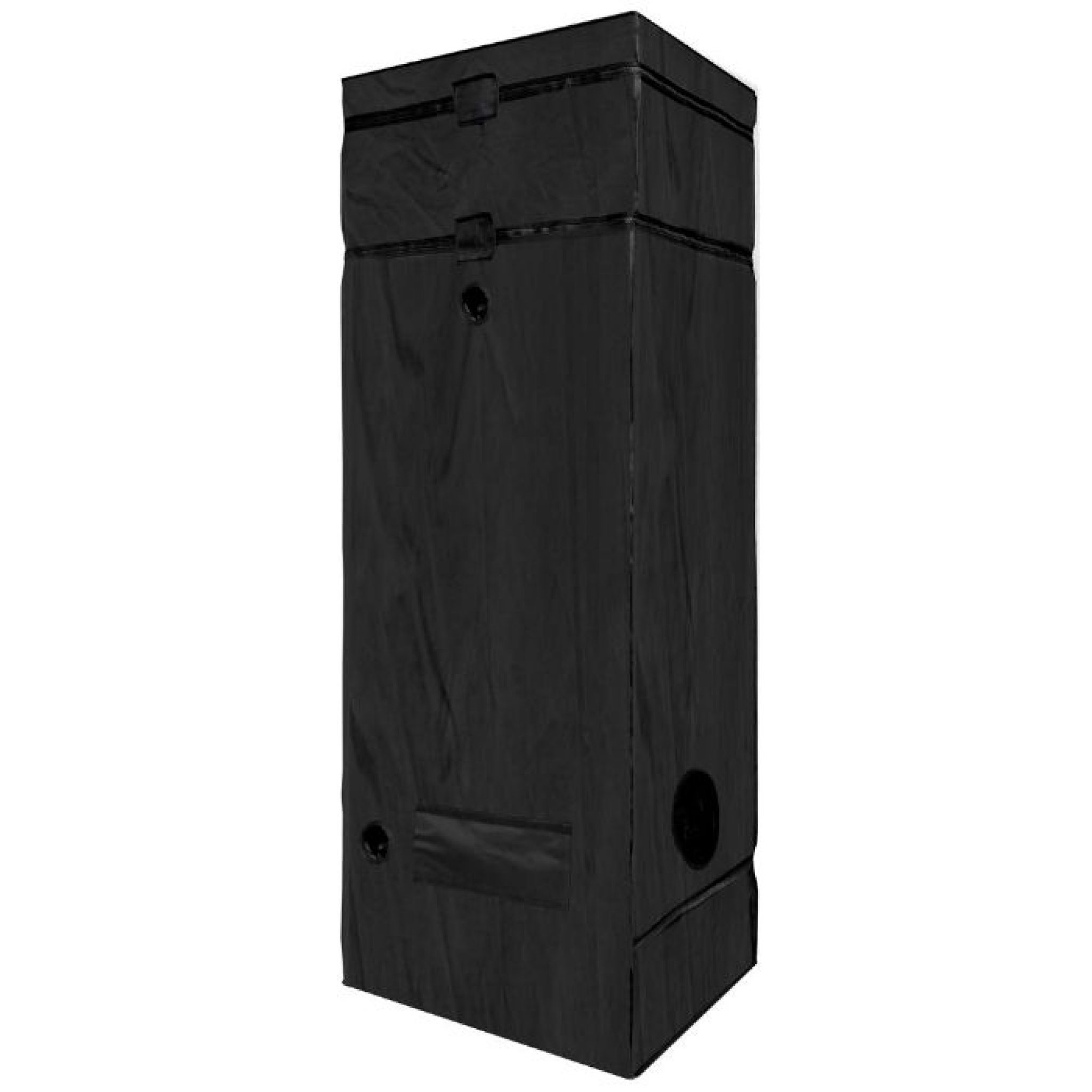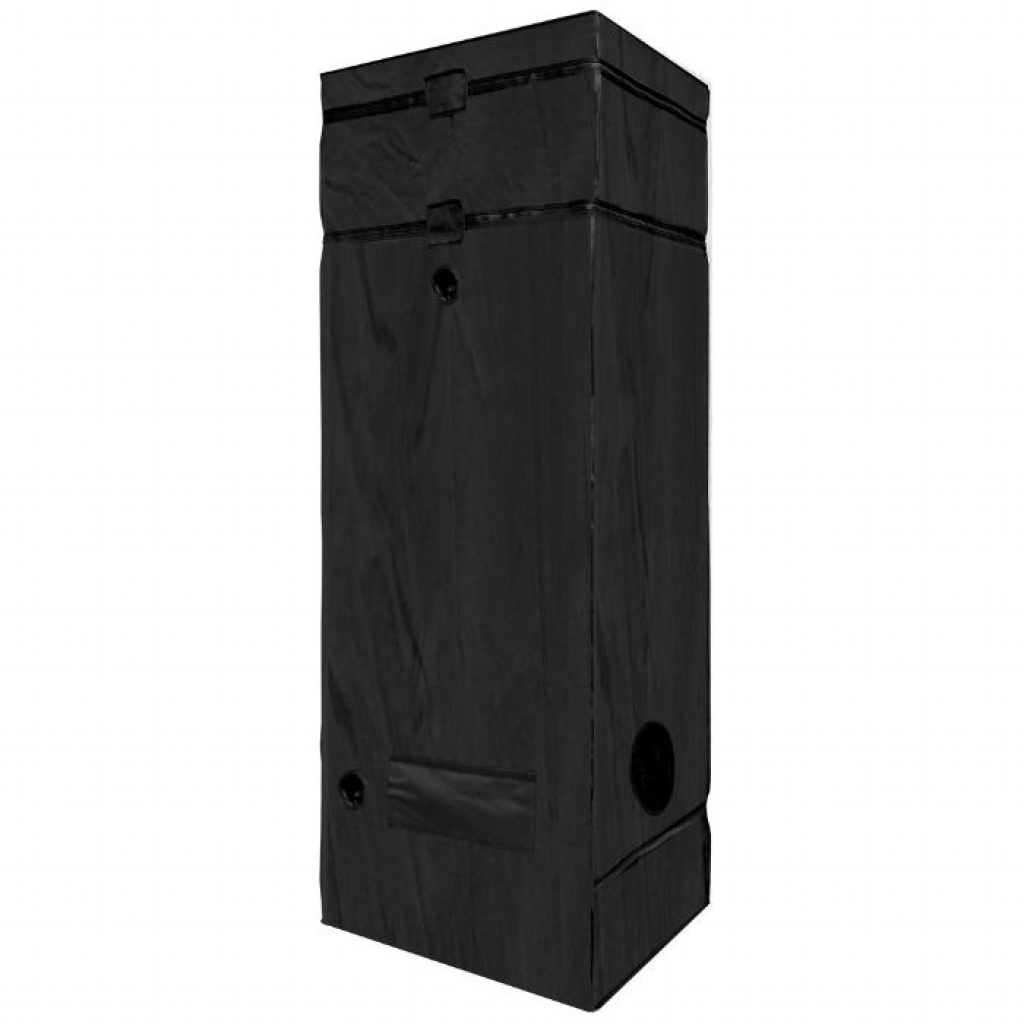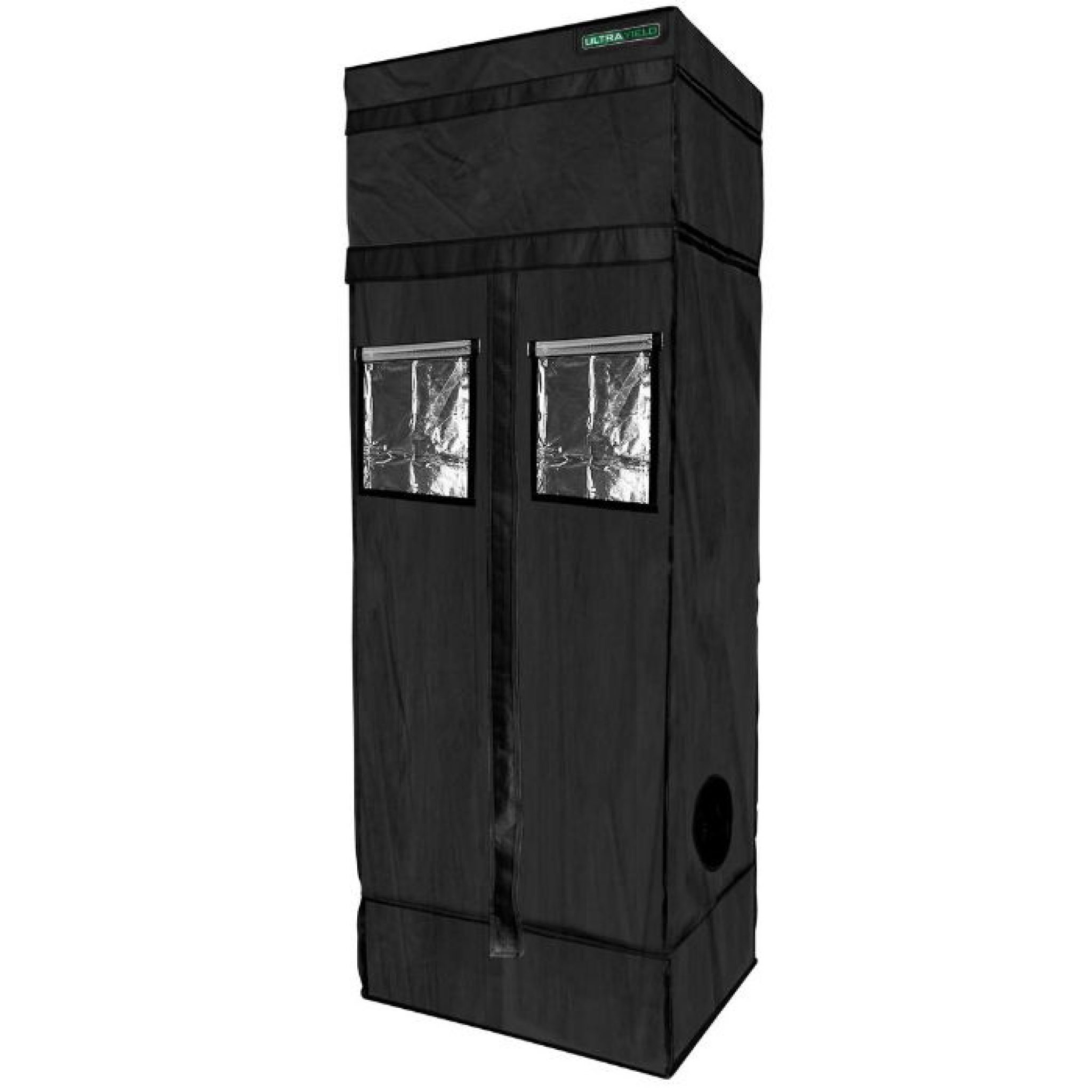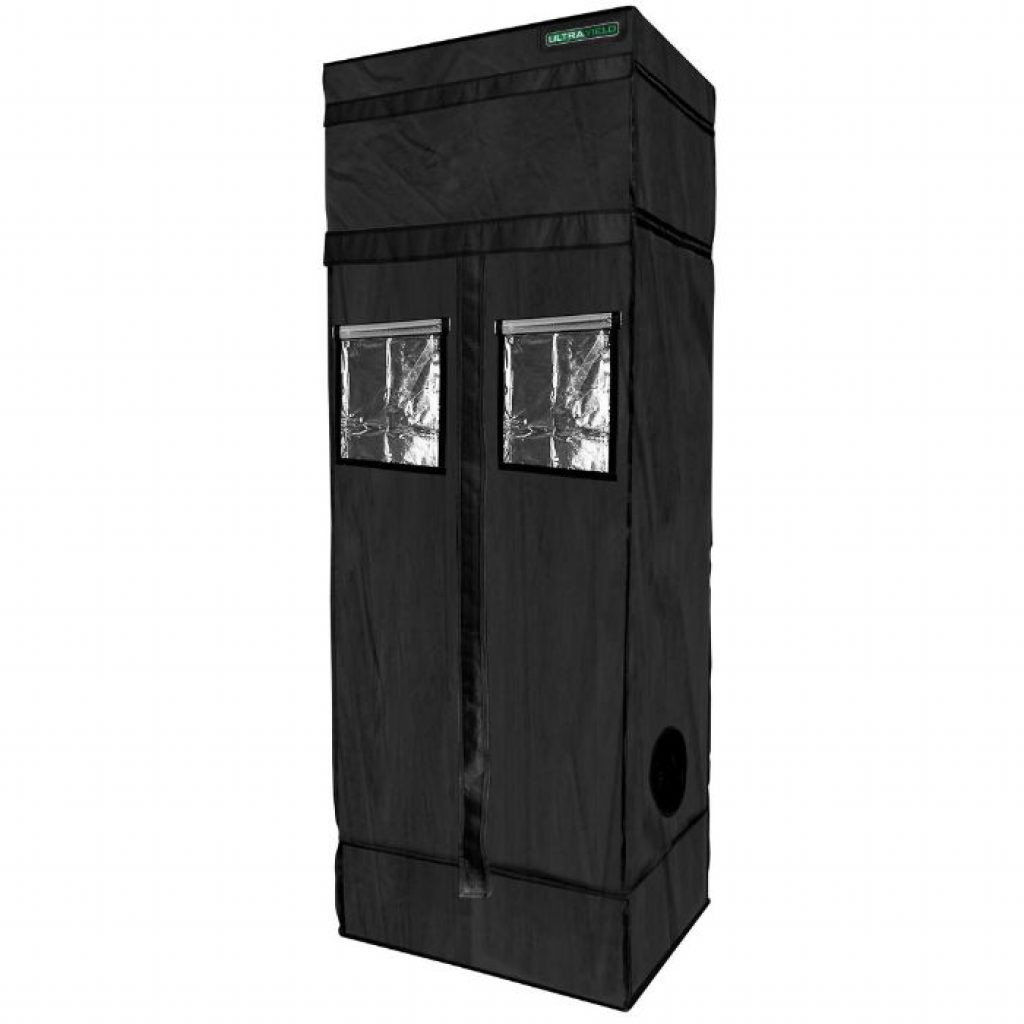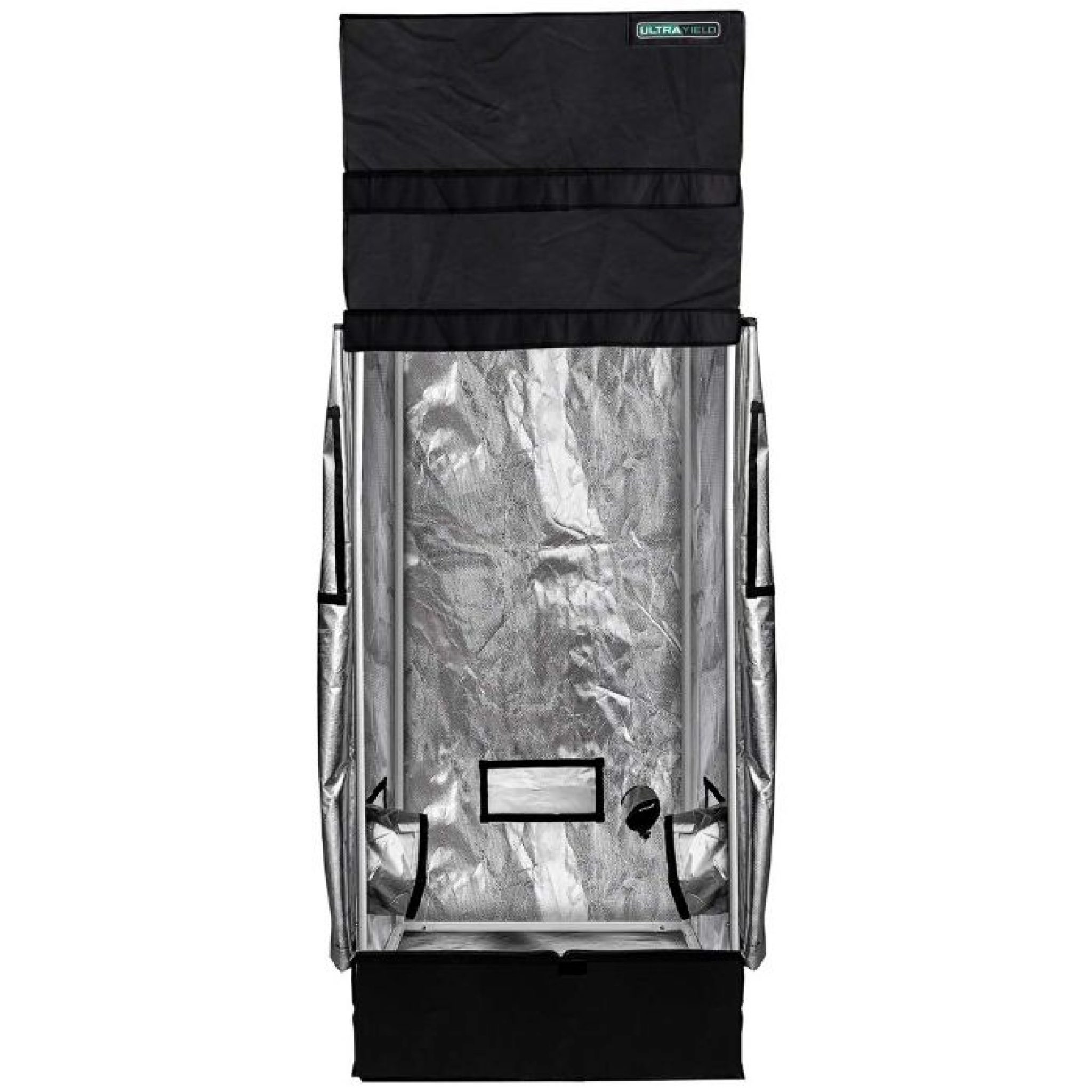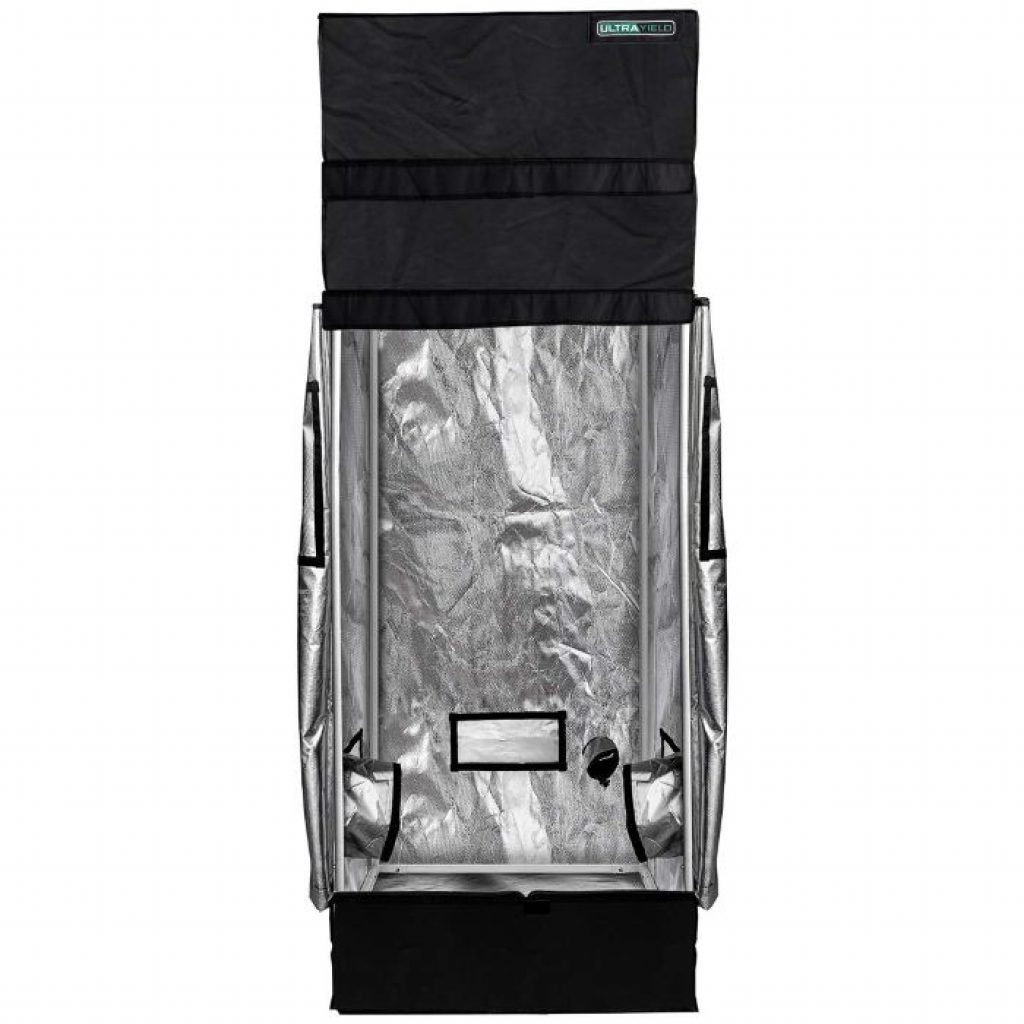 This exceptional quality grower is manufactured by Ultra Yield, another well-known company producing gardening accessories. The brand has a reputation for making high-quality products for growers.
What I like about this model is that you can grow different types of plants inside it easily. For example, you can use this tent with hydroponic, NFT systems, and soil. This item is pretty easy to assemble, thanks to the support tubes that snap easily into place and shorten the average setup time considerably.
The grow tent is durable, thanks to the full metal frame made of 19mm steel tubes that ensure the grower can support a significant weight of about 155lbs. It includes the weight from the necessary accessories that need to be hanged inside the tent. Unlike cheap models that easily tear, this tent is strong enough to support the weight from hanging growing plants, LED grow lights, and ventilation systems that regulate the air inside.
Also, the sturdy frame supports the thick, high-quality 1680D canvas made from durable mylar material. Compared to the 600D tents, the 1680D canvas is about three times thicker. Therefore, it works better in blocking light loss compared to other models. Moreover, it is more likely to last you for many years if well-maintained. I also want to mention that this model comes with large, durable zippers that are easy to handle and extremely difficult to break down.
Do you need a tent that will give you full control of your plants as they grow? If so, this model should be your ideal pick. You can set up your garden just the way you like it, thanks to the easy-to-access design of this grow tent. You can water, trim, and clean your plants with ease whenever you want to ensure they thrive well.
The zippers of this tent are also heavy-duty, and they do not get jammed easily. You can open the top side of the tent for 180 degrees that make accessing your plants comfortable. The item also has a spill-proof floor tray for cleaning with no hassle. I bet this grow tent allows more access than you get in most other options.
The item is also highly reflective, meaning that almost all the light in the grower is distributed evenly to plants. It, in turn, increases the yield. The manufacturer of this tent is also keen on light protection. The tent comes with dual sealing ports that allow you to tightly seal any opening around power cords or ventilation tubes from the inside and outside of the tent. This way, you are guaranteed of no light leaks through such openings.
With such large dimensions, you can operate with a big space to accommodate your plants. Besides, the grower comes with an original French door design that provides the gardener with a larger working space inside the item.
You don't have to take your plants out once they outgrow the height of your tent. This model has an adjustable height, and that's a unique feature that you won't find in other options. With this exceptional feature, you can adjust the size of the grower as the plants grow bigger. The height can be extended up to twenty inches, and I love this option so much. Let's consider the good and bad sides of this grower:
---
PROS:
height can be adjusted;
strong and durable, thanks to the metal frame;
fast assembling;
reflective;
fitted with heavy-duty zippers.
CONS:
you may notice a few light leaks.
5. Growneer 96" x 48" x 80" with Pre-Filters – Best Deal Grow Tent 4×8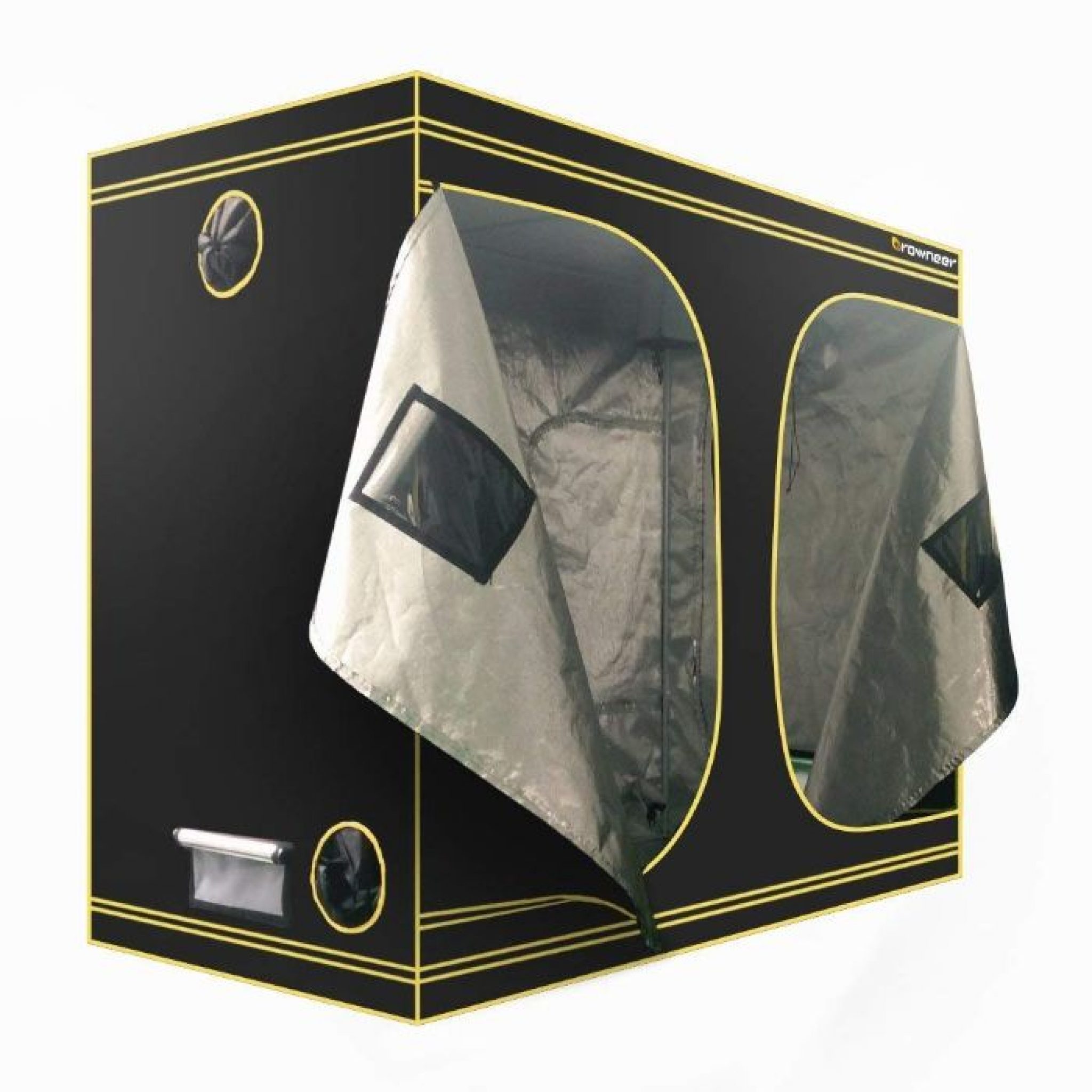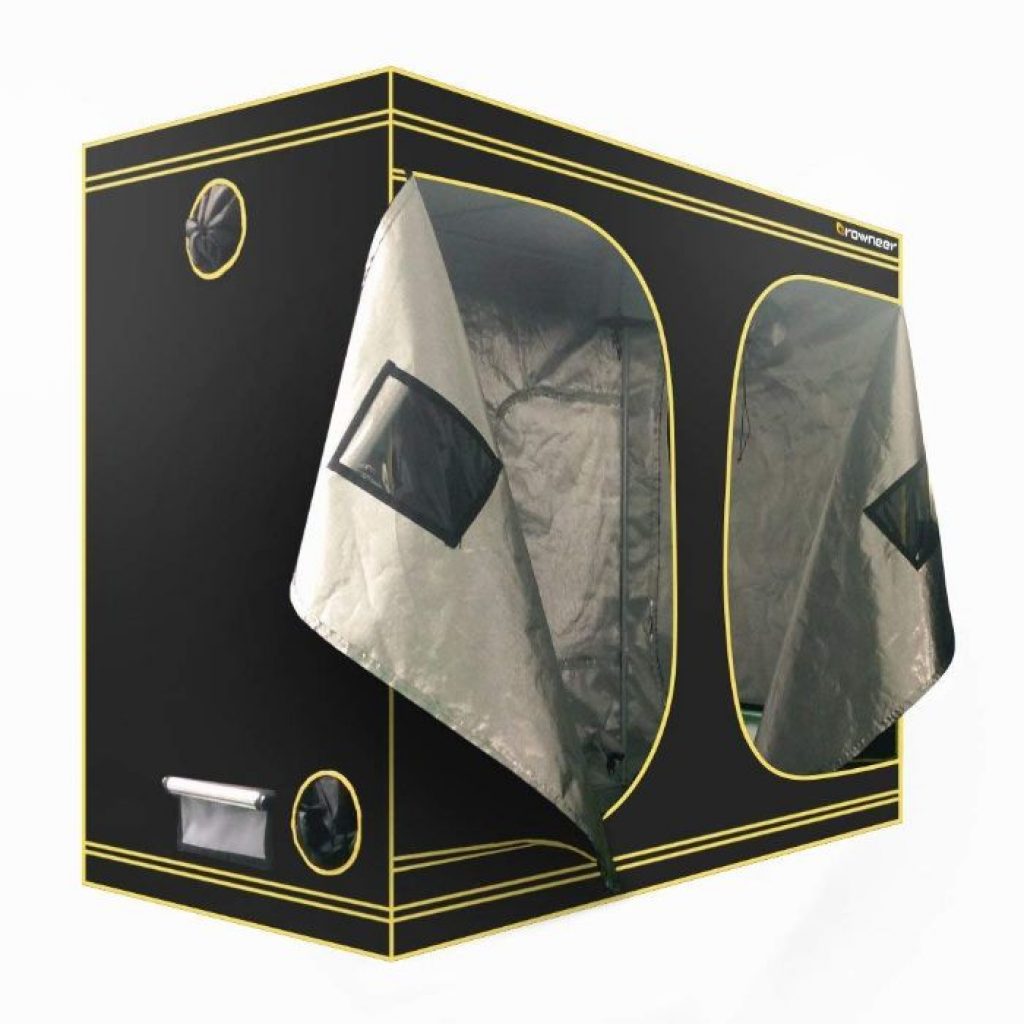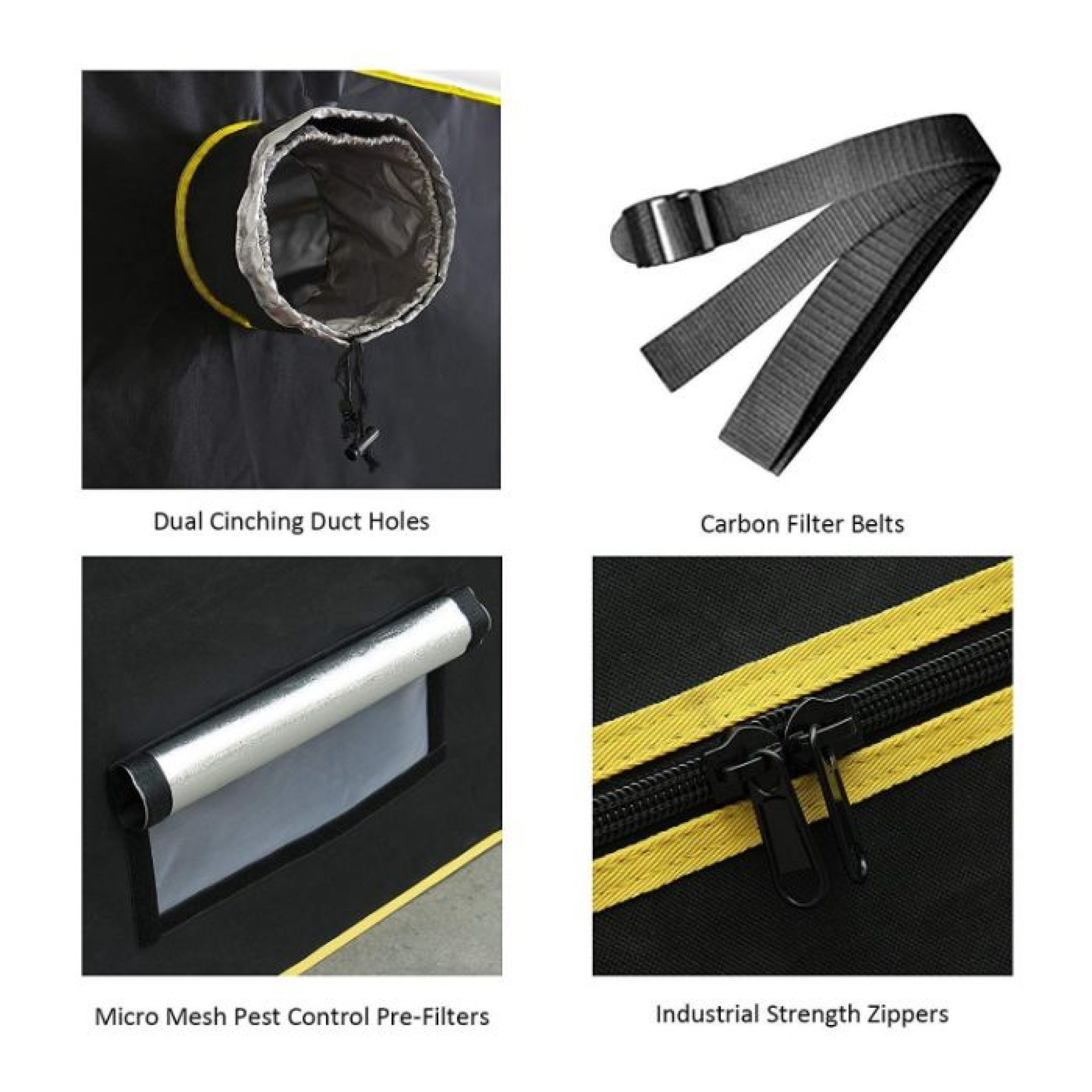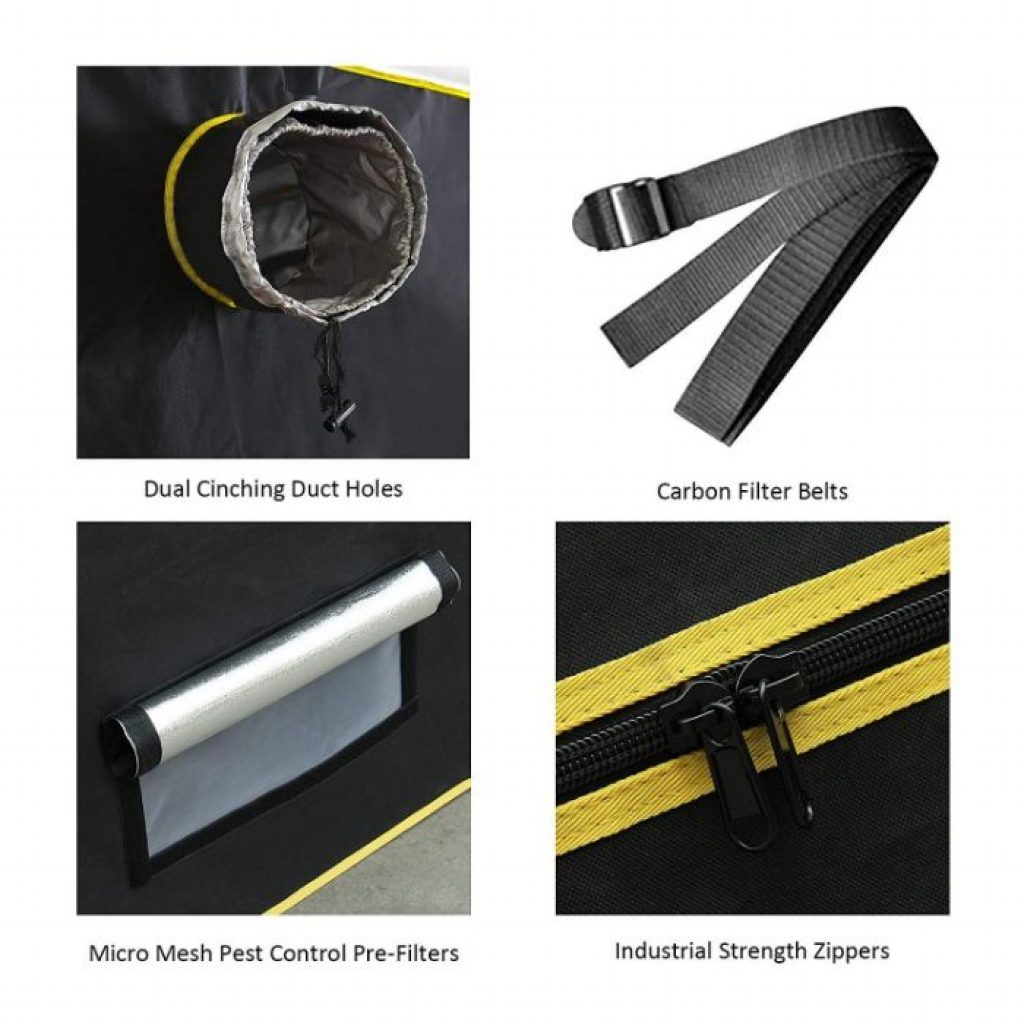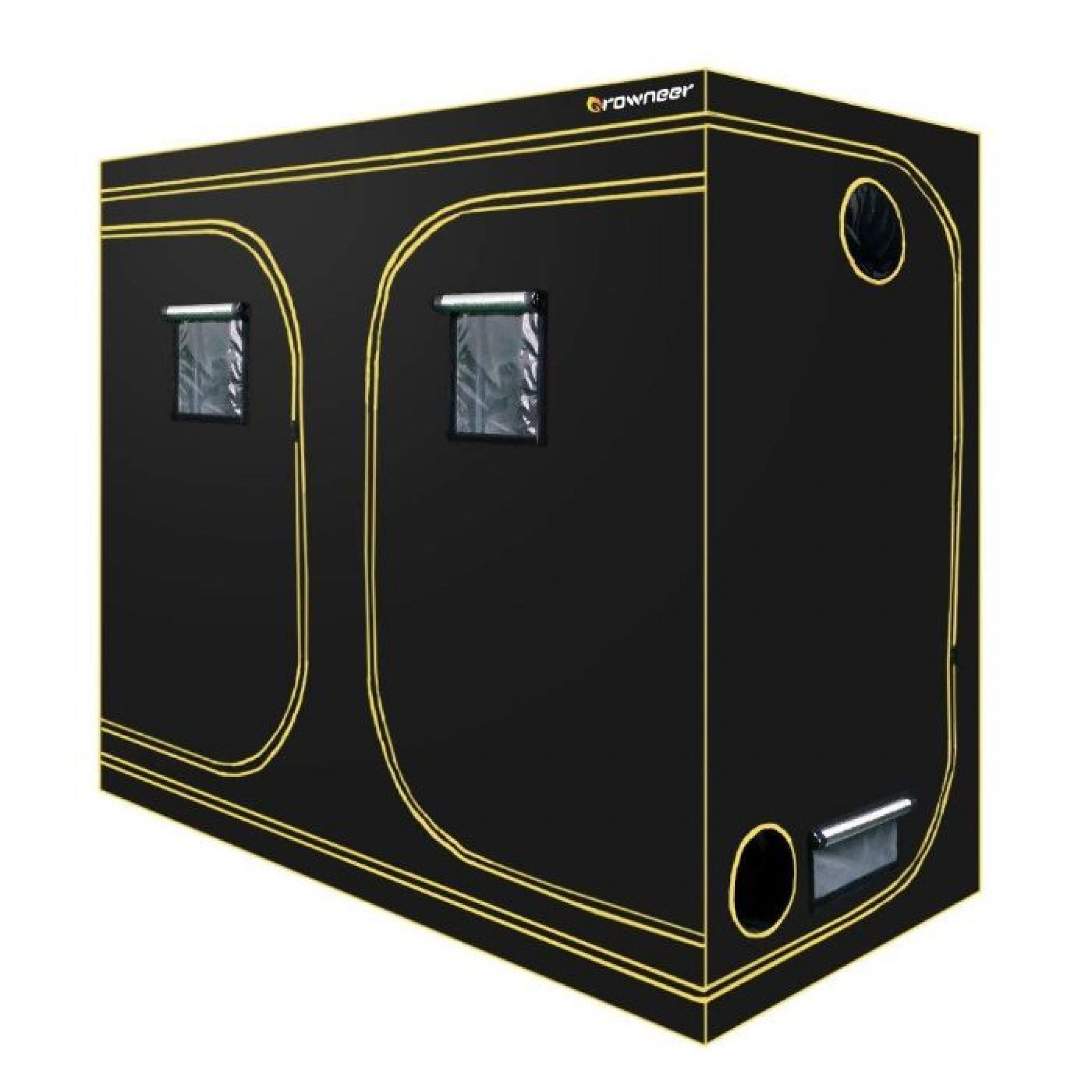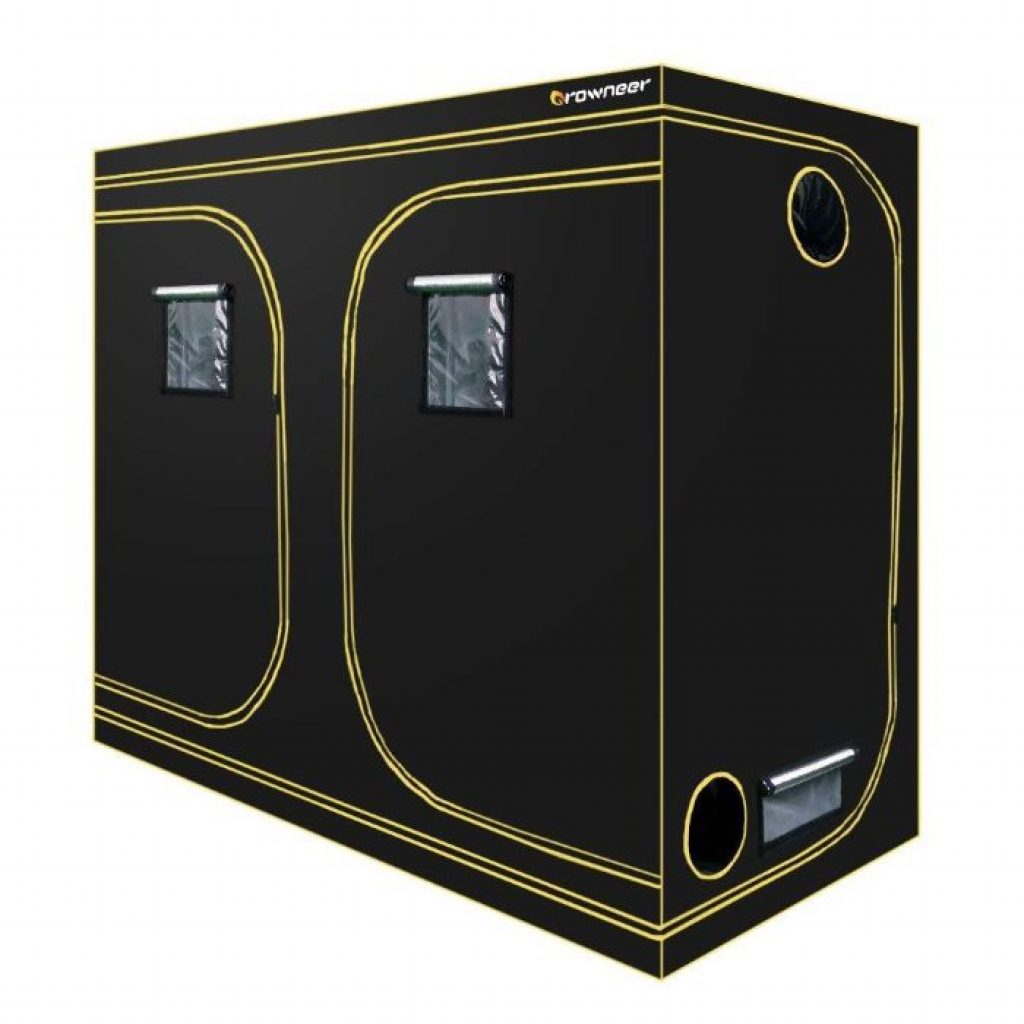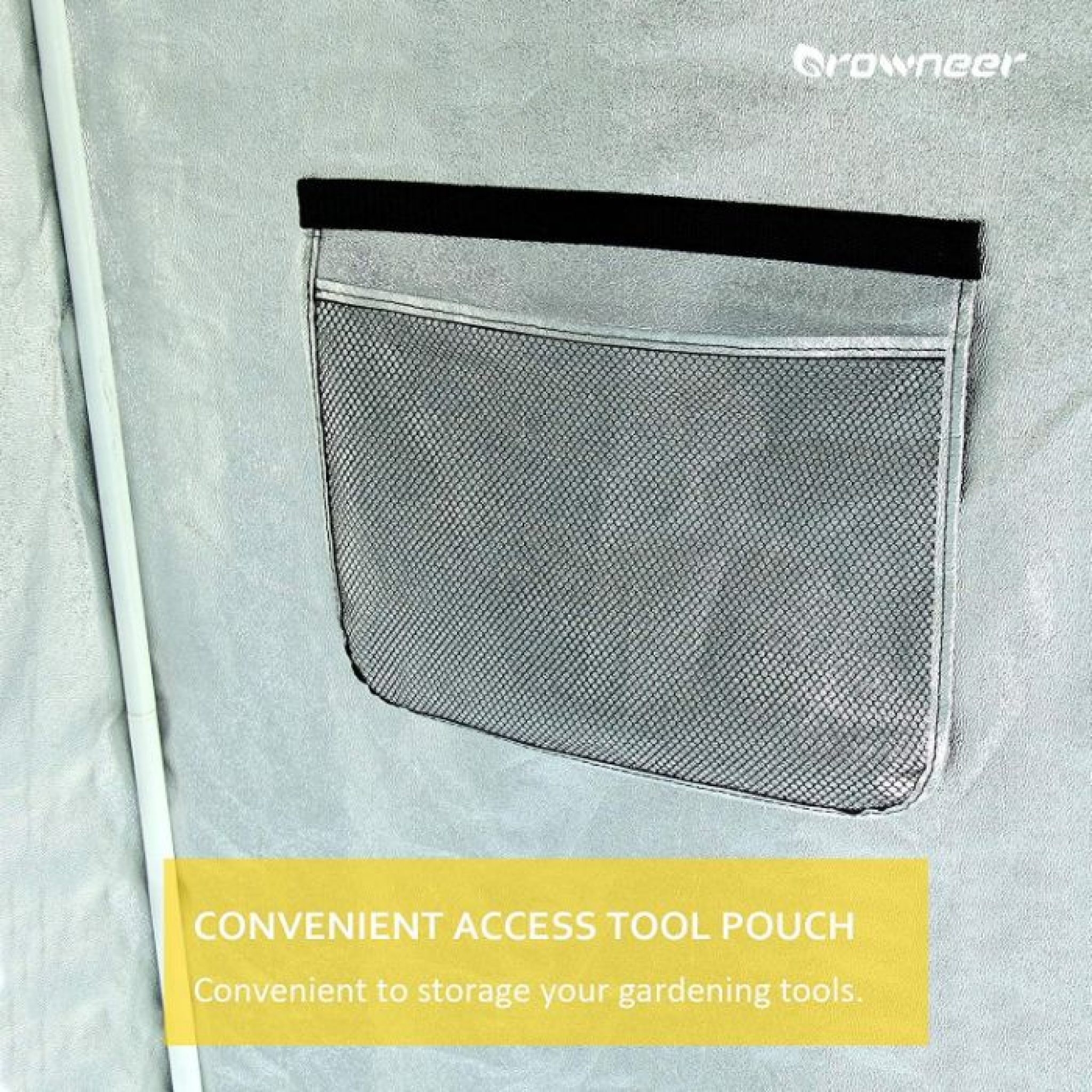 This grower is a product of a Growneer Investment company that manufactures quality household gardening equipment like shears, plant saucer, drip trays, among others. This grower is an example of the high-quality products made by this reputable company.
This grow tent is extremely simple to assemble. One person can set it up without a hassle, and the process should not take more than twenty minutes. Cleaning this tent is also simple, as it features a floor tray that you can easily remove from the grower. This product comes with carbon filter belts for regulating the air inside and a user guide to help beginner gardeners with the maintenance of the grower.
The 96" x 48" x 80" dimensions of this tent mean that you will get a considerable space for your crops. However, the considerable size of this grower can pose a challenge, especially if you want to install it in a small area in your attic or basement. So, before you purchase this model, ensure you have enough space to fit it.
One selling feature of this grower is its durability. It is manufactured of thick 600D canvas featuring high-quality mylar fabric. This material is tear-resistant, so with this item, you get good value for your money and a product that will last for long. Besides, there is no need to worry about ripping the model when setting it up because of the durable materials.
This grow tent also has a sturdy frame that supports the canvas. The zippers of this model are made from heavy-duty metal and huge enough to prevent damage to the canvas and allow easy handling. With these zippers and a transparent observational window on the side, you will be able to access your growing plants easily. The observational window also has Velcro lining around it to prevent any light leaks.
The tent is highly light-proof, as it is 95% reflective and fitted with a mylar lining that provides lighting efficiency and distributes light evenly in the tent. The thick double-stitched canvas also blocks any possible light leaking rays, so this point should not be of your concern with this model.
While I have heard that some gardeners experienced a few pinholes in this tent, that wasn't the case with my model. Anyways, pinholes do not affect the lighting and plant growing much. If you are worried about the perfect conditions inside the tent, you can cover pinholes you spot or accidentally make using glue. Let's consider the advantages and downsides of this grow tent:
---
PROS:
removable tray for easy cleaning;
user guide to assist with assembling;
sturdy frame, making it long-lasting;
thick double-stitched canvas for extra durability;
mylar lining for proper light distribution.
CONS:
a few pinholes of leaking light.
Which 4×8 Grow Tent Carries the Day?
A 4×8 grow tent kit can help you to avoid indoor gardening problems, such as a small planting space, and complicated ventilation. By purchasing such a grower, you can grow many plants in your home, basement, garage, or any other space you want. Selecting any of the models mentioned above will give you value for your investment and allow great gardening results.
It may be a big challenge to select the best tent from the reviews above because each model has its standout features and weaknesses. You should consider these attributes when deciding what tent will suit your needs and fit in your place.
The Zazzy 96" x 48" x 78" plant growing tents is my top pick, thanks to its excellent design and sturdy construction that can support weights of 110 lbs. Also, it is highly reflective and features a clear viewing window so that you can have a sneak view of the plants as they grow. While this item may not be fully light-proof if assembled firmly, that was never an issue for me, and I recommend installing the grow tent following the manual.
Also, the Vivosun 96" x 48" x 80" model is worth mentioning as a runner up. It also has a great design, but the poor quality of the zippers decreases the overall durability of the tent.
However, even the top pick may not be the best 4×8 grow tent for your needs. Every person has different spaces and preferences, so you measure your place and decide on the plant to grow before buying a tent. After reading these reviews and the features, pros, and cons of each model, I'm sure that you will make a final decision easily.
So. what's your favorite 4×8 grow tent so far? Do you agree with my choice of the top five grow tents above? Do you have any questions on 4×8 growers? Share your views, questions, and concerns in the comment section below.