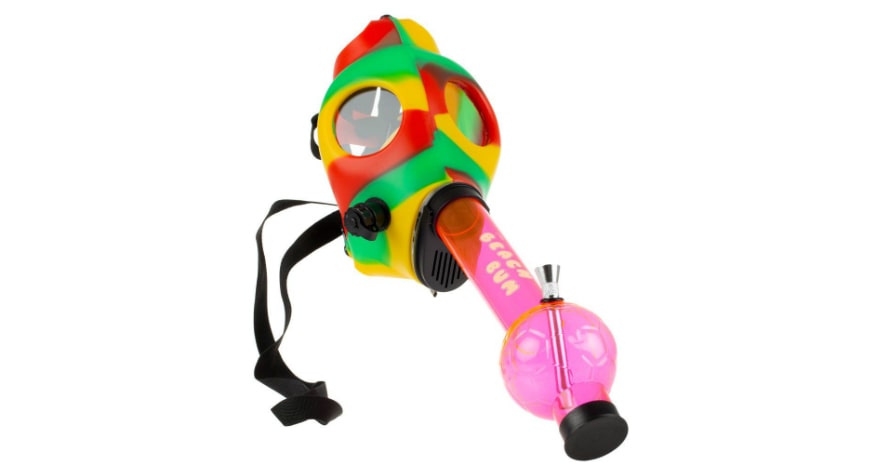 Best Acrylic Bong for You to Buy in 2023
Are you interested in smoking and want to purchase the best acrylic bong? In this case, you have come to the right place. The smoking culture continues to expand and evolve, which means that there are more bong options out there than you could ever try. Making the right choice can be confusing, especially if you are a beginner. In this acrylic bongs review, you will find information about inexpensive and durable bongs that can make your smoking experience quite pleasant. They differ in their features and designs, so it's up to you to decide what you need.
Top 8 Acrylic Bongs
The number of bongs on the market today is astounding, but I decided to make a short guide for those looking for a high-quality bong that won't be too expensive. With the help of this review, you can learn what they are all about and choose the one that will work for you.
1. JM Plastics JMP-F3 – Excellent Plastic Bong with Slider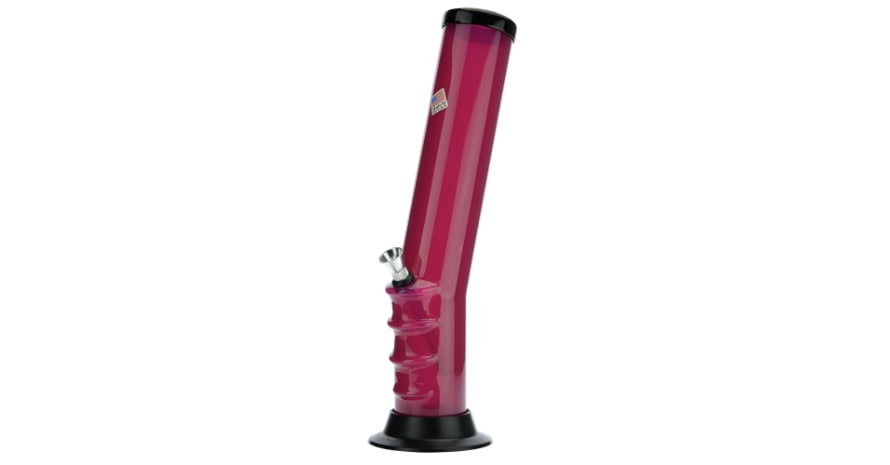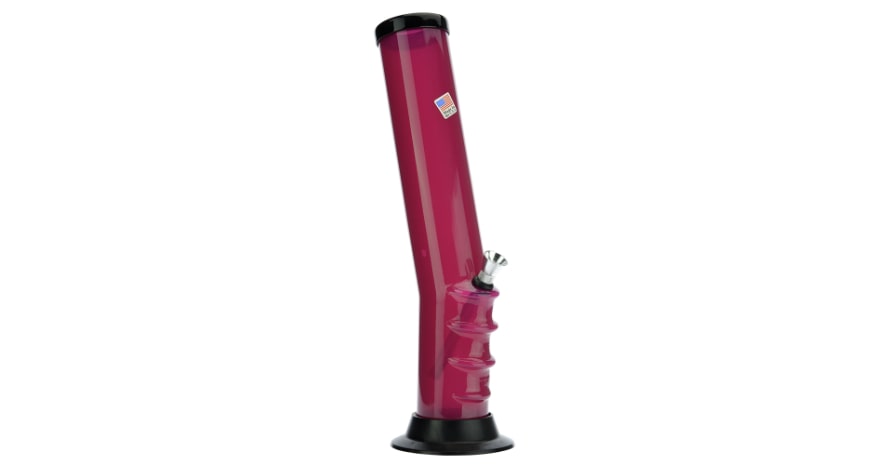 Finding the perfect bong for you is a matter of personal preferences, but there are definitely models that stand out. While a bong construction is usually quite simple, each one of them has certain features. The top pick of this review is a bong made by JM Plastics thanks to its convenience and durability. It is 12 inches in height and is made from high-quality lightweight acrylic. This model of bong should be used with dry herbs.
When it comes to the design, it has raised grips close to the bottom of the shaft so that you can easily hold it when you smoke. It has an angled tube with a metal downstream, and you can remove a plastic mouthpiece when you need to wash it. With the help of a carb hole, you can have proper control over your hits.
All parts are attached securely, so you can use this bong often and without problems. This bong is available in two colors – ice blue, which is more transparent, and also pink. The construction of this bong feels reliable but you can always take it with you to parties or anywhere else because it remains lightweight. It is a great product to consider if you don't want to spend a lot on your bong, but you wish to get a safe and reliable smoking device that will last you a long time.

---
PROS:
Durable and lightweight;
Has raised grips;
Features an angled tube;
Easy to clean.
CONS:
Doesn't have a percolator.
---
2. JM Plastics JMP-F19 – Egg-Shaped Acrylic Bong with Slider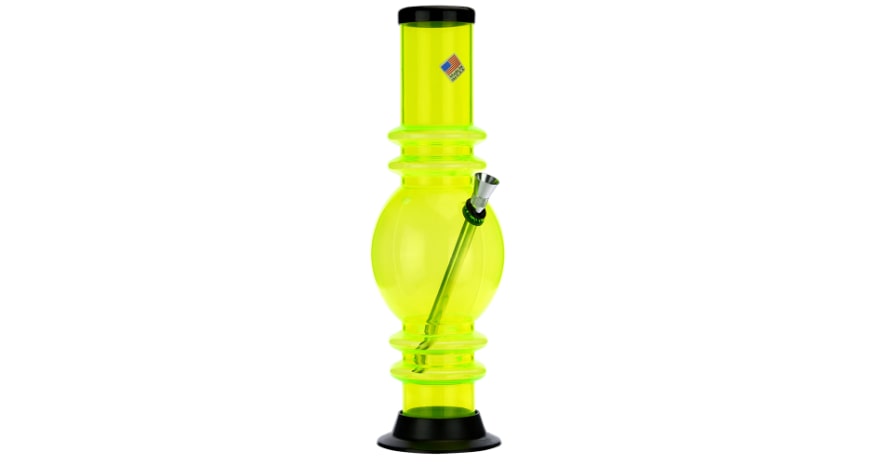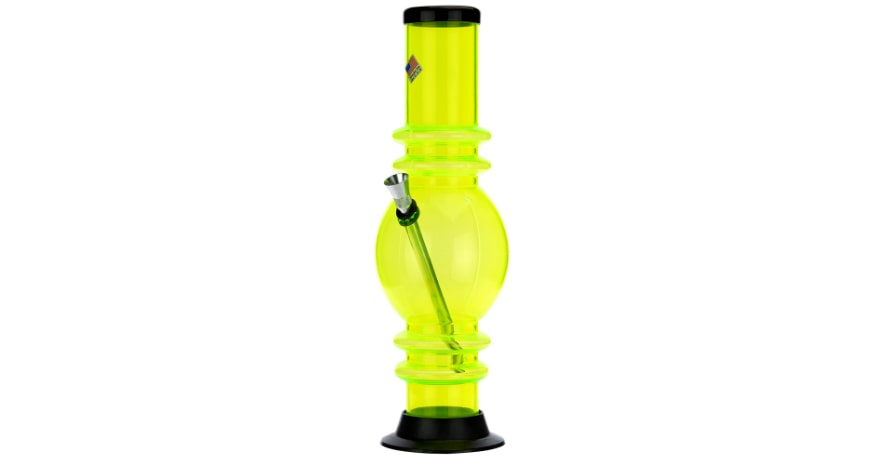 Another excellent bong that I decided to mention at the top of this review is the egg-shaped one from JM Plastics. It has a classic egg shape and is 12 inches in height, which is convenient for the majority of people. The material from which it is made is acrylic, and it is both lightweight and reliable, so you can even take the bong with you when traveling. It's one of those bongs that are easy to take with you to parties or when going to your friends.
When using the bong, you get filtered yet flavorful hits because the smoke is diffused in the body of this bong. There are no problems when it comes to cleaning this bong – you can remove a plastic mouthpiece when you are done and wash it.
In terms of design, the model has a straight tube and also features two marias at the top and the bottom. These ridges make holding and carrying your bong easier, as it won't slip out of your hands. This option is available in the bright yellow color and is quite eye-catching. A combination of price and its features make the bong a great option for many smokers out there.

---
PROS:
Made from durable acrylic material;
Has two marias;
Convenient and easy to take with you;
Easy to clean.
CONS:
Available in a single color.
---
3. JM Plastics JMP-RB-2 – Small Acrylic Bong for Traveling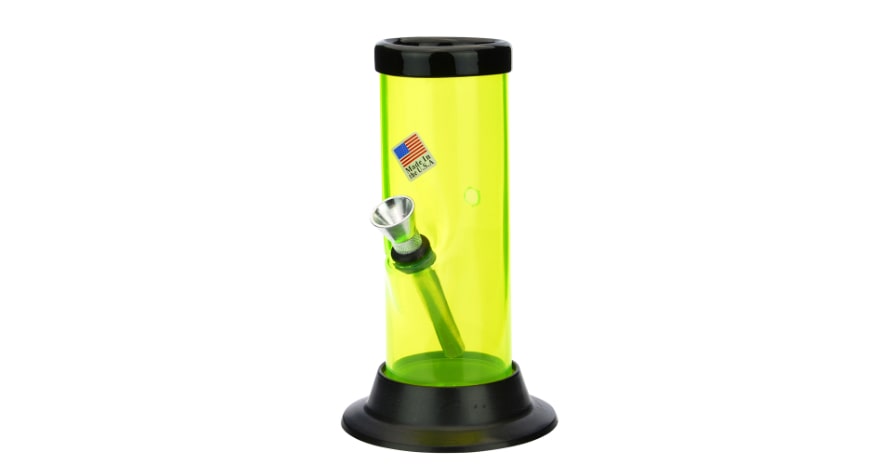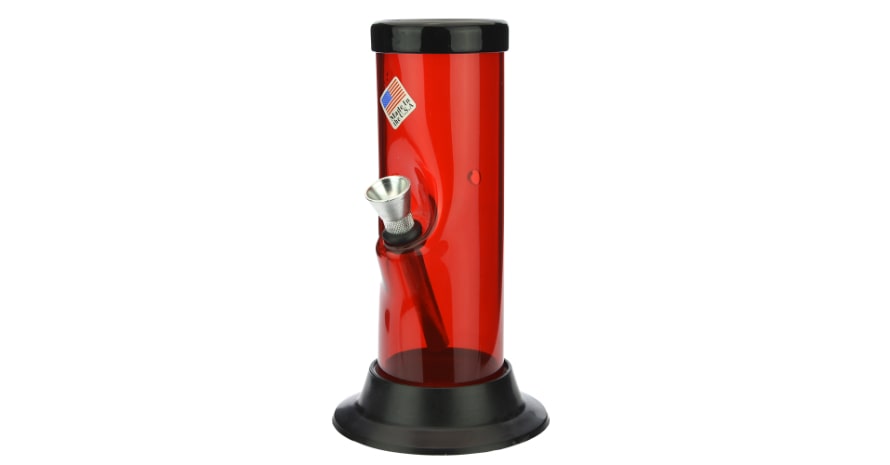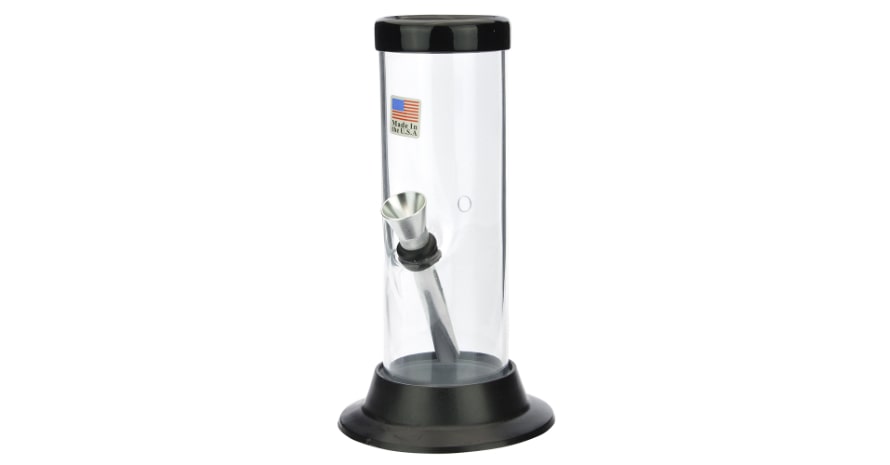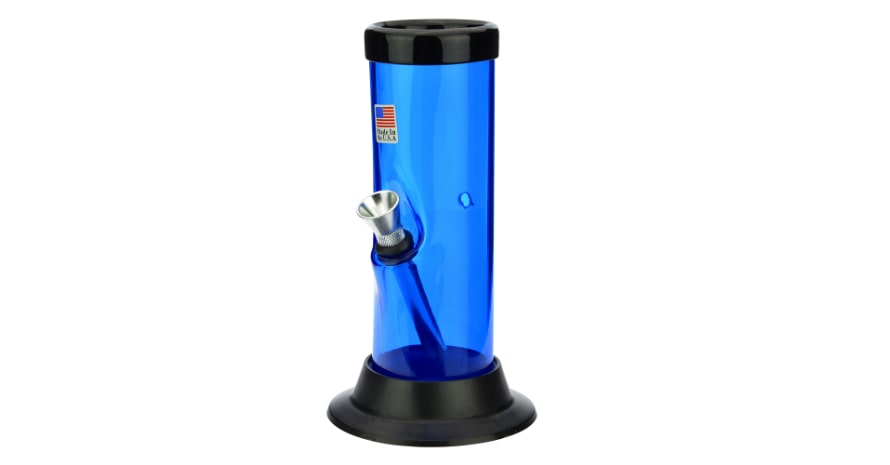 If you are looking for a compact and inexpensive bong, this option created by JM Plastics is certainly great value for its money. The first thing you can notice is that it's only 6 inches in height, which means that you can take it with you without any issues. It is a straight tube bong in its construction, and it features a metal downstem and a circular foot made from plastic.
The mouthpiece is reliably attached, and you can take it off for cleaning. There is a carb hole on the side for controlling your hits. You should keep in mind that the model should be used with dry herbs. Just like other bongs from JM Plastics, this one ensures that the smoke is cooled down enough for you to enjoy your hits.
This bong comes in a range of colors, including red, purple, black, white, and more, so you can choose the perfect one for you. The body of this bong is made from acrylic, which makes this bong lightweight while also remaining reliable and sturdy. If you are looking for an inexpensive model that you can easily travel with, this is a great option to consider.

---
PROS:
Available in a range of colors;
Lightweight and compact;
Made from durable acrylic material;
Easy to travel with.
CONS:
May be too small for some people.
---
4. JM Plastics JMP-MINI-GRIP – Easy-to-Hold Acrylic Water Bongs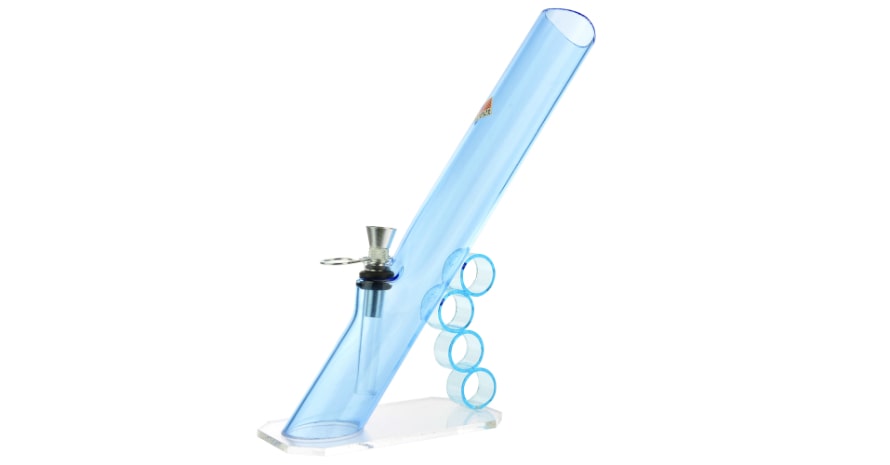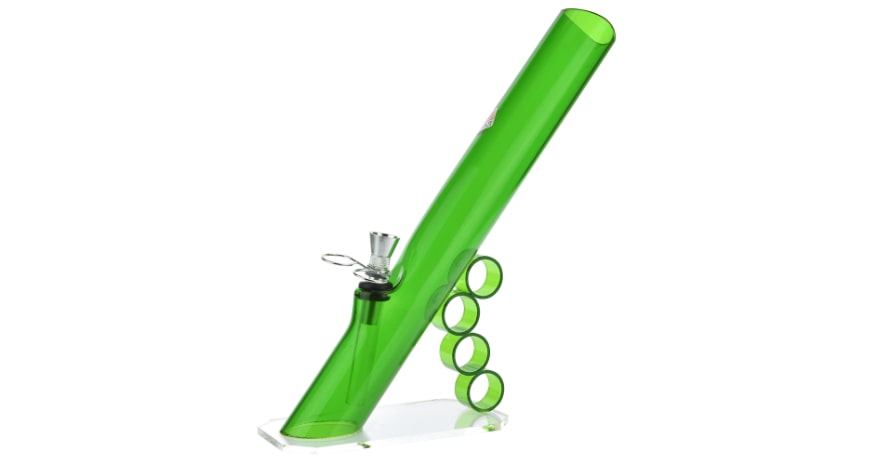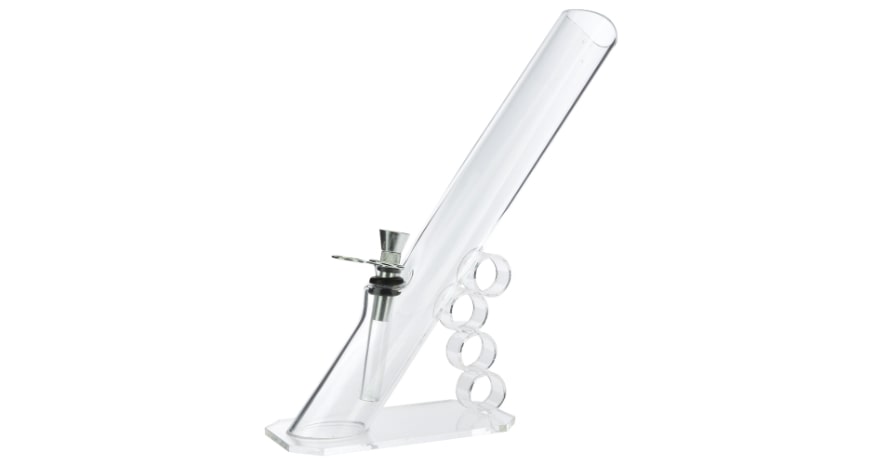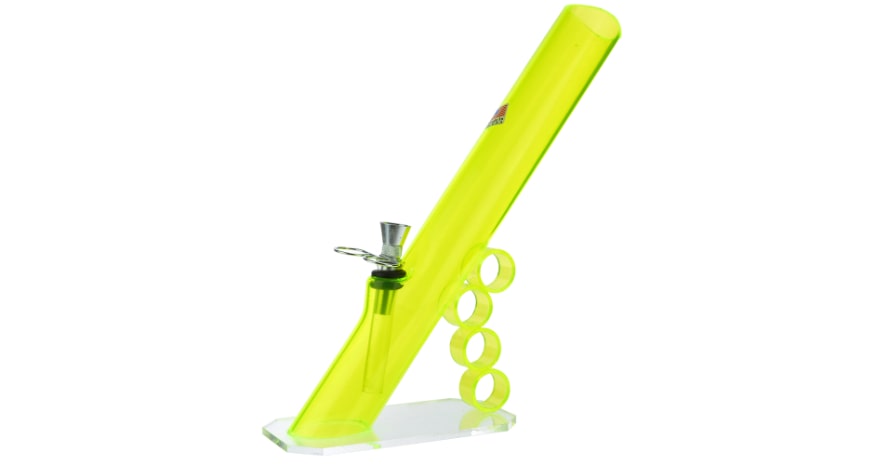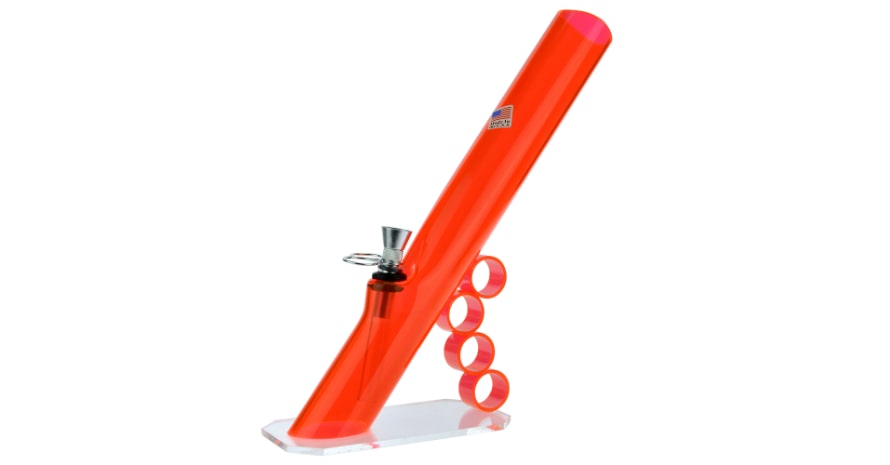 In this JM Plastics bong, the focus is certainly on comfort and interesting design. The bong features a transparent base and an angled tube made from high-quality acrylic material. What makes it special is its finger grips attached right to the tube. The bong is easy to hold, even when standing.
This model is 9.5 inches in height, which is a sufficient height for most people, and it is still quite compact. You can use it with dry herbs, and it is a good idea to put a metal screen in the bowl to make sure that ashes won't enter the water. The downstem is made from plastic, and you can unscrew the mouthpiece when you need to wash it.
Similar to other bongs from this brand, you get quite a clean hit because the smoke breaks on the water before you inhale it. As a result, such filtration is better for your lungs, but you don't lose the flavor.
Besides its convenient shape, the bong is also available in a selection of colors – red, green, yellow, and others. You can also opt for a transparent one. The bong has the basic features you may need, is easy to hold, and is made from reliable material.

JM Plastics JMP-MINI-GRIP
---
PROS:
Stable base and convenient shape;
Lightweight;
Durable acrylic material;
Many colors to choose from.
CONS:
Angled tube may not work for some people
---
5. JM Plastics JMP-F14-ORN – Double-Bubble Plastic Water Bongs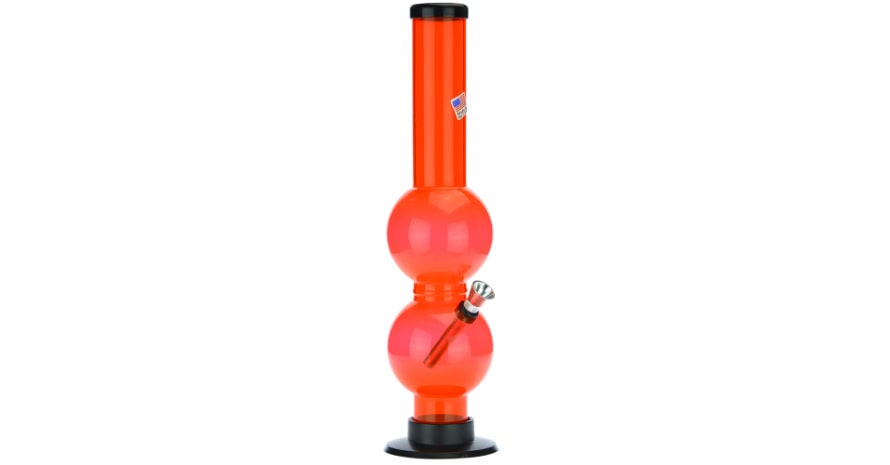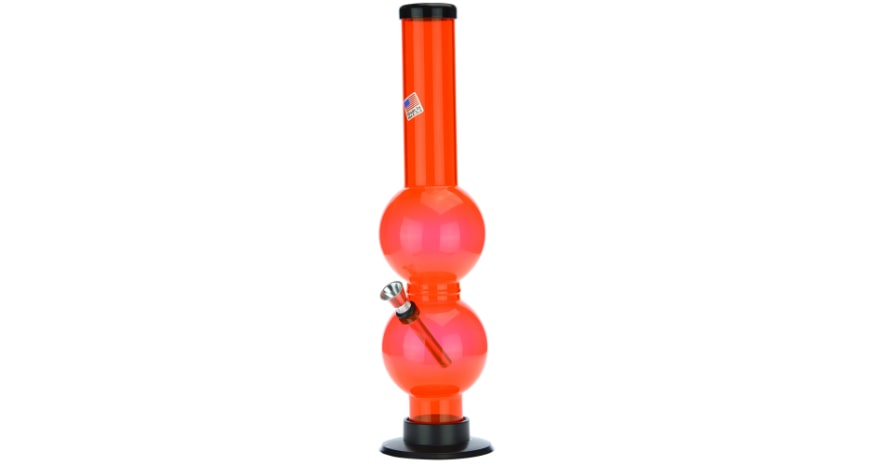 Another model on the list in this review is an interesting model from JM Plastics – a double-bubble bong. Just as the name suggests, it has a unique design that attracts a lot of attention. The bong is 12 inches in height and is created using acrylic material that is safe for health and also makes it quite lightweight. The process of its filtration works well, so you can enjoy the taste without it affecting your throat and lungs.
This particular bong is made as a straight tube, and two bubbles ensure that it's easy to hold even without any ridges. The circular foot and mouthpiece of this bong are removable. The downstem with a screw-on bowl is made from metal. For those who want to control their hits better, there is a carb hole. The entire construction feels reliable when you use it, and the material allows you to take it with you wherever you go.
The bong is available in a saturated orange color that compliments the design of its body. It is reasonably priced for its quality, and the material ensures that it will last for a long time.

---
PROS:
Captivating double-bubble design;
Made from reliable acrylic;
Has a carb hole for better control;
Bright color.
CONS:
Available only in one color.
---
6. JM Plastics JMP-A24-GOG – Tall Acrylic Bongs with Percolator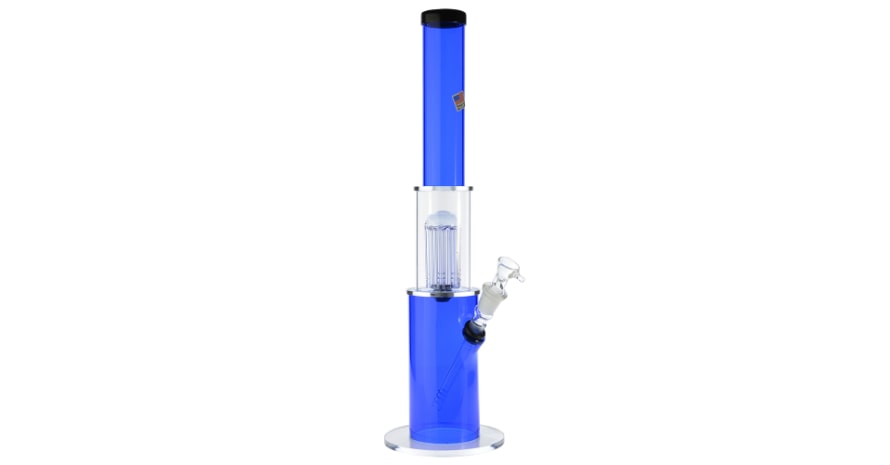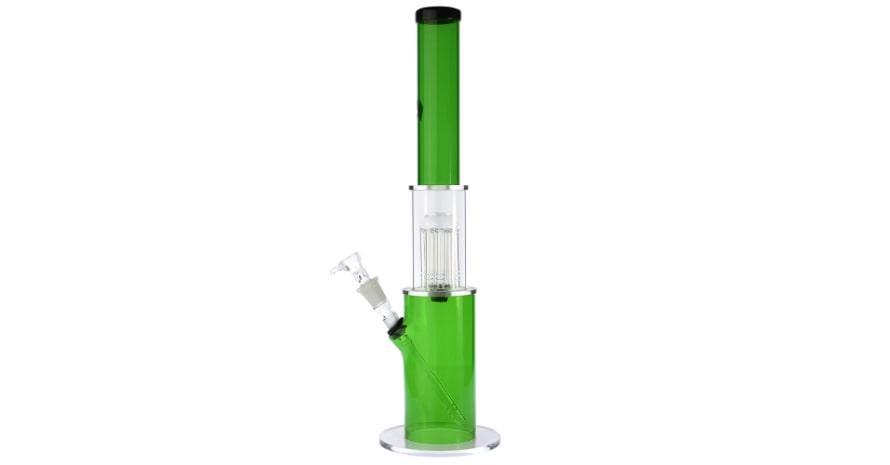 If you are interested in the acrylic bong with a more sophisticated system, there is an option for you to consider. This is a so-called percolator bong from JM Plastics that uses a glass tree to ensure the best level of filtration and cools down the smoke before its inhalation. As a result, your smoke doesn't travel directly into the water but rather is diffused and enters the water gradually.
When it comes to the construction, this is a tall acrylic bong that is 15 inches in height. While you can definitely carry it with you, this is not as easy compared to the 6 or 9-inch option. Besides having a glass tree percolator, the bong has a stable circular base and a diffuser downstem that is attached with a rubber grommet. What is great is that a herb bowl comes with this bong. Just like with other models, you can quickly remove a mouthpiece for cleaning.
The bong has an interesting design, as it is blue or green on top and bottom while the percolator chamber is transparent. Thanks to this design, you can see how the smoke travels through the percolator. If you want an increased level of filtration, this bong may be right up your alley. It is especially convenient for home use.

---
PROS:
Has a percolator diffuser;
Stable construction;
Excellent filtration and cooling system;
Lightweight.
CONS:
Can be too large for traveling with it.
---
7. JM Plastics JMP-APG-312 – Durable Acrylic Bong with Perc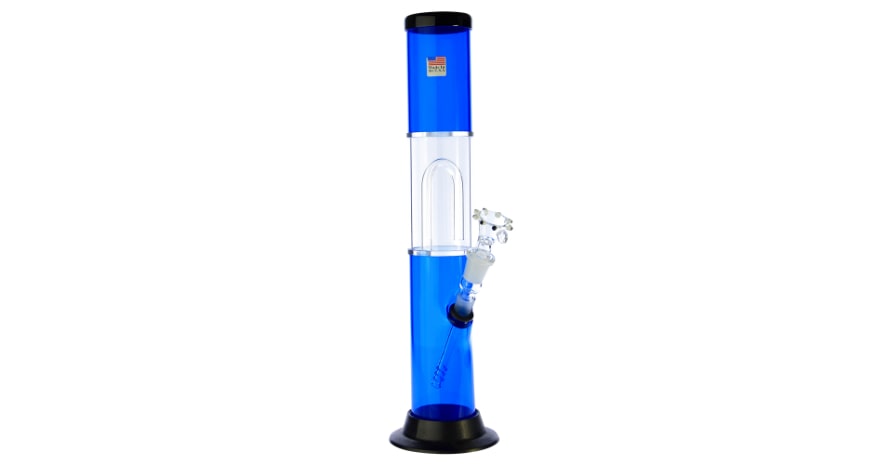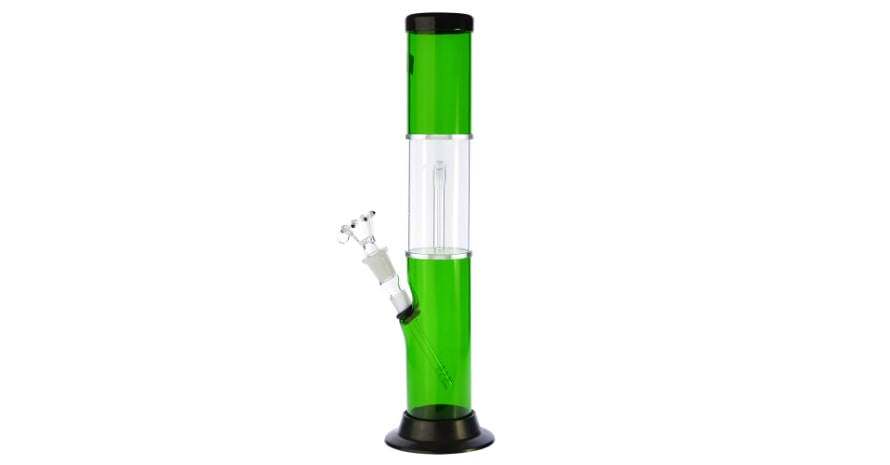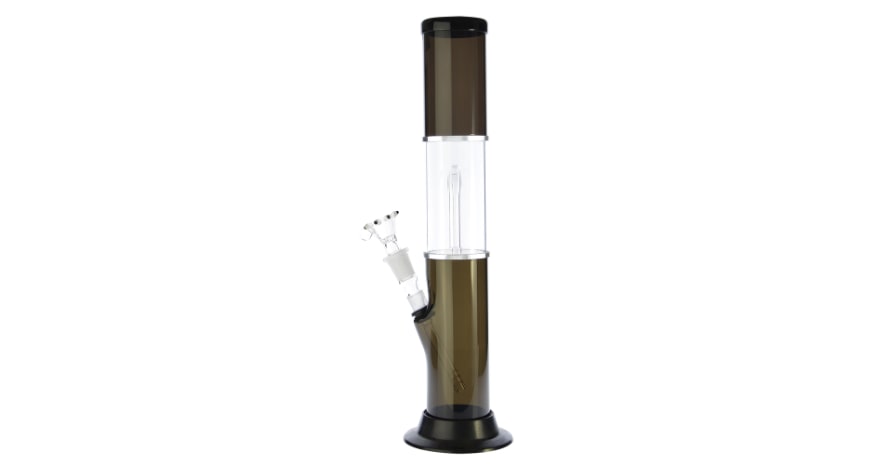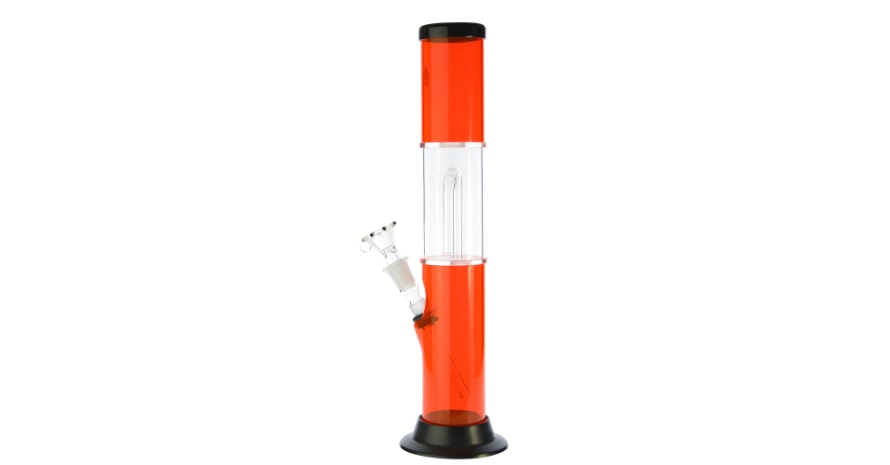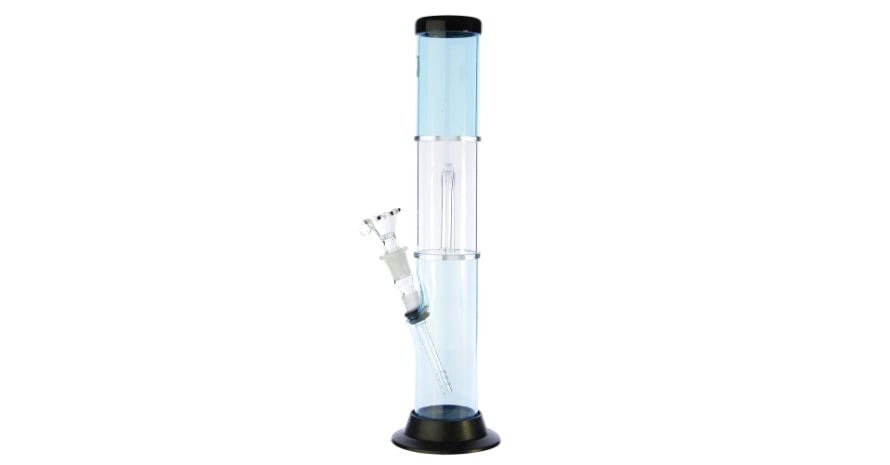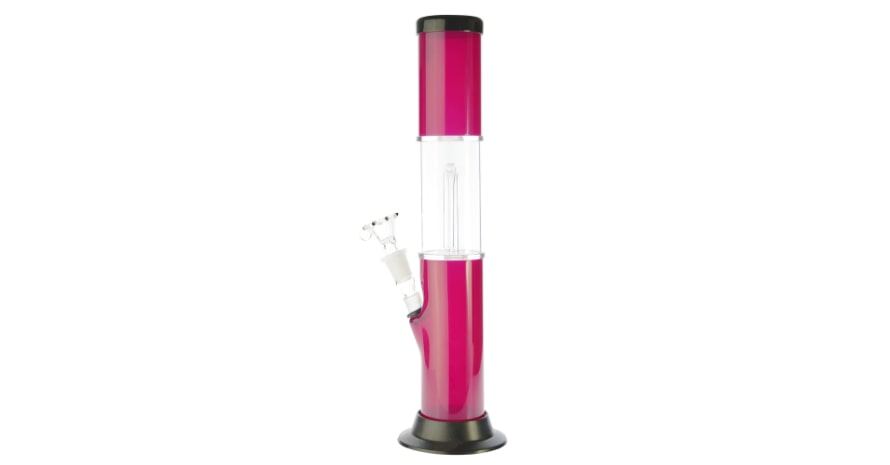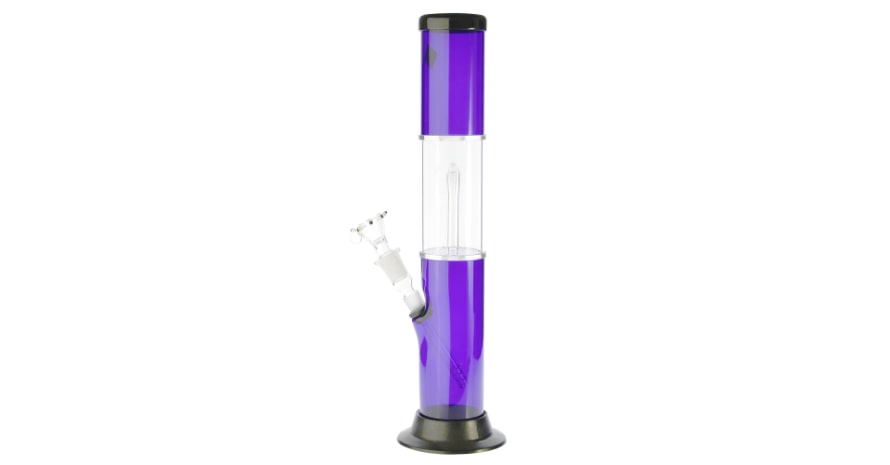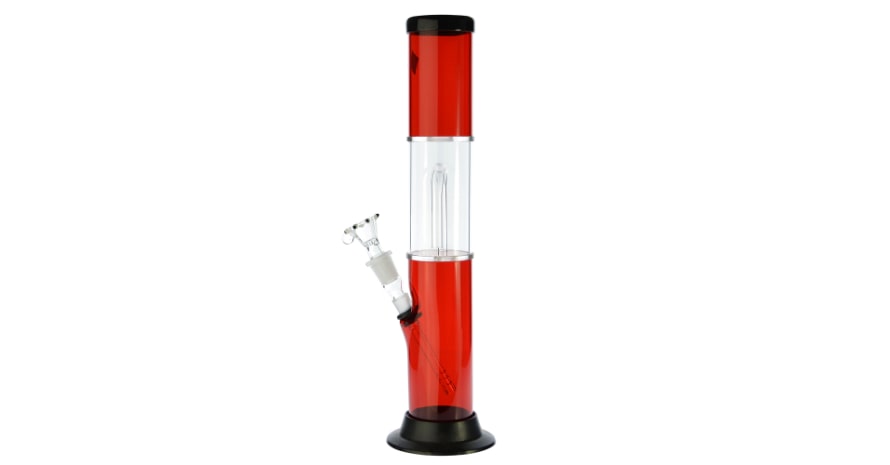 This is another worthy percolator bong from JM Plastics. Just like other models in this review, it's made from an acrylic material that makes it safe and also lightweight. The bong is 13 inches in height, so it's taller than some other options mentioned here. The shape of the tube is straight, and it has a circular foot that ensures its stability. The bong includes a 14.5mm downstem and a glass herb bowl that work together to provide you with an outstanding smoking experience. The herb bowl has a handle, so you can remove it easier.
The most interesting thing about this bong is its arched tube percolator that you can find in the middle. It is there to increase the quality of your hits and offers excellent filtration and cooling. The design of this bong allows you to see the entire process, which is fun in itself.
If you are particular about colors, this model comes in a variety for you to choose from. The bong has colored parts on the top and bottom, but the percolator section is clear, so it's easier to see how everything works.

---
PROS:
Interesting design;
Available in many colors;
Comes with a herb bowl;
Durable and convenient.
CONS:
More difficult to travel with.
---
8. Beach Bum FB-BBGM3 – Best Acrylic Bongs for Parties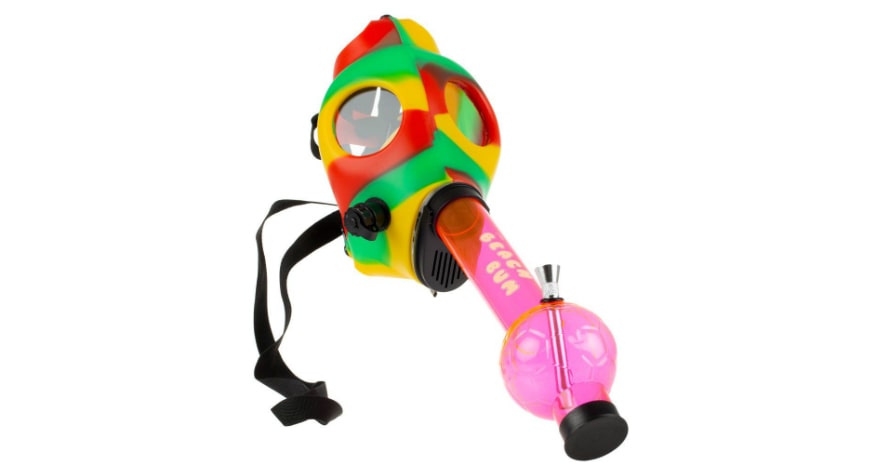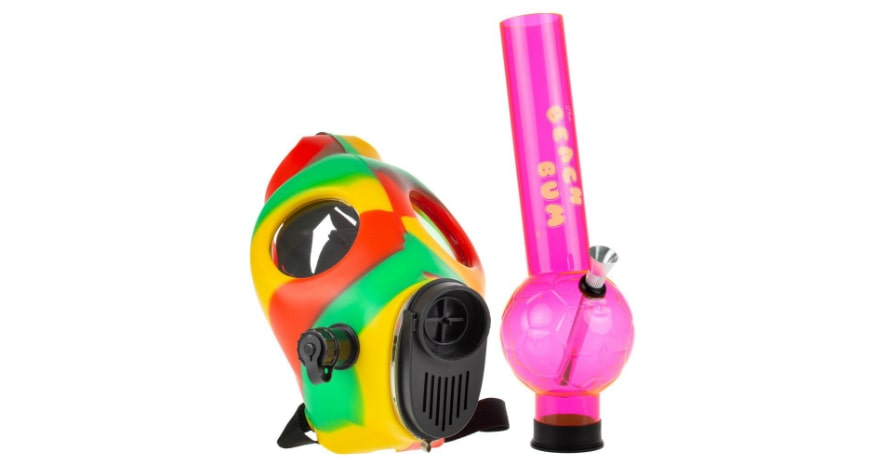 If you truly want to stand out and take your smoking seriously, the most impressive bong on this list in terms of design is certainly the Beach Bum Gas Mask. Inspired by the character Moondog in The Beach Bum, this is a complete set for people who don't want anything minimal. The set includes an acrylic tube bong and a silicone gas mask that are durable and definitely eye-catching. This is the type of gear that will work for parties when you want to impress others.
When it comes to the details, the height of the actual bong is 9.8 inches. The tube has a removable plastic cover at the bottom and a standard metal downstem. When you want to use the bong with the gas mask, you should start it as you normally would, adjust the mask on your head, and inhale with the mask on.
One thing to remember is that you need to close your eyes or use goggles so that smoke doesn't get into your eyes. If you want to be unforgettable at a party, this is surely the type of bong for you.

---
PROS:
Impressive and fun design;
Adjustable silicone mask;
A bong is easy to clean;
Made from high-quality materials.
CONS:
Requires you to wear goggles or close your eyes.
---
Acrylic Bong FAQ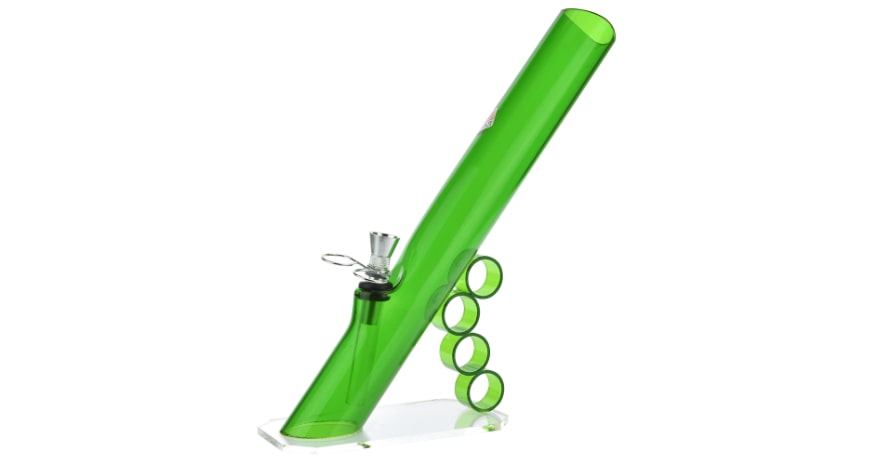 Here you can find answers to some questions that smokers often ask about acrylic bongs.
Are acrylic bongs good?
When created by reliable manufacturers, acrylic bongs are definitely good, and they are also inexpensive. They are lightweight and last a long time with proper care, so it's not surprising that so many people prefer the options made from this material. They are also ideal for traveling, as they are less likely to break compared to the ones made from glass or ceramics.
Are acrylic bongs safe?
Acrylic that is used in the production of bongs is safe for use and non-toxic. It doesn't contain dangerous BPA, and it also doesn't release detrimental chemicals unless it is heated above the 572°F temperature.
What are the best types of bongs?
This is a difficult question to answer because it depends on how you plan to use your bong. A simple straight or angled acrylic bong is ideal for home use or taking with you. For many people, it is the best option as it is inexpensive and does the job well.
When it comes to the designs, there are many to choose from. If you want a more refined and complicated option, some of the bongs that you can find include:
Multi-chamber bong
Recycler bong
Acrylic bong with ice catcher
Bubblers, and more
Also, bongs can be made from other materials besides acrylics, such as ceramics and glass.
Do percolator bongs get you higher?
No. A percolator bong ensures a higher level of filtration and is more effective at cooling down the smoke, but it doesn't cause you to be higher than a bong with the percolator. What is more, a percolator bong causes a slightly bigger loss of THC, but the difference is so insignificant that it's not something you will notice.
Safe and Reliable Bong for Your Best Smoke
It's difficult to name a certain bong the best one because every person has their preferences. All bongs in this review are worthy of attention because of their features, design, and price. While comparing many options, JM Plastics JMP-F3 is one of the best out there. It is fairly cheap, can be taken with you when traveling, has raised grips and a convenient angled tube. Whether you are new to smoking or already have some experience, this model from JM Plastics can become a great purchase.