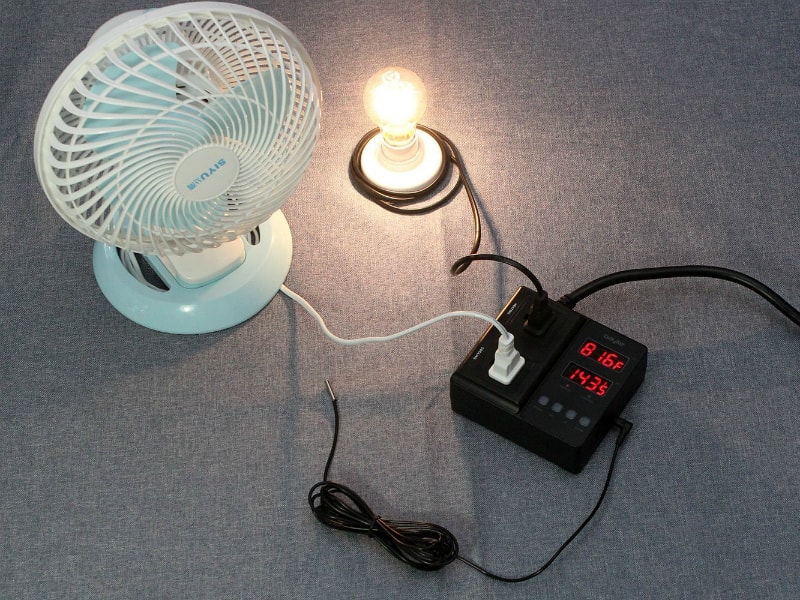 Best Humidity for Cannabis for a Great Harvest
Keeping the correct humidity and warmth in a growing room allows your plants to grow quicker, give larger buds, and preserve them from rust and various diseases. When the temperature or humidity is above or below the desired level, the plants will suffer.
It may lead to the appearance of insects and diseases, and the output will be less. What is worse, the plants can die. To achieve the most favorable results, you need to maintain the essential parameters of humidity and temperature.
Manual control of all characteristics can be inconvenient, and it's not the most reliable way to maintain the best humidity for cannabis.
The controller makes humidifiers, dehumidifiers, air conditioners, and coolers turn on and off. You can get a streamlined environmental support system that is comfortable and modern. It is only necessary to adjust the device to your conditions and respond to its signals from time to time.
In this grow room controller review, you can read about the best options on the market. Due to the buyer's guide, you will also be able to choose the perfect model. You can also find the answers to the most popular questions about the use of controllers, levels of humidity, and essential temperature in a growing room or tent.
Products for the Best Humidity for Cannabis
In addition to acquiring temperature and humidity controllers, you will have to observe several conditions for preserving your plants. Otherwise, your purchase of a controller can become a waste of money. At first, you have to make sure that the room is insulated, and the outside temperature does not affect the internal temperature.
Make sure that there are no temperature differences in the place of growing. The fans are also needed to provide air movement. It is also worth making sure that the lighting stuff that provides photosynthesis of plants does not affect the temperature. In this review, you can read about the high-quality and the most popular models on the market.
1. Finnex Temperature Controller Digital Heater — My Top Pick Controller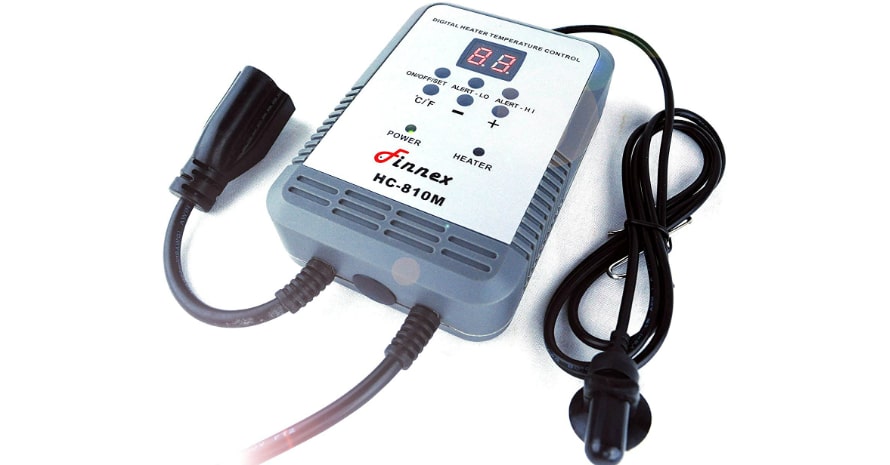 The given heater temperature controller has everything essential to set proper temperature parameters. High and low-temperature settings are easily adjustable.
Besides, the device has a sound signal that allows you to learn about temperature fluctuations quickly. This model features double protection in case of heating shutdown or overheating.
This controller is made of lightweight, durable materials. Finnex Temperature Controller Digital Heater has a LED, easily adaptable, and memory settings.
The last means that as you turn the device on, it continues to maintain the chosen temperature. This model is proper for all heat details up to 800 watts. It keeps temperatures between 67-93 F. It's a notable option for those who already have a heater, and need an inexpensive controller.
Finnex is my favorite item, as it is the easiest one to use, and it does not take a long time to understand the instructions. Besides, it is made of wear-resistant materials and will last a long time. It is an ideal combination of reasonable price and high quality.

---
PROS:
Convenient settings;
Readable display;
User-friendly model;
Affordable price.
CONS:
Temperature control only.
2. Inkbird IHC-200 — Grow Room Climate Controller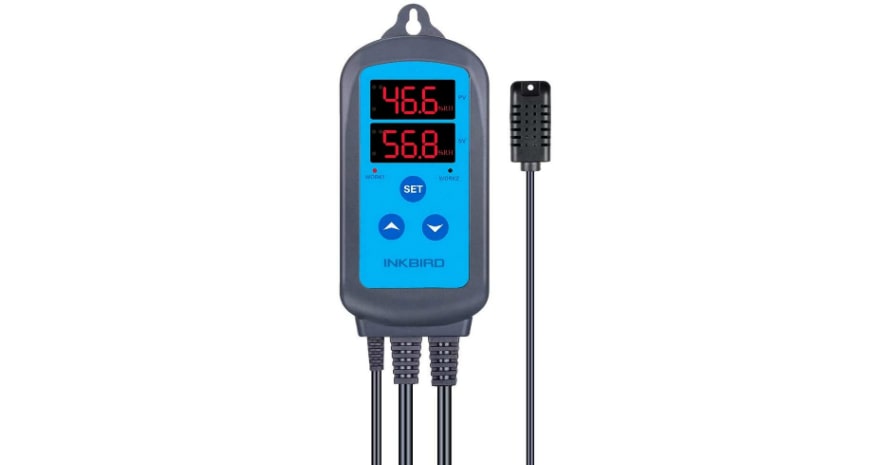 The Inkbird IHC-200 controller can be used for several stages of the marijuana growing process. You can use it in dry places to turn on humidifiers, as in the areas where humidity is above normal, and moisture absorbers are essential.
This controller is beneficial for those who need a proper level of moisture in a growing tent. You should switch on the humidifier when the humidity level falls below a predetermined threshold value. It also switches on the dehumidifier, cooler, or air conditioner when the moisture level increases.
Inkbird has a 5-foot power cable connected to a wall outlet, operating with humidifiers, and 120 or 240 V tools. Both plugs are rated at 12 amperes. Two plugs with a cord on one leg are attached to the device.
The tool is also equipped with a moisture sensor cord of 6.5 feet long. The device is suitable for approximately 3% level of relative humidity. You need no more than 3 watts of power to use this equipment.

---
PROS:
Consumes little power;
Affordable price;
Easy-to-use.
CONS:
It doesn't control temperature.
3. Bayite Temperature Controller — Create Perfect Temperature and Best Humidity for Marijuana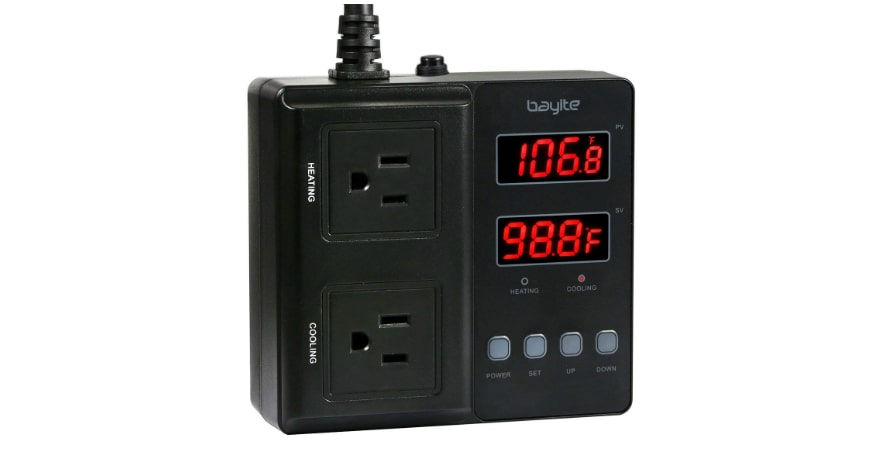 This device by Bayite has to be attached to the wall. It has one output on the front panel with a button that allows you to switch between heating and cooling modes. There are also two independent outputs for heating and cooling modes so that both devices can be connected.
That's how you can get better climate control in your growing venue. This Bayite Temperature Controller is designed for sufficient power to support a 1,500-watt heater or an AC unit.
The controls are also easily accessible and customizable. Two small red LEDs indicate which outlet is active, warm, or cold. This device comes with a remote sensor that is quite beneficial. It is better to install the sensor away from the floor for it to display the temperature more correctly.
The Bayite Temperature Controller device is mounted on a wall with two screw slots. Its cord is about two feet long, so the two-pole output will not be closed, leaving the second output open.

---
PROS:
Accurate;
LEDs indicators;
Easy-to-use.
CONS:
Temperature control only.
4. Titan Controls HGC702851 Saturn 5 — Multipurpose Grow Room Temp and Humidity Controller

The Titan Controls company was founded in the Northwest Pacific. It is one of the largest manufacturers of climate and lighting control systems, timers, and other electronic devices of this kind. The brand produces items from durable, reliable materials, including rust-resistant ones.
This model is designed to control not only temperature but also humidity. Also, the device can control other environmental parameters that will affect the growth and condition of plants indoors. You can monitor temperature, humidity, and carbon dioxide level due to its 15-foot remote sensor.
One more function that is worthy of attention is the LCD. Due to this feature, environmental control is not a big deal. The color-coded buttons are easy to program.
There is a data logging function that allows you to set the maximum and minimum temperatures and humidity, depending on the installation requirements. With Titan Controls HGC702851 Classic Series Saturn 5, you also get a robust plastic case that contributes to the durability of the item.

---
PROS:
LCD;
Both temperature and humidity control present;
Easy-to-use.
CONS:
Expensive;
Suitable for larger growing areas.
5. Extech 445713 Big Digit Indoor/Outdoor Hygro-Thermometer — Humidity Controller for Different Kind of Areas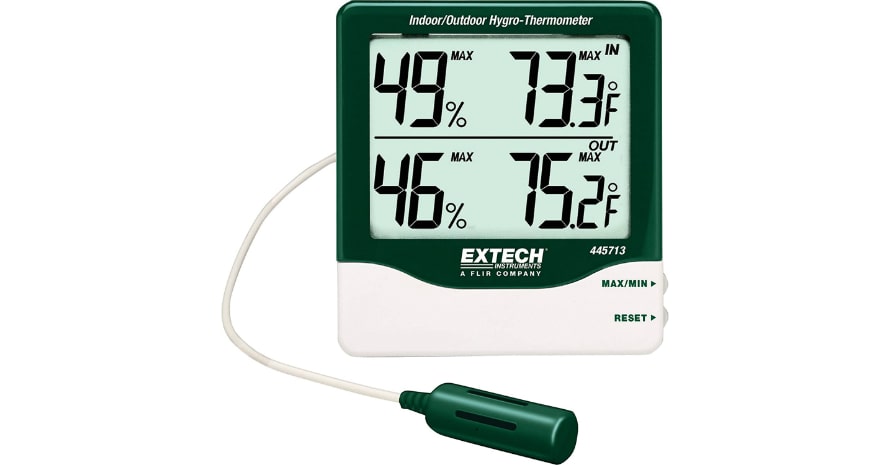 Using the Extech 445713 Big Digit Hygrometer, you can track and control environmental parameters both in the plant room and outdoors. The instrument shows the temperature accurately, as well as the humidity level.
From the outside, the device has a 35-inch sensor. You can attach the tool to the wall. However, the cord is not long enough, which may be quite uncomfortable.
You can also easily read the parameters you need to know. The full display shows large numbers that mean humidity and temperature. In the upper part of the screen, you will see indications in the room; below are the indicators of the temperature outdoors. The screen also helps you to monitor battery status.

---
PROS:
Large screen;
User-friendly device;
Both temperature and humidity parameters.
CONS:
The cord can be too short.
6. Bjerg Instruments 8 Thermometer and Hygrometer — Elegant Tool for Cannabis Humidity Control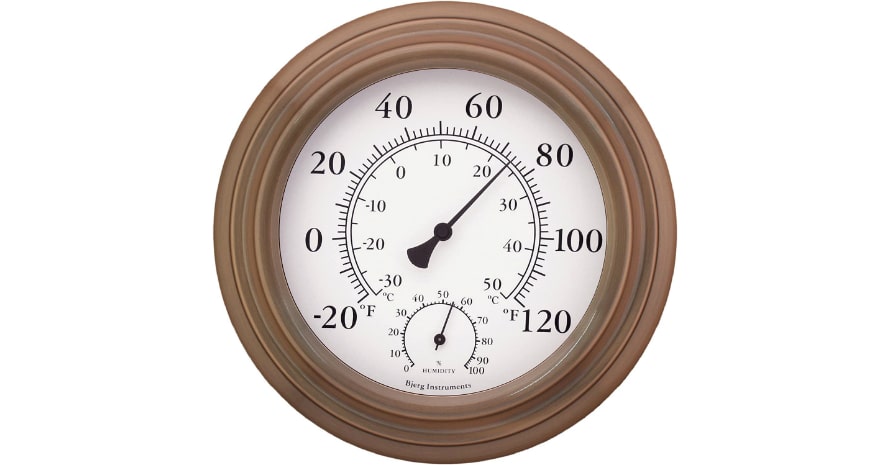 This item is quite simple and easy to use. All you have to do is attach it to the suitable surface inside your grow room or tent. You can use it to find out both the temperature and the level of humidity indoors and outdoors. It's quite small, and the diameter is 8 inches.
There is a round dial on which you can see the temperature in degrees Celsius and Fahrenheit. The humidity parameters are located below. The tool is robust steel construction with a lens of glass and metal covering. It's essential for outdoor installation.
This item looks quite elegant. It can decorate your growing room if you want to add an aesthetic touch. Bjerg Instruments 8 Thermometer and Hygrometer looks like your grandmother's vintage wall clock. Certainly, the look of your controller can seem insignificant, but it also can be a pleasurable bonus.

---
PROS:
Nice design;
Easy-to-read dial;
Both temperature and humidity control.
CONS:
The item is not waterproof.
7. Inkbird ITC-608T — Three-in-One Tool to Control Temperature and Humidity for Weed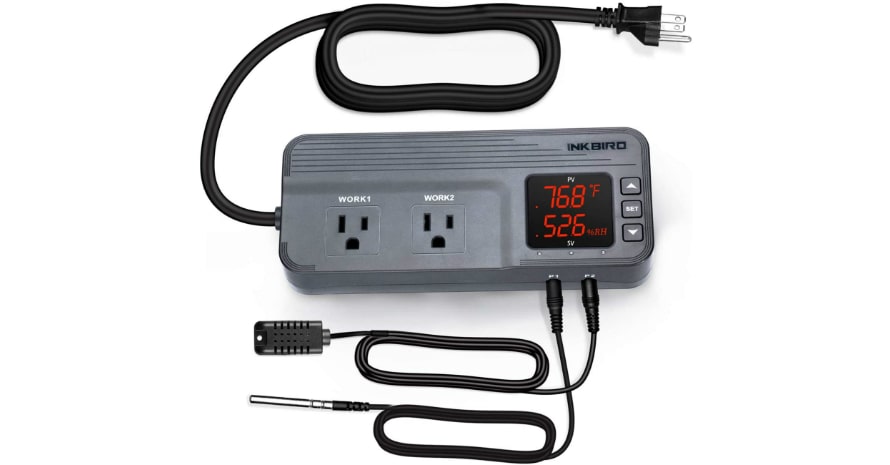 This item features a long cable on the temperature sensor, which is very convenient. The device has two grounded 3-pin outputs. You can program one of them to heat or cool, and the other to humidify or drain. Twelve temperature and time regimes are available. It means that you can easily adjust the temperature and humidity in different conditions.
There's also calibration support that provides maximum productivity of devices during their service life. Moreover, this model has a compressor delay. Inkbird ITC-608T allows you easily install degrees in Celsius or Fahrenheit and use saving reset settings.
The device also preserves its original settings in case of an accidental power failure. As for the design, it is quite simple. You can see three buttons and a screen with SV and PV marks at the top and bottom of the screen.

---
PROS:
Easy-to-use;
Long cord;
Multipurpose device.
How to Choose Grow Room Temperature and Humidity Control?
As you read the review and look over the best items on the current market, it's time to choose the controller that is suitable for your grow room or tent, budget, and other requirements. It can be a tricky task, so here I have a buyer's guide for you. Based on it, you can make your choice easier.
The humidity influences the air properties and all the elements that come into direct contact with air. Water vapor, a well-known greenhouse gas, is essential in terms of weather and climate. However, controlling temperature and humidity can be a big deal.
Before purchasing a device for monitoring humidity, it is crucial to make sure that you get the best tool for your specific environment and needs. Understanding your preferences for each issue and the characteristics you can see below is the best way to ensure that the selected humidity control device is ideal for measuring humidity in the chosen environment.
Ease of use should be one of the main criteria when choosing a device, especially if you are a beginner. Ensure that the model`s design allows you to set the desired temperature without the need to check the buttons and settings for a long time. Make sure the controller is made of durable materials. The housing must protect the internal structure from damage and external factors. If you are choosing a model for outdoor use, the item should be waterproof. You can get some options with a firm case that makes the device more durable.
The display should clearly show the current temperature/humidity, as well as the parameters set by you. Some items have an easy-to-read LCD, backlight, and other convenient functions. Choose the variant that is more suitable for your eyes.
Having an alarm is another important aspect. It's better to choose the controller that makes a loud sound. You need this feature to be notified as soon as the temperature/humidity has exceeded or dropped below your threshold. Also, pay attention to the warranty provided by the seller. If the product has an extended warranty against defects, you can be sure of its quality.
FAQ
Many people may hesitate to use a humidity and temperature controller, thinking that this can be a waste of money. However, this investment can increase the chances of your success in growing any plants, including cannabis. Here I give answers to the most popular questions about this kind of device.
What is a humidity controller?
A humidity controller is a device that helps you to monitor and maintain the required level of humidity. It is used for rooms where food is stored, for plant growing venues, and places with a large amount of electrical equipment.
What is the best analog or digital controller?
Both types have advantages and disadvantages. The best way to choose between digital and analog controllers is to study both types before picking one.
You will need to determine which type of item fits your specific requirements, depending on how much you want to spend if you care about the calibration of your pattern or not. A digital version is more modern, and it usually has an easy-to-read screen. An analog option can decorate your venue if you appreciate this effect.
What is the temperature range in the humidity controller?
The temperature range in the humidity controller depends on the model you choose. The standard range is from -68°F to +212°F (-20/+100°C). You can also find devices with a range from 104°F to 248°F (-40/+120°C).
How to control temperature and humidity in a grow room?
First of all, the room must be insulated to ensure that the temperature inside is maintained and temperature fluctuations are avoided. You will also need lighting technology that does not affect the temperature in the room. Pay attention to this aspect by choosing lamps that will help the photosynthesis of plants. You will also need a humidifier or a dehumidifier. Depending on the initial conditions, heaters or fans may also be required.
What is the best temperature and humidity for growing weed?
The correct temperature depends on various factors, including the location of your growing room or tent. In the case of cannabis, the temperature should ideally be between 68 and 77 degrees Fahrenheit for young plants. Older plants can withstand temperatures up to 82 degrees Fahrenheit. Without light, the temperature should be at 62 to 72 degrees Fahrenheit.
The required moisture level also depends on the stage of growth. Young plants need a moisture content of 70 -75%. At the vegetative stage, humidity from 50 to 70% is needed. If the plant blooms, maintain the moisture content of 40-50%.
What is the right temperature for a grow tent when the light is on?
The maximum temperature in the growing tent should be 87°F (31°C), and the minimum temperature has to be 62°F (17°C). The perfect temperature is 68°F—82°F (20 and 28°C). Finding the perfect temperature can be tricky. You may have to try several options when you know the average parameters of the essential temperature.
Choose the Best Option for Your Growing Room
Let's summarize everything we have found out about the best level of humidity and controllers. You can select the item that controls only temperature or humidity levels. Some multipurpose models are also available. They are convenient and easy to use.
Using controllers of humidity and temperature has various advantages. An important point is the choice of the right model that suits the conditions of your room. It will help you preserve the plants and get maximum results. Hopingly, the given review and buyer's guide will make it easier for you to find a model that meets your requirements and budget.
You are welcome to share your experience in selecting and using controls in your growing room or tent. It would be great if you tell other readers and me what model you use? What temperature and humidity parameters are suitable for your plants? Please, leave your comments in the section below.