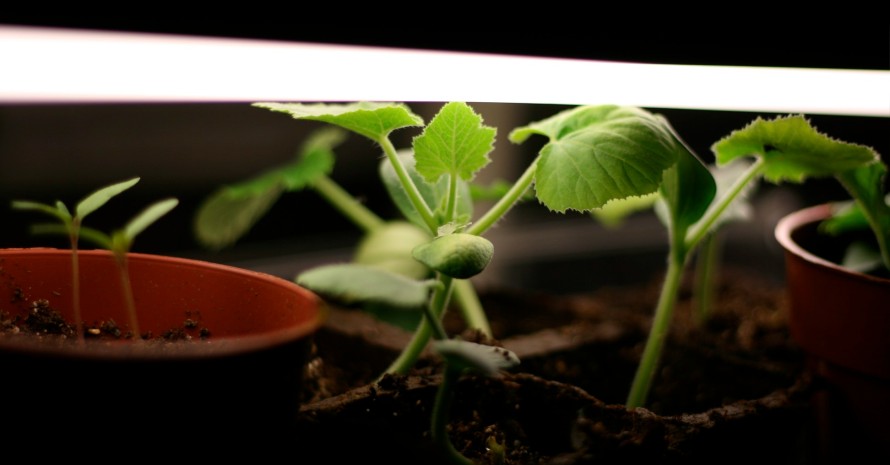 400W LED Grow Light: Best Deals & Tips for Buying
Whether you cultivate plants in a special full-fledged greenhouse or just your windowsill, you may need a 400 watt grow light system for getting healthy and thick greenery. The 400W LED grow light artificial system helps plants during rooting and stem formation. It is necessary for the formation of leaf plates and the laying of future fruits. When choosing the best 400W LED grow light for flowers or plants, you need to focus on the operational parameters of lighting devices and take into account the features of plants as well. Luckily, modern companies offer a wide range of various LED lamps and lights, so you can find a suitable option. I have compiled these 400W LED grow light reviews to help you make the right choice.
Can emit light separately
Top 8 400W LED Grow Lights to Consider
On this list, you will find different 400 watt grow light kit options. There are also their pros, cons, and peculiarities for a better understanding of the products.
1. Top Pick: LEDGLE 400 watt Grow Light Kit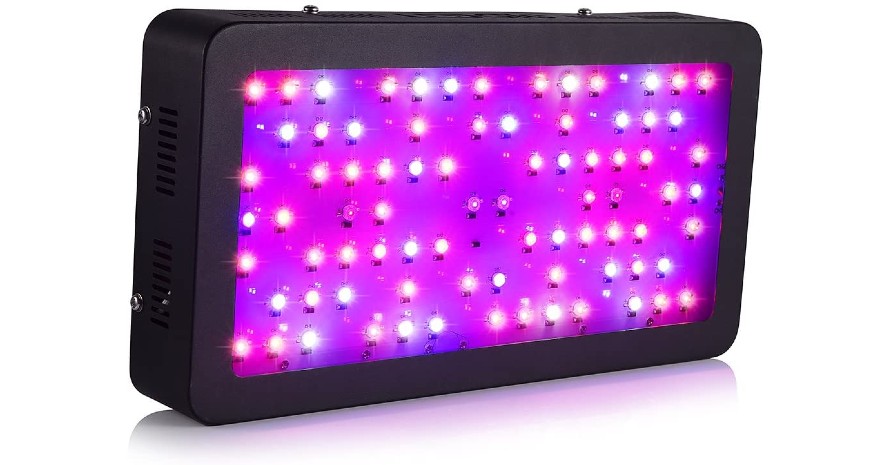 Using this device, even an amateur gardener and cannabis grower can get a fairly strong and unpretentious seedling, which can bring a good harvest. This LEDGLE's device provides optimal care for many plant species besides cannabis as well, so it's a rather versatile option to consider.
A powerful and strong LED light kit is capable of a full spectrum of luminescence and optimal intensity. It's perfect for growing bushes in a small greenhouse or growing different vegetables, berries, and fruit crops in a hotbed. The device can be used at any stage of plant growth and development. The luminous flux is created thanks to the built-in three-watt LED bulbs. The total power of the lamp ranges up to 400W, and its efficiency is significantly superior to other LED devices.
Moreover, you can turn off one or another light color if needed. I recommend installing this LED kit in a room or in a small greenhouse as a single or additional light source.
---
PROS:
Very powerful;
Suitable for different spaces;
Helps to grow a variety of plants and greenery;
Pleasant price.
2. Runner-up Pick: COB 400W LED Grow Light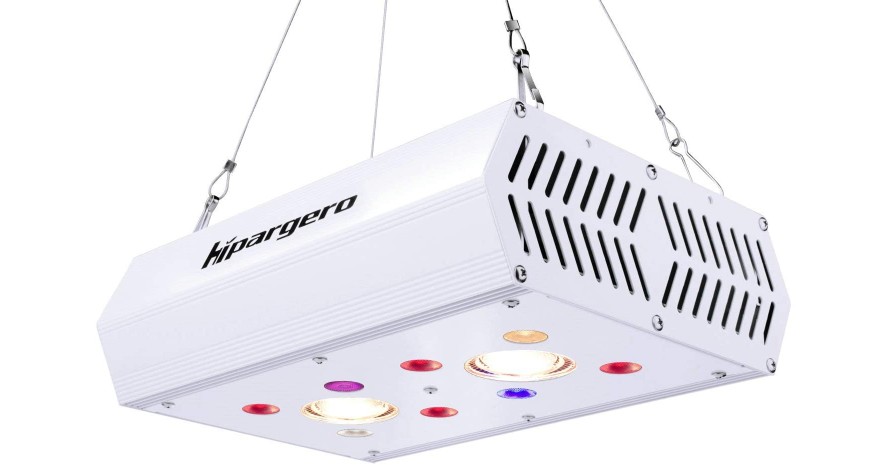 This LED light is another good option for plant cultivation and growing. The construction of the lamp includes moisture and dust protection, and it provides the plant with needed care from the stage of roots to leaves. It is made of durable plastic material and has a size of only 9.84 x 7.09 x 2.76 inches. Thanks to such advantageous characteristics, it can serve as a hanging 400 watt LED light bar. In addition to the above qualities, the device is equipped with special lenses that create direct light exactly to the plants.
The power of this 400W LED grow light is enough for high-quality lighting of several bushes at once. This option is mostly purchased for installation in small closed rooms such as greenhouses and apartments. After just two weeks of daily use of COD lights, even an almost withered plant can be restored to its strength.
---
PROS:
Strong enough to care for several plants;
Durable and long-lasting;
Suitable for different kinds of crops;
Moisture and dustproof.
CONS:
Isn't suitable for big spaces.
3. Premium Pick: CDMALL 400 watt Grow Light System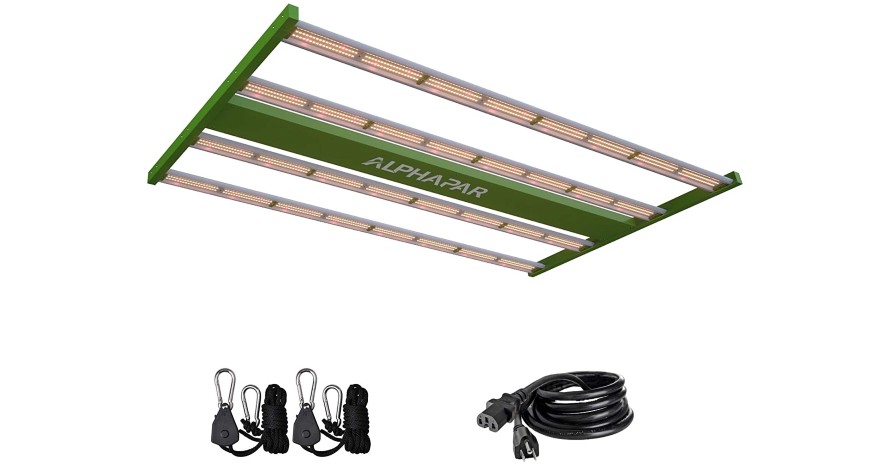 One of the best-selling models closes the top three positions of cannabis grow light options. You can use it as the main source of radiation in the autumn and winter months. In summer and spring, it can be used as additional lighting if the weed plants do not receive enough natural light. The emitted radiation does not cause eye discomfort. It also can be used throughout the whole day because the light is economic enough and will have almost no effect on your electricity bill.
There are two modes of operation, so you can easily select the most suitable spectrum option. The first mode is exclusive blue backlighting, which is required for growing greenery and seedlings; the second is more suitable at the stage of flowering, setting, and formation of future fruits. The mounting system allows you to install the lamp on the ground, floor, table, or windowsill, or hang it to the ceiling. It's an amazing choice for big spaces and professional usage for a reasonable price.
---
PROS:
Pro planting tool;
Powerful and strong;
Economical;
Can emit light separately.
4. Best 400W LED Grow Light for Home Usage: iPower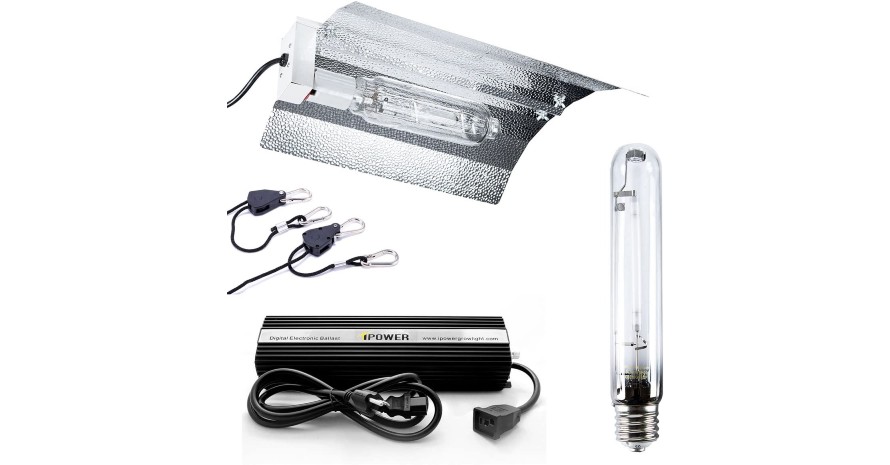 Most gardeners and growers choose this device to grow healthy vegetable seedlings, shrubs, and exotic or indoor plants with dense branching. The lamp starts and significantly accelerates the growth and development of plants, not allowing them to stretch too much. At this point, the blue spectrum of the lamp has a positive effect on cannabis herbs. The LED lamp looks simple and has a minimalistic design. The lamp looks like a transparent bulb with a very high-pressure gas discharge tube inside. The flask is made of hardened silicate glass of increased strength that provides durability.
It can be used in greenhouses as well but works best when organizing home lighting. The lighting device is equipped with a high-quality water protection system, so it will withstand an increased level of humidity. Using this device, you can provide year-round fruiting of various crops.
The LED can be used as the only light source in the room. Its power is enough to illuminate one square meter of seedlings. The lamp helps to significantly accelerate the growth of plants and saturate them with micro and macro elements.
No products found.
---
PROS:
Works well for indoor cultivating;
Powerful enough to light several houseplants;
Very durable;
Made of top-notch materials.
CONS:
Takes too long to see progress.
5. Best 400 watt Grow Room & Greenhouse Light: GROWant G5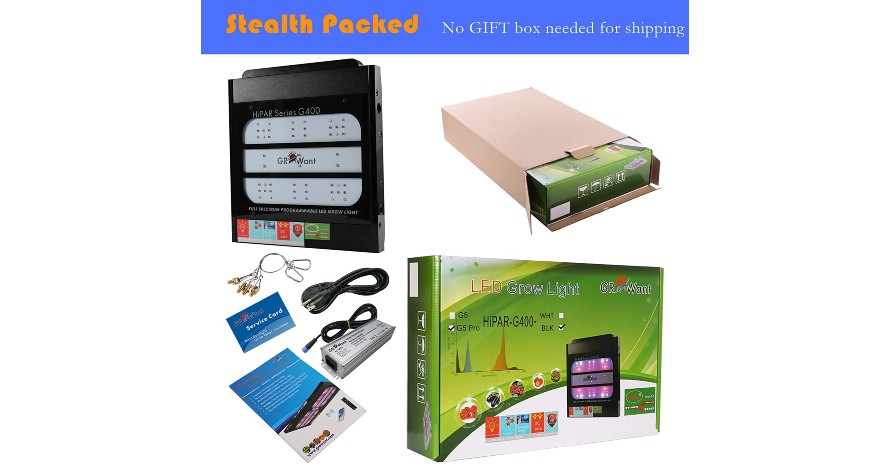 Already proven by time, this model of 400 watts LED grow light is known as a highly effective, but at the same time, budget option for supplemental lighting of plants. A new GROWant model of LED light has come to replace conventional analogs that shine only in a single color. The new technology in the chip has collected the necessary spectrum of LEDs for plant cultivation. It is required for various stages of growth and herb flowering.
It's a perfect solution for growing seedlings of vegetables, herbs (cannabis, dill, onions, parsley, lettuce), strawberries, bulbs, violets, and orchids, greenhouse hydroponic plants, as well as for decorative lighting of aquariums. This device helps to increase the yield, accelerate flowering, and get larger fruits in a greenhouse or even indoor plant cultivation.
For flowering light-loving plants, the recommended distance to the leaves is at least 12 inches; for shade-loving species, increase the distance to the leaves up to 23 inches. The backlight time of flowering plants should be determined according to the recommendations for the backlit crop; during the flowering period, the dark phase has a particularly important effect. This LED light can be mounted overhead directly to the surface. A cord with a plug and a switch is included in the package.
---
PROS:
A good option for both greenhouse and indoor cultivation;
An updated option from a reliable manufacturer;
Easy to mount;
Works for all cultivation stages.
CONS:
High electricity consumption.
6. Best Adjustable 400 watt LED Light Bar: FCSFSF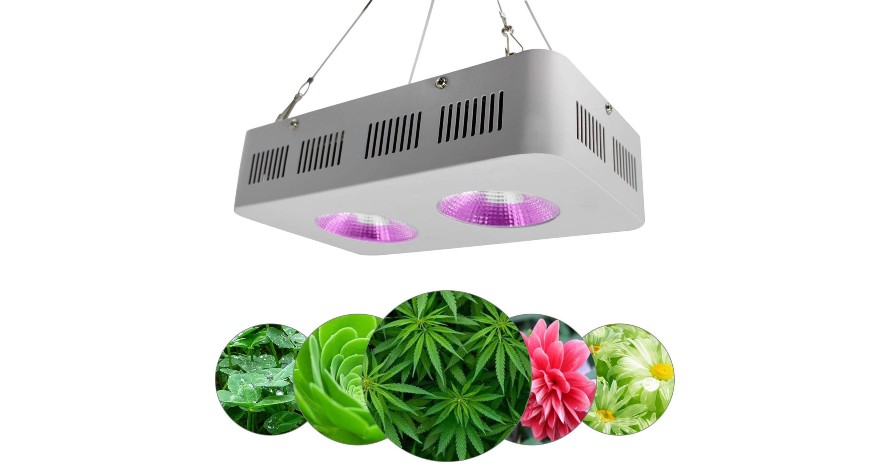 The most popular type of 400 watts LED light bulb is a panel suspended over plants, and this LED grow light is one of the top budget choices. It is designed to stimulate the vegetative growth of agricultural crops and cannabis, as well as increase the rate of their reproduction. The lamp is able to replenish the level of PAR (photosynthetically active radiation) even during winter periods and in the absence of the sun for a long time.
This LED panel emits a red light flux that is suitable for most crop species. These rays supply energy for efficient photosynthesis and are also responsible for processes that affect the rate of plant development. The heating of the LED module is low, which eliminates the risk of plant burns. You can also control the height of rays due to the adjustable seams for mounting the lamp. This feature contributes to the healthy red and orange glow. However, you have to understand that too many red and orange rays can delay the flowering of the plant.
No products found.
---
PROS:
Effective for cold seasons;
Controls the PAR level;
Easy to adjust;
Pleasant price.
CONS:
Too much red light can harm your plants.
7. Best Full-Spectrum 400 watt LED: GROWant G400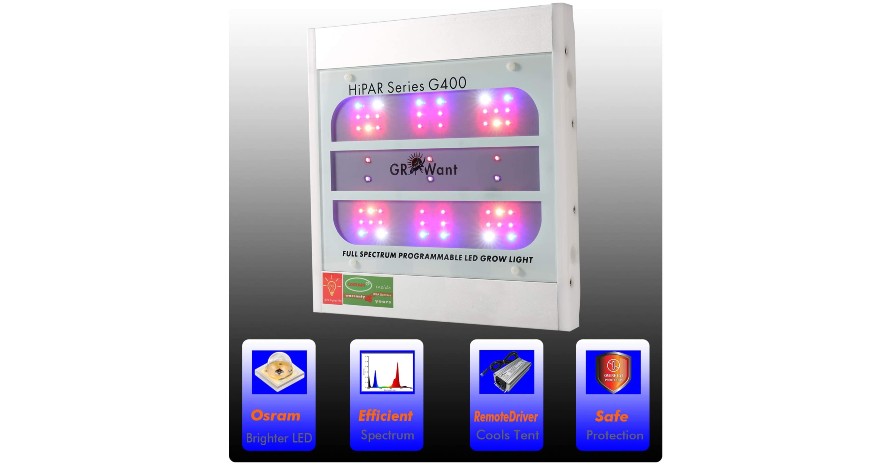 The full-spectrum light option by GROWant is suitable for seedlings and crops indoors and even outdoor plants. The emission spectrum is blue-red (30/70%, respectively), provided by special OSRAM diodes of the latest generation made in Germany. The proportions of light are balanced so that the total radiation is suitable for most plants to support the necessary life processes.
The lamp can be used to compensate for the lack or complete absence of sunlight. The degree of protection of the construction is IP-65, suitable for using the device in wet greenhouses and winter gardens. The manufacturer has provided protection against both short-circuit and overheating. The latter is achieved by a uniform and most efficient distribution of radiation.
---
PROS:
Smart design;
Short-circuit proof;
OSRAM diodes of high-quality;
Very durable.
CONS:
You should use the product in well-ventilated circumstances.
8. Best 400W LED Grow Light for Tropical Plants: SZHLUX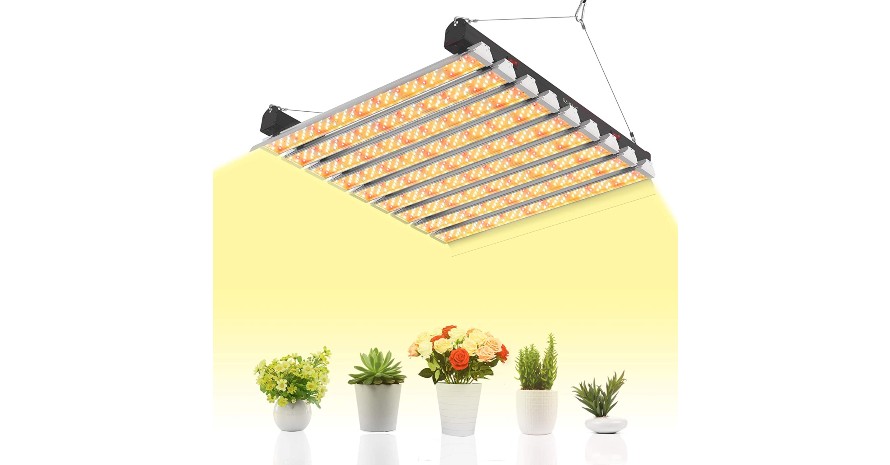 If you are familiar with cultivating various exotic plants in your grow-box, this LED panel from SZHLUX will come in handy. The 400 watts LED grow light panel is built on the basis of red, blue, and warm white full-spectrum LEDs (with peaks in the red and blue zones of the spectrum) with active air cooling. Therefore, the chips do not overheat and last as long as stated by the manufacturer.
The device is also quite big (25.1 x 24.5 x 4.7 inches size), which helps it to cover a spacious area and several cannabis plants at once. It's a very convenient and economical way to grow herbs inside your house if you don't have a special room or space for it. The LED comes with a mounting set and handbook for convenient usage.
---
PROS:
Big panel;
Can be used on all stages of cultivating;
Aluminum base;
Budget price.
Popular LED Light-Related Questions Answered
Before you finally make a decision, let's make sure that all your questions are answered.
What size of LED grow light do I need?
The size of a LED grow kit depends directly on the power and the area it needs to cover. The power and size of LED lighting are calculated in watts per m2. To determine the number of lamps, take into account the following characteristics:
lighting area;
lamp height;
type of crop grown.
How many plants can I grow with a 400W LED light?
In fact, you can easily grow up to 16 plants under one 400W light panel. The LEDs with 400W power are super intense and potent enough to cover an area of 17-18 square feet.
What makes a good LED grow light?
There are four aspects to take into account:
1. Decide on the shape of the grow light;
If you have a windowsill, a table, or a long shelf, it is more convenient to purchase a linear 400-watt grow light kit. For bigger spaces, square light kits are required;
It is generally known that plants need sunlight, which consists of different wavelengths and colors, to grow and develop. And plants respond well by growing in response to blue and red colors;
3. Calculate the power of the LEDs in the lamp correctly;
The formula for calculating the number of diodes is quite simple: M = K × M1, where M is the total lamp power (W), K is the number of diodes, and M1 is the power of one diode;
4. Buy lights with a warranty.
Make sure that the option you're about to buy comes with a warranty, so the manufacturer will replace your order with a new one if needed.
What is the best LED grow light 2021?
There's no correct answer to this question since everything depends on your budget, but I recommend taking a look at one of my top three picks from the list above.
How much area does a 400-watt LED grow light cover?
One 400W LED grow light lamp is capable of covering an area from 16 to 18 square feet.
How to calculate LED grow light efficiency?
According to the formula (P = I*U), where (I) is the current strength and (U) is the LED voltage, you can easily calculate how much your LED lamp consumes.
Let Your Plant Blossom
Considering the amount of 400 watts LED grow light options on today's market, it's hard to make the right choice and find the one that will satisfy all your needs. That's why I recommend you to use this article and these 400W LED grow light reviews as a kind of crib to buy a good LED lamp. By the way, don't forget to take a look at one of the top choices from the list. All of these LED lights are suitable for different aims and goals and probably can fit any budget.
Which crops do you cultivate? How do the colors of LEDs you currently use affect your plants? Please, let me know whether you have noted any interesting things.