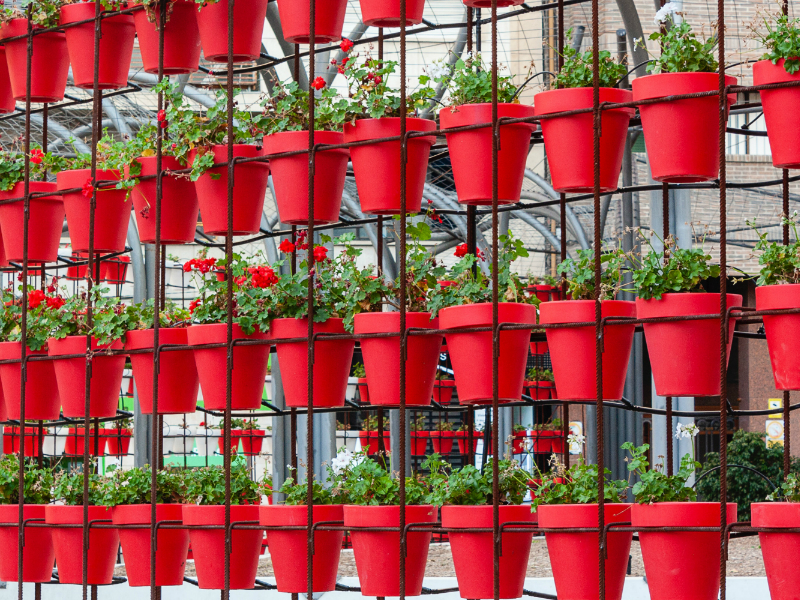 Best Pots to Grow Marijuana: Reviewing the Most Appropriate Items
Would you like to start growing marijuana, or have you been doing it for some time by now? Growing cannabis is a skill. You need to take into consideration a lot of factors, including the type of marijuana, soil type, warmth, moisture, as well as the kind of pot in which you place the plant. Finding the best pots to grow marijuana is a complex process that requires a lot of research. Otherwise, your plants will not thrive.
Not all the growing pots are the same, they may differ in many features except the size. They range from traditional containers to advanced smart ones, designed for specific plants. So, first, you need to understand the different types of growing containers for marijuana instead of settling on a random one.
It isn't that straightforward and easy to pick a proper pot. While you may initially use some old containers for your first crop, you may be forced to replace these cannabis plant containers, later on, to ensure you get healthy plants and maximum growth.
In short, the best growing pot would be the one that will provide your cannabis plants with the best environment for the roots. However, I understand how confusing this information can seem at first. That's why I have written this review, providing you with a list of the top pots for growing marijuana. So, read on for more details.
7 Best Pots to Grow Marijuana
This review will look at the top seven marijuana grow containers that you can grow your weed in. As I have already mentioned, pots should provide a perfect environment for cannabis, allowing plants to grow healthy roots that are crucial for maximum intake of water and nutrition. So, below, you will find descriptions of features of the selected pots, as well as their pros and cons, so that you could decide on a container that will work best for your needs.
1. Maxsisun 5-Pack 2 Gallon Plant Grow Bags – Best Pots for Growing Weed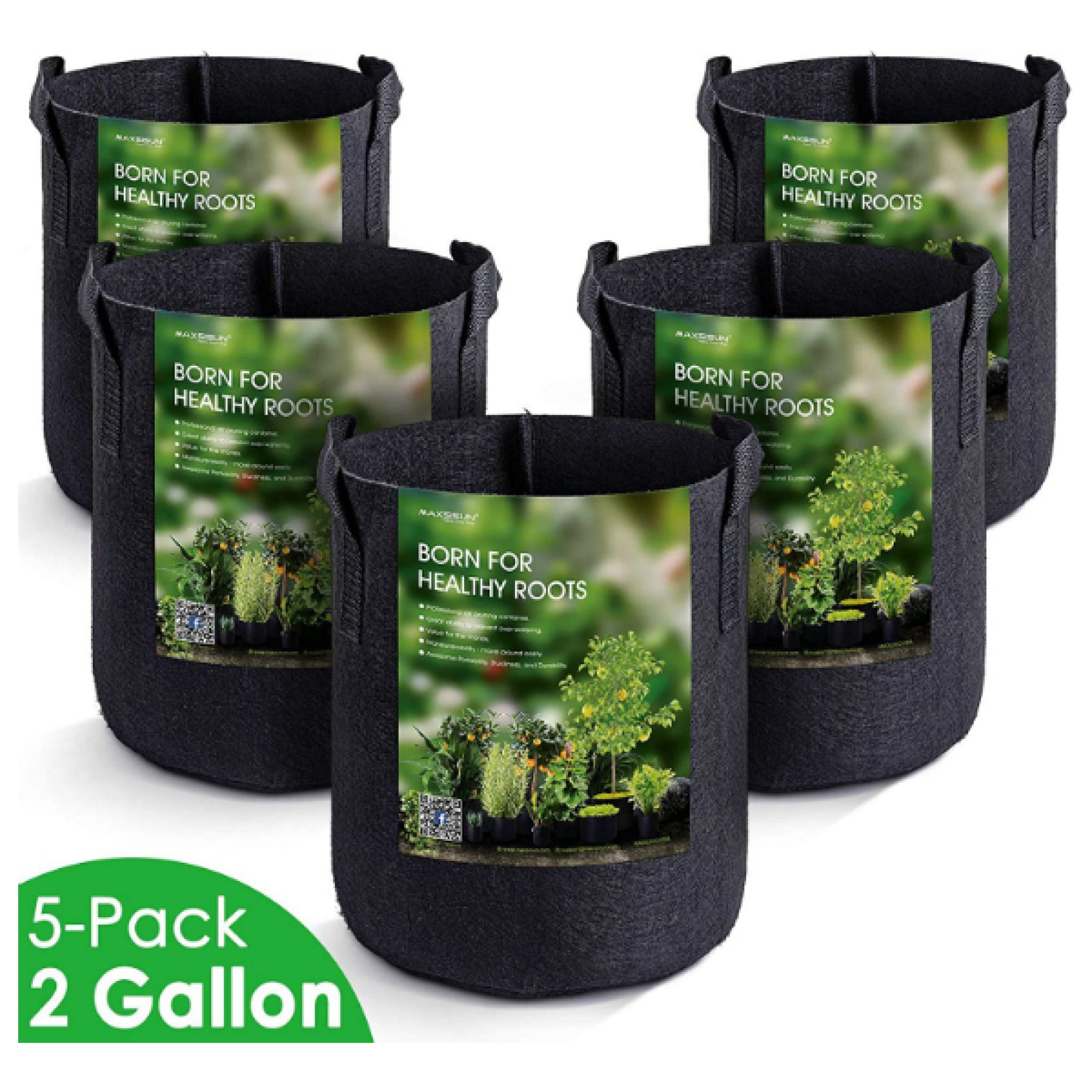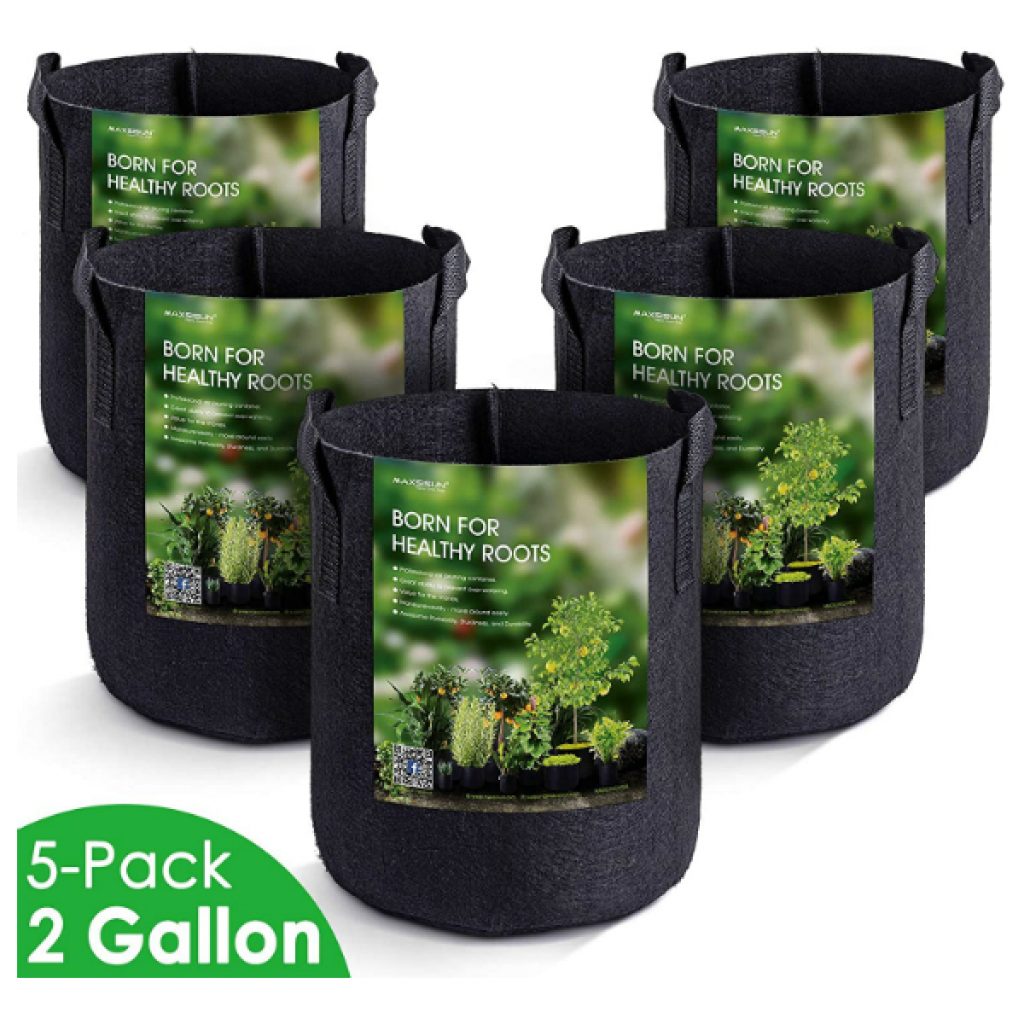 Maxsisun grow bags are a great choice for planting cannabis. These fabric best grow pots are manufactured from heavy-duty, thick, and nonwoven cloth. These long-lasting containers will work for years because they have been smartly constructed. Besides, the soil in these pots will be perfectly aerated, unlike the compact soil in traditional pots.
This amazing aeration becomes possible due to the use of breathable cloth, allowing nutrients in water and air to get into the weed's roots. It will accelerate the growth of marijuana since its roots will get deeper, producing more vigorous and healthier plants.
These growing pots come in a pack of five, with a capacity of two gallons. Their dimensions are 8.1 by 10 inches so that you can grow your plants freely and efficiently, despite having little space outside.
Since the roots will grow extensively, they will get to the end of the pot and get enough water and air. If the container is too small, your weed will "burn off" the tips of the roots rather than circle them and produce fresh branching ones. The more branches the roots have, the higher the chances of taking in nutrients and food are. It will make your crop grow healthier and more robust, as well as yield better.
These pots have incredible drainage. Excess water in any container can result in a disaster. However, these fabric pots prevent roots from rotting by draining excess water and letting the soil maintain a standard amount of moisture, while naturally keeping the roots cool.
Besides, these сontainers are convenient to place and easy to move since they come with sturdy strap handles that lighten moving pots with crops and soil when needed. So, you can easily protect your plants from heavy rains and alter the angles to let them get maximum sunlight. This feature also lowers the chances of transplant shock.
The stand-alone element of these pots will let you grow your crops efficiently, despite having a limited space outside your household. Besides, if you don't need to grow your plants for a while or have just finished harvesting, you can simply fold and store these cloth bags so that they will not take up much room, in contrary to the traditional pots.
You can reuse and wash these containers as many times as you wish since they are produced from thick, nonwoven cloth, making them environmentally safe. Finally, these pots can be used to grow other plants, such as veggies, flowers, small tomatoes, eggplant, pepper, fruits, etc., which makes them versatile.

---
PROS:
Versatile;
Easy to move;
Provide value for money;
Sturdy and long-lasting;
Really effective.
CONS:
These pots drain water, so they aren't ideal for indoor use.
---
2. Kinglake Plastic Plants Nursery Pots – Small Pots for Grow Marijuana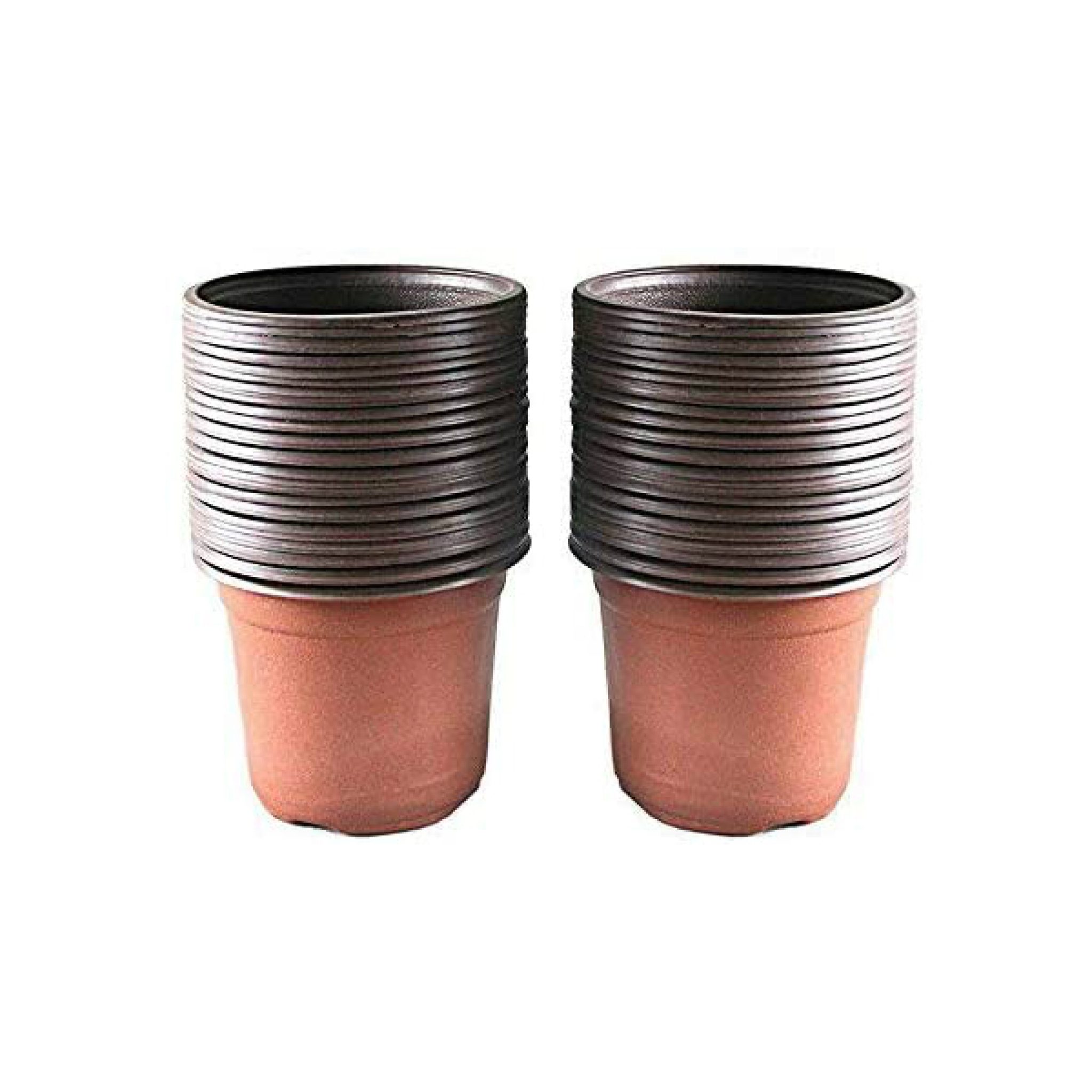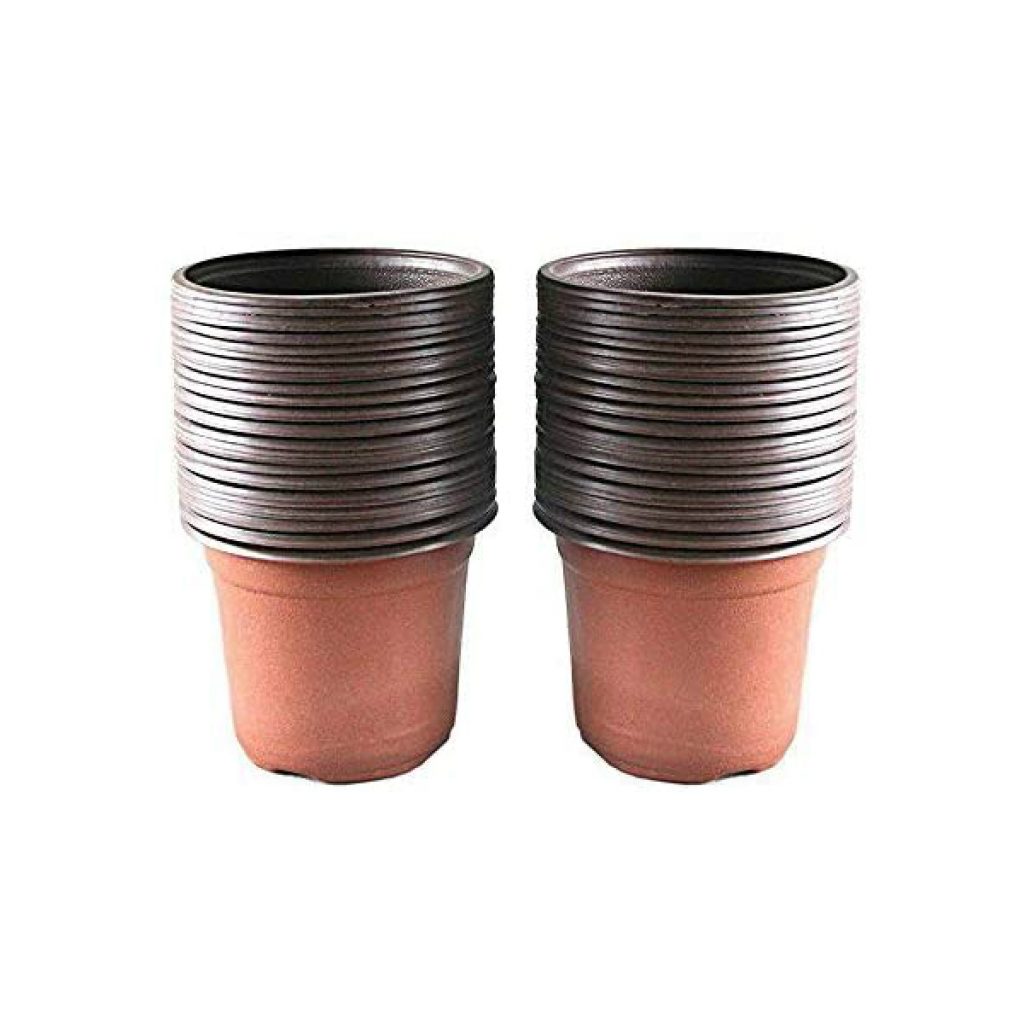 Are you just starting the journey of growing cannabis? Then you need to get these best pots for marijuana that are ideal for the first crops. There's no need to worry if you're beginning to grow marijuana and stress about every single detail. This pack contains one hundred pieces, allowing you to plant many cannabis sprouts at once.
Besides, these lightweight containers weigh only six grams. Thus, if you want to move your crops away from heavy rains or put them closer to the sunlight, then these pots can be easily placed without any problems.
Also, these containers are versatile, letting you plant all sorts of plants, flowers, seedlings, cuttings, etc. Additionally, these items are suitable even for excessive succulent propagation and plant transition.
Another great feature is that the pots are long-lasting since they have been manufactured from soft, thin plastic that can last for years. A guarantee offered by the company promises a refund in case the pots fail to meet your expectations, meaning you have nothing to worry about.
These marijuana grow pots come with eight small drain holes on the bottom. So, it is very easy for them to drain excess water while allowing for enough air circulation to the roots. This feature will help your crops thrive even further since they will grow healthier roots.
These appealing, four-inch marijuana grow bags may look thin. However, do not underestimate their sturdiness, as these items are long-lasting and will not rip easily. The containers will hold the dirt in place and allow for the easy transplanting of your plant when needed.
These pots will work perfectly for growing marijuana, especially if you have a garden for growing plants and cuttings. However, they are not ideal for indoor use. Overall, these small, long-lasting best pots for growing marijuana should get you started on growing cannabis plants that you can transplant later if needed. Besides, these items can be reused several times, making them environmentally friendly.

---
PROS:
Great for starting plants and cuttings
Versatile
Long-lasting
Reusable, thus, environmentally-friendly
One hundred pots in a pack
CONS:
These pots drain water, so they aren't ideal for indoor use
---
3. Vivosun 5-Pack 5 Gallon Grow Bags – Fabric Pots for Grow Marijuana Outside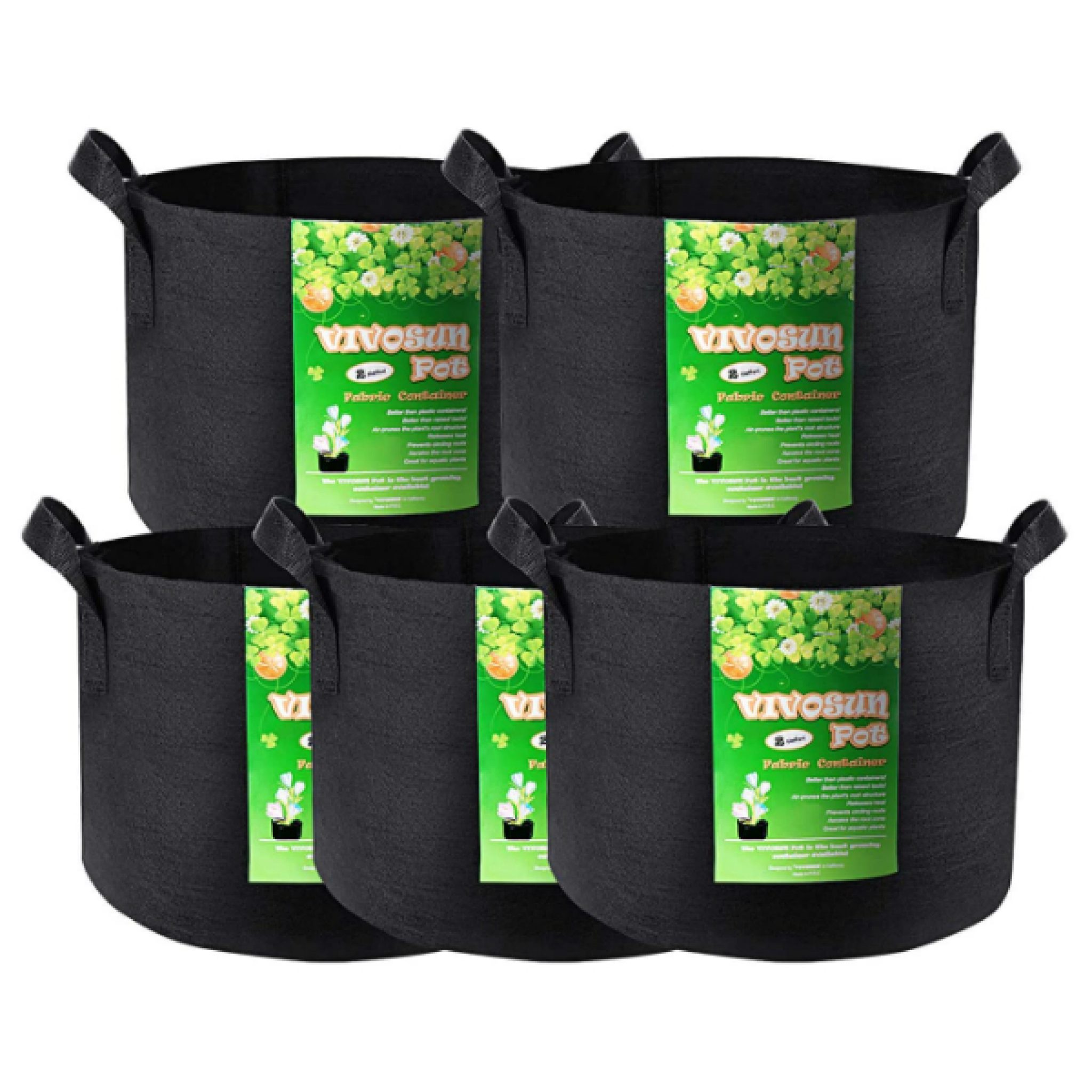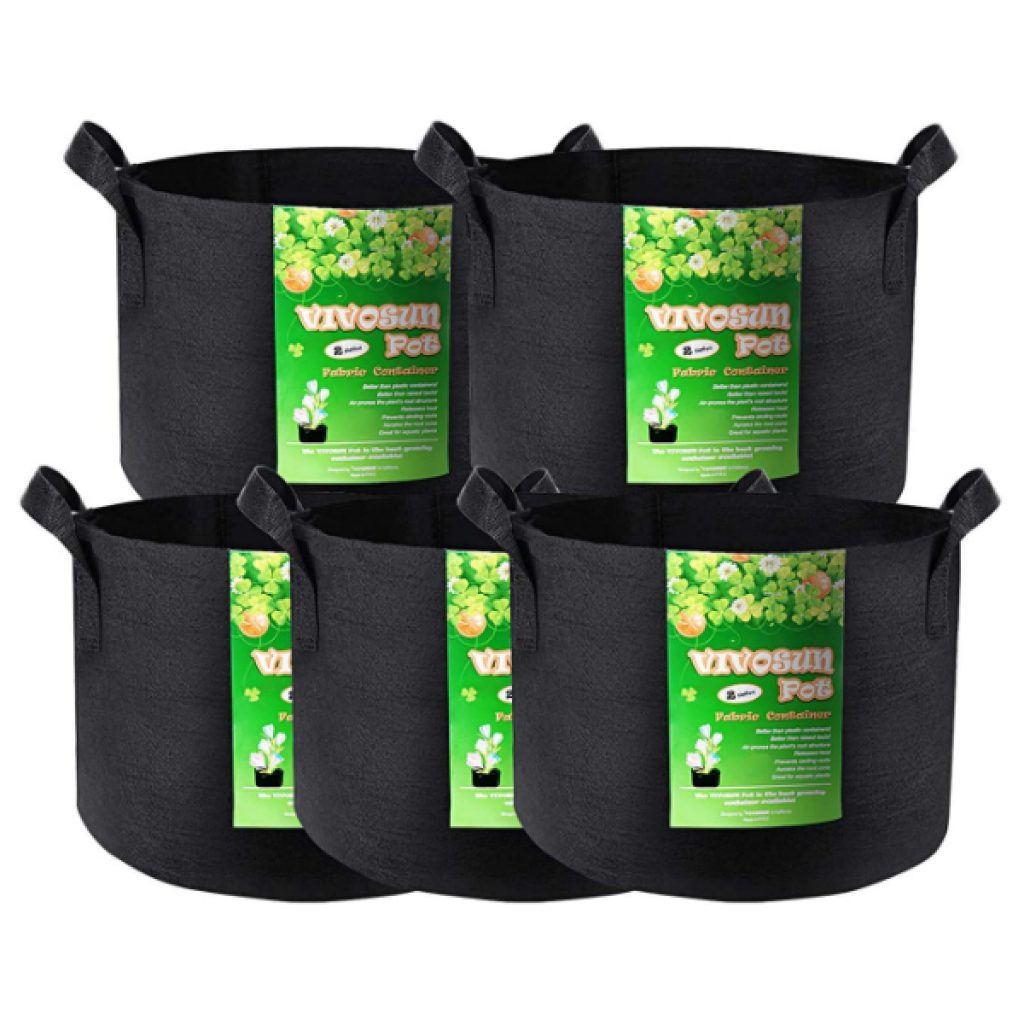 These best pots for weed plants have been made using heavy-duty fabric material. So, these thick nonwoven items are somewhat porous, environmentally safe, and do not contain any synthetic components. You will need these bags for your backyard since they allow good air circulation to roots and maintain oxygen in the soil. Also, these containers will keep the roots cool throughout the year for better yield.
These five-gallon bags are suitable for growing robust, fibrous roots and ensuring healthy cannabis plants without the need for constant pruning of their roots. Air pruning will naturally occur when the roots are bared to air and are kept in an environment where there is no excess humidity. The roots get burned off efficiently, and, therefore, the plant regularly generates fresh and healthy branching roots.
However, if you don't provide the roots with enough air circulation, they will keep growing around the pot in a restrained pattern. So, these bags present ideal conditions for air pruning, allowing you to grow your crops stronger.
These fabric containers make it easy to water your plants, putting less stress on the weed while moving the best pots to grow weed. They also allow for faster transplant times since the process can be done by one person rather than by several people.
Also, these best pots for growing cannabis will drain water really well, letting your cannabis plants grow more vigorously. They come will long-lasting reinforced handles that have been sewn onto the containers using serging stitches, allowing you to move a bag with plants and soil inside easily. These pots can also be used for years, and they come with a 36-month warranty, proving that they are of high quality.

---
PROS:
Environmentally safe
Sturdy construction, meaning they will last long
Easy to move
Allow air pruning
CONS:
The bags are slightly smaller in size than indicated
---
4. Bloem Ariana Planters – Self-Watering Pots for Grow Marijuana Indoors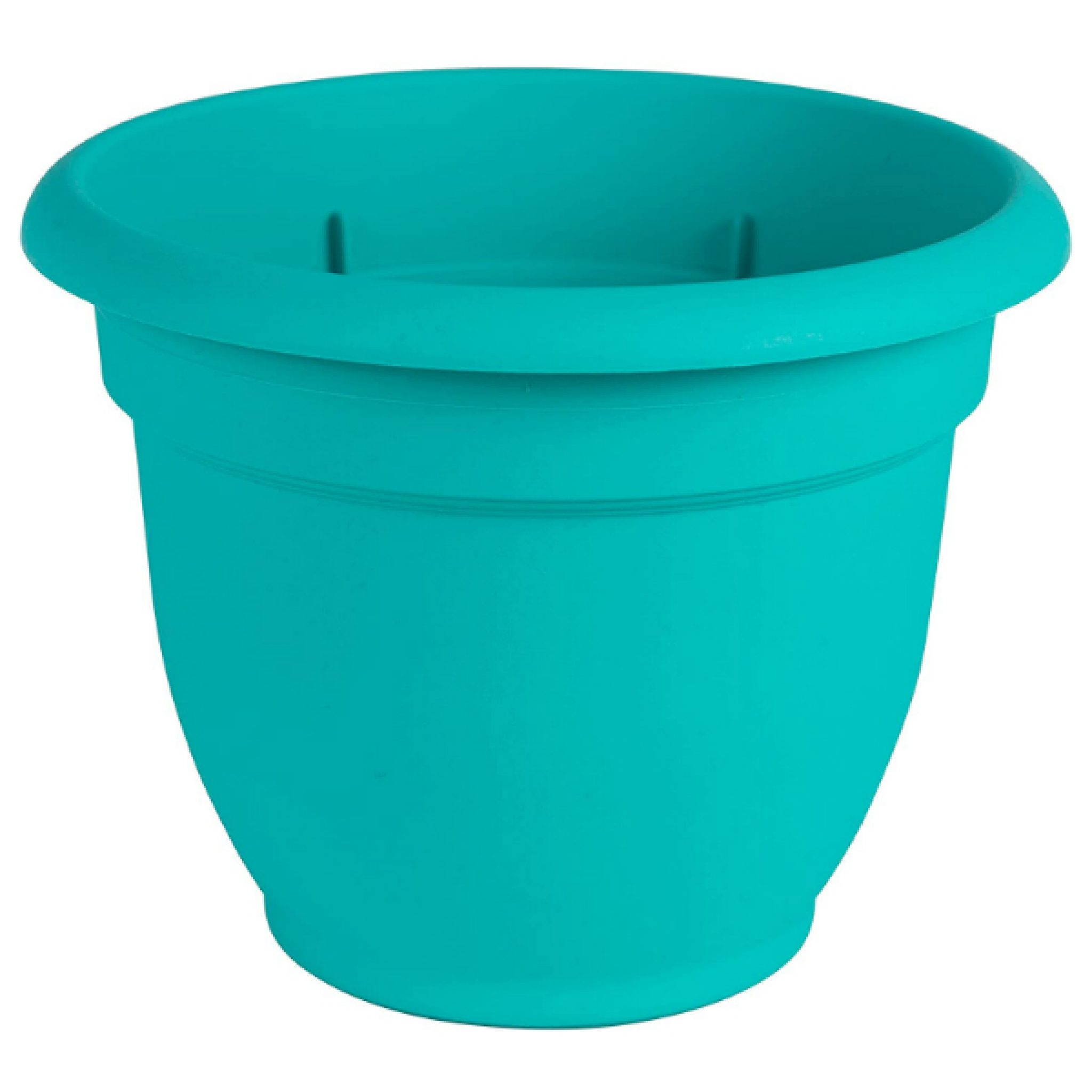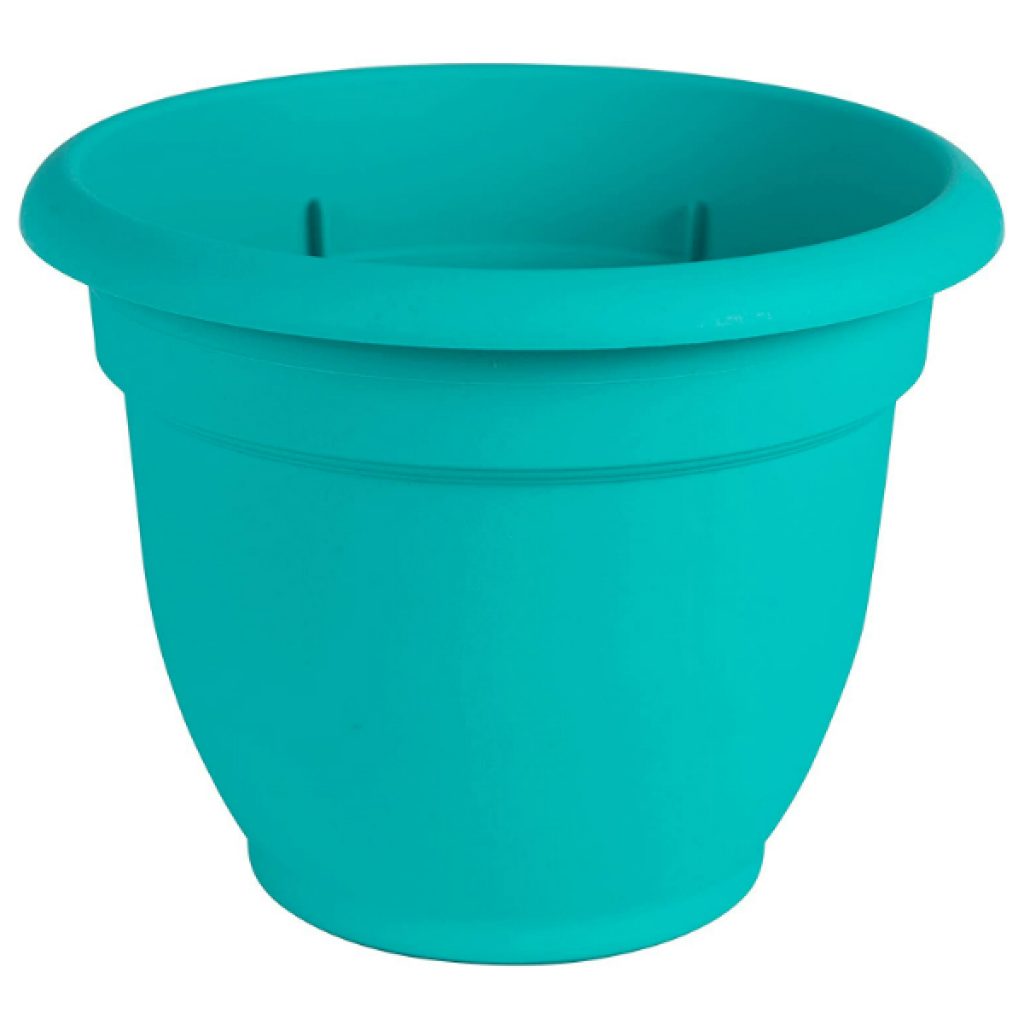 The Ariana planter may just become your best pot since it requires less maintenance as compared to similar containers. This model will prevent your crops from drying out, and it will lower the time needed to water your plants.
A covered reservoir is placed inside the pot's bottom, and it can hold roughly one to three and a half inches of water, depending on the size of the planter. The insert is hence self-watering, and it will keep the roots and dirt above the reservoir while ensuring the appropriate moisture through evaporation. So, there will be enough water and proper air circulation that will keep your plants healthy.
You can choose best pot for weed plants of different sizes ranging from six to twenty inches, and they are available in a variety of colors. Besides, this model is made of sturdy plastic that contains no harmful components, has a matte finish, and is stabilized against UV, so this item can thrive in harsh weather conditions, making it long-lasting. Also, this type of plastic is environmentally-friendly.
Still, I recommend draining holes in the bottom of this model if you have to place it in an unsheltered area. It is because exposure to excess moisture for a long time will prevent water evaporation and absorption by the soil. Draining these pots is very easy since they come with already marked recommended drainage points. Simply flip the planter upside down and use a screwdriver or drill for creating drainage holes.
These best pots for cannabis are perfect if you're barely at home. So, if you travel often or have a busy schedule so that you can't ensure your plants are regularly supplied with water, these items will help the plants to thrive. Additionally, these pots will also last for a long since their matte finish is great for preventing dirt, scratches, or fingerprints.
Moving these pots to a different location is very easy because they are lightweight. Overall, these affordable planters are a viable option if you're unable to water your crops regularly and still want to grow healthy marijuana.

---
PROS:
Ideal for people with a busy schedule
Can be used indoors or outdoors
Self-watering
Easy to move
CONS:
You need to drill drainage holes by yourself
---
5. Round Planter Pots by HBServices USA – Pots for Grow Marijuana Indoors and Outdoors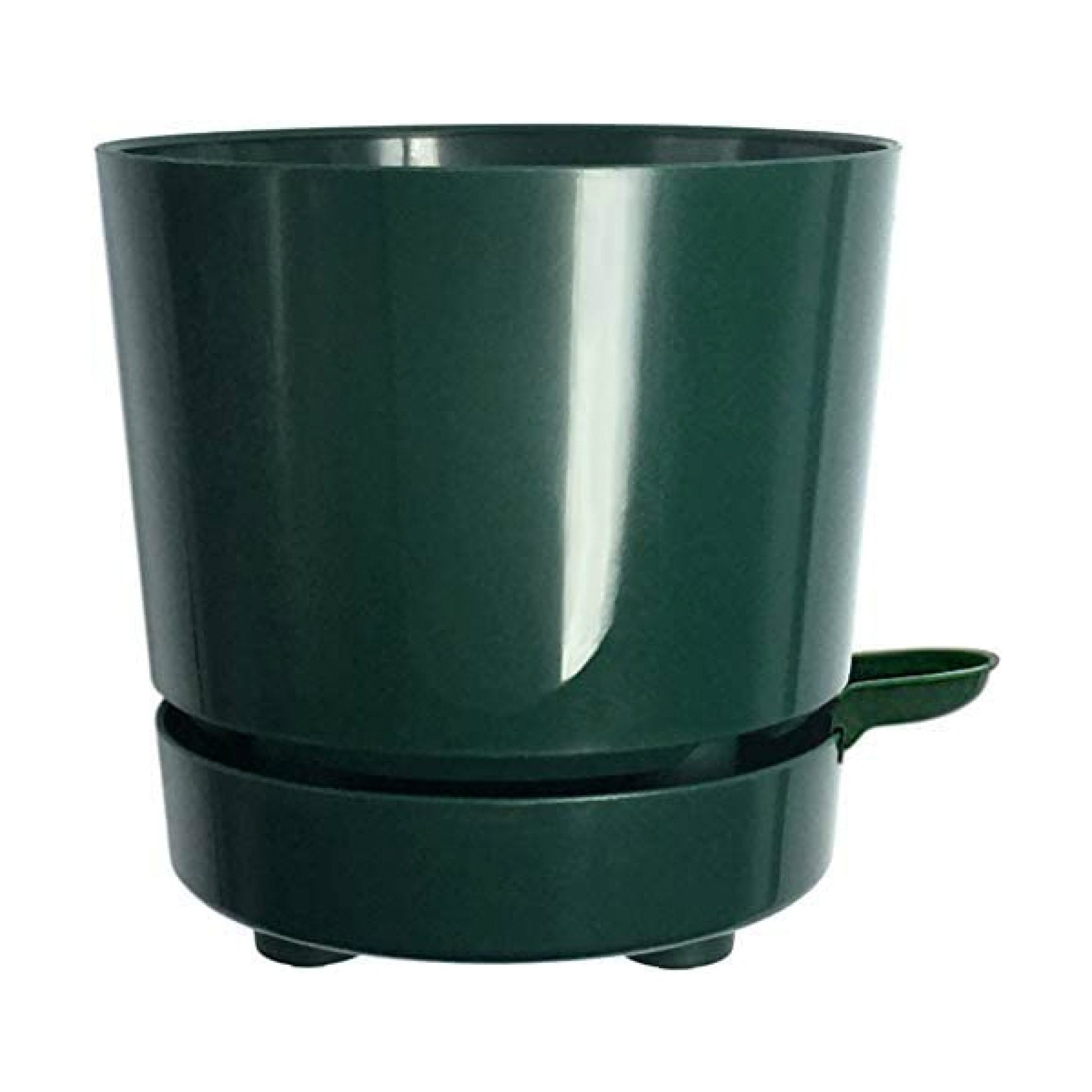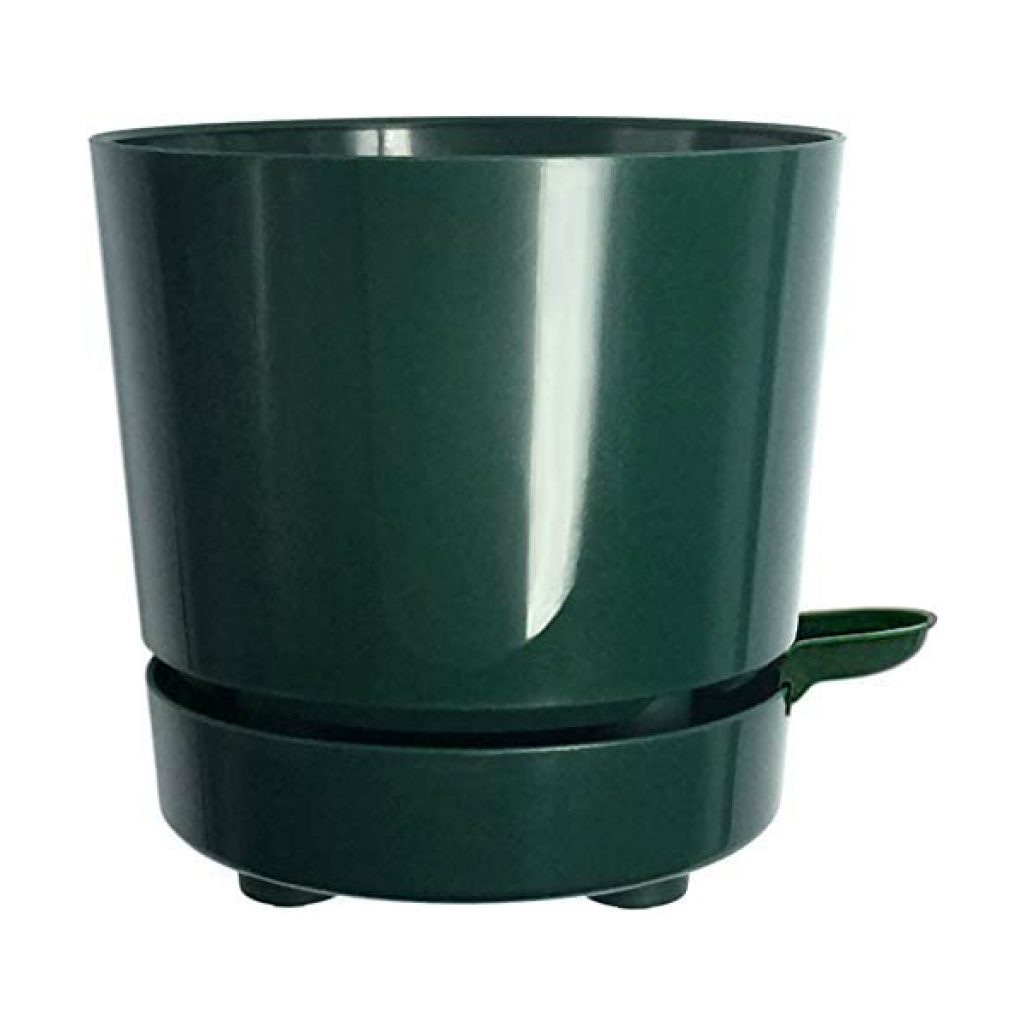 These seven-inch self-watering bags are made of sturdy material that allows for high drainage and prevents mold and fungus to develop in your plants. Besides, these best pots for indoor weed plants are ideal for both indoor and outdoor use. You no longer need to worry about watering cannabis in strict timeframes, as this model is also fitted with a self-watering element in the planter's bottom.
So, the roots of the planted cannabis will get to the bottom of the reservoir only, and the soil will draw water while keeping the plants above the reservoir naturally. This construction will protect the delicate roots from being overwatered, therefore, simplifying the upkeep process and getting rid of typical issues associated with other planters.
These pots have open slats that can maintain the circulation of oxygen throughout the soil, as well as around the exposed roots. It lowers the chance of mold, rot, and fungus growth that often affect overwatered plants with not enough air access. So, this feature will keep your crops healthy.
Besides, these water reservoirs are simple to refill, so there will be no overflowing. Every planter has a straightforward-to-use watering attachment that you can clip on. It is located inside the reservoir saucer on the bottom and can make watering your marijuana even easier. Simply pour water directly into the deep reservoir rather than through the planter to prevent an overflow. You can leave the item on the best pot for cannabis or clip it on when needed.
These marijuana pots are perfect for outdoor and indoor use since the reservoirs are created with studs beneath them to keep the planter above the ground. It also allows for avoiding water stains that are common for other models with flat bottoms. Moreover, these containers have a smooth and glossy finish.
The items are made of safe, ultra-violet, stabilized synthetic material, and they do not contain any harmful components. The pigments used are resistant to UV. So, these planters are environmentally safe, and they won't leak any chemicals into the water or soil. Besides, they are long-lasting and will not get patchy, peeled, or fade when exposed to direct sun.

---
PROS:
Lightweight
Provide value for money
Can be used indoors and outdoors
Simple to use
CONS:
Lose in quality as compared to previous models
---
6. Bloem 010282 Saturn Planters – Pots for Grow Marijuana Indoors or Outdoors with Saucers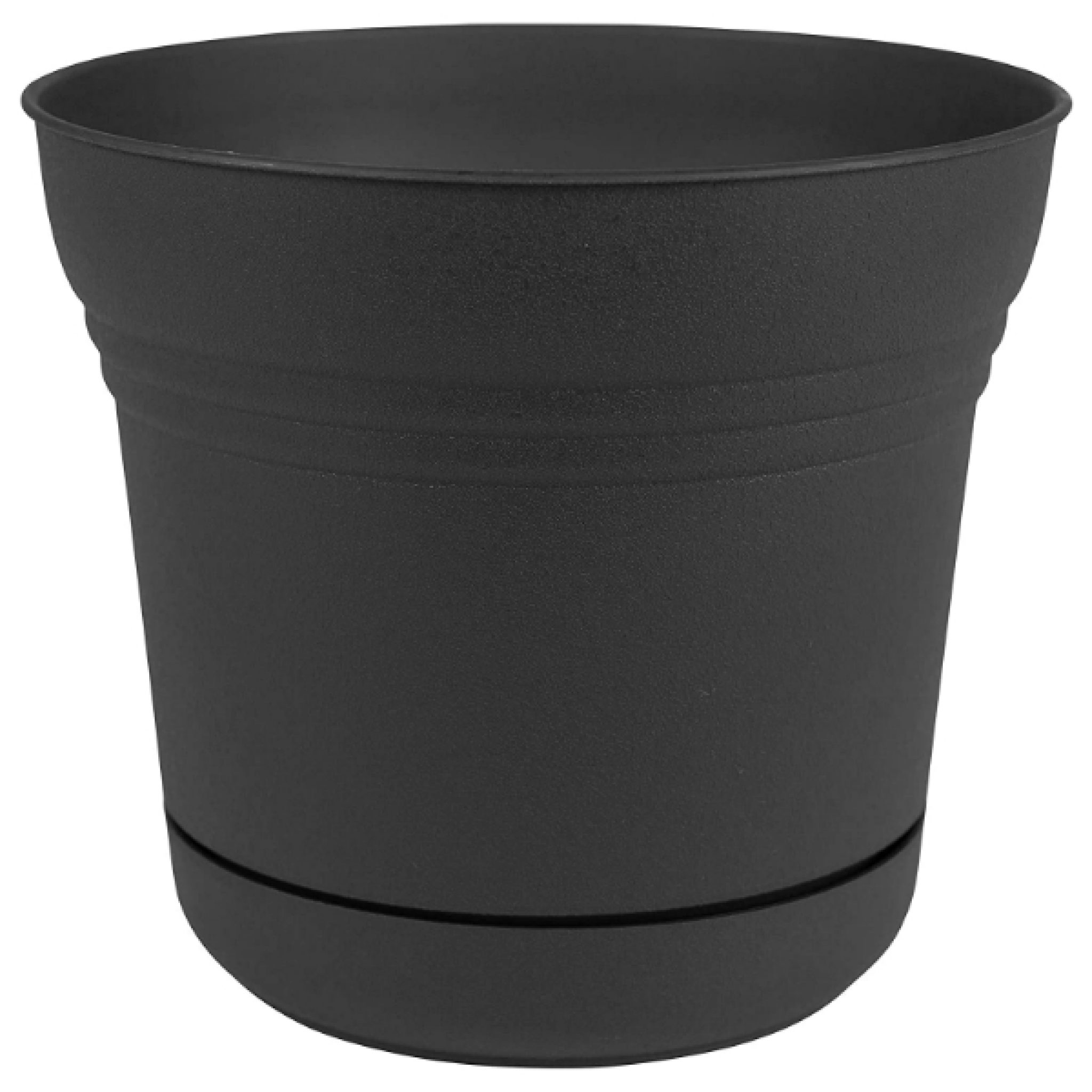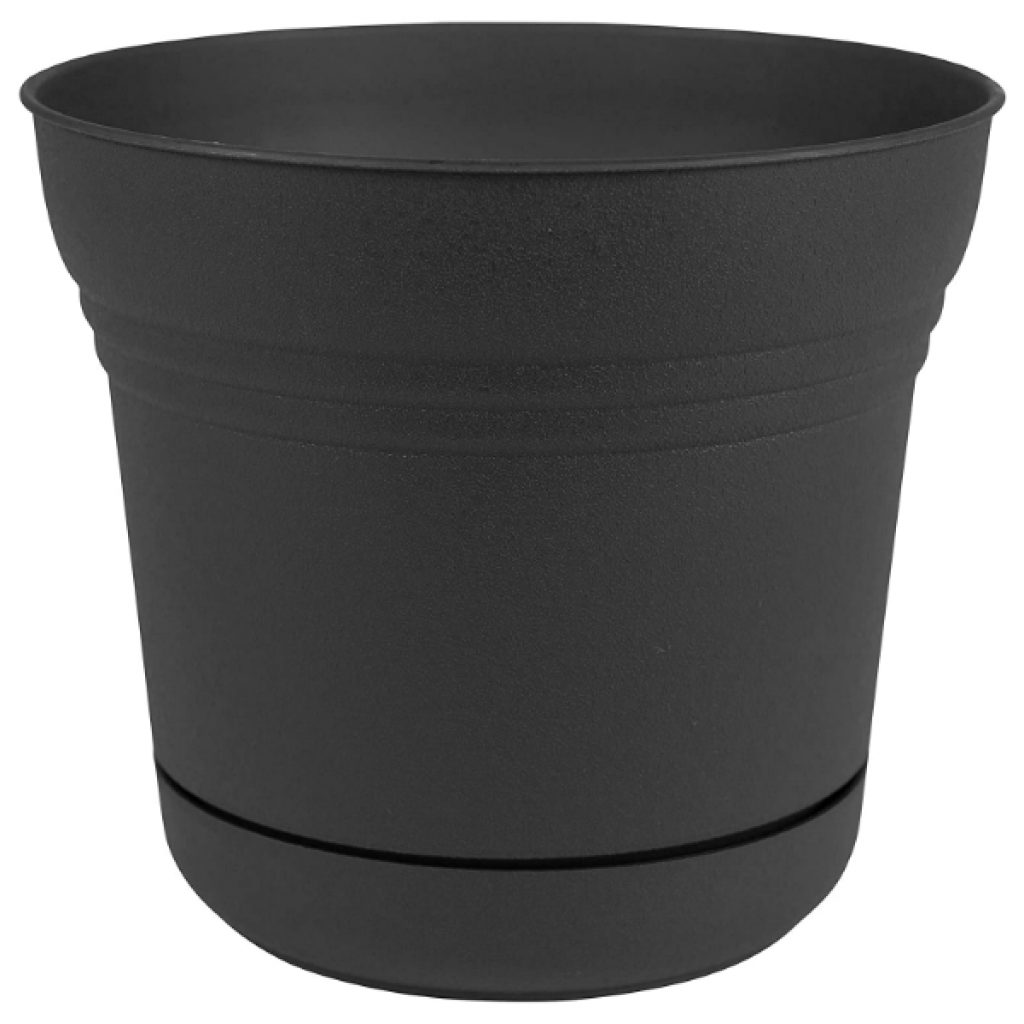 These planters will add a touch of contemporary elegance to your household or garden. The model has been made from polypropylene, making it long-lasting. The containers can be used both outdoors and indoors, regardless of the weather outside. Besides, thanks to the amazing matte finish, these containers will look great on a windowsill or a balcony.
Each planter also comes with a matching saucer that will help to avoid overwatering, and it will save your indoor surfaces, preventing them from getting swollen. Besides, this model comes in several sizes and colors that you can choose from.
You can move such containers easily, hiding the plants from heavy rains or too much sunlight if placed outdoors, or just changing the placement if kept indoors. However, these pots will come in handy for weed growers, who have limited space within their houses or do not have enough space outside.
This model is one of the best pots to use for outdoor marijuana growing, as it is made from quality UV-resistant polyresin. Therefore, the weed planting pots will last for a long since they are resistant to fading, cracking, or chipping. The matte finish prevents the items from getting dirty or scratched.
Another outstanding feature of this model is that it comes with already drilled drainage holes, therefore, preventing overwatering, which is bad for any plants. So, these containers have incredible water retention, letting your cannabis plants thrive and grow healthy and strong roots. Finally, this model is environmentally-friendly since it doesn't contain any harmful ingredients and can be used for as many times as possible.

---
PROS:
Lightweight
The planters have an aesthetic look
Great value for money
Can be used indoors and outdoors
---
7. Viagrow 2 Gal. Plastic Nursery Pots – Affordable Plastic Pots for Grow Marijuana Indoors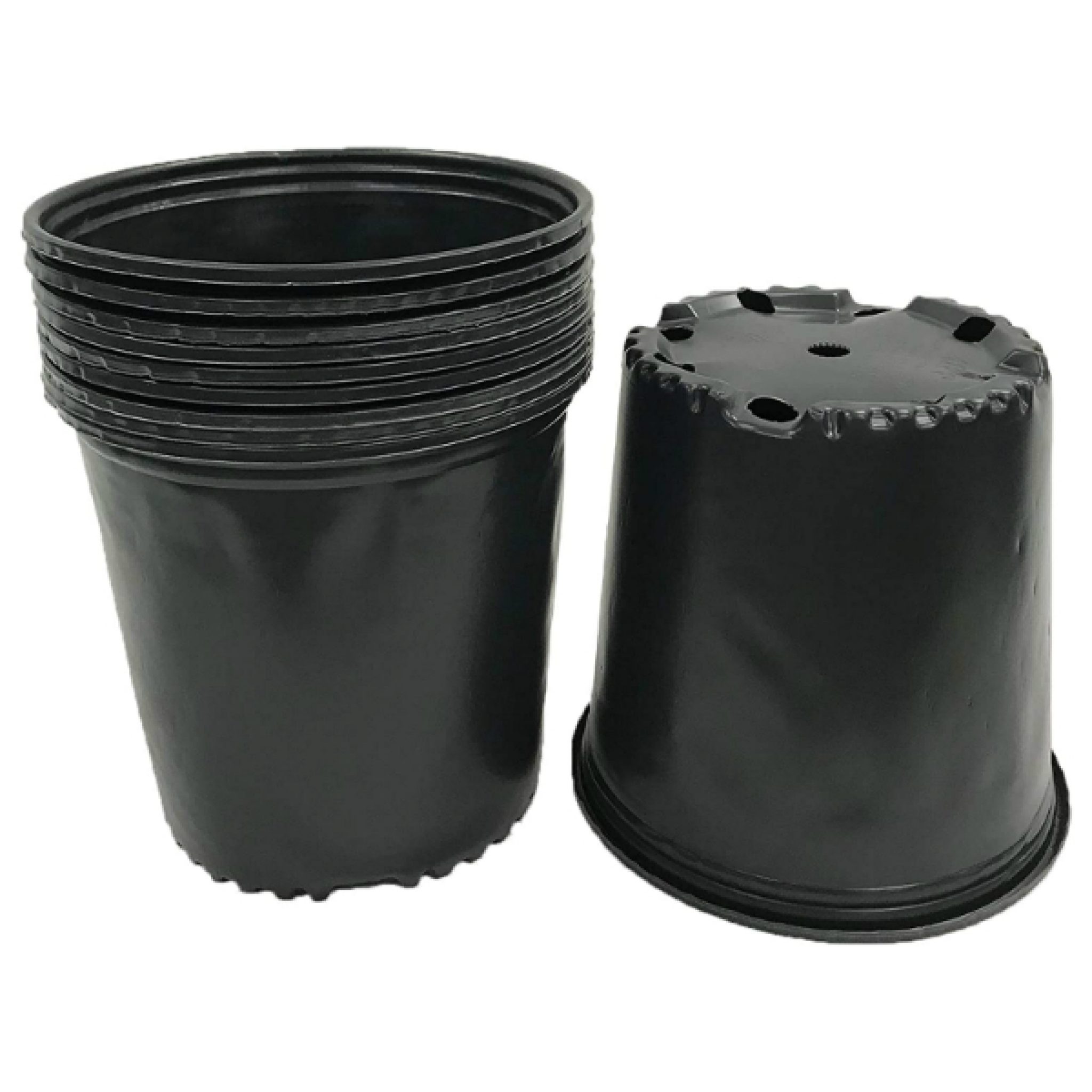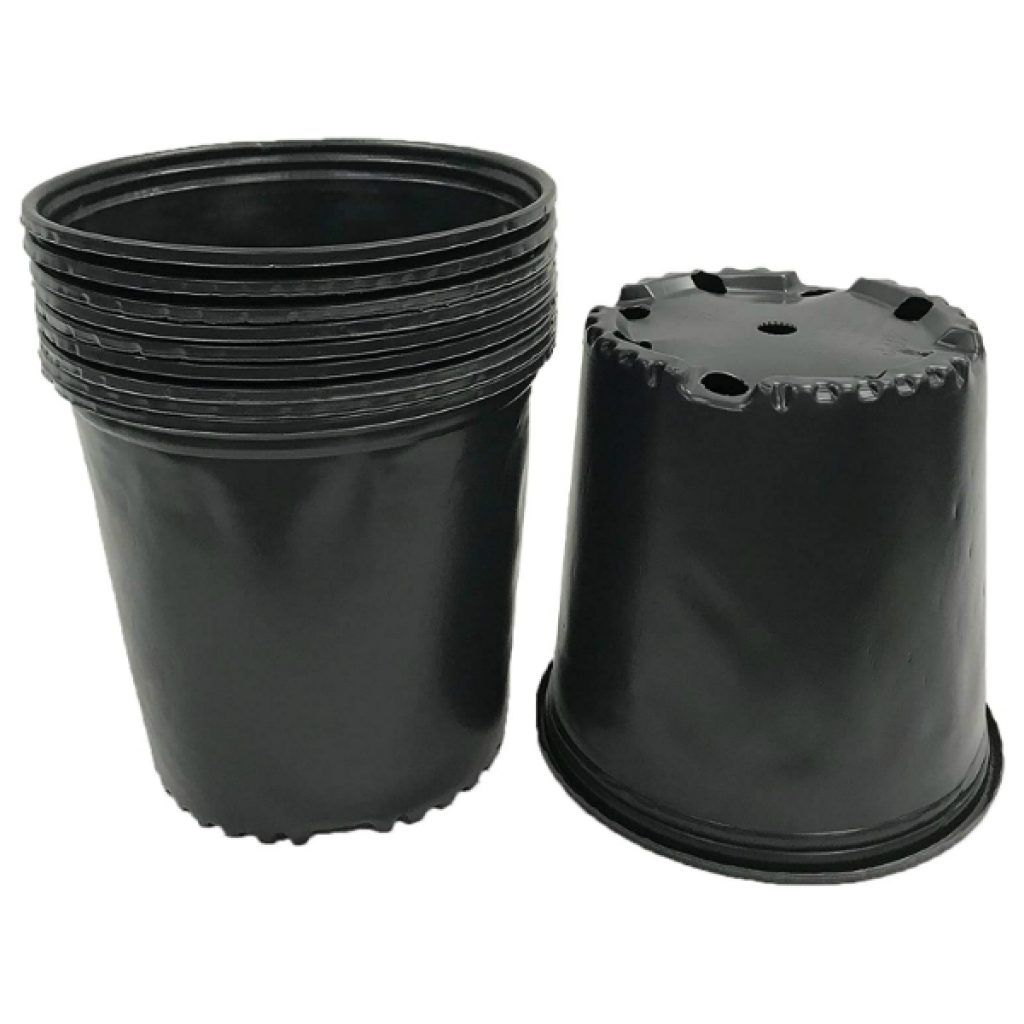 These plastic pots are ideal for growing weed in your backyard. Each item has a 7.57 liters capacity. These containers are safe for growing any type of plant because they do not contain any harmful components, such as Bisphenol A. However, they come in multiple sizes, so you can choose what dimensions work best for you.
Besides, it means that these plastic pots are safe for the environment. They are affordable, long-lasting, and can be used on different types of soil.
These containers are perfect for growing marijuana since they come with a raised construction that allows easy handling. So, moving the pots from one place to another won't be difficult.
Besides, once you're done harvesting and want to store the containers, you can easily stack them one on another, saving extra space at home or in your garage. Also, you can reuse these pots over and over again, and they provide value for money.
These indoor grow pots are easy to set up and use since the construction doesn't require assembling. Each item weighs roughly eight ounces, making these pots portable even when containing plants and soil inside.
Also, you will never have to worry about the excess moisture since each pot has nine drainage holes. Therefore, the soil will be well-aerated all the time, and your crops will thrive.
These plastic pots are also easy to clean and maintain because of their rim construction. They are suitable for marijuana growers on a budget and can be a perfect pick if you're just starting growing marijuana.

---
PROS:
Do not need any assembly
Affordable
Easy to use and carry
---
Choosing the Best Pot to Grow Marijuana
There are so many choices that are involved in growing cannabis, among them being the type of best weed pots to get. The grow containers that you select play a big role in determining how healthy your plants will be, as well as what yield you will have. However, there are a lot of options on the market, with so many different brands offering various types of best pots for weed.
So, it is essential to make a smart decision if you expect your crops to thrive. Here are a couple of concerns that you need to address before settling on a best pot to grow weed in.
You need to look at the space for roots available in the selected container, its dimensions, material, as well as to consider whether you want to place it indoors or outdoors. These four factors should assist in guiding you to get the ideal best pot for growing weed. Besides, this review has provided you with comprehensive details on the top containers available on the market. You could check their pros and cons, as well as the specifics of use. So, choosing what suits you the best shouldn't be hard, and I hope that this information was helpful.
What type of best pots to grow weed in do you currently use to grow your marijuana? Or, perhaps, you are just starting with growing cannabis plants? What habits do you constantly practice for your plants to thrive? Leave your comments and questions in the comment section, and I will respond to all of them.