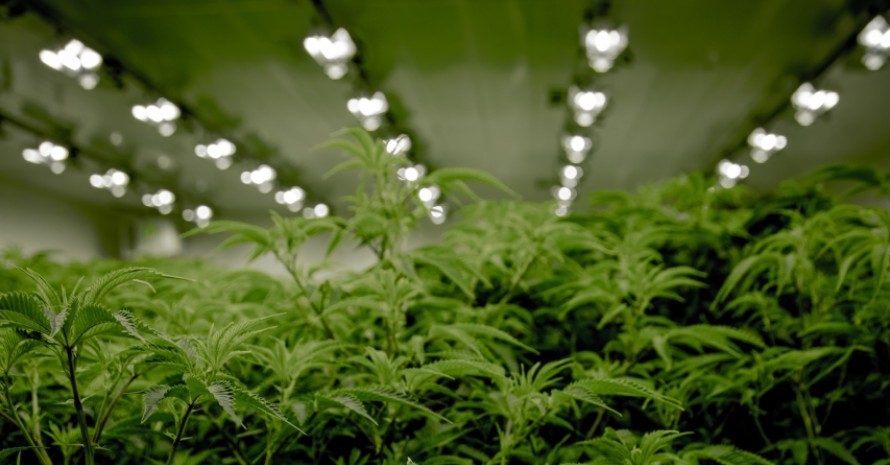 500 watt LED Grow Light: Choosing the Best Model
Thanks to innovative LED lighting, you can grow plants right in your apartment. 500W LED grow lights are the devices that are necessary to ensure the process of photosynthesis in various plants at their stages of growth. LED plant lamps are incredibly useful as the basis for the growth of all plants is high-quality light of a certain spectrum. Properly selected LED lights save energy and do not accelerate plant growth. You can check out the best 500 watt LED grow lights in this review. I will concentrate on the specs, advantages, and cons of the top 5 products on the market.
Service life over 100,000 hours
Lens with a light angle of 90 degrees
Bright full-spectrum glow
Top Pick
Service life over 100,000 hours
Budget Choice
Lens with a light angle of 90 degrees
Runner-Up
Bright full-spectrum glow
5 Top 500-watt LED Grow Lights
I've selected the best 500 watt LED bulbs based on several criteria. All lamp models described below meet the following requirements:
Emission of light in a certain spectrum, which affects photosynthesis and the qualitative rapid development of all kinds of plants (400-500 and 600-730 nm — the red and blue spectrum of the emitted light);
Economical consumption of electricity;
Very high uptime (75,000 hours or more);
Resistance to mechanical damage;
High quality and environmental safety of materials for all parts of LED plant lamps.
1. PARFACTWORKS COB — Best LED 500 watt Grow Light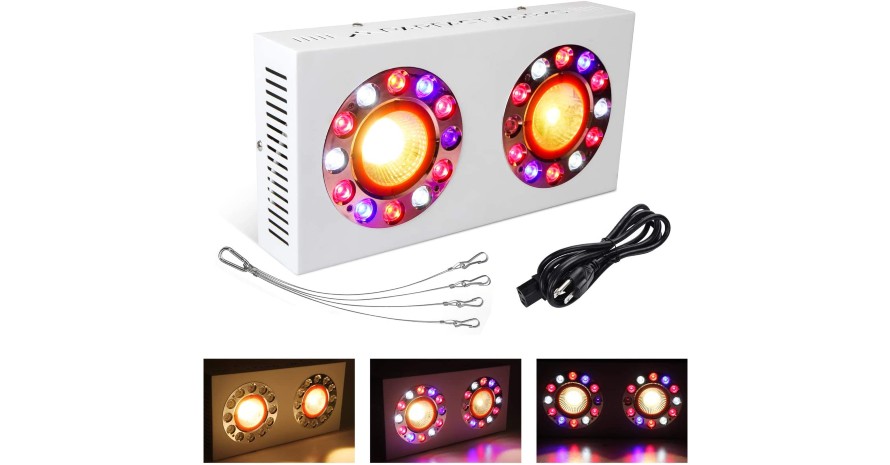 The full-spectrum 500W LED grow light from PARFACTWORKS is one of the most powerful, reliable, and efficient on the online market. The brand is based in the United States. Since 2010, the company's engineers have been developing high-quality lamps for plant growth.
The key feature of this model is not only the brightness of the LEDs but also efficient cooling. Due to the built-in reflectors, the lamp does not heat up above the room temperature. Its temperature is 70% cooler than that of the similar lamps from other brands. The size of this luminaire is only 15.7 x 7.8 x 3 inches, but that does not prevent it from illuminating the area of ​​3.5 x 3.5 feet effectively. The angle of illumination is 90 degrees, which ensures the even distribution of the light flux to the plants around.
This option is my favorite among all, as it features a full spectrum of light, is very powerful, waterproof, and reliable. I often use lamps of this brand and have never had any issues with them. That's why you will find a similar model of LED lamp for plant growth from PARFACTWORKS on my list further.
---
PROS:
Service life over 100,000 hours;
Suspension cable included;
Very bright light.
2. PARFACTWORKS CREE COB — Two-Channels Spectrum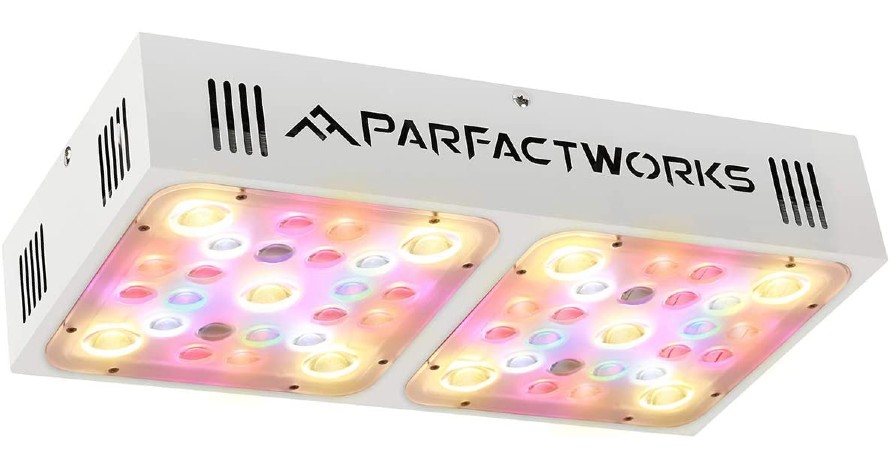 This model of LED plant growth lamp rightfully takes second place. It has two channels, COB and SMD BOOSTER. The first channel of white glow with a light temperature of 3500K provides support for plants at the germination stage, and the second channel with a multi-colored glow supports the plants before flowering. This means that you do not need to use multiple lamps at different stages of your plant's growth.
This lamp consumes only 190 watts, but its actual wattage is 500 watts (which is equivalent to 500 watts HPS). With such a small device, you can grow several bushes of plants in the area of ​​2 x 3 feet. The device has a metal protected case with cooling holes. There are no fans inside, so there is no noise during the item's work.
You do not have to worry about the durability and reliability of the luminaire, as the manufacturer provides a 3-year warranty. If a buyer faces any difficulty using the lamp, they can return the product within 30 days.
---
PROS:
The entire spectrum of the glow;
Lens with a light angle of 90 degrees;
Service life over 100,000 hours.
CONS:
Power consumption of 190 watts is higher than that of the analogues.
3. Optic 8+ COB — Large UV / IR Lamp for Plant Growth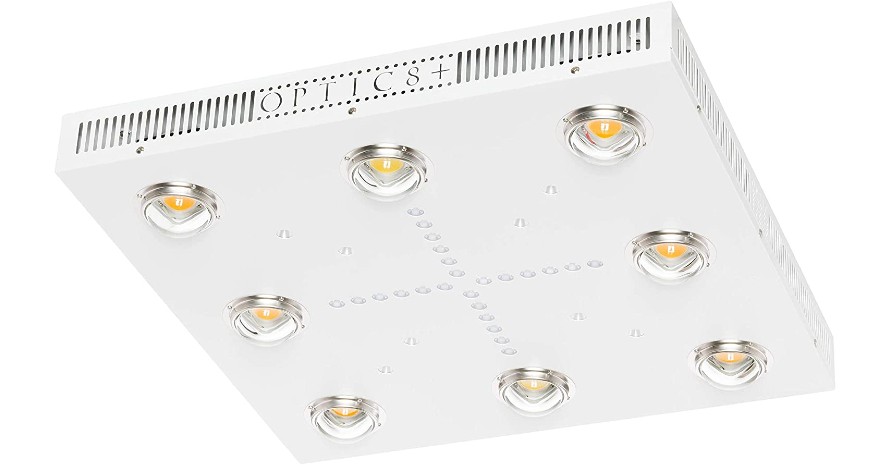 If you need a large lamp for growing your plants, you should consider this model. It measures 26 3/4″ x 26 1/4″. The body of the item is equipped with 8 large ultraviolet and infrared light bulbs with a power of 500 watts, as well as many small wide-spectrum LEDs.
The peculiarity of the lamp is the presence of optical lenses that scatter light evenly and at a large angle on plants. The power of this lamp is quite impressive. It is equivalent to 1000 watts of HPS lamps while consuming only 500 watts. This allows you to grow plants up to 4 x 4 feet under this lamp.
The metal case reliably protects the lamp from overheating and mechanical damage. But be careful, as the product is not waterproof. It is also quite expensive, which makes it less popular.
---
PROS:
Glow control is located on the body;
High power;
Bright full-spectrum glow.
CONS:
The lack of water resistance;
High price.
4. Wyzm 500W — Quality Lamp at Affordable Price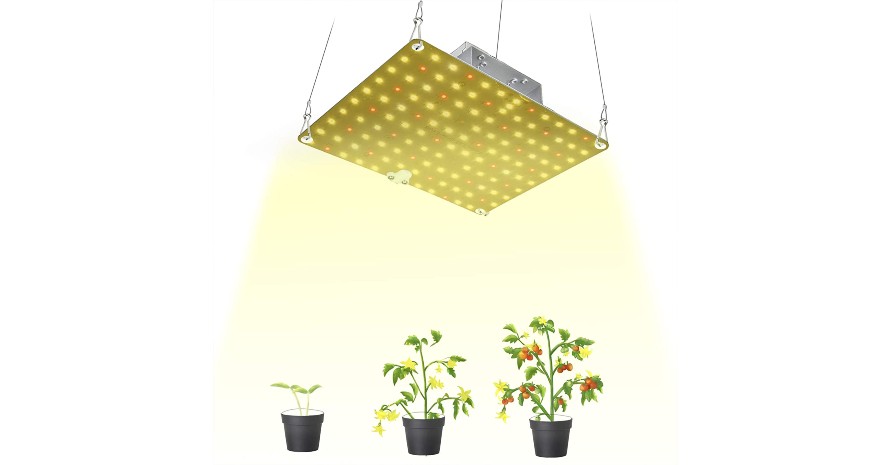 The Wyzm luminaire has a power of 50 watts, which is equivalent to 500 watts HPS. I consider it an affordable option for improving plant growth, as the lamp has a red, yellow, and infrared light spectrum. A color temperature of 3500K is considered optimal for balanced growth of cannabis, vegetables, herbs, and other plant species.
This luminaire does not make any noise as it has no fans or other active cooling system. Due to a special metal screen and diffusers, the lamp does not get very hot.
Use this light to grow 1-2 large shrubs in a 2×2 foot area. The lamp is suitable for all stages of plant growth, from seeds to flowering. Raise the lamp while the plants are growing if you notice they are too tall. The set includes metal cables for fastening. The good thing is that you do not need to buy anything separately.
Another advantage of this model is IP65 water resistance. You can calmly use the lighting device even in damp rooms and greenhouses with watering systems.
---
PROS:
Water resistance;
No fan and noise;
Complete with mount and ON / OFF switch.
CONS:
The lamp power is 50W (equivalent to 500W).
5. ZWDSDD Full-Spectrum — Great for Greenhouse Plants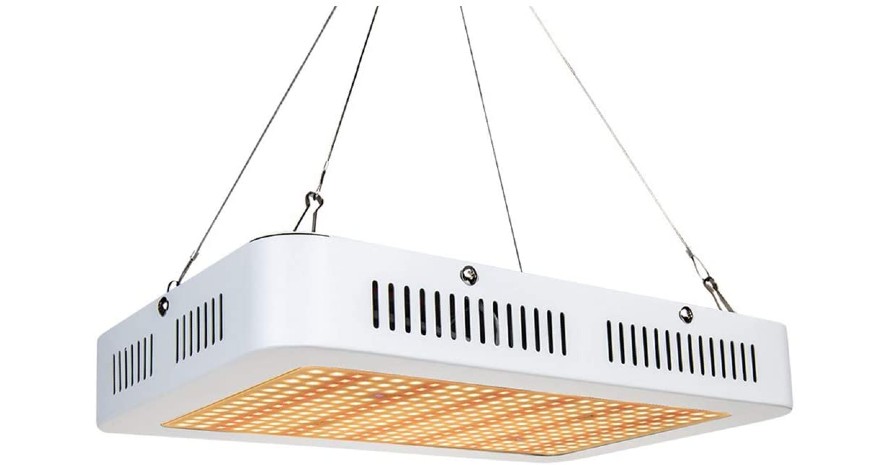 ZWDSDD has updated its line of LED plant growing lamps. This model has an equivalent power of 500 watts. According to the manufacturer, there are upgraded chips installed here, which reduces heat generation and improves glow. I recommend hanging this light from 10 to 30 inches from the plant. The model will suit greenhouse vegetation perfectly.
This is a rather powerful and bulky lamp, combining 350 LEDs of different spectrum. Due to the large weight and bulky body, delivery of the item will cost at least $10-20. The cost of this lamp is one of the highest among its analogs, which is a disadvantage. Unfortunately, the claimed lifespan is 50,000 hours, although many other luminaires in this category have twice the lifespan.
However, switching this lamp on, you can be sure that your plants will thrive in all stages of growth.
No products found.
---
PROS:
The lamp does not overheat;
350 bright LEDs installed.
CONS:
Large and heavy body;
The price is higher than that of analogues.
LED Grow Lights FAQ
Read the answers to the questions about LED bulb wattages for growing plants, 500 watt equivalent LED bulb, and other selection criteria.
What wattage LED grow light do I need?
You need a certain amount of light for uniform, stable, and fast plant growth. The wattage of the bulbs is indicated in watts. The more watts, the more light the lamp has. You need to know what wattage LED bulbs require to grow your plants. Experienced gardeners state that 50 to 80 watts of power per square foot of area is required.
How far should a 500 watt LED light be from plants?
At the initial stage of growing seedlings, you should place phyto-lighting at a distance of 15-30 cm from the seedling. As the plant grows, the light source should be raised to a similar height, which you can achieve easily due to an adjustable mount. The seedlings should be in resting and lighting modes for an equal period of time.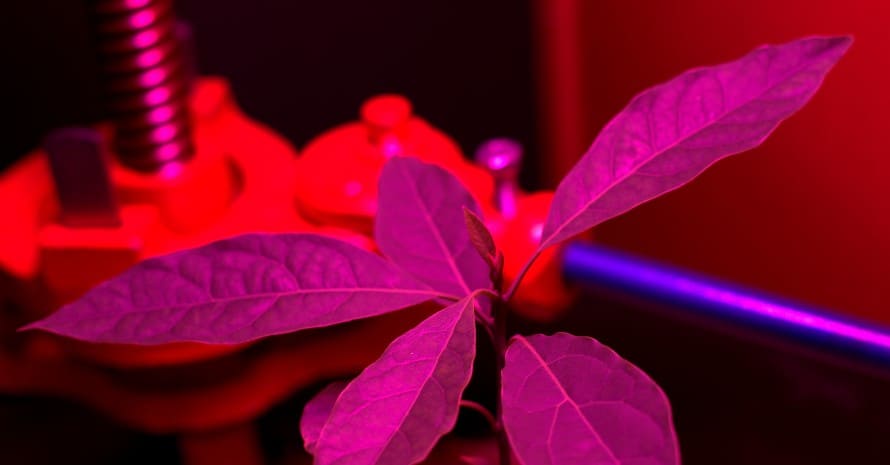 What is a 500 watt LED grow light equivalent to?
Searching for a suitable variant, you may have encountered questions like what wattage LED light equals a 500 watt grow light. Such a LED grow light is equivalent to a 1000 watt high intensity discharge type bulb.
What is the best LED grow light in 2021?
This 500 watt LED grow light reviews describe several quality and effective models. According to my experience, the best model is the PARFACTWORKS 500 watt LED Grow. This small model has a long lifespan of over 100,000 hours. The high brightness ensures the accelerated plant growth and stable seedling germination.
Best LED Lamp for Efficient Plant Growth
The process of photosynthesis is impossible without the participation of light waves. Namely, it is the cause of the growth and development of plants. For artificial plant lighting, the best option is 500 watt LED grow light.
Before deciding on the choice of such a lamp, it is worth clarifying what specific purposes you will require the device for. In addition, you should pay attention to the design of the luminaire, the covered area, and the area of ​​application.
Have you already tried 500 watt LED grow lights? Has the growth of your plants improved due to the use of this special lamp?