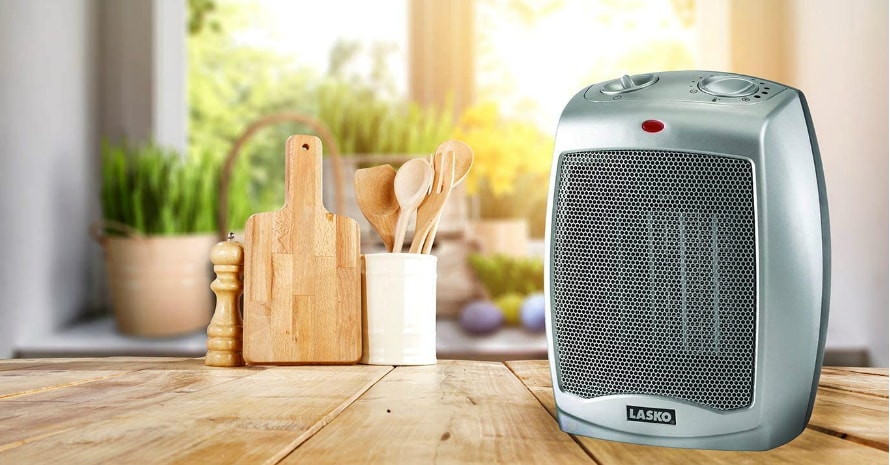 Best Grow Tent Heater: How to Find It and How to Use It
If you grow cannabis, you know it is not an easy task. You should take into consideration many aspects and create perfect conditions for successful growth. The grow room should have a particular level of humidity, as well as temperature. For keeping your mini-garden warm, you should apply the best grow tent heater. It is even more important for those who grow weed in cold places or zones with changing seasons.
The right temperature is not the only thing you should care about in the tent. It depends on the size, number of plants in the room, and the humidity level. So, you need to collect a set of appliances to make your tent suitable for particular plants.
Most gardeners prefer buying this stuff online, as this is the most convenient way. But it is hard to pick the right product without testing it. The lack of expertise and experience can also make a choice harder. We have collected our knowledge to help you with this task. Check out our heater selections and recommendations for use.
Best Grow Tent Heater: Top 10 Selections
Here are some of the best devices for heating your grow room. We have discovered their pros and cons to help you in picking a suitable option.
Ceramic Grow Room Heater from ASTERION – My Personal Top Pick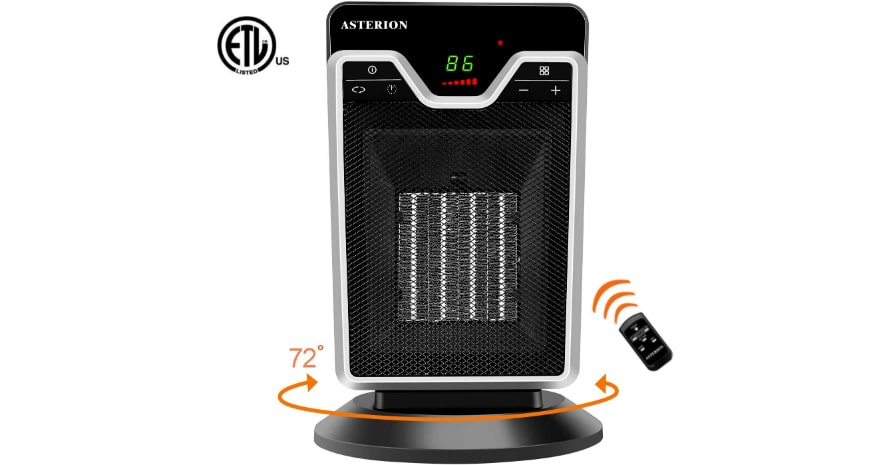 This ceramic heater from ASTERION can fulfill your growing needs as well. 5 heating settings ensure a comfortable temperature and the right type of heat. Digital display provides you with all the required information about the current temperature, chosen mode, and the target temperature level.
This heater has eco-mode, which is energy-saving and allows maintaining the 60℉- 90℉. As soon as the temperature is higher, the device will shut off and remain in a sleeping mode to save the battery life.
This powerful device has cool-touch housing for protection. Another safety feature is tip-over shut-off. The heater requires manual turn-on and off, but you can use the remote control for convenience.
It is also suitable for adjusting settings. Thanks to the oscillation function, the heat is distributed evenly with the 72° angle. The device is equipped with a DC motor, which works quieter compared to AC ones.
This is a good automatic heater for indoor marijuana grows, considering all aspects. That is why we include this device to our top-pick products.

---
PROS:
Cool-touch surface;
72° warmth distribution;
Remote control;
Timer and thermostat;
Tip-over shut-off.
Portable Tent Space Heater from Lasko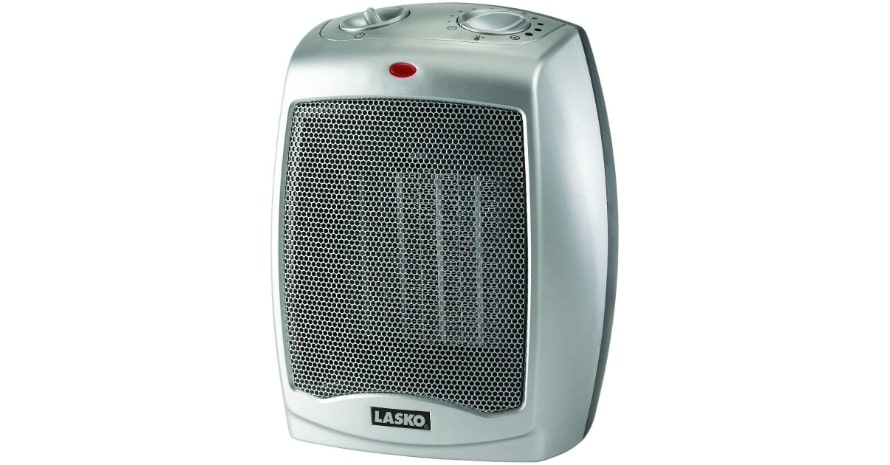 Lasko has offered an outstanding option for indoor gardeners. Its portable ceramic heater is a universal device that can be used anywhere at home. But it has shown itself as a good grow room heater as well.
The item is lightweight and portable, and you can move it around the tent as you need. No installation is needed; you just plug the device in and start using it.
Also, this small heater has many settings to adjust its work. You can choose the heating level or mode at a particular temperature. Its coverage is up to 300 square feet. Safety features include overheating protection and cool-touch exterior.
Keep in mind that this heater is powerful enough to warm up the growing room very quickly. So, do not leave it plugged in for a long time.

No products found.
---
PROS:
Lightweight and portable;
Diversity of settings;
Powerful but affordable;
Overheating protection;
Quickstart without any installation.
CONS:
It cannot be used for heating small grow tent for long.
Wall Electric Heater from Stiebel Eltron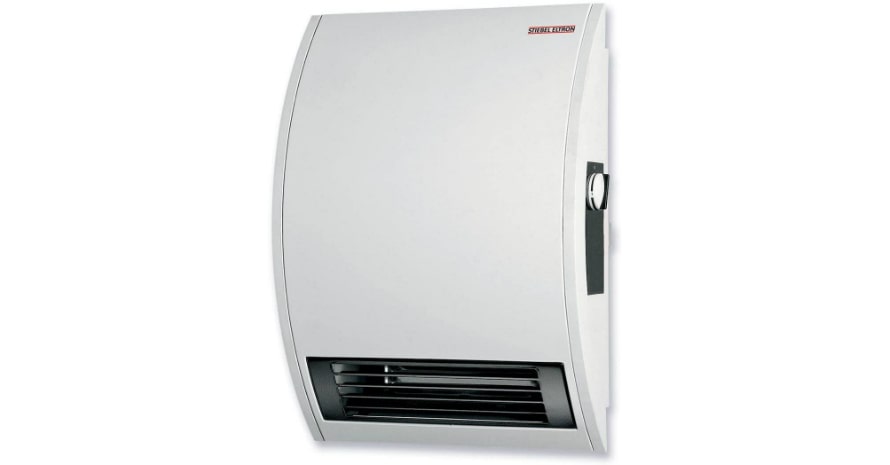 The outstanding feature of this stylish electric heater from Stiebel Eltron is that it should be hanged on the wall. This is a space-saving option for small tents and rooms. However, this design makes the device less portable.
As the design ensures even distributing the heat, this electric heater works quietly and effectively. Built-in thermostat provides the required temperature. Moreover, the quality of the performance is as expected from German manufacturing.
Among the downsides, some customers complain about the annoying sound when the heater turns on and off.

---
PROS:
Mount design;
Quiet work;
Integrated thermostat;
Even heat distribution;
Quality of German manufacturing.
CONS:
Not portable;
Annoying clicking sound turning on and off.
Oil-Filled Plant Heater from DeLonghi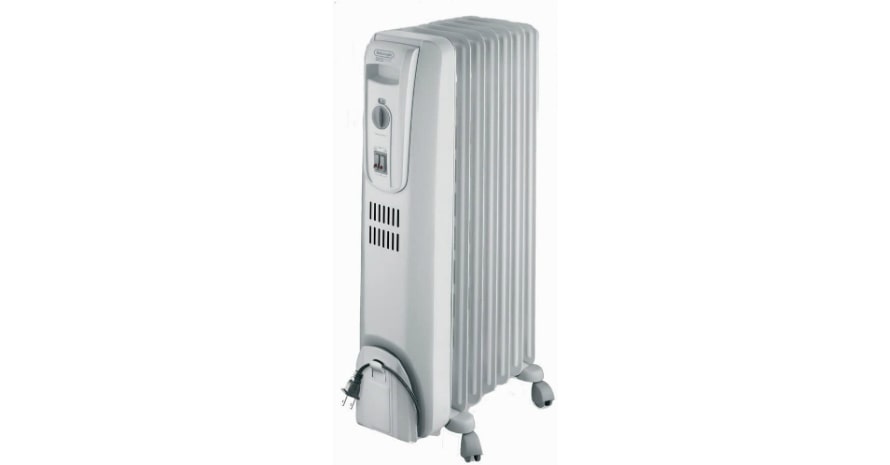 This home oil-filled radiator from DeLonghi can serve you a great deal as a weed heater. This is a portable device on wheels, making it convenient even for the large rooms where you can move it as you need for even heat distribution. The heater does not have fans or other moving details, so it is very quiet. Its patented slot design enhances the heat flow.
A built-in thermostat and three heating modes allow adjusting the heating process. The safety is ensured by the thermal shut-off and anti-freeze protection. Some customers, however, admit that the heater can have an unpleasant burning chemical smell while working. So, it might not be suitable for sensitive noses.

---
PROS:
Portable;
Quiet and powerful;
Adjustable heating settings;
Overheating and anti-freeze protection;
Unique thermal slot design.
CONS:
Might have a slight burning smell.
Electric Heater from Vornado for Heating Grow Tent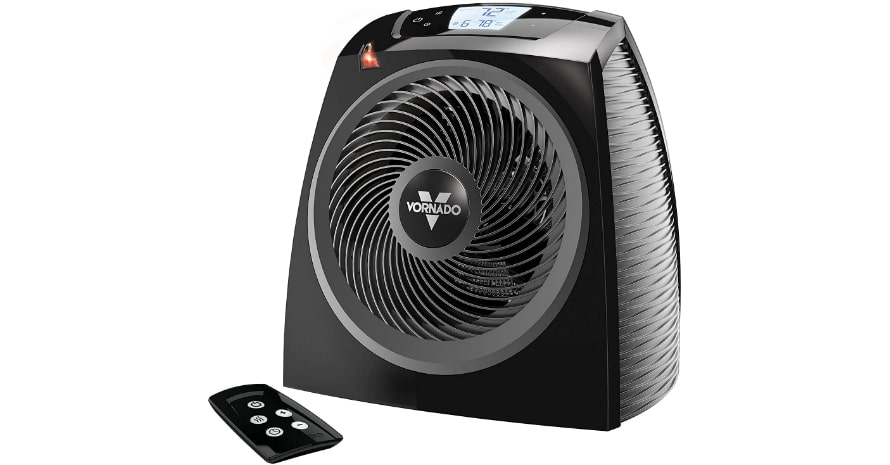 If your grow tent isn't very big, you can try the electric heater from Vornado. It is compact, lightweight, and portable. With the LCD screen, you can see the settings and adjust them up to your needs. The airflow technology ensures distributing the heat evenly, maintaining the right temperature.
The safety of the item is ensured by two shut-off mechanisms. The heater will be turned off in case of overheating or tipping over. Besides, the cool touch surface provides attentional protection.
Considering the size of this device, you can effectively heat only small or medium tents. For larger areas, you should consider buying a few heaters.

---
PROS:
LCD screen with controls;
Even heat distribution;
Cool-touch surface;
Safety shut-off;
Cord storage and carrying handle.
CONS:
Suitable only for small or medium grow rooms.
Stylish Oil-Filled Tent Space Heater in Black from DeLonghi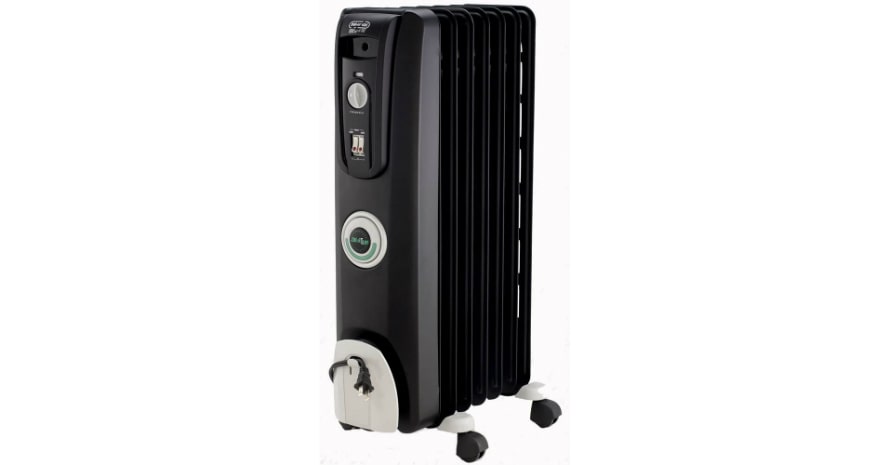 For heating grow tent, you can also apply the stylish device from DeLonghi. The manufacturer offers this model in a beautiful black color, which is rare for radiators. The construction is movable because of the wheels.
With the help of the thermostat and three warming modes, you can adjust the heating process. Overheating protection is ensured by the thermal shut-off. It is an oil-filled radiator, which does not require refilling.
But we should admit that despite this heater is portable; its cord is too short for moving it freely around the large tent. Take this fact into account in your buying research.

---
PROS:
Adjusting heating;
Overheating protection;
No-refill required;
On-wheels construction;
Stylish black look.
CONS:
Short cord for decent portability;
No timer.
Efficient Space-Saving Grow Room Heater from Honeywell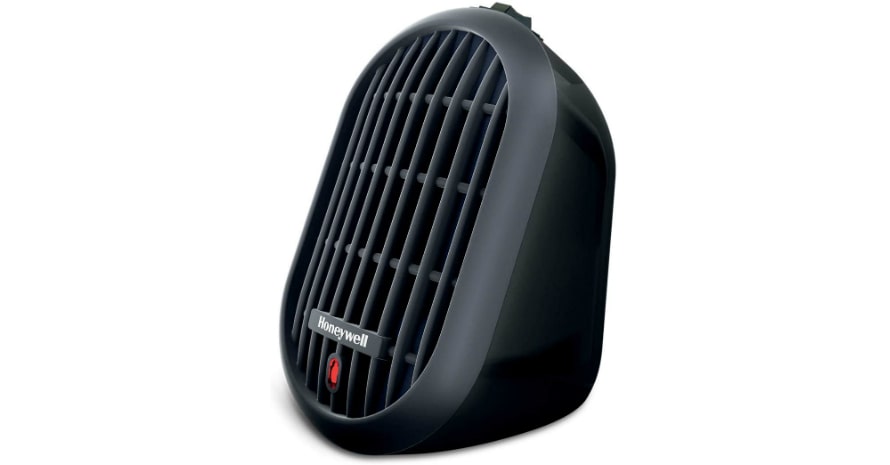 This portable, compact heater for indoor gardening is offered by a reliable producer Honeywell. It is claimed to be energy efficient, requiring only 250 Watt for decent space heating. However, the item is suitable only for small areas. If you want something bright in your growing room, you can choose between two color versions.
The safety features include auto shut-off in case of overheating or tipping over in a 360-degree direction. The heat is distributed smoothly by fan rotating. However, there were complaints that fans work louder than expected.

---
PROS:
Portable and compact design;
Energy-efficient performance;
Easy to use;
Two shut-off mechanisms;
Cool-touch plastic surface.
Mini Plant Heater from Airdog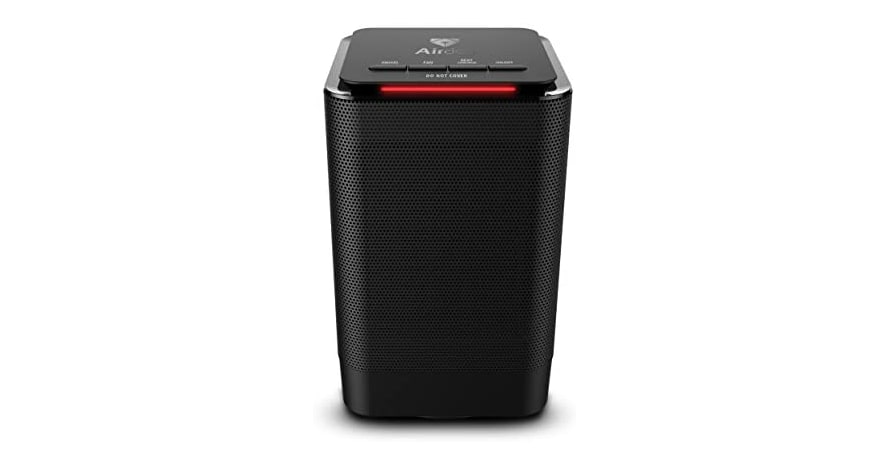 This stylish tent space heater from Airdog can warm up small areas of about 50 square feet. Decent heat distribution is provided by the rotating mechanism of the item. The heating technology ensures effective but quiet work.
Here, the manufacturer provides three standard heating modes. Safe usage is possible due to the non-burning housing and lean-power off function.
Among the drawbacks, we can point out some complaints about the smell. When the heater is on, it can have a slight burning smell.

No products found.
---
PROS:
Adjusting heating flow;
Fire-resistant exterior;
Rotating mechanism;
Quiet work;
Anti-fall protection.
CONS:
Might have a burning smell.
Electric Tent Space Heater from Pro Breeze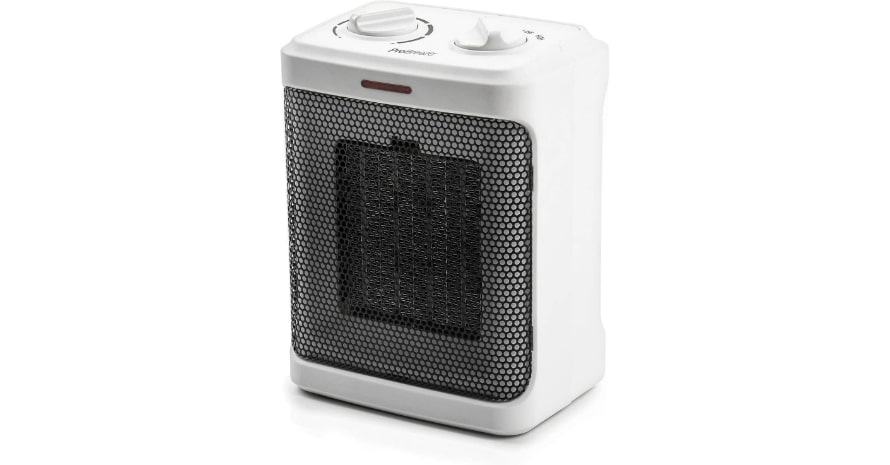 If you own a small tent, this device from Pro Breeze may come in handy. This is a powerful and energy sufficient model that has all the features of a high-quality heater.
It features a ceramic fan, which is safer and faster compared to metal or plastic ones. Additional safety is provided with overheat and tip-over switch-off. This model has three heating modes and an integrated thermostat for maintaining the optimal conditions.
This is a compact and portable device. But the size is also a drawback, as this heater is not powerful enough to warm the large areas efficiently.

---
PROS:
Energy-efficient model;
Advanced ceramic fan;
Adjustable thermostat;
Overheat protection and tip-over switch;
Portable construction.
CONS:
Suitable only for small areas.
Personal Electric Heater with Heat Hose Attachment from Citus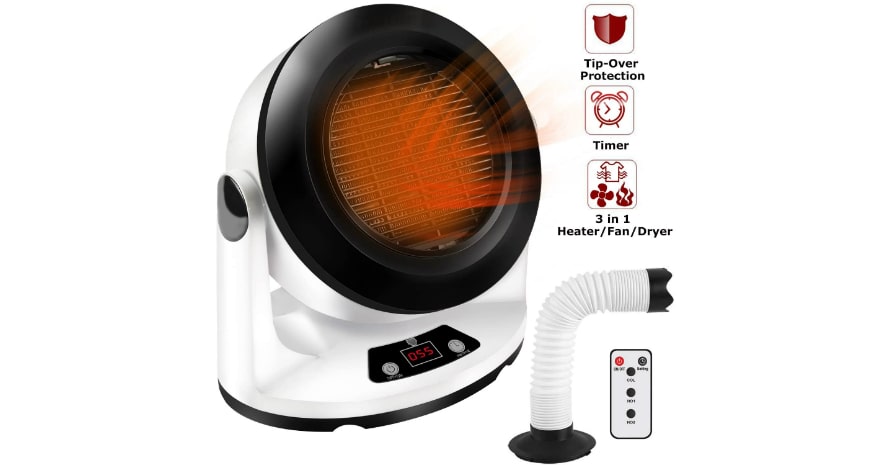 This multifunctional device from Citus can be used as a plant heater as well. In addition, it can serve as a dryer or even a summer fan. The remote control is included in the package, which is very convenient.
The heater is portable, and you can adjust its work without standing up. Even heat distribution is possible with the rotation function. The manufacturer has included standard safety features as well.
The bad news here is that this might not be the long-term working option. While examining customer feedback, we have found some comments that this heater broke down after short-time usage.

No products found.
---
PROS:
Multifunctional device;
Remote control;
Portable construction;
90-degree rotation function;
Tip-over and overheat protection.
Buyer's Guide
What a Grow Room Heater Is?
A grow tent heater is a device that generates heat and directs the hot airflow to a particular area. Its purpose is to raise the temperature in a room, tent, or other space. There are heaters created specifically for indoor gardening, or you can apply the universal device with the required functions.
The design can be various, but in most cases, this is a box with a heating element and a fan, which directs the warm air. But there are also radiator models without a fan. Some devices might have a rotating or portable feature to ensure even heat distribution.
The two most common types are ceramic and oil-filled heaters. In the first option, the device has a ceramic heating stone that generates heat. This is the model, which likely has a fan.
These items are best for small areas. Oil-filled grow room heater with thermostat is usually bigger, and it takes longer to heat this device. However, this type works for large rooms and generates sufficient heat.
How a Tent Space Heater Works?
Let's take a closer look at the heater's work. For growing weed, you should maintain the right temperature inside the tent, especially in cold seasons. That is why we apply heater devices, which warm up the air and allow maintaining the tropical climate inside the tent even during cold seasons.
The heater usually has a thermostat for adjusting the temperature and controls using the electricity. Also, there can be a selection of modes, fan speed, timer, and other features for convenient use.
Compact devices are perfect for small rooms or directed heating. Bigger and more powerful models will help you in warming up large tents. To ensure effective heating and wise power usage, make sure your tent is securely sealed to prevent the warm air from coming outside.
How to Use a Grow Room Heater Safely?
Keep in mind that using plant heaters indoor requires a careful approach. This is a heating device that works from electricity and is usually placed in small spaces. Therefore, here are some rules for using the heater safely and save your harvest:
Choose the right place. The surface should be hard, non-burning, and stable. Most of the heaters are intended to stand on the floor. If this is a wall model, make sure it does not hang next to the wooden or other burnable objects.
Do not place the combustible objects and materials next to the heater. Ensure the curtains or other cloth does not reach the device.
Keep the heater away from the paint, gas cans, matches, and other easily flammable objects.
Create a safe surrounding. Make sure there are no kids or pets near the heating area.
Do not leave the heater turned on at night or for a long time without supervision.
Unplug the device when you do not use it. Make sure the cord is not damaged or worn up.
If you use an extension cord, do not plug in other devices into the outlet in order not to cause overheating.
Look for devices with safety features like thermal or lean shut-off, sturdy cord, cool-touch surface, etc.
What Features to Consider in the Best Grow Tent Heater?
If you cannot choose one of the products from our reviews, you can try to find the perfect model by yourself. But we will not leave you without help here as well. Regardless of your approach to the making-decision process, you should know what features to consider before buying the particular heater.
Power usage. This parameter is measured with watts, and this is the number you should look for. Heaters require a lot of electricity, and it can be expensive to use them all the time. So, look for powerful models, which can heat the room quickly, and then you can turn it off.
Temperature regulation. This is a convenient option for adjusting the heater performance. In growing weed, you should maintain a particular temperature, without making the air too hot. That is why adjusting settings will be handy here.
Heating method. There are two types of heaters: stationary and with a fan. The first one is an oil-filled model that provides powerful heating around itself. The devices with fans are usually smaller and produce directed warm airflow.
Room size. Keep in mind that for large grow rooms, you should buy a potent heater or a few smaller models. Also, do not place the strong heating device inside the small tents in order not to cause overheating.
Automatic turn-off. The good heater has two auto shut-off functions: thermal and anti-lean. The first one turns the heater off when it is too hot, while the second feature activates in case the device falls.
Additional safety features. These can be a timer, cool-touch surface, alarm, and special construction, which prevents tipping over.
However, we still recommend you to look for the professional room heater review before buying one. This is how you can get the complete estimation of the device and decide whether it is suitable for your gardening needs.
FAQ About Plant Heater Devices
Here is some extra info about the room heaters and their usage. Look through these questions to enlighten anything that may still be unclear.
What size should be the room for the grow tent heater?
Depending on the size of the grow tent, you should pick a suitable heater. For small rooms of up to 50 square feet, you can apply compact models. For bigger spaces, you should use more powerful heaters, or a few small ones placed evenly throughout the room.
What kind of heater is right?
As we already said, the suitable model is defined by the room size, the outdoor condition, and your gardening needs. Most weed growers prefer to install oil-filled devices in big rooms and ceramic heaters in small ones.
What happens if the grow room is too hot?
Too high temperature is harmful as well as low. When it reaches 80°F (26°C) and more during the flowering stage, the growth of the buds will slow down, and they will be airy. The heat also influences the smell of the plants.
Find Your Best Heater
We have prepared these grow tent heater reviews to help you find the dependable option for your indoor gardening. And now, you know what features are essential to consider in the heaters before the purchase.
It is hard to find the only device that will suit everybody's requirements. You can simply choose our top pick Heater from ASTERION, or you can apply our recommendations, and define what to look for.
How do you solve the heating issue in your grow room? What was the biggest challenge? Do you have your best heating device? Share your answers in the comments, please.