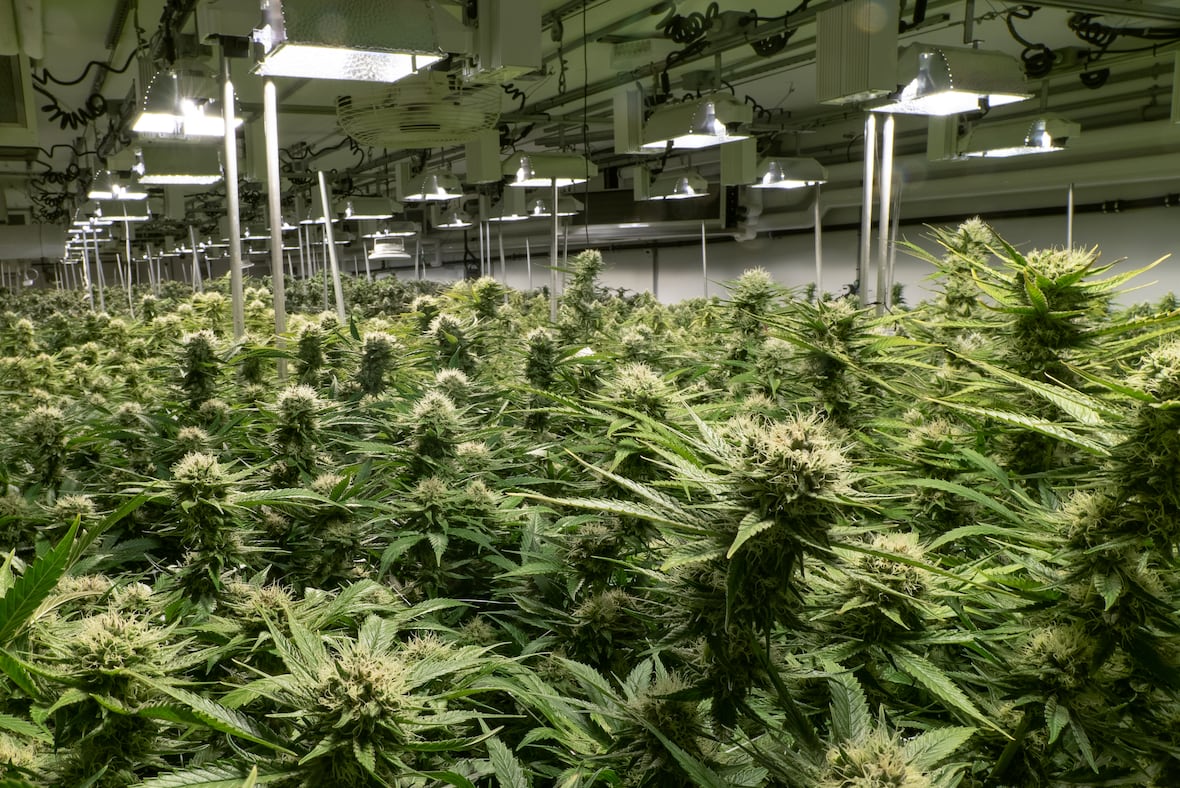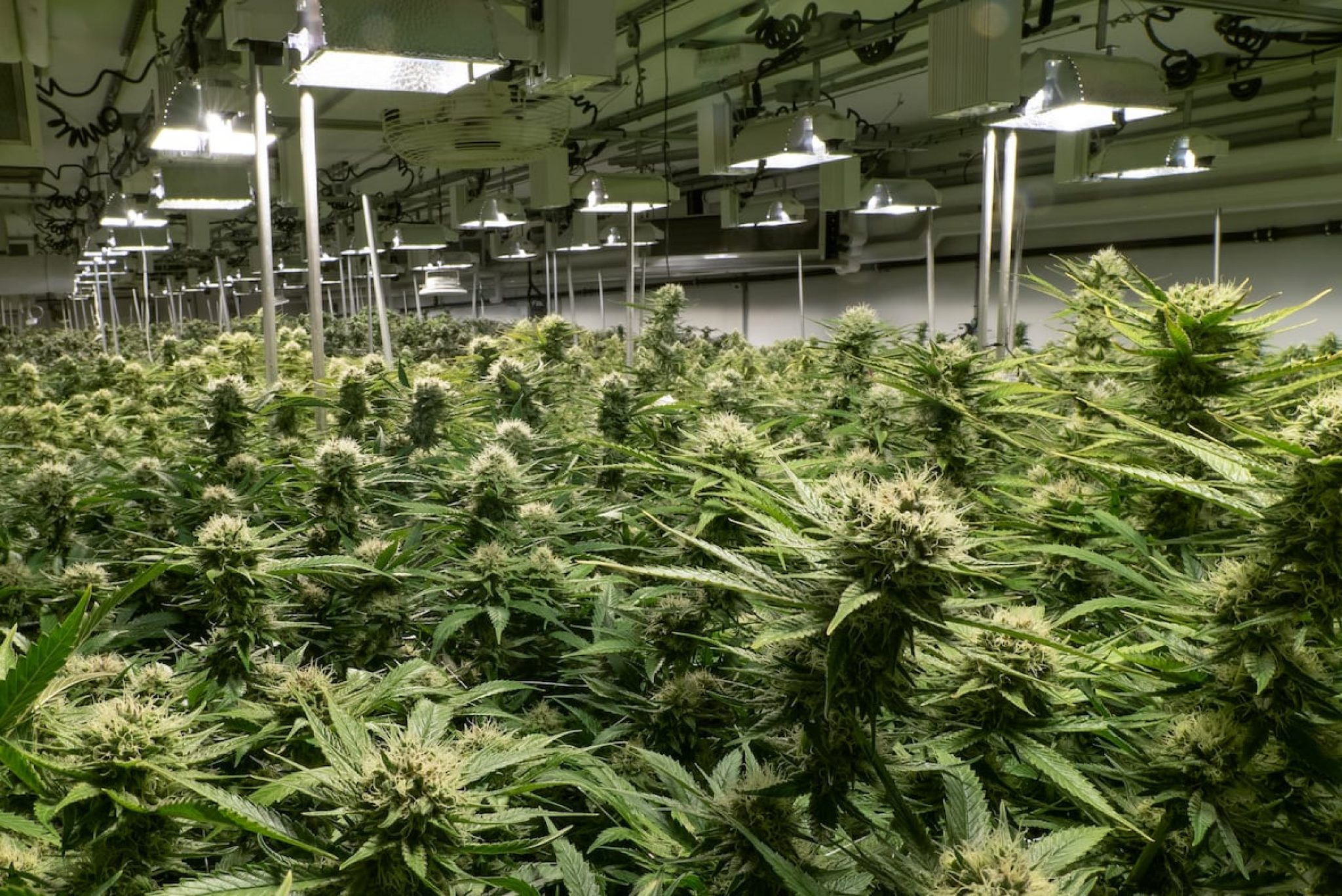 Best 5×5 Grow Tent for Cannabis – an Expert's Overview
Hi there, today I present to you one of the best marijuana grow tent 5×5 reviews you will ever find online. It has come to my attention that a significant number of marijuana growers do not know what it takes to get the best quality yield of this amazing plant. As such, they end up reaping a mediocre product that is very low in potency.
My journey towards the discovery of the most ideal grow tents has not been easy as well. I have been learning through trial and error until I finally discovered what works and what doesn't. This occurred through testing numerous 5×5 grow tents until I settled on six of the most effective models.
Pros
Makes use of the extra-reflective diamond Mylar on the inner surface.
Constructed using durable material.
Top Pick
Pros
Makes use of the extra-reflective diamond Mylar on the inner surface.
Pros
Constructed using durable material.
Many weed & cannabis producers have greatly hailed these grow tents. What's more, the tents have tremendously assisted them in getting the highest quality cannabis. Therefore, the larger part of this article is a review of six of the best 5×5 grow kit varieties for cannabis farmers.
Best 5×5 Grow Tent Brands for Indoor Cannabis Farming
The type of tent you choose while cultivating your plants can spell the difference between a bumper harvest and a mediocre harvest. The following are six of the best tents you can opt for while preparing for planting:
VIVOSUN 60″x60″x80″: 5×5 Grow Tent That Allows Easy Inspection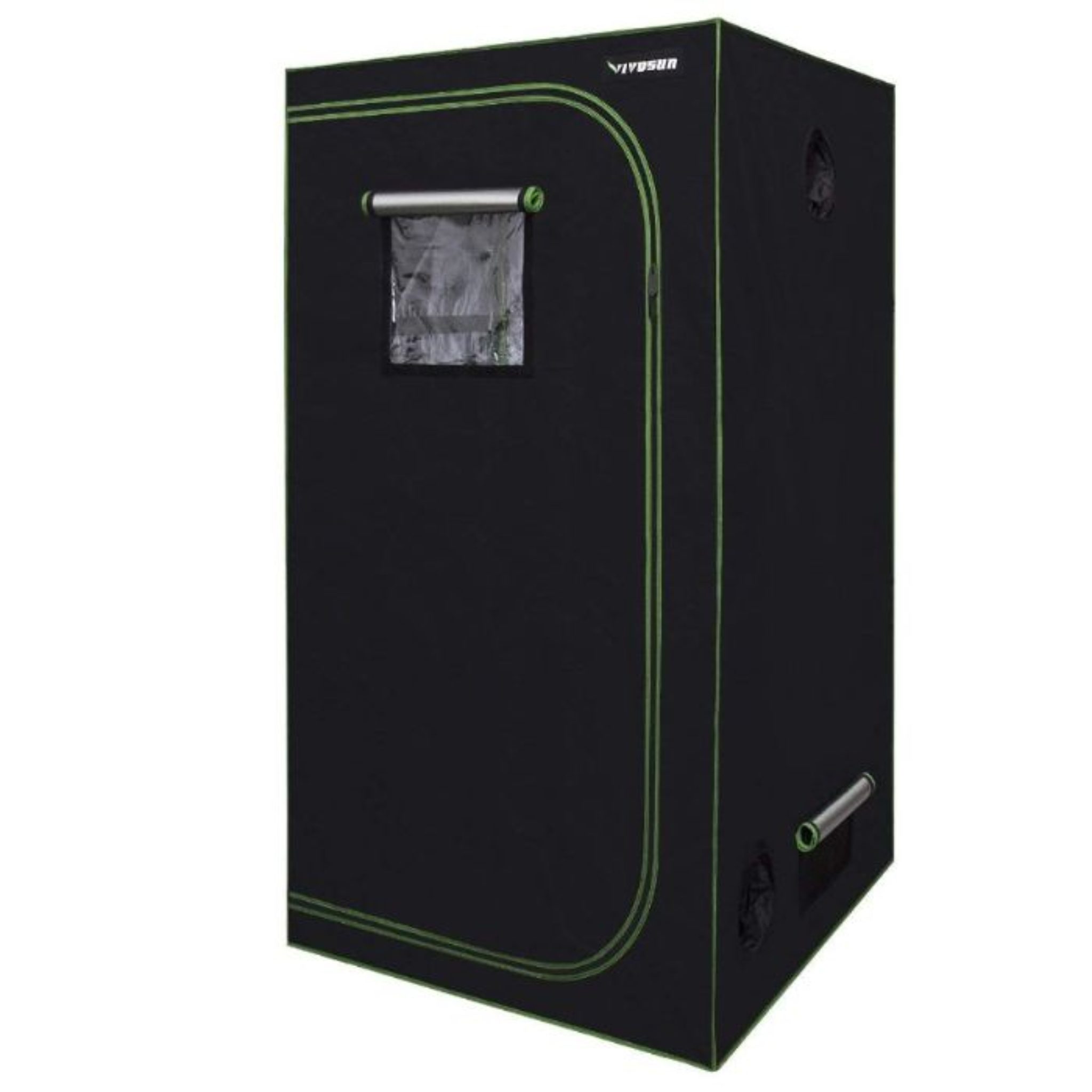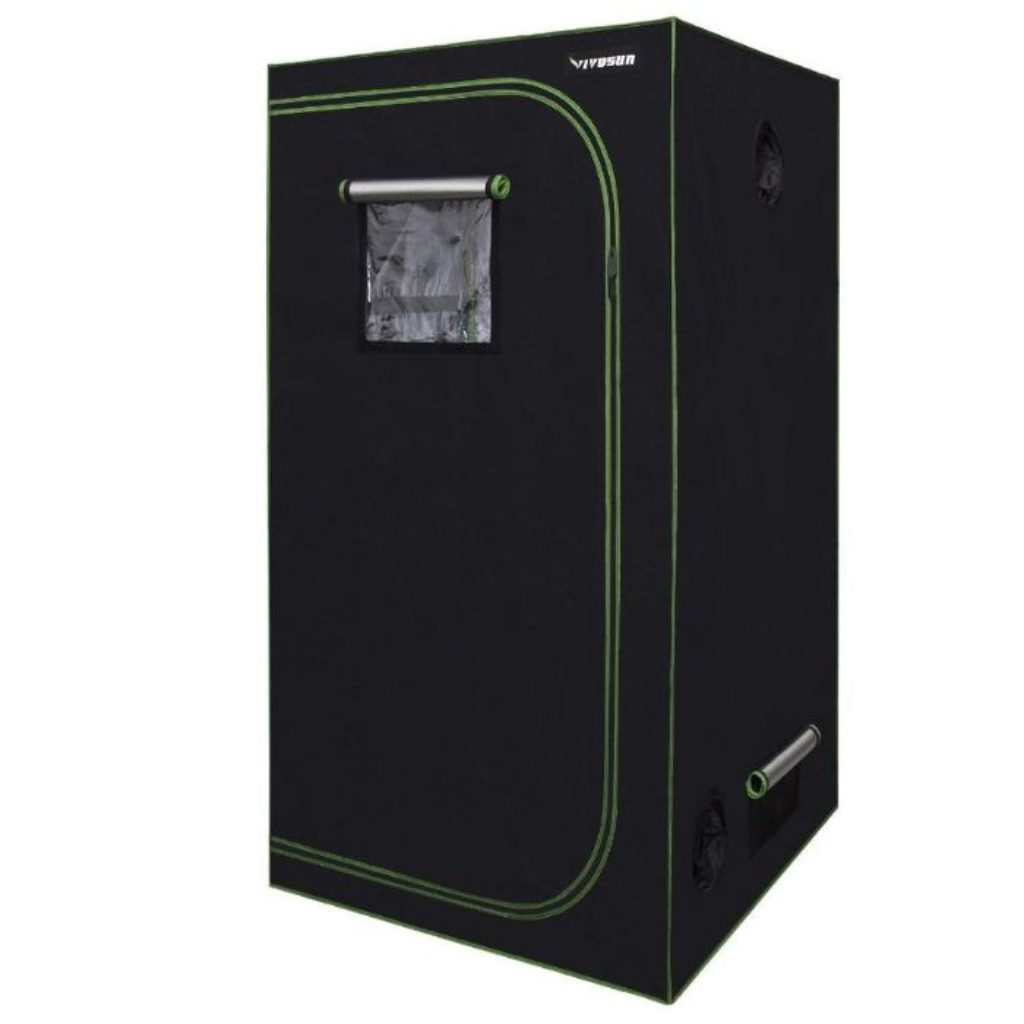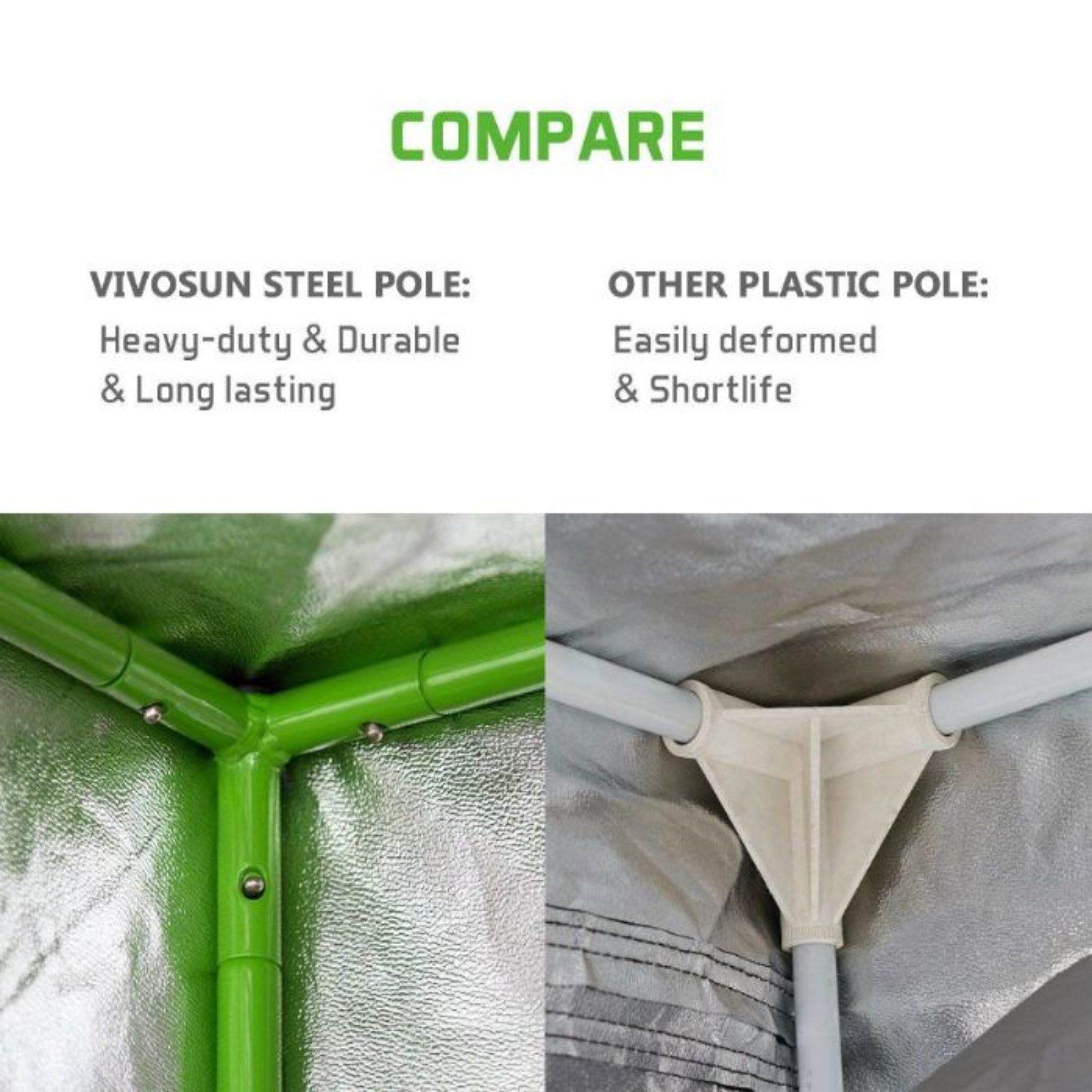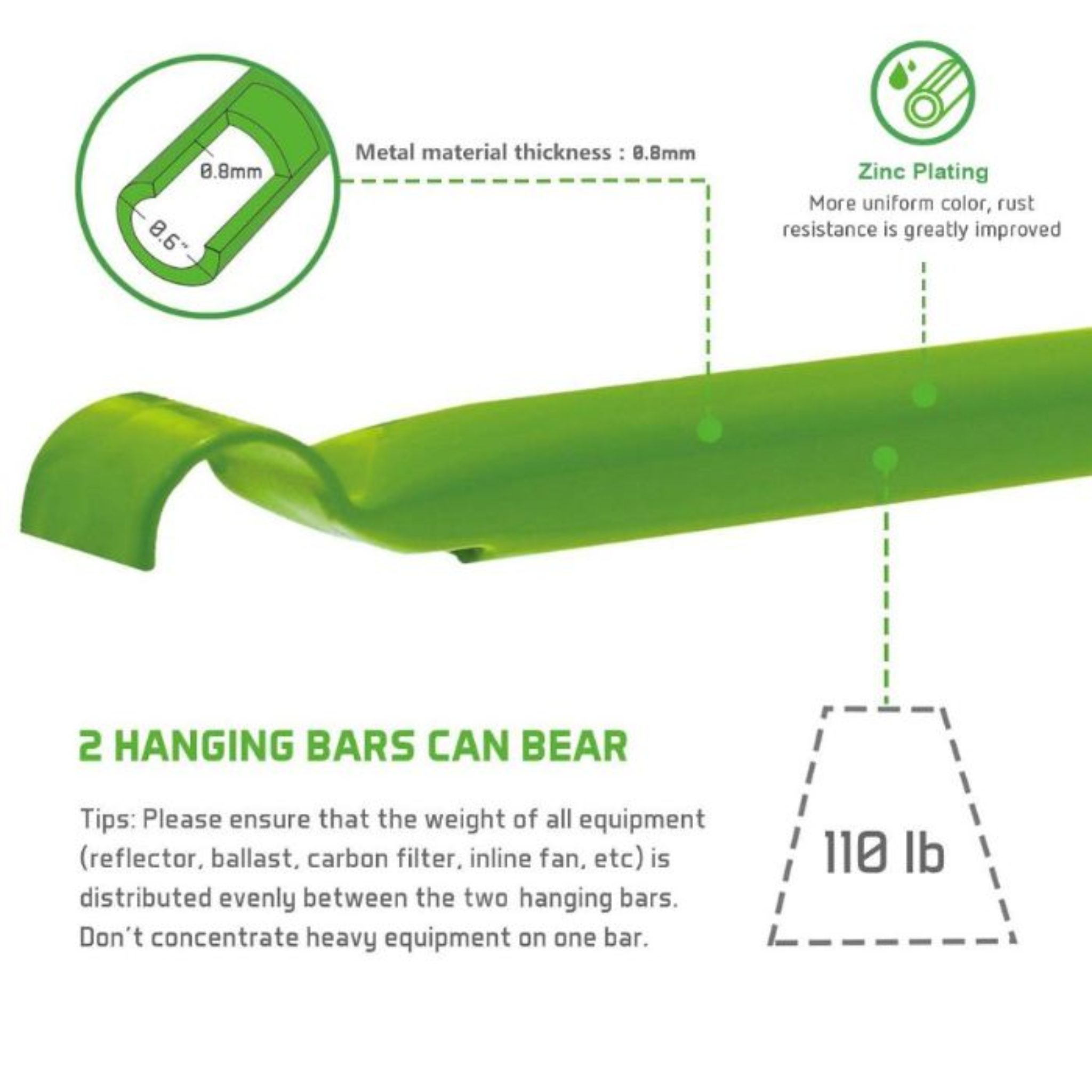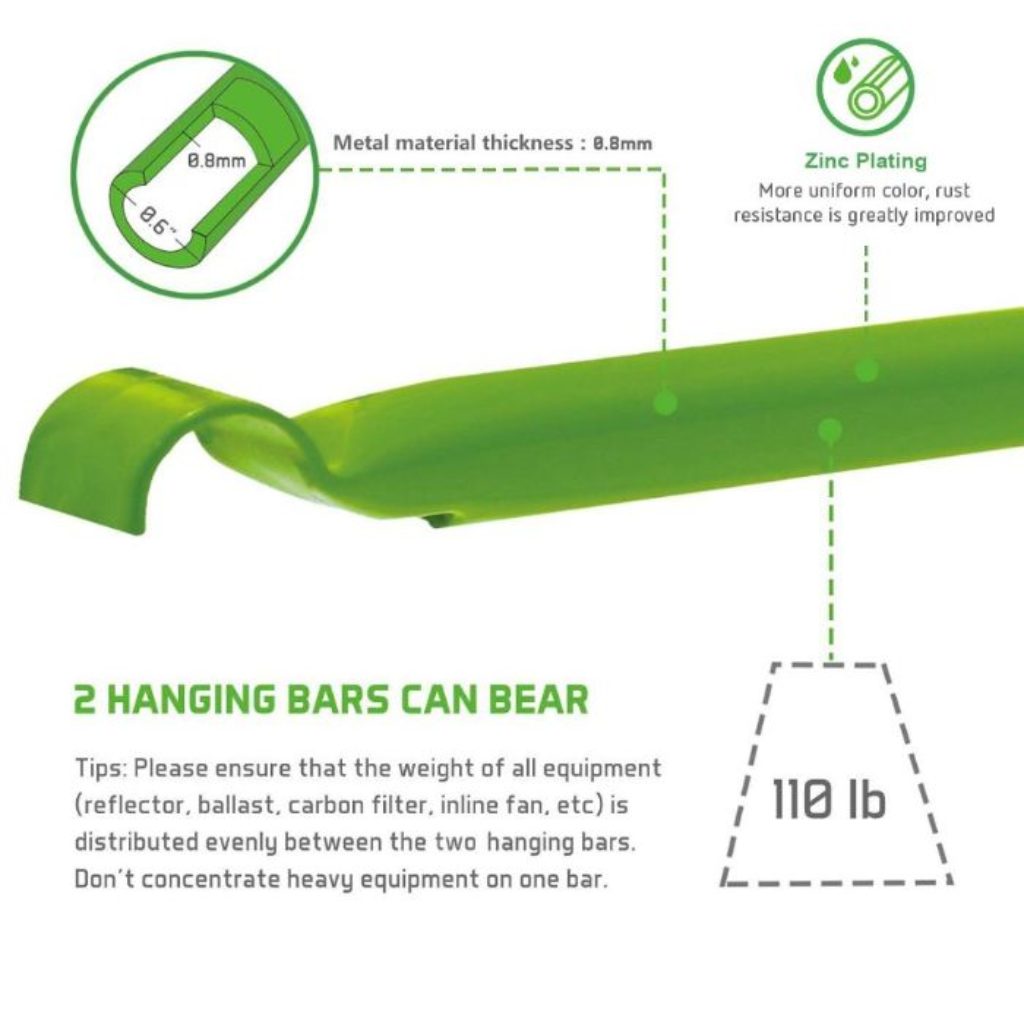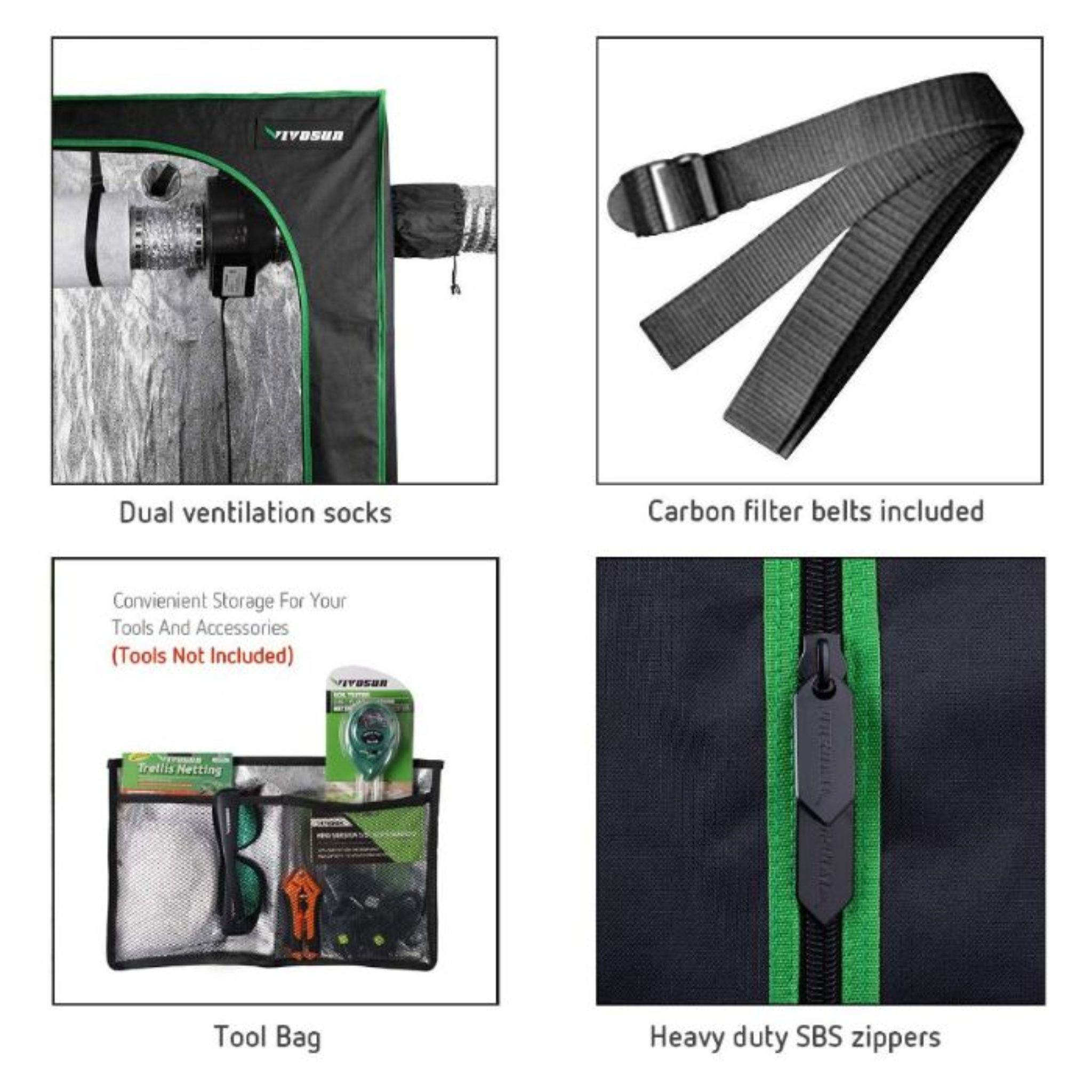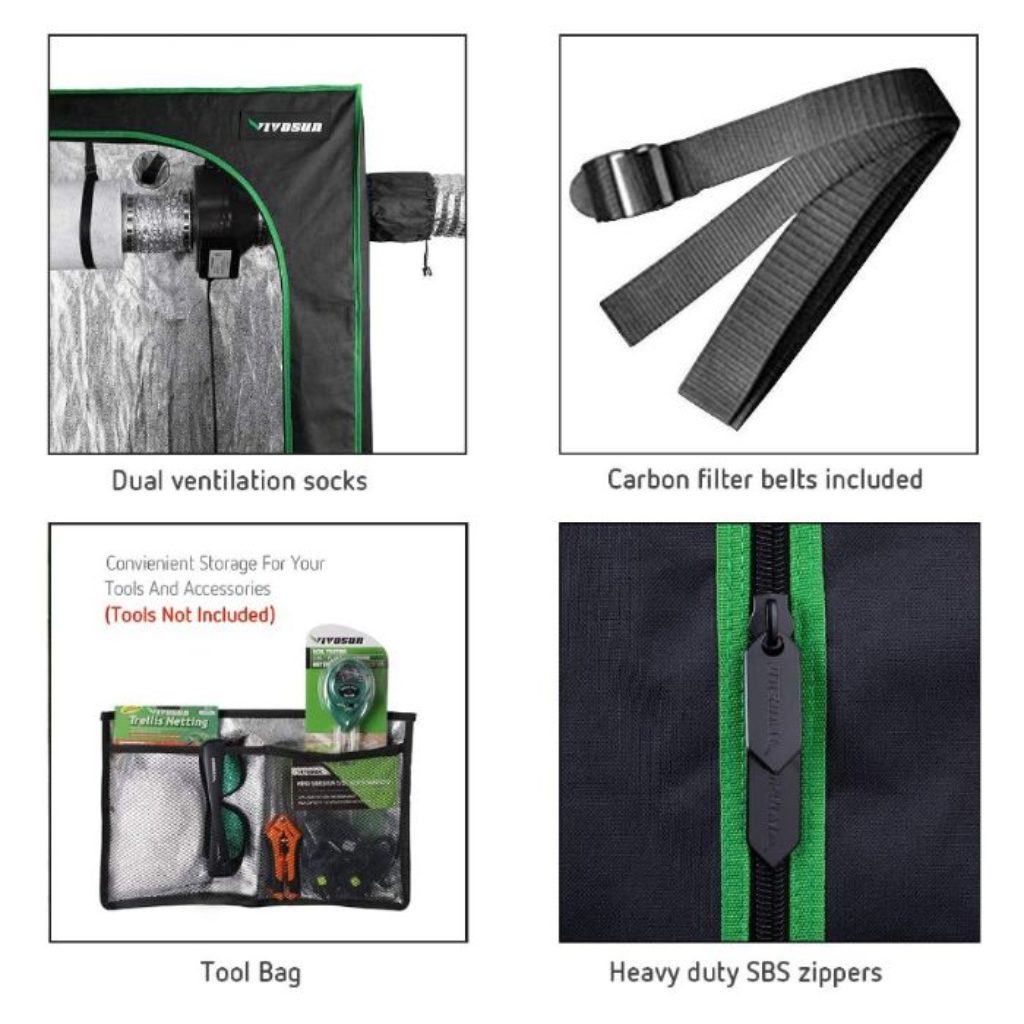 Vivosun is among the top-ranked worldwide indoor hydroponic & gardening manufacturers and suppliers. They have a range of 200+ products. These include ballasts, lamps, bulbs, reflectors, fans, air filters & many more. All you need to construct a comprehensive indoor hydroponic & gardening system. They aim to enlighten contemporary people more about nature.
Those who enjoy modern indoor growing innovations can easily enjoy life more and share ideas of planting various horticultural products effortlessly.
One amazing feature of the Vivosun 60"x 60"x 78" is that it can trap all the light within the tent. No light can escape due to the reflective Mylar. It is 98 percent reflective. The ultra-thick 0.8mm canvas enhances the sturdiness of the tent. It is resistant to tear, and the double stitching also aids in the blocking of light.
For support, metallic poles are finished smoothly, to allow ease of installation. A low-quality zipper can potentially negate all the benefits of a waterproof tent. The manufacturer has ensured that the heavy-duty metallic zip is of top-notch quality.
As a cannabis farmer, you need an easy time inspecting your plants so that you can focus on more important things. The tent comes with an easily accessible door that seamlessly unzips.
What's more, you do not even have to get inside the tent to monitor your plants. Via the observation window, you can easily take a peek inside the grow tent. Lastly, ensure that you only buy your VIVOSUN products from VIVOSUN or its products that are fulfilled by Amazon. This will help you in avoiding defective counterfeits.

---
PROS:
traps nearly all the light within the tent;
top-quality ultra-thick canvas in addition to sturdy stands;
high-quality metallic zippers;
comes with an observation window for simple inspection of plants.
CONS:
the market is flooded with numerous counterfeit VIVOSUN products.
Hydroplanet 60x60x80: Marijuana Grow Tent 5×5 for Heavy Equipment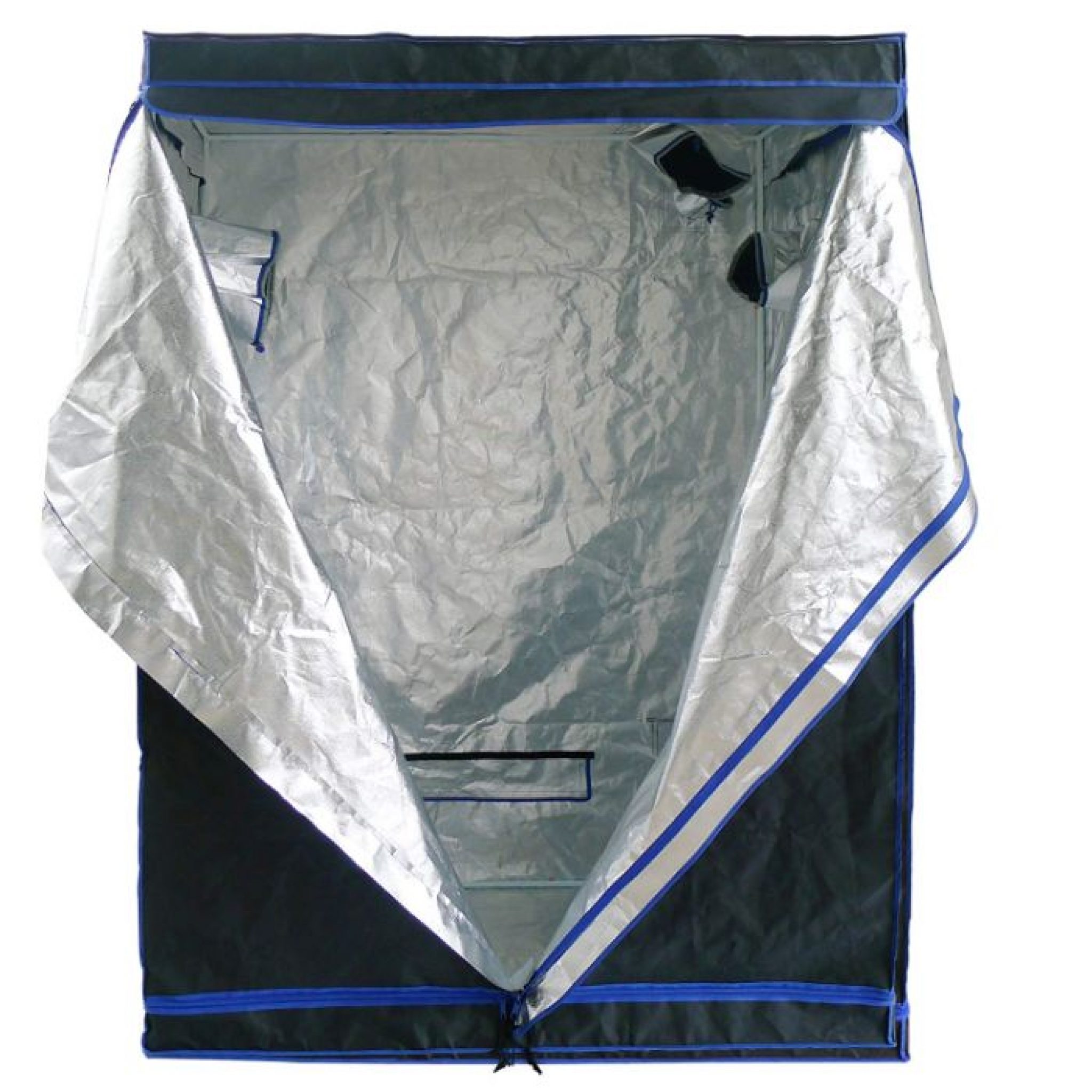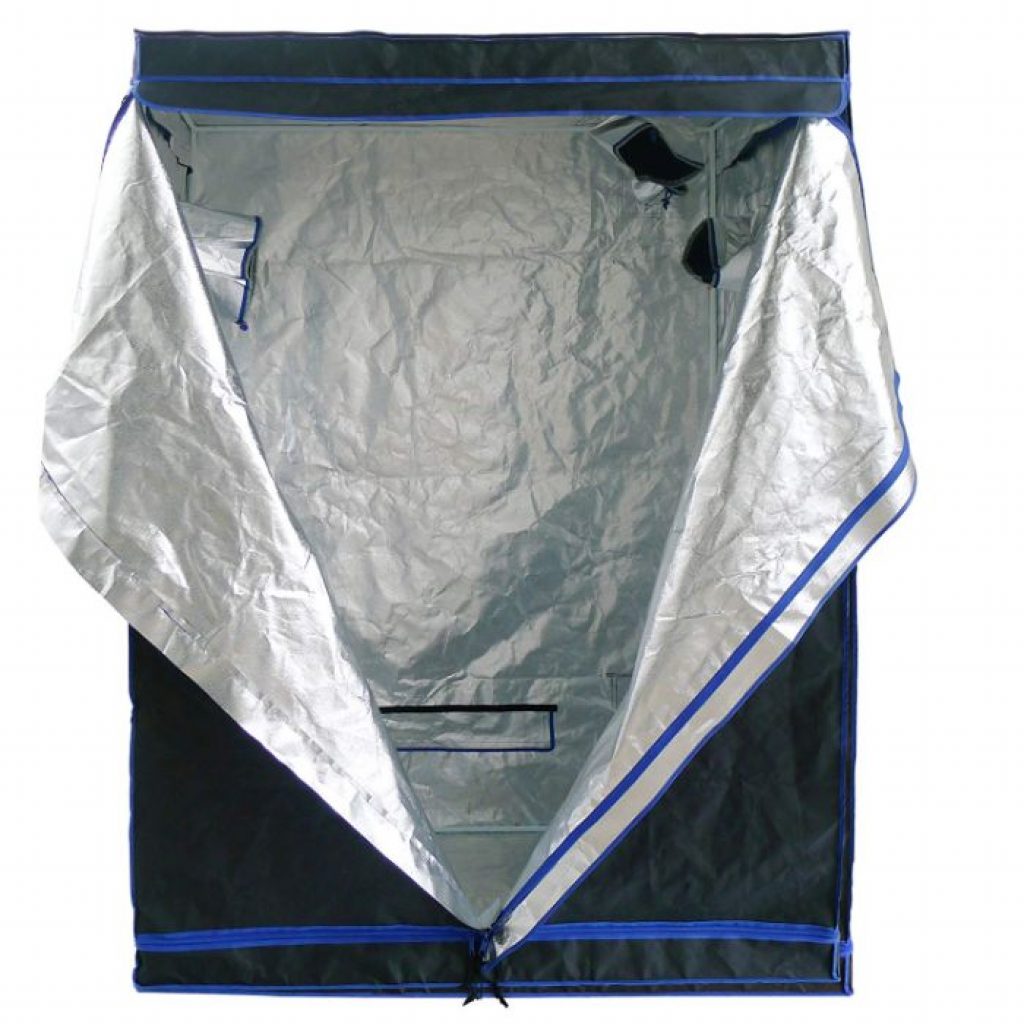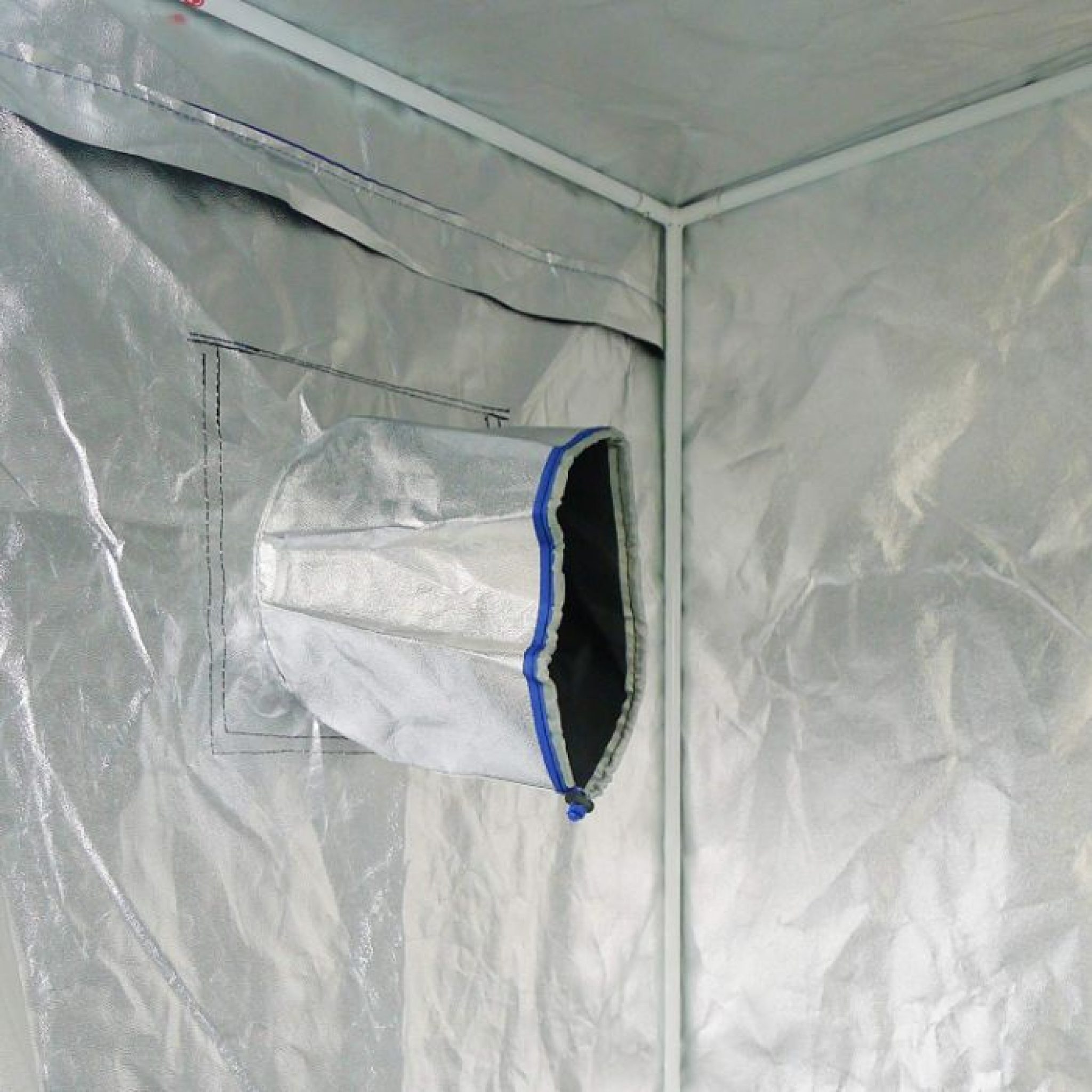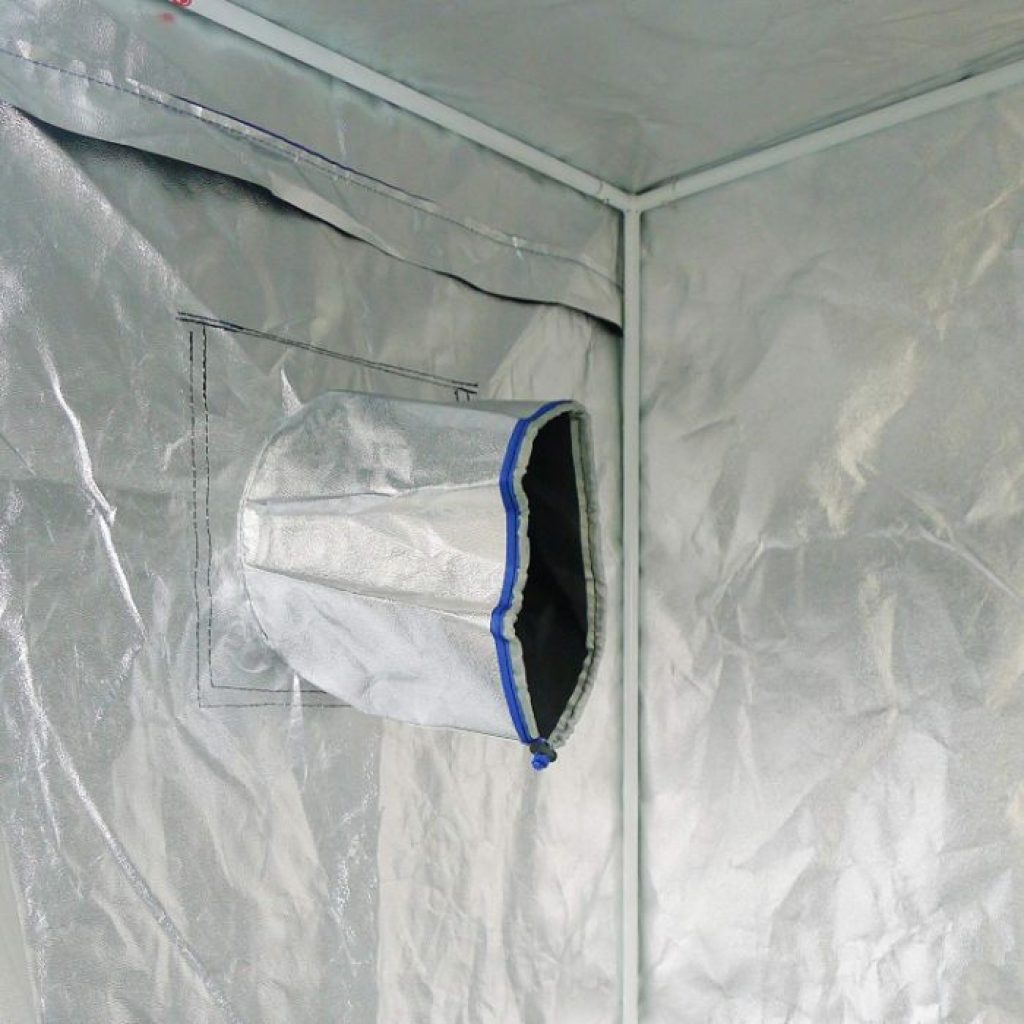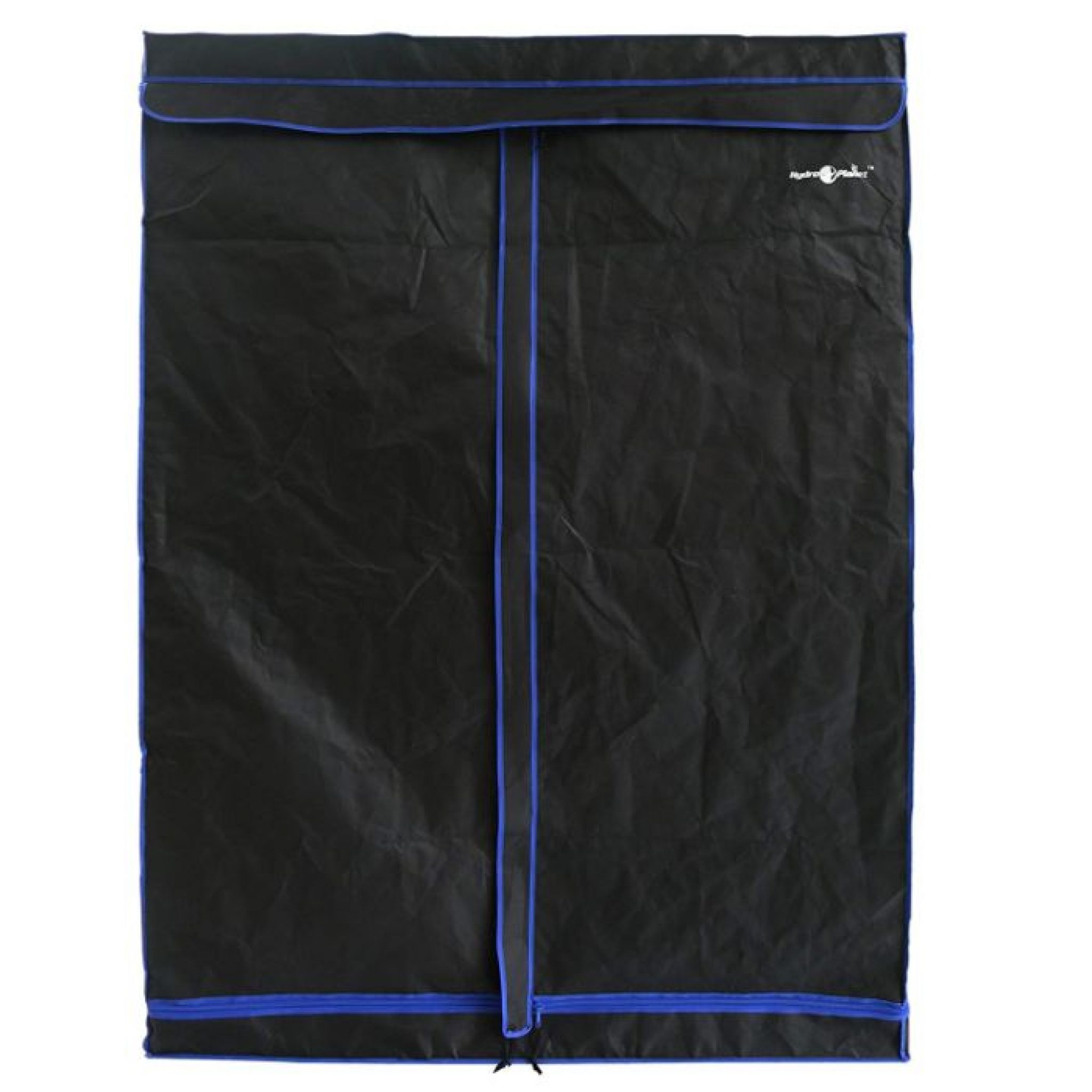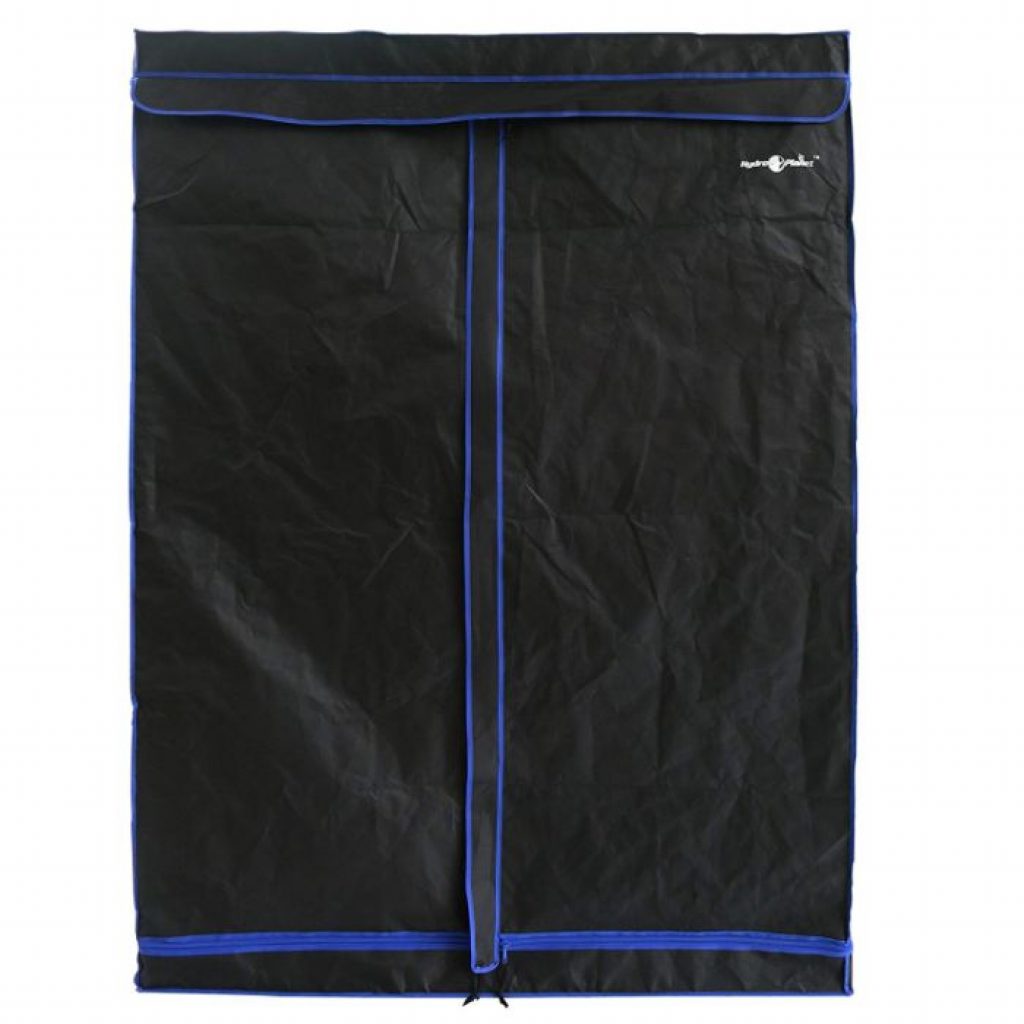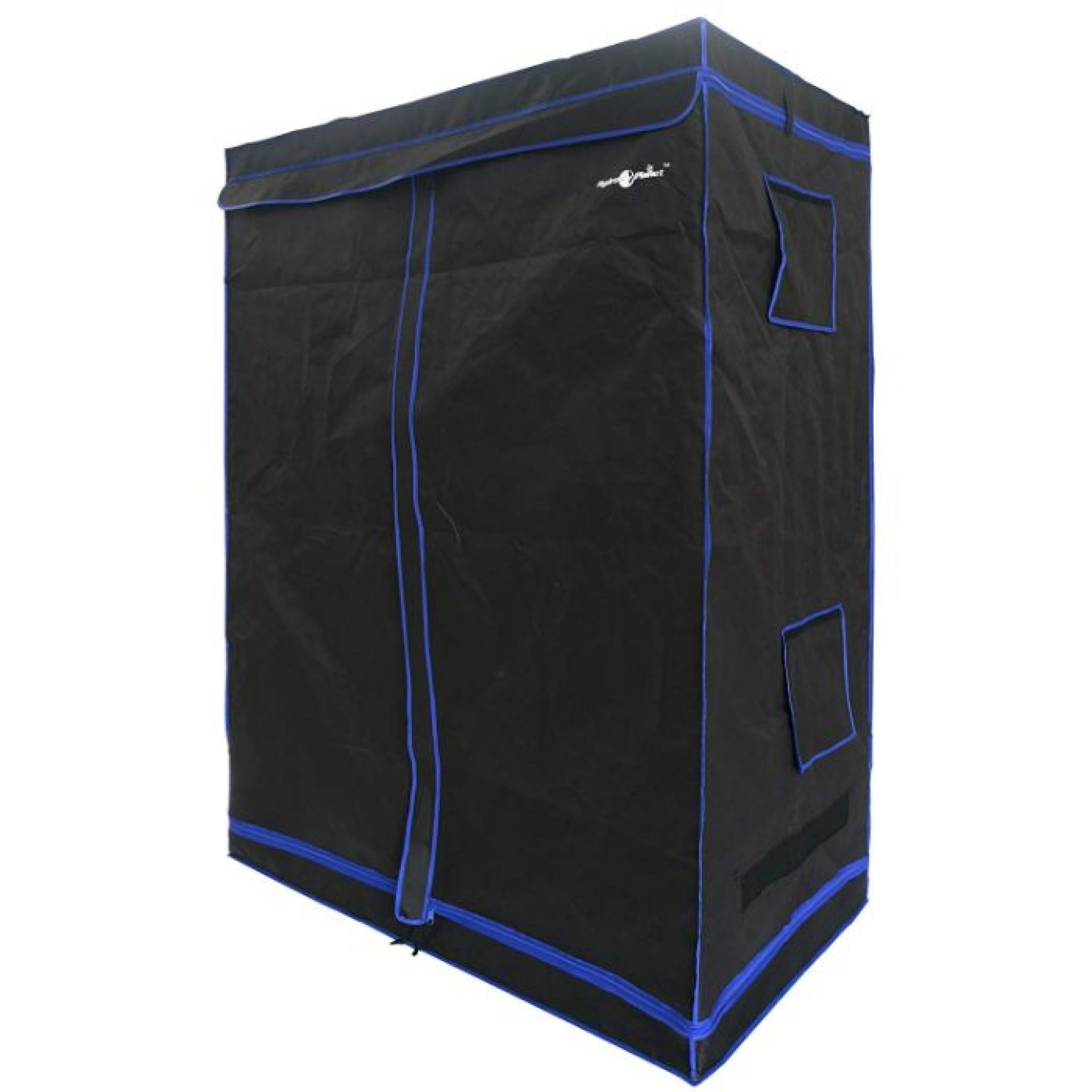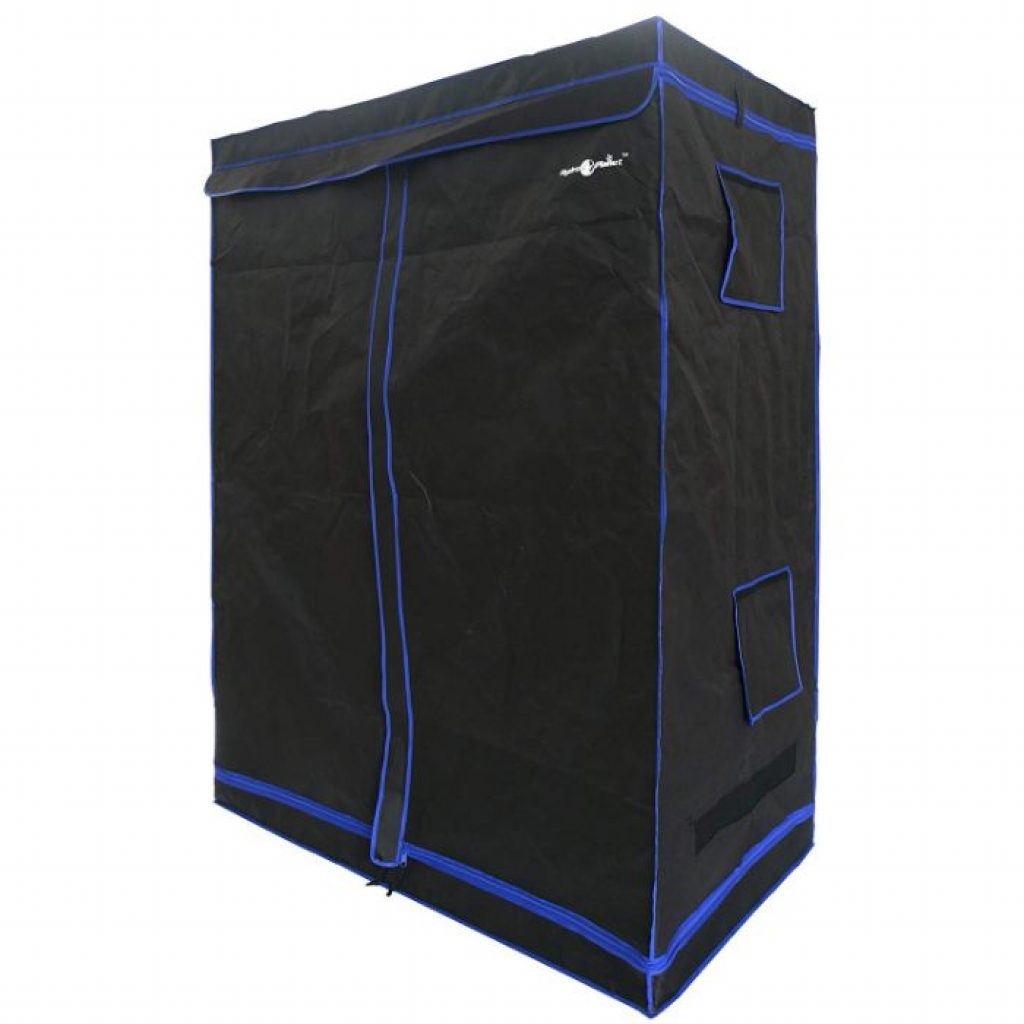 The item is manufactured by HydroPlanet company. This firm manufactures and sells thousands of both outdoor & indoor horticultural equipment varieties. What's more, you can buy your desired equipment at the most pocket-friendly price since the firm sells directly to clients and can retail in bulk.
If you are stuck and require some assistance in starting up, you can obtain a lot of helpful and insightful information on your maiden setup. If you live in Ontario, you can visit their store.
If you are a do-it-yourself person, this tent is extremely easy to set up. As such, you can save a lot of time in the assembly stage. It comes with steel poles that provide tremendous strength. The accompanying bracket is also sturdy for added support.
For those with heavy equipment, this tent is strong enough to support the weight. As such, you do not have to worry much about equally balancing the weight. However, you should ensure that your auxiliary pieces of equipment are ideally located.
Durability is another important factor to consider when choosing a grow tent. Nobody wants to replace their tent before the first harvest. This will only increase the cost of growing the plant, and might significantly cut your profit margins. As such, this tent has been manufactured with 100 percent tear-proof and the highly reflective 600D Mylar.
In terms of color, you can select between blue & black varieties. Better still, the build material is washable both on the inside & outside.

---
PROS:
comes with a 2-year warranty;
quick to assemble;
can support the weight of heavy equipment;
100 percent reflective & tear-proof Mylar.
TopoGrow D-Door 60″X60″X78″: Grow Tent 5×5 for Cannabis with Good Ventilation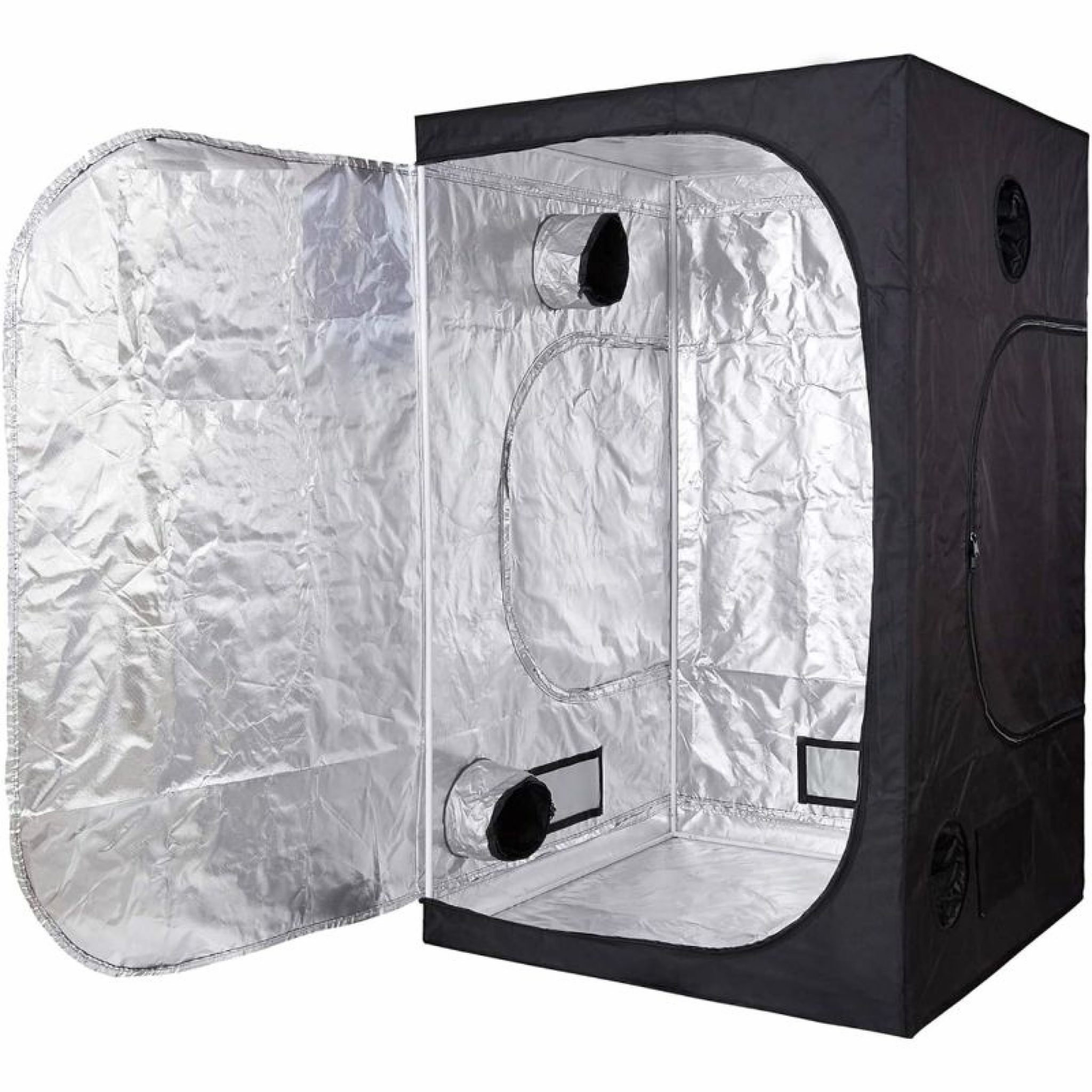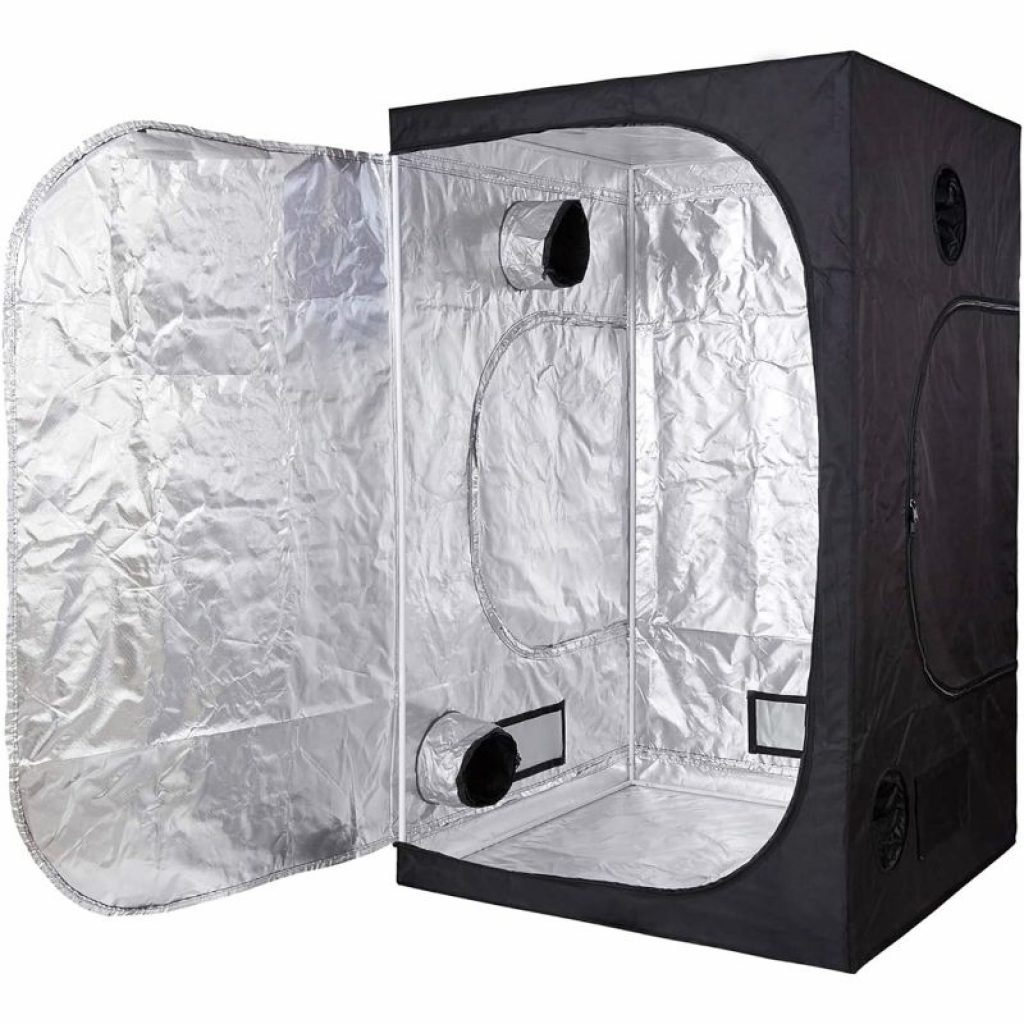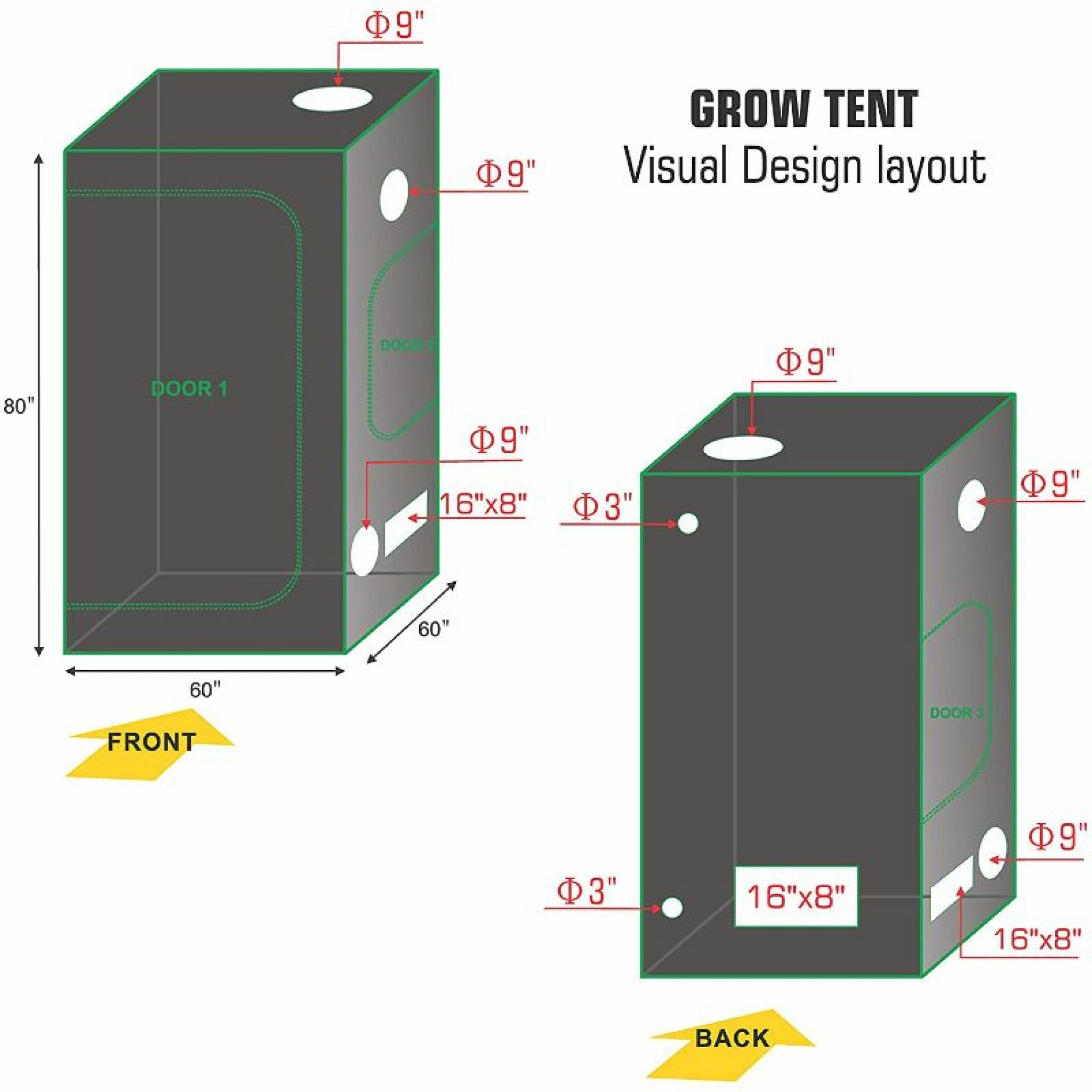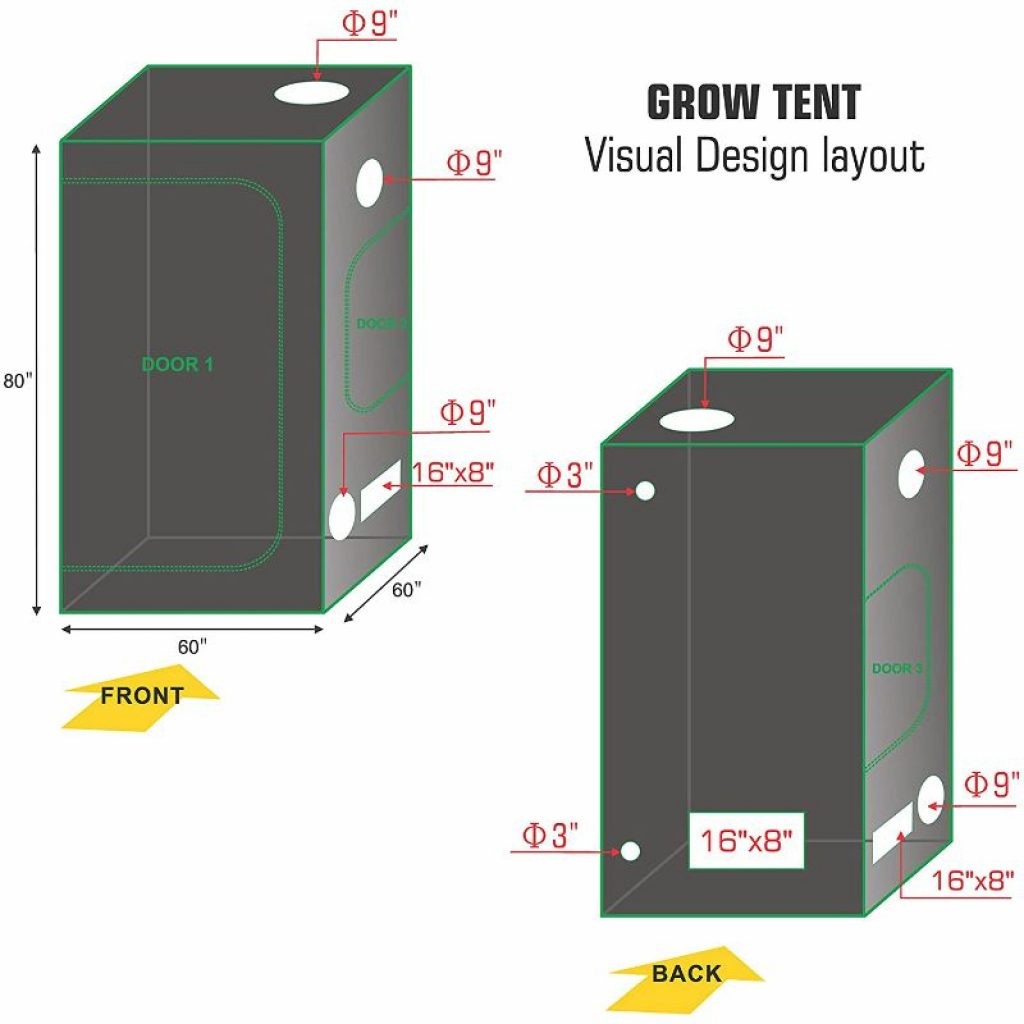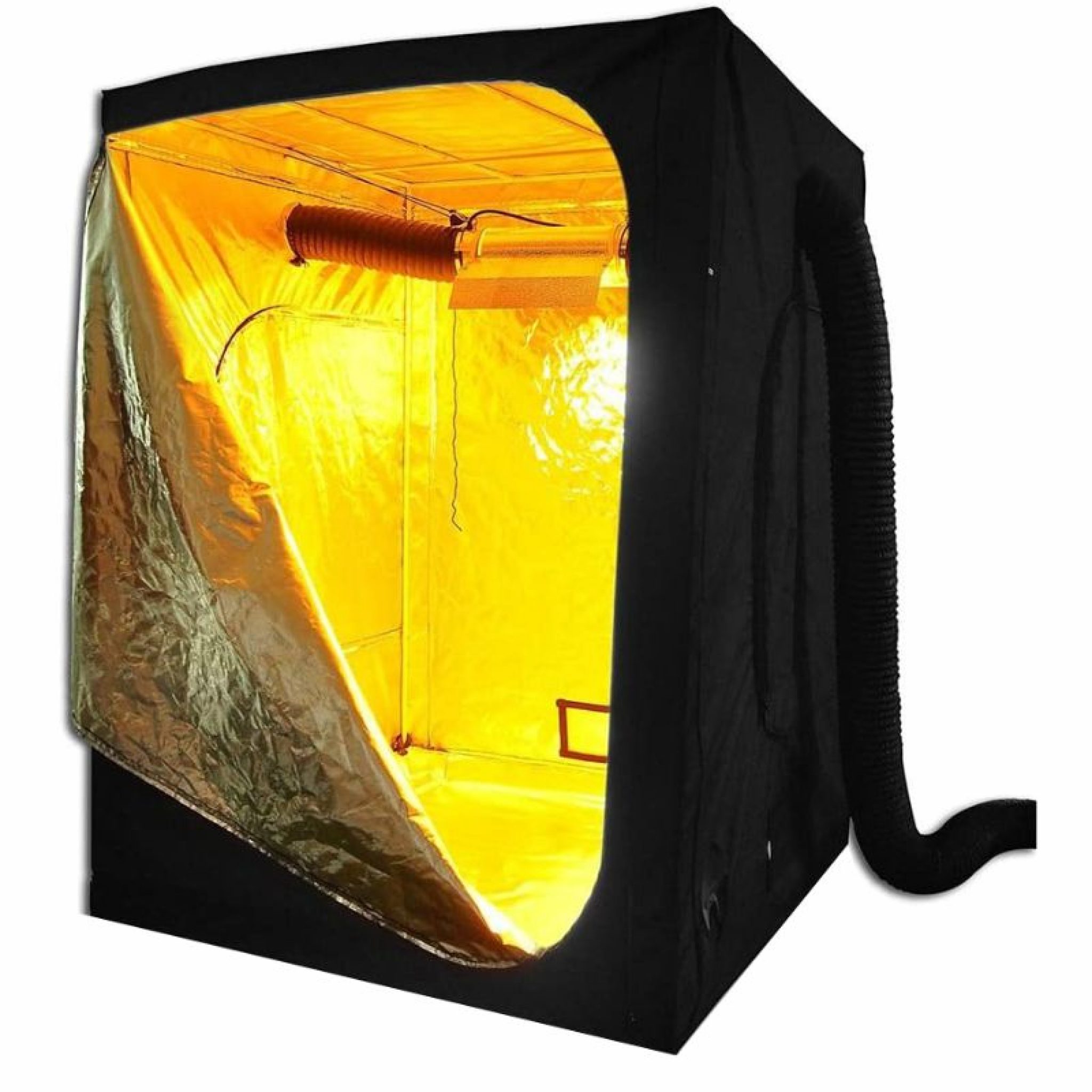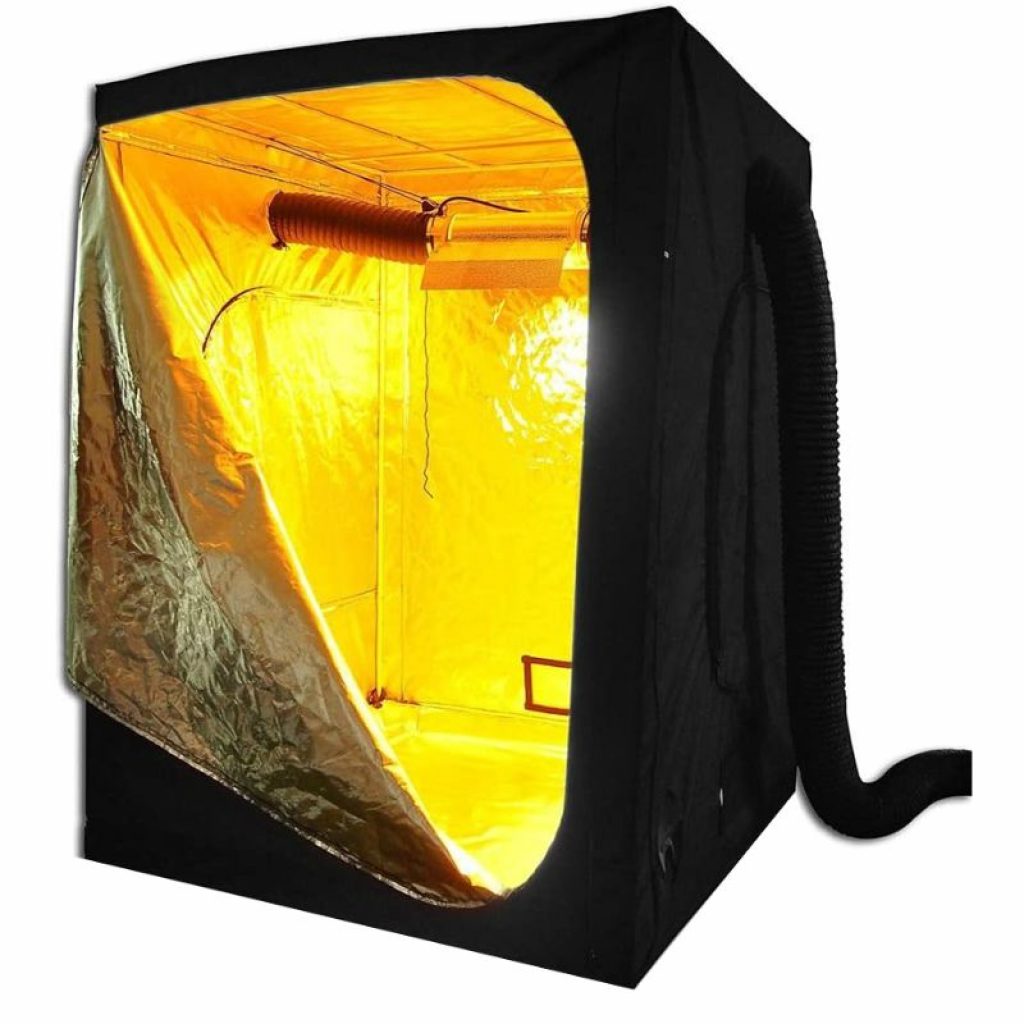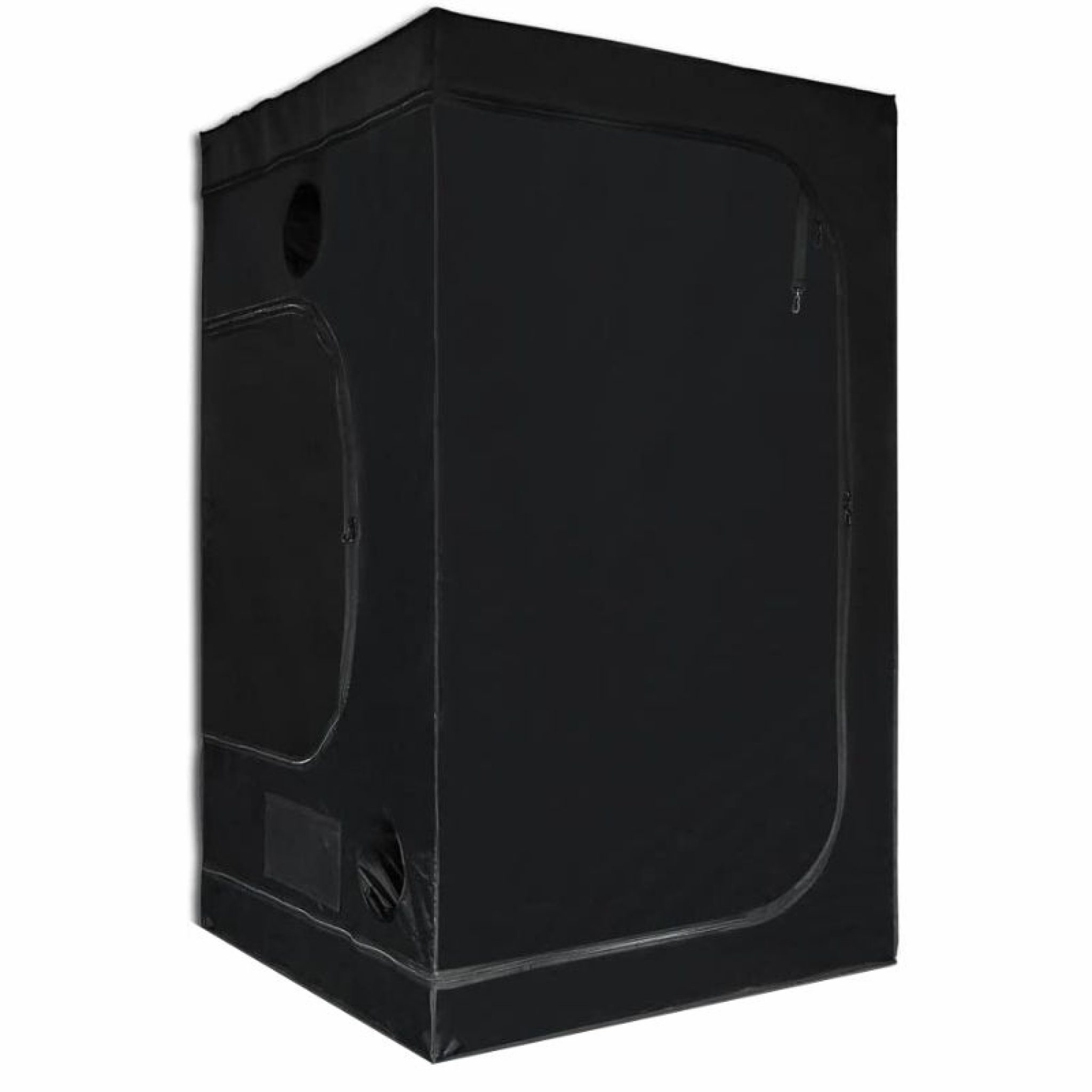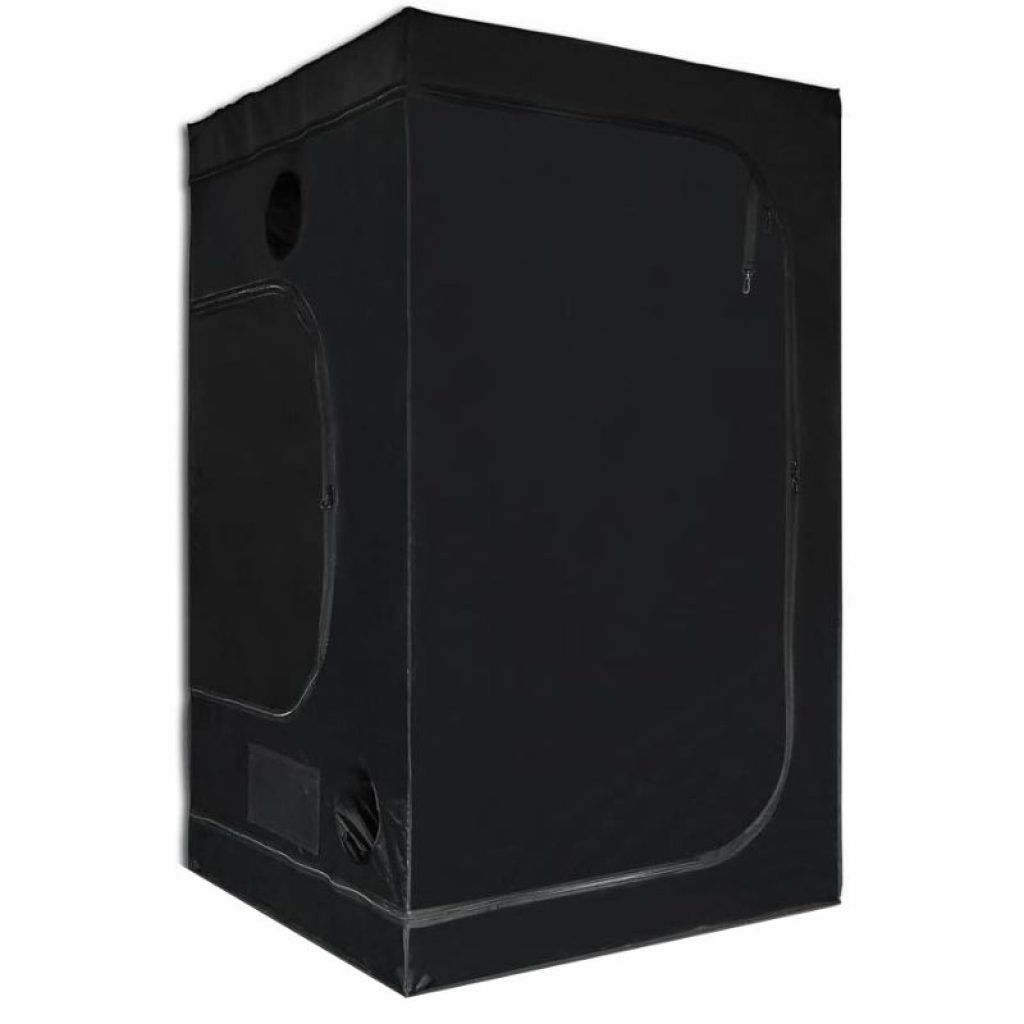 The tent is a tent manufactured by Topogrow. This company's tents provide a comprehensive package for all your grow tent needs. They have been expertly designed using top-class materials carefully selected by the firm's manufacturers.
What's more, the company produces excellent grow lights that come in a package with a tent. Their Quality Assurance Department painstakingly inspects all components to ensure that your indoor plants achieve optimal growth and nourishment. An added advantage is that the company offers free shipping in addition to quality customer service.
Just like the 80" version, this sun hut grow tent 5×5 has a waterproof and highly reflective diamond Mylar to maximize reflectivity. The big and heavy-duty zippers prevent unintended leaks. What's more, the waterproofing is enhanced by the double stitching of the zippers. On the outside, you have the 600D oxford cloth that is lightproof.
Its frames measure 16 millimeters in diameter and are protected from rusting with a coating paint. The connectors are made of tough plastic to limit the chances of breakages. What's more, while using this tent, you never have to worry about poor ventilation, thanks to the multiple meshed vents, rectangular in shape.

---
PROS:
numerous vents for easy inflow and outflow of air;
the tool-free installation enables quick assembly;
built using waterproof material;
comes with an easily removable tray that is waterproof;
lightproof oxford clothing prevents the entry of unwanted light;
it enables farmers to grow seasonal plants throughout the year.
CONS:
not appropriate for bulk indoor growing;
you might need to set up your filter outdoors if you have limited space.
GA Grow Tent 60″x60″x80″: Grow Tent 5×5 with a Good Viewing Window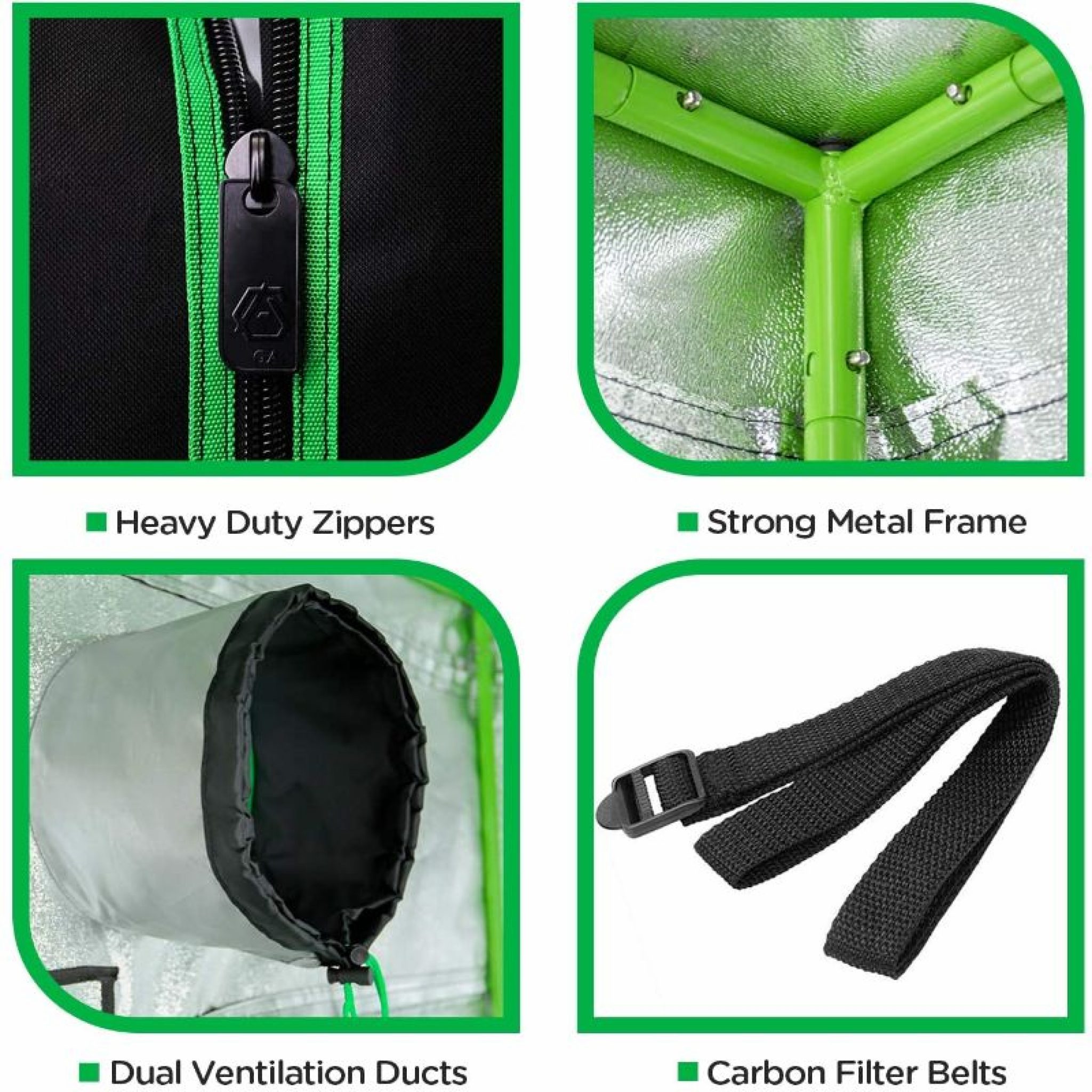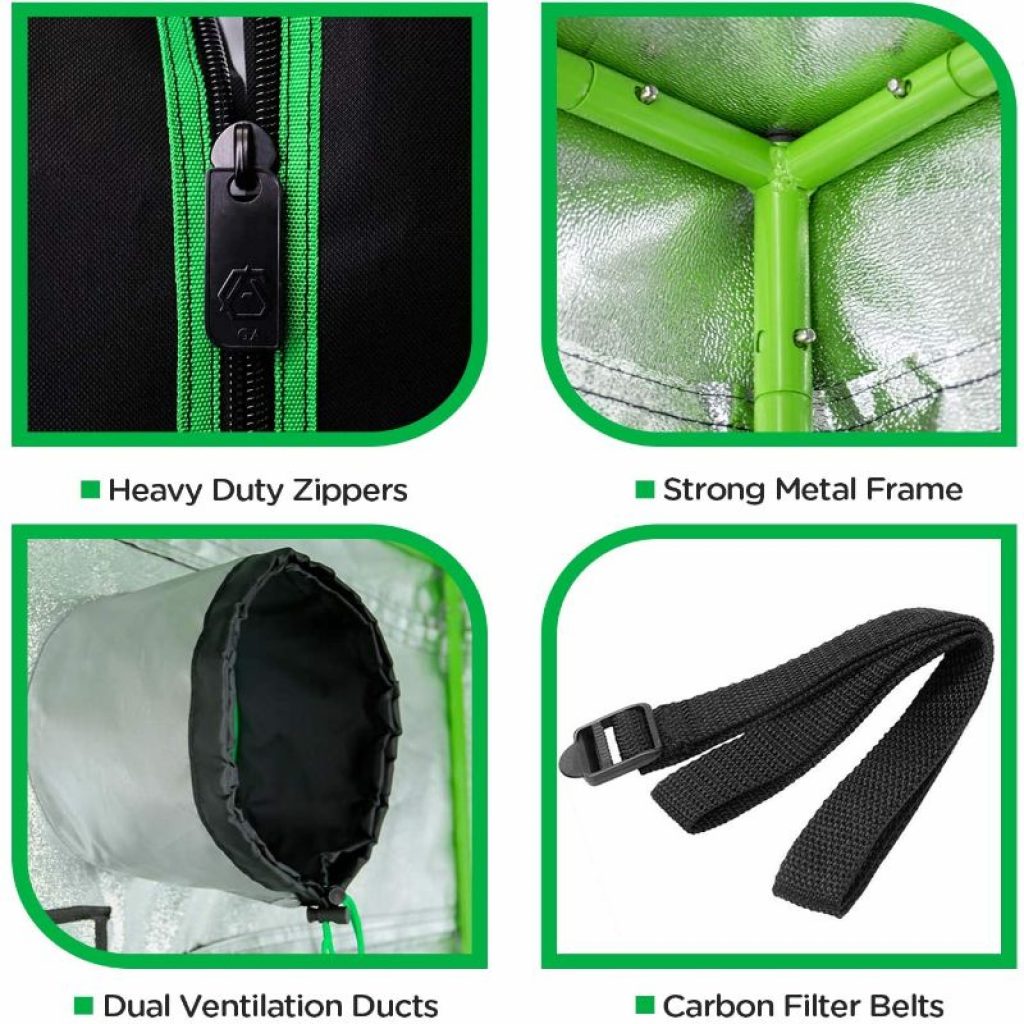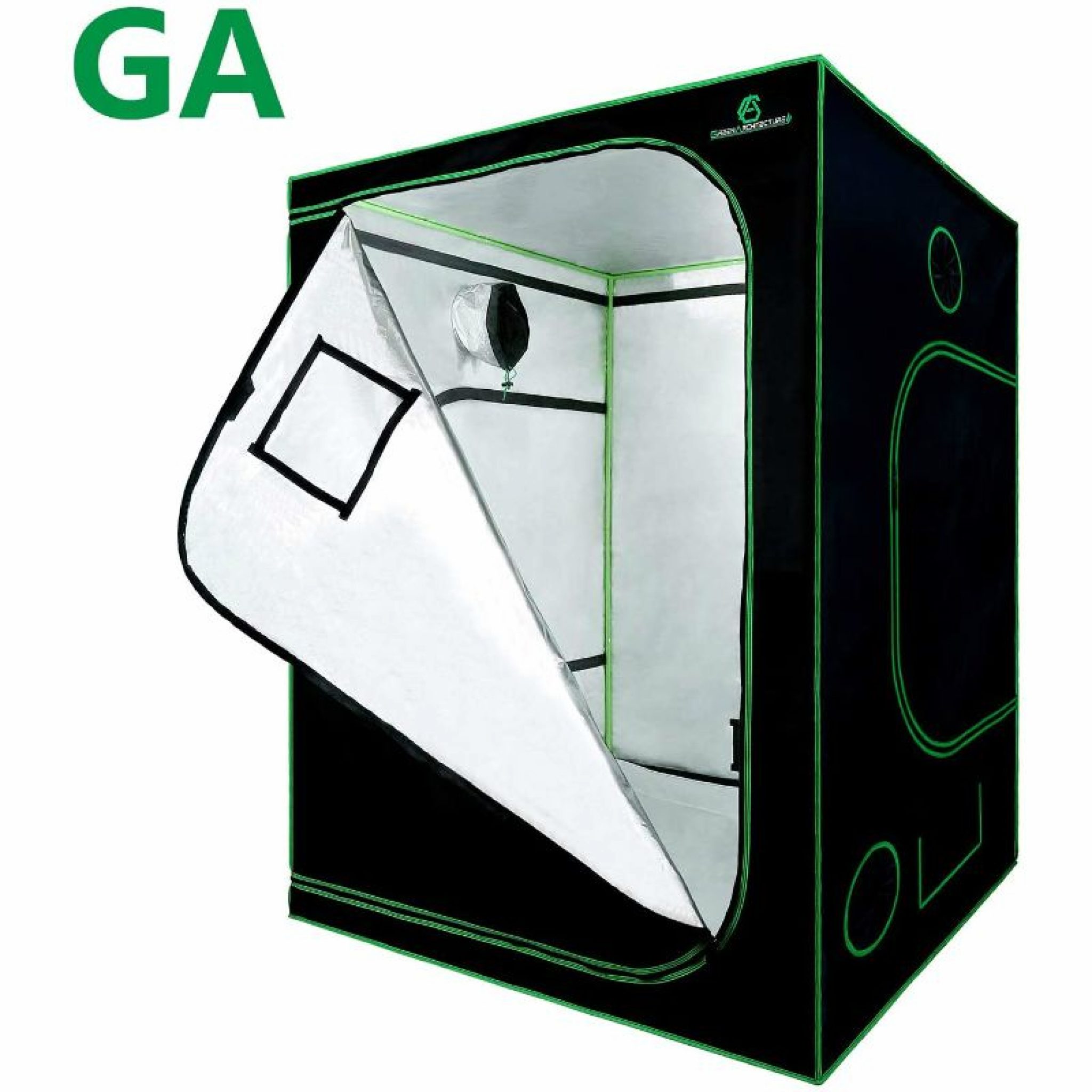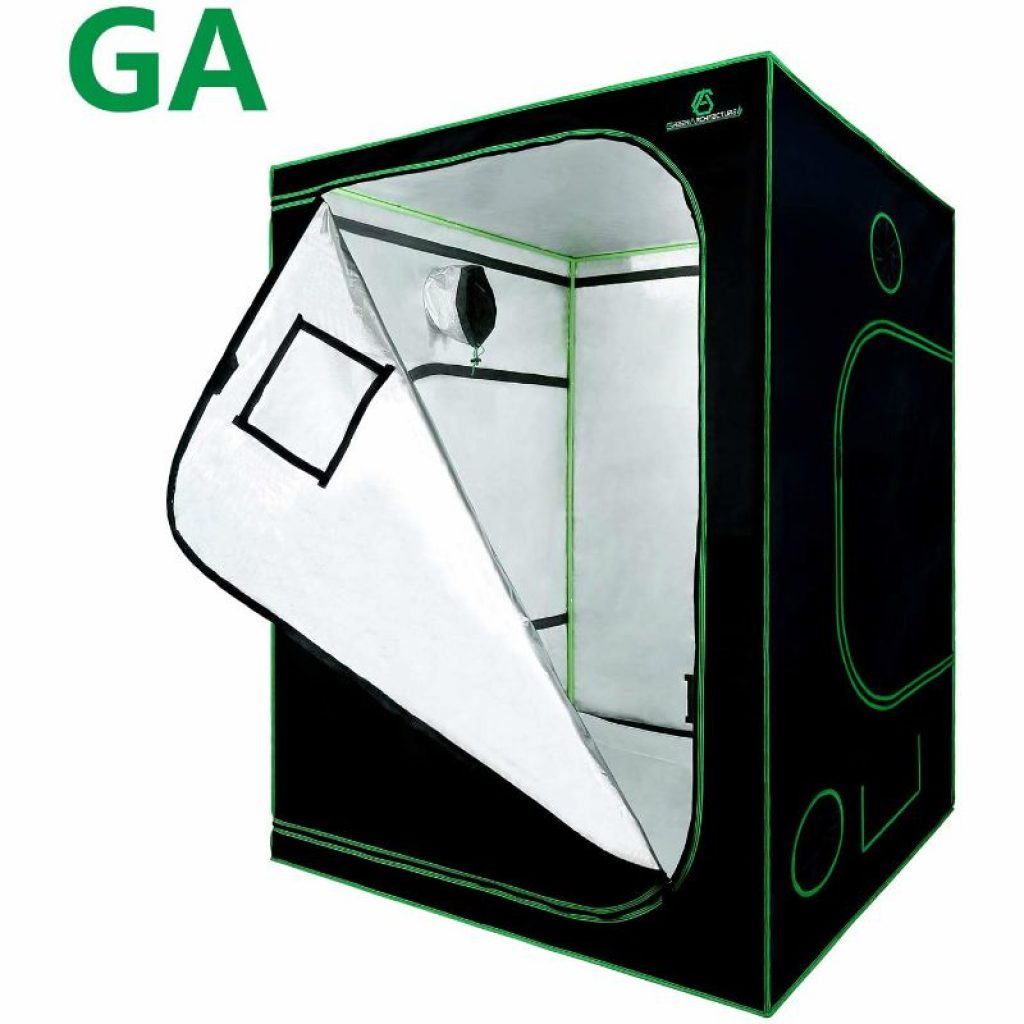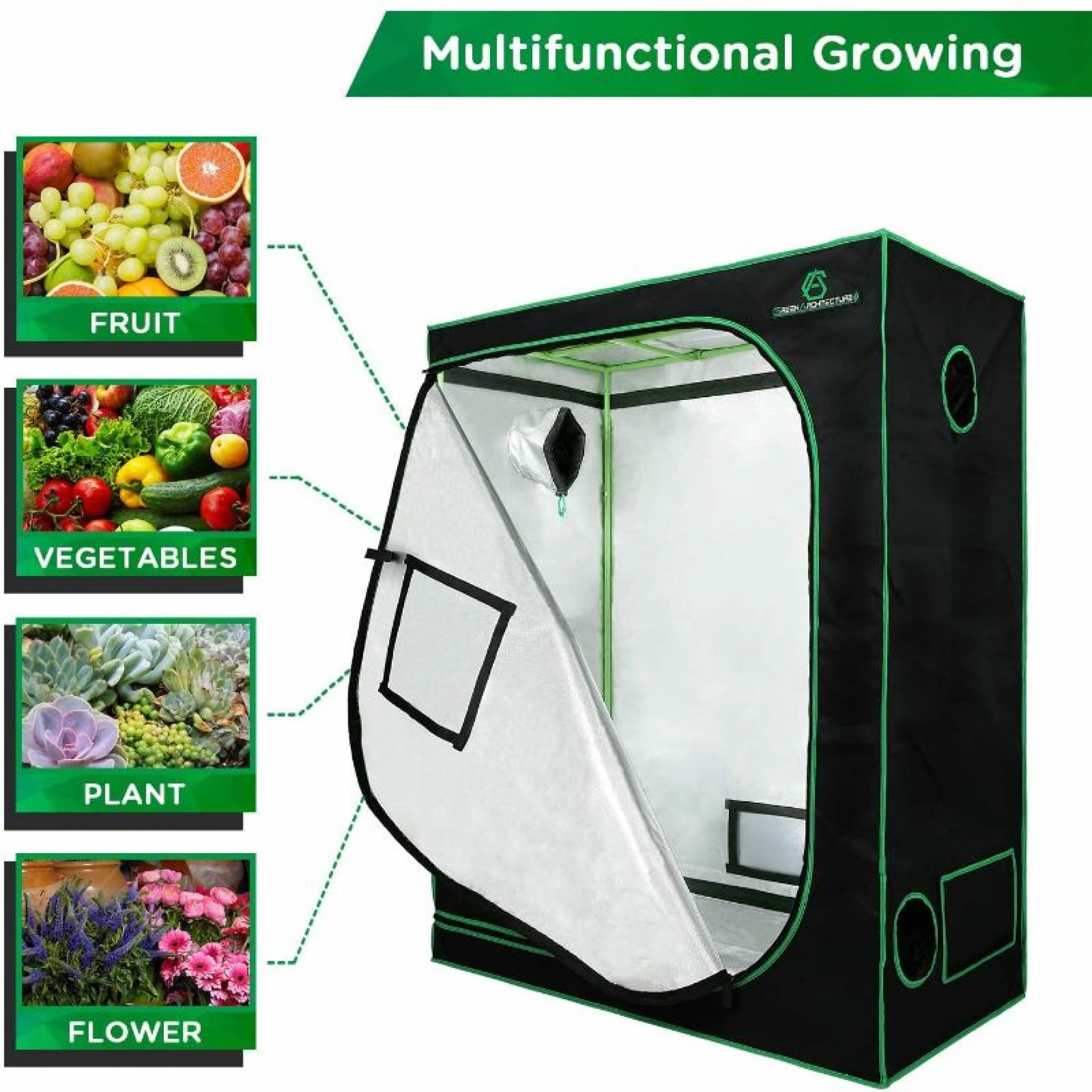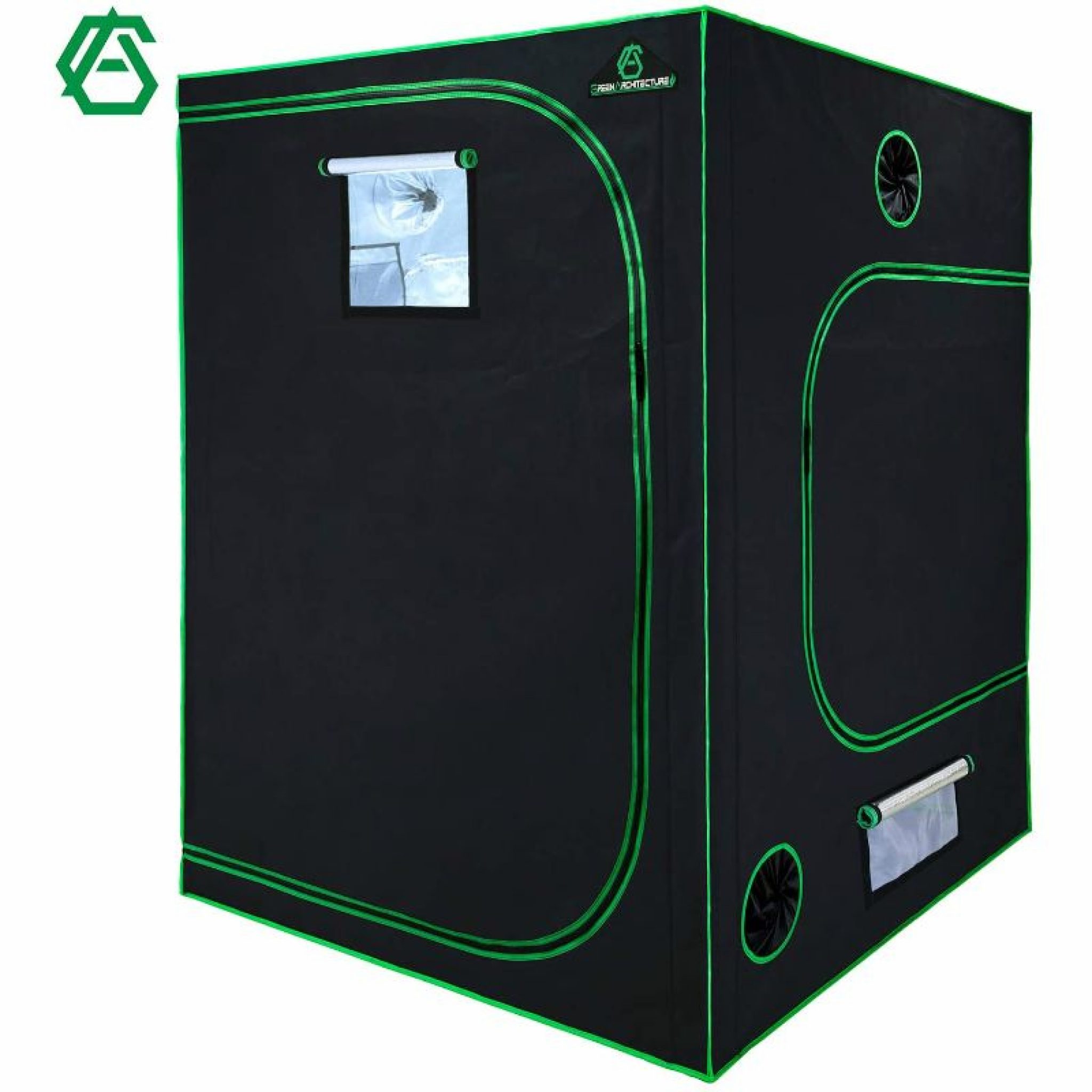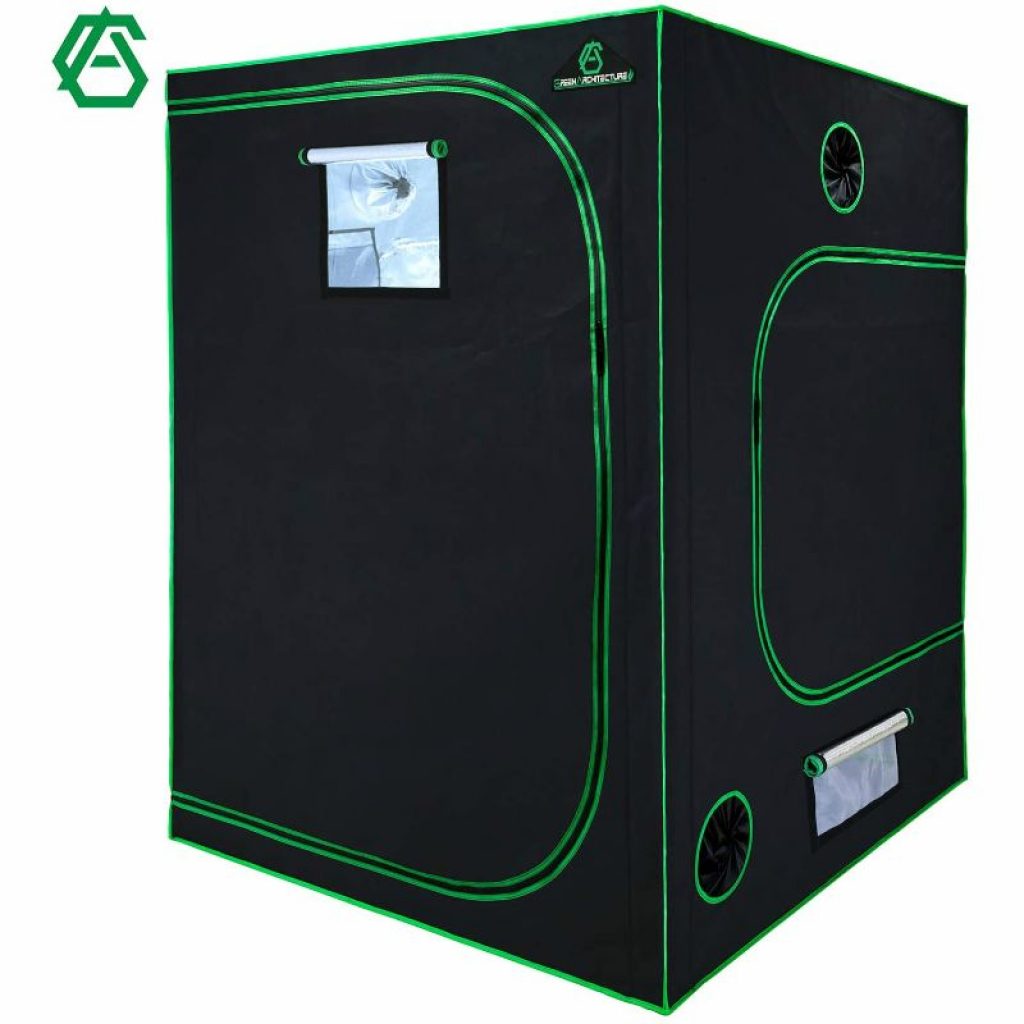 GA stands for Green Architecture. This is the company that manufactures this tent. Tents manufactured by this company are usually of high quality and come with several cool features.
Most of their tents are made of 600D oxford cloth, which is high in density and lined with Mylar that blocks off approximately 98 percent of light. It also provides reflection & insulation. As usual, the seams come with double stitches and zippers. This makes them extremely long-lasting. They are also highly effective in the prevention of minor water leaks.
What's more, the GA Grow Tent 60"x60"x80" enables the farmer to observe the process of their plants easily. The doors smoothly open; the inspection window enables easy viewing of the inner area to observe the progress of the plants.
This Green Architecture tent has also been constructed with a robust 600D canvas. It is a material resistant to tears. Therefore, a combination of the thick material and metallic support-poles ensure that your tent is highly stable & secure.
Even a person with no experience in assembling this product can figure out how to set it up within a very short time. The instruction manual provides straightforward instructions on how to assemble the tent properly. This is another factor that makes this brand highly popular among horticulturalists.
The two-year warranty provided by the company offers you the freedom to get in touch with the company and obtain the requisite assistance. This enables you to get the most benefit out of your tent.

---
PROS:
comes with a viewing window for easy monitoring of your plants;
has explosion-resistant zippers in addition to double-stitched zippers;
very easy to assemble;
has a 2-year warranty.
CONS:
the brand is relatively new; therefore, it is not yet established;
lack of discreet packaging.
TopoLite 60″x60″x80″ : 5×5 Grow Tent Kit with Extra-Reflective Mylar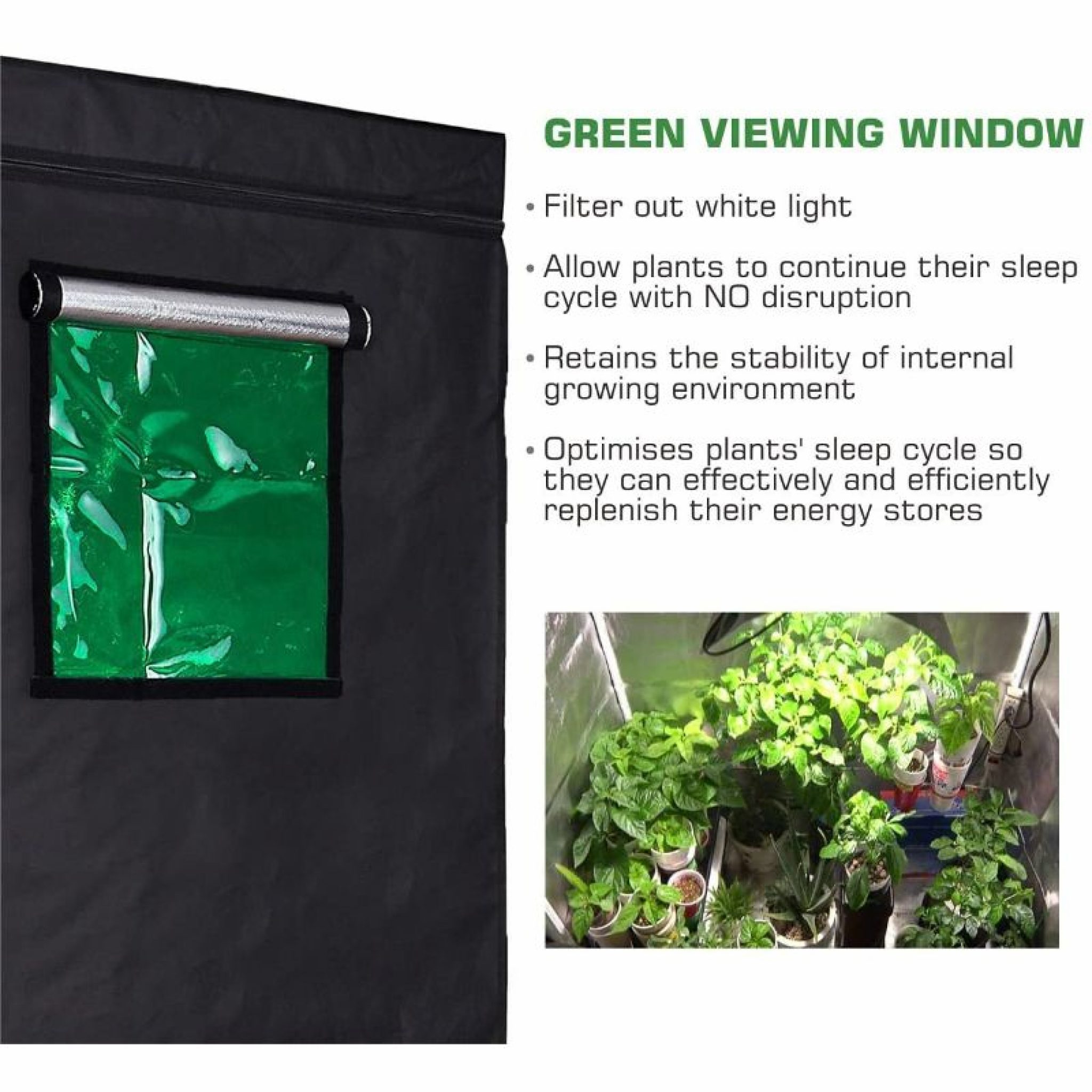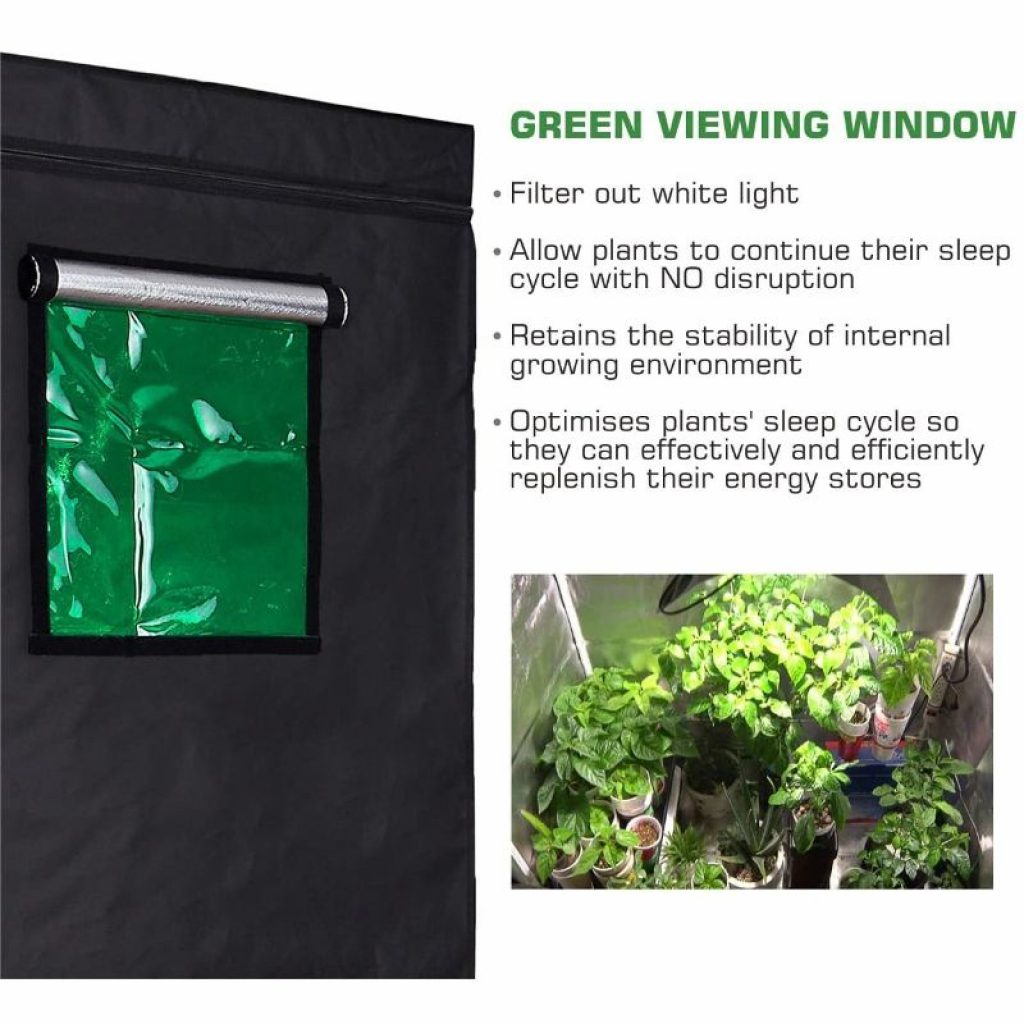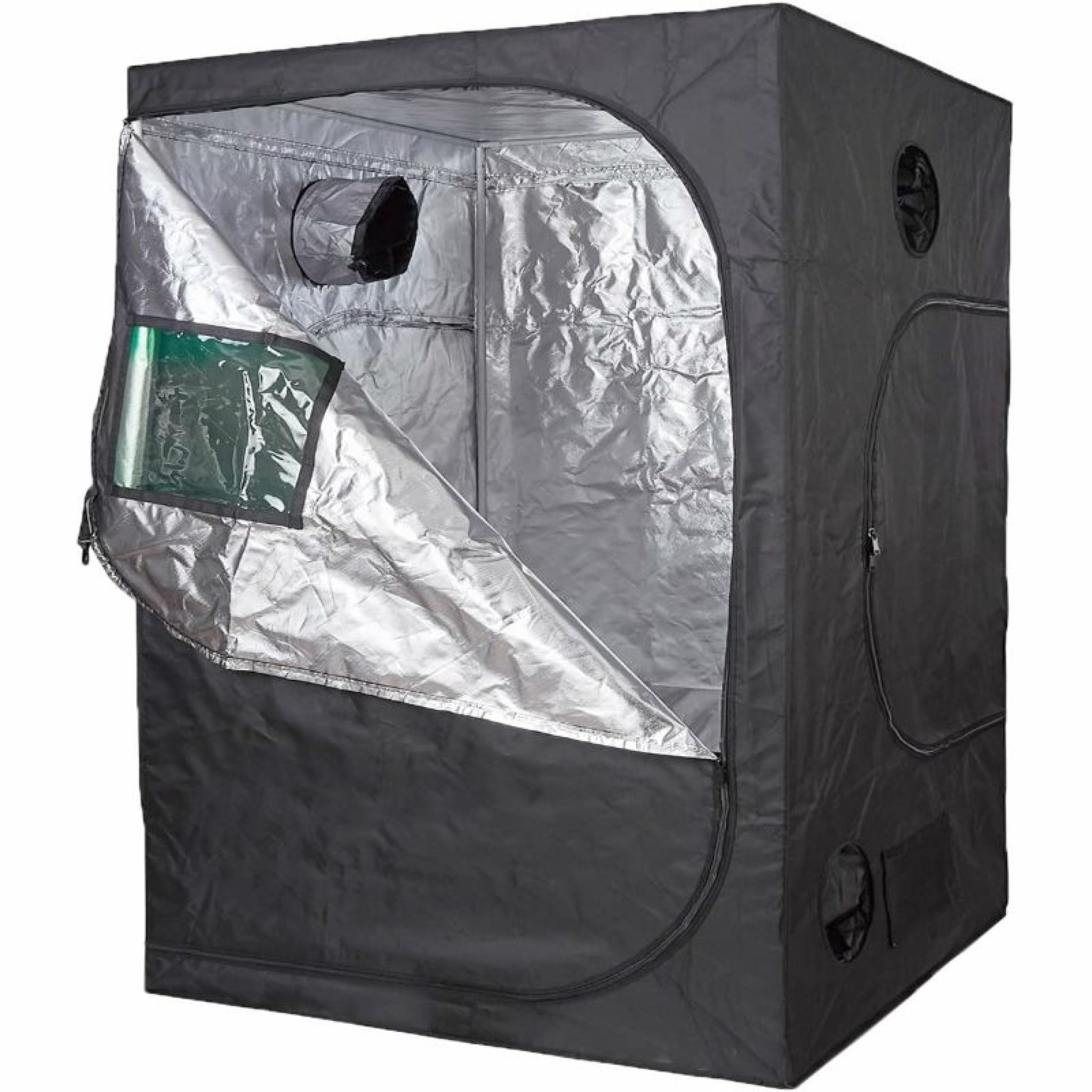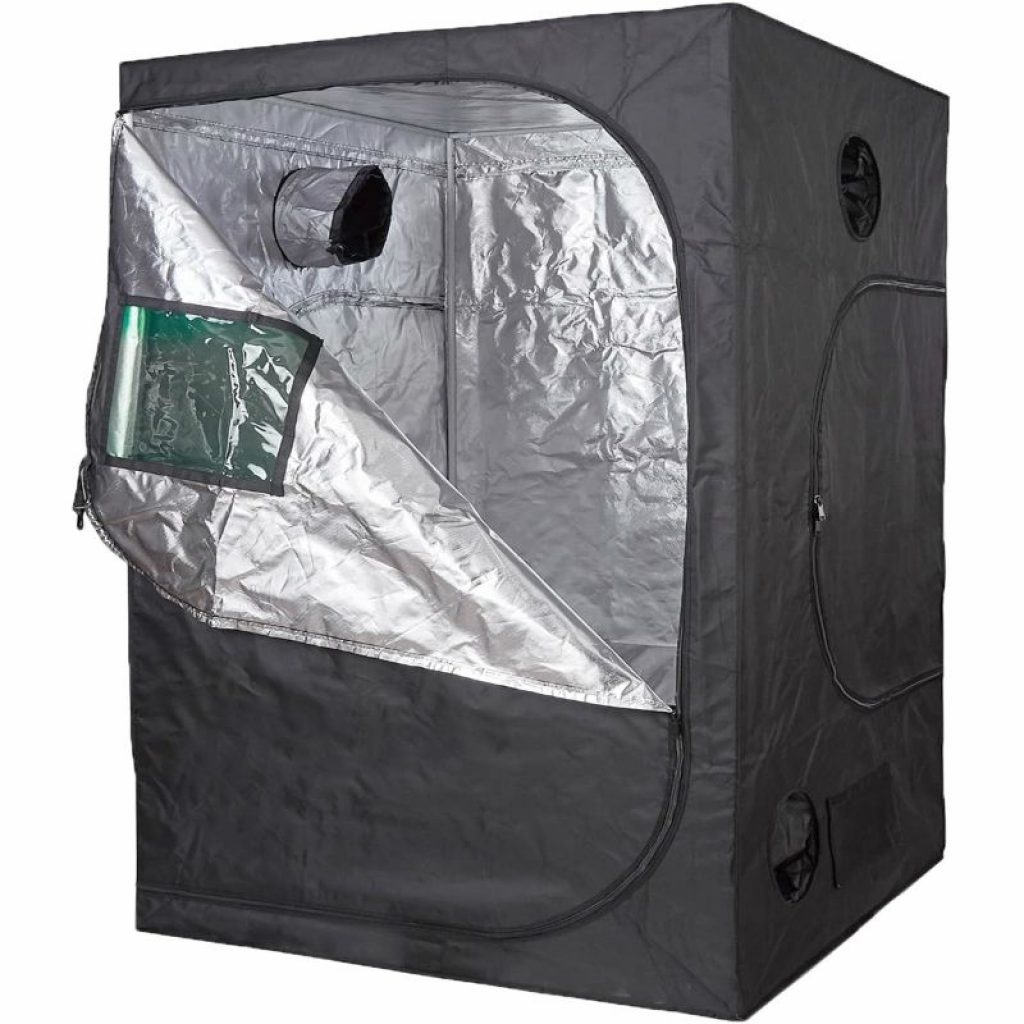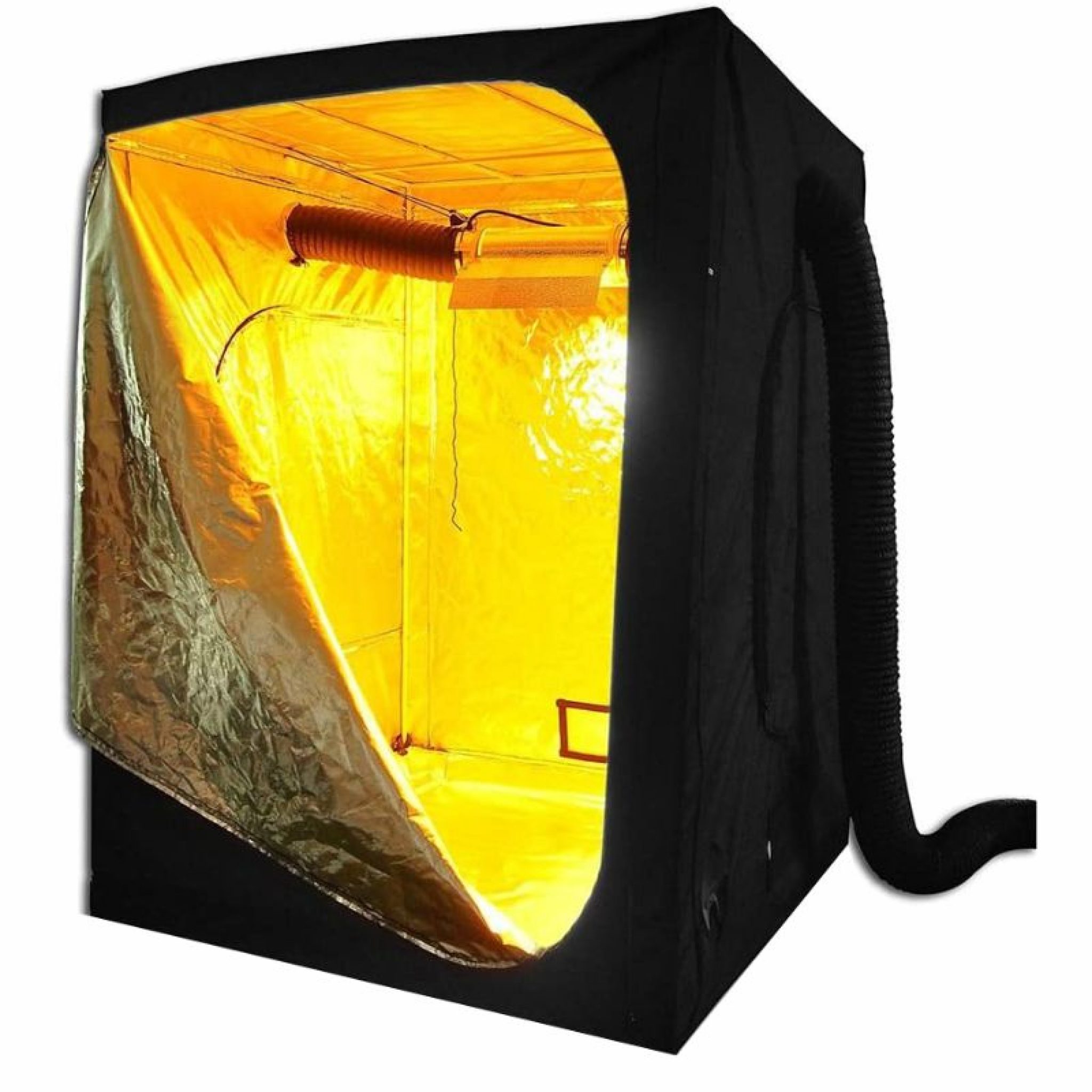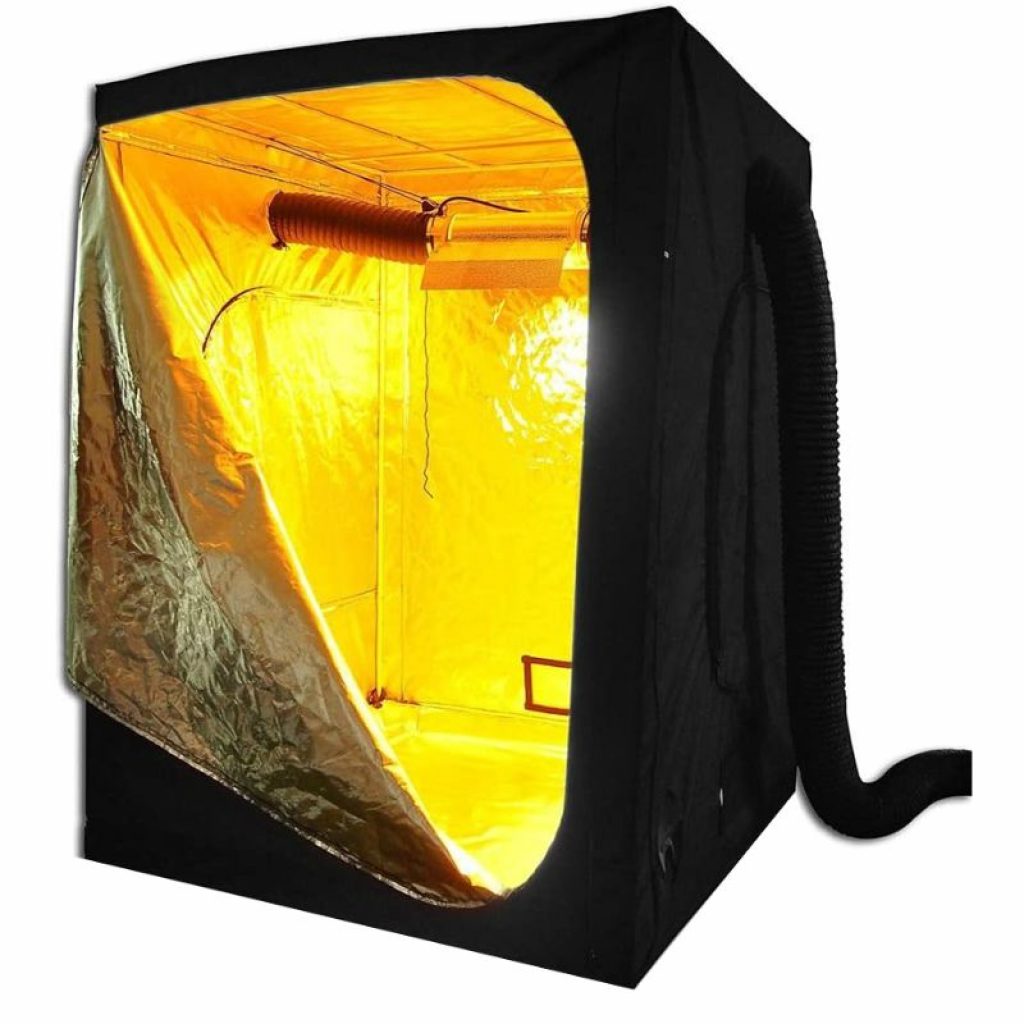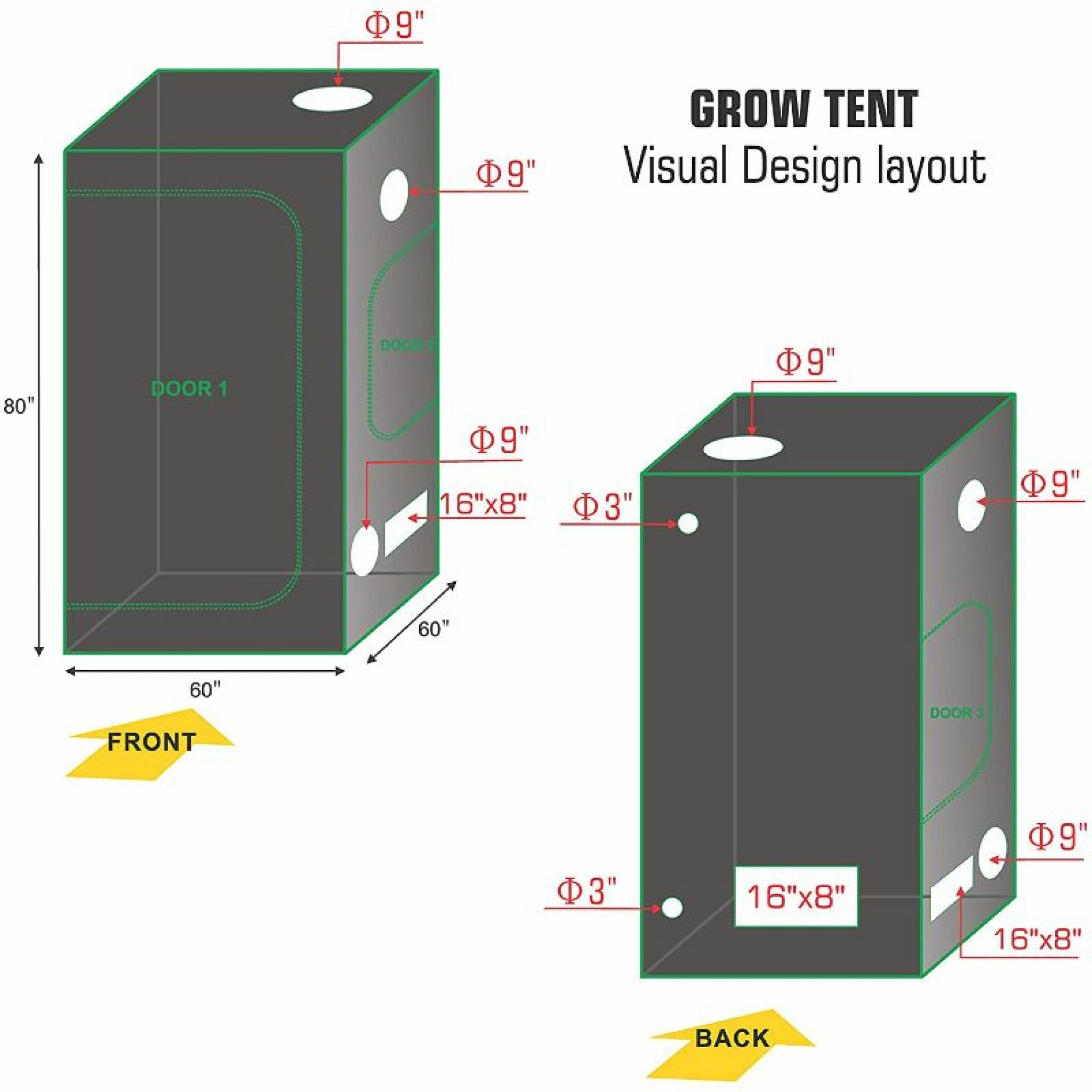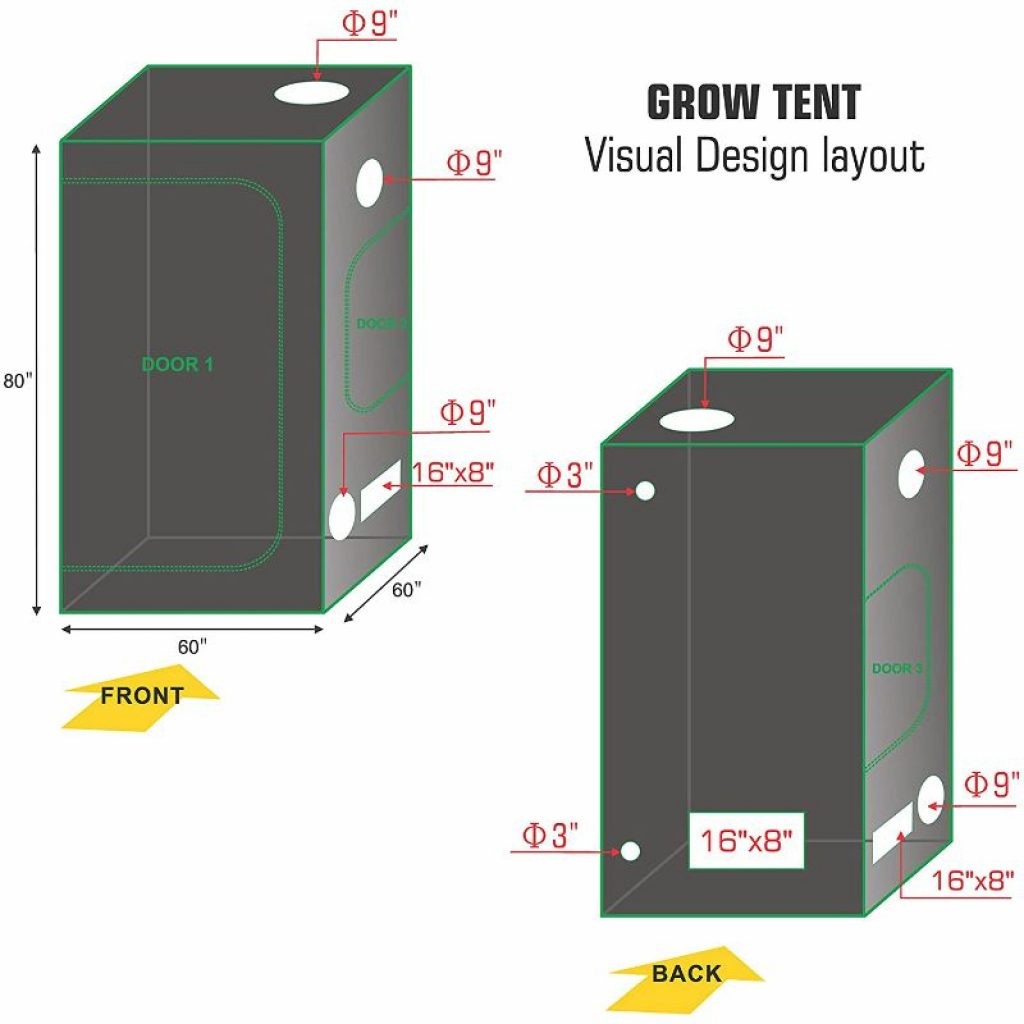 TopoLite is a company renowned for offering an immensely valuable experience for hydroponics enthusiasts and experts as well. This company sells a variety of products such as grow light hoods, tents, and carbon filters, among other hydroponics equipment. Their experts have a clear understanding of how all these factors combine to result in satisfactorily high plant yields.
All this is exhibited in their professionally designed tents. They enable the setup and growing of cannabis in an extremely convenient & simple way. What's more, this factor applies right from the onset of planting to the harvest.
It is somewhat apparent that the majority of 5×5 grow tents come with a reflective diamond Mylar coating to increase the reflective capabilities. The item offers 96 percent reflectivity, meaning that most of the light will be retained within the tent for optimum growth of your plants.
The green window filters out most of the white light. For this reason, your plants are kept in a continuous growth environment. This means that you will get a quick harvest and recoup your investment within a short time.
TopoLite tents come with heavy-duty 600D oxford cloth for extended durability. Tent strength is also provided via the 16-millimeter metal rods coated with quality paint. Moreover, you plant gain extra protection courtesy of the strong zippers. You can also hang heavy tools, thanks to the heavy-duty tubes.

---
PROS:
has a green transparent window that enables you to monitor your plants without interfering with light quality;
makes use of the extra-reflective diamond Mylar on the inner surface;
it comes with double stitches plus an option for long-lasting metallic edges.
CONS:
construction quality is not as rugged as other tent models;
some reviewers found that the build material is mediocre.
Hydro Plus Grow Tent 60″X60″ X80″: the Best Deal Grow Tent 5×5 on the Market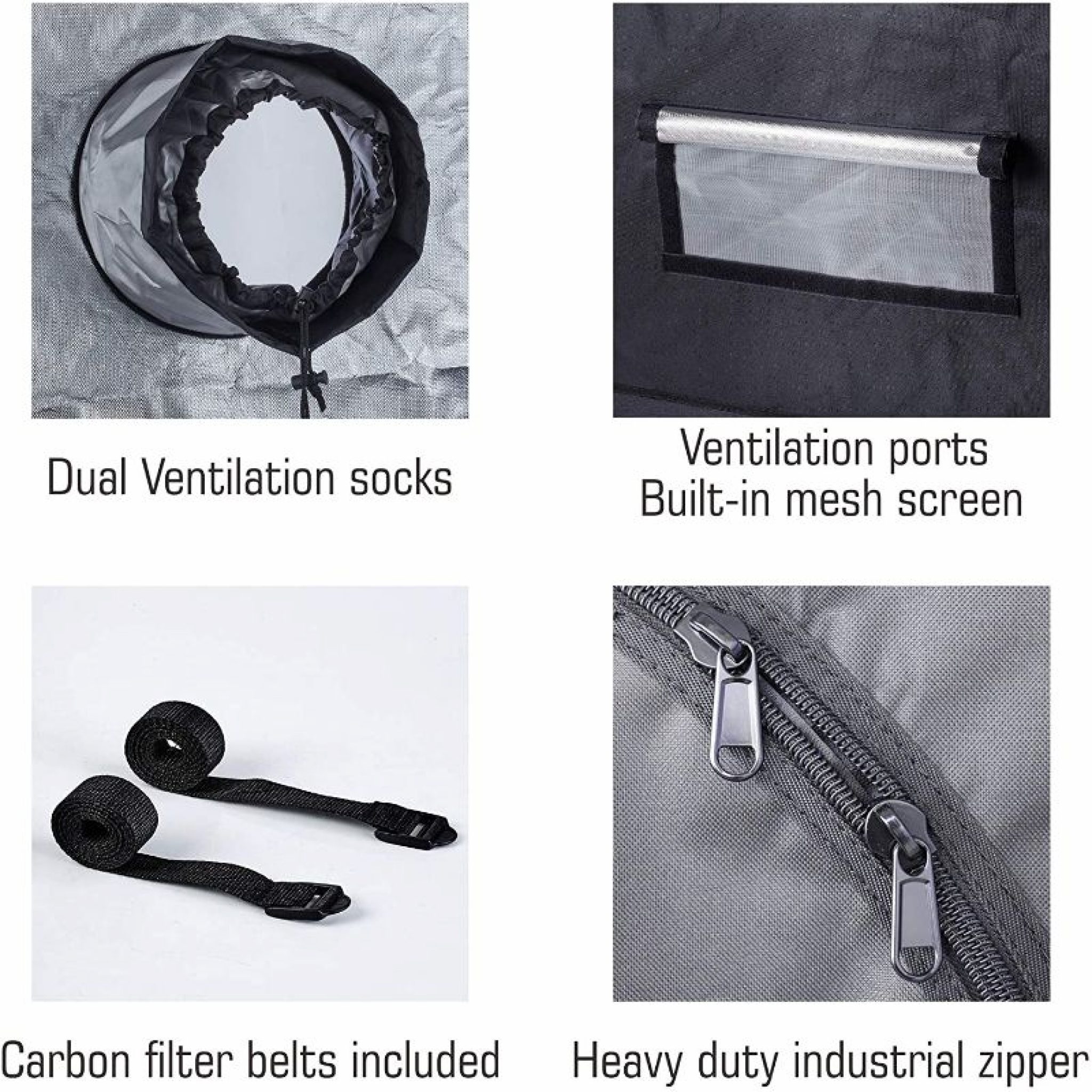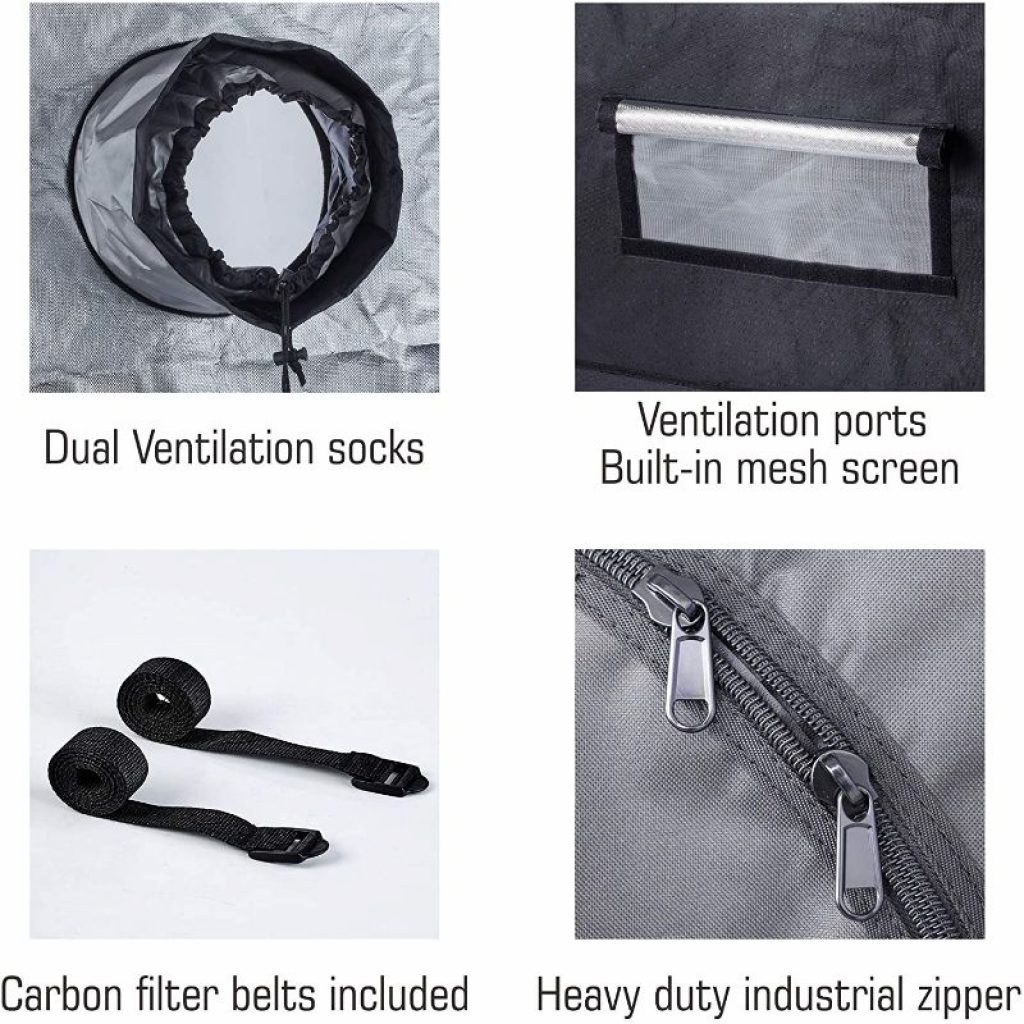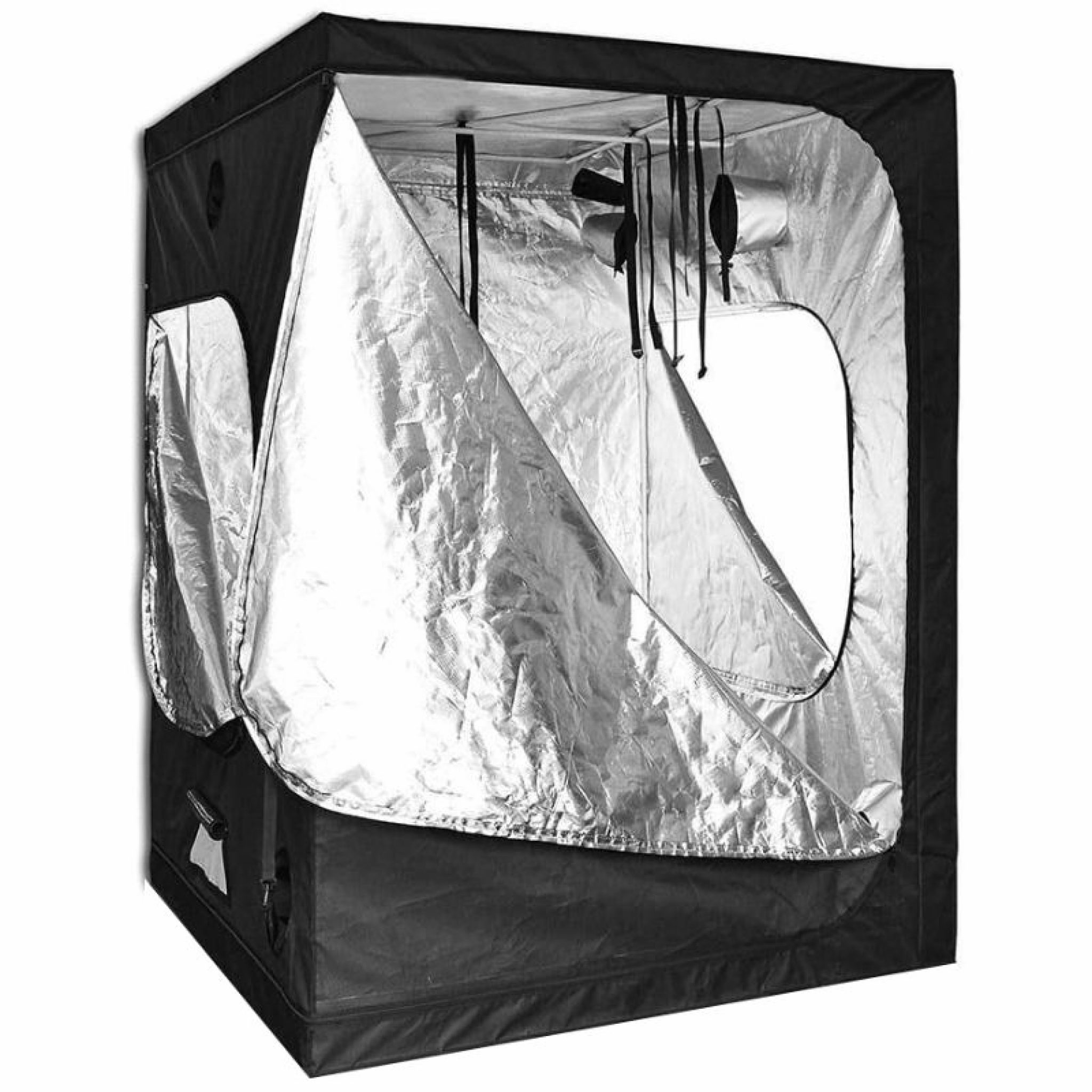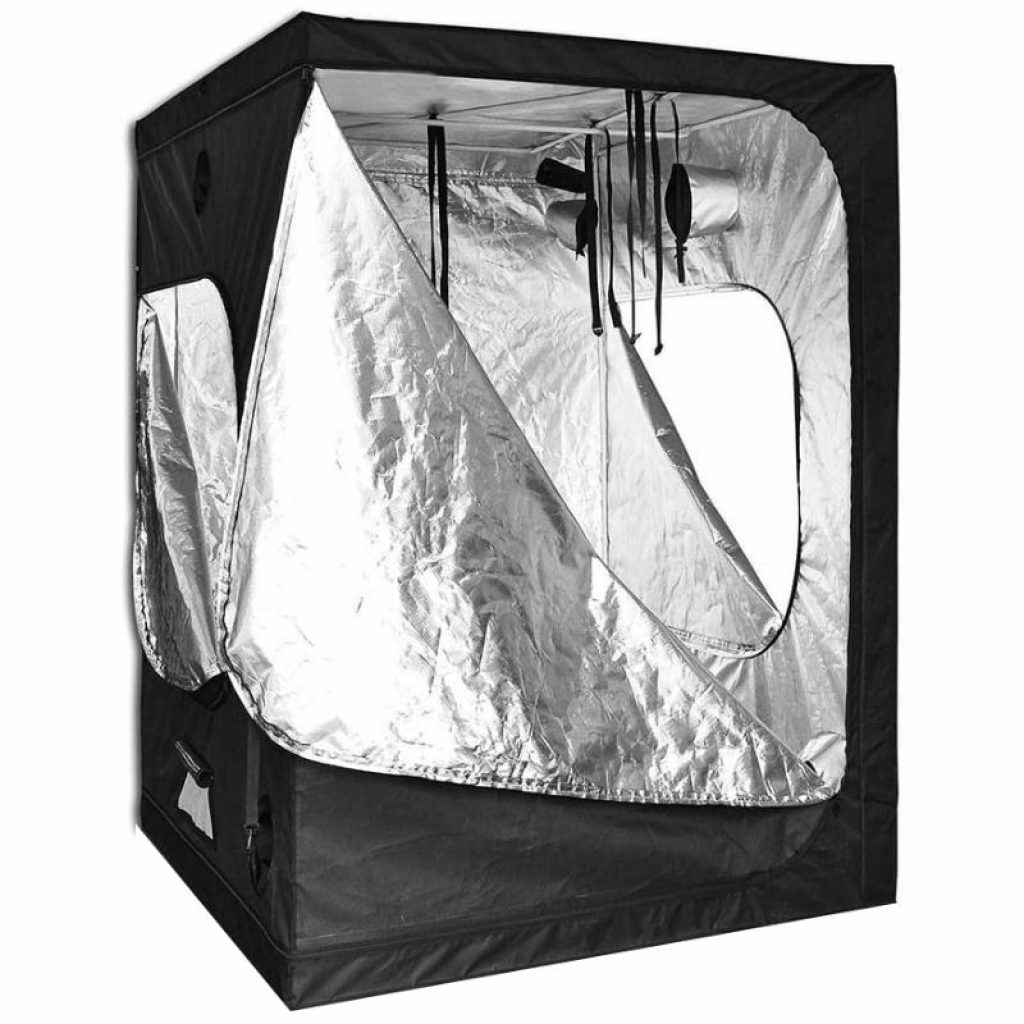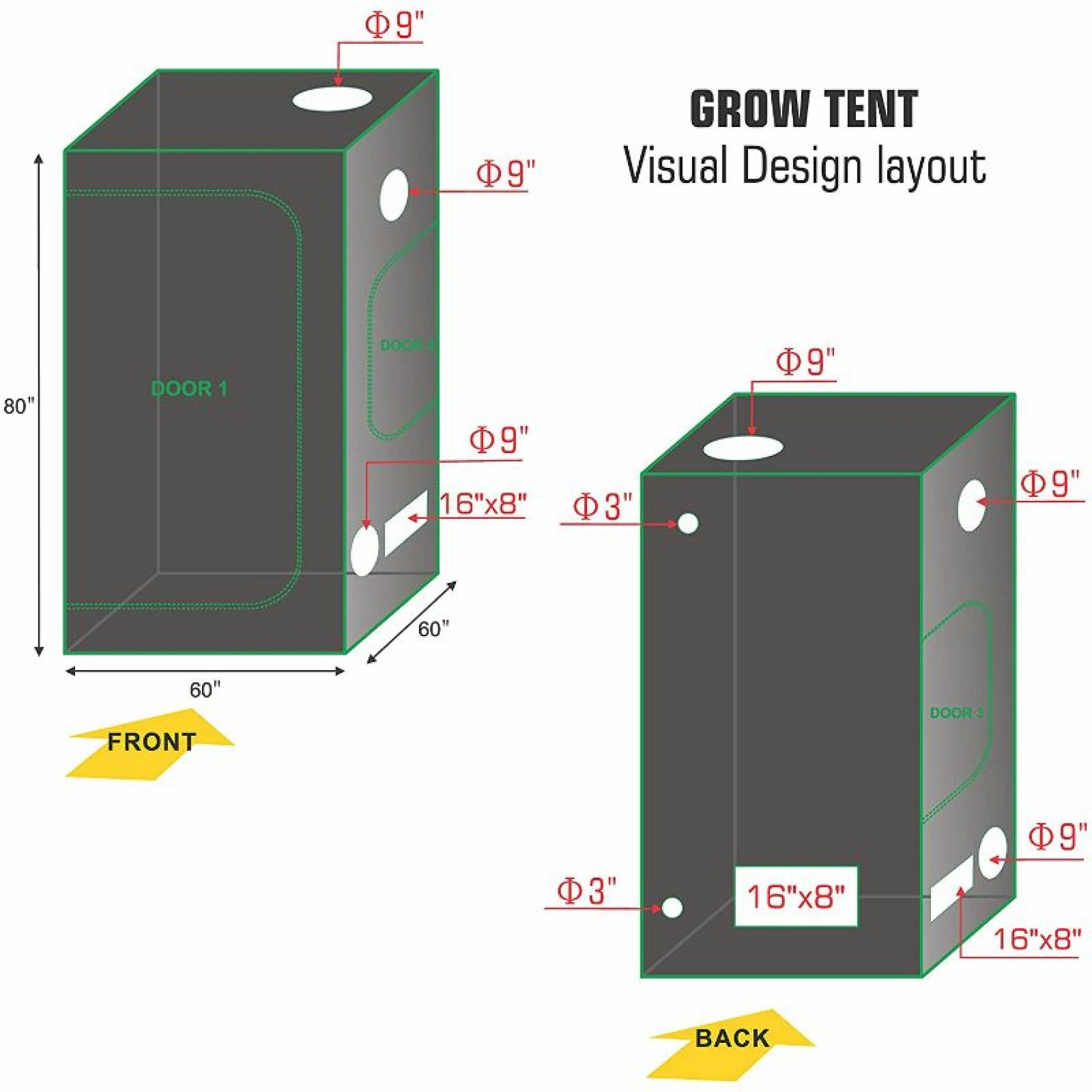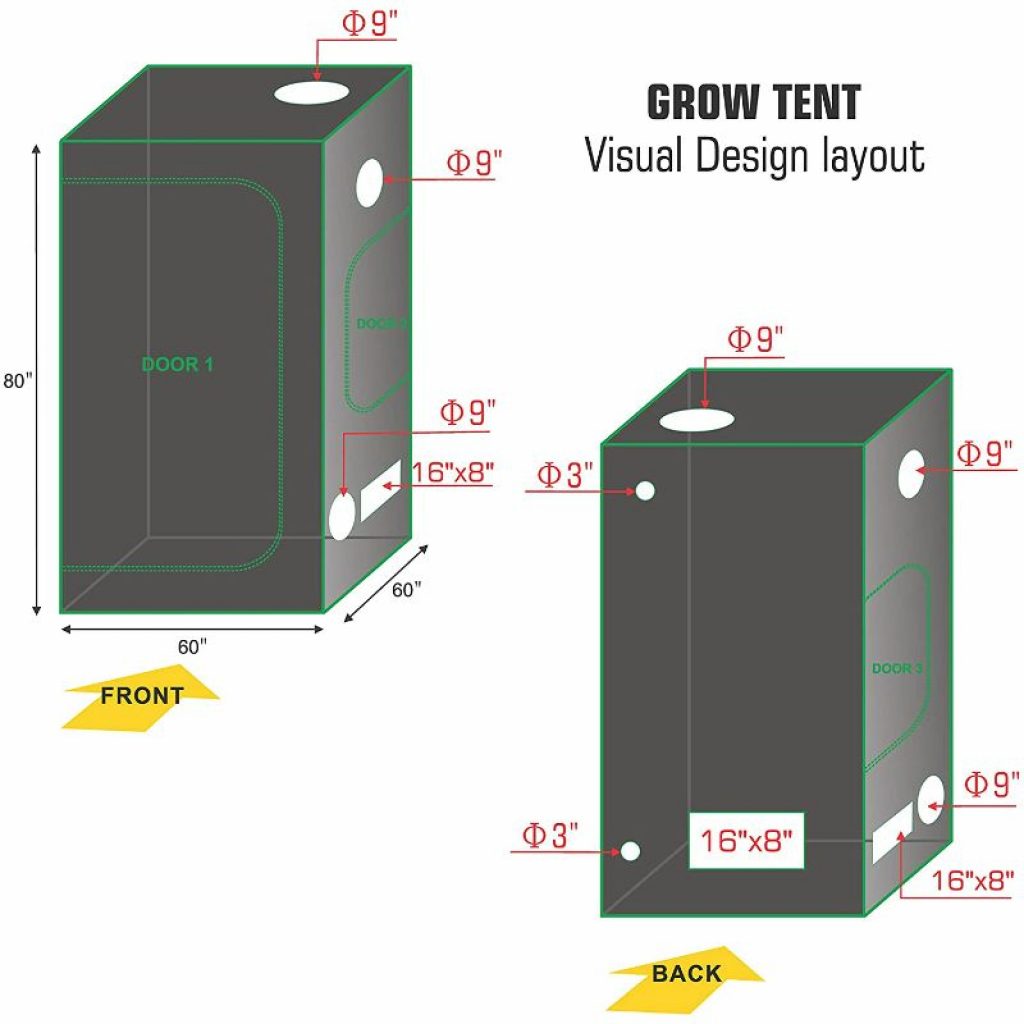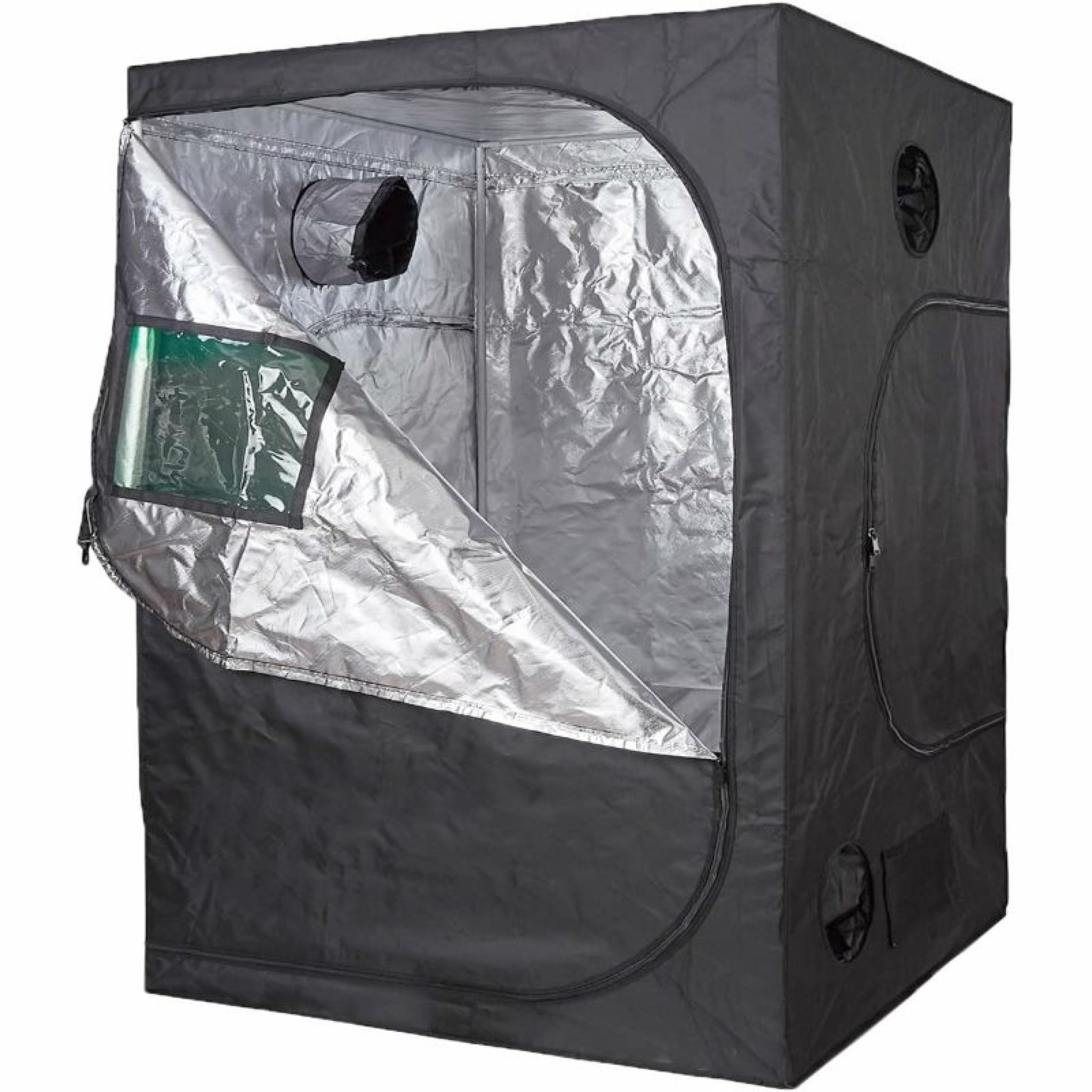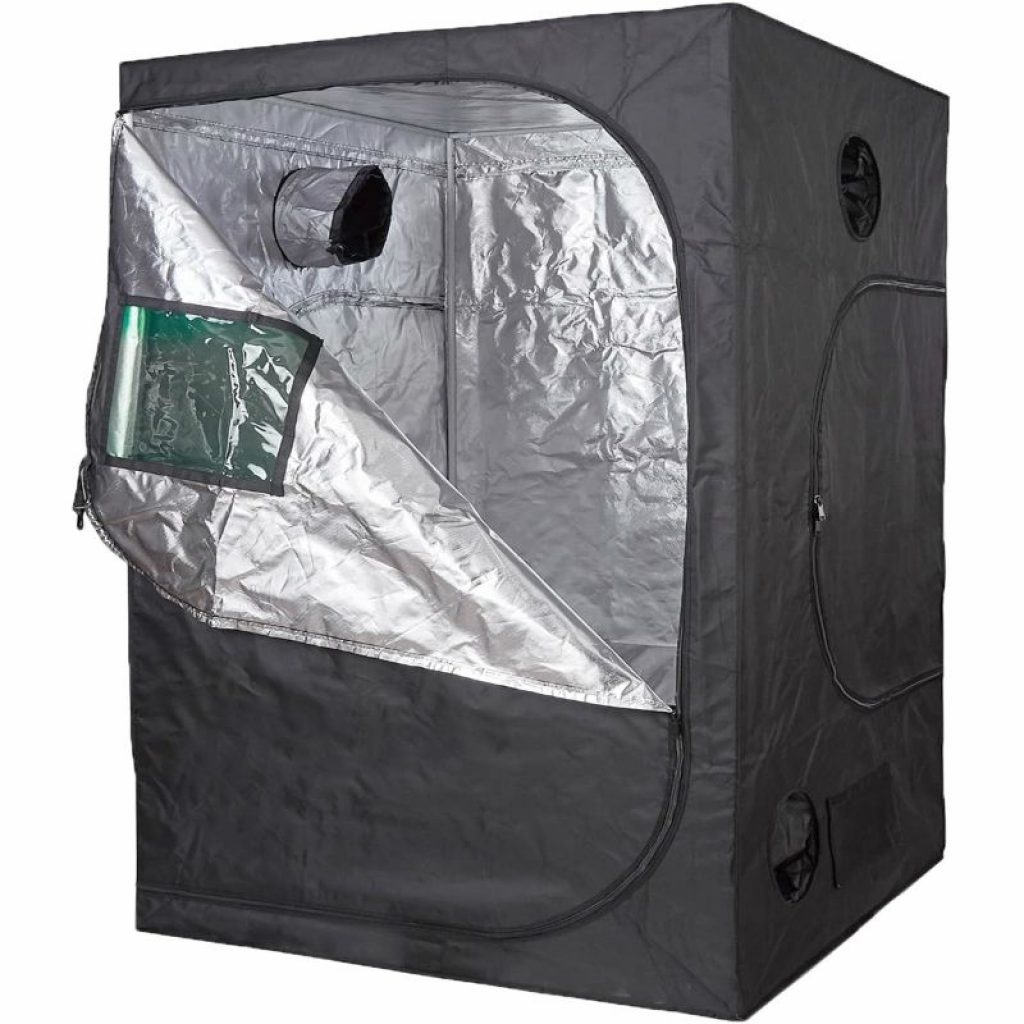 The item is yet another high-quality product from Hydro-Plus. This is one company that offers some of the best irrigation solutions. They integrate various management & control equipment making their tools among the most cutting-edge on the market.
This 60"x60"x80" grow tent comes in discreet packaging with a highly stable build. It comprises about 96 percent reflective diamond Mylar on the inside & 600D oxford clothing on the outside. What's more, the outer zipper design makes this item very safe and simple to set up.
Numerous vents enable the tent to accommodate filters & fans. As such, this is an ideal tent for growing vegetables, exotic fruits, herbs, and even seasonal fruits during the low seasons. The company also assures its customers of the best quality hydroponics services & tools at factory prices. What's more, you can receive technical advice and assistance in setting up your tend and other relevant equipment.
Other key features of this tent include a frame consisting of 16mm diameter metal rods that have been coated with white paint to prevent tarnishing. The connectors consist of 16 mm sturdy plastic. Rectangular mesh vents enhance effective ventilation. Additionally, you will find two nylon belts that you can use as filter straps, in addition to a removable floor tray.

---
PROS:
adequate space for growing plants;
multiple ventilation for more fans & filters;
constructed using durable material;
simple installation- No tools required.
CONS:
weights of all equipment must be equally distributed between the hanging bars. This can be challenging for inexperienced users.
Commonly Asked Questions Regarding Grow Tents
Many first-time users of these tents don't achieve appealing results because they don't consider a few crucial things. Therefore, they normally ask questions about what they could have done differently. Here are the answers to common questions:
How many plants can I grow in a 5×5 tent?
You might be wondering, "how many plants in a 5×5 grow tent are appropriate?" A standard 5×5 tent can enable you to grow approximately four cannabis plants healthily. For other plants, this might depend on their full-grown sizes. Essentially, you can grow around ten small or medium-sized horticultural crops within such a tent.
How much light does a grow tent need?
In case you are growing cannabis, the best light for 5×5 grow tent is at least 50 watts' worth of light for each square foot. It is essential to flood your plants with light to maximize photosynthesis.
Final Words
Have you been wondering about how to set up your maiden grow tent? Do not worry. Grow tents are arguably among the most important equipment whenever it comes to indoor farming. Nevertheless, their setup is generally simple once you understand the implications and requirements. These tents enable you to recreate a natural environment under conditions you individually control.
Operating a tent makes hydroponic gardening, and indoor soil control very easy. What's more, you can cultivate even the seasonal crops all-year-round since you are in full control of the growth environment. As such, you can be assured of bumper harvests, fewer issues with diseases & pests, and a more organized growing program.
Two main factors come into play that makes growing tents the best option while operating indoor gardens. For one, you can efficiently utilize space and fully control the growing environment.
What's more, such tents enable you to create separate growth conditions within one room. Particularly, as for hydroponic growers, tents offer the perfect conditions for your plants. They offer cleaner environments than most outdoor conditions.
For another, grow tents are generally simple to use for gardening purposes. There is no need to construct a grow room; you can easily assemble & transport your planting environment with a lot of ease, make more savings in comparison to grow rooms, and, finally, the entire setup can be deconstructed in a matter of minutes.
Have you used any of these tents before? What did you like about them? Which brand do you prefer and why? Share your views by leaving a comment.