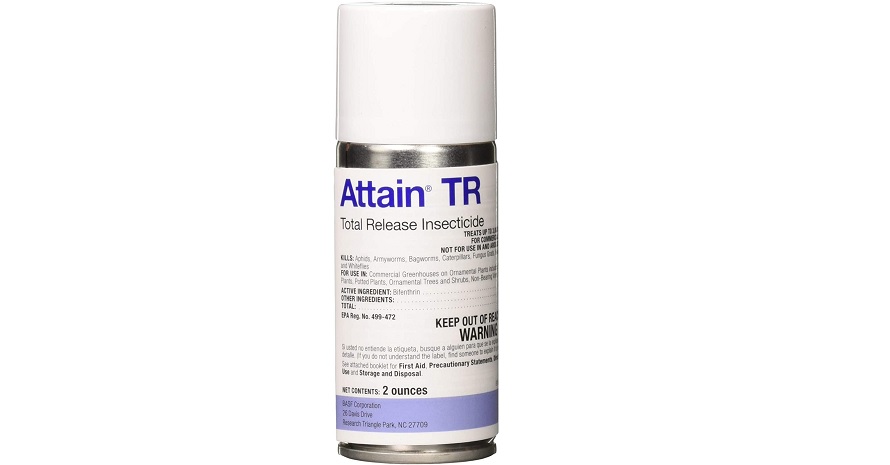 Top 5 Best Insect Fogger for Cannabis
Cannabis-planting and care are rather difficult compared to other plants. This sort of plant is extremely whimsy and requires special techniques for prolific growth. Moreover, it often happens that various insects and bugs find the plant as a very attractive source of nutrition. For this, you have to develop an intricate indoor cannabis pest control routine to prevent your plant from being swamped by all kinds of pests.
Pros
Sufficient volume for multiple uses.
Pros
Sufficient volume for multiple uses.
Fortunately, there is a whole array of treatments for providing your marijuana with proper care. Each of them has a specific purpose and application procedure, making it deal with the specific conditions of your cannabis plant.
Top Insect Foggers for Indoor Cannabis Growing
Considering the vast range of cannabis treatment products, your options for taking care of and maintaining your plant's safety are innumerable. However, there is a time-proven method of protecting your plant without interfering with its natural balance too much – foggers. This grow room fogger is useful enough to get rid of pets and harmless for its micro-environment.
To simplify your search, we've prepared a shortlist of indoor fogger reviews that we find rather effective for cannabis. Each review has its own pros and cons section to help you choose the right one. So, let's dig in!
1. BASF Pyrethrum TR Fogger — Best Insect Fogger for Cannabis Infestation Prevention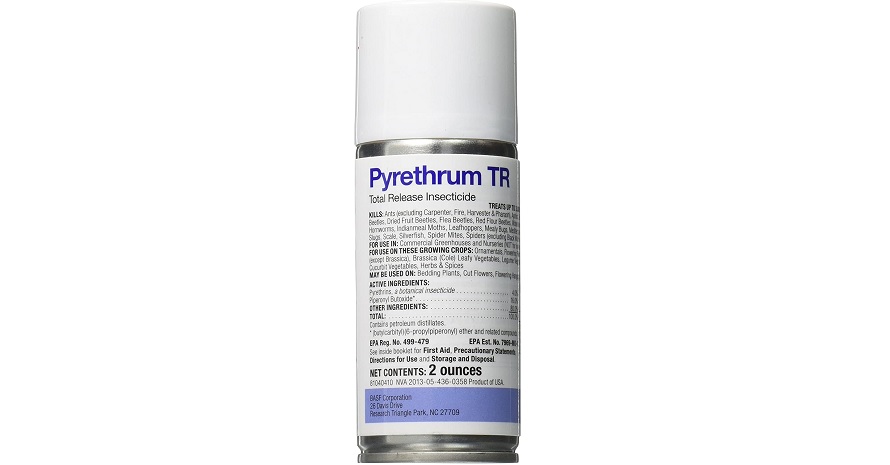 The BASF Pyrethrum treatment is a high-quality fogger for preventing and eliminating harmful insects infesting a plant. The cannabis fogger is very versatile and can be applied to many pest-related issues, like leaf, stem, and flower damages. The treatment consists of strong, plant-derived ingredients, like Pyrethrin and Piperonyl Butoxide. Both components have proven highly effective against herbivorous plant-eaters for indoor and outdoor crops.
When applied to a damaged or pest-infested plant, the components act as effective repellents, causing the insects to avoid the fumes and see the source, the plant, as a danger. For those insects that currently reside on your cannabis, the ingredients come in contact with their nervous system, resulting in paralysis and eventual death. The treatment is as safe as it gets when used according to the instructions designated on the treatment's label.

---
PROS:
Large area coverage;
Not sticky;
Sufficient volume for multiple uses;
Safe for pets.
2. BASF Attain TR Insecticide — Gnat Fogger Indoor Treatment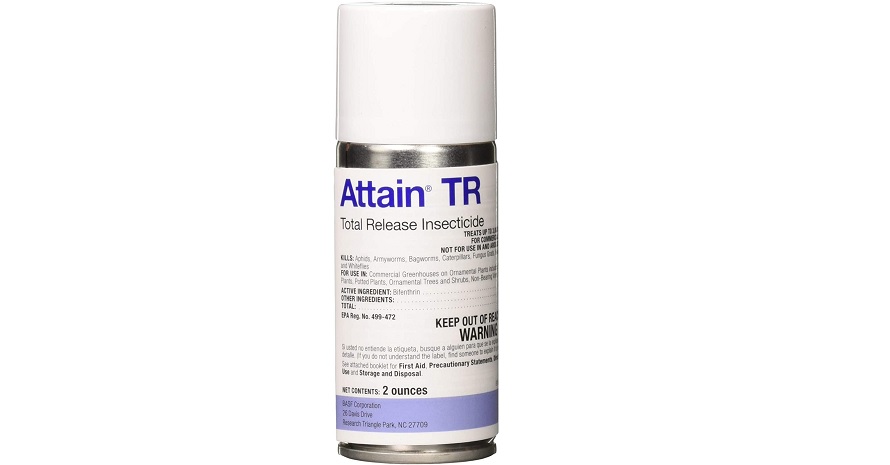 For more severe pest-related cases, BASF offers another highly potent product for insecticide fogger indoor pest control. This treatment will prove useful when dealing with rather active and aggressive forms of bugs and insects, like gnats, worms, etc. It mainly consists of Bifenthrin, which is extracted from mums and is extremely capable of eradicating a whole population of insects.
The substance is so effective due to its high toxicity and acidity, which again influences a pest's nervous system, as well as digestion and coordination.
To apply the treatment efficiently, you have to spray it not only around the infested plant but also at the stem bottom and under the leaves. Why so? The reason is worms, as well as ants, like to hide in the areas between the stem and leaves to avoid direct sunlight. Also, mind the distance between the plant and your sensitive areas, like eyes, nose, etc. To prevent irritation, wear protective gear.

---
PROS:
Local fogging; no excessive fumes;
Especially effective against gnats;
Lasting service period;
No odor.
CONS:
It can irritate the airways.
3. Doktor Doom Total Release Fogger — Indoor Cannabis Pest Control Solution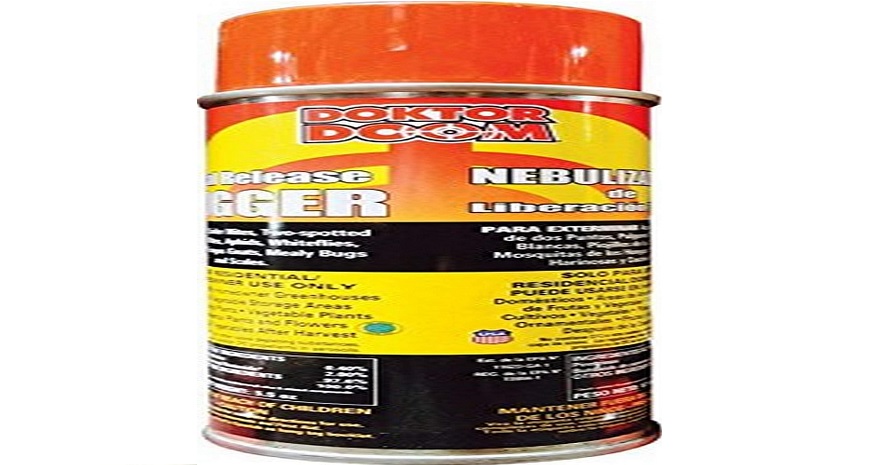 If you need to treat larger areas than usual with a single can of a gnat fogger indoor product, then you might want to consider this one. Doktor Doom has been around for a long enough time to devise a specific anti-pest formula that works. A single 250ml-can is sufficient for spraying more than 4900 cubic feet of space. Though you surely don't want to apply this much product, it will be enough for a few thorough applications.
The treatment is especially good at dealing with large and mature insects, which have reached their pre-final stage of life. At this stage, cannabis-eating pests can be more active than ever, thus vigorously consuming leaves, stems, and flowers. Since the fogger is rather volatile, it's recommended to apply it only in open and well-ventilated rooms.
Also, use additional treatments, designed for obliterating eggs and spores, to increase your infestation eradication chances.

---
PROS:
Deals with adult insects;
No need for additional equipment or watering down;
No residues;
Sufficient volume.
4. Kinzua Environmental Punch Bug Bomb — Among the Best Indoor Bug Bombs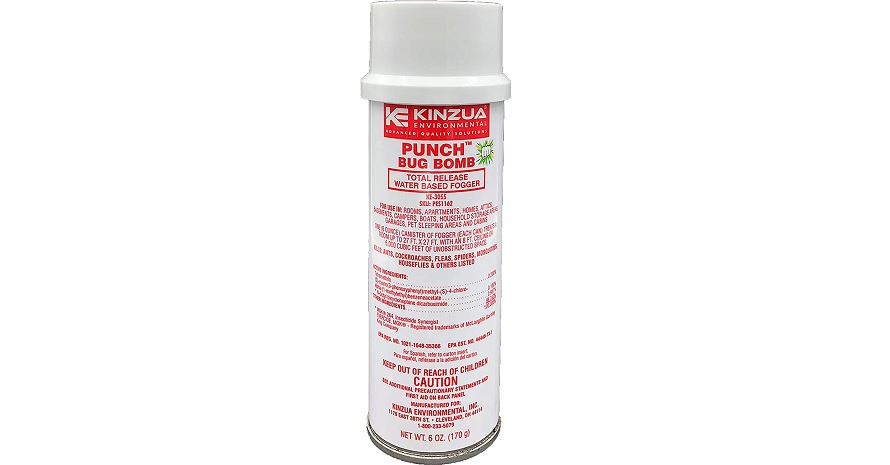 In case you need to treat more than a single cannabis pot, you can utilize this Environmental Bug Bomb product by Kinzua. When activated, the item will disperse its fumes all over a designated area, leaving no stone unturned before all the pests are affected. Its main active component, Tetramethrin, is a highly toxic substance, synthetically extracted from plants. Upon reaching an insect, it adversely affects their airways, causing suffocation by Oxygen deprivation.
To initiate treatment, vacate the room from food and personal possessions. Press the switch button on the top until you hear a clicking sound, redirect it from your eyes, and place the can in the center of the room. When such bug bombs for spider mites and other pests are activated, it's essential to leave the area for at least two hours and seal it completely.

---
PROS:
Easy to use;
Long-lasting effect;
No stains;
Thorough dispersing.
5. Black Flag Insect Fogger — All-Purpose, Indoor Cannabis Pest Control Treatment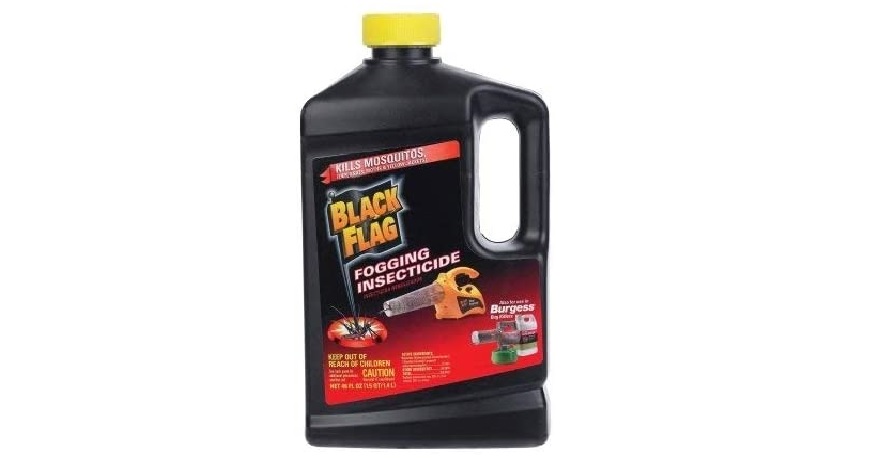 The Black Flag Insect fogger for grow room is a solution for large-scale pest infestations, where simple, small-range treatments don't work. It can cover a much bigger perimeter and fume even the most unreachable indoor and outdoor areas.
The weed fogger is filled with almost 34 oz of highly-potent, pest-eradicating substance. It does well both with white bugs on marijuana plants and gnats, which feed on the plant's leaves. Contrastingly, the treatment is naturally-derived and causes little to no harm to the surroundings.
It's rather easy to apply the solution. Use it to fill your fogger up until it reaches the volume mark and let the substance spread evenly inside the tank. When the fogger is on, whiff it around cannabis plants and other vegetation, from top to bottom, paying special attention to the areas under the leaves. Don't forget to reapply the treatment every couple of weeks if needed.

---
PROS:
Natural and safe;
Easy to manipulate while applying;
No harm is done to the environment;
Reasonable price.
CONS:
You need a fogger to use the solution.
Insect Foggers for Cannabis: What to Know Before Buying?
Here are a few interesting points to know before purchasing a fogger.
What insects are most attracted to cannabis?
Ants, gnats, and crickets, as well as worms and spider mites, like to feast on cannabis leaves and stems. They prefer the plant due to its juices and minerals.
How do insect foggers work?
These treatments are effective thanks to their high-density fumes dispersion. When the fumes reach pests, the insects inhale them, which causes an array of lethal effects to kill the bugs or simply discourage them from getting onto the plant.
How to choose the best insect fogger for cannabis?
Picking one fogger among many requires weighing lots of pros and cons for each product separately. The best fogger for you is the one that covers your specific footage, affects the pests you're dealing with (ants, mites, gnats, etc.), and causes the least negative side-effects to your other vegetation. For this, choose a product which complies with your needs.
Insect Foggers for Cannabis: Composition, Effectiveness, and Use
When choosing your specific product, you need to consider the coverage, effects on the pests, and safety precautions. Here are a few tips to use:
Composition
Each fogger is either a combination of various synthetical chemicals or a single-component product, where the main ingredient decides the product's purpose. For instance, foggers with Pyrethrum (Permethrin) are known to cause different effects on pests' nervous systems. When insects succumb to Pyrethrum, they lose their movement coordination, get paralyzed, and end up perishing eventually.
Other possible chemicals, which make up high-quality fogger, are Befinthrin and Piperonyl Butoxide. Both these substances have similar effects to those caused by Permethrin. However, they also influence a pest's airway regulation and digestion. Their main purpose is to alert bugs and gnats about danger coming from a plant, causing them to avoid it.
Safety
Despite comparingly little dosages of chemicals, which make up a fogger, there are safety precautions to follow. First, when using a spray for bugs on marijuana plant pots, make sure to stay at least 6 feet away from the sprayed area. Such substances are known to be extremely volatile and easily carried by draughts and the wind.
Second, always wear protective gear, like gloves, eyewear, and a mask. Though the sprayed particles are completely invisible to the eye, they can still spread quickly and get into your airways. In case they do, foggers can cause airway inflammation or soft tissue irritation, resulting in allergies, coughing, sneezing, etc.
Finally, depending on the type of fogger you're using, it might require thorough room ventilation or, contrastingly, a complete seal-off. If your product is prescribed with necessary ventilation, open the windows and close the door before applying the solution. On the other hand, most organic bug bomb products advise ventilating areas only 1.5-2 hours after the product's application.
Efficiency
The effectiveness of a fogger strictly relies on the coverage and ingredients. Allegedly, the best insect fogger for cannabis is the one with a wider effect area compared to those with more limited capacities, but it's not always the case. Sometimes, a product acts better when applied locally, especially if you have a single-plant infestation issue. In this case, other healthy plants aren't affected by the fumes so much.
FAQs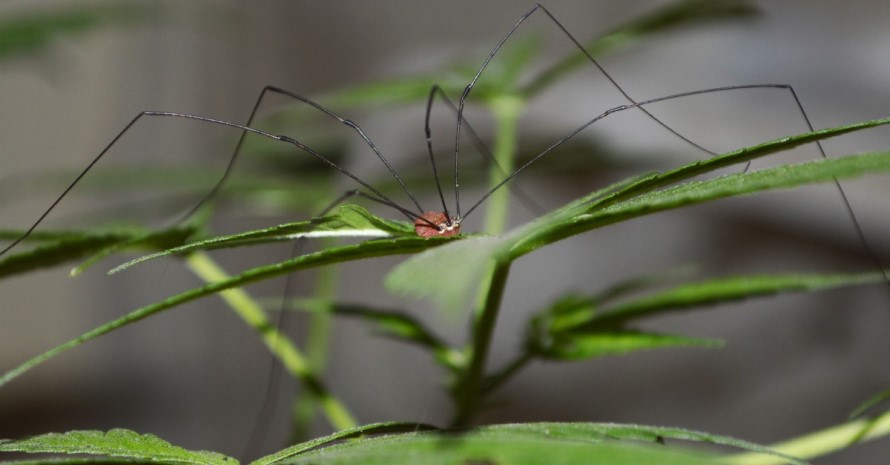 Is it dangerous to use a bug fogger?
It's completely safe to employ a fogger when you're fighting against pest infestations, but only if it's done right. As long as you follow the instructions, you've got nothing to worry about.
Does Pyrethrin get rid of insects?
Yes, it does. In fact, this synthetic extract is believed to be one of the most effective pesticides known today.
How to get rid of thrips on cannabis?
Thrips, like other cannabis-eaters, are susceptible to foggers and regular pesticides. People find neem oil especially effective against these worm-like insects. However, I would not experiment too much if I were you since it can be harmful to your cannabis.
Spray Once a Day to Keep the Bugs Away
As you see, treating your cannabis for pests is easier than ever if you use a good-quality fogger. They come in all varieties of components, effects, and coverage areas. Though choosing one can be complicated, especially if you've never used the product before, it gets simpler after reading a few insect foggers for cannabis reviews. Also, when applying a fogger, don't forget to take precautions. It's better to be safe than sorry in the end, right?
Anyway, I hope that you've found my article helpful. And, perhaps, you've already picked a product for your cannabis growing. Tell me, have you ever used a fogger before? Do you find it more or less effective than a regular pesticidal spray? Why so? Make sure to comment down below!