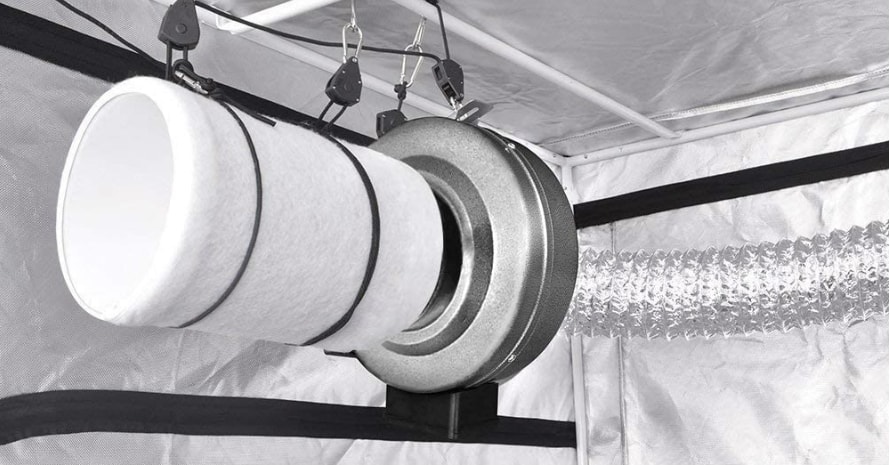 Best Inline Fan for Greenhouse
Hey there. Today I want to offer you the best inline fans that will fit any grow tent with any ducting system. This fan type is excellent because it works without noise. However, it is easy to buy an unreliable one that is made from low-quality materials.
I have tried many fans from different manufacturers, and I was not always satisfied. But I didn't stop my searching, and now I'm ready to provide the inline fan reviews. I want to help you choose the best fan in the shortest time.
When you pick online, it can be harder to find a durable grow fan, especially if you know nothing about them. But it's not a problem — you just need to consider the features it should have and the material. That's what I will tell you today. There are all-sized fans that will suit any greenhouse, attic, and other rooms.
Inline fans don't only provide air ventilation but also can control the temperature. It is a great thing if you grow plants. The most innovative devices have a speed controller that makes usage even easier. In a short word, you will find a fan that meets your every need. So, let's take a look.
Top 8 Best Inline Fans
I feel a little tired of the inline fan models that produce so much noise but don't provide good ventilation. Not always the expensive devices are the best.
The last innovations allow creating a reliable smart programming product at an affordable price that works better than fans with standard construction. So, you will find here the inline fans to grow rooms from manufacturers I trust.
1. VIVOSUN 8 Inch 720 CFM Inline Duct Fan – Easy to Instal Grow Fan Top Pick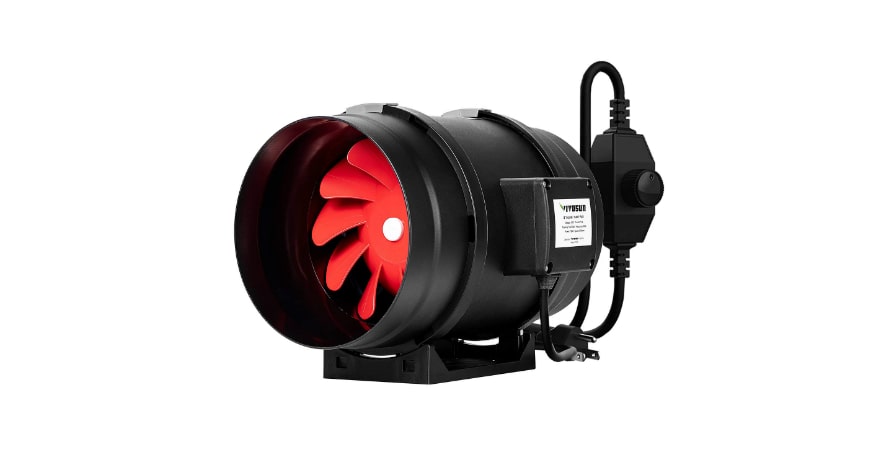 Vivosun is one of the leaders in providing high-quality inline fans with smart programming. This fan model suits any application, including household, industrial, horticultural air-conditioning, and heat control. It takes minutes to install it. The device has duct ends with locking tabs for easy removal and also 6 feet cord for fast installation.
If you need to regulate the ventilation speed, there is a controller for this. It will help the motor to work longer and protect it from damage. The motor has optimal speed and power. It doesn't require maintenance thanks to the lubricated bearing that also provides quiet ventilation.
A fan is fluted on both sides to get the most effective ducting. Besides, it is lightweight and easy to install in greenhouses and tents to keep the air fresh constantly. In case you search for an affordable and durable fan, this model is ideal for you.

---
PROS:
Fast installation;
Speed controller;
Doesn't require maintenance
Quiet ventilation;
Lightweight.
CONS:
Low max ambient temperature.
2. iPower GLFANXINLINE4 4 Inch Inline Duct Ventilation Fan – Best Grow Tent Exhaust Fan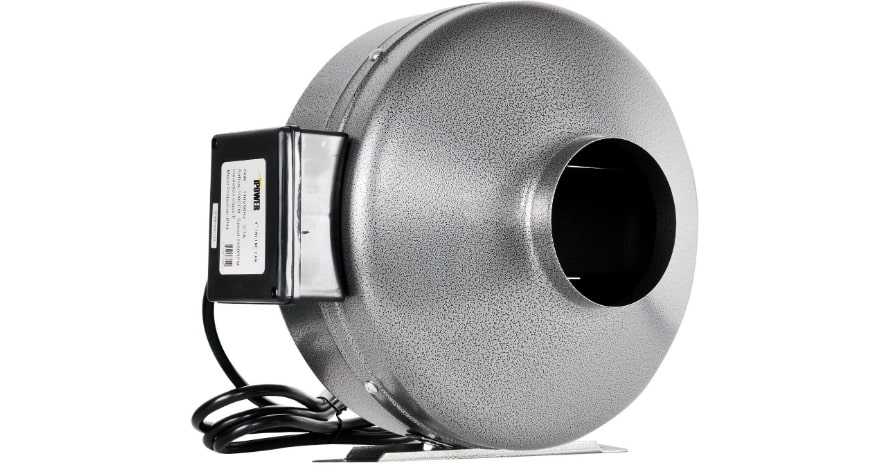 Not always, a 4-inch inline fan will fit a grow room. That's why IPower offers five different sizes for each case. The dimensions go from 4 to 12 inches, and every fan model has the same design for effective work.
You may install this device not only in the greenhouse but also in the bathrooms and attics. It will serve you for long thanks to the ceramic coated. A fan has a permanently lubricated bearing, so it doesn't require your supervision.
If you don't like noisy fans, this one is perfect for you. It has composite fan blades and center hub that reduces both: sound and vibration. The device also removes the heat to make easy air delivery without system rework.
Besides, it is fluted on both sides. This feature allows promoting air flow in long runs of ducting. IPower also provides strain relief, junction box, and the power cord — everything you need for the application.

---
PROS:
Has any size you need;
Durable ceramic coated;
Reduces noise and vibration;
Fluted on both sides for better ducting.
3. Hurricane Inline Centrifugal Fan – Best Small Inline Fan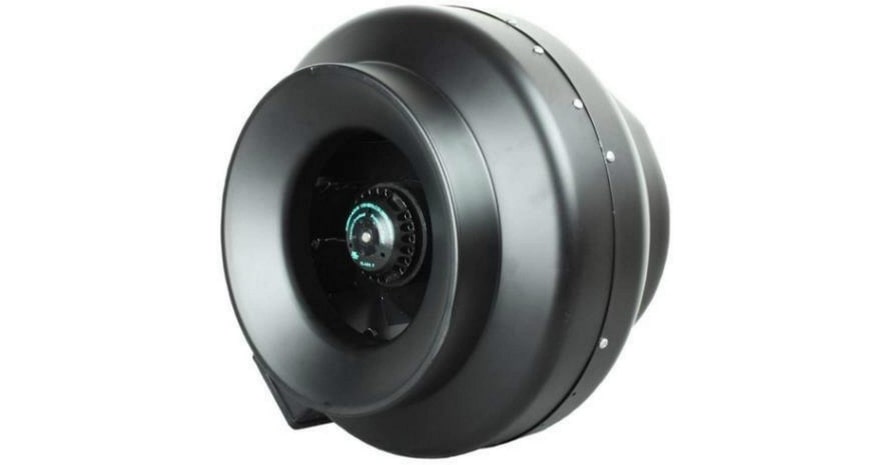 Some people think that it is difficult to install the inline fan, especially those fans that are the most innovative. That's not true because new technologies simplify the installation.
This Hurricane fan can start its work in a few minutes – you just need to set it and connect to the power source. The manufacturer provides everything you need in the grow room ventilation kit.
You will find any size you want from 4 to 12 inches. The whole kit also includes the mounting brackets with the usage instruction. If you search for a reliable grow fan, this model will fit you. It is made of rustproof steel – one of the strongest materials, and the fan also has a powder-coated finish. Such a construction protects it from dust and liquid.
The device is supplied with quality UL components that allow it to work without loud sound or vibration. It is compact but has a powerful motor. A centrifugal fan is a commercial-grade and high-performance product that is ideal for usage with, speed and ventilation controllers, etc.

---
PROS:
Easy to install;
Different sizes;
Durable rustproof material;
UL components for quiet performance.
CONS:
Provides worse dusting than other models.
4. Hydrofarm ACDF8 Active Air Inline Fan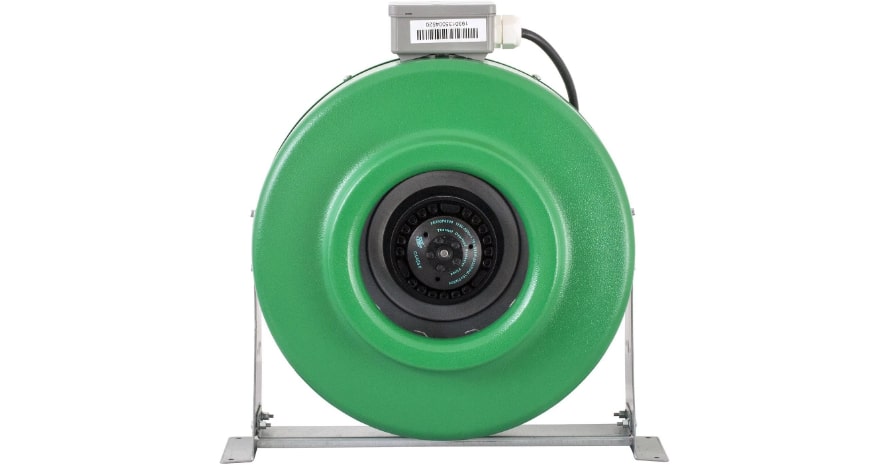 Hydrofarm is known for its convincing and long-lasting motors. The manufacturer strives to consider every possible issue and solves it before a customer faces it. The motor is brushless and thermally protected from overheating. It also has sealed bearings that don't require lubrication at all.
The motor housing is made from strong ceramic-coated metal that won't use up fast. Hydrofarm devices usually work for several years and have many good reviews. This fan also has the UL-recognized components that are essential for the low noise output.
The kit includes an inline fan and the 8 foot pre-wired 120V cord. You may also have the fan speed adjuster that helps to avoid motor damage (sold separately).

---
PROS:
High-quality motor;
Strong motor housing;
Works for long;
Low noise output;
CONS:
Not protected from dust and liquid.
5. VenTech IF6 6″ Inline Duct Fan – Professional Metallic Grow Fan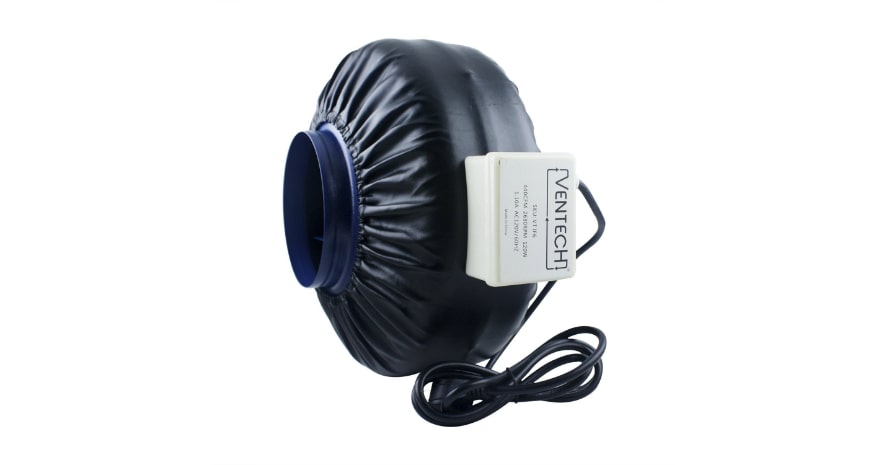 This VenTech fan differs a little from others because it is more professional. It passed two different testing certifications before getting on the market. The motor has a high airflow capacity that keeps the air fresh all the time. The device body is made from steel and has a powder-coated baked paint that keeps the fan stable.
You may install this fan in the indoor growing rooms, hospital rooms, commercial cooling, and other apartments. This model is rust and waterproof that allows it to work for a long time without damage. However, it should be installed professionally, and it's better not to set in in the enclosed areas.

---
PROS:
High airflow capacity;
Made of steel;
Powerful motor;
Rust and waterproof.
CONS:
Should be installed professionally.
6. Vortex 10″ Powerfan – All-Sized Powerful Inline Fan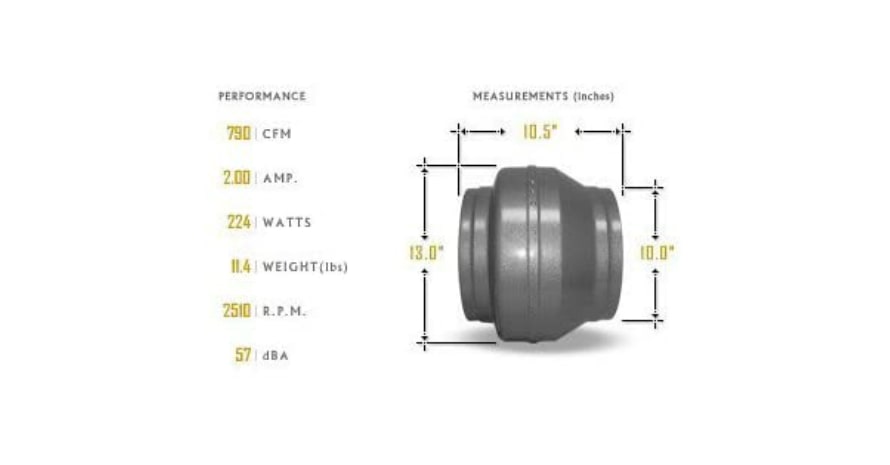 A long-lasting inline fan should have a strong body to allow easy airflow. Vortex offers a device made of impact-resistant steel that is highly stable.
The powder coat finish protects the motor from rust. And also, such a construction absorbs the sound and vibration. So, this fan will work on low noise and without warming that guarantees long usage without damage.
This fan model has an extended collar and lip for easier dusting. Besides, the kit includes 6 power cords and galvanized mounting brackets – they allow you to install the fan horizontally and vertically. The device will fit every room because it comes in 5 sizes to choose from. Vortex offers a 10-year warranty, so you can buy this fan worry-free.

---
PROS:
Impact-resistant material;
Rustproof motor;
Works without noise;
Allows horizontal and vertical installation;
5 sizes to choose from.
CONS:
The motor is not as fast as other models have.
7. Ac Infinity Cloudline Quiet 4" Duct Fan – Best Inline Fan with Smart Technologies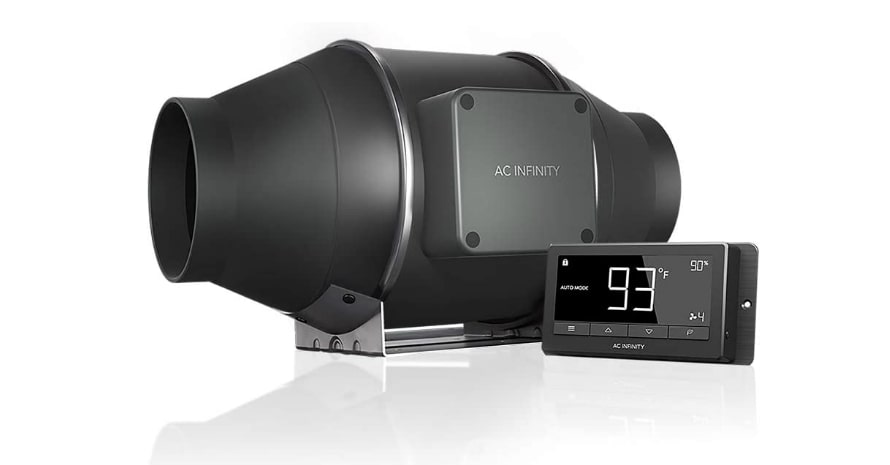 Old inline fan models are known to be too noisy. AC infinity has solved this problem by using smart technologies. They work only on the controlled electronic pulses and smart programming. That means a fan can work at high speeds without any noise. Besides, it doesn't generate much heat thanks to the thought out construction to detail.
The motor is one of the most innovative and long-lasting. It saves up to 40 percent of energy costs, so it will pay out after long use. Because it doesn't warm as much as others, it won't use up fast. The device is also protected from dust and liquid. It can work in high-pressure environments thanks to the mixed flow design that allows multidirectional mounting.
The best part of this fan is the programmable controller. It includes a humidity sensor that is located on the corded probe, and also the temperature sensor. They show incredibly precise data. The kit also includes a user's manual and everything you need to mount the fan and power. So, the AC infinity did a hard job to help you ventilate grow rooms.

---
PROS:
Smart programming;
Doesn't produce noise and heat;
Long-lasting motor;
Has dust and liquid protection;
Includes everything you need for installation.
CONS:
Comes in one size;
Expensive.
8. VIVOSUN 6-inch Inline Duct Fan – Extra-Long Inline Fan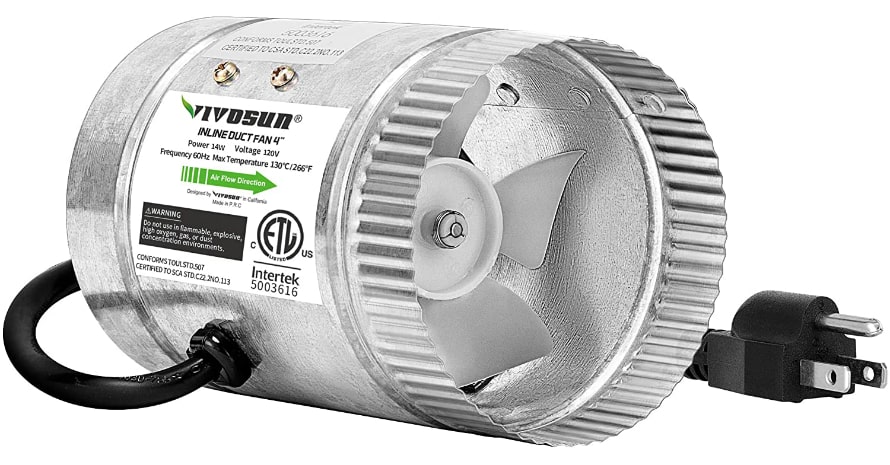 Every detail is important in constructing the grow room fan if you want to get a reliable and quiet device. This Vivosun fan has balanced blades that reduce noise and provide a long service life. The motor also works without sound. It has a lubricated bearing that doesn't need any supervision from your side.
It takes a little time to install the fan because it is portable and lightweight. This device is perfect for grow rooms for fresh air ventilation or for bathrooms and attics to remove exhaust air.

---
PROS:
Works quietly;
Has balanced blades for long service life;
Doesn't require supervision;
Portable and lightweight.
A Comprehensive Guide
When you start growing plants, you need high-grade weed ventilation for sure. Besides, the best inline fan for a grow tent will also help you with the temperature in the tent. You need to know how to choose and install it. So, there are some of the most relevant recommendations.
What is an inline fan?
A device that is connected to the ducting system and, in most cases, used for air ventilation is called inline fan. It differs from other fan types because it is set up inside the roofspace or connects to the ducting. That reduces noise several times. Besides, it usually has the UL components that also remove the vibrations and don't allow fans to warm.
Also, the inline fan has a powerful motor and steel body that makes it rustproof. Thanks to these features, the device serves for several years. Grow fan is also provided to keep a stable temperature.
When you turn off the lamp you use in the greenhouse, a lot of heat leaves in the air. The fan will reduce its amount to create comfortable conditions for plants. It's better not to use the inline fan during the cold nights.
What is the quietest inline fan?
Manufacturers use many innovative features to make the fan work quietly. All the devices I have reviewed work on a low-noise because they have specific construction.
First of all, a fan should have quality UL components. They reduce the sound output and remove the vibration. The body should be made of steel with a powdered finish – it will keep the fan stable. So, it won't produce loud noises while the motor is working.
The smaller fan is, the less noise it will make. If you need the quietest fan, you should choose a 3-inch inline fan or even a 2-inch inline fan. Vivosun and IPower providers use smart programming to reduce the sound when other manufacturers apply more standard components.
How do you install an inline duct fan?
You don't need a lot of instruments to install the inline fan, and usually, everything is included in the kit. Setting a fan in the tent or greenhouse is easier than in the attic or bathroom. In the beginning, you need to attach a device to the ceiling. You will find everything you need for this (clips, for example) in the kit.
Then you need to connect a fan to the ducting system – you can do this outside the tent or inside. There are steel claws for this operation. Besides, it is better to set a fan near the carbon filter. After this, connect the power cord and regulate the speed controller if a device has one. Most of the inline fans don't require maintenance. But you can do a checkup once in two months to clean the device from dust if needed.
FAQ Section
How to use an inline fan?
The last models provide an easy installation – you just need to set the fan in the ducting system and connect to the power. If you do this in a greenhouse, it takes several minutes. In case you install a fan in the bathroom or attic, it can take more time.
Then the inline fan will work by itself. If the design allows, you can regulate the speed. In most cases, the motor doesn't need maintenance, thanks to the lubricated bearing.
How long should a fan be on in a grow room?
It's not the best idea to run an inline fan 24/7, it can decrease the temperature too much. So you can use the inline fan after the lighting period. The time depends on the tent size and motor power. You can measure your greenhouse and calculate the time it needs to ventilate using the CFM (cubic feet per minute) of the motor. You should also know the temperature your plants need and don't forget to consider the temperature outside.
Do fans help plants grow?
The inline fans provide better ventilation and regulate the temperature. When you grow plants, it is important to keep the air fresh. Besides, vegetables and flowers may require a specific temperature. You can control this with an inline fan.
A Few More Recommendations
Now you know a little more about the inline fans and their application. So, it will be much easier for you to choose the best one. All the manufacturers I have mentioned here are the leaders on the market.
Some of them offer more specific or professional items, that's why you need to understand for what purpose you need an inline fan. And then, return to my reviews and find your perfect device. Do you grow plants? Have you been using the inline fan already? Does it provide proper ventilation or not? I'm waiting for your comments.