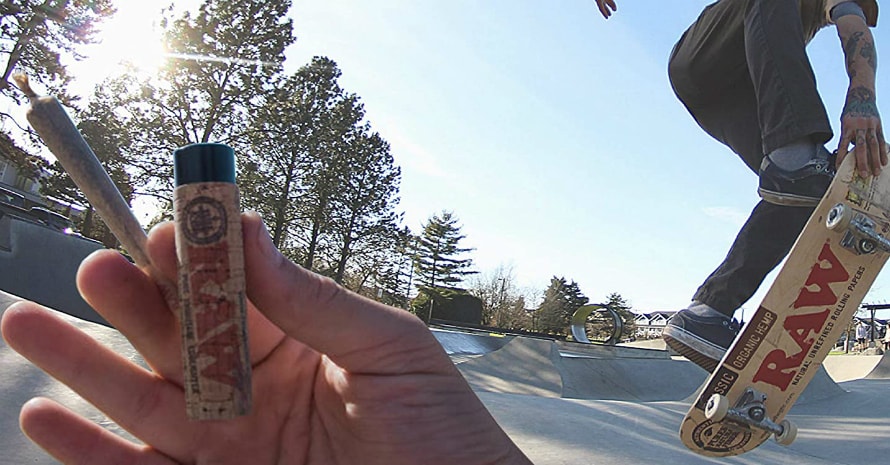 How to Roll a Joint? 3 Easy Ways and Step-By-Step Guides
Hello, and welcome to my blog! It would seem that rolling up a joint is a simple matter, unlike growing and processing cannabis. However, not everything is so simple. My experience with medical cannabis has shown that not all smokers know how to roll a joint correctly.
Smoking weed in joints is one of the easiest and most popular ways to consume it. That's why I decided to write a detailed article with step-by-step instructions on how to make joints right. I also included some great products like rolled rolling paper and a grinder, which I tried myself and can safely recommend to my readers.
Joint Benefits
There are a lot of ways to make a joint. Each stoner probably has its own favorite variation. However, I would like to cover the basics first, which is what any novice smoker should start with. A correctly folded joint is the key to a great mood. To make it, you don't need to buy complicated accessories and carry them with you all the time. It is the easiest, fastest, and most affordable way to smoke weed that I know. And this is precisely its main advantage.
Besides, smoking marijuana in the form of a joint can give you the fastest effect, almost right away after the first drag. Depending on the type and variety of weed, your tension, and how experienced you are, there can be immediate relaxation or euphoria, a craving for creativity, or even cheerfulness. Because of such an instant effect, you can quickly understand how much THC you have just consumed, how much is okay for you, and when to stop.
Also, since you roll a joint yourself, you can control the dosage. Even professional pharmacies have been known to have problems with the accuracy of the marijuana dosage in their products. Consumers reported that the same product could be different, "weaker" or "stronger" depending on a batch.
How to Properly Roll a Joint?
There are three ways to twist a basic joint: using a machine, manually, or using workpieces from stores. Below are step-by-step instructions for all of these options and some of the products I find to be the best for making joints. Remember that the finished joint does not have to be lit immediately. You can make a few of them, wrap the tip around to keep the weed from falling out and enjoy them later.
Roll It with a Rolling Machine
Perhaps making a joint using a special machine is not the cheapest method among the existing ones, since you still have to spend money on buying a tool. But it is great for beginners and will save you time by making the joint rolling process easier and faster in general.
Step 1: Choose a device
The search for a suitable machine should also be approached carefully. Despite the rather simple principle of operation, not all devices roll a good joint. I have tried many products from my own experience and chose one machine that fully meets my requirements.
Zig Zags and 78mm Roller — The Best Device for Rolling a Joint for Beginners
The Zig Zag company is one of the most famous brands that manufacture rolling tobacco smoking accessories. Its Zig Zags and 78mm Roller set includes a cigarette roller and three packs of high-quality paper (size 1.25). As the name implies, this machine can roll Cigarettes of any length (up to 3 inches) and width, including double-wide. It is quite small in size and weighs only 1.6 ounces, so you can take it with you and twist a great joint whenever you like.

---
.

PROS:
Easy to use;
Instructions are included;
Reasonable price.
CONS:
A paper might burn too fast.
Step 2: Put weed in a machine
Pay your attention to the fact that all machines open only from one side. Turn your device towards you so that its flap part is closer to you, open rollers, and put a filter. Or, if you are rolling a joint without a filter, just pour the weed into a container. Fill the space completely and distribute the stuff evenly over the entire surface, but do not tamp it too much.
Step 3: Start rolling
Close the machine and remove excess weed if necessary. Use your fingers to roll the rollers down to shape the stuff. Insert the paper into the device with a glue strip facing up. Gently roll the near roller down, and the back one up with your finger. When only the tip of the paper remains at the top, lick the glue and completely roll it. Open the machine and take out the finished joint.
Handmade Joint
In this section, I will tell you how to roll a joint by hand. For this method, you only need high-quality weed, paper, and a little agility. I should say that not everyone can twist a perfect joint right away. The secret to success lies in regular practice. You will get better and better over time.
Step 1: Prepare buds
If you have buds or not shredded marijuana, then you definitely need a quality grinder. It will facilitate the smoking process and provide the best effect as a joint will smoke evenly. Of course, you can smash a bud with your fingers or cut it with scissors, but with a grinder, it will be more comfortable. Plus, your fingers won't stick together because of the emitted resin. As with the rolling machine, I have chosen one device that you can safely buy.
Golden Gate Grinders Herb Grinder — The Best Tool for the Purpose
The Herb Grinder from an American company Golden Gate Grinders is truly one of the best devices I have used. It has a minimalistic design, measures 2.6×1.9×2.7 inches, and weighs 4.8 ounces. Compared with other models, it has an increased capacity for collecting the crushed product and more teeth. This herb grinder is made of durable aircraft-grade aluminum and has four parts: a lid, a toothed nozzle, a mesh screen, and a collection container. It crushes buds to the perfect size – not too coarse, but not extra fine.

No products found.
---
.

PROS:
Extra durable;
Perfect finished product size;
Pollen scraper included.
CONS:
A bit pricey;
Only one color.
Step 2: Assemble a joint
Take a sheet of cigarette paper from the packaging and place it on a table with a glue side up. If you are using a filter, put it on one end. Spread the weed evenly over the center and along the entire length of the sheet. Curl the paper gently with your thumb and forefinger. After shaping it into a cigarette, moisten the glued end with your tongue and close the joint.
Step 3: Tamp weed
It can be difficult for beginners to form a joint of even density. So I recommend that when it's ready, take a match or something else with a blunt end and gently push the stuff closer to the filter. That's all you need to know about how to roll a joint with cigarette paper.
Make a Joint Using Cones
Using pre-rolled rolling paper is one of the easiest ways. In my opinion, this method loses some kind of "ritual" feeling, which is inherent in rolling a joint by hand, but it saves time perfectly. Some smokers prefer to make a cone-shaped joint (so-called "a bat style") so that more marijuana is smoked for the first drags.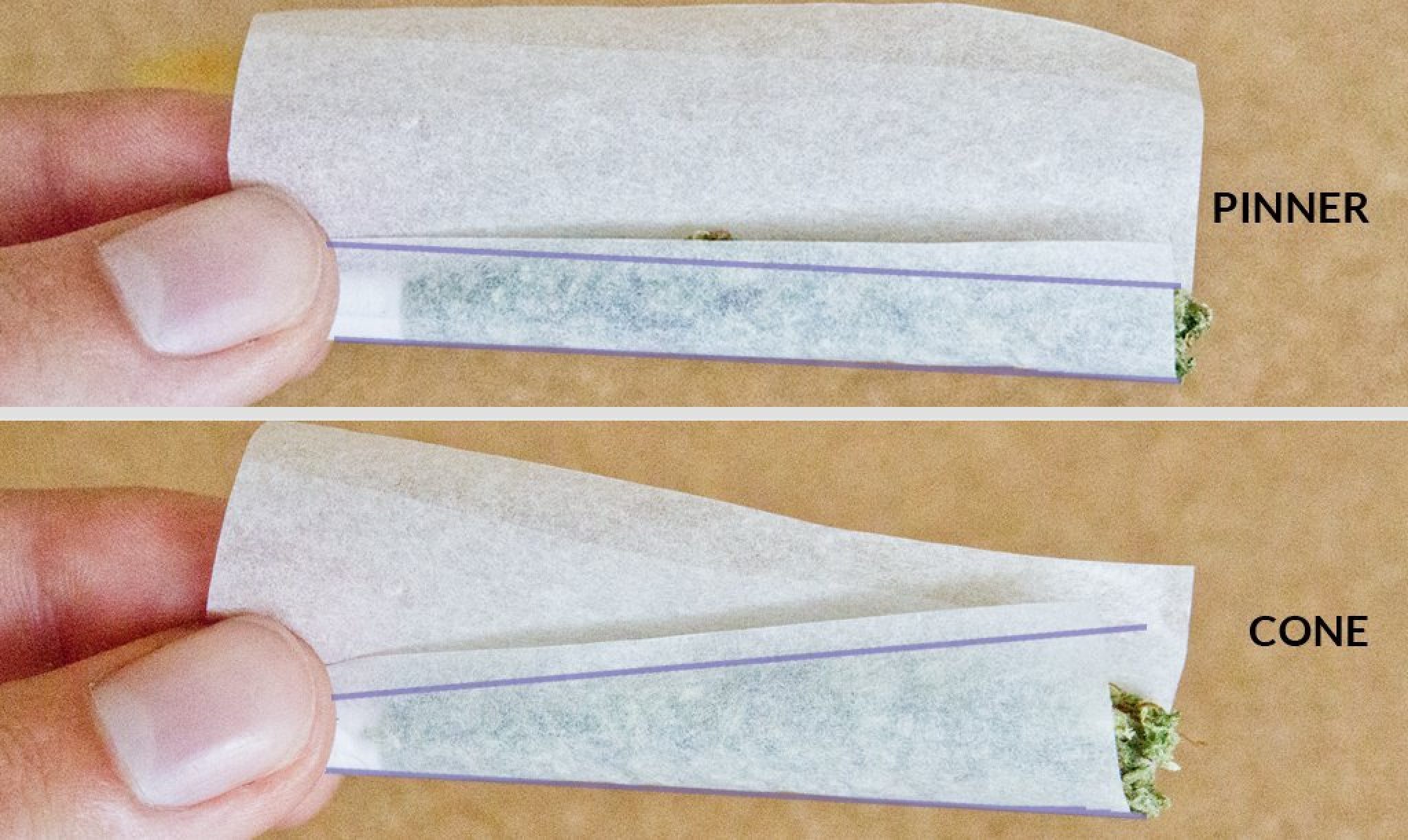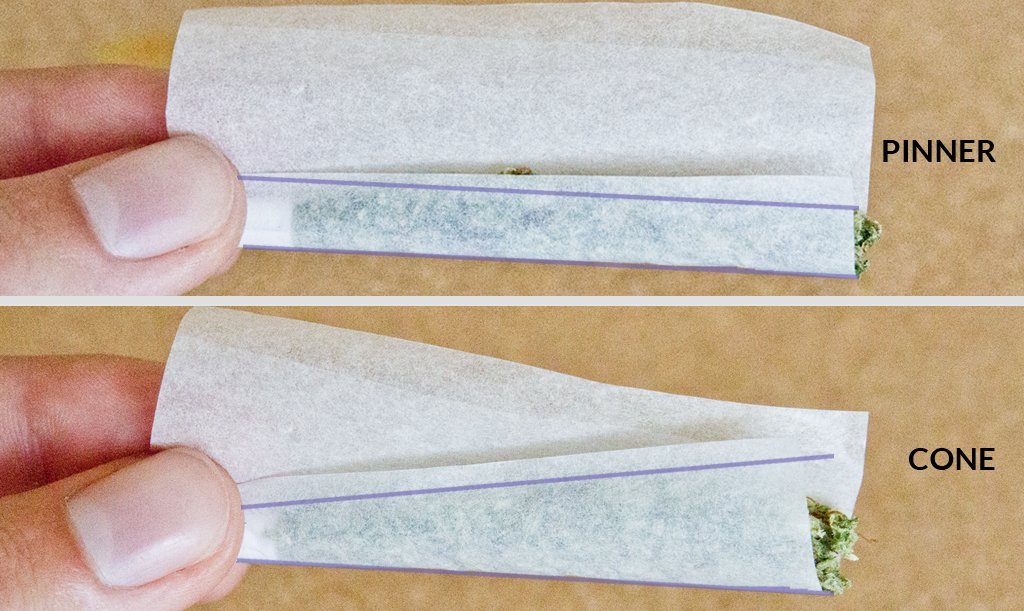 Step 1: Pick your paper
The choice of paper for a joint is mostly an individual matter. The main materials for its manufacture are wood, flax, hemp, corn, bamboo, and rice straw. The most purchased are hemp and rice straw papers. However, many companies prefer to make paper from a mixture of raw materials now. And this option, in my opinion, is the best.
RAW Cones Classic King Size — An Easy Way to Roll a Joint
A Spanish company RAW is the world leader in the production of unrefined cigarette paper. RAW Cones Classic King Size are made of natural, unbleached materials, without flavoring or other chemical additives.
Quality paper is already rolled up in cones and has small tips so you can fill them with stuff without any problems. The package contains 50 pieces of 4.33 inches long with a built-in filter and 25 sticks. On average, one cone of this size can fit up to 1.15 g of the weed.

---
PROS:
Easy to use;
Natural materials;
Proven quality.
CONS:
A filter cannot be removed;
It takes practice to tamp the weed evenly.
Step 2: Fill a cone
Pour a small amount of stuff into a cone and tamp it gently with a stick from a kit or any other thin blunt object. So, step by step, fill the blank almost to the top. Remember that if you fill it too tightly, it will be difficult for you to light a joint.
Step 3: Close a joint
Wrap the top of the cone to close it and prevent the stuff from spilling out. You can make several joints at once; the cone's wrapped tip guarantees the safety and freshness of weed for a long time.
Weed Roll Up FAQs
Now that you know everything about how to roll up weed, I will answer some additional questions you may have.
What can I use to wrap a weed?
Besides such an obvious choice like cigarette paper, you can use other thin materials. For example, tracing or gum paper, a receipt, or even blotting paper. Some smokers also use dried corn leaves and rose petals. Another simplified option is to empty a regular cigarette and fill it with weed.
Should I make a joint with or without a filter?
It is optional. Thanks to filters, a smoke is filtered before it enters the smoker's lungs, thereby significantly reducing the number of harmful compounds and tar. It also prevents burns on fingers and lips and stops the weed from falling into your mouth. However, many smokers choose not to use them to get a fuller taste of marijuana.
How big should be a joint for beginners?
The effect of smoking weed differs from person to person, and the amount of THC needed to get high can vary greatly. In any case, it is best to start with a small 1/2 gram serving of marijuana, 1.25 paper size, and increase your dose if necessary. Remember that you can always add stuff, but you cannot subtract it.
Final Thoughts on How to Wrap Weed
As you can see from my article, even for beginners, there are some easy ways to make a good joint. Whichever you choose, I hope you will find these steps to roll a joint effective and helpful. High-quality buzz is provided not only by excellent weed but also by right auxiliary accessories. You can be sure that the products on my recommendation do their job perfectly.
Share your experience with other readers. How long have you been smoking weed? What is your preferred method of rolling joints? Have you ever smoked a joint using rose petals or corn leaves?