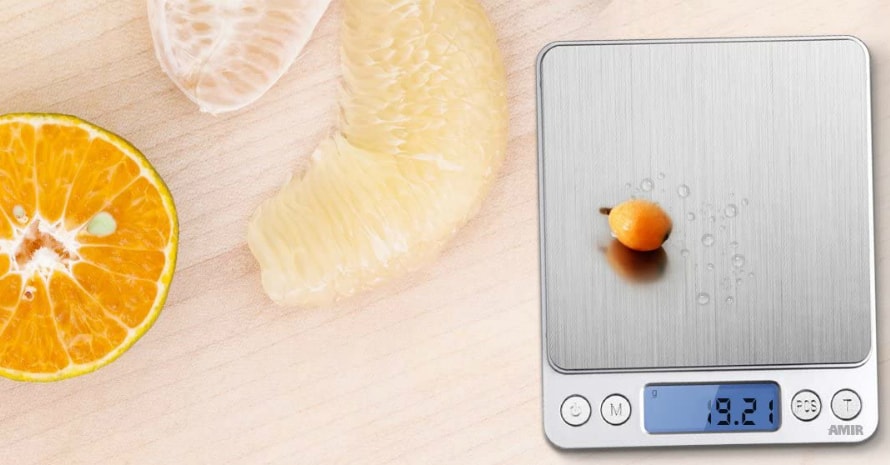 Best Scale for Weed: Top Models and Buyer's Tips
The weight of cannabis is extremely important. There are two main reasons for this. If you have a production line, your measurements must be precise. Small measurement errors tend to add together and form dimes and ounces during the financial year.
I'm sure that you don't want to earn less than you can because of that! If you're an average consumer, you should be really interested in what you get from the store. I bet you want to receive the service that is serious enough and doesn't try to save up based on the milligram difference between the real and stated weigh.
Well, both aims are unreachable without the best scale for weed. I've been testing scales for quite long already, so I'm ready to share my detailed scale for weed reviews to help you make the right choice faster. You should understand that there are 2 types of sellers online.
First, the majority, call their products awesome, while they are actually mediocre. Second, the minority behave the same and deliver awesome products. And, yes, it's very difficult to tell them one from another without thorough testing. Using my reviews, you can choose the most reliable scale to weigh weed and avoid spending time for testwork that's already done.
7 Best Marijuana Scales – Test-Based Reviews
Here are the most reliable scales that I've tested so far. I did my best to make the reviews concise and detailed, so I'm sure that they will help you to pick up the right device without difficulties.
Smart Weigh Elite Series Digital Pocket Scale – Best Digital Scale 0.01 Gram Accuracy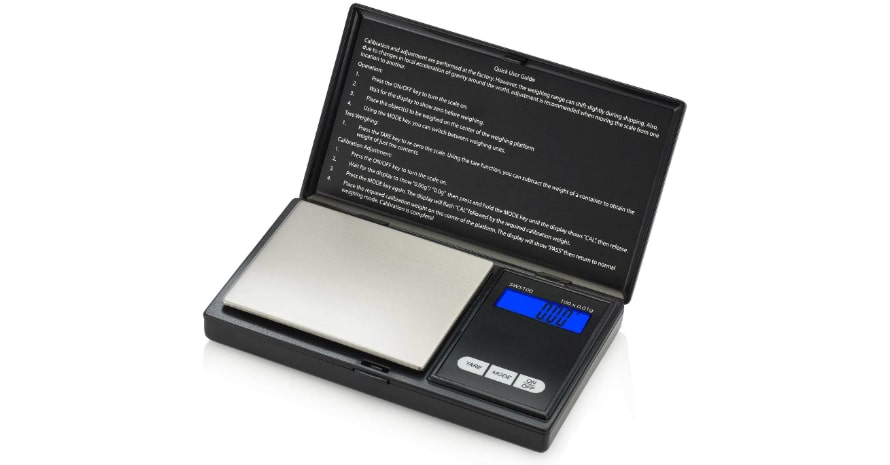 SWS100 is a durable and very precise tool with 0.01g sensitivity and 100g capacity. It has a 2.5'' x 3'' pad that's broad enough for weighing bugs with and without a container. It's also a good option for concentrates. The cover lid is detachable and can be applied as a plate for buds.
This model is capable of measuring grams, ounces, grains, and carats. The calibration process is very simple, plus the detailed instruction is provided right on the inner side of the protective lid.
The device has standard controls, but the buttons are very easy to push so that you won't shake the pad if you need to change the mode. In addition, the display has a bright blue backlight for the best visibility independently from the time of the day.
This is my favorite scale model for using on the go. Its capacity is enough for all basic tasks, while the sensitivity is excellent for fine measurements of prescribed medical and recreational doses of both concentrates and buds.

---
PROS:
Durable body;
High accuracy (0.01g);
Six weight modes;
LED display with backlight;
Simple calibration.
CONS:
Capacity is limited to 100g.
AWS Series Digital Pocket Weight Scale – Pocket-Size 1kg Weight Scale for Weed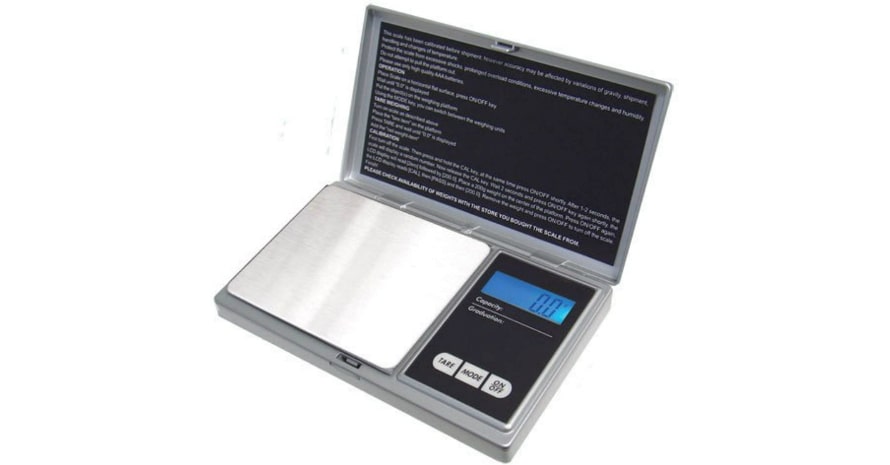 Although this item looks exactly like the previous one, its specs are different. This device is designed to scale up to 1kg of weed with 0.1g increments, which is highly convenient for weighing substantial amounts of product. However, the pad size is the same as in the previous device so that you won't feel any difference while carrying it in your pocket or bag.
The display has a bright backlight and is capable of converting measurements into grams, ounces, troy ounces, and pennyweights. The calibration process is standard and described on the protective lid, so you won't have difficulties.
I like that this model offers such a high capacity preserving compact dimensions. However, I don't consider it for frequent measurements because the plate size is a bit too small for large containers. It means that you'll have to find a suitable container for convenient measuring of bigger weed amounts.

---
PROS:
High capacity (up to 1kg);
Compact size;
Bright LED display;
High sensitivity (0.1g);
Ten-year warranty.
CONS:
The pad can be too small for large containers.
GreaterGoods Digital Pocket Scale – Compact Gram Scale for Weed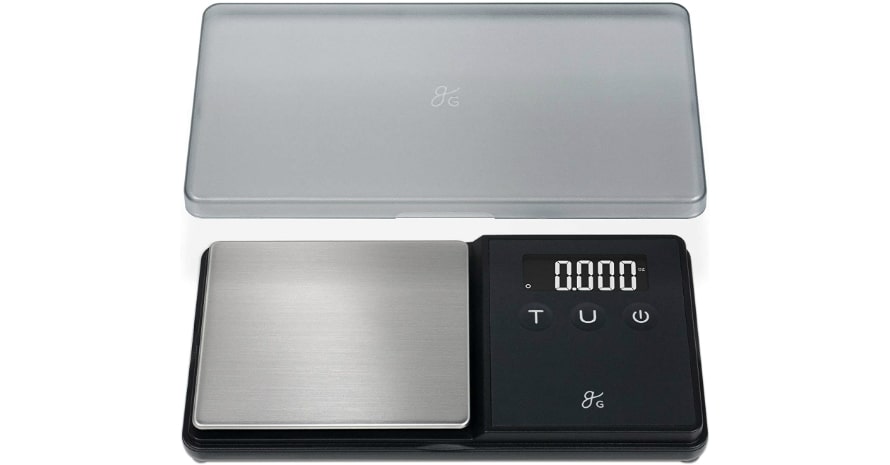 Here is another item with 0.1g sensitivity, but with a bit lower capacity of 750g. The model can convert measurements into 6 units, while the calibration can be done in just 2 clicks. The protective lid isn't attached to the device so that you can easily use it as a tray or support for a larger container.
Due to 0.1 increments, you can use this model not only for bulk scaling but for weighing proper consumption portions as well. I'd recommend this model if you usually buy more than 4 ounces and you want to consume the prescribed dose without deviations.
The cool thing is that this brand is located in the US, so you can be sure to receive support for 5 years if needed. Besides, it's a stylish device with compact design, so it's a pleasure to carry it along.

---
PROS:
The lid can be used as a plate;
Good sensitivity-capacity ratio;
Six measurement units;
A US-based brand;
Five-year warranty.
CONS:
Taring instruction isn't printed on the lid.
AMIR Digital Kitchen Scale – Excellent Table Digital Marijuana Scale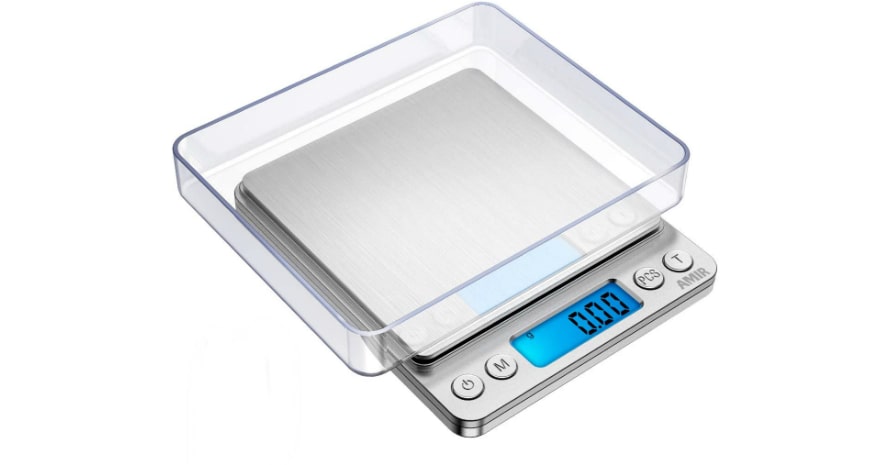 This device has a very convenient design that lets you easily install containers of any size and shape. In addition, the smart sensor can notify you if the surface isn't flat enough, or the container is installed unevenly.
Unfortunately, this model's capacity is limited to 500g. On the other hand, it can display weight with 0.01g increments, which is very precise for a scaling tool with such a capacity.
I also like the controls interface that includes 4 buttons and provides intuitive operating. Besides, the default set includes 2 trays that can be used both as covers and scale trays. Such a kit is a ready-made solution for a small personal growing station.

---
PROS:
The sensor detects uneven surfaces;
Compact size;
Easy to install different containers;
Sturdy body;
Two trays included.
GDEALER DS1 Digital Pocket Kitchen Scale – Universal Cannabis Scale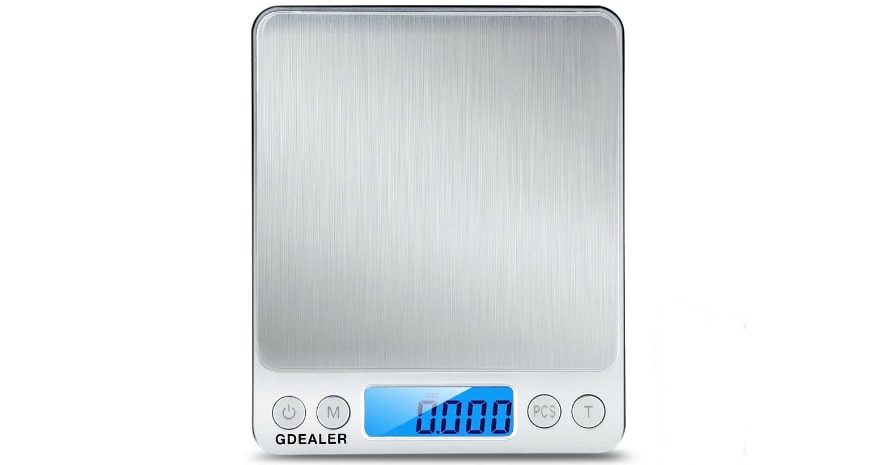 This device is a good alternative to the previous one. It offers the same kit with 2 trays and has the same convenient 4-button interface, and a blue display.
The difference is that this model lets you measure objects smaller than 0.05g as its sensitivity is 0.01g and can be converted into 0.001-oz increments, which is very convenient for measuring concentrates.
Due to a rectangular plate that's placed higher than the front panel, you can use different plates and containers for scaling. It also has a PCS mode that can be used for counting the number of buds in a package quickly.

---
PROS:
PCS mode for counting buds;
High sensitivity (0.001 oz);
Seven units;
Batteries included;
Universal platform.
CONS:
No wrong-placement notifications.
Truweigh – TUFF-WEIGH Digital Mini Scale – The Sturdiest Mini Scale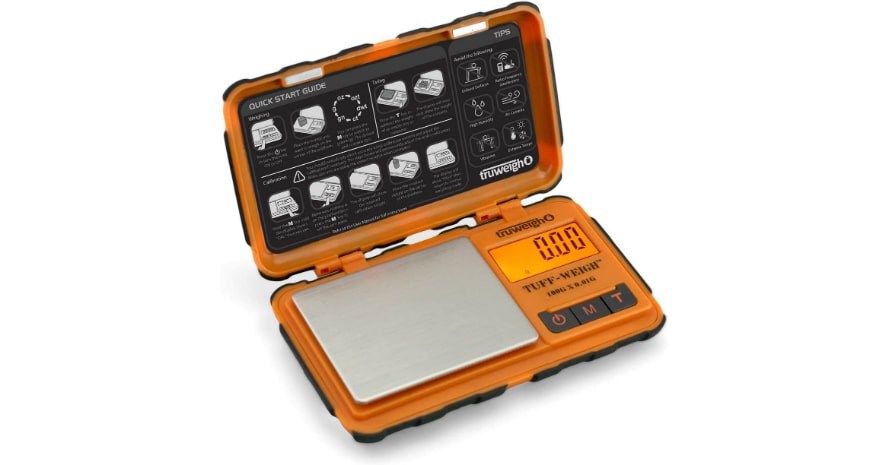 This device has competitive specs plus the sturdiest construction in the category. It is a bit more expensive than models with similar specs, but it can be used in any circumstances. The frame and the removable lid have rubber bumpers that protect the scale from damage. A nice bonus is that you can order different LCD colors, including red, orange, and blue.
The capacity of the device lets you weigh up to 100g of weed with 0.01 increments. Using the mode button, you can convert the figure into 6 units instantly. It's also one of the best gadgets for beginners as it includes the most descriptive guide and measuring tips that will help you to get the best results.

---
PROS:
The sturdiest frame in the category;
Different display color options;
Excellent guide and useful tips;
Magnetic closure;
High sensitivity (0.01g).
CONS:
Analog buttons can accumulate dirt.
GEMINI-20 Portable Precision Digital Milligram Scale – Most Precise Option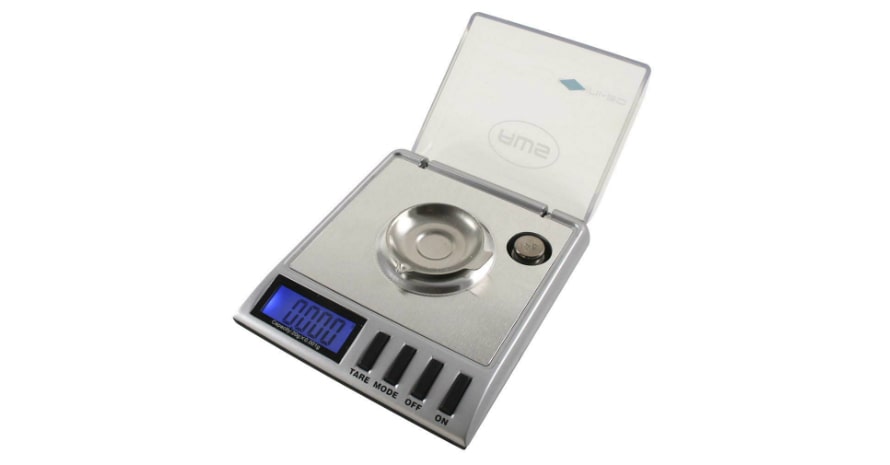 If you need the most precise device for stationary use, this one will definitely fulfill your needs. GEMINI-20 provides surgical measurement quality and can display weight with 0.001g increments. Still, the capacity is rather small and limited to 20g.
To make the weighing process even more precise, you can isolate the object with the transparent lid that's designed not to touch the plate and the cup during scaling.
The model has a small plate with a convenient removable tiny cup that can be used for dealing with liquid cannabis concentrates for medical purposes. Such fine measurements require frequent calibration, so the manufacturer provides two 10g calibration weights by American Weigh Scales.
Finally, the device is protected by a 10-year warranty, so you can rely on support anytime. I strongly recommend this device for measuring prescribed portions of weed and concentrates.

---
PROS:
Best for measuring concentrates;
High sensitivity 0.001g;
Calibration weights included;
Ten-year warranty.
CONS:
Max weight is 20g;
Small weighing platform.
Buyer's Guide
Before shopping, you should be able to tell a gram, eighth, quarter, half, and ounce one from another. These are the main herb metrics used around the world to scale the product properly.
Gram is the smallest metric unit used in retail, and it's equal to 1/1000 of a kilogram. The rest of the measures are done with ounces. An eighth is the eighth part of an American ounce and equal to 3,5 grams.
It's probably the most popular amount of herb in the US marketplace. Next goes the quarter, which is roughly equal to 7 grams. A half is equal to half of an ounce and weighs 14 grams. Finally, as you already counted, the full ounce is 28 grams.
Now, let's learn how to choose the right herb scales. The first question that you have to answer for that is, "what are the best scales for my needs?" You should consider what and how much you will weigh. Do you need scales only for buds, or maybe you also deal with edible ingredients, oils, etc.?
Finally, do you want to make measurements in the same place all the time, or you need a compact model to take it along?
If you already know the answers, you have to look for a model that matches the specifications and has such an essential function as 'tare' and the option to switch between measurement unit types.
These features are very important, so I don't include reviews of products that don't have it. If you're looking for scales to install them in your dispensary in the US, Canada, or any other country, you have to give preference to legally traded and certified options.
Capacity, Sensitivity, and Divisions
Both personal and business weed measurements also require a particular capacity. By capacity, I mean the highest and the lowest amount that a model can weigh. If you want to scale concentrates, you may need a model that's capable of measuring milligrams. If you have a dispensary or you have a growing business, scales that can handle more than 1 pound are a must. For personal purposes, it's usually enough to be able to scale up to 200 grams or at least 1kg for bulk measurements.
Sensitivity is the characteristic that describes the smallest increment that your scales can display. If precision means a lot to you, I recommend you to look for models that can display at least a tenth of a gram. If your aim is to work mostly with eighths, it'll be good to see thousandth of a gram.
Sensitivity is usually displayed on the product web page as a ratio between the capacity and sensitivity. For example, if the model's capacity is 200g and sensitivity is 0.01g, the ratio will look like this: 200×0.01g.
Divisions display the total number of increments that a device can read. To find this number, you have to divide the capacity by the sensitivity. Taking the ration from the previous paragraph, we can divide 200 by 0.01 and get 20000 divisions.
It's a good result, but it matters nothing unless your scales have the right capacity and sensitivity for your needs. You should also understand that the price of the device that has better sensitivity and more divisions is always higher.
Let's Prime The Thing!
And by priming, I mean calibrating. Unfortunately, you can't just put the new device on the table and start working. That's just not professional. You have to do test measurements first and do the calibration if needed. I'll help you with it.
One of the most affordable and reliable solutions is the $12 set of American Weigh Scales. If you want a cheaper option, look for $8 Docooler weighs that are accurate enough to display +/- 0.003g accuracy. If you're calibrating scales for personal needs, you can also use your pocket change.
To achieve the best result, look for the newest coins in your pocket. You can easily Google the weighs of each coin and compare the results that your device displays with the figure stated by the government.
To calibrate the tool properly, you have to use the unique instructions that are always included in the user manual. Be attentive and follow the guide to avoid fooling yourself and others in the end.
FAQ
Still have questions about scales for weed? I have prepared some useful information for you.
How to use a scale for weed?
First of all, you have to calibrate your scales. You already know how to do it. Next, you have to choose the container for the product. The size and shape of the container depend on your device size and model. You have to put an empty container on the pad first and zero out (tare) the device. Taring will subtract the mass of the container from the final result without decalibrating the scale. Once you do the taring, you can put weed in the container to know its real weight.
How to measure weed?
When cannabis was more stigmatized than today, people used to measure it in dimes (1g), nickels (0.5g), and some other slang words. Today, these terms are mostly used by old-timers, and they're inconvenient for business purposes and bulk scaling. All people today use digital scales for weed and measure it in:
grams – 1g;
eighths – 3.5g;
quarters – 7g;
halves – 14g;
ounces – a bit over 28g.
What gram scale to buy for weed?
That's a question about your needs. You should decide what type of device will work for you. Using the recommendations that I provide above and my detailed reviews, you can make the right choice without difficulties. If you need a pocket variant that's easy and safe to carry, you will enjoy:
Smart Weigh SWS100,
Truweigh – TUFF-WEIGH Digital Mini Scale,
GreaterGoods Digital Pocket Scale;
AWS Series Digital Pocket Weight Scale.
For precise stationary measurements, I recommend you to look for:
GEMINI-20 Portable Precision Digital Milligram Scale;
GDEALER DS1 Digital Pocket Scale;
AMIR Digital Kitchen Scale.
Big Consists of Small
To sum up, I want to emphasize the importance of precise measurements once again. Choose the model that matches your needs the best, and you will never have problems because of underweighting and overweighing your herbs. It's similarly important for both business and medical needs.
Have you ever used precise scales before? If yes, you can add up value to the article and tell about both good and bad examples. If you know something else about the models that I tell about, you're welcome to share your findings. Finally, you can ask me any questions related to the article topic, and I'll do my best to reply asap. Stay tuned!