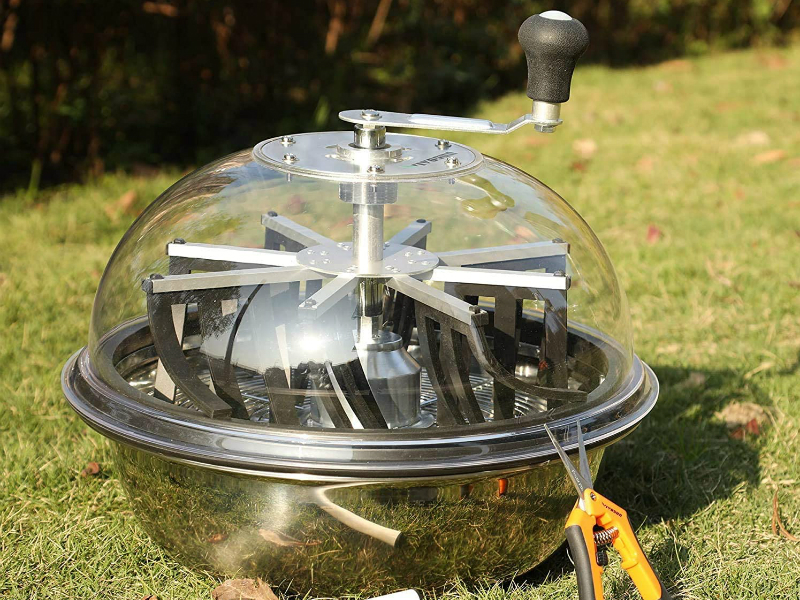 Top 6 Best Bud Trimmer in 2022: Reviews & Guide, Top Picks, Tips
Hi! In this blog post, I will solve your problem with choosing the right weed trimmer and answer all the related questions. I've been using trimmers for a long time already, and I know how hard it is to define which model is effective. Some good manufacturers provide high-quality products but lack marketing, while many shiny packages bring you a total bust. Fortunately, my tests taught me how to define worthy models. Now I want to share my findings with you.
Pros
Up to 30 buds at the same time.
Pros
Up to 30 buds at the same time.
Read attentively as choosing the right bud trimmer machine will save you a lot of time and resources, which is highly important for both business and private purposes. Never hurry and get the device that can solve your problem for sure. If you're new to the topic, my guide and FAQ in the second part of the article will help you to learn the basics and the details and start working right away. Poorly trimmed cannabis won't bring you high sales as it's not aesthetically attractive.
Best Bud Trimmer: 6 Worthiest Models
Not everyone has the time for tests and reviews like me, so this top list will be very helpful for you. The full test included 12 cannabis trimmers, but only 6 of them appeared to be good enough to recommend them to others. Here are my comprehensive bud trimmer machine reviews. Read on and take notes.
1. iPower 19-Inch Leaf Bowl Trimmer – Excellent Manual Bud Trimmer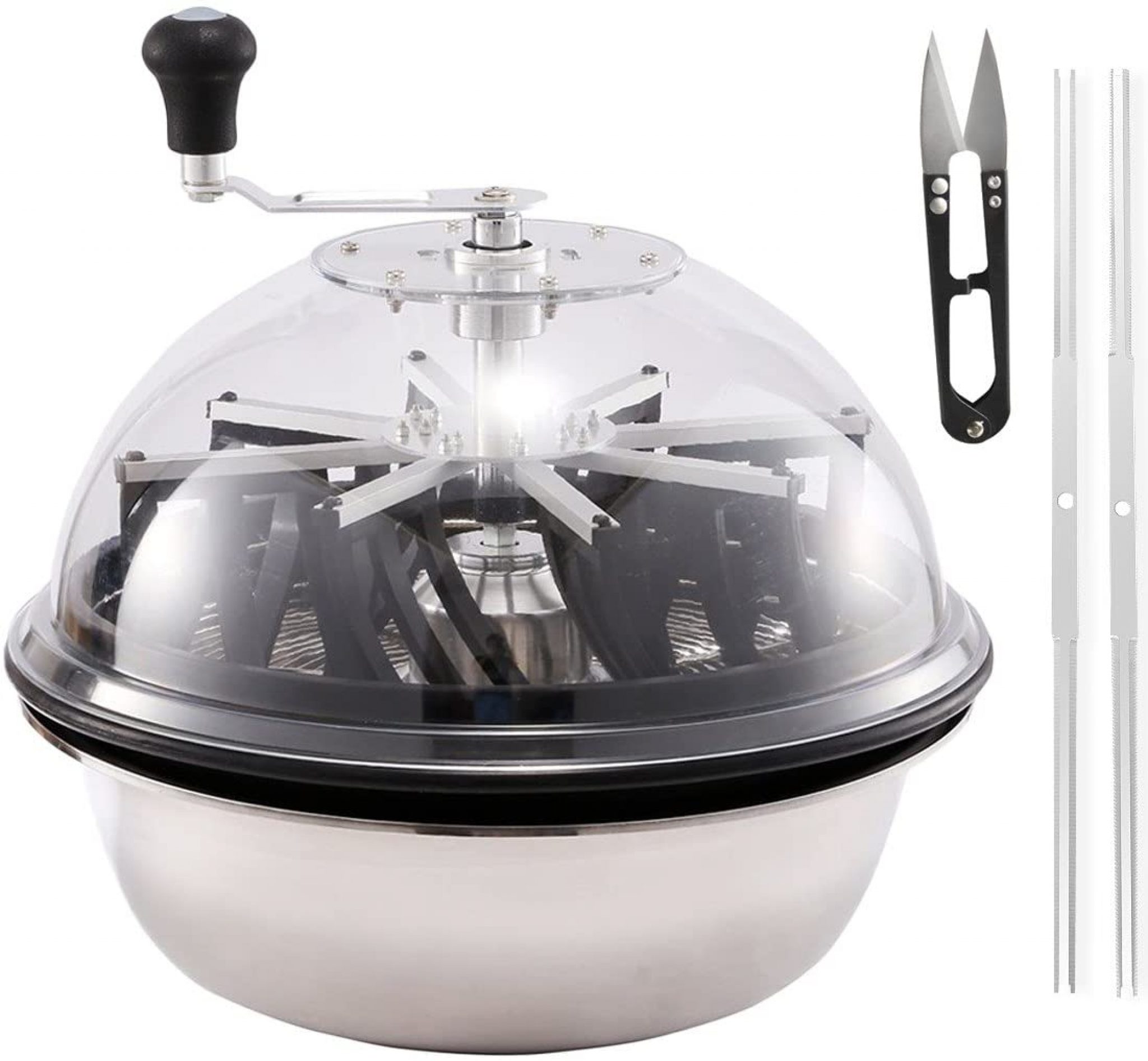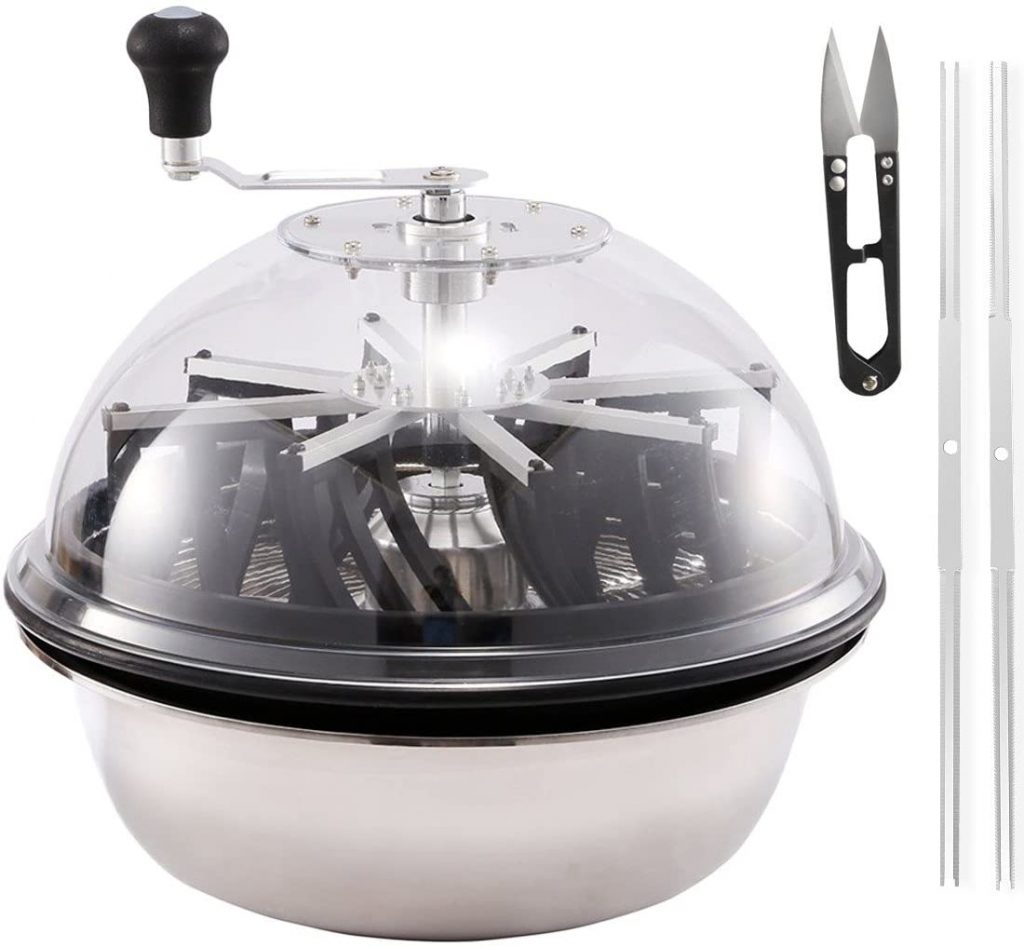 This bowl-type trimmer is a convenient option for private use and business use. The manufacturer claims that the sharp blade harnesses the power of 30 trimmers. I assumed that this means that I can put around 30 buds on the mesh and go. The capacity isn't that strict and depends on the size of the buds you have. For example, you can put up to 45 flowers that didn't manage to grow big enough (I usually call them "popcorn buds").
If you have full-grown material, you have to put the number that can be processed without production violations. I mean that you have to provide enough space for the flowers to roll. They don't have to rub each other. Avoid the grinding effect. Fortunately, the cover of the trimmer is transparent so that you can see the entire process.
The item comes with an ultra-sharp straight and serrated blade, which provides quick and spotless results. The gap between the mesh of the plant tray and the blades is small enough for proper trimming without damaging the buds. The configuration of the blades requires you to turn the lever clockwise. Fifteen-thirty cranks clockwise are usually enough for a perfect result. Soft rubber stripes are used to make the buds move. They do the job gently enough to preserve as many trichomes as possible but don't rotate the handle too quickly to avoid damage and hard bud collisions.
The trimmings fall down into a large stainless steel bowl that can contain runoffs from several procedures. It's very easy to remove them and clean the bowl. There's a thick rubber frame around the plant tray (the mesh), which serves as a stub between the top and the bottom parts. As a result, nothings can go outside while you're working.
The cool thing about the mechanism of this manually driven machine is the simplicity of the mechanism. There are just 4 elements for assembling, and only 3 of them require cleaning. No matter how much weed you proceed daily, there's nothing you can break down. Still, I recommend you to clean the blades after each session as resin makes them blunt quickly. Well, that rule works for all models.
I recommend this device for private and commercial use. It lets you speed up the process significantly. Following a few simple rules, you will get high-quality buds with most trichomes preserved.

---
PROS:
Easy to clean;
Around 30 times faster than scissors;
Transparent lid;
Sturdy straight and serrated blades;
Easy to assemble.
CONS:
Capacity can appear small for your business.
---
2. LUMAGRO Electric 18″ Leaf Bud Table Trimmer – Powerful Electric Bud Trimmer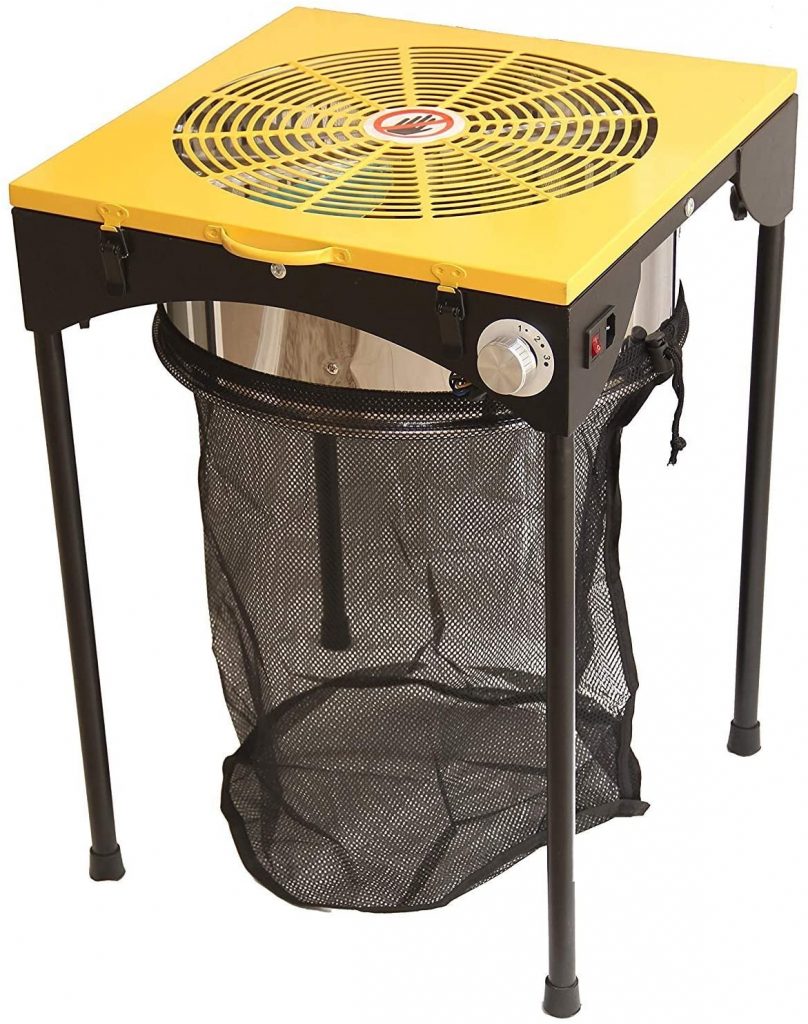 This table trimmer is an excellent solution for the primary treatment of marijuana bud branches. Its construction is pretty simple and lets you treat large branches quickly. The top panel of the device (mine is yellow, but it can be read too) serves as a layer between the blades and the material. You have to pull the branch to the panel softly and rotate it to cut as many leaves as possible. The gaps in the panel are quite small, but you have to be gentle to avoid damage anyway.
To clean the panel and reach the insides for maintenance, you have to pull the latches on the side, which is fast and doesn't require any instruments. Before removing, you should unplug the power cable. If you don't, the automatics will deelectrify the machine when you remove the panel, which makes it safe.
Underneath the panel, there's the heart of this machine, the engine that rotates 6 spare blades, and the large fan. The straight blades cut off leaves gently and don't pull the branches inside, while the fan makes all the trimmings fall into the sack. This system ensures zero waste scattering as clippings simply cannot go anywhere but down. The mesh bag is large enough for a full working day. When it's full, you can dispose of clippings and wash the bag easily.
The electric motor isn't very loud and reaches the needed constant speed in around 5 seconds. However, I'd not recommend you to use it near people who may get annoyed by the buzzing sound. It's also important to put the "table" on a perfectly flat site to avoid even the smallest trembling. Due to rubber tips on the stands, the tool will stand still, but be attentive anyway. Back to the motor, it has 3 speeds so that you can choose the most comfortable one.
Considering the high speed of this auto bud trimmer, the blades and the fan get dirty rather fast, so you have to keep an eye on them to develop the proper maint does the job really fastening schedule and make sure everything works correctly. I can recommend this table trimmer to everyone who needs fast primary trimming for multiple branches. This clipper doesn't damage the buds at all and does the job fast, leaving you a small job to do to finalize the results.

---
PROS:
Compact 4-sq.feet tool;
Fast processing;
Three-speed motor;
Secure mechanism;
Large bag for clippings.
CONS:
May require more precise trimming afterward.
---
3. VIVOSUN Trimmer 19 inch Bud Leaf Bowl – Premium Bowl Trimmer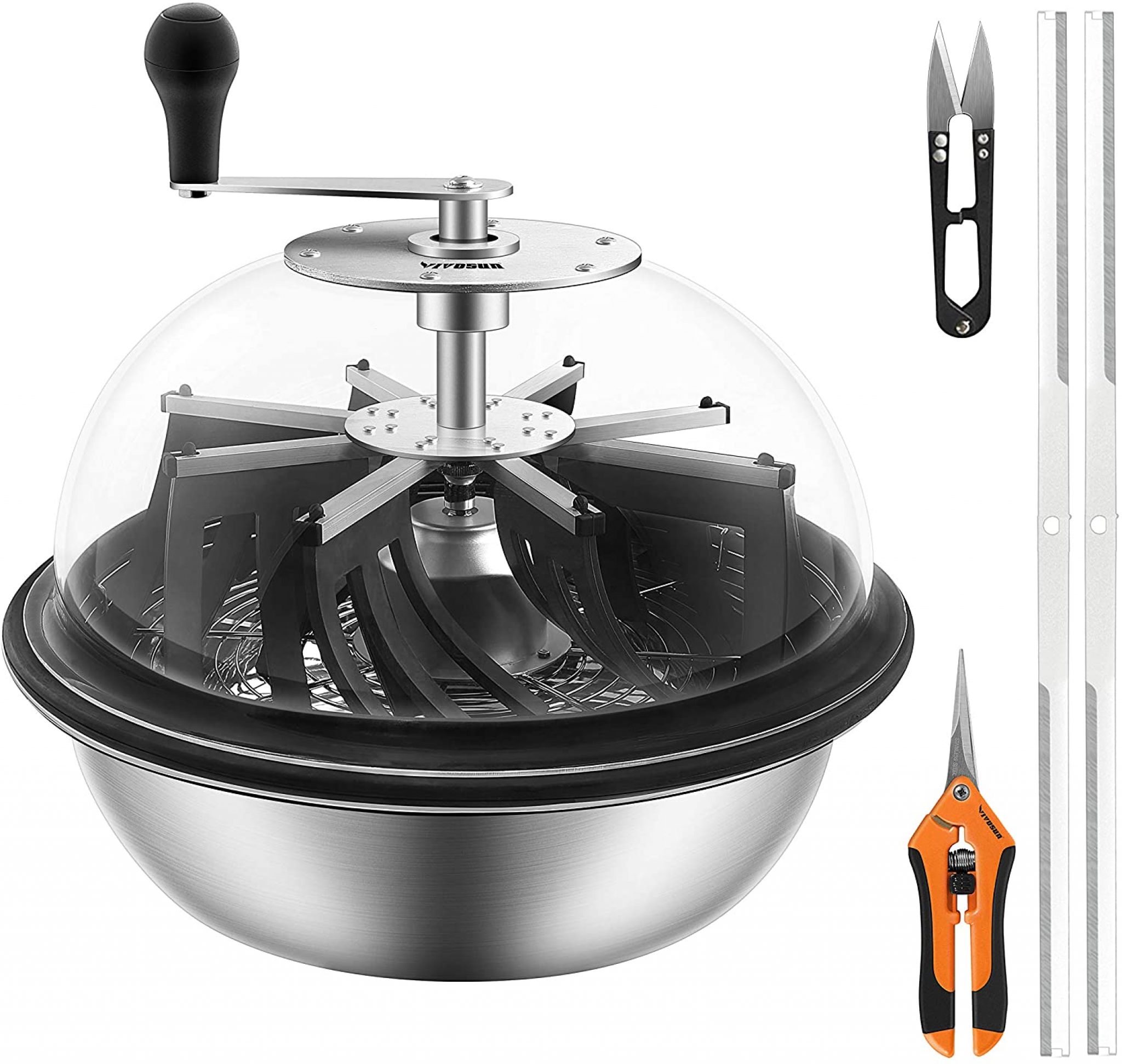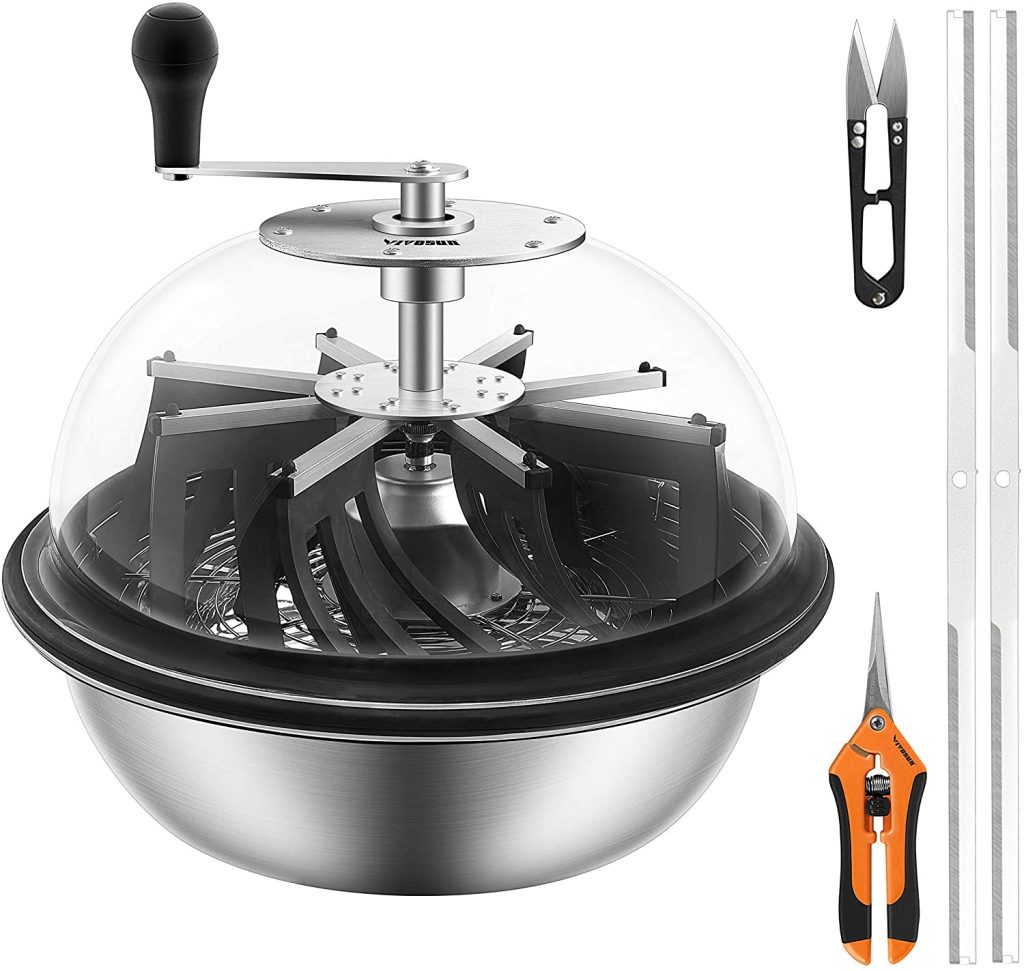 This is the second bowl-type trimmer in my selection and the second 19-inch model. But what makes it special? First of all, it's a great alternative for the machine by iPower, if it's not available for ordering. Secondly, it has several advantages.
The first difference that I noticed is the number of items in the package. This product comes with a set of scissors that includes a classic branch cutter that you can use to cut the buds from stems, and professional trimming scissors that I love to use. By the way, you can find a review of this item in this article too.
The second benefit is the double-action blade. The configuration of this razor makes it possible to rotate the mechanism both clockwise and anti-clockwise, which may be more comfortable for left-handed users. There are 2 sets of blades, including a dual serrated and a dual straight blade. Due to the advanced gearbox, they rotate much faster than you work with your hand. As a result, you won't get tired too fast, even if you work the whole day through.
Fortunately, the mechanism is covered with a metal lid, and you don't have to clean it inside. Just keep the open joints clean, and it will work well. If something breaks, you can easily disassemble the whole thing with a single cross screwdriver. If you want to replace one of the silicon stripes, remove it in a second and clip the new one very fast.
I also like the handle of the lever. It's a bit bigger than iPower's, which makes it easier to work long hours without excessive strain. Other features are very similar to iPowere's offer, so choose the one that looks more attractive. It's a good solution for private and business purposes. It provides competitive results as well as a very high processing speed.

---
PROS:
Transparent plastic dome;
Convenient rotating handle;
Easy to clean;
Up to 30 buds at the same time;
Good for wet and dry trimming.
CONS:
Capacity may appear small.
---
4. Tenwell Hydroponics Easy Clean Silicon Rubber Leaf Bowl Trimmer – Happy Medium
If a 19-inch bowl seems too large for your needs and you want to save up a bit, you should take a look at Tanwell's bowl trimmer. This model offers a smaller 16-inch mesh and stainless steel bowl. It has a single dual-side straight blade that you can rotate both sides. It's easy to remove it for cleaning and sharpening due to a manual screw at the bottom of the mesh.
The gearbox of this model speeds up the blades for 36 times from the speed of your handwork, which is a great feature for speeding up your work. Still, I recommend you not to turn the lever more than 15-30 times per load to avoid damaging and excessive trichome wiping.
Similarly to previous bowl-type machines in my article, this one has a lever with a rotating handle, but it's a bit smaller, which makes it not that convenient for long work. If you need to process weed many times per day and you want to do it with this type of trimmer, take a look at the bigger model. If you don't, this one lets you trim up to 20-25 buds per load. Unlike the table-type trimmer, it cannot cut loads of leaves but can do final trimming gently enough.
The materials of this device are very easy to clean. You can disassemble the construction in less than a minute and clean each element separately. If you worry about the composition of the silicone parts, you can be sure that they're not toxic. The same edible silicone is used for kitchen utensils.
It's a pro-quality entry-level bud trimmer with a relatively low capacity. However, some of my colleagues use this model as part of their production lines. It's a good option for those weed trimmers, who want to combine scissors and machine trimming techniques for particular purposes.

No products found.
---
PROS:
Compact 16-inch model;
Excellent entry-level device;
Easy to maintain;
Dual-side blades;
Compatible with electric drills.
---
5. VIVOSUN Gardening Hand Pruner – Best Cannabis Trimmer Scissors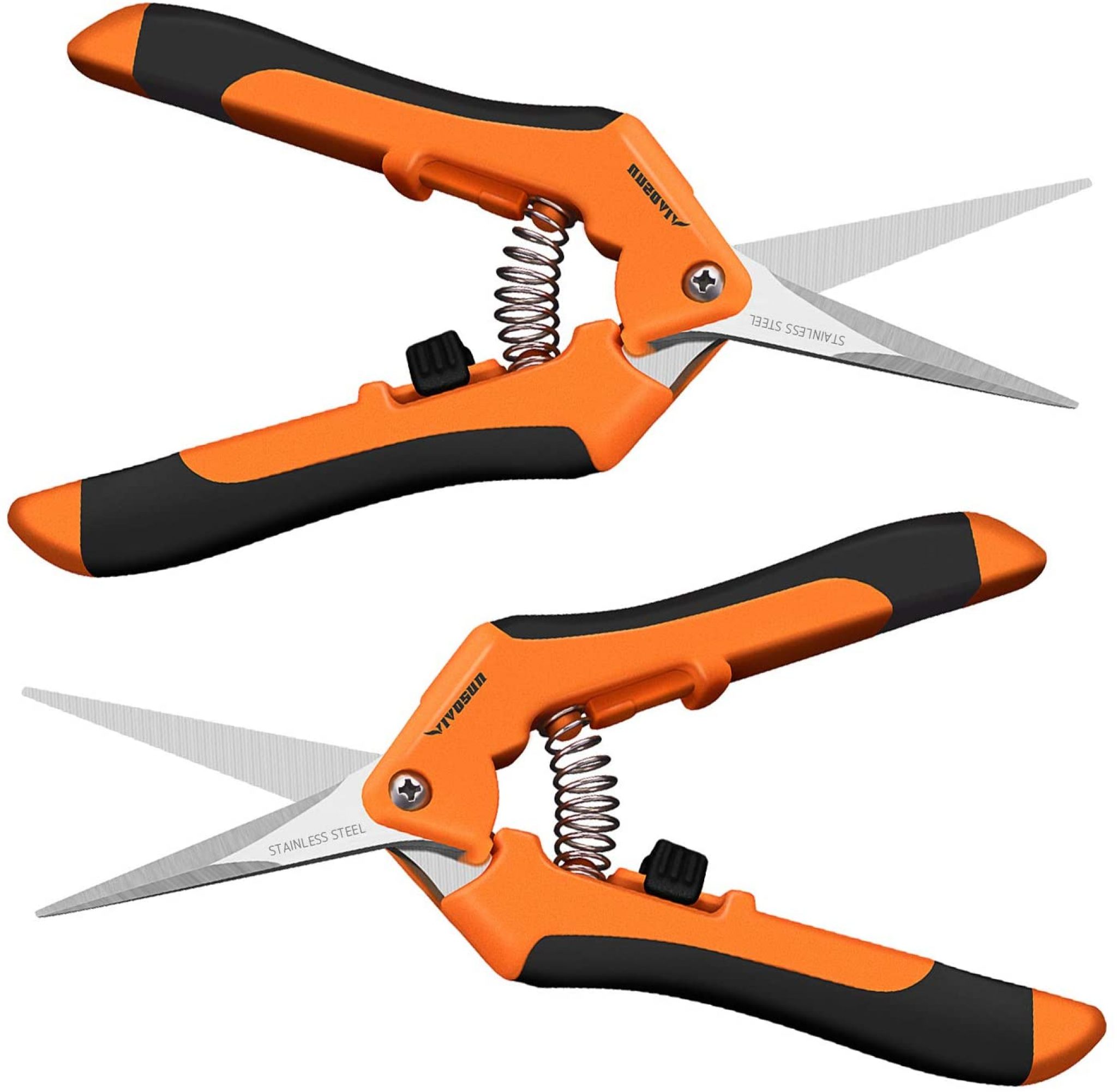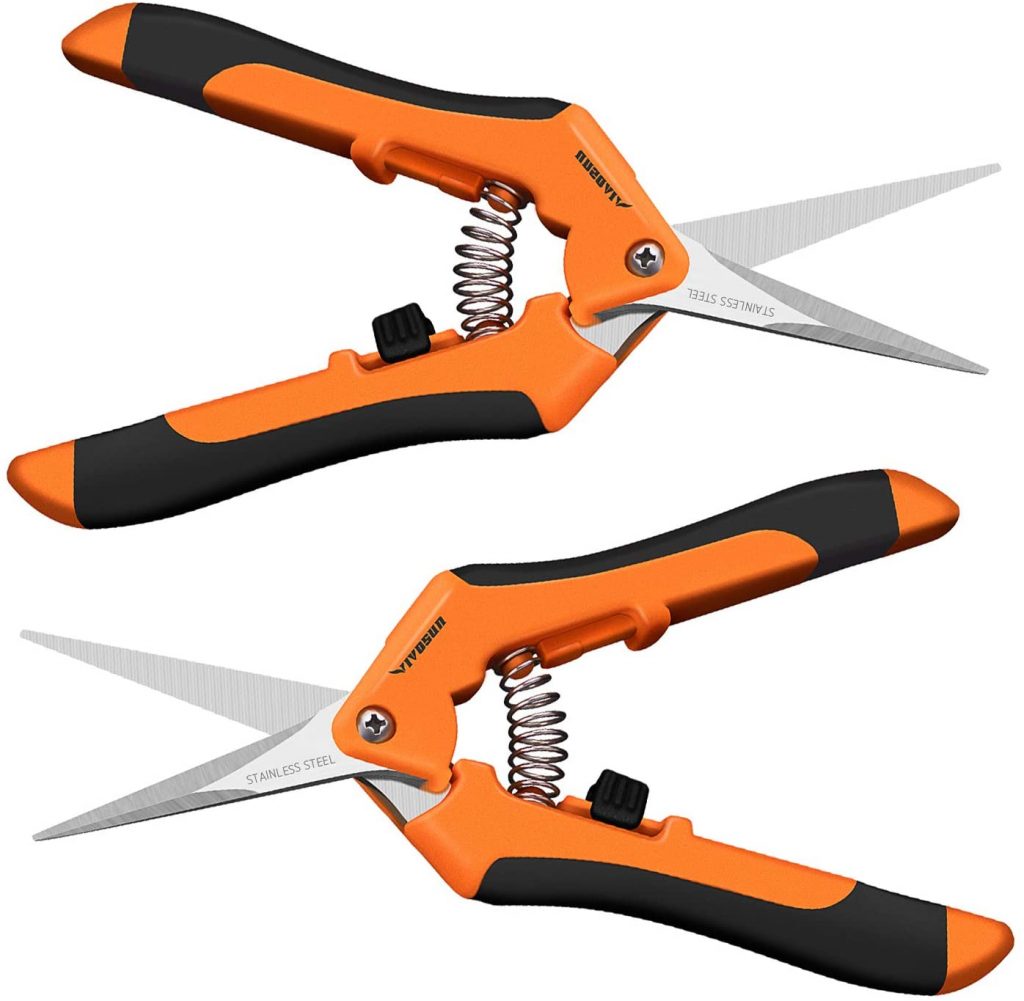 Here's one more item by VIVOSUN. These scissors are included in the bowl trimmer set by the brand, but you can buy them separately as well. These scissors are very simple yet powerful. Let me explain why I like them more than other models.
First of all, I like the short, thin blades that are designed for precise manual trimming. It's much simpler to use them than scissors with broad blades. The manufacturer uses top-notch stainless steel with superior sharpening work. I use my scissors for several months already, and they don't seem to get blunt at all.
Due to a bouncy spring between the handles, the blades always open up automatically. At the same time, the spring isn't too hard and doesn't exhaust your palm muscles too fast. The rubberized handles add comfort as well.
Well, your muscles may hurt a bit during your first month, but you will train your hand rather fast. I recommend you to take some rest every time you feel muscle pain, not to overtax muscles and progress much faster. If you play the guitar, you probably know that overacting kills speed. When the work is done, and you don't want the spring to open scissors, you can block them with a small lock and put it into your pocket safely.
It's very easy to see when the scissors get too dirty, and cleaning them is a matter of seconds. This type of steel has a smooth matte structure that lets you remove contaminations with a piece of paper very fast. If there's too much sticky waste on the blades, you can use IPA (Isopropyl alcohol) or dip the blades into olive oil for around 5 minutes. Don't try to remove "sap" with other blades or something like that to avoid blunting them. It's also quite easy to disassemble the scissors using a cross screwdriver, but don't do that too often to keep the screw-thread sharp longer.
I recommend this item to both enthusiasts and professionals. It provides exceptional simplicity and sturdiness, which is highly important for quick and continuous work. These scissors won't get blunt after a few months, and there's nothing to break! Clean them carefully as it's very easy to cut your fingers.

---
PROS:
Convenient rubberized handles;
Safety lock;
Premium stainless steel;
They keep sharp for months;
Easy to clean and disassemble.
CONS:
Not the fastest trimming method;
Requires lots of practice for good results.
---
6. MELONFARM 16-Inch Automatic Bud Leaf Bowl Trimmer – A To-Go Solution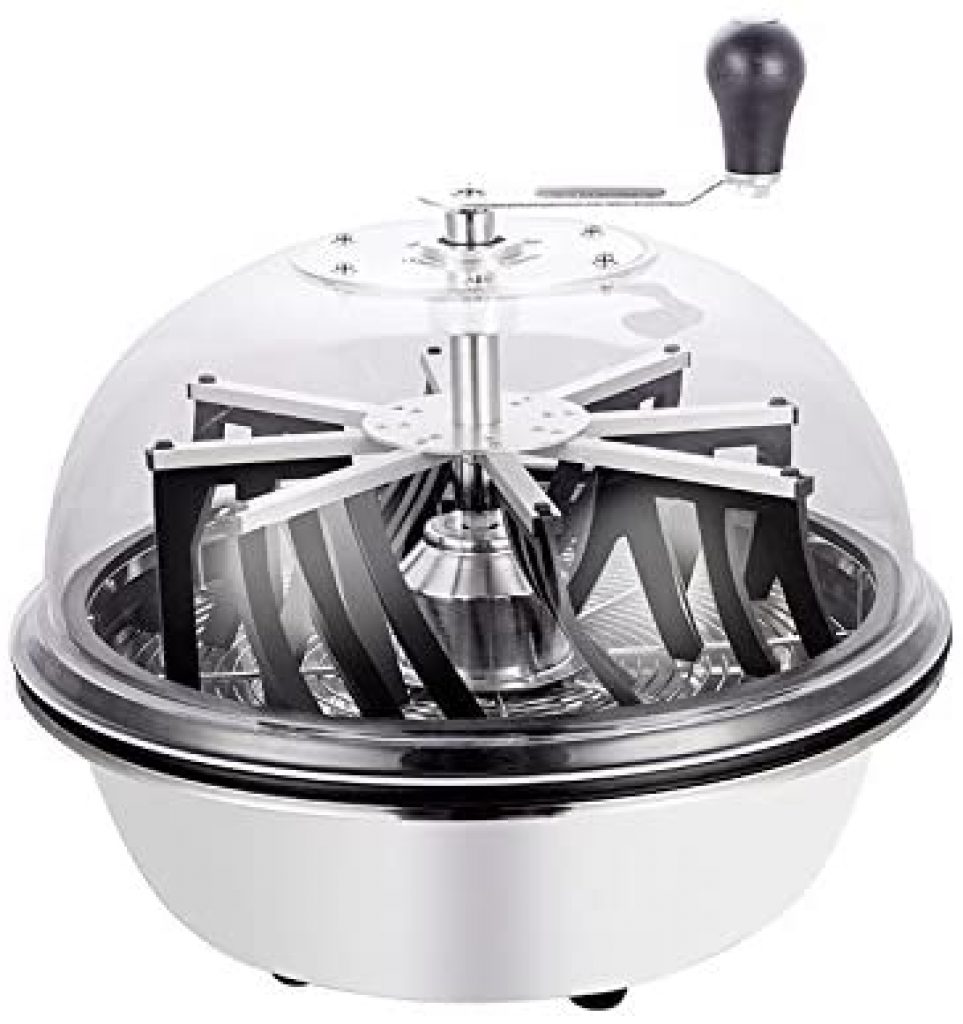 Melonfarm's 16-inch bowl trimmer is one of the cheapest devices in the category, but it provides a surprisingly high quality of trimming. You can use it to load up to 24 medium-size flowers and cut all leaves neatly in less than 30 rotations. Thin silicone fingers rotate the buds separately and prevent them from sticking and breaking.
The fingers rotate with the speed of your hand, letting you carefully control the process while the blades spin many times faster and cut off everything you don't need. All the clippings fall down into the bowl that lets you dispose of the waste quickly after trimming.
Similarly to the item by Tanwell, this one is perfect for home trimming and combining with scissors. Unfortunately, both sets don't include scissor trimmers. If you're on a budget, you can choose this option and order Vivosun scissors along. It will be notably cheaper than a 19-inch combined solution.

---
PROS:
Sharp straight blades;
Quick semi-automatic processing;
Easy cleaning;
Competitive price;
Fast assembling.
CONS:
Small capacity;
No serrated blade.
---
How to Choose The Right Marijuana Trimmer?
Choosing a bud trimmer, you have to examine its characteristics thoroughly. Trimming is always a time-consuming process, so you have to look for comfortable machines that can not only save you time but also preserve the high quality of trimming.
If you're growing for personal needs, you probably don't need a large device, so reduce the number of models to simplify selection. If you have to proceed with loads of weed every day, an automatic bud trimmer will make your life easier, but it may also challenge your budget a bit. However, you will get reimbursed after selling the next batch.
You have to look for models that are easy to maintain. The simpler it is to clean blades and containers, the faster you can work. Resin doesn't have to gunk up on blades and other parts of the mechanism as it may not only slow down the work but also cause other unwanted effects. Simple cleaning also usually means longevity. You don't want your trimmer to break in the middle of the workday, right?
Summing up, your future marijuana trimmer has to match the capacity you need to process, be simple to use and maintain, and durable enough to keep rolling as long as you need it. I recommend you get a heavy-duty tool even if you're not going to work on a commercial level.
How do Bud Trimmers Work?
While everything is clear about scissor-type trimmers, I'll tell you about mechanical devices. The principle is always the same. The device includes blades that cut excess parts of flowers without damaging the trichomes. A special metal mesh keeps the buds from contacting the blades, while all the clippings fall down into a container. Depending on a trimmer model, the buds can be set in motion either by soft rubber stripes or by the rotating motion of the trimming drum. When the work is done, you have to remove the trimmed buds carefully and prepare them for the next stages.
How to Use Bud Trimmer?
If you're going to use a scissor trimmer, you have to practice the right technique to avoid damaging buds and crumbling. However, it's not a reason to get nervous. Buds can crumble, it's normal, but your aim is to minimize the number of damaged buds.
Manual drum-type trimmers require you to assemble the machine and fill it properly. You have to learn the unique instruction of the device to figure out the maximal capacity for successful trimming. Otherwise, you risk putting excessive tension on the mechanism, which can be lethal for the entire system.
The same goes for automatic trimming machines. You should exploit them accordingly to the instruction and supervise the process to detect problems as soon as possible. If that occurs, you have to deactivate the device, using the power knob. But don't try to repair it and avoid touching metal parts until you turn the power supply off. Battery-powered devices won't harm you, but you should follow the same rule to avoid fuses.
How do You Clean a Bud Trimmer?
Timely cleaning is an important maintenance procedure that defines the longevity of your trimming device, the speed of your work, and the quality of results. Even the best bud trimmer machine can wear out rather fast if you don't treat it right. The difficulty level of cleaning is different for each device and depends on the type, size, and number, and type of blades. If you choose trimming scissors, you have to clean each part thoroughly, using a cloth that doesn't leave small fibers on the blades and other parts.
My favorite cleaning remedy is Isopropyl alcohol (also known as ISO and IPA). It's pure enough and evaporates in several seconds, meaning you can start working right away after the cleanup. However, some of my colleagues say that it's a good idea to clean parts in warm water afterward to ensure that all the remnants are removed.
If you clean a leaf trimmer machine that includes more parts, your aim is to clean all the parts that contact with buds. Marijuana resin is extremely sticky and can stop the entire mechanism. You have to remove it as soon as you notice complications. The best solution is to clean your trimmers at the end of each working day. If that's too frequent, you have to develop a unique schedule that will match the technical characteristics of your particular clipper model.
Warning! Don't use alcohol and alcohol-based cleaners for silicone and rubber parts of your trimmer. This liquid destroys the structure of silicone and creates cracks on the item. If you want to keep it soft and flexible for a long time, scrub it with a warm mild soap solution. You can also look for an edible silicone cleaner on Amazon or in the local store. My experience shows that this part doesn't get very dirty, so you're not likely to have problems while cleaning it. Cleaning silicone fingers of bowl trimmers, you should be gentle and avoid pulling the stripes.
FAQ
1. How to become a bud trimmer?
Bud trimmer is an entry-level position in the marijuana business that can be a full-year job in states where weed is legalized. It's a job for responsible people, and it usually pays better than the budtender's work. The requirements in licensed centers are rather high though. You have to know cannabis anatomy to understand what to cut off flowers. Next, you have to know as many types of cannabis strains as your head can contain. Require skills include:
Handling buds without damaging flowers and trichomes;
Using trimming scissors or machines;
Being able to focus on one thing for hours;
Weighing and measuring marijuana matter correctly.
You can obtain all these by attending special courses, including The Cannabis Training University, meeting people who have the needed experience, and looking for open jobs in your area.
2. What is the best bud trimmer?
The answer depends on your needs and the size of your production line. For private needs, it's usually enough to learn how to use herb trimmer scissors. For larger volumes, look for manual machines that offer higher capacity. If you're a business owner, you can purchase an electronic industrial machine that will replace a room of human bud trimmers. It's not always the best choice, though, as trimming quality provided by a professional human can sometimes be notably higher. Sometimes it's wise to test various options to find the one that matches your needs and your customers' tastes the most.
3. How much does bud trimmer make?
As of 2018, The legal marijuana industry in the US was a $9-billion market. Of course, it continues to grow very fast. Analytics expect it to break the $20-billion bar by the end of 2022. The average salary of a bud trimmer in the US fluctuates from $20,000 to $30,000 per year, which is a nice level for an entry-level job in the marijuana business.
Attention & Patience
Although marijuana trimming is an entry-level job in the business, the final price of the product heavily depends on it too. Poorly trimmed buds won't be as valuable as those with a larger amount of trichomes. There are markets for poorly trimmed cannabis too, but you cannot sell it for the same price as top-quality flowers. I recommend you to try several options and choose the one that works best for your purposes.
Do you have any experience in using bud clippers? You're welcome to join the discussion below the article then! I'm looking forward to seeing your comments. If you have any questions related to the topic of the article, leave them below too. I will answer every question as soon as possible, but not later than 4:20. And remember – green is the color of luck!