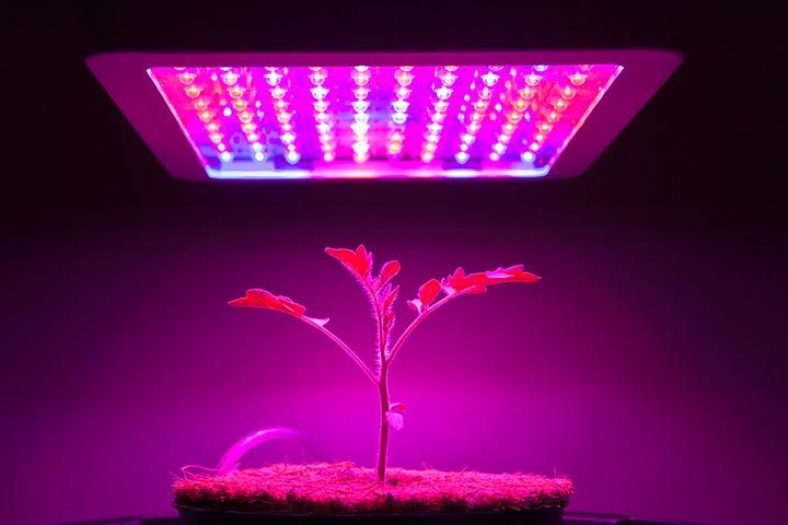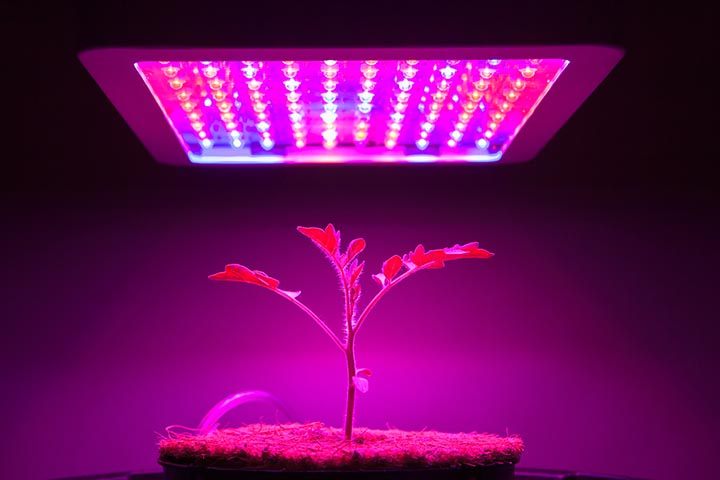 Best 1200 Watt Led Grow Light for Growing Cannabis Effectively
With no doubt, marijuana is fast becoming a multibillion-dollar industry. Something that has achieved a great feat compelling the federal government to think twice about its decriminalization.
Many people are flocking to the sector, with the prime intention being the production of commercial purpose cannabis. However, the question is, do they know what's required for healthy and vigorous plant growth?
Now imagine if despairing from planting cannabis is not a choice, how else can you see that your farm is vigorous and up to the standard viable enough to lure the market? It is easier than you think! 1200 watt led grow light is what you need. However, can you identify the notably ideal devices with the ability to provide a remarkable service worth accomplishing your purpose?
Top 7 Best 1200 Watt Led Lights for Growing Cannabis worth a Hassle to Acquire
Good marijuana farming requires a lot of care for the products to be worthy within the competitive market. Led light is one of the necessities for proper growth. Even though some people say that these products are similar and serve the same purpose when growing cannabis, they are wrong.
They are significantly distinct in terms of service delivery and viable production. Here are dependable 1200 watt led grow light bulb review from an expert perspective to give you an insight into why you should acquire the product and revamp the cannabis farming output.
Advanced Platinum Series P1200: the Most Appealing 1200 Watt Led Grow Light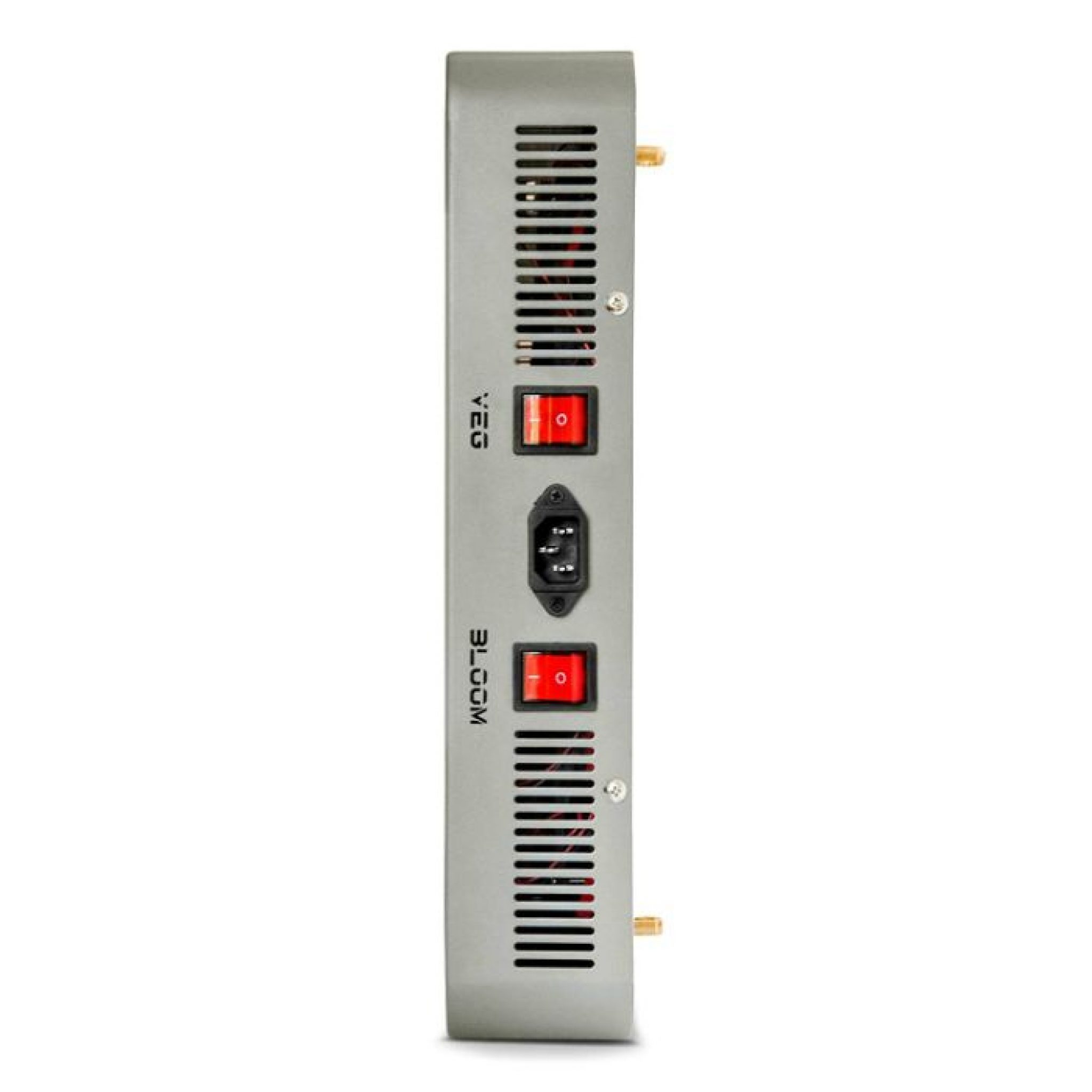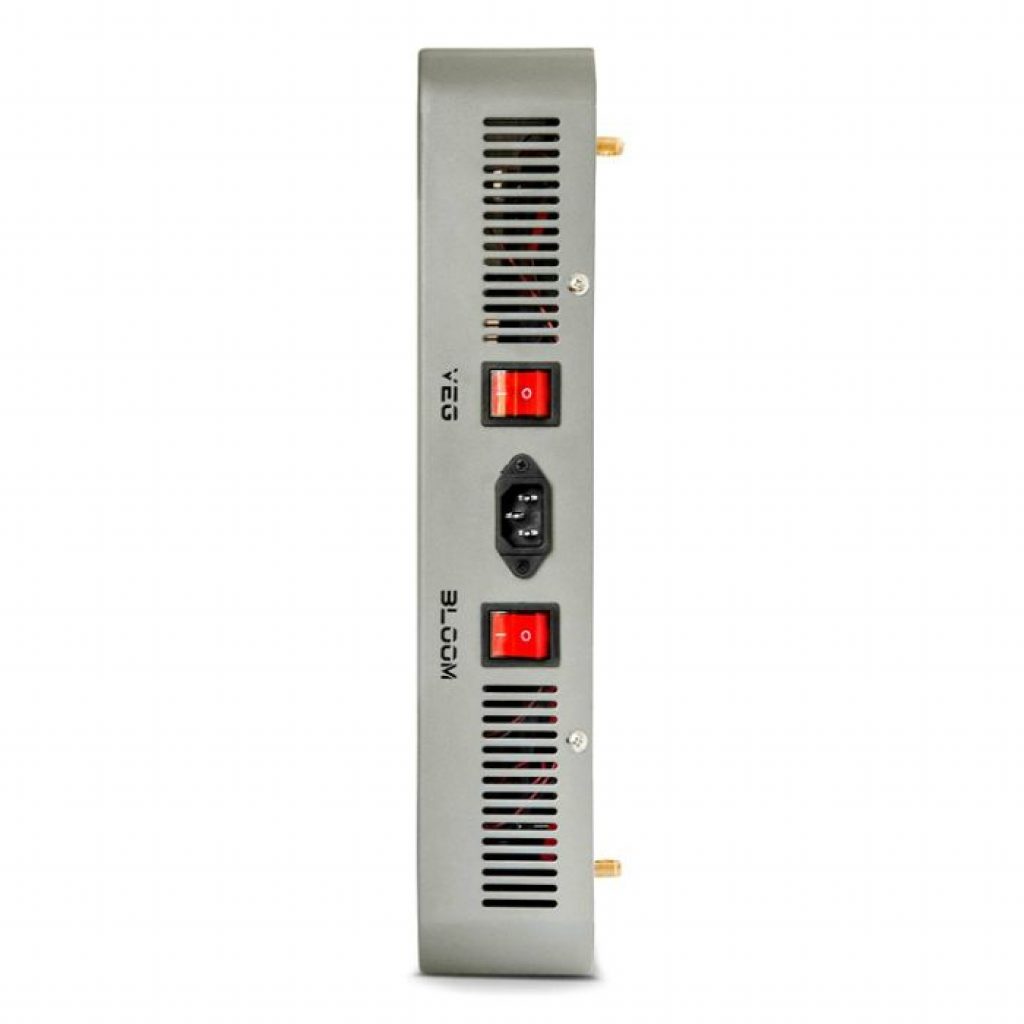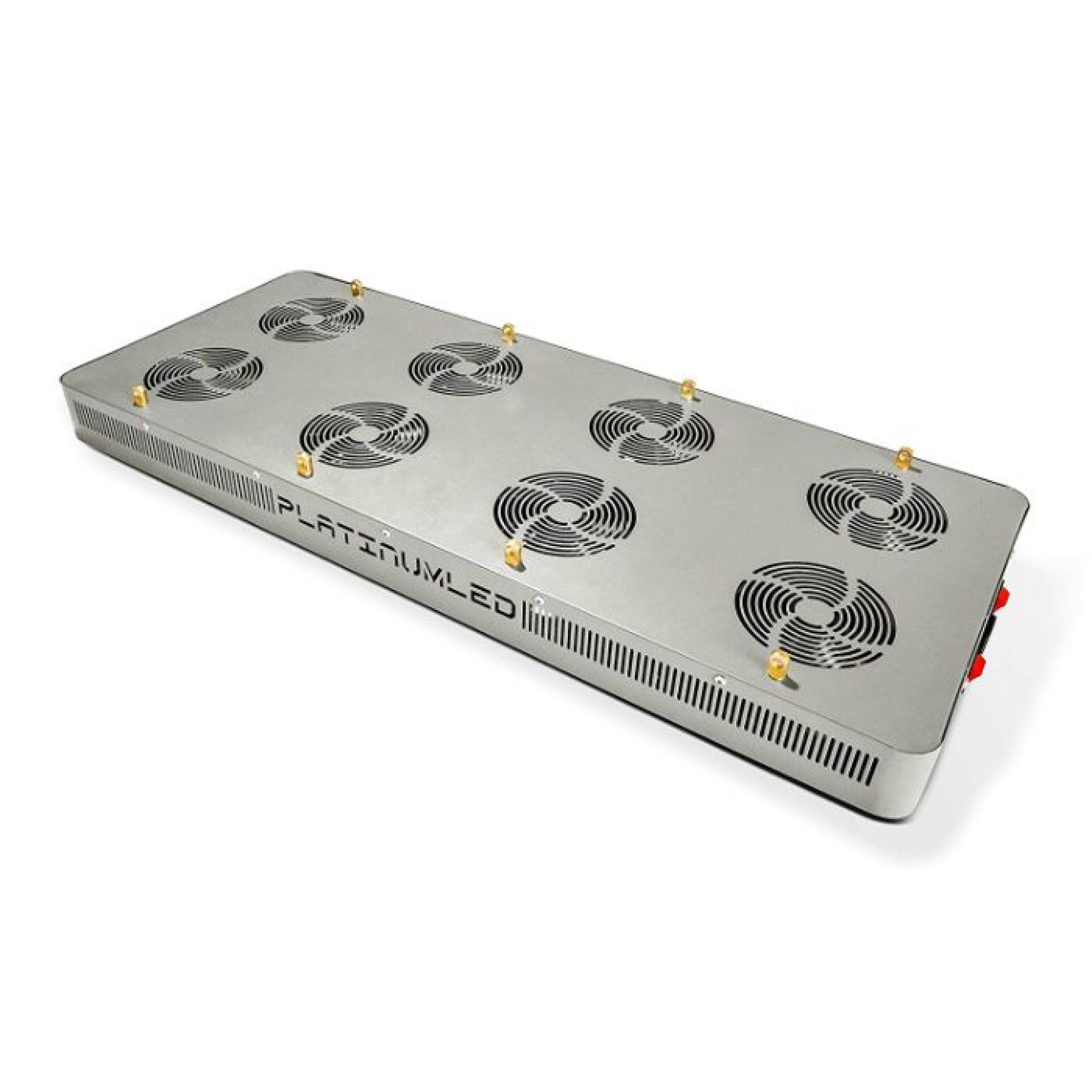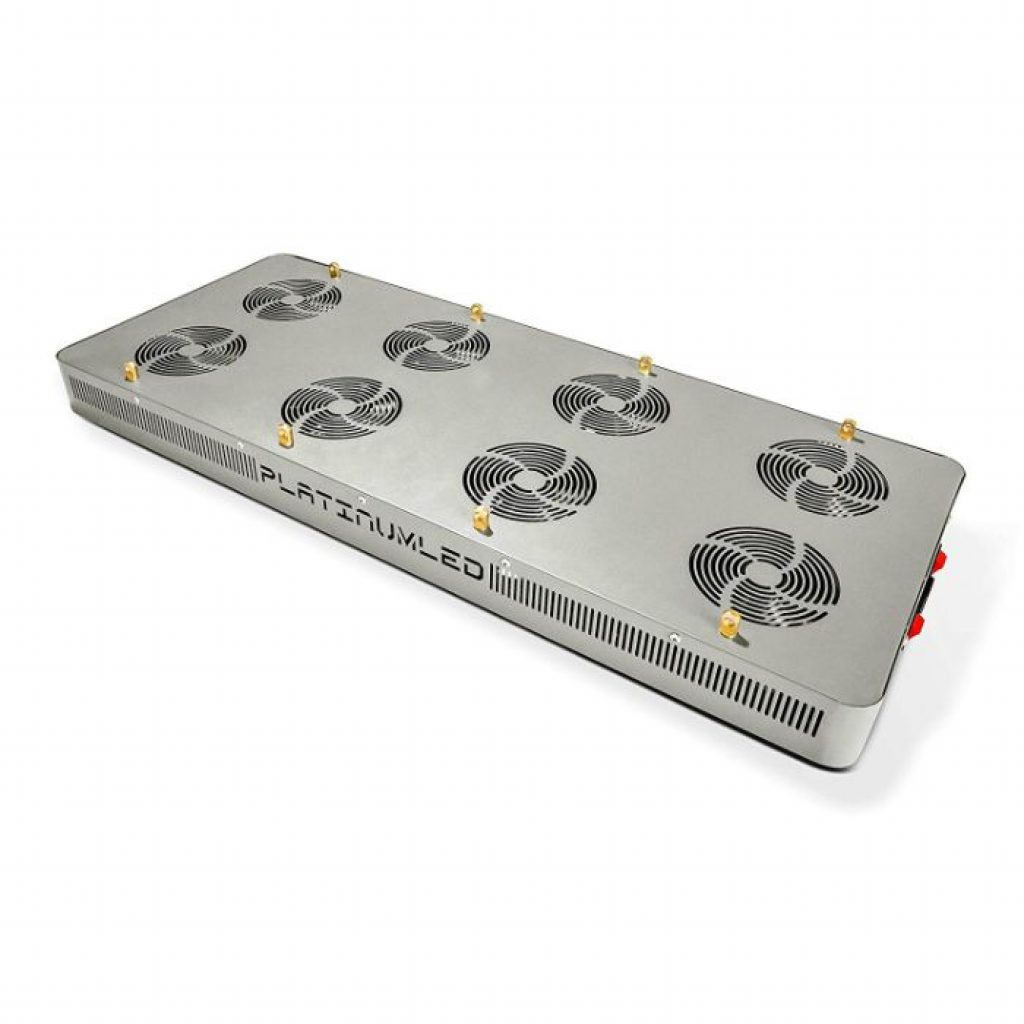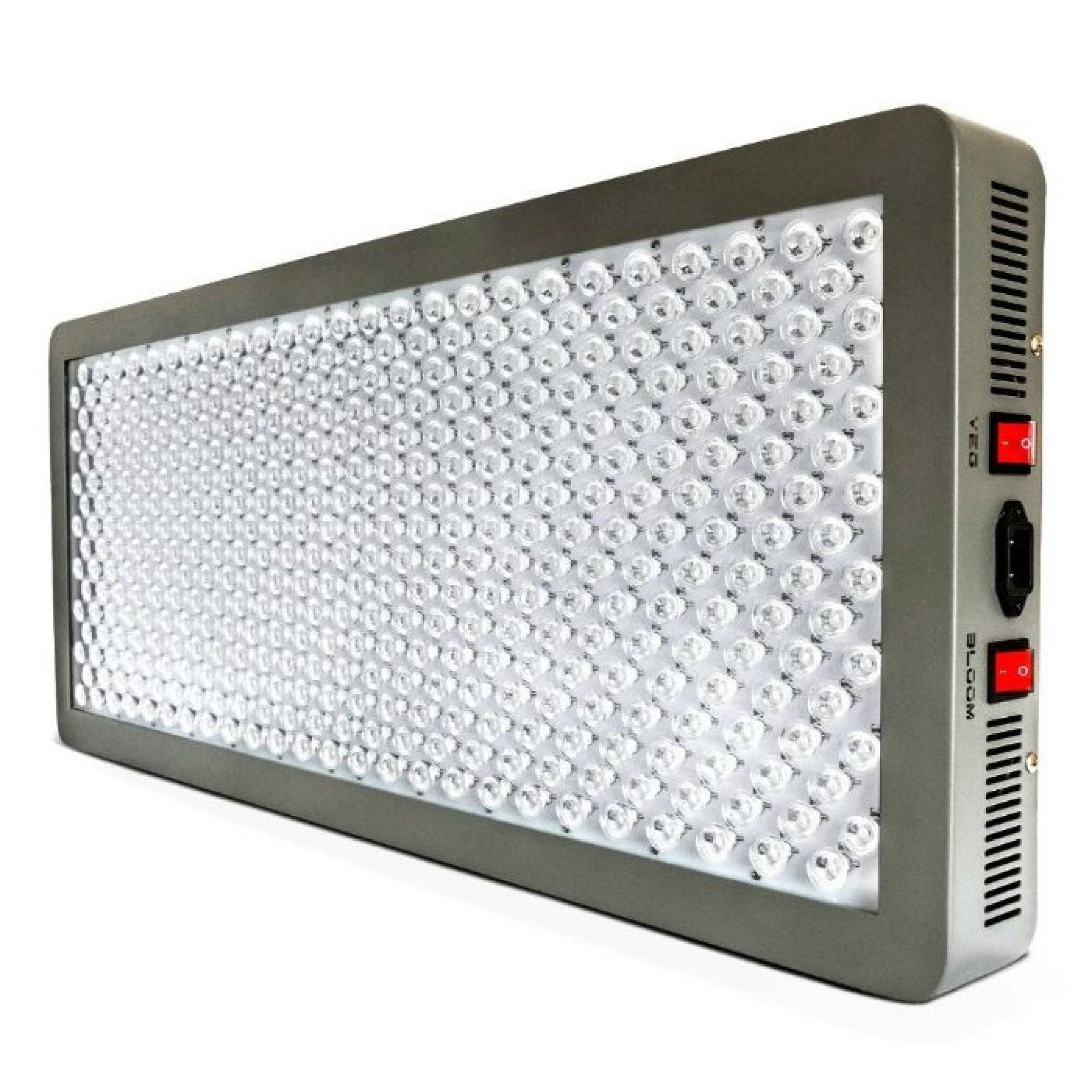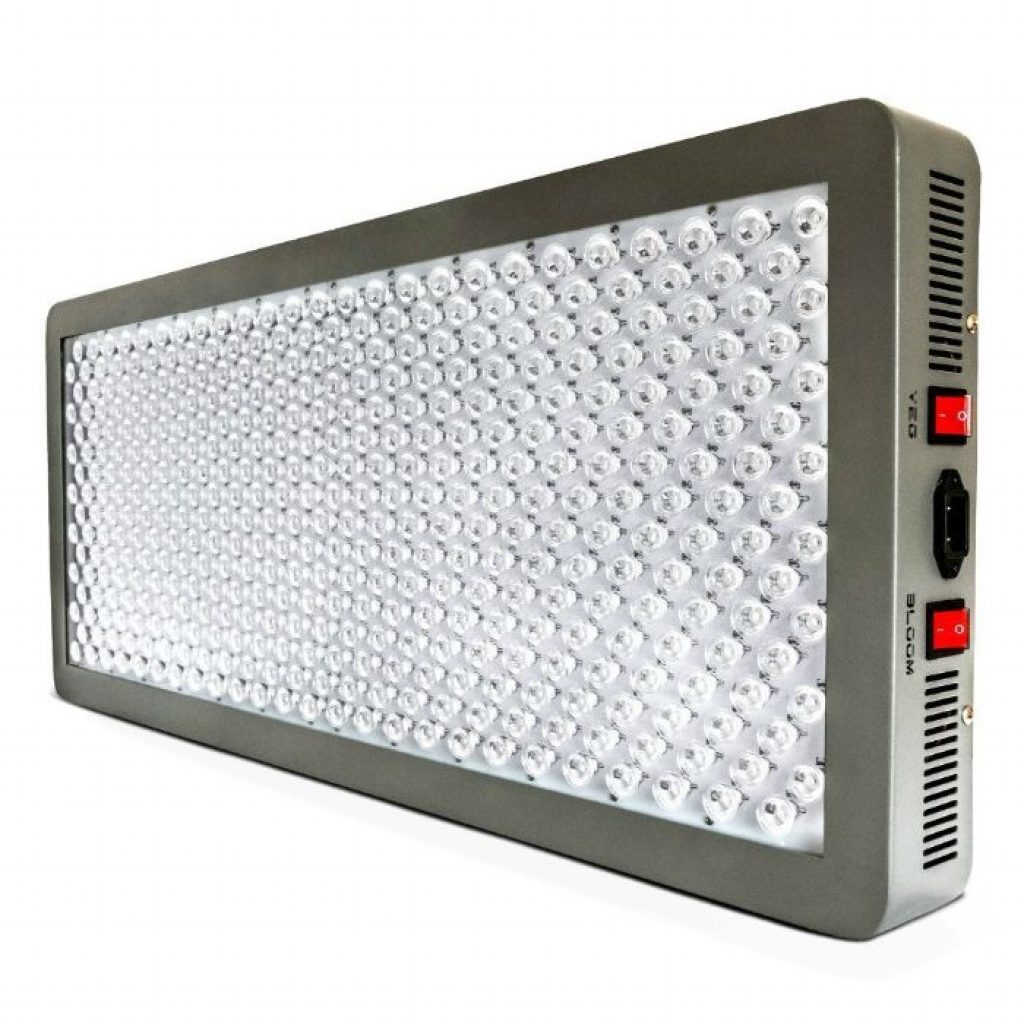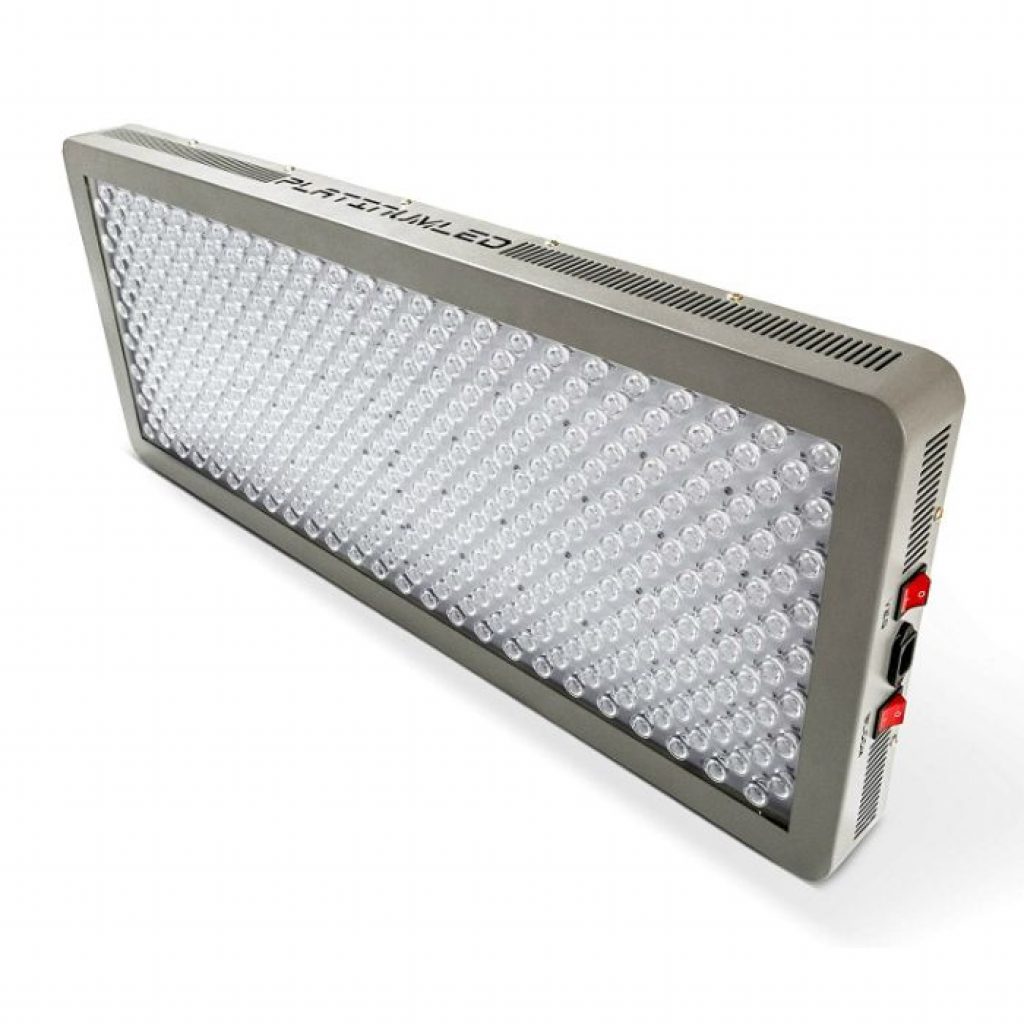 Contemplating obtaining LED grow light with the highest photosynthesis active radiation or LUMEN OUTPUT against a WATT? With no doubt, acquiring platinum LED will serve your purpose effectively.
It is a pretty powerful LED grow light device you'll find on sale nowadays with a 12-band spectrum that enhances cannabis production. It also maximizes power saving and energy consumption.
P1200 is the best replacer of the conventional 1400w HPS grow light since it uses only 758watts of the actual power to grant the cannabis plants 100% reliable light tuned perfectly to aid the photosynthesis process effectively. That's an average of 243 watts for VEG and 515 watts for the bloom switch.
Thus, it is powerful to support serious cannabis farmers who are not focused on closet gardening. It produces unbelievable results hence would be more suitable for anything from medium/extensive scale farming to full-scale commercial purposes since it does overwhelmingly well farming-wise.
What's more, the devices combine an optimal composite of 12 distinct band spectrum of full light. For instance, ranging from the UV depth to the upper IR, providing the farm with the finely tuned spectrum the cannabis plant requires. The integrated 90º secondary focus lenses maximize the perforation of light deep inside the vegetation canopy.
Moreover, the device is built with selectable switch options for either Veg or bloom light spectrum. The double switch aspect plays a significant role in the plant's seedling stage all through to harvesting. For instance, the VEG light spectrum remits blue/purple heavy light output favoring the proper cannabis leafing.
After the plant germination, engage both switches to aid complete panel power while gradually changing the spectral wavelengths to the option of bloom happy. This spectrum is accompanied by pink/red heavy lighting output. Thus, with this device, the cannabis farmer needs no supplementary lighting since his plant growth stages are well covered from the sprouting stage to flowering.
Additionally, the device uses top bin LEDs from reliable United States manufacturers, for example, the Bridgelux and CREE, to ensure efficacy hence boosting production. Every diode is fully Zenner protected to prevent unwelcome line surges.
---
PROS:
bridgelux LEDs with Zener protectors
highest PAR/WATT LED value
12 band spectrum
5-year warranty
90 days money-back guarantee
CONS:
not Dimmable
not fixable in heights below 12"
VIPARSPECTRA UL Certified: 1200w Led Grow Light with Advanced Cooling Unit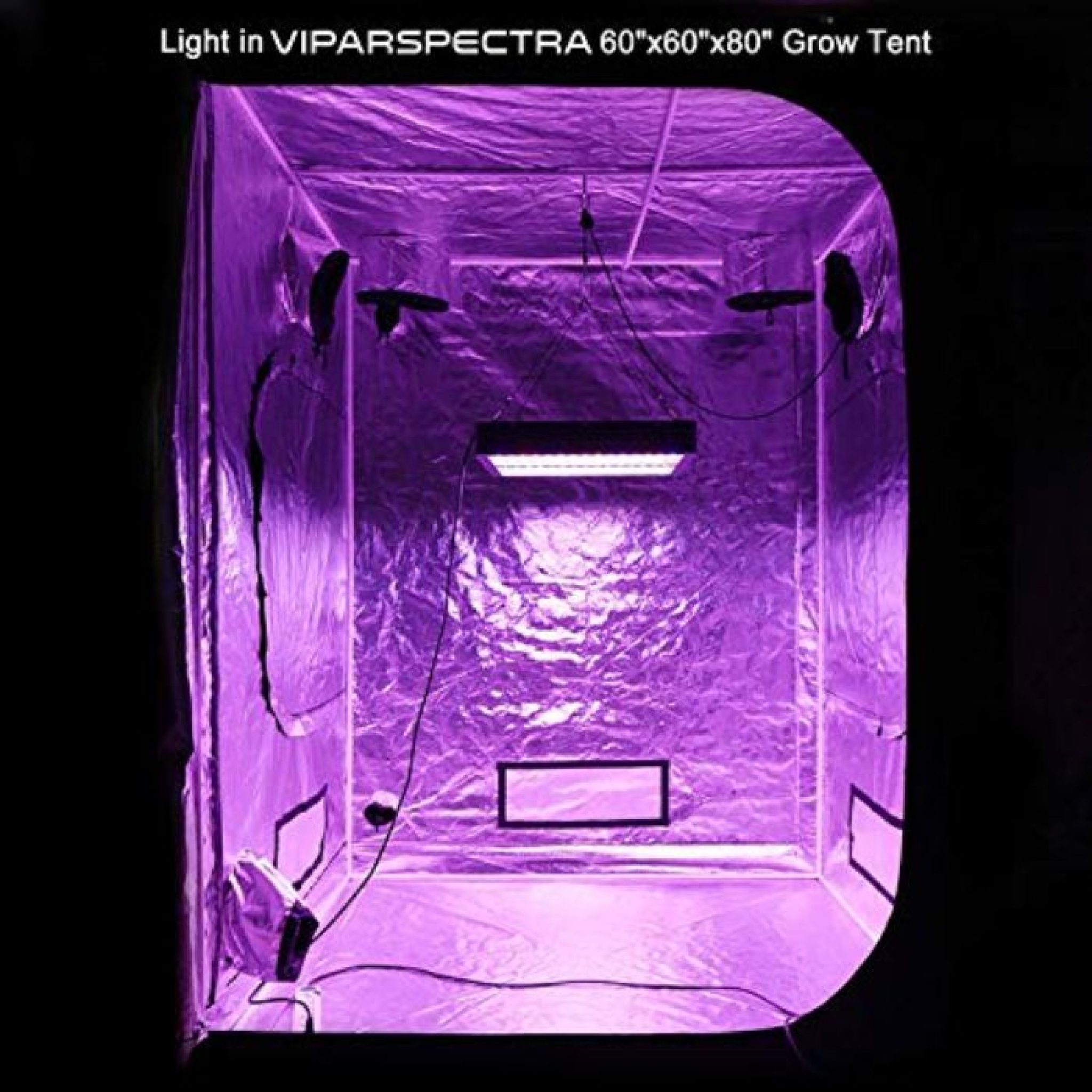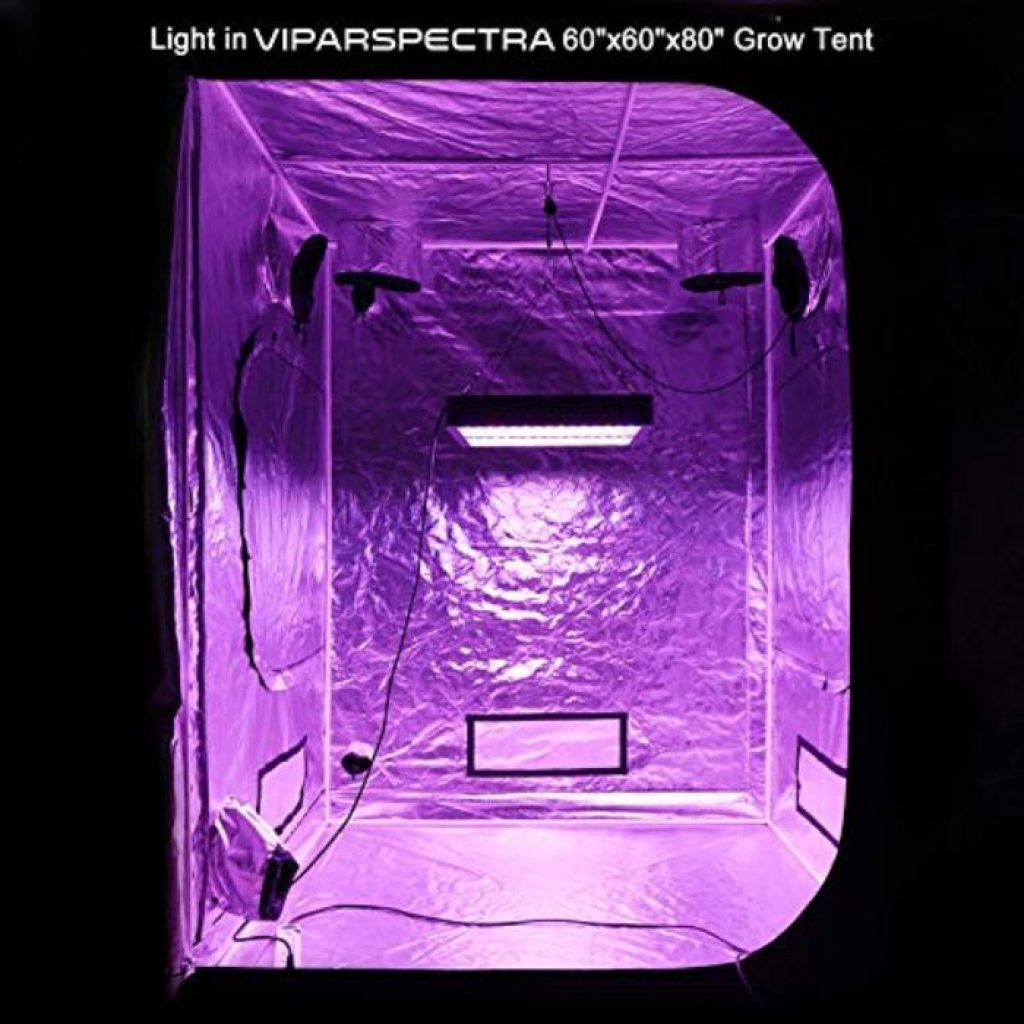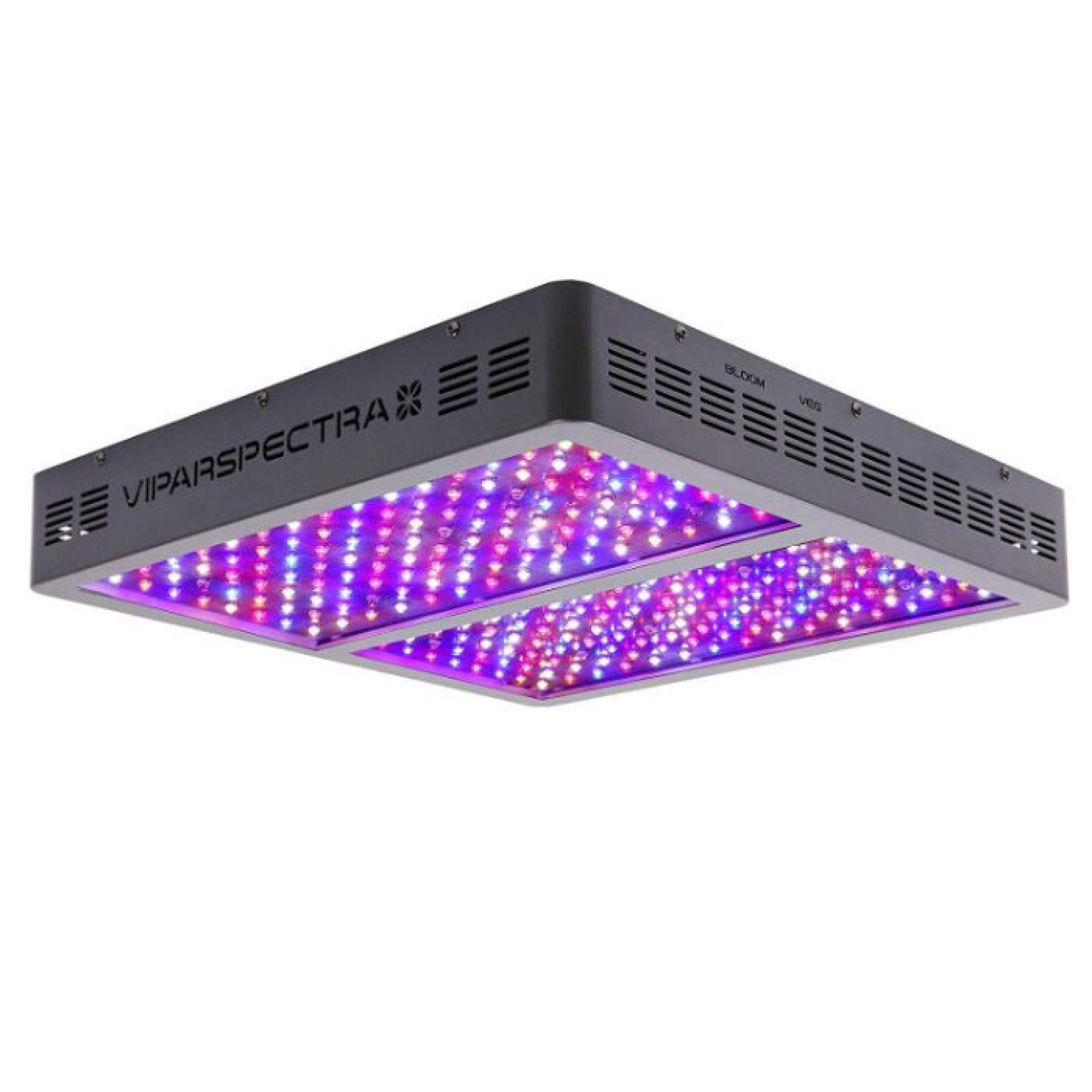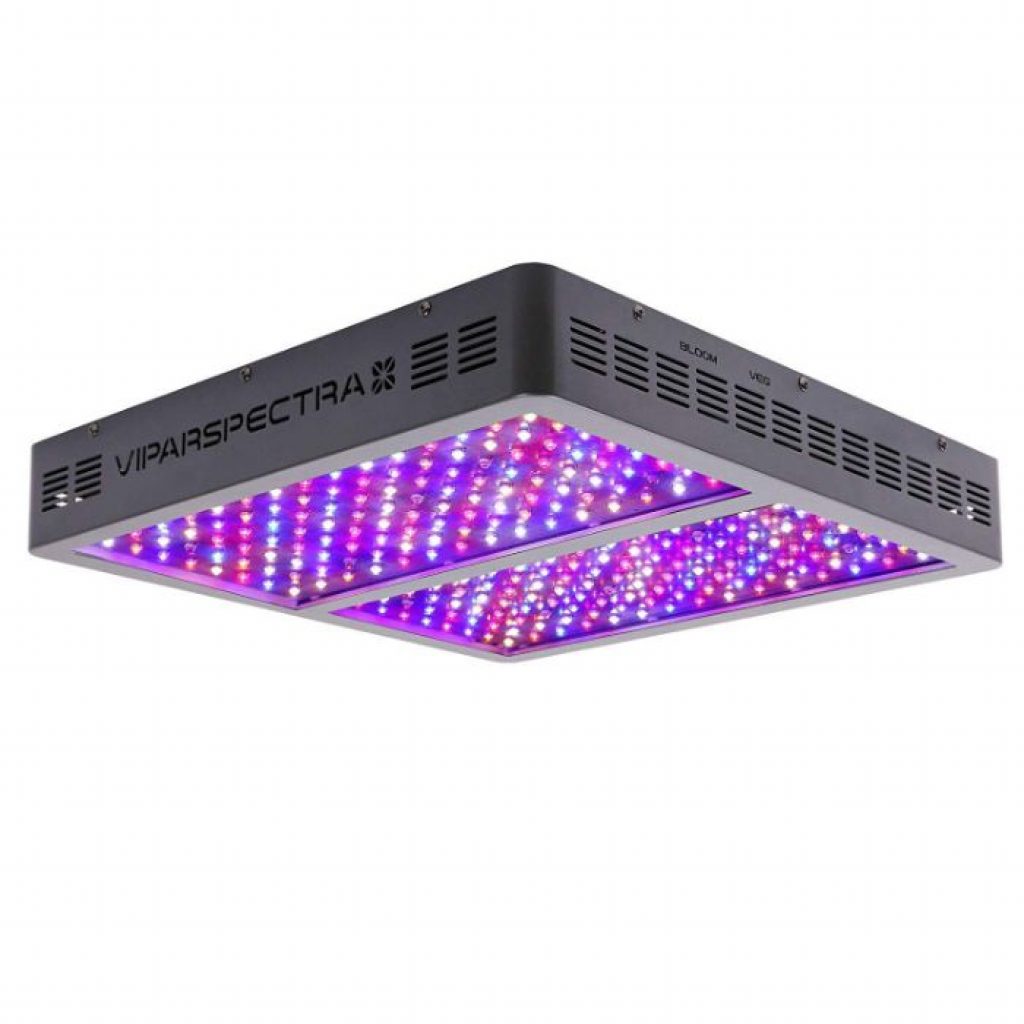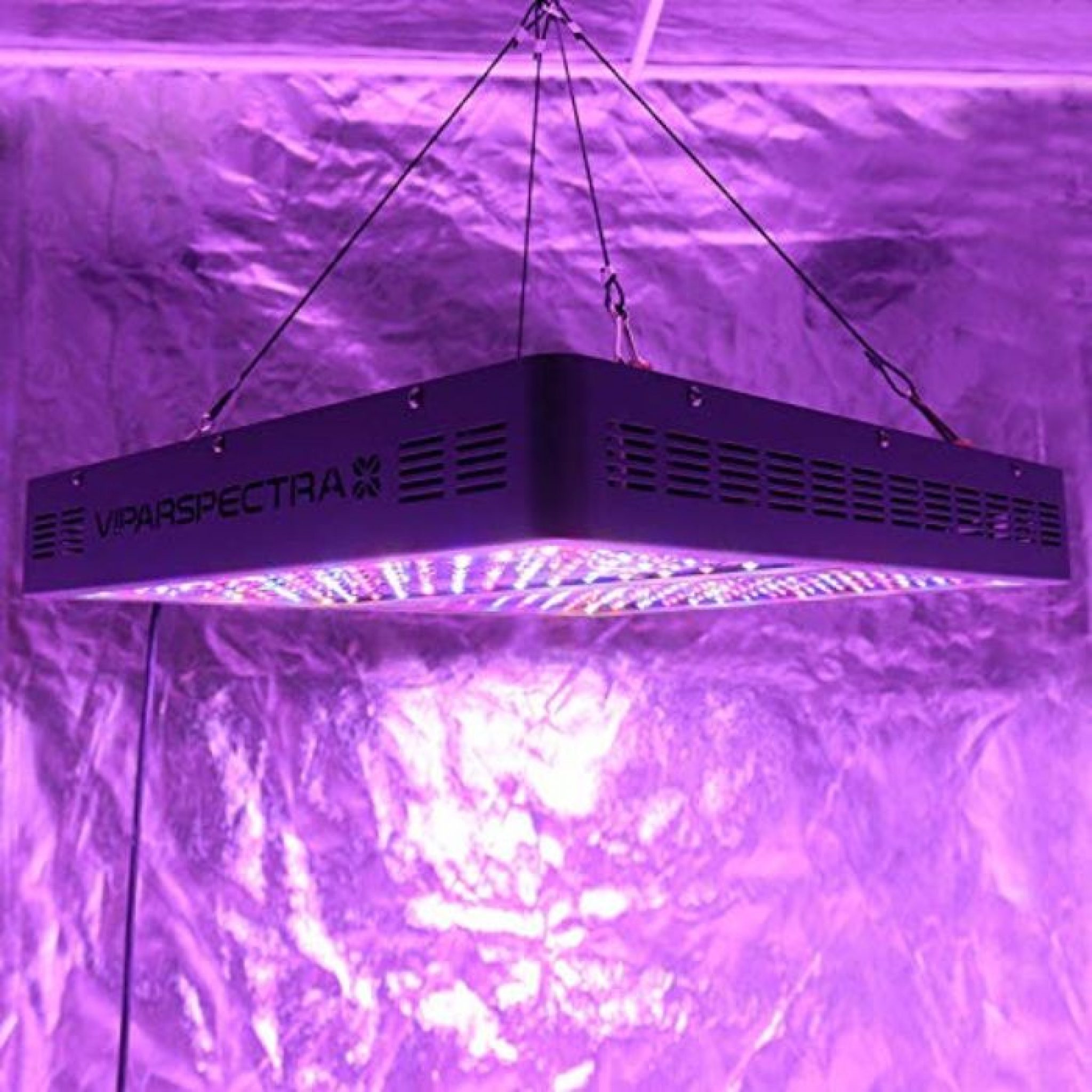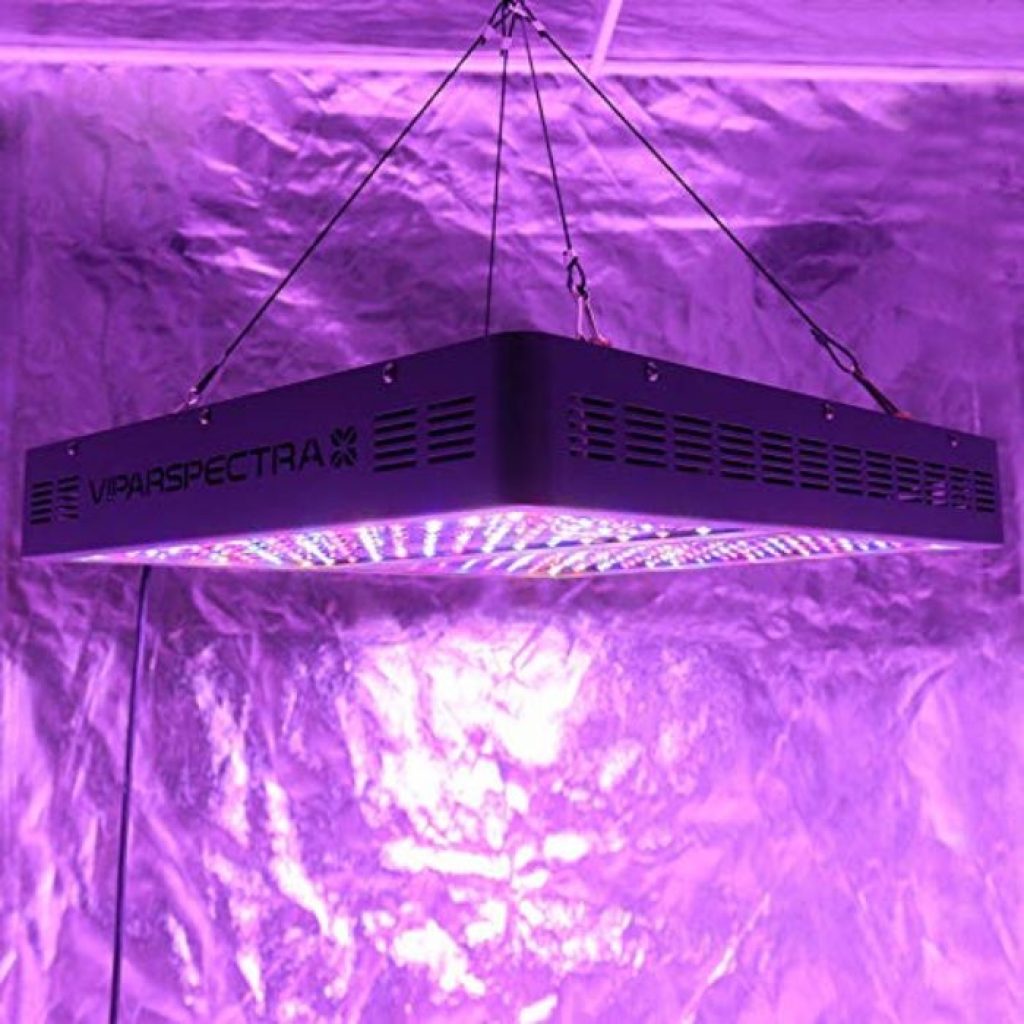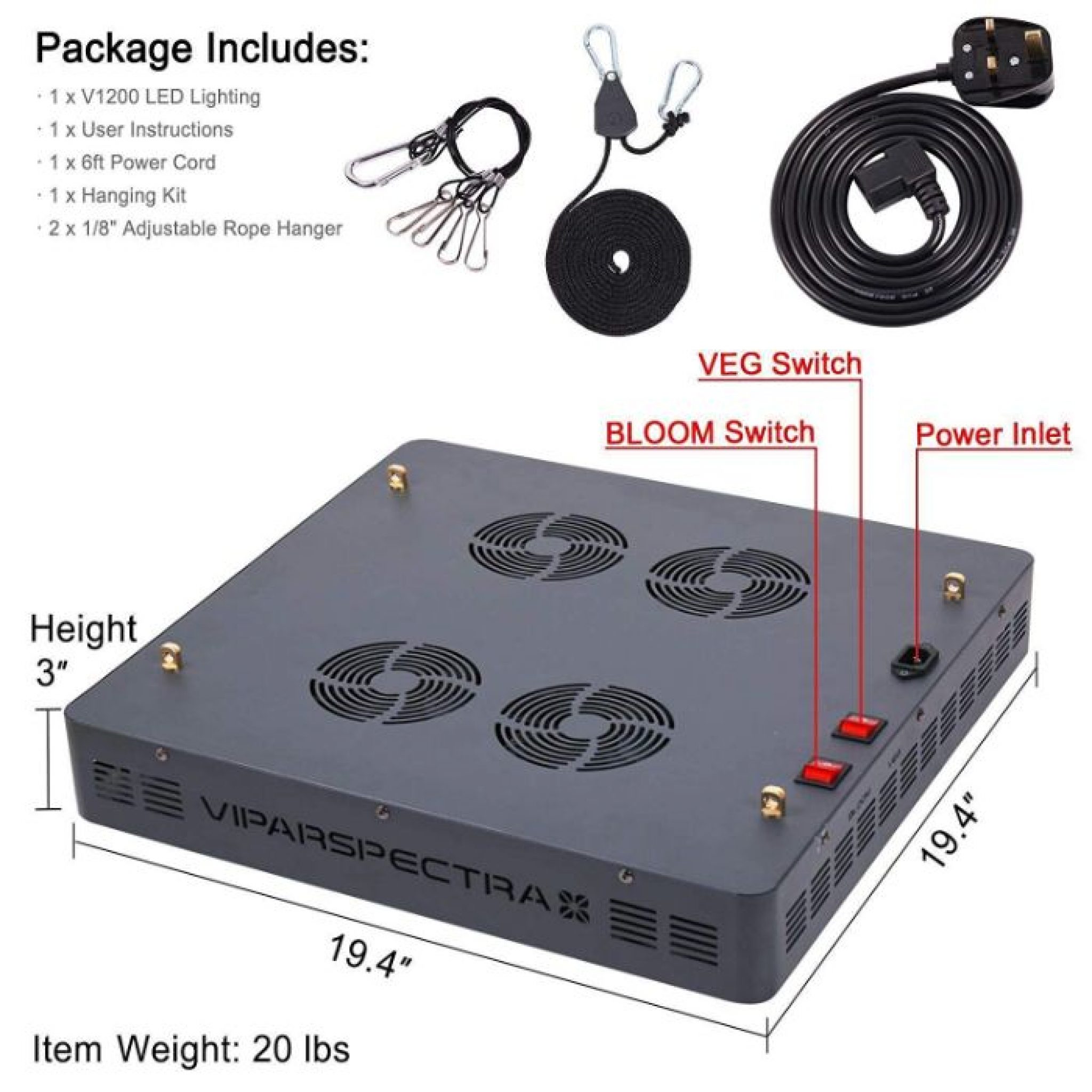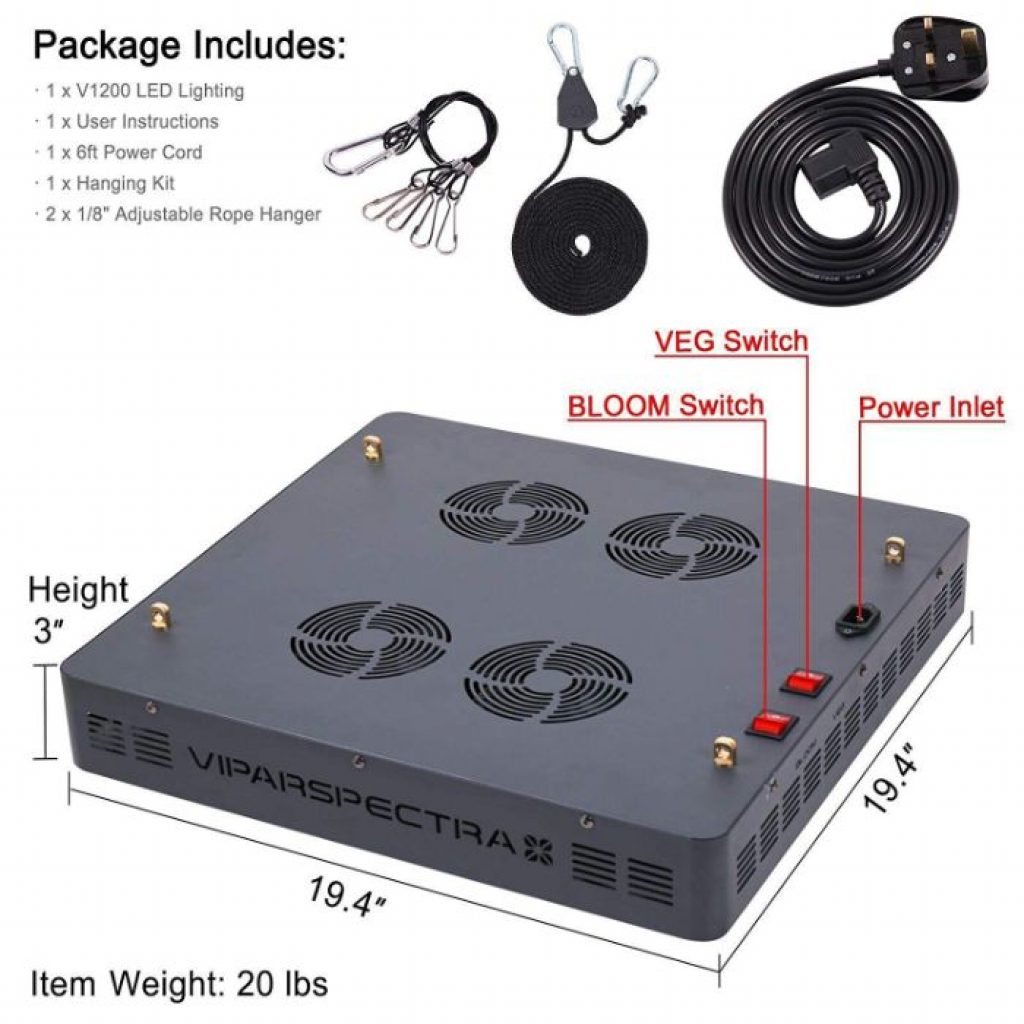 Viparspectra is one of the outshining "LED grow lights" a farmer can find highly marketable today. Despite being costly, they are the ideal feat worth the market value, buying power, and use. It is a grower's design that gets scientifically best ration PAR/Lumen output to a precise coverage field.
It ensures the production of yields worth the 1000W HID system with a relative consumption of 524W. The power uptake figure is extraordinarily low compared to other devices of the equivalent series, with returns worth the equal value.
The unit registers a 4.5"x4.5" at 32" in the sprouting phase of plant's growing life and 3.5'x3.5' at 24" during flowering. It has an overall weight of approximately 20 lbs and measures 19.4"x 19.4"x3," which is relatively lower while considering its output intensity.
240pcs of five watts Bridgelux/Epiled LED units powers the device. The LEDs are evenly equilibrated to provide a full light spectrum to the cannabis alongside IR rays that incorporates the device's functionality. These rays, facilitate the stable and healthy plants across all of its developmental stages.
It is built with VEG and Bloom switch to allow easy management of cannabis plant life in a distinct growth phase of development and growth. The Veg switch, for instance, is appropriate in the early seedling developmental stage, whereas the bloom is valid during flowering.
With these switches in place, controlling this device's spectrum becomes easy hence vigorous plants in every cannabis phase of development. Need to know the best light for growing cannabis? Stress no more. Let VIPARSPECTRA UL Certified 1200W decide for you. The device is predetermined; thus, the user requires no extensive skills to manipulate the unit to work.
The unit belts out lots of energy hence require an equivalent alternative cooling system. It is thus built with the incorporation of six fans fixed separately, and aluminum heat sinks to catalyze the heat loss process when the unit is in operation mode hence the cooling effect.
The unit's temperature is reduced by a whopping 70%, which is significantly valuable compared to other HID devices of similar series. Additionally, it has a 3-year warranty and 100,000 hours of active operation lifespan.
---
PROS:
low electricity consumption
wide coverage area
full and well-balanced spectrum
advanced cooling unit
CONS:
not waterproof
effective indoors only
BESTVA Reflector Series: 1200 Watt Led Lights for Growing Cannabis with Excellent Reflectors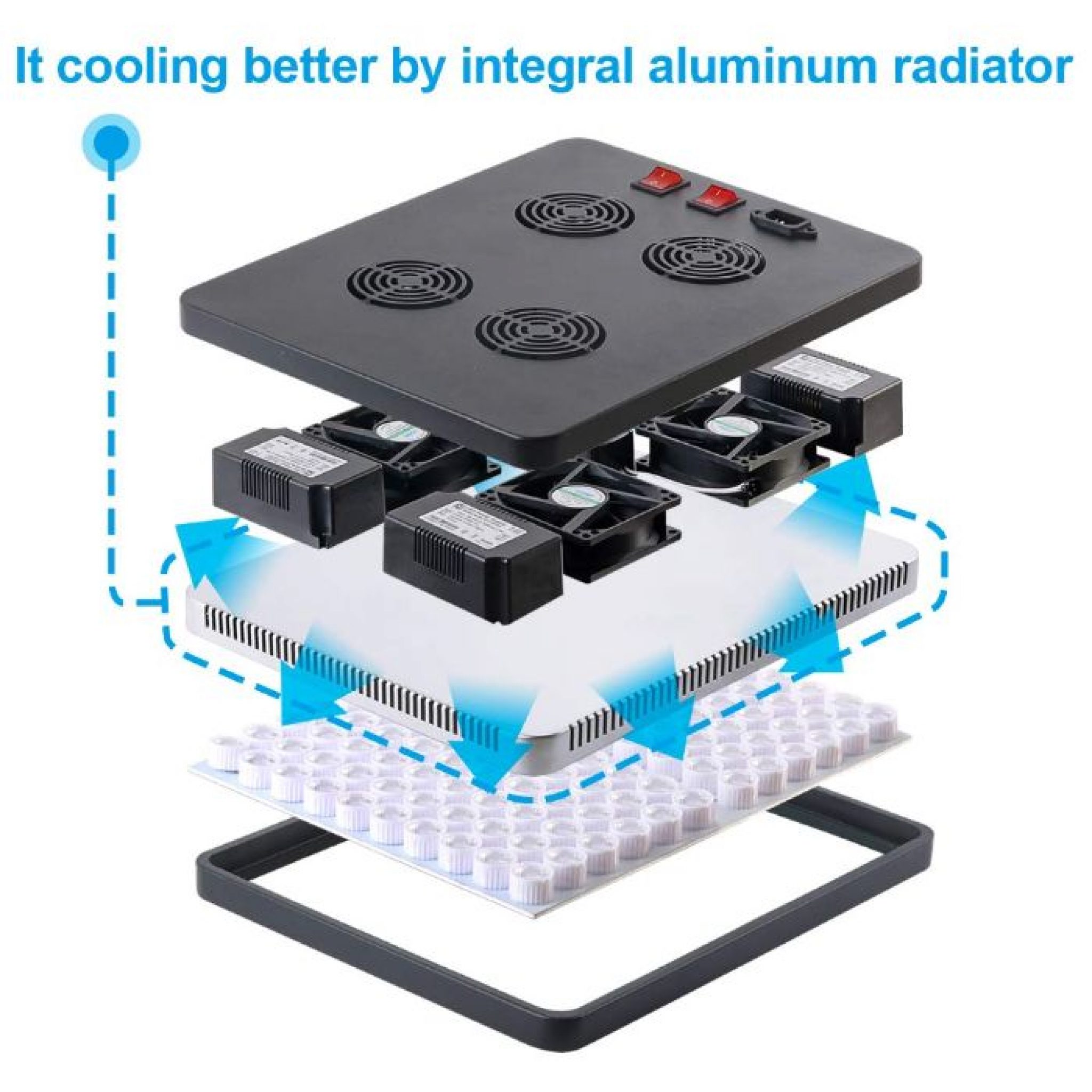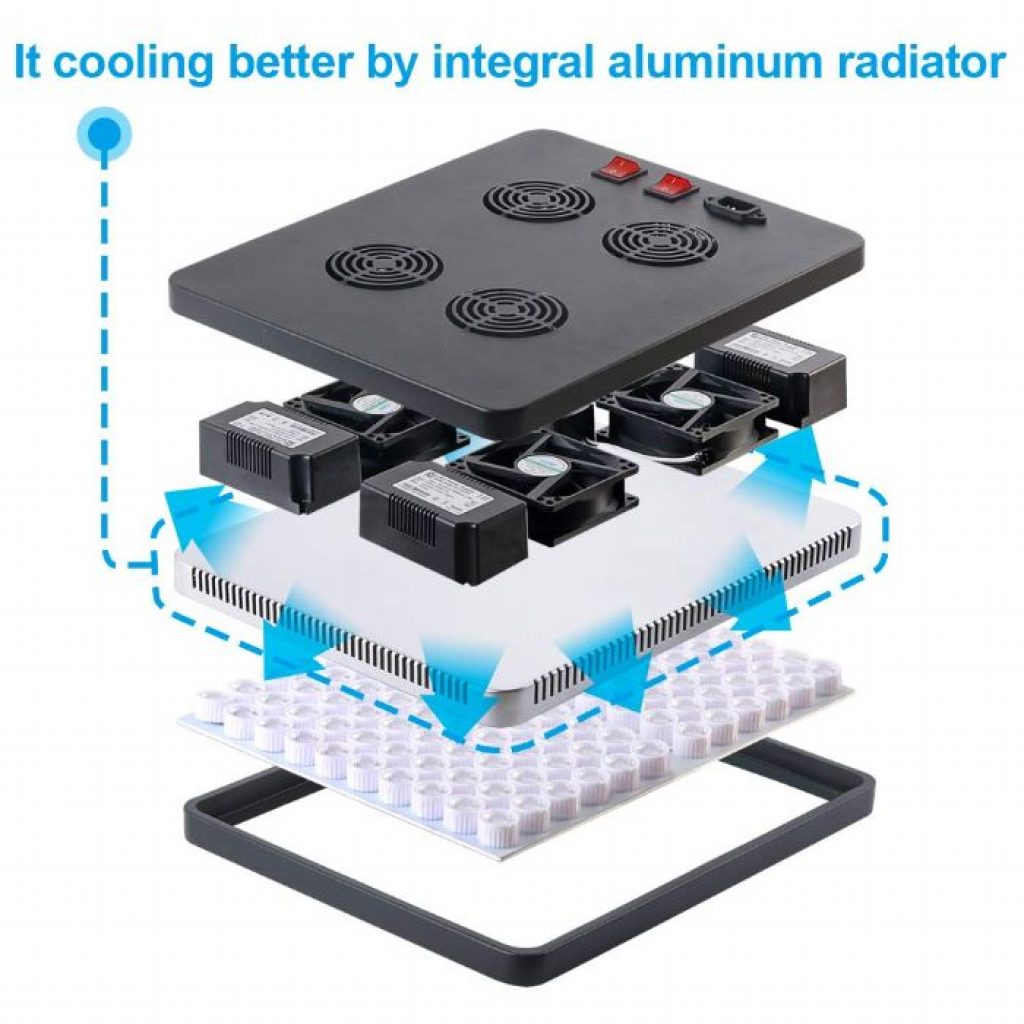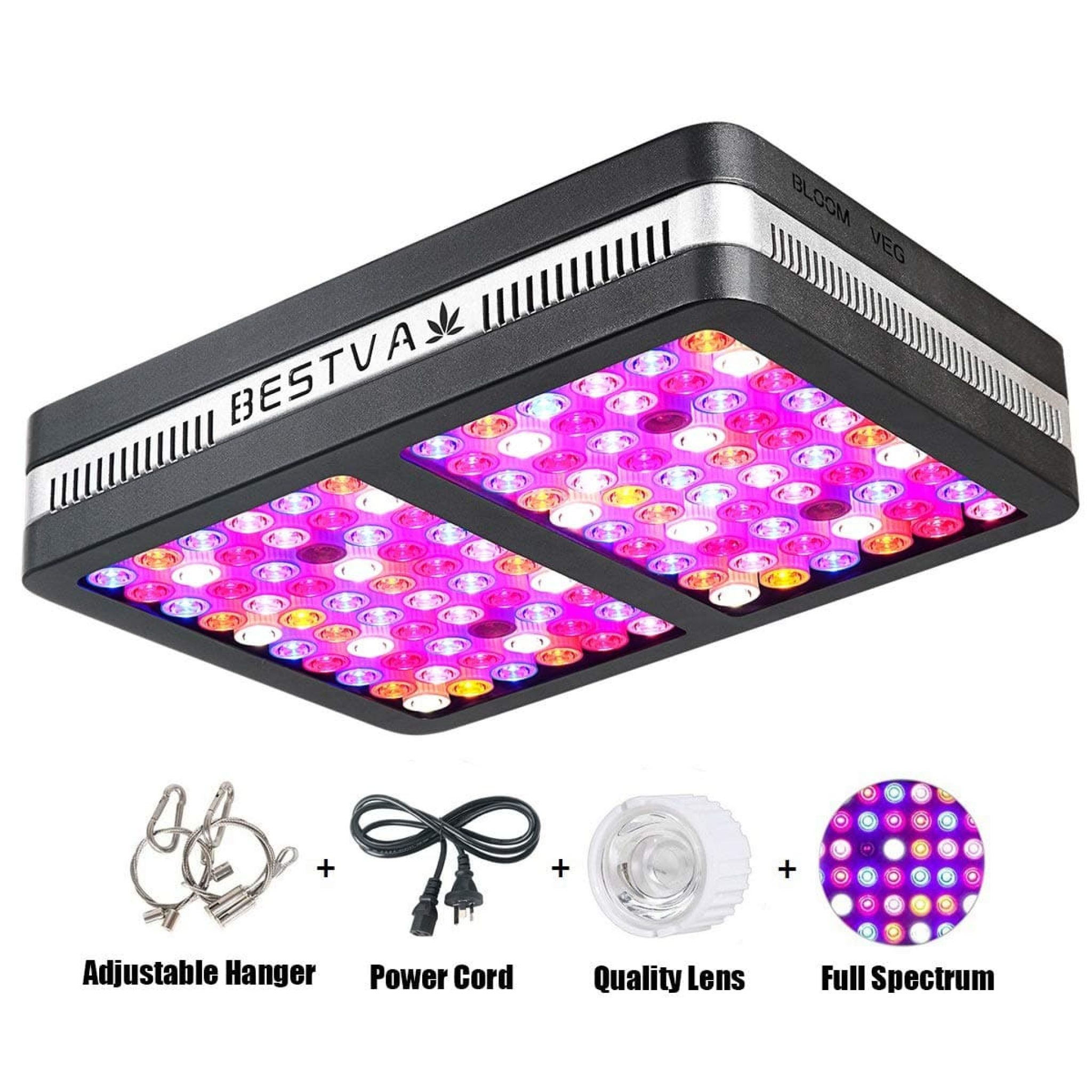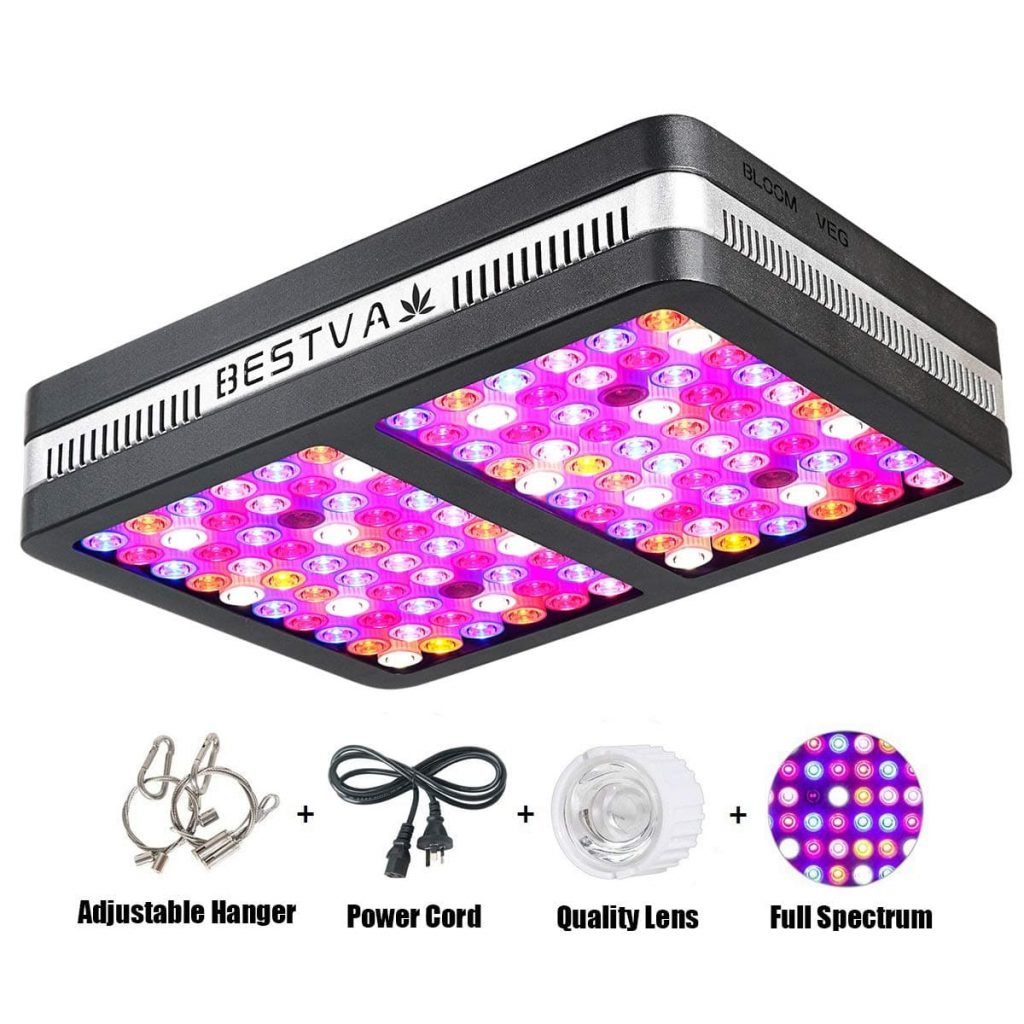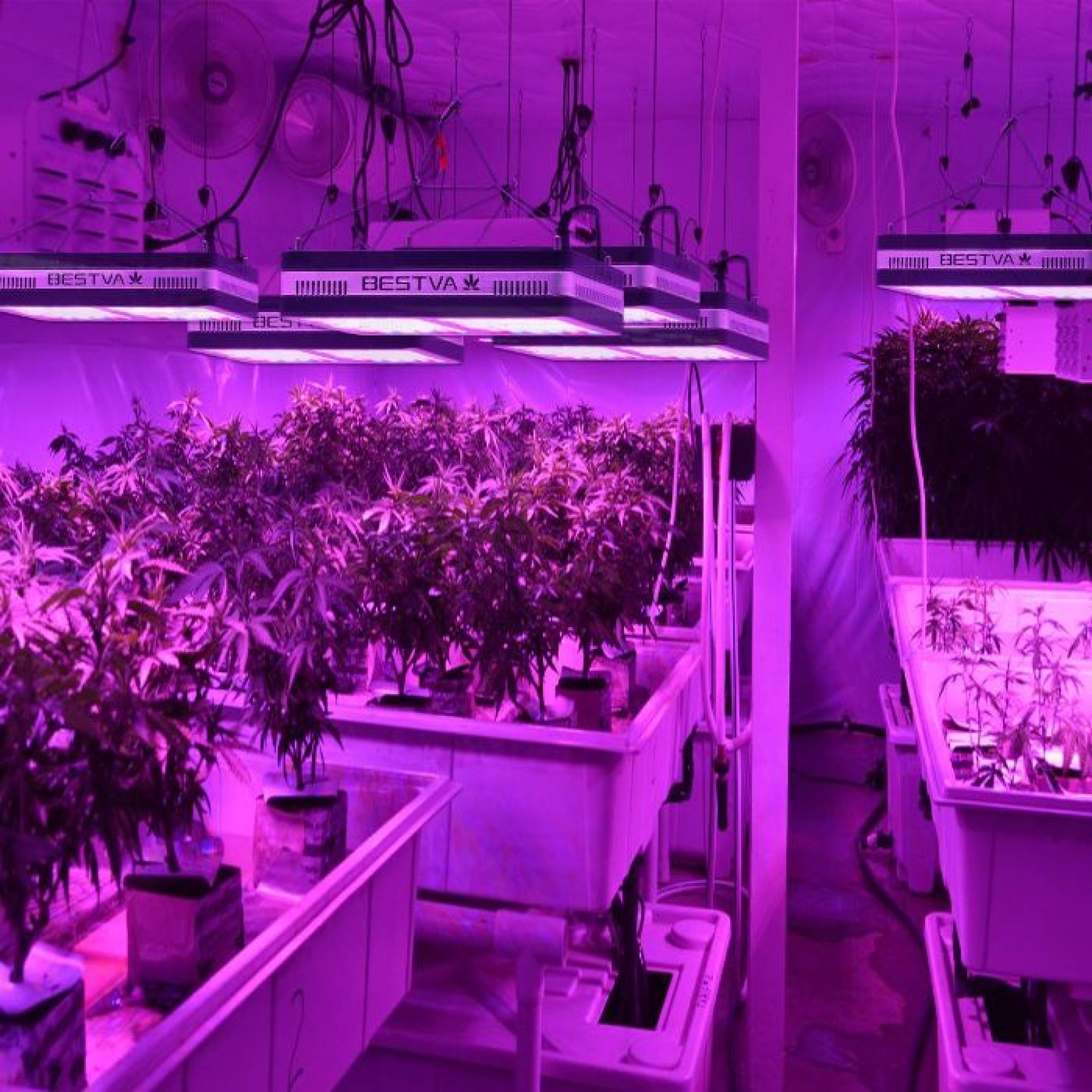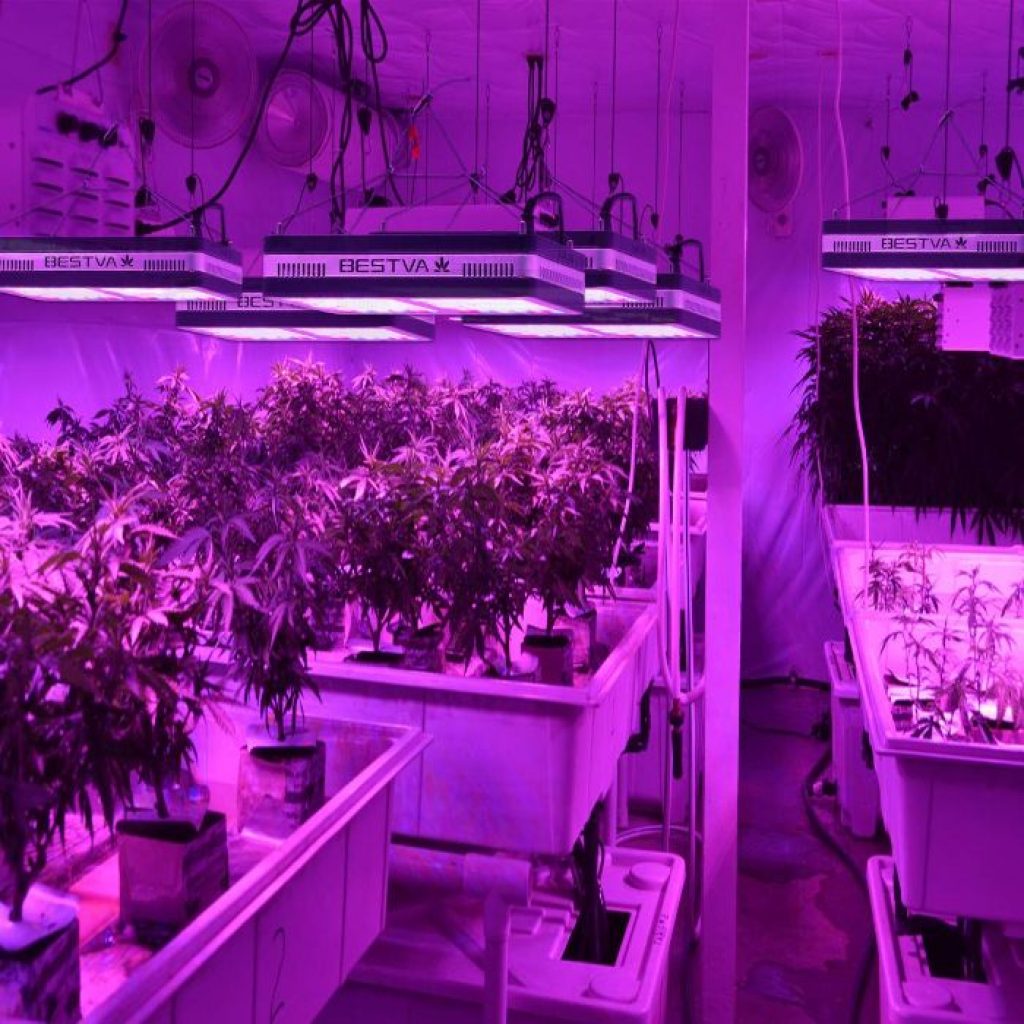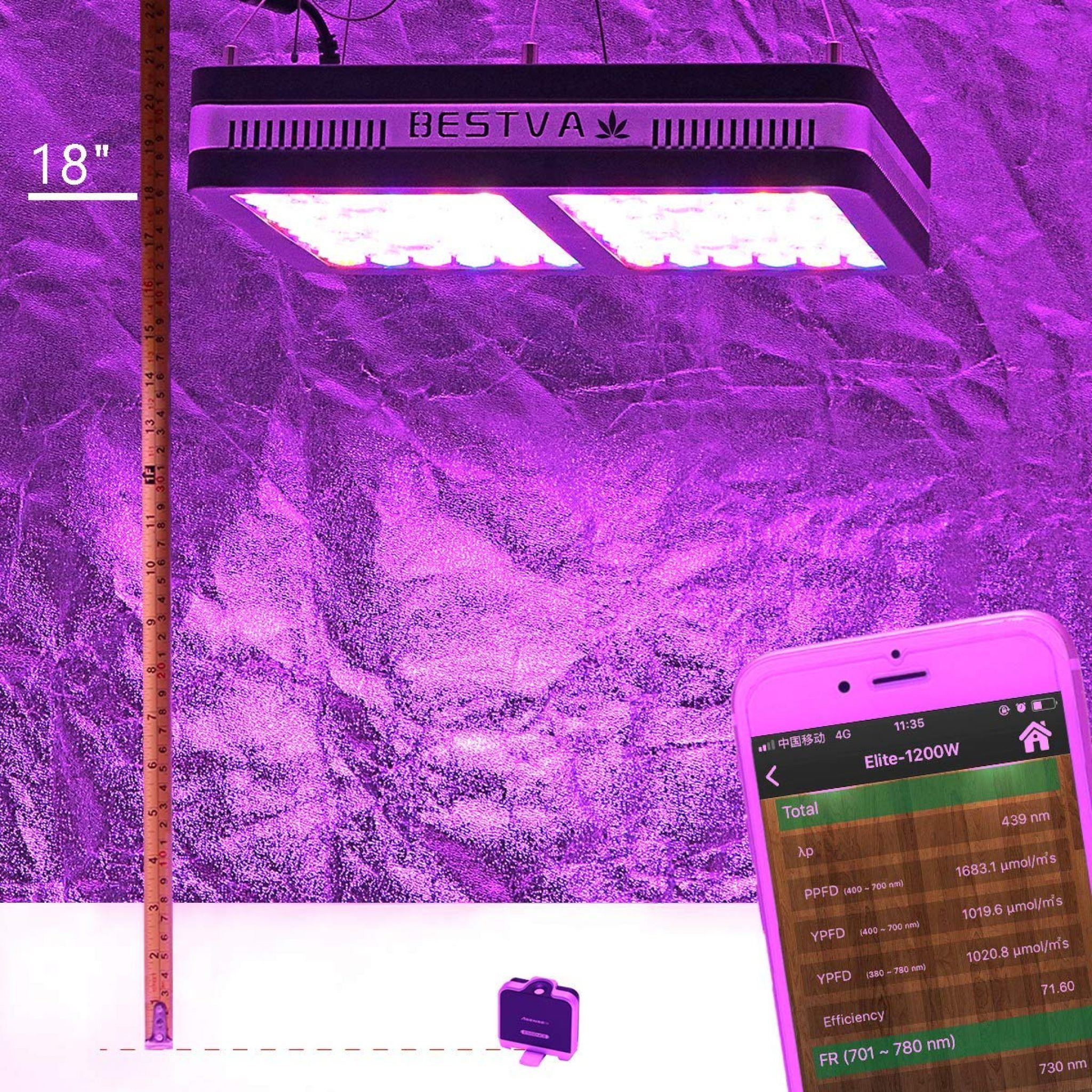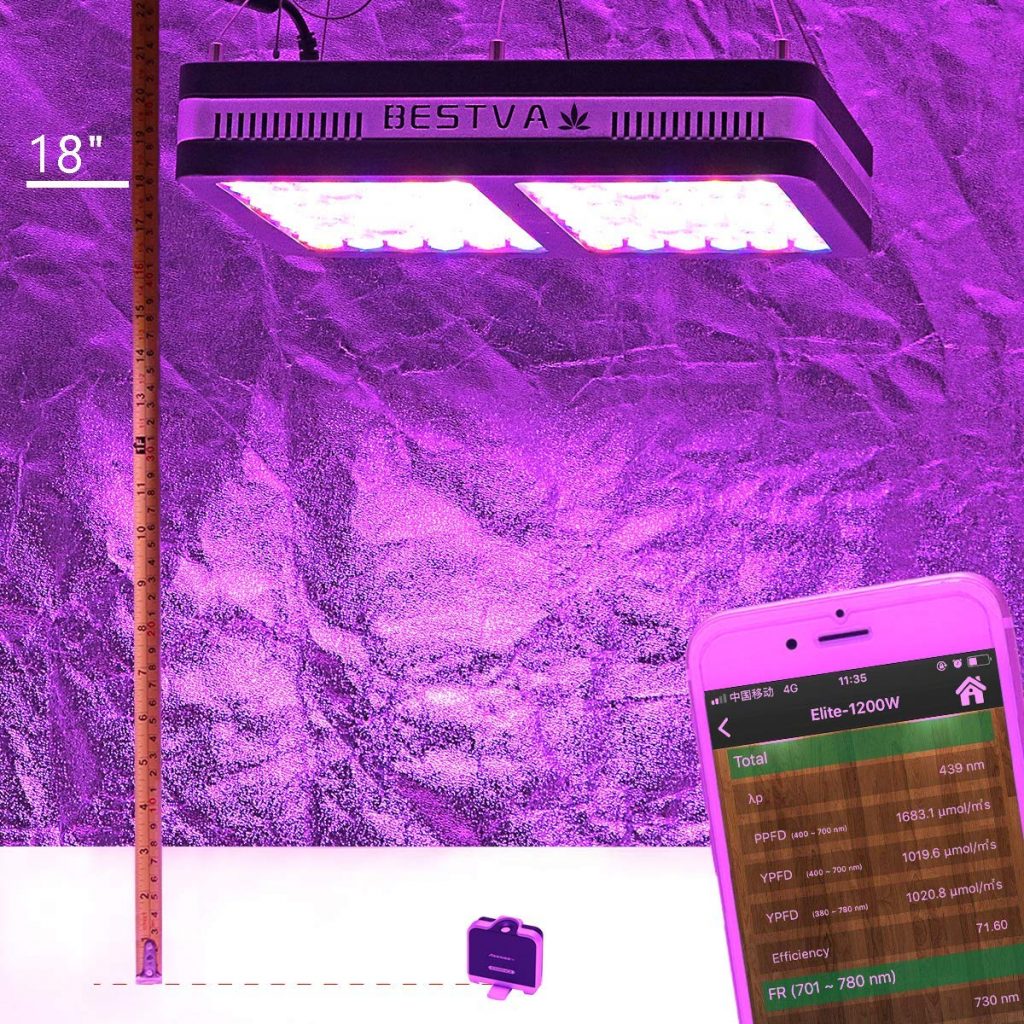 Pursuing the services of the most reliable reflector series 1200 watt led lights for growing cannabis? BESTVA 1200W will do you wonders. This device combines optical lens technique with a 90° lighting angle to improve the light-canopy penetration process with an equivalent reduction of wattage.
Thus, it increases lighting by about 30% resulting in higher PAR value necessary for the proper cannabis photosynthesis process. It is an ideal option in comparison to other devices on the market. It produces a PAR value substantially higher than 100 µmol/m²s essential when it comes to meeting the standard growth elements of a plant. It is essential for canopy perforation and the nourishment of the cannabis plant lower leaves.
Like most of the devices in this series, it is built with separate double switches. The veg and bloom switches. The veg aids the proper growth of the seedlings while the bloom switch ensures perfect control and enhancement of the cannabis flowering and fruiting process.
Thus, you should ensure proper management of the luminous intensity and the light spectrum by effectively controlling the two switches. These switches, with no doubt, provide a reliable service for your indoor farm from seeding to the flowering phase of your cannabis growth cycle.
The device puts into use the newest cooling arrangement with a 5mm thick integrated aluminum radiator ideal with higher efficacy in the dissipation of excess heat. Thus, it cools better, and it is strong enough to serve the user a purpose since it has a longer lifespan.
Moreover, it is the perfect fit for farming areas with approximately 3.8′ x 4.3′ and 24″ high. Thus, it covers a greater area equivalent to twice other reflector series of such devices.
No products found.
---
PROS:
overwhelmingly a higher coverage area
reliable cooling system
3-month refund warranty
well-adjusted Full Spectrum rays
CONS:
not waterproof
effective indoors only
MARS HYDRO: Best Light for Growing Cannabis in 2'x2′ Growing Fields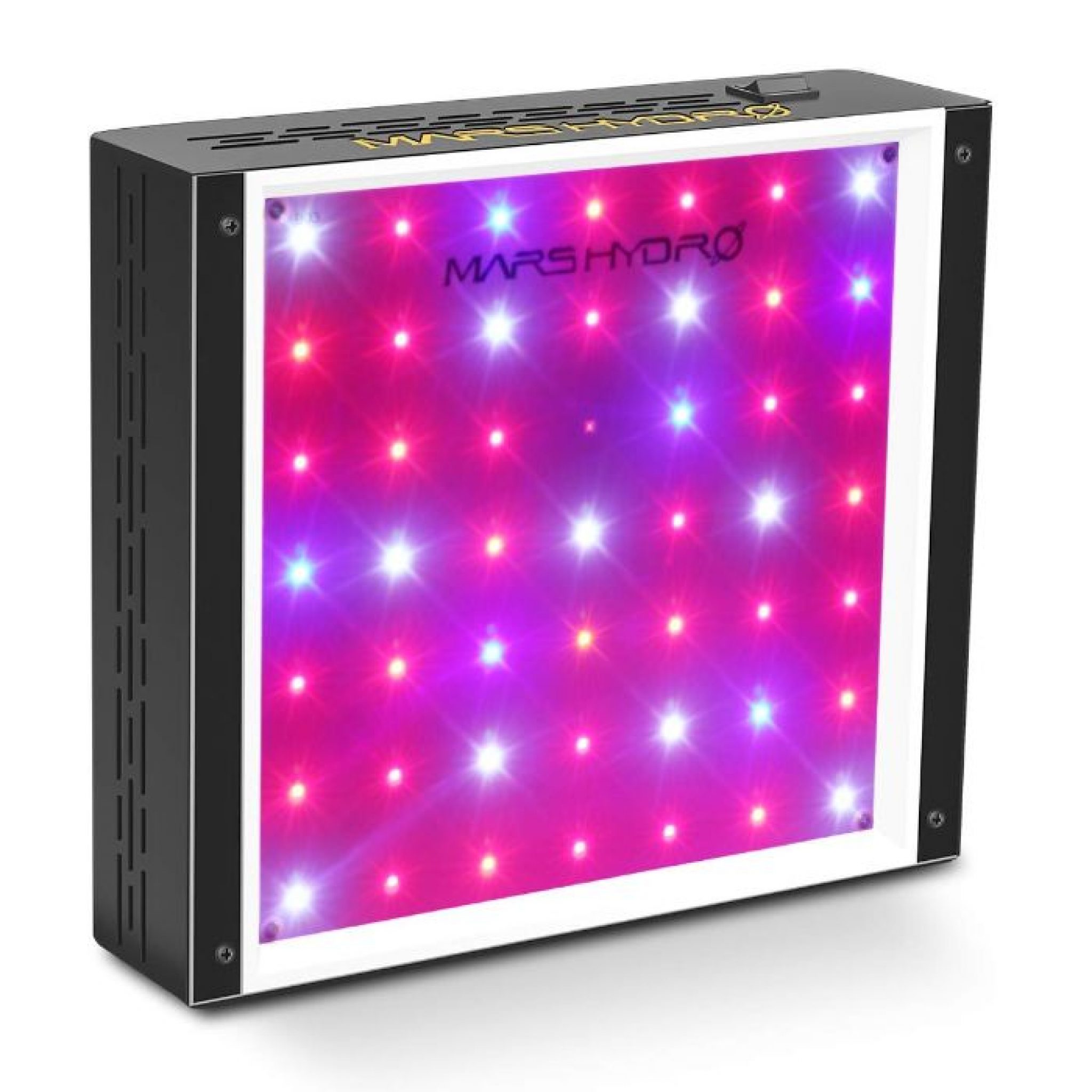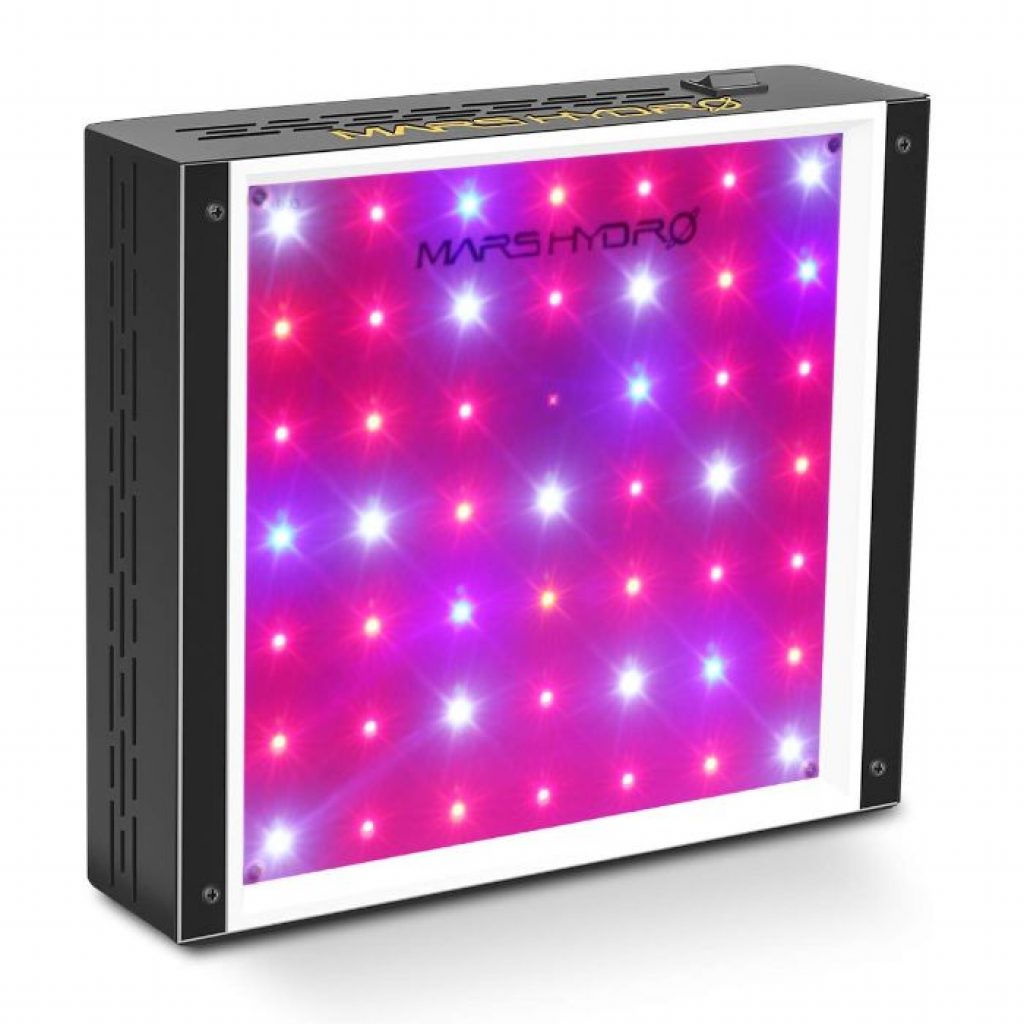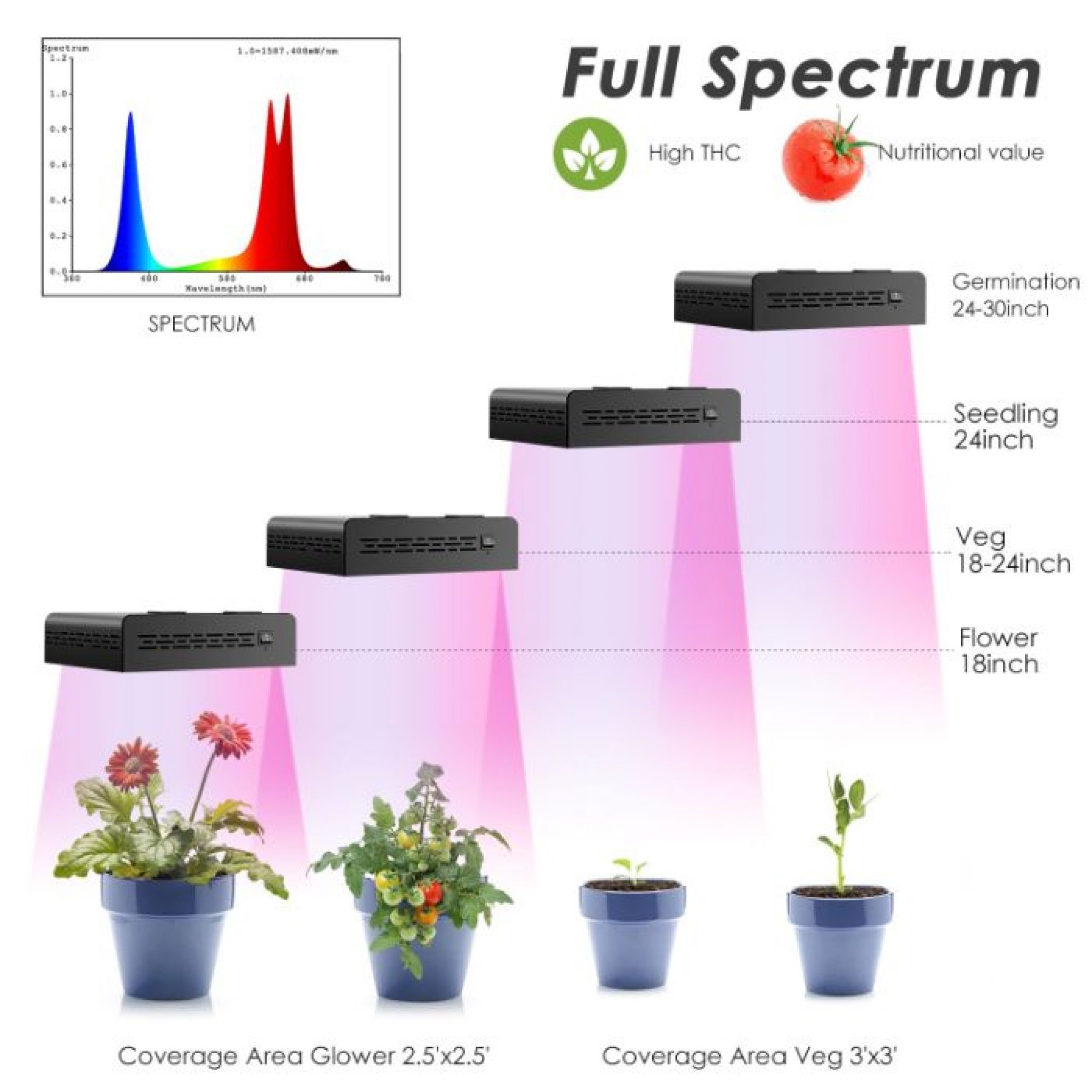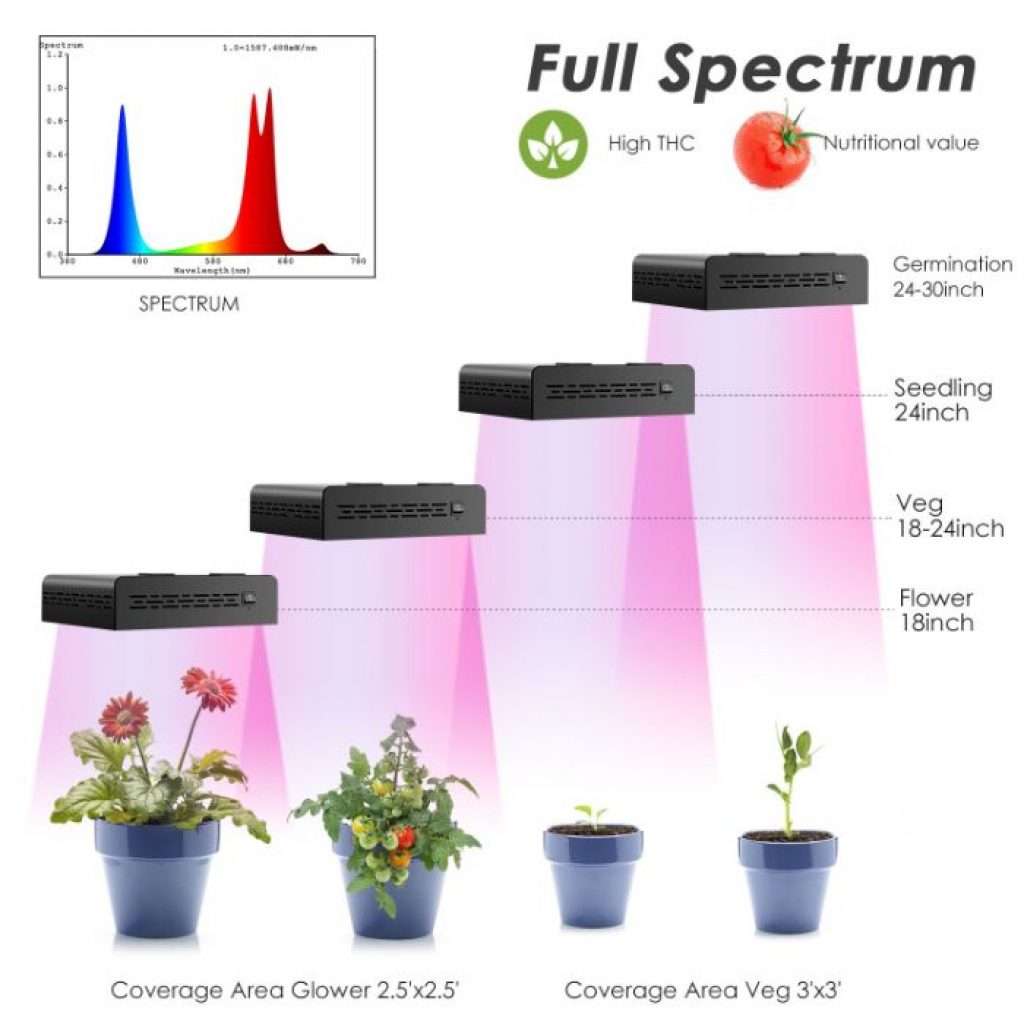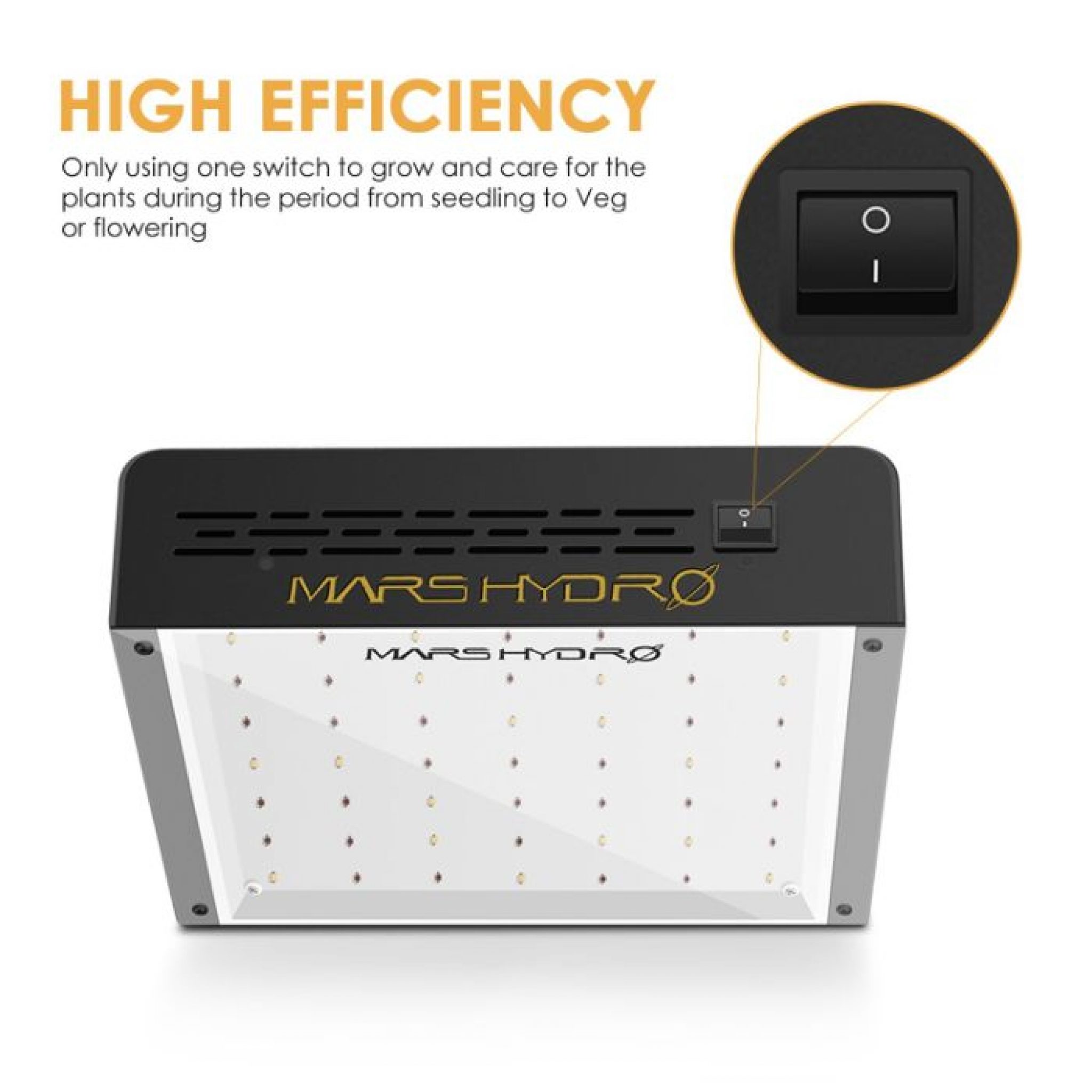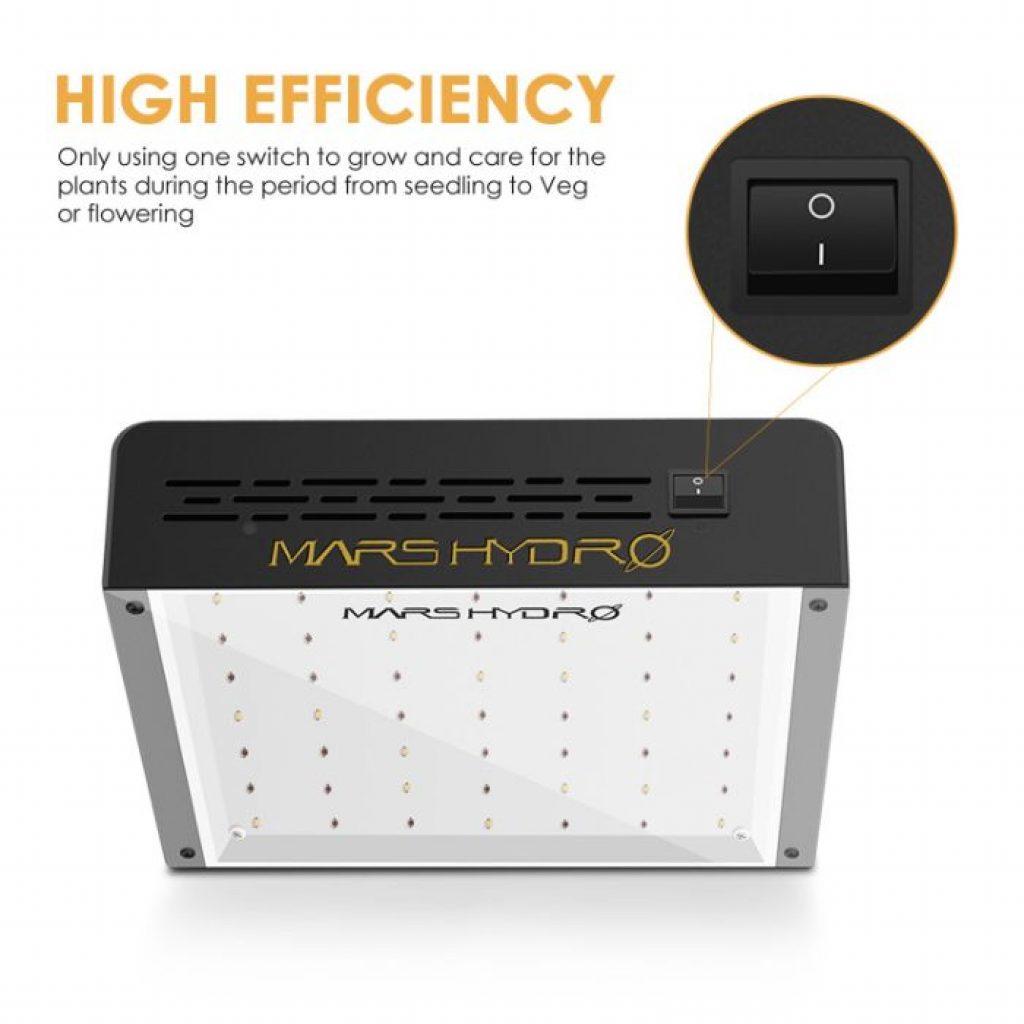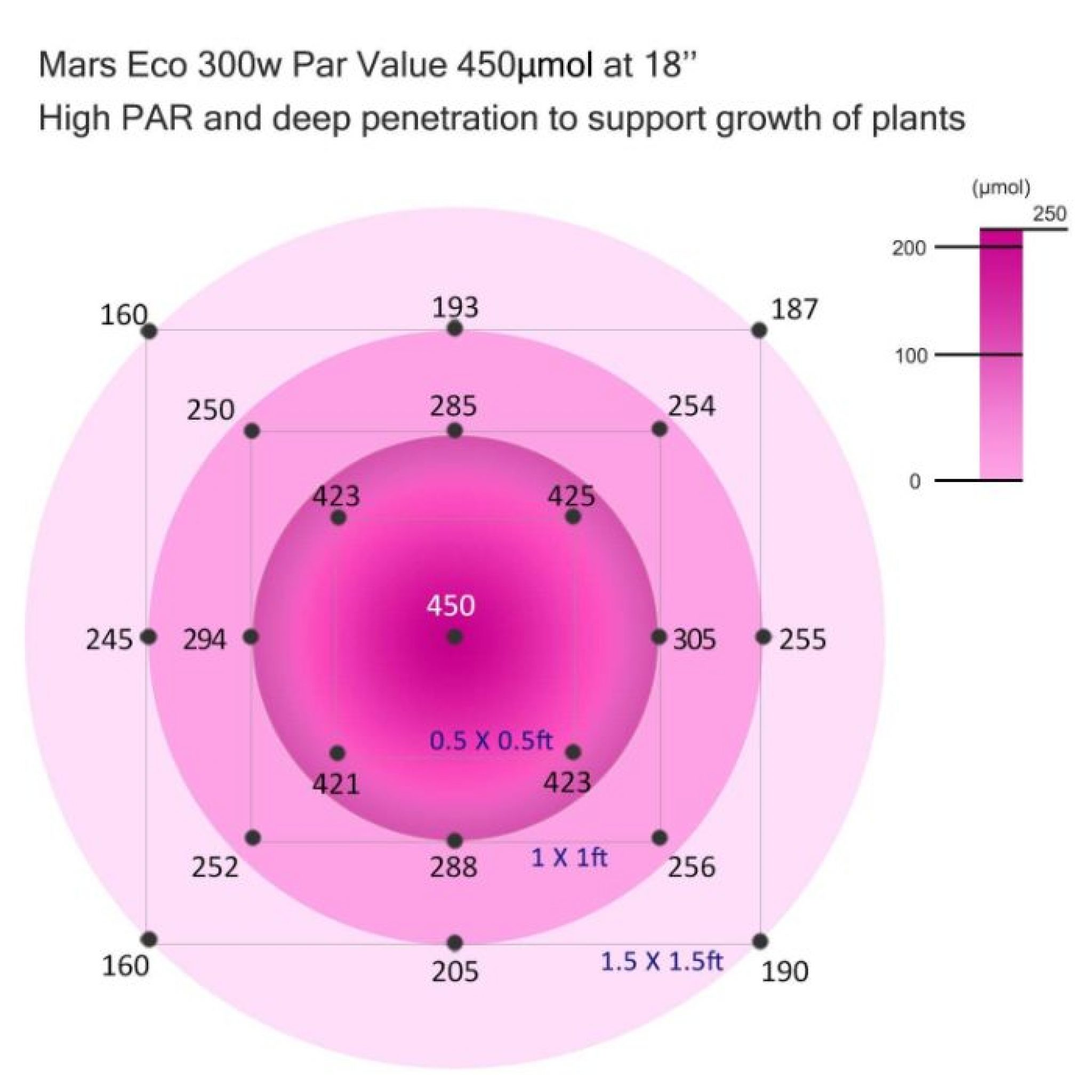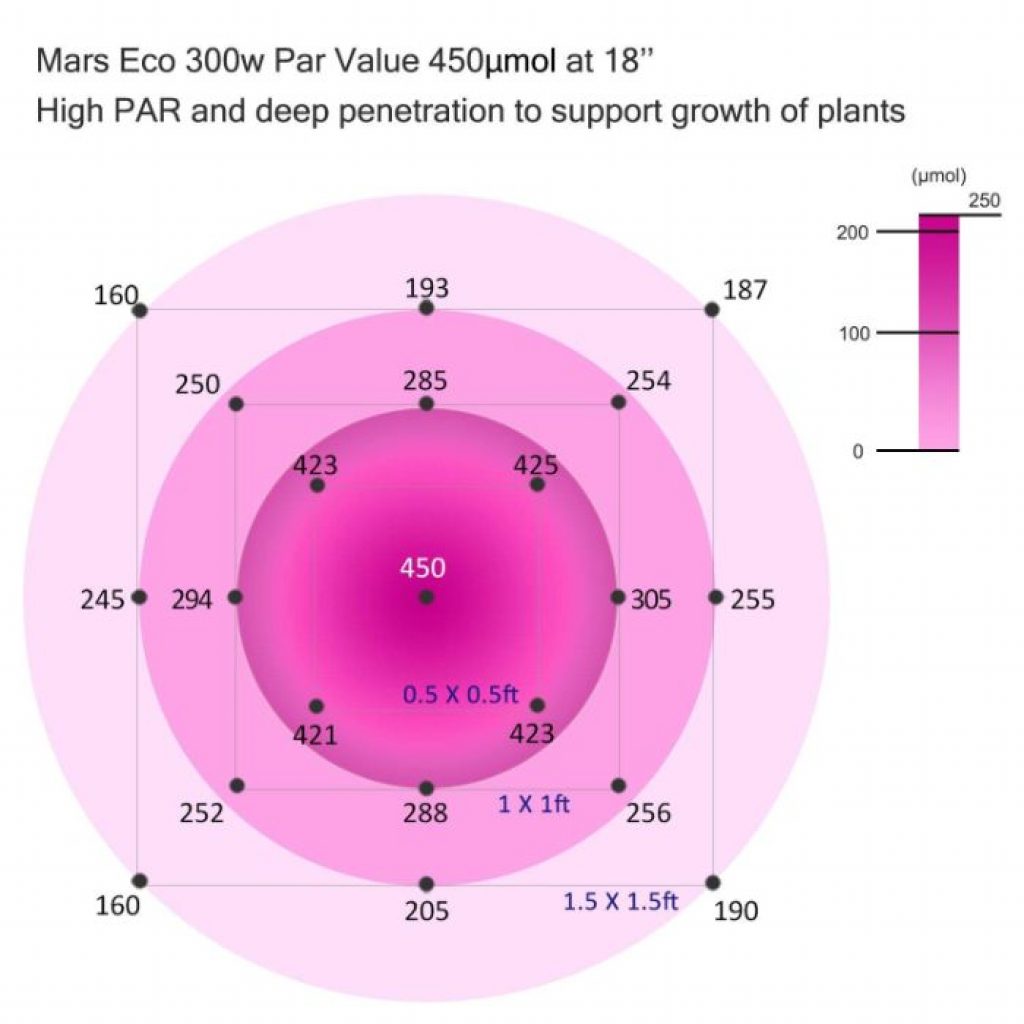 This device produces increased blue and red PAR per Watt to boost the harvest of plants; hence can do wonders as far as cannabis farming is concerned. It aids quality cannabis production with lower operational costs despite its powerful lighting unit.
It is built with a resilient power supply, Cree & fans, and besides the Epistar chips to ensure you get the best experience when using this high-quality Mars Hydro. Moreover, it is the newest of the series of Mars PRO II that comes with a fixed reflector cups on each LED aimed at ensuring 100% output through canopy penetration and area coverage.
Besides, it is full power operational, an element that ensures a maximized light intensity to foster robust cannabis plant growth from the initial development stage to harvest. It is fixed with U-connectors easing multiple light connections besides the double switch VEG and Bloom making the device manageable with no extensive skills required.
What's more, it is a perfect feat for cannabis farmers targeting 2'x2′ growing fields at 24″ high. The device's lighting system is ETL certified, and that's not all; it is also plugged with VDE using the UL certified wires. Once you acquire the device, you are covered. Any faulty operation is guaranteed a 3-year warranty period.
---
PROS:
it uses modular lights that can be easily daisy-chained
VEG/FLOWER switch for proper cannabis plant growth
reflector inclined on each LED to boost canopy penetration and coverage
CONS:
confusing to use if you are used to the HID LEDs their equivalent
King Plus: 1200 Watt Led Light That Lasts Long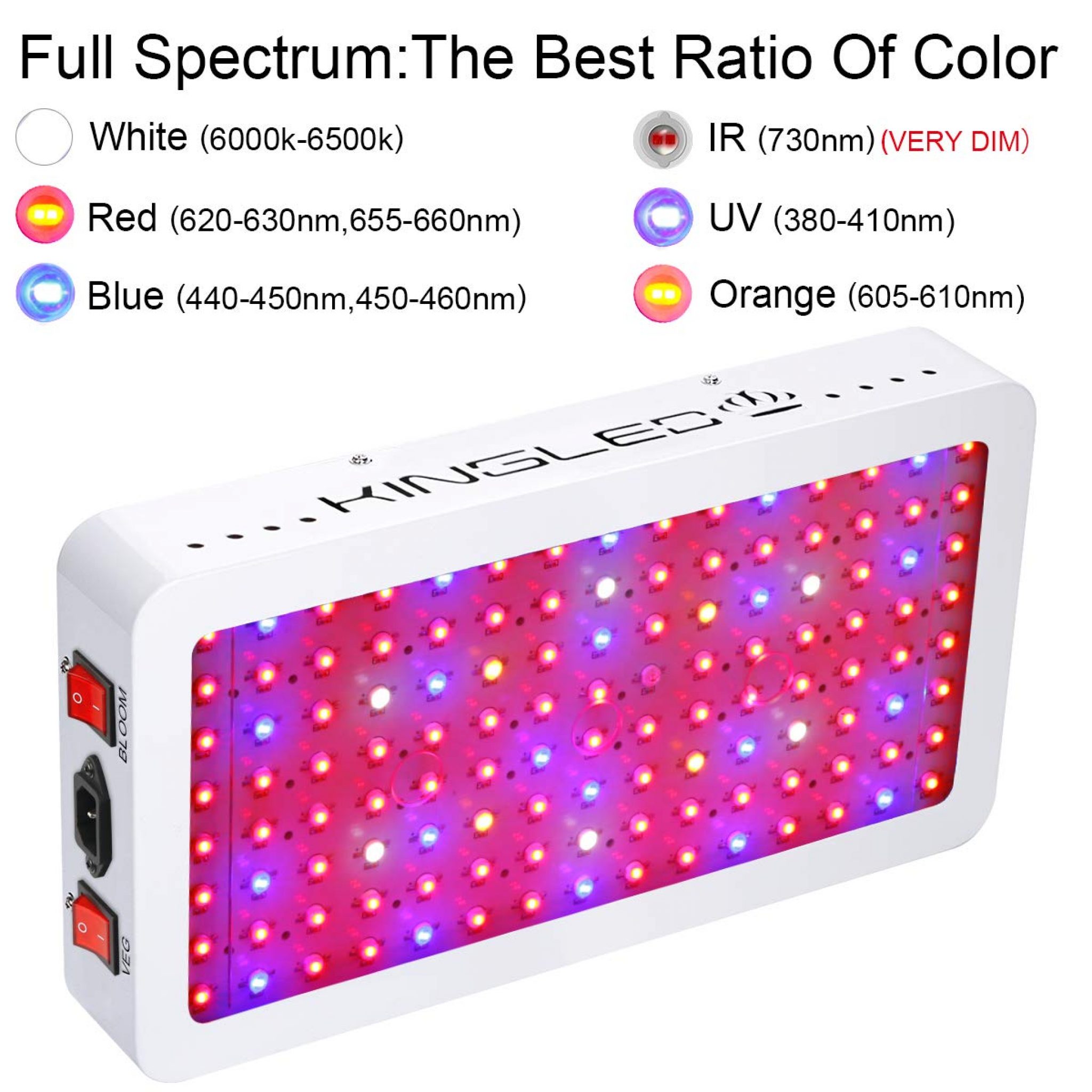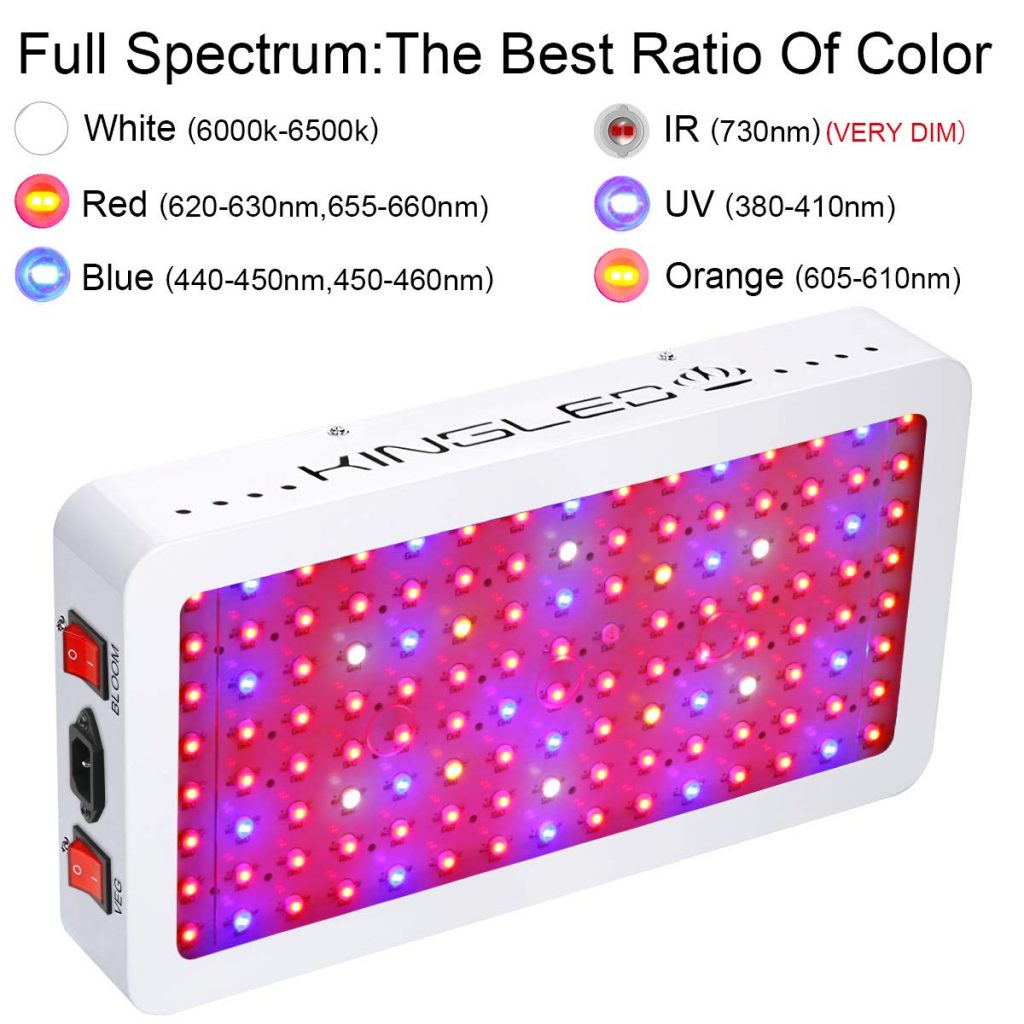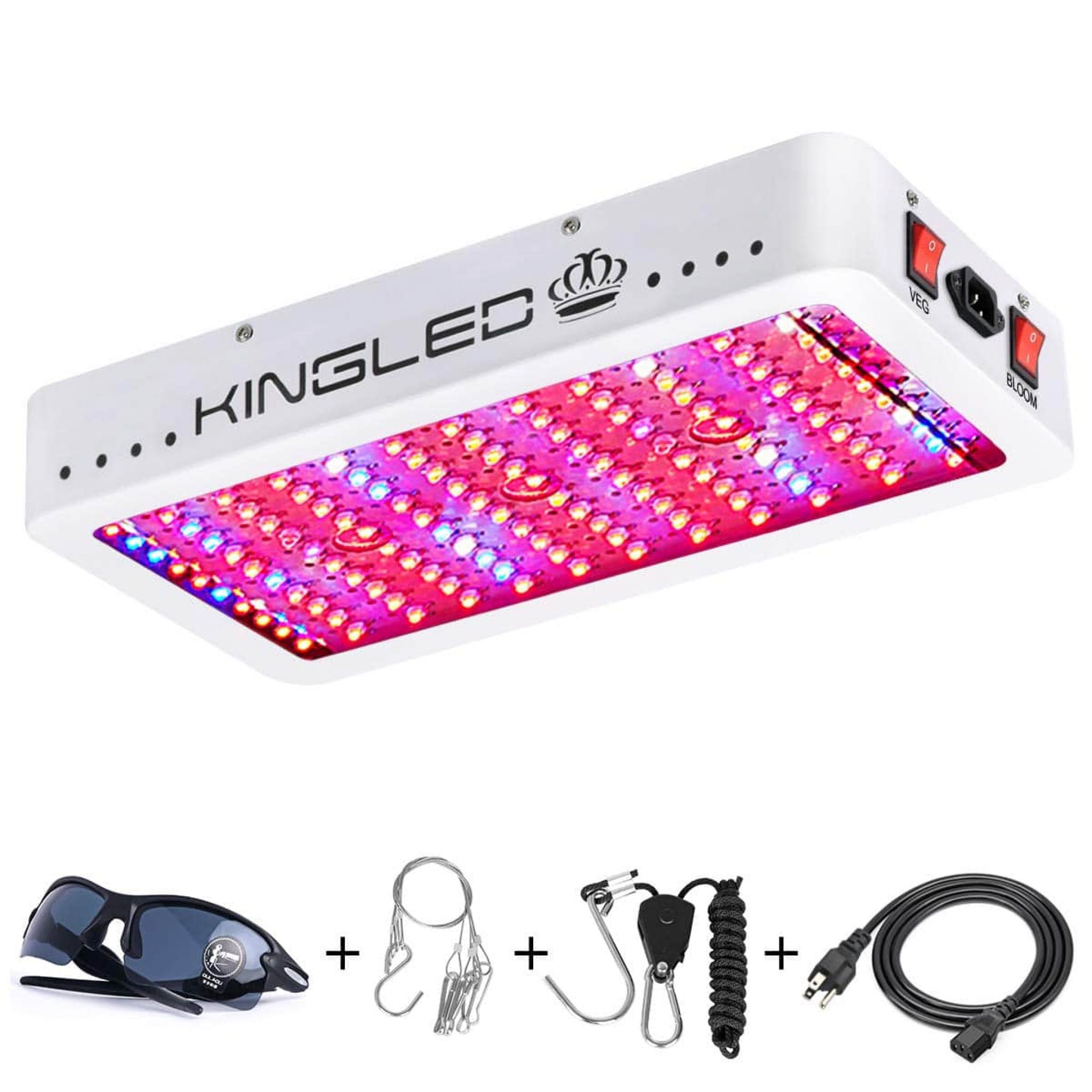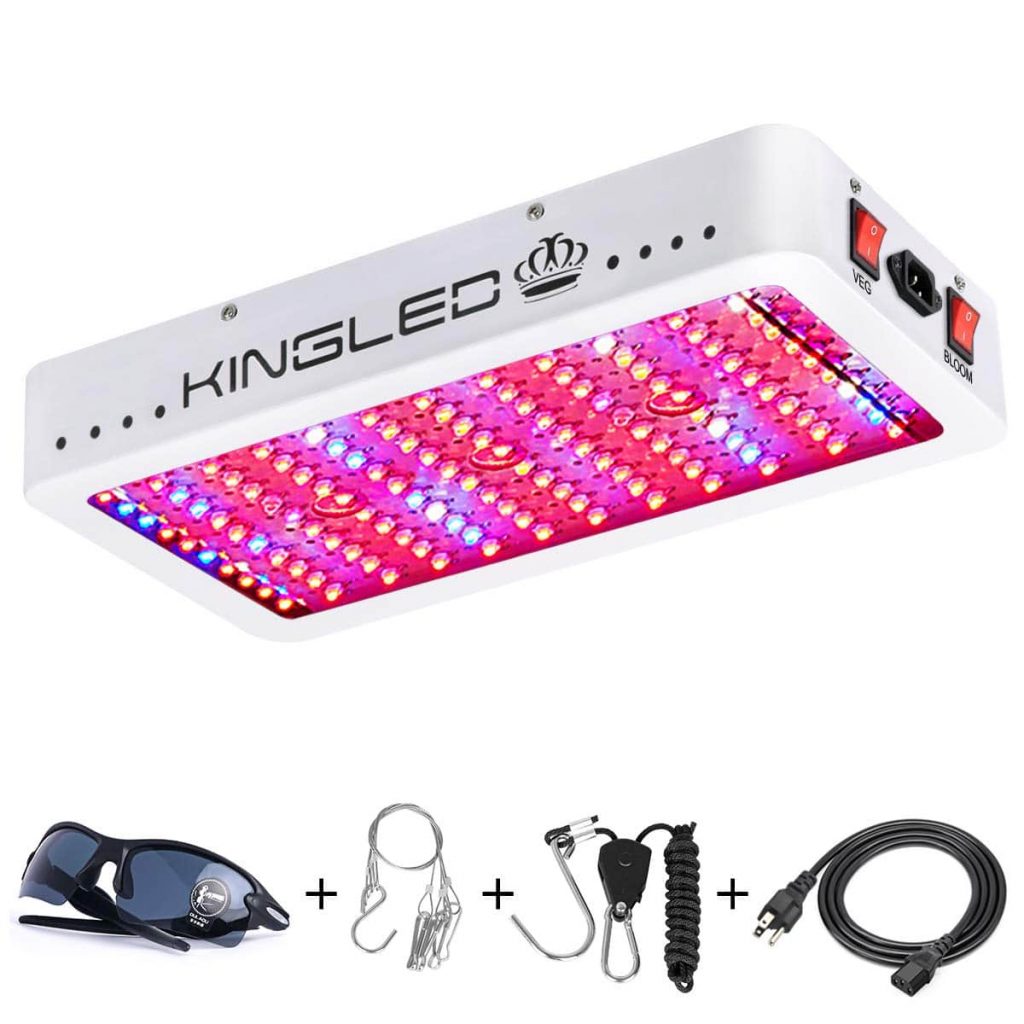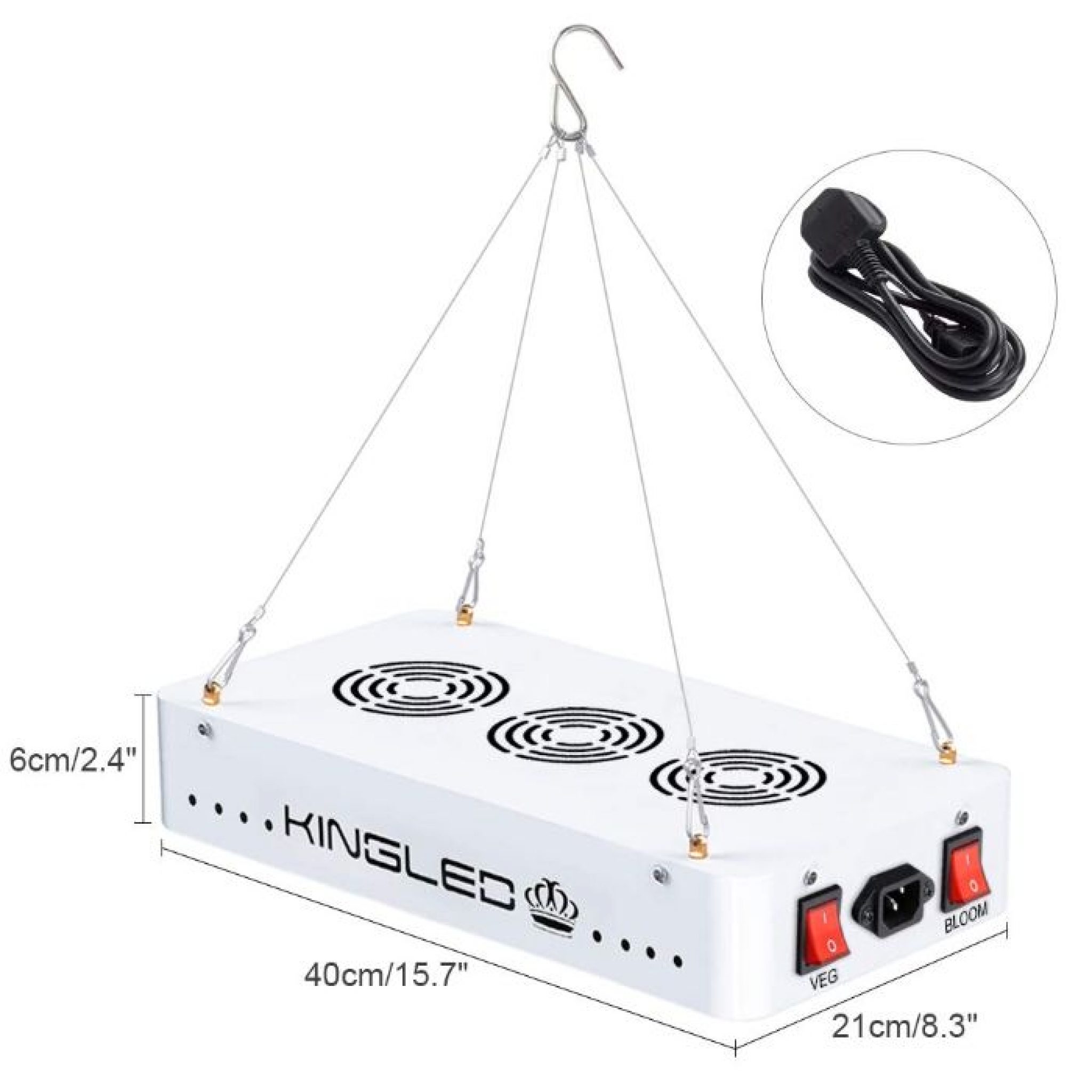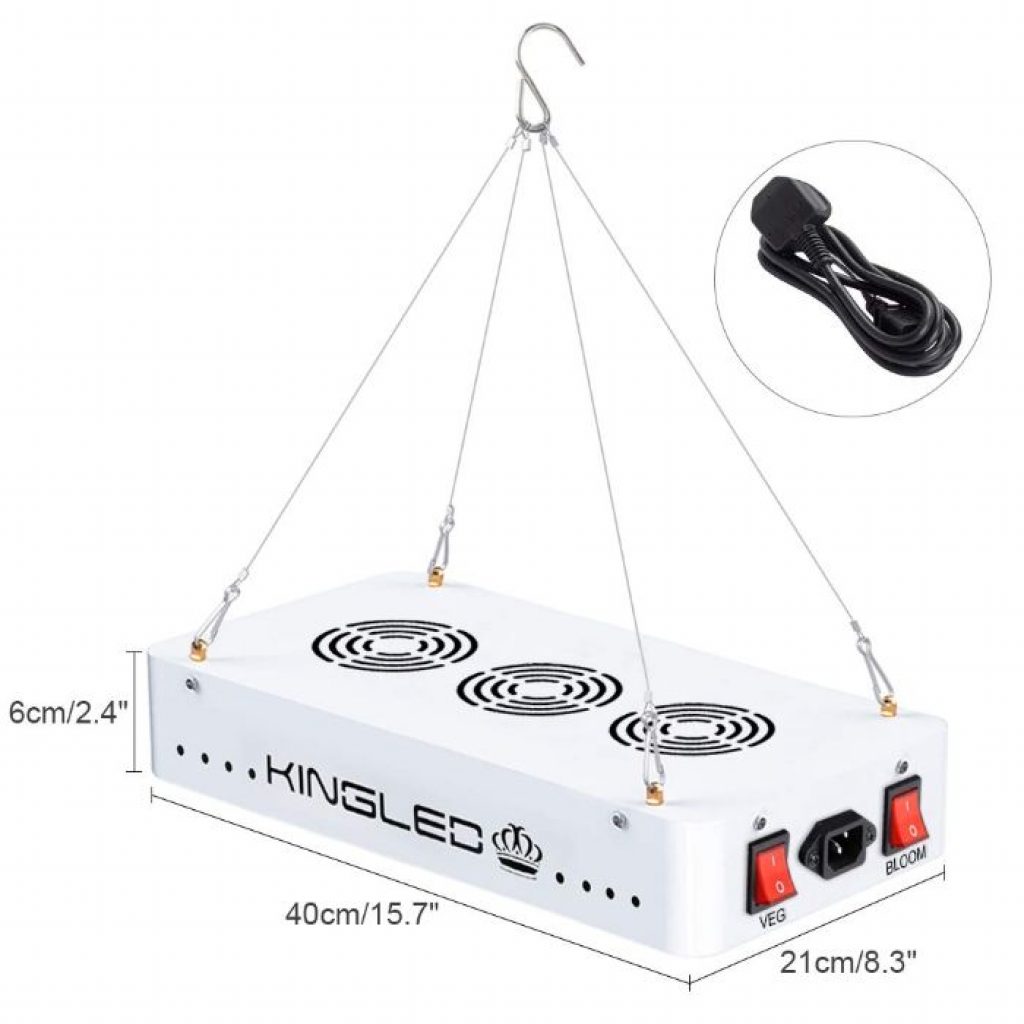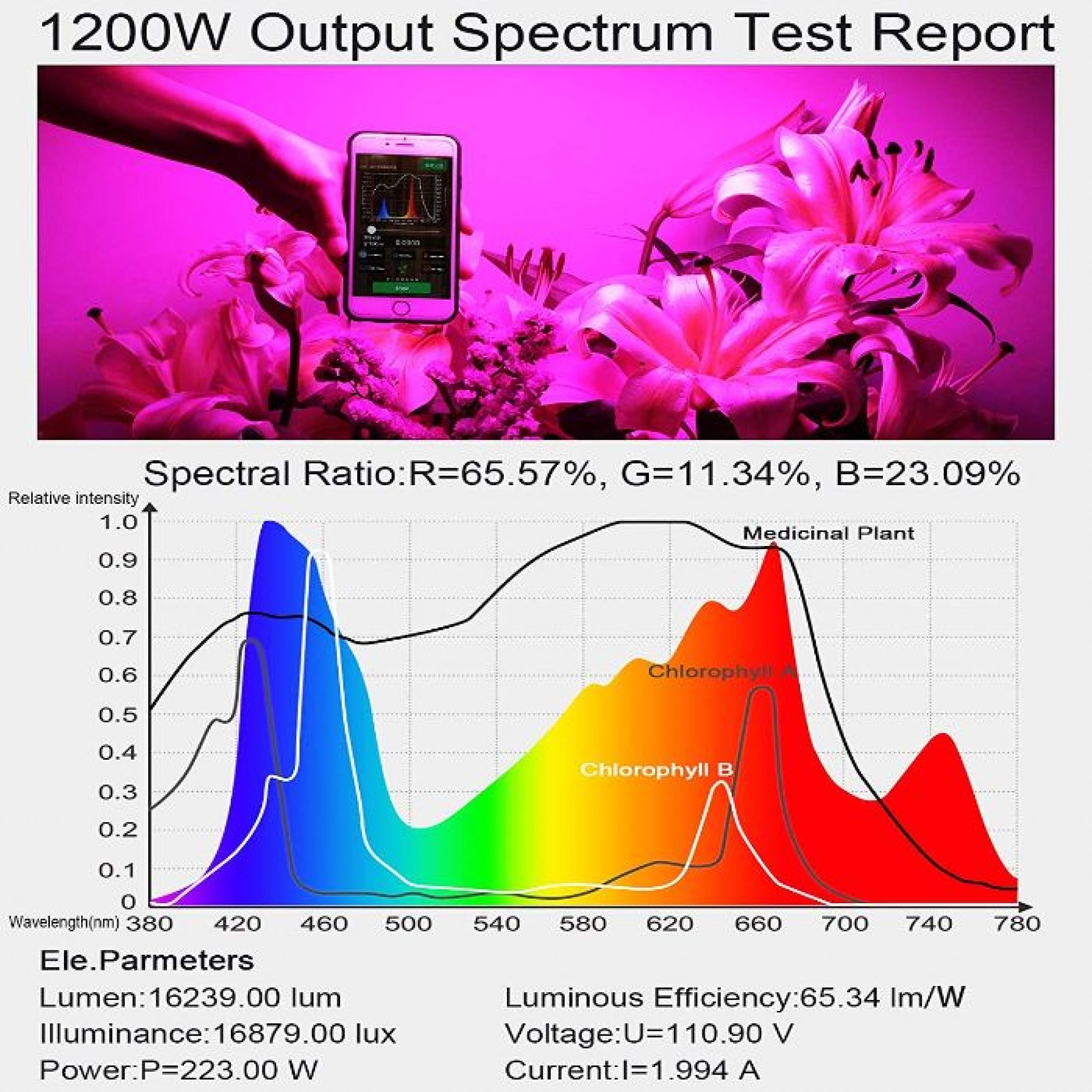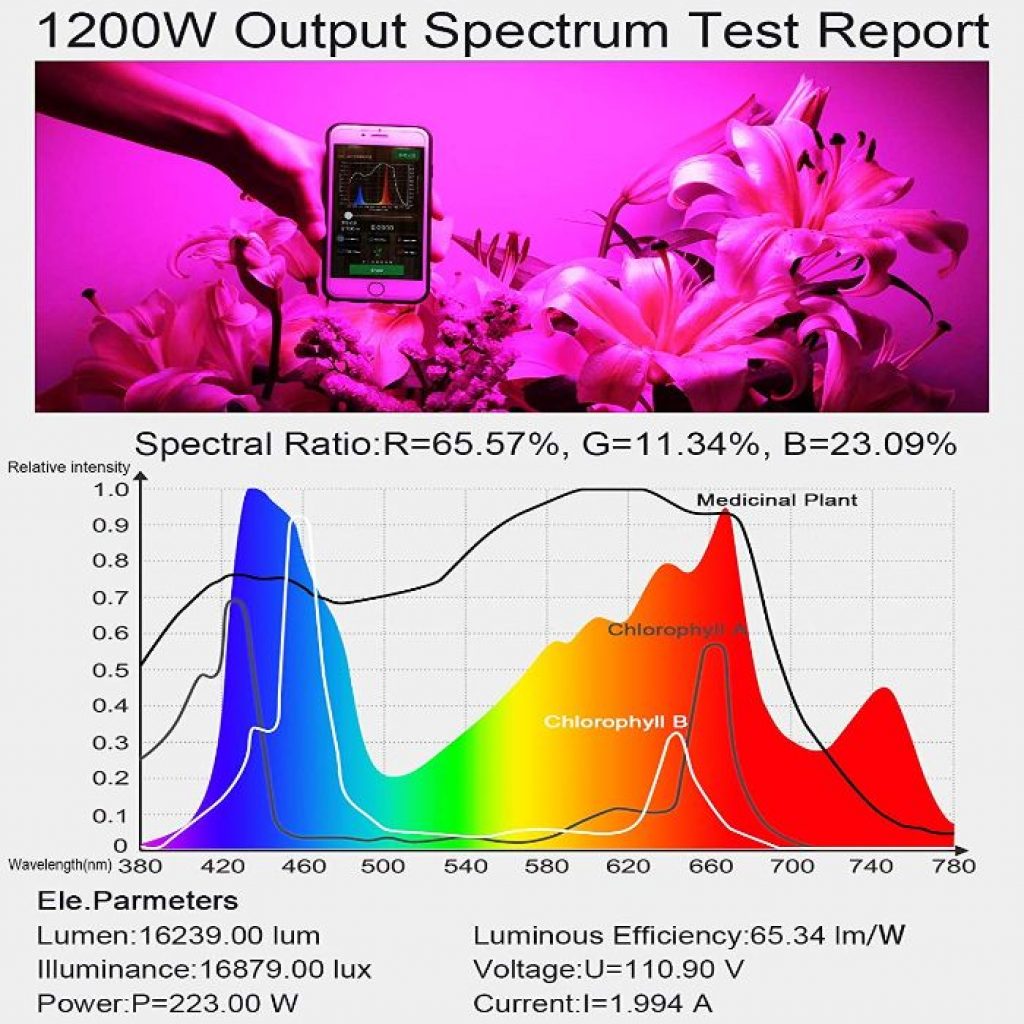 If you are aspiring to promote your cannabis farming effectively and boost your yield, this equipment is what you require. It is inbuilt with an optimal full range, which ensures the plant gets all the light-oriented nutrients they desire under sunlight.
It has a 10 watts double chip system, an element that permits balancing of PAR and Lumen output hence saving lots of energy, thus consuming 235 watts of power only. What's more, it has an innovative cooling arrangement incorporated with fans and holes for efficient heat elimination. Hence, it provides suitable lighting coverage with 14 hours of non-stop working hours.
The full range of distinct lights, for instance, red and yellow, among others, makes it more appropriate for every growth phase of the cannabis. The VEG switch that comprises blue and white LEDs provides blue light that aids proper cannabis plant germination. The concentrated blue light boosts sprouting and firm root development at the germination phase.
The Bloom switch that comprises red and white LEDs provides red light crucial in the flowering phase of cannabis growth. The red light produces vital red wavelengths that are necessary for boosting the production of hormones. These hormones do prevent the wastage of the plant's chlorophyll.
The initial stage of plant cannabis life needs a full light spectrum. Thus, turn on both the VEG and Bloom switch to ensure your cannabis plant gets enough light necessary for viable germination and enhanced flowering. With King LED in place, marijuana bumper harvest through indoor greenhouse farming is ensured.
---
PROS:
work quietly;
sturdy and durable built light;
long lifespan.
Phlizon: 1200W Grow Light with Daisy-Chain Technology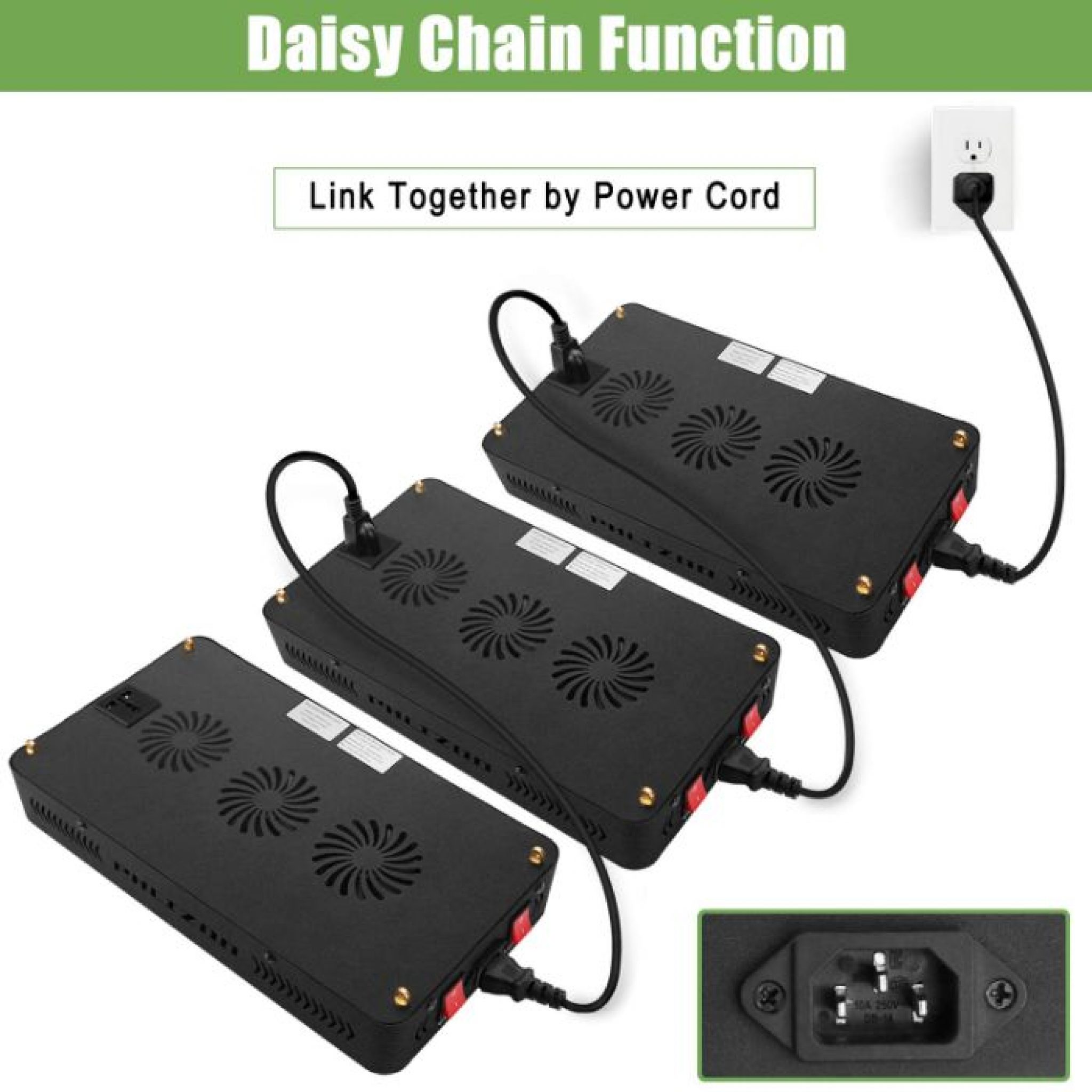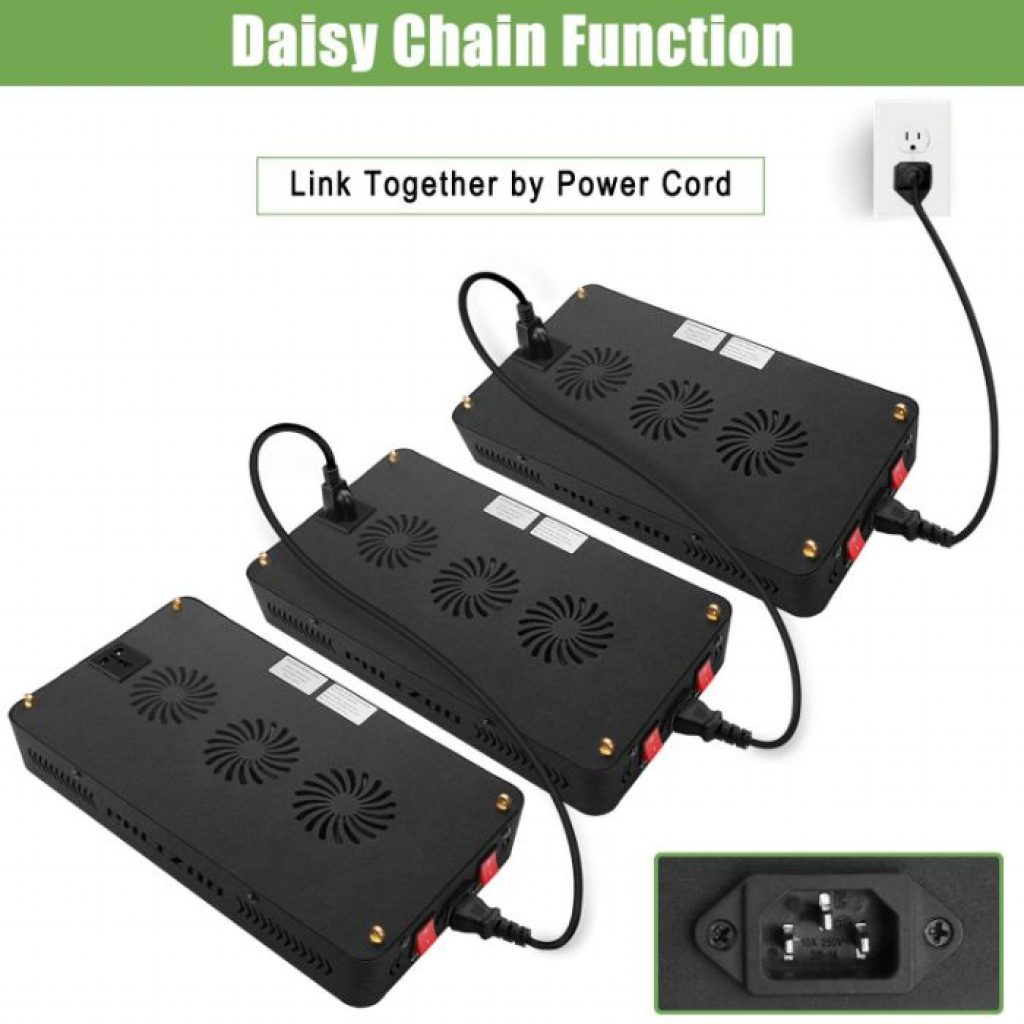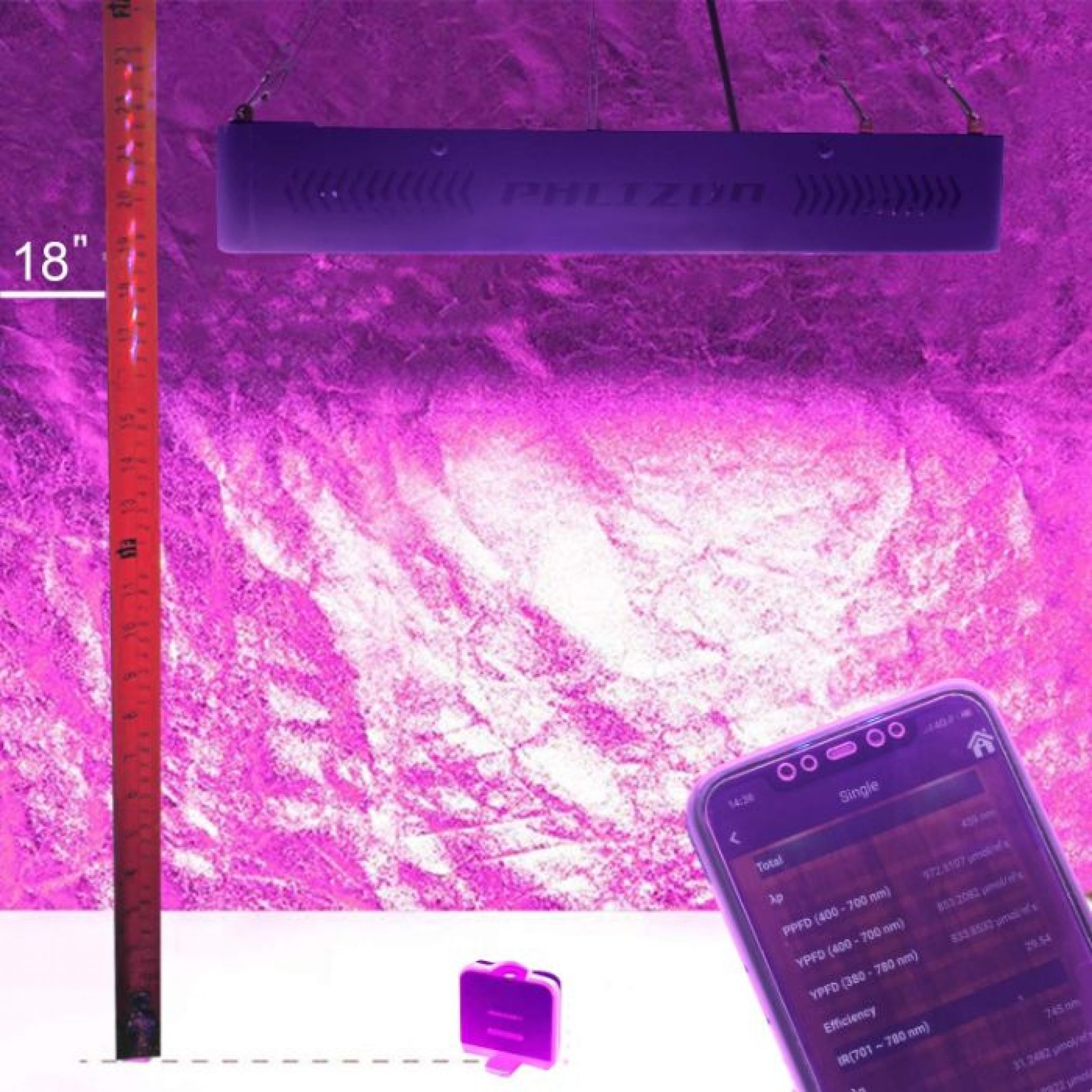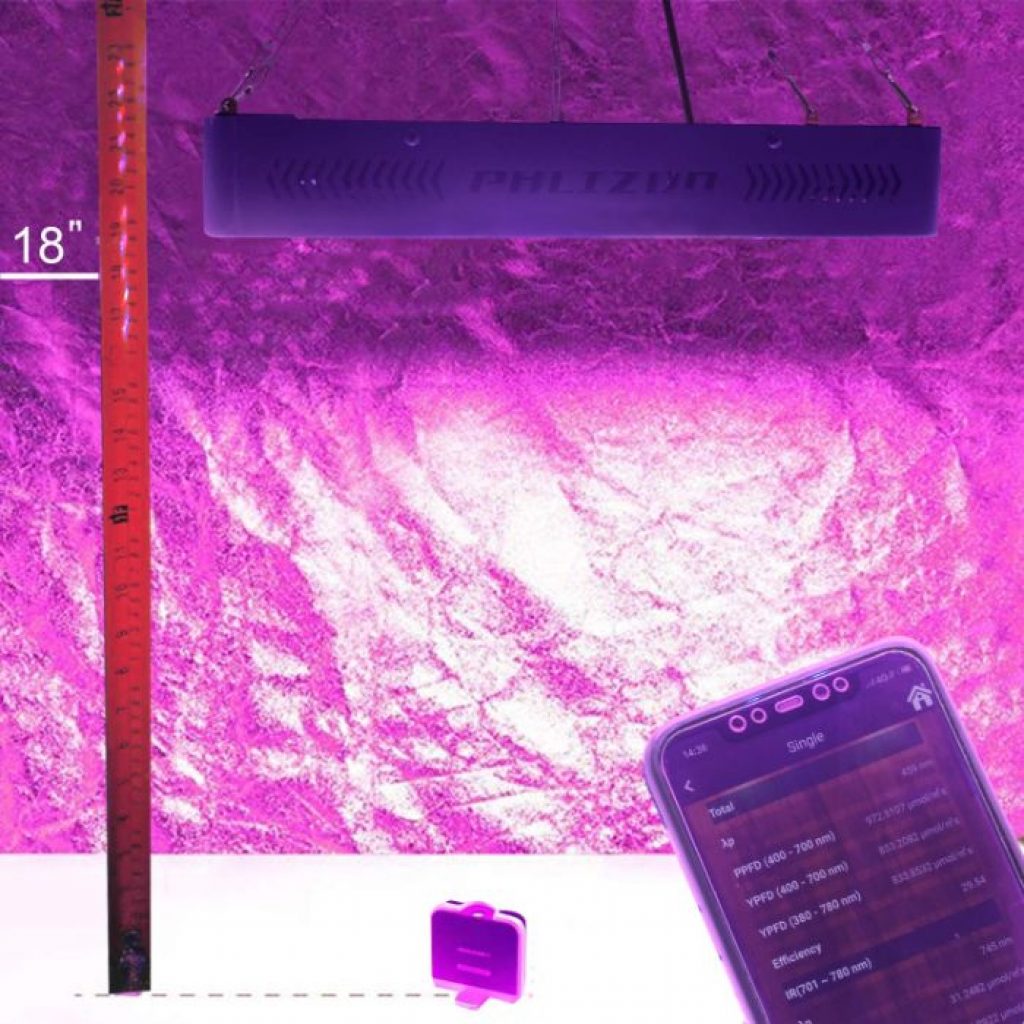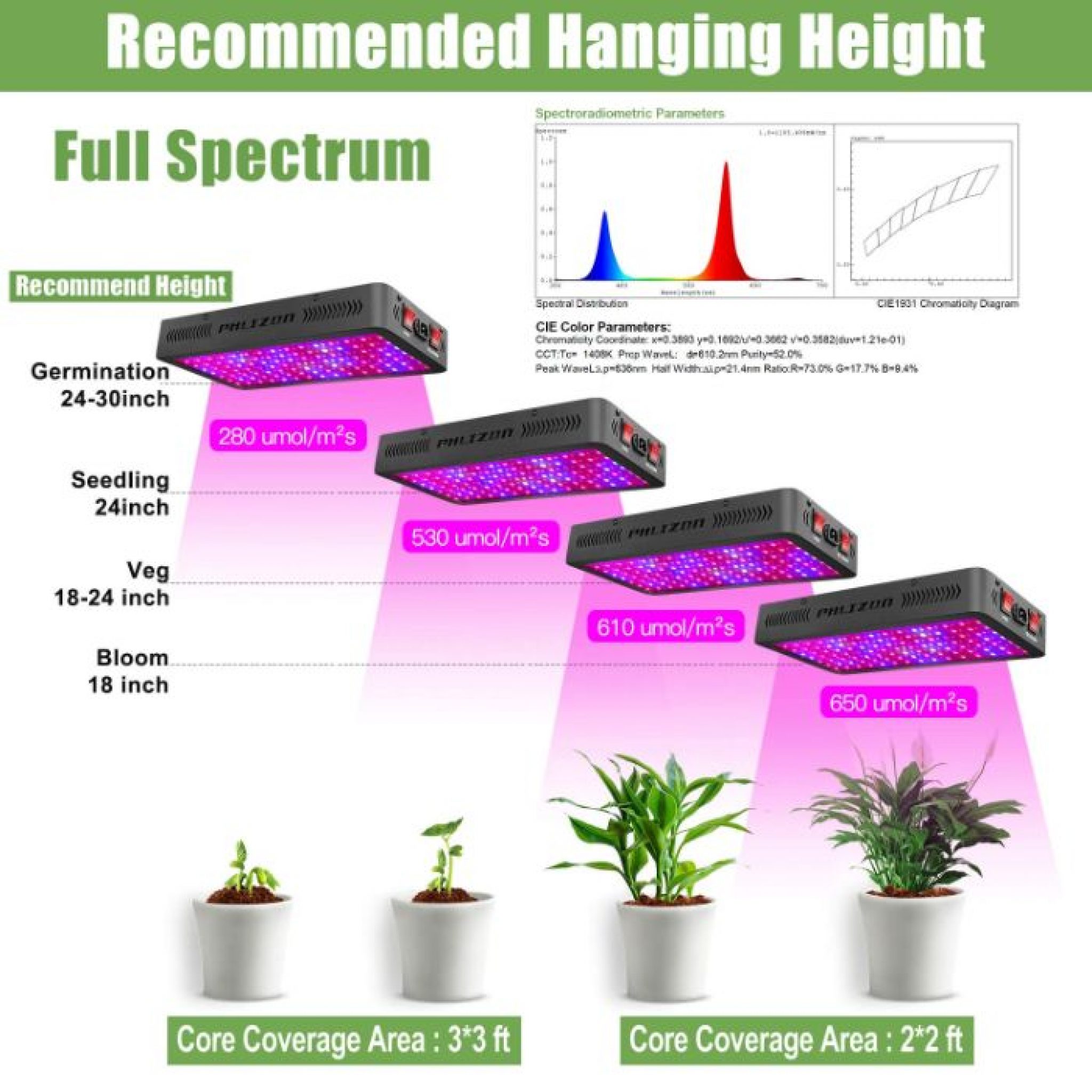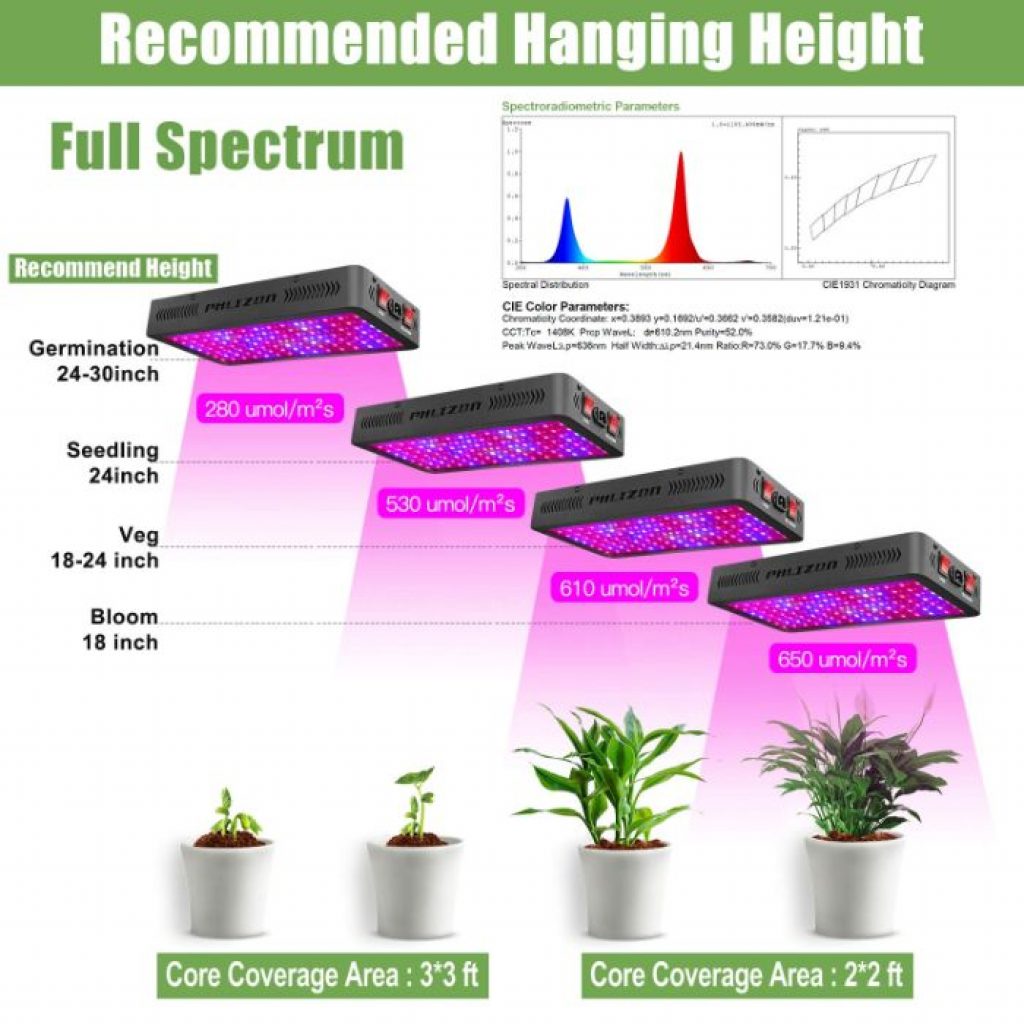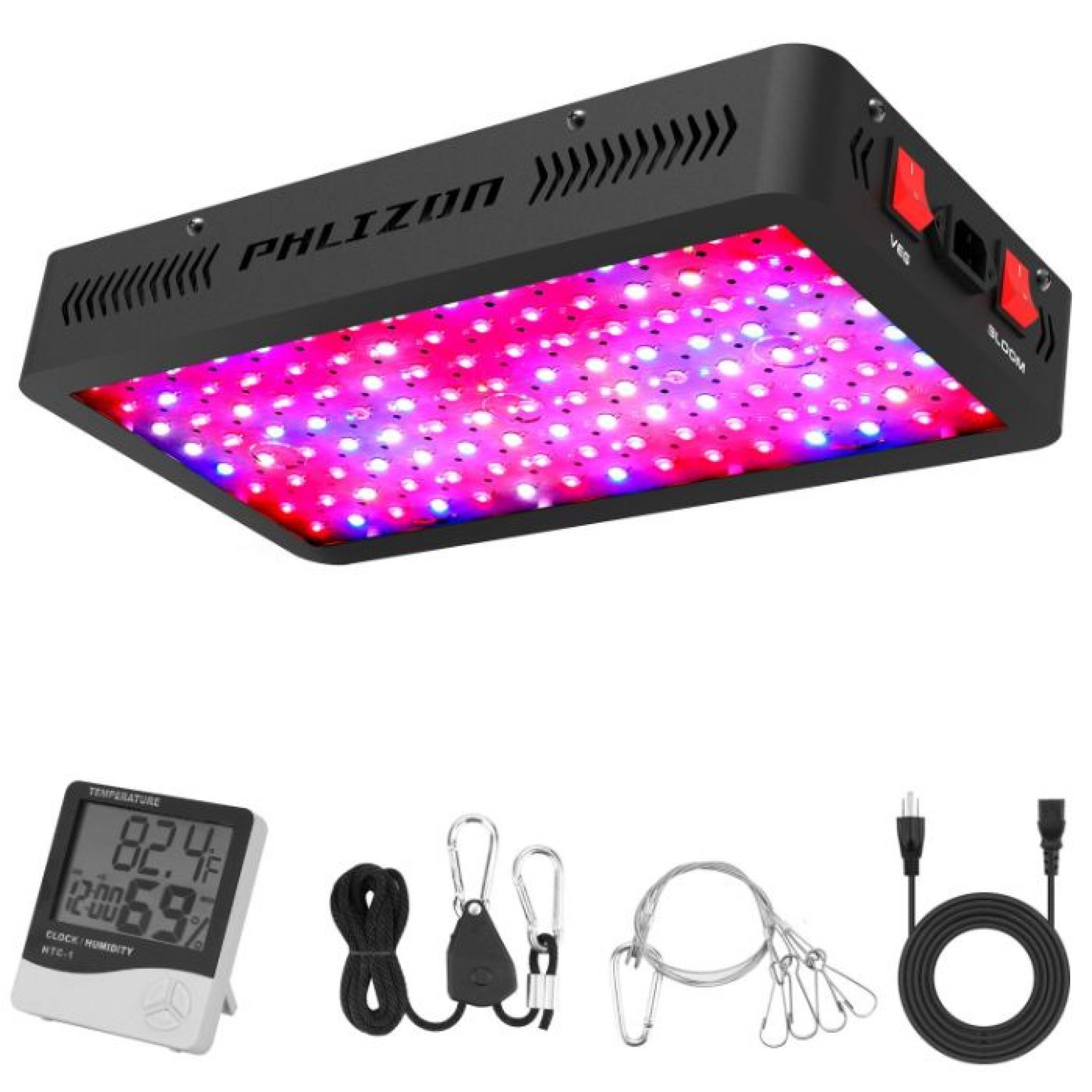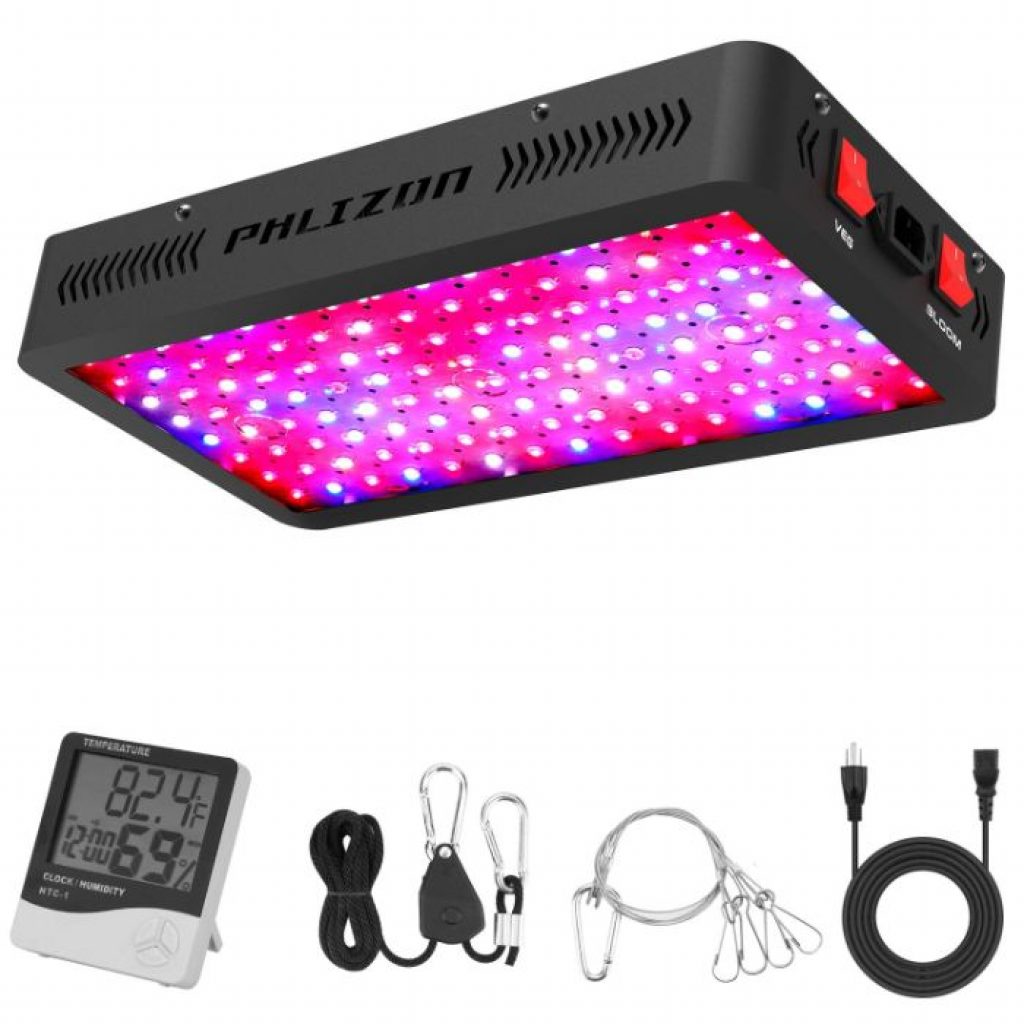 If you are in pursuit of one of the most reliable 1200 watt led light, this device will serve you a purpose. It's a full spectrum LED that combines IR and UV to boost the fast growth of cannabis.
The device is built with no reflector; this is a crucial aspect of avoiding dangers that come with such beautifications. LED reflectors aren't heat resistant, meaning any small instance of a short circuit or heat above 80°C may result in melting or fire. Therefore, the device is made, preferably putting safety first, not beautifications that come with the reflectors, adding no value to the cannabis plant.
Moreover, in comparison to MH / HPS lamps, this device generates much less heat hence saving more energy resulting in a lower electricity bill. It has a vast light range covering a wider area than the reflector light series. Besides, it has double more cooling fans, which extend the device's life. Thus, if you are targeting a growing field with measurements of approximately 24 fts high and 3x3ft, this device is the perfect fit for your cannabis growing purpose.
The double switch aspect with bloom and veg options plays significant roles in different phases of cannabis growth phases. For young plants, the veg option is switched on to steer proper sprouting. For flowering, the red bloom's light is essential. Besides the double lights, the UV and IR LEDs are responsible for developing the cannabis plants` defense mechanisms, ensuring its safety.
---
PROS:
2-year warranty;
Veg/Bloom switch options;
daisy-chain function;
FCC accredited.
MEIZHI: Best 1200 Watt Led Lights for Growing Cannabis in 3 ft×4.5ft and 18' High Environment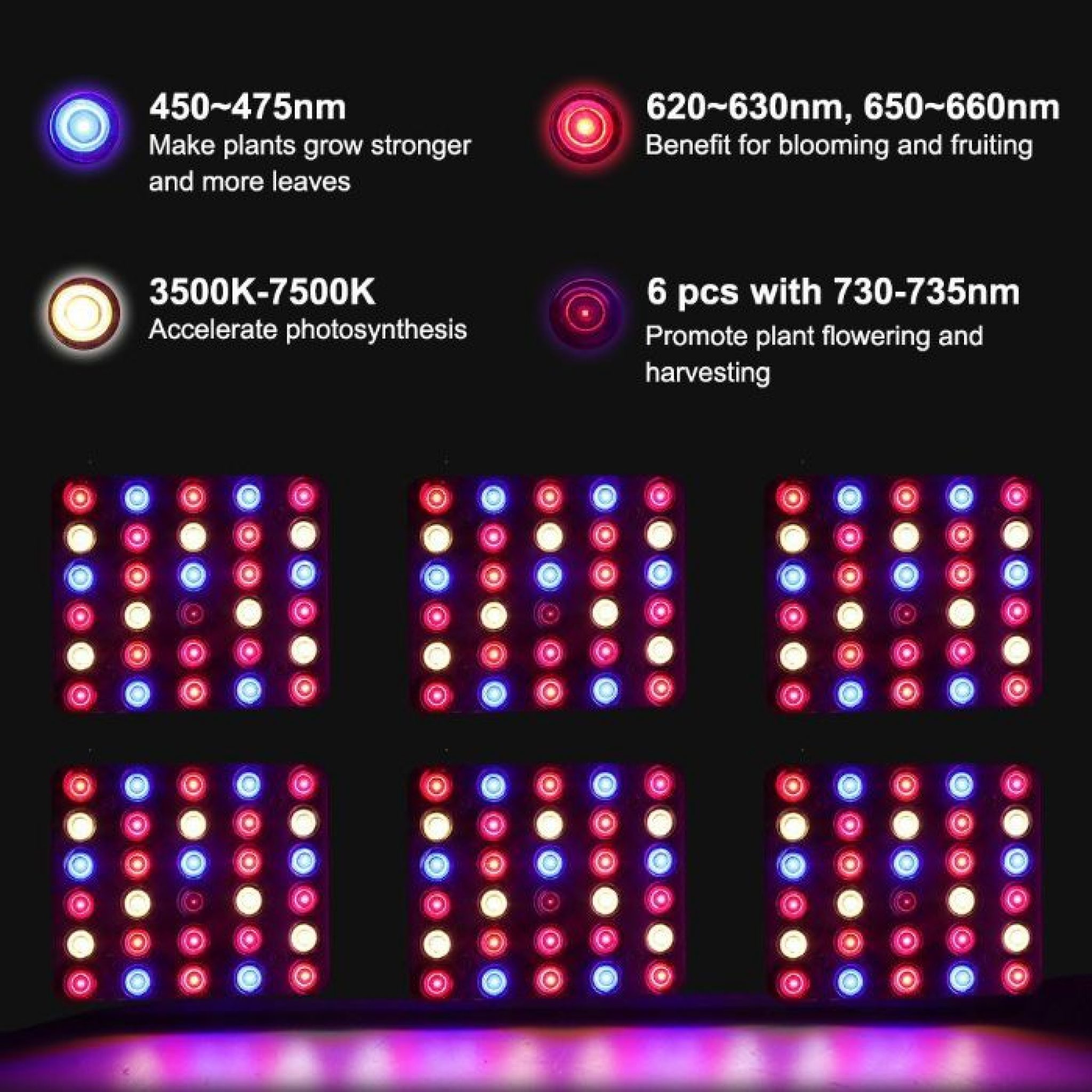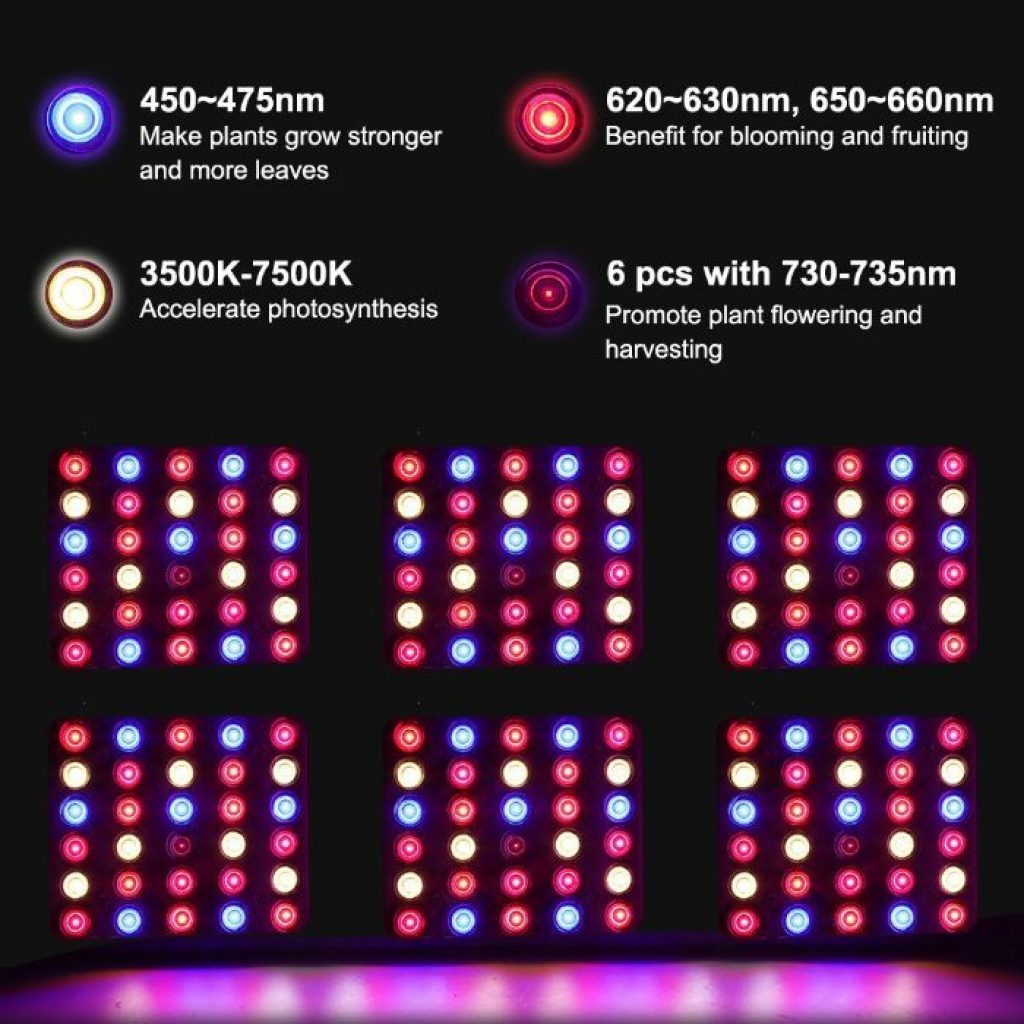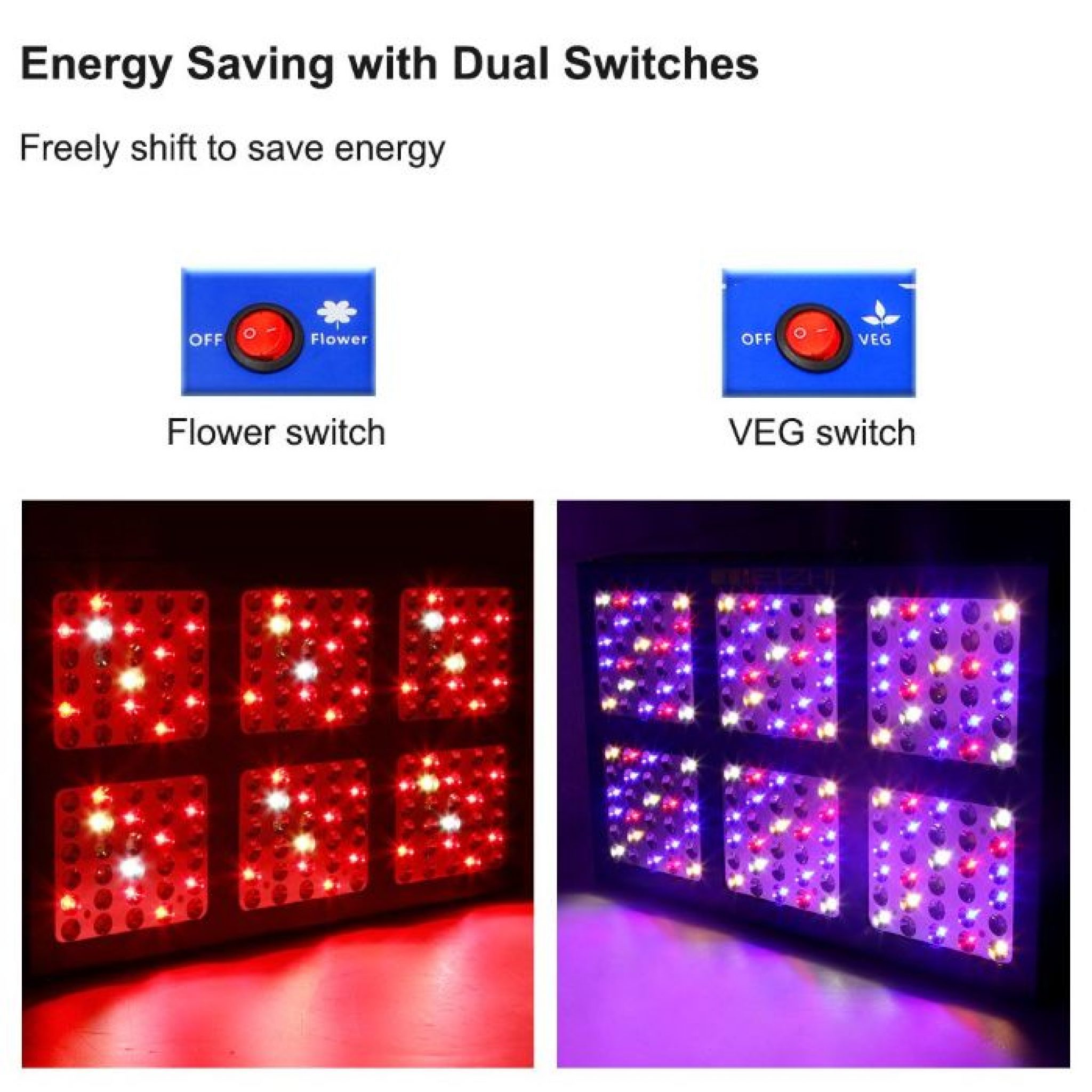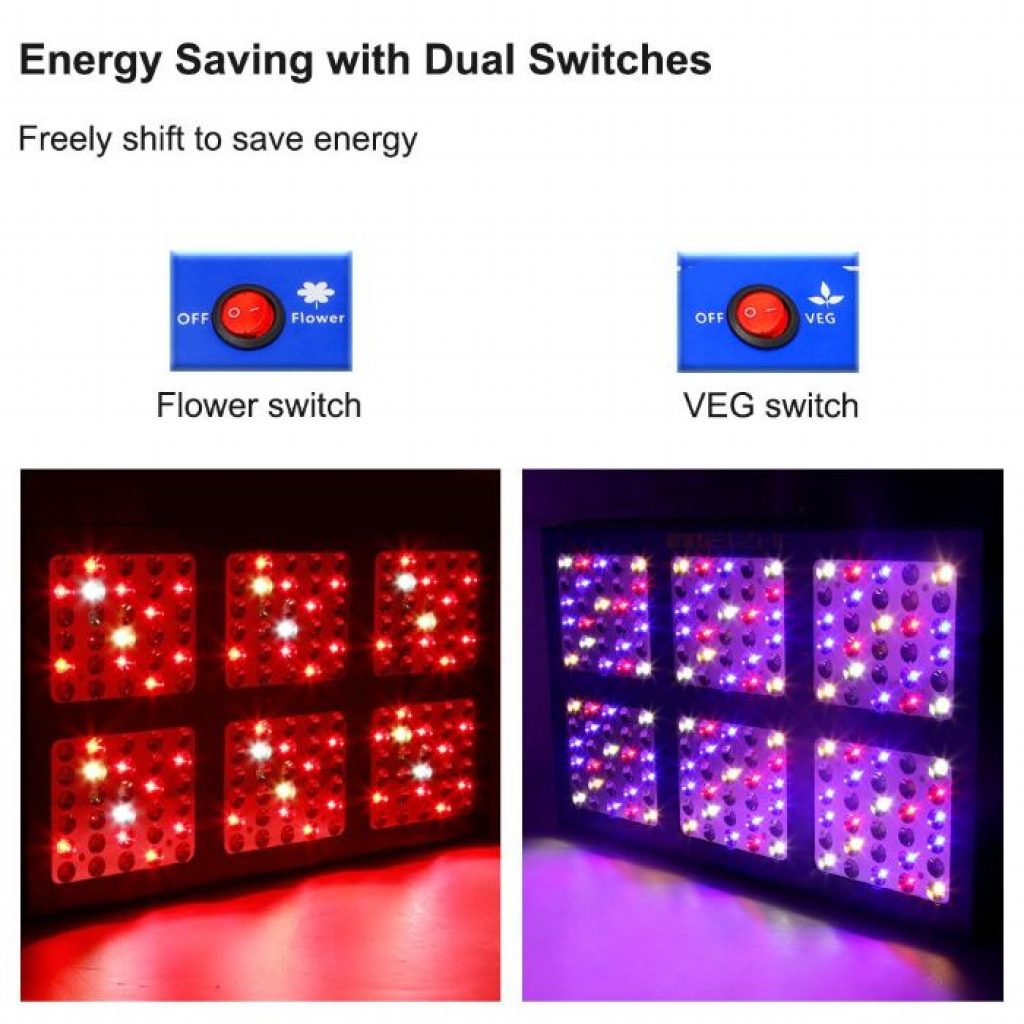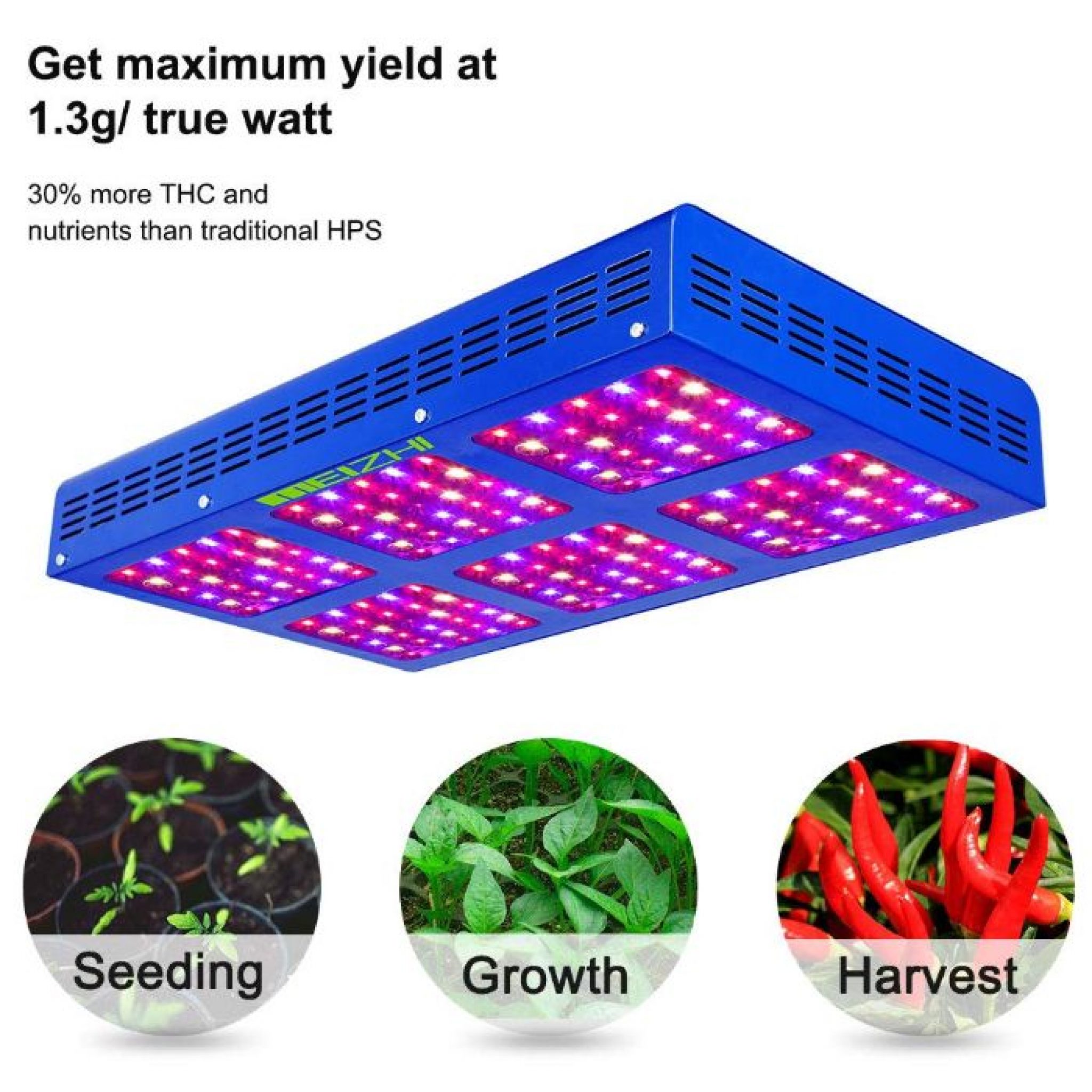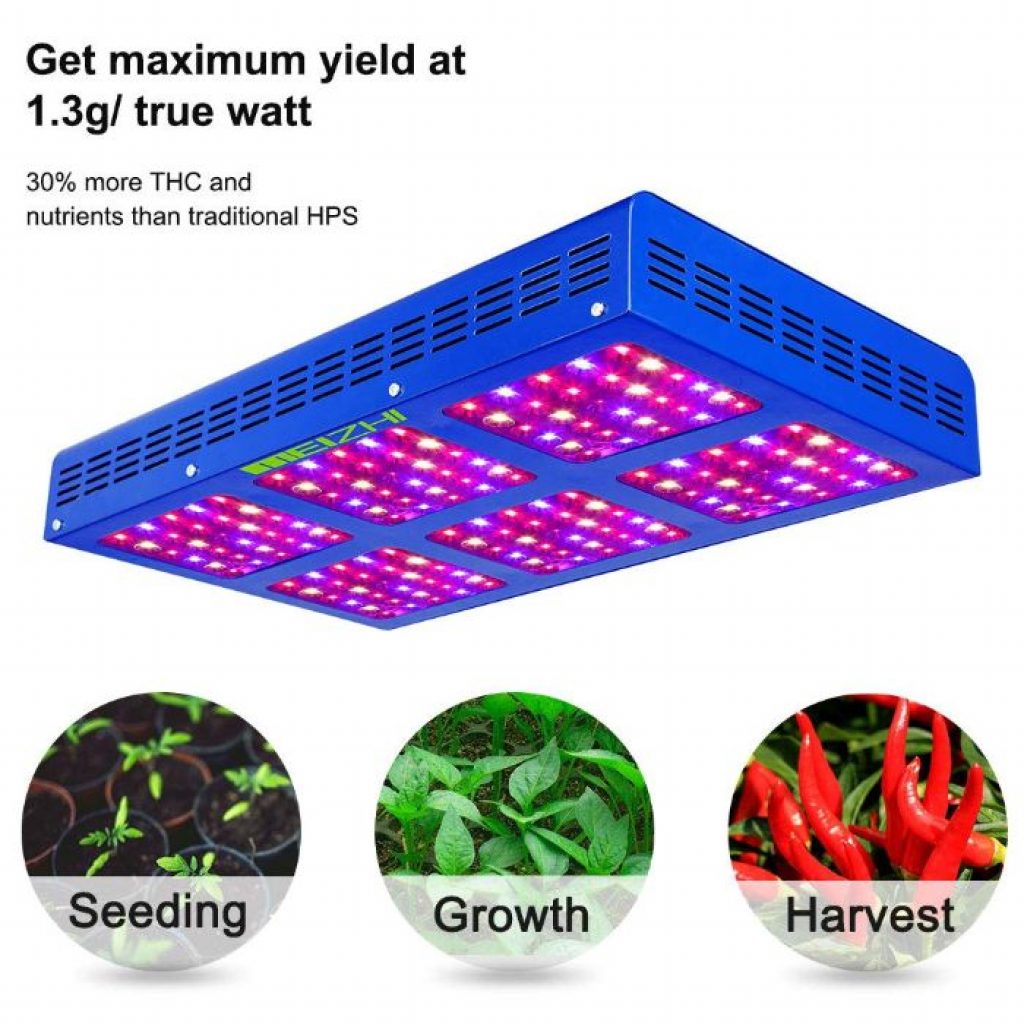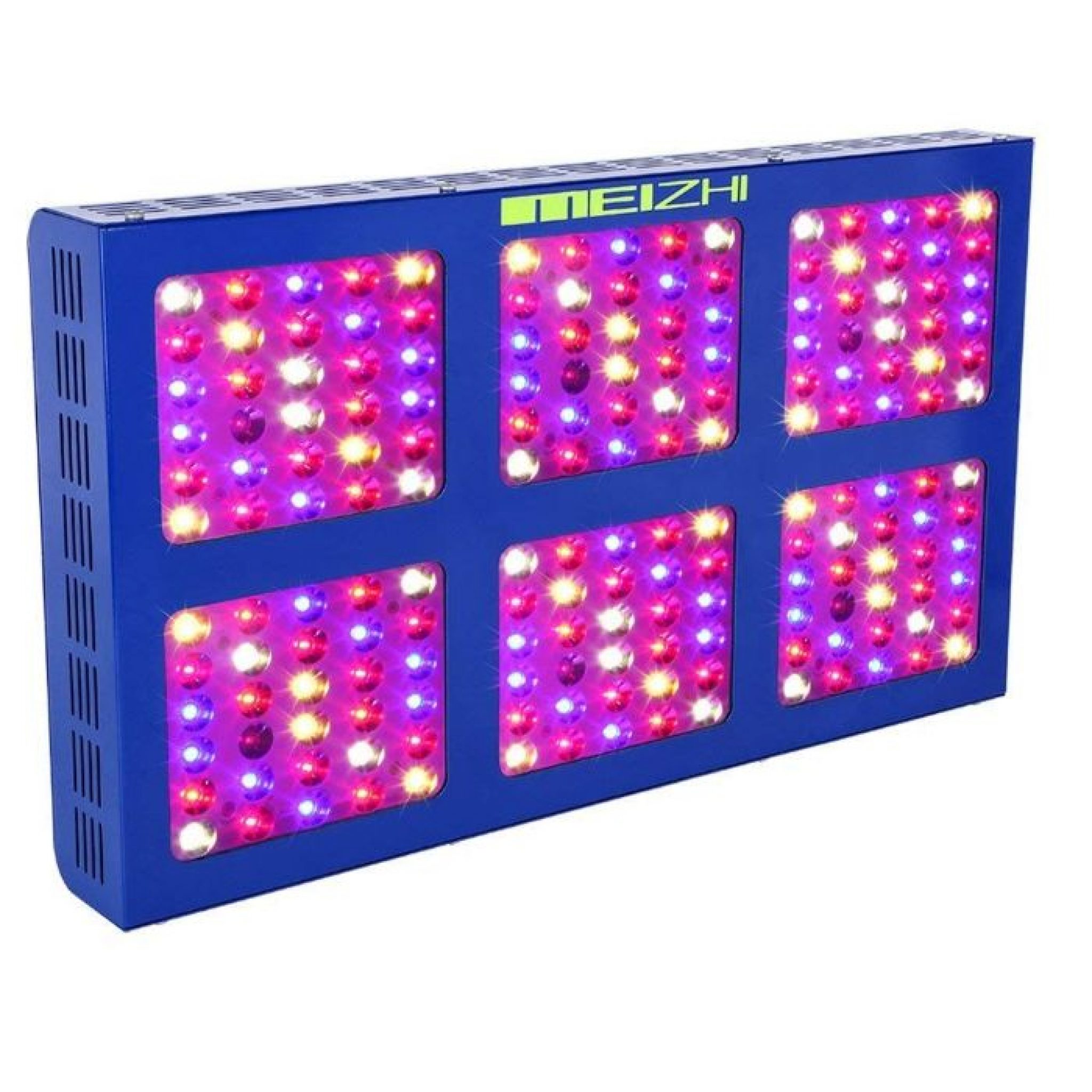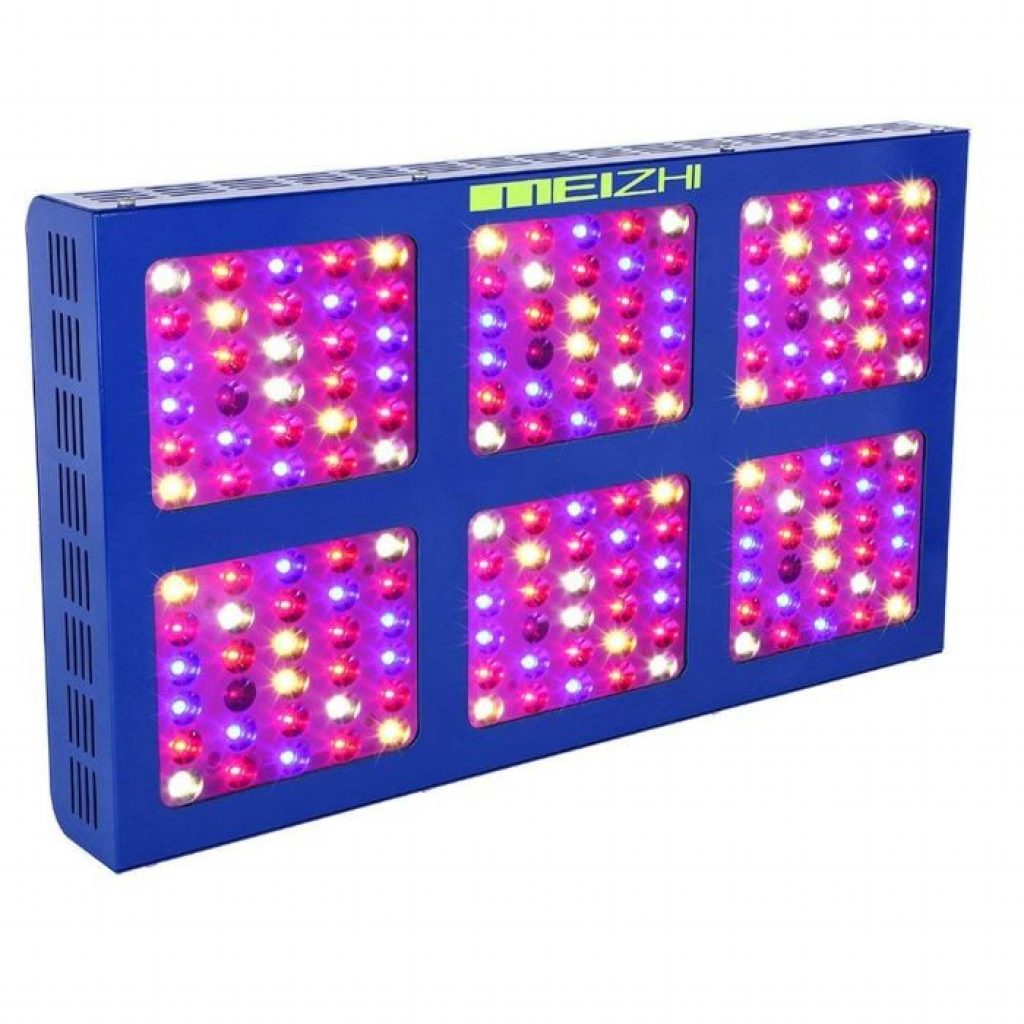 Meizhi spends a fortune in ensuring safety, quality, environmental impact, and the sales services an element that renders the device ETL certified and environment-friendly. It has a reflector design with the capability of ensuring 120º light reflection to allow for appropriate penetration within the plant's canopy. It is inbuilt with a compact reflector panel that aims all the light beam to the plant to boost photosynthesis.
Moreover, this device only consumes 418W±10%@AC110V to give cannabis plant 100% usable light fully tuned, creating a maximized photosynthesis response. It is a perfect fit for a farmer aspiring to farm cannabis at 3 ft×4.5ft and 18' high.
What's more, the device is dual-switched, an element that allows it to shift freely from Veg to Bloom while adjusting the spectrum to favor seeding and flowering among other growth stages for a cannabis plant. Regardless of the weather, the device will maintain the perfect temperature and energy necessary for proper cannabis growth.
Besides the products functionality efficiency, you get a 3-year local warranty on top of 30 days money-payback guarantee in case of any operational problem encountered with the device.
---
PROS:
affordable lightweight and durable;
120º reflector hence a greater light penetration;
less energy consumption;
dual switch for VEG and Bloom.
CONS:
chargeable repair fee;
comparatively new brand.
Closing Remarks
There's no way out for a bumper cannabis harvest other than acquiring the services of quality-oriented and designed full spectrum LED grow light. Far different from the traditional devices, the full spectrum devices ensure your cannabis plant receives all the crucial wavelengths vital for vigorous and healthy plants ranging from the UV to IR light.
The modern design of these devices comes fixed with double switches, which are essential throughout cannabis growth. For instance, the veg and bloom lights will be necessary for boosting the process of seeding and flowering of the cannabis plant, respectively.
Thus, if you are pursuing an ideal innovation of indoor lighting to foster optimal plant growth and maximize output, the double switched LED grow light will do you a spectacular work.
This device enhances the photosynthetic aspect of chlorophyll in a higher intensity even more significant than the direct sunlight. This results in a more vigorous plant with excellent stability and viability necessary for enhanced growth. If you are contemplating farming cannabis, what the plants need is full-spectrum fixtures, and you are good to wait for a bumper harvest.
Have you ever grown cannabis using a LED grow light? What was your experience like? Did the equipment serve you well? Will you use it again? Share your views by leaving a comment.