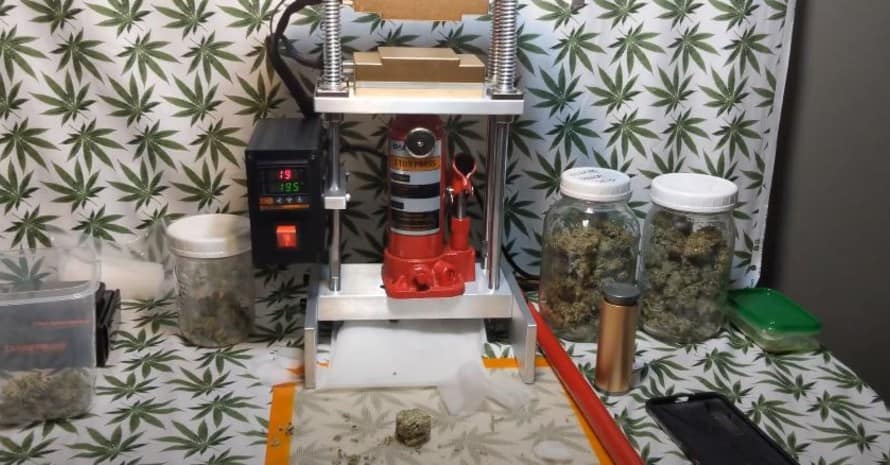 Best Rosin Press under $500 – Top 7 Picks & Guide
Some say that there's no need to bother as you can get the resins out of cannabis using your wife's curling iron and some other stuff. It's up to you, but I'm a fan of comfort and I'll bet my last dollar that your hands cannot produce as much pressure as even the smallest rosin press. That's why I wrote this guide to help you pick up the best rosin press under 500. This tool will help you skip tiresome manual jobs and enjoy top-quality weed rosin anytime you want to have a good dab.
Dabbing weed rosin is becoming more and more popular across the US and Canada. The reason for that is the clarity of the process. Pressure and heat let you get the pure cannabis extract almost instantaneously and without the use of any foreign chemicals. That's very attractive for every dabber. You can simply put your flowers, kief, or bubble hash onto the plates of a press, and receive a totally clean cannabinoid-rich resin, put it into your dab rig, and feel how it's changing the way you consume what herbs have brought you from the forces of nature.
Easy pressure force tuning (max. 0.75 ton)
Runner-Up
Easy pressure force tuning (max. 0.75 ton)
Rosin Press Under 500 – Top 7 Models
As usual, I provide you with the reviews of herb-related products that managed to pass through my pickiness. Of course, you can find other worthy tools under 500 bucks, but my rosin press reviews will save you a lot of time.
1. DABPRESS 4 Ton – Best Personal Rosin Press
DABPRESS is a specialized manufacturer of DIY hydraulic and pneumatic rosin presses and all kinds of related accessories. It's one of those Chinese-based brands that provide excellent quality for relatively low prices. They even provide a real 1-year warranty for all their rosin presses. The brand is only 5 years old, but many professional growers have already recommended it to me. So, here I am, reviewing it after 2 years of active use.
4 Ton Starter Rosin Press is an affordable hydraulic press engineered primarily for cannabis squeezing. It has double 3×5" anodized heated plates that let you process up to 10g of flower material per time. The insulation between the plates and the frame is made of bamboo so that the frame doesn't burn you. That's great because you will use the handle right above the top plate every time.
The frame is made of anodized aluminum and stainless steel rods. Both materials don't seem don't show any signs of rusting after 2 years of active usage. The assembly quality is also good enough. I haven't used a wrench to tighten the bolts even once yet. Still, the manufacturer mentions that bottle jack replacement can be needed to extend service life. The frame weighs almost 32 pounds, which is a lot but feels very comfortable when you use it. If you need a more portable solution, skip this review.
You can use this one with a 2×4" pre-press mold and a filter as the PSI is above 1000. The plates can be heated up to 399°F in less than a minute. If you preheat the material and apply pressure slowly, the result will always be perfect. By the way, there's a nice manual in the box that explains everything you need to do to get perfect yields with this exact press model.
---
PROS:
Premium quality assembly;
Runs great with a pre-press mold and rosin filter;
One-year warranty;
Plates heat up to 399°F;
Bamboo plate insulation.
CONS:
It's quite heavy (but stable).
2. Rosineer Grip Twist Heat Press – Best Grip Twist Press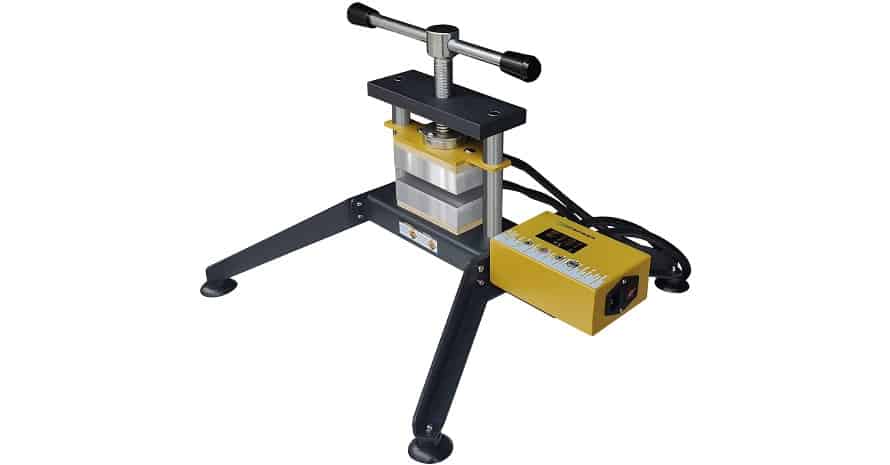 The Rosineer is a New Jersey rosin press manufacturer that offers a unique approach to the extraction process. It's the only manufacturer that provides both traditional rosin presses and an affordable grip twist model. My first thought about this mechanism type was that it would be more difficult to use.
It really makes you turn the grip twist several times to reach the needed pressure, but you don't have to hold it until the pressing is done. That's very convenient, especially when you need high pressure. By the way, this tool can produce up to 2,5 tons, which is more than enough for 3×5" plates.
Similar to the previous item, this one has thick anodized plates with perfect insulation so that the base doesn't heat up too much. I don't recommend touching it anyway as the temperature is quite high when you set the top temperature (356°F).
Due to its unique design, Rosineer can be mounted on the standard broad stand (spreading legs) or fixed on a workbench or table with screws. There are 2 ways to insert the screws, so it's compatible with any workbench. This configuration is patented by the brand, so you won't find it anywhere else. The whole thing includes quite a few parts and a detachable control box. That's why I highly recommend it to you if there's a need for a transformable rosin press setup.
---
PROS:
Two-year warranty;
Can be mounted with and without the stand;
A starter kit of accessories is included;
Produces up to 2,5 ton;
Excellent assembly quality.
CONS:
The grip twist requires more time to create the right pressure but holds it great.
3. Dulytek DM1005 – Commercial-Grade Rosin Press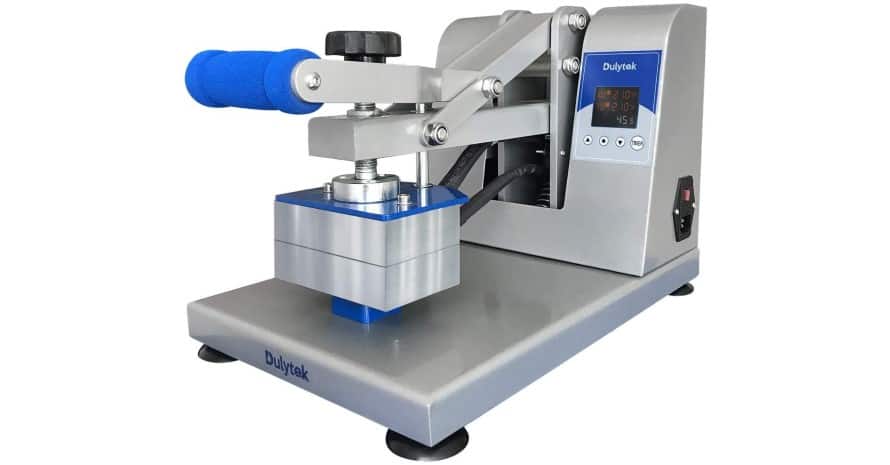 The Dulytek is a Seattle-based manufacturer that provides all types of rosin presses for individuals, businesses, and laboratories. The large rosin presses of the brand are quite popular amongst commercial users due to their compactness, affordability, and convenient manual systems.
The DM1005 is a rather compact tool that weighs 30 pounds but doesn't take much space. Unlike the Rosineer's press, you cannot modify its configuration, but it stands perfectly still due to a broad heavy bottom plate with gum stands. It feels like an Apple computer that you can simply unpack and start working. Unlike Apple, Dulytek sells its products with nice bonuses, such as a mat, 2 tools, a storage jar, magnets, and parchment papers.
You can see that the lever mechanism includes several parts. They do two things. First, they make it a bit easier for you to press. Second, the system locks the lever in the maximum pressure position for as much time as you need. When the timer beeps, you can put it up without effort. Another ergonomic invention that I enjoyed is the pressure adjustment wheel that lets you select the needed force in a few seconds.
What I don't like is the plate insulation. There's just no insulation. Both plates are attached to steel parts that have extremely high thermal conductivity and may lead to painful burns. Of course, that's something that can happen to you with any rosin press, but those bamboo insulation plates reduce the chance of an accident at least a little bit. In addition, insulated plates get hot faster and cool down slower. On the other hand, DM1005 can heat its 3×5" plates up to 450°F, which results in fast heating to the right temperatures of cannabis squeezing. As they're neve above 250°F, I can't call this a huge advantage.
---
PROS:
Heats up quickly;
Sleek design: convenient lever with a lock;
A bonus starter pack included;
Two-year warranty;
Easy pressure force tuning (max. 0.75 ton).
CONS:
The plates are not insulated.
4. Dulytek DM800 – Best Affordable Mini Rosin Press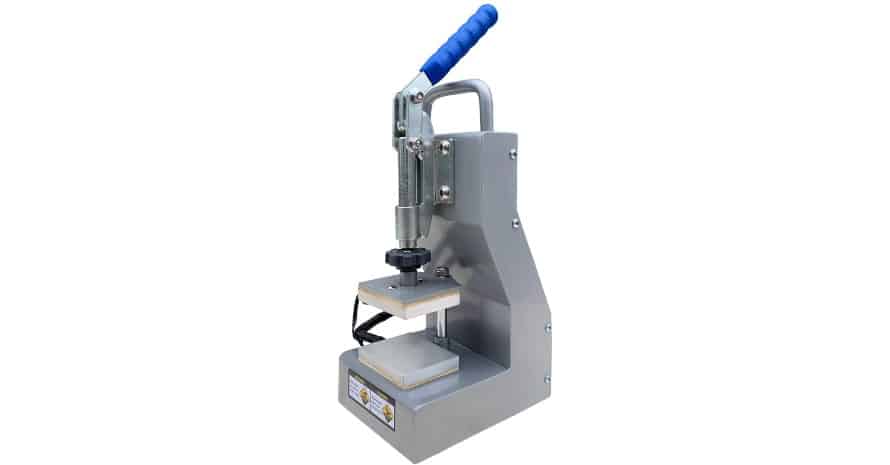 You are already familiar with the brand, so let's focus on the product right away. The DM800 rosin press is one of the most (if not the most) compact options on the market. Moreover, it features all the things that you may like in the 30-pound DM-1005, except the weight. This pal weighs slightly more than 10 pounds and it's only 12 inches high (2.5 Coke cans high) and 9 inches wide. As a result, you can easily pack it into any backpack and feel like there are two average gaming laptops behind your back. It's not superlight
Although this Dulytek press is around $100 cheaper than its older brother, it doesn't have the insulation problem. Both 2.5×3" plates are well-insulated. However, you're not likely to touch the panels near the heated plates by accident, because you will always be holding the large handle on the top of the tool to stabilize it. Otherwise, it will definitely fall on the side as the base is only 6×9". I can't call it a drawback, but a sacrifice for extreme portability.
The lever feels very convenient. Of course, it's not as malleable as the one on DM1005 but does the job well too. You can also see that the pressure force adjustment wheel is present here as well. It works the same as on the bigger model, which is excellent.
This rosing press is my favorite when it comes to going camping or chilling at my friend's place. Engineers wanted to provide a miniature solution without sacrificing plate size and pressure force (it's up to 0.6 tons). You can just take it anywhere and have fun.
---
PROS:
Weighs only 10 pounds (backpack size);
One of the most affordable rosin press models;
2.5×3" plates heat up to 356°F;
Easy pressure force adjustment;
Timer with a large display on the back panel.
CONS:
Short warranty for major components (6 months), but 2 years for the rest.
5. MyPress Gen 2 – Excellent Portable Press With 3×3 Plates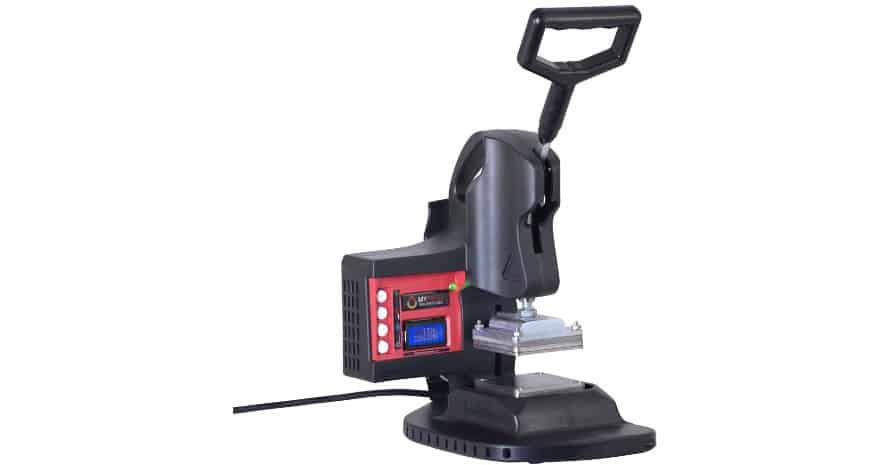 MyPress Solventless is a rather successful startup that revolves around a single product, the Gen 2 portable rosin press, and accompanying accessories. It appeared on the market 4 years ago and remains amongst the best selling items in the category. That's a good result for a company that doesn't have any other press models.
Perhaps, their main bargaining chip is the bright exterior design. Although the black plastic isn't as smooth as I'd want it to be, I can't deny that this press looks much friendlier than all other rosin presses on the market. While the competitors make similar industrial monsters, guys from MyPress offer a tool that looks more like an average food processor or another secure kitchen appliance. The LCD display with blue lighting and the buttons with colorful icons make it look even better for the buyer.
But let's ditch the design and focus on the hardware. The tool is energy efficient as it can't produce over 250°F, which is an optimal temperature for squeezing the flowers. I worried that the temperature won't spread evenly over the plate surface, but the proprietary Axiom technology doesn't let it happen.
It also makes up to 6 tons of pressure force. That's way too much for weed, but can be successfully applied for squeezing other plants so that you can combine it with your DIY herbal project (that's really exciting, by the way).
Finally, the plastic coating covers a powerful lever mechanism that is very easy to press and a sturdy steel frame that compromises the potential fragility of plastic parts. This tool is a good portable solution. It's not the lightest, smallest, or cheapest one, but it has all you may need.
---
PROS:
Lifetime warranty;
Weighs 13 pounds (backpack size);
LCD display with lighting;
3×3" plates heat up to 250°F.
CONS:
The plastic body looks nice, but metal would be more practical;
It's the most expensive portable press.
6. Heat Press Machine Mini – One More Good Small Rosin Press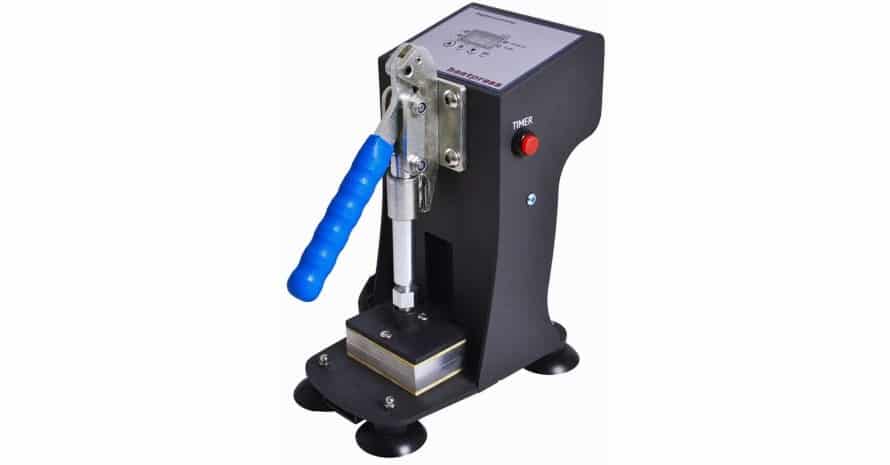 This compact 10-pound rosin press is distributed in the US by those funny we-sell-everything-you-can-imagine Walmart brands, Cabina Home. For this reason, I was very skeptical about their compact heat press. The brand doesn't have a website, so it seems that they created this item as a universal solution without targeting us, who extract cannabis resin.
Perhaps, for this reason, this relatively cheap small press can heat its 2×3" plates up to 482°F, which makes it one of the hottest devices on my listing. It also lets you apply up to 0.45 tons of pressure force. It's just enough for cannabis and many other herbs. I also tested it with my molds and filters and everything worked fine.
The lever mechanism is fully copied from Dulytek's compact press, but the pressure adjustment wheel is absent. There's a metal nut instead, which requires you to have a compatible wrench. I recommend you adjust it only when the tool is cold as it's more difficult to rotate a heated nut. The insulation on the plates is quite thin and doesn't prevent the nut from heating.
This rosin press is the best alternative to the miniature DM800. It's also affordable, has a bit smaller plates (2×3" vs. 2.5×3" by Dulytek), slightly larger dimensions, low weight (10 pounds), and straightforward controls. It's not perfect, but good enough for a small budget and quality puck and paper pouches.
---
PROS:
Convenient Dulytek-style lever;
Weighs only 10 pounds (fits into any backpack);
Simple controls;
Produces up to 0.45 tons.
CONS:
A handle on top would be helpful;
Needs longer testing as it's a mid-2020 model.
7. DABPRESS 10 Ton – Best Compact Hydraulic Press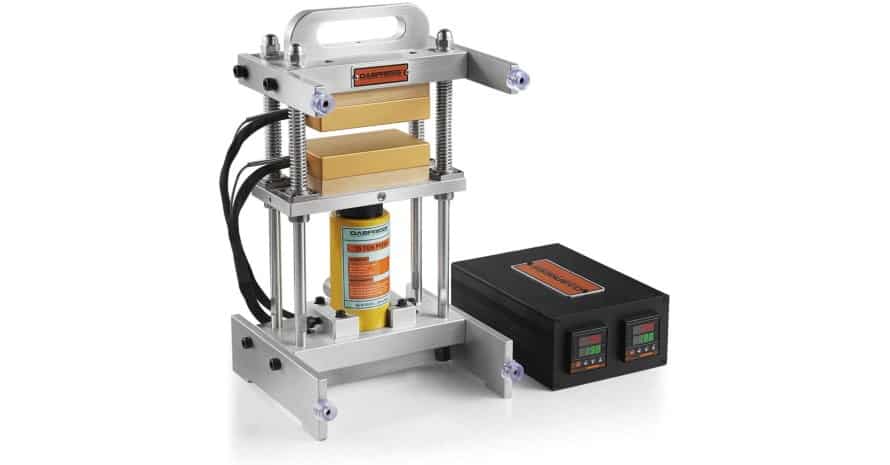 Here's one more DABPRESS to finish my listing. This buddy is the most powerful tool I've ever had. This hydraulic press works only together with a pump, so you have to spend some more cash if you need it. On the other hand, it has excellent 3×5" plates with separate heating adjustments, and 10 tons of peak pressure force.
The stainless steel frame and other parts are made to last and survive even the toughest industrial challenges. The whole design is very simple, but that's what makes it so valuable. There are just 3 thick plates connected with steel bolts, so there's just nothing to break. You can flip the frame and put it on solid gum stands to access the input port of the hydraulic pump, so it's very easy to connect it.
The aluminum plates can be separately heated up to 399°F, while the bamboo insulation of nearly the same thickness doesn't let the frame overheat. All these features make it a professional device that guarantees longevity. I won't take this one for home use, but it's a perfect compact solution for business.
---
PROS:
Big 3×5" plates with separate heating controls;
Produces up to 10 tons of pressure force;
Unbreakable steel frame;
Heats up to 399°F.
CONS:
Requires a manual hydraulic pump to work;
Not the most cost-effective model for private use.
Rosin Press Buyer's Guide
Rosin press is a serious machine, so I'd not recommend buying a particular one only if it has the best recommendations. It's important to be able to evaluate each item by yourself to pick the one you really need without overpaying.
What to consider when you choose a rosin press?
Below are the main features that you should consider to choose the best rosin press under 500 or any other model beyond that price tag. I tried to squeeze the info as much as possible for easier reading.
Power
Some people think that the more pressure they can apply, the richer concentration they will get. Fortunately or unfortunately, this isn't what you get in reality. If you put too much pressure, the unwanted plant material may get into your rosin and spoil the dab. I don't see any reasons for buying a machine that makes over 1000 psi (½ ton/square inch) for home use. However, most machines offer much more than that, so you should use a converter to get the right pressure per inch from the ton/inch value of your machine. The only rule here is not to take a tool that's too weak to make 800 psi, but I haven't even seen such models so far.
Plate Size
If you are using a press for personal consumption, 3×3" and 3×5" plates will work perfectly well for you. If you want to go totally compact, opt for 2×3" plates like the ones installed on the Heat Press Machine Mini.
Commercial users usually prefer 3×7" or 2.5×7" plates or dual plate sets to squish around 28-45gr per time. Smaller plates get hot quicker, but you're not likely to notice any difference if you don't have a production site. And don't forget that you need only the heated press plates!
Portability
Can you imagine someone wandering around with a rosin press in a backpack? Well, with modern compact presses it's possible. You may also wish to take it somewhere by car or hide it away in a small place. If size really matters to you, the smallest model you can find will be around 12-16 inches high and 6-12 inches wide. The minimal weight I've ever seen is around 10 pounds. I'm sure that smaller models exist, but they won't produce enough pressure per square inch. Take a look at Dulytek DM800 or Heat Press Machine Mini.
Manual or Hydraulic
Of course, hydraulic presses make the job multiple times easier for you. That's why they are always preferred for commercial operation, where a greater ton range is needed. Manual models are just ok for home use, but you will need to press the lever to make them work. They are also a bit cheaper in most cases. Take the one that will make you feel the most comfortable.
FAQ
Many of you, my dear readers, have already asked lots of questions about rosin presses. I picked the most frequent of them to simplify your search. Maybe you already know enough about these machines and want some short final answers. Here they are!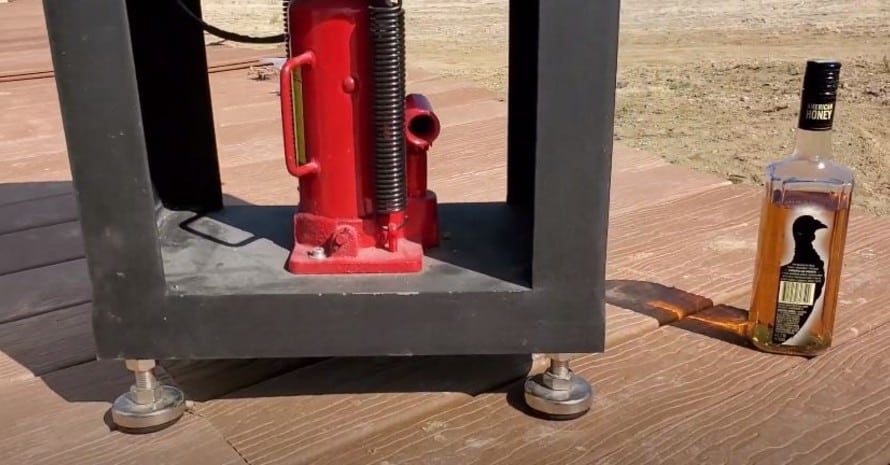 What is the best rosin press for the money?
My top-value-for-money choice is Dulytek DM800. This tool is manual, has a convenient pressure adjustment wheel, doesn't take too much space (fits in an average backpack). The kit includes some nice starter-pack accessories (mat, tools, container, and magnets), which you will definitely appreciate.
Is it worth getting a rosin press?
It's up to you to decide whether the benefits of weed rosin are worth your cash or not. The concentrate made with a rosin press is the easiest way to make dabs at home without using anything except heat and pressure. Using the right settings, you won't ever mess the material and get the most out of it in no time. I can also help you imagine the benefit in USD. If you get flowers for, say, $500, you will extract oils worth $1000 from this quantity. Impressive, isn't it? In addition, the rosin press lets you make a concentrate without solvents that can be a huge health hazard.
How much pressure do you need for rosin?
This depends on the initial cannabis material you have. Here is a short answer. Note it and try not to lose, as this info is very important for the best results. So, the best pressure for rosin, depending on the weed material is:
Hash – 300 to 700 psi at 170° to 190°F;
Kief – 400 to 800 psi at 170° to 190°F;
Flower – 600 to 100 psi at 215° to 230°F.
Dab It Clean
Extracting rosin is amongst the legal medical marijuana extraction methods, so you can use it without worries if your state allows medical or recreational cannabis consumption. Rosin press extraction method is much cheaper than the vast majority of other methods and doesn't require any special knowledge. Just don't put your fingers between the plates when the press is on and ready to squeeze, and everything will be great.
Which rosin press model would you like to purchase? Is it the one from my listing or a model you picked somewhere else? I'd be also happy to see your own feedback on your new press after the first use. Take care and thanks for reading my blog. More exciting weed stuff is on the way!