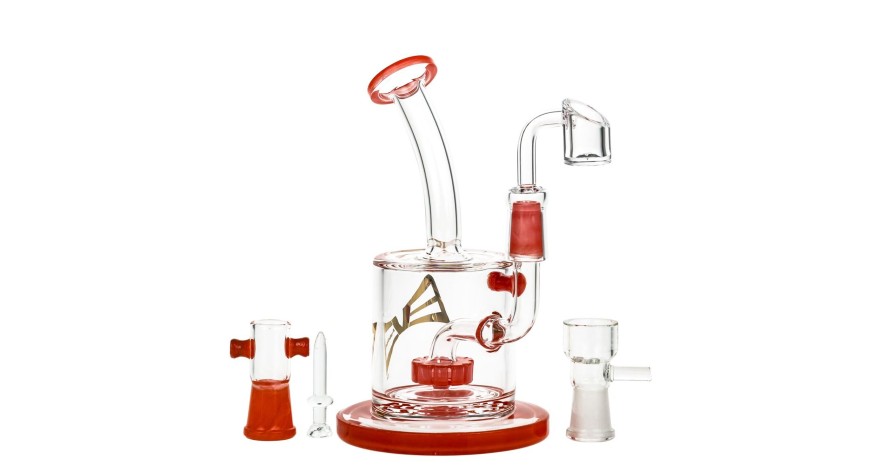 Best Dab Rigs Under 100 – An Extensive Guide
Do you have the need to benefit from a CDB concentrate consumption? Well, that's totally legal if you have a prescription from your doctor and your state allows medical consumption of CBD products. These factors are very important to understand, my dear reader. If everything is clear and you have all the rights, you should pick the right instrument for your CBD to concentrate on the best possible effect and top efficiency.
In this piece, I'd like to introduce the best dab rigs under 100 to you, along with a guide on how to choose the right one for your requirements. I also provide replies to the most frequently asked questions about oil rigs to make the whole thing clearer to you.
Dab Rigs Reviews – Top 7 Under $100
Seven is a great number, isn't it? I made it through like dozen of rigs by different manufacturers, but only 7 of them have joined my awesome collection, and it's just the right number of reviews to share. Enjoy!
1. Famous Brandz Straight Glass – Best Affordable Dab Rigs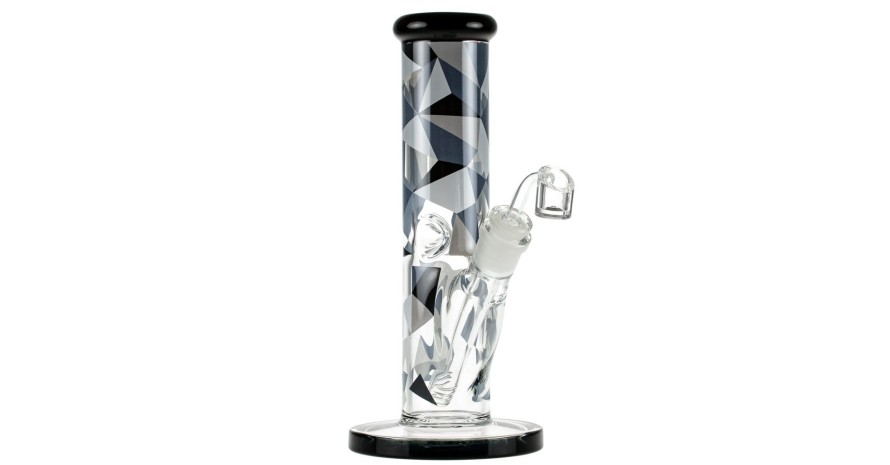 Famous Branz is one of the largest distributors of high-class goods for smoking cannabis and CBD products. These guys have over 20 years of experience in the field and rarely fail to deliver excellent accessories. I've been using lots of stuff by their brands for around 7 years already.
This dab rig with ice notches is made of sturdy 5mm borosilicate glass that has a very low thermal expansion coefficient. It's covered in a bright artistic pattern for fans of contemporary geometric designs. It looks so awesome after a couple of hits, you know!
The straight base is an excellent choice if you like it when the smoke goes directly. It's also very easy to catch the needed water level. The 14.5mm banger is made of quartz, and it's paced at a distance from the body so that you can easily access it without heating the body. It's also a pleasure to clean as there are just 2 parts in this rig.
The 14mm downstem with a slit percolator adds an extra layer of filtration and makes the toke much smoother and lighter. At the same time, you will get the ideal concentrated taste, and almost none of the clear vapor remains inside the tube. The body is 4.9 inches high, which is a bit less than recommended, but excellent cooling smoothes out the gap.

Famous Brandz Straight Glass
---
PROS:
Excellent cooling without killing the taste;
Slit percolator for extra filtering;
Durable borosilicate glass;
Quartz downstem.
CONS:
It's frequently out of stock.
---
2. Evolution Halo Dab Rig – Great Cheap Glass Rigs With Showerhead Diffuser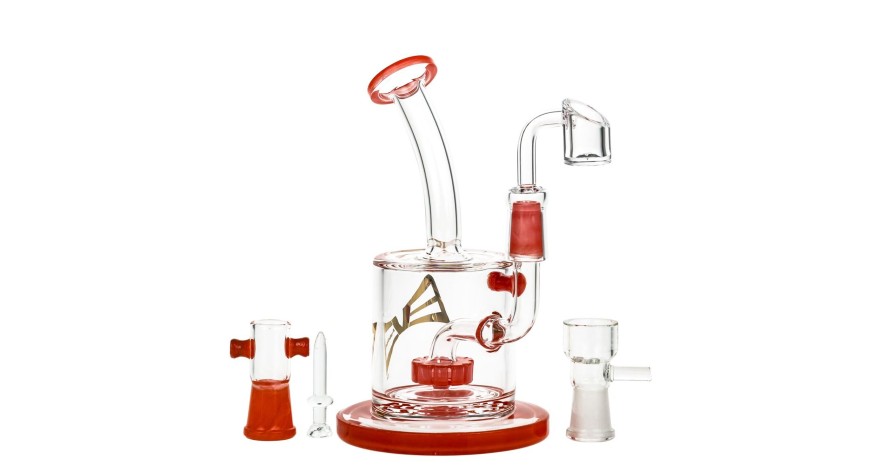 Evolution is a crazy dab rig and full-size bong manufacturer with some of the most recognizable designs and effective showerhead diffusers. The Halo line offers excellent filtering capabilities along with a highly convenient inhale tube design. Due to the bent glass shaft, you don't have to bend your head above it. I know that not all of you like straight shafts for one reason or another. This one may make smoking more comfortable for this part of my readers. It's also very stable due to the large diameter of the foot.
When you open the product page, you may dislike the design with red accents (I just hate when red and gold are together). Fortunately, there are 6 more color options, including posh black and gold, acid green, and my favorite transparent.
Another thing that I enjoyed is the set of bowl attachments for a standard 14.5mm male joint. A quartz banger and a glass herb bowl, and a female vapor dome with a quartz nail make this model universal. The only thing I don't like is that the downstem is fixed and cannot be replaced if broken.
A showerhead diffuser is designed to make every hit feel cleaner and smoother. As the smoke goes into multiple thinner flows, the water cools it down much better. The larger bubbler will also add up cooling, letting you add as much water as you need. I bet that even your always-coughing friends won't have problems with it.

---
PROS:
Multiple color solutions;
A set of bowl attachments included;
Large round foot for stability;
Bent inhale shaft with a standard mouth ring;
Showerhead percolator for extra cooling.
CONS:
The red design is bad;
The downstem is fixed.
---
3. Evolution Diamond Dust Hybrid – Showerhead Perc Plus Larger Pipe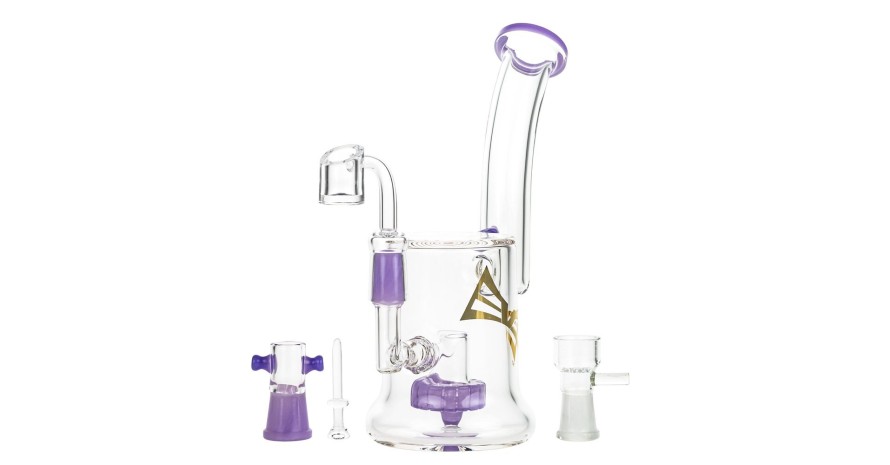 I couldn't exclude this one from my listing even though it looks so similar to the previous Halo rig. I didn't even plan to test it, but I forgot my first Halo rig in my bro's place in Canada. The same model was out of stock, so I decided to try this one, hoping that it won't make a big difference. Jumping ahead, it's actually different.
While all the nice benefits, such as a showerhead diffuser for extra cooling and a set of nozzles for the bowl, are included, and the design options (including that awful red) are in place, the hits from this one feel differently. All because of the different mouth tube designs. It's significantly wider and boosts the amount of vapor that you can inhale per second. This results in stronger hits without extra heat. I think they achieved this result by making the bubbler capacity a bit larger. It's still very compact, but you can add slightly more water for better cooling.
I ordered a transparent model and noticed that dark green, pink, and yellow ones have percolators with fewer holes. I'm not sure if they made it for a reason or if it's a random feature due to the vendors from China. However, I think that the fewer holes the percolator has, the hotter your hit will be. Again, I'm not sure about it.

Evolution Diamond Dust Hybrid
---
PROS:
Long bent and widened mouth pipe;
Made of thick glass;
A set of bowl nozzles included;
Makes powerful hits.
CONS:
Quite difficult to clean;
I hate red (Buhaha!).
---
4. Dopezilla Cerberus Straight – Cheap Glass Oil Rigs With Disk Perc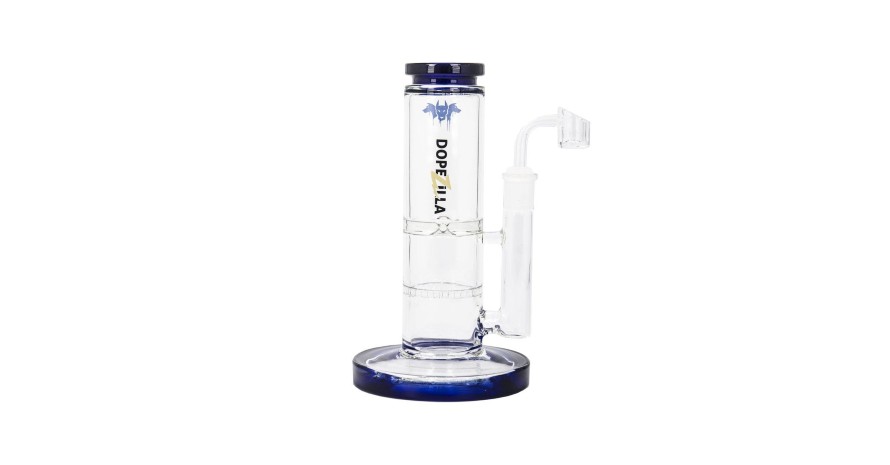 You probably already know Dopezilla as it's one of those well-advertised brands, and it has been high on the charts for like 10 years or more already. I've previously tested quite a lot of the brand's accessories, and Cerberus satisfies me as well.
By my top pick, you can assume that I love straight-base rigs, as your guess is true. Similar to the Famous Brandz's straight rig, this one is made of high-quality borosilicate glass. The experience of an avid bong crasher with butter fingers like me says that it's stronger than average glass. The male banger is made of quartz and has 14.5mm in diameter so that you can apply compatible nozzles from other rigs.
The disc percolator is placed at the right height so that water doesn't get inside. It provides additional cooling but keeps the hit really strong. This oil rig is a great choice if you hate wasting the vapor, and it totally justifies the 'Cerberus' name. But, hey, where are the extra 2 heads of this monster. Never mind, I'm just a fab comedian.

Dopezilla Cerberus Straight
---
PROS:
Provides strong smooth hits;
It's very cheap and compact;
8-inch high;
You can add some ice if it feels too hot.
CONS:
Only 2 colors, but great ones.
---
5. PieceMaker Kube Dab Rig – Unbreakable & Cheap Dab Bongs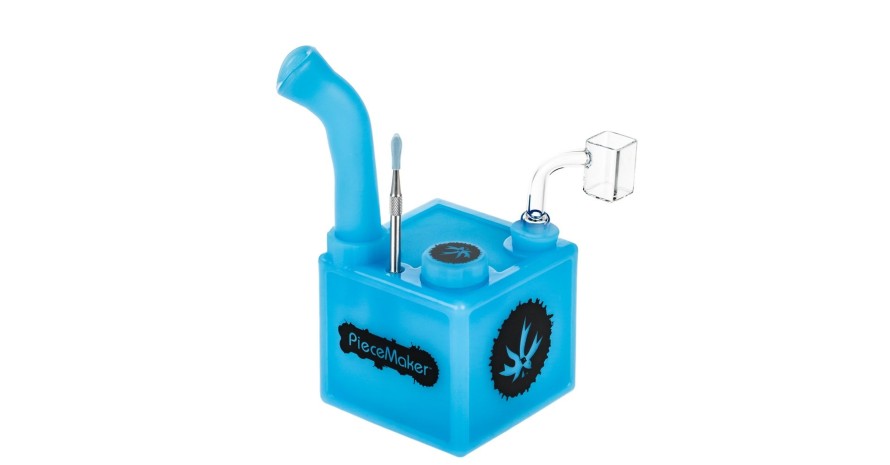 PieceMaker is the biggest name amongst silicone bong manufacturers. The brand offers a wide range of rigs made of food-grade silicone. The biggest benefit of this material is that you cannot break it unless you stab it with a knife. It's also a heat-resistant material. The bottom is made of stainless steel in order to make it easy to handle and clean. You can simply throw it into a dishwasher right with the banger part as it, is even more, heat resistant.
The 14.5mm banger is made of quartz, and, well, it's a basic part that's good enough for anyone. If it doesn't satisfy you, just replace it with another banger that has the needed curvature. The downstem is made of silicone and features a unique percolator with multiple hexagon-shaped holes. They work similarly to the showerhead percolator and create more bubbles and cool the vapor down very well. You can also easily add an ice cube inside or cool down the silicone in the freezer and pour in cold water for better cooling.

---
PROS:
Cheap model (below $60);
Great color options;
Clean it in the dishwasher;
Built-in waterproof stash;
Unique perc technology.
CONS:
Feels a bit weird for the first time.
---
6. Black Leaf Curvy Glass Eye – Curved Rig With Extra Cooling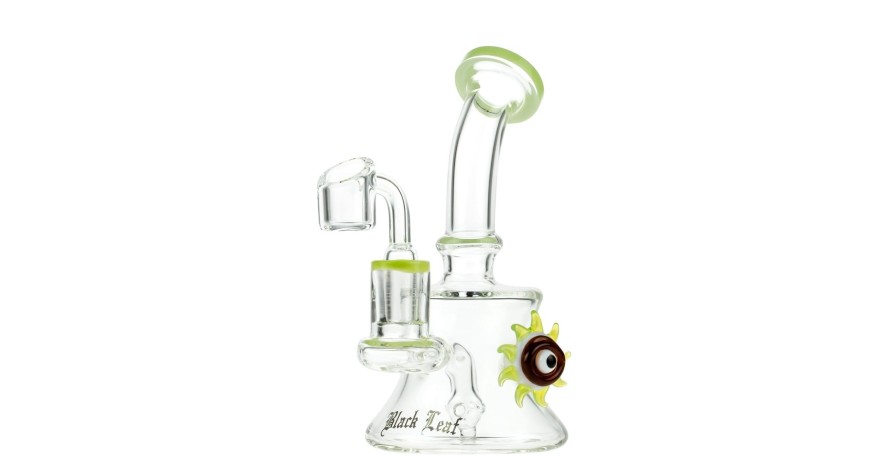 Black Leaf is a highly trusted manufacturer and retailer with one of the widest delivery networks of cannabis-related accessories in the world. They make everything from grinders and pipes to advanced electronic vaporizers and merchandise.
First of all, the Glass Eye dab rig is an amazing piece of art. This eye with sunbeam lashes looks so exotic and, I'd say, handmade. I was really excited to bring it into my collection just because of that. Of course, I've tested its capabilities multiple times already as well.
On the way to the mouthpiece, vapor goes through 3 bents and splits into 4 thin flows in the glass percolator. As a result, the hit feels very smooth and cooled down. However, the hit force is quite low. If you're not a good inhaler, you probably need to look for a straight-base device instead of this one. On the other hand, the comfort of smoke can be more preferable to you. The device is quite cheap, so testing several options won't make you rob a bank.
Black Leaf Curvy Glass Eye
---
PROS:
Crazy design;
Excellent cooling and filtration;
6.1" in height = concentrated taste;
Excellent bubbling.
CONS:
The hit could be more powerful.
---
7. Black Leaf Glass Bubble Base – Cheapest Dab Rig With a Bubble Base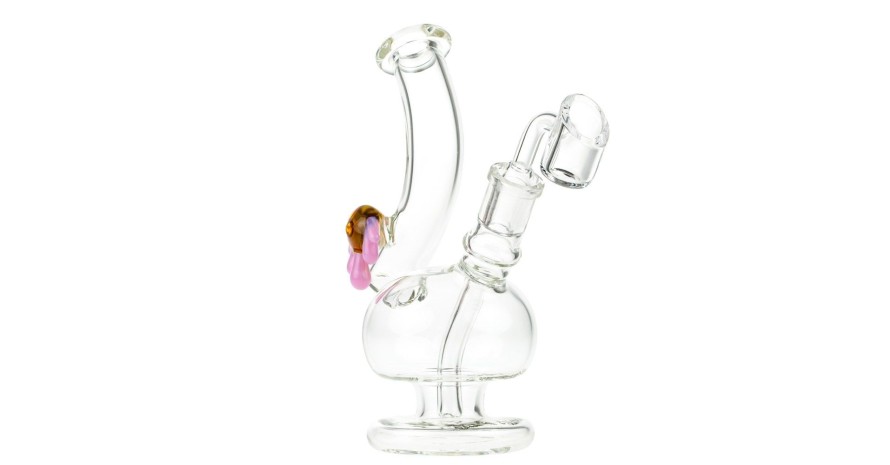 Last but not least, this rig model by Black Leaf offers one more exotic design option and a sophisticated approach to cooling the vapor. Similar to the previous rig, the right side of this one has a small glass designer piece. This time, it's a honeycomb with pink drips. I can't call it a design for everyone as many of my friends find it quite weird, but I like it anyway.
The curved downstem ends in the very bottom of the bubbler, which is much narrower than the rest of the tank. This difference creates an extra bubbling effect and boosts the quality of filtration despite the size of the rig. It's 7 inches high.
Due to the holes in the downstem diffuser, the smoke splits up into several streams and makes each hit much cooler. The mouthpiece is quite wide and curved, so it's quite easy to smoke in a sit-back position. The whole thing is made of a 3mm borosilicate glass profile with strengthened joints, while the banger and the additional herb bowl (with handles) are made of durable quartz. Although there are no silicone gaskets on the joints, no extra air gets through.

Black Leaf Glass Bubble Base
---
PROS:
Herb bowl with handles included;
Durable borosilicate glass;
Below $70;
Convenient curved mouthpiece;
Powerful cooling system.
CONS:
I guess the honeycomb design isn't for everyone.
---
What Are Dab Rigs?
A dab rig is a pipe that was originally designed for vaporizing concentrates made of cannabis. It's also called a vapor rig or an oil rig. The base of this tool is filled with water to filtrate vapor. There's also a concentrate holder that can be made of glass, titanium, quartz, ceramic, or another heat-resistant material. The best heating option is a butane torch. Dab rigs are usually smaller than bongs as the concentrates require smaller chambers for a stronger effect.
How to choose the best dab rigs?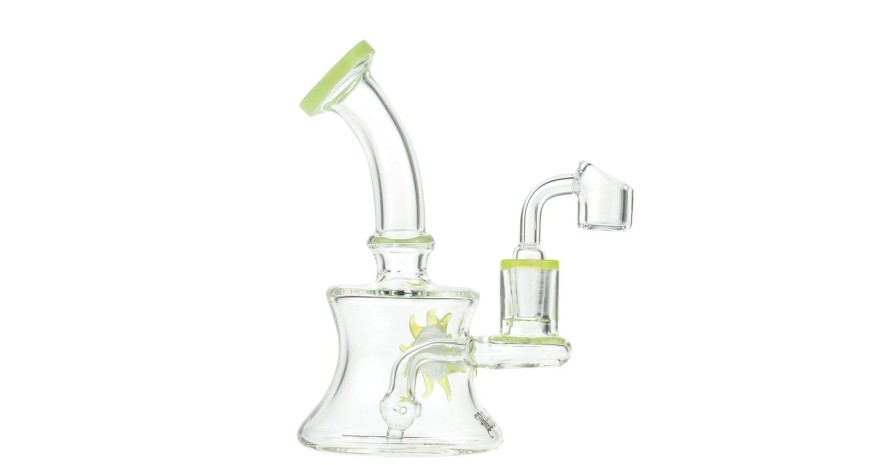 Before you purchase a dab rig, you should be able to consider all the important aspects of the tool. Let's go through them one by one.
The glass part
The smaller the glass part of your rig, the more flavor it delivers, and the less vapor remains inside. Larger rigs reduce the potency of the smoke quite notably. Some designs are so small that you cannot add water inside. However, I don't recommend you to use them as they don't filtrate and cool down the smoke at all, and you inhale very hot air. That's just torture for your throat and lungs. Make sure the rig you buy can be used with water. A 6-9" rig is the most optimal choice for everyday dabbing.
The nail part
It's impossible to make dabs without a nail as it's the part that holds the concentrate. It's also the part that you heat with a torch to make the dab vaporize. It's usually made of glass, quartz, titanium, or ceramic. The material doesn't change the flavor but affects the time needed to heat up the nail and heat retention capabilities. My personal choice is titanium as it retains the temperature just great, and there's no chance to break it like a glass nail, but my favorite rig by Famous Brandz comes with a quartz nail. I can't deny that you may like another material more, but I think that titanium and quartz are the most straightforward and beginner-friendly. And don't forget that a nail heats up to 900°F and may cause a 3rd-degree burn, so be very careful and don't wander around with a hot rig.
The torch
You need a torch that heats up the nail the fastest. A basic lighter or a small butane lighter just won't do. If you want to feel convenient and vaporize as much of the concentrate as possible, a medium butane torch with adjustable flame is your best choice. If you don't want to torch the concentrate, consider an E-rig. These battery-powered devices are very easy to use but don't let you make such good hits as the traditional ones.
FAQ
I'm sure you want to ask me some more questions as many readers have already asked them in the comments of other articles. I picked the most frequent of them to include here and make your life easier.
What are the best DAB rigs?
As for the dab rigs cheap enough for a $100 budget, I highly recommend Famous Brandz Straight Glass. Other cool options are Evolution rigs with flowerhead percolators, include Black Leaf's bubbling bongs with extra cooling, Dopezilla's straight Cerberus if you want to inhale it straightly, and, of course, the unbreakable PieceMaker Kube for the satisfaction of traveling souls.
Why are smaller rigs better for dabs?
This is quite simple. A smaller rig requires less water, so it delivers a notably richer taste. If you prefer feeling more of that sweet flavor, you should be looking for a smaller model. Nano concentrate rigs are getting more and more popular today because they deliver smoke directly into your lungs, retaining the sweetness on a high level.
Can you buy DAB rigs online?
The short answer is yes. There are no direct limitations for selling dab rigs online. Still, it's quite hard to find them on common websites like Amazon as it's a product for people aged 21 and older. I provide direct links to my favorite store, where you can shop online and get quick delivery.
Do you out water in a dab rig?
All dab rigs require water to be added. You should add enough water to make it bubble, but not too much as it will splash into your mouth, which isn't very safe, so say. Test it carefully before you start enjoying your plant and pour out the surplus. If your rig has multiple percolators, fill them all.
Chill Out
Here were the best small cheap dab rigs to buy! Now you're ready to get the most out of your dab and chill out like a king of this nerve taking world. Keep the dosage on the right level to get into the perfect condition without stressing yourself, and stay tuned to my blog as I post a ton of useful stuff weekly.
So which rig would you order for your everyday dab? I'd also be very grateful if you share your impressions after the first couple of uses as it will help other readers to choose more confidently. If you've already used other models, you're also welcome to report. Peace, brothers, and sisters!