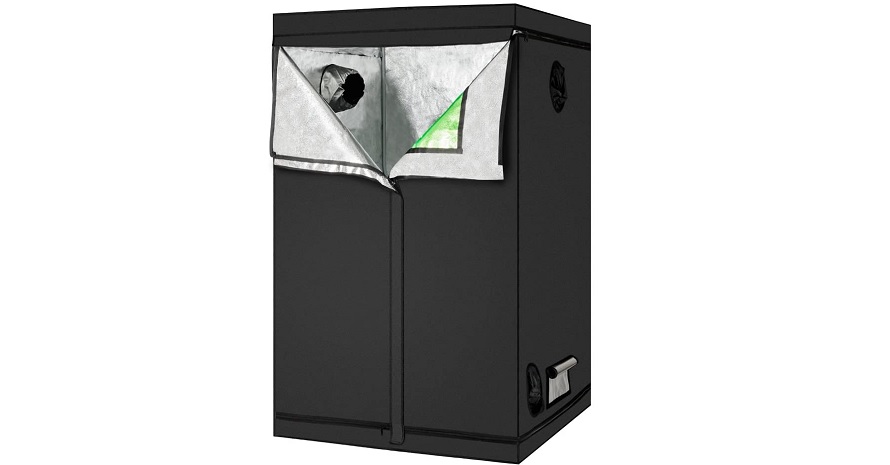 Best Grow Tent: Create a Small Garden in a Simple Way
Hello, gardeners and people who know nothing about plants but want to start with an indoor plantation. There is a belief that it takes a lot of money and time to look after plants. If you want to get excellent results, you need to put in some effort.
But, there are many affordable tops grow tents that you can install by your hands and enjoy gardening from the first day. The question is next: where to find those? Don't worry,I already have a list of top 5 weed tents. And I will answer all your other questions in the grow tent review– so, let's begin!
Top 5 Best Grow Tents
When you want to grow plants, the first step is to choose a reliable grow tent. Then, you will buy the lamps, ventilation, etc. So, if the tent is not convenient or gets damaged in a short time, all your effort isn't worth it. I have checked many grow tents, and these five are truly the best.
Vivosun Mylar Hydroponic Grow Tent – Best Grow Tent with a Window for Observation
The attention to the smallest details is the secret of Vivosun growing tents' high quality. This manufacturer can offer you various sizes, so you will be able to have as many weeds as you prefer. Every tent has the same working technology – it will keep your plants in the perfect condition for their growth.
Of course, weeds need enough light for long life, and they will get it from the lamps inside the tent. What makes this grow tent different is the 98%-reflective mylar. Such covering keeps all the light inside and increases the plant growth speed at least two times. Even the zipper has a black lining that closes all the possible holes. It doesn't require additional flaps and self-adhesive tape, Vivosun has foreseen this.
Every gardener waits with bated breath to see how his plants become higher and larger. Most tents don't allow observing what's inside, except opening the zipper, which may break temperature and light balance. But it won't happen with the Vivosun grow tent. You can see your plants whenever you want to do this – a small window is here to help you.
There is no wind inside your house, but I'm sure you still search for a tent that is stable and has a strong construction. Metal poles support this one. They have a convenient design for a smooth installation that doesn't require any additional instruments.
A covering is a lightweight and high-quality oxford that is double stitched for the best light saving. It also has a layer of non-toxic PE fabric inside. Such a design makes a tent safer for your plants. Besides, the material is tear and waterproof, so it can serve you as an outdoor grow tent too.

---
PROS:
Keeps all the light inside;
Has a window;
Strong construction;
Lightweight and non-toxic material;
Easy to install.
Opulent Systems 2-in-1 Grow Tent – Convenient Marijuana Grow Tent with Two Sections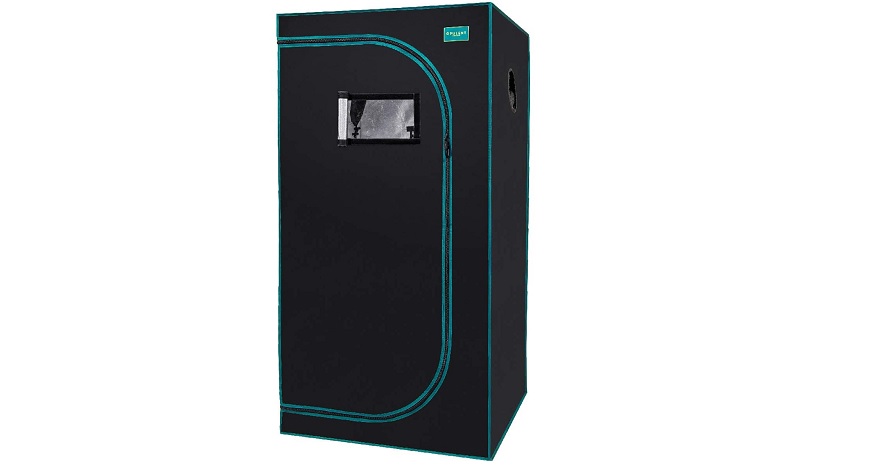 The Opulent tent with two separate sections is a great solution if you want to grow your plants step-by-step. You can seat the seedlings in a smaller area and wait until they become higher. Why can't you plant the seeds and grow them in the same area? Of course, you can – but they will get more light and stay at the proper temperature more possible in the little tent.
When your plants are ready to go to the larger tent, you can easily transport them and seat the next seed part if you want. Opulent tents have a high growing efficiency thanks to their design. They are covered with a reflective mylar that doesn't allow light to run away. A zipper with a black lining complements the light-proof form.
A tent is made of double-stitched canvas – this material keeps the needed conditions inside with a little effort. Metal poles support the covering and make it stable. Many people are afraid that they won't be able to set the tent by themselves because they haven't done it before. Opulent assures that you can install this tent in less than an hour.

---
PROS:
Has two sections;
Keeps the light inside;
Waterproof;
Installs in a short time.
CONS:
Has only one size to choose from.
Topogrow 2-in-1 Indoor Grow Tent – Bets Marijuana Tent With Three Sections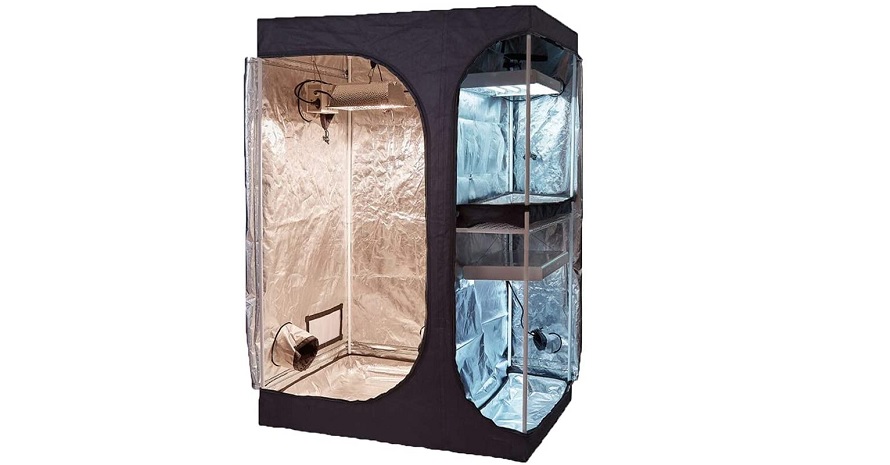 The best tent is the one that is compact but has enough space for all your plants. And TopoGrow tent has these features. It consists of two sections for large plants and seedlings, and what is more, the smaller area is also divided into two. So, you can easily propagate two weed types at the same time and set different conditions. Then, you can move them to the bigger area and continue growing.
As the TopoGrow tent has many sections, it also has multiple ventilation vents. So, your plants will easily get the fresh air they need at any time. You may also set three different lamps. In the seedling room, the seeds don't require the powerful light source, when in the larger area growing plants need more light, and you can provide this.
Interior diamond mylar is popular among the growing tents for cannabis, and this tent is also covered with it. Such a material reflects the lights perfectly and can stay effective for years. The oxford cloth protects it from damaging outside. And the metal structure supports the covering and keeps your plants in safety.

---
PROS:
Has three sections;
Multiple ventilation vents;
Highly reflective material;
Strong structure.
Mallmall Indoor Hydroponics Mylar Grow Tent – Best Hydroponics Tent With a Reliable Construction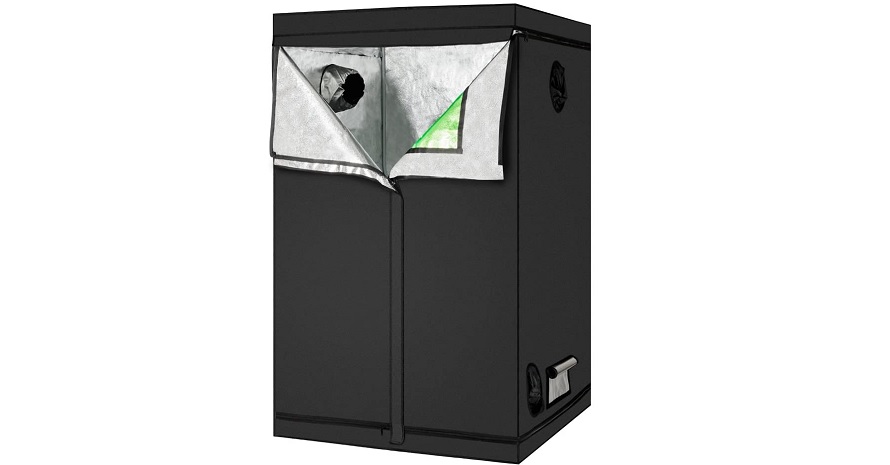 The MallMall tent perfectly separates your weeds from the outside world. It has two layers: the oxford cloth outside that makes it water and tearproof; and aluminum foil that keeps the stable temperature inside. The inner material also has high reflective properties. Aluminum is one of the strongest metals, but it is lightweight – thanks to this, you can transfer it as much as you need, and it will stand still everywhere.
A-frame is made of rustproof iron. It is covered with the protective layer that repels the water and allows the construction to be reliable for a longer time. The heavy-duty zippers don't let the light get through them. Your plants will be isolated in the tent in their small world with the needed temperature and air humidity.
You will be able to keep an eye on your beautiful plants all day long. MallMall tent has a window that allows observing the whole area inside and seeing if there are any problems with the ventilation or lamps. Besides, the tent kit includes the removable floor tray. And also, you will get belts, so you don't need to worry about additional instruments.

---
PROS:
Strong and durable carcass;
Reflective layer inside;
Heavy-duty zippers;
Has a window.
CONS:
Heavier than other models (it can be harder to transport or to install).
Coolgrows Grow Tent – Eco-Friendly Cannabis Grow Tent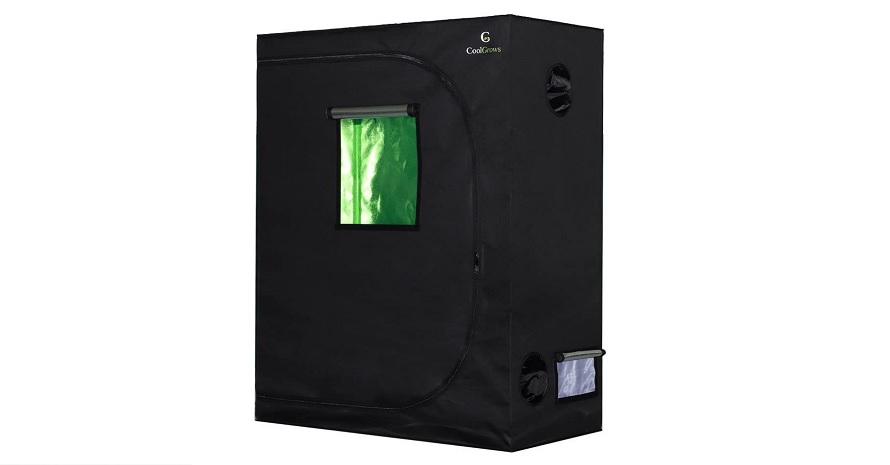 The indoor tents are usually compact, and it may be difficult to get inside. CoolGrows offers a tent that has a smooth and convenient zipper. Besides, it also has a big window! Well, maybe it's not very big, but it's enough to see all your plants. The tent is easy to set up – you will get detailed instructions for this.
CoolGrows uses only eco-friendly fabrics that aren't toxic to your plants. The covering is made of the heavy-duty oxford that is set up on the steel poles. These materials are highly durable. Besides, they are light and waterproof thanks to the layer of aluminum foil inside. It increases the intensity of the grow lights at least two times or even more.
As I've noted before, this tent is installed in several steps. The tool-free metal connectors make the installation so easy – they don't require any instruments. CoolGrows tent also has dual ventilation socks and removable floor tray that you can clean because it is waterproof. In a short word, everything you need for the best gardening.

---
PROS:
Has a window;
Eco-friendly materials;
Installs without additional tools;
Has dual ventilation socks and removable floor tray.
How to Choose the Best Grow Tent?
High-quality material – is what defines a reliable grow tent. From my experience, the best grow tent should have a metal structure, and the iron one is the best. The tent should also have a reflective layer inside. And the outside fabric needs to be double stitched to keep all the light in the tent.
Heavy-duty zippers are also required. They allow you to isolate your plants from the outside influences. If you want to see how your weed grows, you may choose a tent that has a window. Besides, there should be at least two ventilation vents. And the removable floor tray will make the cleaning process a lot easier.
I prefer to grow tents for weed that have separate sections for seedlings and grown plants. But, it's not the most significant feature. It just makes the growing faster and more effective. Also, you can grow more plants at the same time. So, I recommend you to choose such a tent, especially if you're a beginner – it will simplify your gardening.
A Small Guide for Grow Tent Usage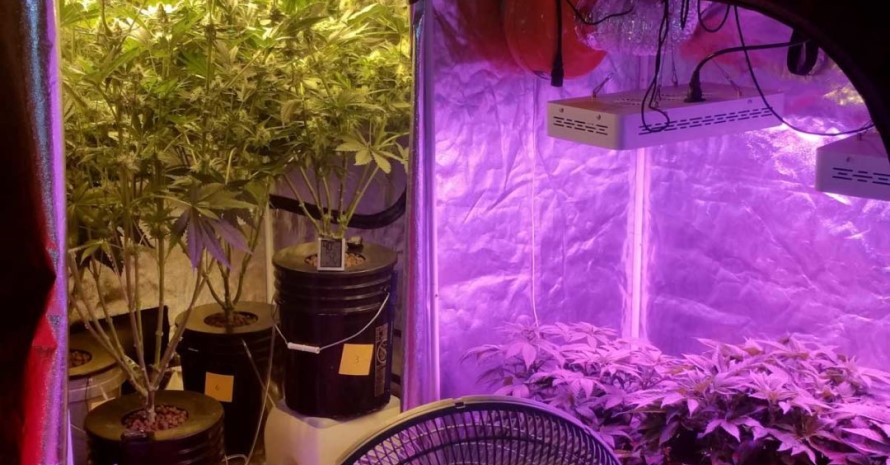 After you buy a tent, you should know how to set it and then how to use it in the right way. Here you will find the needed recommendations.
How to increase humidity in a grow tent?
The best way to increase the liquidity inside the weed tent is to install the humidifier. It's a great tool because you can set the moisture level you need. Plants require a different level through their growth. If you don't want to buy a humidifier, you can decrease the temperature in your house – it will cool off the air, and the water inside the tent will stand for longer. You may also use wet towels, water sprays, or remove one of the lamps.
How to set up a grow tent?
Before you set up a tent, you should choose the proper place for it. The floor should be straight there, and the temperature there should be stable. After you find the right area, you need to connect all the metal roles and create a tent structure. Then, place the covering over it. You should determine where the door or a window is and set it where you want to have access to your plants.
How to cool a grow tent?
The lights inside the tent can overheat and damage the plants. But there are recommendations about how to avoid this. I prefer using LED lights because they produce much less heat. And it's better to turn them at night – the temperature outside is lower, so it reduces the heat amount. If your tent has a high temperature, check your ventilation. Make sure that you have the carbon dioxide filter, and you can also use air conditioning and exhaust fans.
How many plants fit in a grow tent?
There are diverse plants' and tents' types and sizes – and there is no direct answer to this question. The standard tent dimensions are usually 48″x48″x80″, and it fits 6-8 plants in three-gallon pots. If you have more weed, you should choose a larger tent.
To Grow or Not to Grow?
If you still haven't decided whether you want a grow tent or not, I can say that you won't regret buying it anyway. Weed tent will help you to create a small green world in your house. You will be able to see how it grows from the small seeds to the high plants. I like gardening because it gives me relaxation. With the best grow tent, you don't need to worry about your plants – it will keep them in the right condition.
Do you like gardening? Have you ever tried to grow plants in the grow tents? Please, share your experience in the comments below.