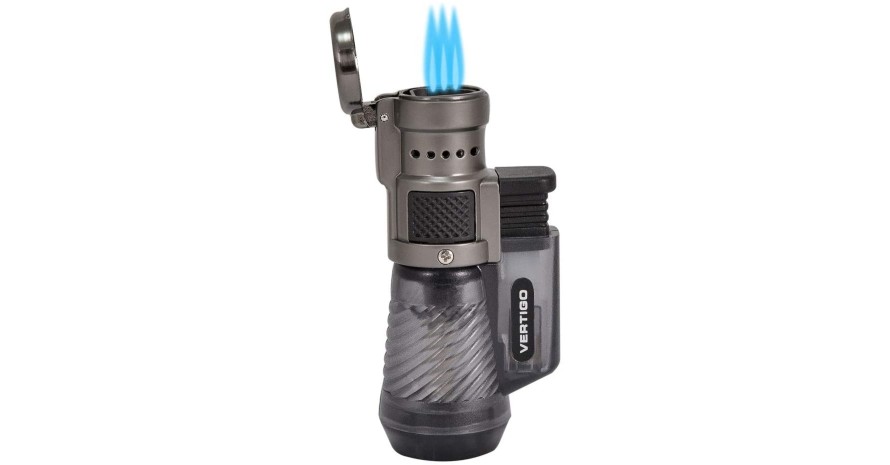 Best Lighter for Bong – No Flame, No Game
The cannabis lighter is the smallest yet essential part of your weed smoking equipment. And there are so many types! A basic Bic lighter is cheap, easy to find, and disposable. Not to mention that its lifecycle is limited to just about 2,000-3,000 lights.
The reusable lighters are a more mature choice. Having one allows you to save a bit of money in the long run, as you won't have to buy a new cheap lighter once it runs out of gas or goes bust.
But reusable lighters are also separated into various types:
Refillable. Usually, it's a butane-fueled lighter. It's resistant to gusts of wind, provides a stable flame, has safety mechanisms, and has a body made of metal/high-grade composite plastic, so it lasts for years.
Flameless. It's a scientific approach to smoking. Instead of butane, this lighter is powered by electricity and delivers a high-voltage arc. It's virtually resistant to any kind of wind.
Torch. Technically, not a lighter, but it provides an amazingly stable flame. And due to its intensity, it can fire up a bong very quickly.
So, to help you out, I've prepared bong lighter reviews. These top 5 picks feature every type of lighter, come at affordable prices, and deliver a quality flame.
5 Best Lighters for Bongs – My Top Picks
Today's list includes several butane-fueled lighters that provide a stable flame, have nice longevity, and feature some nice extra safety measures. No matter what you smoke – bong or a blunt handmade from crispy cherry-flavored paper – these lighters will cover your back.
1. Vertigo by Lotus Cyclone Triple Torch Cigar Lighter – Best Bong Lighter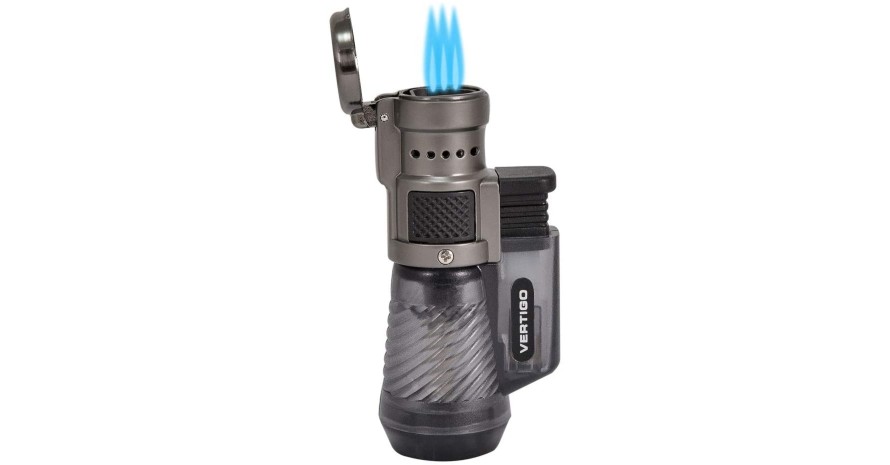 Looking like a tiny spaceship, Vertigo is a stylish and ergonomic lighter. If you really want your smoke time to be aesthetic, having this chic gizmo is a total must. But it has way more than just pretty looks!
First, I really like how compact it is with its dimensions of 6.25 x 3.4 x 0.9 inches. It's pretty lightweight – just 1,76 ounces. It nicely sits in the palm of your hand and doesn't intend to slip out of your grip.
It is a three-flame best lighter for bongs, and thanks to its architecture, it is resistant to wind gusts. So, if you plan to get to a windy place somewhere in the mountains and get even higher after that, Vertigo will cover your back.
Another cool feature here is the small translucent gas compartment. It allows monitoring of how much fuel this spaceship has left, so you can do refills on time, avoiding possible frustration.
Sturdiness is another praiseworthy aspect of Vertigo. Its anatomy consists of materials that are resistant to high temperatures. So, it's literally protected from burning out.
And the cap guards the burners against dust, joint ashes, and other tiny but harmful particles that can be in your pockets.
Finally, I'd like to compliment how smoothly Vertigo works. It never takes a blank shot, as one could say. So, whenever you click it, you're guaranteed to get that warm, yellowish flame to light up your mood.
All in all, Vertigo by LCT is a quality product. It offers smooth performance, great durability, and also a lifetime warranty. So, if you're an avid smoker and all your previous lighters were rather a disappointment – try Vertigo. This is the best lighter to smoke weed.
---
PROS:
Stylish design;
Win-resistant;
High durability;
Triple flame;
Fuel level
2. Newport Butane Torch Lighter – Best Lighter for Weed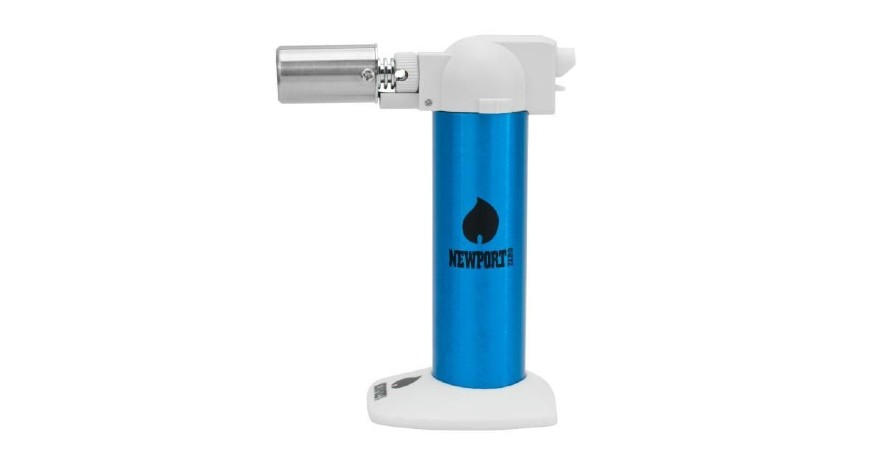 Our next product is from the reputable Grasscity brand. This company comes from the Netherlands and specializes in all sorts of weed paraphernalia: from pipes to rainbow-colored stash containers.
And this torch lighter for weed is a truly universal weapon. For starters, it can work at any angle, producing a stable flame. The flame itself can be adjusted. So, let's say if you're on a camping trip to unify with mother nature, you can increase the flame intensity to light the campfire faster.
It has a standard piezo ignition system, which shows stable performance. Sadly there's no monitorable fuel tank, but at least refilling the gizmo is painless and quick.
The construction of the lighter is quite creative. It has a foot at its bottom, which allows it to stand on a flat surface steadily. Safety has also been thought of as there's a protective lock that won't let children use it. (In case they manage to nick it from you).
The gadget itself isn't that miniature – the height of Newport is 6 inches. But it's still a compact thing, which you can place in your pocket without a problem. And the grip handle helps to take the lighter out of the pocket quickly.
To sum up, Grasscity rarely disappoints with their weed-related stuff. It is a reliable lighter that won't let you down, at least in most cases. And there's a variety of color options – from a glamorous light pink to the psychedelic rainbow splashes.

Newport Butane Torch Lighter
---
PROS:
Foot-base design;
Impressive reliability;
Child safety lock;
Adjustable fire level;
Variety of colors.
CONS:
You can't really monitor the gas level.
3. Sparkr Flip Electric Lighter – A Plasma Lighter for Weed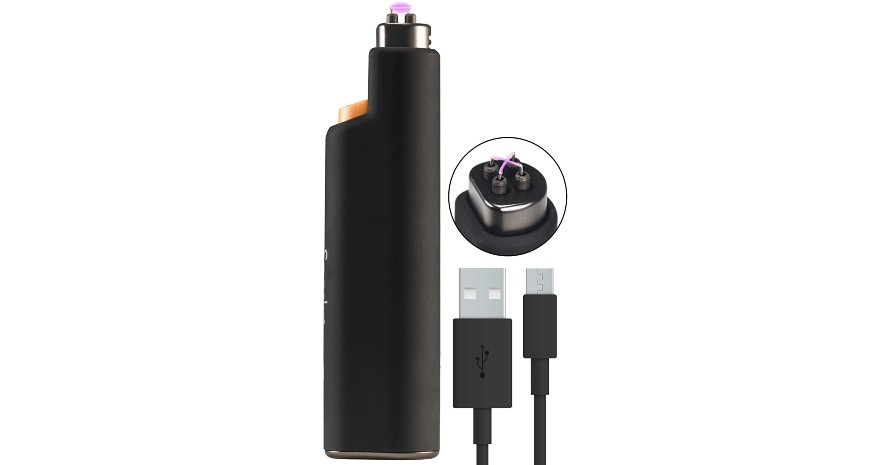 Sparkr is a brainchild of Power Practical, a company that started in 2011 with the help of Kickstarter's crowd. They specialize in lighting devices and top-end lighters.
So, this gizmo has an intriguing construction. Unlike the majority of models from our list, it doesn't use butane or any other inflammable fuel. Instead, it can be powered with electricity and doesn't need any flames at all.
In simple terms, lighting is possible thanks to an intense spark. A high-voltage current travels between two nodes and brings a curve of intensely charged plasma. This concept isn't exactly new.
So, the good thing about Sparkr is that you can charge it anywhere as long as you can access a socket, power bank, or car lighter.
So, what advantages does this alien gizmo have? On the one hand, it's not afraid of the wind; even its velocity is monstrous. Lighting happens within a fraction of a second. Plus, you won't need to buy gas to do countless refills over and over.
On the other, the low battery may catch you off guard, especially if there's no electricity source nearby. That's when an old-school gas-fueled lighter truly shines.
As for the rest, it's an intuitive and safe device. Some may dislike that it takes time to activate this wonder-lighter. This is due to extra safety measures:
First, you need to lower the protection lid.
Then it comes to pressing a power button thrice.
Press it again to light up a reefer, joint, or whatever this is.
And what's especially inconvenient, the lighter will return to sleeping mode after 5 minutes or so. As a result, you'll have to do the entire procedure again if you need more flame. Well, at least it's eco-friendly.
---
PROS:
Doesn't need gas;
Rechargeable;
Smooth design;
Eco-friendly;
USB-compatible.
CONS:
Takes too long to switch on;
A bit pricey.
4. Saberlight Sparq Rechargeable Lighter – A Flameless Lighter for Weed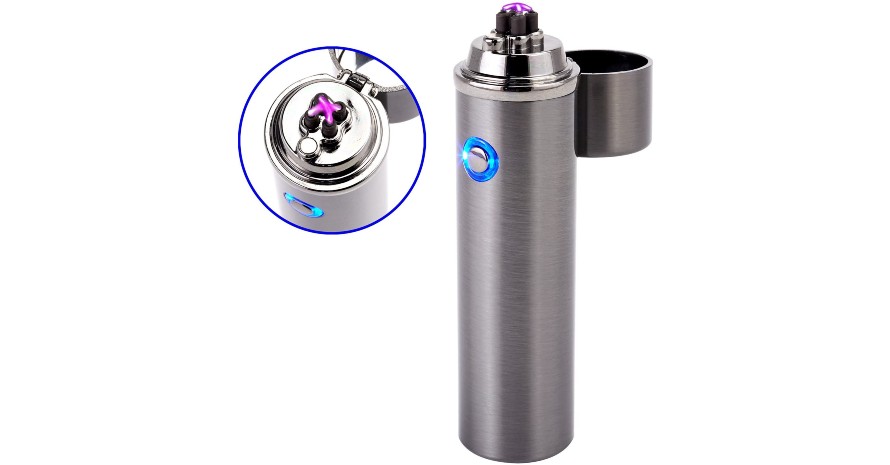 Another flameless lighter, Saberlight, looks like an enigmatic artifact from another civilization or cyberpunk future. You can blame it on the silvery, smoothly polished metal body and the softly glowing blue power button.
It is rechargeable, and with its compact dimensions – 5.4 x 3.3 x 1.4 inches – it is a perfect travel companion except when you're not in the skies.
Characteristics of Saberlight don't make it a TSA-approved lighter despite that its construction excludes causing a random fire, and also, there's no butane inside. So, don't believe anyone if they tell you otherwise.
In my opinion, Saberlight is a bombastic gizmo when it comes to regular cigarettes, blunts, referees, and other similar stuff that has flammable wrapping. As for the pipes and bongs, it shows a worse result as it doesn't deliver a spreading, stable flame.
And since it's a smart lighter, it makes lighting somewhat arduous. The problem is that you need to turn it on by pressing the button and wait till it's ready to work. And after you blaze the stuff, the lighter must be turned off; otherwise, it gets hot and loses its charge quickly.
At least the original design of Saberlight has one extra bonus. Its button light is so bright, that you can use it as an improvised lantern at night in case your phone is dead and there's no way to use a normal flashlight.
All in all, it's an interesting gadget. I really like its innovative looks and the butane-free concept as it's less harmful to nature. On the other hand, I don't think it can qualify as a bong or weed pipe lighter. But you can have it as a spare one.
---
PROS:
Highly aesthetic design;
Bright power button;
Safety shut-off;
Needs no butane;
Weatherproof.
CONS:
Not ideal for bongs or pipes;
Using it can be a hassle.
5. NANW Butane Torch – The Most Serious Weapon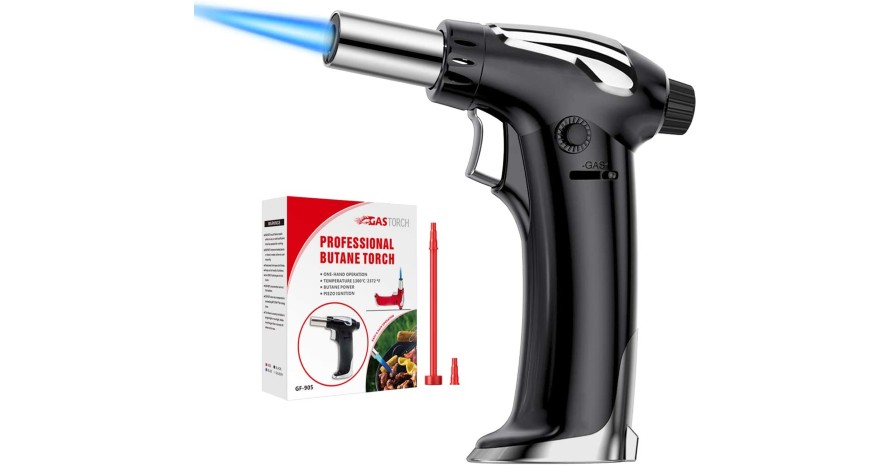 Our last item is truly a jack of all trades. This is a full-scale blowtorch designed by NANW. And it's capable of pulling any job off related to a controlled flame: cooking, crafting, starting a fireplace, producing art, and even making a haircut. And heating up a bong, of course.
I like its clever construction. The nozzle of this blowtorch is long enough to keep the flame from your fingers. To make the fire more manageable, there's a lock button placed near the nozzle. Also, there appears to be a knob that regulates the flame intensity.
The gizmo itself is pretty compact and lightweight: about 10 ounces without gas. And to make this gun spew fire, you will need to fill it up with just 0,03 ounces of butane. Filling up fuel is fairly quick and effortless.
As I've said, this torch is a multipurpose tool. You can use it as a portable heat gun and melt caramel to cook delicious matzo brittle or torch the acrylic pours if you're into making paintings and murals.
As a butane lighter for weed, this gizmo will surely do a killer job. As a typical torch, it has an average temperature of around 2,400 F, which is enough to make your weed boil like water for a tea ceremony, and the flame is seamlessly steady.
But despite its relative compactness, it's more of a power tool than a weed smoker's lighter. And though it feels ergonomic enough while in your palm, yielding this tiny flamethrower isn't very comfy each time you need a toke.
All in all, I highly recommend having such a thing in your tool arsenal. Unlike a regular lighter, a blowtorch works like clockwork, heats up a bong momentarily, and also can be used for other purposes: from dessert making to producing a piece of art.
---
PROS:
A multipurpose device;
Delivers a quick heat-up;
Safe construction;
Ergonomic handle.
CONS:
May seem a bit large if used as a lighter;
Fuel level isn't seen.
Buyer's Guide
But before you order one that you like, here are a few tips to follow. Use them to pick the best lighter!
How to choose the best lighter for the bong?
It's no rocket science. There are just a few characteristics to search for in a good lighter. Let's scrutinize each one:
Lifespan
To a veteran smoker, it's an important aspect. The longer the lighter will serve, the less money you'll have to spend eventually. Otherwise, if it's a fragile gizmo made of porcelain-like materials, there's little point in getting it.
The best lighters are made from metal – they basically have a lifetime warranty. Although in some cases, it can be a combo of metal + plastic like in Vertigo by LCT: it allows having a transparent fuel compartment.
If that's an electric flameless gizmo, pay attention to how many amp-hours its battery has. Check if the turn-on mechanism isn't jittery – it's pretty complex, and if one of the elements goes out of commission, the lighter will be a dead weight.
Safety
Fire is a deadly toy. Therefore, the best pro-level marijuana lighters are equipped with safety shut-offs and anti-children locks that won't let them play with it while you're not looking.
This is why I personally think that electric lighters aren't the best choice. In some cases, you may forget to deactivate it and put it in your pocket. It takes a lighter a few minutes to go into hibernation mode. And there's no guarantee you won't trigger it by accident while walking.
Protecting your fingertips is also a must. Lighting up a bong takes more time than blazing a joint. So, a safety angle and a heat-resistant material that covers the body of the lighter are a must too.
Ease of use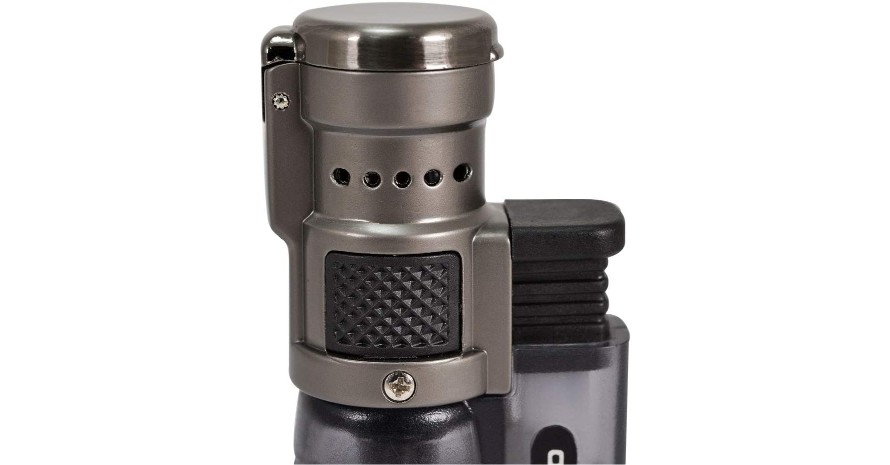 Sounds like a banality, but it's also crucial. For me, using these Bic lighters with tiny wheels is a torturous challenge.
A clicking mechanism is much nicer, as you don't have to tear the skin off of your thumb hoping to extract some fire at the 6th try. (Like a troglodyte).
Besides, ease of use also depends on your preferable smoking technique. If you're into doobies, most of the lighters will suit you. But if you're a pipe fan, I wouldn't recommend a flameless arc lighter: using it turns into a drag.
Wind resistance
It speaks for itself. In a windy situation, a weatherproof lighter won't fail you. It is possible thanks to the specific construction that delivers a more stable flame, so you can use it at different angles.
But no lighter is fully immune to hostile weather. Especially rains. So, I recommend avoiding the usage of a flameless one outside when it's drizzling.
Piezo vs. Flint
Basically, there's little difference between them: each has an advantage and a drawback.
Flint lighters are the hardest to operate due to their tiny wheels. And if you're outside in cold weather, fiddling with such a lighter will be simply atrocious. At the same time, it's fairly easy to replace a flint yourself once it's out of commission.
Piezo lighters are easier to use and more responsive. But if the sparker decides to bid a farewell and die, you can throw it in the garbage. This is why I recommend buying a reusable lighter that has a warranty and is also backed by customer support.
Plus, in most cases, it's wind-resistant, durable, and reliable. It can also become some sort of ceremonial relic, which makes smoking weed psychologically more consistent fun.
What is the difference between a regular lighter and a bong lighter?
This is a tricky question, as it mostly depends on an individual case. As I've said, a bong lighter is refillable and way more durable than a regular BIC.
But I also noticed that some bong lighters have a different flame "intensity". Majorly, a bong lighter provides a soft flame that only soots your pipe or bong.
And torch lighters produce an intensive flame that can burn your weed paraphernalia. And here's a funny detail. If you put it exactly to the center of the bong and then put it away quickly, you may save your bong/pipe from scorching at all.
FAQ
And finally, some popular questions about the electric lighters for weed.
Can I use a Zippo lighter for the smoking bong?
Well, yes, as it delivers the same flame as any other reusable lighter. Besides, according to the rules set by the Transportation Security Administration, Zippo is the only lighter, apart from the disposable ones, that's allowed to be on board.
Are there some safety measures for using a lighter for a bong?
Absolutely! First, if it's a regular Bic lighter, don't let it burn for too long. As it gets hotter and hotter, it can either give you a light/medium scorch or even burst in your hand as their plastic isn't too thick.
Second, make sure there's enough distance between the flame and your fingers. This is why more advanced lighters allow changing angles, etc.
Also, never leave it unsupervised or exposed to the sunlight. Unless it's made of solid metal, a 'preheated' lighter is really dangerous and must be cooled off before usage.
Light Your Fire
I hope my tips were of help today. Follow them, pick a lighter from my list that you really fancy, and light up your mood!
What is your favorite type of lighter? Do you enjoy using the flameless lighter? Which one was the longest survivor? Let us know in the comments!