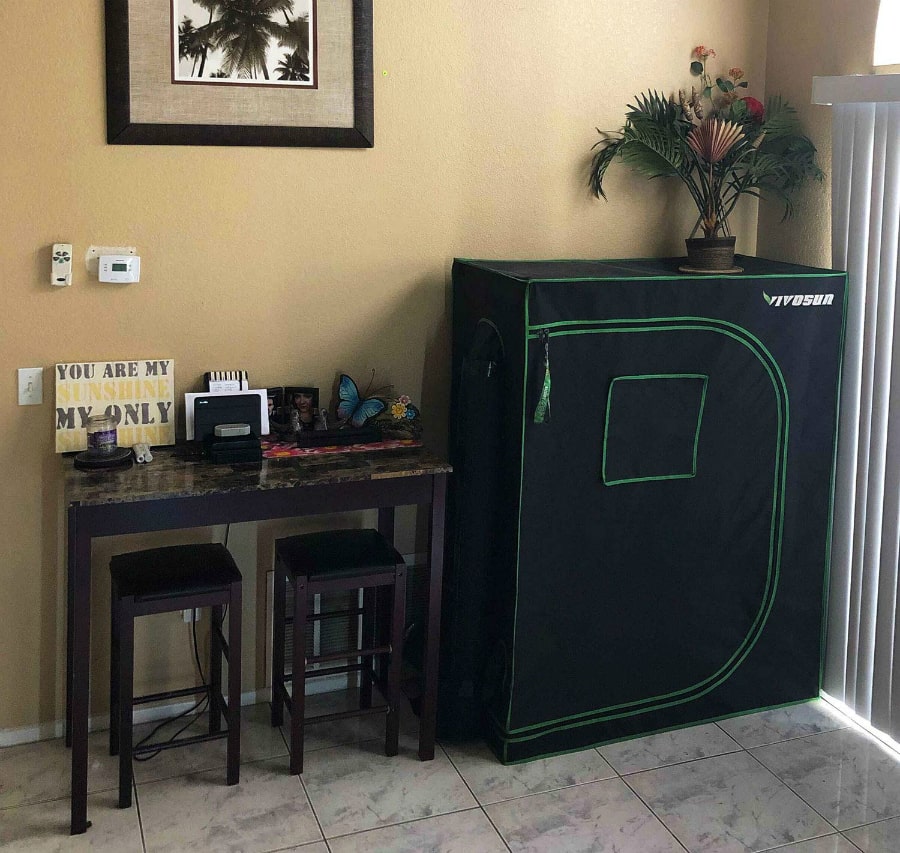 Best 2×4 Grow Tent – The Ideal Models for Optimal Results
My 10-year farming experience has led me to explore some of the most efficient ways of growing cannabis plants. If you own limited planting space, this blog is mainly made for you. The grow tents under review are reasonably priced, and they are ideally prepared for the task.
With the kit, space is a bit limited, but you are assured of realizing optimal outcomes. Grow tents are comfortable to till as you will only spend a few hours working here. Likewise, they ensure your marijuana plants are entirely shielded from extreme weather conditions.
However, there are a lot of challenges when buying tents. This results from market saturation and the availability of expensive, yet unapproved brands. For this reason, I have included the section below to enable you to learn the features corresponding to an ideal tent purchase.
But before we get there, supposedly you are interested in how many plants in a 2×4 grow tent are you able to grow? Well, with the best 2×4 grow tent kit and the ideal light, you can easily take care of a maximum of 32 plants.
Top 6 Best 2×4 Grow Tent Reviews
Under this section, you will find individual item depictions with detailed pros and cons analysis. The products are arranged in order of popularity with the best items appearing at the top. This makes it possible for you to select your best match without much straining.
1. VIVOSUN 48″x24″x60″ Mylar Hydroponic Grow Tent – Best 2×4 Grow Tent for Effortless Installation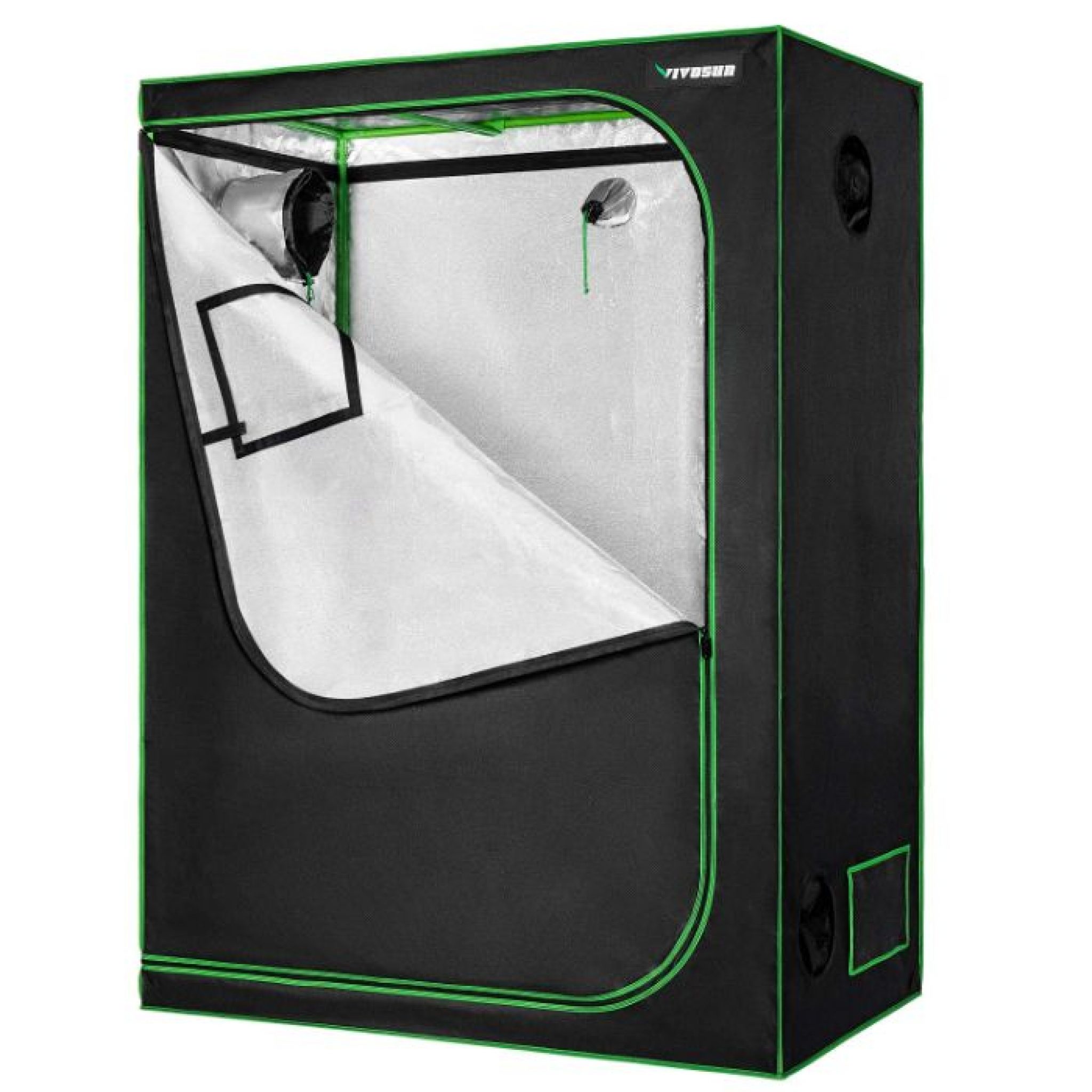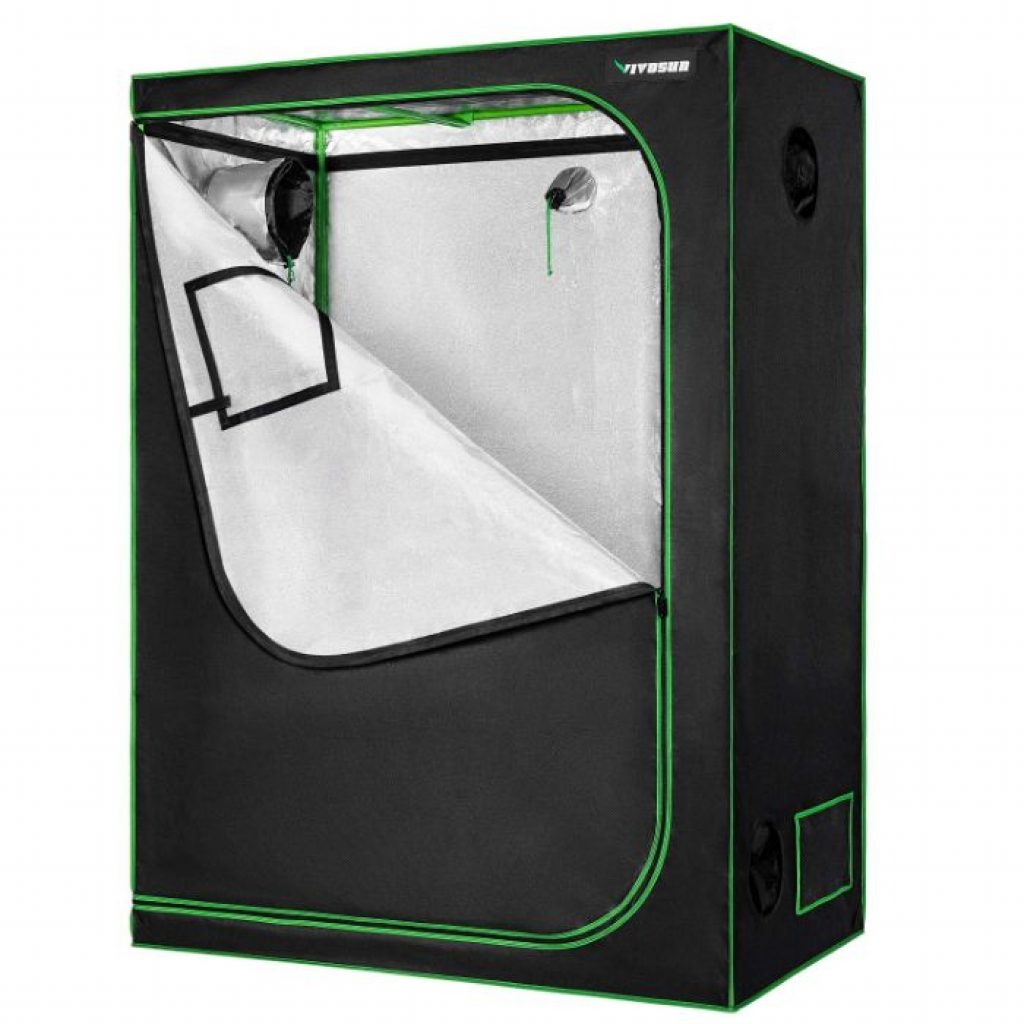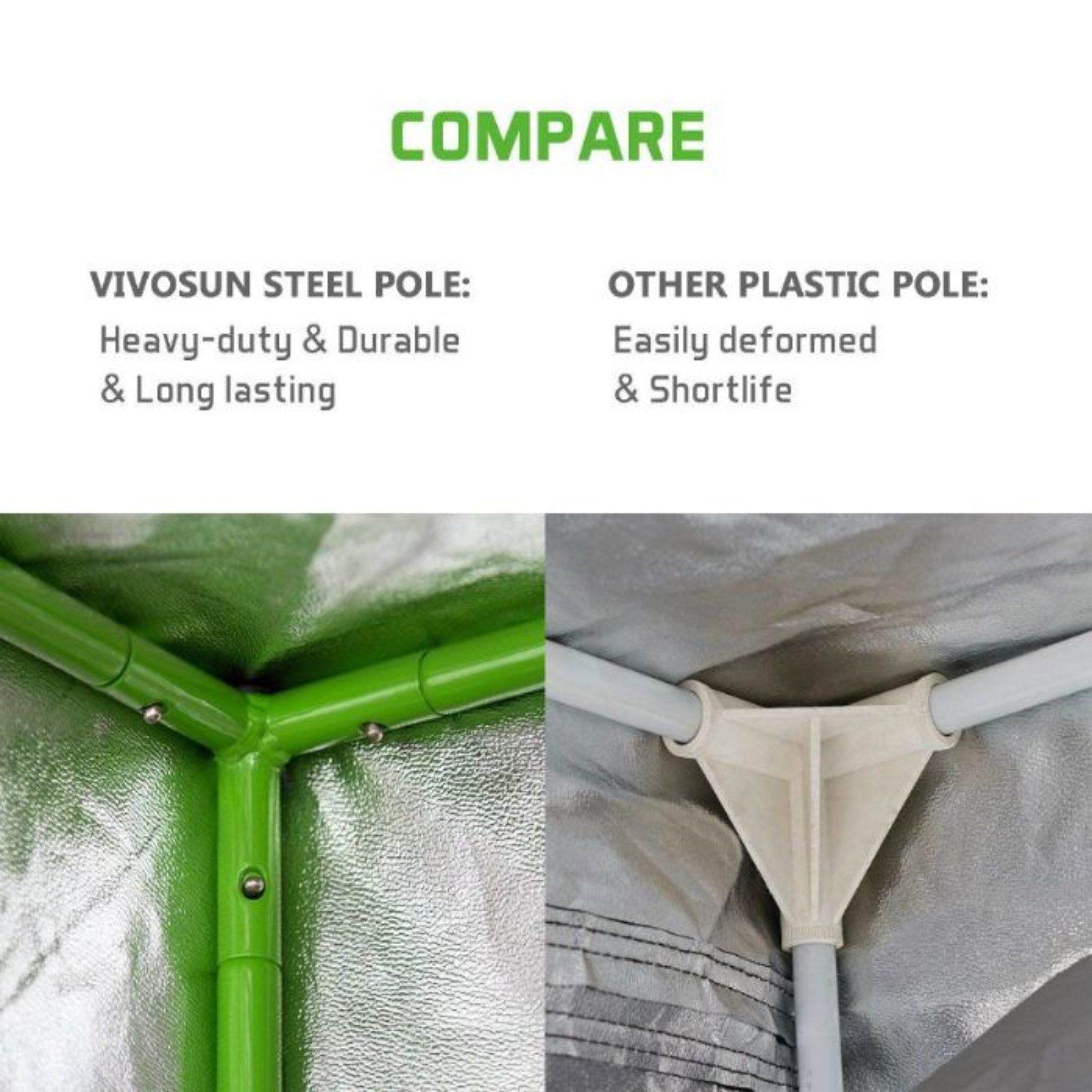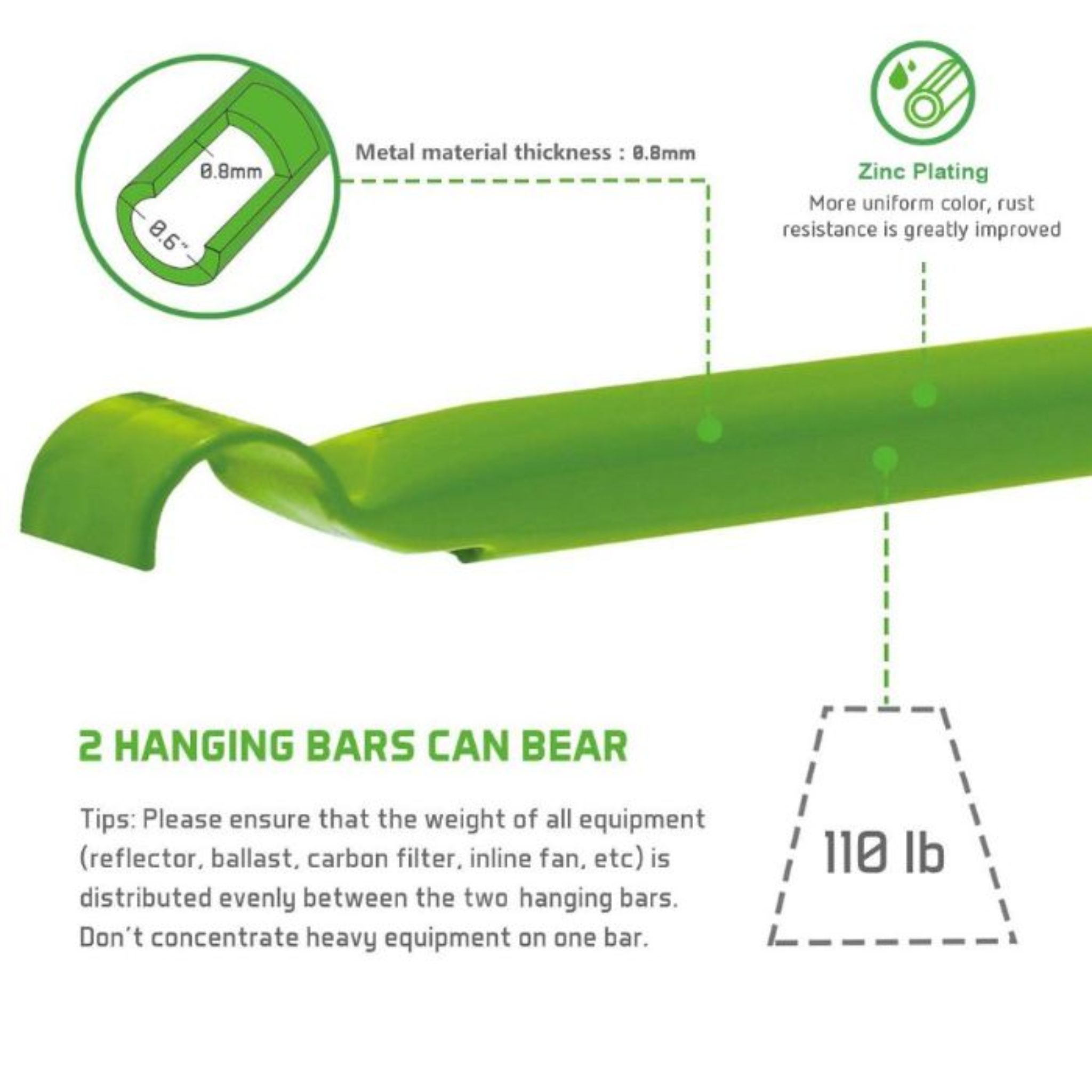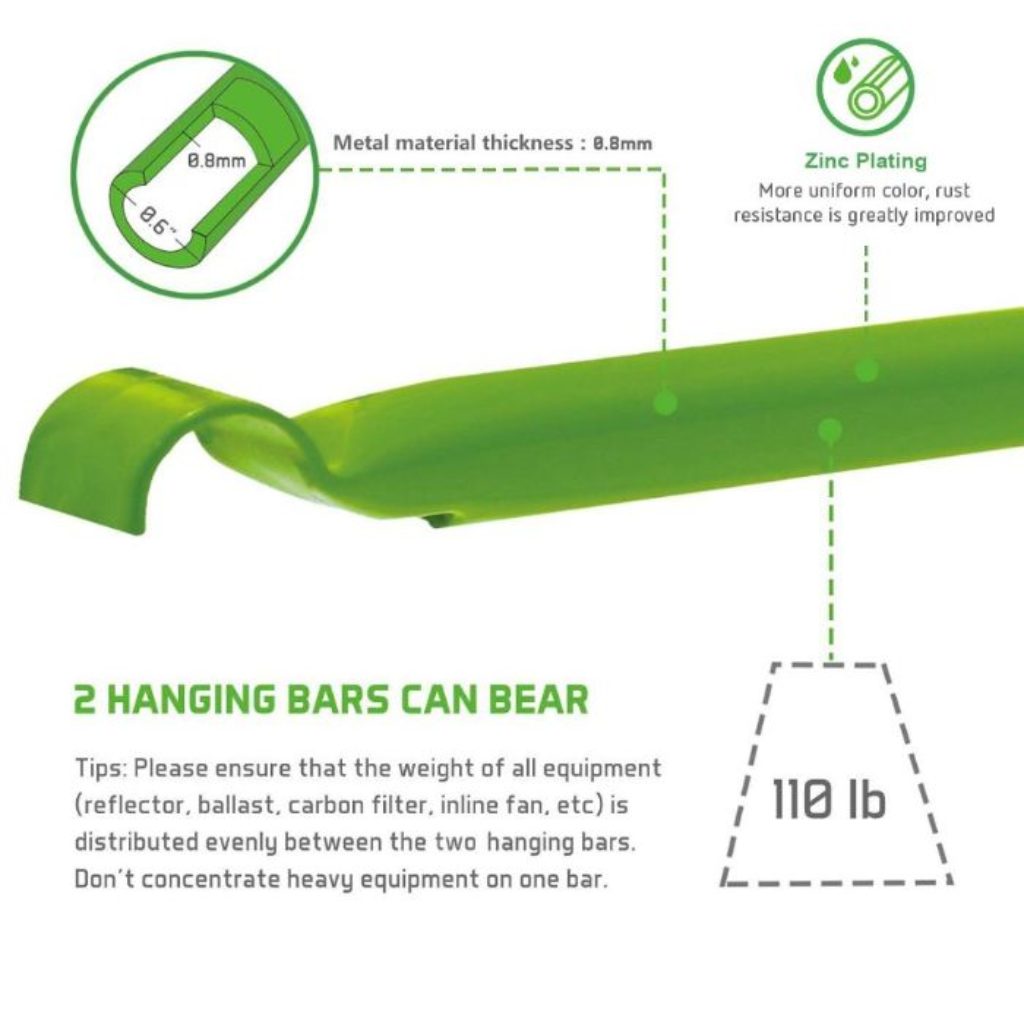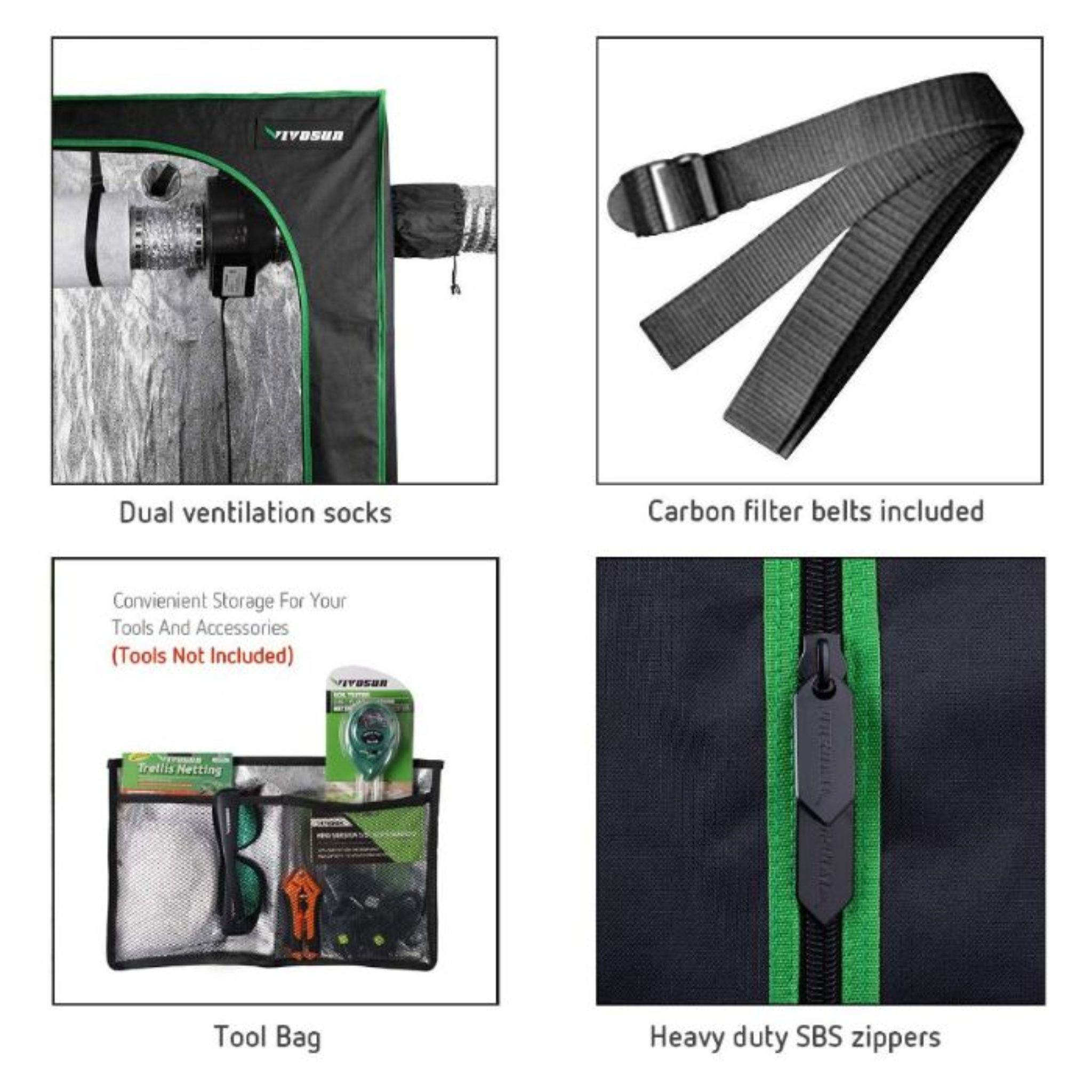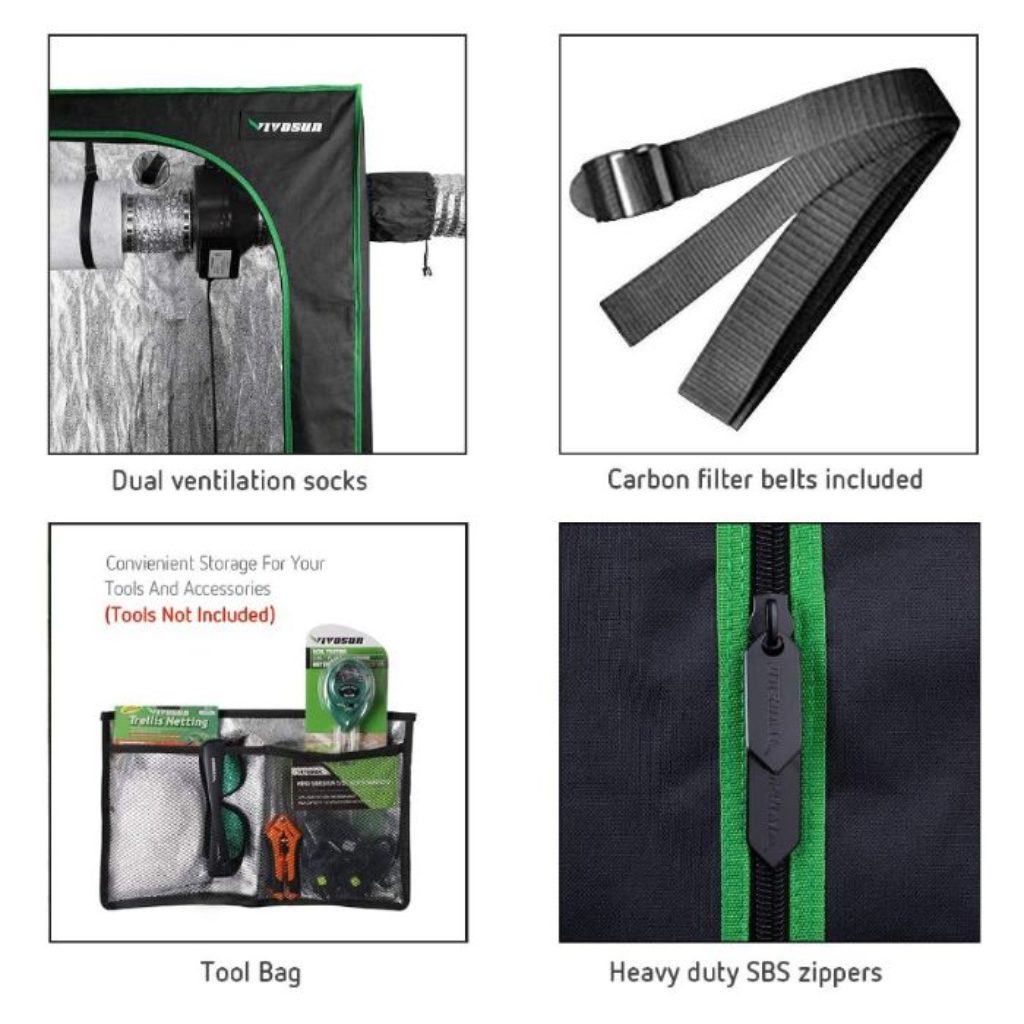 The kit offers a perfect blend of quality, durability, and affordable cost. Are you tired of having to pay extra to get installation accessories? Well, with this item, that's a story of the past as the tools are already inclusive of the pack. Multiple sizes are accessible even though cost and 2×4 grow tent setup straightforwardness differ with large kits.
The kit's 98% reflective Mylar is highly effective in ensuring no light is leaked. The zipper also contains a light-proof lining. This is essential in retaining the light intensity for optimal plants thriving. The kit is also made of high-quality 600D fabric that's utterly tear-proof. The material is 0.8 mm thick and twofold sewed to prevent leakage.
Setting the kit up is straightforward as the perfectly crafted metals offer a smooth installation procedure. Are you wondering how stable the tent is? Well, that's not a big concern as the metals here are sturdier than ever.
The perfectly incorporated observation window eases your needs for frequent plant check-ins. Moreover, the smoothly opening zipper offers easy access to your plants. The vents are ideally made to ensure no light is lost via the openings.
Several accouterments are contained within the pack, and they include; a watertight floor tray, metal connectors, filter straps, and a hanging bar. The item has been made close to perfection to prevent light leakage issues, but its corners allow a slight amount of light to be lost.
However, this shouldn't stop you from accessing this proven brand. The tent is available at an affordable cost, and its quality is completely unmatched. I highly recommend you to buy as you will be guaranteed of getting the best value for your money.

600D fabric;
Light-proof zipper lining;
Double sewed.
---
PROS:
sturdy stands;
600D tear-proof fabric;
observation window;
several accouterments are contained within the package;
watertight.
CONS:
there's slight light leakage at the corners.
2. CoolGrows Grow Tent Room – Best LED Grow Light for 2×4 Tent to Block Light Escaping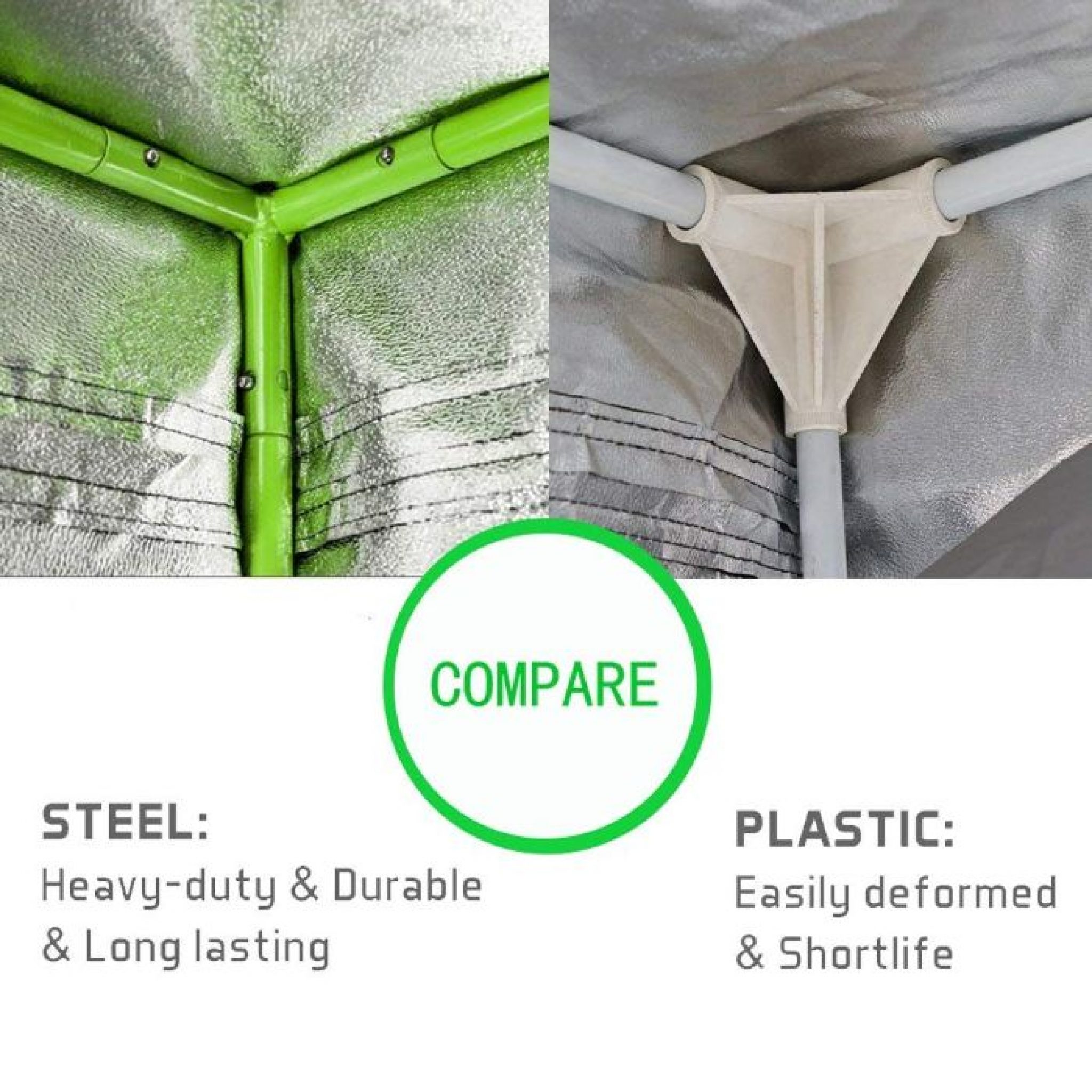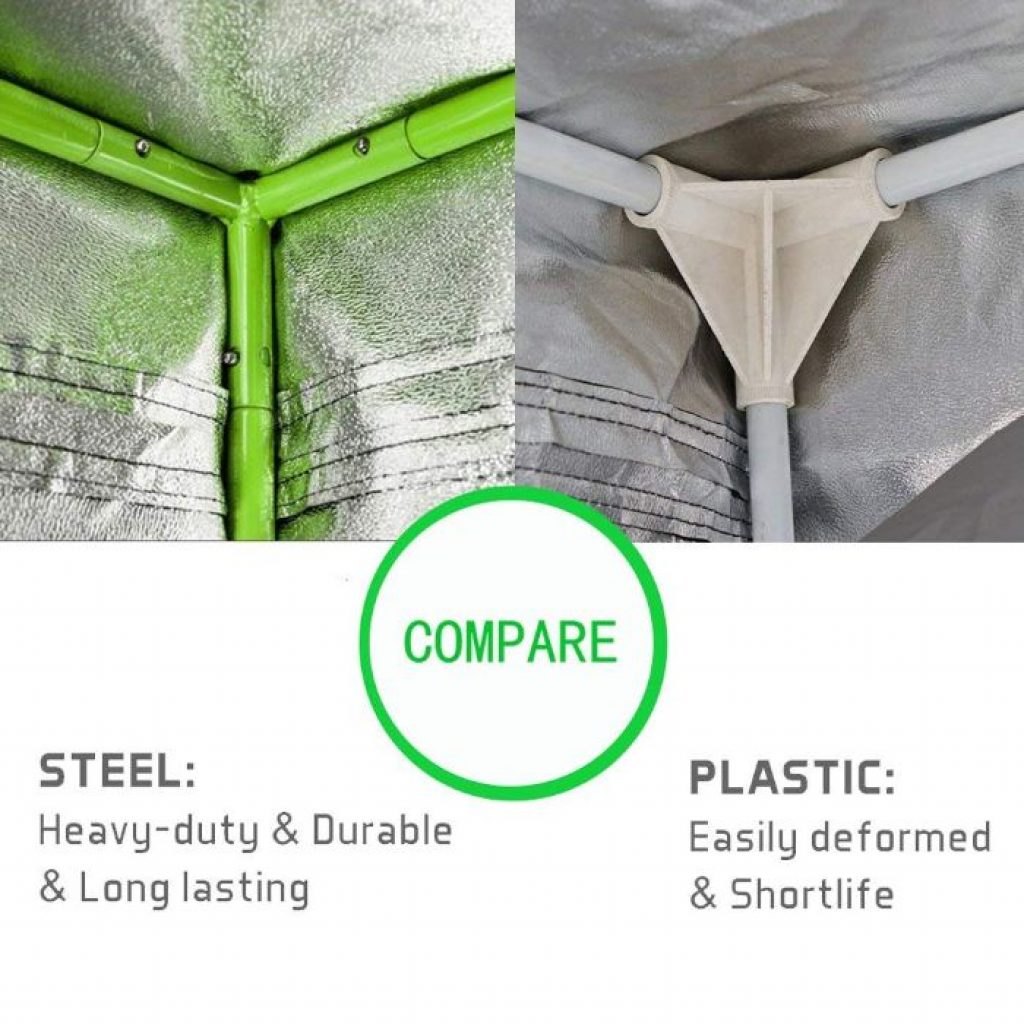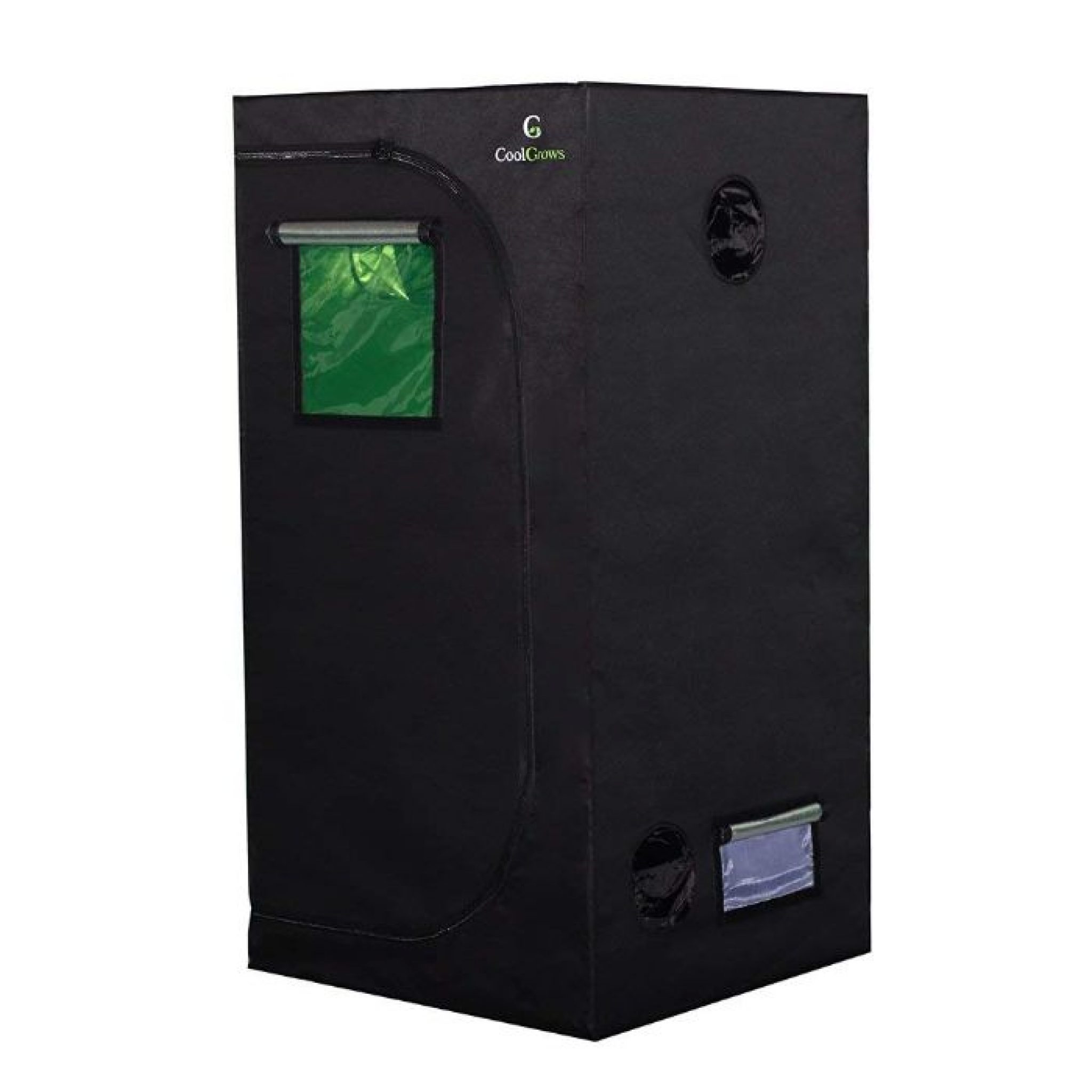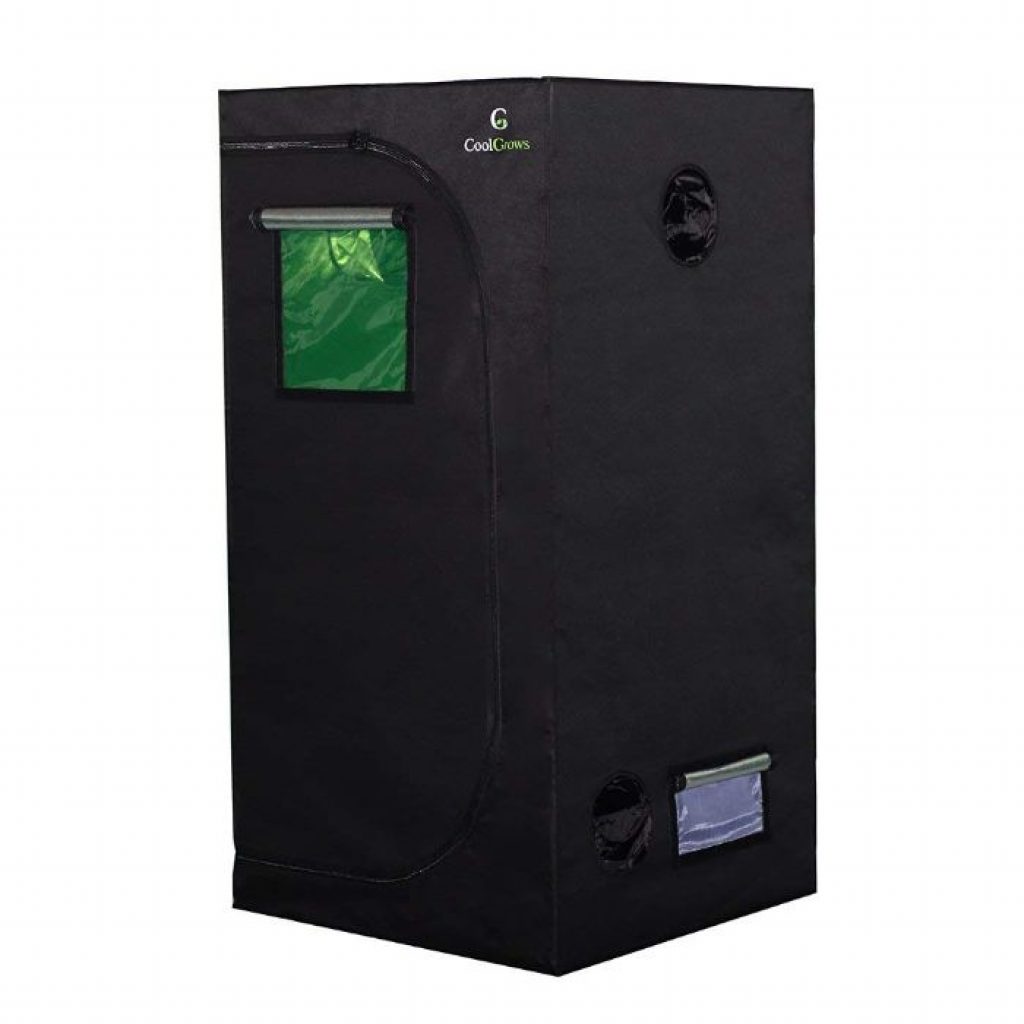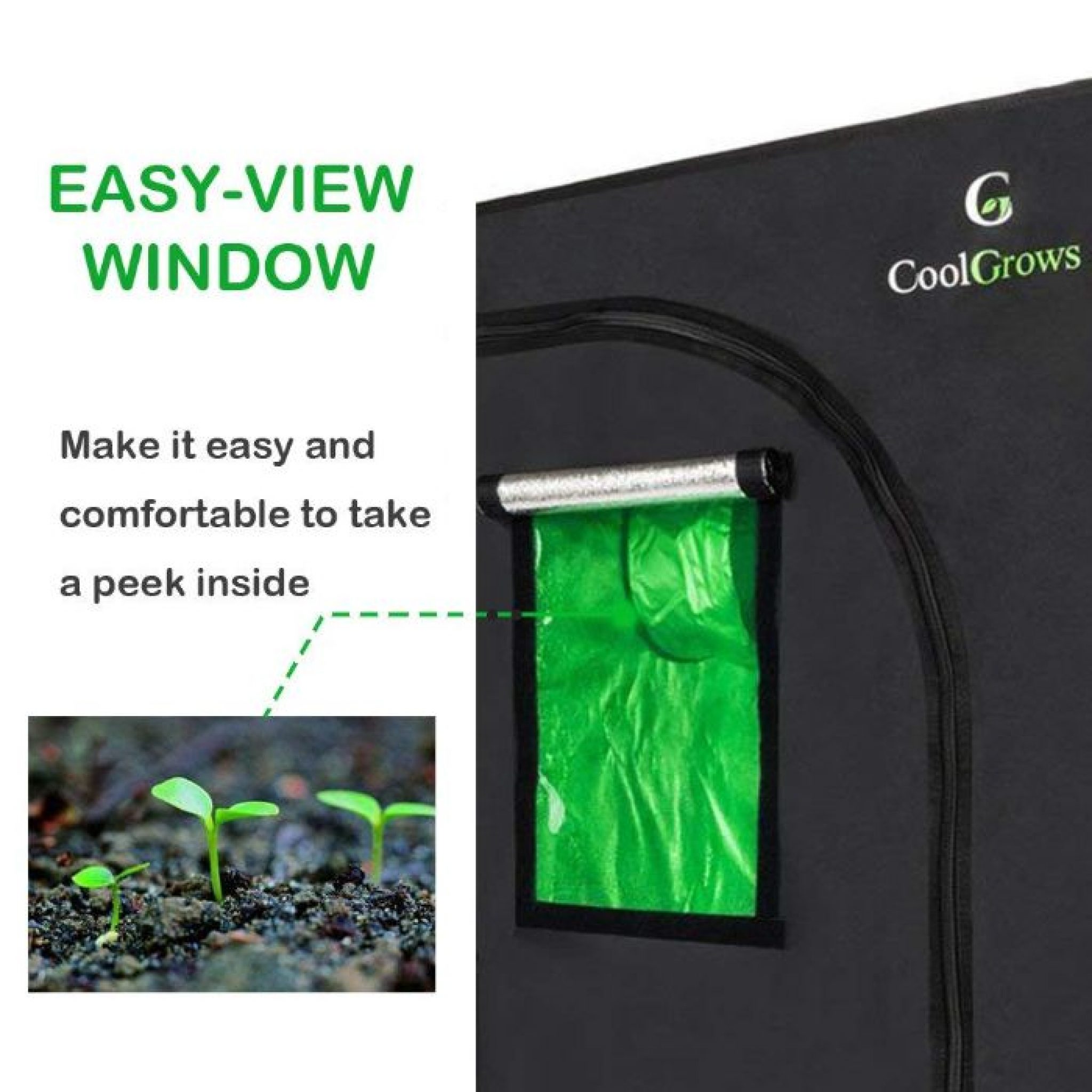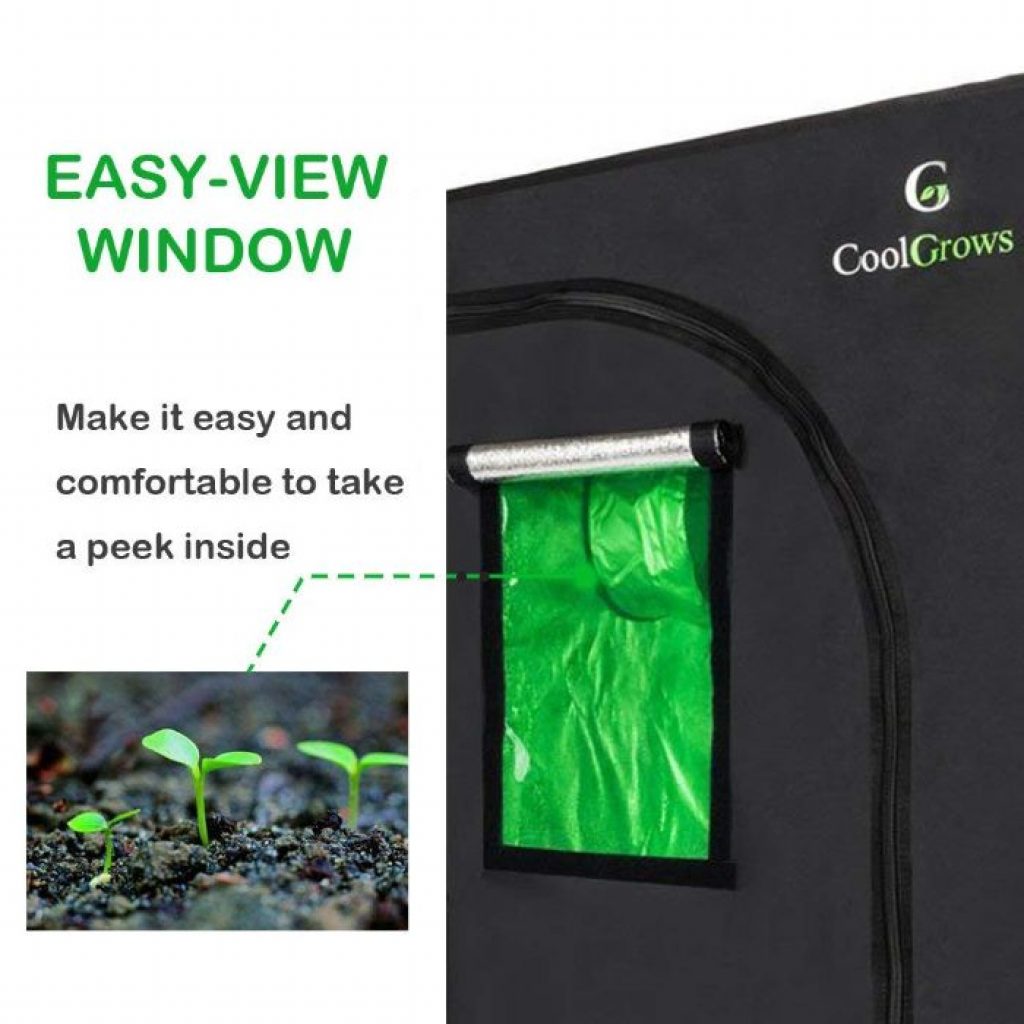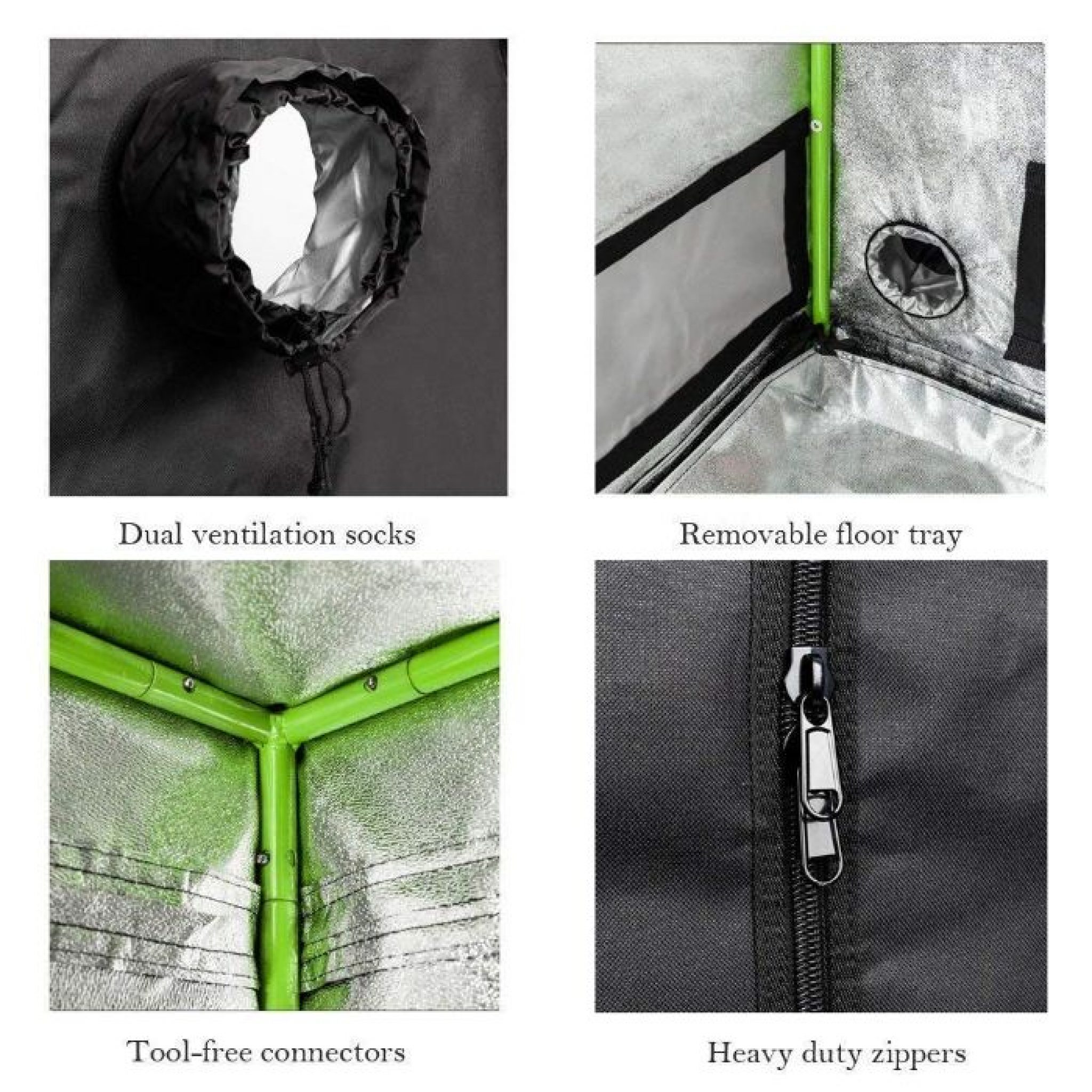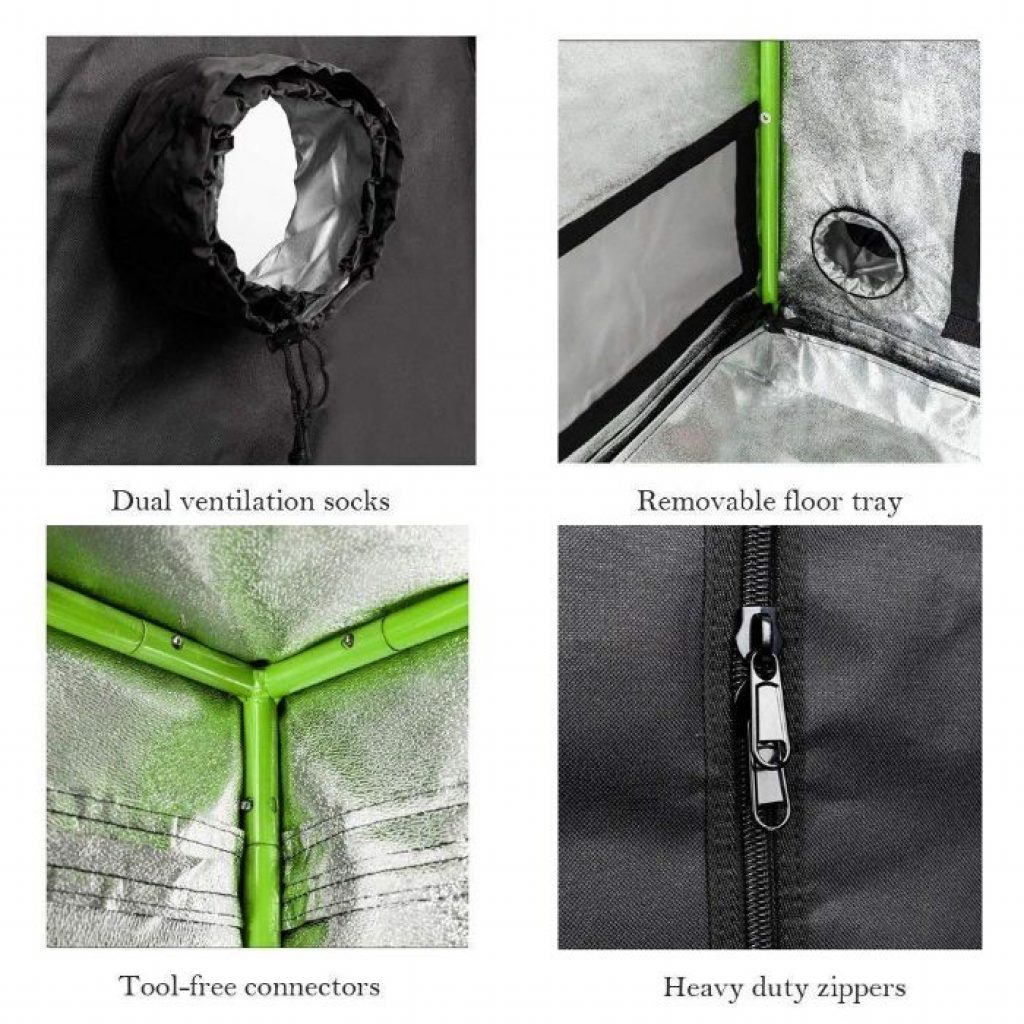 When obtaining a grow tent, it is important to consider its ability to block any light from being lost to the surrounding. CoolGrows Grow Tent has done the best in building a completely light-proof tent. The incorporated 99% light-reflecting Mylar lining provides efficient illumination for your marijuana.
The exterior is made of perfectly stitched 600D fabric that optimally keeps the shell closed. It is tear-proof to last you a lifetime as you enjoy unlimited benefits associated with grow tent farming.
On matters of resilience, the tent is made to last beyond expectations. The conveyed metal and connectors are strong enough, thus providing the necessary stability.
There's also an ideally positioned viewing window. You can go ahead and see how your marijuana plants are growing without causing any disturbance. It is easily achieved as you don't have to unzip the tent for herb checking.
Besides that, the kit continues to amaze as a watertight floor tray is contained within the items conveyed. The plate is replaceable and stress-free to clean. A perfectly crafted and smooth opening zipper is fused with closing flaps to ensure no light leaks.
The kit is conveyed as described and completely sealed for identity protection. Its cost is moderate; therefore, it will fit under your strict budget ideally. It is stress-free to lump together as the connectors lock-in without hardware use. Taking down the kit is equally forthright.
The tent is fitted with dual vent socks for easy light and air seal around cords. There are multiple sizes to pick from, and the item is among those I highly recommend for purchase. Rest assured, you won't regret buying this product.

Dual vent socks;
99% light-reflecting Mylar lining;
The zipper is fused with closing flaps.
---
PROS:
accessible in different sizes;
perfect light seal;
durable;
600D fabric;
tool-free metal connectors.
CONS:
the zipper gets caught on the fabric.
3. Hydroplanet 48x24x60 Mylar Hydroponic 600D 4'x2′ Extra-Thick – Best Light For 2×4 Grow Tent with Reflective Lining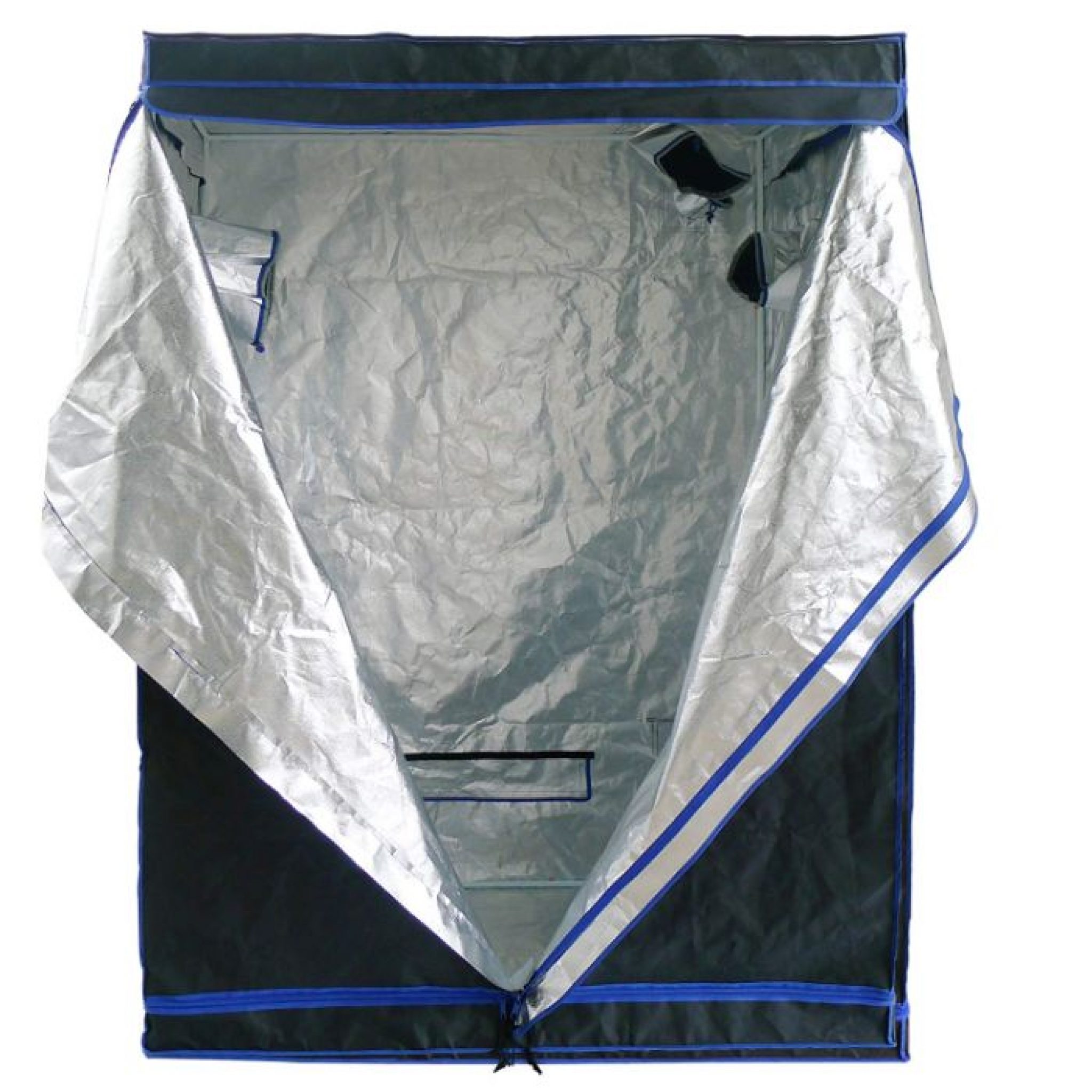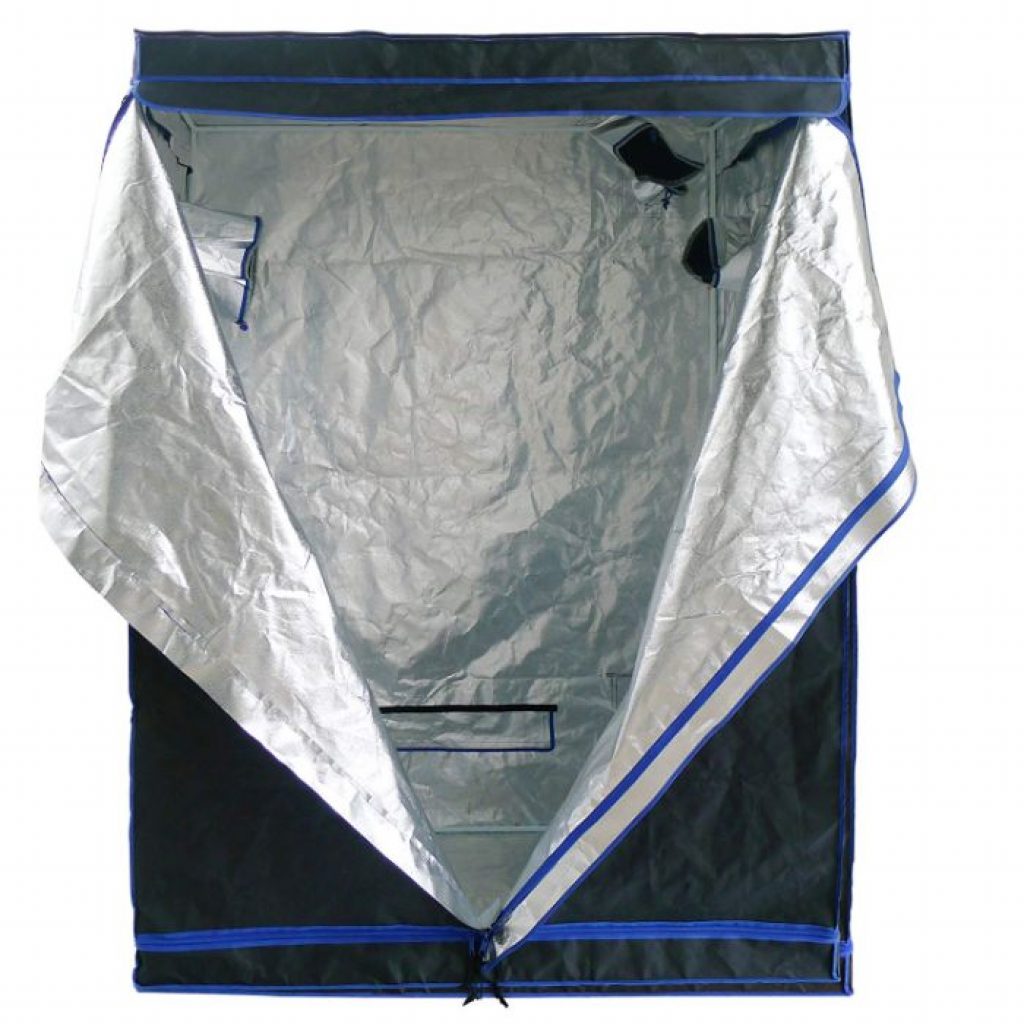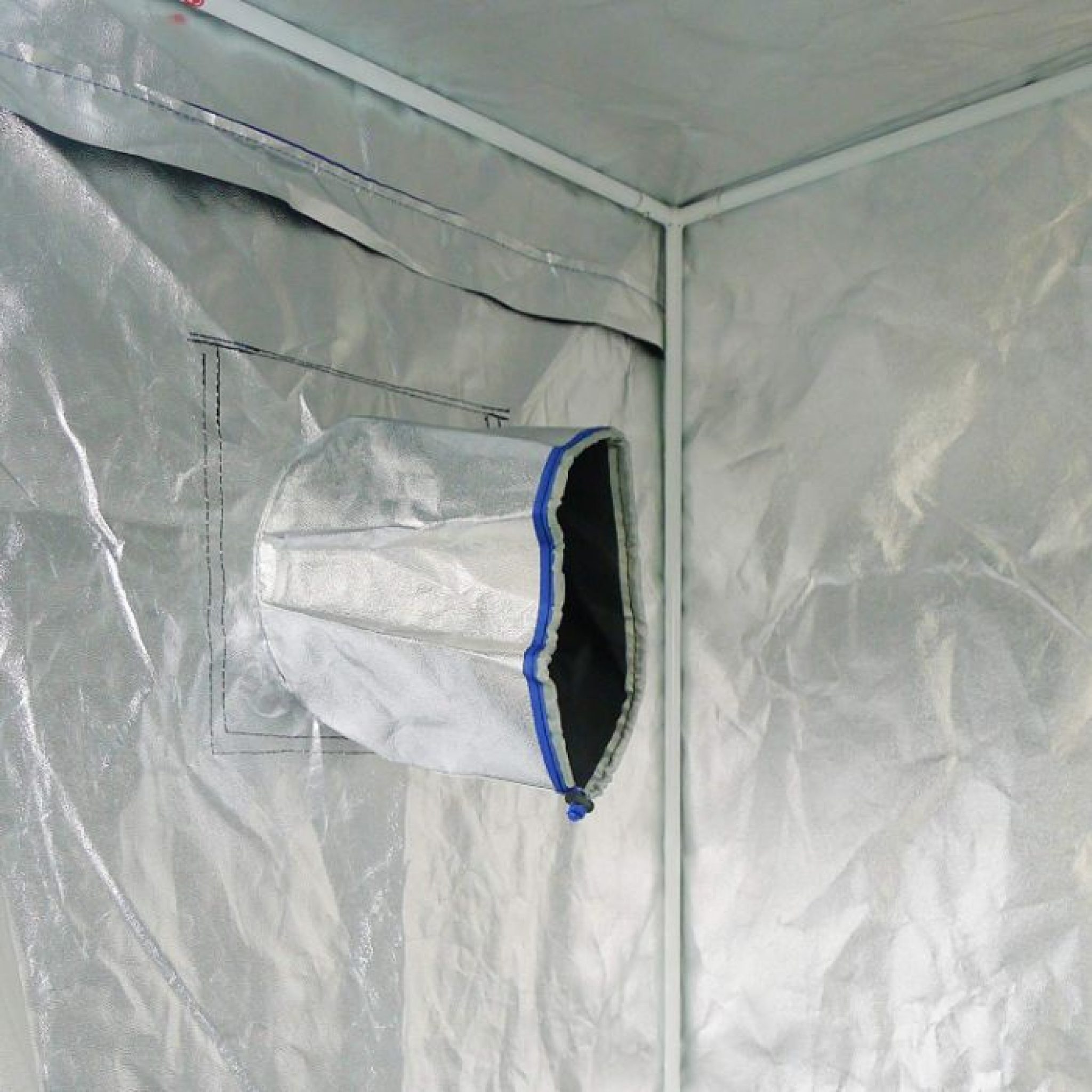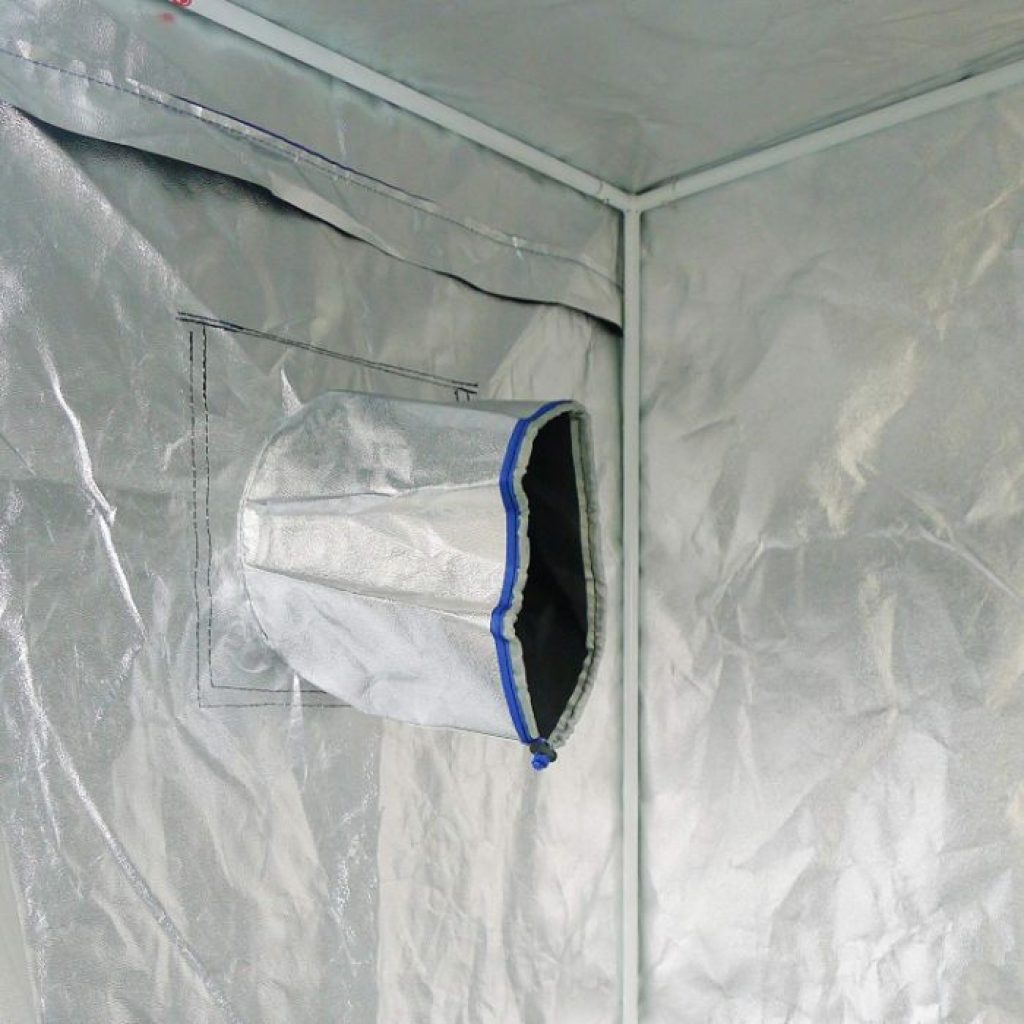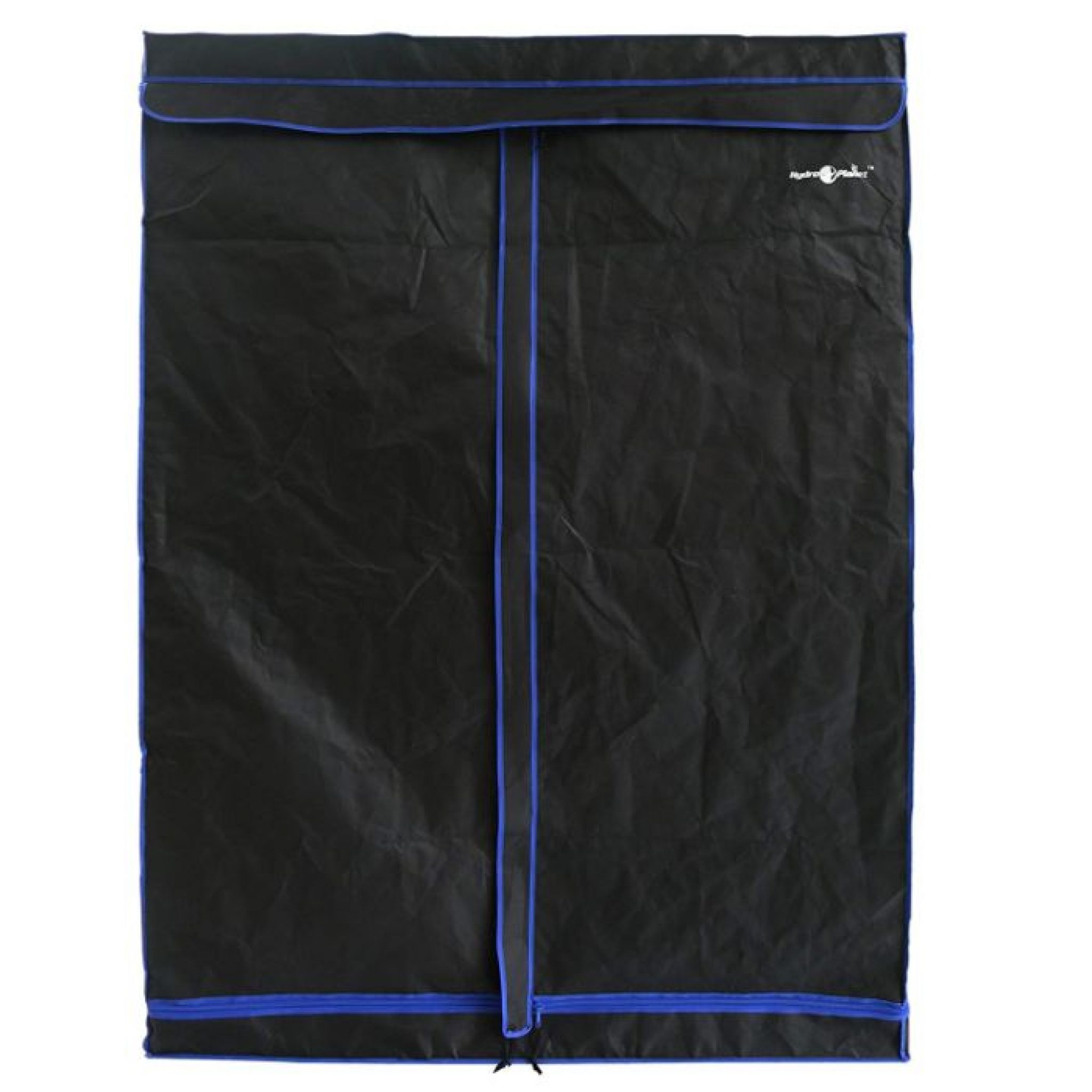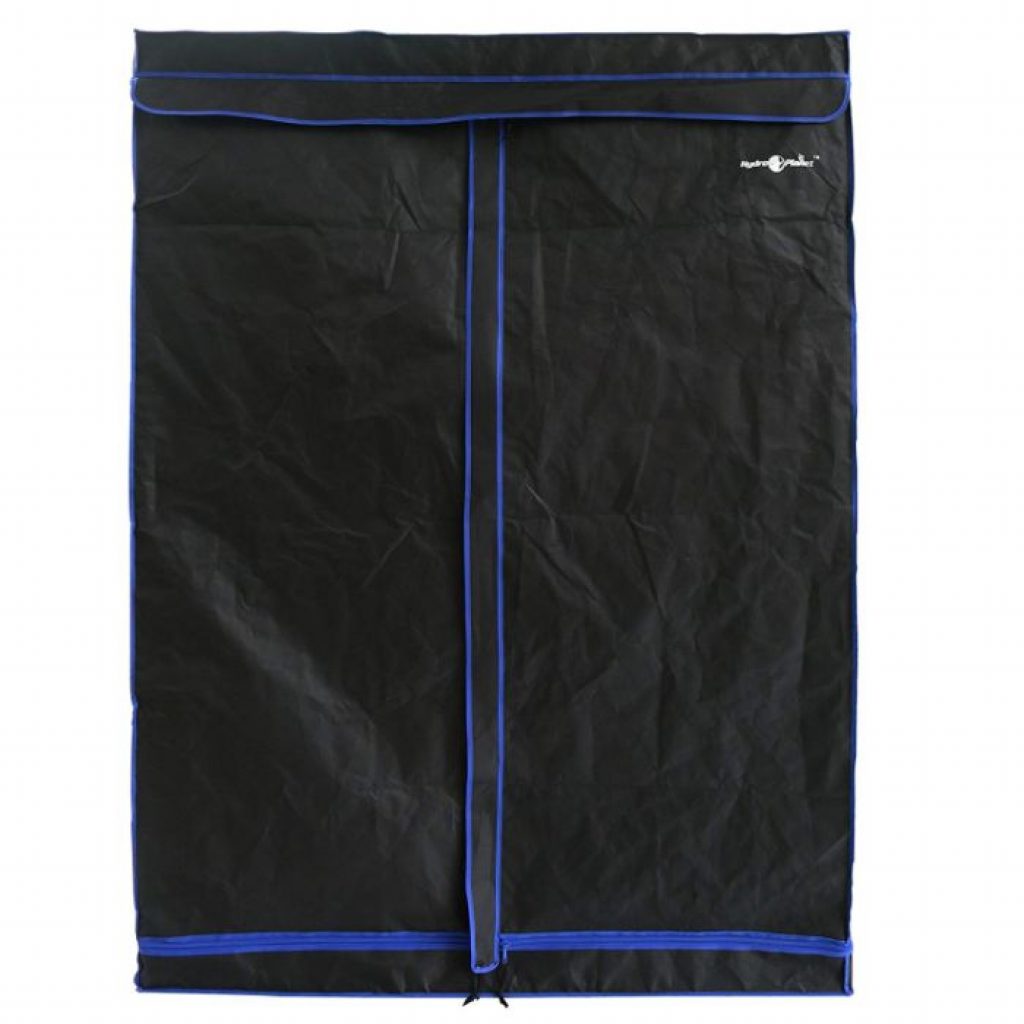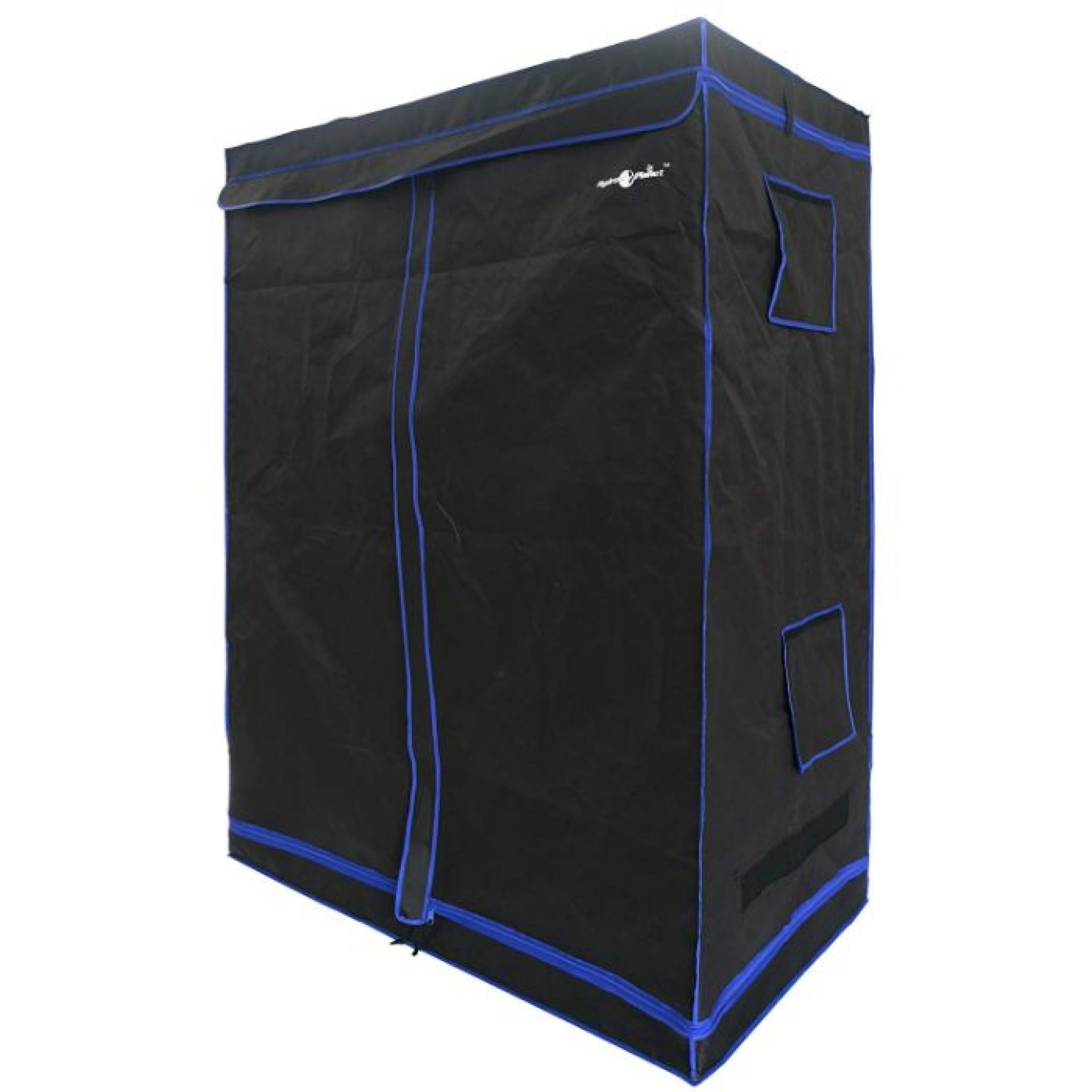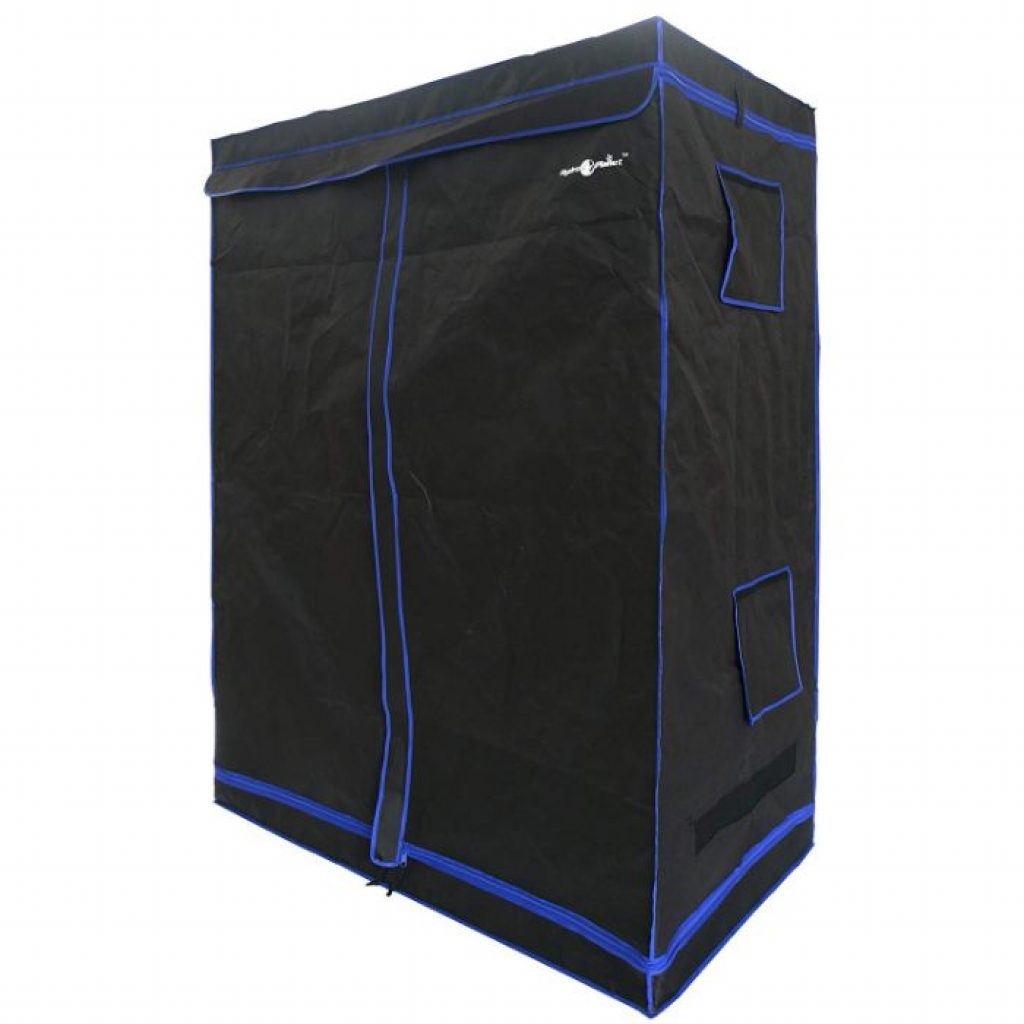 The kit is ideal for those looking for high-quality grow tents. Its cost is moderate to fit under a strict budget. You can be assured that buying this item will leave you completely satisfied due to its top-notch quality and optimal resilience.
This 48 by 24 by 60 inch grow tent is made of a highly reflective 600D tear-proof Mylar. This material ensures optimal heat is retained, and you are, therefore, left in a position to save on electricity cost. The fabric likewise ensures heat is maintained at its required range for ideal plant growth.
The cover is washable, and it is accessible in two colors. Besides that, there are multiple sizes available in case you need a bigger kit. Item`s setup is the least of your concerns as the conveyed poles are ideally made for smooth installation.
The kit is also stable and sturdy, all in the account of the steel poles used in its set up. These tubes are also made of top-notch and heavy-duty steel. They are poised to last you a lifetime. The tent weighs 16.8 pounds, and it is among the lightweight items under review.
However, the light nature has nothing to do with the material of the tent, as the canvas is thick enough to block the light appropriately. Nonetheless, there exists a drawback as the kit isn't height adjustable. This means that you need to be extra careful about the height of the items you are to plant here.
The product is protected by a 2-year warranty, which I believe is more than enough to convince you of the tent's unbeatable quality. It is now upon you to pick the right size for your planting needs and enjoy the tent that's built to last a lifetime.

Optimal durability;
Strong metal steel poles;
Washable cover.
---
PROS:
top-notch quality;
600D 100% reflective Mylar;
heavy-duty steel tubes;
2-year warranty.
4. Apollo Horticulture 48"x24"x60" Mylar Hydroponic Grow Tent – Best Deal Grow Tent 2×4 with Easy Access to the Plants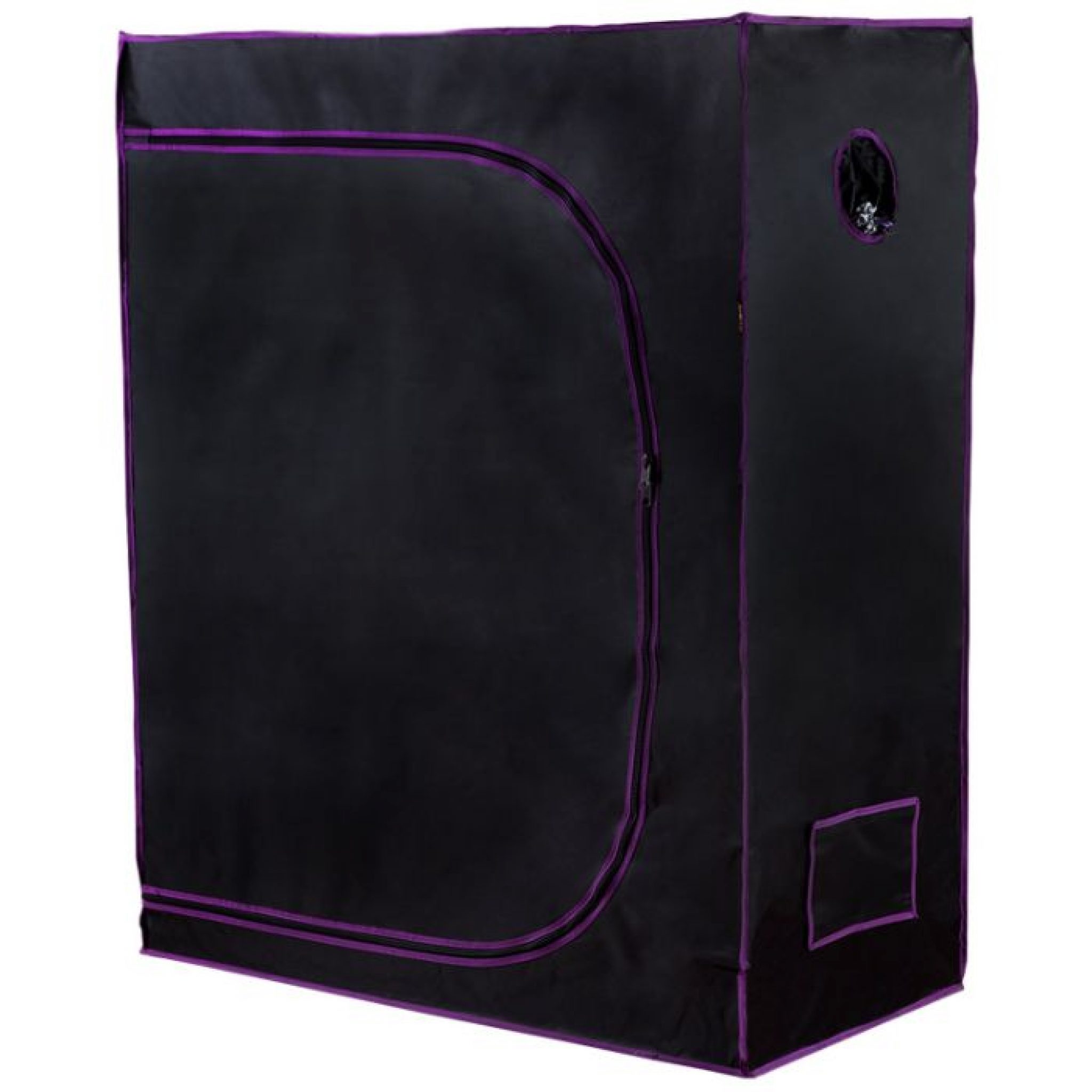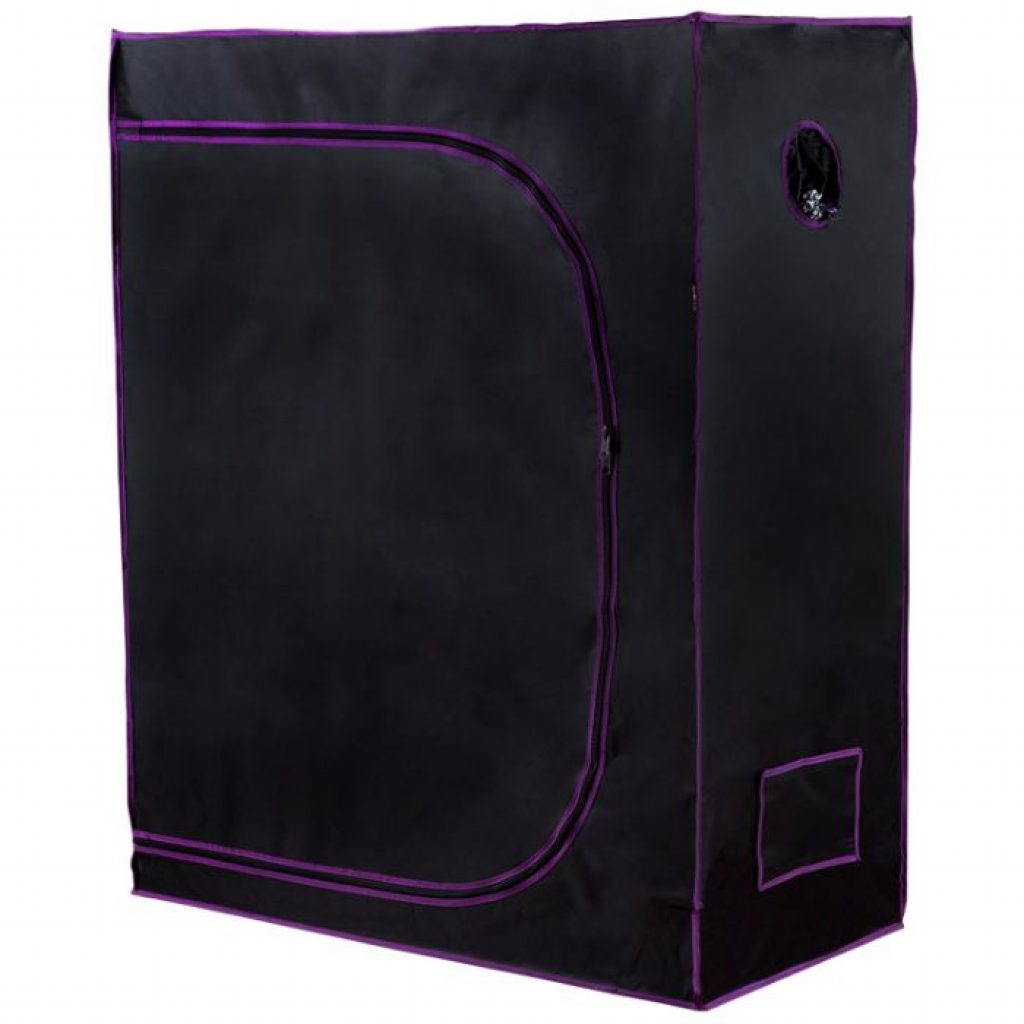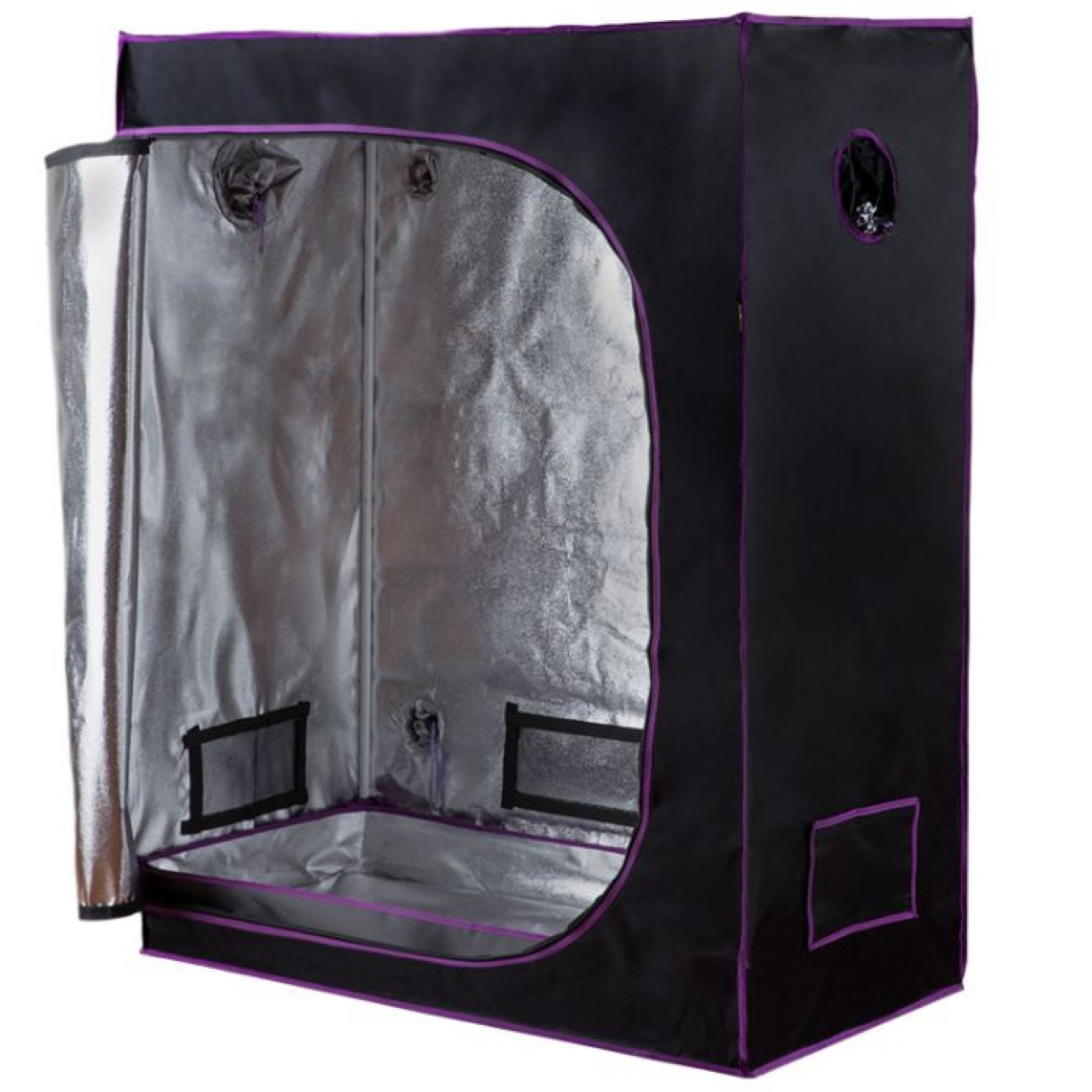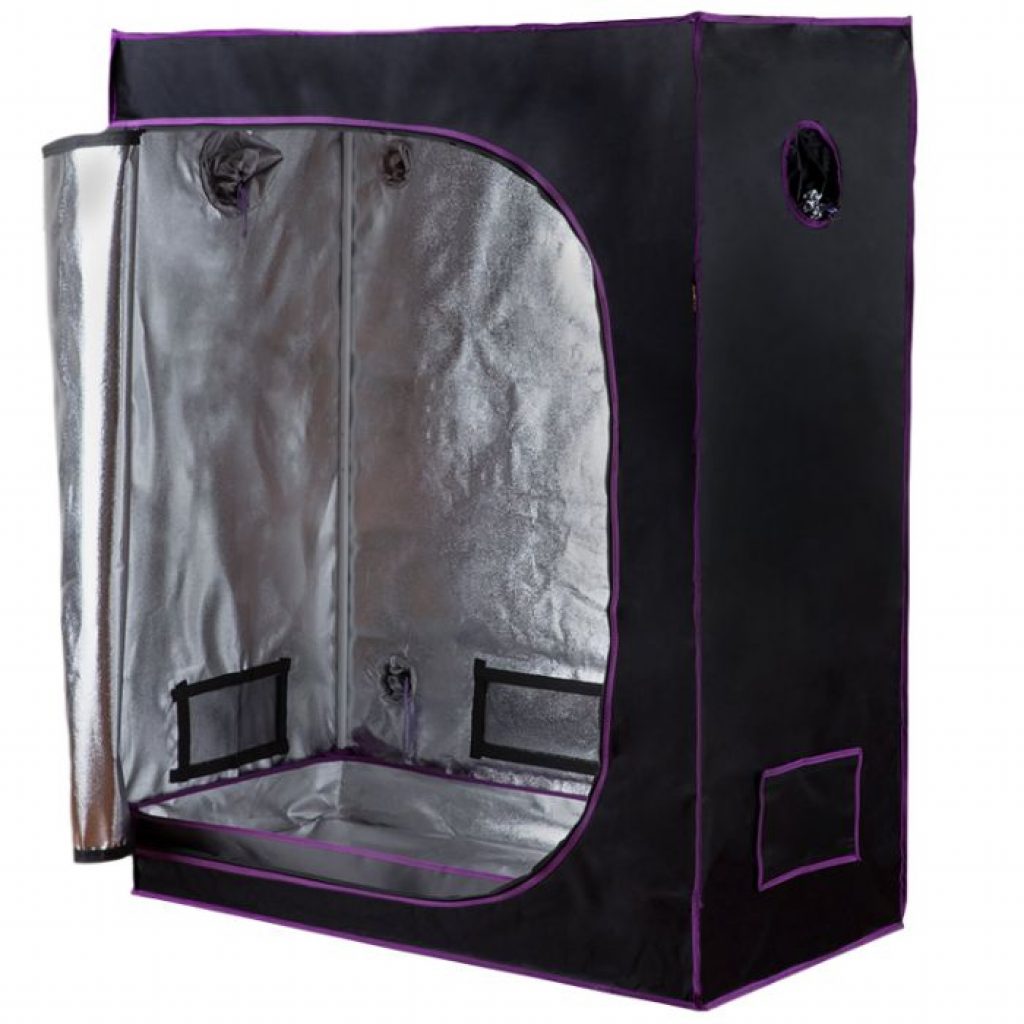 The kit's cost is moderate to ensure it fits under your strict budget. Besides that, multiple accessories are included in the package you buy. It also measures 48 by 24 by 60 inches and weighs 21.3 pounds.
Temp and humidity are kept at the necessary levels, all in the account of the reflective interior lining present here. Included upon purchase are; a replaceable floor tray, a pair of filter straps, and a reflective tear-proof Mylar. The well-crafted interior lining provides a complete light shield.
The light intensity here is at its maximum, meaning power costs are minimal. What's left is a perfect environment for your cannabis plants to thrive. The tents assembly is the least of your concerns. In the event you are stuck, follow the instruction book provided.
Strong zippers and twofold sewing are the main highlights of this uniquely made kit. The tough cover keeps pests away. The strong support metals guarantee safety and stability in provision.
The 90-day warranty and 30-day cash-back guarantee are only a reflection of the kit's quality. These should serve to boost your buying confidence as your money won't be lost in case you find out the tents aren't well-made. However, there is a slight concern regarding the tent's ability to keep light off completely.
Therefore, you need to be keen to look out for light leakage around the corners. All in all, the tent is in the best shape to meet all the needs you may have. I profoundly recommend it for purchase without hesitation.

Tear-proof Mylar;
Strong zippers;
Well-crafted interior lining.
---
PROS:
high reflective material;
heavy-duty zippers;
twofold sewing;
long-lasting;
stress-free to lump together.
5. Quictent SGS Approved Eco-Friendly 48″x24″x72″ Hydroponic 2×4 Grow Tent Kit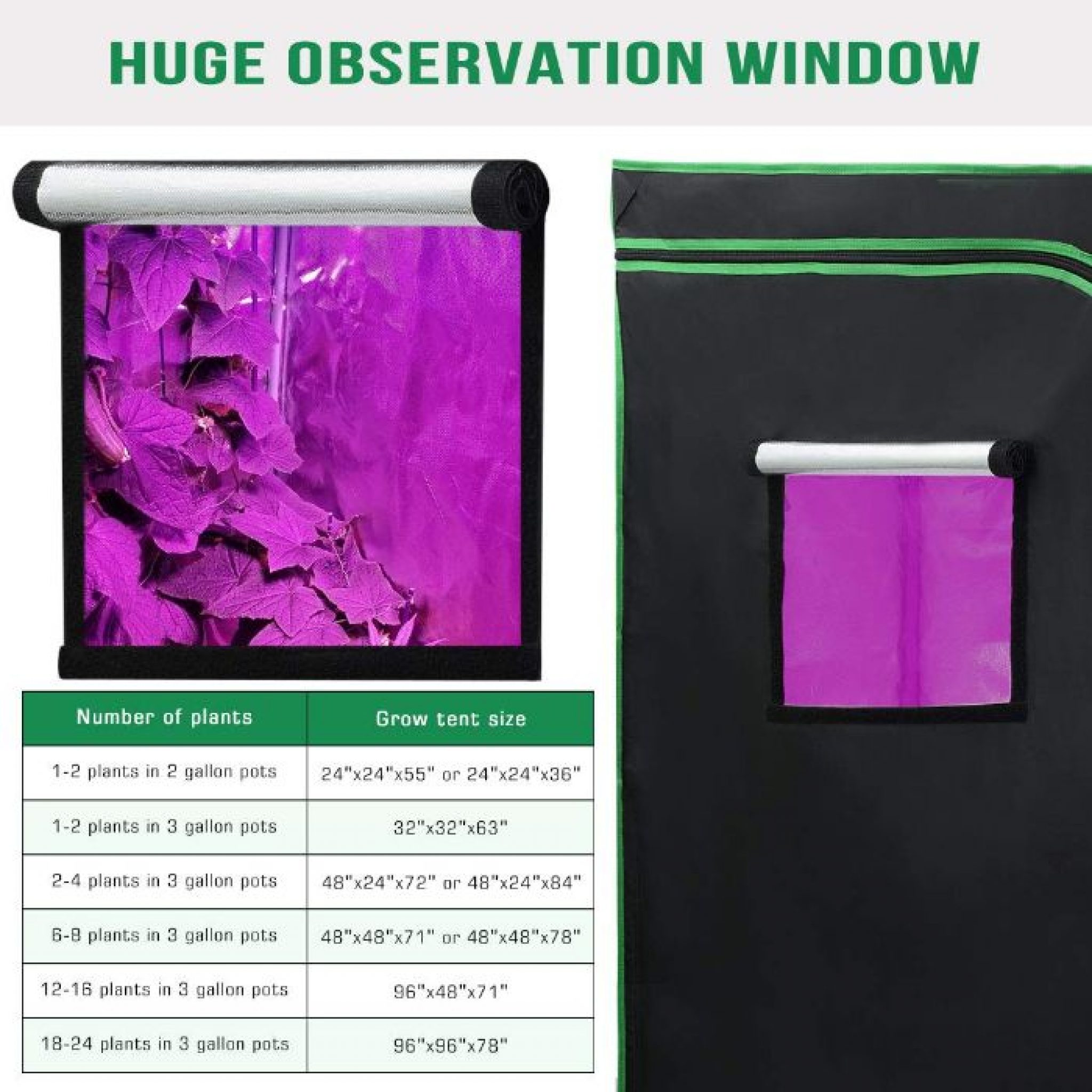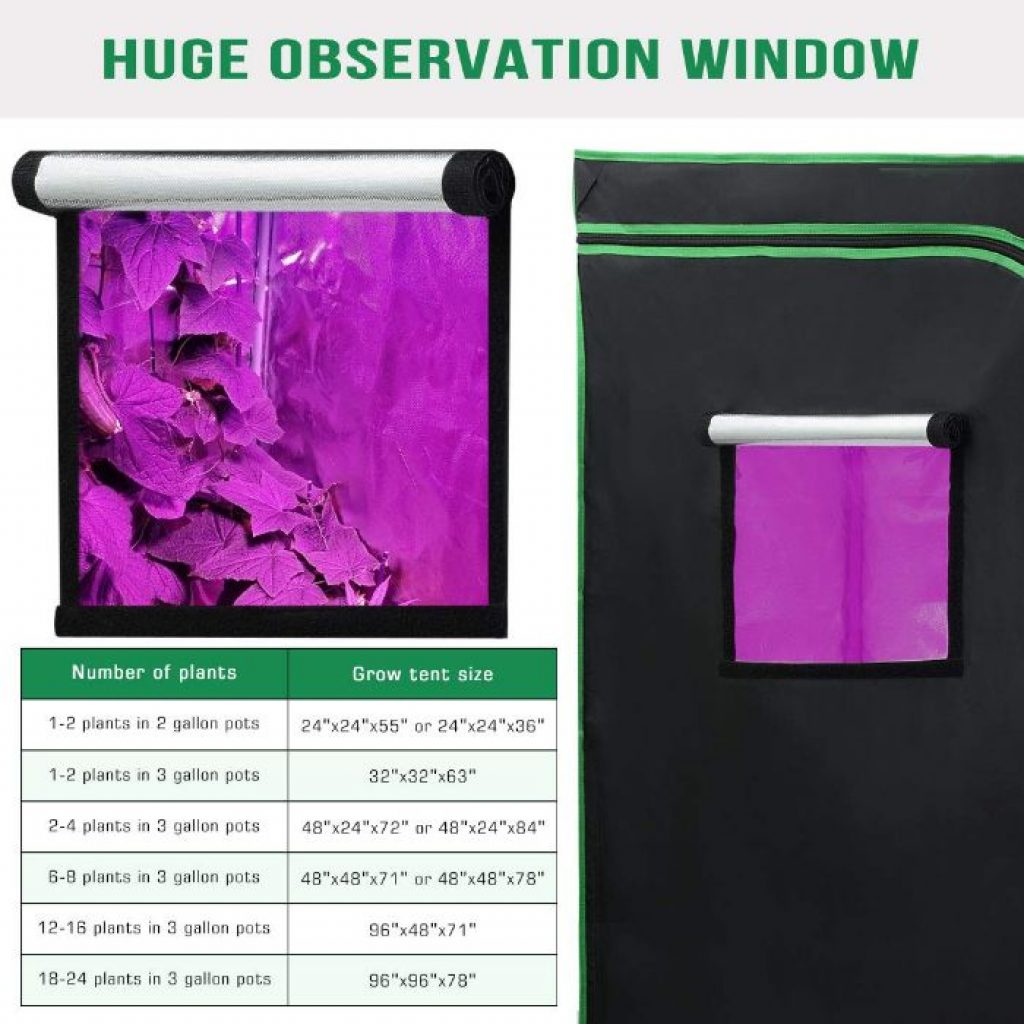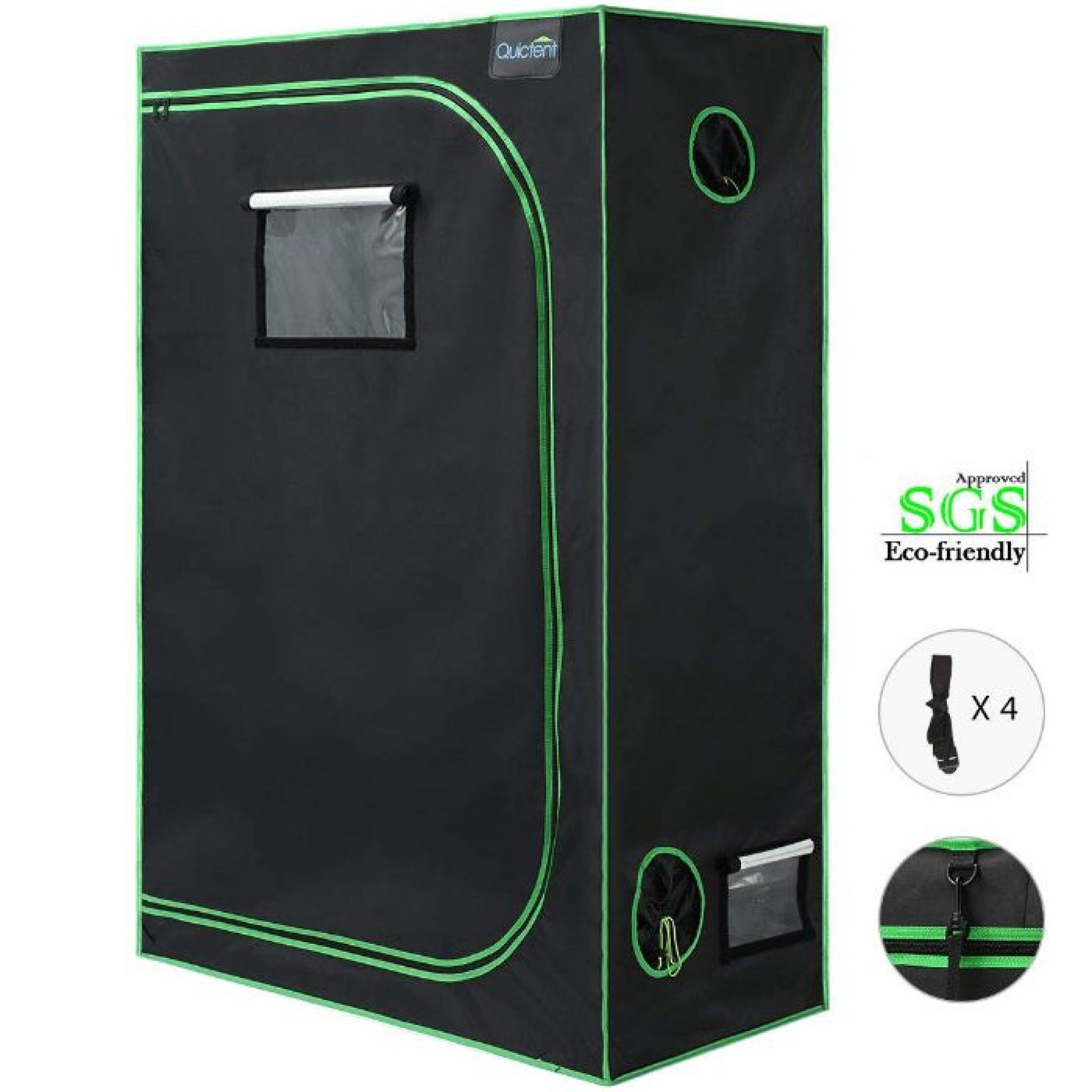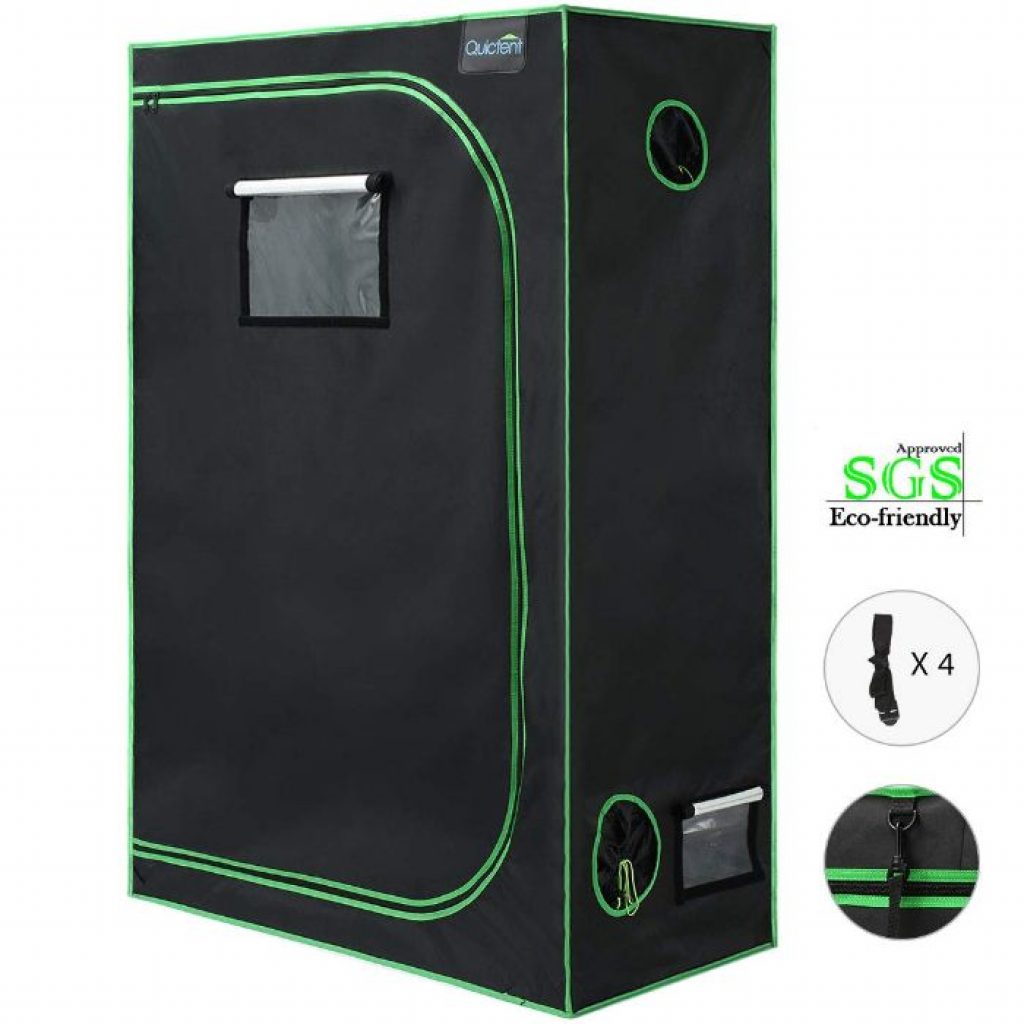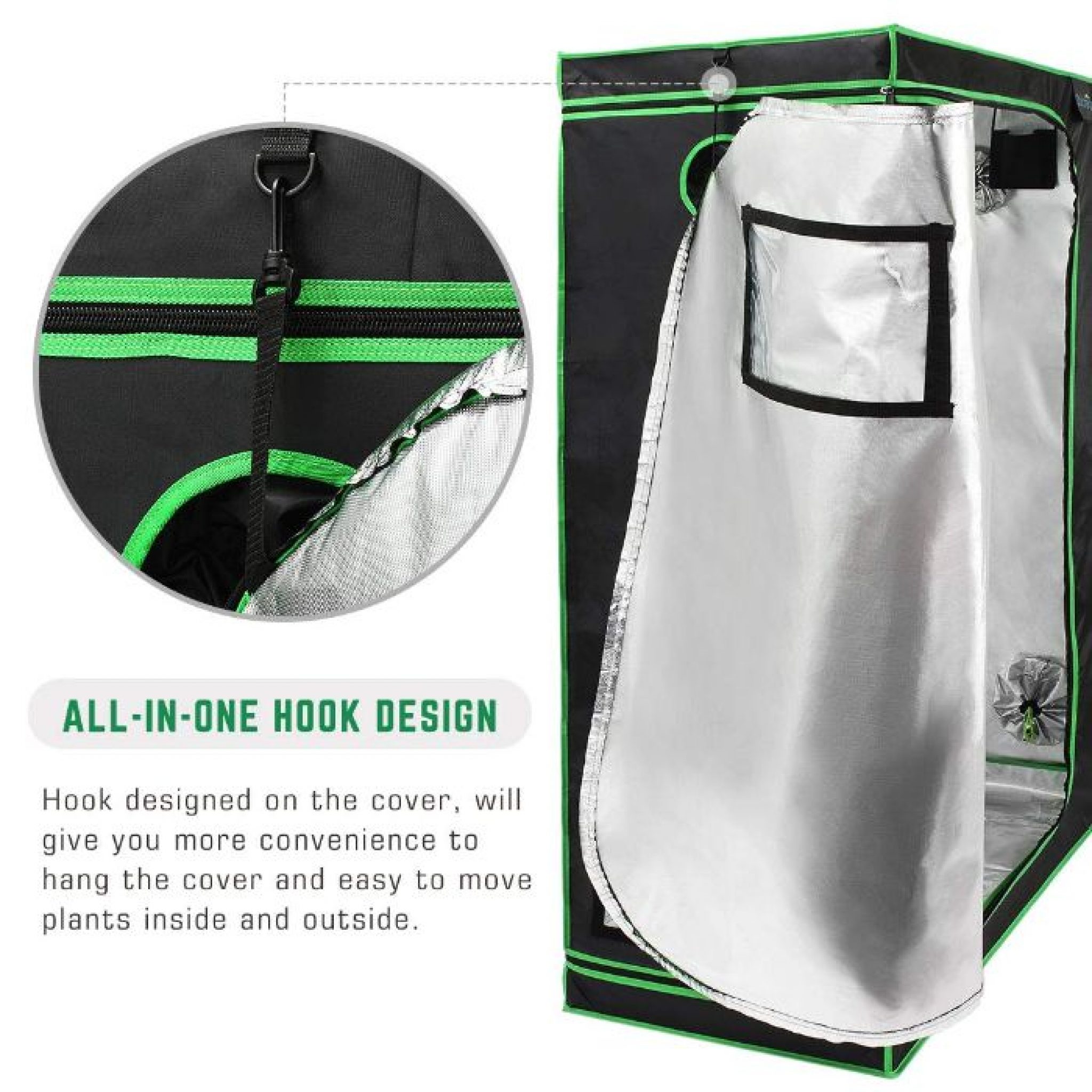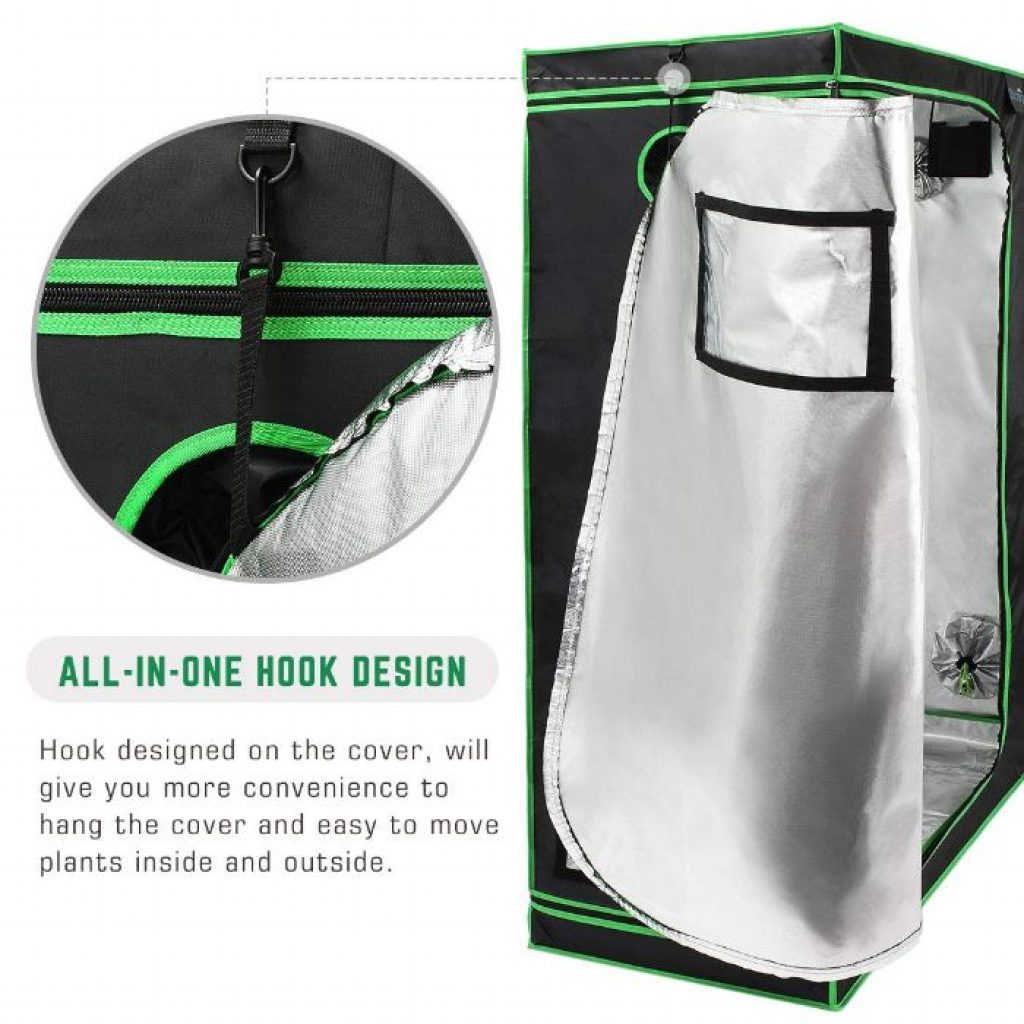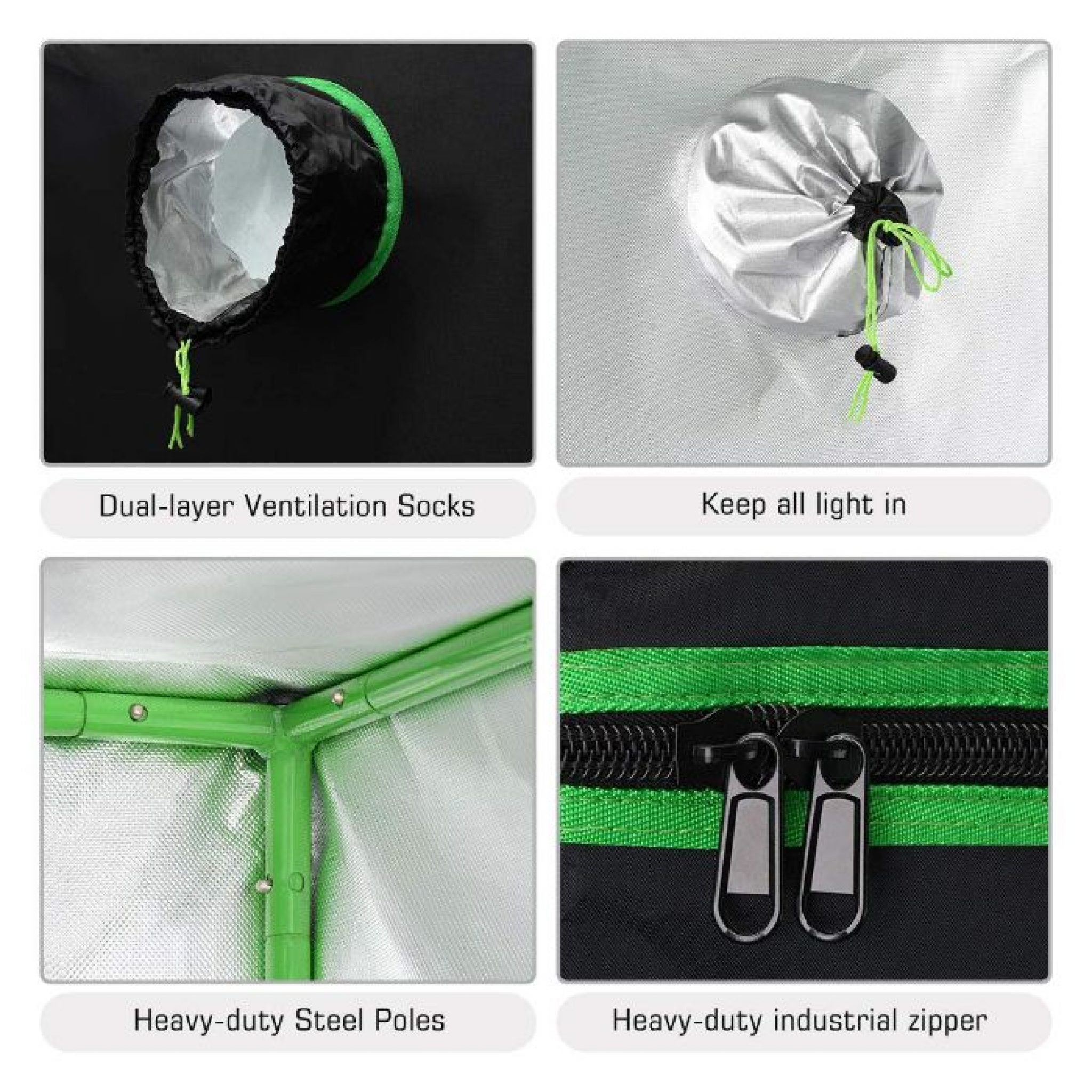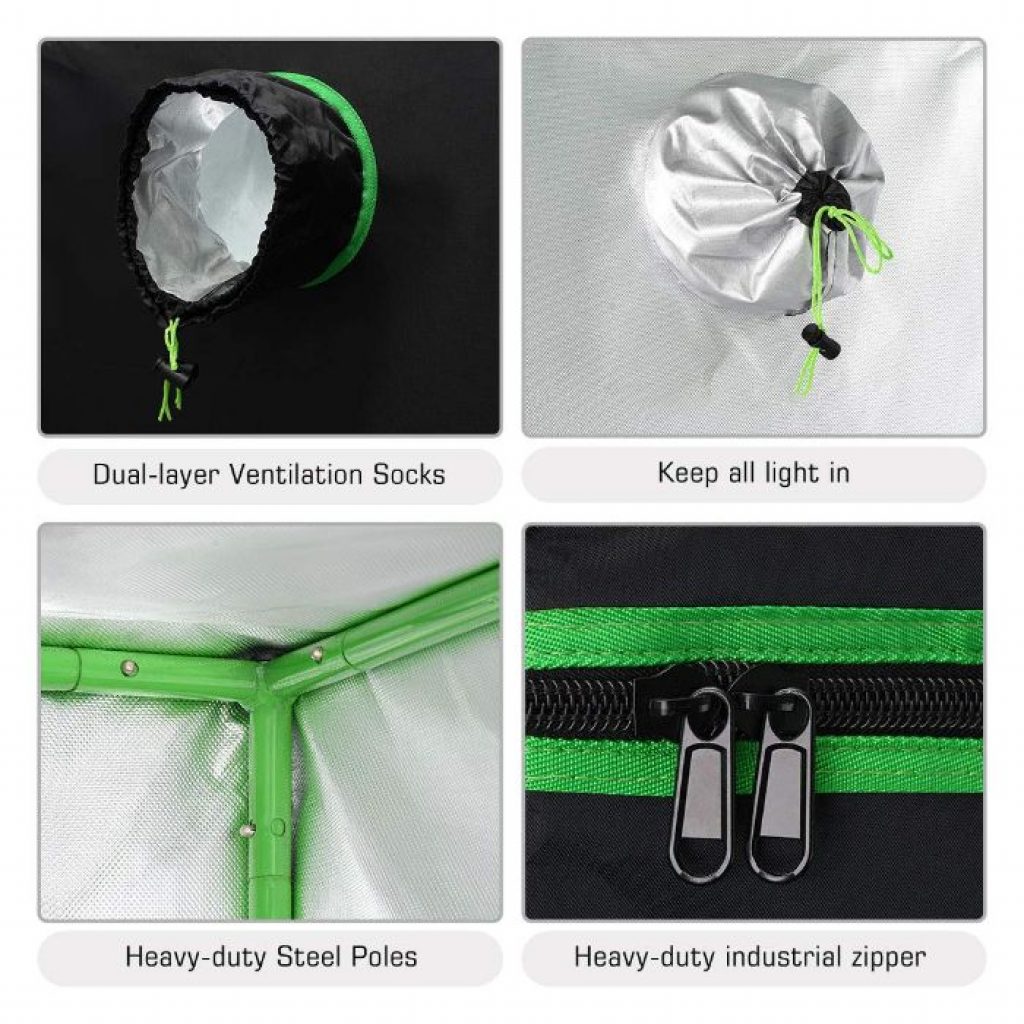 The item is slightly expensive as compared to the above-reviewed grow tents, but it comes with a series of additional benefits. To begin with, the manufacturer conveys the kit in a discrete box for privacy concerns. Besides that, a 2-year warranty protects the item against any defects.
The tent is made of 600D Oxford fabric. The canvas is tear-proof and 100% reflective. It is extra thick, and the cover's double stitch ensures all light is ideally protected from getting leaked. The metal zippers present are made to ensure they do not get stuck in the fabric or stress you when closing or opening the kit.
The available support poles are ideally made to last many seasons without losing shape. They are rust-resistant, and this feature highly enhances their durability. Additionally, 4 nylon belts, 3 hanging rods, a metal frame, cover, and watertight tray are included upon purchase.
For the case a poorly done or defective part is conveyed, the manufacturer offers replacement without incurring additional costs. This is the price sellers have to pay when their product is shipped in discrete containers.
The kit is environmentally friendly, and it won't release plant damaging or toxic gases when in use. When it comes to light-blocking ability, the tent is all you need for optimal electricity efficiency.
Vents are ideally placed, and the bottom airways, in particular, regulate airflow optimally. The tent keeps temp and humidity at the required levels for optimal cannabis plant development. There's a viewing window to give a perfect peep to your plants without disturbance.
Besides that, the kit is height adjustable, thereby offering flexibility on the type of plants to grow. It allows you to grow your marijuana with confidence. I profoundly recommend the product for purchase.

600D Oxford fabric;
Highly resilient;
Height adjustable.
---
PROS:
Adjustable height;
600D oxford fabric;
2-year warranty;
Easy assemblage.
CONS:
Zippers easily broke down.
6. Gorilla Grow GGTSH24 Grow Tent, 2′ x 4′, Black – Sun Hut Grow Tent 2×4 with Strong Zippers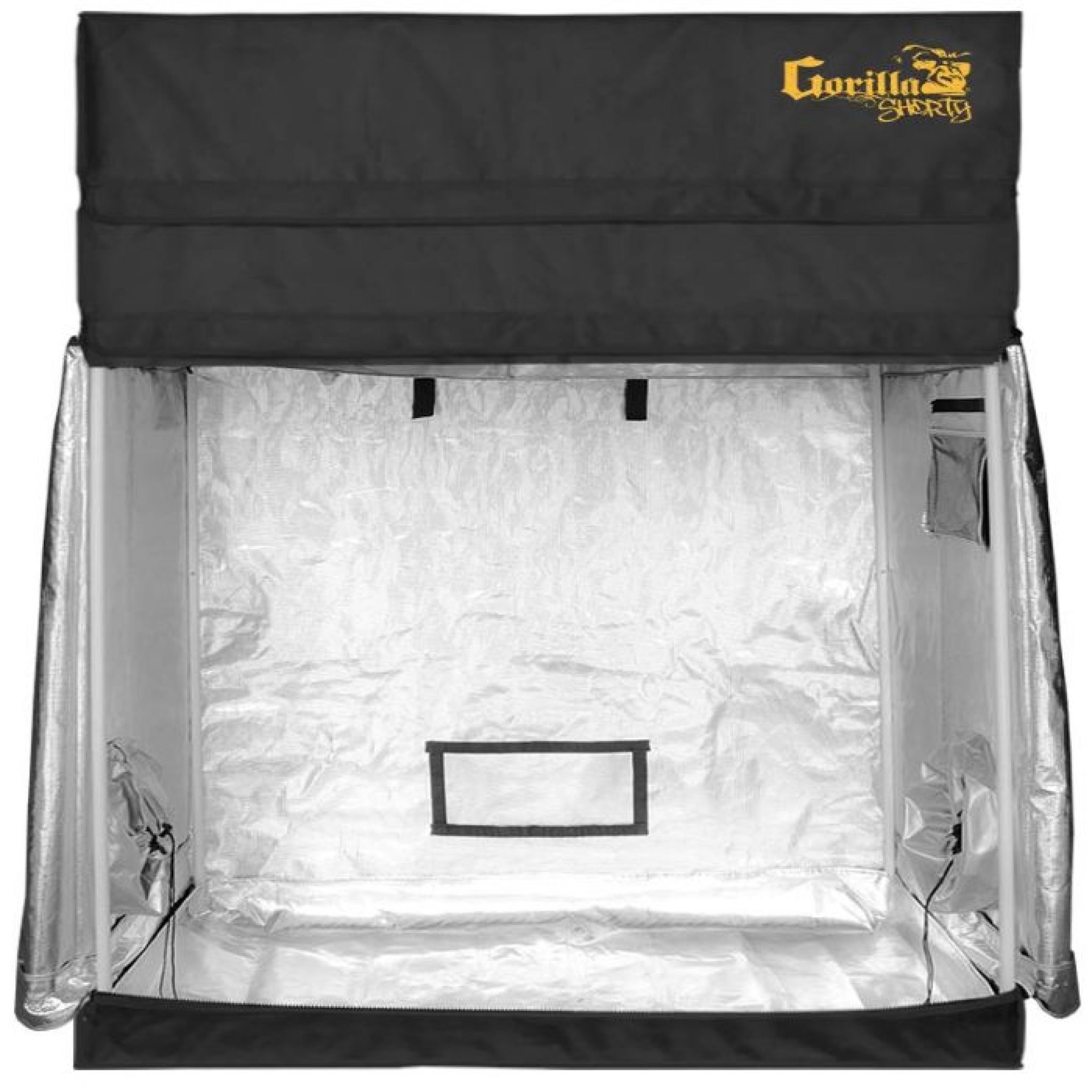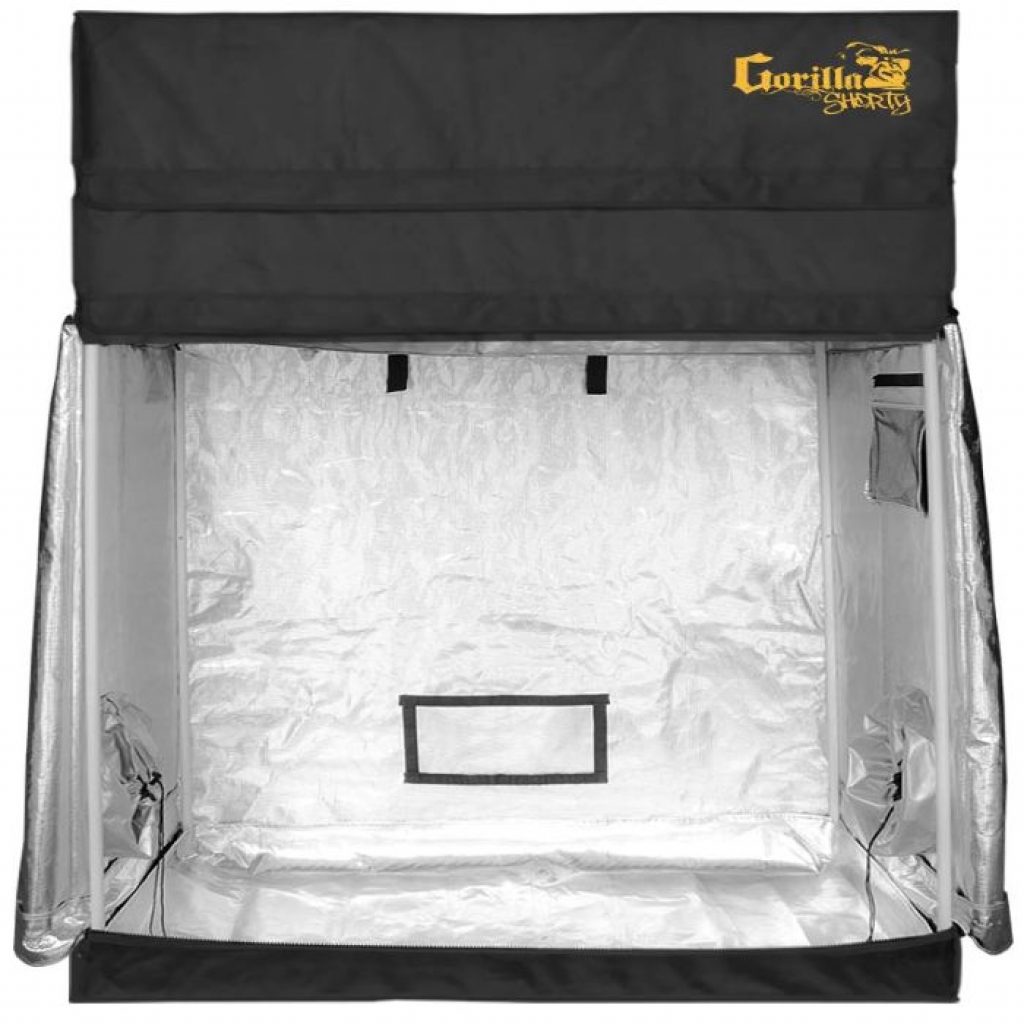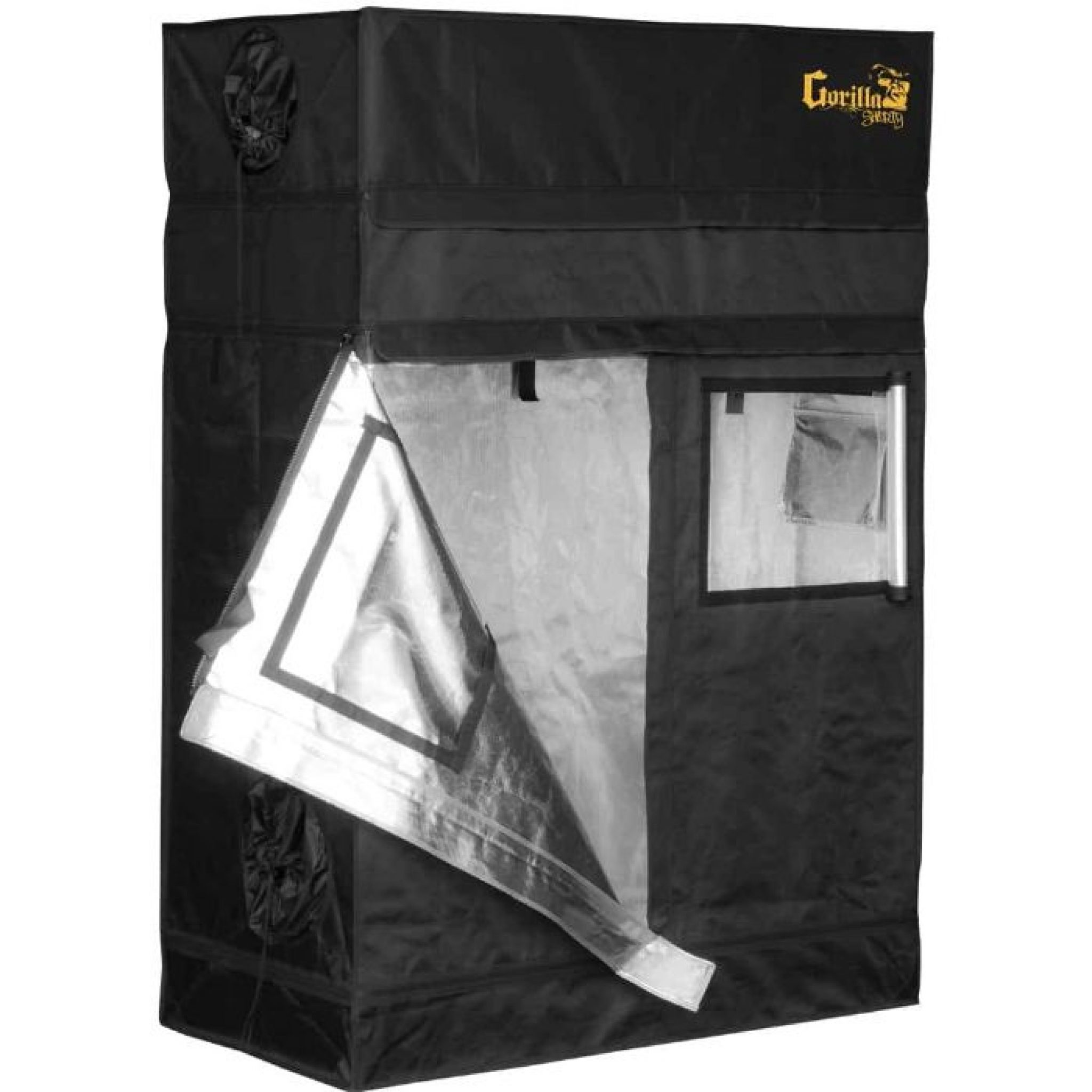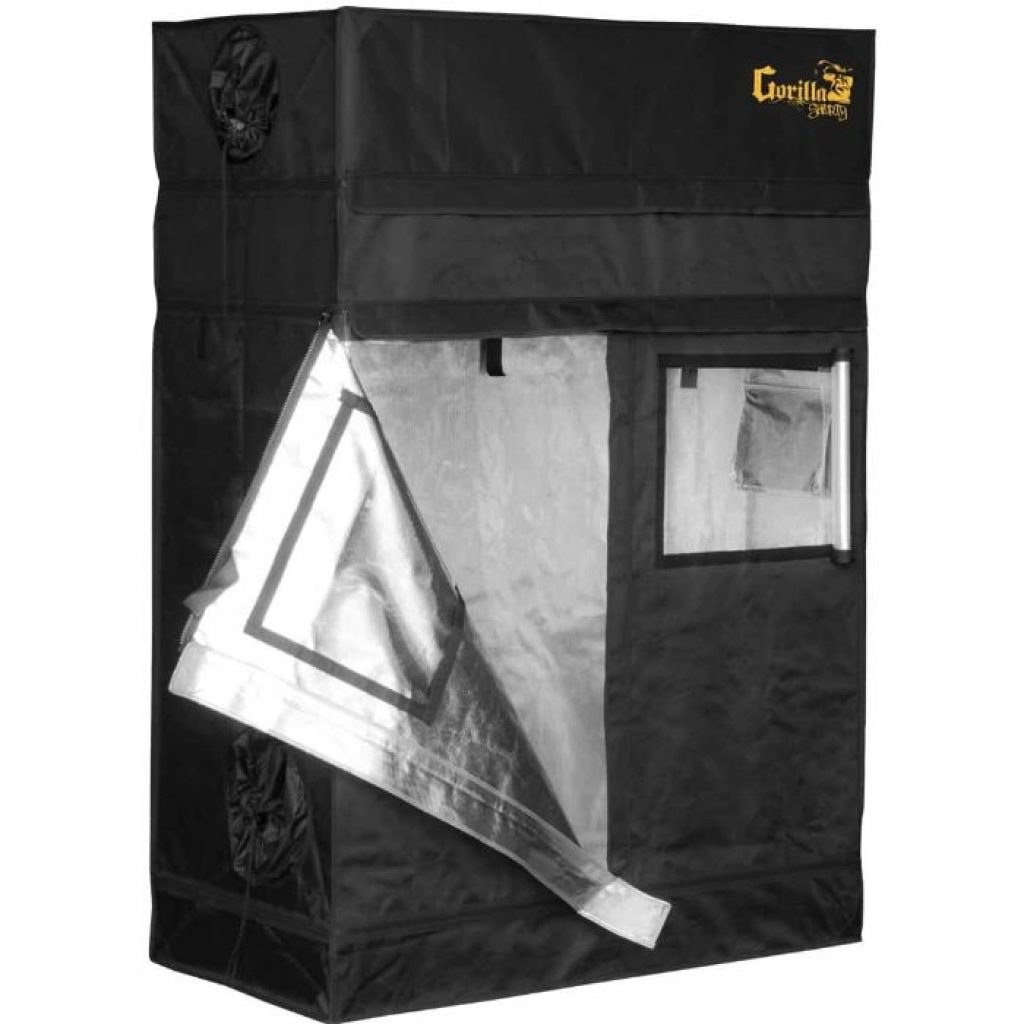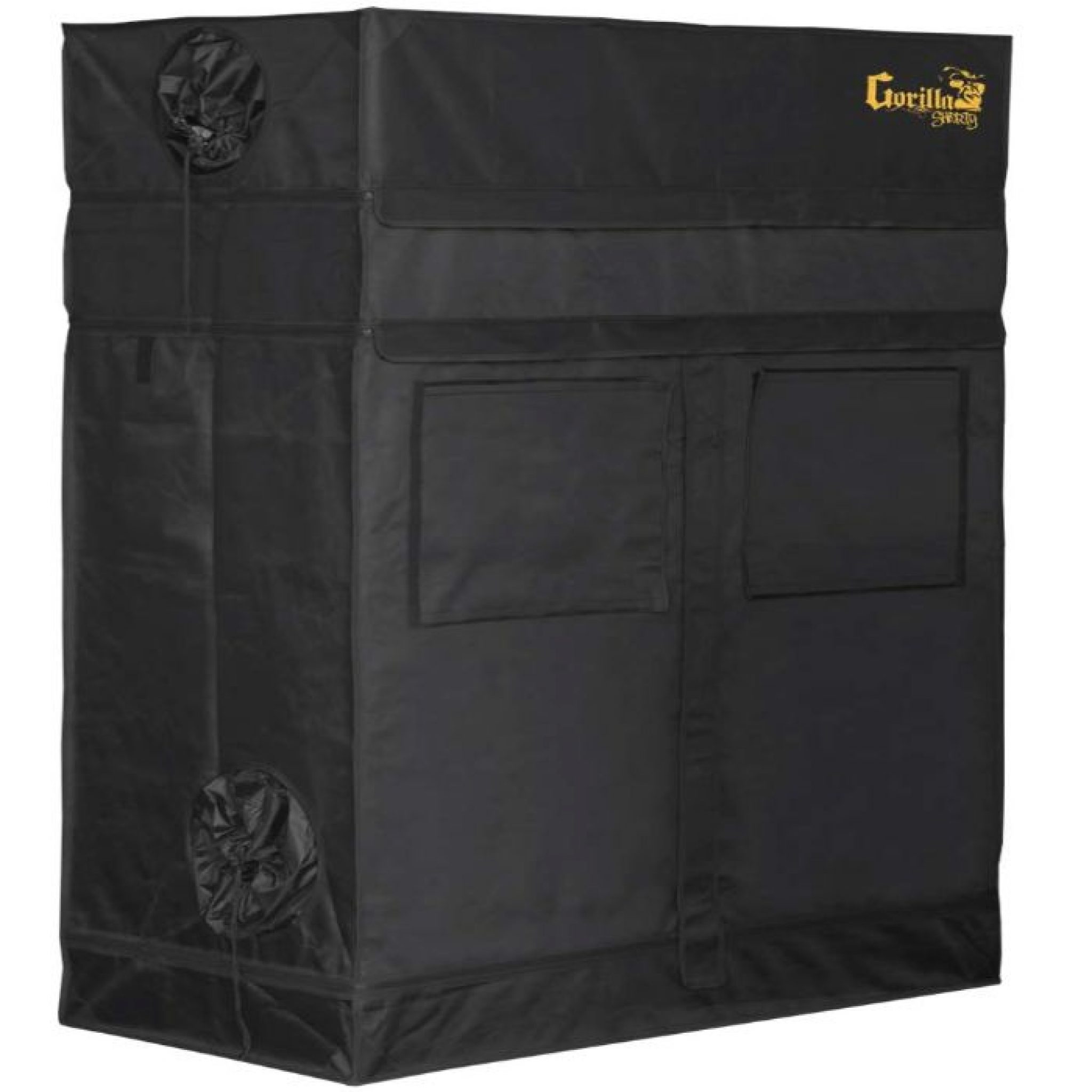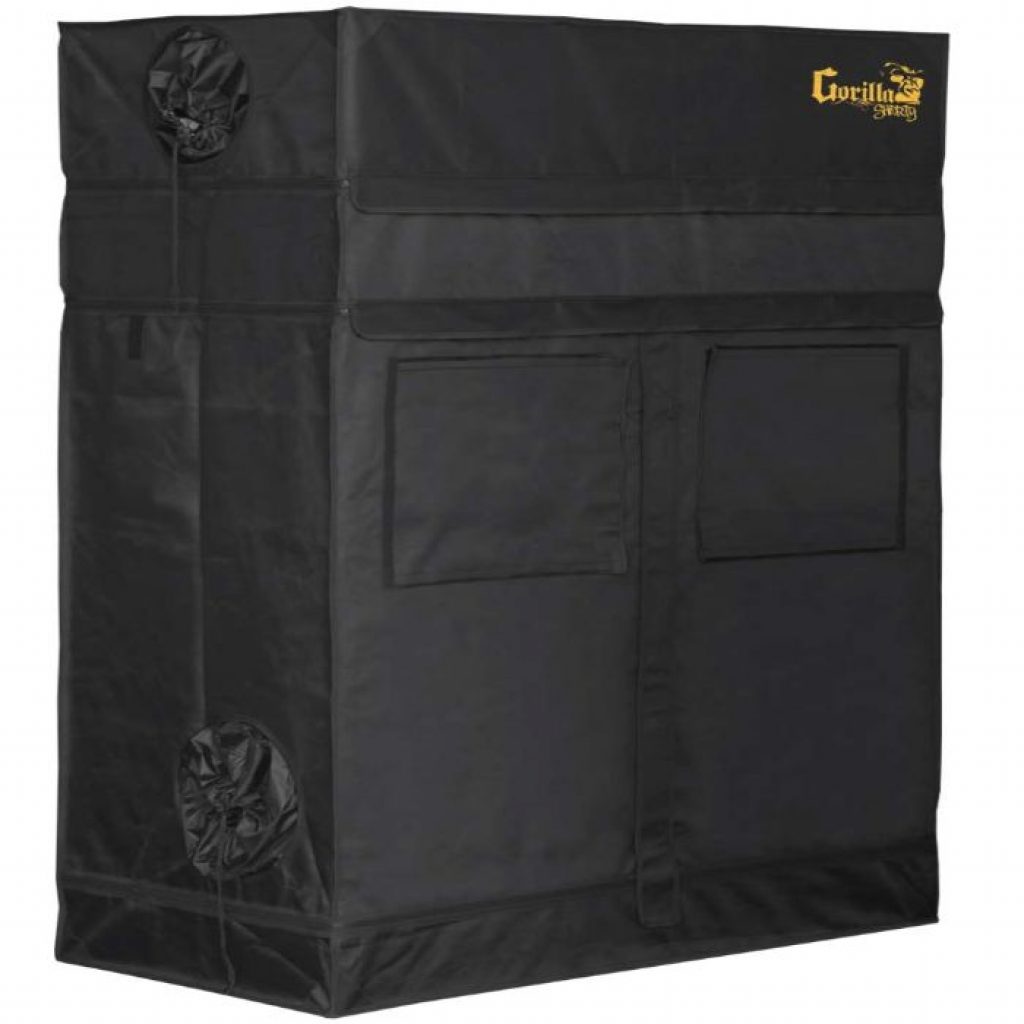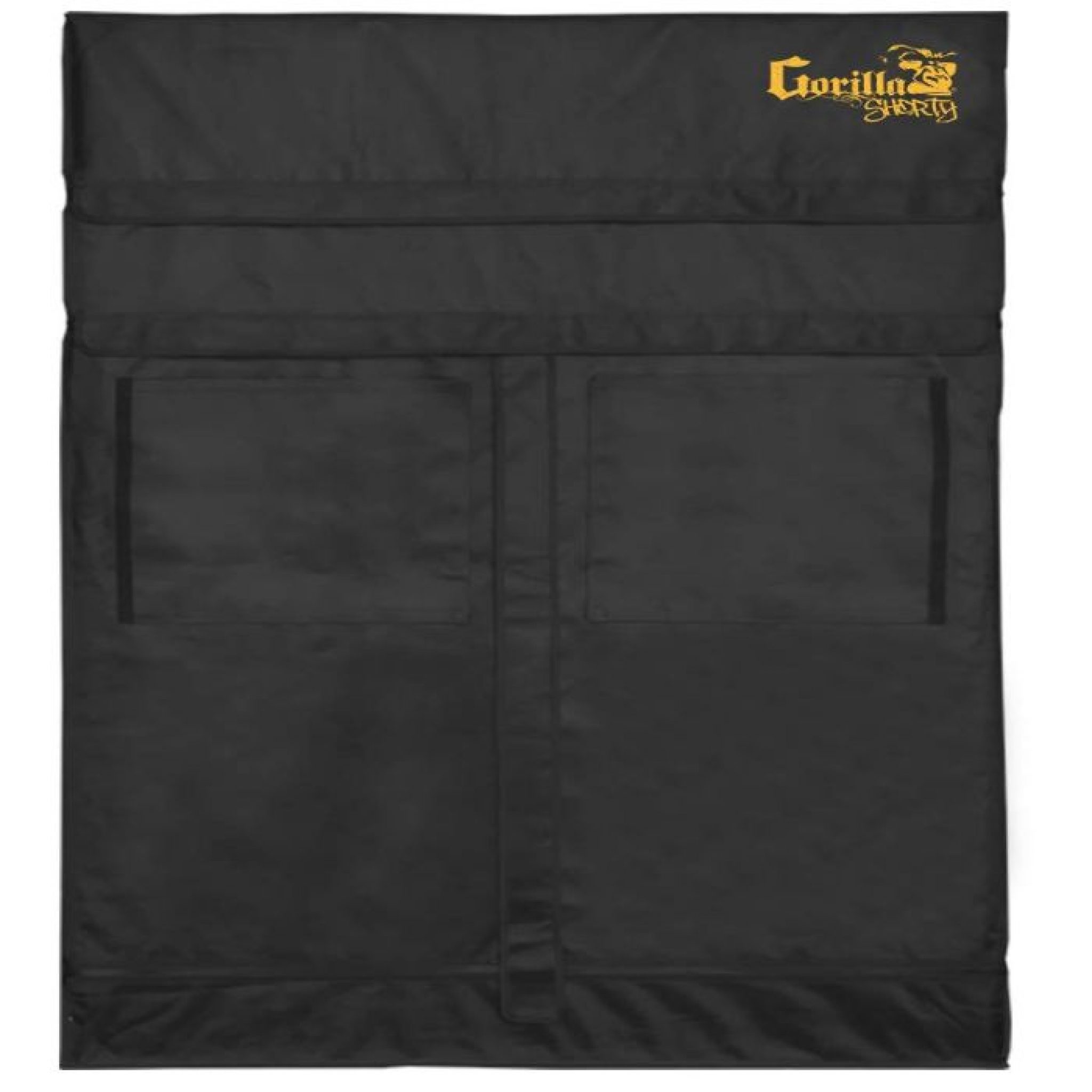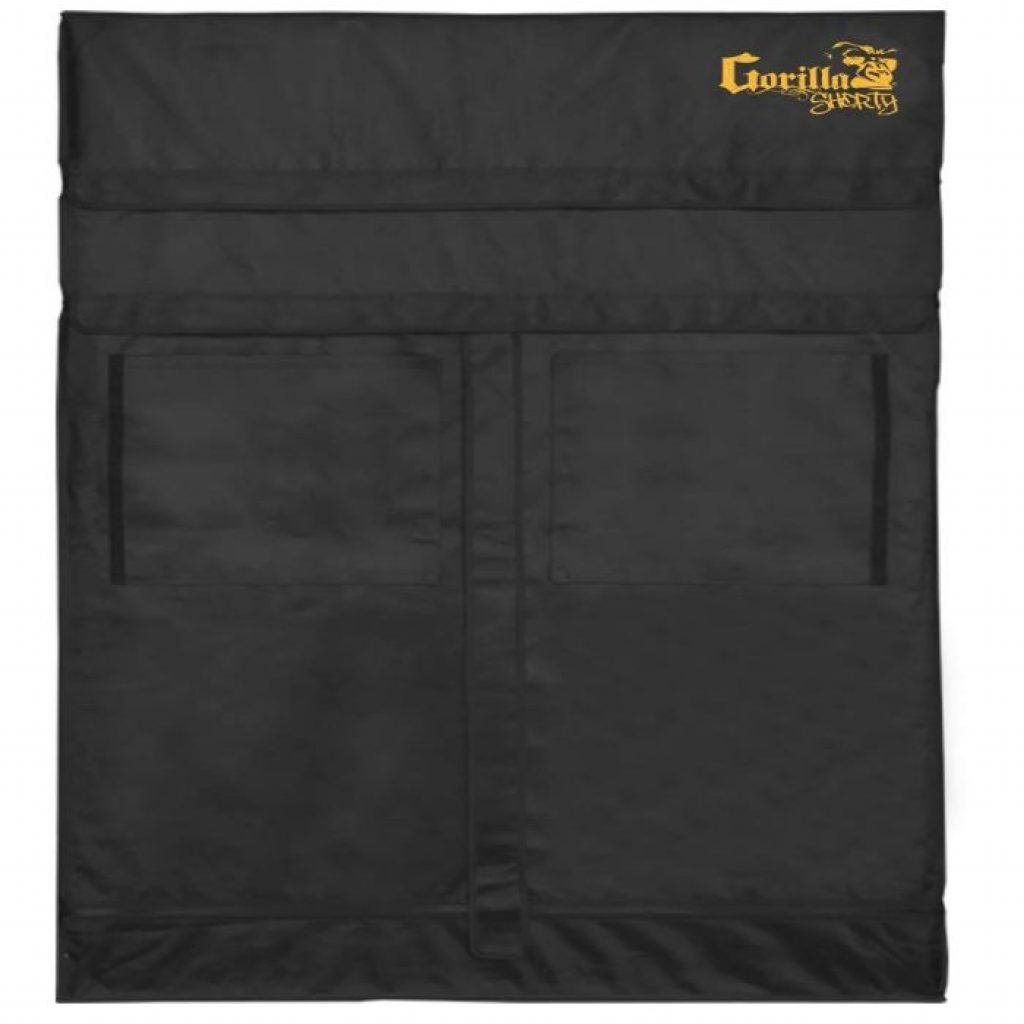 The Gorilla Grow tent is highly-priced as it comes with tones of exciting features. I would have rated it among the top 3 tents, but the item`s price in comparison to the other under review is massive. It is, however, ideal for those who are ready to pay more for a service worth the cost.
It is made of 1680D fabric that's extra thick for optimal light retention. The tent is the best when it comes to temp and humidity control, as it keeps them at the optimally required range. It weighs 33.2 pounds and is height adjustable. The poles can allow a maximum extension of 9 inches.
The optimally reflective interior keeps the light at the required intensity, with view windows being made in a way that won't result in light leakage. The tent is the best in keeping bugs and pests away. Its frame is made of steel for unsurpassed longevity.
Its quality is the least of your concerns as sturdy poles are used to put the kit in place. Moreover, the item is durable, with the zippers being robust and ideally made to prevent frequent breaking. The same applies to the waterproof tray.
Besides that, the tent deploys the use of an infrared blocking roof. This ensures you get optimal yields while incurring minimal power costs.
With the above-listed features, a question still remains if the item is worth the exorbitant price it costs. However, after one year of relatively light use, I have found out the item needs repair or replacement. Therefore, it is not close to its retailing value.

1680D fabric;
9 inches height adjustment allowance;
Infrared blocking roof.
---
PROS:
high-quality zippers;
extra thick 1680 fabric;
9-inch height-adjustable allowance;
steel made and sturdy frame.
Features of an Ideal Grow Tent Kit
When going through the blog, ensure you keep checking on the item's suitability based on the elements discussed below. The product that ideally incorporates the factors listed below, undoubtedly, will offer the most significant worth for your cash.
An ideally made tent will save you from enormous electricity bills, thereby minimizing your farming costs. Since marijuana plants require consistent lighting, highly reflective materials in the tent's interior help retain the light intensity. The reflective canvas also helps to ensure no light is lost to the surroundings while granting essential parameters like temp and humidity are kept at the required range.
This covers material resilience and class. Ensure you purchase top-notch rods and covers for the kit to last you a lifetime. These will, in turn, save you on additional repair or replacement costs. However, sturdy tents may be a bit expensive, but they are proven to provide the most significant worth for your cash. Their price, therefore, reflects the class.
Ideally made vents and entry points
Sufficient airflow is a must. Look for tents with bottom vents as they will keep the kit always cool. For your access concerns, most tents have a zipper door or a viewing window to help you have a look at how your plants are doing with ease.
Have you ever put up a grow tent before? Is the idea of kits assembly bothering you? Well, then you need a tent that you can set up with ease.
Access to important accessories
Temp and humidity must be retained at the required levels. This is one of the reasons that make grow tents highly efficient. You also need the best LED grow light for 2 by 4 tent with a lifespan of about 50000 to 100,000 hours. Therefore, it is vital to ensure the kit comes with a sturdy and already installed support bar.
The Best Grow Tent 2×4 at a Glance
As I wrap up my best grow tent 2 by 4 reviews, I hope you are now better equipped with essential knowledge for the ideal tent purchase. The kits are space-limited but beneficial to those with a small farming area. The tents also help you to easily realize optimal cannabis plant yields while working on the area for a small-time.
Of importance to consider during your purchase is fabric or canvas thickness. Most items under review are made of 600D reflective Mylar. Such covers are perfectly thick to prevent light leakage completely. They also work best in retaining temp and humidity at the optimal level for your plants to thrive ideally.
Tent's quality and durability are likewise important factors to consider before purchase. This ensures you buy an ideal item that you can subject to relatively extensive use without fear of damage. Lucky you, most of the tents here are tear-proof and contain steel made tubes.
That said, I want to reiterate the most recommended grow tent briefly. VIVOSUN Grow Tent offers a perfect blend of quality, durability, and affordable cost. Installation accessories are included in the pack, and if you need a bigger sized-kit, there's a choice of 3 versions. The kit's 98% reflective Mylar is highly effective in ensuring no light is leaked.
Besides that, the zipper of the product has a lining that's light-proof. The kit is also made of 0.8 mm high-quality 600D fabric that's utterly tear-proof and double stitched to prevent leakage. It is ideally the number one item recommended for purchase.
That said, I leave you to pick the ideal 2×4 to grow tent that fits under your budget. If you have any queries regarding grow tents purchase, kindly bring these questions across, and I will answer them within the shortest time possible. Lastly, what's your experience using grow tents? Are they worth the cost?