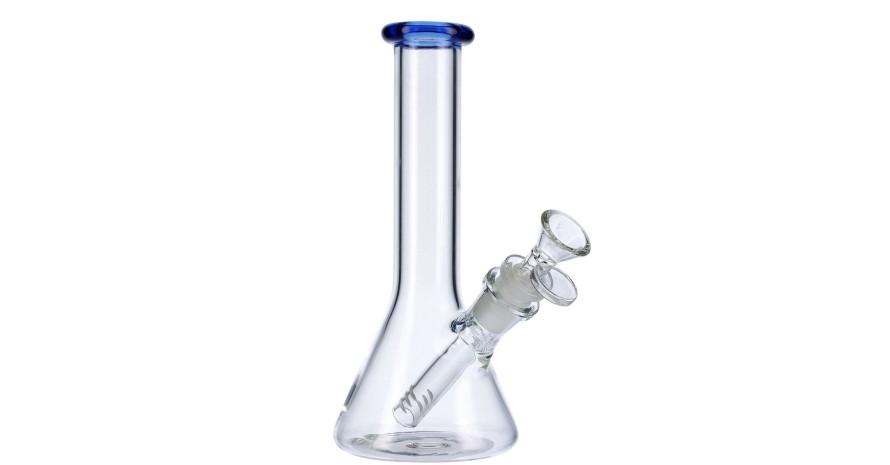 Best Glass Bong for Excellent Smoking Experience
Now on the market, you can find weed-smoking tools from a variety of materials. Despite all the conveniences of ceramic, acrylic, silicone, or wooden bongs, glass ones are still the top sellers. After testing many models, I concluded that Glasscity 4-arm Perc Bong is the best glass bong overall. Of course, it is not the only quality product, so I decided to share my own top 7 excellent products that deserve your attention in this article.
Glass bongs are popular because the heat-resistant borosilicate glass from which they are made is a very convenient material. It allows you to create devices of a wide variety of shapes and colors, as well as additional accessories such as precoolers, bowls, downstems, and diffusers. Thanks to this, you can improve your bong almost endlessly.
Glass devices are simple and easy to clean, do not enter into a chemical reaction, and do not leave a foreign smell. Moreover, glass is unrivaled from an aesthetic point of view. It is doubly pleasant to use such a tool because it looks stylish, unusual, and expensive. The modern bong models' designers have ensured that users will admire the device for its very appearance.
Top 7 Glass Bongs Reviews
On my list, you'll find both large home gadgets and compact products that you can take with you on your trip. Remember that smoking weed using a bong is healthier than in joints.
1. My Top Pick: Glasscity 4-arm Perc Bong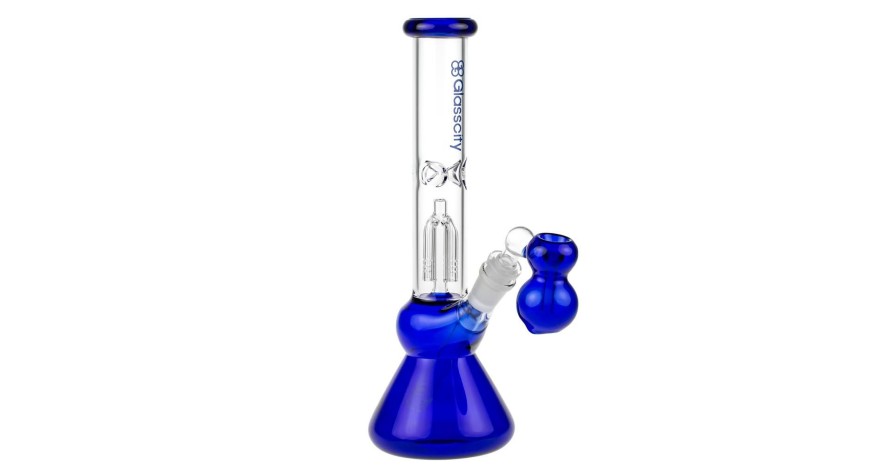 Almost everything in this product is ideal: the price, quality, and, of course, appearance. Many smokers consider it one of the best glass bongs that can be found right now for a good reason. It is primarily due to the excellent smoke filtration, thanks to which every hit is perfect. The smoke passes through the ash catcher, diffuser, 4-arm percolator, and then directly into the bong in pure form. If desired, you can add ice to the pipe to make the smoking process even smoother.
Of course, this filtering system is not revolutionary and can be found in other devices too. However, here it is perfectly implemented and available at a budget-friendly price. This bong is made in a beaker style and has an increased base volume into which the water is poured. The total height of the product is 11.8 inches.

Glasscity 4-arm Perc Bong
---
PROS:
No carb hole;
4-arm percolator;
Reasonable price.
CONS:
Water can enter the ash catcher.
2. Handy Coloured Glass Bongs: Glasscity Limited Black Edition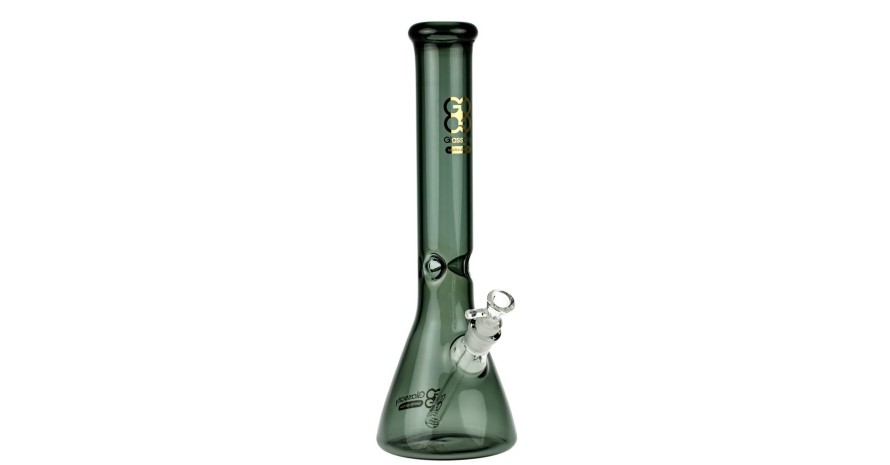 It is another quality item from Glasscity. If you are looking for a stylish yet discreet bong, you should pay attention to it. The item is made of solid black polished glass and has a gold brand logo on the top of its tube.
This bong has a beaker shape and a removable herb bowl design. By the way, the bowl already has a built-in screen that will protect your device from excessive pollution and prevent ash and other debris from getting into your mouth. The product has a base of the same volume as the previous item, but the main tube is slightly longer. The sufficient length ensures that the water does not reach your mouth. The bong's total height is 15.3 inches.

Handy Coloured Glass Bongs
---
PROS:
Long tube;
Unique design;
One-piece build.
3. Affordable Weed Glass Bongs: Beaker Base Bong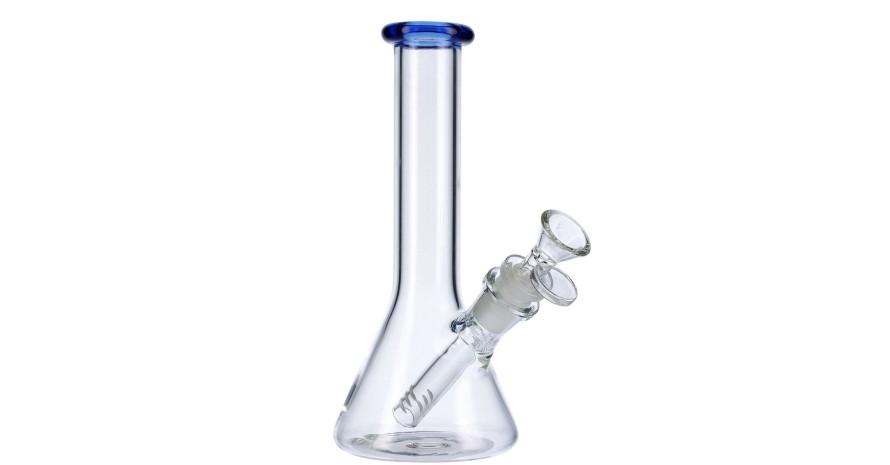 This model will be a real treasure for those looking for an inexpensive compact device that is easy to take with you on the road. It is made from high quality, durable 3.5mm glass. This bong is an 8-inches high one-piece tool with a removable diffuser downstem and male bowl. It is almost entirely transparent, except for the mouthpiece, the color of which you can choose to your taste.
Despite its compact size, this bong is quite heavy, stable, and fits perfectly in hand. It is intended for the usual weed smoking. Unfortunately, you can't use it with ice. But thanks to its simple design, it is easy to clean and care for, so even a beginner can cope with this task.

Affordable Weed Glass Bongs
---
PROS:
Very inexpensive;
Compact;
Easy to clean.
CONS:
Doesn't have ice notches.
4. Classic Glass Bong Pipe: Straight Cylinder Bong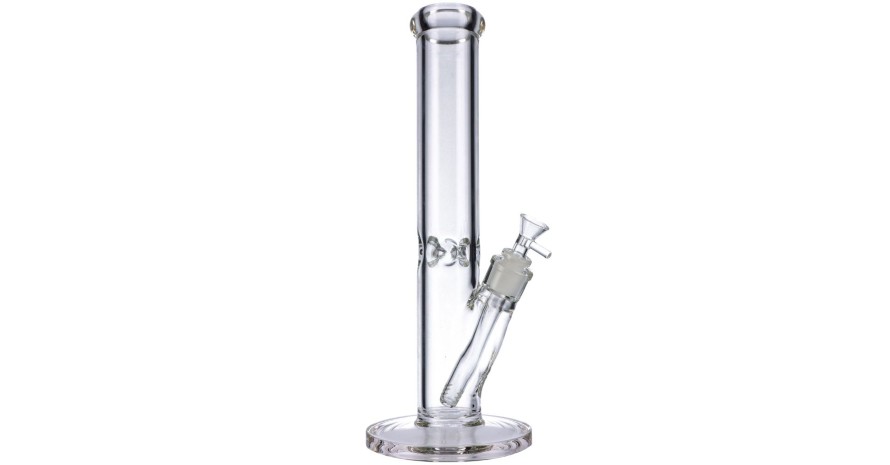 If you are a fan of good old classics, take a look at the Straight Cylinder Bong. The shape of a tube of a cylinder is ideal for getting started with these devices. They are easy to use and clean, and by and large, the only difference in design is their height.
This product is particularly durable because it is made of 7mm clear tempered glass. You can choose the height of your taste: 10, 12, or 14 inches. Of course, it determines the cost of the bong, but it is quite reasonable regardless of the size chosen. The pipe comes with a ground joint, diffused downstem, and herb bowl. To add additional smoke filtration and cooling, place some ice cubes in the tube.

---
PROS:
Simple design;
You can choose its height;
Damage resistant.
5. Impressive Coloured Glass Bongs: Glasscity Limited Blue Edition
This model is another limited edition product from Glasscity. It is a classic beaker base bong of the unusual cobalt blue color. Of course, the design and tint are largely a matter of taste. Personally, I like it when manufacturers keep the classic design but add zest using an unusual glass color.
Cobalt blue products are not so common. Like the previous limited edition product, it is a bong with a beaker-shaped base and a removable herb bowl with an integrated screen. The smoke, passing through the diffuser and water, is cleared and cooled to a comfortable temperature; however, you can add ice cubes if desired. There is no carb hole here, but you can lift the bowl by its handle.

Impressive Coloured Glass Bongs
---
PROS:
Unusual color;
Classic shape;
Perfect downstem length.
6. Compact Glass Bongs Under 50: Mini Beaker Ice Bong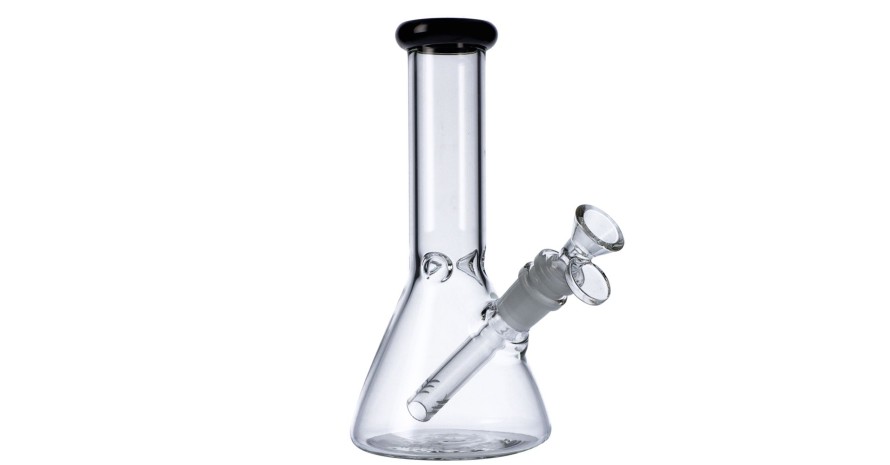 Another model that will make a great travel and trip companion is the Mini Beaker Ice Bong. It has everything that full-size products have to offer but at an affordable price. You can even use it with ice, which is often not available in small bongs.
It is made of durable 3mm glass and is 8 inches high. The device's body is completely transparent, but you can choose the color of its mouthpiece rim if you wish. Despite its small size and the absence of a percolator, it filters and cools smoke perfectly. It includes a slitted diffuser downstem, weed bowl, and ice notches. All elements are sized to prevent debris, ash, and water droplets from spoiling your smoking experience.

Compact Glass Bongs Under 50
---
PROS:
Inexpensive;
There are ice notches;
Perfect size for trips.
7. Bubbler Glass Water Bong: Molino Mad Scientist V2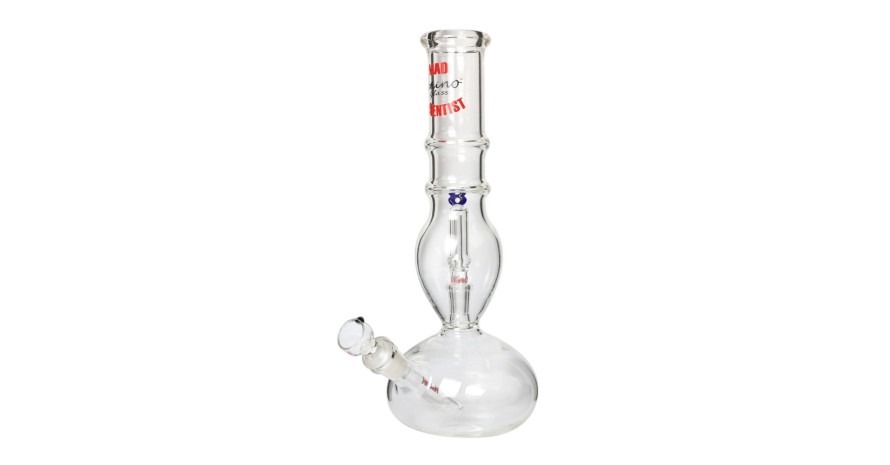 Molino Mad Scientist V2 is closing my list. Its unusual design will dilute this collection of classic bongs. Unlike most previous products, this one is a four-piece system: a diffuser downstem, male weed bowl, and removable percolator with a hook. Besides, it features a bubble shape and is equipped with two chambers for better filtration and smoke cooling.
It is made of 5mm thick clear glass. This thickness gives an excellent strength-to-weight ratio. The total height of the item is 13 inches. Typically, bubble-shaped bongs have a much quieter bubbling sound than cylindrical or beaker-shaped ones. This model does not use ice; however, in my opinion, it is not necessary, as the two-chamber system guarantees excellent cooling.

---
PROS:
Unusual design;
Excellent filtration and cooling;
Quiet.
Marijuana Glass Bongs Buyer's Guide and FAQ
Before buying bongs, like any other goods, you should carefully study what types exist and what to look for when choosing. In this section, you will find all the information you need to help you buy the right accessory.
Types of bongs
On the market, you can find devices of different shapes, colors, sizes, and configurations. However, they can be divided into three large groups:
Tube. It is the classic type of bong that is most commonly seen. It is a straight or slightly curved at the top tube that has a flat platform for stability.
Beaker. The second most popular type that you can see in stores. It is called so because the main container into which the water is poured has the beaker shape and an increased volume.
Bubbler. Such devices are a cross between a classic bong and a smoking pipe. Most often, they have a small size, the base volume, and, as a rule, are intended for one person.
All other types are different variations of the categories listed above. For example, there are multi-chamber devices. In them, the smoke undergoes additional cleaning and cooling, passing through two or more chambers. As you can imagine, they are difficult to manufacture, which means they have a rather high cost.
Also, manufacturers build in percolators of different types in bongs and distinguish them into a separate group. They can be of any shape, but their main feature is the best smoke purification. There are also so-called recyclers, in which the stream of smoke passes through a cleaning system twice. As a rule, the best glass bongs combine all of these features to give perfect hits.
How to choose the best glass bong?
Besides shape and design, there are a few other factors you need to look out for when choosing glass bowls and bongs. Some of them significantly affect the formation of smoke and the produced effect on your health.
Size
It is perhaps one of the main parameters. The device with a height of about 12 inches is considered to be an average height. There are both more compact products (8-10 inches) and higher ones (14 inches and above). The advantage of small devices is that you can take them with you wherever you go, as one is lightweight and fits easily in any backpack. For heavy smokers, the volume of compact bongs may not be enough. Larger pipes produce more smoke in one puff.
Glass thickness
It is the next important criterion. If you want a lightweight or practically weightless device, then 3-4mm thick glass bowls for bongs are ideal for you. The main disadvantage of such tools is their fragility, so you will have to handle them with care. An average thickness of about 5mm gives a balanced weight to strength ratio.
The tools with a wall thickness of 7mm or more are quite heavy but have increased strength. Even if you drop your bong, it is unlikely to break. You can also put it in a freezer for 10-15 minutes before use to increase cooling, as its thick walls keep the temperature for a long time.
Downstem type
A downstem is a glass tube that conducts smoke from a weed bowl into a container of water. It can be smooth, built into the bowl or as separate accessories, with holes or notches at the end, and so on. The latter option is considered the best since such diffusers split the smoke into several streams and mix them with water. It allows for more efficient cooling and detoxification.
Ice-holder
It is a very simple and enjoyable addition to a bong to increase the cooling of the smoke. It looks like several bulges in the middle part of the pipe that trap ice. To cool the smoke better, the ice should be chipped from a single piece, rather than molds. Irregular and rough pieces have a large area of ​​contact with the smoke.
What is the best way to clean a glass bong?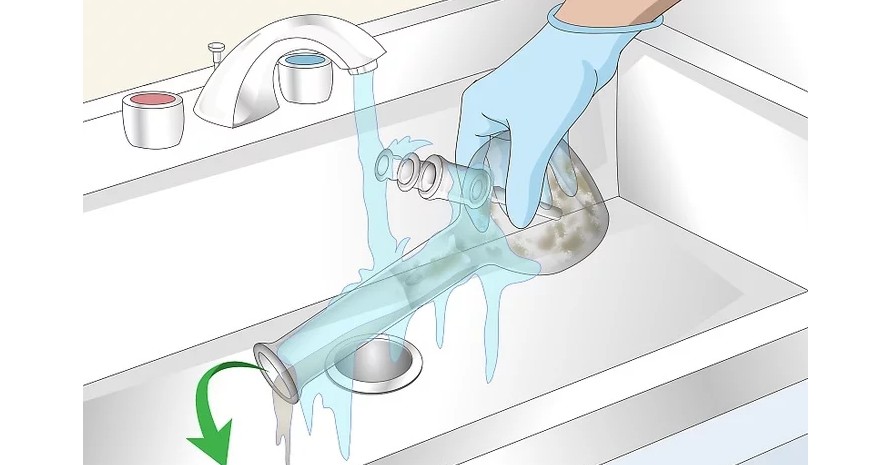 There are many ways to clean bongs; however, in my opinion, the most effective is using rubbing alcohol and coarse sea salt. You should disassemble your device into its components, drain the old liquid, and rinse all the parts with tap water. Next, combine salt and alcohol and pour into a bong. Plug all holes, shake the device well, and rinse all the parts.
Recent Post: Best Bong Cleaner.
Alcohol has excellent disinfecting properties, but you can substitute vinegar for it if you like. If stubborn stains form inside, soak your tool in warm water first, then use lemon juice or acid.
Use Only High-Quality Glass Bongs
Many smokers opt for glass bongs because they are more elegant, functional and let you get the most out of smoking. I hope my article will help you make the right choice so that the purchased product fully meets your expectations. According to my experience, the Glasscity 4-arm Perc Bong is the best in its category. For the chosen device to serve you for many years, handle it carefully, do not forget to clean it regularly.
Please share your experience. Which bong shape do you like the most? Do you like glass devices or prefer acrylic ones?