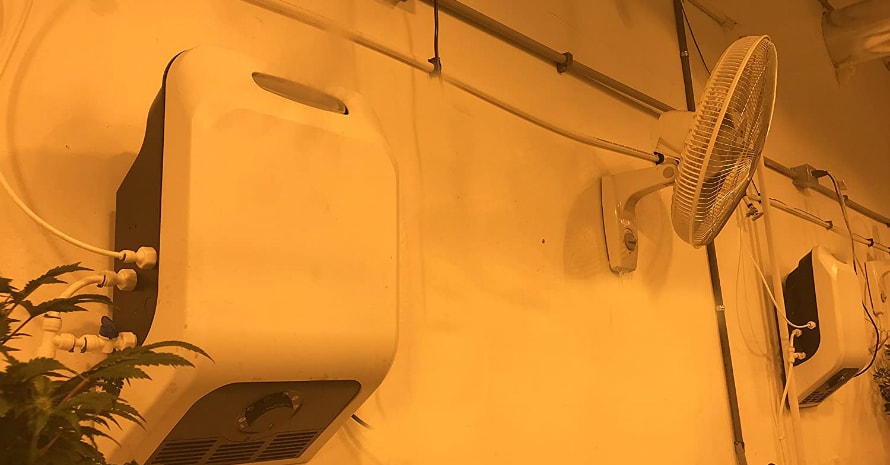 Best Humidifier for Grow Room: Top-Picks for Weed Tent
It is crucial to maintain the right humidity level in a room or tent when you grow tropical plants or weed. Without this parameter, you risk losing your harvest. That is why you need to find the best humidifier for grow room to ensure the air inside features the right moisture level, and your plants have enough water.
The thing is the indoor plants require frequent watering due to evapotranspiration. You can eliminate this process by leveling up the moisture level inside the tent. The mist will maintain the optimal humidity level and keep the plants and the soil wet.
The most convenient way to ensure such conditions is by buying a humidifying device. You just set the required parameters, and it will maintain the optimal level of humidity. There are plenty of offers online, and it is hard to find the right product without expert knowledge.
In this article, you will find the basics you need to know to pick the humidifier suitable for your gardening needs. With our recommendations, you will find the best option for your tent, and your harvest will meet your expectations.
Top 8 Best Humidifier for Grow Room Selections
We have collected 8 products, which stand out among other similar items. You do not have to spend extra time researching their characteristics. In these reviews, you will find the essential information that will help you to make the right choice.
1. Space-Saver 831000 from AIRCARE – Best Humidifier for Cannabis
If you want a dependable humidifier with a long run time for your indoor gardening, you should take a look at Space-Saver 831000 from AIRCARE. This is the best humidifier for grow tent with a medium-sized area. And it is definitely the best product on our list.
The humidifier with humidistat for grow tent is relatively compact, but it can work in areas up to 2700 square feet. The run time of this model exceeds 70 hours. You get a few days of the perfect humidity without a need to control the best weed humidifier too often.
This is possible thanks to a large tank that can work with 6 gallons of water without any leaks. Automatization is also ensured by the auto humidistat and the auto shut-off feature. The thick filter ensures cleaning the air from allergens, germs, and small particles.
Despite its simple design, this humidifier will be a great option for your grow room and provide you with a good harvest. That is why we started this list with our top-pick product.

---
PROS:
Run time over 70 hours;
Big 6-gallon tank;
Thick filter;
Auto humidistat;
Automatic shut off.
2. Grow Room Humidifier with Multi-Directional Spraying from Ideal-Air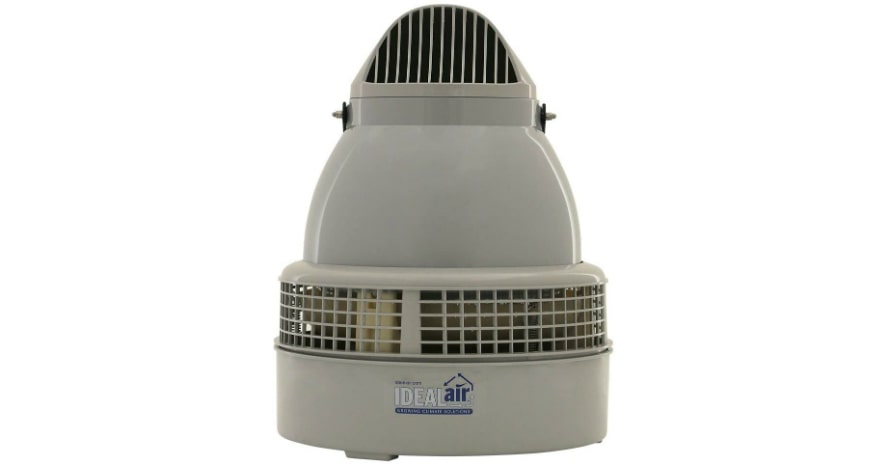 This industrial grade humidifier from Ideal-Air is good at increasing the moisture level even in a room with dry air. Its powerful motor can ensure a suitable environment for growing indoor plants. It can be used even for growing mushrooms, as they require a lot of moisture in the air.
This Ideal-Air humidifier can cover up to 320 square feet, but the area will be smaller if the ceiling is tall or you need a high humidity level. Its engine is very durable and does not overheat even during long-term work. The device has a 360-degree spraying mechanism, so the moisture distributes evenly.
To make your life easier, you can connect it directly to the water supply, enabling long-term work without a constant refill. Also, the humidifier is lightweight and easy to move. Among downsides, we can name the absence of the built-in humidistat.

---
PROS:
360-degree spraying;
Direct connection to the source of water;
Works for mushroom tents;
Industrial-grade motor;
Lightweight.
3. Pot Humidifier U80 Ultrasonic from Horticat – Best Humidifier for Large Grow Room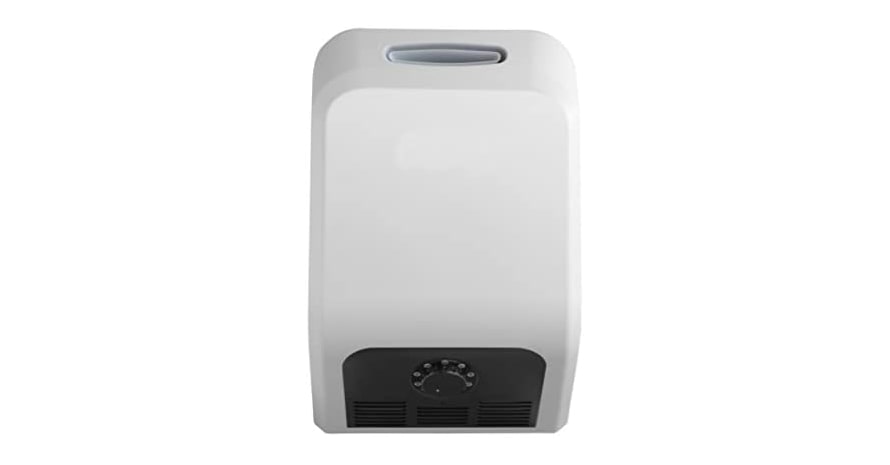 The main feature of this humidifier for weed is also a direct connection to the source of water. So you do not have to control its work often, which makes this best humidifier for growing weed easy to maintain. The construction is simple, and, despite the white color, it is easy to clean.
The daily output of this humidifier for grow tent is up to 80 pints, and it provides a clean mist without getting your room dirty. Built-in humidistat allows control of the moisture level and increases the output when it is required.
Also, this model works pretty quietly. The commercial humidifier grow room is lightweight and portable. You can mount it on the wall and move it from time to time if needed.
However, some customers claim it is difficult to find replacement parts for this model. Considering the affordable price, this is not supposed to be an issue.

---
PROS:
Direct connection to water supply;
Easy to clean and maintain;
80-pint daily output;
Built-in humidistat.
Quiet and lightweight.
CONS:
It is problematic to replace parts.
4. Dehumidifier with Integrated Humidistat from Ivation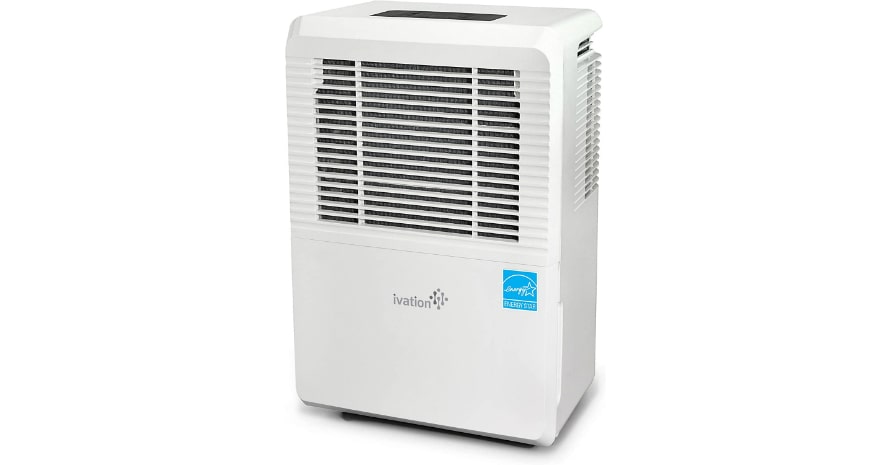 Controlling the humidity level means preventing its rising as well. The indoor weed growing requires a particular amount of moisture in the air, and sometimes you need to apply a dehumidifier.
The best humidity controller for weed from Ivation provides high-power dehumidification, absorbing up to 70 pints daily. It has a large tank for 1.3 gallons, so it is easy to maintain. The integrated humidistat ensures independent and low-maintenance performance. LED display allows adjusting fan speed, timer, alerts, and other settings.
Considering the price of this device, we expected it to work longer than a year without issues, but customers admit that it can work seamlessly for no more than a year. After this, the device might start leaking or freezing. Also, some users claim it is pretty heavy.

---
PROS:
Can absorb up to 70 pints;
Prevents mold, mildew, rotting;
Integrated humidity sensor;
Large tank;
Adjustable settings.
CONS:
Leaking and freezing issues after a year of use;
Relatively heavy.
5. Mini Dehumidifier from Eva Dry – Best Humidifier for Small Grow Tent
Depending on the season and the climatic specifications, you might need either a weed humidifier or dehumidifier. For small grow tents, you can use this wireless device from Eva Dry. This compact dehumidifier is easy to use: you just hang it on the wall and turn it on.
The device is rechargeable, and a special indicator will inform you when it needs maintenance. Absorbing properties are provided by the non-toxic silica gel, which ensures no-spill and mess-free performance.
The device is powerful, considering its size. But keep in mind that this item can deal with the air of small spaces up to 333 cubic feet.

---
PROS:
Wireless and compact construction;
Non-toxic and mess-free;
Absorbing capacity up to 6 oz.;
100% renewable;
Recharging indicator.
CONS:
Suitable only for small spaces.
6. Automatic Weed Humidifier from Aprilaire – Best Humidifier for Drying Weed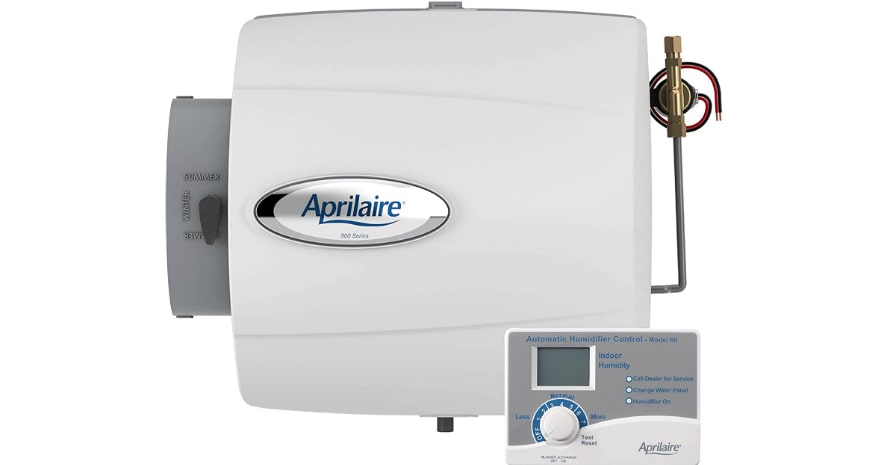 Aprilaire offers its powerful humidifier, which provides full coverage for an area of up to 3,000 square feet. It has a large-capacity tank of 12 gallons, providing all-day work without your interference. It is quiet and easy to use thanks to its digital features.
The auto humidifier adjusts the humidity level considering the outdoor and indoor temperatures. The display informs you when the tank requires a refill, what level of humidity is in a room now, and other functions.
Among complaints, we have noticed this humidifier is a bit difficult to install. You may require purchasing separately some extra parts for this.

---
PROS:
Reasonable price;
Large capacity;
Easy to use and quiet;
Auto humidifier;
Digital control.
CONS:
Complicated installation.
7. Cool Mist Grow Room Humidifier from BAYKA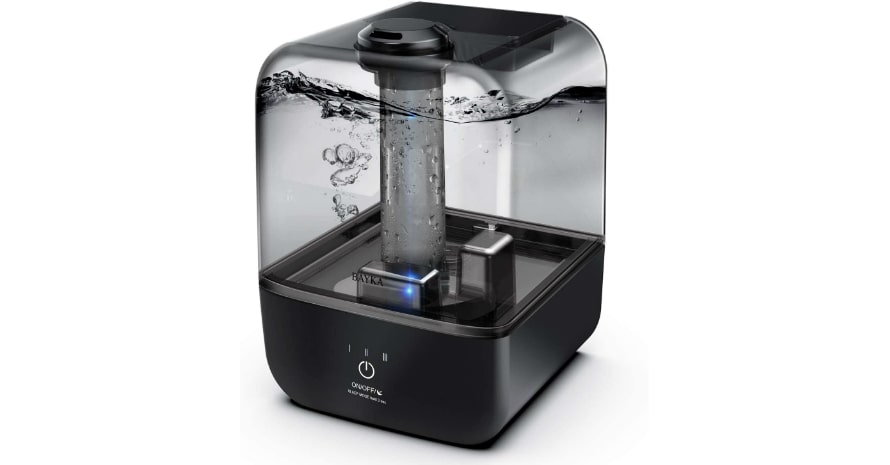 If you want to purchase a small and stylish marijuana humidifier, Cool Mist from BAYKA can be one of the options. The device has 3 mist modes to adjust the humidifying process to your needs.
With a one-gallon tank, it can work for almost 28 hours. With a night mode, the humidifier works even quieter. It is small and simple in design, so you can easily clean and maintain it.
However, the manufacturer recommends using distilled water to prevent grime and dust inside the device. Moreover, you can also use this humidifier at home if you want. It has a box for essential oils for home-based aromatherapy. But the suitable oils are not included in the package.
Despite all the advantages, we want to point out that some customers complain about the leaks.

---
PROS:
3 mist modes;
28 hours of work on one refill;
Deep sleep quiet mode;
Easy to maintain;
Aromatherapy box.
CONS:
Minor leaking problems;
No aroma oils included.
8. Cannabis Humidifier for Large Rooms from LEVOIT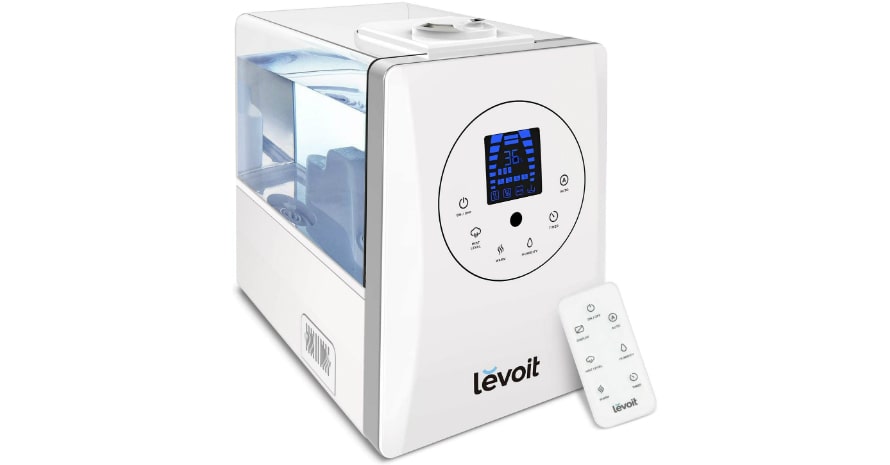 The best humidifier for weed, produced by LEVOIT, is aimed at home use. But you can easily apply it as a pot humidifier because it can provide the required level of moisture for up to 36 hours, depending on the area size.
Many users admit that remote control is a very convenient option for quick regulation. Also, you can use the humidifier for improving the air in your house. Auto shut-off and the quiet work is included. With an essential oil diffuser, you can even run homemade aromatherapy.
Some customers were not satisfied with the performance of this humidifier. They complained about leaks and problems on the hot-mist mode.

---
PROS:
Large tank for up to 36-hour usage;
Remote control;
Auto shut-off;
Quiet work;
Essential oil diffuser.
CONS:
It can start leaking while using the hot mode.
The Functions of a Weed Humidifier
We have already pointed out that the grow room humidifier is significant for your indoor gardening. Maintaining the right percentage of moisture in the air is the crucial factor for successful plant growth. The humidity level influences the temperature, air balance, and other parameters. So, what does a humidifier do exactly? Let's see.
Raising the humidity level. This is the obvious feature. The device increases the amount of moisture in the air and provides the required humidity level. It can spray water or create a mist. With auto humidistat, the device will regulate its work to prevent the excess of moisture.
Maintaining temperature. The right temperature is significant, as well. And with the humidifier, you can warm the plants up or cool the air down. This can be done by spreading warm or cold mist, respectively.
Lowering the humidity level. This is more about the dehumidifier, but there are devices, which can do both. The high humidity is bad for weed and indoor plants as well. It can cause mold and other problems. Sometimes you need to decrease the moisture level in your grows tent using this device.
Choosing the Best Humidifier for Grow Tent
If you want to find the cannabis humidifier model that perfectly meets your gardening needs, you should know what features to consider in your situation. Here are some of them:
Type of humidifier. There are three main categories of this device: evaporative, ultrasonic, and impeller. The evaporative humidifier has a fan that blows the moisturized air through the special wick. They are effective but can be noisy. Ultrasonic devices distribute the moisture by the vibrating nebulizer. They are noticeably quieter. Impeller models produce mist by the disk rotation.
Tank capacity. This parameter defines how long the humidifier can work without your interference. Devices with smaller tanks require frequent refills, which can be inconvenient sometimes.
Treated area. Consider the size of your grows room before choosing the humidifier. For large areas with high ceilings, you will need powerful models with large tanks or a direct connection to the water supply.
Noise level. If a grow room is far from the living and sleeping areas, then you can skip this aspect. But in other cases, you should pick the models with a noise reduction feature.
Safety features. Humidifiers are electronic devices, so safety measures are significant here. Auto shut-off can prevent working without water or when there is enough moisture in the air. Overheating control should also be included.
Working hours. This parameter depends on the tank capacity, energy source, and overheating control. Define how often you can check and maintain a humidifier in your tent, and use this information to select the model.
The Best Humidifier for Grow Room – Essential Features
Every humidifier type can be suitable for your grow tent. But according to our experience, there is a set of features that ensure convenient and effective humidifying:
Big tank. You do not have to refill it often; therefore, it results in less maintenance;
A thick filter ensures not only effective air moisturizing but also cleaning and disinfecting;
Auto humidistat provides control and reasonable usage of the device;
Automatic shut-off not only saves your money on electricity but also prevents break-downs.
Remarkably, all these features are present in our top-pick product Space-Saver 831000 by AIRCARE.
Right Position for Pot Humidifier in a Grow Room
It is important to place the hydroponics humidifier properly to ensure efficient moisturizing and lush growth. Surely, there are different rooms and plant coverage in them. But here are some options for the humidifier placement:
Hanging on the wall. This option saves space and provides even mist distribution. But you should install the device properly, and you might require professional assistance or special details.
Freestanding. If you have enough room on the floor, you can pick the freestanding models. They do not need an installation and also can be wireless. But they might not be powerful enough to deliver the moisture to the upper levels. As an option, you can place the freestanding device on a table or a chair.
Ducted. This is a rare but still available option, which allows saving space in a small room. The device is placed outside the room, but it is ducted to the growing area.
Keep in mind, while choosing a humidifier model or its position, make sure the mist will be distributed evenly. This is important for large rooms, as small areas are easier to treat. Also, the airflow should be strong enough to ventilate the room and prevent mold and spots on plants. For ducted and hanging devices, the remote control will be handy.
FAQ About Weed Humidifier Devices
Still not sure you have all the information for choosing the right humidifier? Here are some more questions we are about to answer.
What size humidifier for a 4×4 grow tent?
To find the right humidifier for a 4×4 grows tent, you should consider its tank capacity. For an average tent with the target 40% humidity, a 1-gallon tank will be enough. But you should take into account the outside conditions, the height of the tent, and the number of plants in it.
What is the optimum humidity level for plants?
Most of indoor plants need 50-60% humidity, depending on the species. You should research the requirements for your case and maintain the required level.
What would happen if there is excess humidity in my grow room?
High humidity can harm plants as well as the lack of it. With the low humidity, plants get dry and fade. But the excess humidity can cause root diseases and molding of the leaves. In this case, you might need to use the dehumidifier.
Humidifier Selection for Every Weed Grower
As you can see, there are enough models for any buyer. You just need to collect and process the information about your grow room and the gardening needs, and you will be ready to purchase a device. We hope our recommendations will be useful in your searches. Do not rush the purchase and weigh all pros and cons at first.
Have you already used a humidifier for growing weed? What were the benefits of this solution, and what were the challenges? What do you think about our selection? Share your thoughts about our grow room humidifier reviews in the comments!