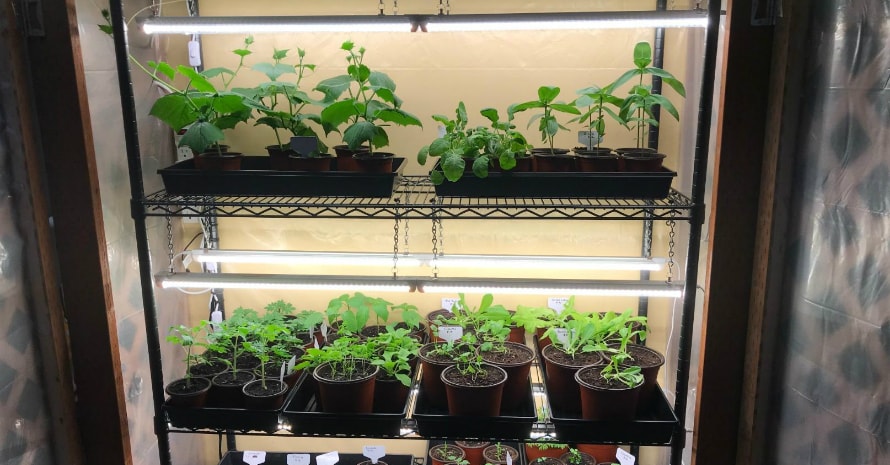 T8 LED Grow Lights — The Sun Will Never Set
Good light is a key to successful gardening at home. The T8 LED grow lights could be the choicest choice as they:
Stimulate robust photosynthesis.
Are easier to maintain due to their lesser heat build-up.
Provide a satisfying light spectrum close to the natural sunlight.
Need much less power and let you cut the electricity expenses.
No wonder LED grow lights of various types, including T8 modification, are such a craze among home gardeners. Weed horticulturists are no exception as the artfully emulated sunlight spectrum is perfect for every weed strain: from Northern Lights to Gelato #33.
So, I've prepared my top 6 picks of the best T8 to grow lights. Here you will find professional quality, impressive energy output, and cost-efficiency coming at affordable prices.
The Best T8 LED Grow Lights
This list of handpicked models features mostly budget but reliable solutions. So whether you're only starting your weed-cultivating journey or run a whole house plantation, these T8's will be of interest to you.
1. Barrina LED Grow Light 252W — The Best T8 Grow Lights on the Market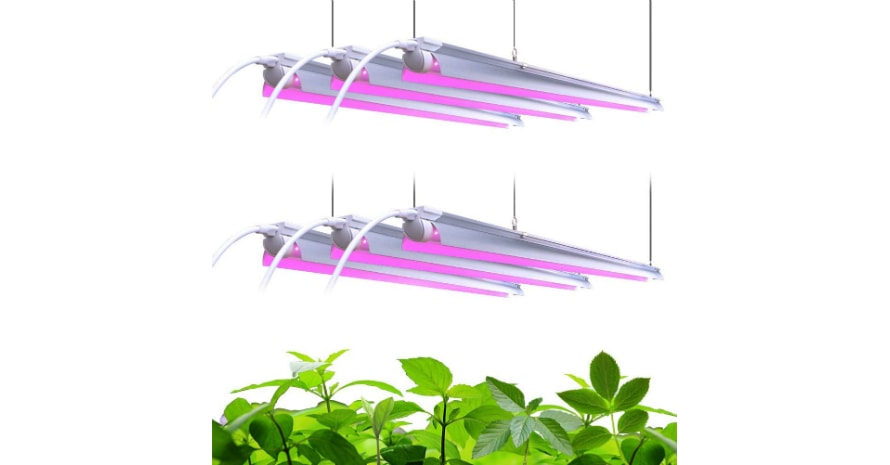 Barrina LED system is my personal top pick among T8 units. And there are a bunch of good reasons for that.
First, it's disgustingly easy to set up. You can mount the lights basically anywhere you want. The mounting clips allow quick and painless installation. So, if you need an extra light source to support a light system that's already in use, Barrina can easily be attached to the wall.
Second, it's pretty energy-efficient. While sucking just about 24 watts from the wall, each separate light provides 60 watts worth of nurturing light — an impressive output! Plus, it's a great way to cut the costs — according to the company, their system consumes 50% less power than non-LED analogs.
Third, Barrina T8 grow lights provide the full light spectrum with their integrated chips. (With blue and red being the dominant components). This vital quality will support your herbs through every stage: from germination to flowering.
But I need to warn you: this unit is fairly bright. Even if you're not looking directly, it may leave a 'light print' on your retina, just like a photo flash.
Although harmless at first, this may damage your vision in the long run, and safety glasses are strongly recommended. As for the rest, Barrina is a sure #1 on my today's list of T8 grow light reviews.

---
PROS:
Reasonable price;
Integrated chip architecture;
Saturated, bright light;
Easy installation;
Nice customer support.
CONS:
May appear blinding to unprotected eyes.
2. Monios-L T8 LED Grow Light 2FT — Affordable T8 Bulbs for Growing Plants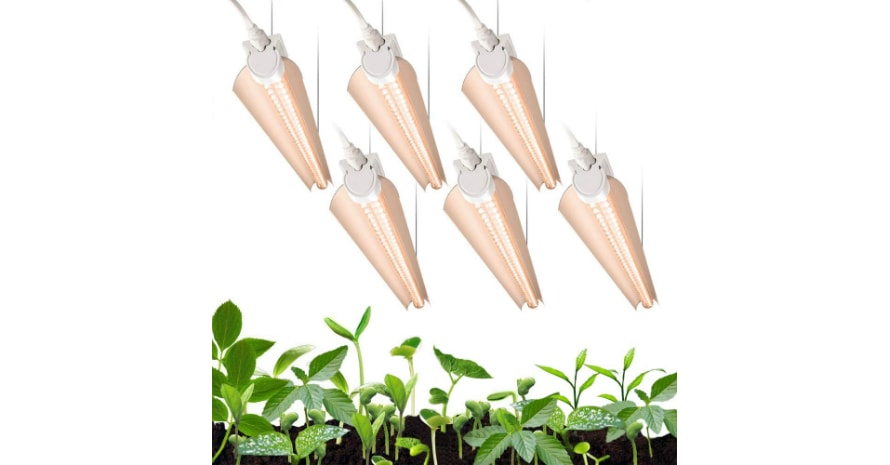 Our next contestant, Monios-L, is a wonderfully flexible unit. Its package includes connectors and clips that make installation a breeze. And the daisy chain allows more convenient cable management — no more stumbling over the 'electric snake' pile.
Monios-L works best for a shelf-style mini plantation. Its beam angle fully covers the growing area, emanating the 400nm-800nm wavelength. It is the standard sunlight emulation, so to say, which stimulates intensive photosynthesis and fuels your weed with tasty chlorophyll.
The lights remain quite cool even after hours of working: only the top part gets heated a little. But you don't have to worry about your plants getting scorched. Even if left unattended, Monios isn't likely to do any harm.
White is prevalent on its spectrum, which sets it apart from the 'bluerple' competitors. But it's quite bright and nicely warm. So, if you do your gardening in a place where sunlight is a rare guest, this unit could be a game-changer.

---
PROS:
Dominant white light;
Emulates the sun;
Easy to set up;
Long cords;
Safe for plants.
CONS:
You might need more than one unit.
3. Sumerflos T8 LED Grow Light — When T8 Growing Becomes Easy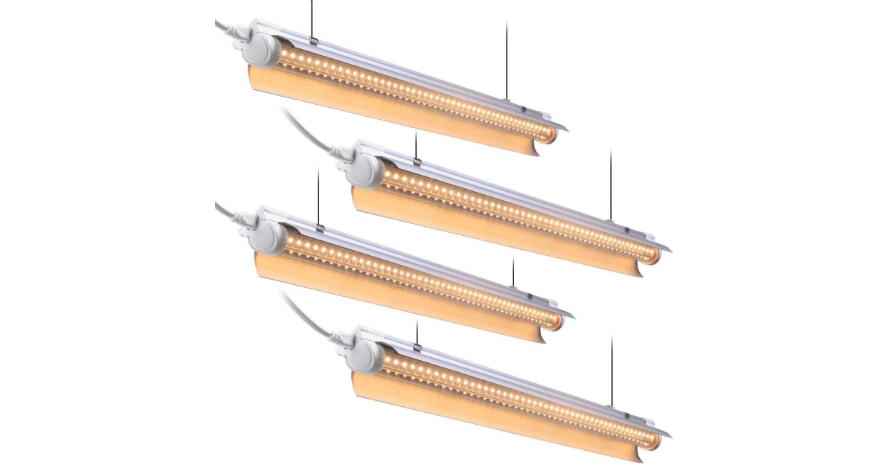 Sumerflos offers a practical and fairly cheap T8 unit. It's a plug-and-play setup that you can place right above your plants for the sake of the increased PPFD value. What else is there?
Sumerflos offers a healthy menu of the 420nm-780nm wavelength that is a nice sunlight simulation (White light is dominant again). It works well for seedlings and flowering plants.
The unit's architecture is pretty clever, with a cluster of reflectors and aluminum form factor. Thanks to that, the heat dissipates more efficiently. As a result, your herbs won't suffocate, there will be enough warmth for the whole farm, and you'll get a better return from the resources invested.
All in all, I find Sumerflos to be a practical solution. Especially if a humble budget narrows your gardening ambitions, it will provide enough energy for healthy photosynthesis at every growth stage.

No products found.
---
PROS:
More than affordable;
Sunlight spectrum;
Aluminum casing;
Nice heat dissipation;
Pretty versatile.
4. Byingo 4ft LED Grow Light — Pretty Reliable T8 Fluorescent Grow Lights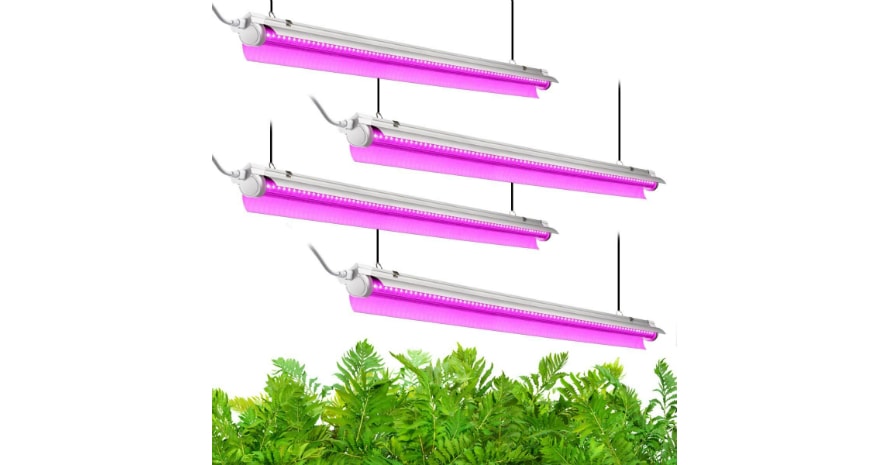 Our next item is a V-shaped T8 unit that sheds a bright bluerple light. And it seems Byingo makes things go more intensively, as the seed stage appears to complete faster under its illumination.
The secret could be that its combo of Blue/Red with a broad wavelength of 400nm-710nm and 37 lm/watt efficiency nicely affect the production of the so-called trace elements. And these elements include zinc, manganese, boron, and other 'chemical snacks' vital to the plants.
Even though Byingo's light is bright, it won't turn your marijuana garden into a mini-Sahara. With proper ventilation arranged, you can leave these lights unattended for hours worry-free. Installation is pretty straightforward, but the power cords could be longer.

No products found.
---
PROS:
Saturated light spectrum;
Energy-efficient;
Stimulates trace element production;
Doesn't get hot;
Compact.
CONS:
Power cords are about 2 feet.
5. GrowLED LED Bypass T8 — A Gardener's Universal Helper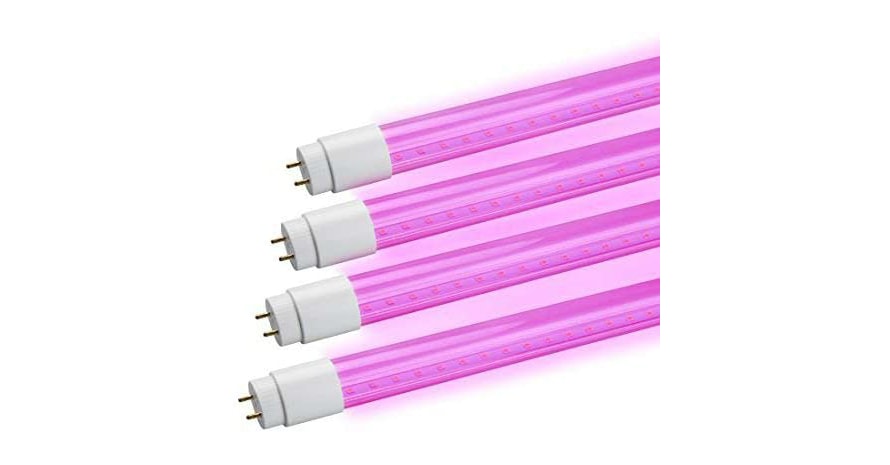 GrowlLED will illuminate your house garden with a bright pinkish light. On the menu, we have the dominant duo of blue and red light that will nicely chaperone your marijuana through every stage of growing.
And not just marijuana! Basically, Growl can do a nice job for every shrub, vine, and sprout: from cabbage and radish to bonsai tree and Malaysian eggplant.
GrowlLED perfectly fits anything: pot plants, hydroponics, tents, aeroponics, and basically any other indoor gardening technology. Its tubes provide a wavelength of 450nm-650nm, and you know that it's the spectrum that the sun-loving plants, like a weed, are so fond of.

---
PROS:
Vertical installation;
Bright fluorescent illumination;
Good for universal usage;
Economizes up to 40% on electricity bills.
CONS:
Require protecting eyewear.
6. Kihung LED Grow Light Strip — Simple, but Impressive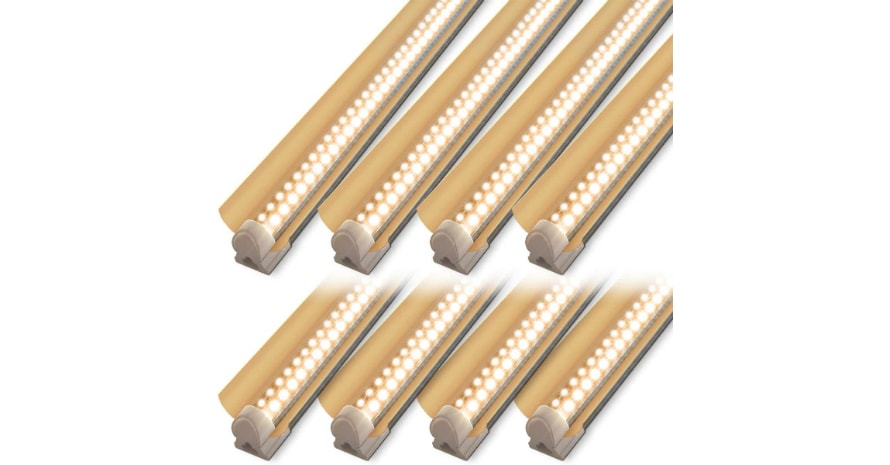 Our final item, Kihung offers a set of T8 LED grow light bulbs that generously radiate a sunny wavelength of 400nm-800nm. And unlike many other units. It doesn't hurt your eyes much with its soft 3000K color temperature.
Kihung is easy to assemble; hanging and ceiling installation are the two options. The casing is made of aluminum that provides good thermal conduction. As a result, it doesn't need noisy fans to dissipate heat aptly.
All in all, its wholesome white light will maintain your medicinal plants nicely, especially if you happen to live in a cold place like Canada or Maine. It's energy-efficient with its wattage of 42, and you can cut your electricity costs with it.
Although be warned: Kihung is a hothead and proper ventilation is a must. It heats especially fast when applied to a small growing area.

---
PROS:
Extra connectors in the package;
Energy-efficient;
Soft, eye-friendly light;
Emulates sunlight nicely.
T8 Grow Light Buyer's Guide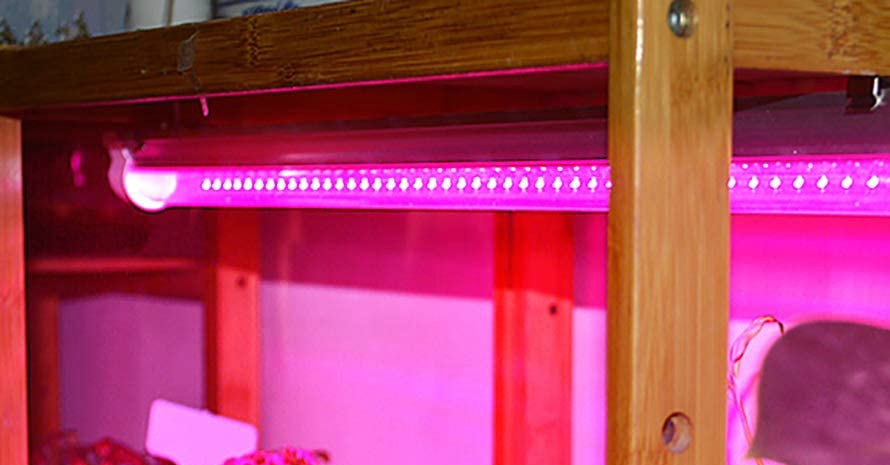 Now, let's solve some mysteries surrounding T8 grow lights.
How to choose the best T8 grow lights
If we're talking about a T8 system for a small-scale indoors garden, then ideally, you should search for one with a 400nm-800nm — it's close to the portion of the natural sunlight that plants need.
All your T8's must be set up in a certain fixture before you plant the seeds. It directly affects maintenance, so I suggest you settle with T8's that belong to the same brand/model line.
Energy efficiency is an important factor as it affects you economically. Energy output should exceed the wattage drawn, like in the Barrina case — it can save you up to 40% on your monthly payments for electricity.
Which is better: T8 or T5?
The main difference between T5 and T8 is about diameter. T5 is 5/8" of an inch in diameter, provides more 'aggressive' light, and has a longer lifespan than T8 — about 50k hours vs. 30k hours. But it results in pricing — T5 may cost twice as much.
T8 Grow Light FAQ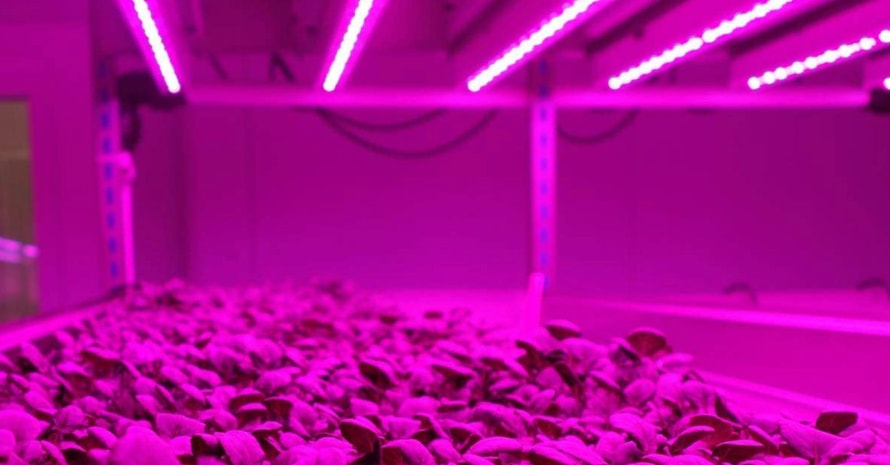 I have gathered a few popular questions regarding T8. So read on to find the answers.
Can you grow with T8 lights?
Yes, as of today, it's one of the most popular solutions for indoor gardening. It's affordable, easy to maintain, provides satisfying photosynthesis, and doesn't require much skill for installing — T8 units are plug-and-play.
Can I replace my T8 bulbs with LED?
Yes, and it's an economically wise choice. With T8 LED, you won't need to replace the ballast anymore and save about 40-50% of electricity consumed. All you need is to find the tube of the right length, pick the right pin size, and choose the ballast bypass.
Are T8 bulbs being discontinued?
Not really. But new regulations were introduced in 2018.
Empire of the Artificial Sun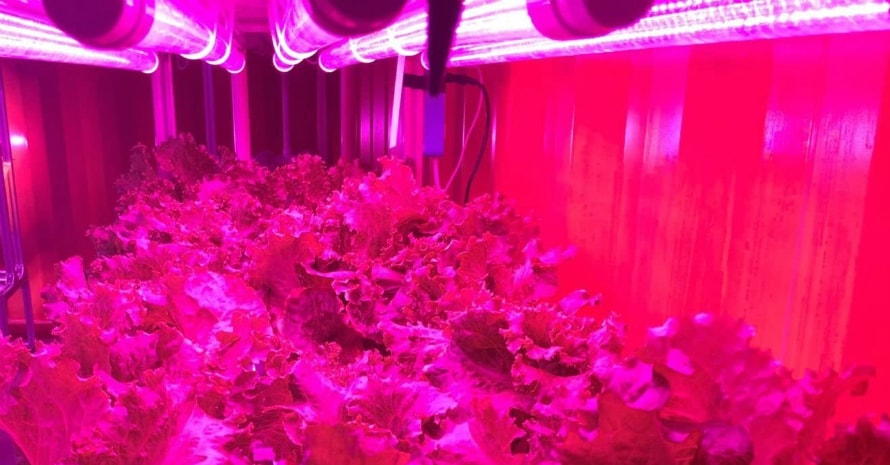 That's all for today. Hopefully, you'll find a worthy T8 grow lights unit from my list that will take care of your herbs for months and years to come. Which grow lights do you personally prefer? Have you had any experience with T8? Let us know in the comments!