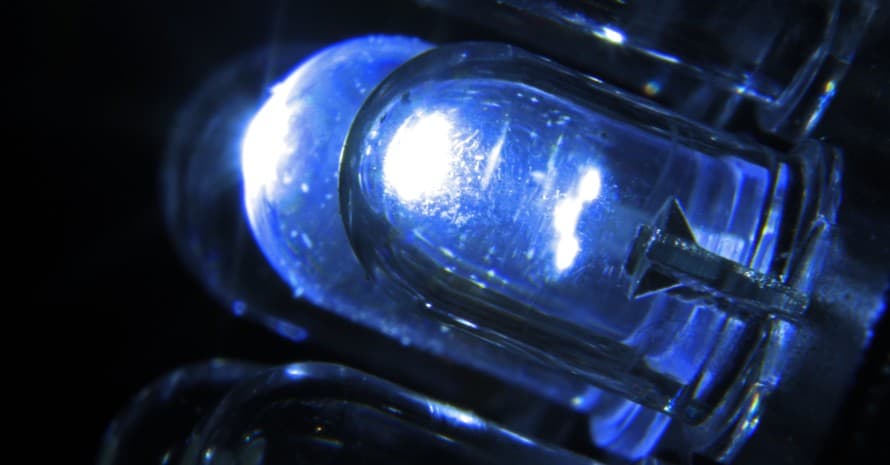 Blue LED Grow Light to Make Your Plants Grow Faster
Modern technology allows for excellent harvests, even in regions with very few sunny days. Every plant needs the light of all shades, but various colors should be used at different development stages. At the very beginning of seedling growth, you should use a blue LED grow light and then gradually add red lamps. It is the blue color that aids the gas exchange required for photosynthesis. Under the influence of such lighting, cannabis grows well, develops a branched root system that nourishes the plant, and subsequently contributes to a better crop.
However, not all the lamps you can find in stores have sufficient power and are equipped with a heat sink system. I consider some of these devices useless at all. To help you choose the perfect blue lighting, I've compiled a small guide and reviewed five products that I find to be great choices for growing cannabis. From my own experience, I have found that the HQRP Plant Grow Lamp System works excellently and promotes the formation of large and juicy buds.
Suitable for full-cycle growing
Runner-Up
Suitable for full-cycle growing
Top 5 Best Blue LED Grow Lights Reviewed
The blue color is 400-520 nm long, which makes it very close to ultraviolet light. Although short, such waves provide more energy compared with other colors. This feature is used by gardeners when growing cannabis seedlings. The lamps below promote the rapid plant growth and the formation of green and root mass in them.
1. Best Blue LED Grow Light: HQRP Lamp System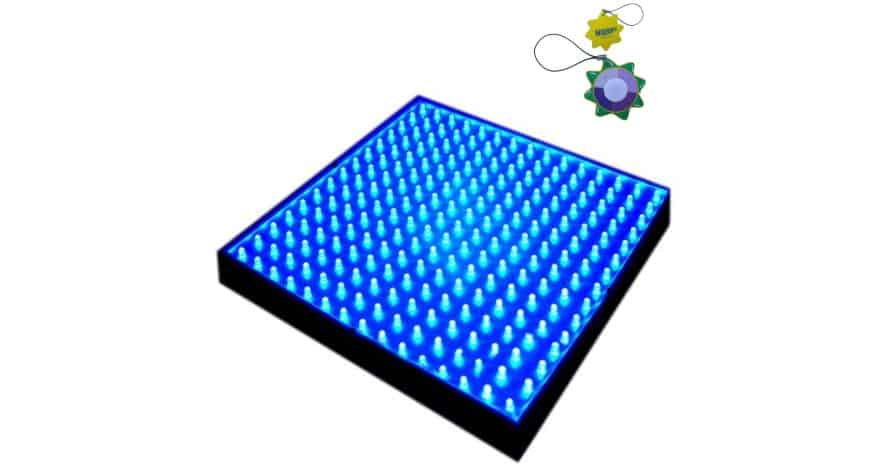 It is the best blue LED grow light for lighting cannabis during its vegetative stage. This 12×12 inches panel with a weight of 1.85 pounds houses 225 blue LEDs. They produce 465nm wavelengths, which have a positive effect on plant health and growth. Their lumen output is 1620Lm. The manufacturer has managed to create a rather energy-efficient instrument, the power of which is only 14W.
Its body is made of thermoplastic, resistant to heat, and inserted into a die-cast frame. It is worth noting that this system practically does not heat up even after many hours of use. Nevertheless, always follow the manufacturer's directions for how close to place lighting to the pots. The optimum distance to use this device is about 40 inches above the plants. The lighting area is approximately 18 square feet.
This product comes with a convenient hanging kit, so you don't have to bother with the mount. You can simply hang it by the hook. Perhaps the only drawback is that straps are not adjustable. The length of a power cord is 48 inches, enough to mount the lighting anywhere you want. The set also includes a special device for measuring the level of ultraviolet radiation in the room. It changes its color depending on UV rays' intensity. This information is useful, although this lamp does not provide IR or UV lights.
---
PROS:
Durable;
Does not heat up;
Energy-efficient;
Easy to install.
CONS:
The hanging system isn't adjustable.
2. Ultrathin Blue Plant Light: Yescom Light Panel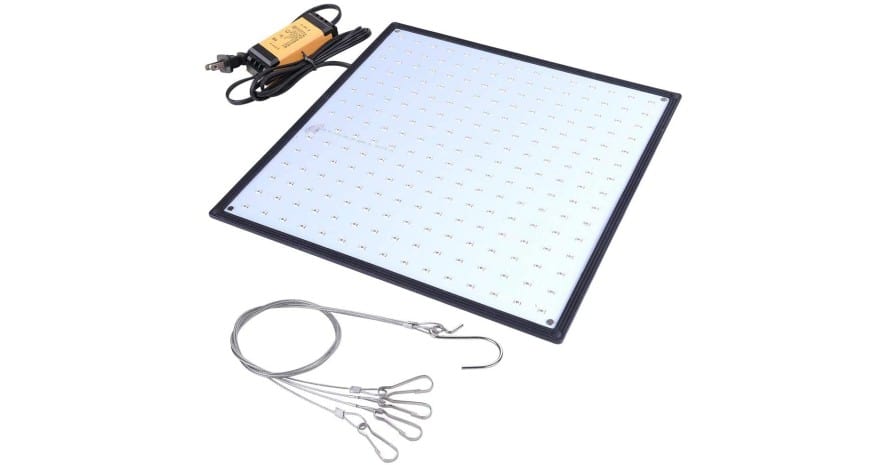 It's another lightbar with 225 LEDs installed on my list. The wavelength here is somewhat shorter (450nm) than that of the first model, but this difference does not significantly affect its efficiency. The total lighting power is 2475Lm and 22W. The manufacturer recommends positioning the bulbs 12 inches from your flowers. Since lenses are not used in this model, the light is a bit diffused. Therefore, I recommend using it in small, enclosed spaces.
The panel measures 11.25×11.25 inches and has an approximate coverage area of 18.3 square feet. It is also one of the thinnest panels on the market. It is only 0.5 inches thick and weighs 0.9 pounds. Since this lamp is small in size and very lightweight, you can easily hang it in the right place. It comes with strong cables, carabiners, and a hook. All these parts are metal and very reliable.
The panel works for a long time, even if some LED burns out. Even if it gets hot, the aluminum body removes heat upward perfectly without exposing the plant to high temperatures. Despite this, the manufacturer recommends not leaving the device turned on for more than 12 hours. The fiberglass panel, on which the LEDs are located, is water-resistant and will withstand minor spills.
---
PROS:
Slim case;
Good heat dissipation;
Reliable hanging system;
Water-resistant.
CONS:
No lenses;
You can't use it for more than 12 hours.
3. White Blue Spectrum Lighting: HLG Lighting Board
If you think that your plants are better suited not for single-tint lighting but a combination of two colors, then take a look at the HLG Lighting Board. Full-spectrum white diodes with a temperature of about 3500K dominate here, but blue ones are used as inclusions (450nm). This mix simulates natural daylight while stimulating the process of photosynthesis. A total of 576 diodes (32 blue and 544 white) are installed here.
The dimensions of this panel are significantly larger than the previous two on my list. This device is a rectangle of 26×10 inches in size and 3 inches thick. It is also quite heavy and weighs 9 pounds. All the necessary mounting accessories are included. You can adjust the height at which the panel hangs from 18 to 24 inches above the plants. There is no built-in cooling system, but the anodized aluminum housing is good at dissipating heat.
There is a power adjustment option from 90 to 270W, making it versatile for growing various types of plants. It also saves you money and extends the life of your product. To make this lamp, the manufacturer used Samsung diodes. So, it's a really high-quality, durable, and useful product, the cost of which, however, significantly exceeds other lighting devices.
---
PROS:
Really powerful;
Simulates daylight;
Long-lasting LEDs;
Suitable for full-cycle growing.
4. Red Blue LED Panel: Diboys Growing Light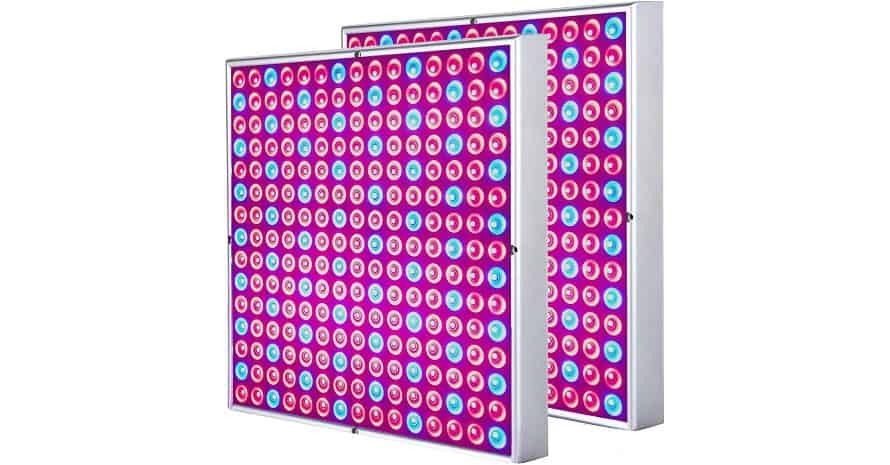 Another suitable color combination for growing plants in blue and red. The first (460-470nm) stimulates leaves and roots grow, and the second (620-630nm) is especially useful during flowering and fruiting. A total of 225 LEDs (60 blue and 165 red) with a power of 75W are installed here. The 3.6 pounds square panel measures 12.2×12.2 inches and is 1.4 inches thick. The set contains two of these lamps and a hanging system for every device.
I especially like that each LED is placed in a small recess. It allows for a more directed beam from every element. Thanks to this panel's reflective surface, the light is focused evenly on cannabis pots, rather than scattering around and losing energy. The body is made of plastic and reinforced with an aluminum sheet on top. This design is called passive-cooled because it dissipates the heat generated by the LEDs quite well and does not require additional cooling (e. g., fans).
Although the manufacturer claims that these lamps can be used at any stage of plant development, I believe that the predominant red color makes them more suitable for adult cannabis (to help it form buds). It is recommended to install the lighting 24 inches above the flower pots. Unfortunately, it is impossible to reduce or increase the length of cables on which the device hangs.
---
PROS:
Ideal for the flowering and fruiting stage;
Two panels in the set;
Reflective design.
CONS:
You can't adjust the cables.
5. Blue Spectrum Light Bulb: HIGROW LED Bulb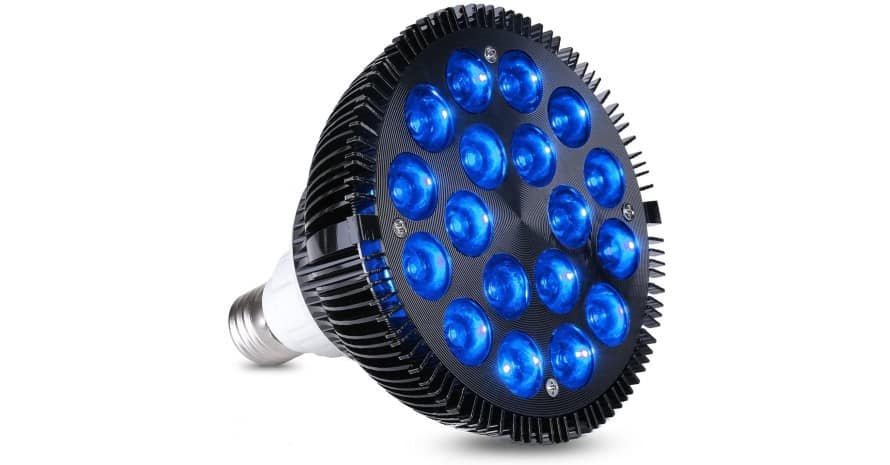 If you are looking for a compact spotlight, the product from HIGROW is perfect for that. It is very small (4.8×4.7 inches) and has 18 blue LEDs (450-460nm) with a rated power of 36W. An optical lens is installed here to enhance the light flux. Plus, this bulb is incredibly easy to install as it fits any standard socket (E26/E27).
There is a huge plus in such compactness. You can quickly move the device to any place convenient for you and install it at any height. As the cannabis grows, you can add other colors of lamps side by side, such as red or white. Although the manufacturer had indicated that the maximum power is 36W, in practice, it turned out to be lower, about 20W. So to grow a large number of plants, you will need to purchase several of these lamps.
I would also like to point out the lack of a fan as a cooling element. There is a heat sink at the back of this lamp, but the case still gets a little warm. In my opinion, this product is suitable for spotlighting small flowers since its coverage area is not very large.
---
PROS:
Compact;
Fits any standard socket;
Has a built-in lens;
Reasonable price.
Blue LED Grow Light Buyer's Guide and FAQ
Every grower would like to take proper care of their plants and do their best to get an excellent crop. In this section, you will learn why you need blue lighting for that and how to choose the right tool.
Blue light benefits
Each plant species has its own needs for the amount of light, the length of daylight hours, and even its own preferences regarding the light spectrum. For growing cannabis, it is good to use blue light in the vegetative stage. It is because the blue color has a 400-520nm wavelength and is ideal for stimulating plant growth. It improves gas exchange by acting on stomata and promotes photosynthesis. With sufficient blue light, cannabis seedlings do not tend upward, growing a long and thin trunk, but actively gain green mass and develop an extensive root system. Further, all of that leads to better results during flowering.
Choosing blue spectrum LED grow lights
There are a few key parameters that you should look out for when choosing your lighting:
LED power. I advise you to look not at the maximum but the real number of watts. The difference can be significant, and you may buy a weaker device than you need.
Brightness. This indicator is measured in lumens. In my opinion, it is not the best criterion for determining the effectiveness of the device since it shows the brightness of the light for the human eye and not for plants.
PAR, which stands for Photosynthetically Active Radiation and is measured in nm. It indicates the spectrum the lighting works in.
Heat sink. You should examine carefully how well a particular device removes heat. Often, radiators or fans are installed in powerful lamps for this. Otherwise, there is a chance of burning your plants.
Dimensions. The area of ​​illumination created by the tool depends directly on its size.
When choosing a suitable lighting device, I also recommend calculating the economic feasibility of using it, taking into account other growing plants' costs. If an expensive lamp doesn't pay for itself in the near future, you should consider a cheaper option.
Will blue LED grow plants?
Yes, blue lamps help plants grow faster by stimulating internal processes. If there is enough blue in the vegetative stage, the cannabis will not feel "shaded" and will not stretch too far up.
What does blue LED light do for plants?
As mentioned above, blue light helps plants develop in the initial growth phase. It stimulates more active closing and opening of stomata, thereby accelerating gas exchange and photosynthesis on the whole.
Do red and blue LED grow lights work?
An indicator of the effectiveness of any device is large and juicy buds. Many growers, myself among them, can attest that lighting cannabis with red and blue LEDs gives excellent results. They stimulate the growth of biomass and promote the formation of buds.
What color LED is best for flowering?
During flowering and later during fruiting, it is recommended to use predominantly red lighting. It speeds up bud formation and fruit ripening. Still, you should leave a few blue lamps until the very end of the season.
Blue LED Lights to Get the Most of Your Cannabis
The need to use additional lighting for growing plants, especially in regions with insufficient sunlight, is undeniable. You should take care of your plants from the very beginning of their growth. I hope my blue LED grow light review has convinced you of this and helped you find the right appliance for your needs. After all, it has been scientifically proven that proper lighting can change fruits' taste and aroma, which relates to cannabis as well. So don't neglect using LED lamps.
Share your growing experience with other readers! What kind of lamps do you prefer? What colors do you use?