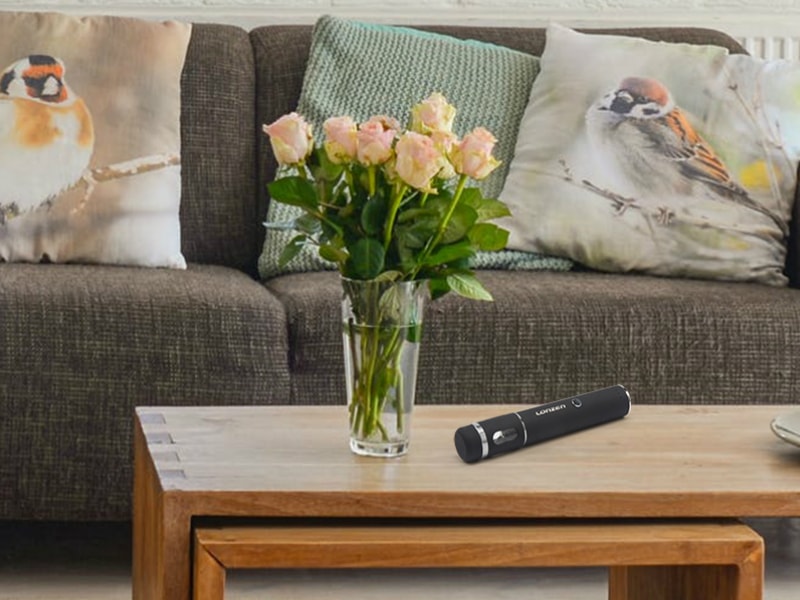 Find the Best Electric Weed Grinder for Your Needs: Eight Products to Consider
The time when people had to crush or cut their weed by hand is long gone. Not only is the manual approach tiresome and time-consuming; it also gives you subpar results in terms of texture and uniformity.
That's why grinders, originally designed for kitchen needs such as turning spices into powder, are becoming increasingly popular with cannabis users. The electric variety of the device is beneficial for people who experience health issues such as hand tremors or pain caused by arthritis, carpal tunnel syndrome, and other conditions.
Pros
One-handed operation possible.
Extremely powerful motor.
Best Choice
Pros
One-handed operation possible.
Pros
Extremely powerful motor.
There are many aspects to consider while looking for a smartweed grinder, from material to size. It depends entirely on your needs as a marijuana user what features the best electric weed grinder should have since different formulations need different kinds of powder and homogeneity requirements can vary.
Prices for automatic grinders differ significantly as well, ranging from about 10–15$ dollars to hundreds. What most smokers are looking for is a fair quality-price ratio, so be sure to check my electric weed grinder reviews before you go shopping for your first grinder or looking for an upgrade as the case may be. Here are eight products that stand out in their respective price groups.
Top 8 Electric Weed Grinders – Reviews
1. LONZEN 2018 Rechargeable Electric Dry Herb Grinder: An Extra Safe Electric Marijuana Grinder for One-Handed Operation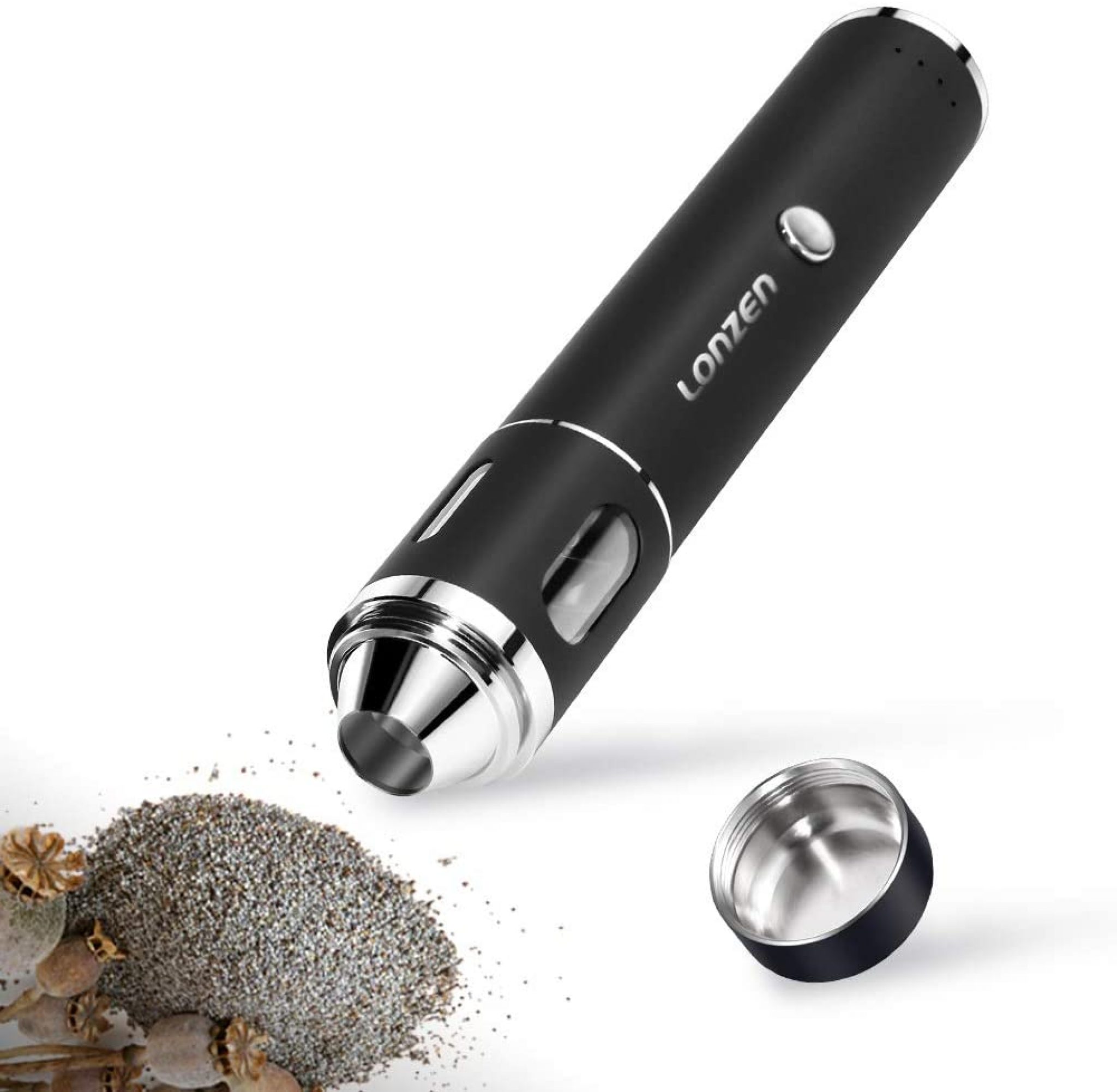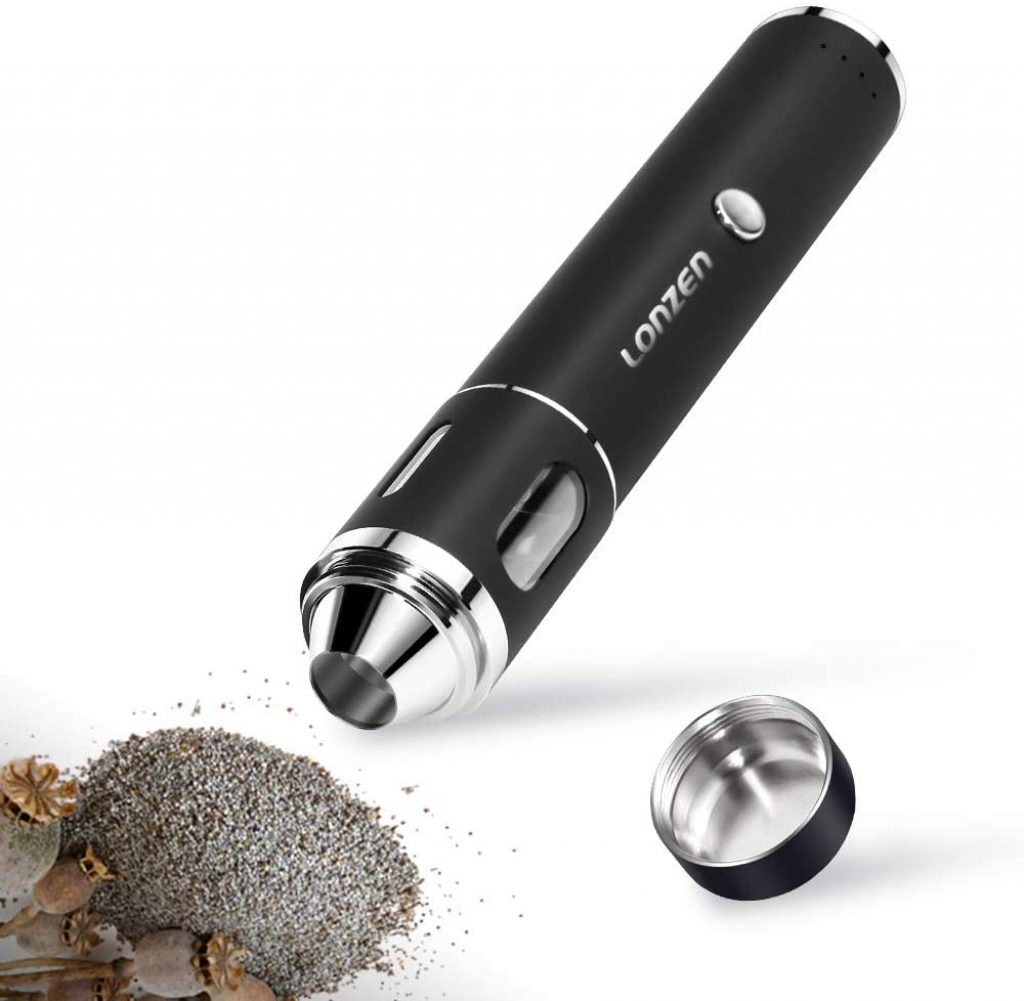 This Lonzen weed grinder stands out due to a number of features, in particular a safety mechanism that prevents the motor from being activated with the blades exposed. It should be noted that the blades are made of durable stainless steel and do a great job of preparing highly consistent powder.
The device comes with a glass window for additional consistency control so that you know when to stop grinding. Although really useful, the feature makes this otherwise sturdy tool more vulnerable as the glass might break if you drop it.
The first thing you notice about this grinder, however, is its stylish design. This USB-powered model looks very much like a sleek, compact torch, which makes it a perfect gift for someone who loves pot. One-handed operation is possiblу up to the milling stage while dispensing will require you to use both hands. Luckily, Lonzen also enables you to store the load after grinding if you don't want to dispense it immediately.
A cleaning tool is included with this product, which is essentially a mini brush that works just fine with this blade design. A USB cable is also provided for charging. The manufacturer offers a 2-year warranty in case something goes wrong, or you can get your money back after up to 30 days. The tool will grind you a maximum of 2 g weed at a time.

---
PROS:
Fairly affordable;
Features a glass window for consistency control;
Copes with a load of up to 2 g;
Nice and safe design;
One-handed operation.
CONS:
Easy-to-break glass window.
---
2. Mamba Battery Powered Premium Electric Herb Grinder: Affordable Motorized Weed Grinder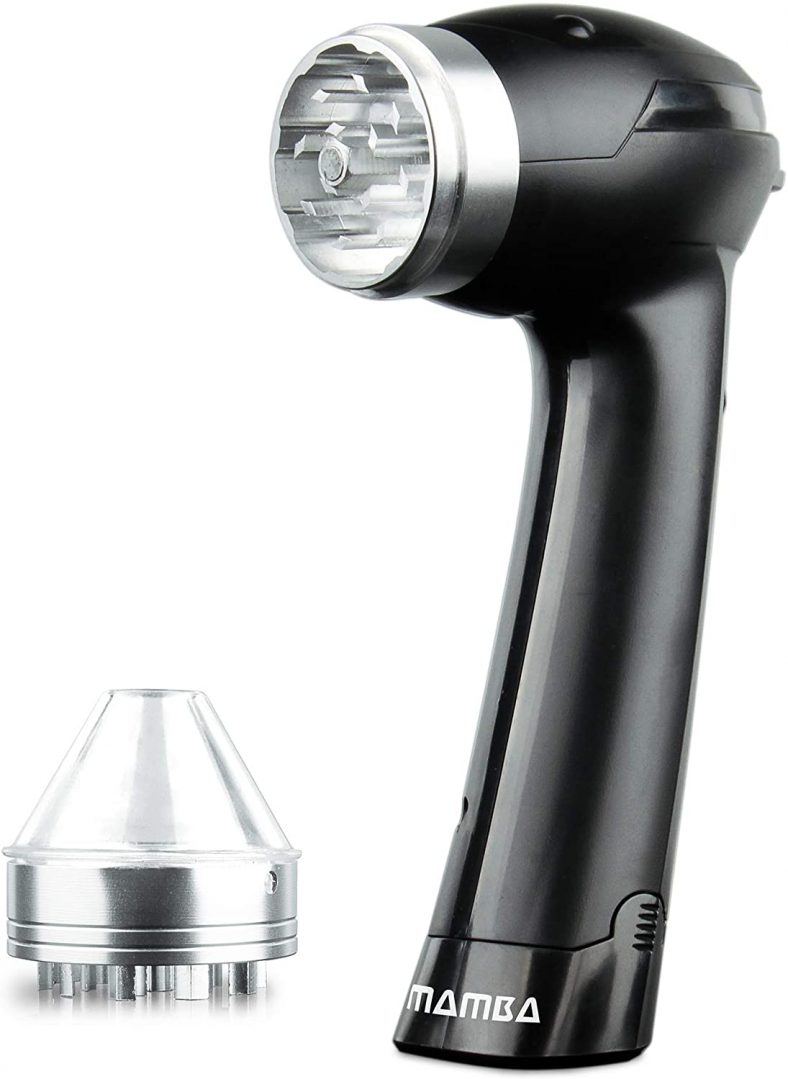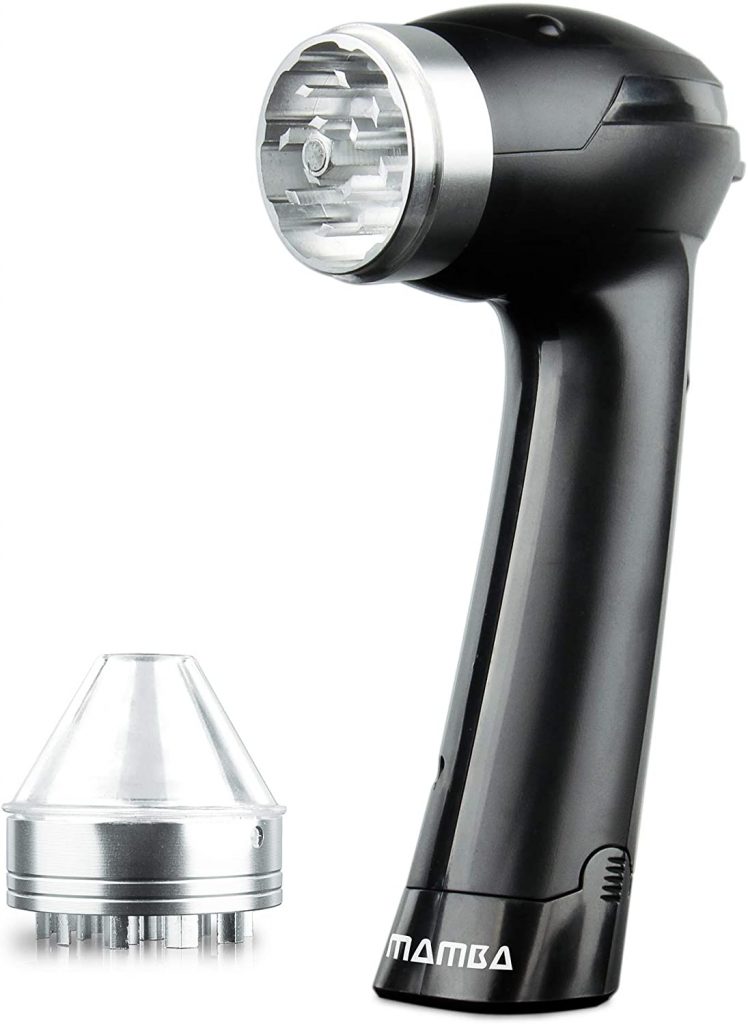 This very inexpensive model has enjoyed some raving reviews on Amazon, and I should say it does deserve to be a hit. It is a relatively small battery-powered device that was designed with single-handed operation in mind – a welcome feature for people with sprained wrists or conditions such as repetitive strain injury and fibromyalgia that cause muscle pain.
The device will readily process up to 0.5 grams of weed at a time. The grinding teeth are designed to deliver a moderately fine grind in a time-efficient manner. One flaw is that a tooth or two can break off after some time in operation, so this is not the most durable model on the market.
The device uses four AA batteries that aren't included in the price. The motor is quite powerful provided that you don't exceed the 0.5 g at a time limit. As a bonus, a set of two cleaning tools are included with the grinder, namely a plastic plectrum-like object and a two-in-one spoon/pokey. The device also features a funnel that enables you to grind weed directly into a bowl. The manufacturer offers 2 years' warranty to cover possible defects.

---
PROS:
Very affordable;
Single-handed operation possible;
Powerful motor;
Care tools included;
Comes with a funnel.
CONS:
Teeth might break off if used often;
Won't provide extra fine powder.
---
3. Wakit – Electric Herb Grinder: A Time-Saving Ball and Chain Electric Pot Grinder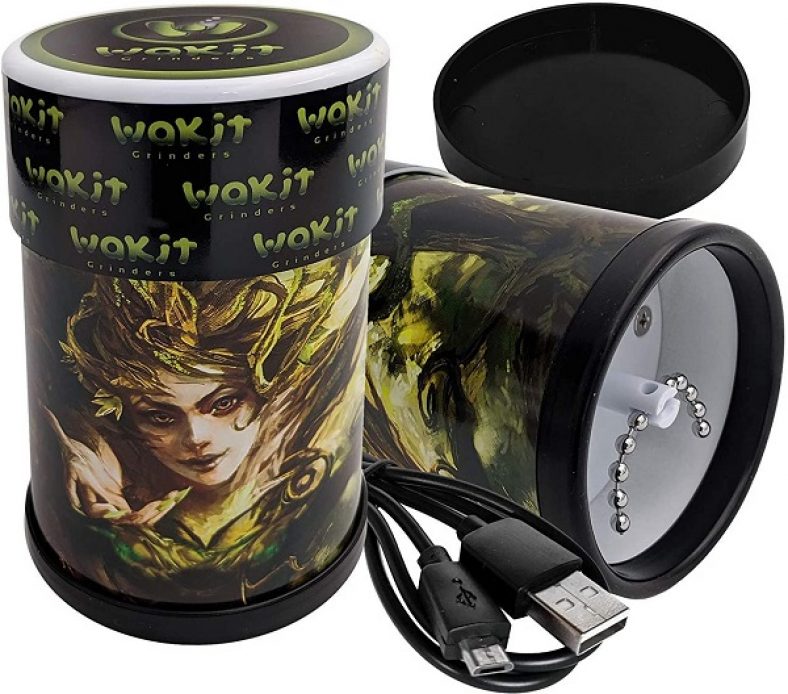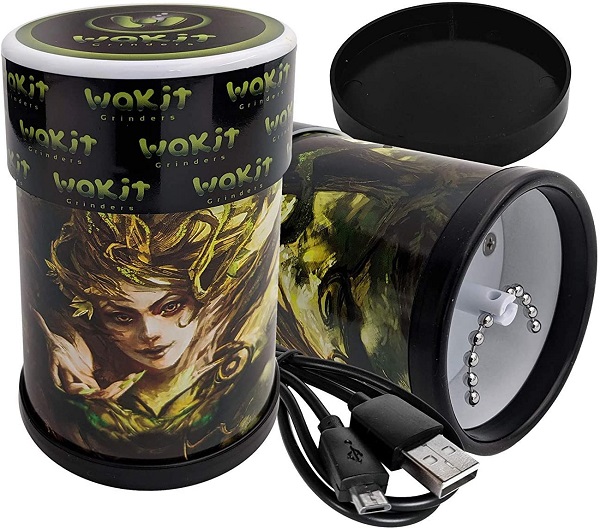 Unlike typical grinders where you load the herbs to grind inside the device, this ball and chain tool is to be placed on top of the weed, laid on a flat level surface (there's a tray included for the purpose). To activate the grinding mechanism, tap the top section of the device. As a rule of thumb, a single tap will give you a coarse texture that might be good for rolls, while finer uses will require several repetitions. The chain rotates around the ball to create a vortex that shaves the herb off its coarse stem, thus preventing the latter from getting into your roll.
The manufacturer recommends using nickel-sized heaps, while bigger loads might activate the safety mechanism that will lock the engine temporarily. One advantage of the unique design is that you can simply line up several small piles and move along the line to grind them all.
The motor is incredibly powerful, so sticky weed is not an issue. The only major drawback is that the operation tends to get somewhat messy (way less that than with manual grinding, though). The device is USB-powered, with a charging cable included.

---
PROS:
Fair price;
Extremely powerful motor;
Effective ball and chain mechanism doesn't involve coarse stems;
Easy to use;
Powered by a USB cable.
---
4. OTTO by Banana Bros: The Most Convenient Electric Pot Grinder Ever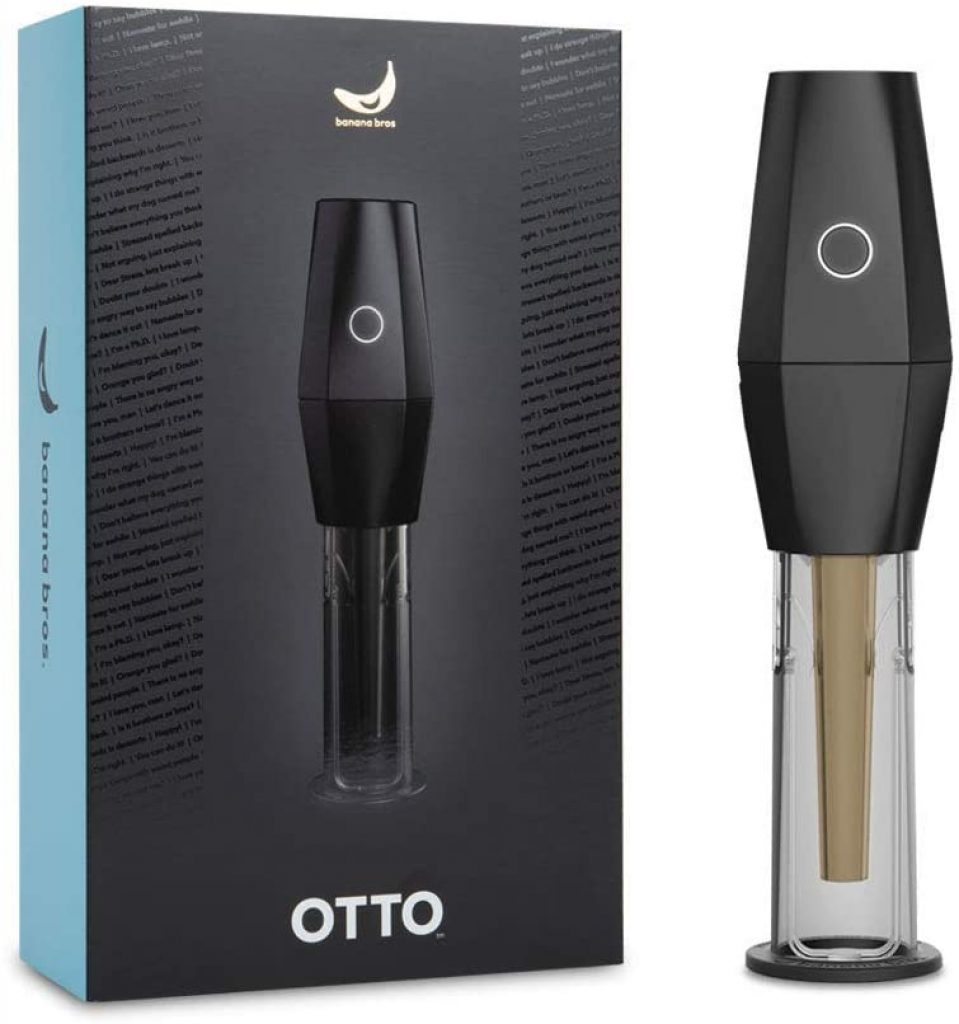 The best thing about this good-looking minimalist weed blender is that it goes beyond simple milling by automatically stuffing the crushed weed into a cone. What you get is a relatively loose joint that provides a decent draw, although some users might like a firmer one. 20 free cone-shaped sachets are included with the device to start with.
The grinder comes with an O-funnel for easy dispensing, a USB charging cable, a measuring cup, a snap cup, and a 4-in-1 cleaning tool. A carry case with a pocket is also included, which might be very convenient if you are a frequent traveler.
This is a truly smart electric herb grinder in that it senses weed resistance to change direction automatically and thus provides a finely chopped, fluffy powder, no matter how sticky the raw material is. However, the perfect load to avoid overstuffing should be about 1-1.2 g, which some users might find somewhat limiting.

---
PROS:
Excellent consistency due to a smart milling system;
Automatic cone filling;
USB-powered with a long-lasting battery;
Powerful motor;
Comes with a cleaning tool and a carry case.
CONS:
Not inexpensive;
Makes somewhat loose cones.
---
5. Cuisinart Spice/Nut Grinder SG10C: The Best Electric 8 inch Herb Grinder for Bigger Loads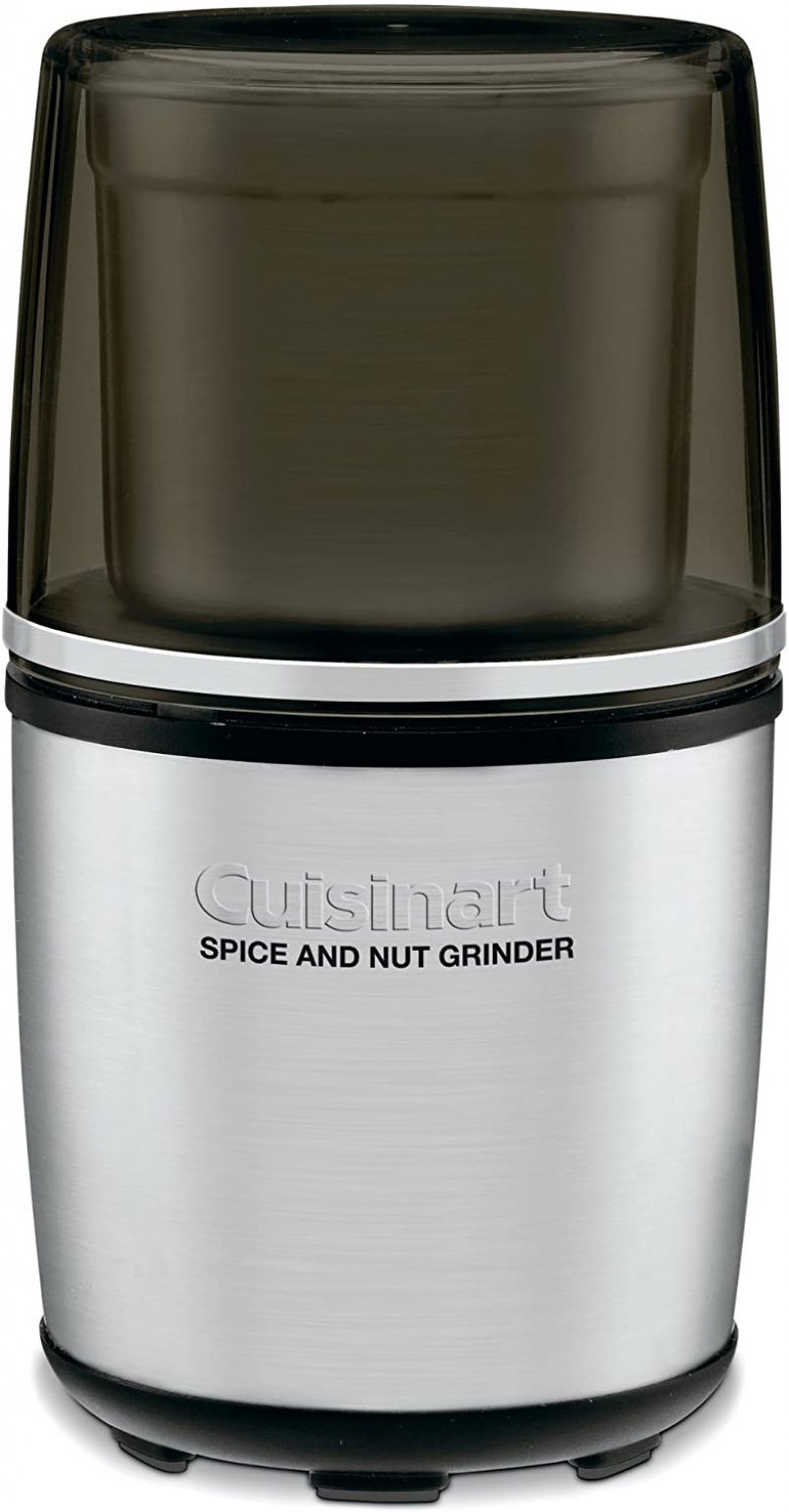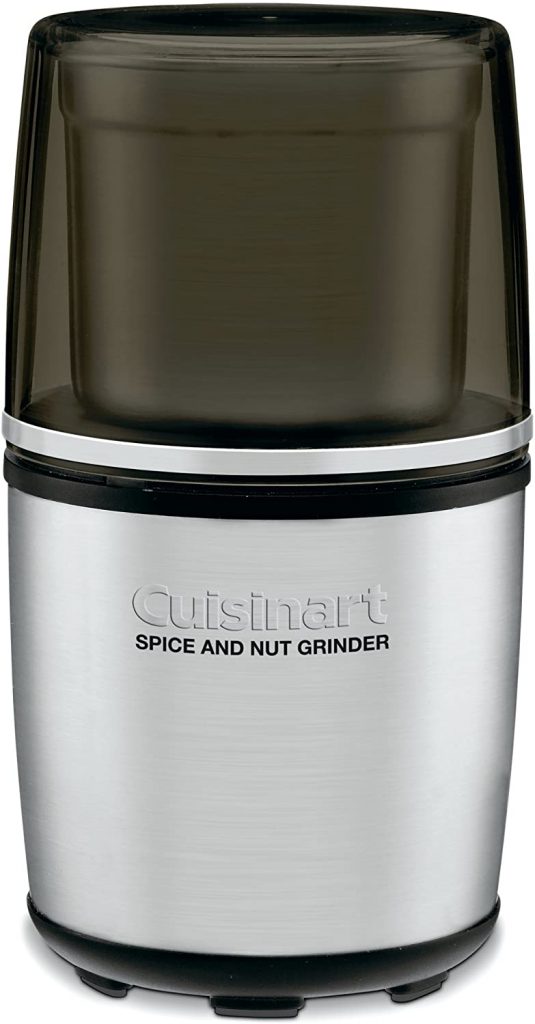 Made by a well-established kitchen utensil manufacturer SG10C boasts a powerful motor and an extra-large bowl that can hold a load of up to 90 grams. You'll surely appreciate this if you like to grind your weed in larger batches and don't waste time replacing the tiny load that most grinders accommodate.
This is a very lightweight model of under 3 pounds that's also less than 8 inch herb grinder, which is not much given the motor's power and how durable the stainless-steel body is. Yet, it's rather far from portable, and it's advisable to hold the device with one hand while pressing the lid to grind your herbs.
SG10C gives you perfectly consistent powder in no time. One downside is that the blade section tends to get loose over time if you use it often, so you may end up with a somewhat messy but still efficient tool. The body itself is easy to clean as you can wash the lid and the cup in a dishwasher, which is a great time saver.

---
PROS:
Durable stainless-steel body;
Dishwasher friendly;
Manages up to 60 g at a time;
Produces highly consistent powder.
CONS:
Not portable;
Possibly messy if the blade connection is loose.
---
6. FREETOPHOME Herb Grinder: A Powerful One-Hand Electric Herb Grinder Pen


In this product, impressive motor power is combined with portability and good looks. Unlike most USB-powered grinders, this one features an additional USB output that can be used for charging your phone or tablet in an emergency situation. However, the manufacturer advises against turning it into regular practice. LED lighting is included to indicate charging status using three different colors.
This pen grinder features durable stainless-steel blades that are normally covered by a plastic cup. While the handle boasts a drop-tested aluminum shell to make sure that the device lasts, the cup seems rather vulnerable.
While the cup measures 1.5 inches in diameter by 1.5 inches in-depth, it's recommended to load it by up to two thirds at a time. Grinding consistency is excellent for a portable pen-like model, though, and single-handed operation is possible until you have to dispense the load.

---
PROS:
Affordable price;
Stylish minimalist design with a drop-tested shell;
Emergency phone charging option;
Very good consistency;
Single-handed operation possible.
---
7. Latent Epicure Battery Operated Salt and Pepper Grinder Set: The Most Innocuous Electric Cannabis Grinder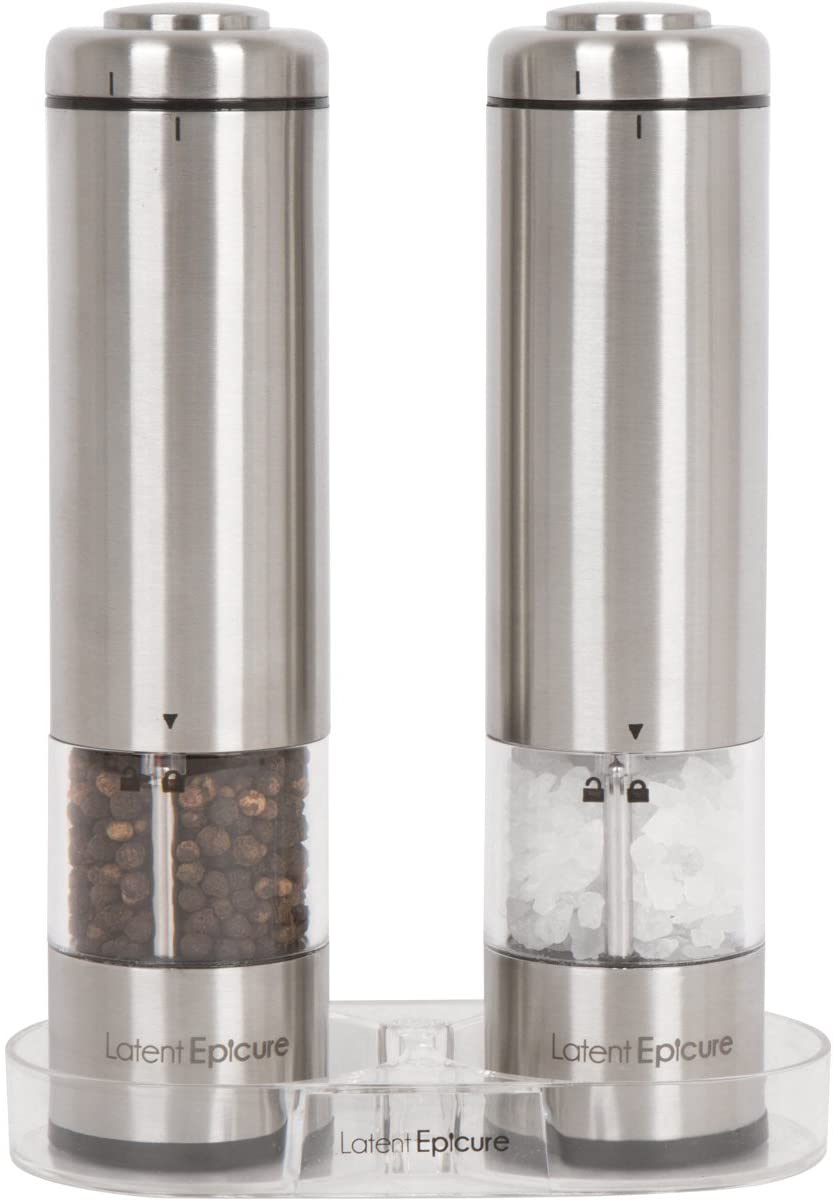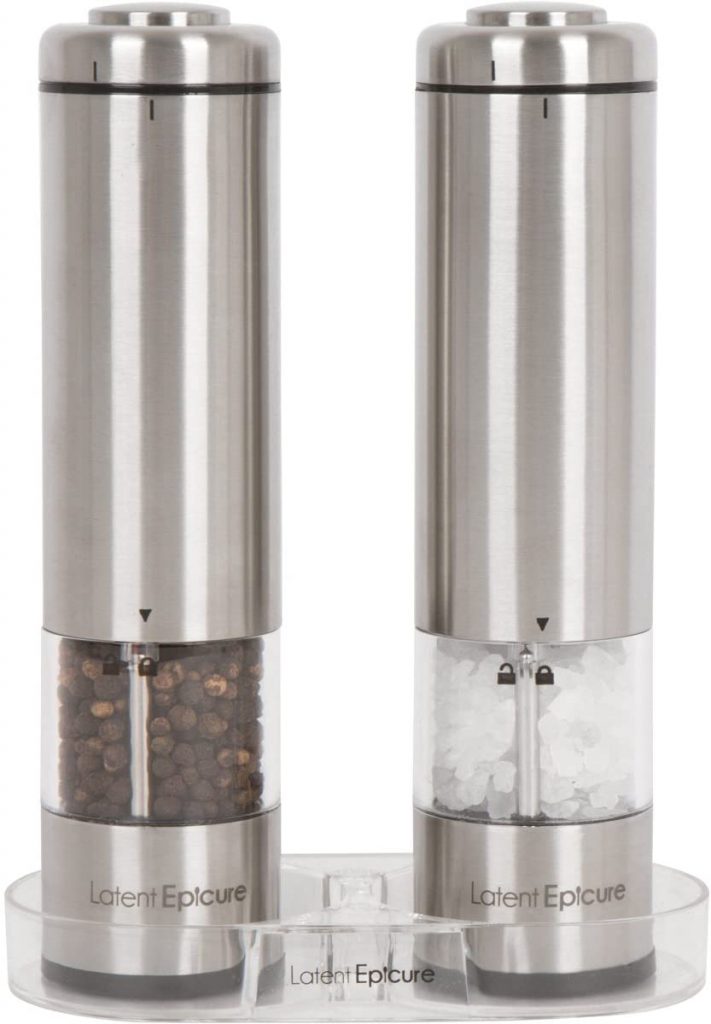 I highly recommend this product if you feel anxious about your friends or family finding anything related to weed among your belongings. The grinder looks exactly like a salt/pepper mill, which it originally is. However, there's nothing to prevent you from using it to make weed rolls or bowls, as it has a powerful enough motor regulated by a grind adjustment knob (coarse or fine).
There's also a light included so that you can see exactly how much you are dispensing. Besides, the product comes with a complimentary tray to collect any surplus powder and keep your place clean. The grinding mechanism is ceramic, which is recommended over metal for humid materials as it lasts longer under relatively damp conditions.
The grinder only needs one press of a button to start milling, so single-handed operation is very convenient with it.
Unfortunately, the 4 AA batteries that you need to power the devices are not included in the set, so you'll have to purchase them separately. It's also a nice touch that the manufacturer offers 12 months warranty in addition to the 30-day money-back period.

---
PROS:
Inexpensive;
Innocuous pepper mill design;
Durable ceramic grinding mechanism that works well for sticky weed;
One-handed operation possible;
A year warranty.
---
8. Kozo Best Herb Grinder: The Best Mini Herb Grinder (Bonus)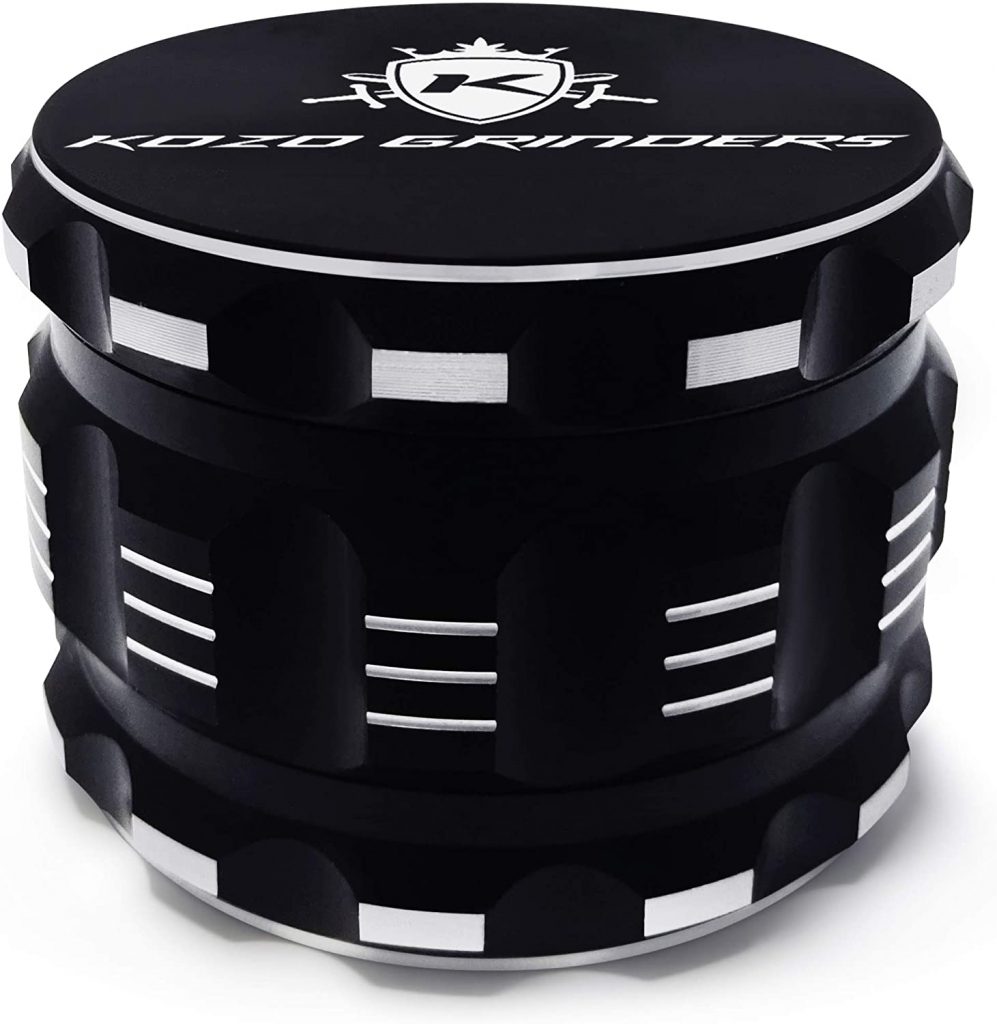 Although not powered by an electric motor, this little grinder saves a lot of time and produces finely crushed weed due to its sharp teeth. Its main benefits are a large cup and consistent, efficient grinding at just several turns of the lid.
This product is based on an older version but features an improved magnetic lid that's extra strong to prevent herb from spilling. A mesh filter is included to only capture very fine powder in the larger capture. Finally, the bottom has a convenient grip to facilitate turning.
A scraper is included as a bonus to help you collect the powder after grinding. The product comes in a variety of colors, including silver and rose gold, which is a plus if you're considering it as a gift for your friend.

No products found.
---
PROS:
Fair price
Easy grinding
Relatively large cup
Fine mesh filter included
Spill-resistant
CONS:
Mechanical grinding (no electrical motor);
Might contain aluminum chips when new, so be sure to wash it!
---
Buyer's Guide
There's a number of parameters to consider when shopping for a quality electric weed grinder, such as grinding mechanism type and material, body material and durability, resistance to spilling, and portability. People suffering from chronic pain and other mobility-limiting conditions might appreciate single-handed operation, which is also convenient if you like to do several things at the same time.
As for body materials, metal is generally the most durable option, while plastic and glass details tend to break easily. When it comes to blades, however, ceramic grinding mechanisms can be superior to stainless steel as they are better at crushing sticky weed.
There are two major groups of electric grinders when it comes to the power source – some are powered by regular AA batteries, while others come with a USB cable. Which option to choose depends mainly on your preferred setting.
Finally, make sure that the cup is large enough for your preferred load, because overstuffing may cause jamming and even motor faults.
How to Use an Electric Weed Grinder
The exact procedure will depend on the model, but your steps are generally as follows:
1. Open the cup/grinding compartment to access the blades or teeth.
2. Place an appropriate load in the grinding mechanism.
3. Close the cup to prevent blade injury (some models won't start with the blades exposed).
4. Press the start button or tap the lid (depending on the design) and hold it for a couple of seconds to get a coarse grind; repeat for finer powder.
5. Dispense or store if storage is provided for.
How to Clean an Electric Weed Grinder
The perfect cleaning tool depends on the toot shape or blade design that the device is using. Some brands include appropriate tools with their products to make the task less of a chore. Alternatively, you can use a Q-tip to collect debris from tight corners, but it might leave wisps of cotton, so soft toothbrushes, and toothpicks are more popular.
As for water, it generally causes rusting in metal grinders, plus it may be unsafe to immerse an electric device. However, isopropyl alcohol works well for metal parts and kills bacteria as a welcome bonus.
The Difference Between Manual and Electric Herb Grinders
Electric grinders feature electric motors that do the grinding at the press of a button without the need to spin the blades by hand. In manual grinders, however, the milling system is typically mechanical, with a set of sharp teeth on a rotating part that you turn by rotating the lid and/or bottom.
That is, the difference is all about convenience. With electric grinders, it takes less time and effort to get finely ground, consistent weed. However, it's not uncommon for marijuana users to appreciate the authentic feel of manual toothed grinders, which is, of course, a matter of taste. The choice of materials is also wider with hand grinders, including wood, while electric machines are typically housed in plastic or metal such as stainless steel or aluminum.
In upscale models such as the OTTO grinder reviewed above, smart features can be used to enhance grinding performance, which is sometimes combined with additional functions. One example is automatic cone filling, meaning you don't have to dispense the weed after grinding. The machine will fill a pre-installed paper cone with the crushed product, producing high-quality rolls free of air pockets and other flaws typical of hand-made ones.
Finally, single-handed operation is possible almost exclusively with electric grinders, since you normally need two hands to hold a manual one while also spinning the toothed section. Not only does it save time by enabling you to multitask; it also makes the job of crushing weed way easier for people with chronic pain and other muscle or joint problems.
FAQ
What is the best electric grinder for weed?
Your choice will depend on several factors, such as how often you're going to use your grinder and how much weed you want to process at a time. Travelers might like portable pen-like varieties or round mini grinders, while bulkier kitchen spice mills can manage bigger batches while also providing excellent consistency. As a premium option, consider investing in cone-filling machines that use freshly ground weed to make rolls.
How to fix an electric weed grinder?
The answer depends largely on the nature of the problem. Jamming can be caused by overstuffing the cup, so one possible solution to take out any excess weed and start anew. Other faults and failures might require qualified help, while problems such as broken teeth and blades mean you'll need a replacement.
How to make an electric weed grinder?
If you don't feel like investing in a ready-made product, you can make your own electric herb grinder using an Altoids tin or a similar container, a compact electric motor, a small plastic container, and a 9V battery. Use the tin to make blades by cutting out a cross and folding the ends, then install it in a plastic cell with the motor assembly underneath.
Takeaways
An electric weed grinder is an easy and efficient way of chopping marijuana leaves into what can be used to make a roll or bowl depending on how coarse the resulting powder is. It saves you the effort of rotating the blades by hand and makes the operation way less messy compared to manual crushing or shredding.
While dedicated weed grinders do exist on the market, you can also accommodate regular kitchen herb crushers and spice mills to the purpose. Designs vary from extremely lightweight and portable pen grinders to heavier blenders of greater capacity and, typically, grinding consistency, so you'll need to find the perfect ratio for your needs.
Have you tried electric grinders yet? If yes, what problems did you encounter? Do you agree that electric grinding is easier than using a manual mill?