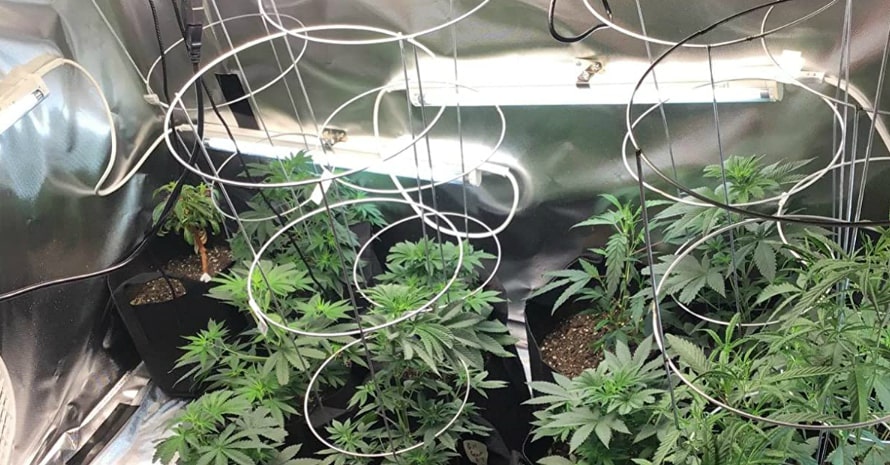 Reflective Material for Grow Room: Choose Your Best Reflectors
We all know that building a grow room comes with a lot of research. There, you have to find not only the exact type of lighting, ventilation, and soil but also the very protection, i.e., canvas. But there isn't just one ultimate type of covers, right?
Normally, the canvas is designed to conserve warmth, reflect the light within a room/tent, and provide controls to enhance the cultivation of marijuana. It can be difficult to find good reflective material for a grow room because the market is full of good-quality options today. Well, let's find the one for you and your cannabis, shall we?
Top 7 Reflective Materials: Pick Your Own Best
To make the right decision, read the following reflective material for grow box reviews, and consider the tables. Let's get it started!
1. Reflectix BP48010 Double Pack Insulation — Premium Reflective Sheets for Grow Rooms
Designed for impressive thermal regulation, the insulation reflects around 97% of the light from external sources. It creates a light-tight cover for marijuana inside the tent/room, preventing the excess of daylight and heat. While similar products tend to trap the heat, this one resists the heat, maintaining coolness and breathability.
The reflector comes in rolls of 10 feet with a thick layer of aluminum. The aluminum is enhanced with a thin plastic layer to provide moisture protection. It's the best reflective material for grow rooms, where daylight and temperatures are excessive.

---
PROS:
Improved thermal regulation;
Sturdy;
Easy to maintain;
Reasonable price.
2. Reflectix BP24010 Series Foil Insulation — Anti-Moisture Grow Tent Material
In case you are worried about the humidity levels inside your room, here is a solution. The material is less thick (24 inches), which increases its condensation regulation properties. It prevents moisture and water from collecting inside the room to help you maintain a decent humidity level.
Besides, the design excludes all the chemicals, which are added to standard house insulation materials. The top layer is composed of highly reflective material based on aluminum created for anti-mold and dampness purposes.

---
PROS:
Non-hazardous;
No heat-trapping;
Ergonomical;
Suitable for in-house insulation.
CONS:
Produces rustling sounds.
3. VIVOSUN 6 Mil Mylar Diamond Film Foil — Durable Highly Reflective Material
Larger rooms require more light-absorption, which some aluminum-based sheets can provide. Denser and non-transparent, the VIVOSUN Diamond Film reflector is made for spacious premises. With it, you can cover up to 100 feet of crevices and cracks, preventing daylight from getting inside.
These reflective Mylar sheets are very plastic and easily seal even the tiniest of wall defects. Polyester combined with pure aluminum ensures up to 97% of light reflection, while the cover itself provides durability and assurance of tears.

---
PROS:
Stretch and rip-free;
Superb heat prevention;
Easy to wash;
Flexible.
4. Hydrofarm ABWP25 Back & White — Two-Sided Grow Room Wall Covering
Marijuana is very susceptible to UV lights, which harm the leaves and damage its photosynthetic capacity. By using ABWP25, you can deflect the lights coming from the outside (the white side) and catch the light inside the room (black side).
This way, your strains are completely secured from any damage and receive enough heat for propagation. 10 inches after unfolding, the tough plastic sheets prevent any light from escaping or getting inside the room.

---
PROS:
Extremely heavy-duty;
Combines a reflector and an absorbent;
Easy to install;
Washable.
5. VIVOSUN Black and White Panda Poly Film — Best Reflective Material for Grow Tent with Length Options
It's another two-sided grow tent material that will be a perfect match for people who are looking for durability. The material is flexible yet highly robust without screeching or synthetic odors. It comes in 25/50/100 feet of overall coverage and can be folden, wrapped, or stretched depending on the dimensions of your room.
The 0.2in thickness is sufficient for blocking all the light radiation while staying breathable to supply weed with fresh air. Since there are no air circulation limitations, the air doesn't get humid but maintains favorable moisture levels.

---
PROS:
Thin and breathable;
Safe and non-toxic;
Highly stretchable;
Comes with a warranty.
6. Energy Products Double Bubble Reflective Foil — Wallet-Friendly Light Reflector Material
If you are in search of more affordable light reflector material options, you can apply this industrial insulation. It's very friendly to duct tape and can be easily readjusted when needed to make improvements to your grow room. It weighs only 2 pounds and has 10ft in length, which suffices for small and medium spaces.
With 3 layers of insulation, the material uses bubbles for better light reflection. Thanks to the polyethylene top layer, the material doesn't overheat and retains coolness for better thermal regulation.

---
PROS:
Very affordable;
Adjustable;
Fireproof;
Fiber-free.
7. Earth Start Reflective Mylar Roll — Highly Reflective Material for Heat Inductivity
It's a fact that the best reflective material for a grow tent or room has to be metalized to be a heat-friendly conductor. The Earth Start reflector has both sides coated in metal to ensure that the heat produced by light radiation doesn't escape from inside the room. Both sides are rotatable and act in the same way as you spread the 25-foot sheet on the walls.
As for durability, the product is puncture-resistant and is unlikely to give tears or rips even after a direct impact. Moreover, it handles light well, reflecting over 95% of light radiation and making your grow room light-tight.

---
PROS:
Two-side reflector;
Superb inductivity;
Sufficient length;
Waterproof.
How to Build a Grow House: Instructions and Tips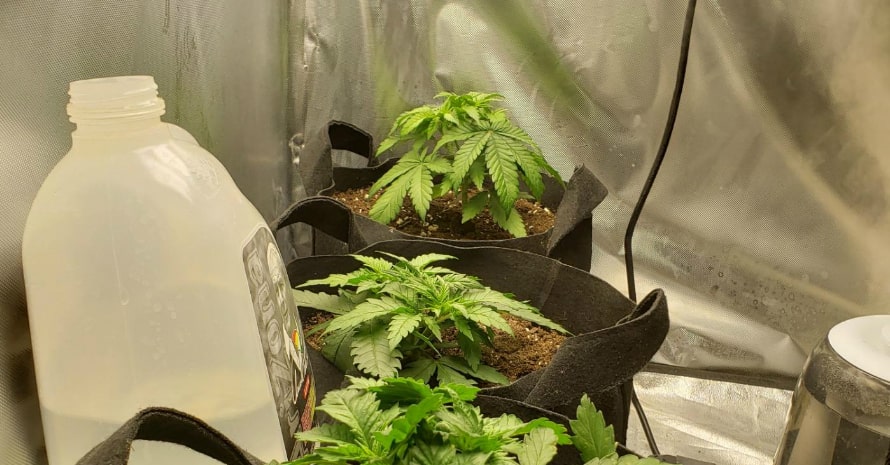 Once you have everything prepared, you know how to grow quality medical marijuana, and you have determined your best reflective material for a grow tent or room, it's time to construct one. Normally, you would use a very simple design, i.e., reflectors, lights, and ventilation. Follow the guide to building a suitable grow place for your marijuana.
Step 1: Clean and clear the room
Beforehand, it's essential to ensure the complete cleanliness of your future grow place. Take out all unnecessary pieces of furniture and objects that can obscure the light impact from lamps. Also, make sure to disinfect the area. You don't want any mold to worsen the quality of the room air.
Step 2: Mend cracks and crevices
Even though reflectors will do most of the work to reflect light, you need to make sure that there will be no entry points from the outside. For this, use a sealant or duct tape to fix holes, door thresholds, and other places where light may gain entry. Besides, get rid of additional light sources inside the room to prevent light and heat abundance.
Step 3: Cover the walls
Use the grow room wall covering you have chosen and place it on the walls. You can use nails or hot glue if you want to make it permanent, or you may as well apply duct tape for temporary fixation. Cover the walls completely and spread the sheets evenly, fixing them firmly at the top and bottom.
Step 4: Set up the lights
Use ceiling fixtures to hang cords or strings so that your lights hang directly under the marijuana pots if you know how to grow plants with grow lights. Mind that your plant is going to get taller at some point, so you will have to elevate the lights now and again. Make a lever to do so and avoid refixing your lights on the ceiling every time.
Step 5: Ensure ventilation
If your room is equipped with in-built vent entries, then you are good to go. If not, you will need to provide sufficient air circulation. Use fans and/or A/C. This will help with both temperature regulation and air supply. Also, you can add electronic humidifiers, which creates relevant humidity conditions in enclosed areas.
What Do You Use to Reflect Light in a Grow Room?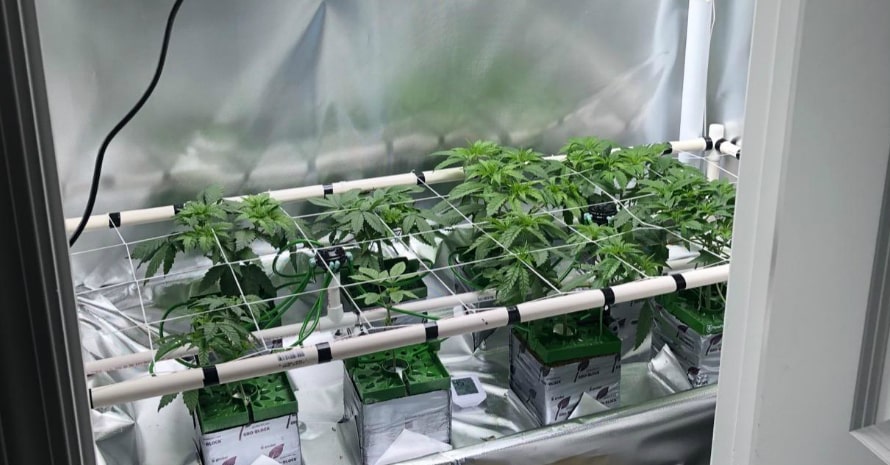 Unfortunately, reflectors are the only means of preventing light from getting inside a grow room. But don't worry, they do it well. Generally, a reflective material uses aluminum to mirror light because of its density and UV radiation prevention properties.
Besides aluminum reflective sheets for grow rooms, some manufacturers use a combination of polyethylene and metal alloys. This approach increases heat inductivity and allows for better warmth conservation. Such products do well in heat-deprived areas, like basements or garages.
On top of this, the choice of lights is also important for efficient light reflection. LEDs and fluorescent lights are best known for their energy sustainability and direct heat impact. This way, a combination of good-quality lights and reflectors make a reliable set of equipment for growing your marijuana.
What Materials Shouldn't You Use?
Despite all the constraints, you wouldn't want to have anything inflammable in a grow room. Because the lights that you use conduct a lot of electricity and, consequently, generate an abundance of heat, there is always a chance of fire. Materials, which include fiber and textiles, are those that you should avoid incorporating in your grow space. Besides, try to avoid any meltable plastic since it may also be a source of fire danger.
What to Look for When Choosing Reflective Material?
First focus on the light reflection properties. Your canvas shouldn't be less than 95% efficient if you want to make a safe space for your marijuana. Second, you need durable sheets, which won't tear or rip easily, to avoid changing them all the time. Finally, a washable canvas is the best as it's easily maintained with some water and soap.
FAQ
Do you still have questions about reflective surfaces? Take a look here!
How reflective is Mylar?
Mylar is considered one of the best reflective materials there are so far. It can deflect up to 99% of daylight or artificial light.
What can I put on my grow room walls?
You need to use highly reflective covers to conserve the light inside. Use sheets based on an aluminum coating or other conductive soft metals.
Why is preparing your grow area important?
There are two reasons why you would want your grow place to be neat. First, it's essential to disinfect the area since there can be spores and mold strains. Second, you want to avoid any inflammable materials, like fabrics, which can easily cause a lot of damage, one impacted by direct heat from the lights.
A Grow Room Is a Space of Growth
Just like a typical plant, marijuana needs specific conditions to grow prolifically. Reflective sheets are of crucial importance, for they provide what the plant lacks — an environment. Pick a mylar-based canvas if your strain requires a lot of light, or choose a simple polyester cover for less demanding sorts.
Anyway, hopefully, you have found what you have come here for. Which material do you prefer: Mylar or Poly Film? What lights do you think go best with the former? Share your opinion below!