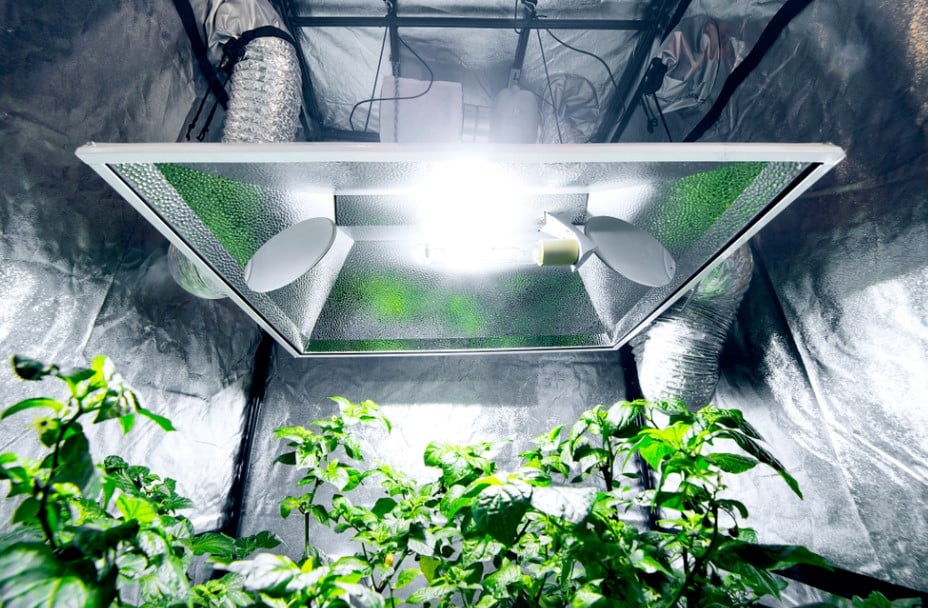 Best 10×10 Grow Tent – Recommendations on Choosing the Right One
Gardening at home is a growing trend that increased the use of grow tents, as users are eager to try the various methods of plant care. Small-scale farming can be done either in one's compound or indoors if you live in a house or have limited space. A grow tent 10×10 is one of the most useful tools that have been designed for helping people grow plants in their houses. However, it can be challenging for farmers to choose the best item for their crops.
There are different requirements for different crops, and you need to choose a tent according to your gardening plans. It is, therefore, crucial for a farmer to be fully aware of the product they want to purchase, as well as the crops they intend to grow when buying a tent.
Before buying such a tool, one also needs to consider how much yield they anticipate to get and the size of the room in which the tent will be placed. A Sun Hut grow tent 10×10 is quite popular among growers and can fit in most places. Such an item doesn't need much space and still can be used to grow many crops at once. However, there are more durable and functional models on the market.
This size of the tent allows achieving and keeping the perfect temperature that will boost the growth of plants and create a balanced environment. In this article, I want to guide you through the best products currently available on the market and the specifics of the use of the grow tents.
Top 4 10×10 Grow Tents to Consider
Below, you can find my preferred options when it comes to grow tents. All these items proved to be durable and helpful for growing different plants.
Ultra Yield Mylar Professional Indoor Tent – A Universal 10×10 Grow Tent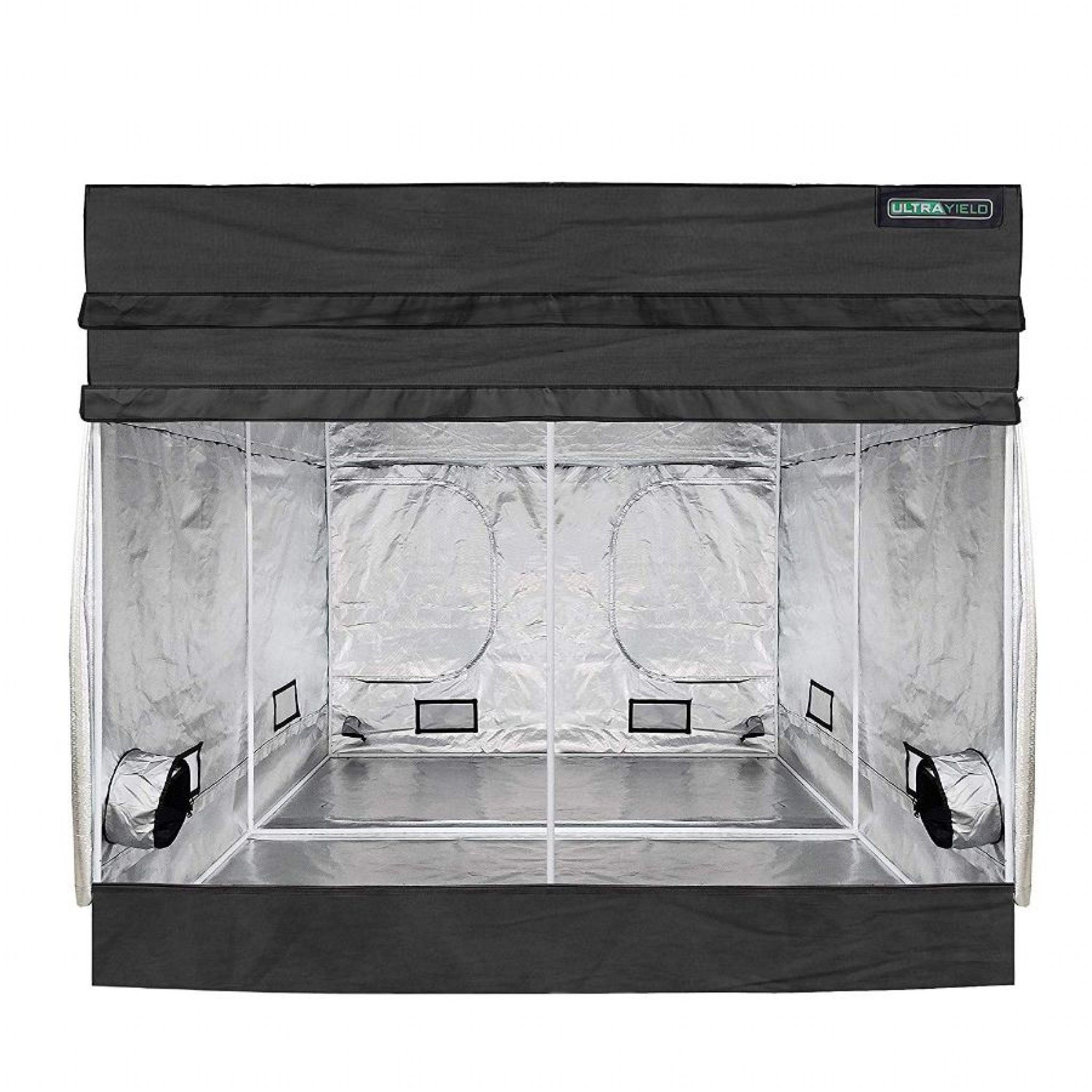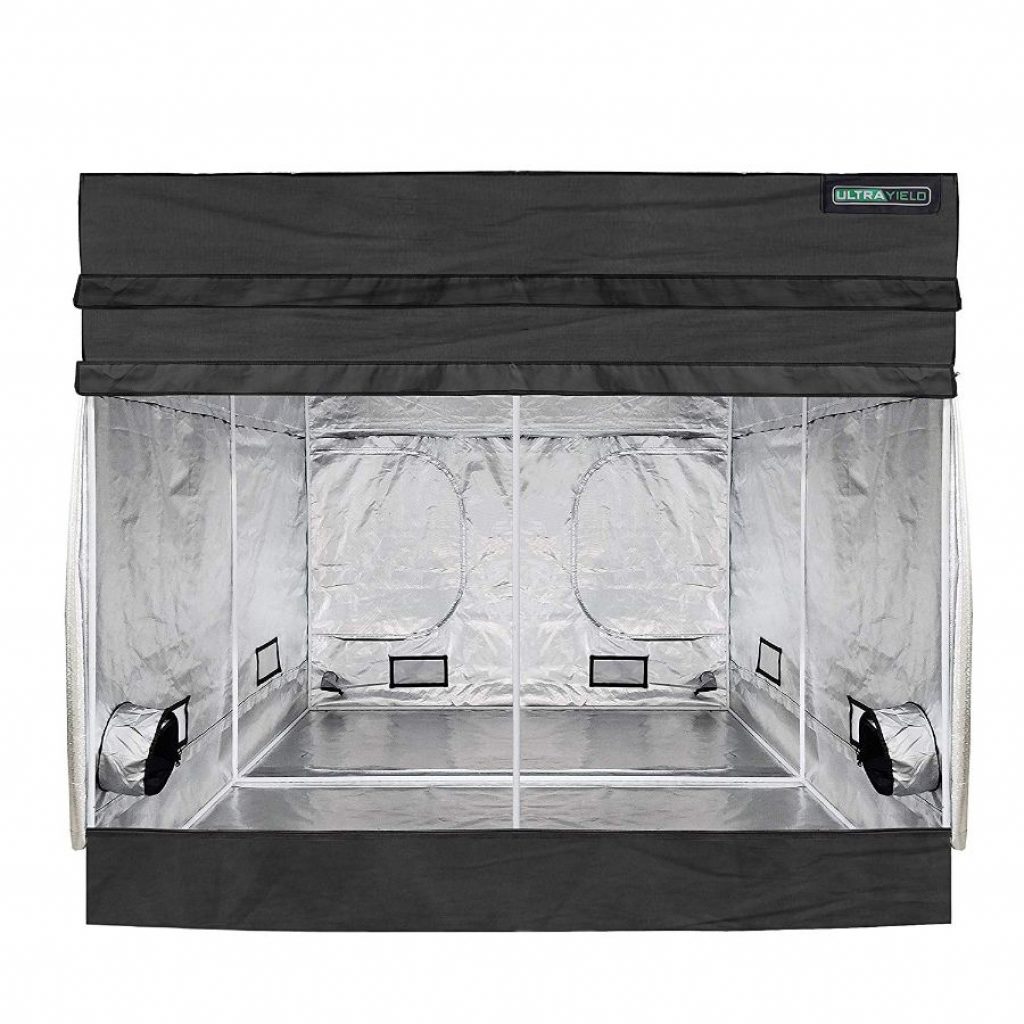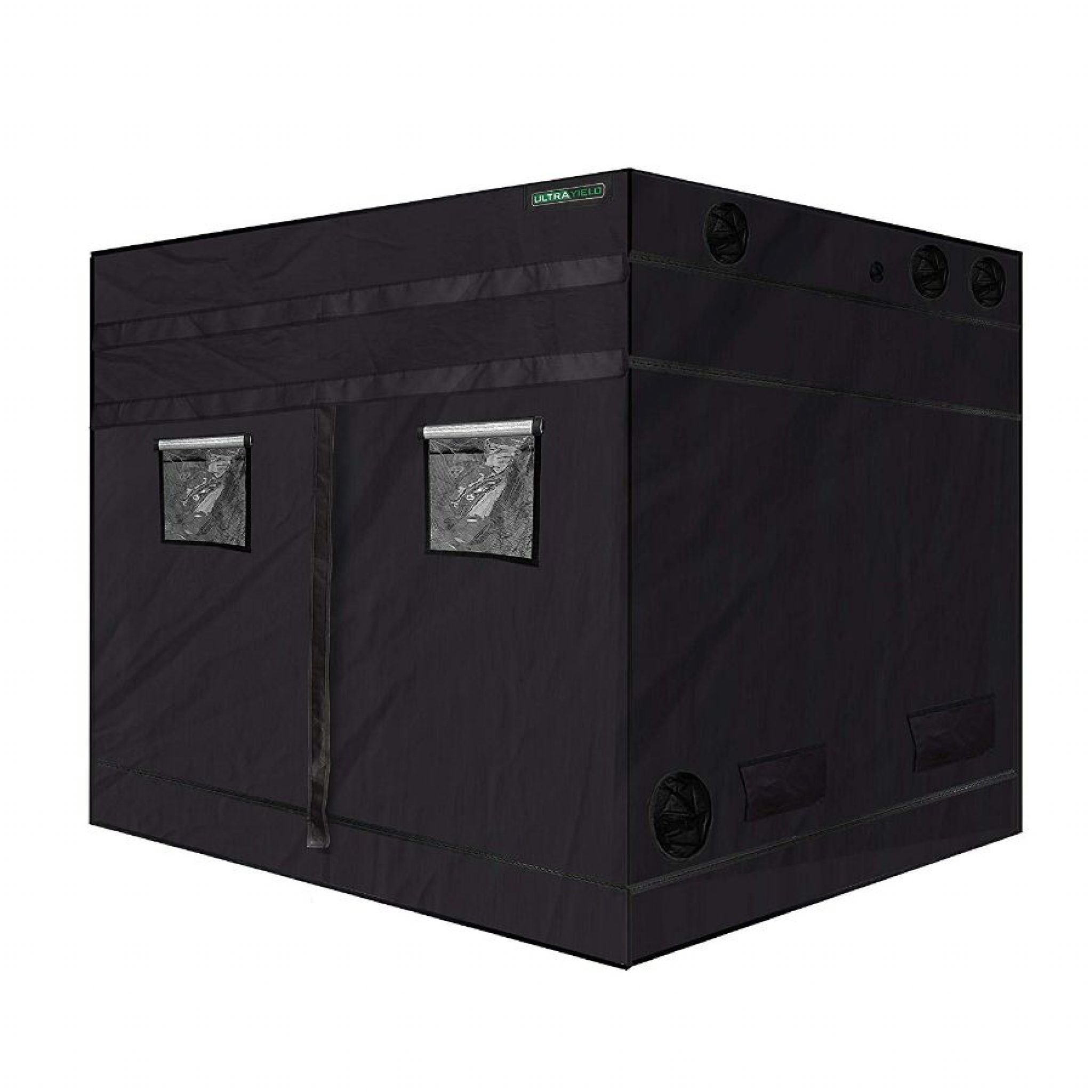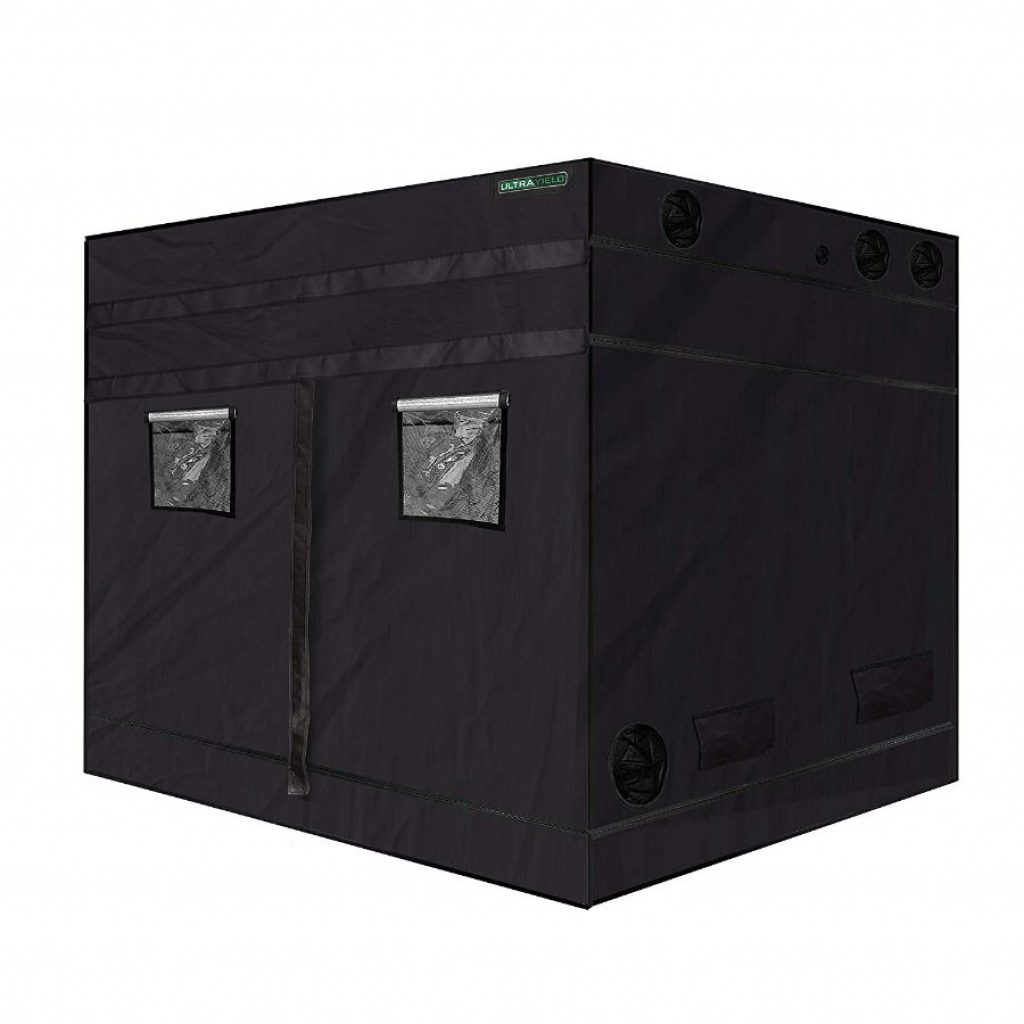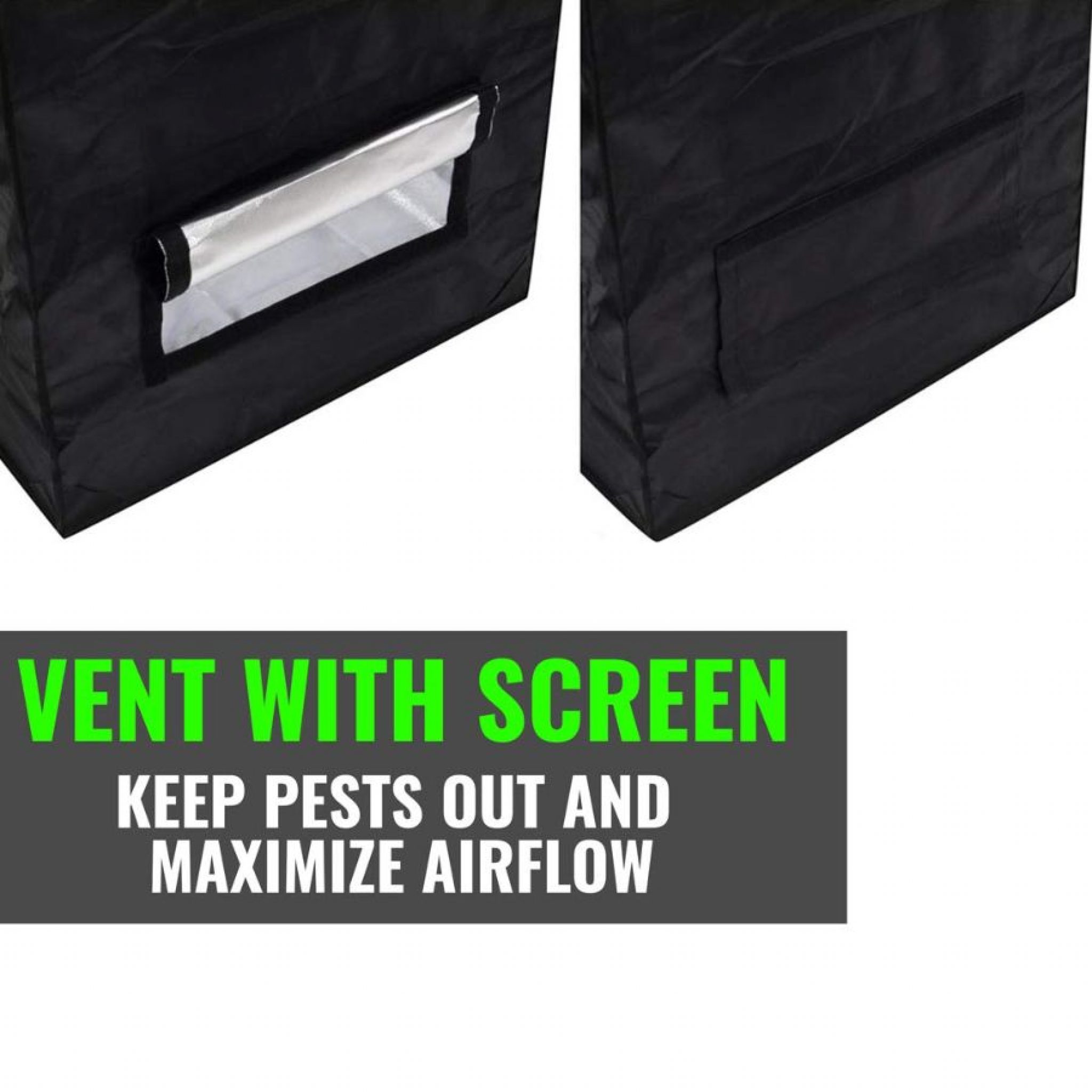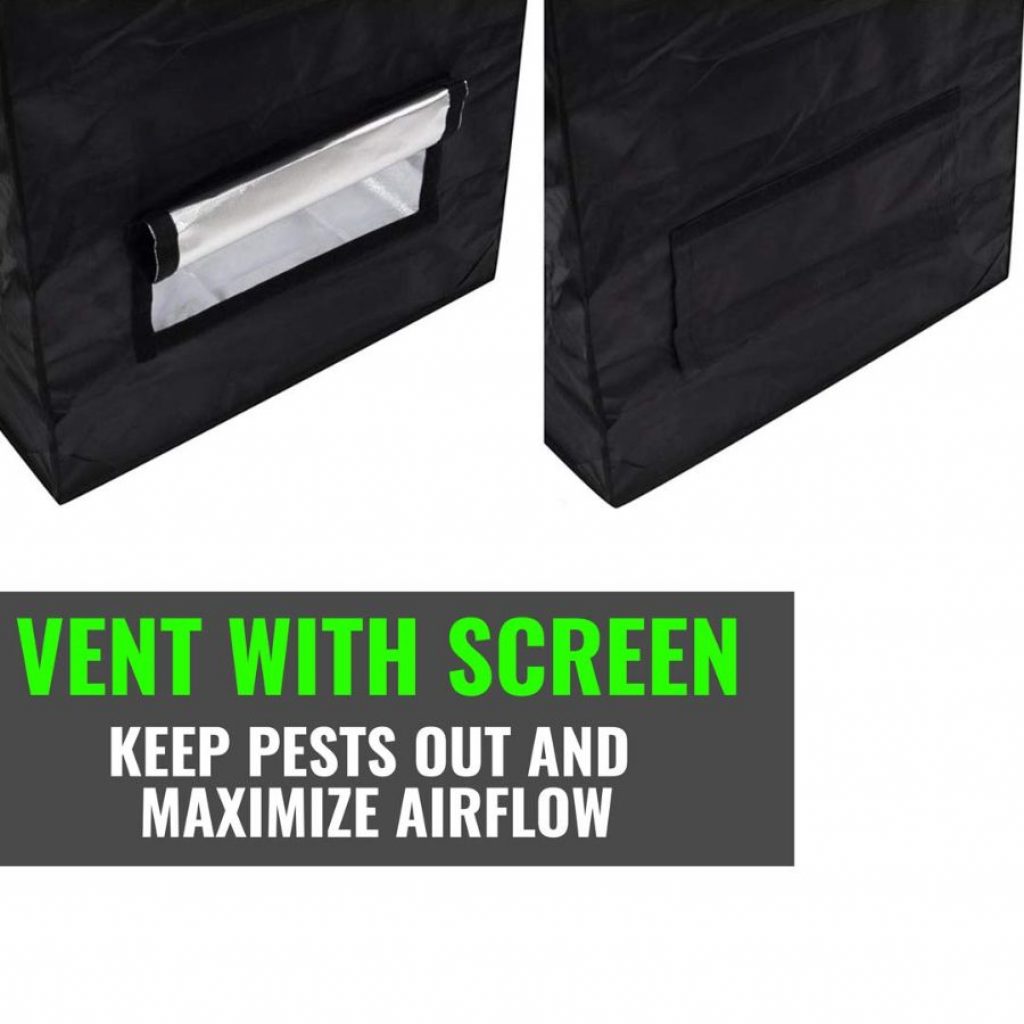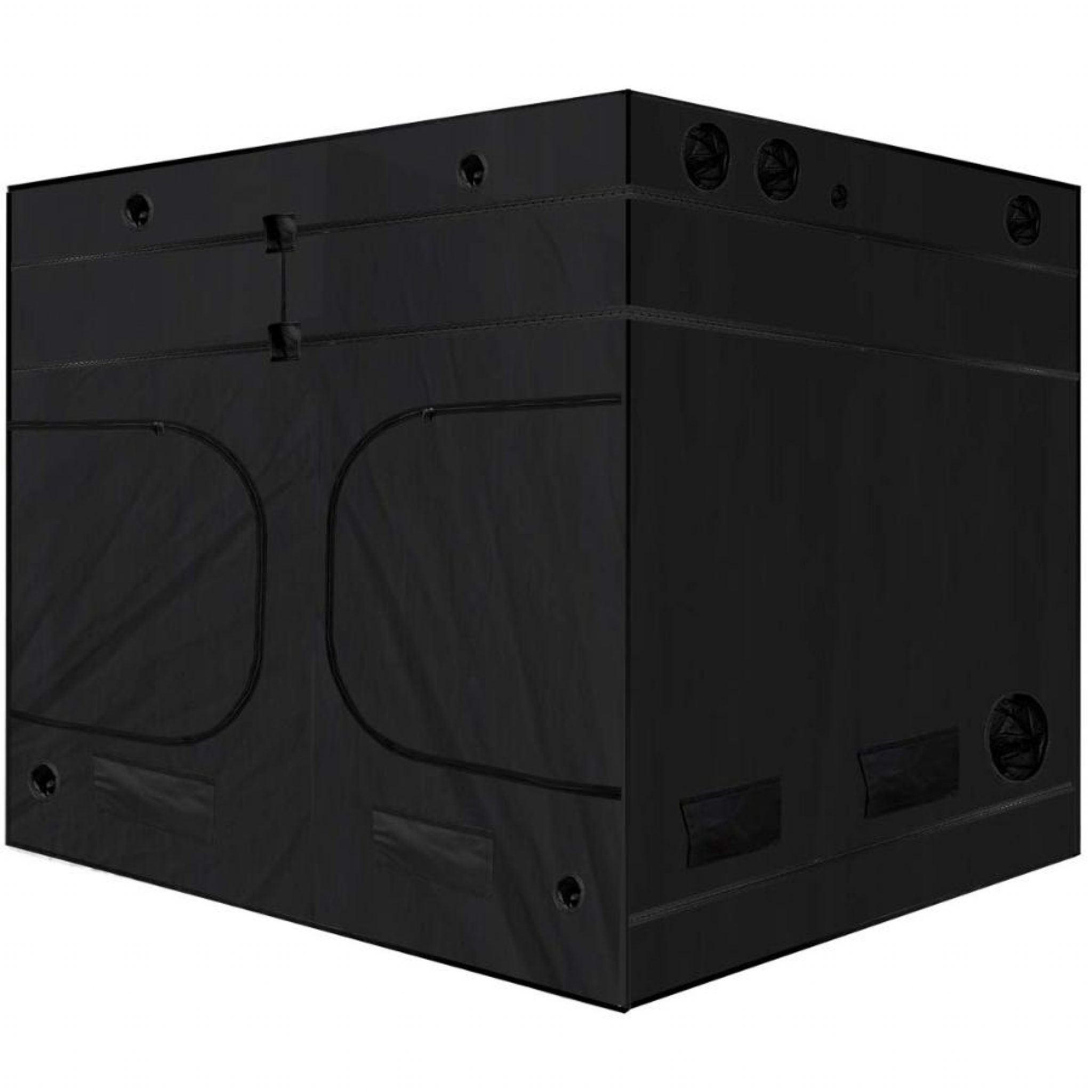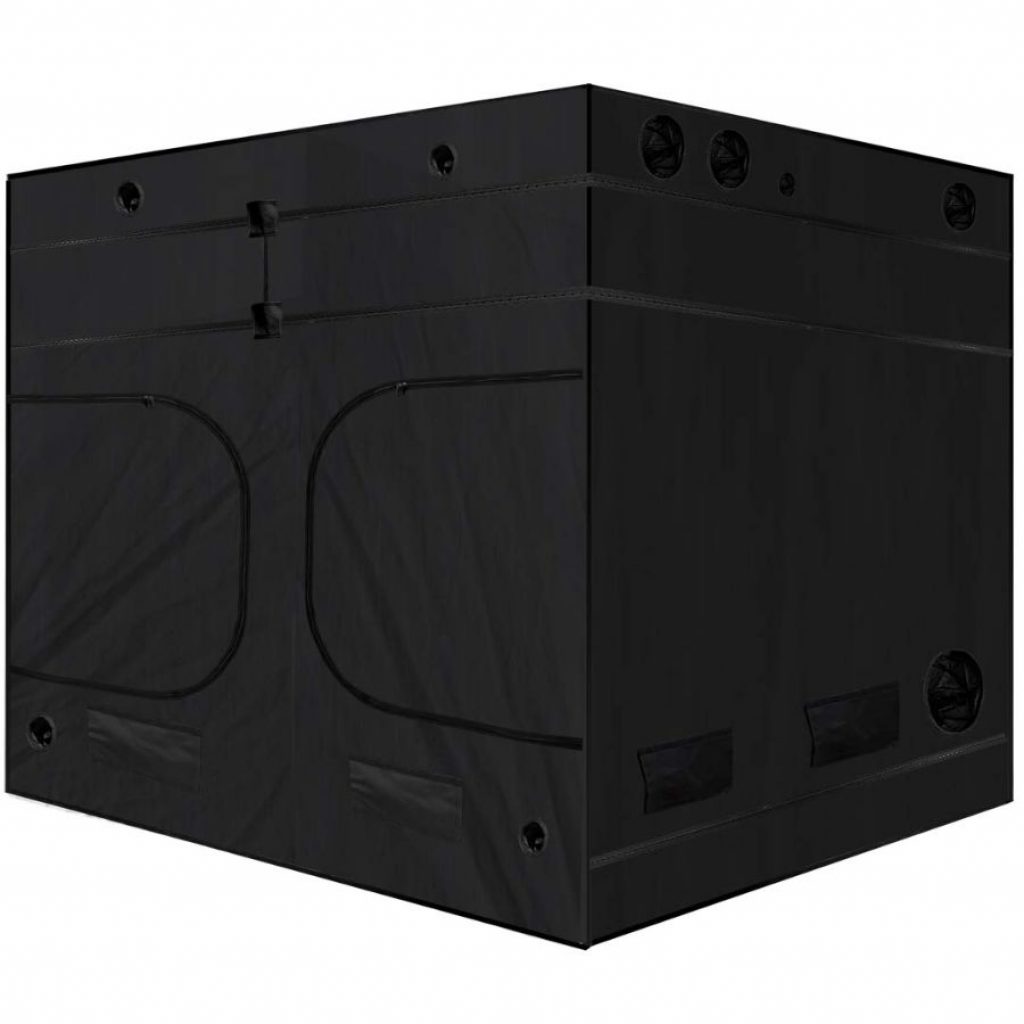 This Ultra Yield mylar professional indoor growing tent is my preferred choice because of the high quality and useful features of this model. It has a superior design that makes the tent extremely durable and functional. This product can be used both by professional gardeners and growing enthusiasts, and if you have never set such a tool up, you won't have difficulties with assembling this one.
The sturdy 1680D material used for this tent is the most durable material known so far. Moreover, the item has a 98% reflective inside surface, meaning all the crops will have enough lighting within the box. Thanks to the sturdy structure and durable zippers, you can rest assured of the longevity of this tent. It can be used for several years without wearing out.
It is easy to hang LED grow lights inside the tent, as it is designed with 22mm push button frames that have edge pieces with smooth metal. This mylar indoor grow tent allows a 12-inch extension in high so that you can grow plant species without worrying if they will overgrow the ceiling. Thus, the height of the tent can be set from 84 to 96 inches. With a unique French door design, the model offers a large and comfortable workspace inside.
The product allows one to monitor the plant growth through a sealed, spacious window. The mylar lining ensures that crops develop within the right temperatures and lighting. The double sealing points of the grow tent 10×10 are made to prevent smell and light leakage from the tent.
This 1680D mylar grow tent is more durable than 600D models because the material used is three times thicker than in standard covers. This model can even be used with carbon filters and fans inside. The tent comes with a detailed installation and maintenance manual that will help you to learn how to set the tool right to expect good yields.
This item can be used as a marijuana grow tent 10×10 because both the light and heat can be controlled, making the climate perfect for growing these crops all year round. The cannabis care requires specific temperatures that can be achieved easily if one uses this 10×10 grow tent.

---
PROS:
it has a full metal frame;
easy to access the crops, thanks to the unique design;
it allows fast installation;
durable and will work for several years.
CONS:
too heavy canvas;
it may be hard to assemble because of the tall metal structures.
IPower Mylar Indoor Tent – A Perfect Grow Tent 10×10 with Light Control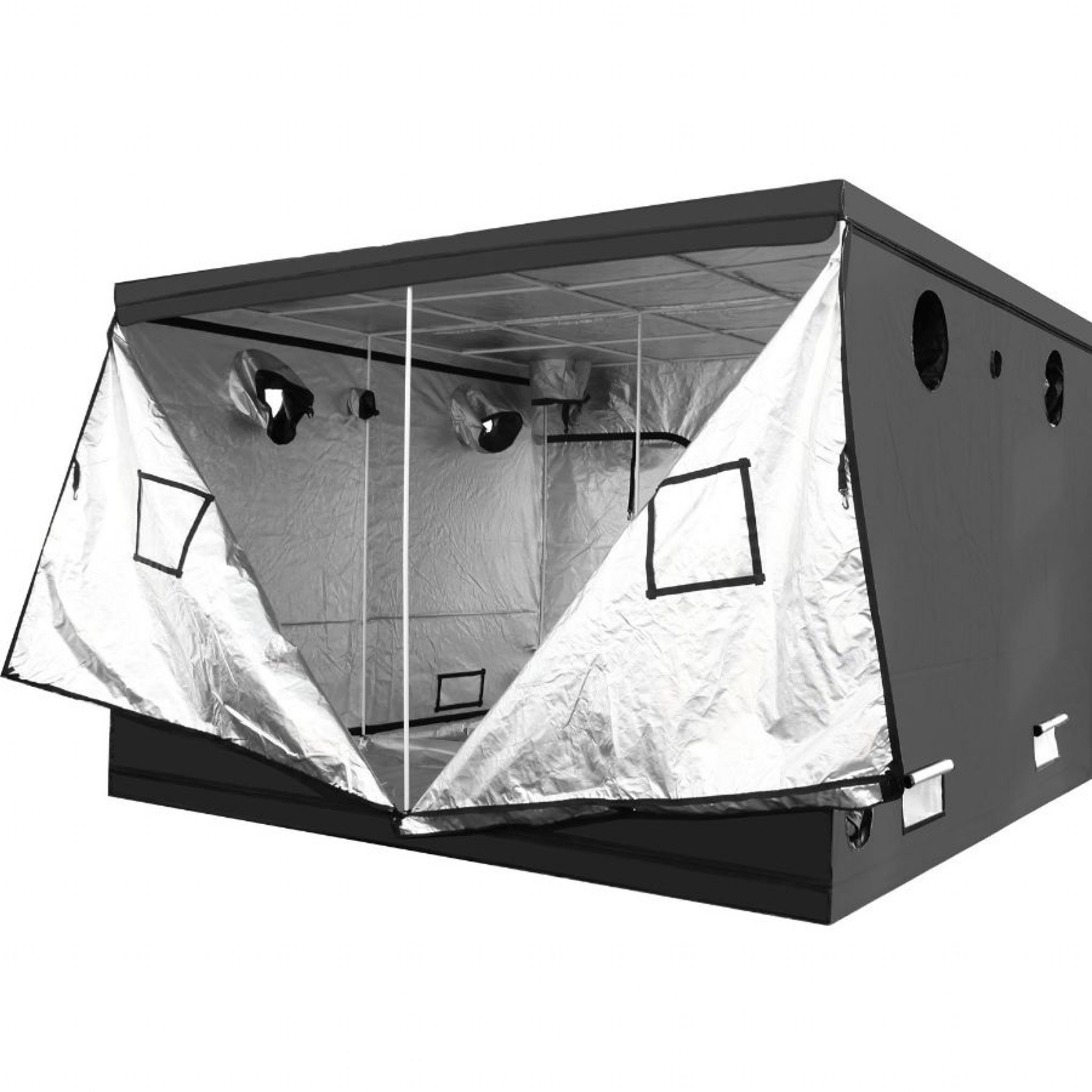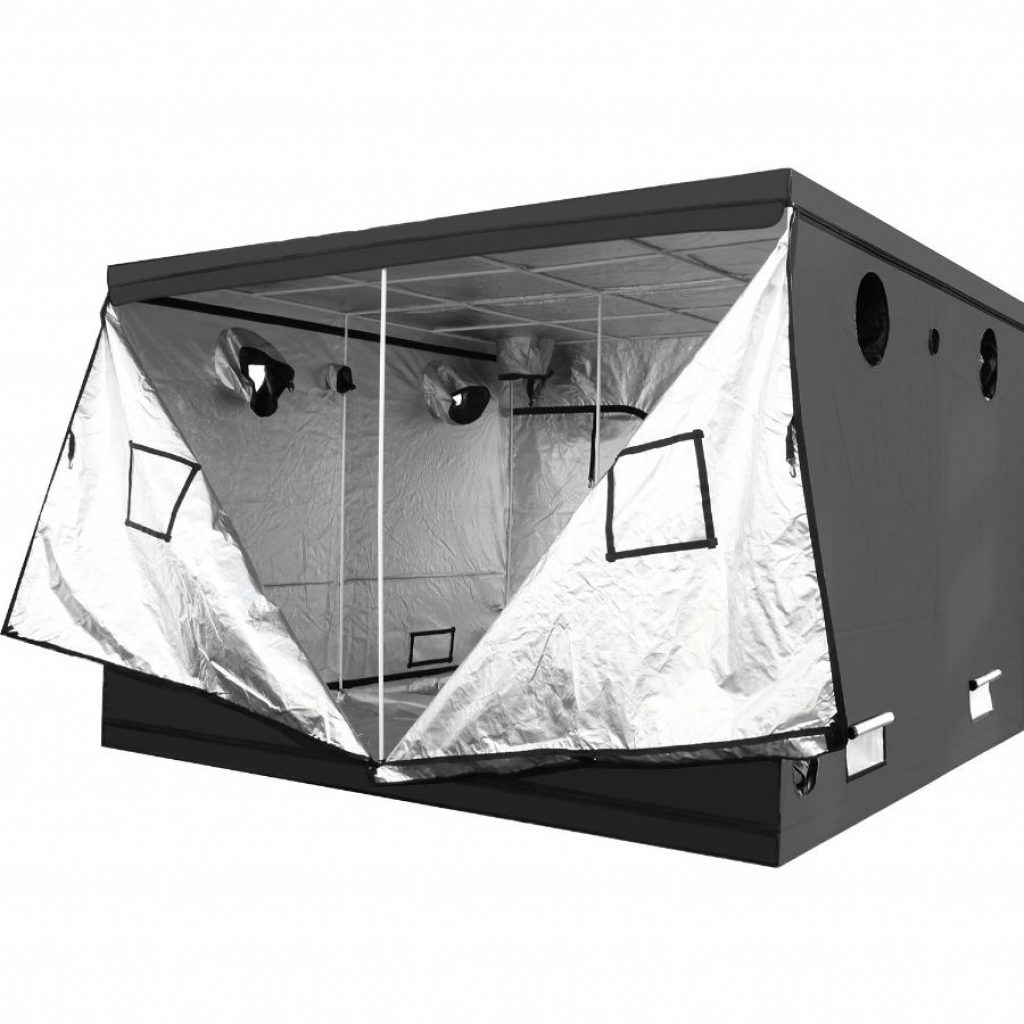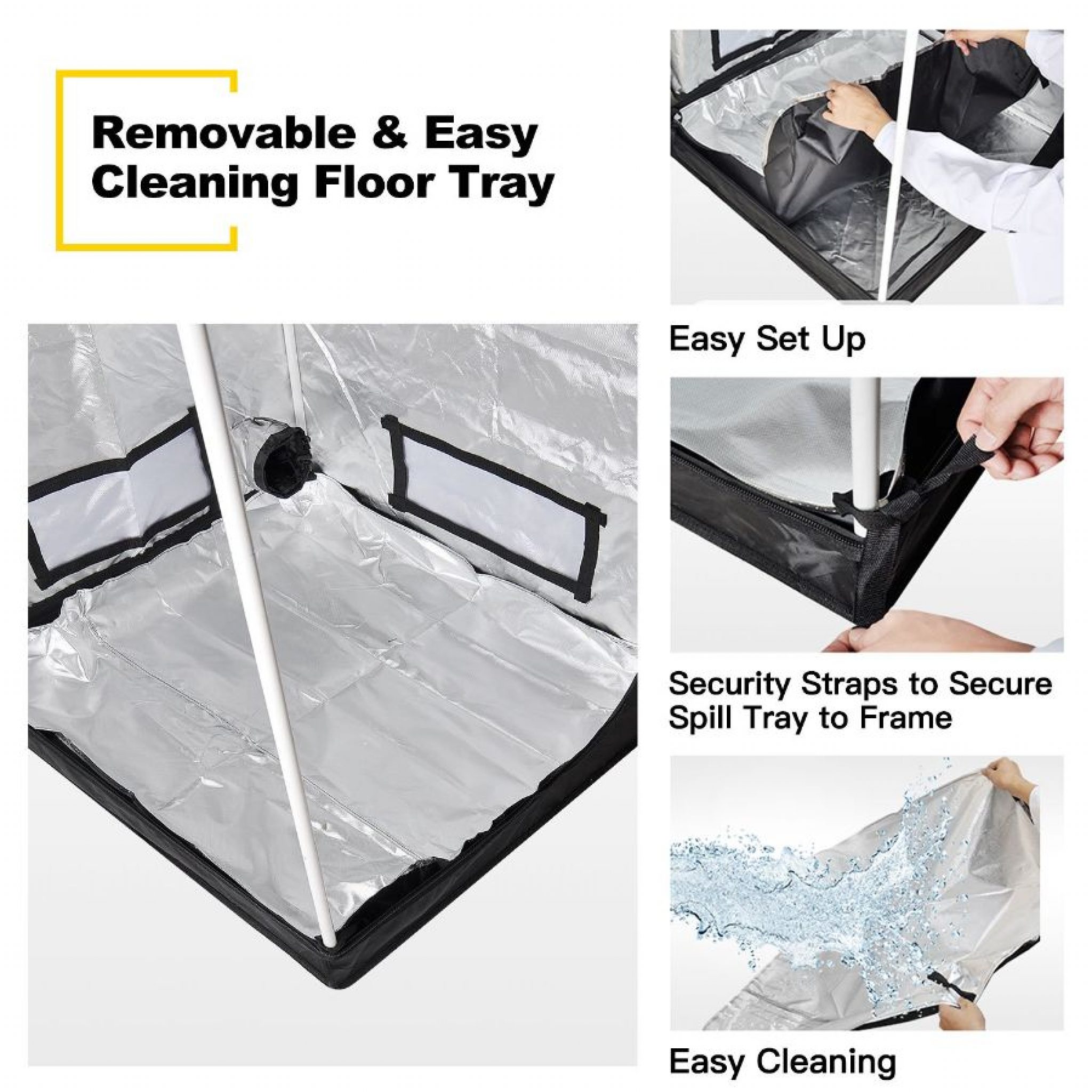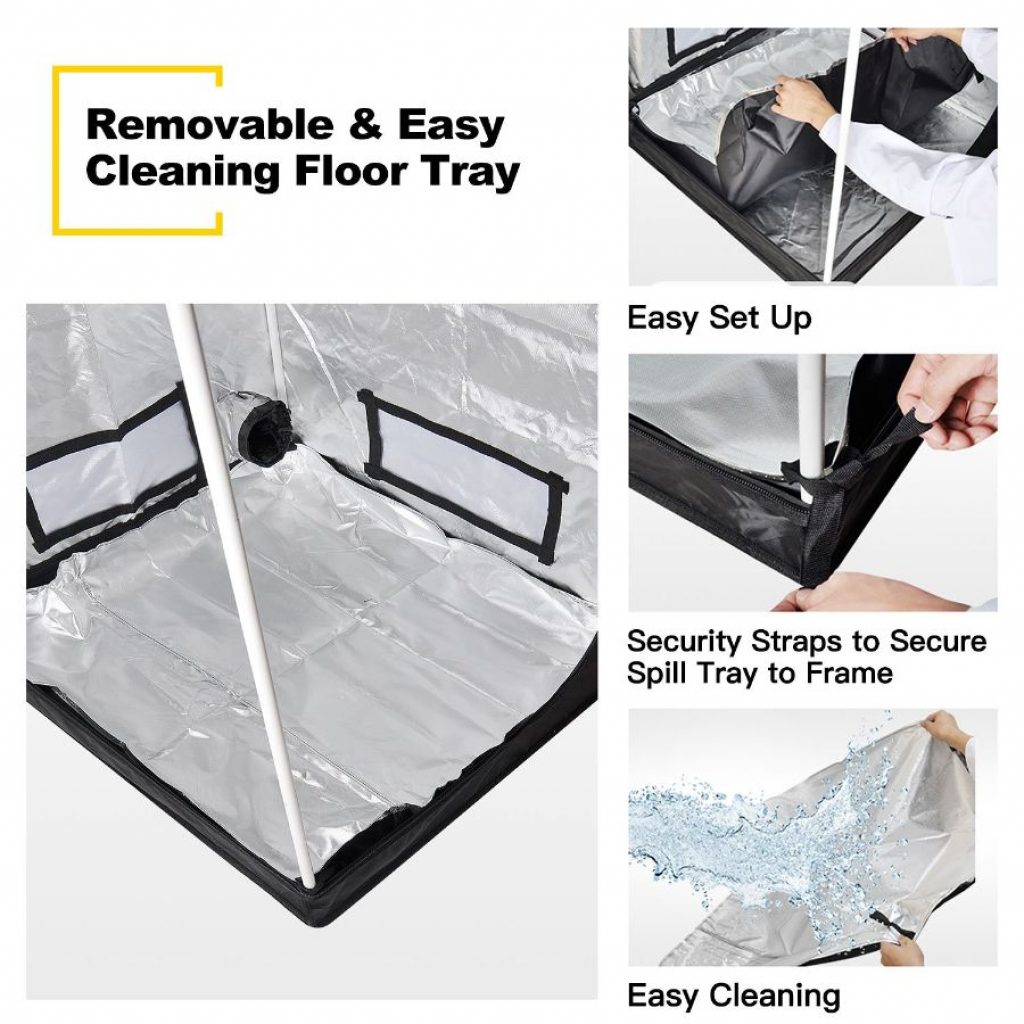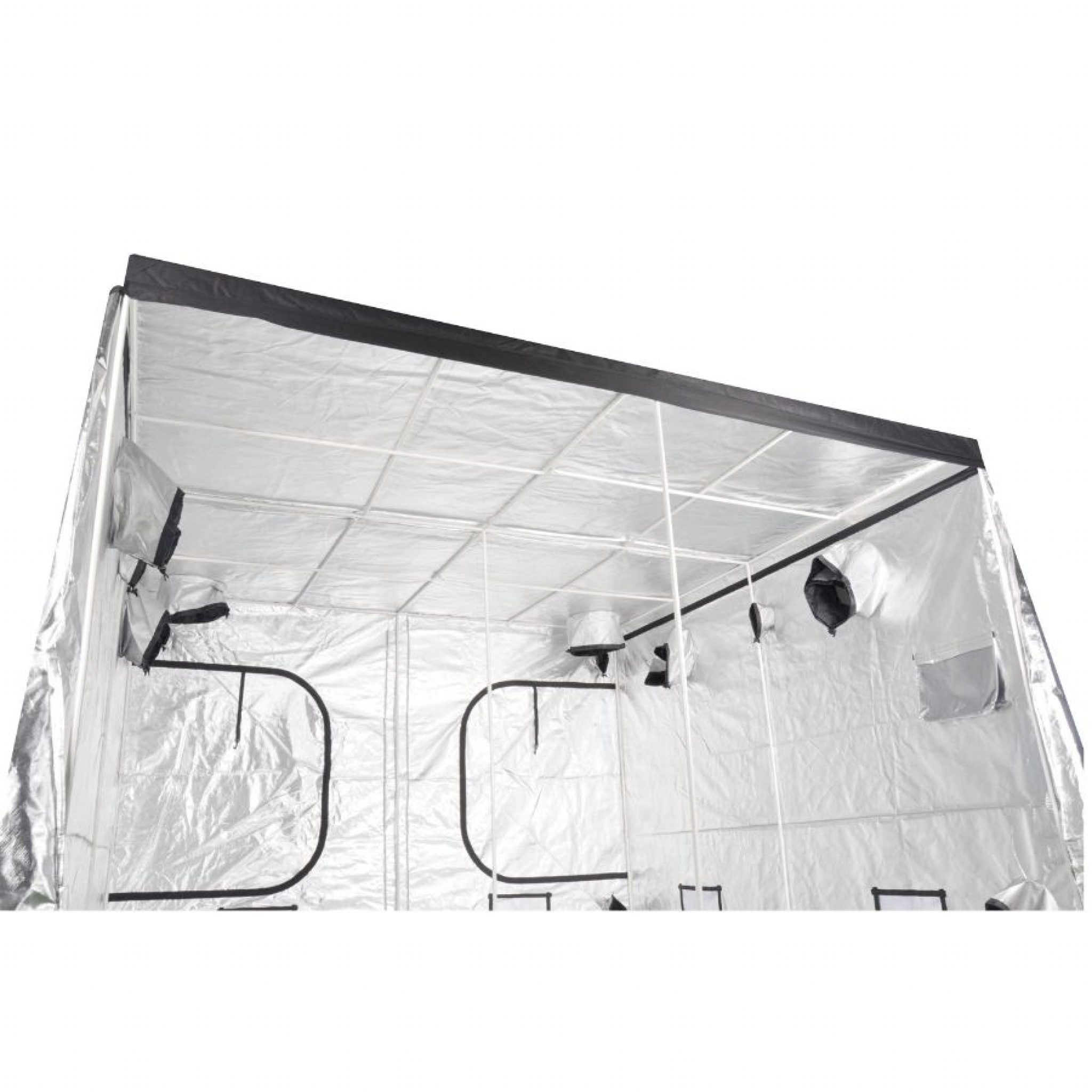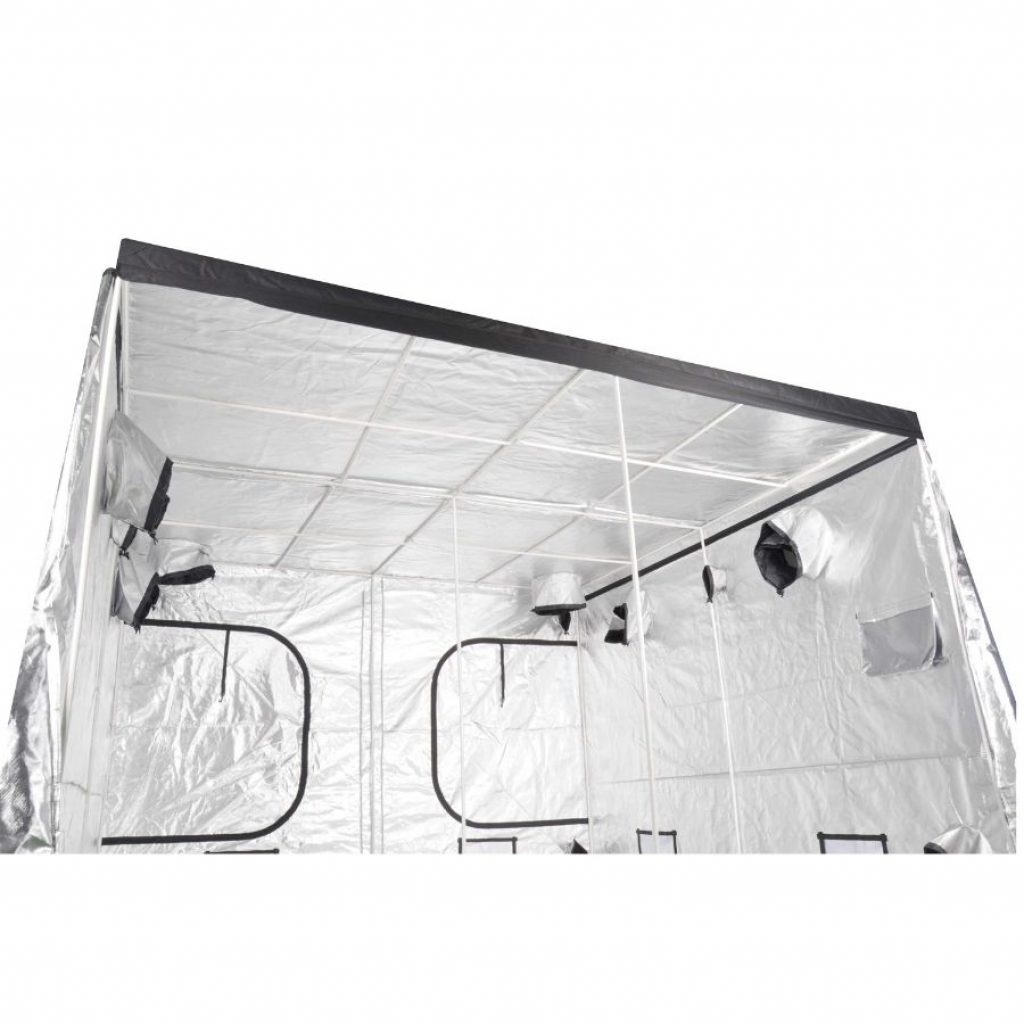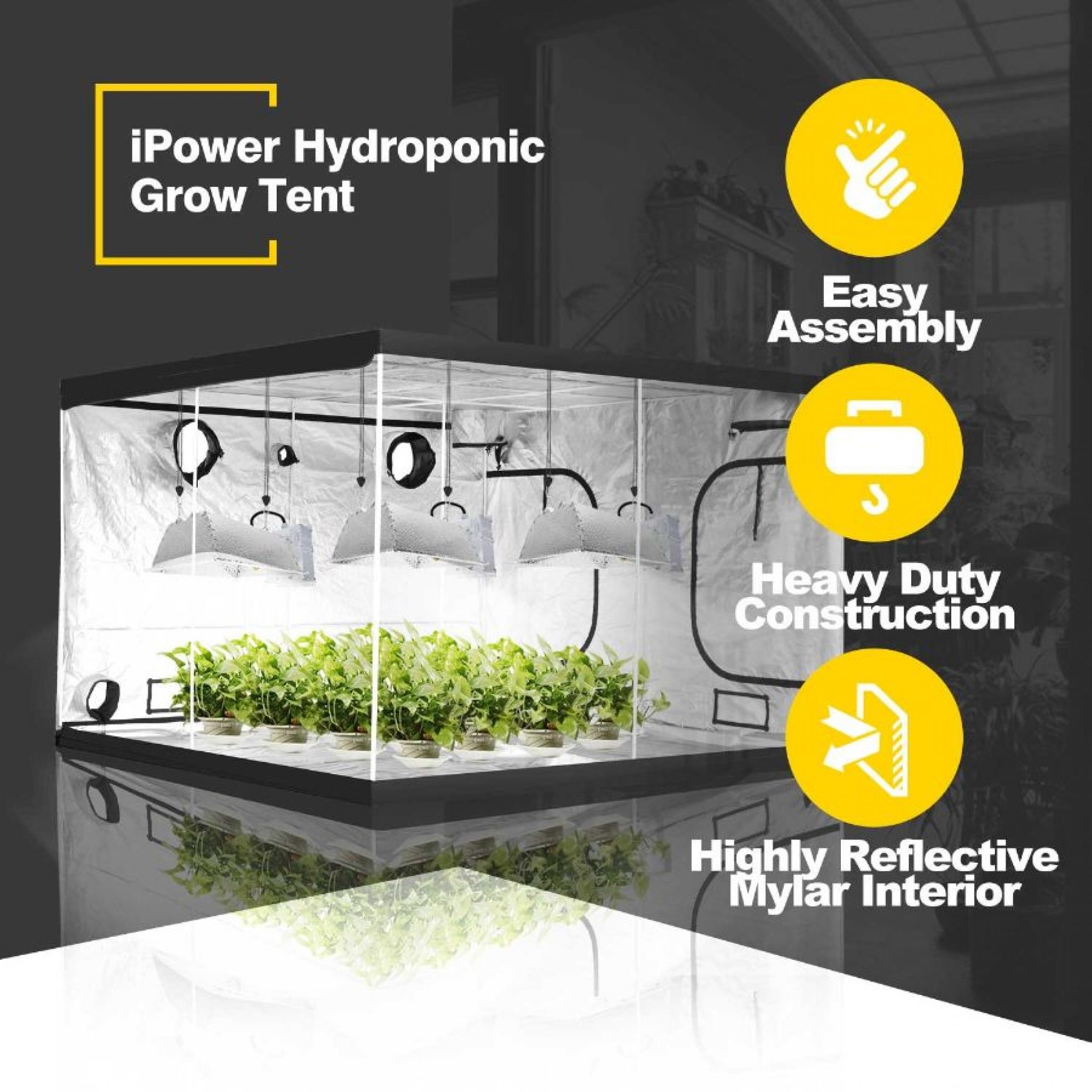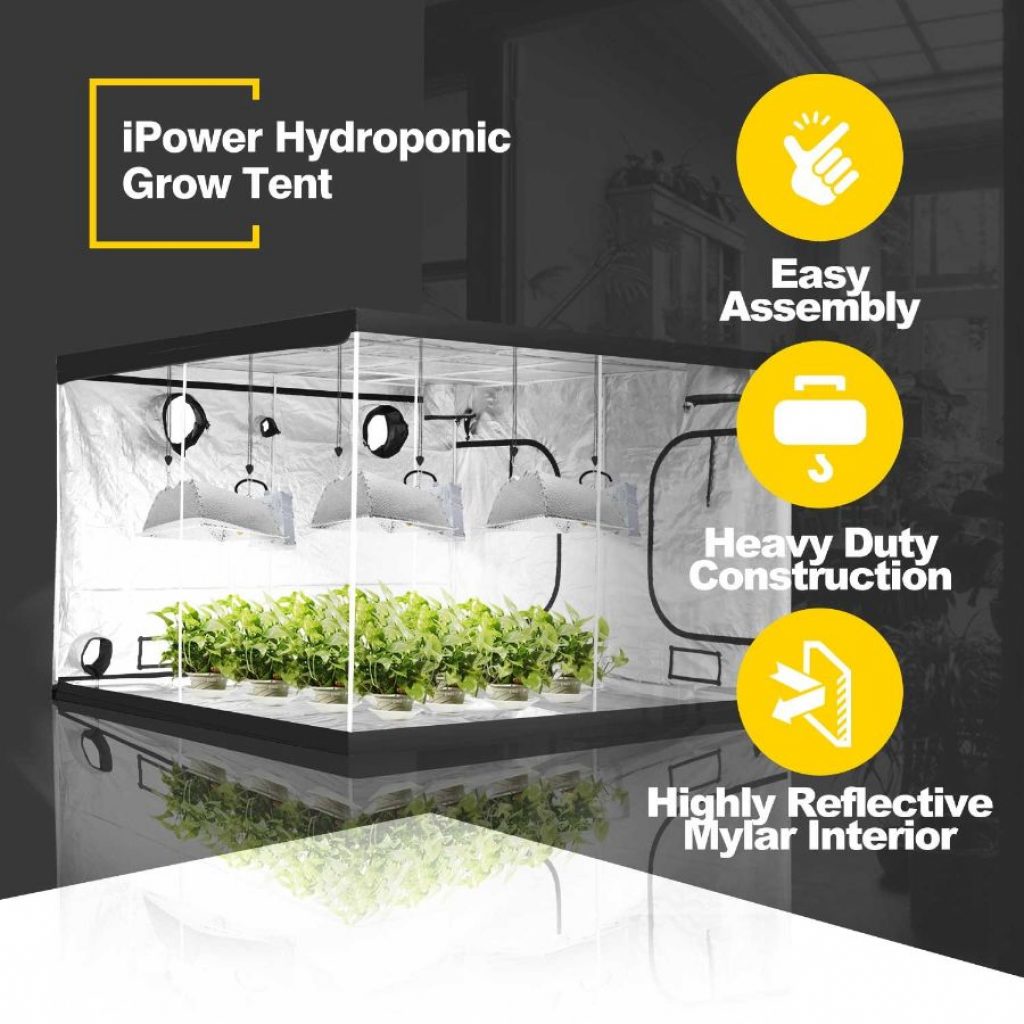 IPower is a well-known manufacturer of grow tents and supporting light systems. This model is a durable hydroponic tent that is used mostly for the cultivation of exotic fruits. It can also be utilized for growing vegetables, seasonal fruits, and herbs.
IPower mylar tents are made to ensure easy and comfortable indoor gardening. I find it great that you can control the light and climate conditions inside the tent, thus, encouraging the growth of plants easily.
The design of the tent includes a reflective layer that helps with providing an optimal growing environment under the cover. The lining of this model helps to control the light and heat inside. The interior design features a tubular metal frame that can be used for hanging the lights in the tent. You can assemble the metal structure without a hustle, as it consists of heavy-duty bars that are easy to connect.
The tent is lightproof and has double stitching that prevents light from leaking. The zippers also aid in the protection. The thick material used to build the tent is 95% reflective and returns up to 92% of the light emitted by the light bulbs. It comes as an advantage to any grower, as you will save up on energy bills tremendously. The tent is also amazing for preventing pests from getting inside, thus, protecting your crops. It has a removable water-resistant tray that is easy to set up and clean.
With a comfortably placed view window, the tent gives the grower ample time to monitor the growth of the plants. I want to note that within the package, you will get a whole 10×10 grow tent kit with all the manuals and gardening instructions needed for the successful growth of different plant species.

---
PROS:
it is made with a thick and durable material;
a user can control the light and heat inside the tent;
easy installation with no additional tools needed.
CONS:
the zippers allow a little leakage of light.
Topolite Indoor Hydroponic Tent – A Durable Grow Tent 10×10 for Cannabis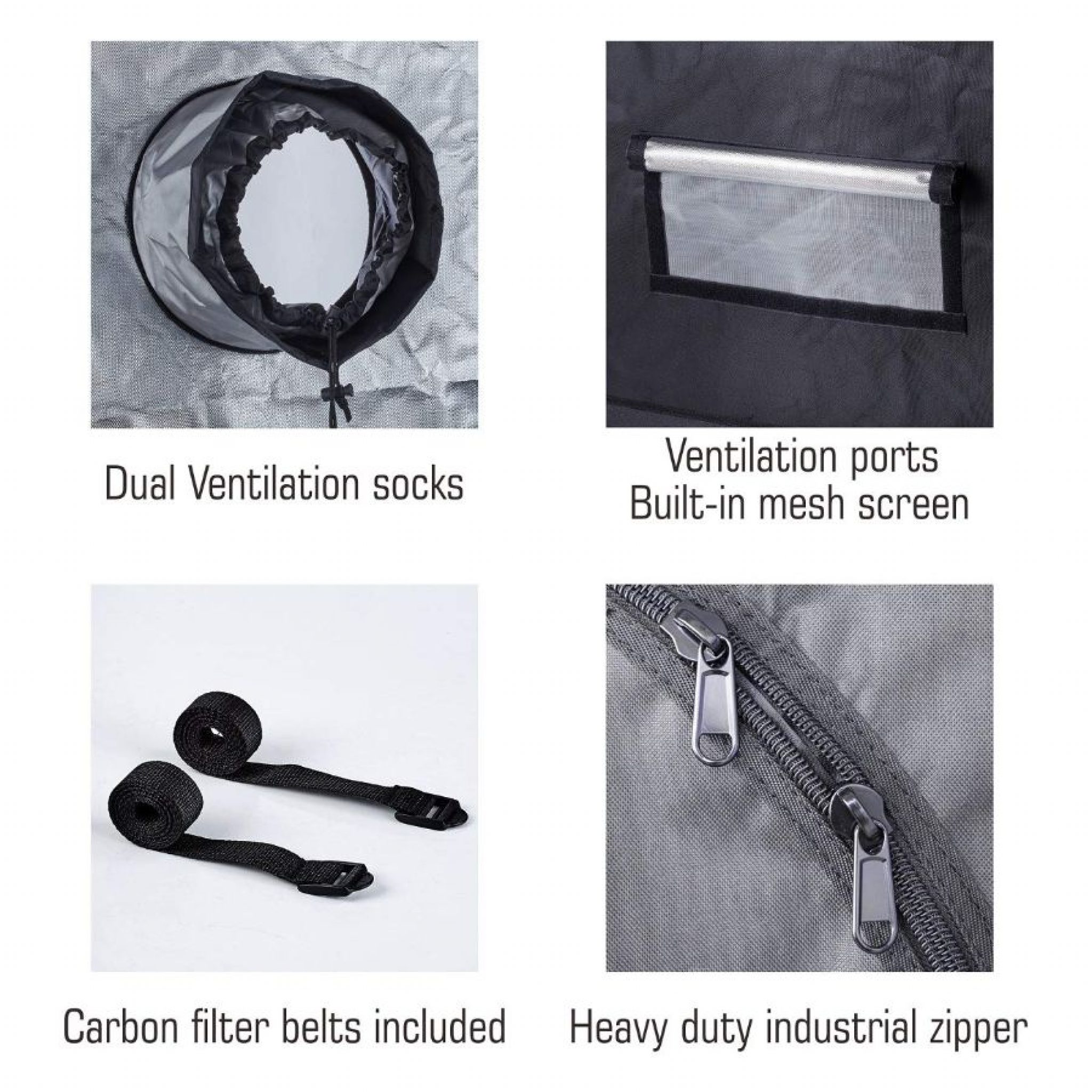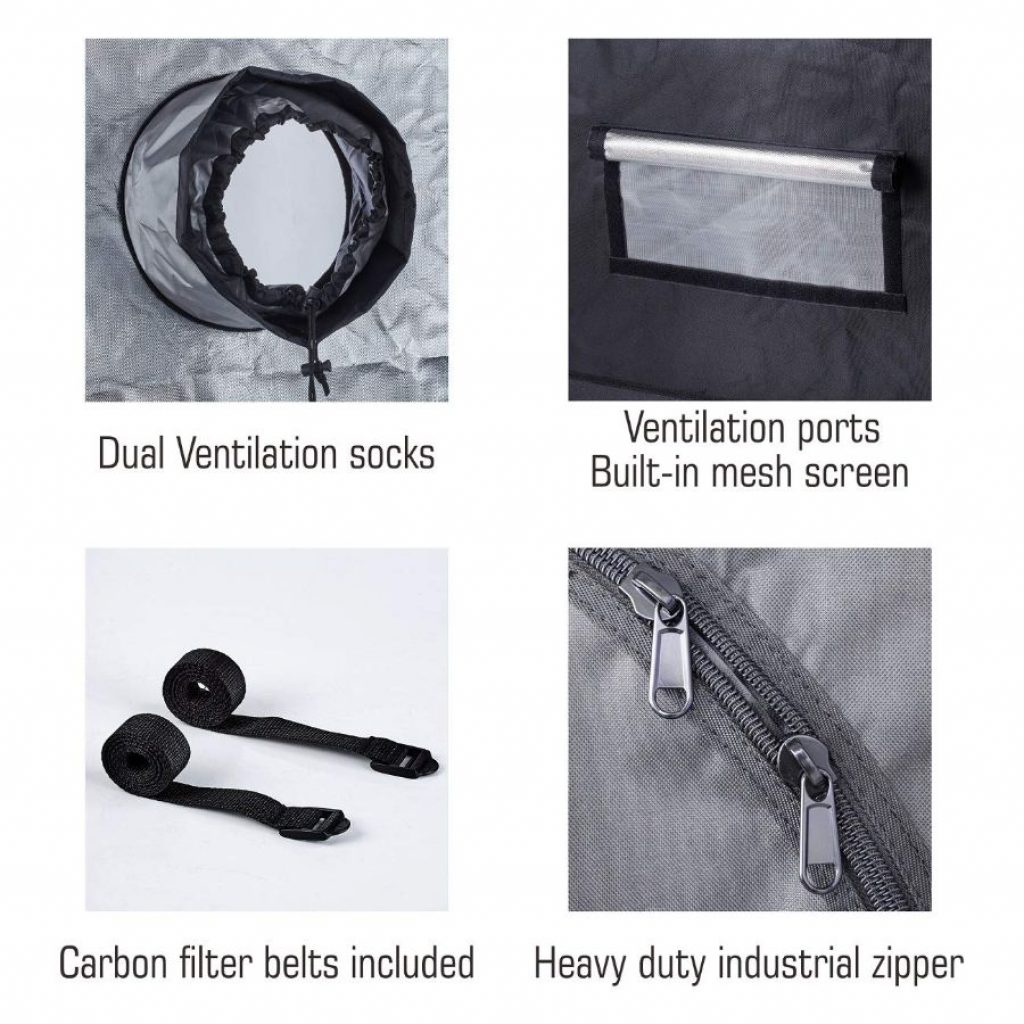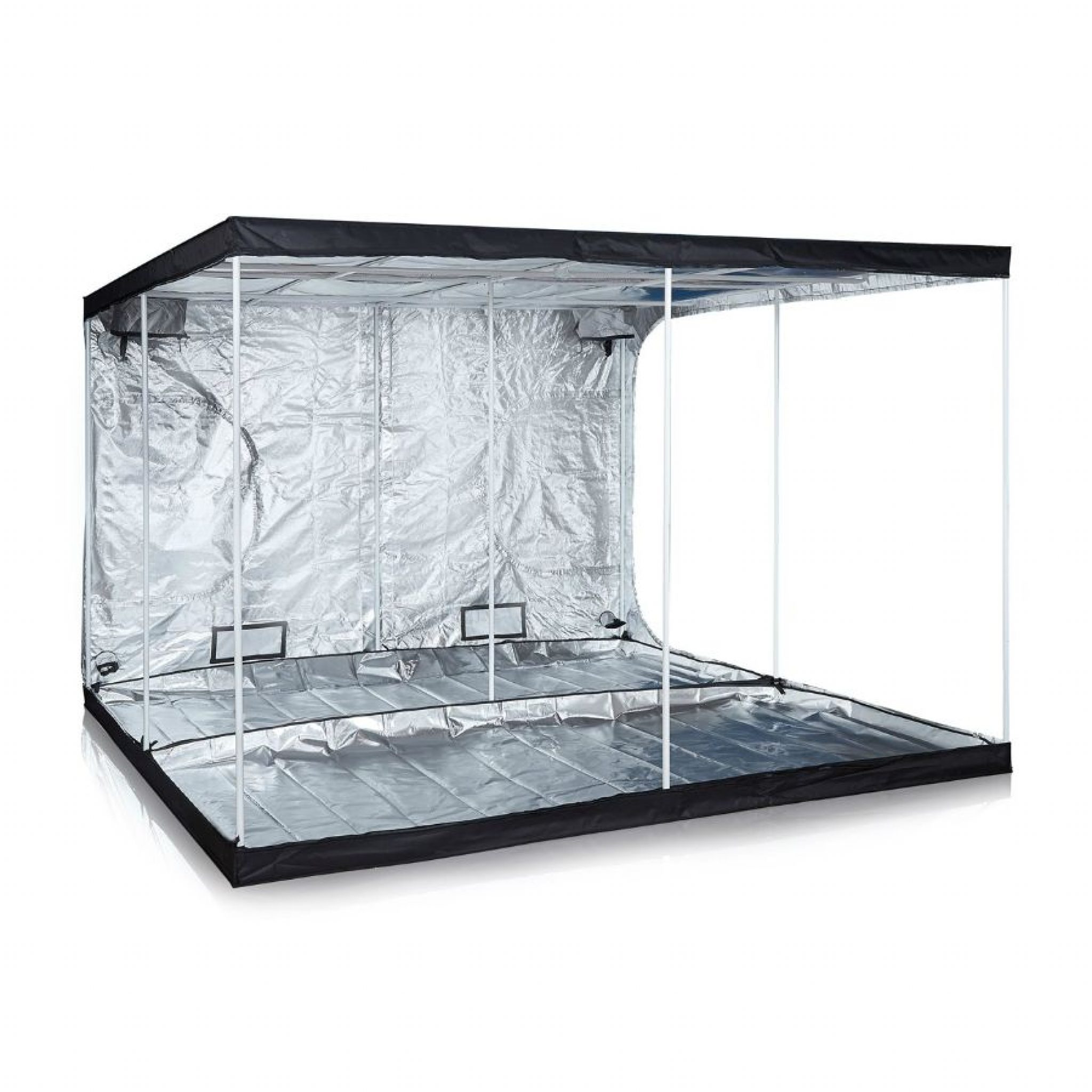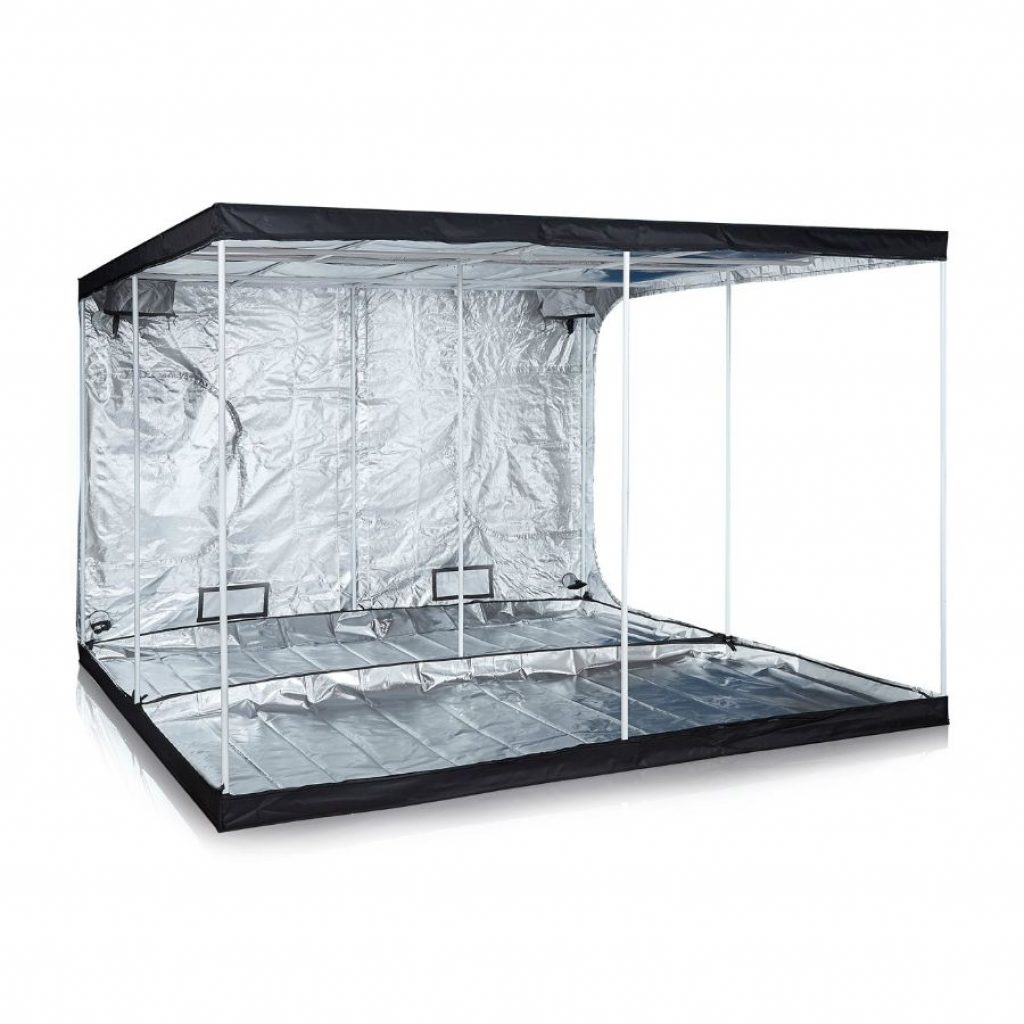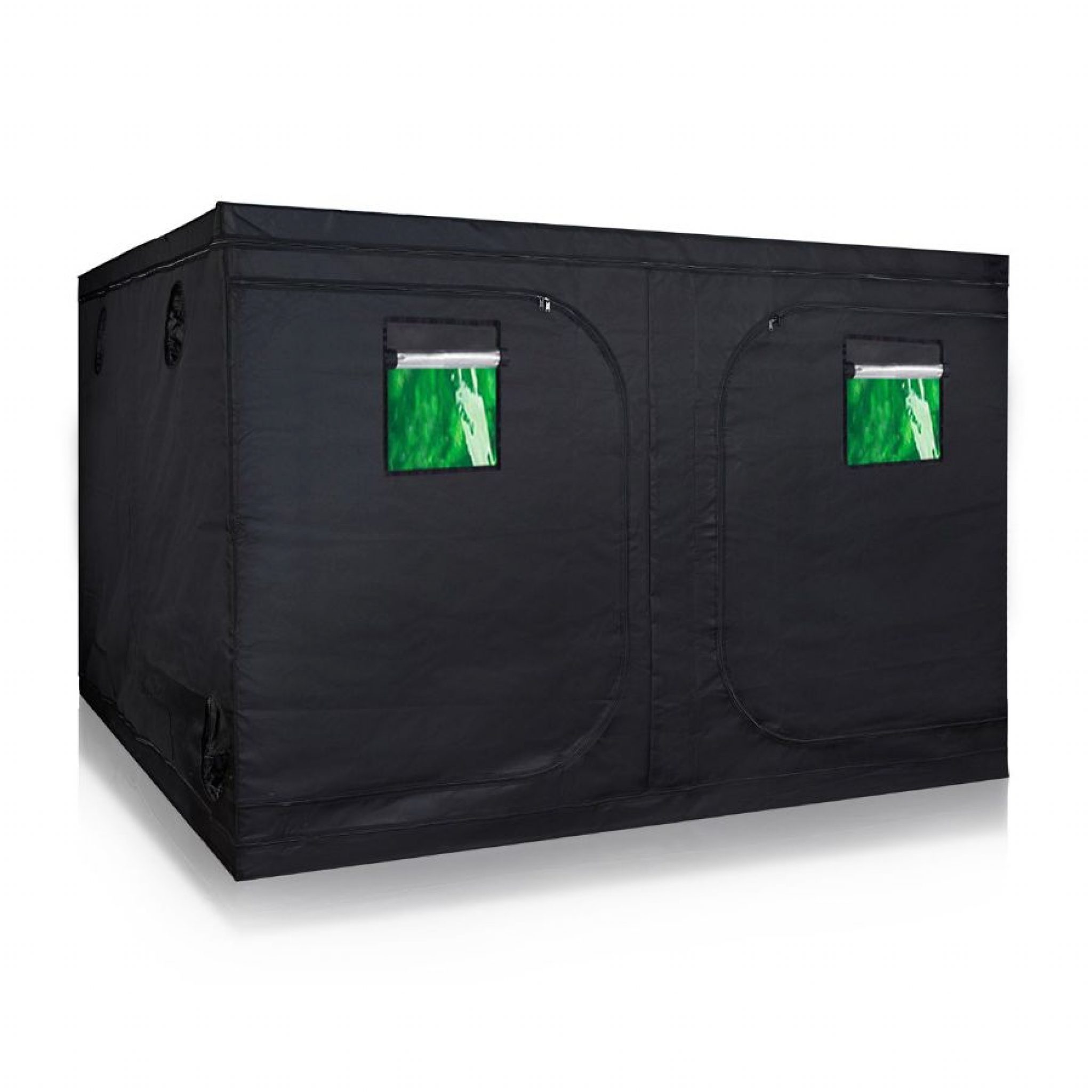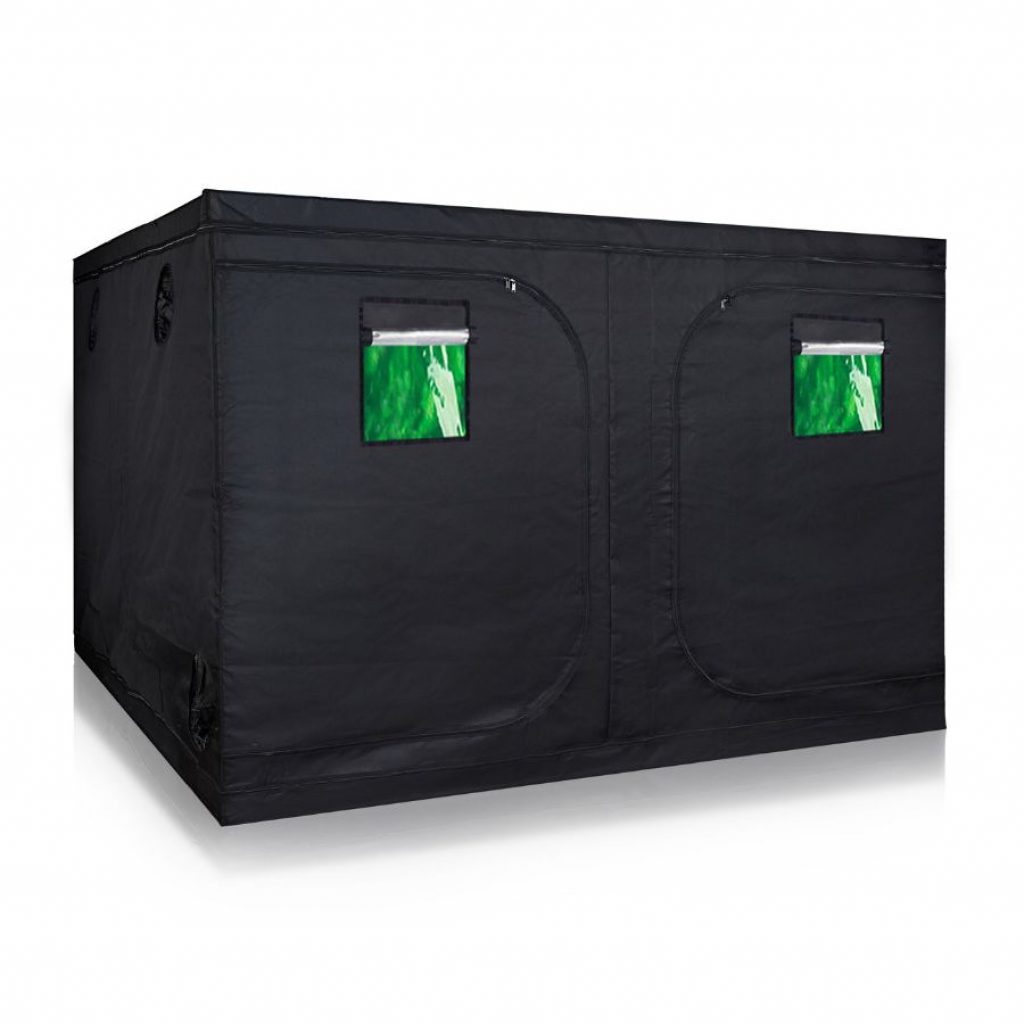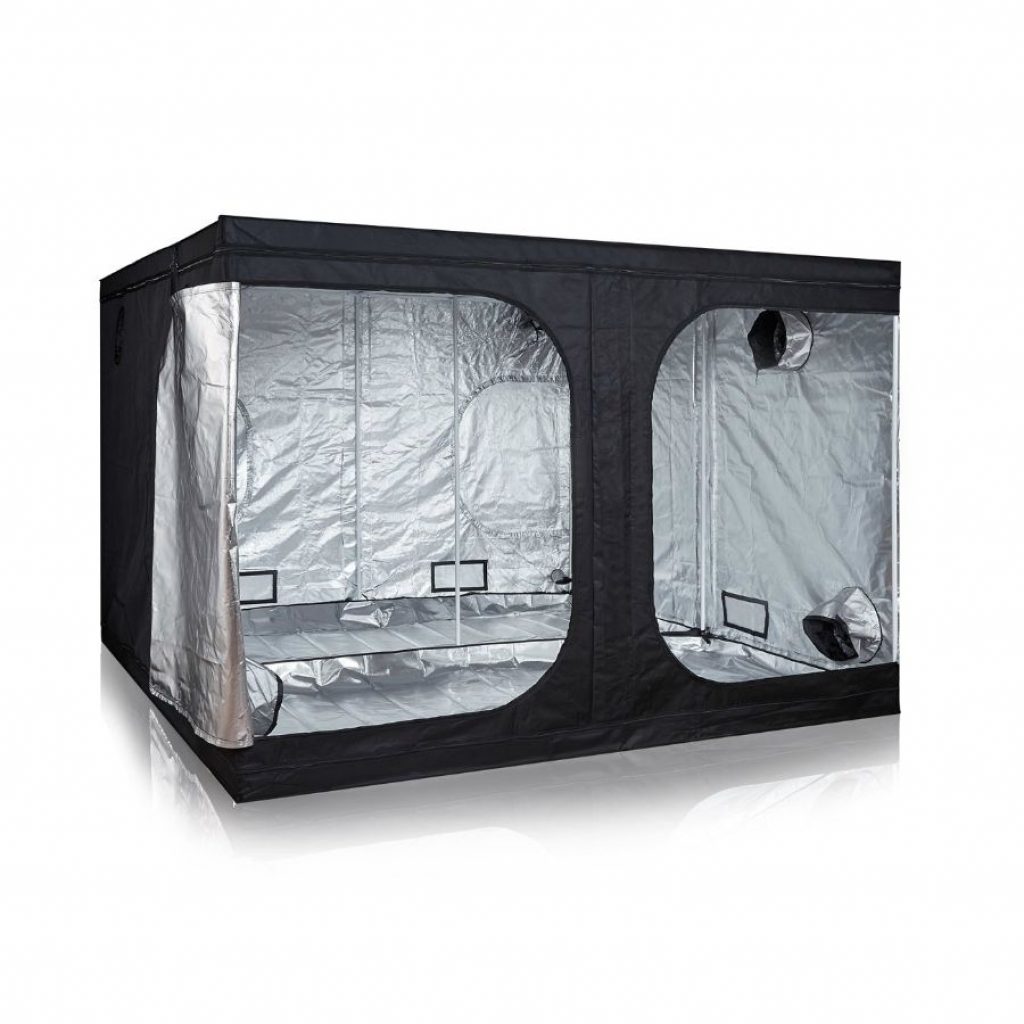 The Topolite brand is known for its high-quality tents built with heavy-duty metal. This material makes this item strong and durable, so that such a tool will serve you for many years to come.
This Topolite indoor hydroponic 10×10 grow tent has a green window that allows the grower to check on the plants without getting inside the construction. This feature is one of its most useful ones when it comes to grow tents.
Its exterior is built with a 600D canvas and fitted with a highly reflective material inside that makes the structure quite strong and functional. The tool is easy to set up, ensuring there are no leaks of light inside the tent.
This model is waterproof. Moreover, you won't have to spend too much energy on managing the climate conditions inside because this tool allows inserting filters and fans, besides standard lighting. These features are supported by the multiple vents that ensure constant airflow for the plants. The product features a solid interior zipper for easy access inside the tent, and a zip-up provides top-level safety for your plant species.
This indoor grow tent ensures proper plant growth and good yields. It allows the user to cultivate such plants like vegetables, fruits, herbs, and even seasonal grass. Thus, if you are looking for a grow tent 10×10 for cannabis, then Topolite hydroponic model is the go-to choice. It allows one to conserve the climate conditions within the tent to boost the plant development.

---
PROS:
it has rectangular vents that provide proper ventilation
it keeps all the natural light out, thanks to its green window
durable
easy to install
CONS:
the zippers are not sturdy
Anjeet Reflective Hydroponic Indoor Growing Tent – The Best Deal Grows Tent 10×10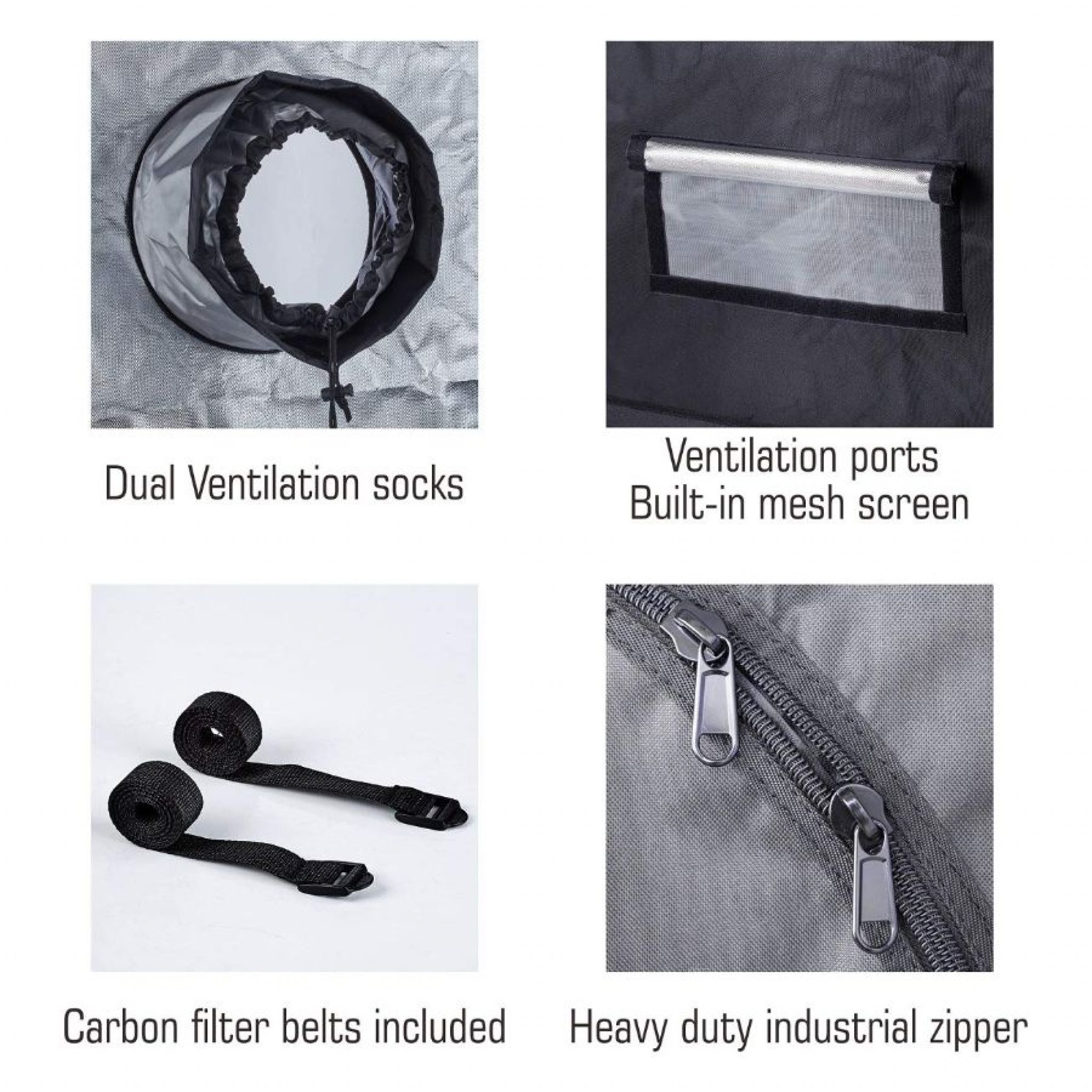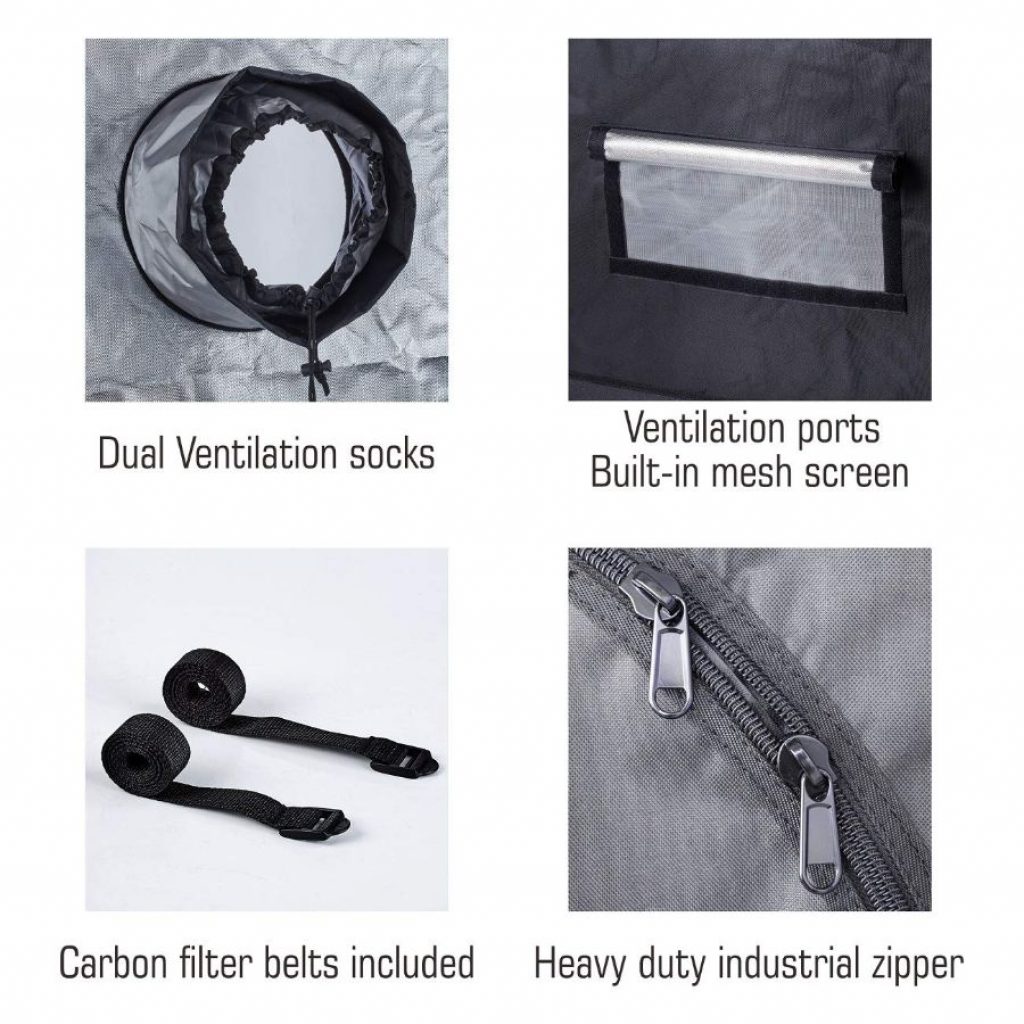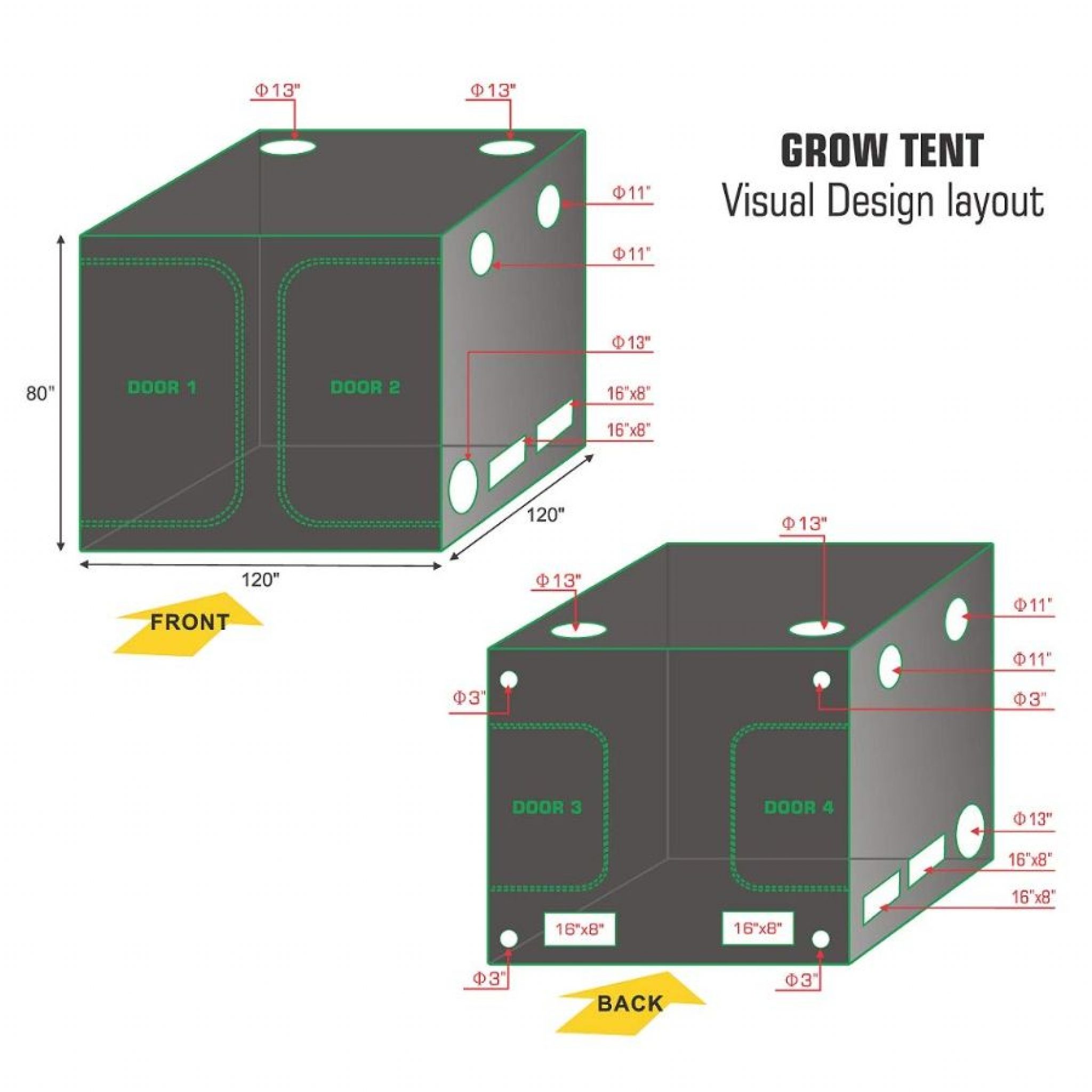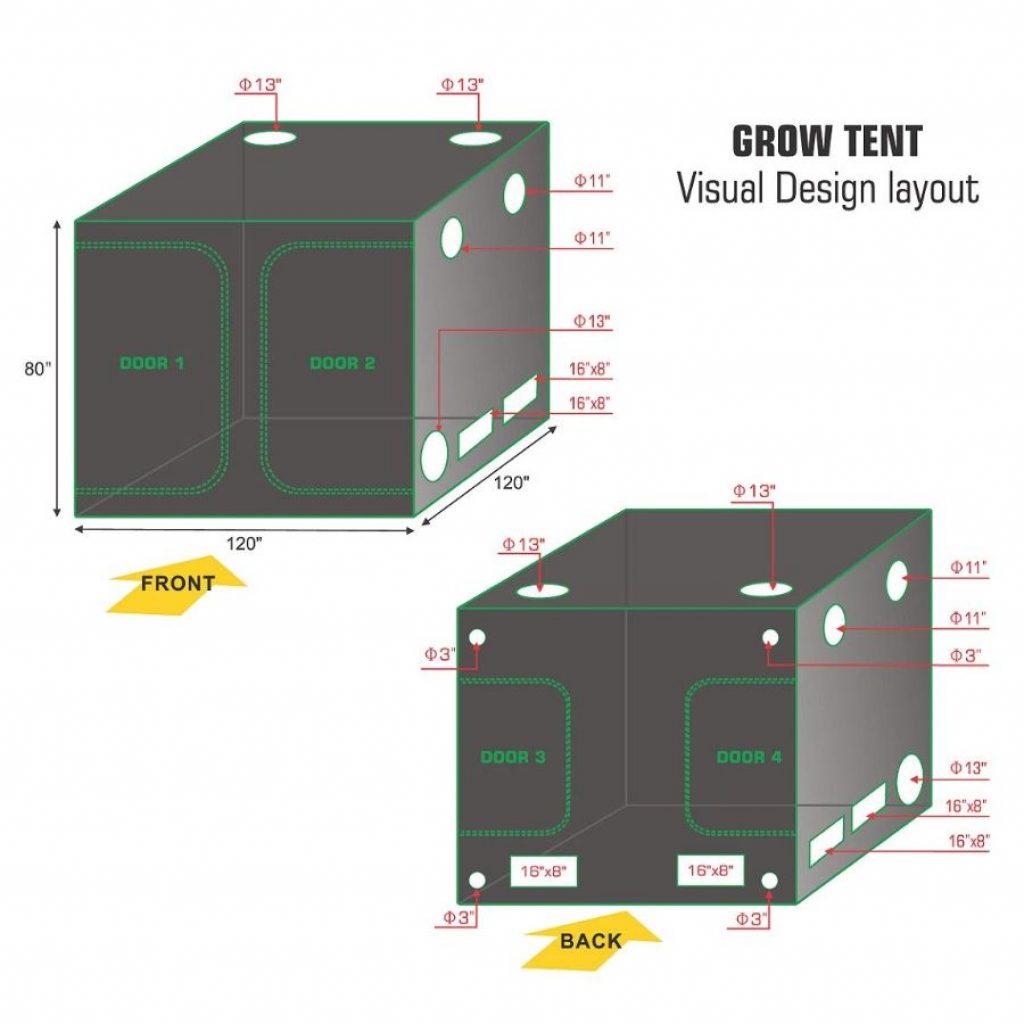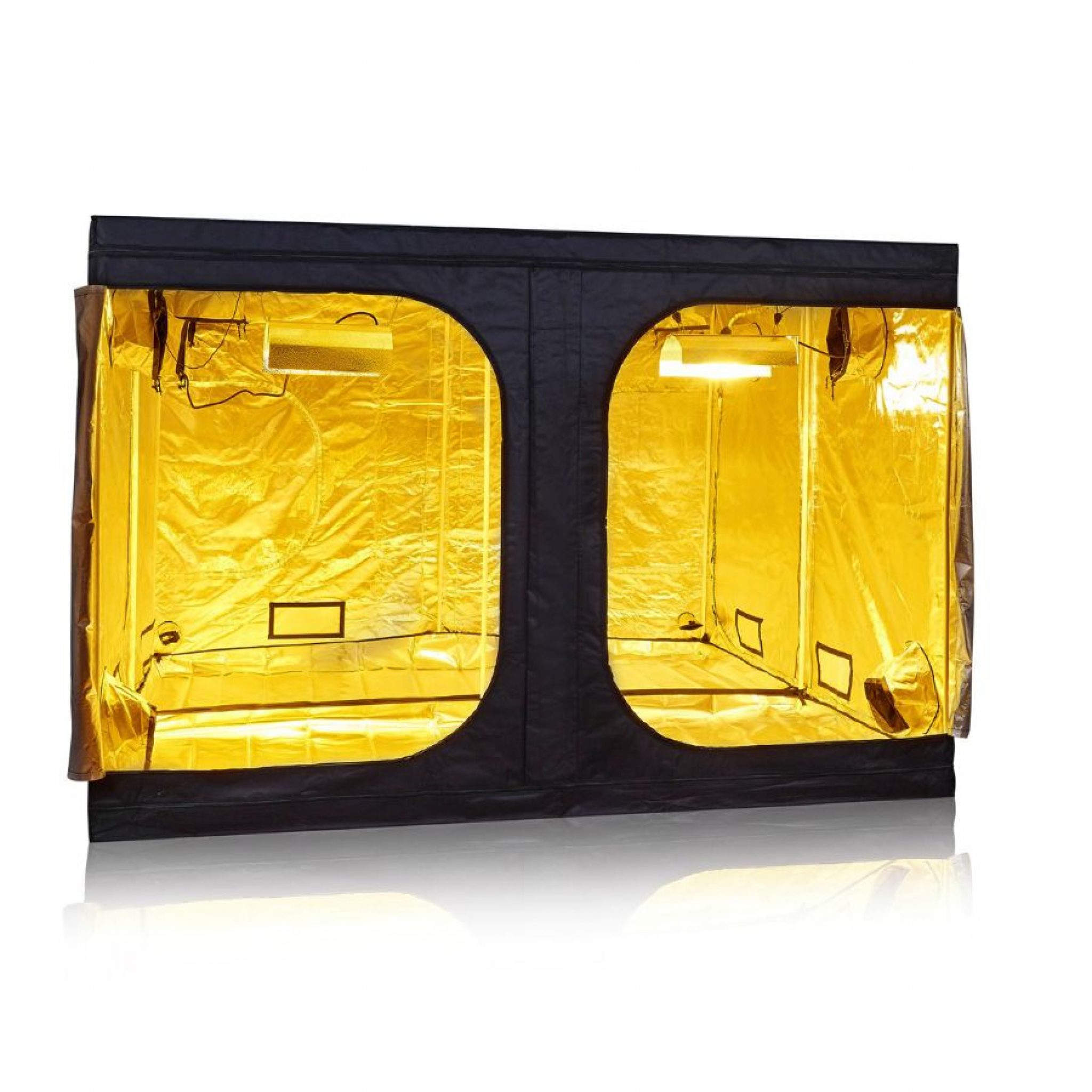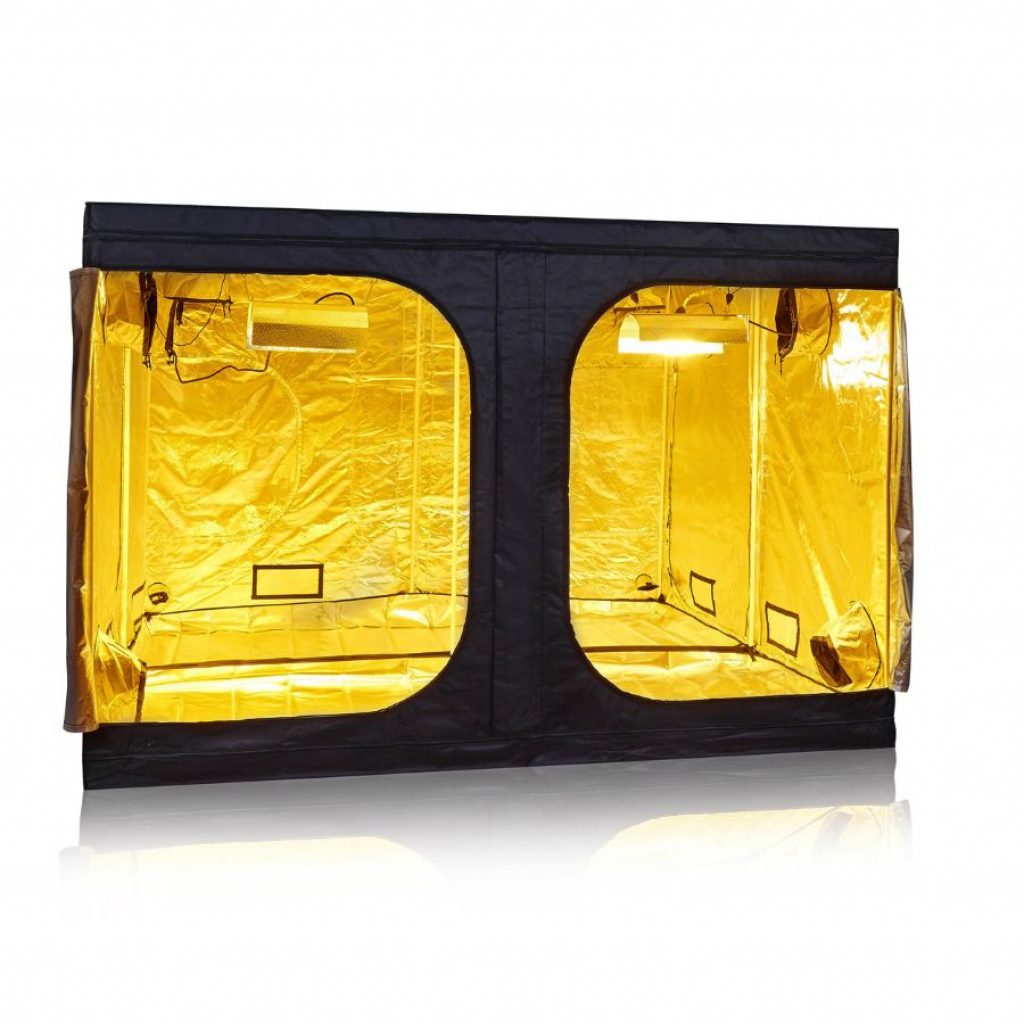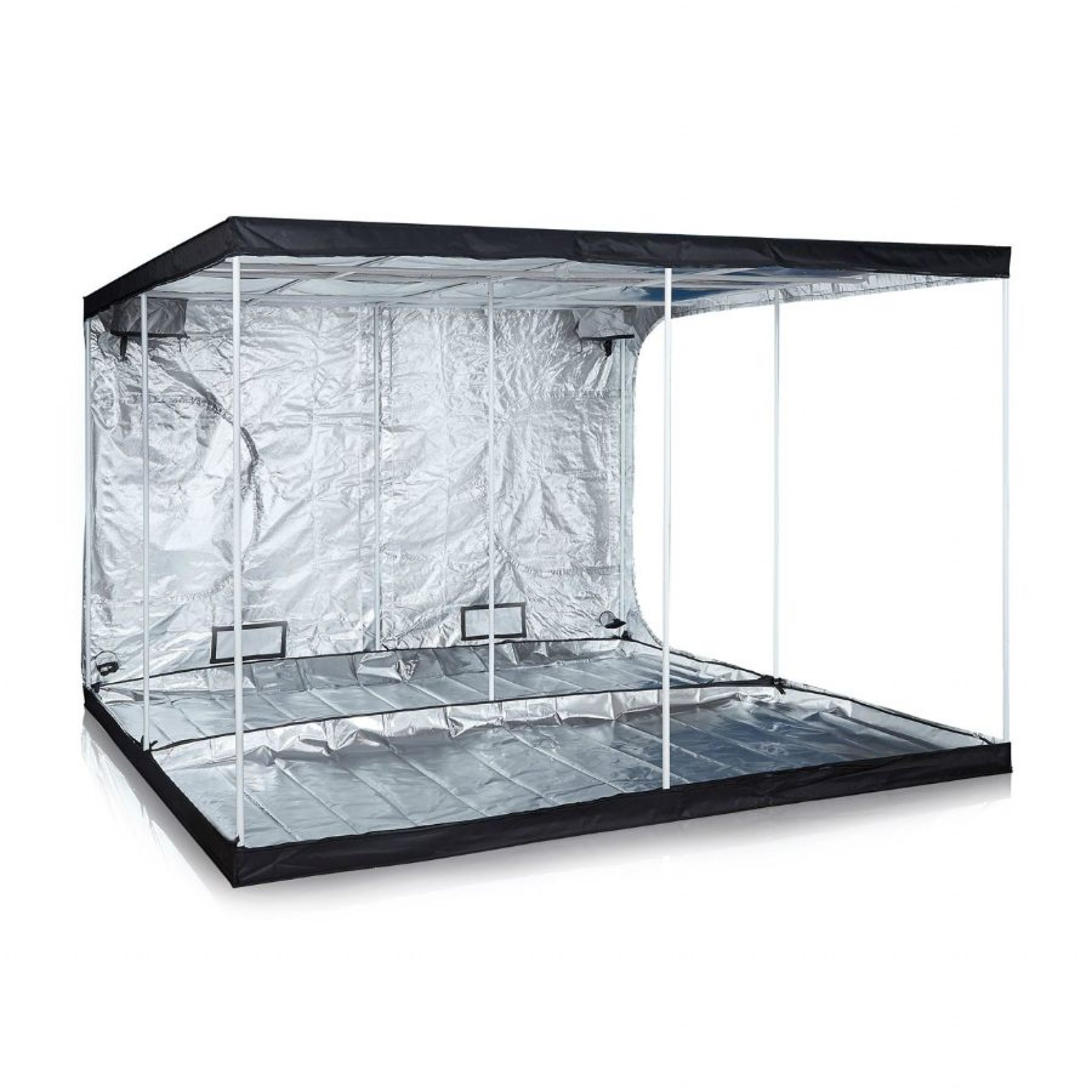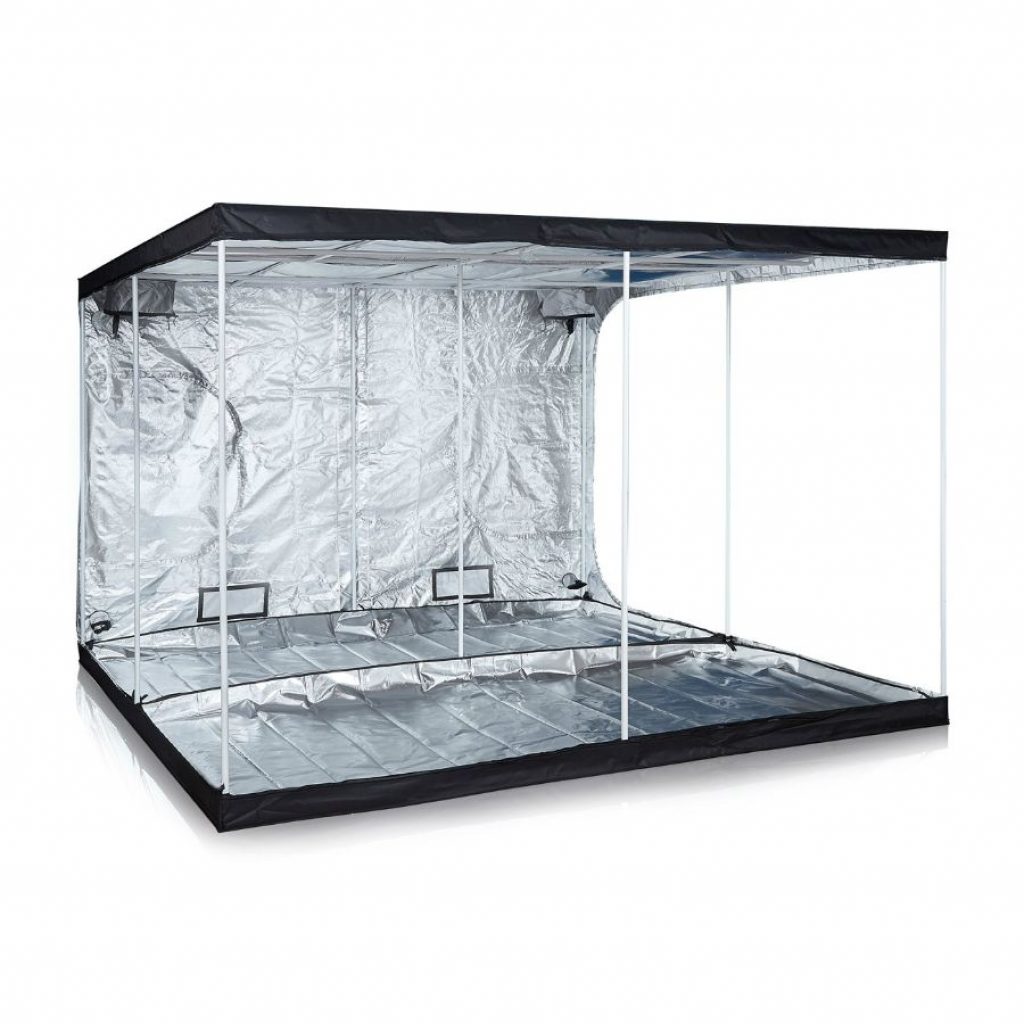 This Anjeet reflective mylar model is the best deal grow tent 10×10 you can find on the market. This item is made of heavy-duty metal that is known to be very strong and durable. The exterior is manufactured with fitting 600D oxford cloth, and it is fully lightproof.
This model also comes with a zipper that allows easy opening and closing of the tent. The 96% reflective mylar lining makes this item stand out among similar models available. Thanks to this feature, the lights inside the tool provide enough illumination to the plants. The only disadvantage that some models have tiny pinholes that still allow light leaks, but because of their small size, there's nothing really to worry about.
This grow tent was designed to allow easy and fast installation. The kit comes with connectors for quick assembling of the corners, and you will need no additional tools during the installation.
The plants get good ventilation, thanks to the multiple vents that support the fans and filters in the model. The rectangular vents are fitted with a mesh that covers the tent entirely, thus, providing constant air circulation and preventing the entry of pests and bugs in the tent.
This item features a waterproof and removable tray, making it easy to clean. If you are looking for a grow tent that will give you value for your money, then this reflective mylar hydroponic model will be the best 10×10 grow tent for your needs. It allows growing more than one plant type and is suitable for vegetables, fruits, herbs, as well as seasonal fruits.

---
PROS:
easy to install;
durable;
it has sturdy metal rods;
it has rectangular vents for proper ventilation.
CONS:
it has pinholes that allow light leaks.
FAQ about Grow Tents
Let's take a look at some of the essential features that a durable grow tent should have. I have gathered the most important information related to these products below.
How Many Plants Can I Grow in a 10×10 Grow Tent?
The most common question asked by farmers is, how many plants in a 10×10 grow tent? One can grow more than a hundred small plants inside such an item. But this number also depends on the exact size and design of your cover and the plant species you want to grow. Although 10×10 grow tents don't take much space in your area, they are pretty spacious when it comes to crops.
How Much Light Does a Grow Tent Need?
In my opinion, three LED lights with 600W can be considered the best light for 10×10 grow tent. The type of environment you want to create for your plants determines the kind of lighting to use. Lights help in regulating the temperatures inside the grow tent and provide you with the ability to see your crops inside the box. Thus, it is essential to provide enough coverage.
While hanging grow lights, the user needs to be aware of the weight of the attachments and fix them sturdy on the frames. Make sure to read the specification of the selected grow tent to set up everything correctly.
Does a 10×10 Grow Tent Come with Compartments?
Different brands and models have different designs. Some 10×10 tents come with compartments, and others are made as a whole piece. The design differences allow users to choose the best product that fully covers their needs. Compartment will come in handy if you plan to grow different plant species in layers at once.
Do 10×10 Grow Tents Have Other Access Points Except for the Rear Door and Windows?
Grow tents' designs are quite different, and each model is unique. While some items come with a main and side door, others tend to have a limited number of access points. Each brand is distinctive in terms of design and functionality. Therefore, I recommend taking a look at the structure of a specific model before making a purchase.
What Are the Specifics of 10×10 Grow Tents?
The 10×10 dimensions of grow tents are perfect for keeping the tool at any place in the house, garage, or basement. Such products have been used for long to ensure increased yields in limited spaces such as homes and yards. The tents can help with growing crops because the controlled climate inside the cover gives the plants a higher chance of survival over the harsh conditions of the typical environment. It also great for growing plant species all year long.
The 10×10 grow tents have a perfect size, and the four models mentioned above have different features, making them great for growing different plant species. Such tents can be used all year long through the different seasons. The best 10×10 grow tent is probably the one that allows no light leaking out of it. However, some additional features make a well-performing product.
The tents mentioned above are hydroponic ones, except for the Ultra Yield professional indoor growing model. This tent was specially created for indoor gardening and can help you to grow all kinds of plants. The hydroponic tents are manufactured for the cultivation of vegetables, herbs, and exotic fruits.
Most of these tents come with sturdy metal rods that make them durable. If you are looking for the best deal for 10×10 grow tents, the ones mentioned above will help you to attain the best quality for money.
All the grow tents reviewed above come with a well-fitted mylar lining that proved to be highly effective for preventing light from leaking out. Therefore, it contributes to the stable atmosphere conditions inside the box and benefits the healthy growth of your plants.
Moreover, every product mentioned here is manufactured with a thick material that ensures the light and temperature are contained within the tent. The four brands highlighted are quite popular among farmers all over the world, and I hope that my tips helped you to make an informed decision.
Final Thoughts
The use of grow tents has evolved over the years, and it continues to advance as better, and well-designed models appear on the market. The 10×10 grow tents are one of the most options you can opt for to grow different places in your house or basement. In this article, you have got acquainted with some of the most durable and helpful grow tents you can find out there.
I recommend checking out each model in detail to decide whether it fits your gardening needs or not. I have used all these models at their time, and they worked great for my place. With this said, what is your favorite grow tent so far? Have you tried any items described above? Or what other grow tents would you like to recommend? Leave your comments below!