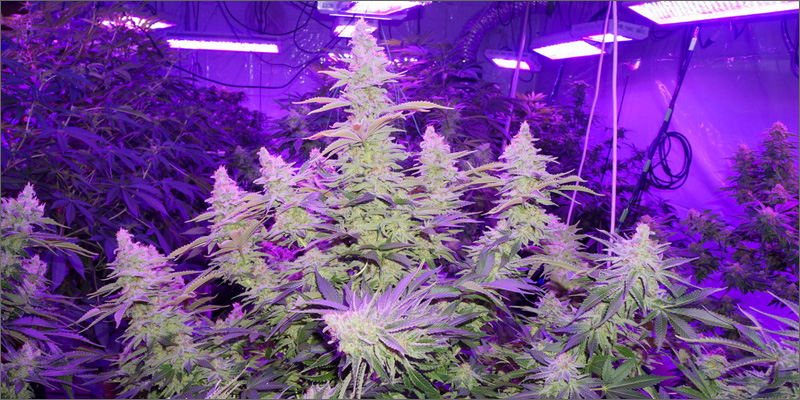 Best 600 Watt LED Grow Light for Growing Cannabis: A Detailed Guide Into the 600 Watt World
Are you interested in growing cannabis yourself? Have you started buying all the equipment? Well, do not forget about buying great LED lights for indoor growing! In combination with a growing tent, this will be your most important piece of equipment if you do not live on a farm or have acres of land at your disposal.
Recently shopping for a new LED grow light, I have noticed that the extreme amounts of LED lights. "With such an excess of options, how can a beginner even choose something particular?" – I thought to myself.
So, being a veteran cannabis grower, I decided to write this article to help people on the Internet to choose the best 600-watt light for them. In the list, I included the 12 top options currently on the market that vary in their specifications and features. You will surely find something that will work for your set-up in this list.
Top 6 Best Light for Growing Cannabis in the 600 Watt Territory
Here are the best 600-watt lights that I have ever worked with. This top 6 are what I usually recommend to beginners that I talk to both online and in real life.
MarsHydro LED Growing Lamps 600W: Are These the Best 600 Watt LED Lights for Growing Cannabis?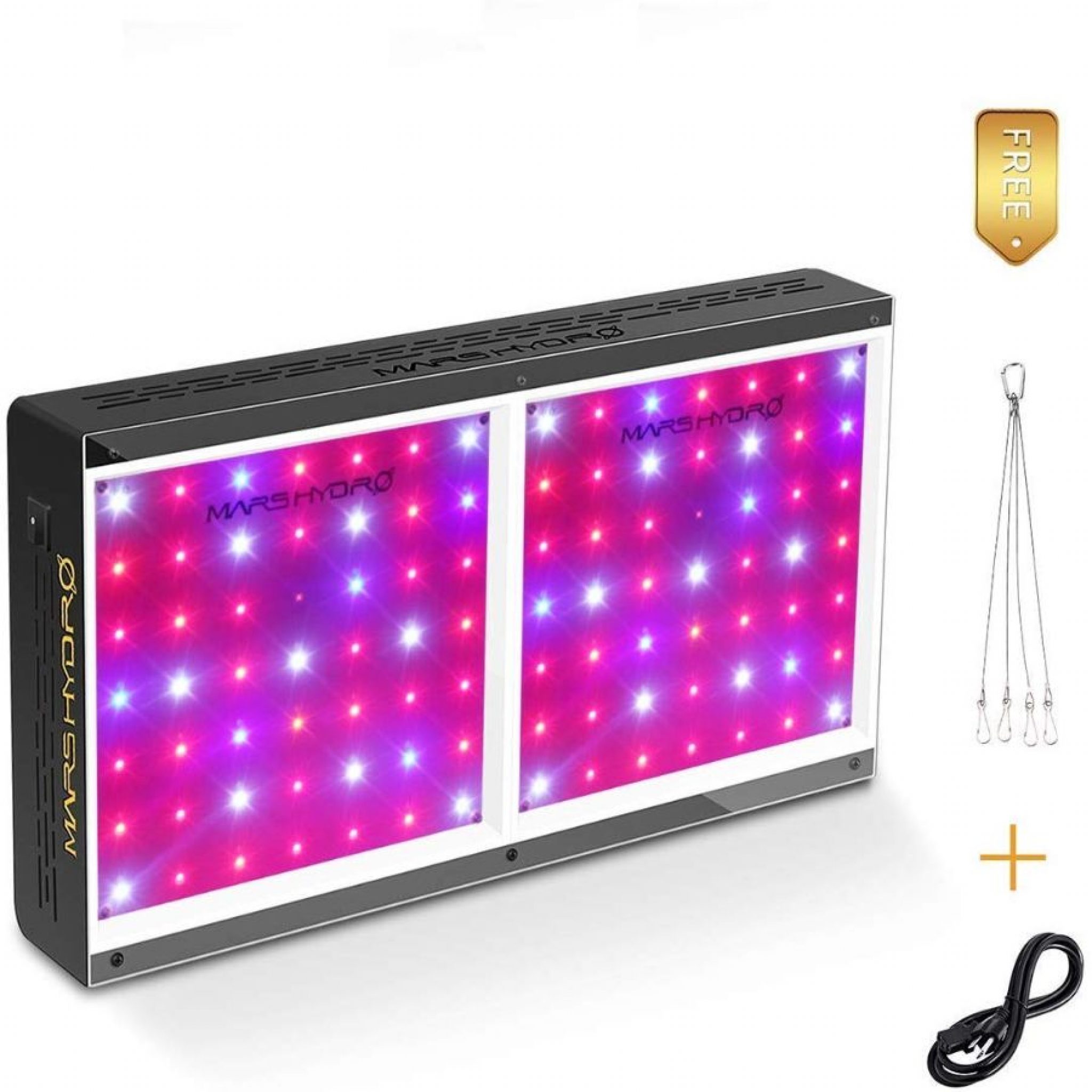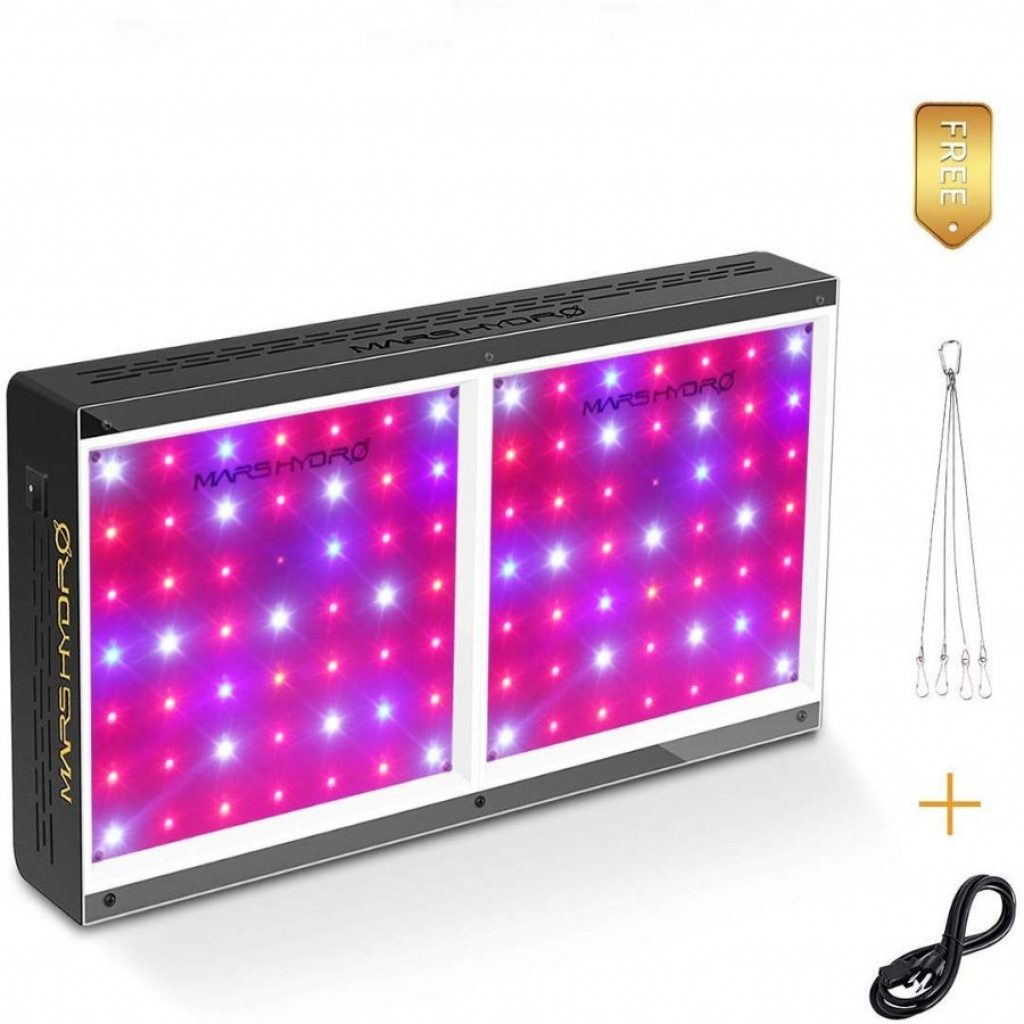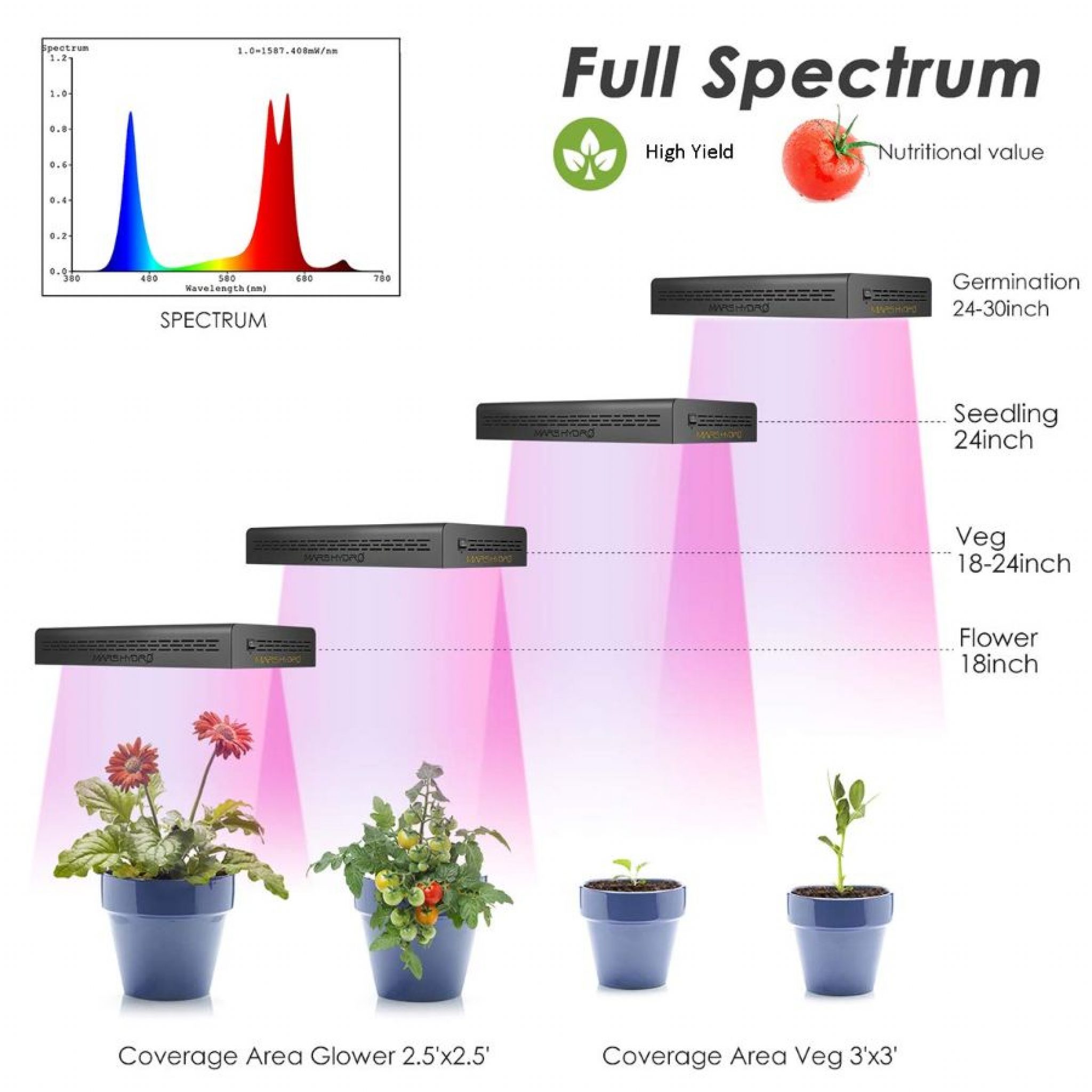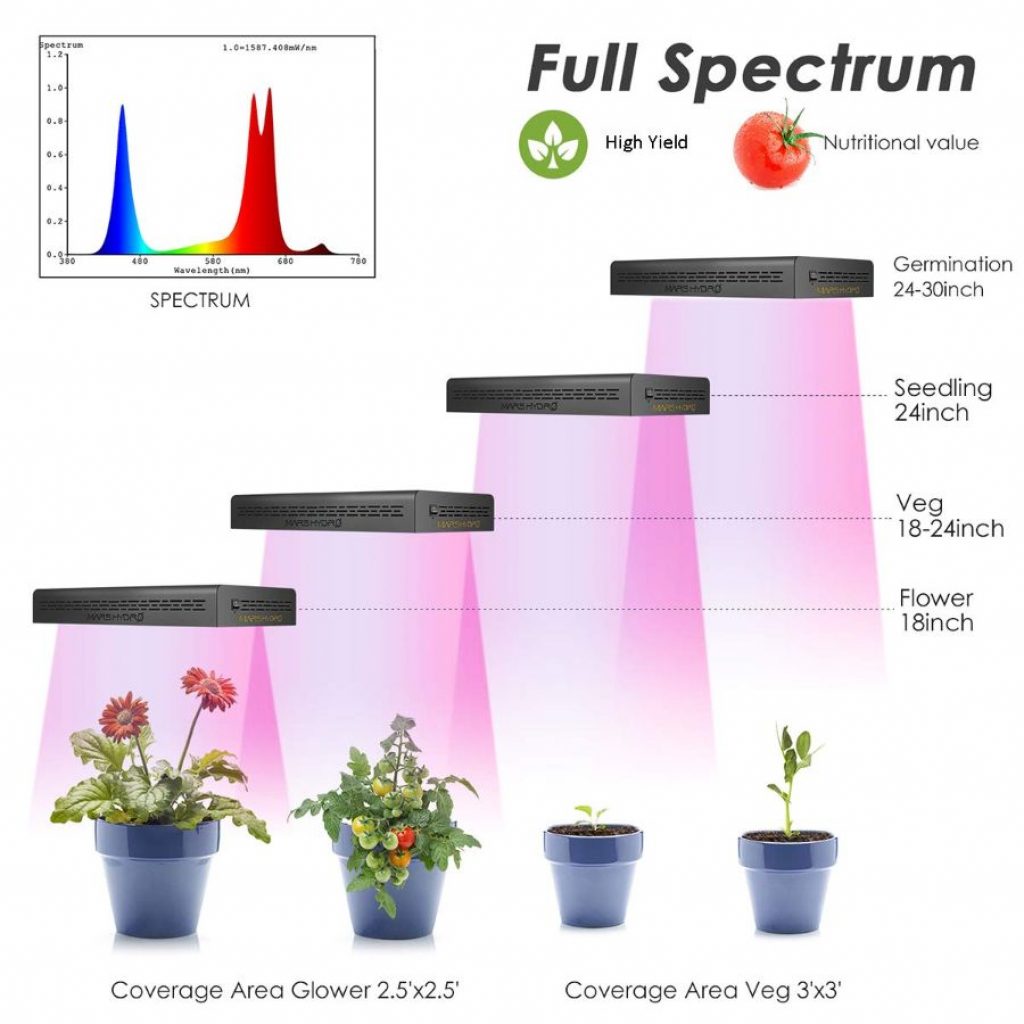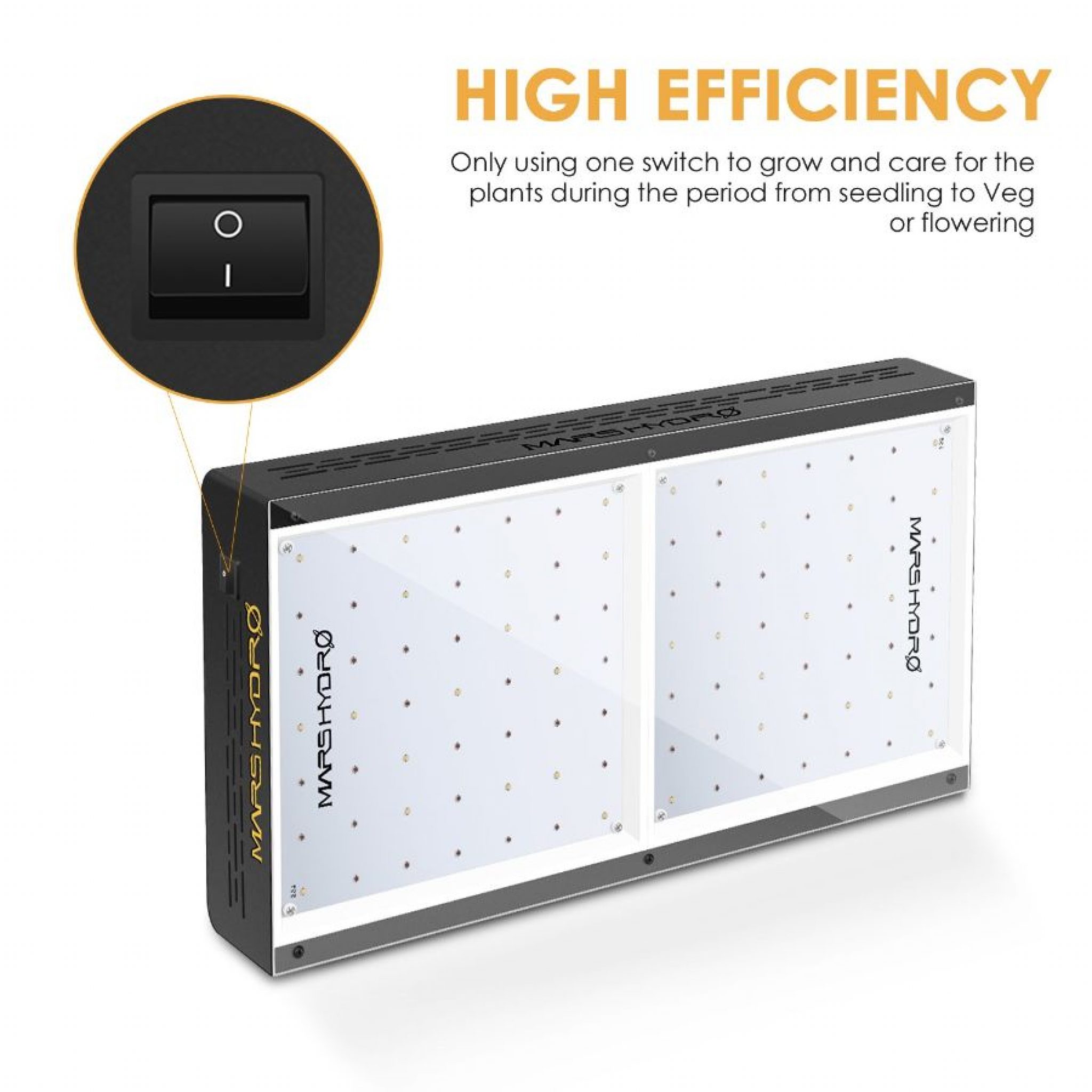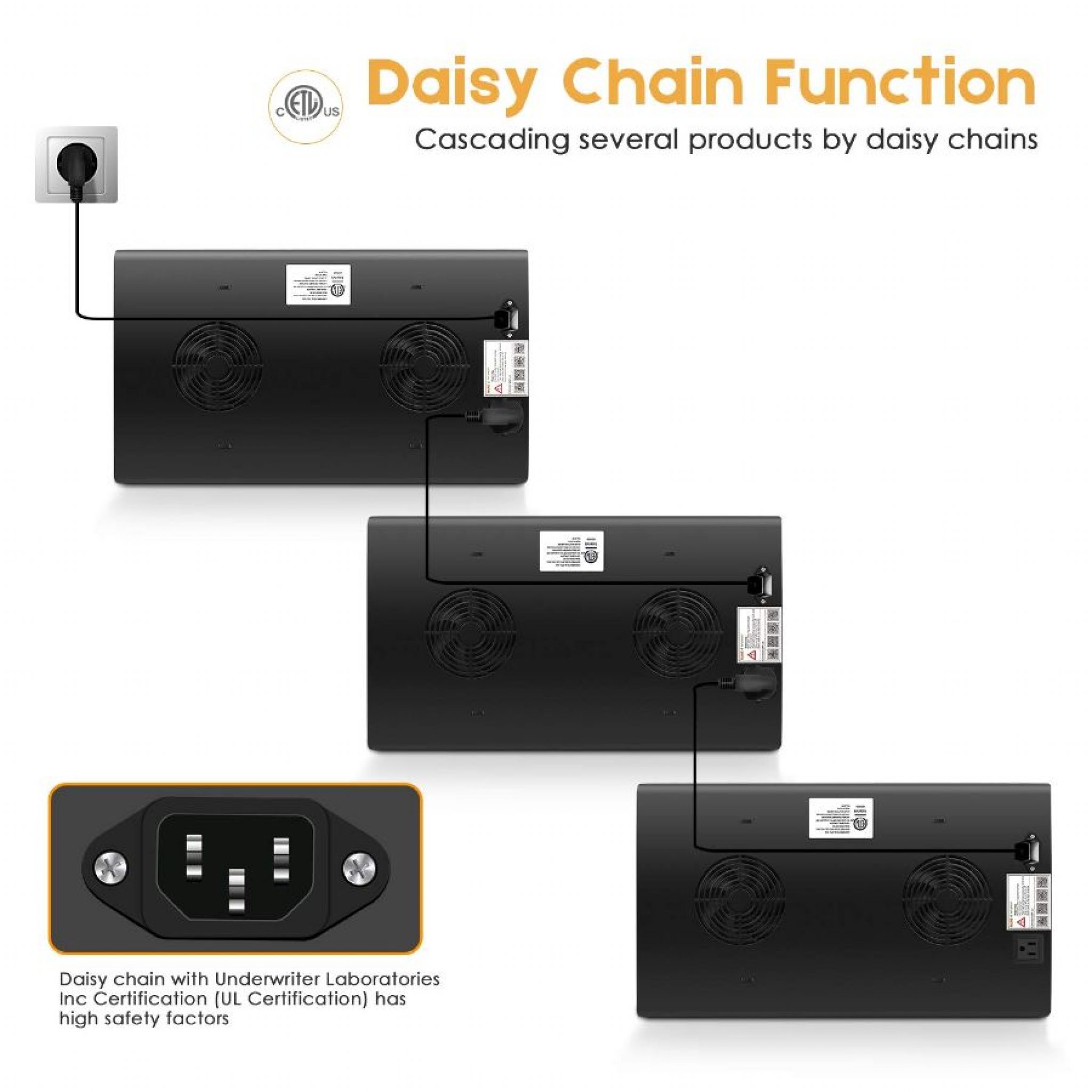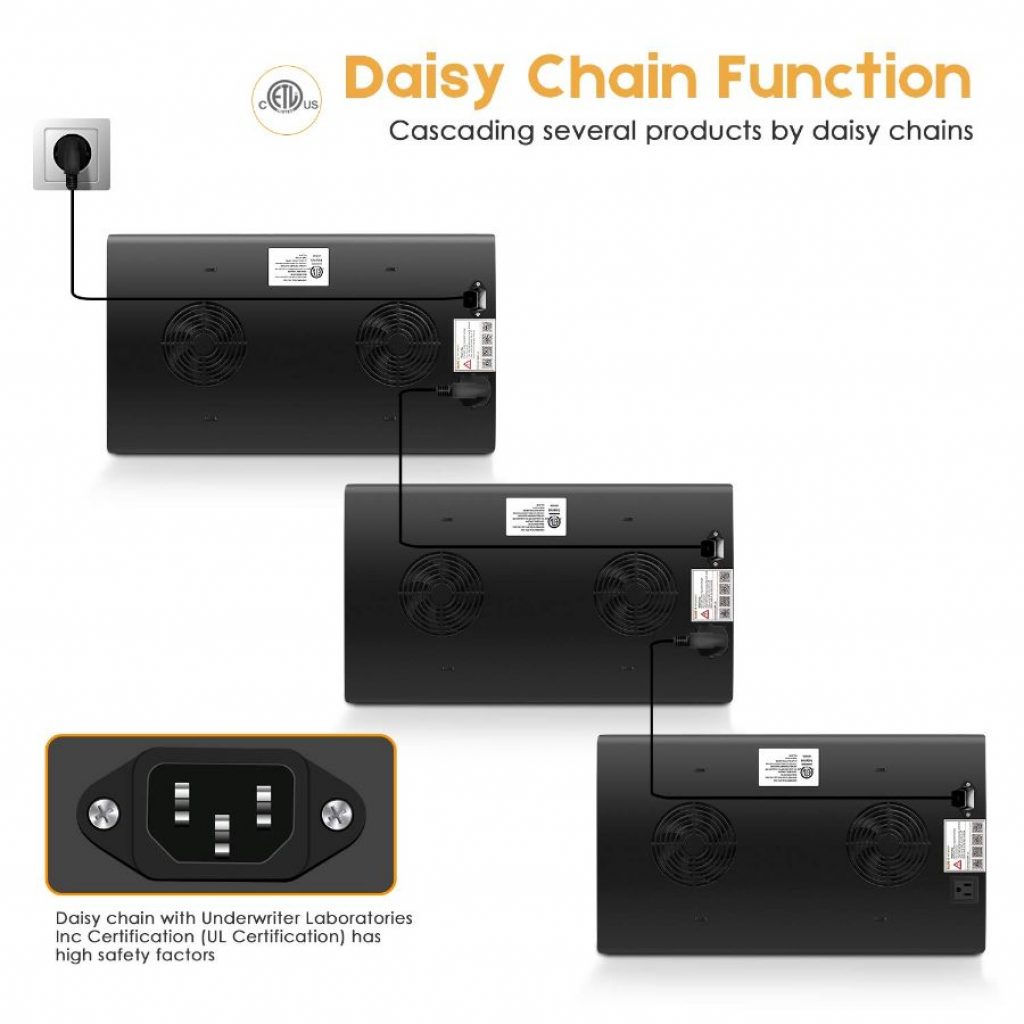 MarsHydro is a highly-regarded company. They offer a wide variety of great LED grow lights. MarsHydro's light is a great choice: they are very high-quality and do not cost that much.
MarsHydro LED Growing Lamps 600W is not an exception to this rule – this LED setup is great and is very budget-friendly. However, do not let the low price misdirect you into thinking that this light is not worth any consideration.
This light is the top seller and the best rated in the 600-watt range of grow-stimulating lights. Numerous people have lots of great things to say about this product, and I can only nod my head in agreement.
The parameters of this light are 18″x11″x3″, and the weight is almost 12 pounds. The light was designed with the growing tent in mind, so, if you have a growing tent, MarsHydro LED Growing Lamps 600W is a great choice for you.
The biggest perk of this light is a complete light spectrum from the lamps, which will significantly boost the overall health and growth rates of your plants. This light works exceptionally well for all phases of the life cycle of the plants you are growing.
There is a chip inside the light, which can control how much light the lamps give off and for which period of time. You can easily set it up and not worry about turning on/off and dimming the lamps of this LED light.
The light that the lamps emit is distinctly cold, thus making excellent conditions for the plant and their harvesting over the course of their life span.
---
PROS:
complete range of the light spectrum;
low price;
turn on, set it up, and forget about it;
great durability;
excellent cooling solution.
CONS:
not water-resistant;
too bright for human eyes.
King Plus 600W – an Excellent Choice for Growers and Smokers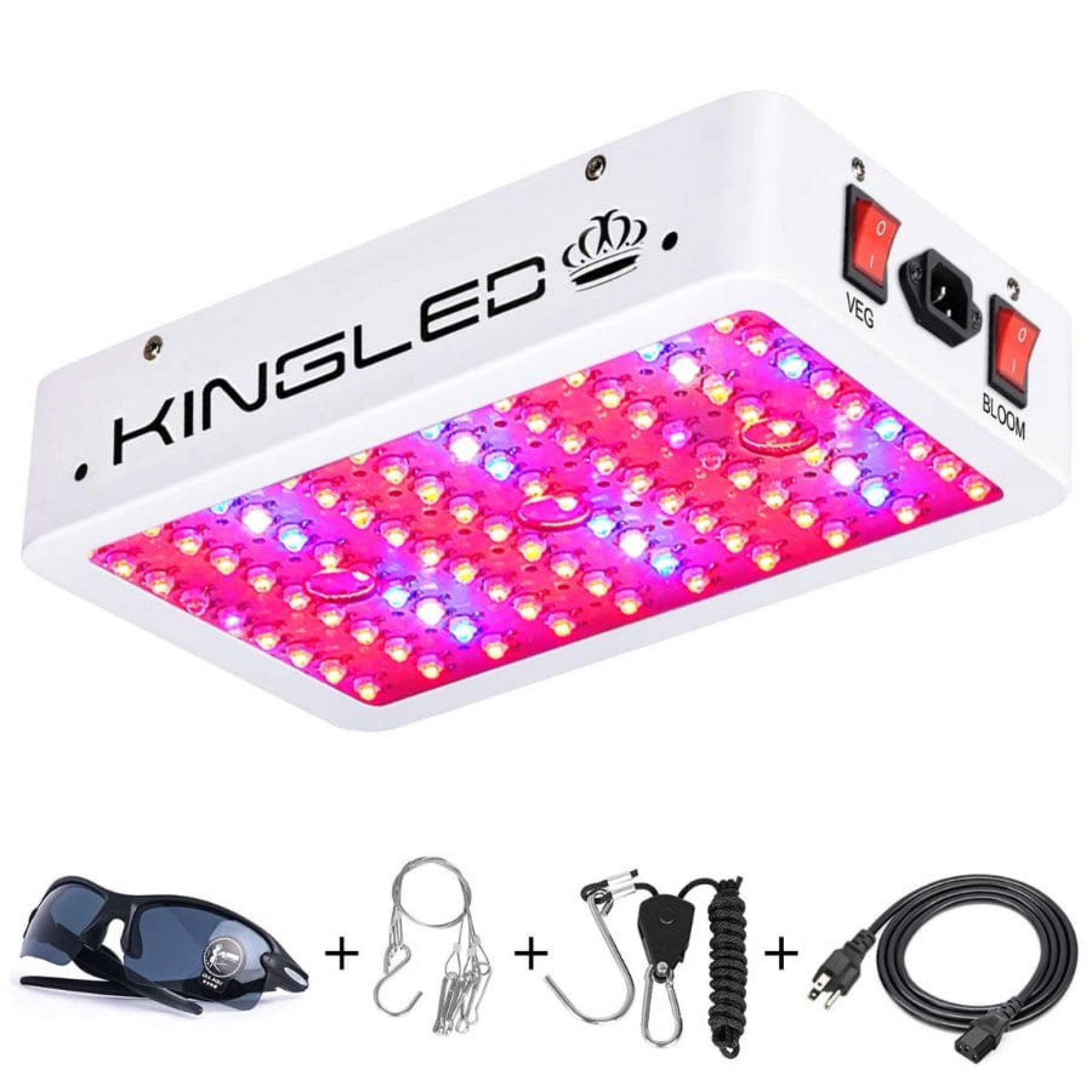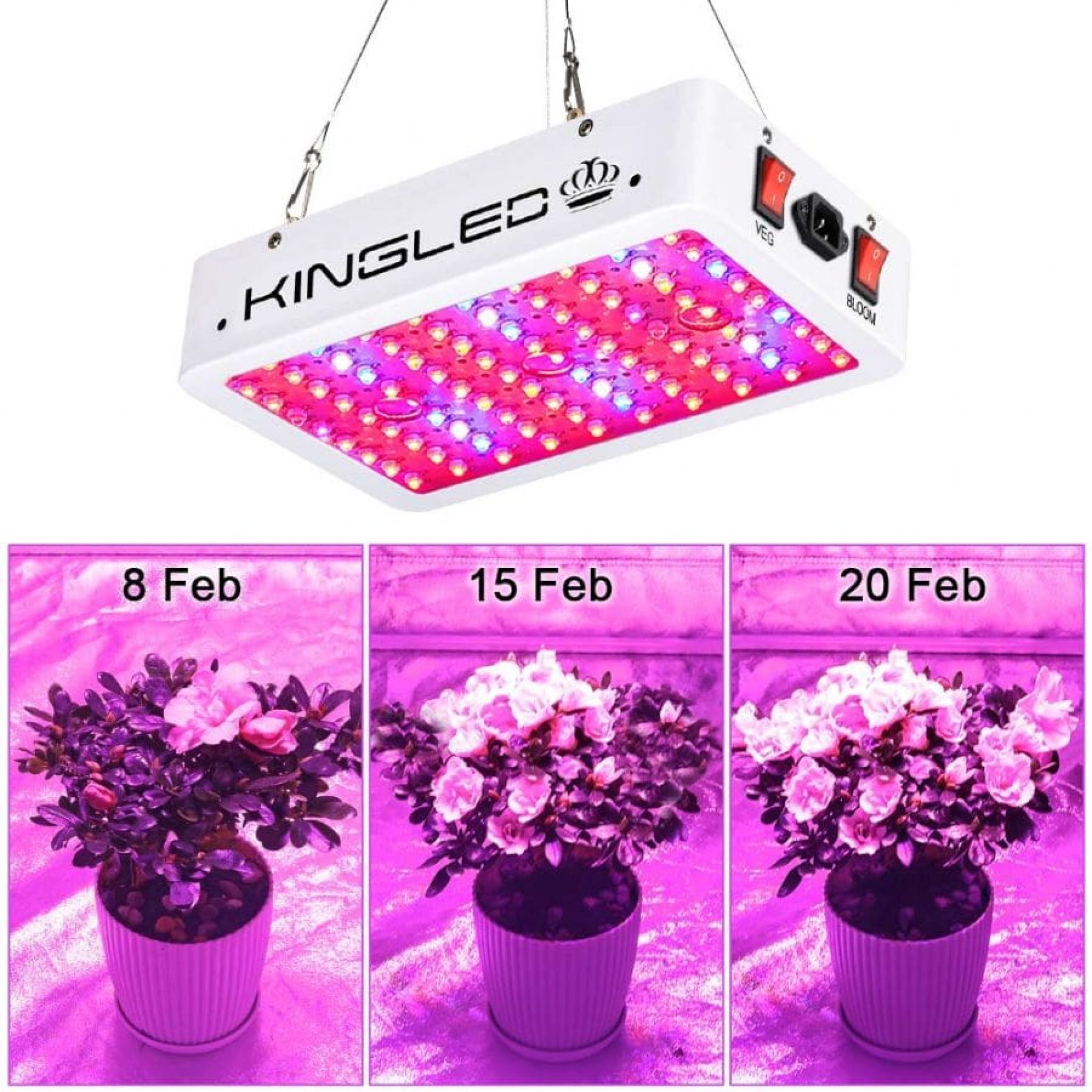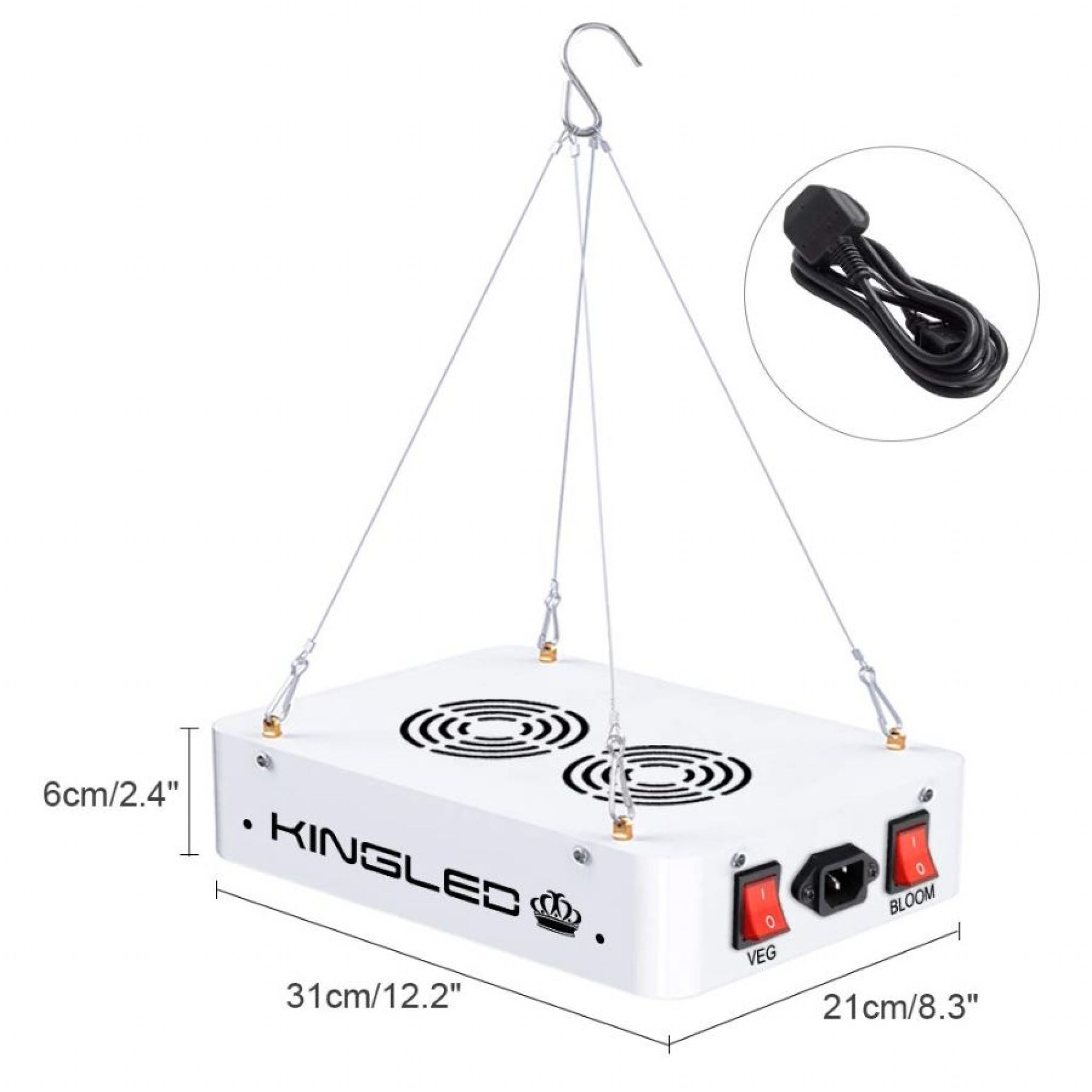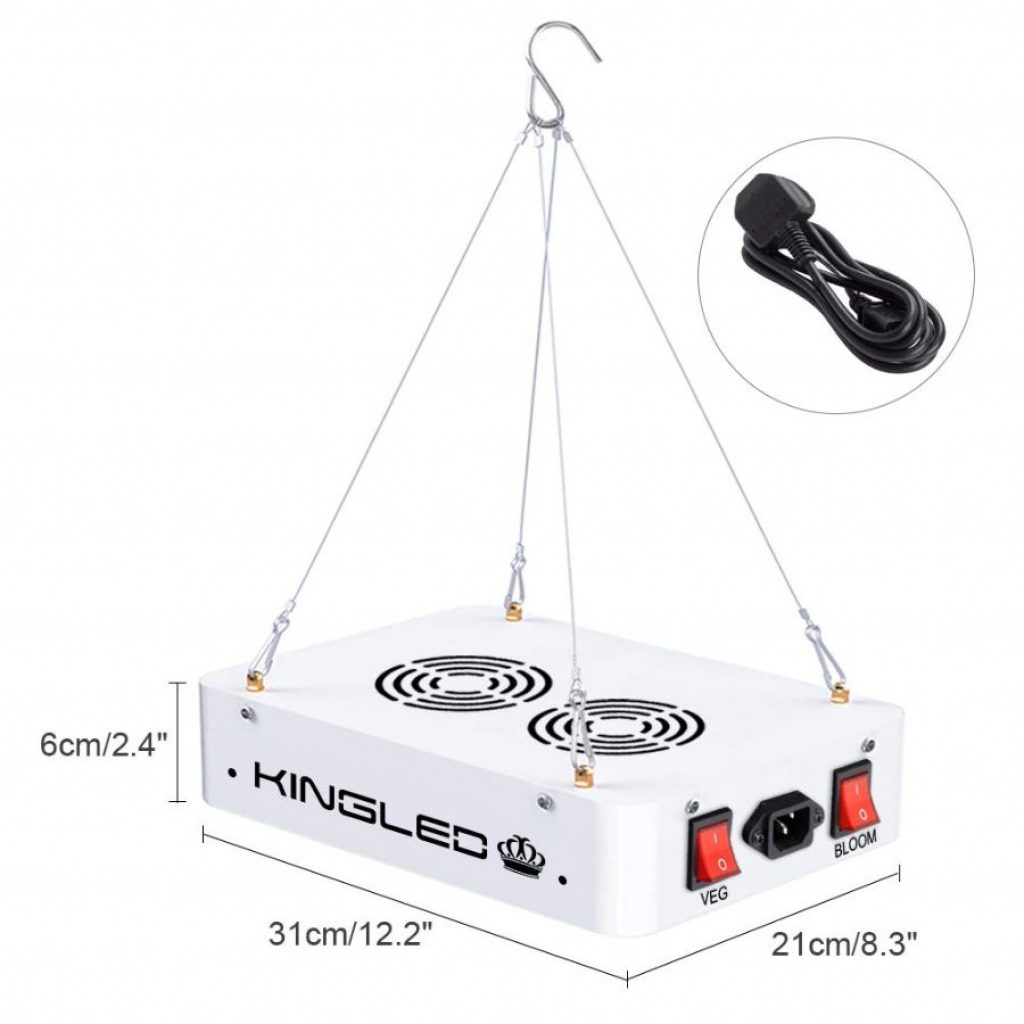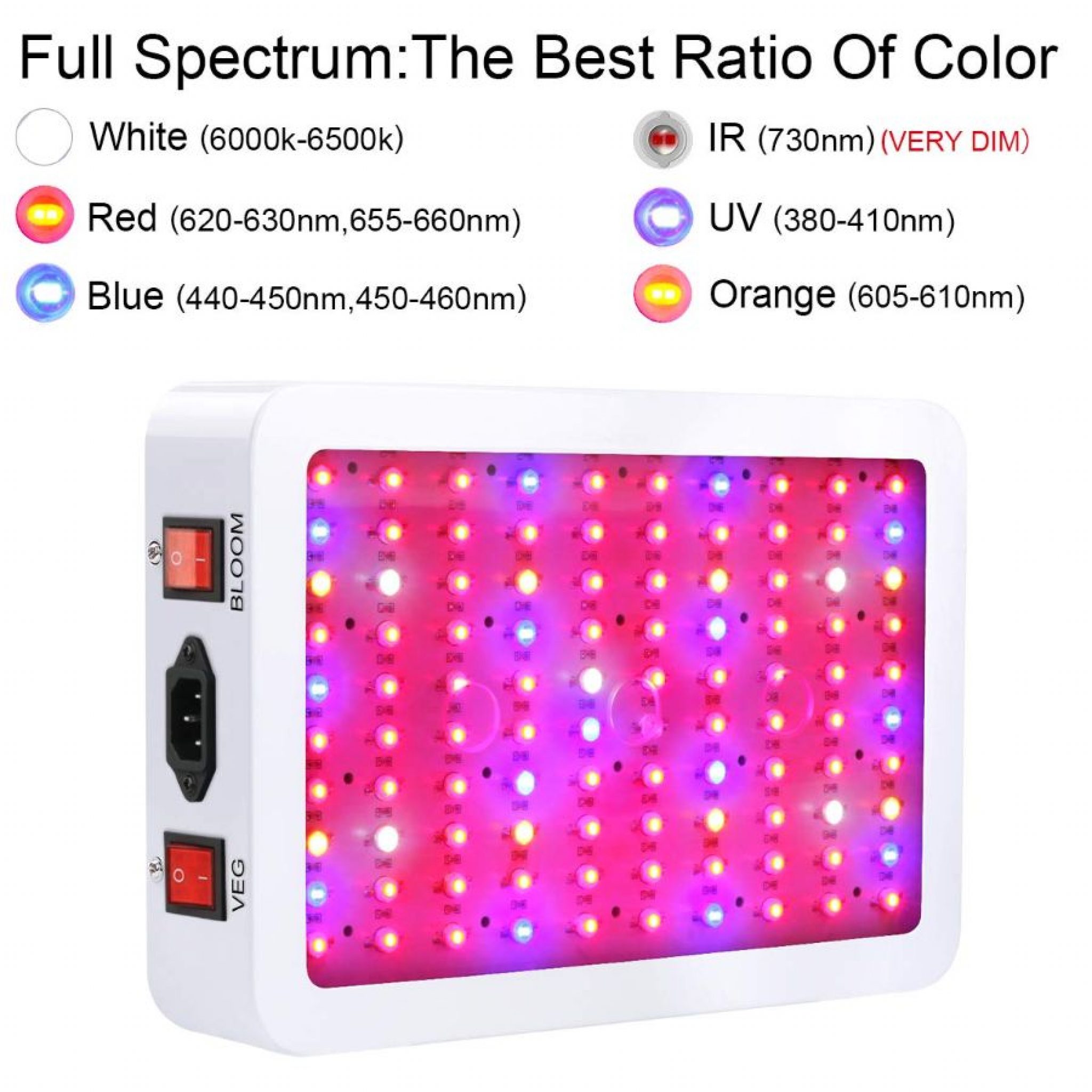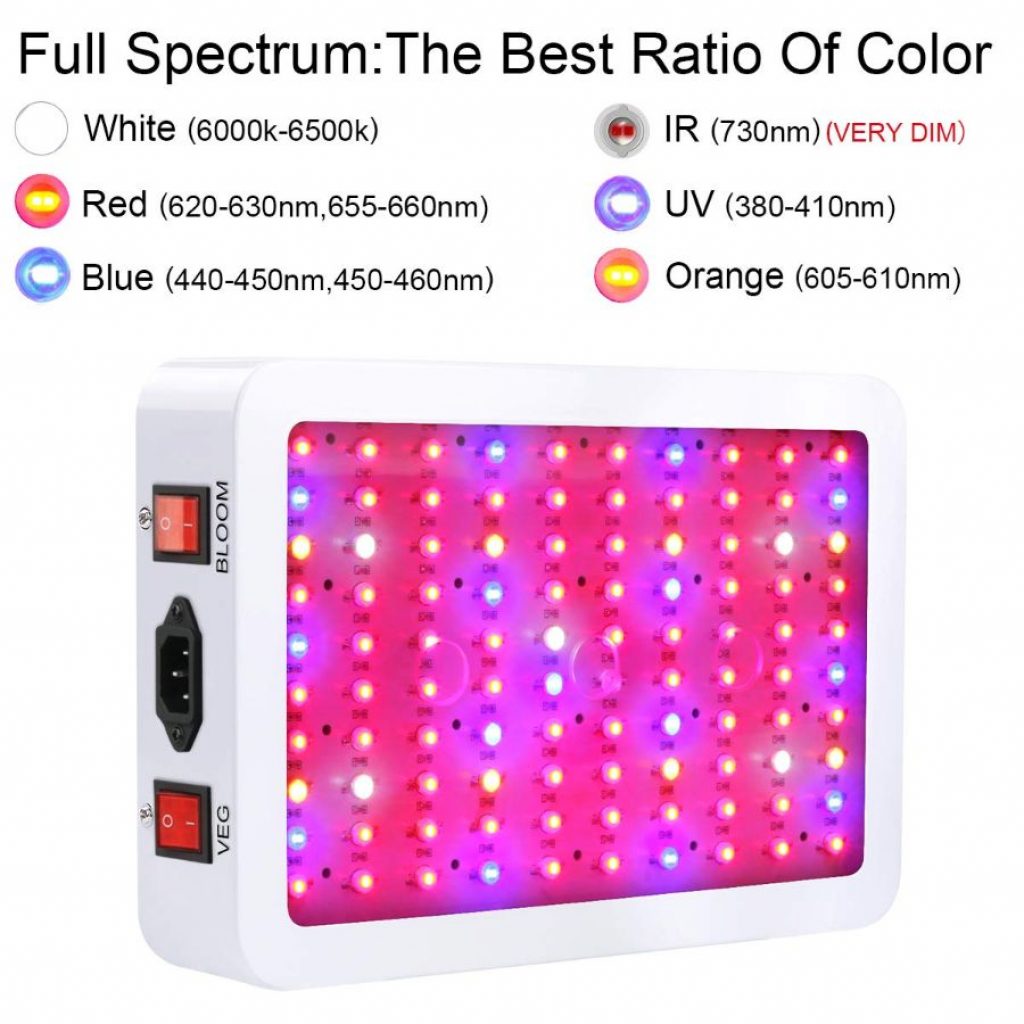 King Plus 600W is the product of the imagination and creativity of the folks at KingLED. As you might have guessed, they produce a number of LED products for various purposes. They offer a considerable range of great grow lights.
King Plus 600W is another favorite of the people: it regularly tops sales charts and customer review statistics. There is a possibility that the KingLED's project will overtake the previous entry in popularity in the coming months. The parameters of King Plus 600W are 12.2"x8.2"x2.3" and the weight clocks in at 6 pounds.
Just like the previous light, King Plus 600W offers to its users a complete light spectrum range for utilization in plant growing. Additionally, in each socket, there are two small LED lamps, which create a more powerful light source overall for the plants. Lamps change the color that they emit, which is, of course, incredibly beneficial to the health and survivability of your plants.
King Plus 600W also emits an infrared light, which also greatly affects and improves the growth rate of the plant. The infrared light is undetectable to our eyes, so you will have to go by my words.
---
PROS:
complete range of light plus infrared light;
two lamps in one socket;
great durability;
50K hrs. of active use;
inexpensive.
CONS:
not water-resistant;
no chronometer.
Neat 600 Watt LED Light: Phlizon Newest 600W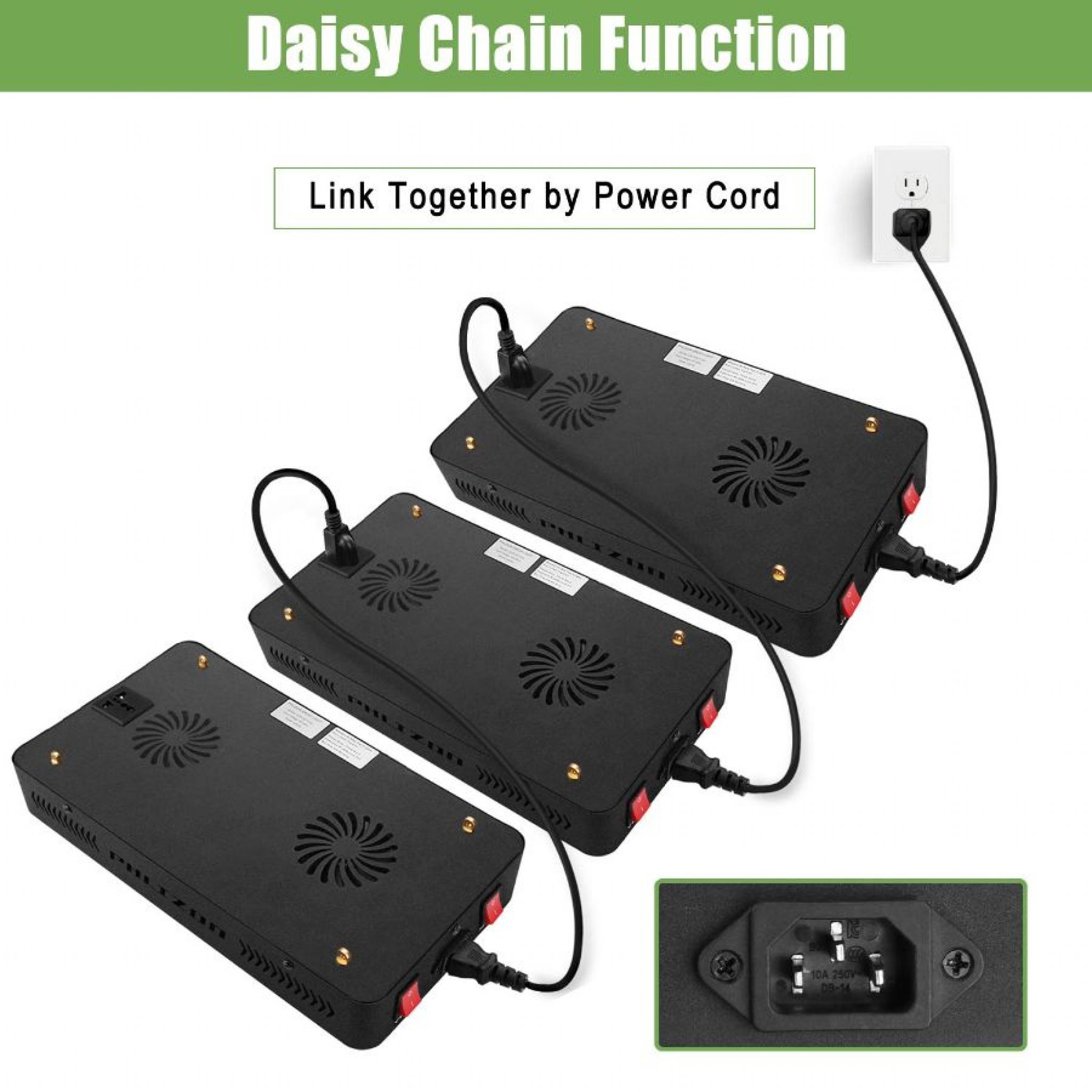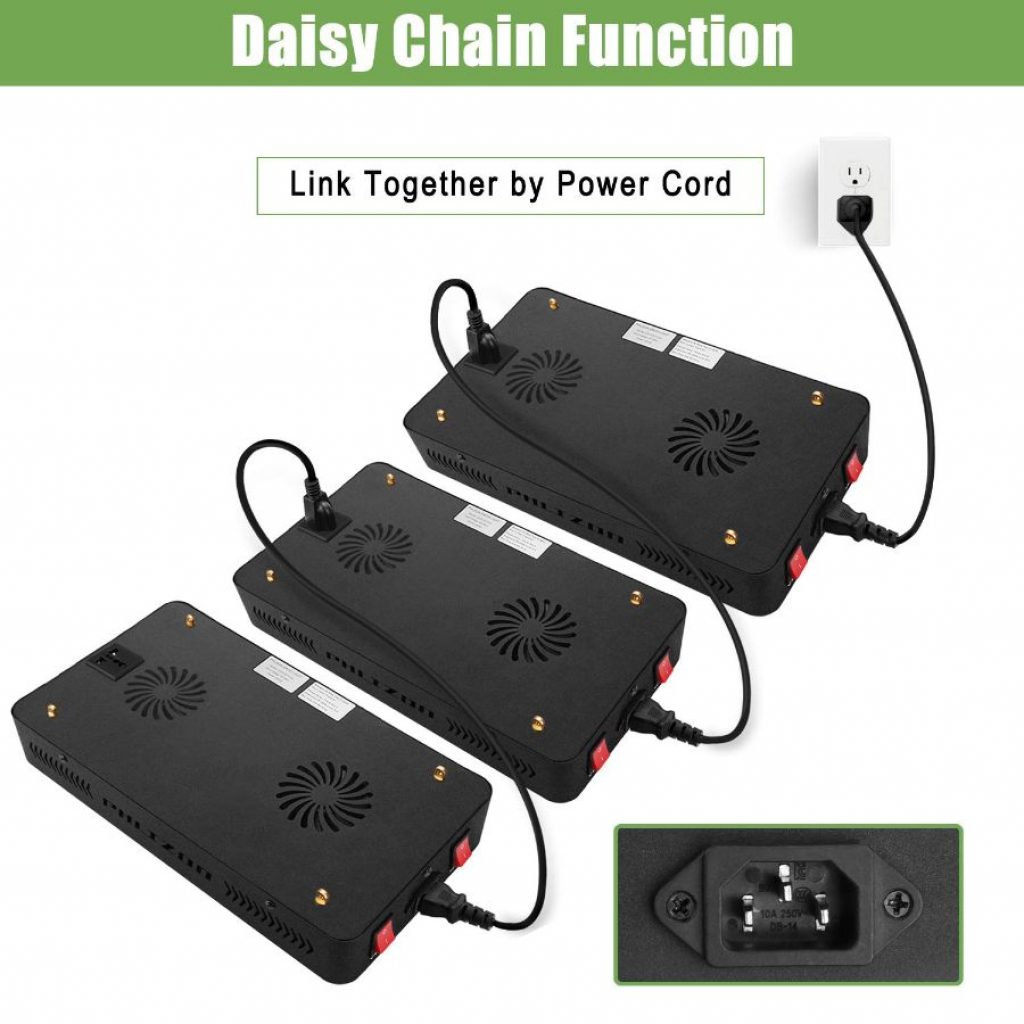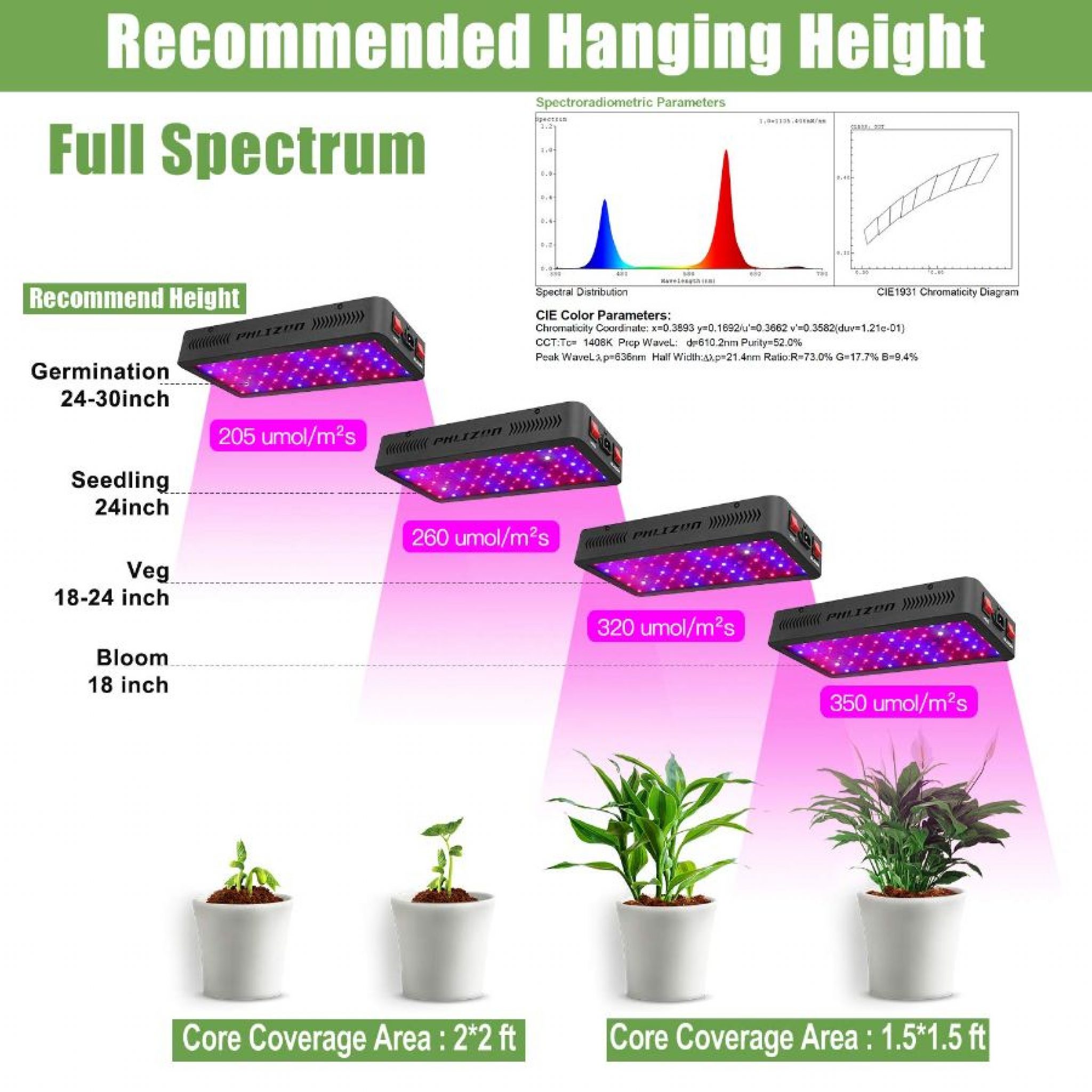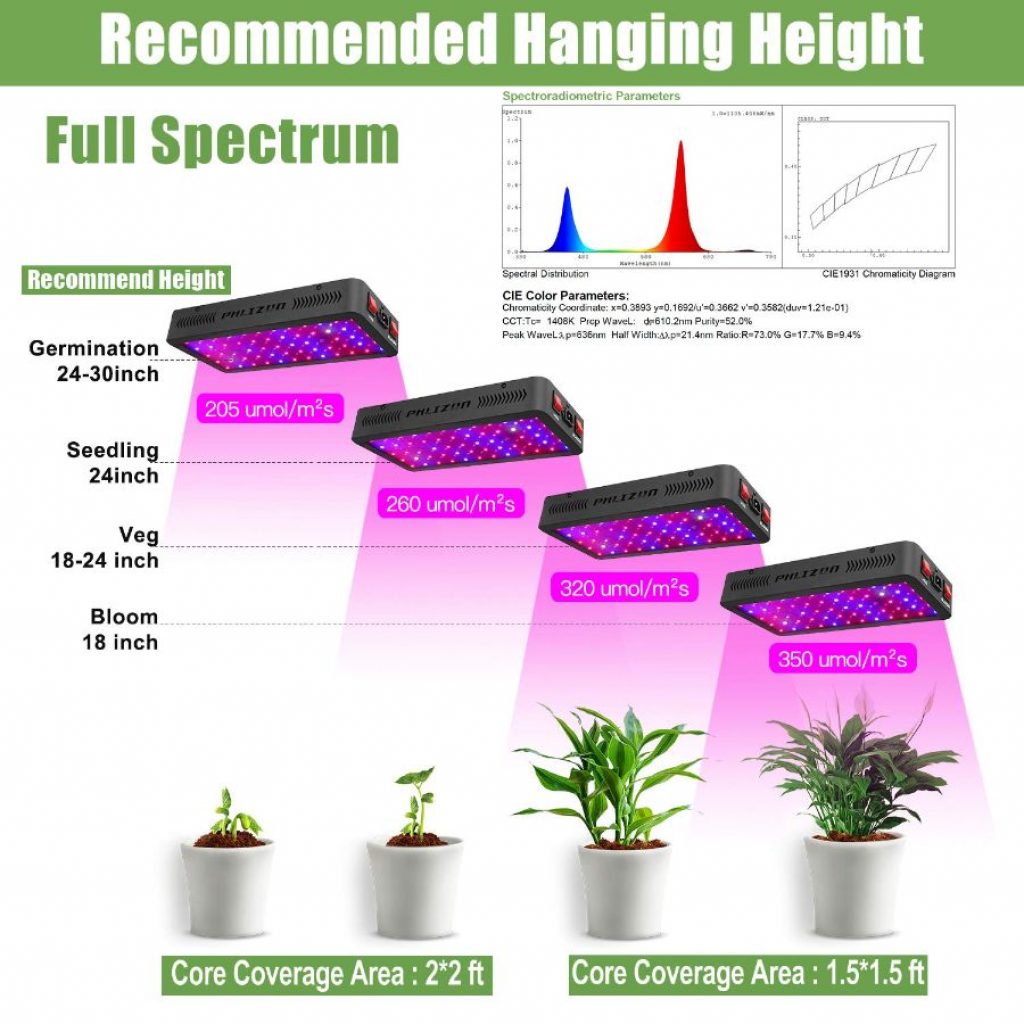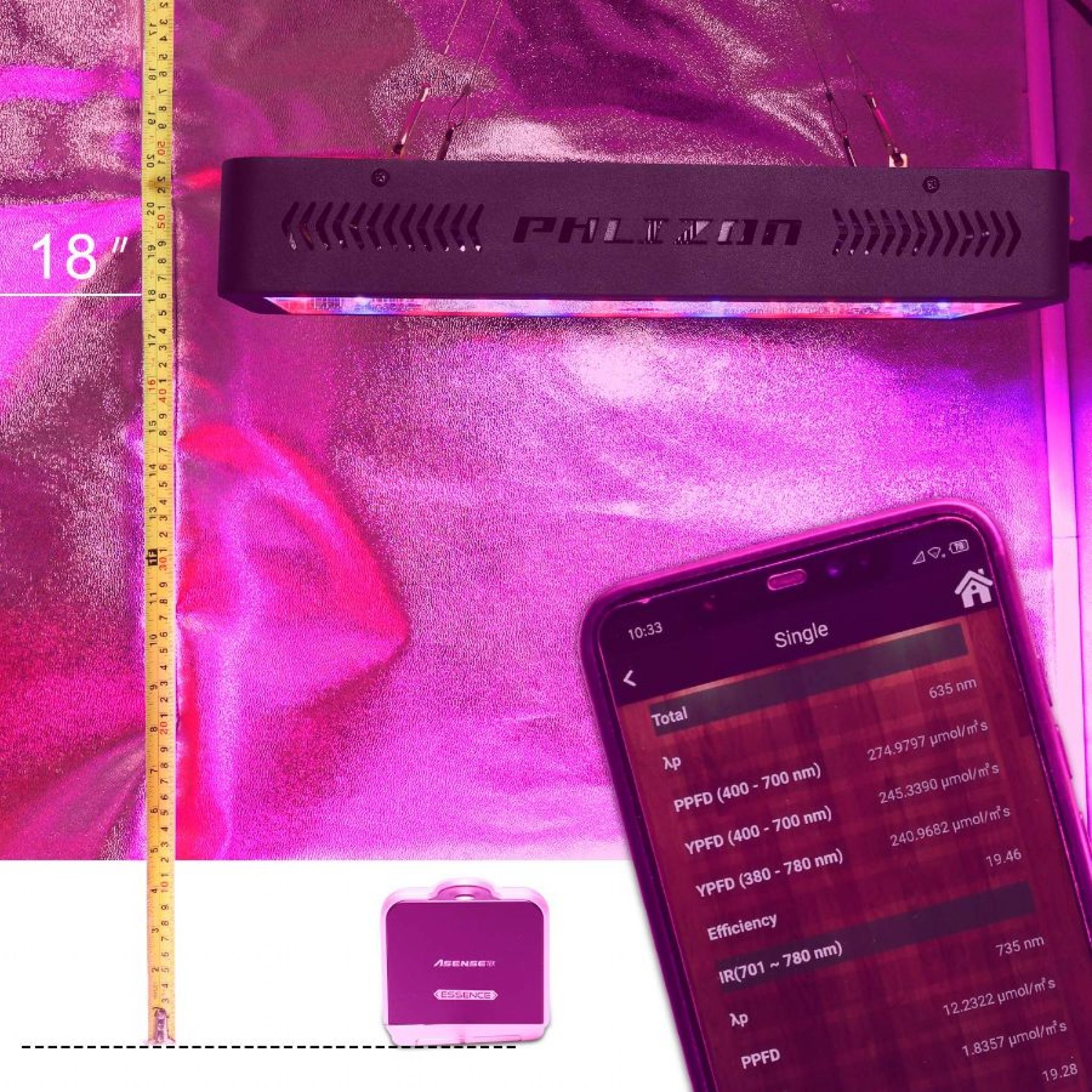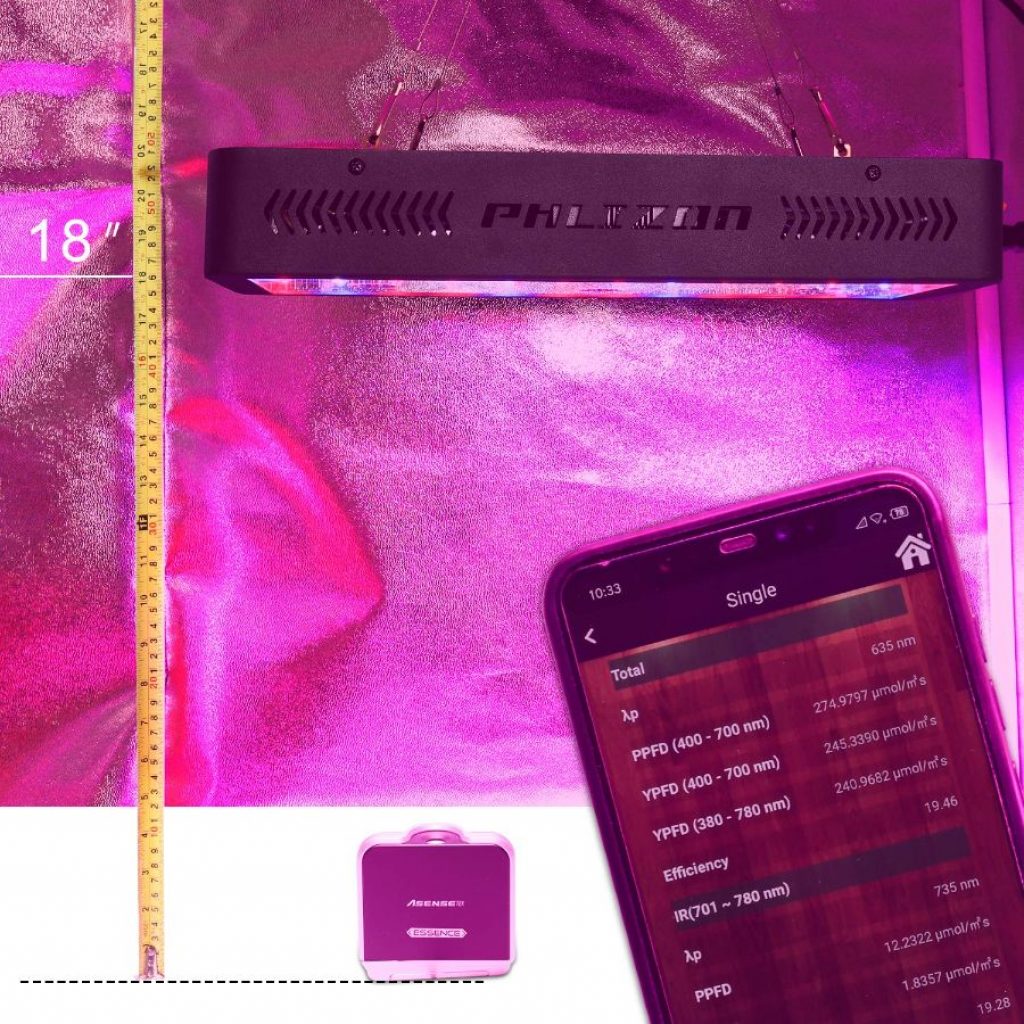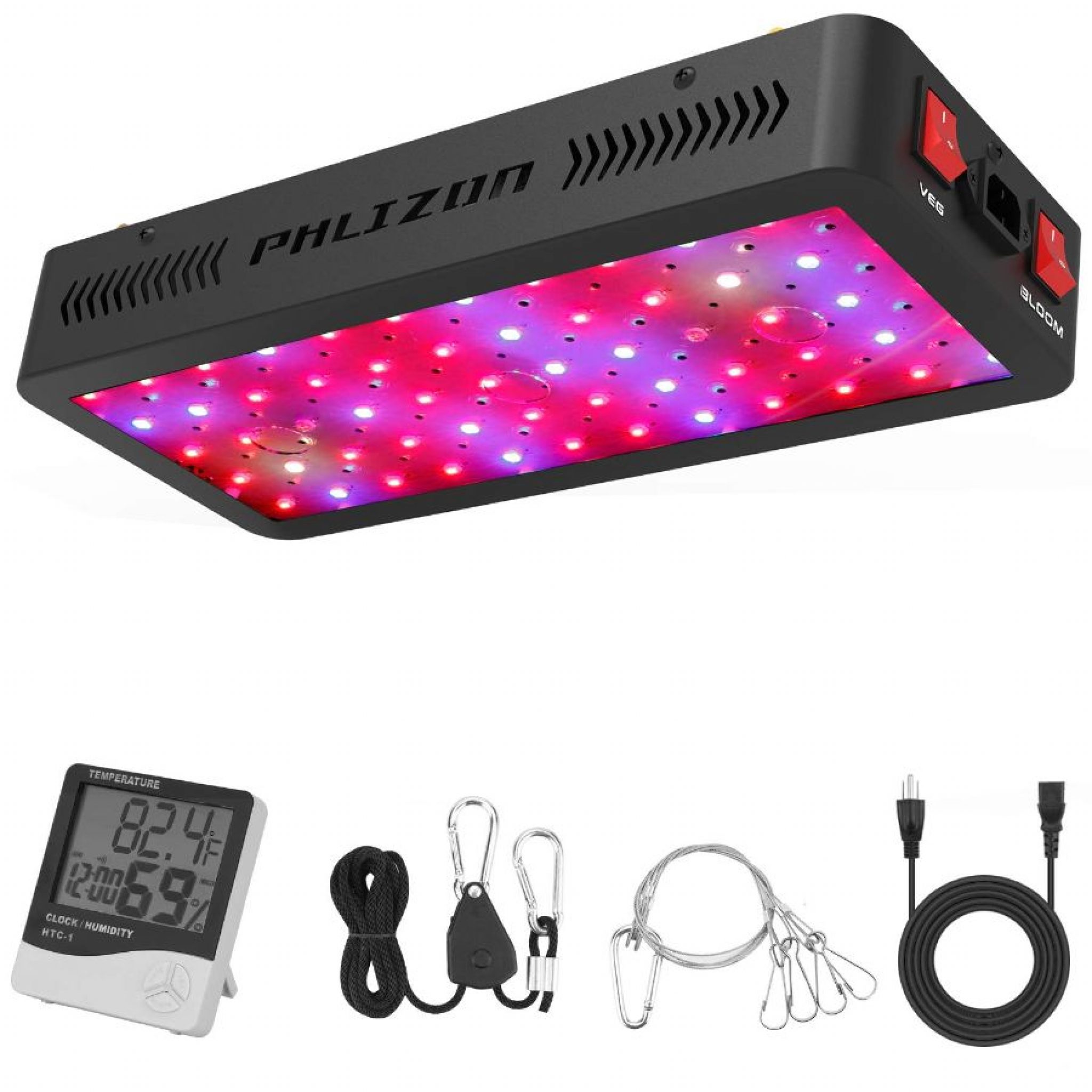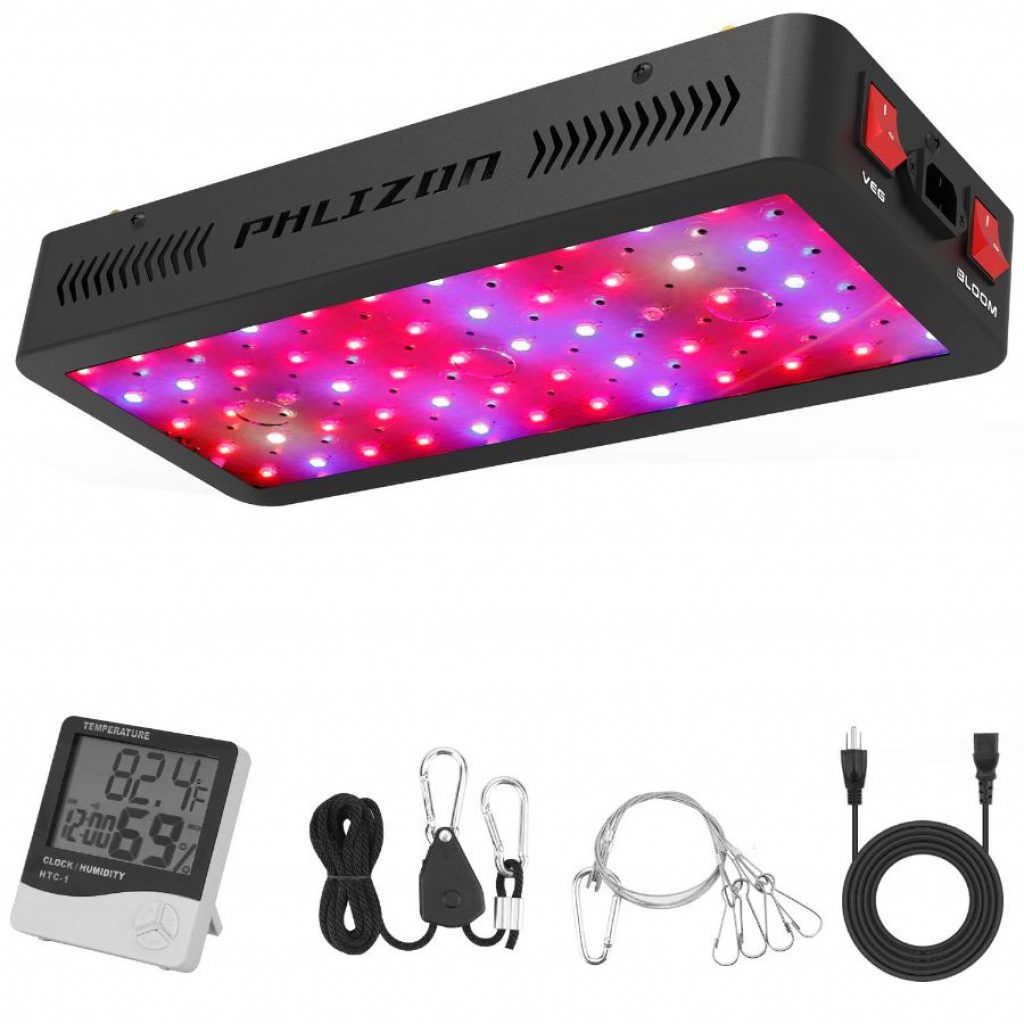 Finally! Phlizon Newest 600W has received the recognition it deserves. I have been a long-time fan of this product but was honestly astounded by the fact that not a lot of people knew about it. Phlizon is a recent addition to the line of popular LED manufacturers.
Phlizon Newest 600W offers the common complete light range, but it takes even a step further than both of our previous entries. It can emit both infrared and ultraviolet light, and this skyrockets the efficiency of your growing plants to the extreme. With this product, the brand has satisfied all the clients' needs and set a mark of quality for other companies.
Just like the KingLED's creation, Phlizon Newest 600W has two lamps in each socket. Overall, there is 120 individual LED lamps in this light. Besides the light, they emit a lot of heat that needs to be dealt with. Overheating will not only damage the lamps and the electronics, but it will lead the air heating up inside the grow tent, which will be extremely detrimental to the health of your plants.
It is fortunate that Phlizon has thought about this and installed a competent cooling solution: 2x vents and fans do their job pretty earnestly. In addition to the cooling solution, Phlizon installed two trackers into the light: humidity and temperature trackers. They affect the intensity with which the fans work; thus, regulating the temperature of both the lamps and the air inside the tent.
---
PROS:
complete light range, including infrared and ultraviolet;
double lamps;
excellent cooling solution;
temperature and humidity monitoring.
VIPARSPECTRA UL Certified 600W – Scientifically-Backed?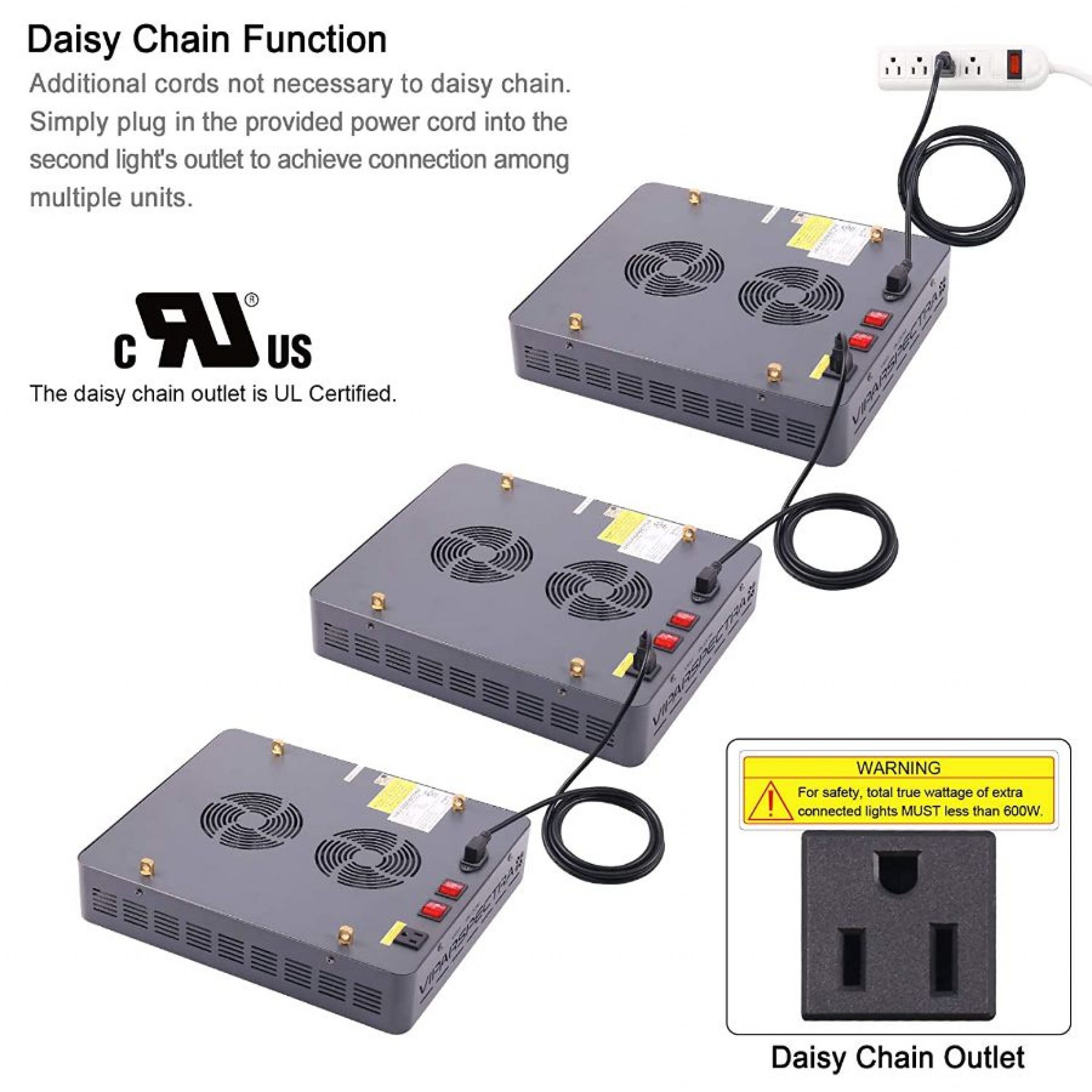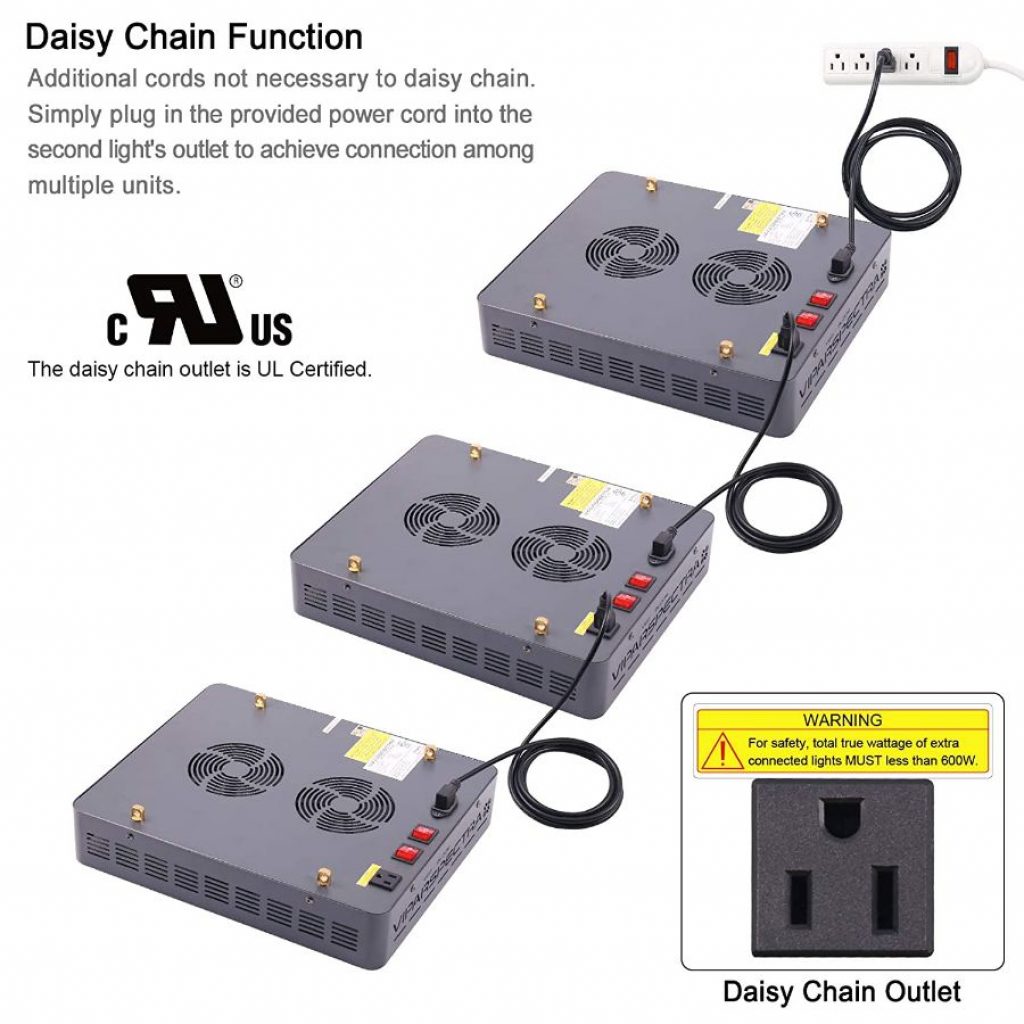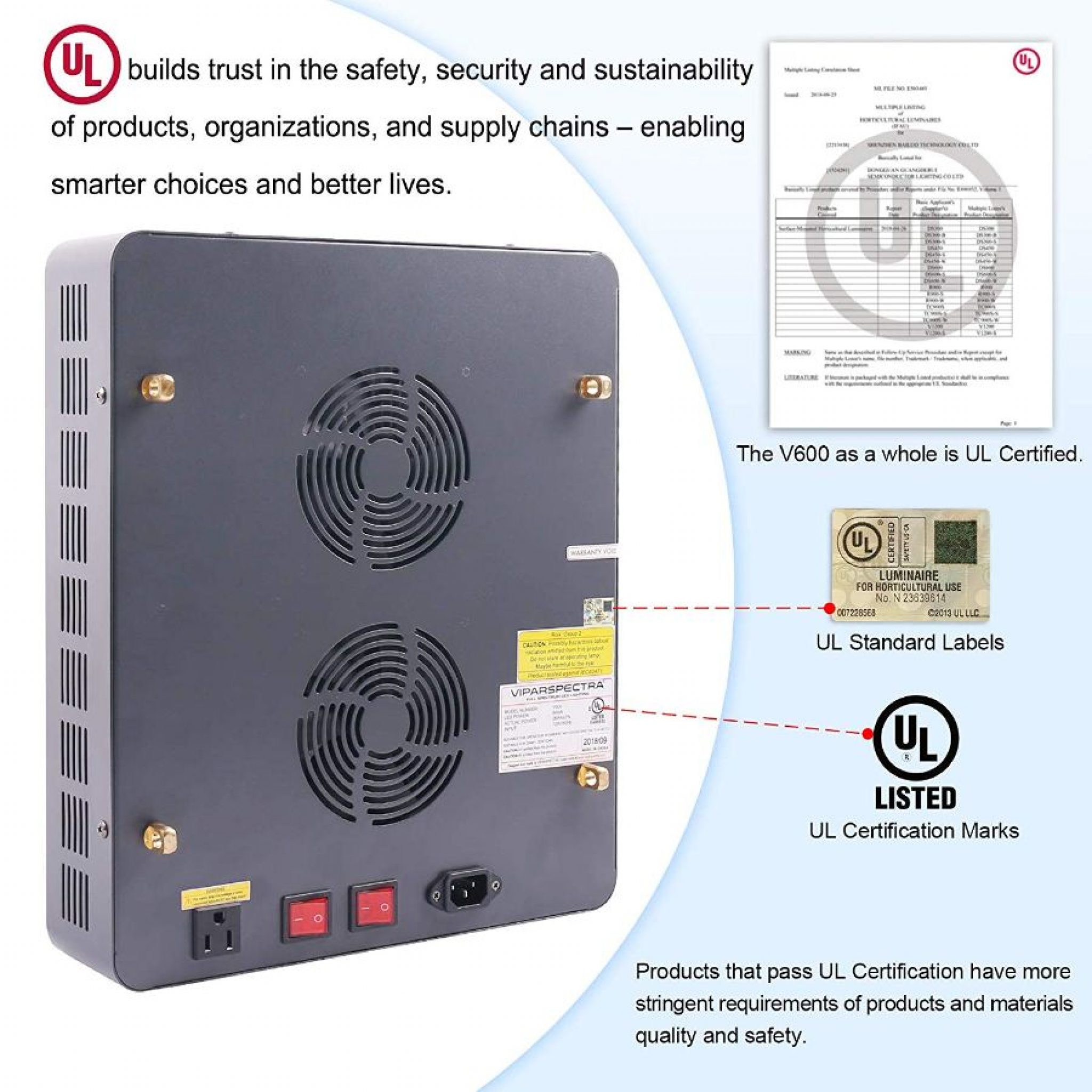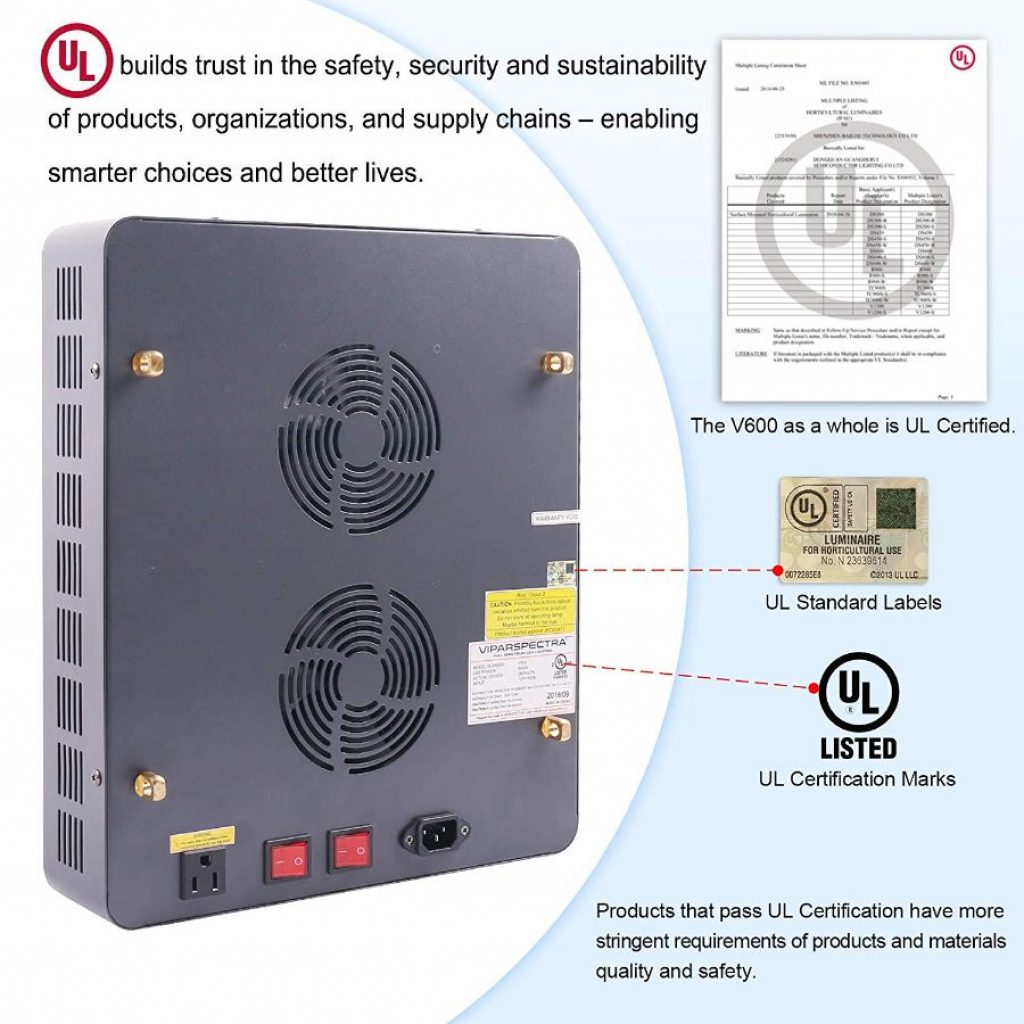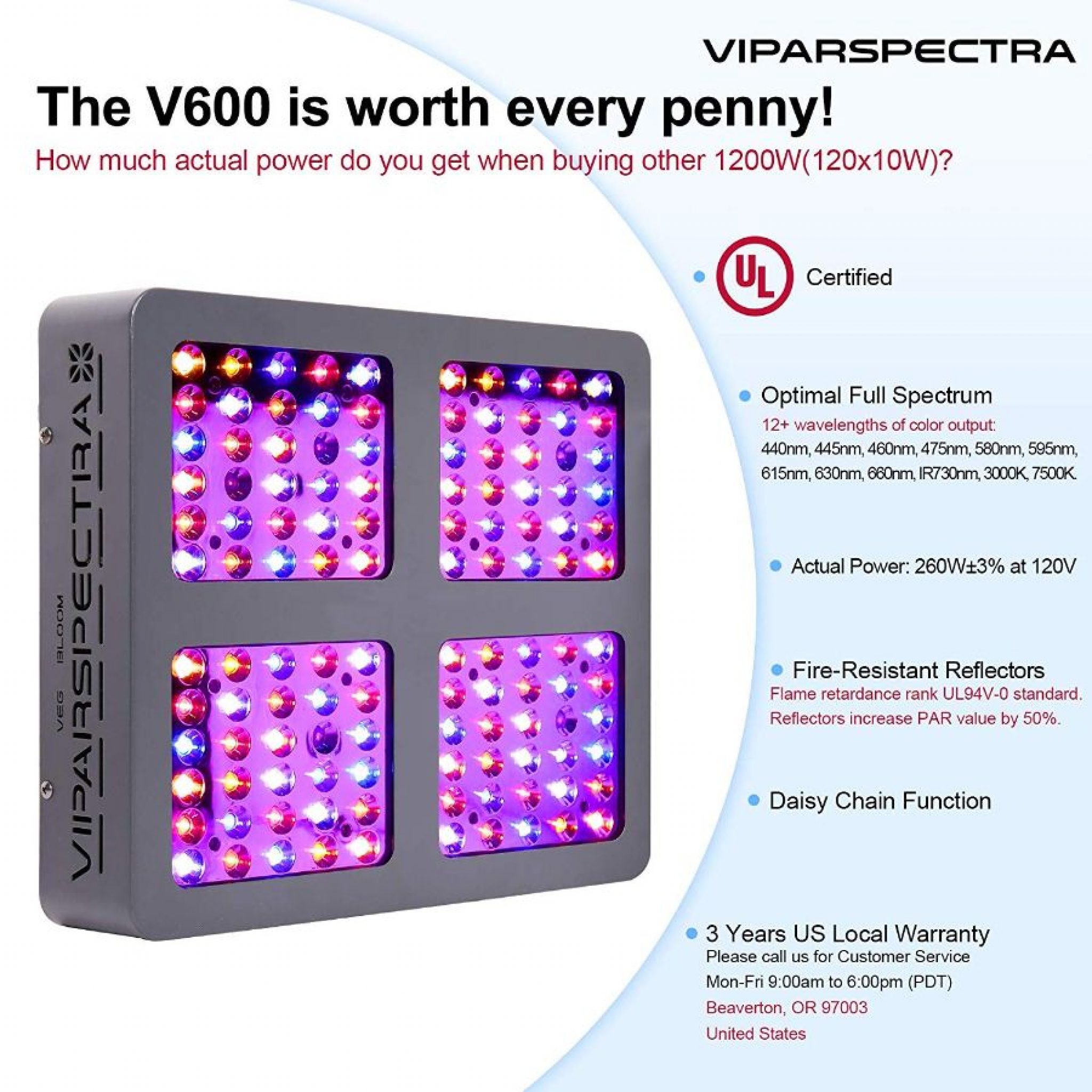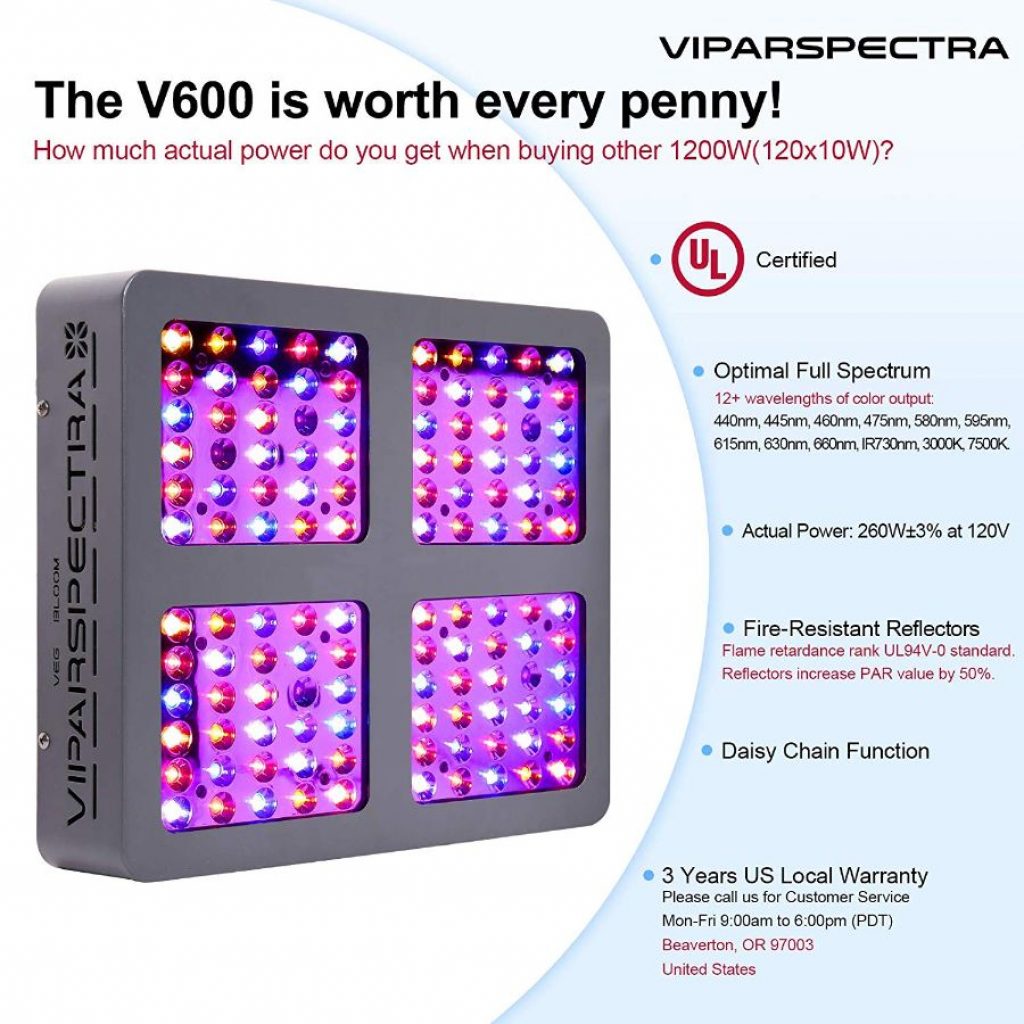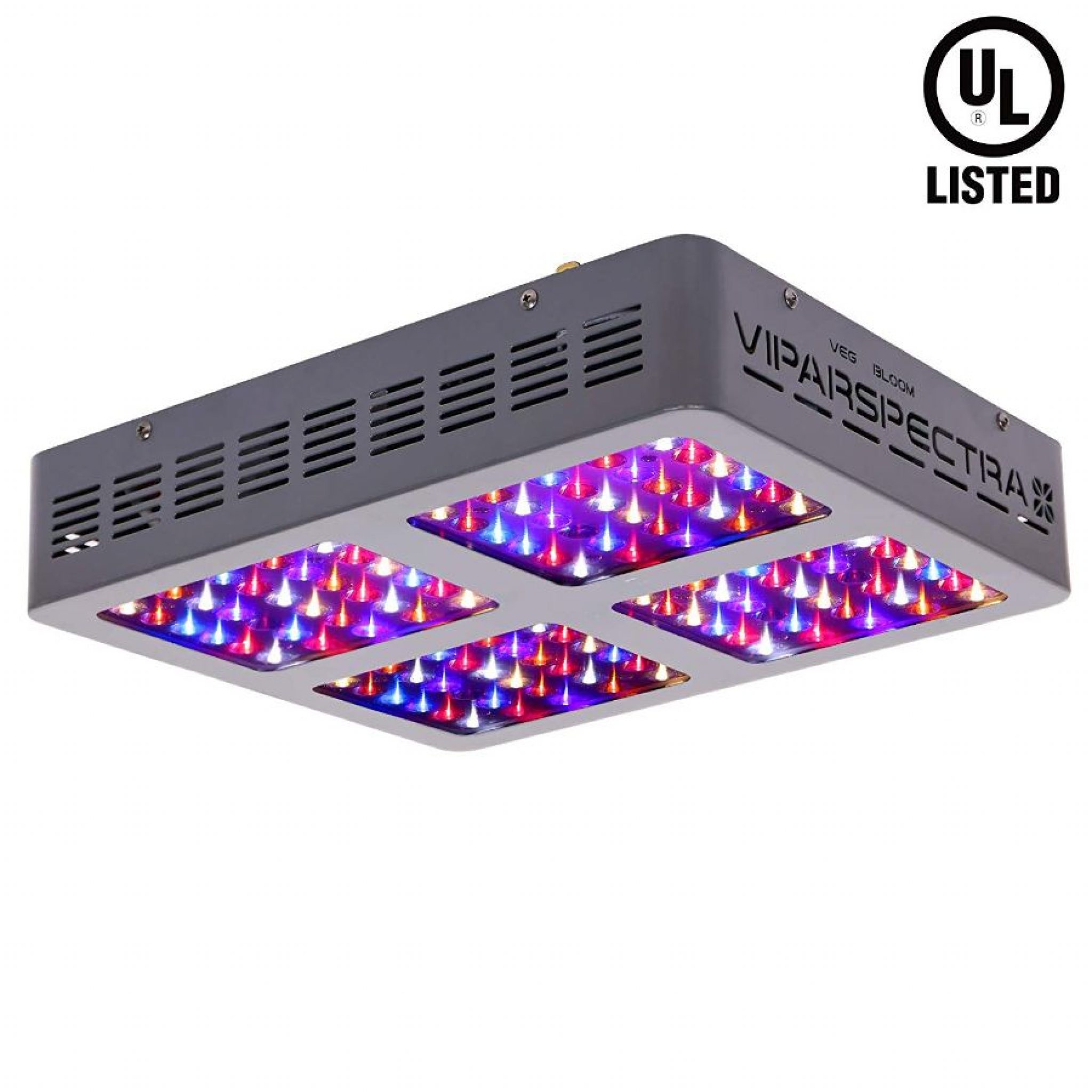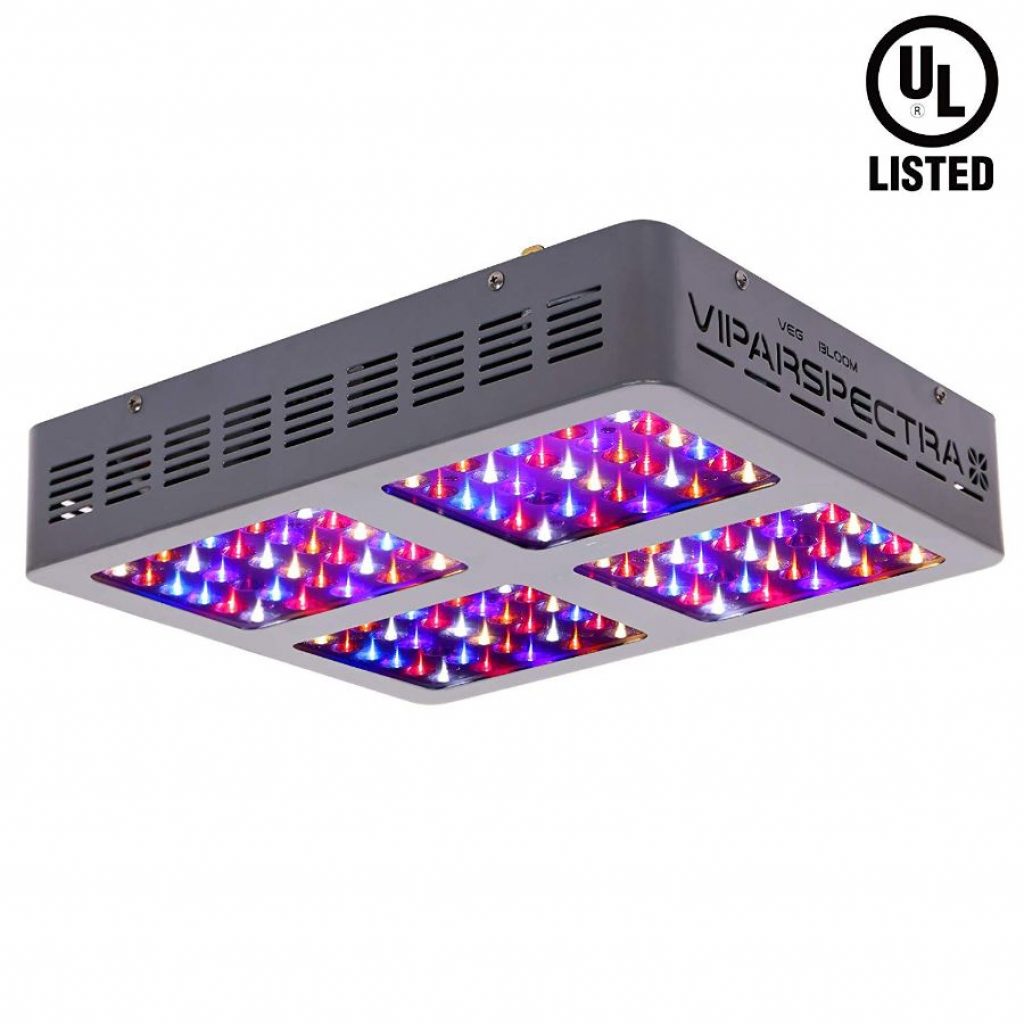 The manufacturers of VIPARSPECTRA UL Certified 600W really must know something. Making your LED light for growth stand out between numerous competitor companies is a rather hard task. However, the people at ViparSpectra have succeeded in this task. Now, this brand is a force to be reckoned with for other companies.
VIPARSPECTRA UL Certified 600W excellently simulates the white light of the sun. The 120 LED lighting units together encompass the complete light range, giving your plants all the energy that they need to be healthy and grow.
VIPARSPECTRA UL Certified 600W also encompasses five special infrared lamps, so no need to worry about the dimmed lamps: they are working well. Infrared light on its own is known to significantly increase germination and cell division, which accelerates the growth rates, as well as flowering.
The parameters of this incredulous light are 15″x12.6″x3″ and the weight is almost 10 pounds. ViparSpectra instructs to put this light directly above and perpendicular to the plants so that the emitted light from VIPARSPECTRA UL Certified 600W would have the most significant effect on the plants.
You can say that the manufacturers studied the biology books with VIPARSPECTRA UL Certified 600W, as they created special modes for blooming and vegetative phases. This will bring enough light to your plants according to the plants' life phase.
VIPARSPECTRA UL Certified 600W has very powerful, industrial-level fans and cooling radiators installed in it. The temperature will be kept cool and nice for the plants.
---
PROS:
complete light range and infrared light;
two modes;
extreme cooling solution;
quite cheap;
excellent performance.
CONS:
no chronometer;
not water-resistant.
VIPARSPECTRA PAR600 600W: Even Better Than the Previous One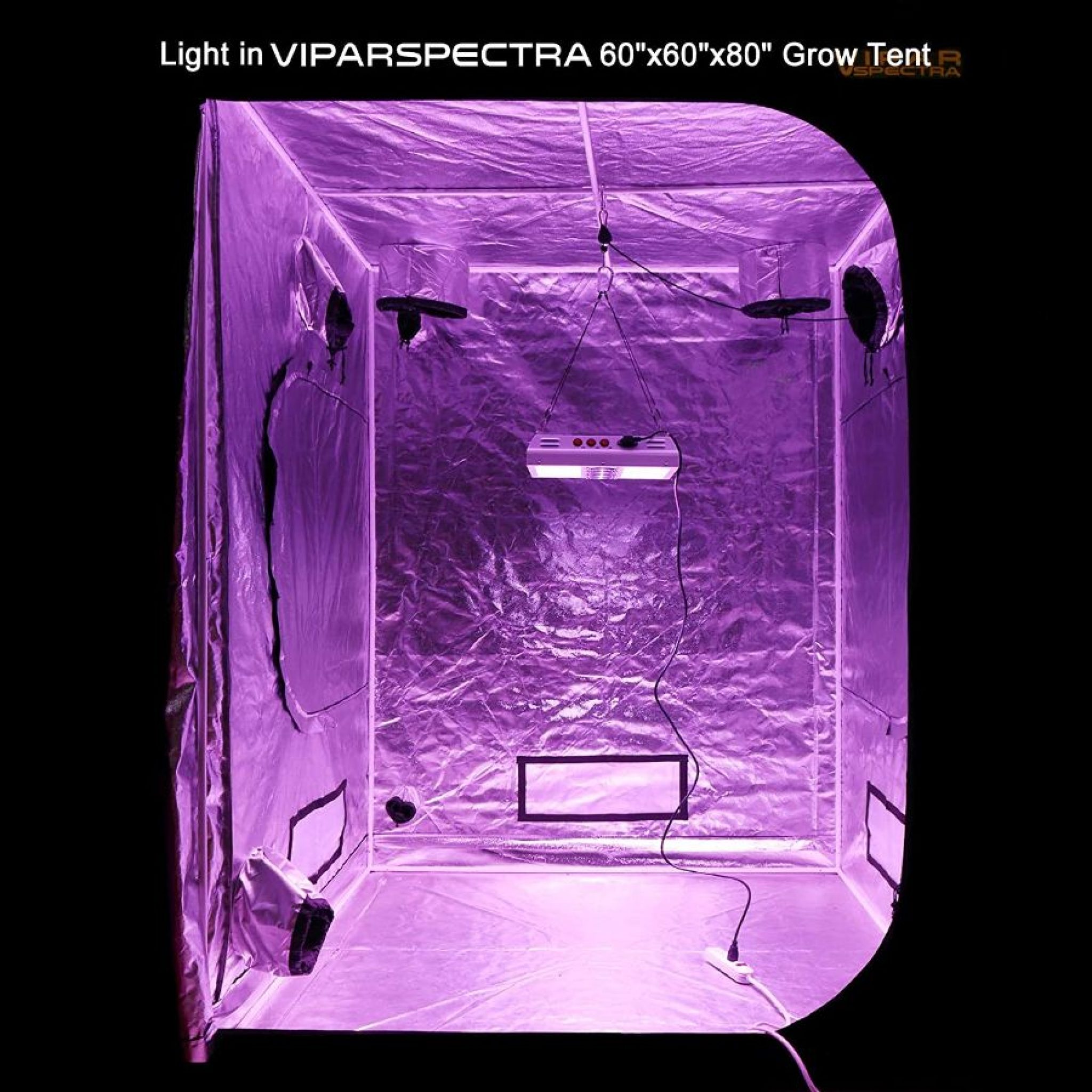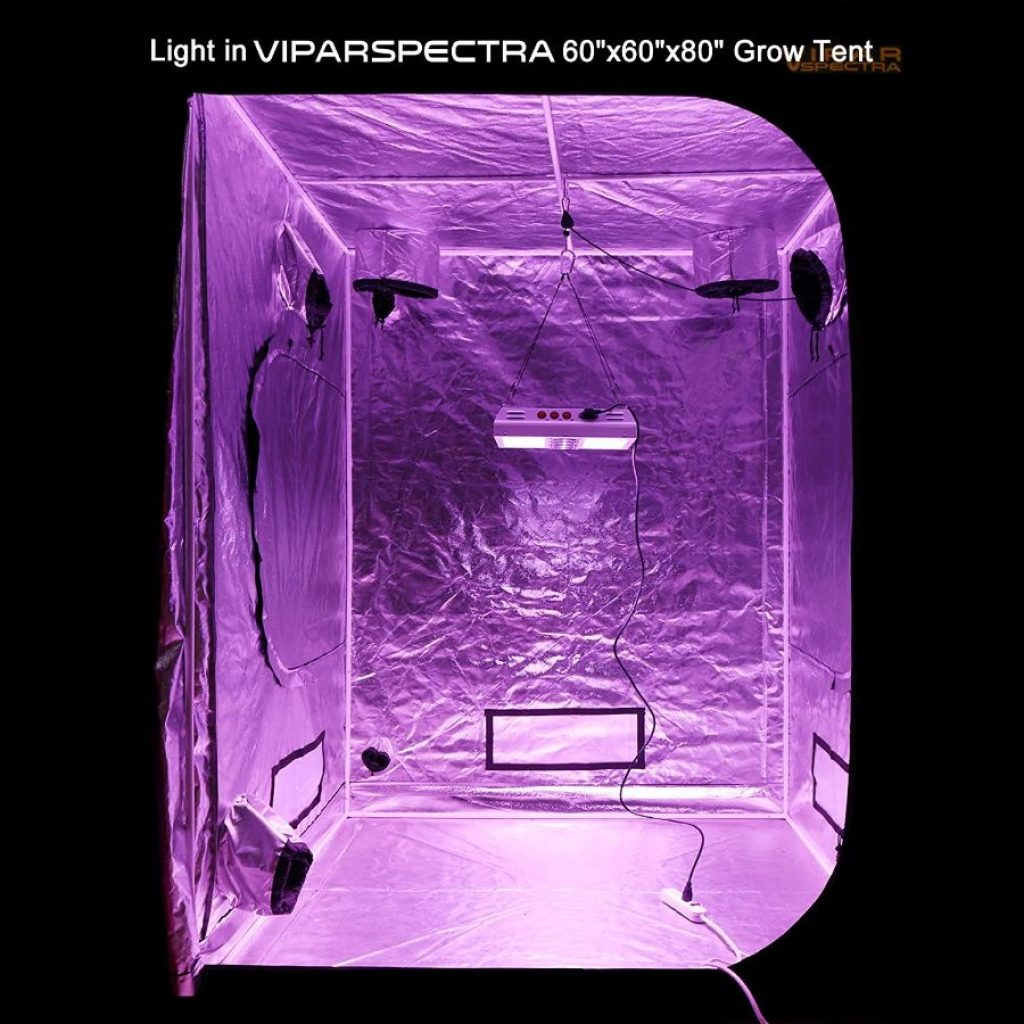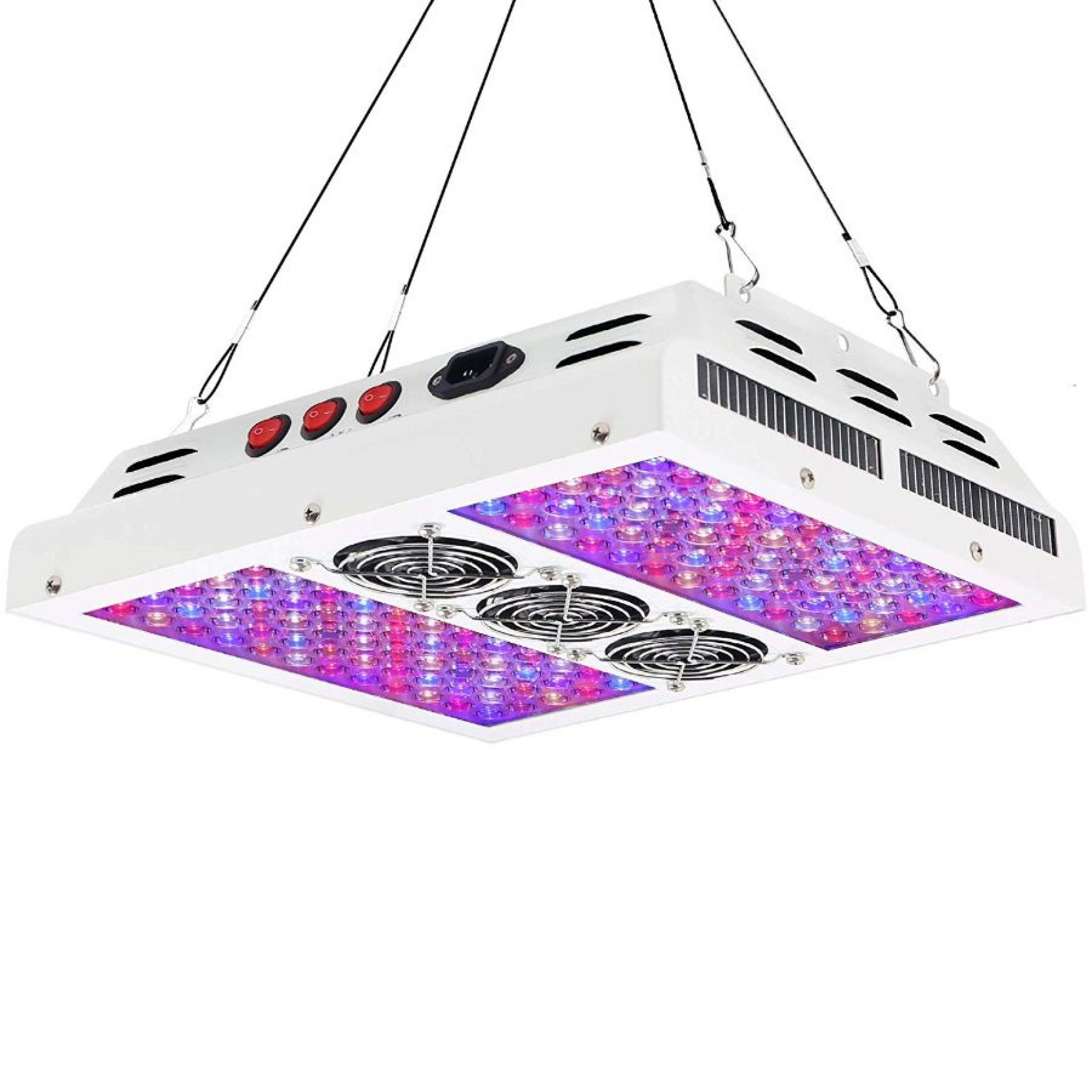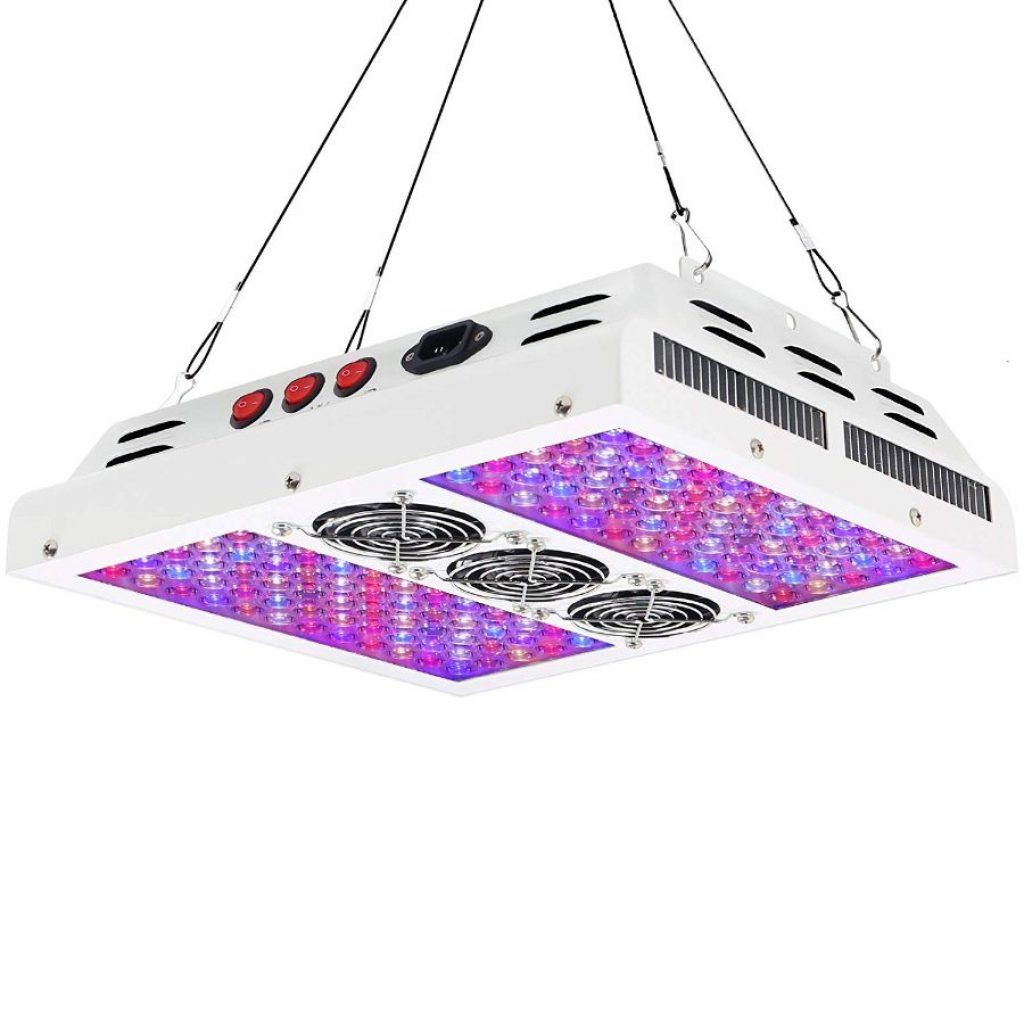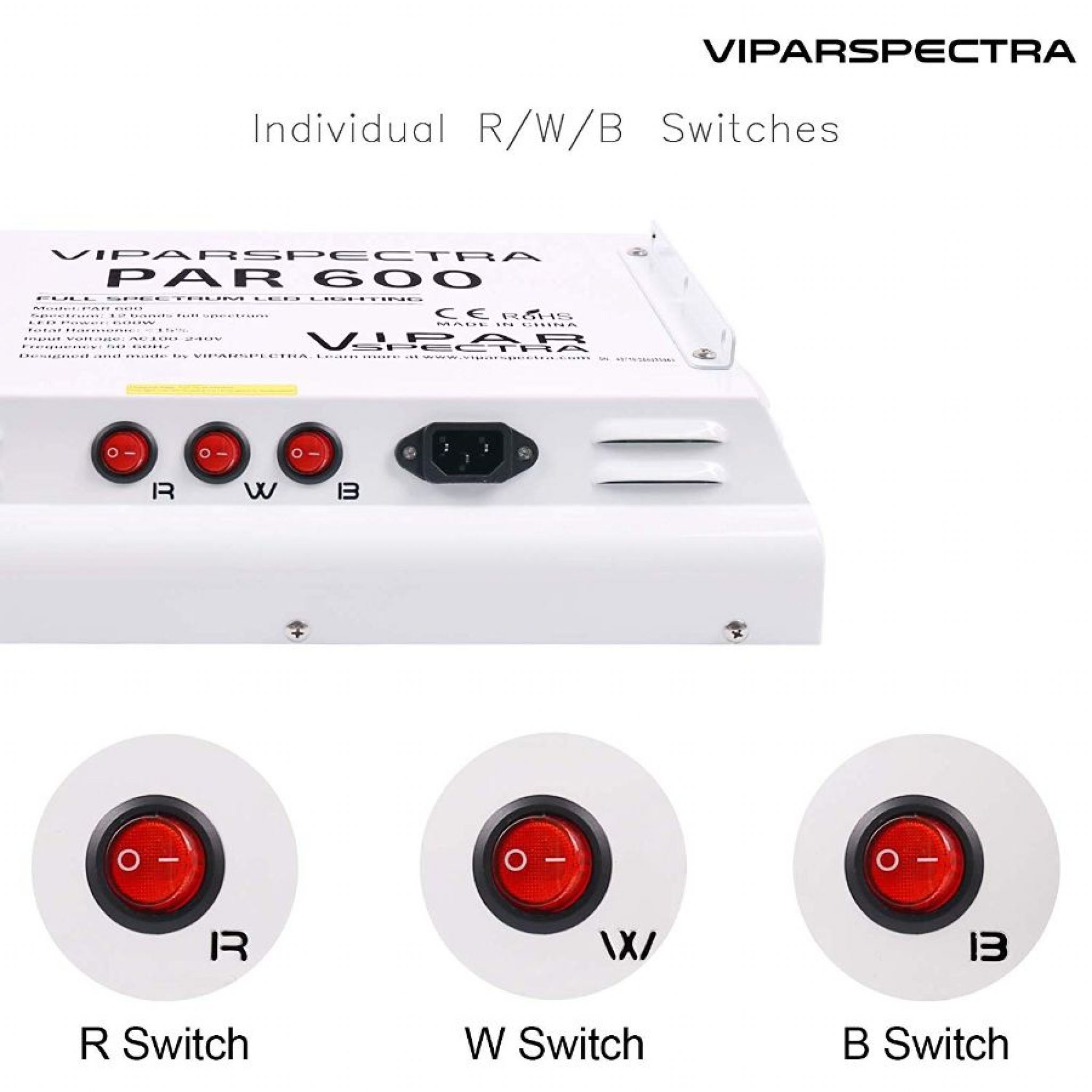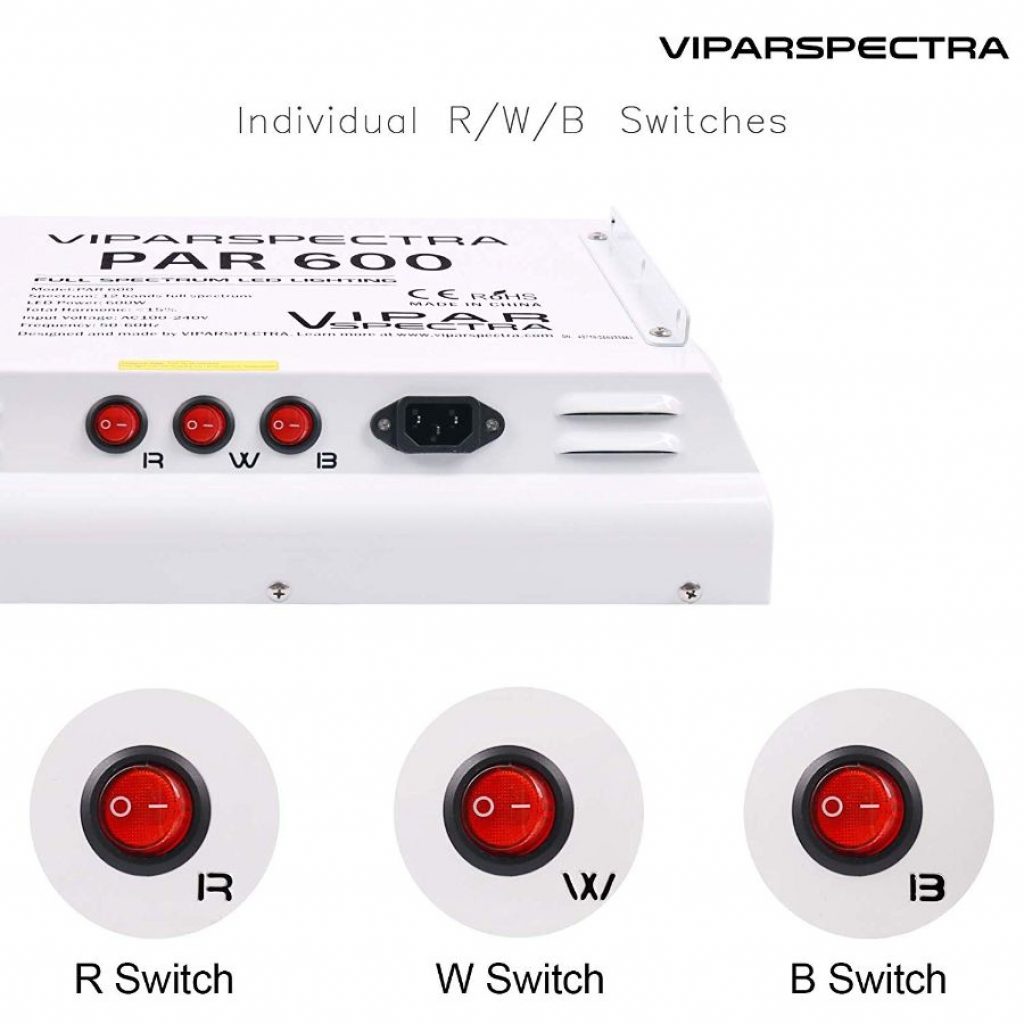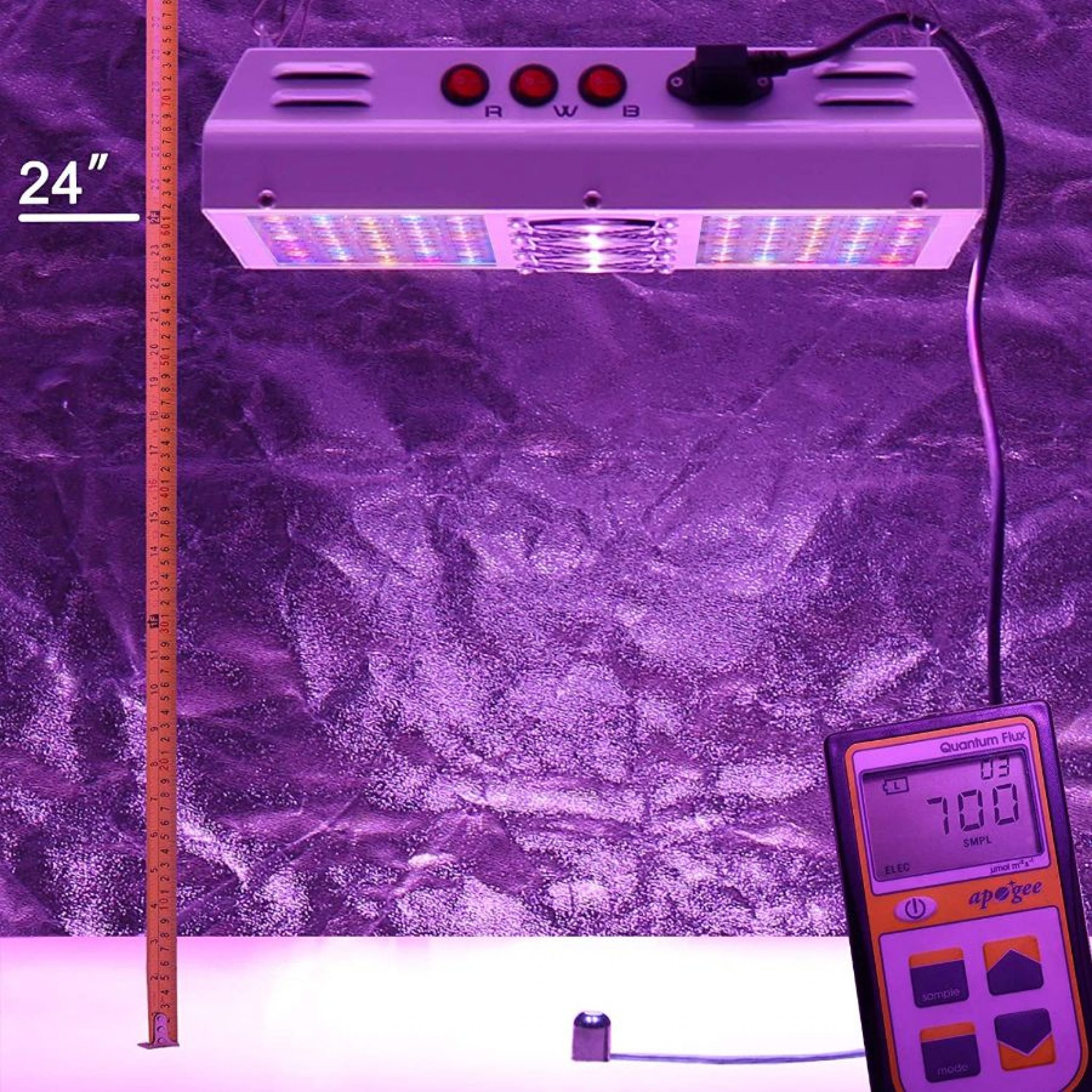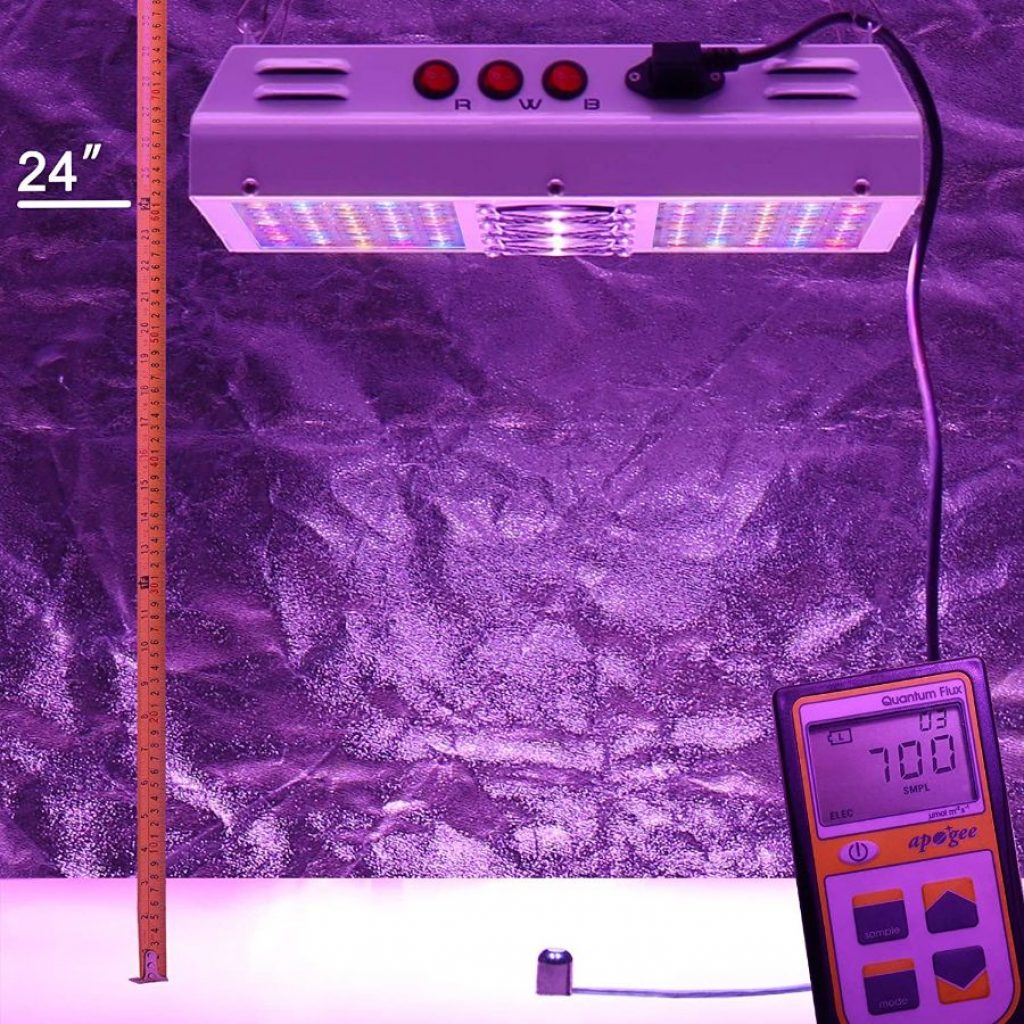 Are you thinking of growing a whole cannabis garden and not a couple of pots? Well, how about the previous entry but with even more performance, efficiency, and coverage!
ViparSpectra connects with its clients and tries to satisfy even the pickiest clients` needs! That is how you get ahead of everyone else in today's world, in my opinion. VIPARSPECTRA PAR600 600W is another excellent product from the people at ViparSpectra.
Of course, this grow light has a higher price to pay for it. Nonetheless, it is worth every penny. VIPARSPECTRA PAR600 600W brings to the table a couple of unique and useful features that justify the price easily.
The number of LED lamps is the same when comparing to the other ViparSpectra product. However, the lamps are special EpiLEDs that have an even more significant effect on the plants. These lamps emit the light that is closest to the sunlight. It is due to the lamps' extreme range of light wavelengths. More intricate light and fewer gaps between the wavelengths better simulate the sun, as the sun emits all wavelengths at the same time.
As with the previous unit, the light has to be perpendicular to plants for it to have the best effect. Such light results in plants being denser and stronger. With VIPARSPECTRA PAR600 600W, your plants will surely blossom and flourish.
The light's parameters are 14.1″x11.8″x3.5," and the weight is nearing 14 pounds. This light can cover the territory of 4'x4′, which is highly impressive. Not a lot of LED grow lights can boast of covering such a large area.
Instead of two modes, VIPARSPECTRA PAR600 600W encompasses three modes to accommodate better for different life phases of your plants. When you have all switches turned on, you get the complete range of light for your plants. Individually, each of the switches controls one group of light wavelengths or, in other words, colors — one for blue, red, and white.
When do you need each light? It is super easy. Blue is for the veg phase; red is for the flowering phase. The white light is for keeping balance in the lighting. So, you can combine white with red or blue, or both of them.
VIPARSPECTRA PAR600 600W has top of the line aluminum heat radiators to go along with three amazingly quiet fans. Do not fret; your plants will be in complete safety with such a cooling solution!
---
PROS:
complete range of light wavelengths;
can cover a lot of plants;
exceptional cooling;
three modes.
You Will Be Impressed by It: BESTVA COB Series 600W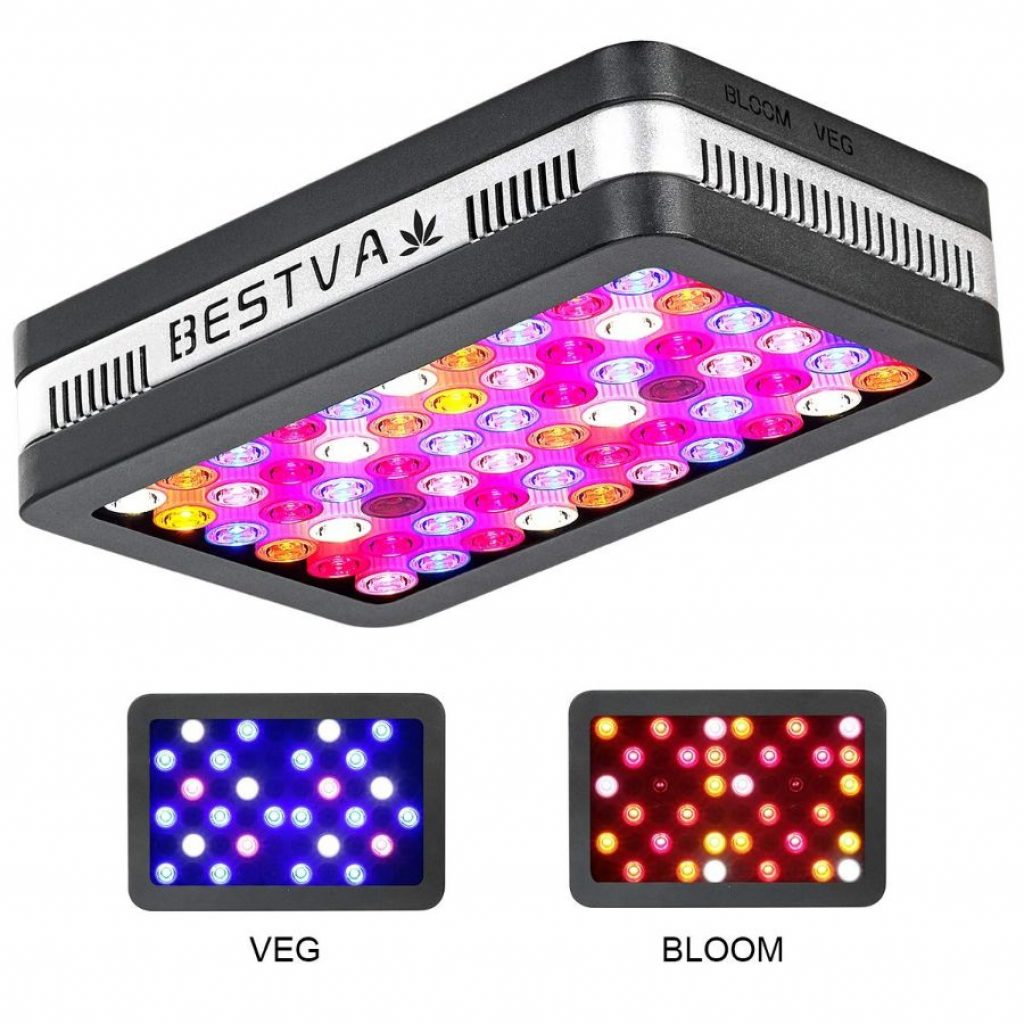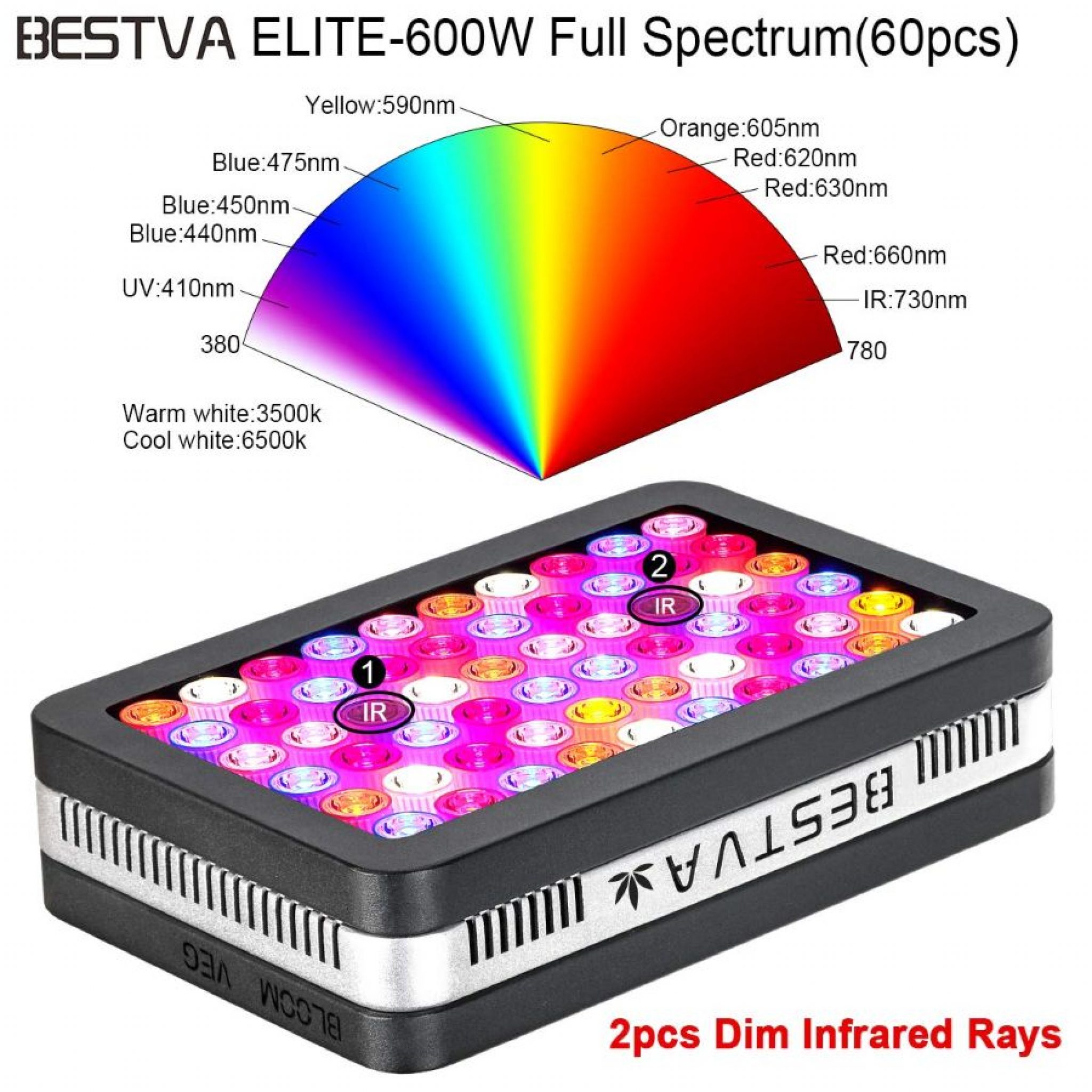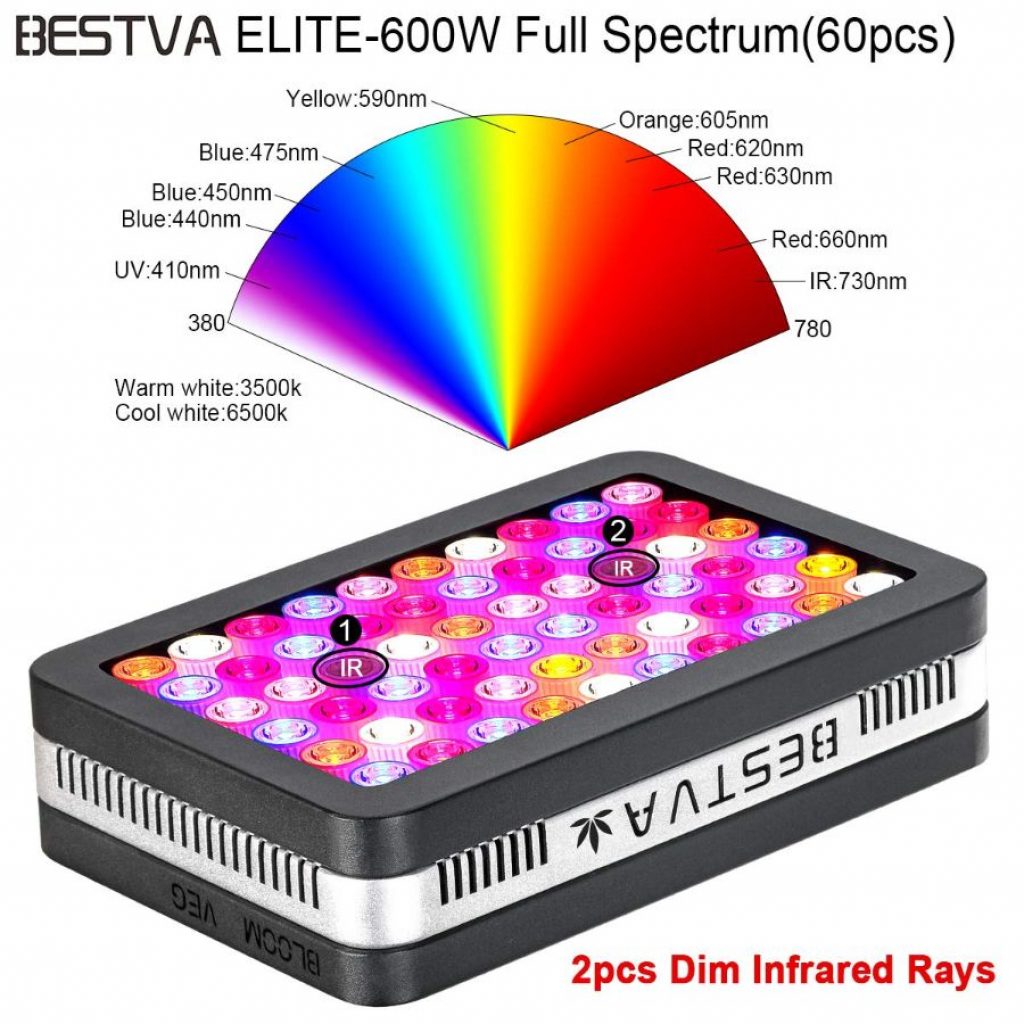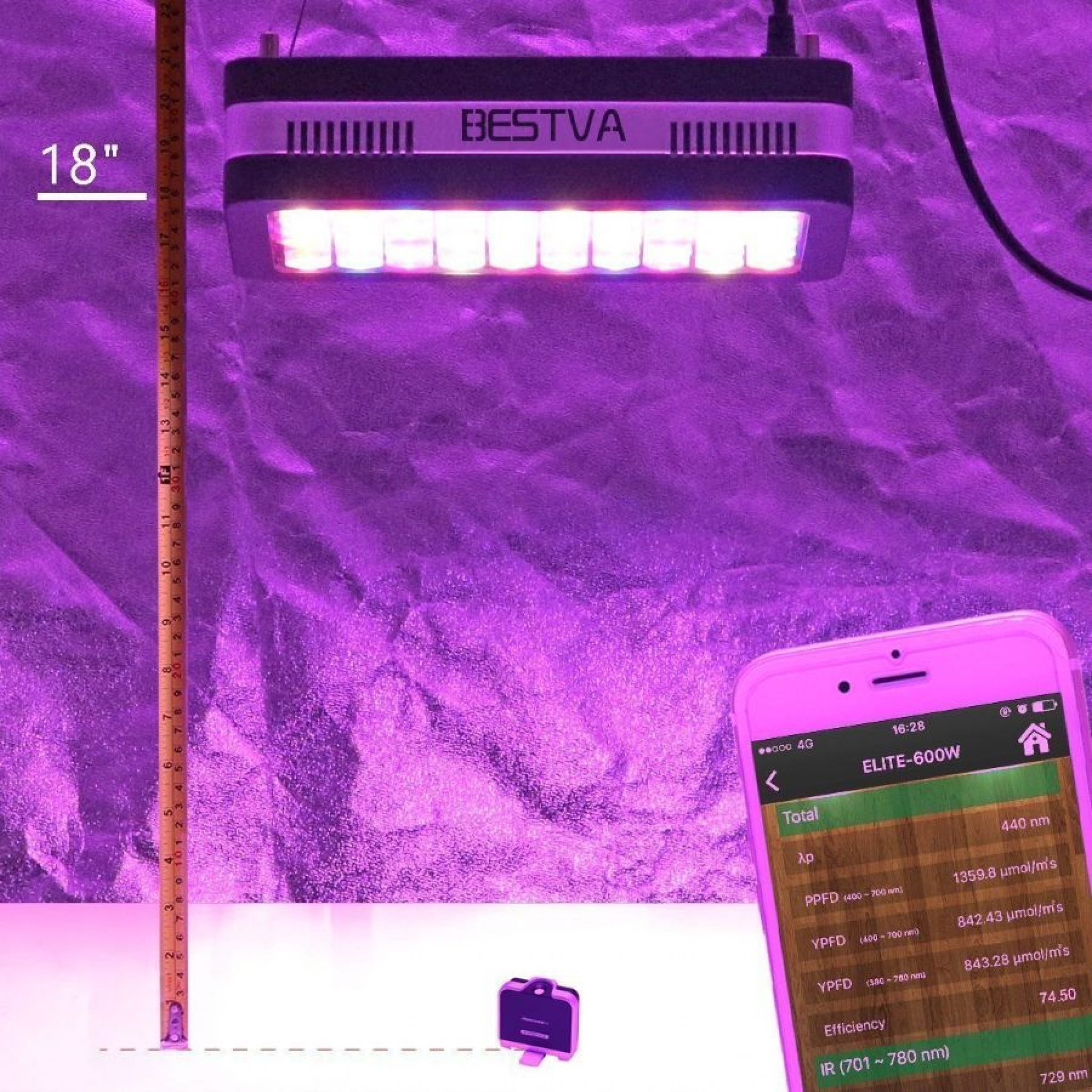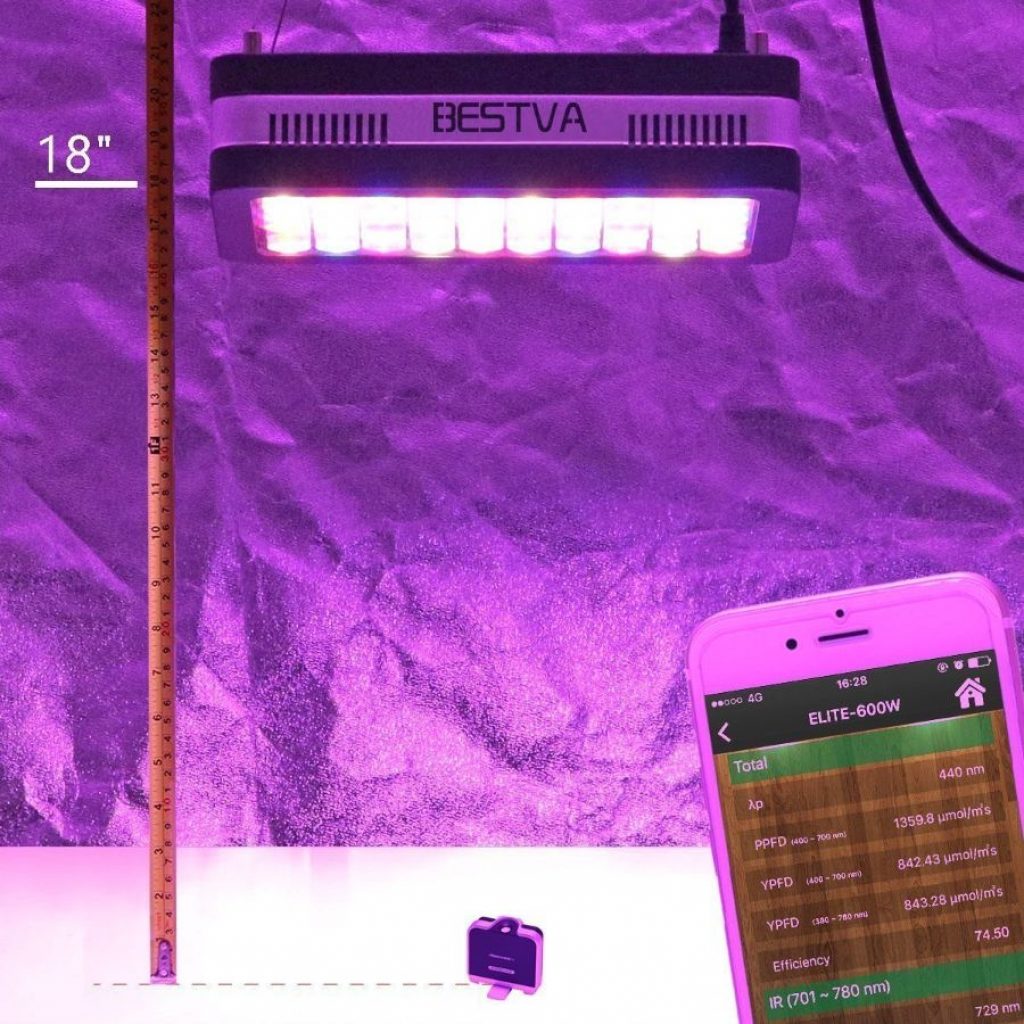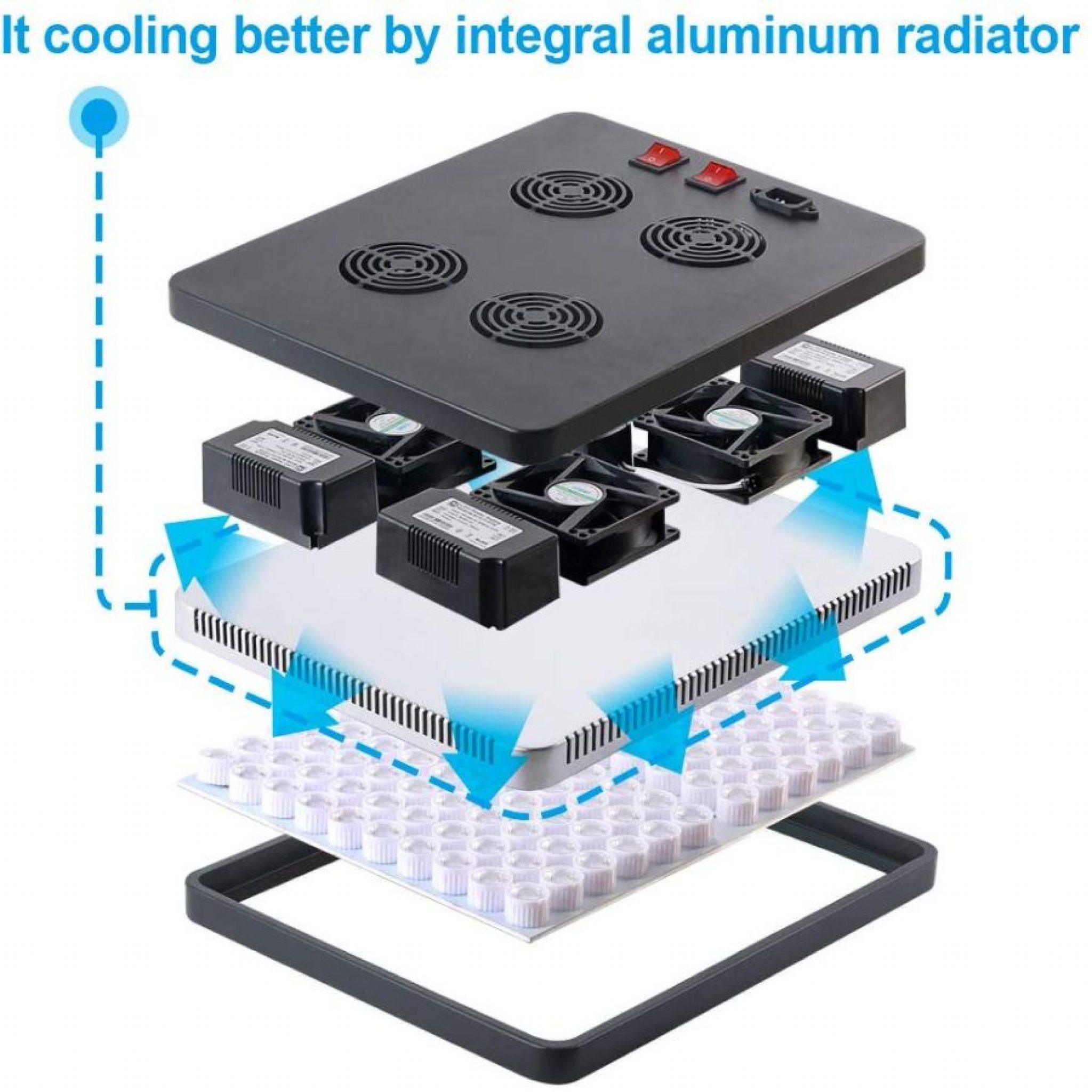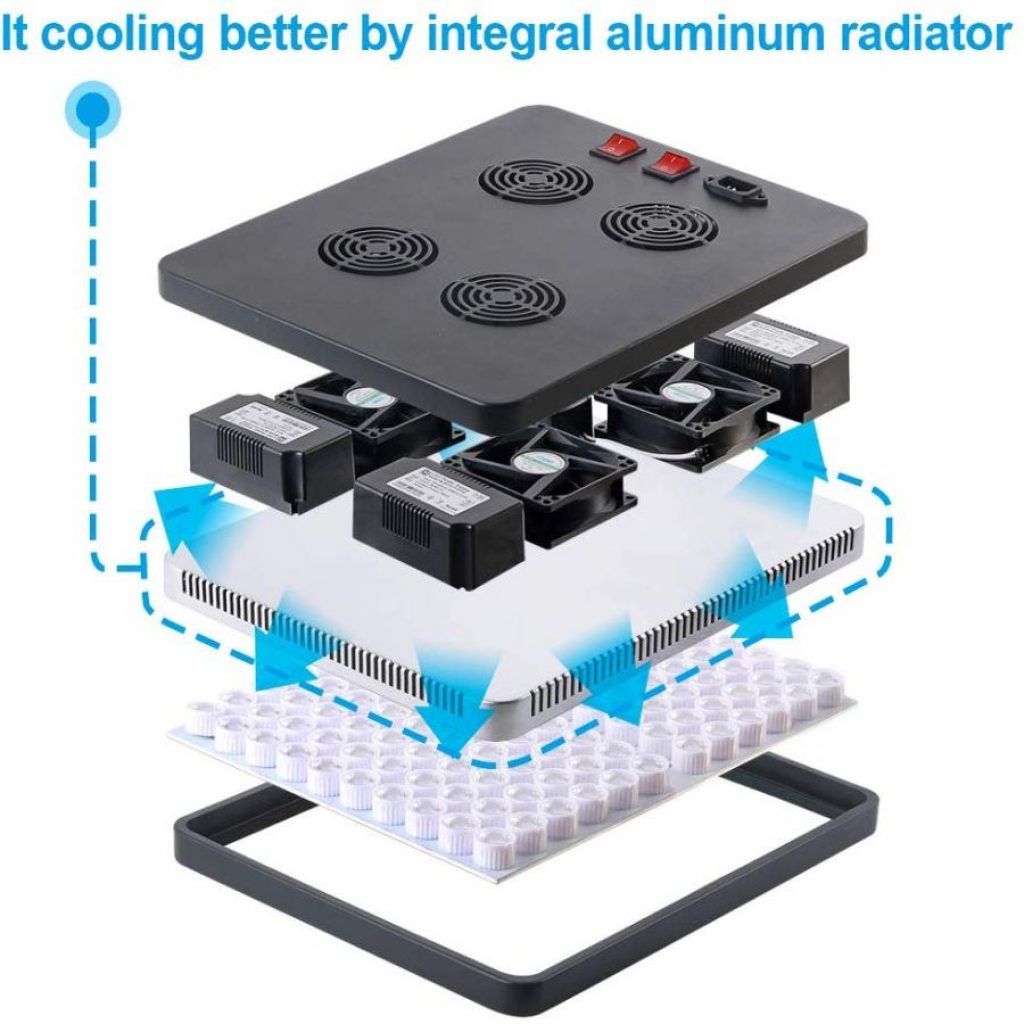 Bestva is a wonderful brand that always puts the customers' wishes atop. BESTVA COB Series 600W is the company's magnum opus. I almost want to compare this product to a work of art.
What is so different about this grow light? Although BESTVA COB Series 600W is relatively small, being only 11.4"x7.9"x2.8" and almost 6 pounds, this light packs a punch.
Firstly, there is an enhanced lighting system. The lamps are 10 watts each, unlike in the previous entries (which are all 5-watt lamps). It means they are brighter, stronger, and they are much more effective at transferring energy to the plants. There is 120 individual LED lamps, so each of your plants will get enough light and more.
Then, there is the enhanced light range of wavelengths. Folks at Bestva researched quite a bit before coming up with the new lamps onto the market. The enhanced LED lamps can cover all of the wavelengths, which results, of course, in the plants being healthier and happier.
BESTVA COB Series 600W is equipped with three modes to suit the various plant's life phases better. There are 3 modes, but only 2 switches. One switch is for the vegetation period, and the other is for the blooming phase. During the flowering stage, make sure to have both of the switches on, creating the third mode.
---
PROS:
improved light wavelength range;
bright and efficient LED lamps;
exceptional longevity and durability;
created with reducing power usage in mind.
CONS:
needs protective eyewear to work with;
not water-resistant.
Reasonable Options to Consider
Here are six additional LED lighting solutions that have not made it to my top 6, but it would be a shame not even mentioning them. Plus, some people consider the lights below better options than those above, and they would be very cross if the former would not be mentioned. So, here are six more great LED lights for you to consider.
MAXSISUN 600W: an Amazing 600 Watt Led Grow Light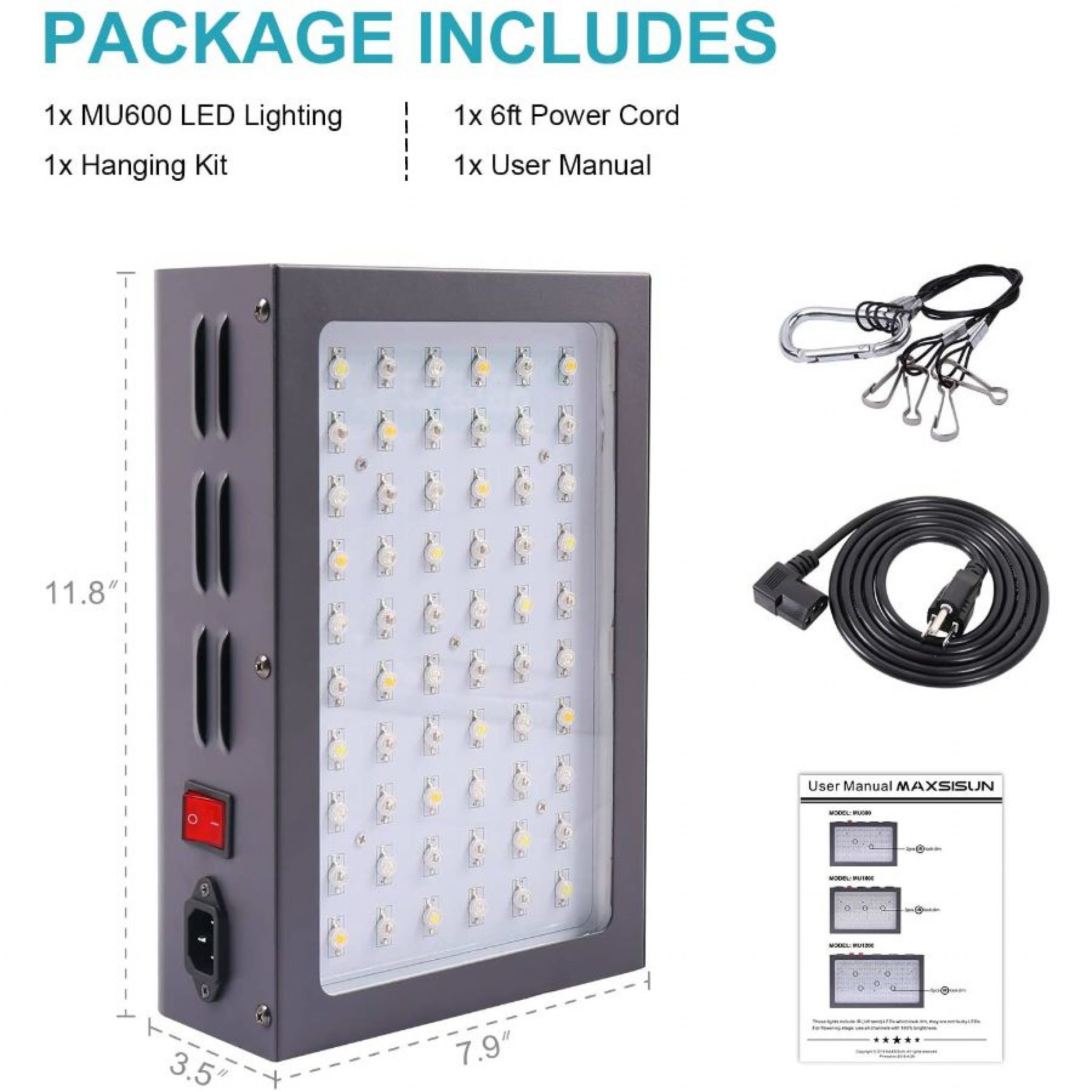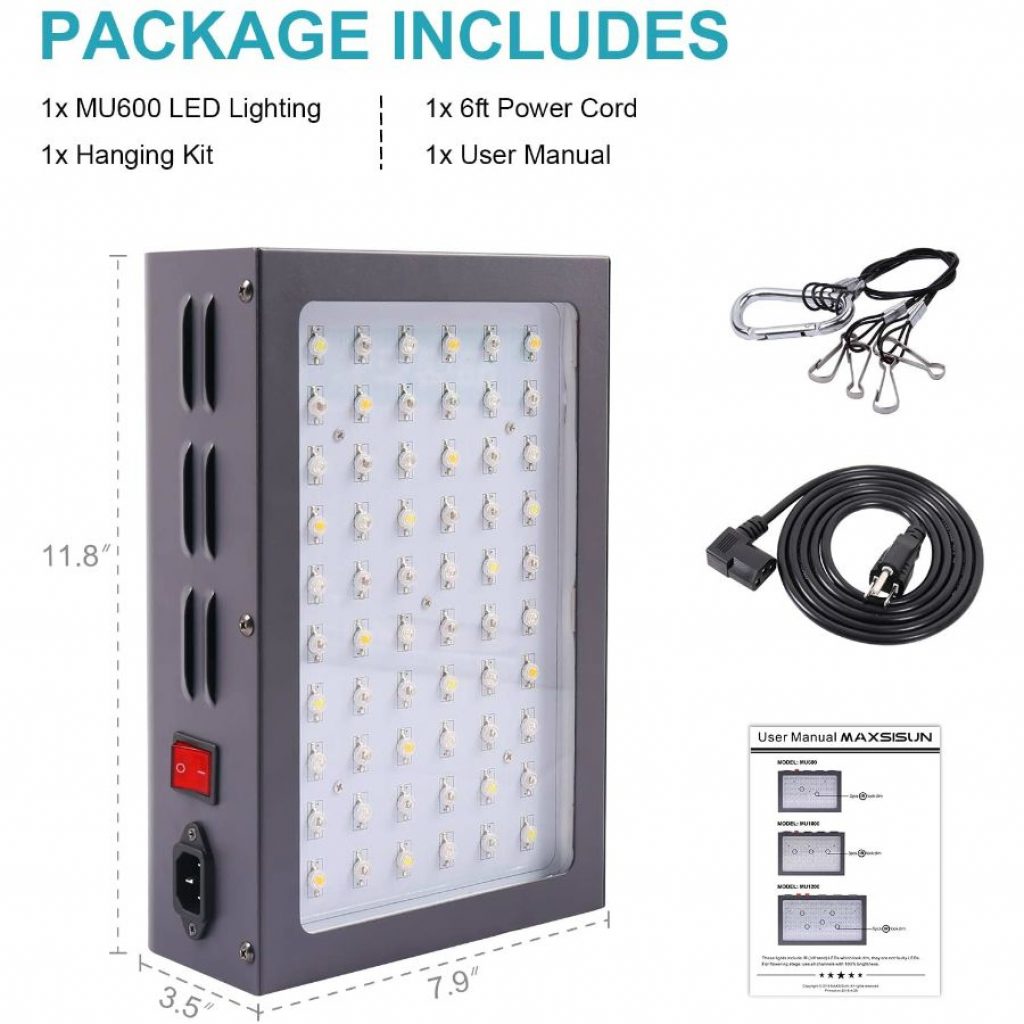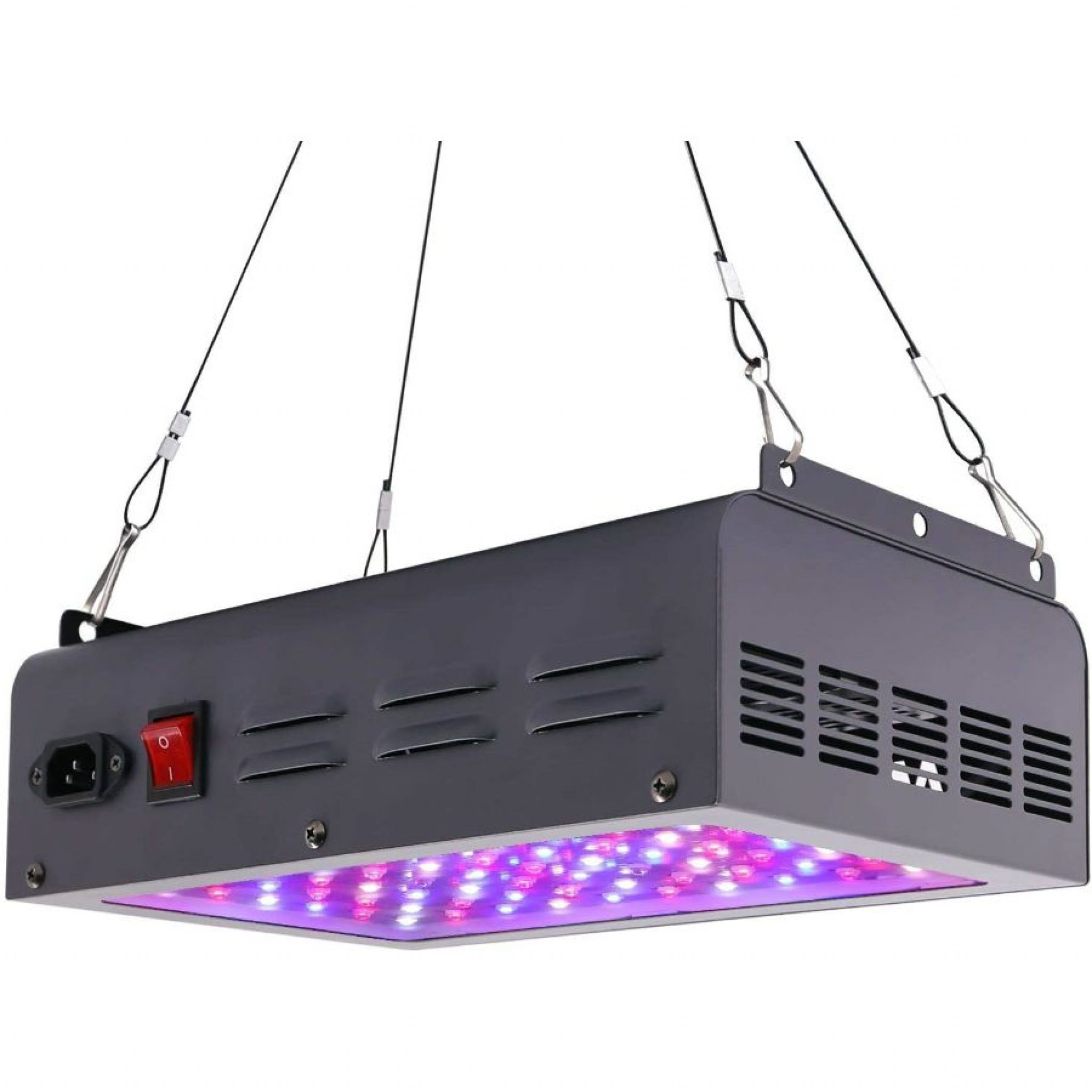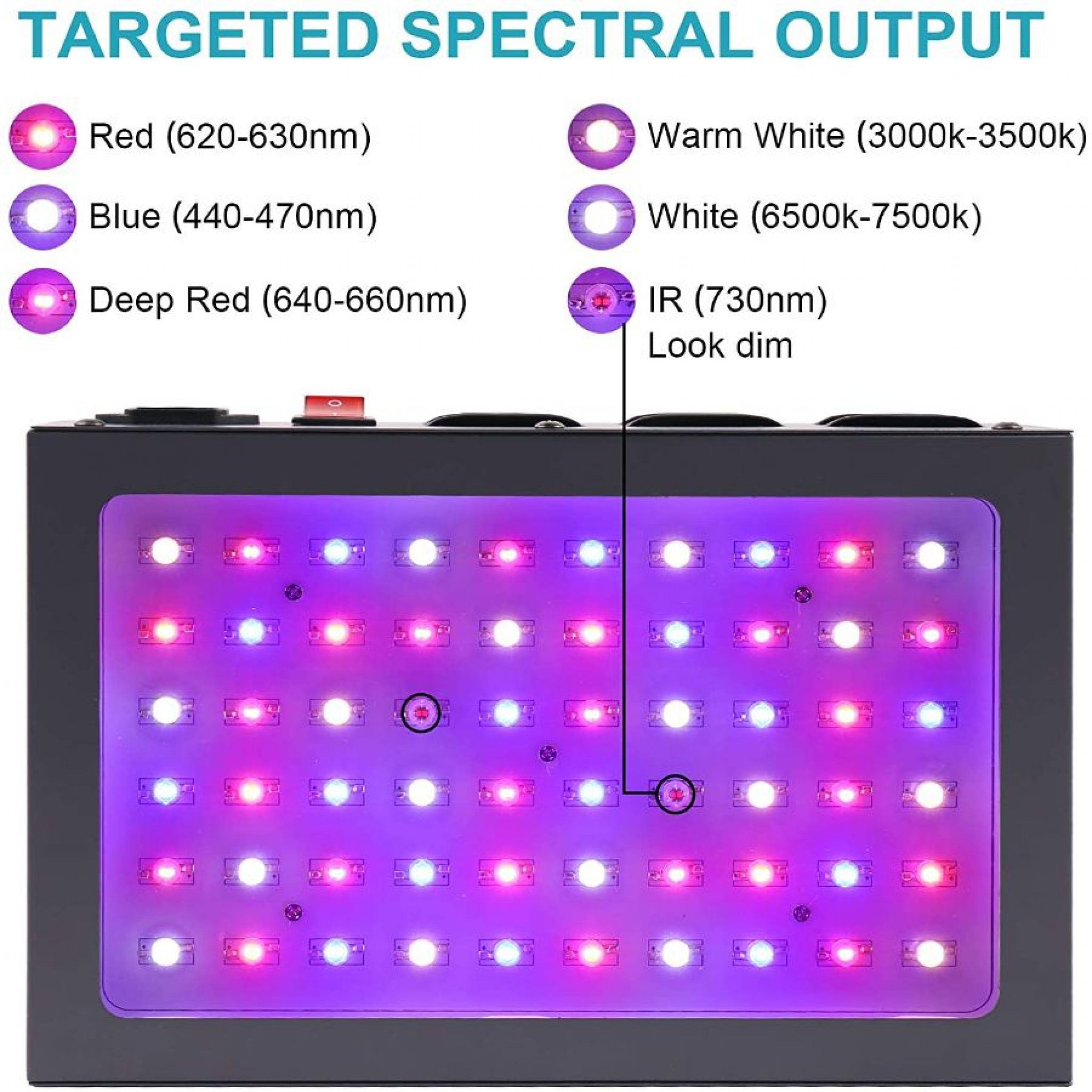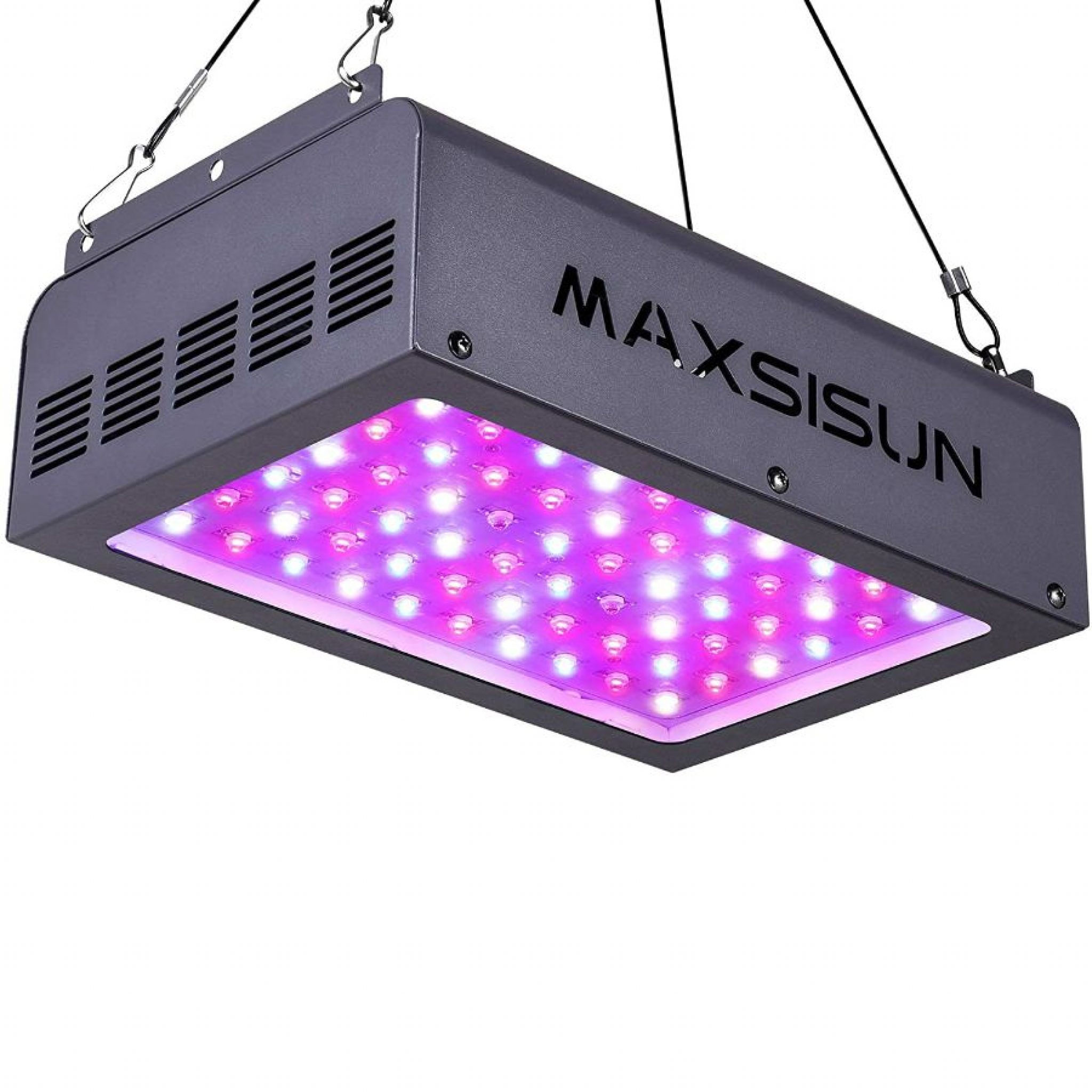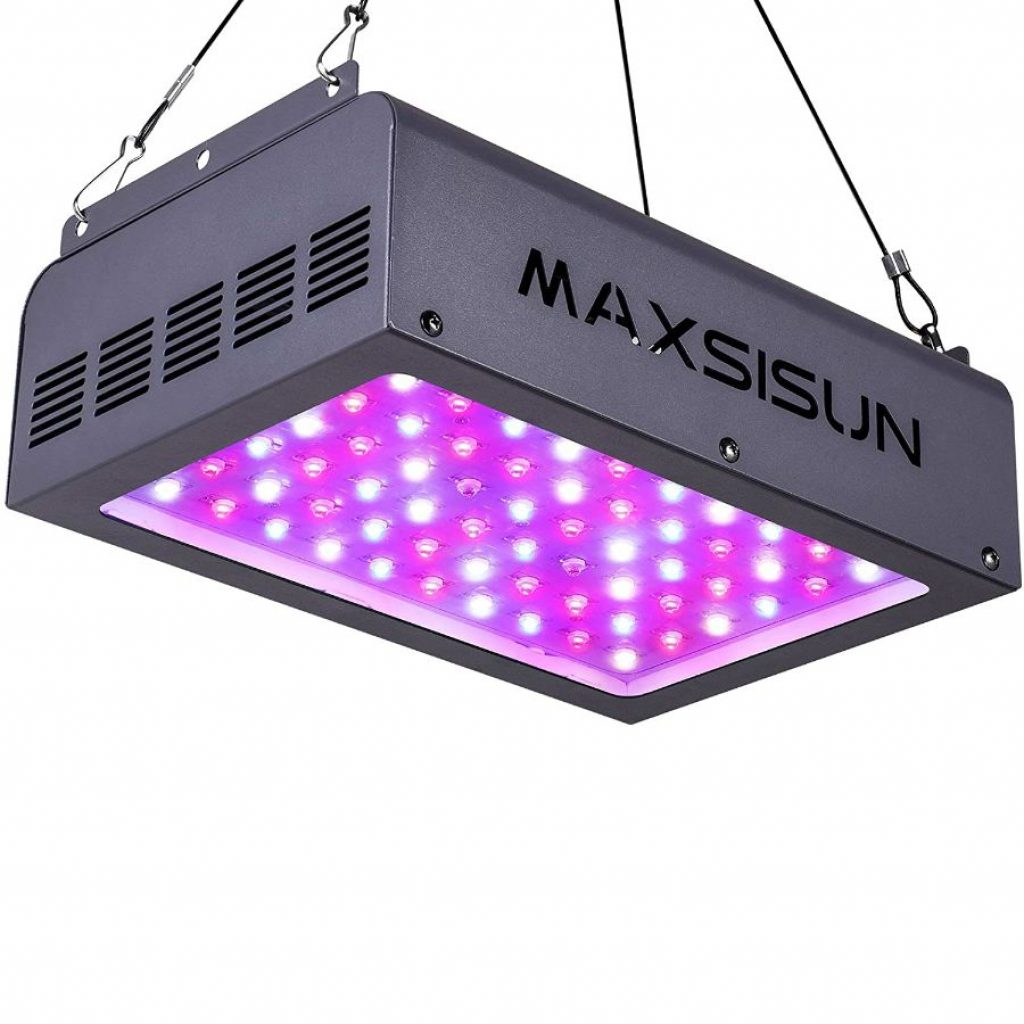 Here is an incredible from a respectable brand, Maxsisun. MAXSISUN 600W has 10 watts double LED lamps, which are more efficient at stimulating plant growth but require a much more careful approach. Lighting possibilities with MAXSISUN 600W are blue, red and infrared, and white.
The lighting unit is made out of great materials, which explains the higher price range it is in. Of course, the cooling solution is just fantastic with multiple aluminum radiators and a high-velocity fan. The unit is 15.2"x9.6"x6.2" and 6.5 pounds.
---
PROS:
complete range of light plus infrared;
sturdy, made out of great materials;
reliable cooling solution;
powerful lights.
CONS:
not water-resistant;
bigger price tag comparatively.
YGROW 600W – a Great 600 Watt LED Lights for Growing Cannabis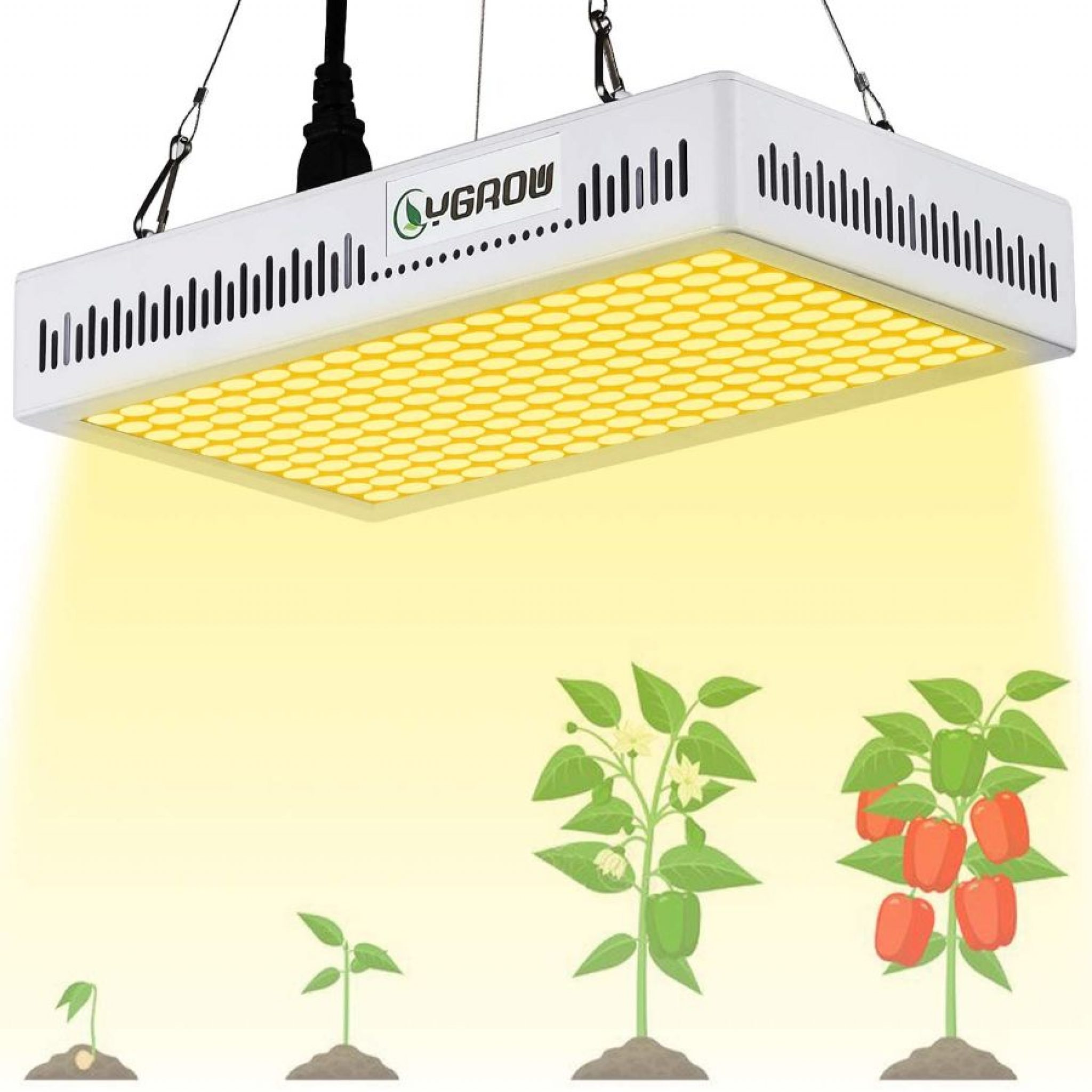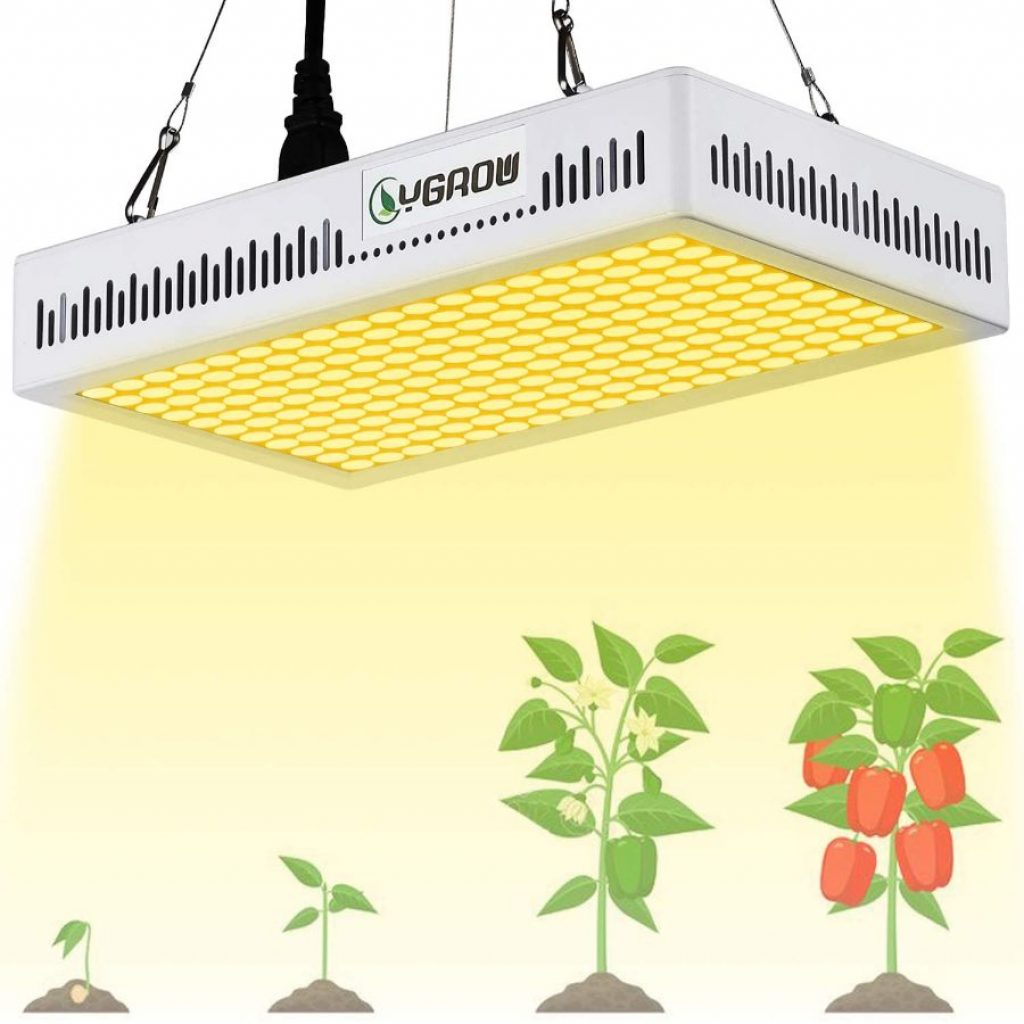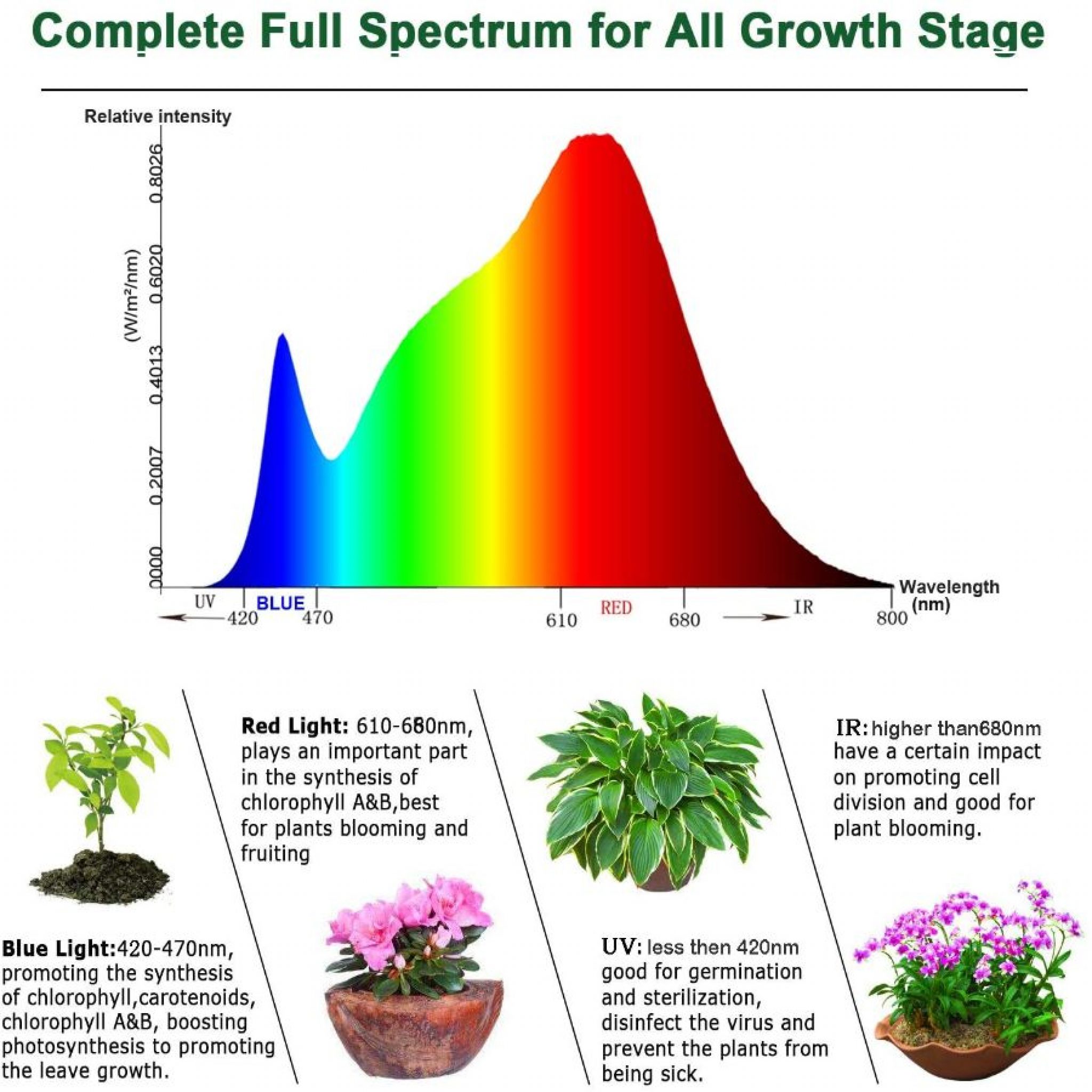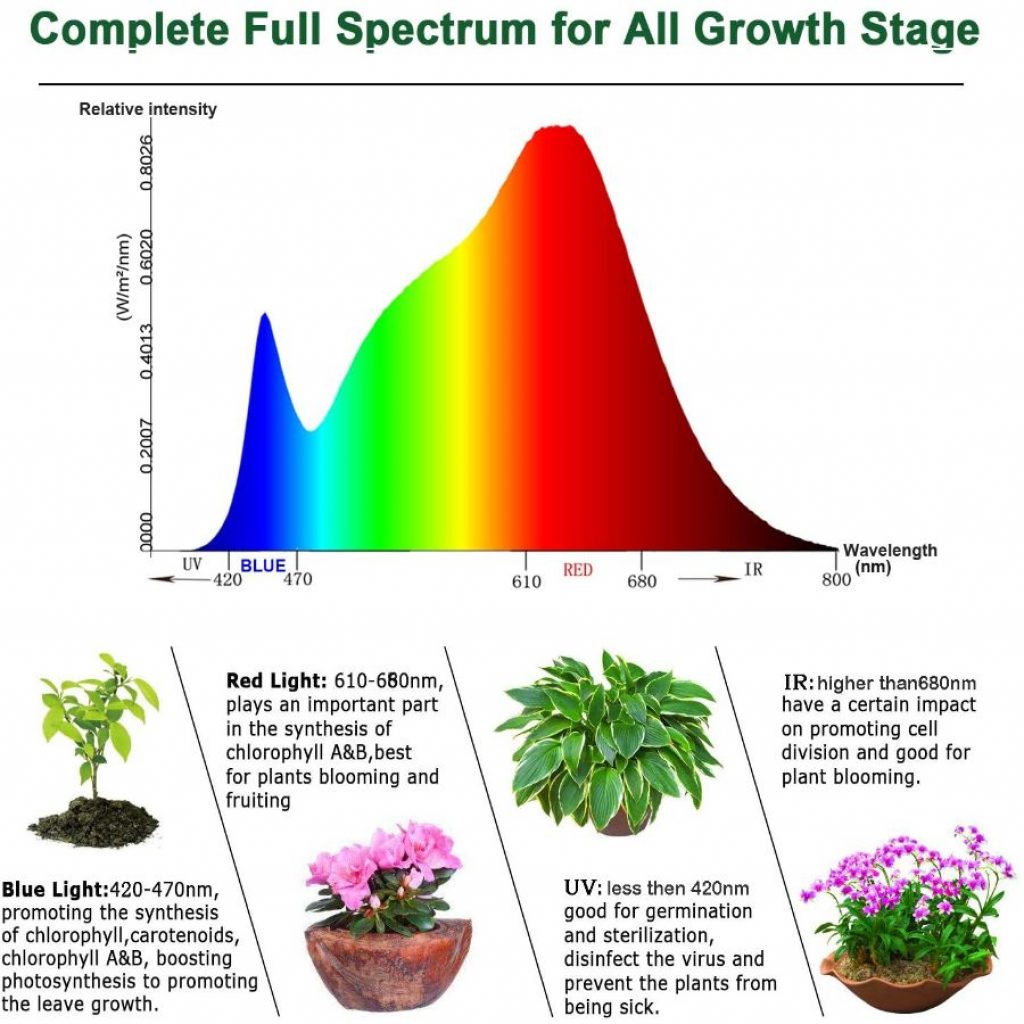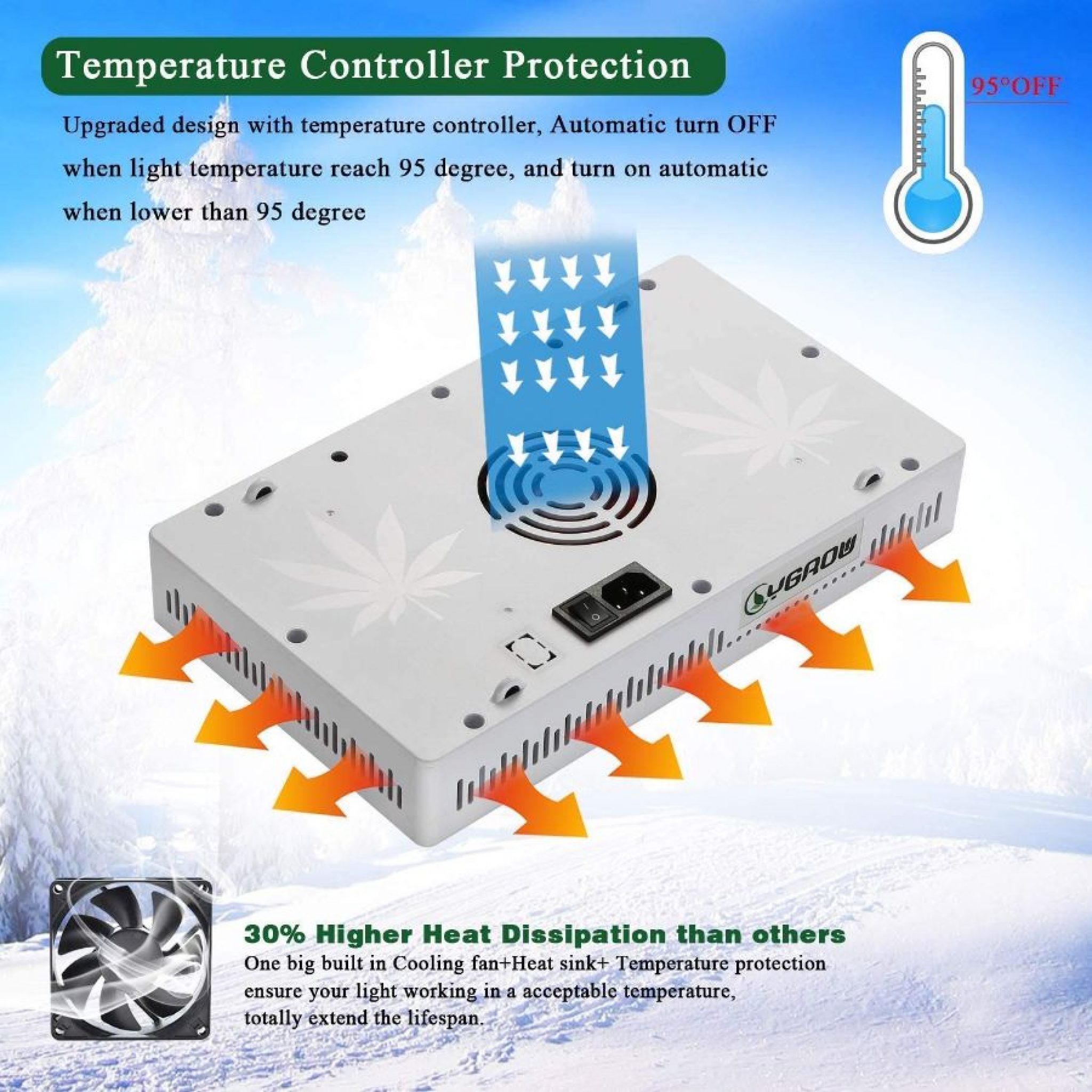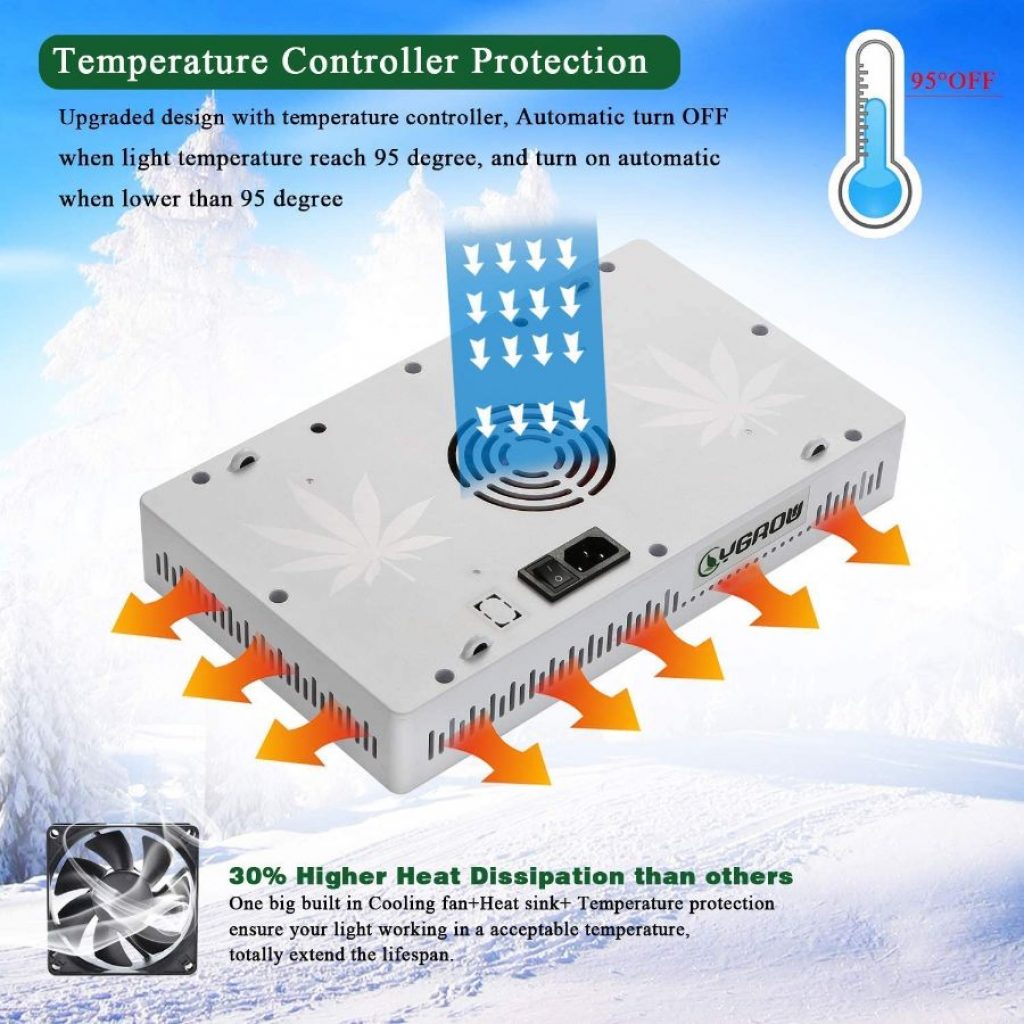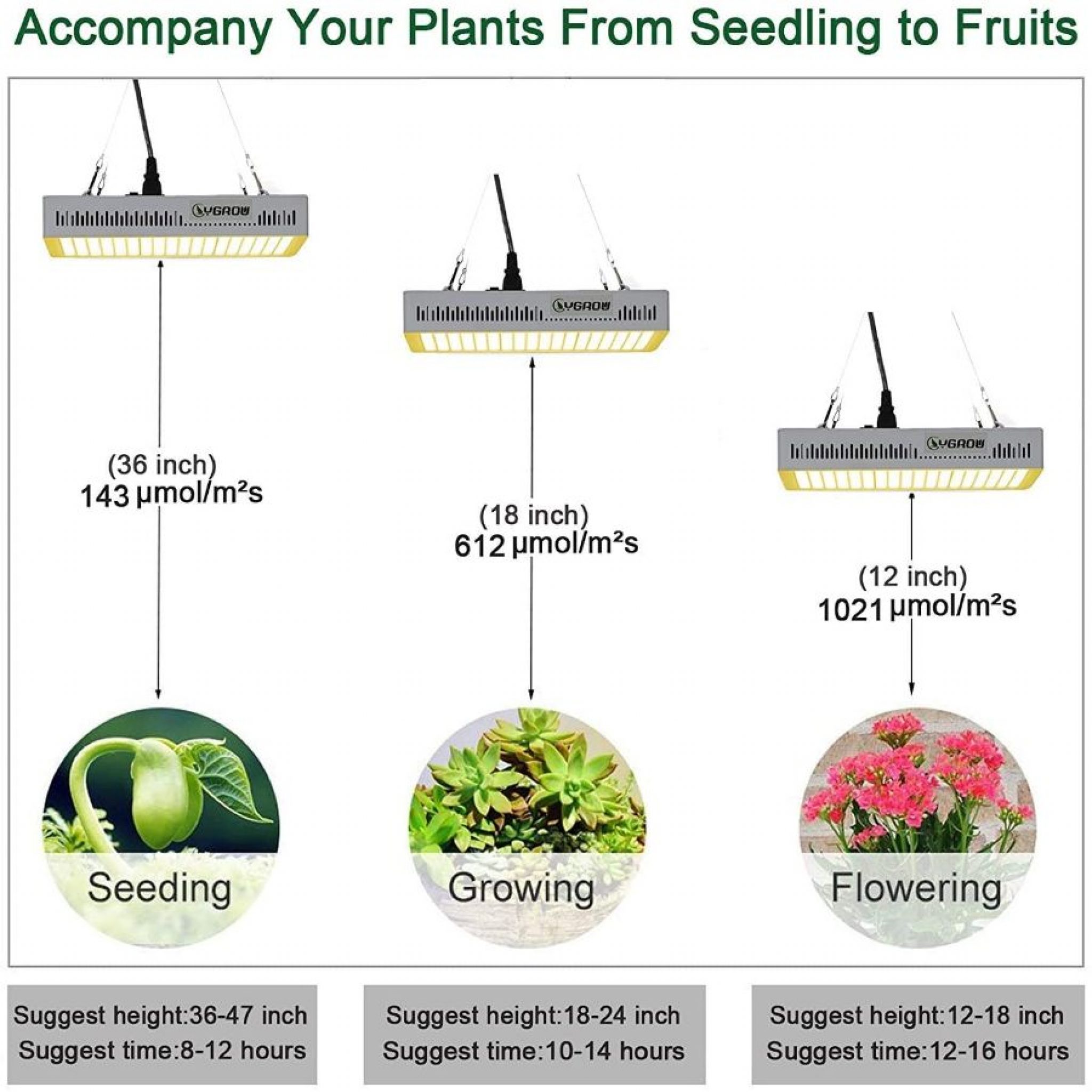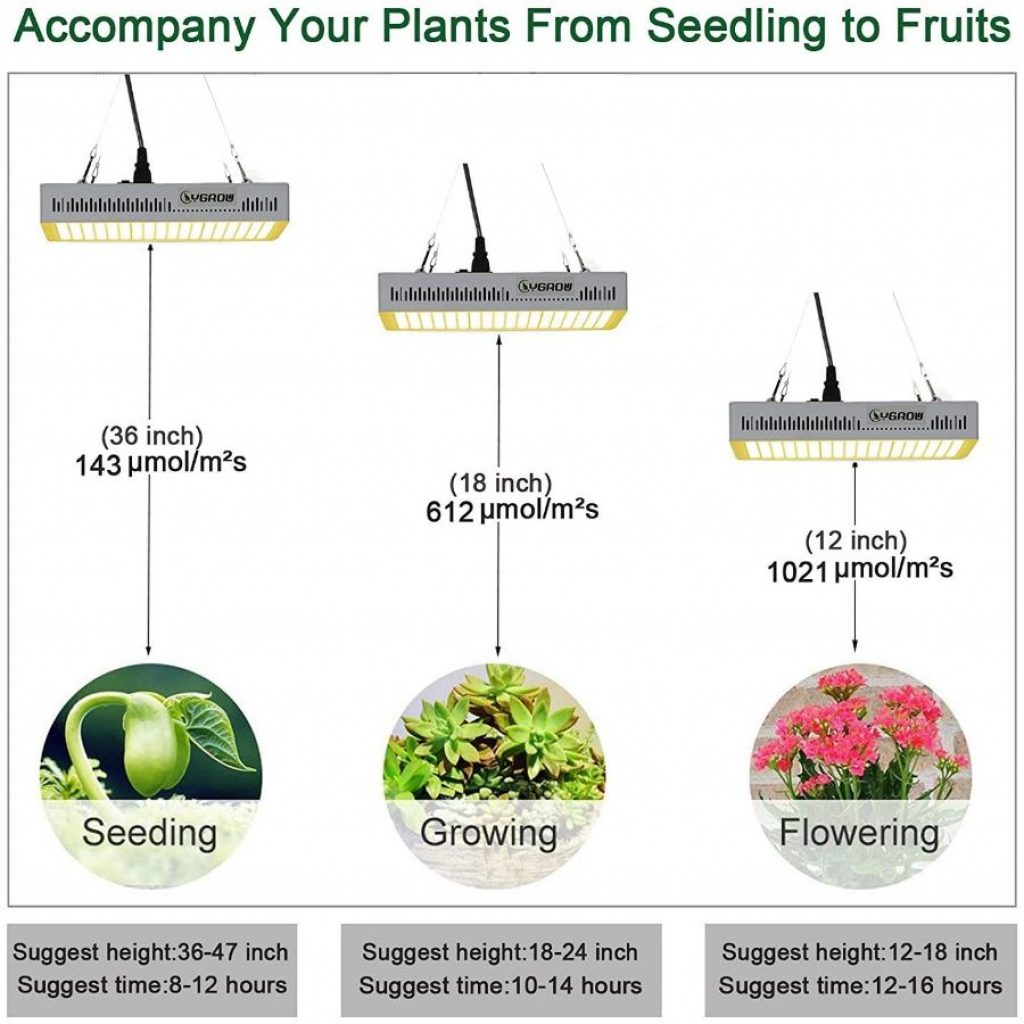 You do not want to think a lot about growing? Is it too much information all at once? Well, the brand Ygrow created an excellent option for you and beginners in general – YGROW 600W. The light is 12.8″x7.4″x1.9″ and 3.3 pounds. This lighting unit has improved LED lamps that offer a vast range of wavelengths of light.
Also, a unique feature of this light is the 60 degrees reflect cup. The lamps emit the light into the cup, then the cup collects energy and transfers it to plants. So, there is a lot less energy lost when comparing to other lights. The cooling solution here works in combination with the temperature monitors, keeping your plants nice and cool.
---
PROS:
easy to use and hassle-free;
inexpensive;
temperature monitoring and cooling;
energy-efficient lighting solution.
VIVOSUN 600W Gives Something to Think About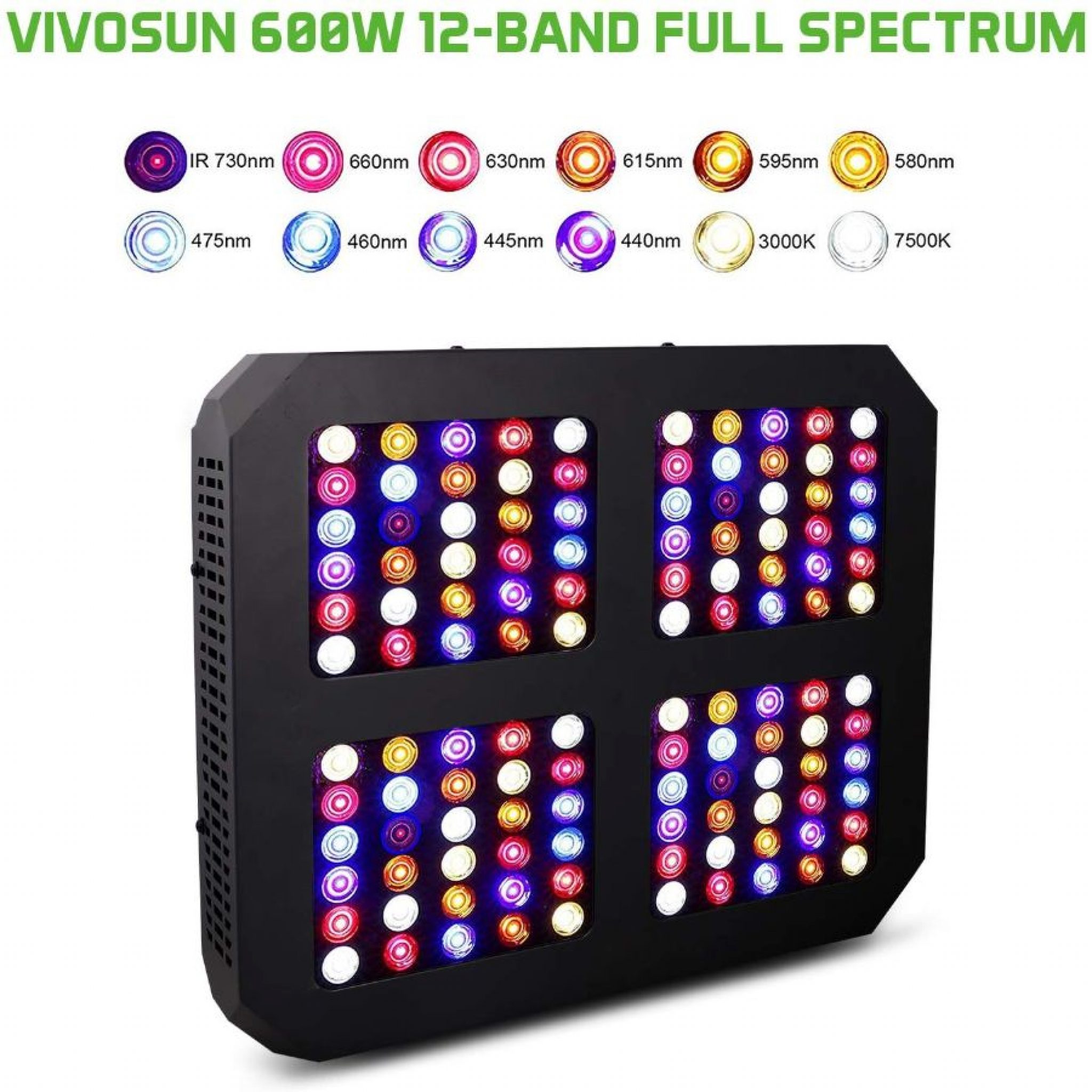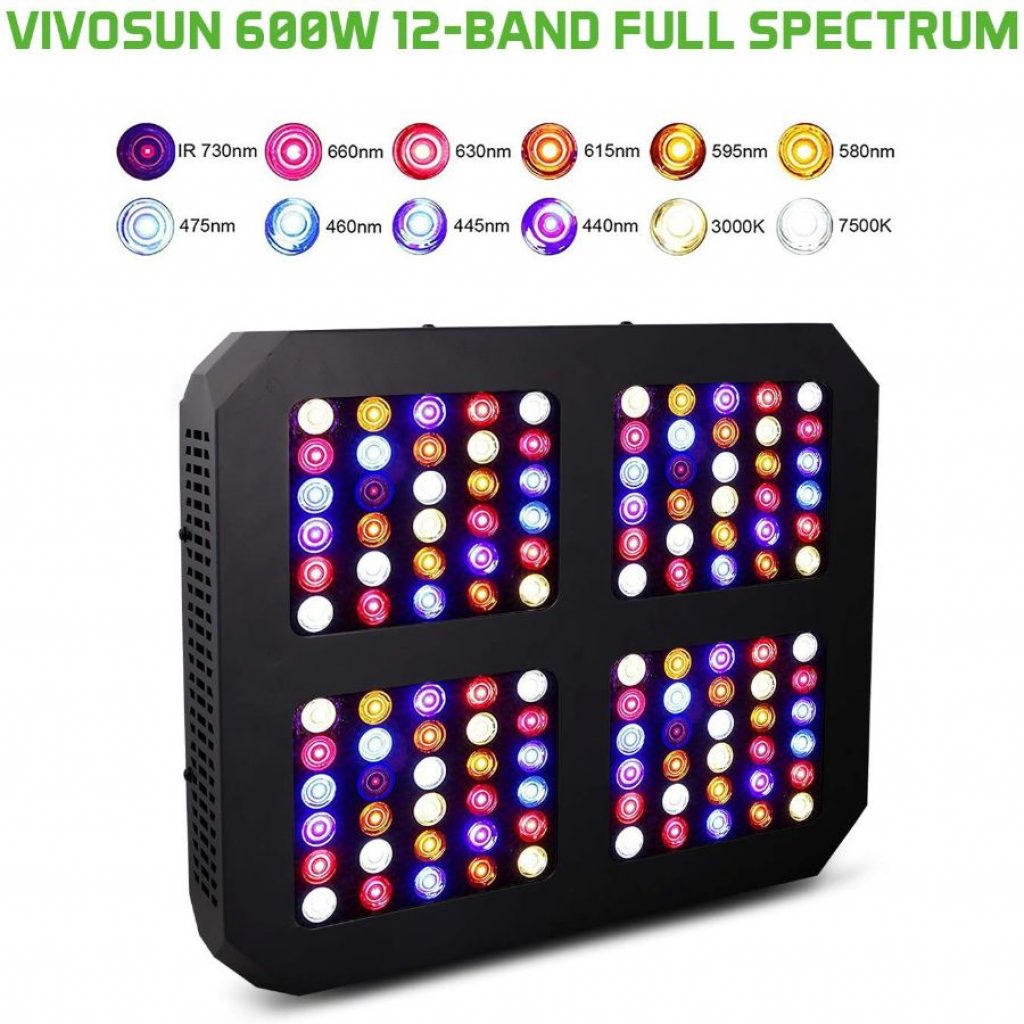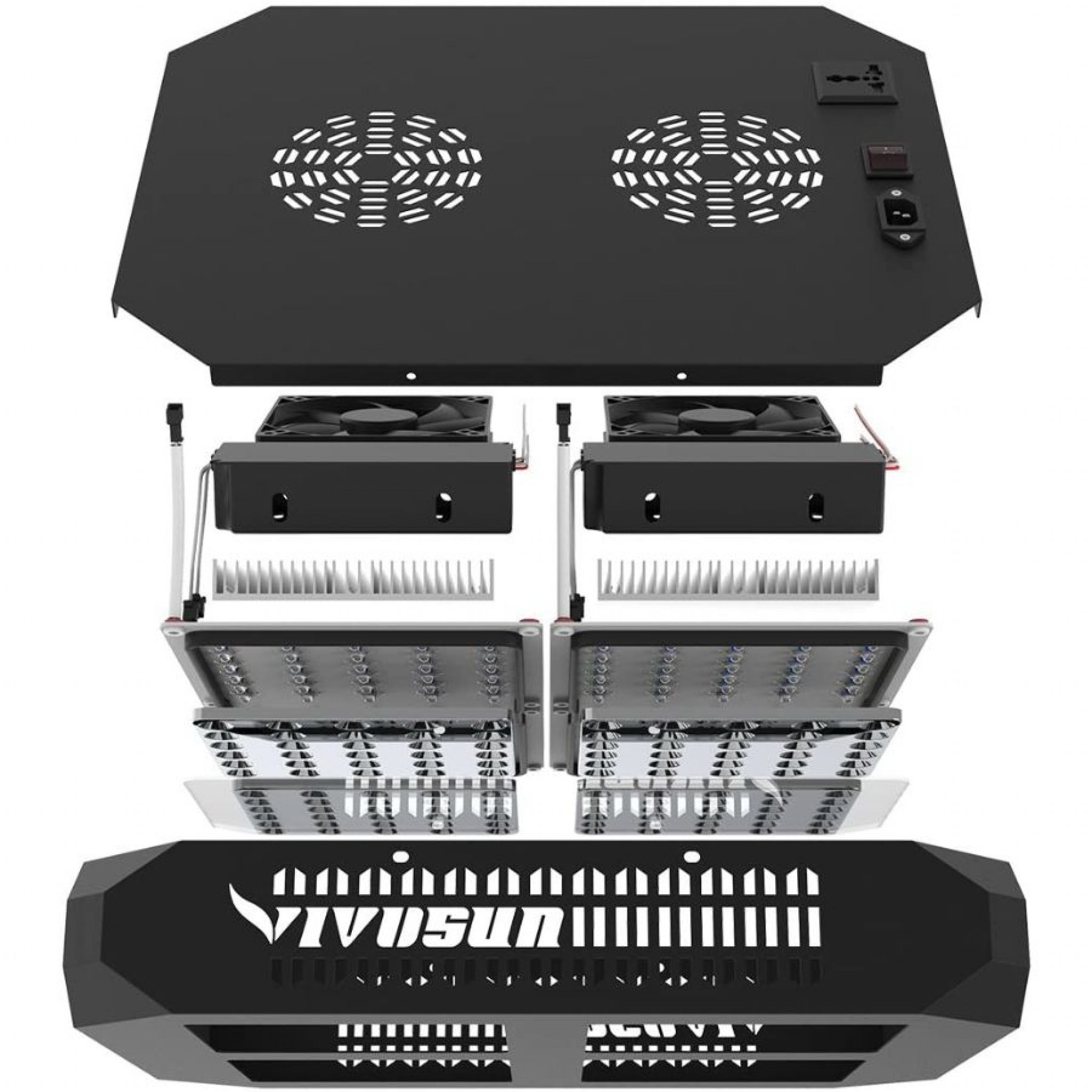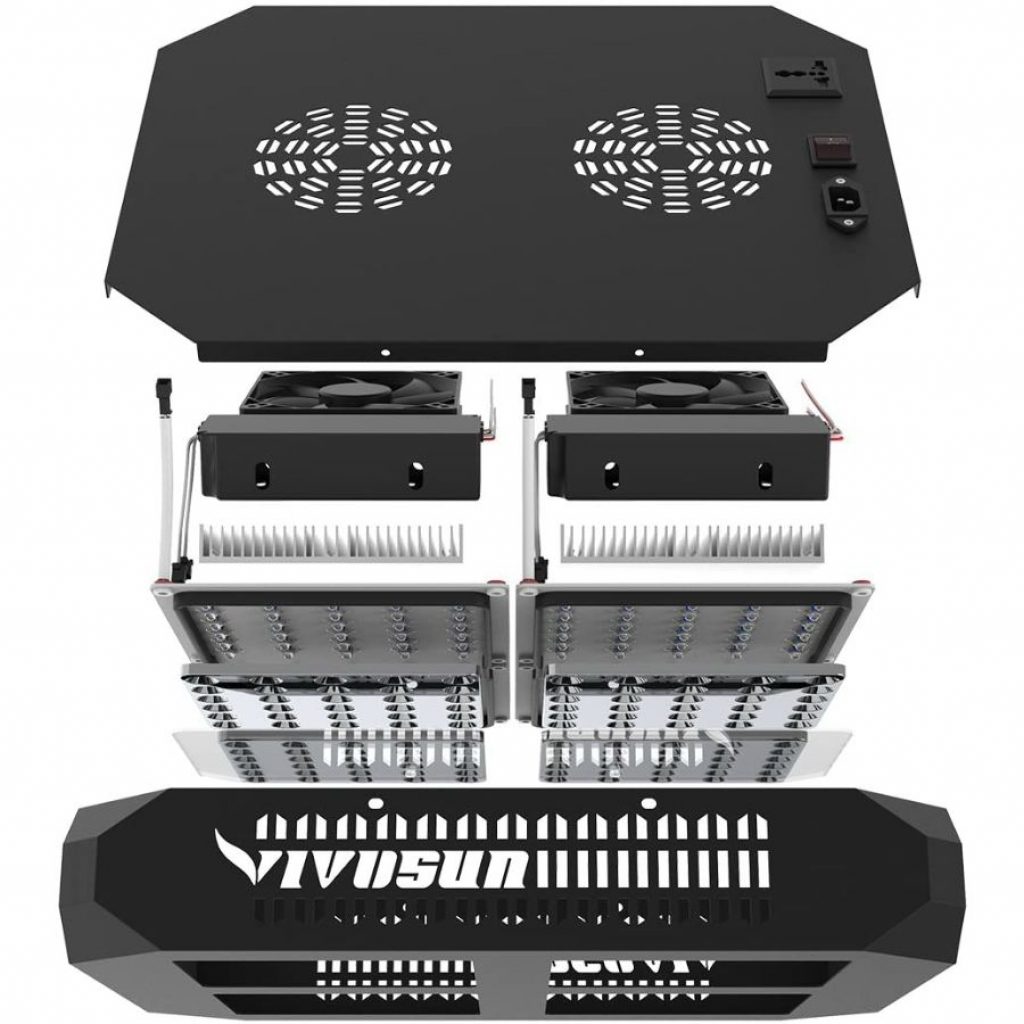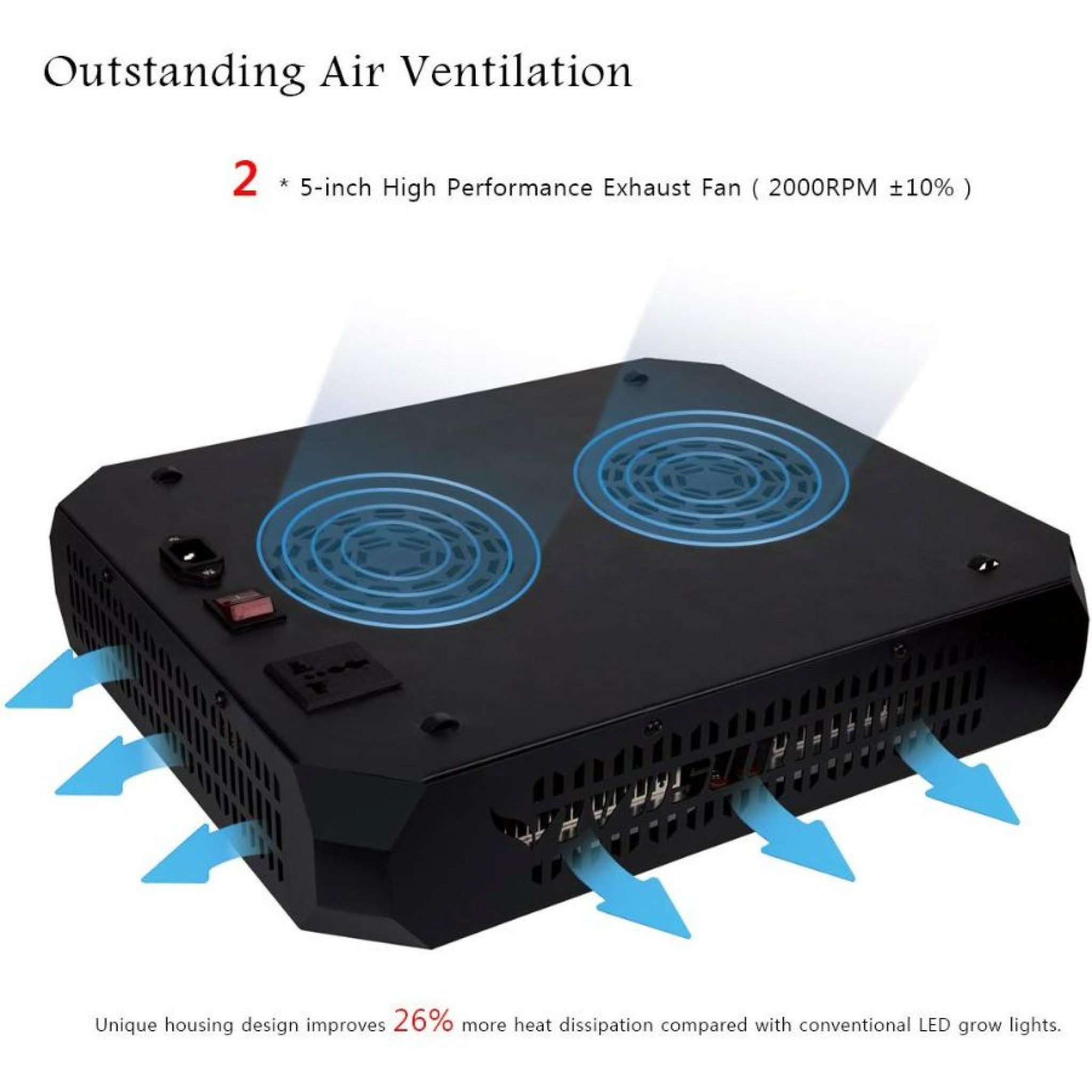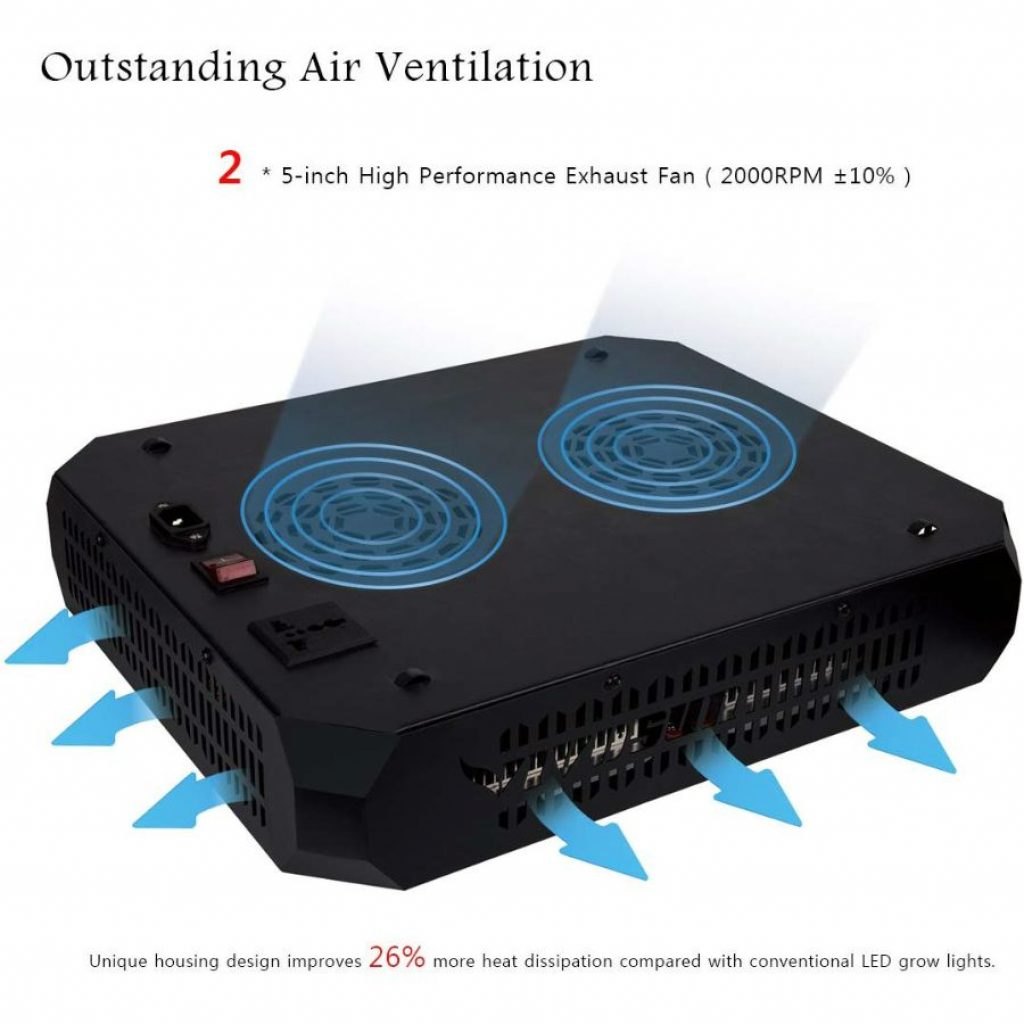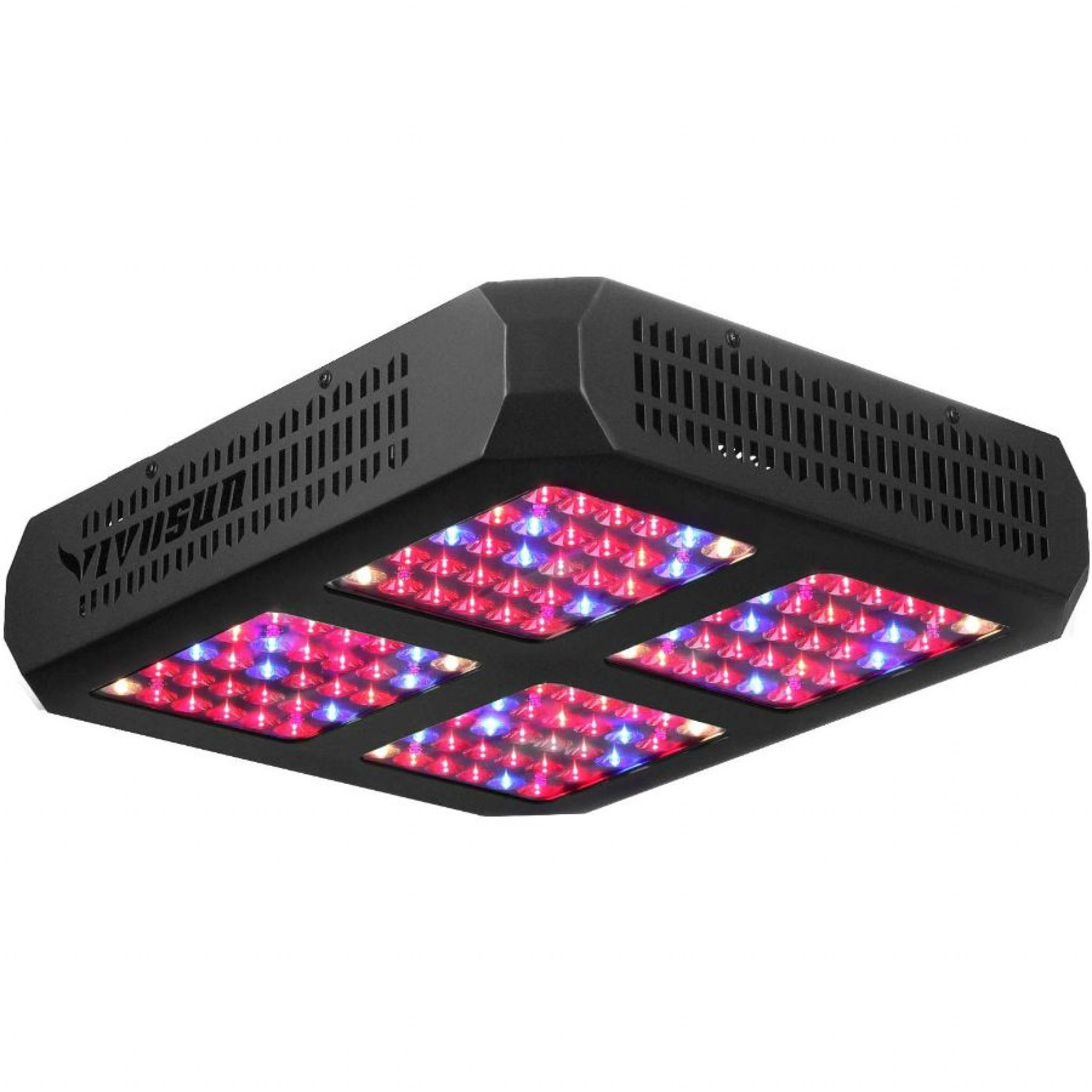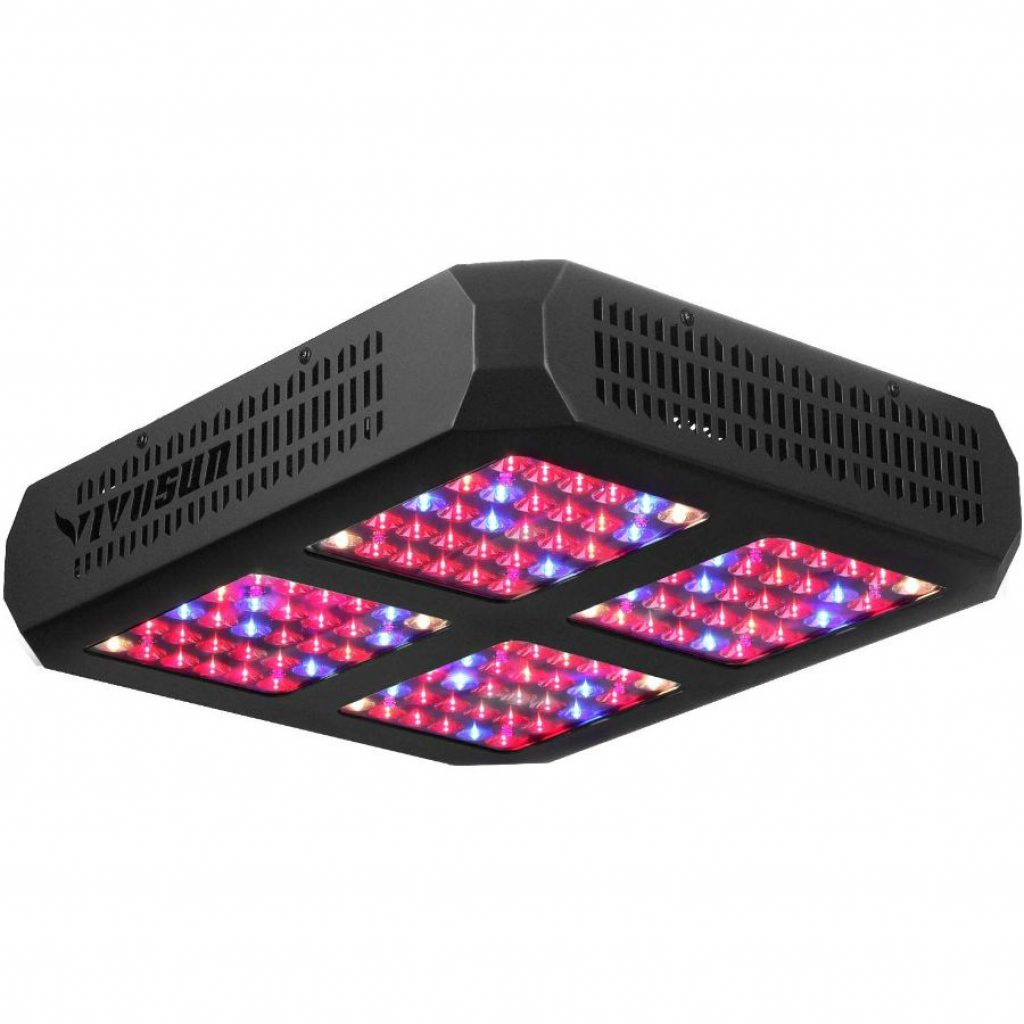 VIvosun is not reimagining the LED lights with VIVOSUN 600W; they are simply focusing on nailing the ratio of quality and price. VIVOSUN 600W is made out of top-grade materials and feels premium.
Apart from the usual features like complete light range and a good cooling solution, it boasts 100,000 working hours, which is an extremely great number for such lights. The light is 20.2"x15.5"x5.5" and 12.6 pounds.
---
PROS:
extreme lifespan;
feels premium;
great light range;
efficient cooling solution.
CONS:
on the pricey side;
not water-resistant.
Simple, Yet Wonderful 600W LED Grow Light – Advanced Platinum Series P600 600w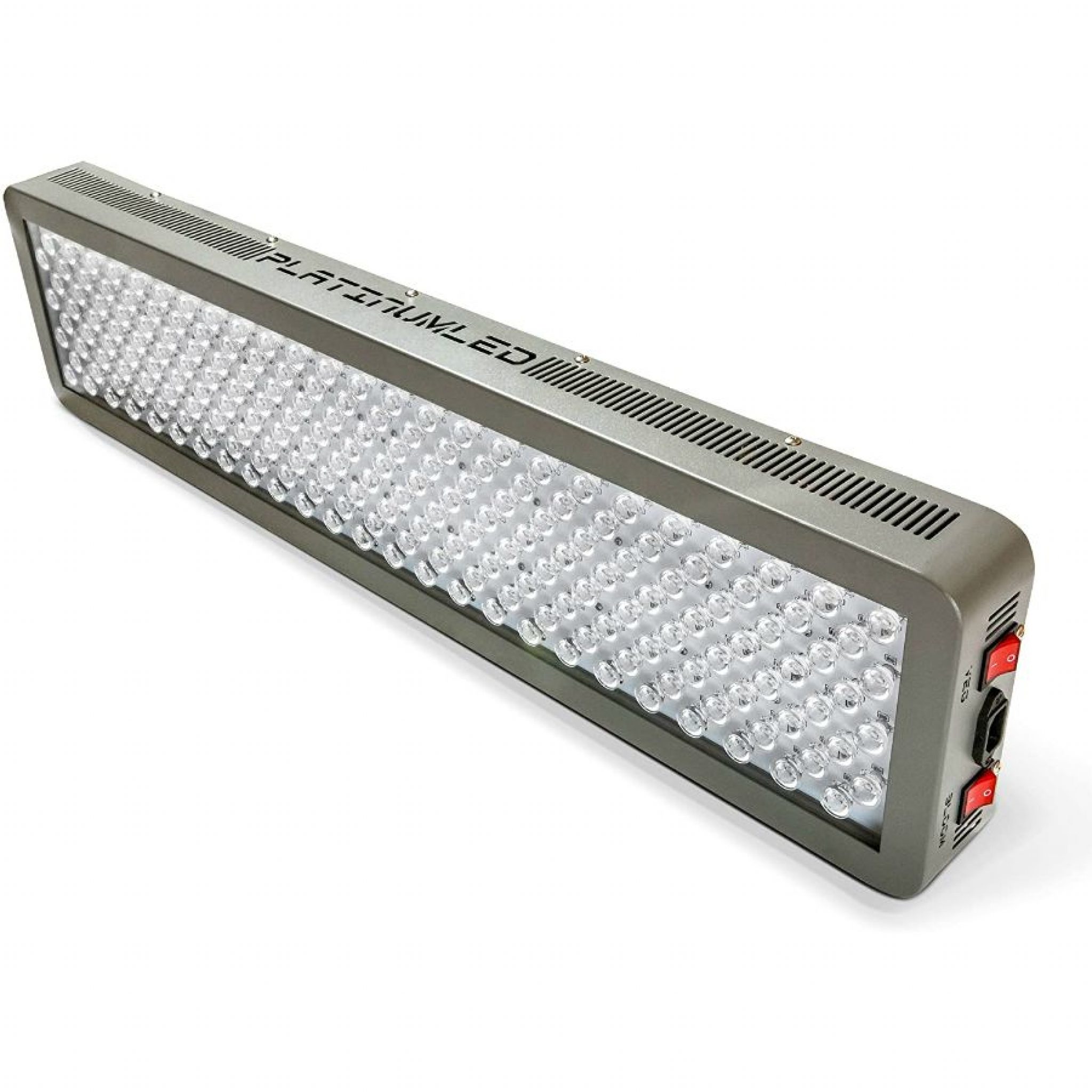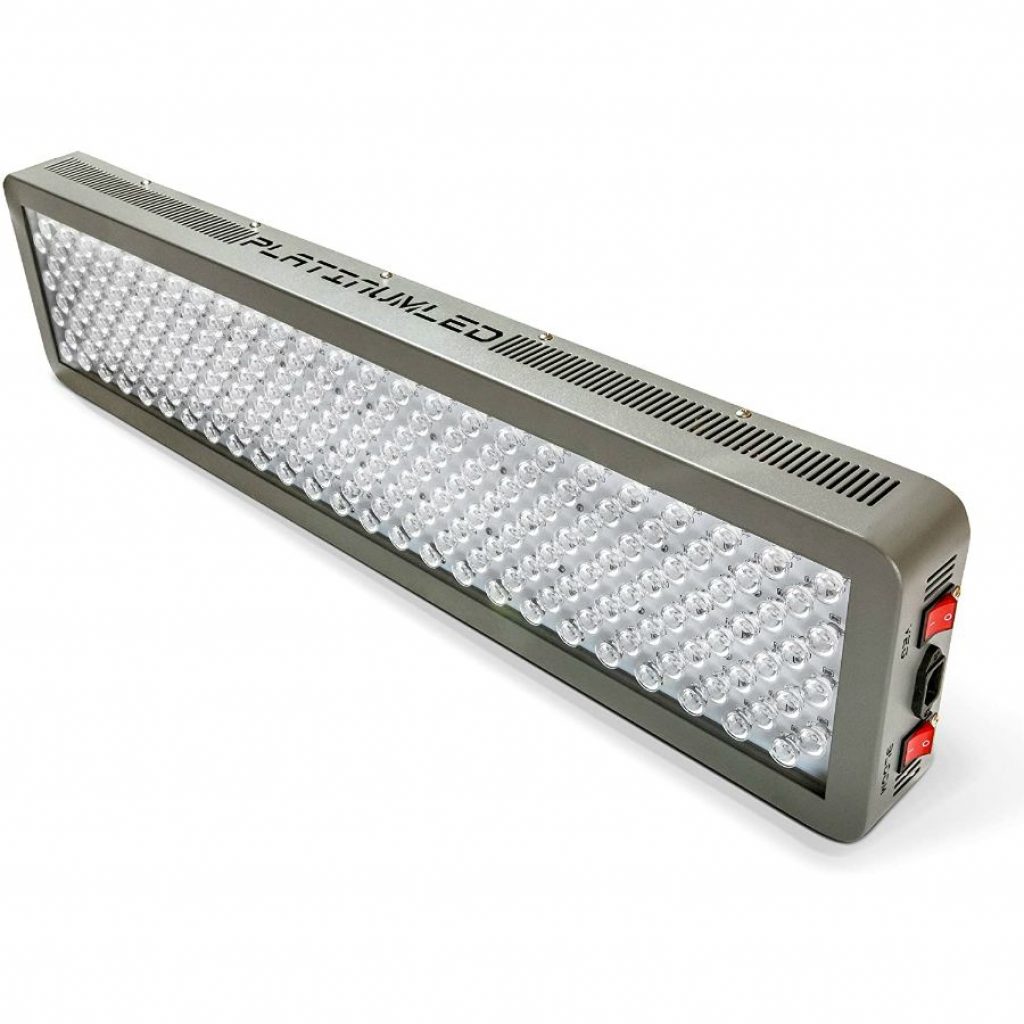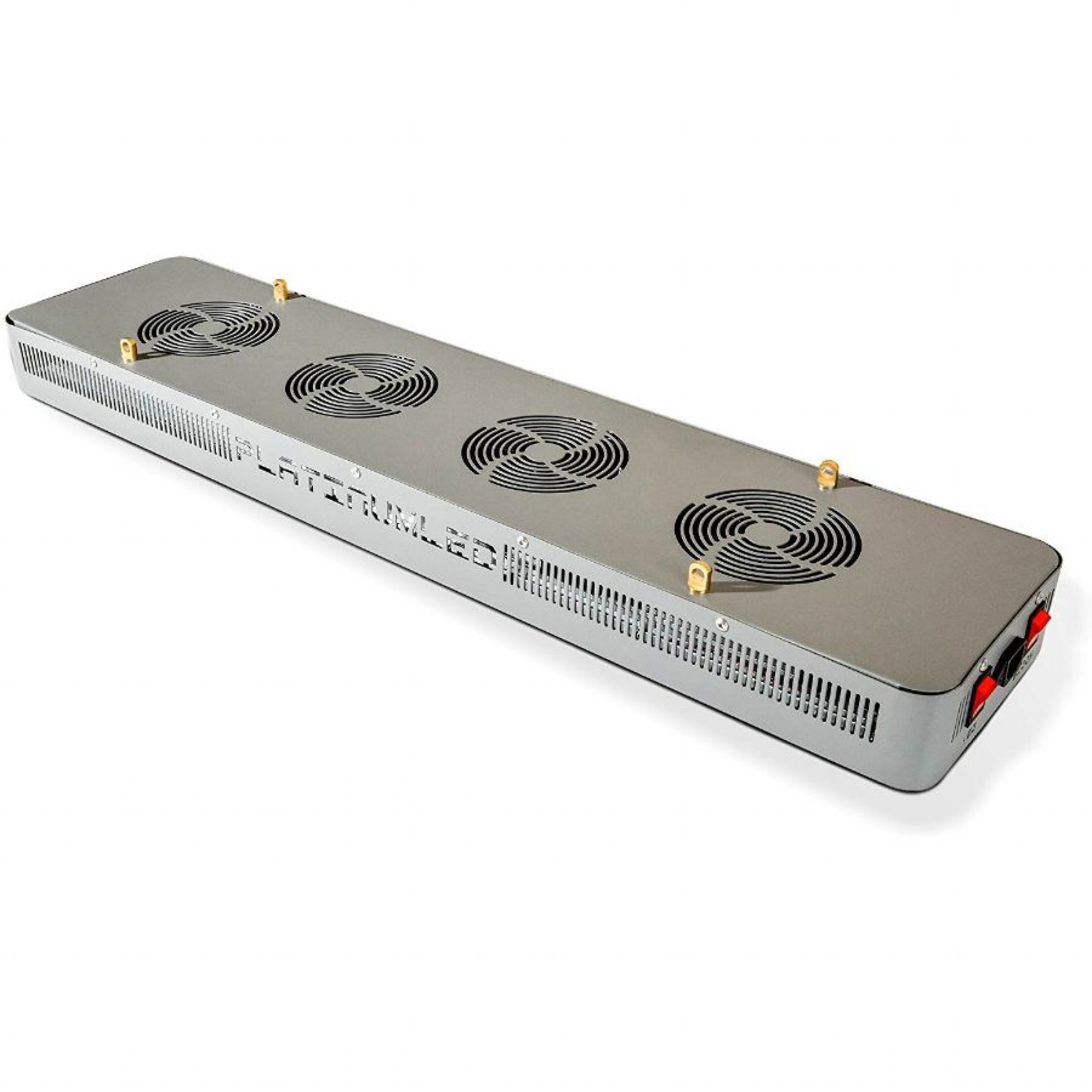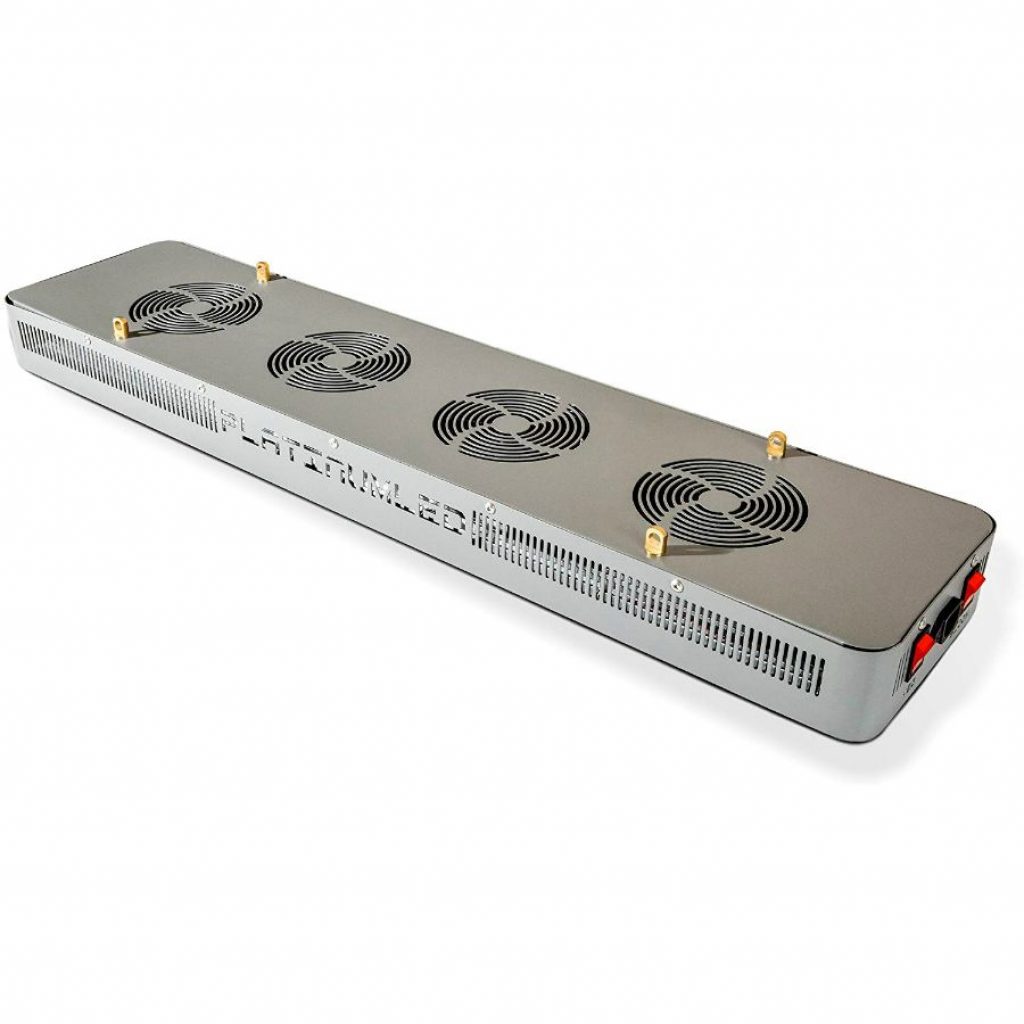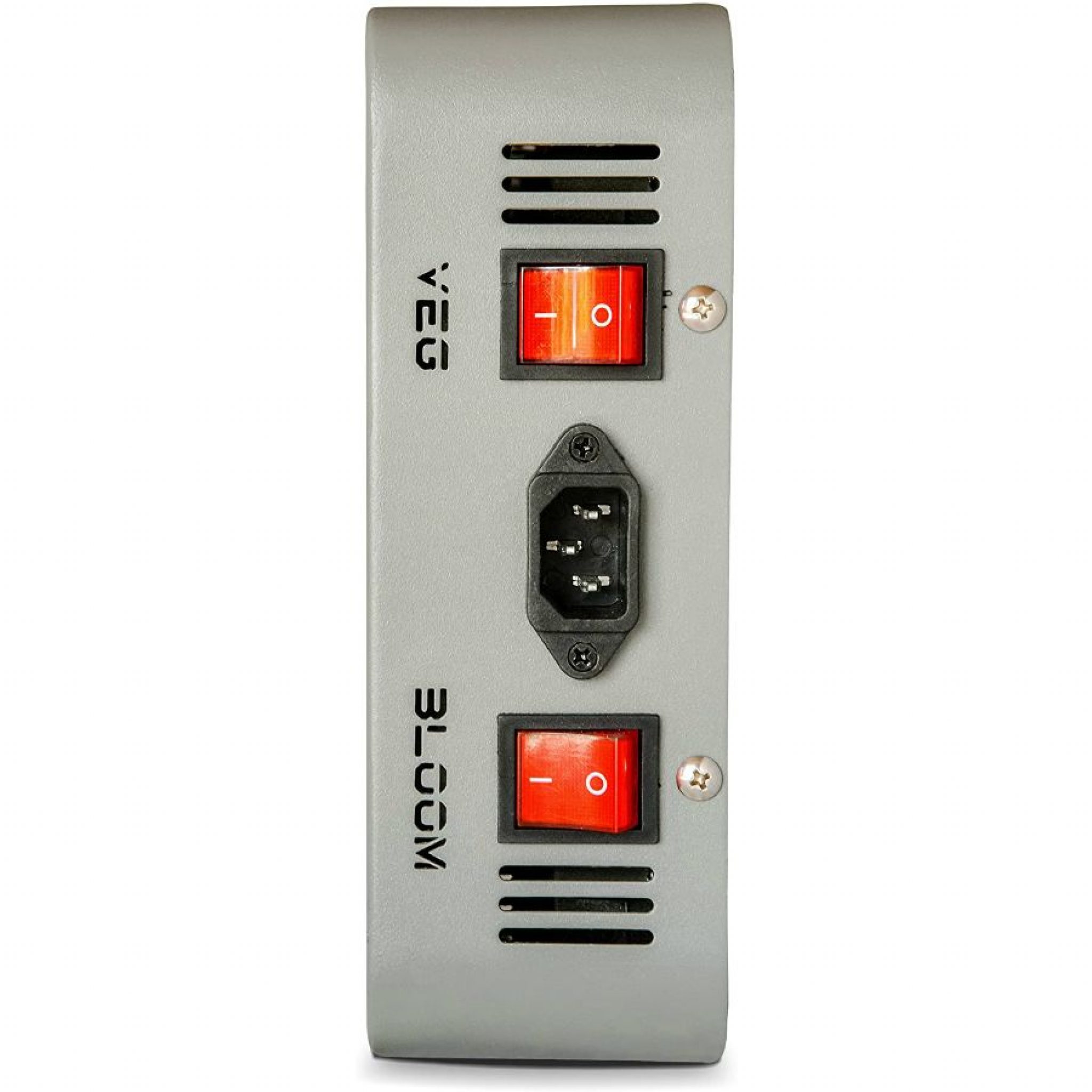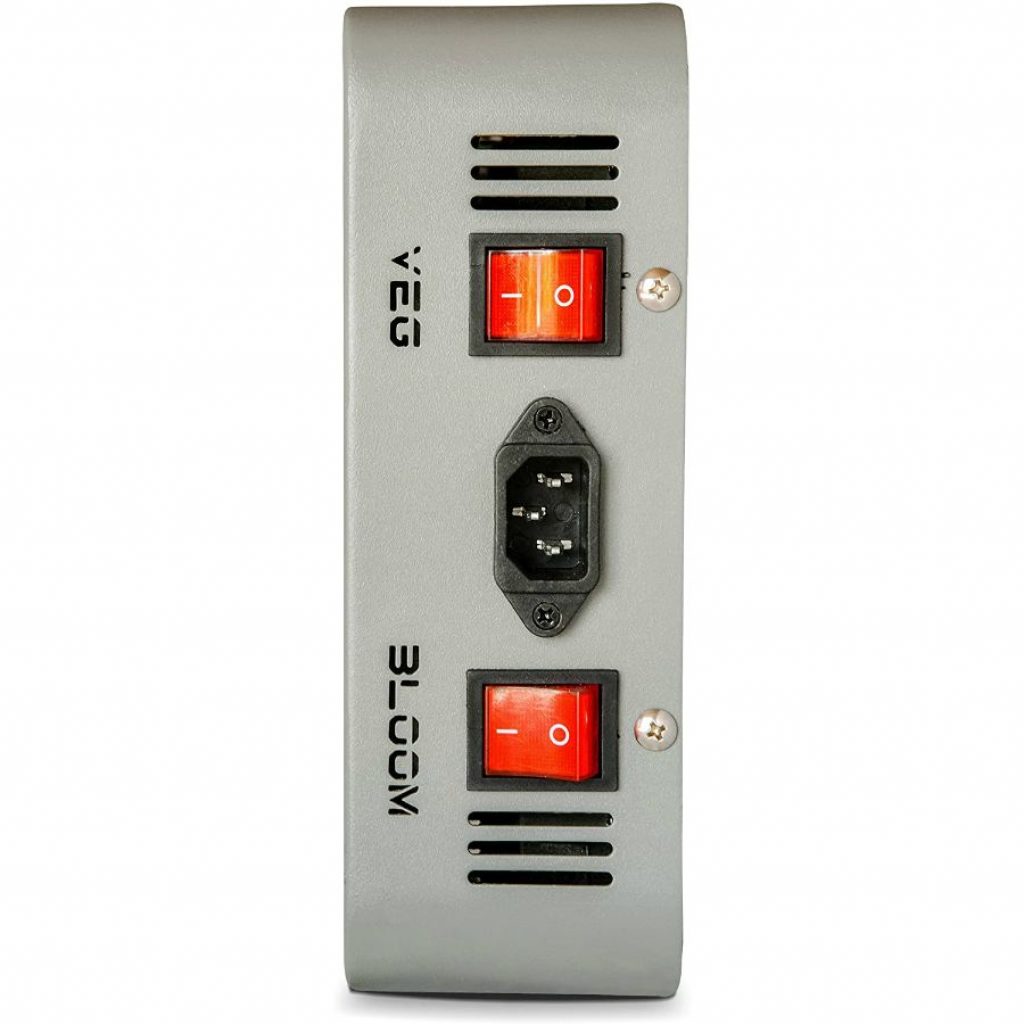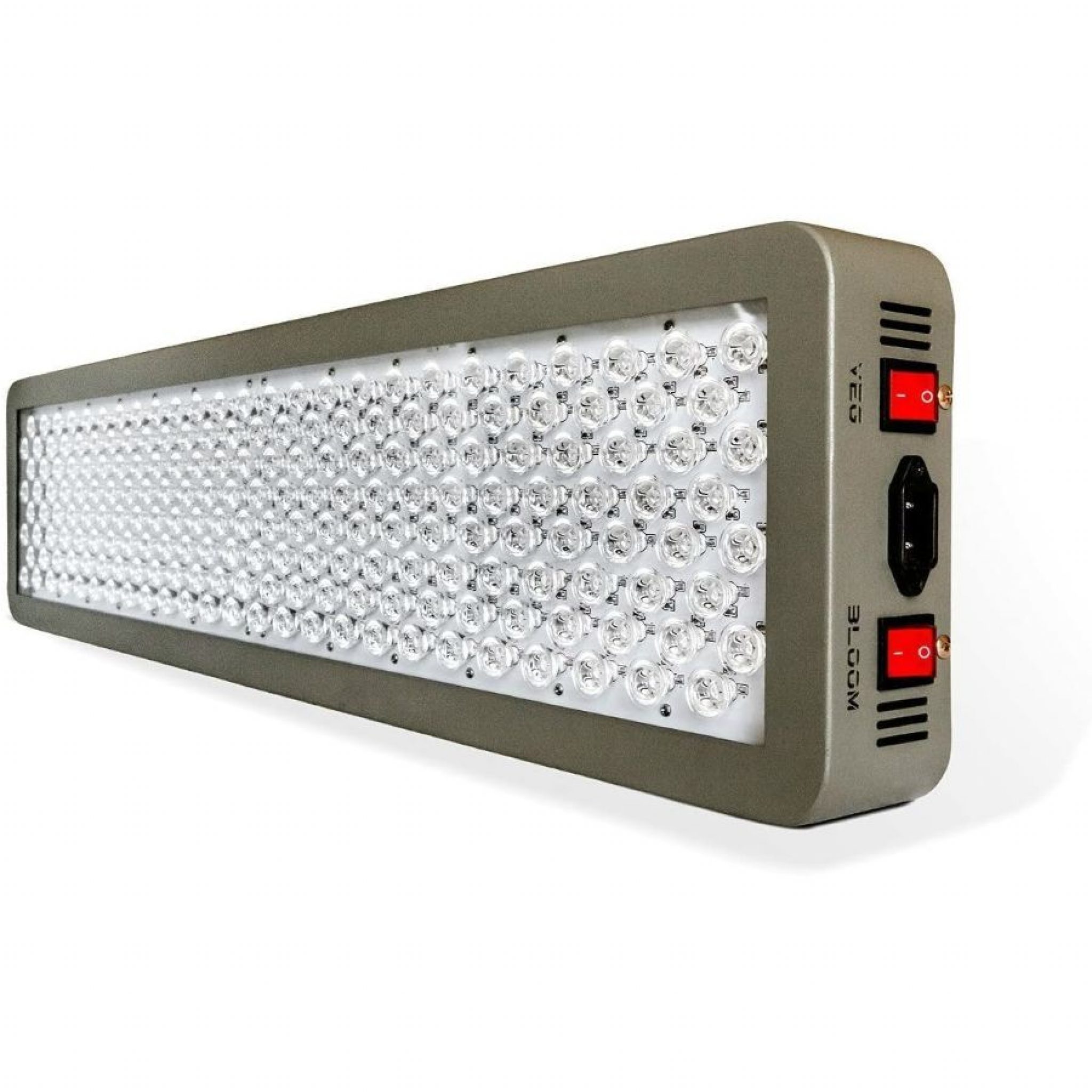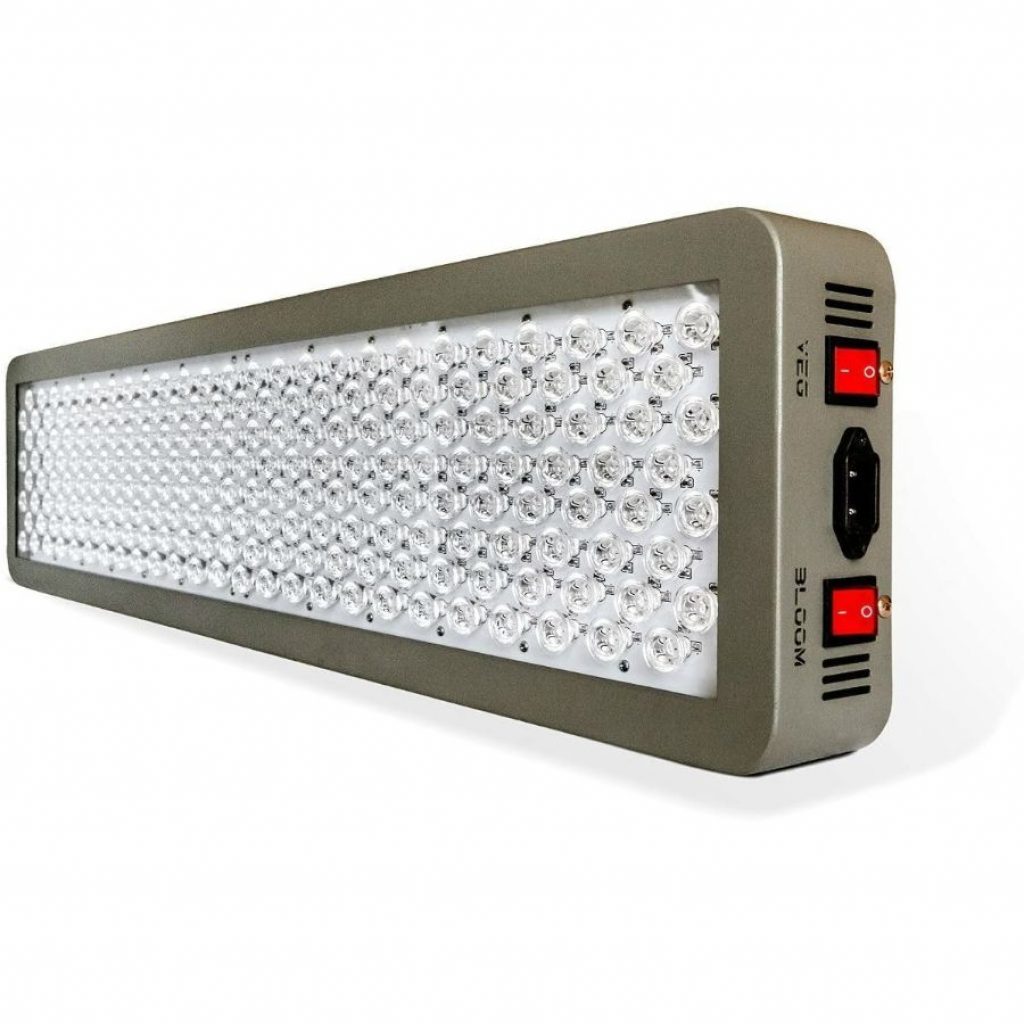 PlatinumLED has created a highly efficient light. The lamps inside Advanced Platinum Series P600 600w emit the biggest amount of light out of all the entries on the list. Lamps also have broad light range, from infrared to human-perceived light to ultraviolet. There are two modes, an excellent cooling solution, and an extended warranty of 5 years. The light is 36″x3″9″ and 22 pounds.
---
PROS:
from ultraviolet to infrared;
long warranty;
two modes;
great cooling.
CONS:
incredibly expensive;
not water-resistant.
WILLS Newest Reflector Series Grow Light 600W: an Agreeable Compromise on a Budget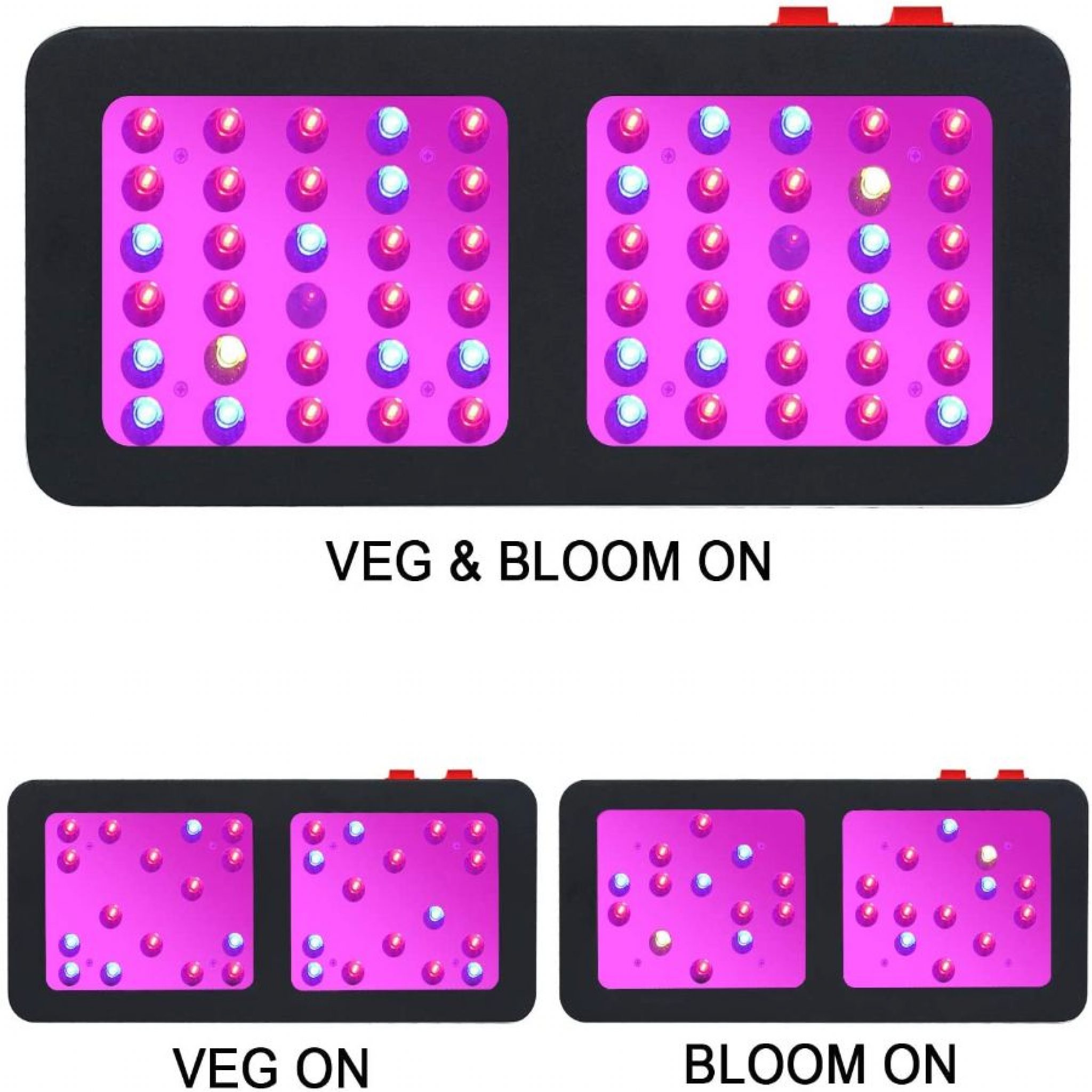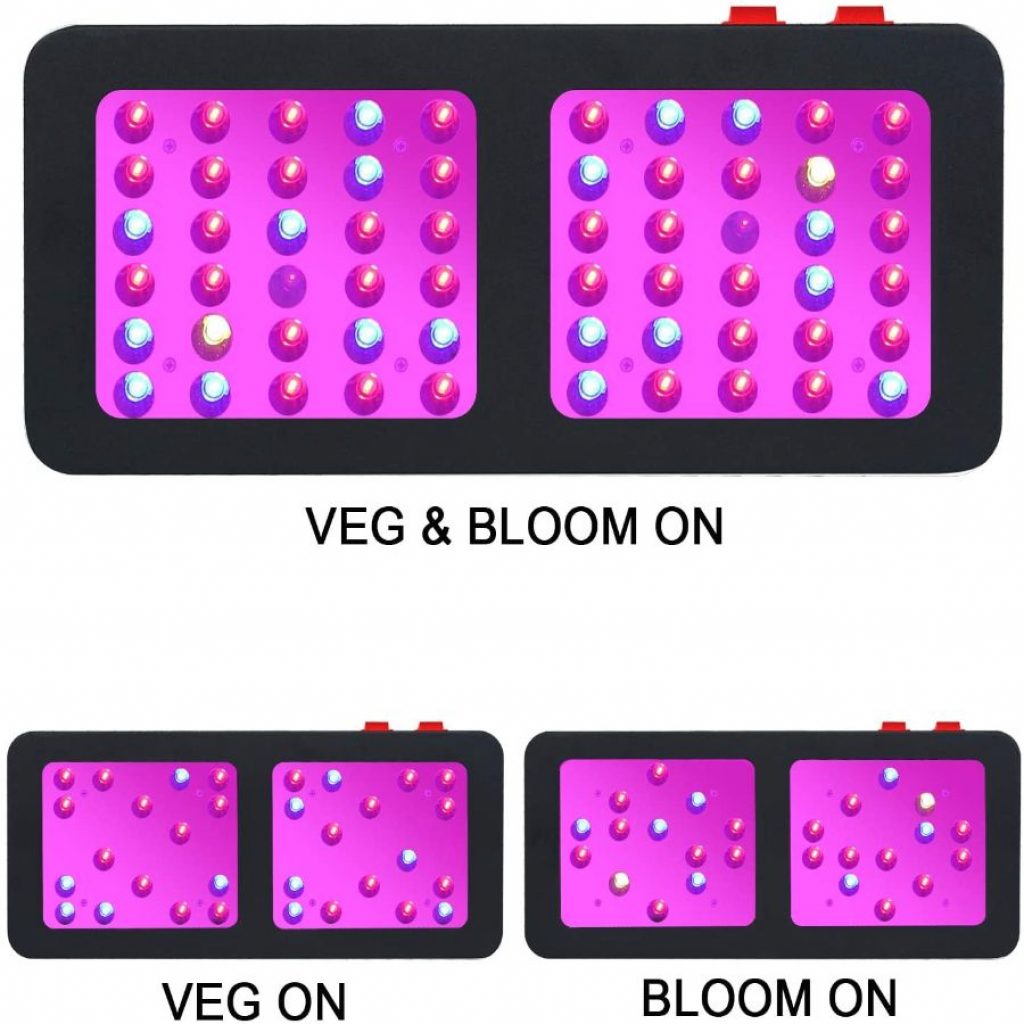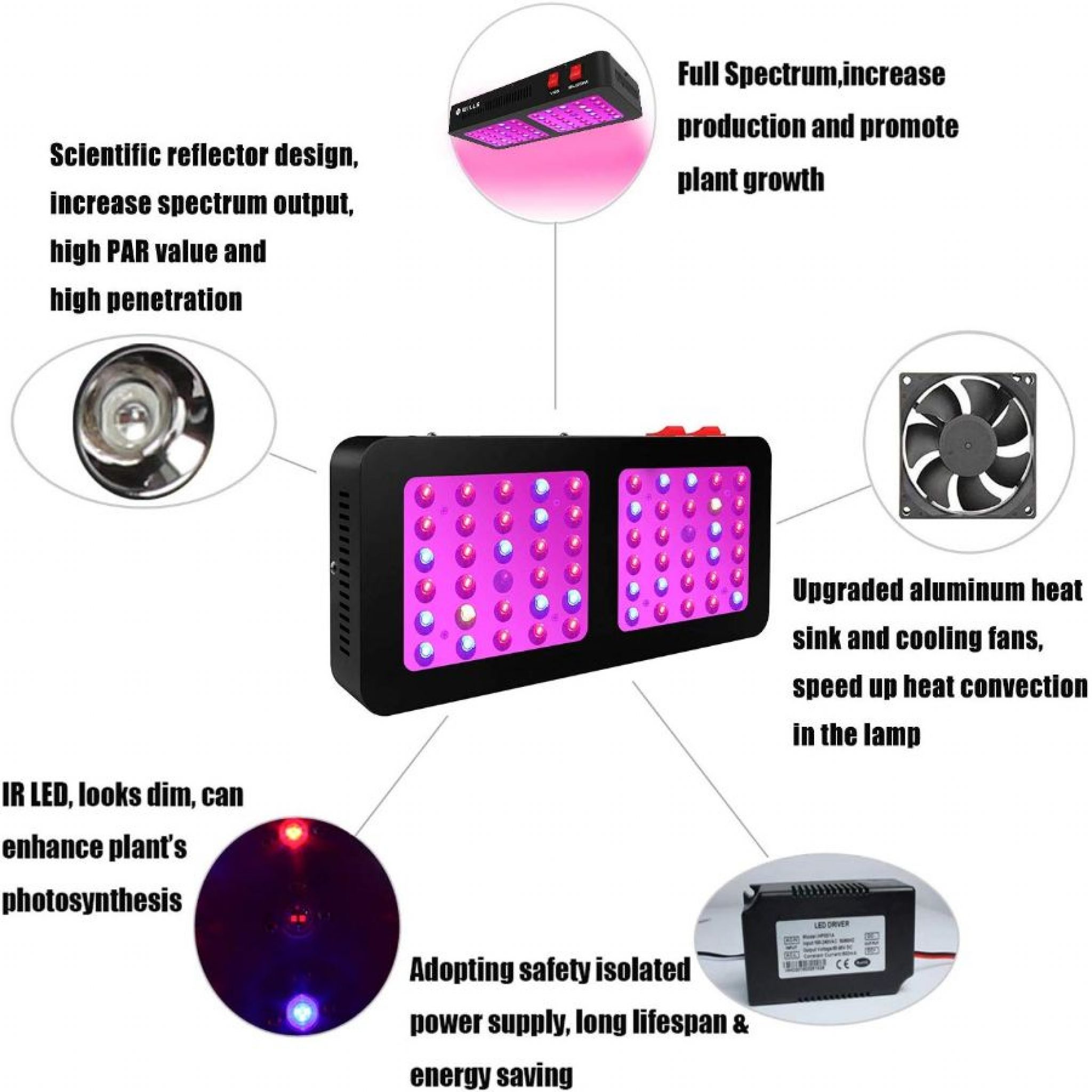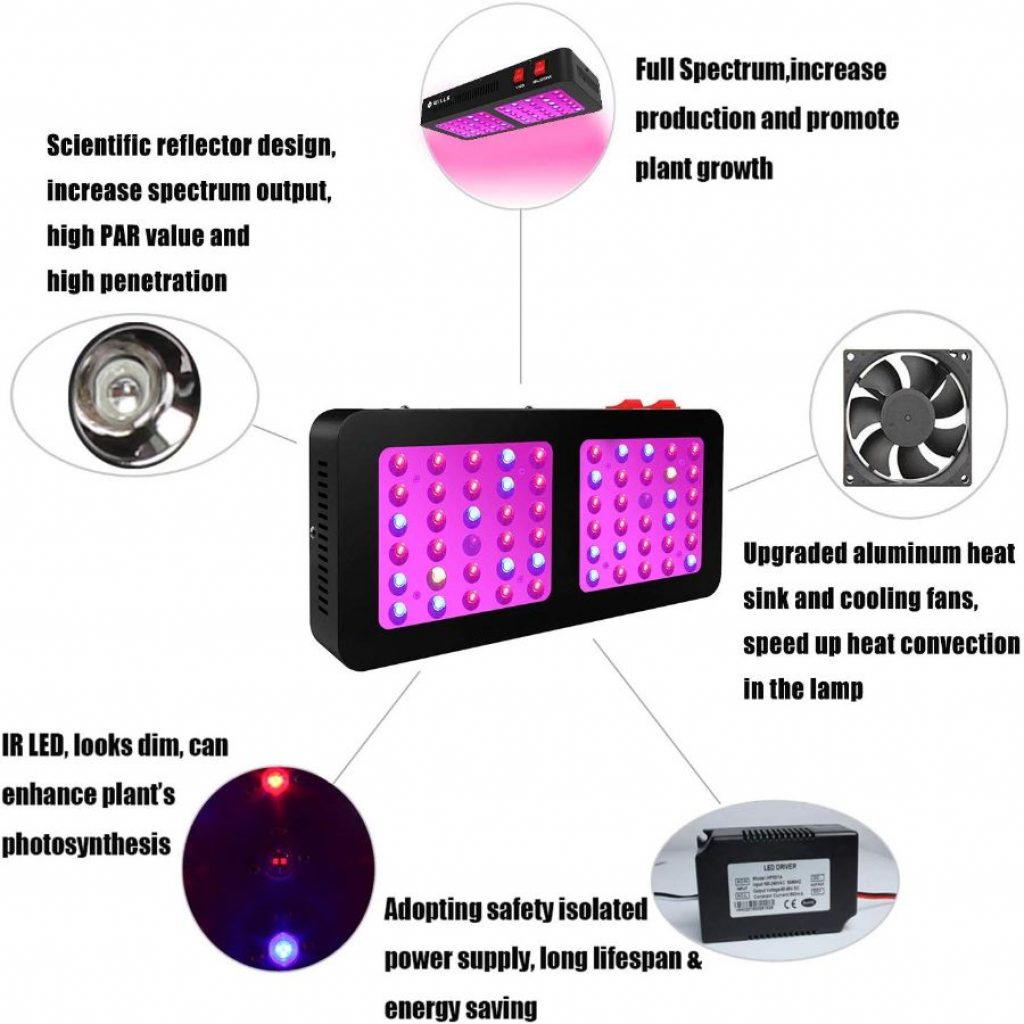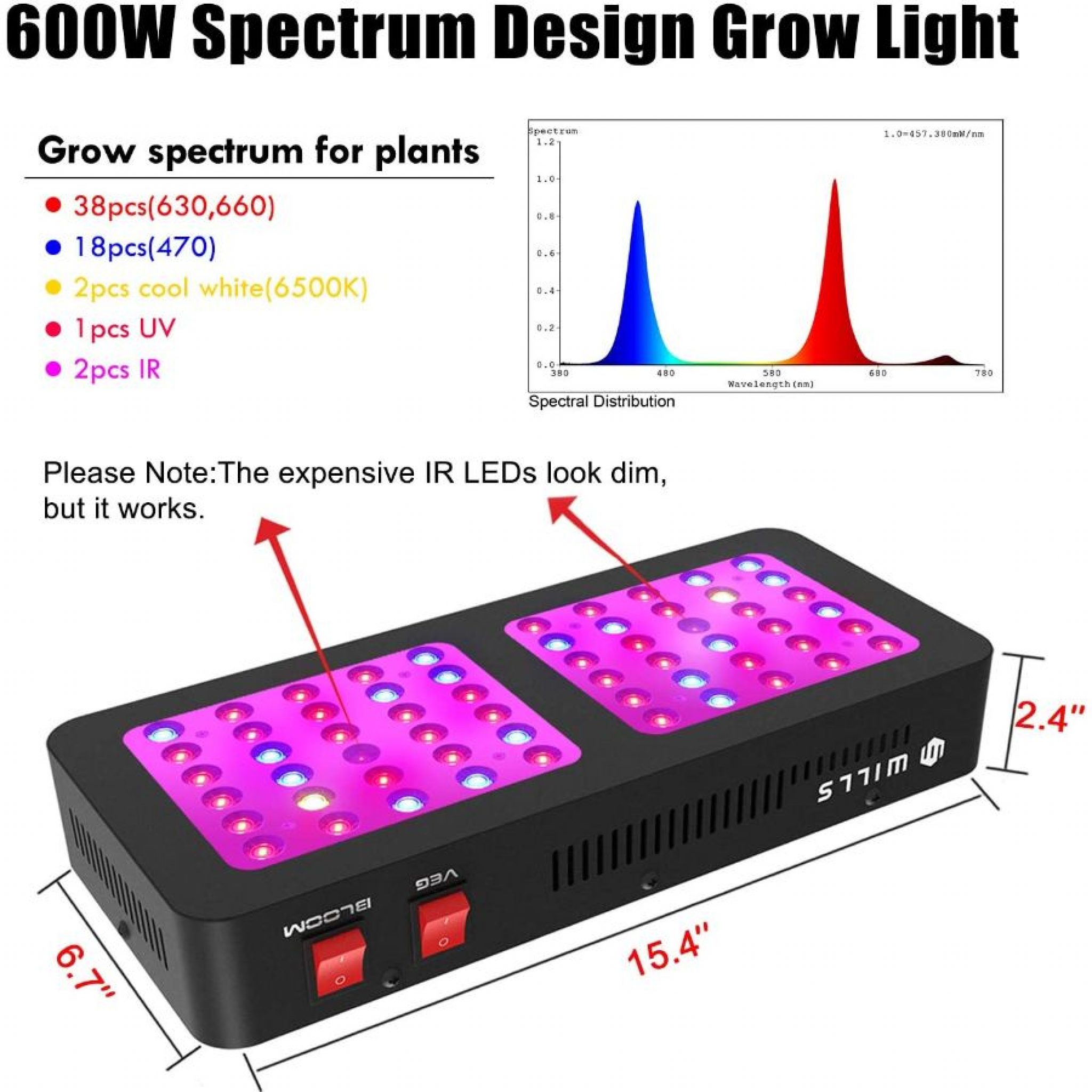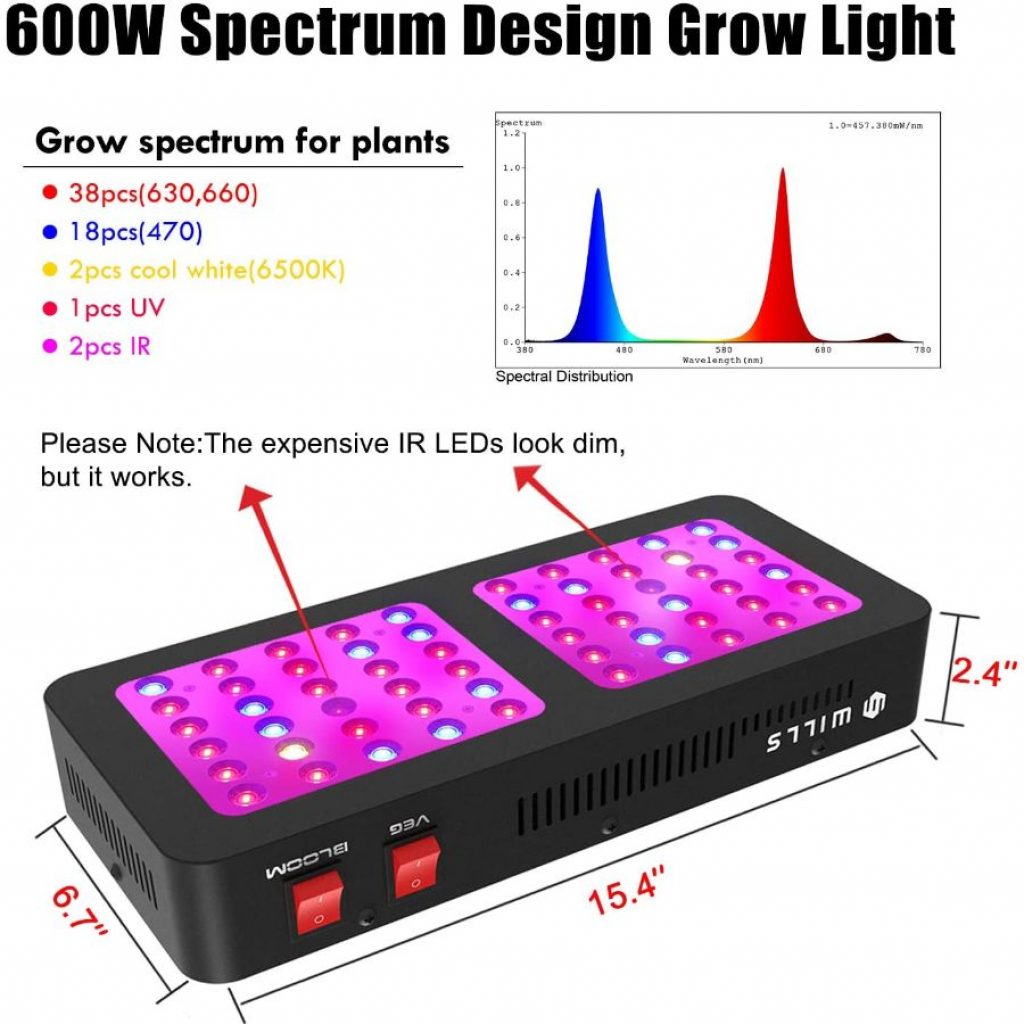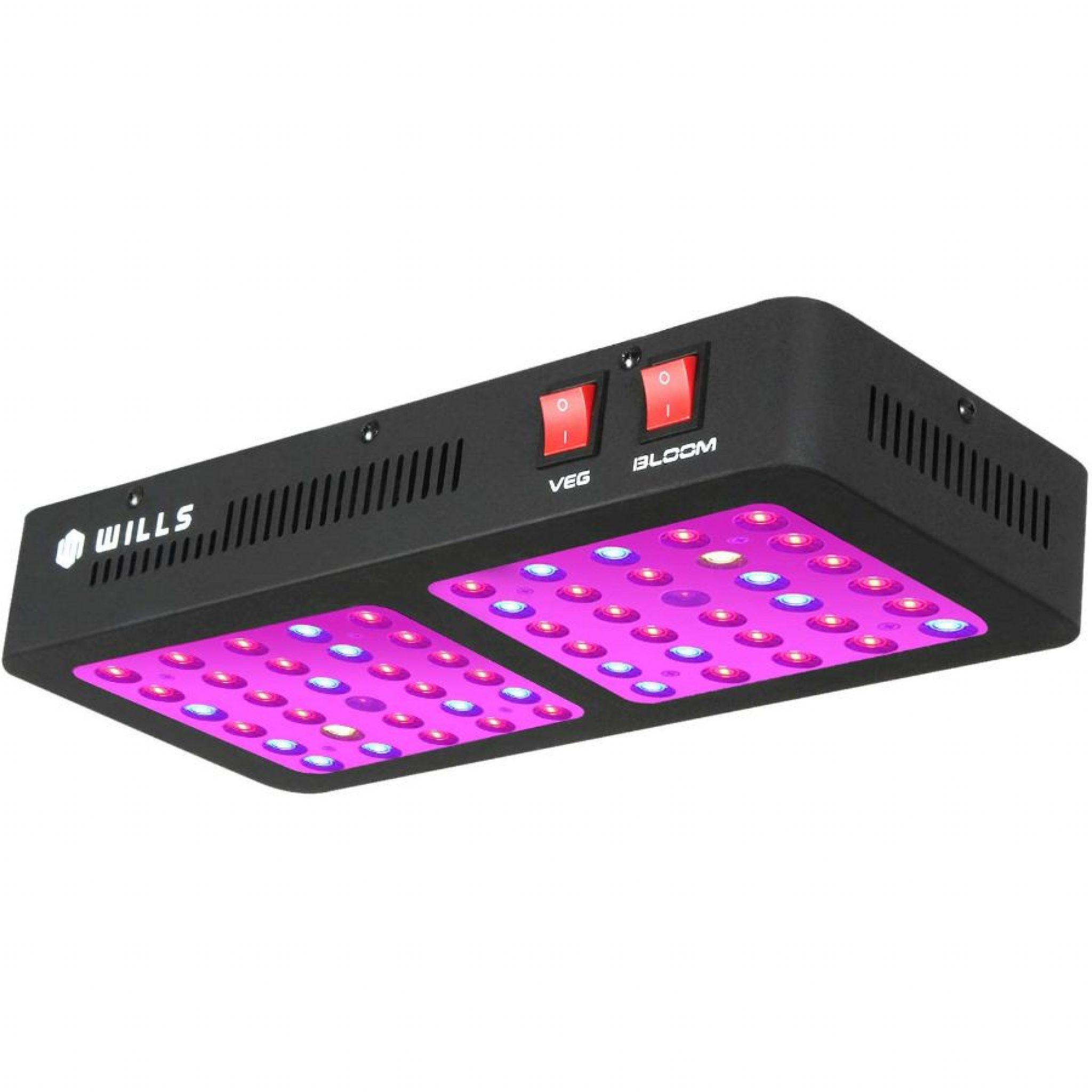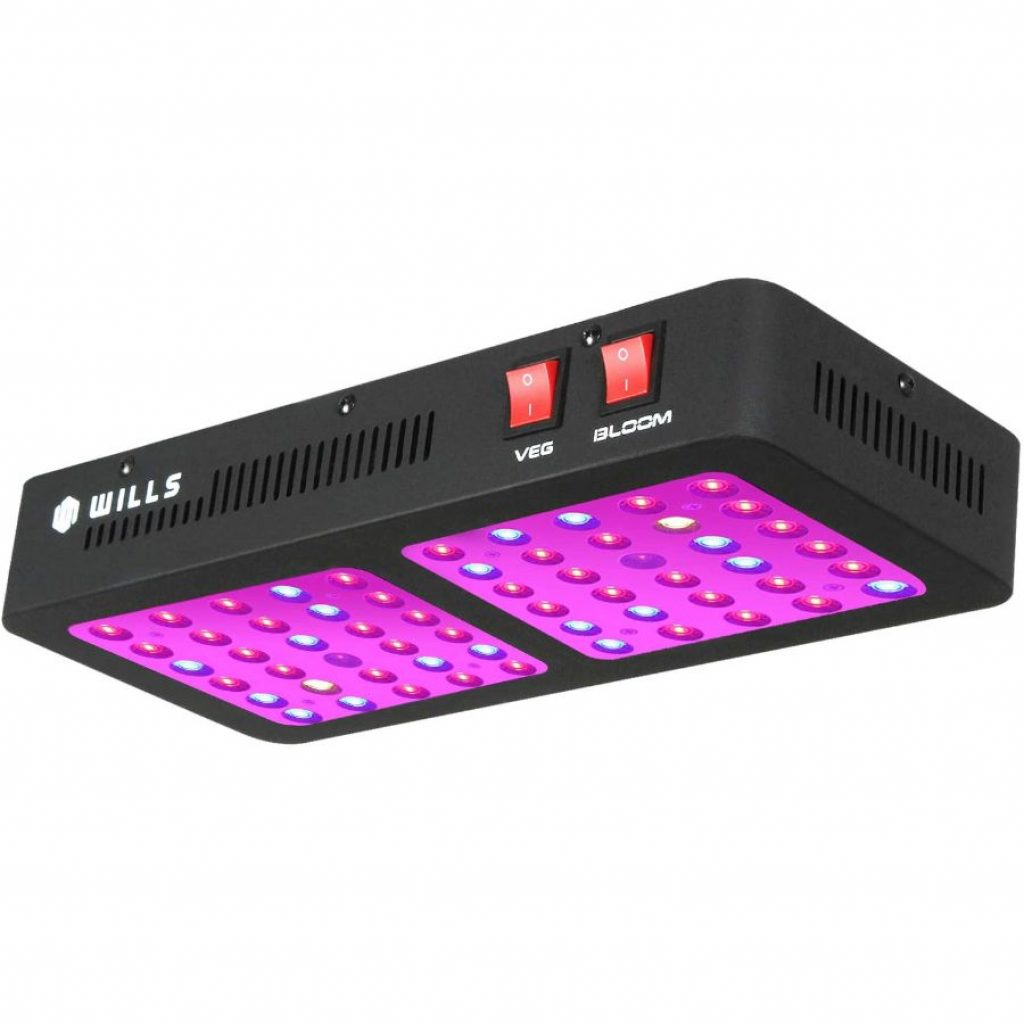 The brand WILLS has decided to create the most affordable LED grow light. WILLS Newest Reflector Series Grow Light 600W has all the standard features of such lights, including complete light range, two modes for plants, and an adequate cooling system. This light is 15.3″6.7″2.4″ and 5 pounds.
---
PROS:
very affordable;
two modes;
good cooling.
G8LED 600 Watt MEGA: Surely the Best Light for Growing Cannabis, Isn't It?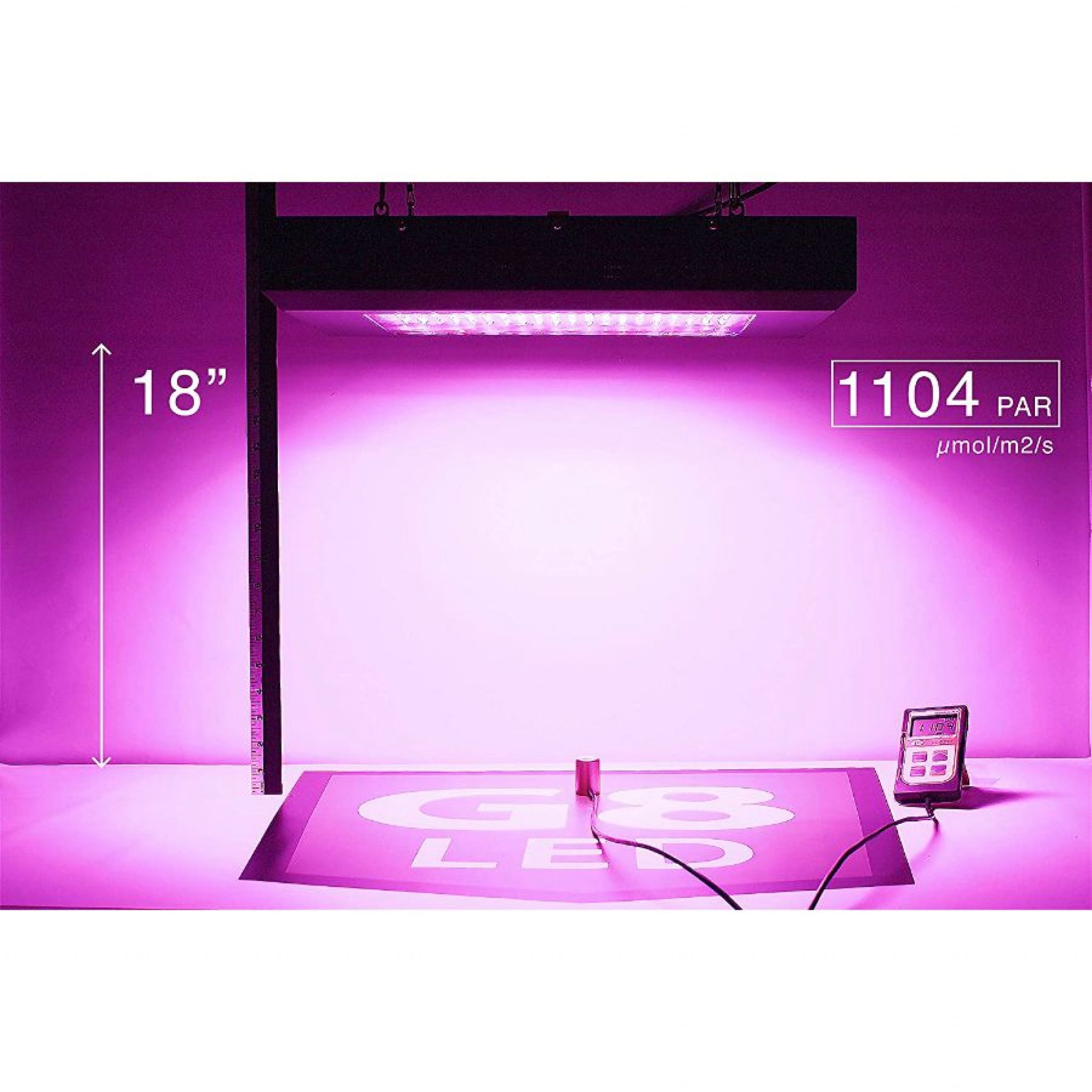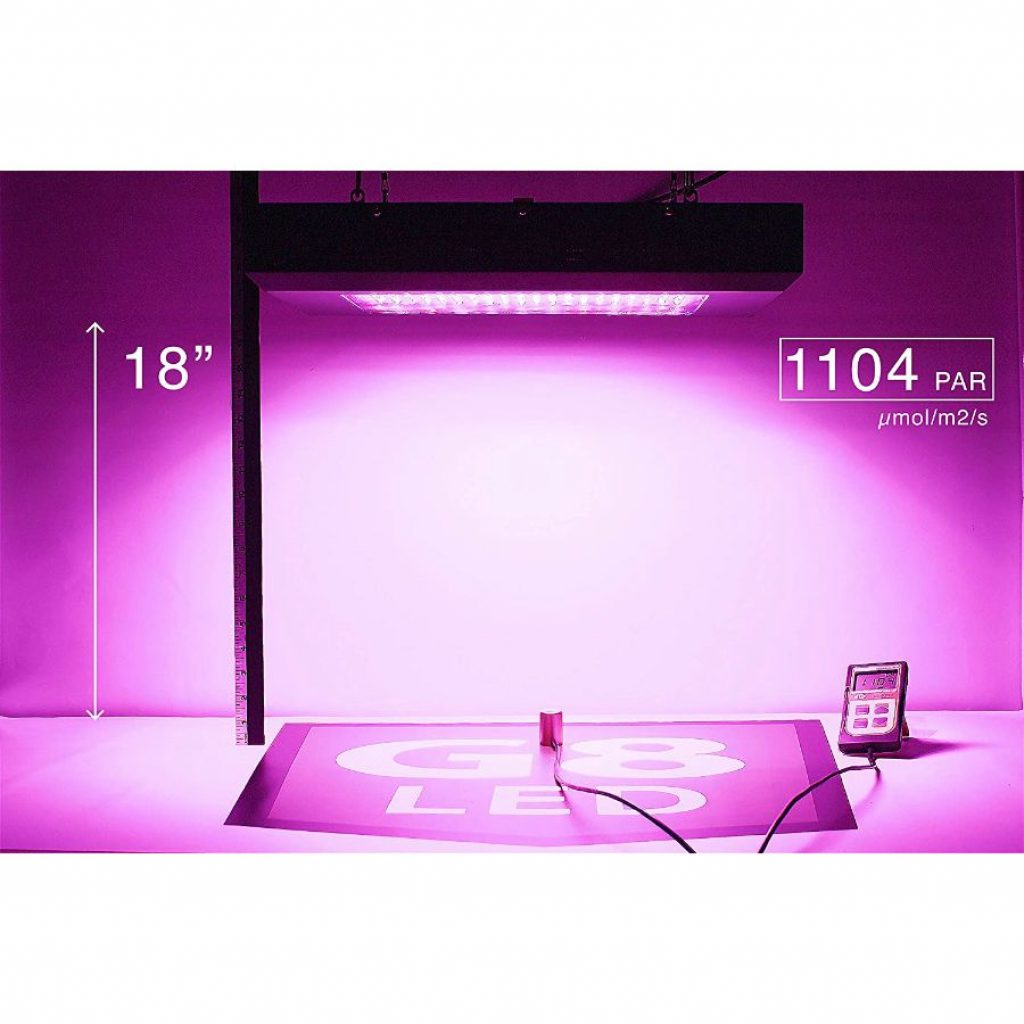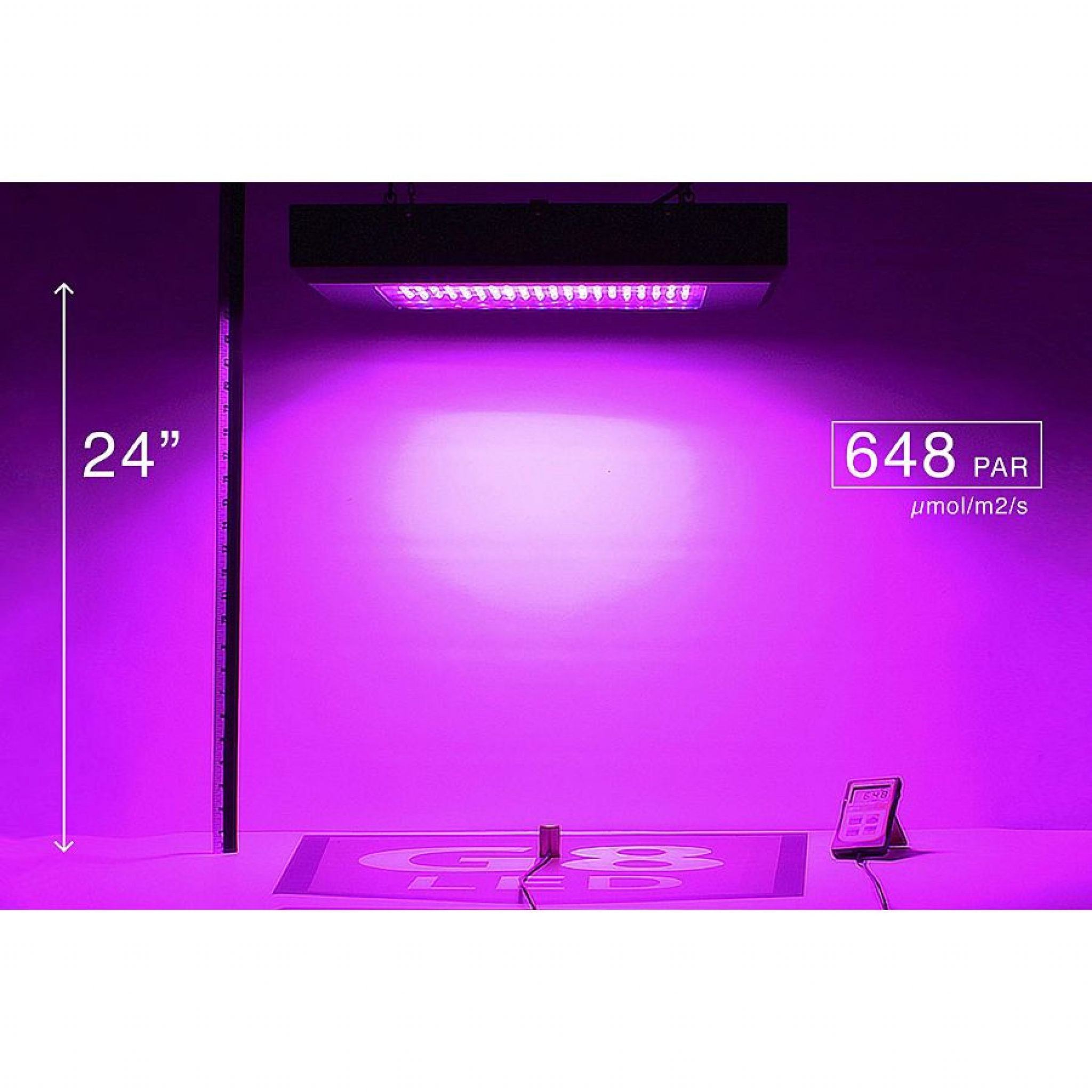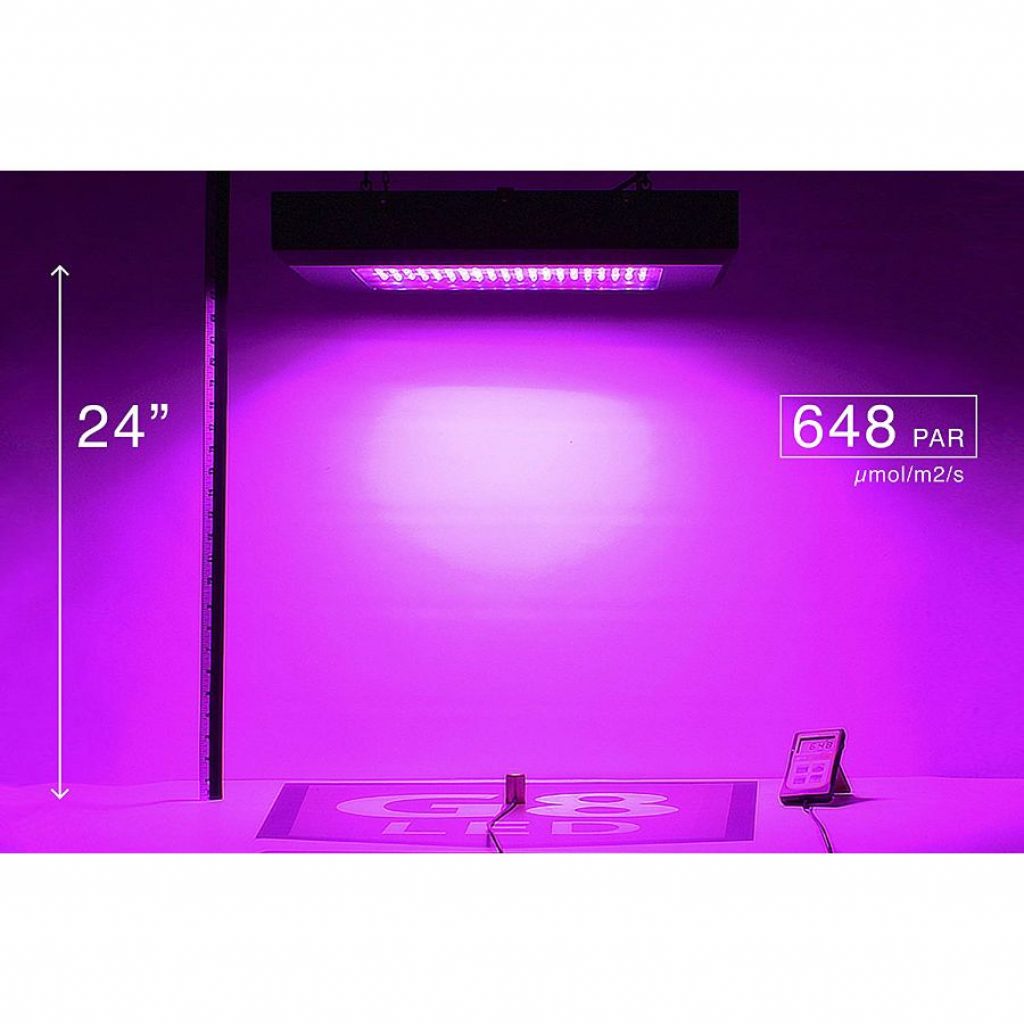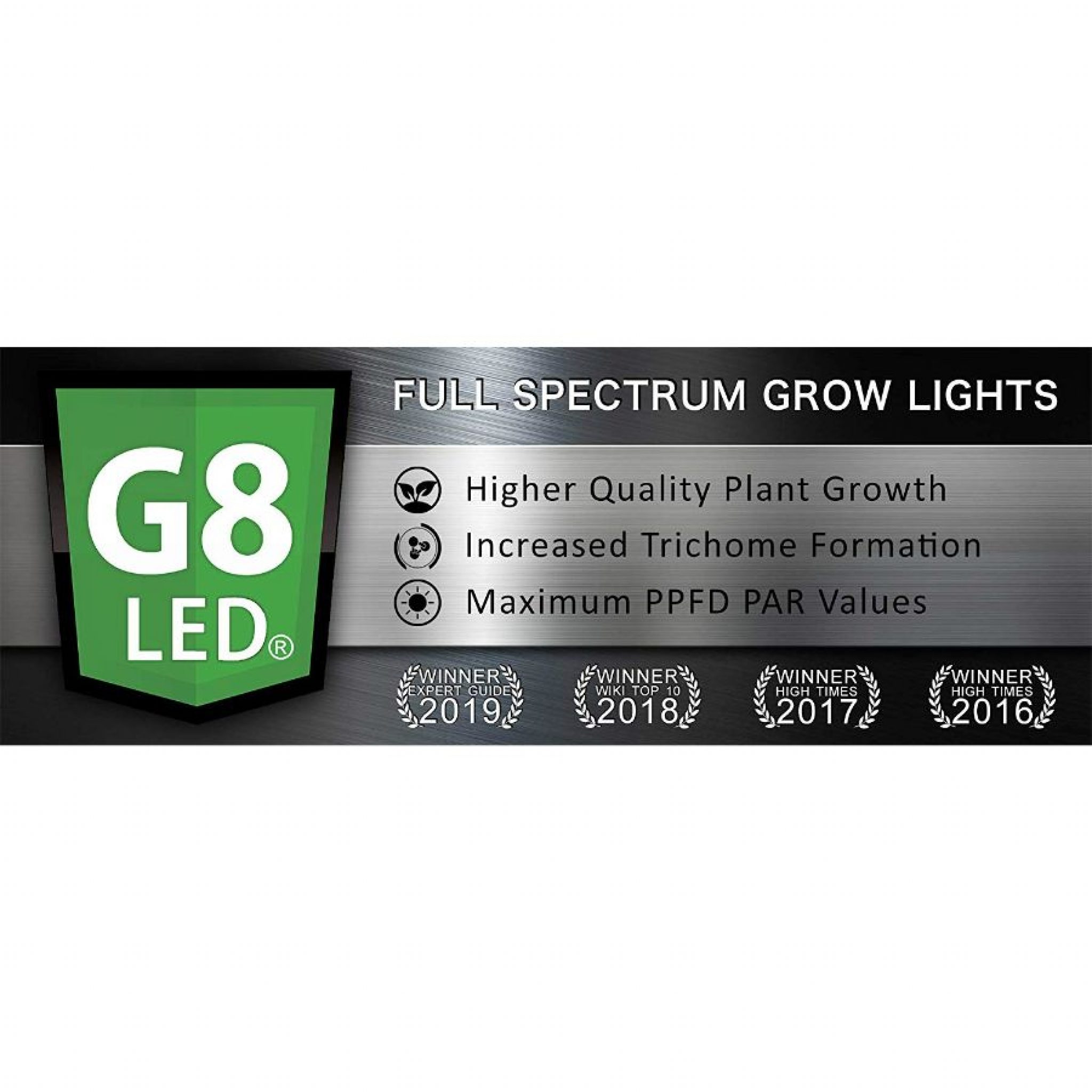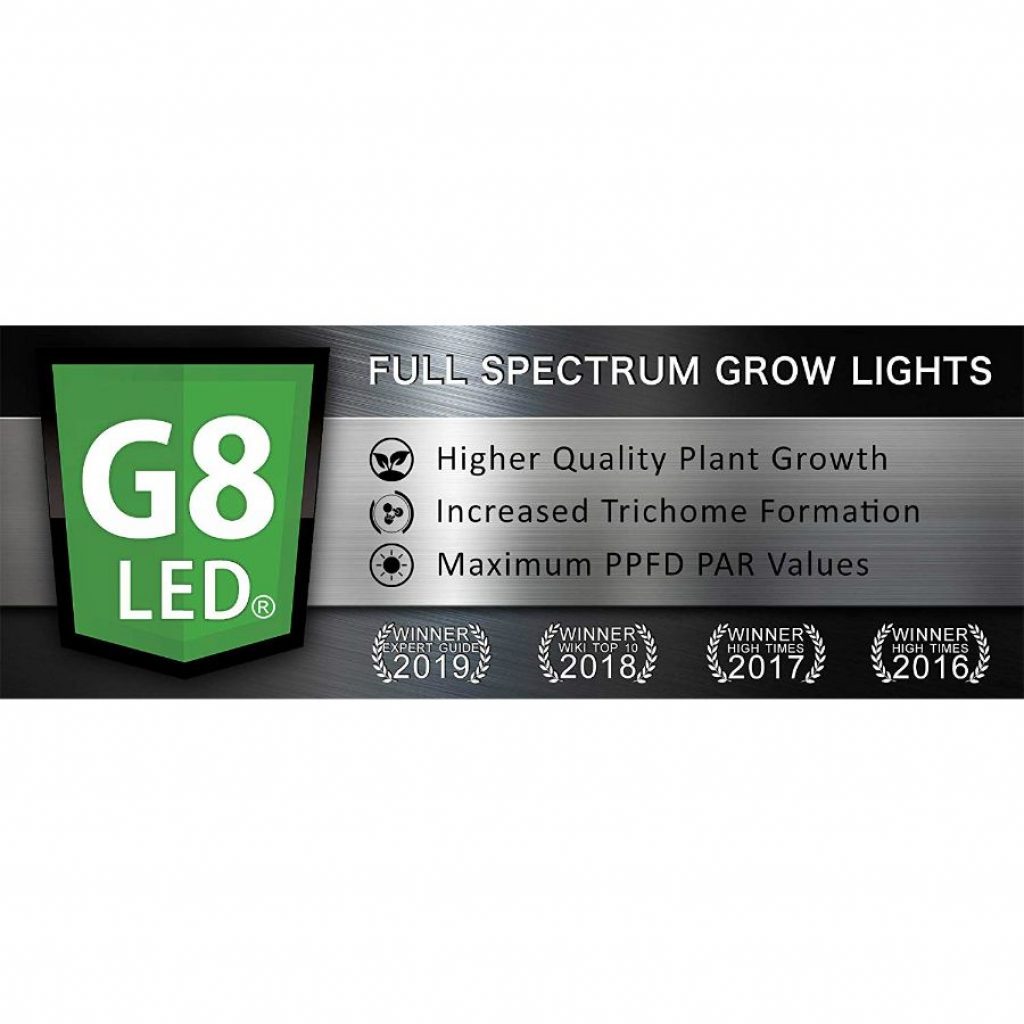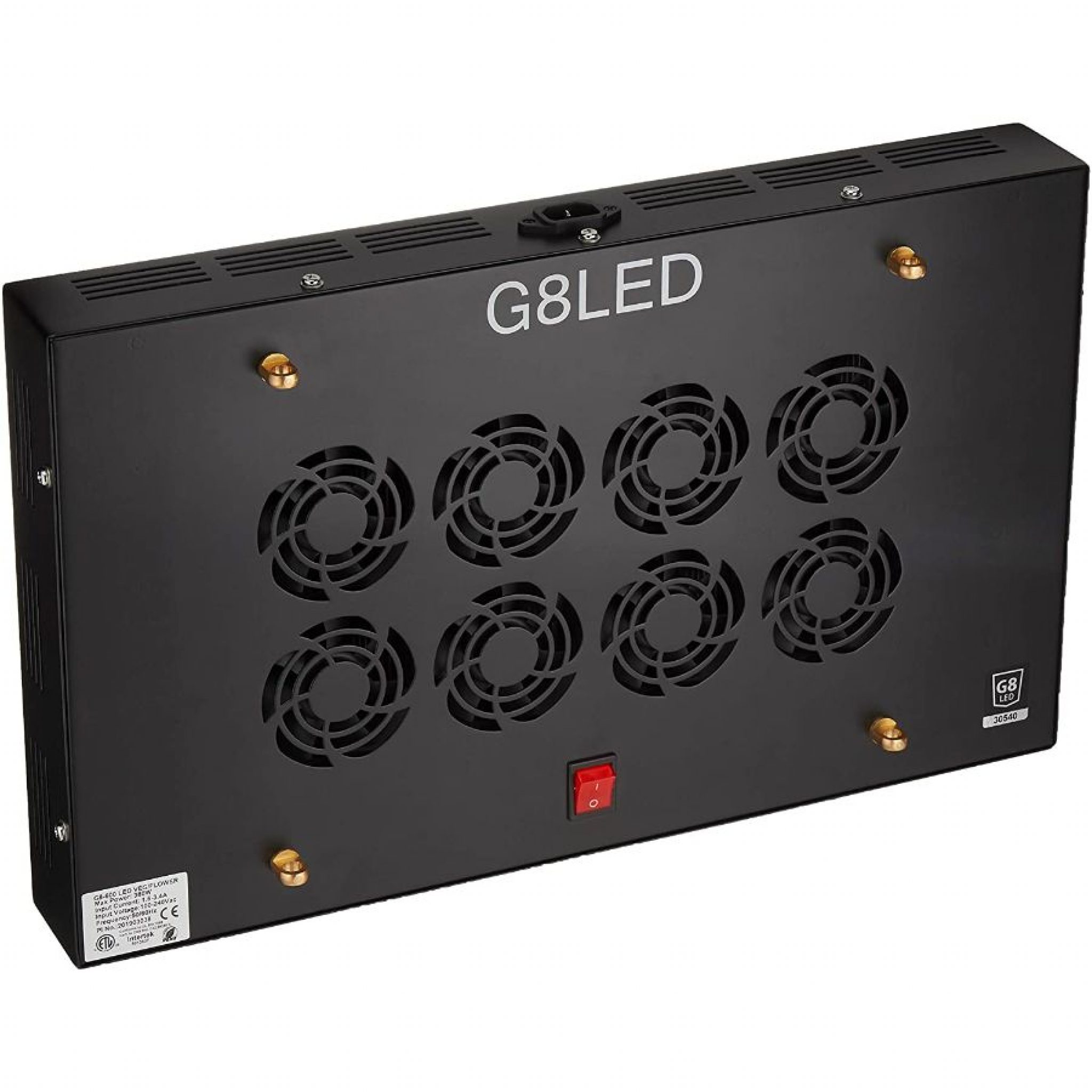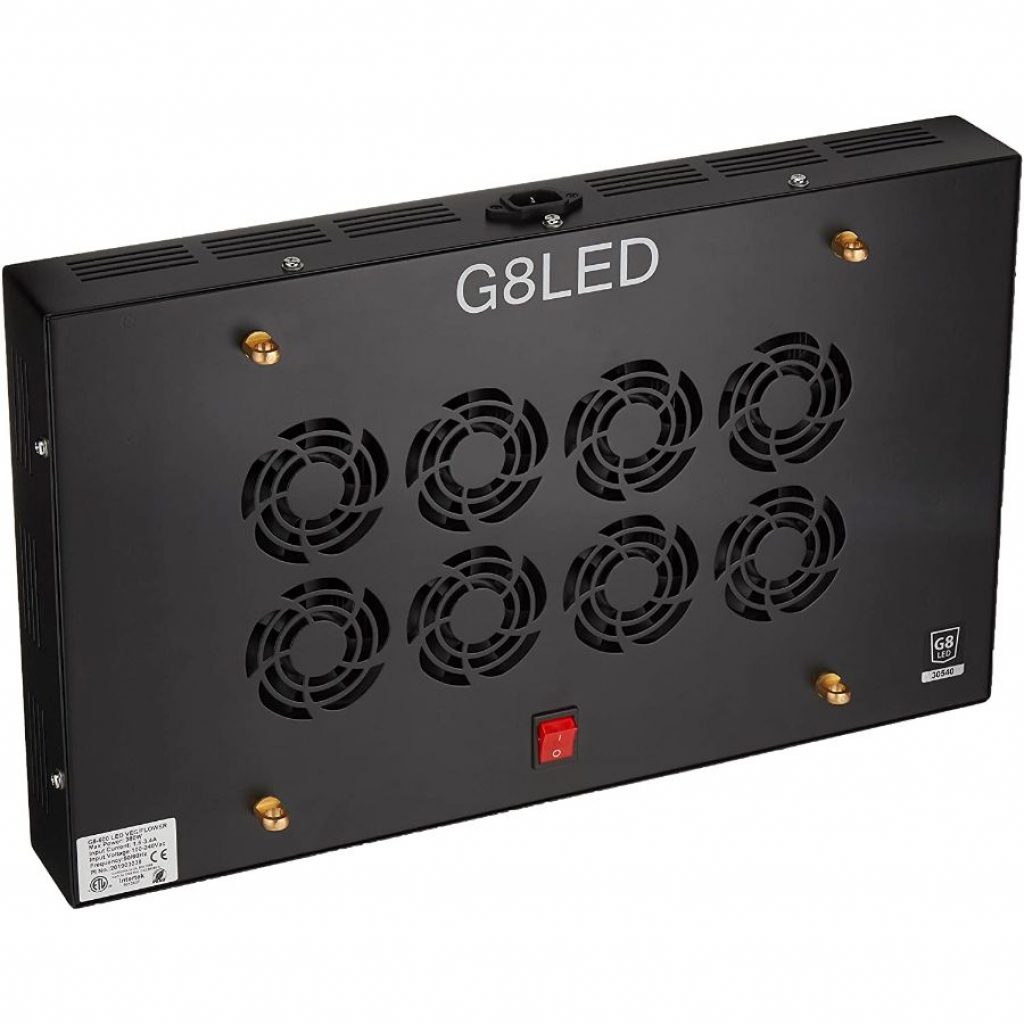 Do you want to go over the top with your lighting solution? G8LED 600 Watt MEGA from G8LED. This light offers the best performance and light penetration. It also has the best cooling solution. This product does not just feel premium, but instead, it is premium. That is why the price is according. This light is 17.5"14"x3" and 16 pounds.
---
PROS:
made out of premium materials;
incredible lighting;
2 modes;
exceptional cooling.
Thoughts After the 600 Watt LED Grow Light Bulb Review
I hope you enjoyed this read, and now, you are much more acquainted with the world of 600 watt grow lights. In this article, I have presented my most favorite and the best lights for growing cannabis currently on the market. All the 12 entries deserve a great amount of consideration and are viable options.
Growing indoor plants takes a lot of patience and dedication, but in the end, it is very satisfying to know that you have grown something yourself. So, how about sharing your own experiences of growing various plants indoors? I would love to hear from you!
Additionally, how did you like the article? Did I include your favorite LED light? Please let me know in the comments below.