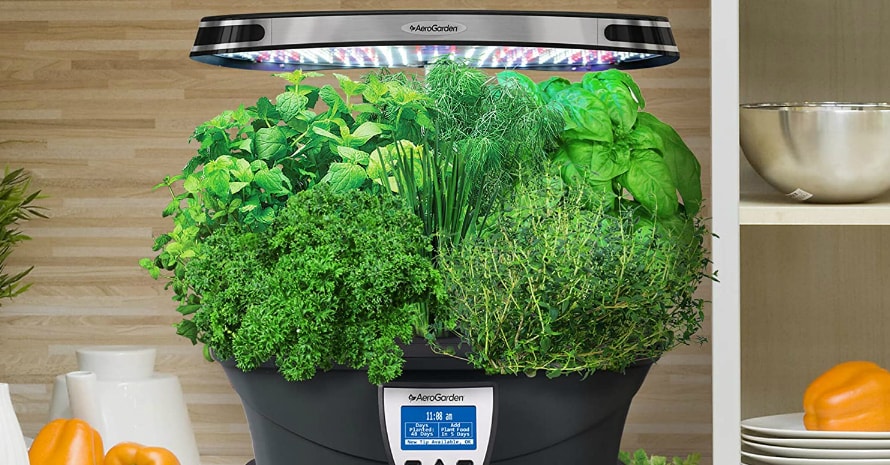 Aerogarden Reviews: The Best Models for Growing Organic Greens
There is a large selection of greens and vegetables in supermarkets, but we can not be sure of their naturalness. More and more aerogardens have become popular are aerogardens, which provide a full growth cycle of any indoor plants. With these devices, you can forget about the need to water plants, fertilize and provide UV light.
Pros
Powerful 20-watt lanterns for plant growth
Lamp height is adjustable by 12 inches
LED display with indicators
Top Pick
Pros
Powerful 20-watt lanterns for plant growth
Runner-Up
Pros
Lamp height is adjustable by 12 inches
Premium Choice
Pros
LED display with indicators
The Best Models for Growing Organic: Top 5
I have prepared aerogardens reviews so you can compare the best models for growing tomatoes, cucumbers, salad, pepper, parsley, and other plants.
1. Harvest-Black Indoor Hydroponic Garden – One of the Best Aerogarden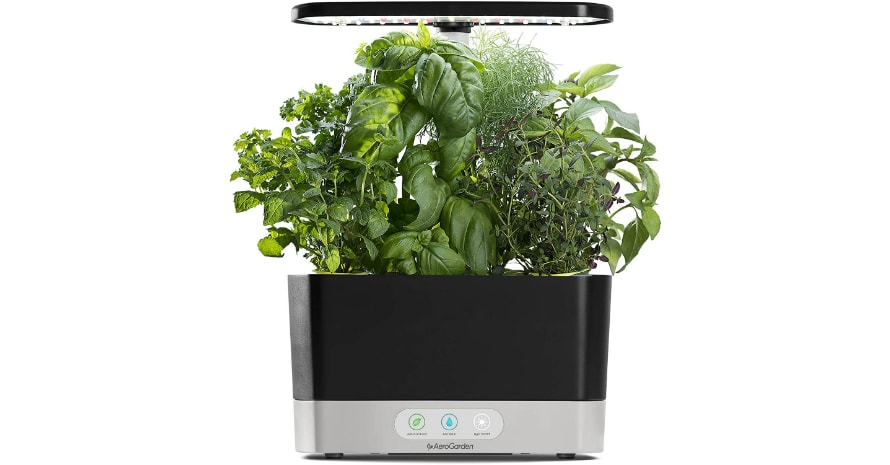 The American company AeroGarden develops and sells many models of devices for growing plants at home. One of the best aerogarden from the Harvest line is designed for the simultaneous growth of 6 pods of plants of any type. The set includes 6 pods: Genoese basil, parsley, dill, thyme, Thai basil, and mint. The collection also includes nutrients that are sufficient for the entire period of plant growth.
You do not need to use the nutrient soil or anything else to grow herbs. Pour water into a special compartment, start the process and then plant the seeds. Watch your growth!
Aerogarden Harvest is equipped with a 20-watt ultraviolet lamp and automatic water supply system. The device is fully autonomous. All you have to do is make sure that the aero garden is plugged into a socket and that the water level does not fall below the line (there is an indicator). This is the best model for those who do not want to grow plants in the garden in the soil, spending time and effort.

---
PROS:
Low price;
The set includes seeds and fertilizers;
Water and light indicators;
Powerful 20-watt lanterns for plant growth.
CONS:
No control display;
No more than 6 bushes.
2. Black Bounty – Aerogarden System With LED-display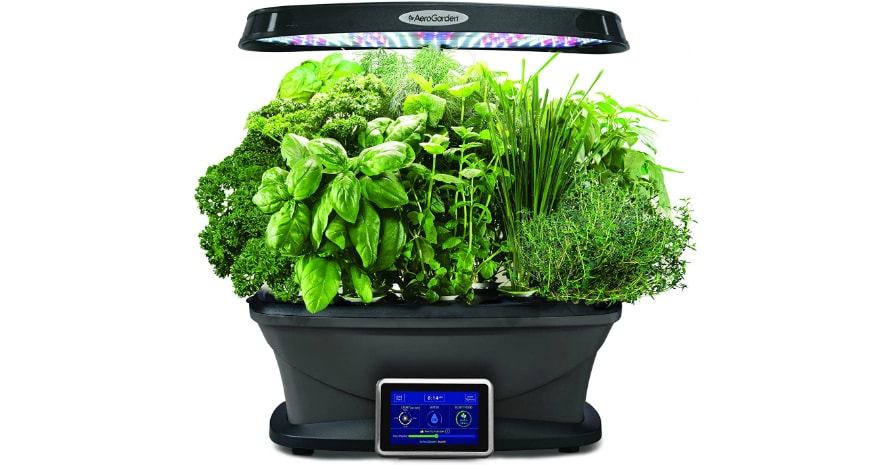 Black Bounty is one of the models of American brand AeroGarden for home gardening. This modern model is equipped with a color LED display with an indicator of water and nutrient levels. On top of the body is a UV lamp powerful enough to grow plants even without sunlight. One growth cycle is 4-6 weeks with the use of nutrients. You don't need to additionally fertilize or water plants, as this aerogarden system is entirely self-contained.
It is a modern model of aerogarden, which is suitable for beginners or small families. If necessary, you can choose a device with a higher capacity.

---
PROS:
LED display with indicators;
The starter kit includes plants and fertilizers;
Plants germinate in 7-14 days.
CONS:
Too small for a big family.
3. Miracle-Gro – Aerogarden Herb Garden for Year-round Greenery
This aerogarden herb garden allows growing herbs at home all year round. Note the display with a control unit, which will enable you to change the mode, turn on the light, and fully control the plant growth process. You can grow up to 7 aero garden pods simultaneously. You will need at least one month to grow your plant from seed without using GMOs or chemical fertilizers.
There is no soil in these aerogarden models, as all plants grow directly in water, which must be refilled periodically (the device itself reminds you to do this). The powerful lamp on top provides year-round UV light, so you can even grow cannabis in this device.
The manufacturer guarantees that all plants will germinate autonomously if you follow the instructions for use. This model has a 30 Watt lamp that fully imitates sunlight and accelerates plant growth up to 5 times.

---
PROS:
Convenient control with the display;
Can hold 7 plants at a time;
Suitable for weed and other plants.
CONS:
The loud sound of dripping water during operation.
4. Harvest 360 – TOP Aerogarden Weed Yield All Year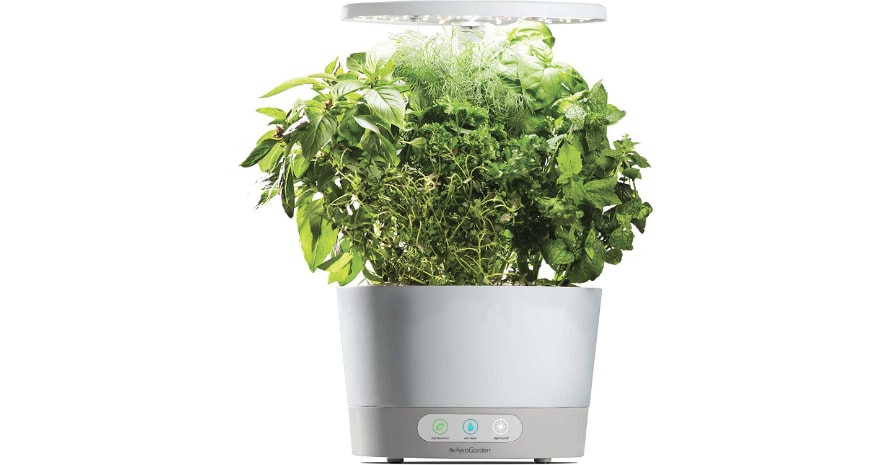 Harvest 360 is one of the most popular models of the famous American brand AeroGarden. Above, there are aerogarden reviews of the standard version of Harvest. This model has a slight difference (white matte body, instead of black). This compact device for 6 sprouts is designed for home growing with an automatic water supply with nutrients. There is no touch screen to control it. Instead, it has three indicators for when water and fertilizer need to be added. One of the buttons is for switching the 20W lamp on and off.
This model is one of the most compacts among autonomous aero gardens. However, the plant growth process is automated. Reminders relieve you of the hassle and tell you when to add water and nutrients. You won't have to deal with a mess, as there is no soil here. If necessary, the height of the lamp can be changed (it moves down and up by 12 inches).
Choose this model if you prefer the white aero gardens case. It will perfectly fit in the light interior.

---
PROS:
Beautiful white matte case;
Reminders about adding water and fertilizers;
Lamp height is adjustable by 12 inches.
CONS:
No display with control;
Small case size.
5. Grow Light Panel 45 Watt – The Best Choice for Aerogarden Weed Yield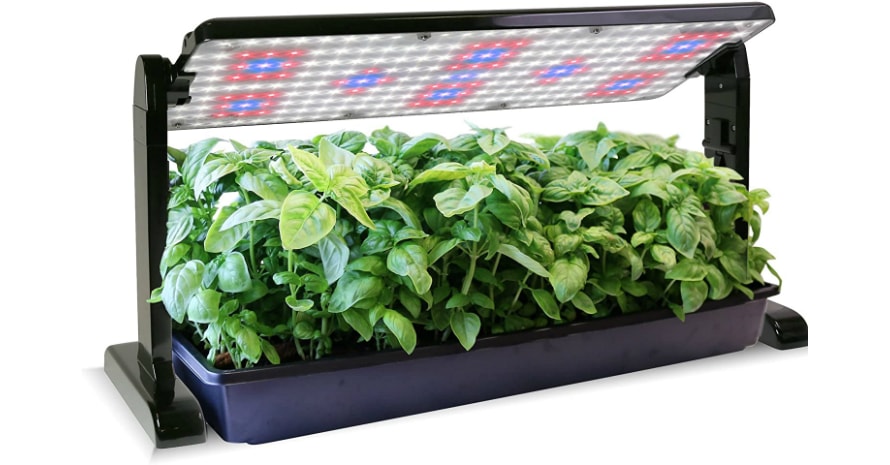 This aerogarden LED review will help you decide which device model is best for you to grow greenery. Please note that this LED panel is intended only for UV lighting of plants in any containers. There is no automatic water supply system or indicators. It is just a powerful lamp for you to grow plants in your containers all year round. The LED panel has a power of 45 watts and a size of 21 x 12 x 10 inches (length, width, and height). The size of the body has a standard size that fits special containers for plants. You can buy these containers in any supermarket and use water or soil with any sprouts in them.
This LED panel has three lamp colors: white, red, and blue. It creates favorable conditions for plant growth and simulates the bright color. However, the lamp needs to be turned on and off manually. There is no built-in timer or display for automatic settings.

---
PROS:
Red, White, and Blue LEDs on panel;
High Power 45 Watts;
Suitable for any containers with plants.
Buyer's Guide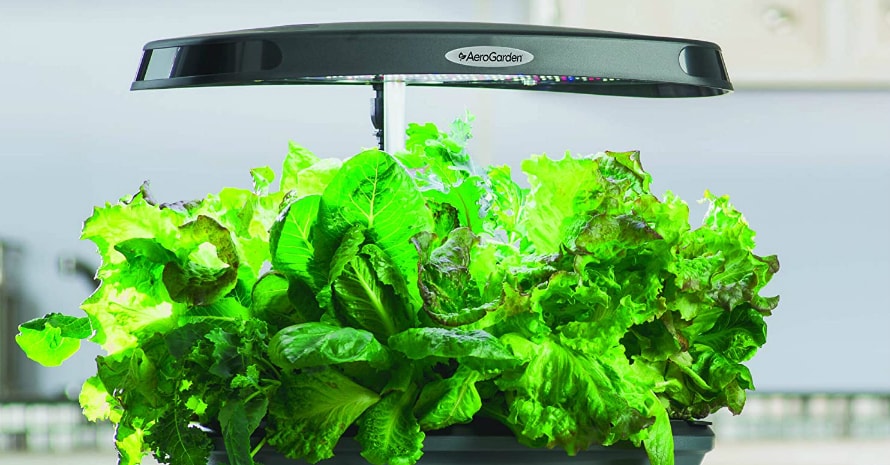 You often ask me questions about using and choosing aerogardens. I have prepared a buyer's guide, in which I answer some of the most frequent questions.
How to use aerogarden?
It is very easy to use aero garden. You simply need to pour water into a particular container in the body and place the plants' seeds in the upper compartment (there are models for up to 9 plants). If necessary, add nutrients. There is no soil, and all plants are grown on hydroponics technology. UV lamps allow you to grow plants all year without sunlight. Greens and grass grow in 5-6 weeks and germinate in just 1-2 weeks.
How to clean aerogarden?
You do not need to worry about the device's cleanliness, as there is no soil or dirt. Once you have grown the plants, cut them down. The roots can be thrown away, and the aerogarden container's water can be drained. After that, you can repeat the growing cycle. Aerogarden does not have much debris.
How does aerogarden work?
Plants in aerogarden grow directly in water using hydroponics technology. Water with fertilizers provides plants with all the necessary microelements. The plants receive the necessary UV light from lamps located above the seedlings.
FAQ
Answers to the most common questions will help you learn more about how aerogarden works.
What else can I grow in AeroGarden?
You can grow any greenhouse plants: greens, vegetables, and even grass. UV lamps and water with nutrients provide stable plant growth. You can buy seeds for growing in aerogarden separately. Those can be basil, tomatoes, lettuce leaves, dill, mint, and much more.
Is AeroGarden hydroponic?
Yes, aerogarden works on the technology of hydroponics without any soil. The roots of plants must always be in the water with nutrients under a UV lamp's light. All this is provided in the design of any aerogarden model. The system is fully automated and does not require human intervention.
Can I use regular seeds in my AeroGarden?
You do not need to buy special seeds from aerogarden to grow plants with hydroponics technology. Use any seeds that you like. Most aerogarden models have a trial set of seeds with fertilizers to grow the full cycle. You can also grow seedlings and transplant them into the ground.
AeroGarden is Ideal for Home Growing Plants
Aerogardens are real helpers of home gardeners, which allow you to grow small plants at home all year round. You do not need to do anything for aerogarden weed yield because the hydroponics system works completely independently. All you need to do is refill the water and make sure that there are nutrients. The device will alert you if the water or nutrient plants run out. If necessary, you can use several devices at a time to create an entire garden. Many people buy aerogardens to grow seedlings and then sell them, It can become your business!
I really like the AeroGarden products because, as I have already said, the set includes a starter kit of seeds and nutrients for the first growing. The warranty for such devices is usually around 12 months.
Tell me, have you tried growing something using aerogardens? What kind of plants would you start growing? Share your thoughts in the comments!