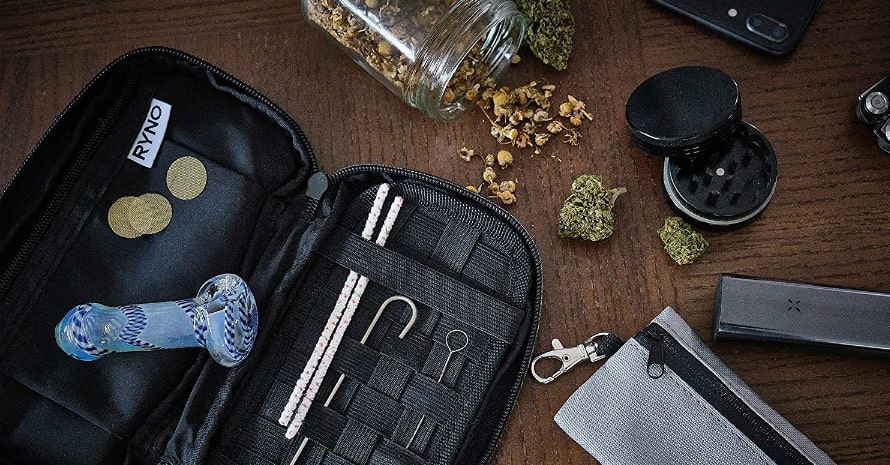 Best Smell Proof Bags to Get for Your Weed
There are many reasons why people prefer to keep their marijuana packed in a secure manner. Whether it's disapproval from your family or friends that you want to avoid, or you aren't allowed to keep the precious stuff around your workplace, or you generally don't like to be too loud about it, smell-proof bags can be a viable and effective solution. But how do you know which are really good?
Stick around for my first-hand reviews of the best smell proof bags out there, plus four great alternatives. A buyer's guide section is included for really conscious shoppers.
Top 5 Bags for Weed Reviewed
If you are new to the industry and are just learning how to carry your stash around in a safe manner, all containers must look pretty much the same to you — a bag is a bag, isn't it? Well, it turns out more complicated than that. Depending on their design, material, and special features, weed bags can be a pain to use or a blessing. The ones below truly belong to the latter category.
1. OZCHIN Smell Proof Bag: The Best Smell Proof Container for Cannabis Users Overall
This moderately priced container looks very much like a little suitcase. It is an all-round pot storage solution rather than an anti-reek tool alone, although it does come with carbon linings that keep any smell from penetrating the walls in either direction. Activated carbon is a widely used filtering material that can even help manage pot smell at marijuana-growing facilities, and this bag has as many as eight layers of that, complete with nylon fabric to really lock in any characteristic smell.
Apart from being leak-proof in terms of odor, the material is water-resistant (not waterproof). There's a lock included preventing unauthorized access, too. The plastic combination lock shows no sign of flimsiness and is easy to set.
The mini suitcase is foldable when empty, although it doesn't become completely flat due to the thick walls. It's not the most space-conscious solution overall, as it measures 8.5 x 5.5 x 4.5 inches. Fortunately, the inside is organized in a smart way, with an accessory mesh storage panel and tear-resistant Velcro dividers so you can add more structure to the interior. These are cushioned, allowing you to carry brittle accessories safely.
The bag is generally well-made, with durable zippers and other fasteners. It comes with a handle that doesn't help to carry it alone much but is convenient to use when opening/closing the bag, and it appears to be attached in a secure manner.
Overall, I recommend this bag as an affordable yet smartly made weed container that does a great job of smell- and tamper-proofing your pot.

---
PROS:
Locks securely;
Great craftsmanship;
Smartly organized;
Cushioned for impact-sensitive accessories;
Excellent odor control and moderate water resistance.
CONS:
Not the most space-saving option.
2. TÜS Smell Proof Bag: A Smell Proof Pouch That Saves Space
This is the product I recommend to all shoppers on a budget who also like minimal designs. The 11 inches x 6 inches flat pouch is small enough to be called travel-sized but can hold a decent amount of stash plus some weed essentials.
The bag uses the same filtering technique as the top pick, namely activated charcoal, to lock in the smell of weed. It comes with a roll-down top that can be secured using a very well-made Velcro enclosure, which not only prevents your stuff from falling out but also adds to odor containment. There's no zipper, so rolling it really tight is the only way to close it. Some users might find it irritating, but it also eliminates a potentially short-lived element from the design.
Inside, there are two shallow mesh pockets that lack the soft cushioning of my absolute favorite but will still absorb some impact. There's a sturdy ring attached to the side for a wrist strap that comes included. It's easy to carry around but offers no protection against water. A lot of reviews mention how discrete it looks. Indeed, the gray fabric rectangle surely signalized privacy without being too secretive.

---
PROS:
Minimal and innocuous look;
Excellent smell proofing;
Quick to open and close;
Comes with a comfortable wrist strap;
Won't hurt your budget.
CONS:
Not much cushioning for pipes and the like;
The Velcro will get some wear over time.
3. Herb Guard Large Case and Stash Box: Premium Smell Proof Containers for Weed
If you are looking for a gift for someone special, this is a great option. This is a full set rather than a bag alone, complete with a smell-proof jar to keep your weed in and resealable travel-sized airtight bags for weed.
Inside the 9 by 6-inch large black case, there is a built-in rolling tray that doubles as a cover for the contents, a spacious inner compartment with fully customizable Velcro dividers giving you a maximum of 4 sections, and one zipper mesh pocket. The dividers are slightly cushioned but lack the softness offered by OZCHIN.
The filtering technology used in the bag itself works great to lock in any smell, and the zippers are covered with a kind of rubber coating for further sealing. All the fasteners and the carry handle appear to be durable.
Finally, there is a combination lock included in the case, which is hidden by a fastener not to provoke the curious, making it one of the most discreet designs available.

---
PROS:
Spacious;
Very innocuous with a hidden lock;
Great smell proofing;
Comes with a smell-proof jar and resealable bags;
Customizable dividers.
4. Herb Guard 1 Oz Stash Jar: A Smell Proof Case That Looks Great
Another premium-looking product by Herb Guard, this jar boasts an ultraviolet protective coating to prevent exposure to light, which helps keep your weed fresh for a long time.
It's essential to find the right humidity for cannabis storage; going too dry can damage the stash just like moisture. This jar comes with a Boveda humidity pack that controls this parameter in a smart way.
The lid of this container is made in a way to seal it and prevent any smell from leaking to the outer world. It works very much like coffee and tea storage jars (and it looks like one, too, which can be a big bonus). Although made of glass, the product is moderately resistant to impact.
It comes with a pretty gift box and a set of fancy jar stickers, plus a resealable bag for travel.

---
PROS:
Stylish and inconspicuous;
Keeps smell locked in;
Humidity pack included;
Comes with a resealable bag and extras;
Blocks harmful UV light.
CONS:
Not particularly space-saving.
5. RYNO Smell Proof Travel Stash Bag: Stylish and Space-Saving Carbon Bags for Weed
This sleek light-gray fabric case is perfectly sized for frequent travelers and boasts a cute rhino logo. It comes with an odor-free mini bag with a built-in zipper.
The case itself uses four layers of activated carbon inlaid mesh that will spare you a lot of unwanted attention. The compact, phone case sized bag comes with a wrist strap and one that you can use to carry it across your shoulder.
Apart from preventing smell leaks, the case waterproofs your weed due to its fabric and zipper properties. It is very well-made, with a zip-up lid pocket and a clever elastic organizer for elongated tools/accessories.
A combination lock is attached to the zipper to prevent tampering. However, I'd say that compromises the secrecy of this device by being too eye-catching.

---
PROS:
Nice design;
Not prone to odor leaks;
Waterproof;
Travel-friendly + a mini pouch included;
Anti-tamper.
CONS:
The lock might appear provocative.
Buyer's Guide
Here's a short guide to choosing the best no-smell weed containers.
Design
You can keep your stash in a jar that looks like a coffee jar or something like a toiletry bag/carry case. Those who travel a lot usually prefer space-saving pouches and compact cases.
Material
With jars, glass is preferable, especially when drop-resistant, while travel-friendly bags and cases are often made of mesh with filtering inlays. An additional layer of nylon or rubber can waterproof the container.
Smell-Proofness
Smell proof pot bags are meant to provide for stealth storage by locking in the unmistakable weed odor. Airtightness is a common approach, meaning no air can escape the container, and is often found in jars. The environment thus created needs to be controlled in terms of moisture content and exposure to light as these parameters influence cannabinoid content in stored weed. For airtight zipper bags, you can check a Smelly Proof bag review.
Travelers' cases with zippers/Velcro fasteners often rely on filtering materials such as activated carbon to absorb the smell.
Cushioning
If you are looking for a travel-friendly case, choose one with ample cushioning for your pipes and other fragile accessories.
Security Features
Combination locks are often used to prevent tampering of any kind. They also attract attention unless appropriately covered, though.
FAQ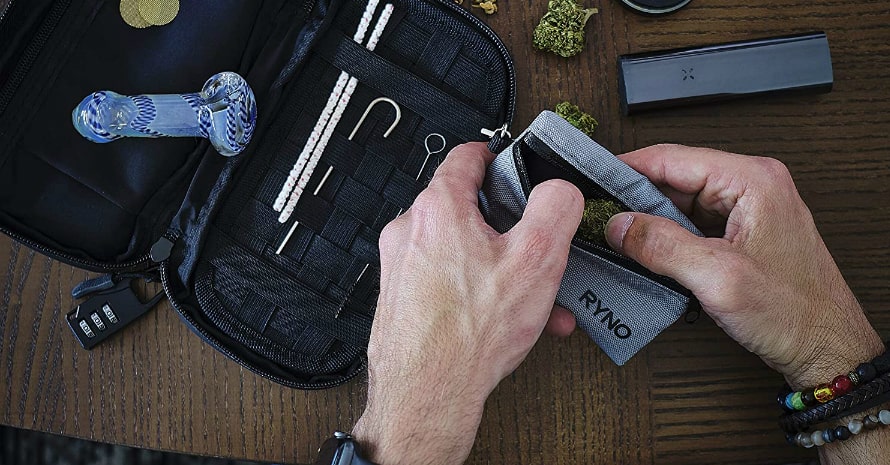 I came across some questions that people ask a lot when reading smell proof bags reviews and doing my research, so I include the answers here for your information.
What is carbon technology?
The term refers to the practice of using activated carbon, usually as an inlay, to filter (absorb) any strong odors.
What can I use as a smell proof container?
An airtight tea/coffee jar makes a good makeshift cannabis stealth storage. Smelly Proof bags and similar pouches are good for traveling.
How to smell proof weed?
Weed can be smell proofed by keeping it in an airtight environment or by using an absorbent material to filter the smell.
Bottomline
If you feel like your place is starting to reek of marijuana, or simply want to avoid being interviewed about your smoking habits, get a smell proof bag to lock in the odor.
The OZCHIN case combines portability with perfect cushioning and organization while guaranteeing zero leaks, so look no further if you're searching for an affordable yet all-round solution. More specialized alternatives are available for gift-givers, avid travelers, and home pot users, too.
What makes you look for a smell proof pot container? Curious kids? Stringent work rules? Share in the comments!