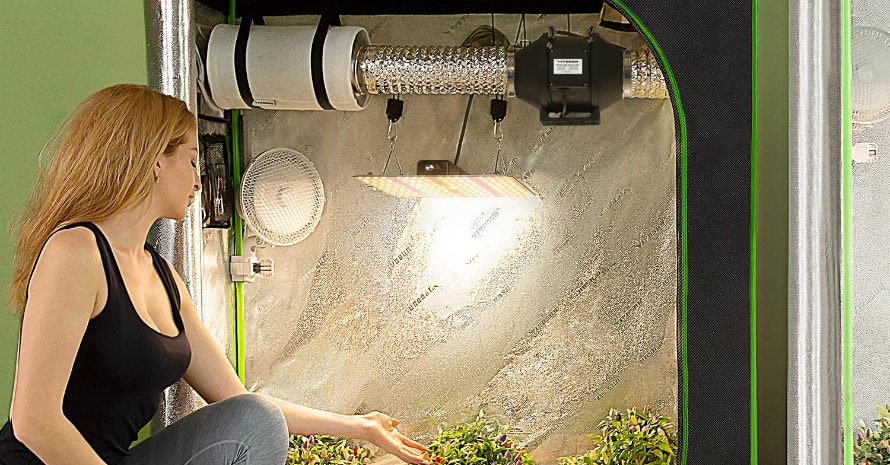 Grow Tent Reviews: How to Choose & Top Items
Do you want to grow balanced, high-quality, and healthy marijuana plants? Grow tents for weed are designed to let you achieve this result with a lot of benefits. Let me explain these benefits to you, along with introducing top grow tents available on the market at the moment.
My grow tent reviews include detailed descriptions of each model and actionable recommendations based on their characteristics. I understand how difficult it is to start as I used to be a beginner too. During my search for the best options (which is infinite), I tested many tents, and now I'm ready to share my experience and top picks with you.
Pros
Leak-proof extra floor tray.
Sturdy plastic connectors.
Top Pick
Pros
Leak-proof extra floor tray.
Pros
Sturdy plastic connectors.
But are grow tents really worth your money? I explain both pros and cons of this tool for your business and private growing needs in the buyer's guide section so that you can learn and be able to make a well-considered choice. And don't neglect the FAQ section as it includes answers to those questions that newcomer growers and ask me all the time.
I believe that a good tent can make your growing routines much more pleasant and help you break through various conditions. Read attentively, ask questions, learn how to grow marijuana properly, and excel!
Best Grow Tent Reviews: 7 Models to Look For
I'd like to begin with the reviews as you may already know all the aspects needed for selection. If not, skip to the Buyers Guide section first and do a bit of education.
Below are the most reliable growing tents for cannabis. I've tested both top-rated grow tents and unpopular models to build up an objective experience.
VIVOSUN Mylar Hydroponic Grow Tent – Best Indoor Grow Tent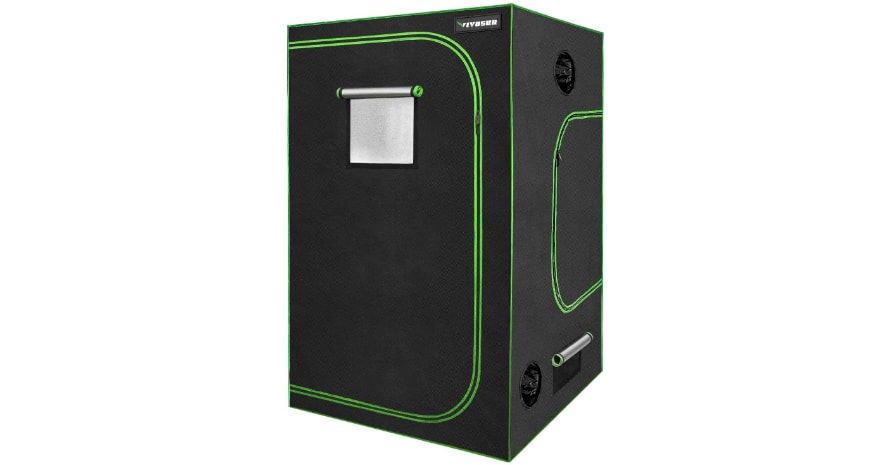 VIVOSUN is a progressive brand from California. It supplies growers worldwide with all-purpose grow tents of superior quality as well as unique LED-lighting systems, fans, and other useful equipment.
I trust this manufacturer as I've been using its Mylar tents for over 5 years already.

I haven't faced any problems with pinholes that people who put it a one-star rating claim. Of course, any product can be defective, but you are allowed to return your tent within 30 days if something goes wrong. There's no problem with that when you're using American brands.

This 60″x60″x80″ tent is made of thick waterproof cloth with a patented tear-proof mylar layer inside. It provides a constant 600D reflective effect, which is a very cost-efficient feature.


Due to zippers with special lining, you don't have to use any additional sealing. These zippers keep all the light inside and don't fail proper air circulation. Using the observation window, you can minimize the number of unzips, but it's placed quite high. It means that unzipping will be necessary for the supervision of small plants. I also like the separate floor tray, which makes cleanups easier and lets you avoid flooding.

The frame is made of durable steel poles with zinc plating that protects them from rusting. Actually, I haven't noticed any rust on my tents since the purchase. You should maintain the whole thing gently to achieve that, but that's something every tent requires.

The installation process doesn't require any tools, while the hanging bars can handle over 88lbs without extra strengthening. You can use them to hang carbon filters and fans (filter belts included).

This tent by VIVOSUN is the best option for growing weed in several pots. You will definitely need the help of 1-2 people to install it without difficulties, as it's a rather bulky construction. I think that versatility and durability are really worth the effort.

---
PROS:
Sturdy steel frame with rust protection;
Filter belts included;
Leak-proof extra floor tray;
Big observation window;
High reflecting ability of the mylar layer.
CONS:
It requires 2-3 people to be installed.
TopoGrow 2-in-1 Indoor Grow Tent – Best Grow Tent With 3 Sections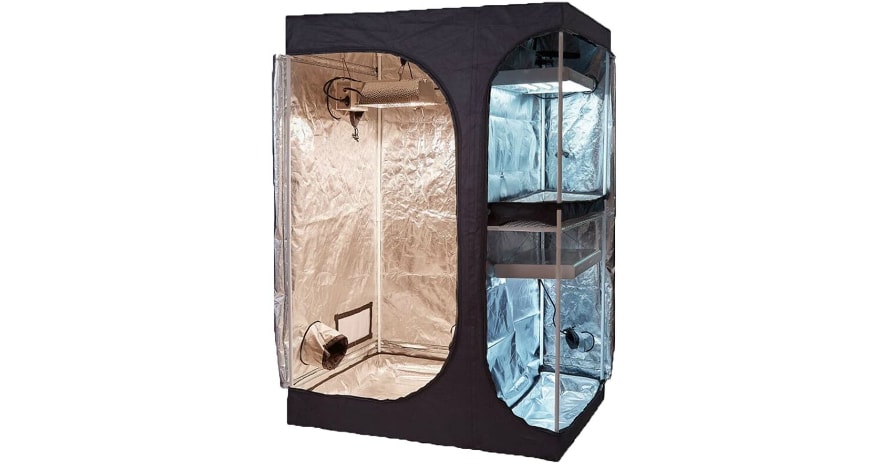 TopoGrow is a manufacturer from Azusa, CA. The company is specialized in tents, lighting systems, ventilation, and all types of compatible accessories. Their 2-in-1 48″x36″x72″ tents provide 2 separate sections that let you create different growing environments for adult plants and the second smaller nursery section for propagation and seedlings.
The partition between the sections is rollable so that you can merge sections into a single larger room and create an environment with the same growing conditions. It's an excellent opportunity to manage your marijuana plants in different development stages without the need to purchase separate tents.
The durable steel frame lets you mount all the needed equipment, including different lights for 3 areas, ventilation, carbon filters, and more. The construction is covered with heavy-duty oxford cloth that protects the inner environment from unwanted airflows and light leaks.
Due to the diamond Mylar inner layer, the tent offers a 600D reflective effect, while the heavy-duty zippers and double stitching provide perfect anti-leak sealing and infestation protection.
The tent comes with 2 extra floor trays for simplified cleaning and flooding protection. You can easily take them out through broad windows for cleaning. The package also includes two nylon belts for filter mounting and a support steel netting for making a shelf in the smaller section. Due to such a versatile construction, you can implement complex growing projects when your workspace is limited.

---
PROS:
Mergeable sections;
Sturdy frame for all the needed equipment & accessories;
Two leak-proof floor trays;
Easy to assemble;
30-day return guarantee.
CONS:
Needs more options for hanging extra equipment.
Gorilla Grow Tent | Complete Heavy-Duty 1680D – Sturdy Weed Grow Tent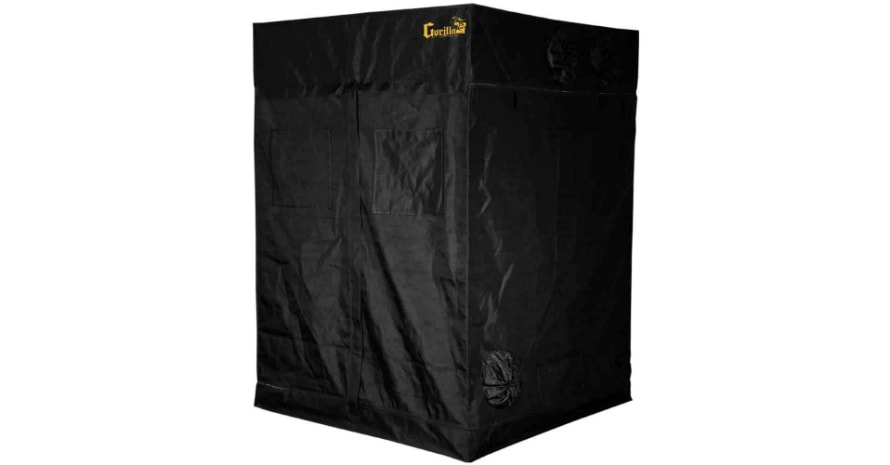 Gorilla Grow Tent is an American grow tent manufacturer based in Santa Rosa, CA. The company claims to create the thickest grow tents on the market, and my user experience proved that their products come up to expectations. There are several key differences between their tents and items by other brands.
Gorilla tents are made of a thick material with a huge 1680D density that provides 100% light leak proof. Along with thick zippers and diamond Mylar reflective layers, it creates excellent leak-proof sealing. The ceiling of the tent is made by a patented infrared-blocking technology that helps to keep the temperature of the surfaces inside cool.
The construction is supported by heavy-duty metal poles with 100% metal interlocking and sturdy pole connectors. They can hold up to 300lbs, which provides extra safety to your plants.
This 1680D 5-Foot by 5-Foot grow tent also comes with a height extension kit. It lets you make the cabinet 12" higher than it is by default. Due to this feature, you can put extra shelves, place more pots, and save a lot of room at your workplace.
I recommend you to look for this solution if you're limited in space but wish to grow more than average tents allow.
There are 2 flaws in this heavy-duty design. A plastic zipper is quite easy to break if you're not gentle enough, while the flaps lack velcro. Hopefully, they're going to fix these issues soon.

---
PROS:
One of the sturdiest metal frames (holds up to 300lbs);
12" height extension kit included;
Infrared-blocking roof;
Large observation windows;
The thickest tent material.
CONS:
Requires 2-3 people for assembling;
Needs more velcro on the flaps.
CoolGrows Indoor Plant Growing System – Excellent Small Hydroponic Growing Tent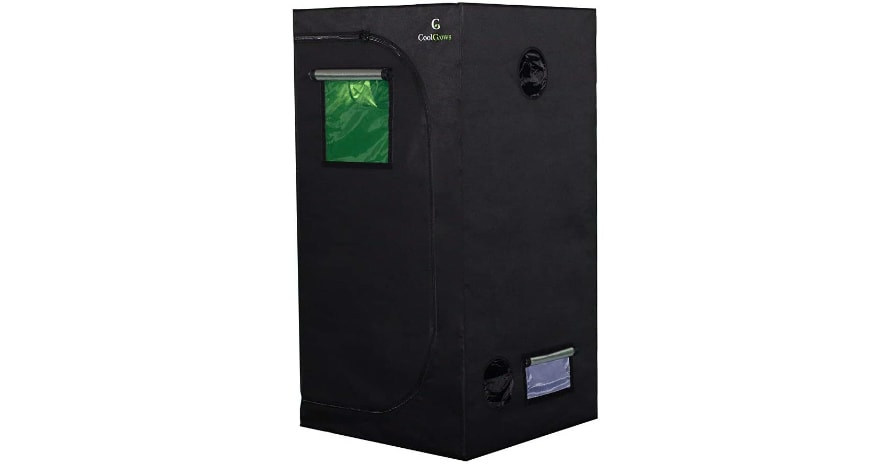 CoolGrows is a Chinese manufacturer that claims to provide relatively cheap grow tents for beginners and professionals. I was rather skeptical while testing it for this listing, but it appeared to be much better than I expected.
Although this tent is quite small, the manufacturer doesn't save on materials. The metal frame is made of non-bending metal poles covered in rust-resistant nickel coating, while the corner pole connectors are also made of strengthened metal.
Unlike plastic connectors, they aren't that easy to deform or break, while the spring-loaded locks make it effortless to assemble and disassemble for transportation. These poles can handle more than I expected, so you can hand some extras if you need them.
The 600D tent material is durable and provides a 95% light block, which is more than enough for high-quality growth. The inner side is covered in reflective mylar that lets you save up on the lighting. This material also holds the right temperature inside.
You don't have to unzip the tent to take a look inside as the large observation window makes this process more convenient and energy-efficient. The window is made of green flexible plastic that blocks harmful rays. On the other hand, the green light filter makes it a bit difficult to understand whether everything is ok with your greens.
Overall, it's an excellent compact tent for small rooms. It lets you grow 1-4 plants and enjoy odorless production and effortless maintenance. I use a couple of these in my apartment and I haven't faced any problems in over two years of user experience.

---
PROS:
18-month warranty;
Competitive pricing;
Good for small apartments;
Easy to install.
CONS:
The green window is a bit uncomfortable.
TopoLite Full Range Indoor Grow Tent – Reliable Basic Cannabis Grow Tent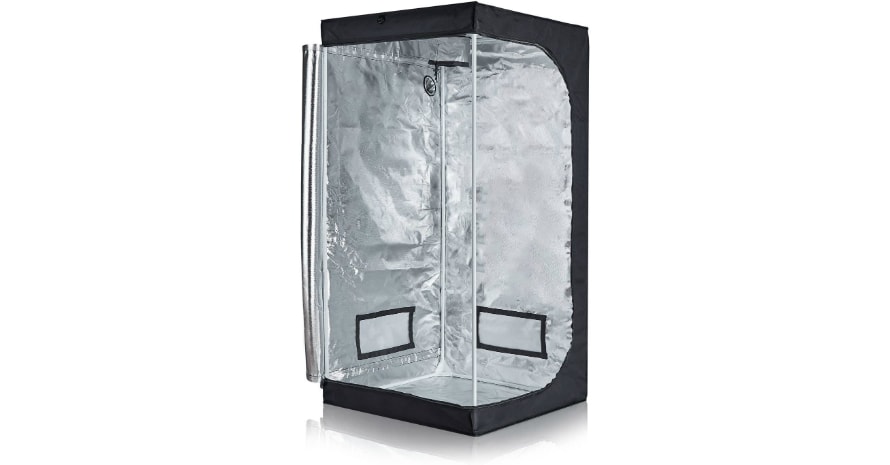 TopoLite is a Growoackage brand (Part of ECO Farm Canada). The company has been gaining experience in horticulture for over a decade. Today, it offers some of the best solutions for growing high-quality yields.
The brand's 32″x32″x63″ tent offers a basic-but-efficient design. The cover includes 2 ventilation ports, dual ventilation socks, and thin heavy-duty metal zippers that provide smooth unzipping. Double stitching makes the tent even more durable, while the bottom tray lets you clean up the tent without efforts.
The metal frame has an anti-rust coating layer and comes with sturdy plastic connectors. Like you, I usually don't trust the models with plastic connectors, but this one is durable enough for its purposes. The connectors hold the poles together firmly and don't make the construction shaky.
Using the support beams (included), you can hang reflectors, lighting, fan, carbon filter, and other equipment. Unlike Gorilla tents, this one doesn't let you hang more than 80lbs, but that's enough for the branded gear.
I recommend this model to both newcomers and experienced growers who need a basic solution for all development stages of their plants. You can easily adjust the cabinet for your purposes by using custom gear and enjoy growing high-quality plants at home or rental property.

---
PROS:
Sturdy plastic connectors;
Effortless installation;
Excellent stitching quality;
Dimond mylar lining.
iPower Mylar Water-Resistant Grow Tent – High-Quality Rectangular Tent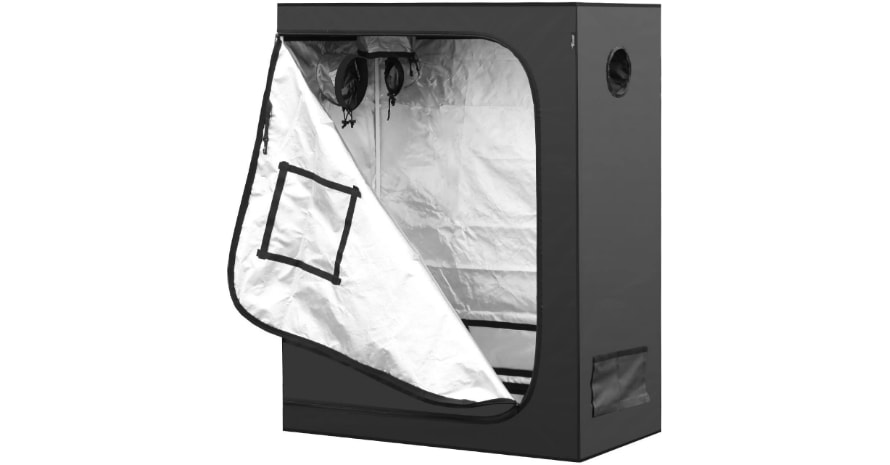 The iPower company is a trusted manufacturer from Irwindale, CA. It has been supplying North-American growers with all types of related equipment since 2009. I've purchased my first iPower tent in 2015. It's been providing me with excellent yields nonstop since then.
Similarly to other tents on my listing, this 48″x24″x60″ model is made of durable oxford fabric that offers top tear-proof, water-resistant, and light-leak capabilities. High-quality industrial zippers and double stitching add up durability and resistance to the tent.
The inner linen is made of diamond mylar that lets you save up on the lighting. Besides, the bottom of the tent is equipped with a spill tray. Unlike the vast majority of trays by other manufacturers, this one has security straps to ensure safe handling.
The metal frame is held intact with heavy-duty welded connectors. Each of them is designed to handle over 110lbs so that you can hang multiple gear units on support beams. It's a good opportunity to use custom heavy equipment for sophisticated growing purposes.
The brand sells special hangers that let you adjust the height of your gear or even add extra shelves. I recommend this tent for all growing purposes as it provides reliable quality and versatility.

---
PROS:
Versatile frame – holds over 110lbs;
Excellent light-proof materials;
Durable zipper;
Rectangular design;
Large window.
CONS:
The fiber could be thicker.
GreenHouser High Reflective Grow Tent – Best With Multiple Vents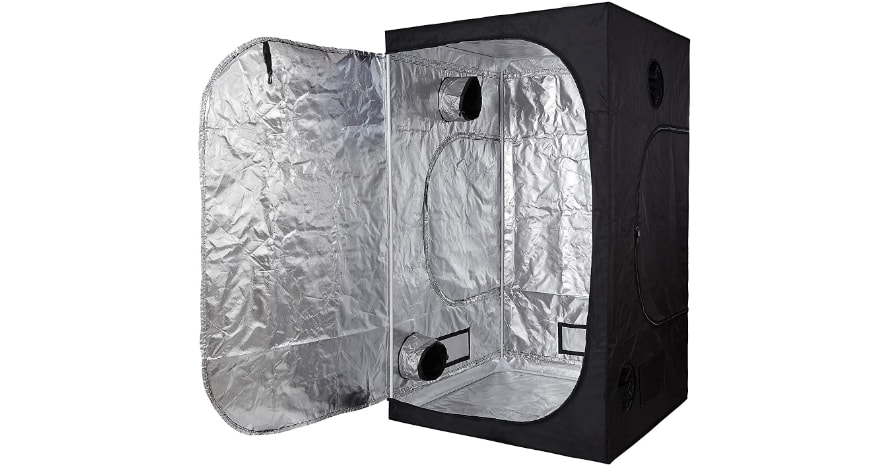 GreenHouser is another reliable Chinese brand on my listing. Their tents are relatively cheap and provide excellent capabilities for basic growing needs. The 60"x60"x78" that I use offers a unique ventilation system that includes 4 socks and 3 mesh bottom vents.
Besides, this tent has all the needed features, such as high reflective water-resistant mylar, industrial metal zippers, anti-rust frame coating, waterproof floor tray, and double-stitching.
I doubt it is one of the best home solutions as the poles are rather thin (16mm), and there's no observation window that's so helpful when you have multiple tents. However, you can trust this one as it's totally leak-proof and ensures odorless growing.

---
PROS:
Four ventilation socks and three bottom vents;
Secured bottom tray;
Anti-rust frame coating;
Easy to install;
Nylon belts included.
CONS:
No observation window;
Thin frame.
Our Experience and Our Top Pick
My first experience of using marijuana grow tents was several years before I even started growing it! I used to grow and sell succulents, which weren't too capricious plants but required proper lighting for fast growth and proper shaping. Grow tents helped me to plant perfect succulents and earn more money during the year. Later, this experience helped me to start growing premium-quality marijuana independently from weather conditions, season, and space.
After testing a variety of models, I eventually stopped at VIVOSUN 60″x60″x80″ Mylar Hydroponic Grow Tent as it offers the widest range of capabilities along with superior sturdiness and a fair price. Read my review above for more details.
Why is a Plant Growing Tent Good?
A plant growing tent is probably the cheapest and the most convenient solution for growing weed and other plants indoors as it lets you achieve the needed growing conditions very quickly. Unlike growing cabinets, tents don't require you to constructs walls. They're very easy to install and let you hang all the needed gear inside. Your plants will be thankful for permanent conditions and praise you with high-quality buds as soon as possible.
Benefits of Using Quality Grow Tent
The benefits of using high-quality grow tents can easily compete with the benefits of grow cabinets. First of all, they're effortless to install and maintain without tools. You just have to assemble the matching parts and enjoy your life. You can place a growing tent anywhere around your property and adjust it for your growing needs.
More particularly, grow tents can save you a lot of time on installation and maintenance. When a tent is installed, you can start saving money on watering and light as grow tents already have reflectings walls and keep the moisture inside. Using built-in vents, you can easily adjust air humidity and temperature. At the same time, you don't have to worry about odors as carbon filters will keep them inside.
Finally, your grow tent is an almost impenetrable crusader that will save your plants from infestations. However, all these benefits are available only for owners of high-quality tents as low-quality models usually fail to provide secure odorless growing and don't serve long enough.
FAQ
These are the most frequently asked questions from my readers and beginner growers I meet. I decided to provide concise but comprehensive replies through this article to simplify your life. Read them and skip dull googling.
Are grow tents worth it?
Using a grow tent is a true way to grow some premium-quality marijuana plants. Here are the benefits in short terms:
Unlike sturdy grow boxes, you can take them apart for easy transportation;
They usually require little space and let you use water and light economically;
They're the best option for newbies as they're easy to assemble and manage;
You can achieve perfect grow scenarios due to built-in fans, filters, and lights;
They offer a wide range of dimensions;
Grow tents reduce odors;
They prevent pest infestations.
How long do grow tents last?
All high-quality grow tents last at least for a few years after installation. Actually, it depends on how you are using them. I recommend you treat them gently and follow user instructions all the time. If you don't do this, the lifespan of a tent can be even shorter than its warranty term. And don't forget to clean a grow tent on time to avoid infestations, powdery mildew, and other problems.
How big of a grow tent do I need for 4 plants?
If you want to put a tent for 4 plants in a small closet, you can use a 2'x4' model. It's not perfect, but enough for 2-4 plants. Next, you can try 3'x3' models if you're limited in room, but I recommend to take a 4'x4' tent from the start. It will provide the best footprint of a grow light and let you put 4-6 plants. Finally, a 5'x5' size is the most popular and the most convenient as it lets you grow up to 10 plants. Consider the one that fits your room and budget better.
Are Gorilla tents worth the money?
Grow tents by Gorilla are a bit controversial for me. The truth is that not all of them are good enough for the money they charge for them. However, I was lucky to find a worthy model. Complete Heavy-Duty 1680D is a reliable solution that doesn't have common Gorilla issues, such as bent metal poles and poor finishing. The tent itself is very good and provides all you may expect from it. The installation process can be dull, but the actual user experience justifies the inconvenience.
To Infinite Growing!
The benefits of grow tents are hard to overestimate. However, you shouldn't hurry. Learn all the aspects above and take notes to consider everything. Is something not clear enough? Or maybe you have experience of using other worthy tents? You're welcome to ask questions and add value to the article in the comments section below. I'll be happy to discuss anything related to the topic with you.
I have a question too! What tent are you going to order, and what's are your purposes? Share that, and I'll help you make sure that your choice is right. For more marijuana growing tips and gear reviews, keep clicking through my blog, and don't forget to add it to the bookmarks as loads of new articles are on their way!