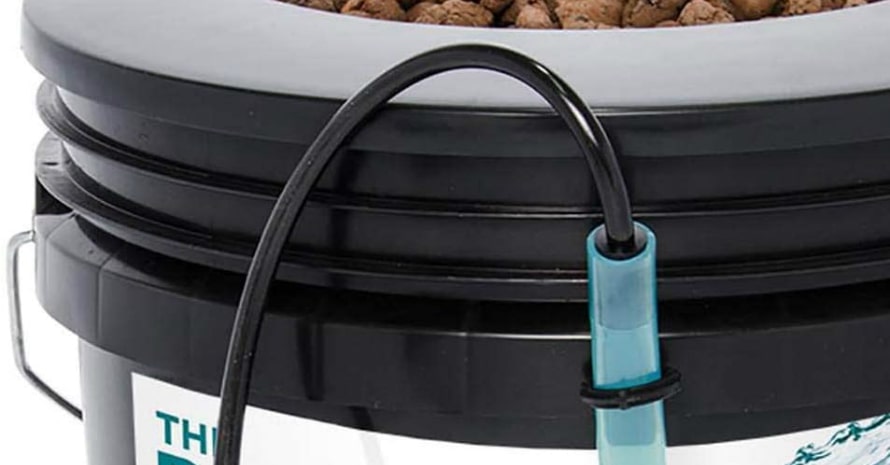 Best DWC System — Grow Plants Anywhere
A deep water culture system, also known as DWC or raft system, is a magic wand for a home gardener. The best DWC system allows you to grow tasty cherries, medicinal herbs, and spicy crops even if you have no soil to start a greenhouse on.
Instead, you use water to nurture your herbs. A DWC hydroponic system is relatively cheaper, and easier to set up and maintain. Such crops as lettuce, okra, bok choy, and kale grow much faster with it.
These 6 DWC system reviews include my personal top picks. Though in the middle price segment, they do a marvelous job of helping produce a good harvest. Take your gardening to the next level!
Getting Deeper into Deep Water
Each DWC kit I present is a mobile and easy-to-maintain solution. Even if you have limited space, you can still reap an appealing harvest with one of these models.
Best Deep Water Grow System for the Money — DWC Hydroponic Bucket Kit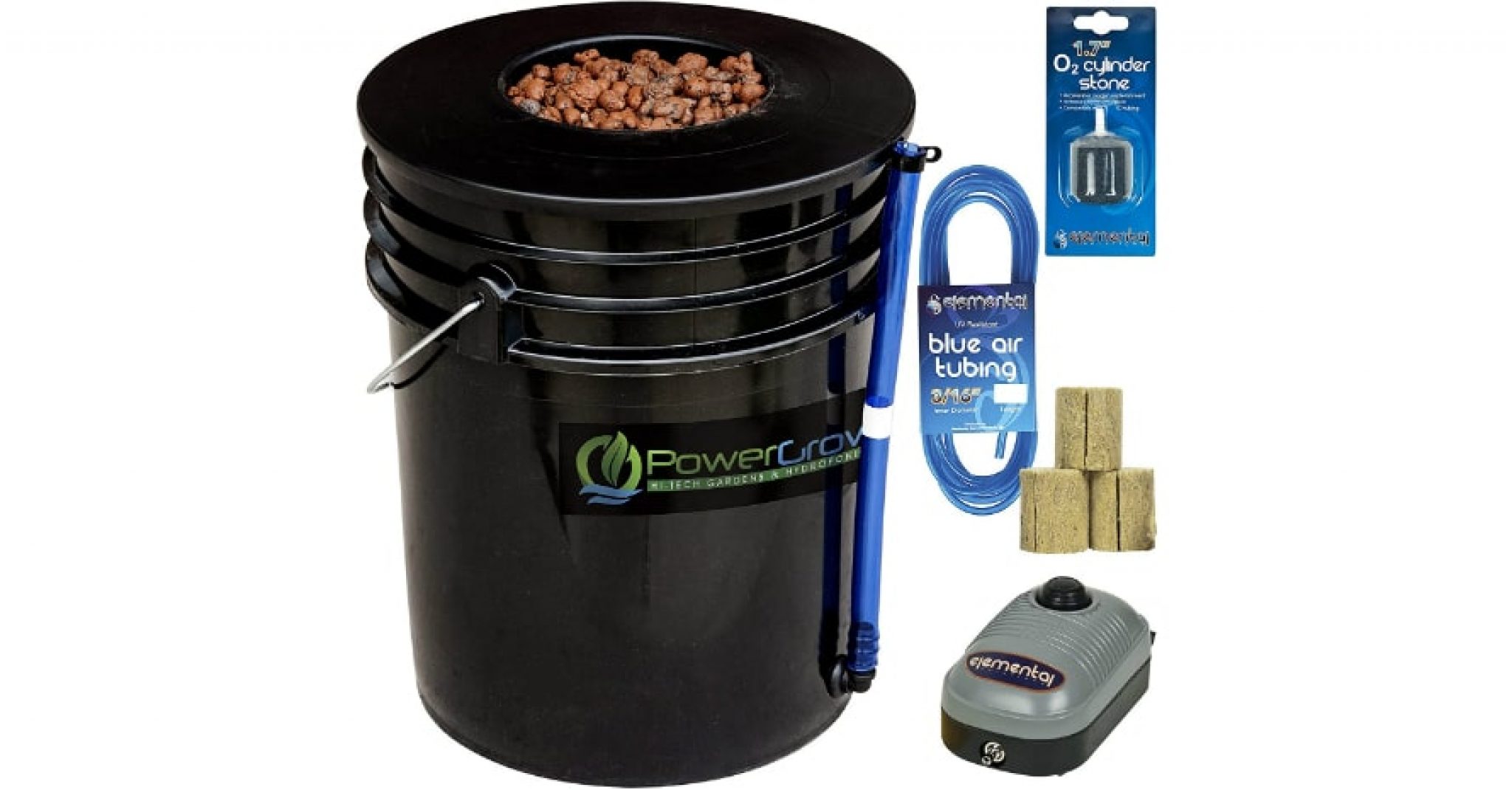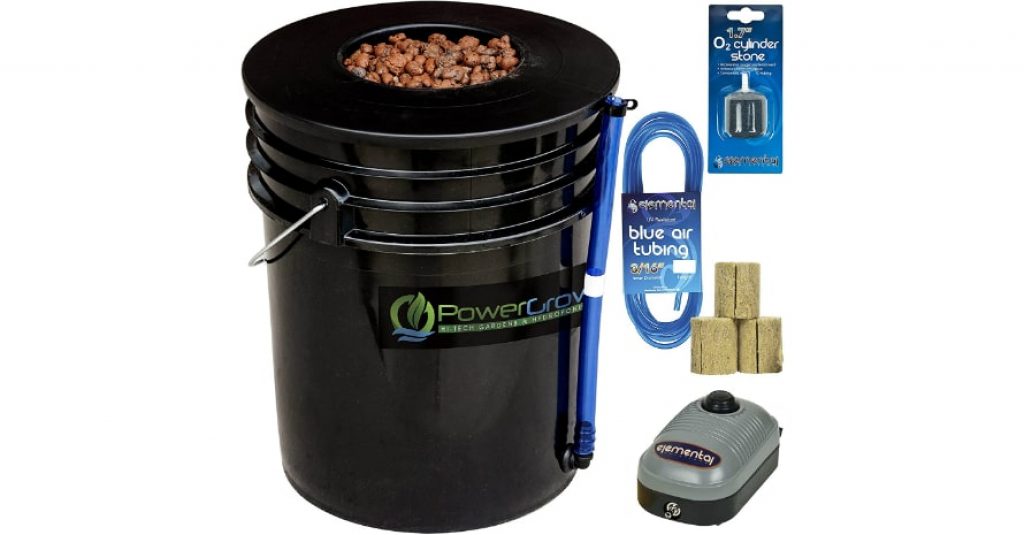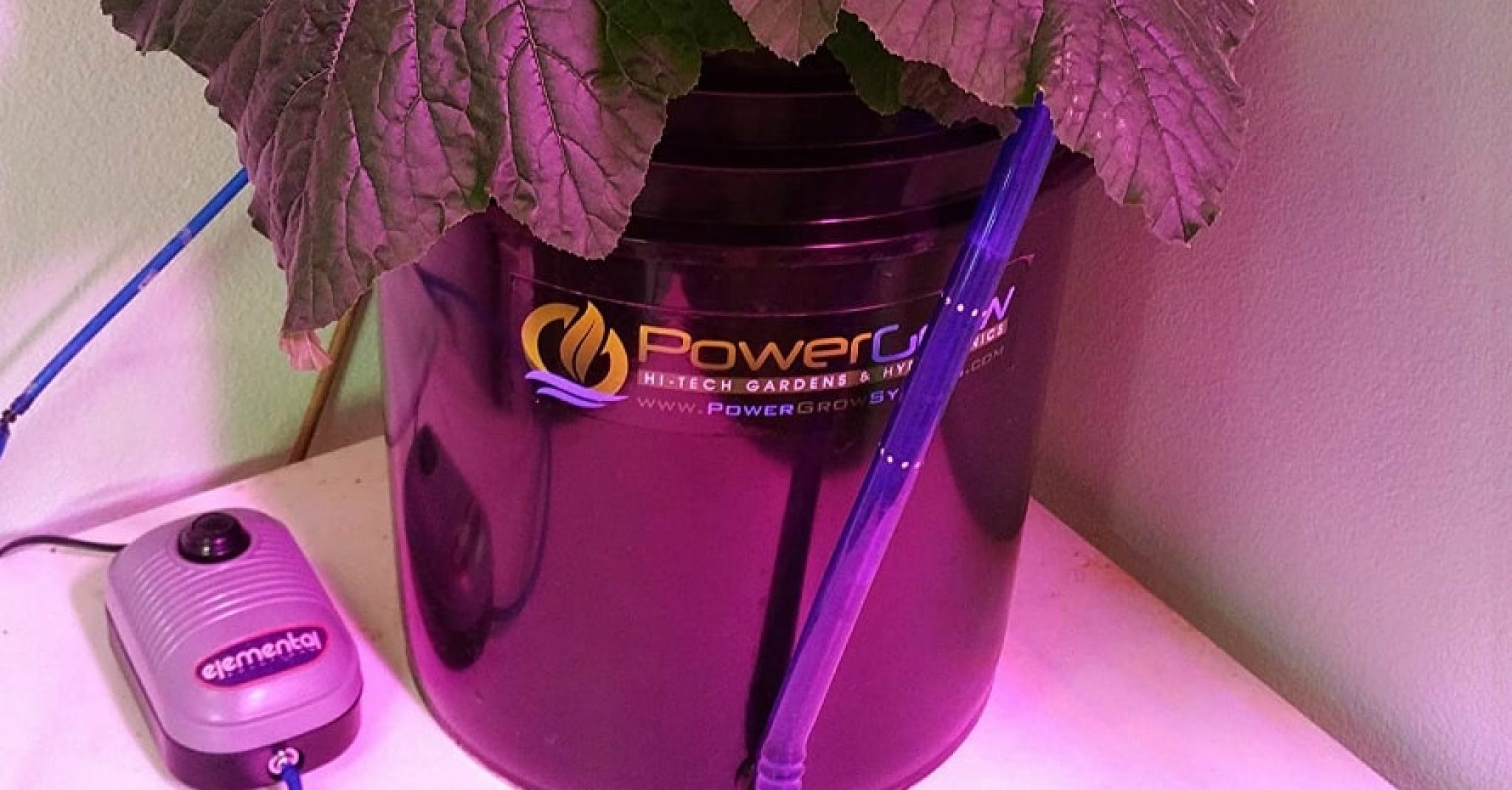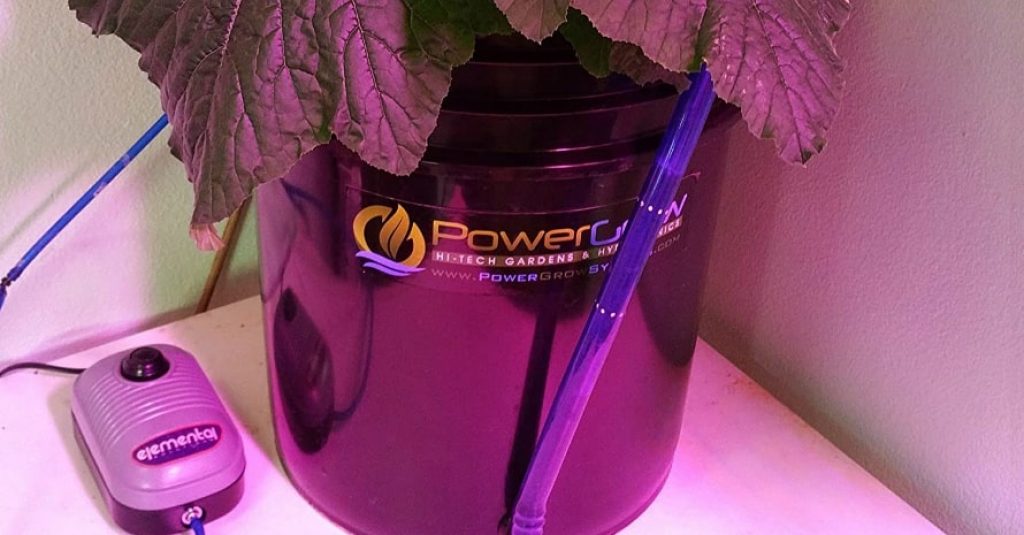 Our first item is an inexpensive solution from PowerGrow. I need to warn you: it's a newcomer's tool. If you intend to grow crops commercially, this kit will be of little help, as it's not suitable for very large plants.

But it will do an amazing job with a medium tomato plant or collard greens. The package includes an HDPA bucket with a 5-gallon capacity, a 44 GPH air pump, tubing, seed starter plugs, porous air stone, and a growing medium.

This kit is a reliable worker, as the tempo and rate at which roots begin sprawling are both steady and quick. Averagely, it takes about 7-8 days for them to start growing abundantly.

It takes just a few minutes to deploy PowerGrow. And maintaining it is fairly easy. However, as an affordable solution, it will require regular attention from you. First, you'll have to measure the water level personally. And it gets harder as your plant grows bigger.

Second, the air pump in this kit isn't the strongest guy around. You either need to stick to a humble crop like kale or replace the pump to achieve better oxygenation. Otherwise, a bigger plant will die from 'drowning'.

All in all, PowerGrow is a worthy product. If you're making your first steps in home gardening — definitely try this rig. It will teach you how to operate hydroponics and grow an envy-inducing harvest at an affordable price.

---
PROS:
Not expensive;
Helps the roots grow quickly;
Leakage-proof;
Water level indicator;
Good for beginners.
CONS:
Weaker pump;
Hard to change water for big plants.
Top Recirculating DWC Bucket System — Atwater Hydropod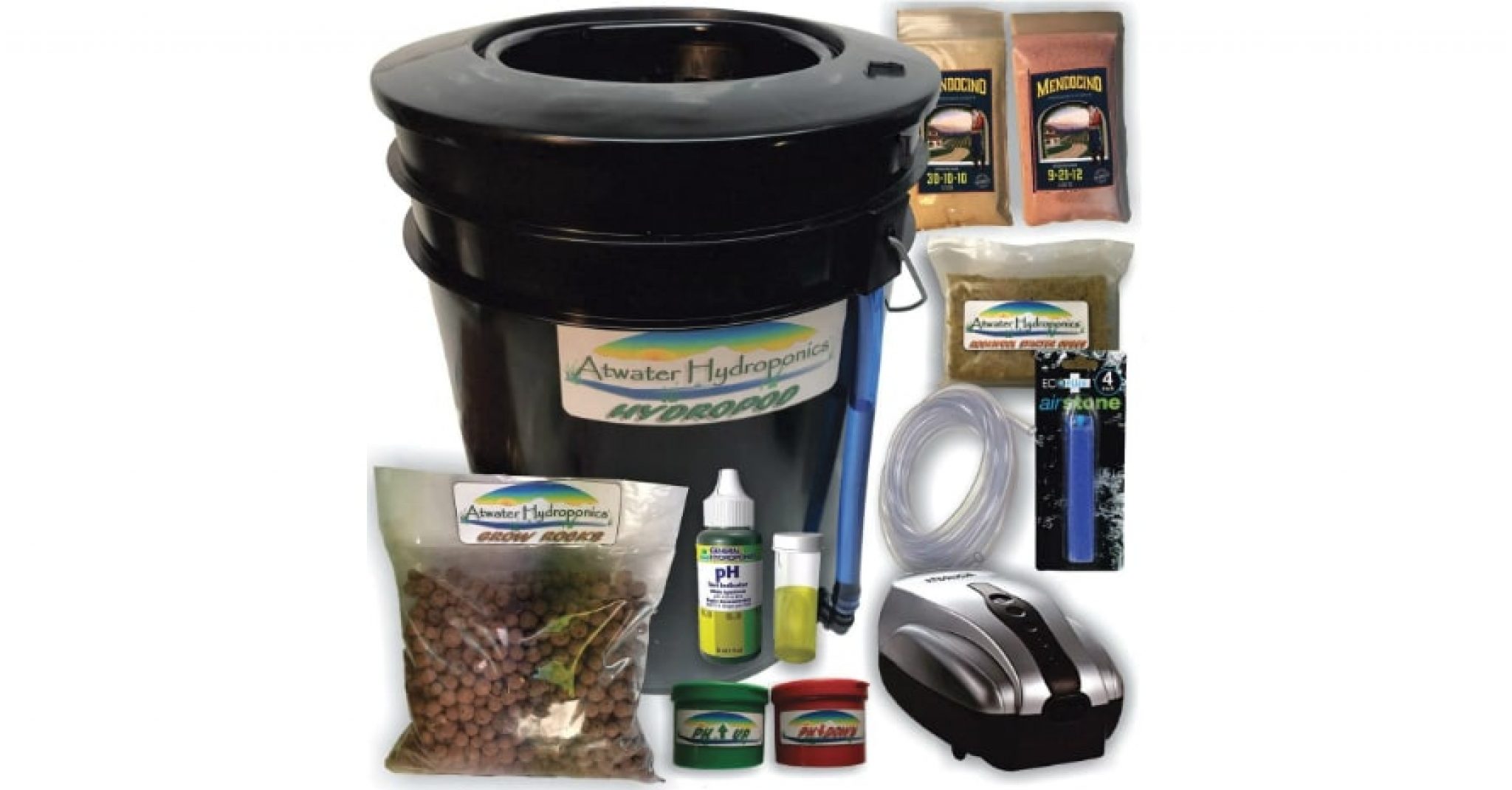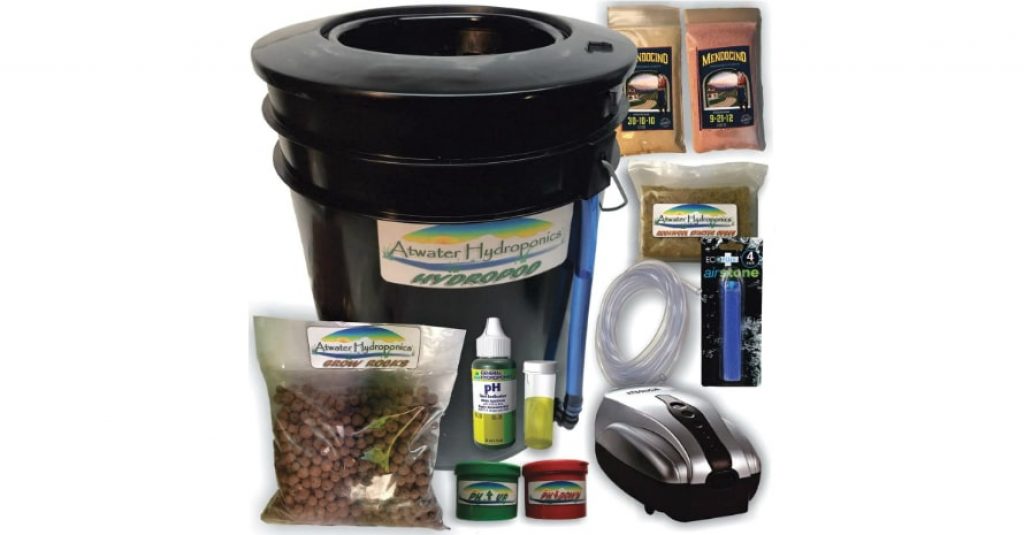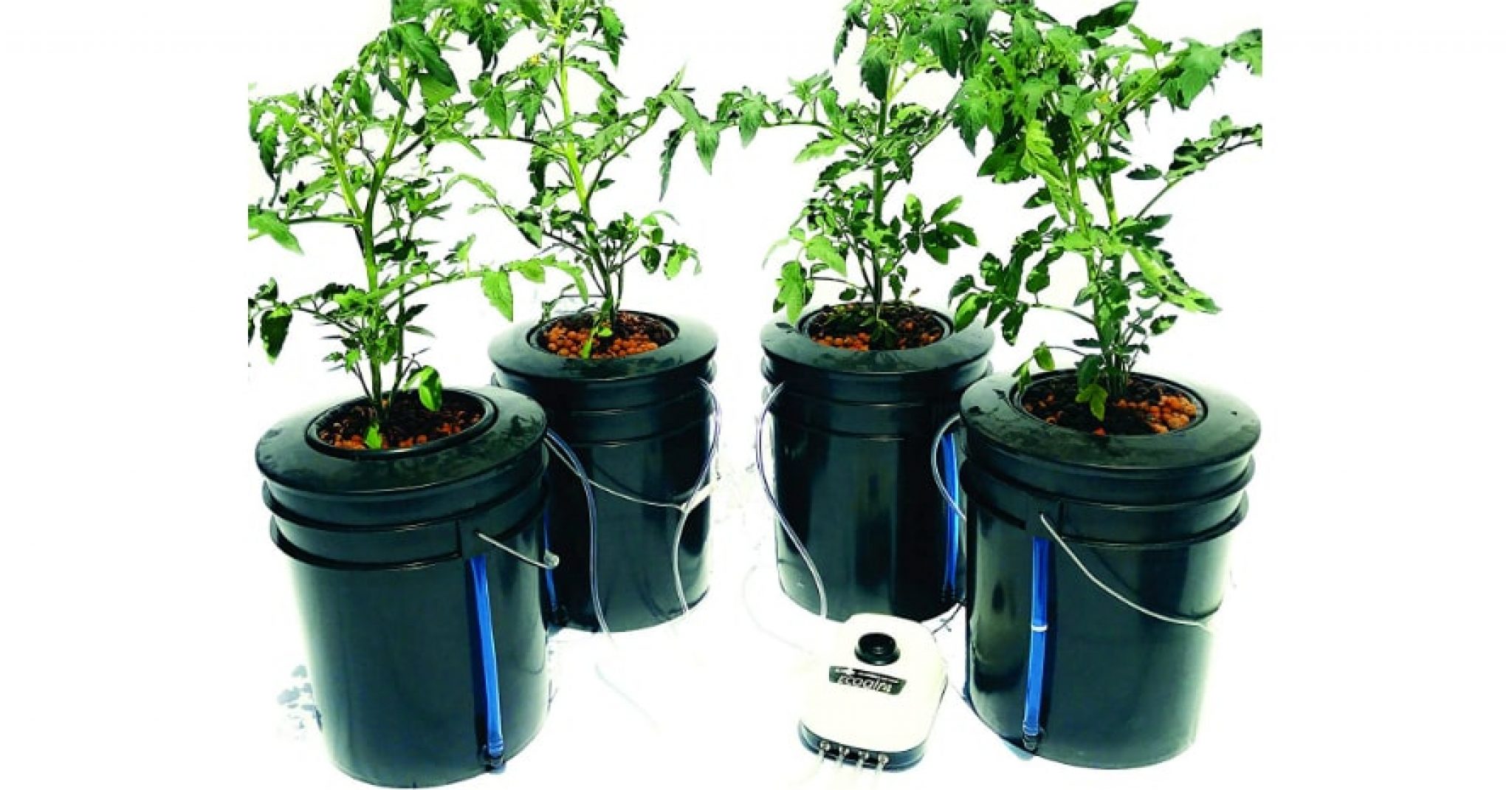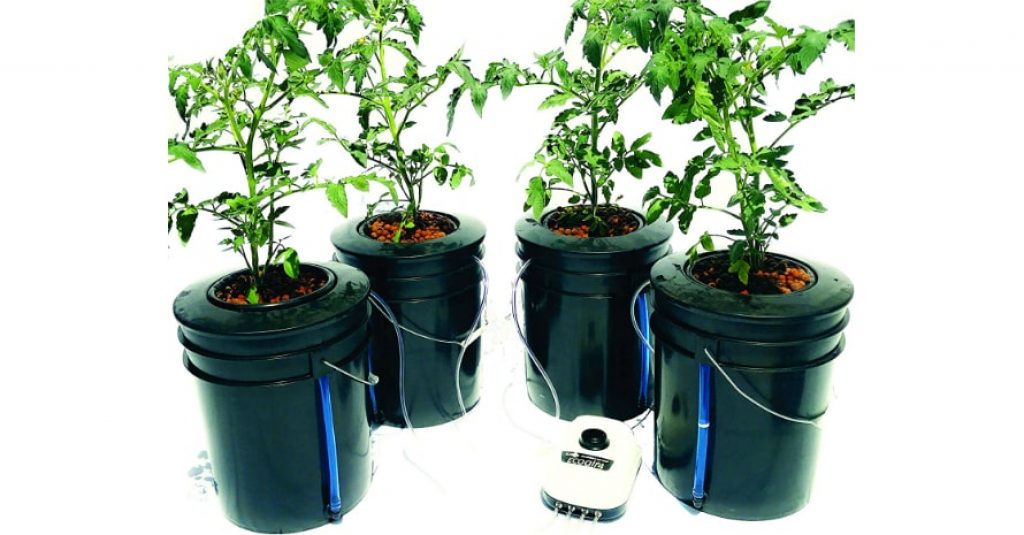 Our next contestant is Atwater Hydropod. It employs rather interesting know-how: a recirculating drip. What does it mean?

Well, when your plants get the nutritious water, they don't absorb all of it. After having their 'lunch', they say thank you and reject a portion of perfectly fine liquid. In a regular system, it'd go to waste.

However, Hydropod doesn't throw the leftovers away. Instead, the unused water goes back to the reservoir and stays there until it's the next 'lunchtime'. It allows for saving up some nutrients and economizing time.

So, I'd recommend such a DWC grow system for home use as it's just a tad less pain in the neck to maintain. But beware, a recirculating system can increase pH levels. So, checking the pH/nutrient ratios is a must with this one. Otherwise, your precious crop will die.

As for the rest, Atwater provides an impressive growth rate — about 2 times faster than soil! Consequently, yield potential will also be increased proportionately. But to achieve all this goodness, regular prophylactics and checking must be on your schedule.

---
PROS:
Efficient recirculating system;
Takes up little space;
Increased growth rate;
Easy to maintain;
Extra aeration.
Best DWC System for Lazy Gardening — DWC Hydroponic Bubbler Bucket Kit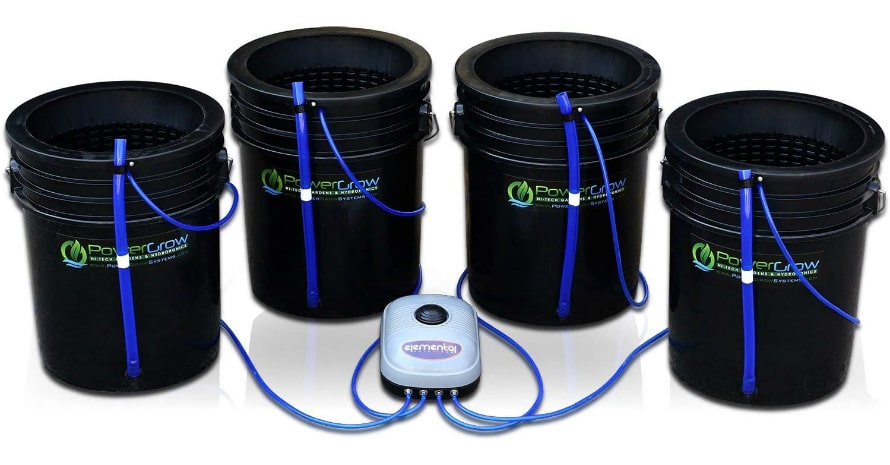 Another product from PowerGrow, the Bubbler kit, is a whole multi-plant system. It includes 4 buckets, 5 gallons each. There's a pretty strong little pump that takes some extra care of oxygenation: it also makes bubbles that saturate roots with oxygen even better.
But keep in mind: the kit doesn't include any medium or check valves that protect the pump. You will need to purchase those separately. Luckily, it's the only hassle you will need to make the kit complete.
As for the rest, it's a legit out-of-the-box solution. Setting up the Bubbler takes merely 15 minutes. After the crops are planted, you will need to change the water every week or two to avoid an unhealthy mineral deposition.
Although there's a whole quartet of buckets, I wouldn't recommend this system for pro-agriculture. But if growing something like Conchita or Belriccio tomatoes at home has been your dream for a while, this system will help you gather a tasty harvest.

---
PROS:
Powerful pump;
Bubbles provide better oxygenation;
Water meter;
Can grow 4 plants at the same time;
Quick setup.
CONS:
Needs additional details.
For More Professional Choice — HTG Supply Bubble Brothers DWC System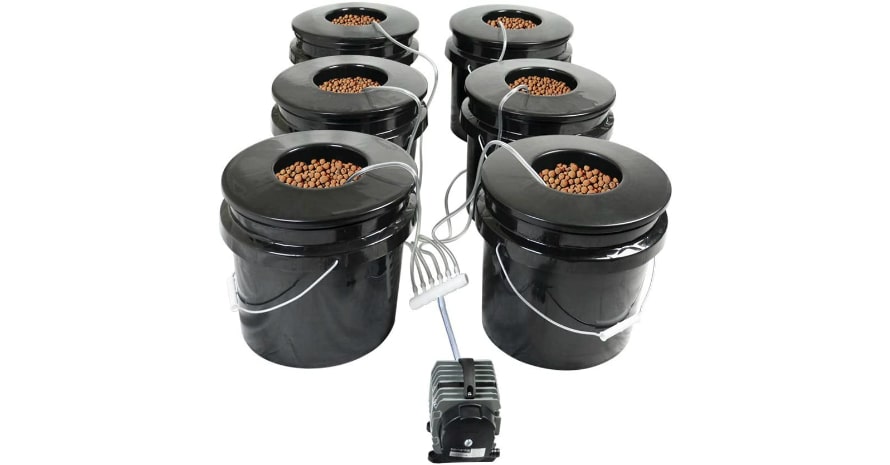 Among pro deep water culture hydroponic grow kits, HTG is one of the cheapest options. The kit consists of 6 buckets with lids, hydroton clay pebbles (the grow medium), a special center in the channel that boosts aeration, and one mighty pump.
HTG is a real champion when it comes to oxygenation. As the roots of your crops 'float' freely in water, the system's pump works as intensely as a bull's heart preserving the plants from suffocating.
Such know-how is ideal for bigger crops: I find it perfect for bell peppers, beans, cucumbers, radishes, and basically any tomato variety. Also, a tall strain of cannabis like Malawi Gold or Moby Dick will also feel well when planted inside HTG's buckets.
But keep in mind: all this power comes at a price. HTG's Bubbler is by far the noisiest home system I've seen (and heard). I wouldn't recommend putting it inside the room where you sleep as its humming is like a very large beehive.

---
PROS:
Powerful oxygenation;
Six buckets in the package;
Nice aeration system;
Clay pebbles included;
Good for big plants.
CONS:
Pricier than other kits;
A bit noisy.
Compact Deep Water Culture Bucket System — Active Aqua Root Spa 5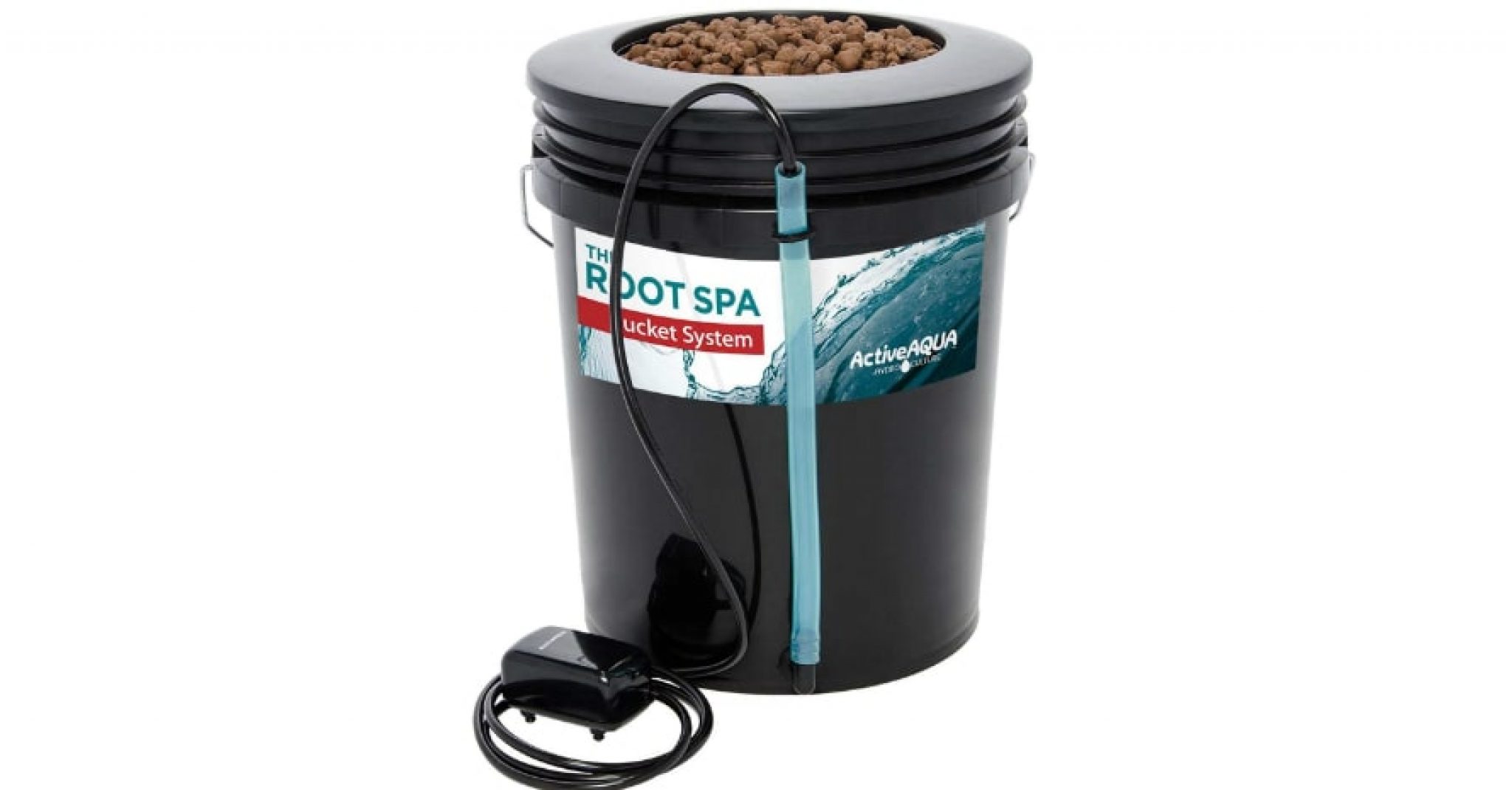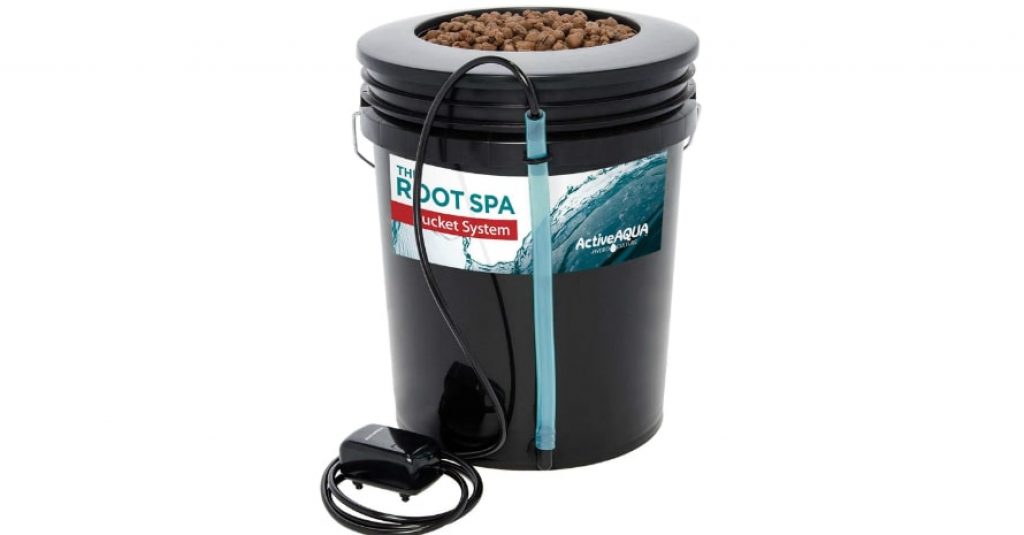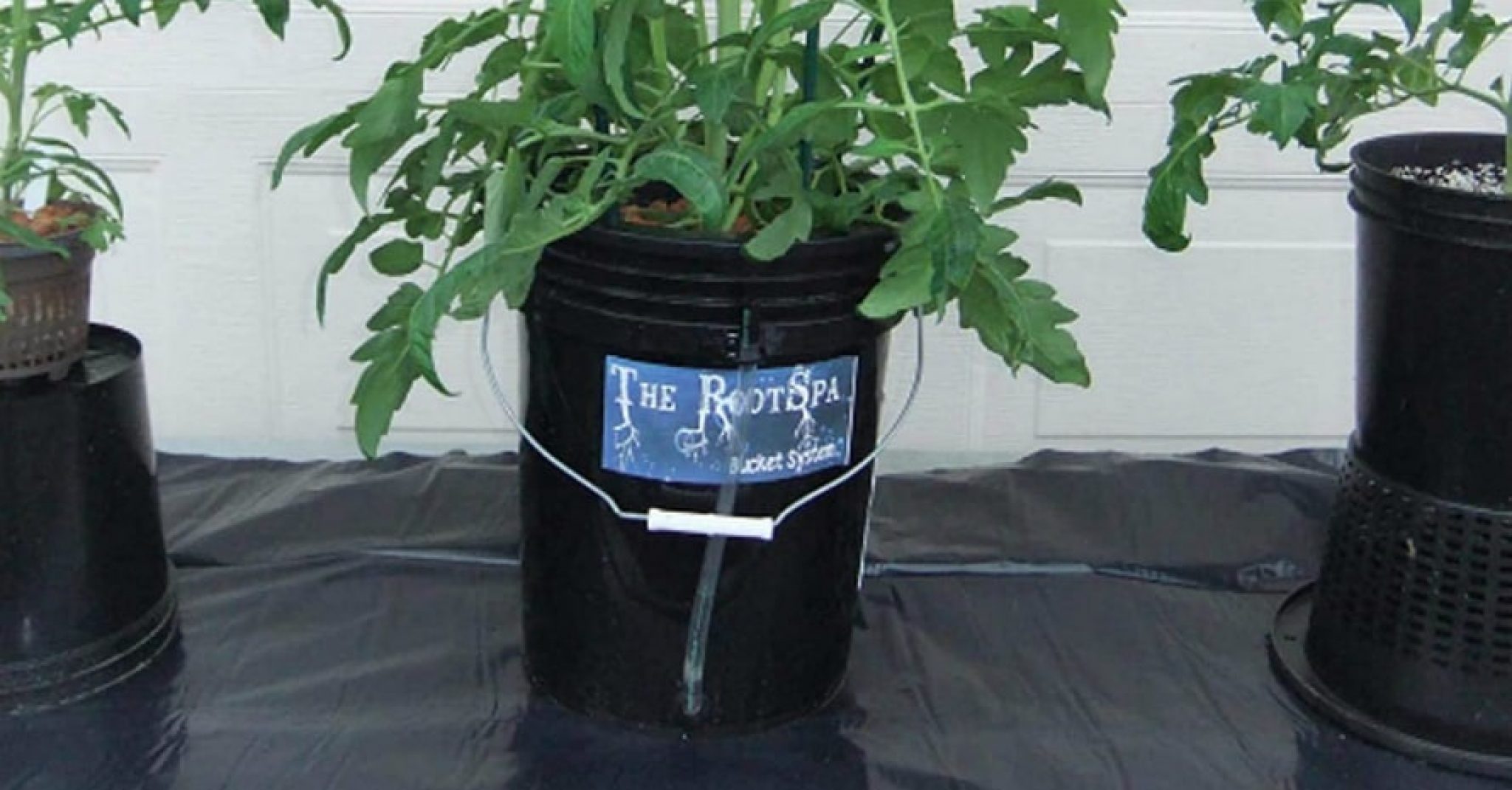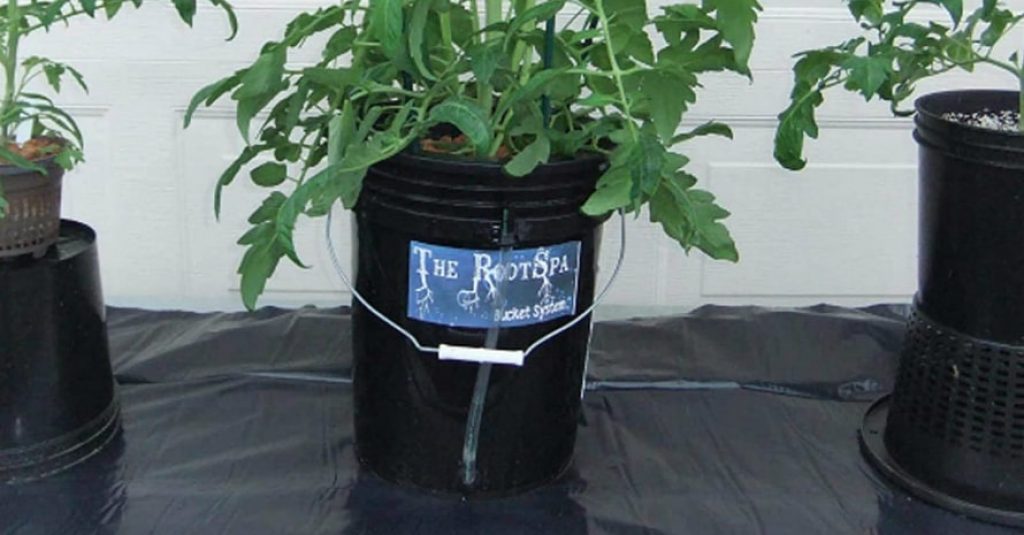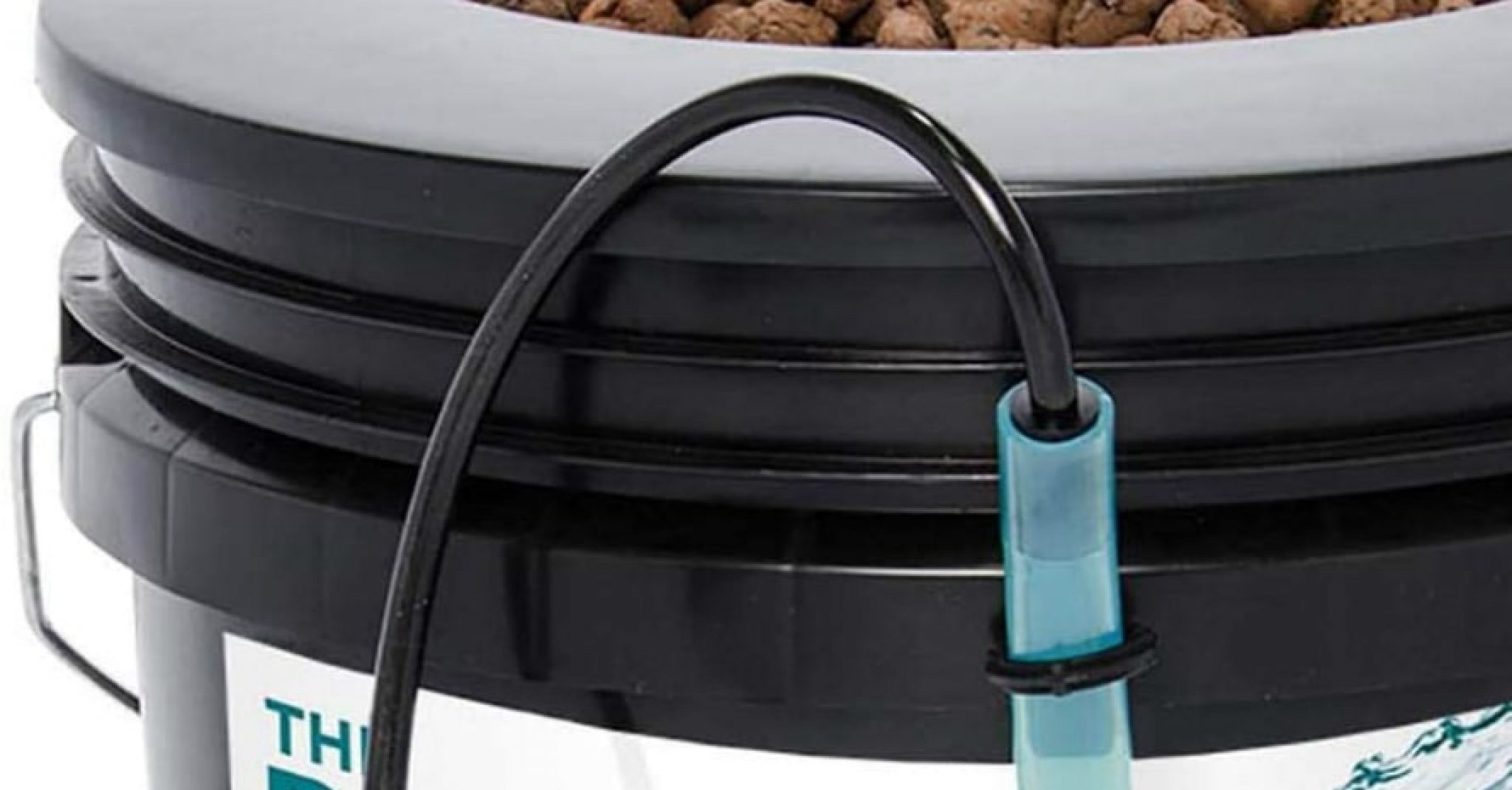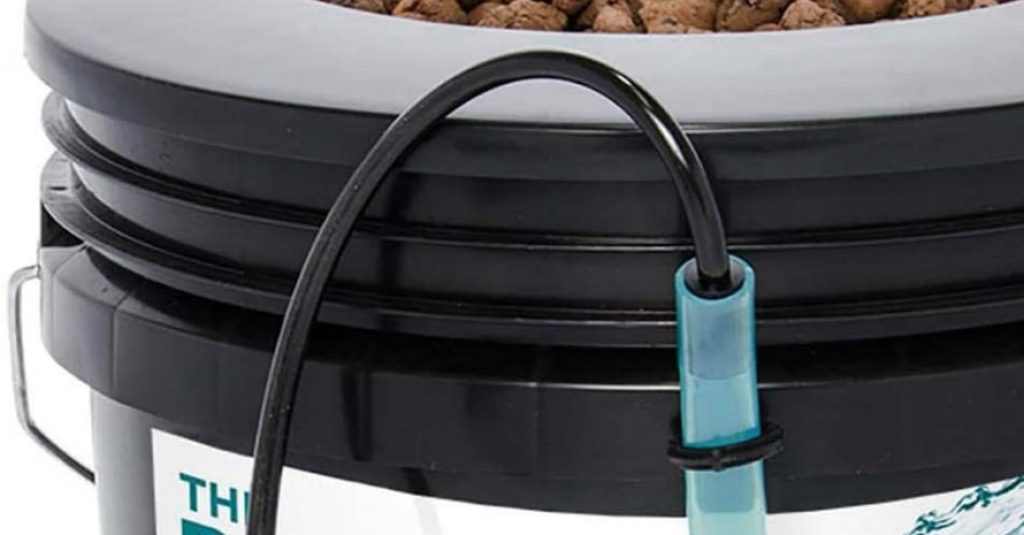 Active Aqua is another optimal solution for gardeners with limited working space. The kit includes one compact bucket, an 8-inch basket, tubing, grommet, multipurpose hose, and an electric pump. Sadly, there are no media, clay, or special monitoring devices.

This kit is easy to assemble and operate. So, if at some point you need to transport your little Orangerie to another room, redeploying it will take about 7 minutes.

But despite its humble looks and package, Active Aqua has a 'heart' of a sea lion: its air pump oxygenates the crop roots like clockwork, delivering air that will be enough even for a big plant.

To get things going well, you will need to buy an airstone and re-attach the air tubing to it. This will provide the necessary aeration. After that, simply let the air pump do its bit, and voilà — the journey to a mighty harvest has begun!

---
PROS:
Compactness;
Powerful air pump;
Simple setup process;
Smart aeration system;
Can handle a sizable plant.
CONS:
Some elements must be purchased separately.
Great Choice for Berries — Mophorn Hydroponic Grow Kit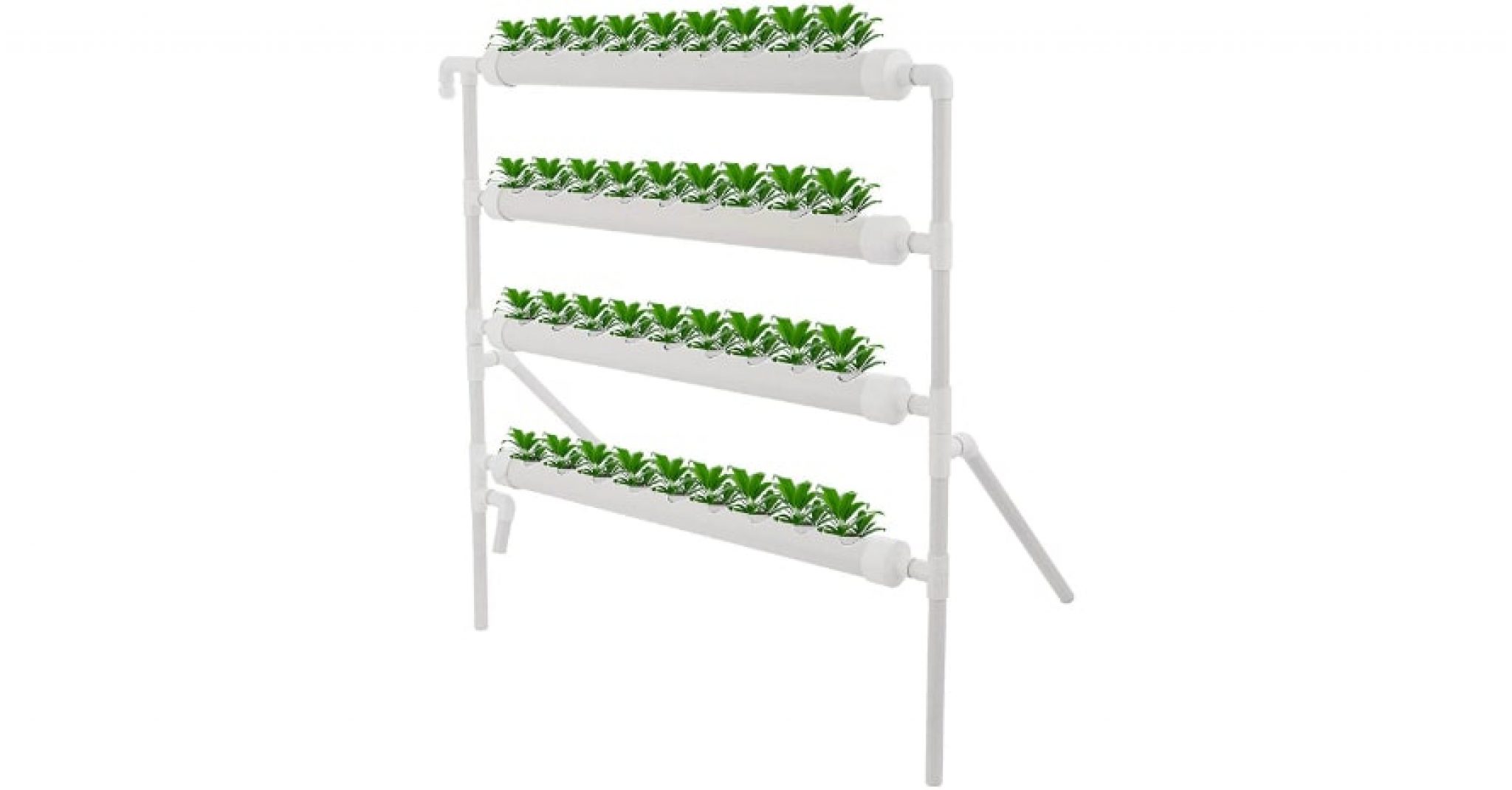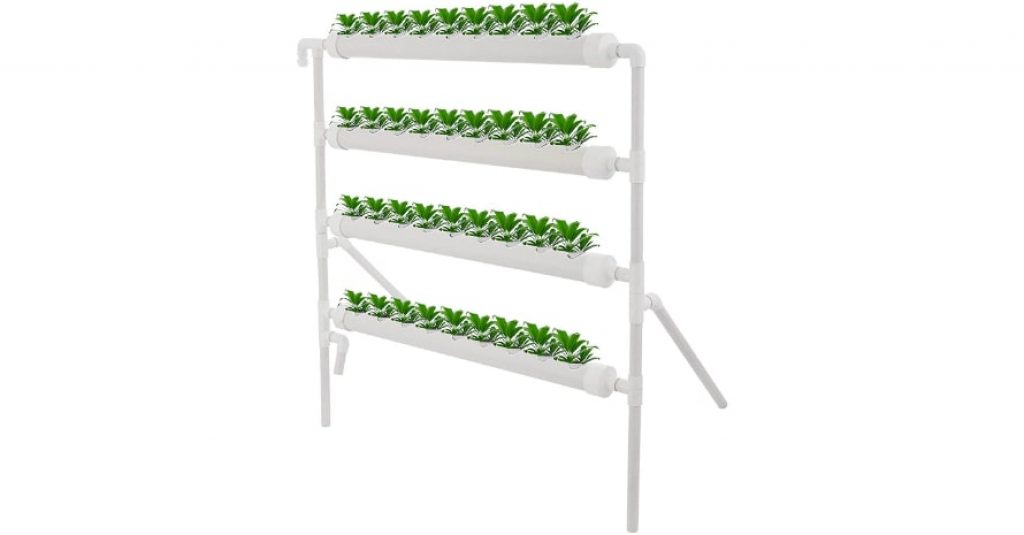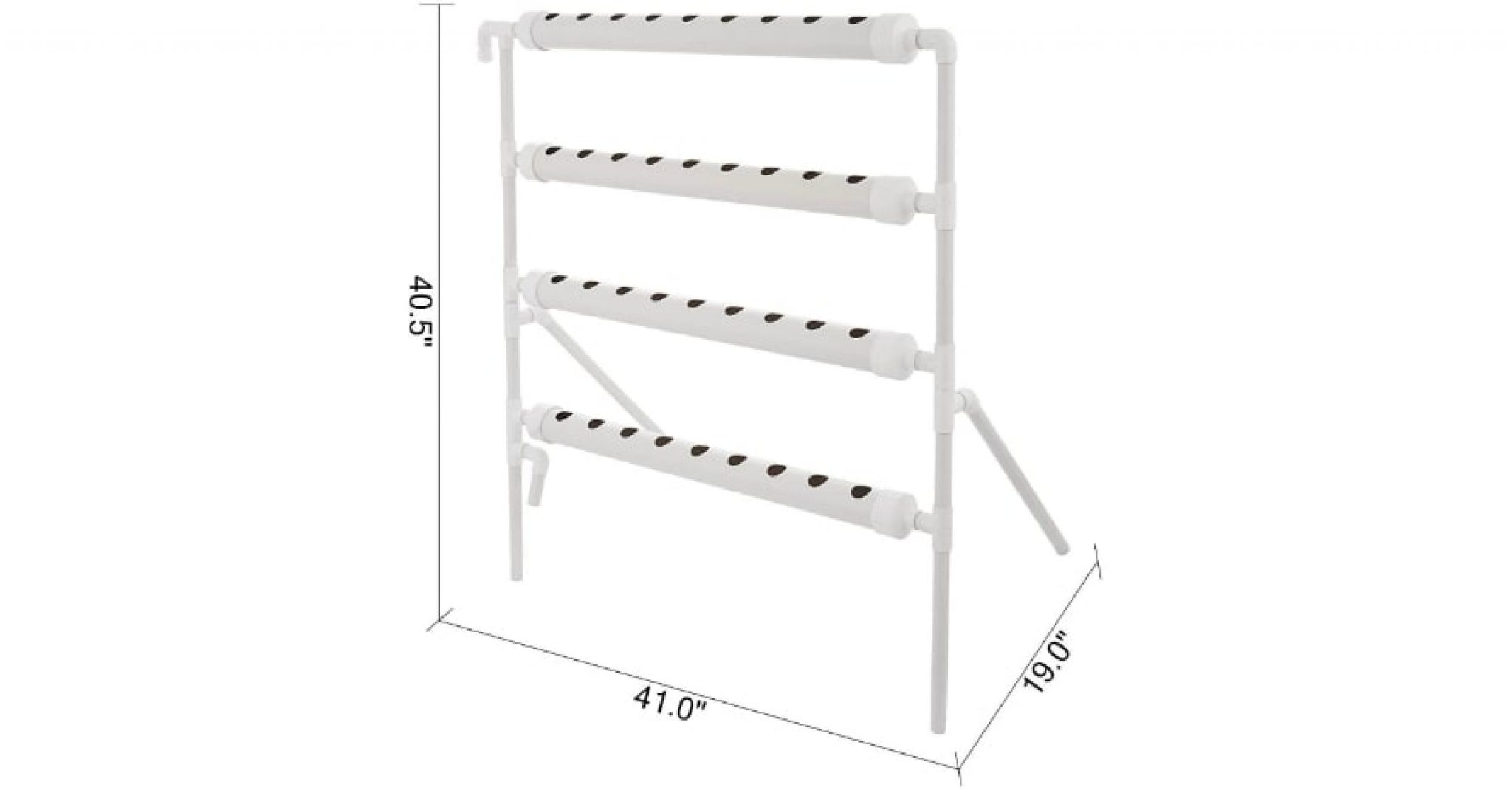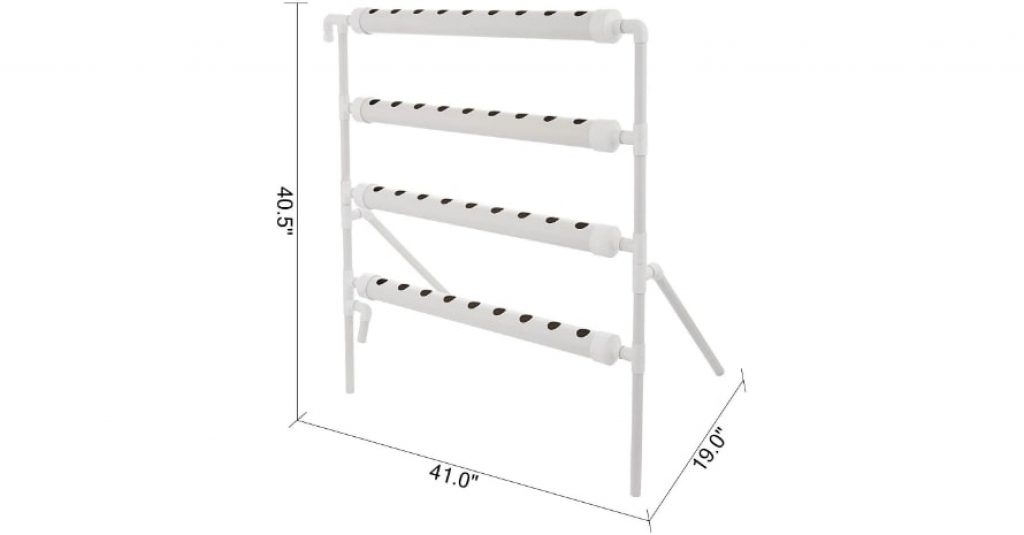 Our final item is from Mophorn — a brand that makes a whole load of domestic appliances, power tools, and so forth.

Their grow kit includes 36 sites in which you can plant the crops. The water supply is supported by a system of four tubes. They are made from unplasticized polyvinyl chloride, which is 'food grade' according to the manufacturer. As far as I know, it's good at handling high temperatures and is used in drinking systems. (At least in China).

There's a 7-watt air pump in the package that does a fairly good job at running water. I like that kit has plenty of space. You can use different rows for growing different crops: salad, sorrel, green onions, and, of course, strawberries.

In my opinion, such a set is ideal for berries in general due to its architecture, solid oxygenation, and a bigger harvest thanks to its multi-sited construction.

I wouldn't recommend it for growing tomatoes, cabbage, and other bulky crops as their cumulative weight will eventually make the thing collapse. Plus, the trunks/stems of growing big crops will clash with each other at some point, which isn't beneficial.

Mophorn Kit can easily be stationed inside the house. It doesn't need too much space, as it's multistoried. But if you decide to bring it indoors, make sure it's placed near the window, so the crops get enough sunlight. (Unless you have a grow light system).


No products found.
---
PROS:
36 sites for plants;
A decently powerful pump;
Sturdy construction;
Good for growing berries;
Easy to assemble.
CONS:
No English manual;
Won't work for big plants.
Buyer's Guide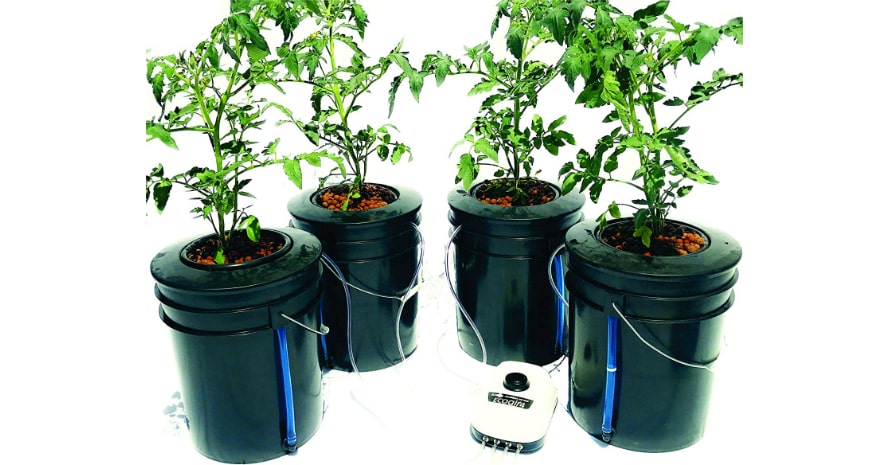 Now, let's review why exactly you may need a DWC bucket system, how it works, what it's made of, and what you should look for when picking one.
What is DWC hydroponics?
The Deep Water Culture system allows you to grow crops without using soil. The roots of a plant directly contact the liquid solution filled with minerals and absorb all necessary nutrients from it.
But there's a very important side note. Although plants love and need water desperately, its excess may literally 'drown' them — they simply won't get enough oxygen from it due to water's specific chemical structure.
Oxygenation is what saves the day. This is why DWC systems of all types, including cannabis-friendly top feed DWC hydroponics, require a strong air pump working in tandem with air stones.
What is needed for a DWC system to work?
You must aim at good oxygenation enhanced with steady aeration. Plus, regular maintenance is needed, though a deep water culture has a lesser chance of being affected by pathogenic microbes.
But there's still some risk for a plant to get sick: blossom-end rot is one of the most common issues to go hand in hand with a DWC. It mostly occurs due to the imbalance of the nutrient ratio. So, always keep an eye on pH and EC levels. Making a visual check also won't hurt.
Another common issue is temperature. If you're using a non-circulating system and live in a hot climate, there's a fat chance the water temperature will exceed the desirable threshold of 20 °C/68 °F at some point.
A water-chilling device may solve this problem. You can also paint the reservoir white, so it reflects the heat. And make sure the plant doesn't stay under the blazing sun when it reaches its zenith.
What to look for when choosing a DWC system?
A good DWC system should have:
Aeration tubes.
Leakage-proof hoses.
Pump-protecting valves.
At least a 1-year warranty.
A sizable 5-gallon bucket.
Complimentary air stones.
A powerful air pump with at least 5-7 watts.
It's a conditional list. Depending on the type of crops, you will need more precise qualities and features: bucket capacity, their quantity, air stone type, air pump's power voltage, noise level, and so on.
The most important components of a DWC system
There are a few central elements of a well-organized DWC system. They include:
Oxygenation. As I've said before, an air pump is basically the heart of the whole system. Its power capacity may vary, depending on which crops you plan to grow. It can start with as little as 125 GPH airflow and 3 watts, which may do for one small plant.
Aeration. Clay pebbles or air stones — are the pump's allies at air control. They saturate the water with more air volume thanks to the bubbles they release through their pores.
Growing media. That's an environment for the roots where they can 'breathe'.
Nutrients. Those are micro-elements that crops need to grow healthy and big. They include Potassium, Magnesium, etc. Their ratio depends on which crops exactly you plan to cultivate, and for a DWC you will need Phosphorus, Nitrogen, and Calcium.
pH meter. This gizmo allows checking the acidity of water, which at some point, becomes dangerous. This issue is especially vital for recirculating systems.
Airline tubing. It's basically a hose that connects the pump and air stones. Silicone is an ideal material for it: it's sturdy and flexible.
Bucket. Its storing capacity directly affects the size growth of your plant. The optimal capacity is 5 gallons.
Net pot. A supporting element that keeps the plant steady during its growth.
If a DWC, especially a makeshift one, lacks any of those, don't plant the crops. Every element must be present; otherwise, it will result in a waste of time, nutrients, and seeds.
FAQ

What type of hydroponic system is the best?
Again, it depends on the crops you will grow, how much space you can spare, the desirable harvest size, etc. If you're space-limited, a DWC system is a great method for indoor agriculture.
Other gainful methods for compact gardening include the Nutrient film technique, Wick hydroponics, Ebb and flow, drip system, aeroponics, and so on.
How often do you change the water in a DWC system?
It depends on your plants: some evolved to tolerate drought and require less water than others. Particularly, tomatoes, watermelons, and Dark Star zucchini need less water. Meanwhile, lettuce, cauliflower, or celery can get very thirsty.
To avoid the risk of starvation, top off water every few days. And change it completely every 1-2 weeks. Plus, measuring pH levels from time to time helps too. And the best pH level for hydroponics is about 6.5.
What is the easiest hydroponic system to use?
Compared to the rest of the methods like aeroponics, deep water culture is the easiest. Most of the DWCs, even the semi-professional ones, follow the out-of-the-box rule. They are easy to set up, run, and maintain. Despite the easiness, you still need to check in on your crops regularly, but the hassle is worth it — DWC's yield is much higher.
Is DWC better than soil?
Each method has its advantages and downsides. DWC is ideal for small-scale and indoor gardening because:
You need just a bucket of water.
Yields are mostly bigger.
No bugs/soil parasites.
The growth rate is higher.
At the same time, DWC requires more labor, as the crops growing in the soil are more autonomous (to an extent). Plus, DWC makes you a persnickety gardener as it requires precise calibration of nutrients, etc.
Have a Good Harvest
That sums up my guide. If you're searching for an easy way to grow crops with hydroponics — DWC is your absolute go-to. Just follow my tips and enjoy your big, delicious yields.
What is your favorite hydroponics method? Which crops provide the best harvest with DWC? What do you prefer to grow indoors? Share your gardening stories with us!