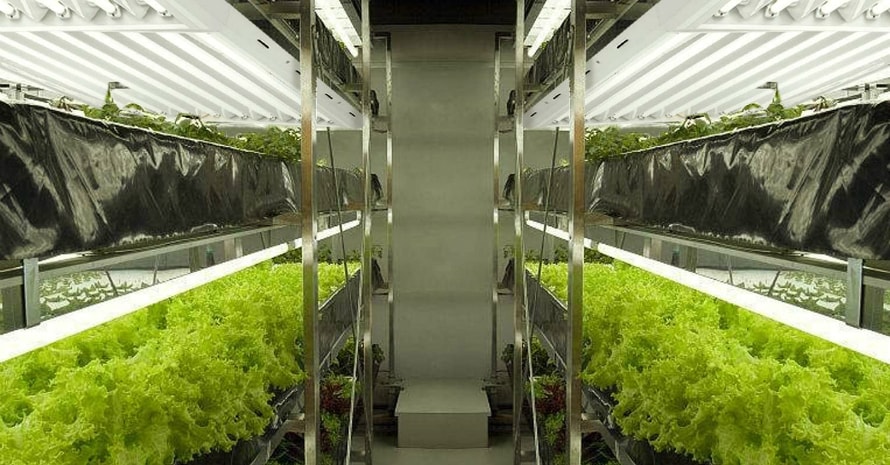 Best T5 Grow Lights: My Favorite Picks for Your Cannabis
Growing cannabis demands a range of strictly followed conditions to ensure growth and propagation. These conditions include a whole bunch of technical equipment, like lighting, humidity, and temperature regulators, and proper ventilation.
When it comes to light, professional and amateur cannabis growers have given their preference to T5 lights. They are extremely ergonomic, sturdy, and provide a sufficient amount of warmth, unlike similar models. However, there are quite a few manufacturers whose products vary, and, thus, it becomes confusing to find the best T5 grow lights for your cannabis patch.
I, personally, believe that the best product you can find today is Hydrofarm Agrobite's Grow Light. It has been around for a while and proven to be very effective for growing weed locally. When utilized, the lights are safe for the patch, easily regulated, and, more importantly, adaptable to the conditions of any tent.
On the other hand, there is an abundance of other products that can serve well, depending on your needs. And to tell you more about different alternatives, I've prepared several T5 grow lights reviews of my top favorites. Read the reviews and consider the PROs and CONs to find a truly good product.
Top 5 T5 Lights That Can Save You a Lot of Effort
Right, so good fluorescent lights are a fairly important part of your tent settings. They create sufficient, or sometimes insufficient, warmth and light impact. Their power input and output can have a drastic influence on how well your cannabis grows.
Here, I've got a few options that might be of assistance when choosing your own T5 grow light bulbs. I've included my personal favorite that has proven useful to me and many other people. Also, there are some alternatives that can catch your eye. Anyway, read through and choose the option that suits your needs!
My Top Pick:
Hydrofarm Agrobrite T5 Fluorescent Lights — Best T5 Grow Lights for Indoor Cannabis Growing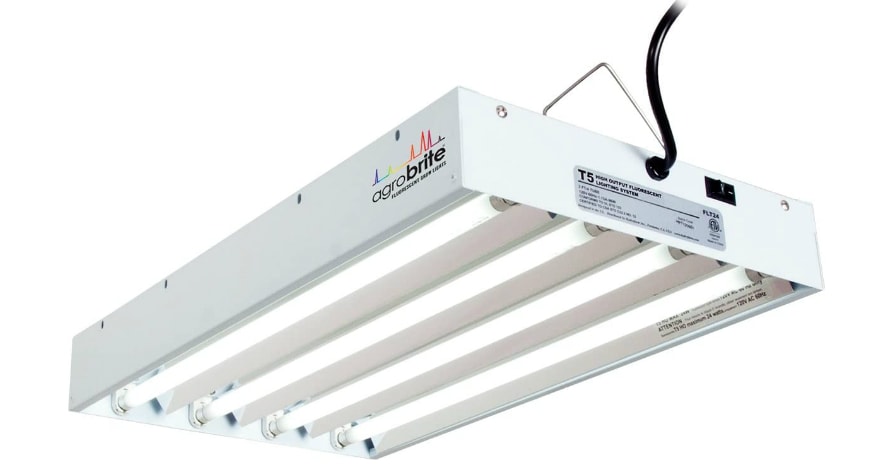 If you find yourself looking for good-enough lighting for your cannabis tent, consider this one. It combines a compact size with nothing too odd but high-quality performance. Also, this T5 grow light kit requires very little maintenance, which results in the longevity of the whole fixture and safety for the plants.
With a length of 23 inches and a width of around 14 inches, the frame is compact enough to be placed in most in-room tents. It doesn't take up much space but provides a sufficient lighting radius to cover a larger area. The fixture is made of moisture-resistant alloys that make the frame rather resilient to corrosion or mold.
The 4-tube compound is equipped with a 10-inch power cord to connect the product to a power source. It's tough and completely grounded to prevent blackouts or power surges. Also, it easily maintains enough power to provide pure 19,000 lumens.
When it comes to the bulbs, they are aluminum-coated for better power conductivity. You can choose from the provided options of 2, 4, 6, and up to 12 bulbs. This way, you are able to find the perfect light impact on your cannabis and create the most favorable conditions. Make sure to find the perfect placement position, utilizing the 3 hanging modes.

---
PROS:
Easy to install;
Sturdy and tough;
Can be hung in 3 modes;
Powerful.
CONS:
The ON/OFF button is hidden in the back.
Hydroplanet T5 Horticulture Fluorescent Lights — T5 Fluorescent Grow Lights for Larger Coverage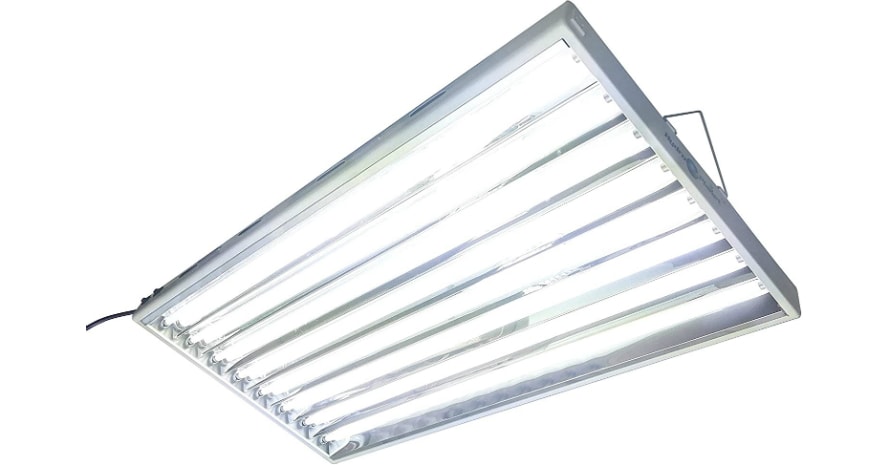 In case you want a wider bulb slate that covers a larger area, try this one for a change. It's thinner than regular lights and is meant to make a perfect fit, even the most compact spaces. Besides, the installation is rather easy because of the ballast hangers to adjust the fixture to your needs.
This 4-foot is designed for hanging right above the cannabis in three different modes. First, it's possible to hang it using a set of carabiners that clip firmly with fixtures. Second, it can take either a vertical or horizontal position, depending on the place you find the most suitable for it. Finally, you can chain the lights to premade hangers or simply fix the lights on a surface.
The product conducts a voltage of 110 or 120 Volts, which is the average voltage of a regular outlet. This way, you should have a problem finding a power source since you can use a common extender. As T5 grow light fixtures go, this set is designed for 8 T5 bulbs that have the power input of 4 Amperes to provide soft and pleasant-to-the-eye daylight. Meanwhile, the temperature color power amounts to nearly 7000K to resemble a slightly cloudy day, not to expose your cannabis to an excess of light.

---
PROS:
Compact and neat;
Different ways to install;
Perfectly safe;
Soft light.
CONS:
Not suitable for LED lamps.
VIVOSUN Fluorescent Grow Light Fixture — Best T5 Light Kit for Compatibility and Coverage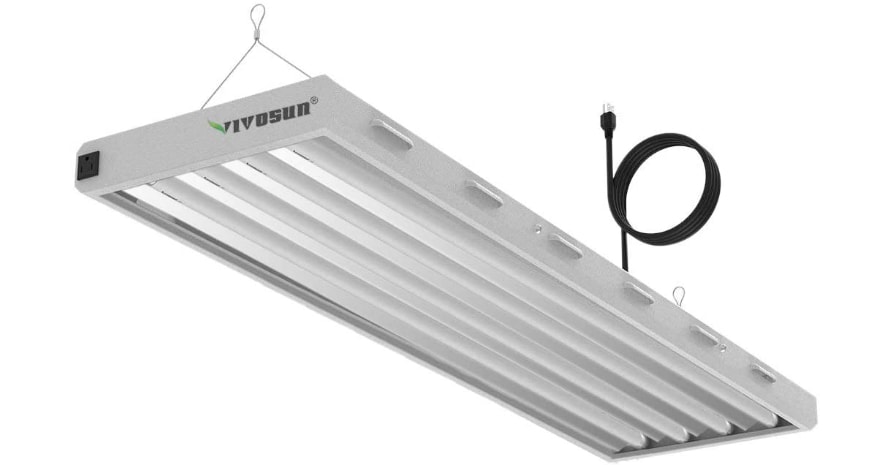 You might be in search of a product to combine it with your current lights, then this is what I can recommend. The set is meant for being joined with similar models to create a 2,3, or even 4-compound lighting system. It's great for small indoor growing tents, as well as large greenhouses to care for cannabis, vegetables, and other vegetation.
The set is rather standard, combining a 4-foot surface with 4 high-quality bulb inserts. When it comes to hanging, the position can be adjusted to the place that you see fit. Moreover, the 8-foot power cord gives you enough freedom to place the set either on the ceiling or walls.
As for the material, the frame is made of high-density sheet metal that protects the lights from water and dust. It's resistant to corrosion and deals well with high temperatures, thus not overheating even after a long time in operation.
Unlike similar T5 LED grow lights, these bulbs are made of an aluminum alloy that conducts electricity well. It also prevents the whole set from overheating or power surges so that it doesn't dehydrate or burn the cannabis, ensuring safety and comfort.

---
PROS:
Perfectly connectable with similar models;
Blackout prevention mechanism;
Durable frame;
Warranty is provided.
CONS:
Might give off a buzzing sound.
DuroLux T5 Ho Grow Hydroponic Lights — T5 Grow Light Fixtures for Heat-Demanding Sorts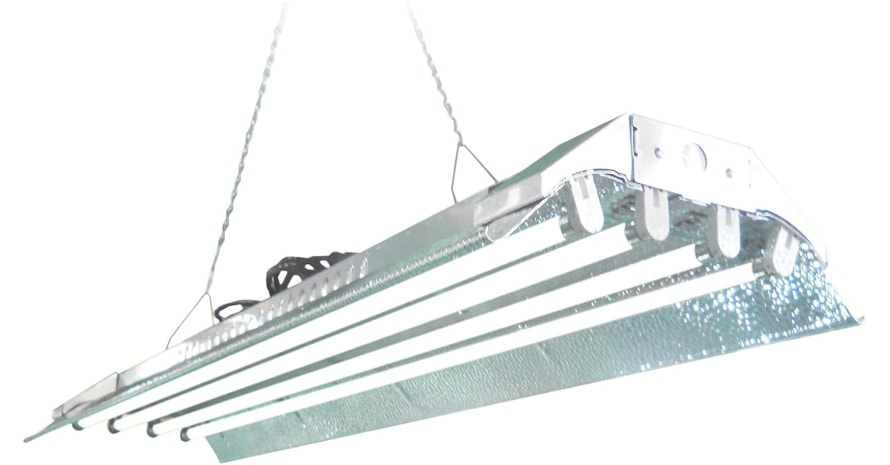 Here is a solution for those whose cannabis is a little whimsy to the temperature and requires a lot of heat. The product is known for its high power output, which results in a lot of soft light. It's favorable for weed sorts that prefer the heat to the coolness.

It's designed to be an easy-to-install set that fixes firmly to a surface without wobbling or unnecessary rattling. Thanks to the 12 inches in width, the lights are quite portable and can be relocated when needed. Also, there is a nice 3-headed outlet in the back to adjust nicely with comfortable access to a power source.


The product uses the best T5 bulbs for growing weed that give out up to 6,500K of light. With an inner coating that prevents excessive light emission, the bulbs don't damage the leaves or desiccate the soil. On the contrary, there is a narrow sheet of reflectors wrapped around the set. They bend the light and heat to supply the plant with additional light, thus covering a larger area and preventing shading.

---
PROS:
Humidity and light loss prevention;
Stable and firm;
Water-resistant;
Tough power cord.
CONS:
Consumes a lot of electricity.
iPower 2-Pack T5 Fluorescent Grow Light System — Fixture With Impressive T5 Grow Light Bulbs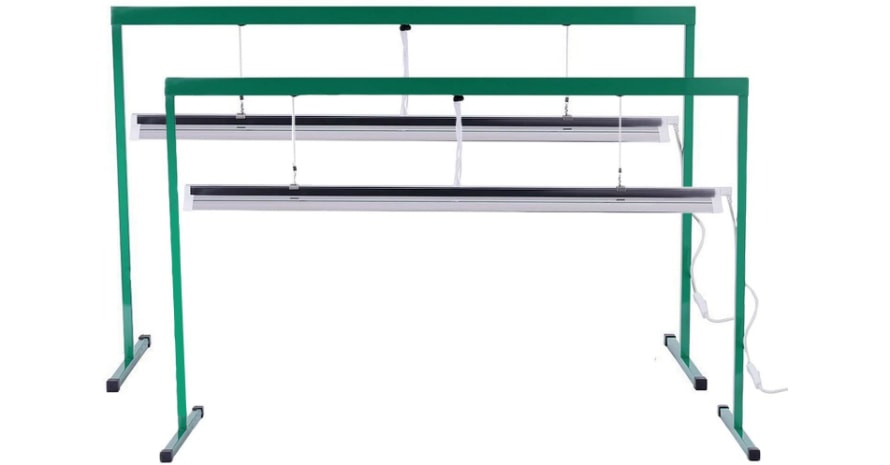 You may be limited in space or have nothing to hang your light onto. Then, you will find this 2-pack light set a convenient add-on to your in-room grow place either for marijuana or other plants. It's rather small to make it comfortable for placing in closets or compact greenhouses.
It's very handy when you've just begun growing your weed and even planted the seeds. Though the fixture is only around 4 feet long, the frame that holds it comes to another half of afoot. The construction weighs around 18 pounds, which is light enough to be located anywhere in the house without running the risk of crashing anything underneath.
The frame holds each fixture with a strong, heat-resistant string and the height can be adjusted by pulling the string upwards or downwards. But what is a T5 grow light without the bulb, right? Here, the bulbs emit a good 6,500K to sustain the warmth and humidity. Overall, the bulbs produce up to 20% more light than regular ones, thus accelerating the growing speed. Also, there is a slate of in-built reflectors that prevent the heat from dispersing.

---
PROS:
Increased power output;
Comfortable stand;
Comes in a pair;
Easy height resetting.
Buyer's Guide: The Basics and Tips
Before buying lights for your cannabis, you should have a basic understanding of what kind of product you're looking for. Besides getting the hang of replacing lightbulbs and ballasts, there are various characteristics that make up the light of a certain type. In this section, I'd like to introduce some vital information for your consideration, as well as some basic terms.
What are T5 grow lights?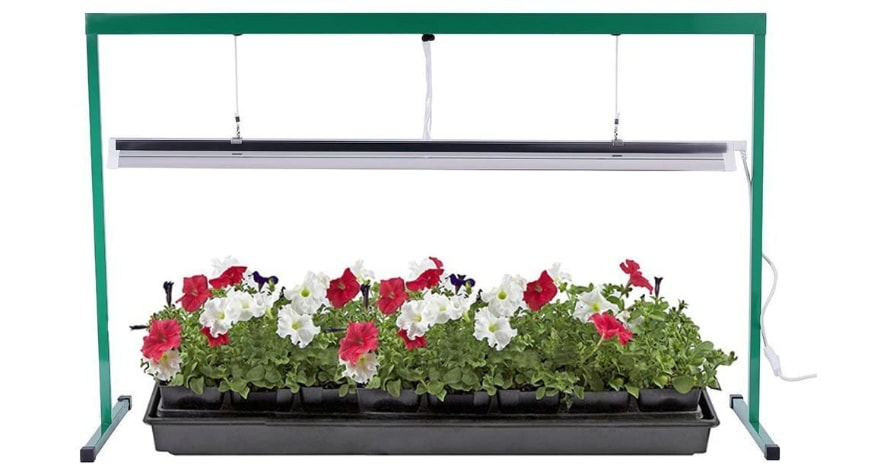 T5 grow lights are one of many different-diameter lights that you can equip your plant-growing tent with. First of all, they are T-shaped, which makes them fit only for a certain type of fixture. Second of all, their size comes to ⅝ of an inch, which is the exact diameter of the bulb juxtaposed to 1 inch.
Types of T5 lights
T5 lights are the third generation of fluorescent lights that are mostly equipped for indoor use due to their local and focused light emission. Though there aren't different types of products based on its material or use, there is a significant difference between the wattage. To get the best T5 to grow bulbs, it's essential to see the difference between output and input power and its use:
14-35W lights are used for minor illumination since they produce a sufficient yet limited amount of light. They are perfect for small cannabis patches or seeds that have only recently been planted.
24-80W lights are much stronger, and their light output is considerably higher. Some of them come in handy when maintaining medium-sized or bug-sized cannabis. Also, they offer a wider coverage area that can help illuminate greenhouses and even enclosed farms.
What is fluorescent lighting?
Fluorescent lighting is lighting produced as a result of a chemical reaction inside the bulb. There, a blend of gases and mercury-infused vapors come into contact, creating bluish light. Later, it interacts with chemical phosphorus powders, which leads to white daylight.
Another important part of fluorescence is ballast. It's used to reduce the current input that comes through the bulb. This prevents the lights from overheating and, consequently, from producing sparks. Also, it makes T5 fluorescent grow lights rather safer and more stable than those which have regular illumination reactions.
T5 vs LED grow lights, and why we choose fluorescent lighting
Both lights use different yet quite similar approaches to producing light. LED lighting is relatively newer to the market, and it uses fewer chemical reactions to provide illumination. When current goes through the bulb, it interacts with a special chip-like device that lights up and gives off light. There are many chips like this inside that when combined, produce a sufficient amount of light. Also, they are known to give off much less heat than other kinds of bulbs.
Despite these characteristics being good for humans, they aren't as good for plants. We choose fluorescent light because of the heat. Cannabis and many other plants require not only light for their photosynthesis but also warmth. Therefore, in a competition T5 vs LED grow lights, T5 wins.
What to look for when choosing the best T5 grow light for your grow
First, search for the power in Watts. Depending on the stage and type of cannabis you've got, you might want to consider different T5 lights before picking the right one. You will need a weaker set for beginnings and a stronger one for a larger plant.
Second, you'll need some longevity. Normally, it depends on the fixture and bulb material. You're going to want steel for the fixture and aluminum or aluminum-infused alloys for the bulb. Combining these features, you might get yourself a reliable set of lights that will not damage your cannabis nor break down easily.
FAQs
You might have some questions left. Keep on reading to learn more!
Are T5 grow lights good?
Yes, they are, but it depends on the purpose. When it comes to growing cannabis and other heat-demanding pants, then it's a perfect fit.
Which is better: LED or T5?
Both of them are good enough, but I'd prefer to use T5 since they have already proven more than useful in my experience.
What is the best light to grow plants under?
Doubtlessly, the best light you can get for your growing is sunlight. However, the closest you can get to it indoors is to use grow lights that reproduce the intensity and heat, just like T5 lights.
How many watts does a T5 grow light use?
The wattage may vary depending on a specific product. Normally, grow lights are recommended to be in the range of 14 to 54W.
The Sun Isn't a Must Anymore
Providing you have already used T5 lights before, you know how efficient and long-living they are. These lights are a great fit for indoor weed growing thanks to their compact size and safety precautions. Choose a regular set to hang on the ceiling or the wall, or choose a set with a stand to make a comfortable spot for your cannabis wherever you place it.
Finally, I believe you've found something interesting for yourself in this article. Tell me more about your experience with T5 grow light bulbs! What manufacturer's products have you used? Do you find them more efficient than LEDs? Leave your comments below!