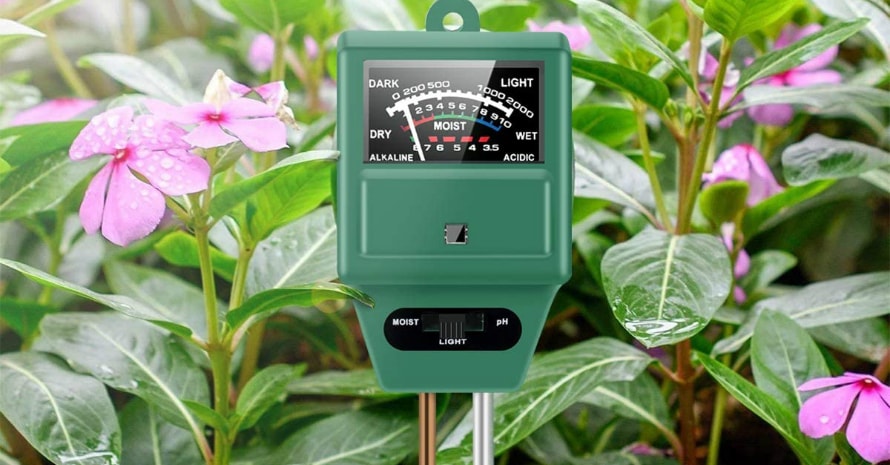 Best Soil Test Kit Review – Top 7 Options for Weed-Growing
If you like to have your fingers green when caring for your cannabis, then you are aware of the importance of conditions for the plant. Each kind of grass has a range of specifications that determine its growth, protection, and proliferation. Keeping track, maintaining, and conditioning your plant's lifespan requires lots of techniques and pieces of equipment.
But what if you had a single device to help you maintain your cannabis without being all over the place? For example, a professional soil test kit can do the trick for you. Compact, multi-functional, and easy to use, the appliance can offer a lot and demand so little.
Soil Test Kits: the Good, the Better, and the Best
A good soil tester is, indeed, hard to find these days, especially if you're browsing on the Internet. The product comes from different manufacturers, some of them are acclaimed in what they do while others are too new to know them at all. This complicates your search and makes it more like torture.
I've faced this issue before, and it has taken me a while to find an appliance that does work. To help you put your mind to some good-quality products, I've compiled some soil test kits reviews. And there are a bunch of them to choose from!
My Top Pick:
1. PentaBeauty 3-in-1 Soil Test Kit — Best Soil Tester for Indoor and Outdoor Use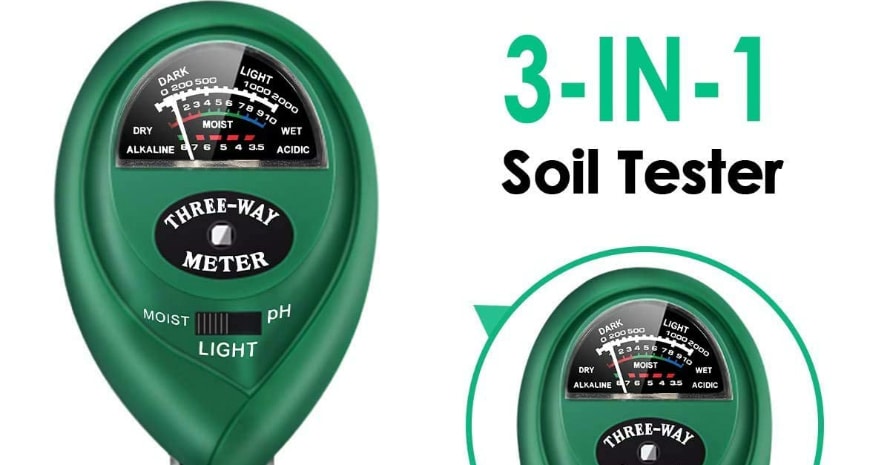 Throughout the years, I've used a good share of testers to claim that this one is the best soil test kit to find online. The appliance combines the best features of its predecessors and packs them all nicely in a small package. Also, the accuracy and resilience of the device itself turn it into a true favorite.
The appliance weighs a bit over 3oz and is 3 inches long. These dimensions are great for placing the device anywhere in the garden/cannabis patch. The tester is equipped with an 8-inch pole to increase the distance between the device and the soil. This amplifies the accuracy and allows for better, more precise measurements.
As for the functions, the tester can tell you the exact light absorption received by the plant. The receptors are so sensitive that they easily catch even the smallest sun radiation fluctuations. Also, it provides you with a full display of the soil's moisture level. Depending on whether the level is satisfactory or not, the hand moves from red to green to blue.
---
.

PROS:
Highly sensitive;
Sturdy poles;
pH level measurements;
Durable plastic cover.
CONS:
Works in softened soil only.
2. MySoil Soil + Nutrient Analysis Test Kit — Soil Testing Kit with a Complete Nutrient Analysis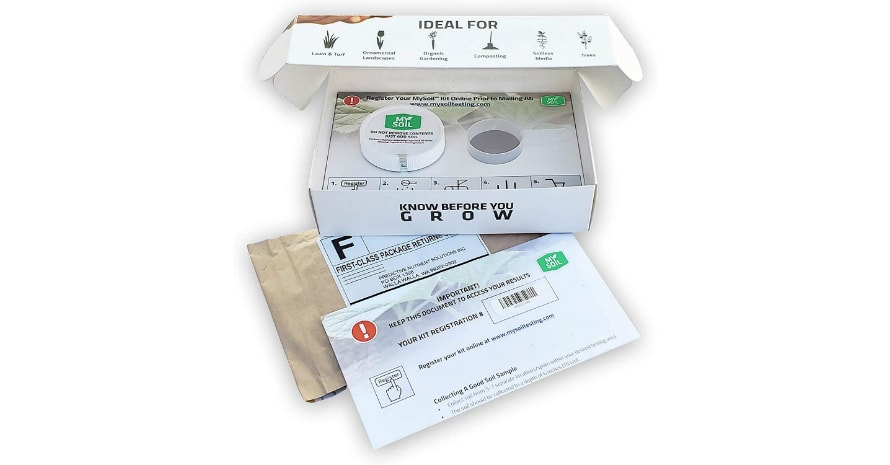 This tester is suitable for a great variety of plants, including different cannabis sorts. It's great for measuring basic natural conditions, such as the moisture level, and pH. Moreover, it has a nice bonus for those who are concerned about their soil's fertility and nourishment.
Unlike similar products, when using this soil nutrient tester, you don't have to do anything by yourself. By scooping a little soil from your garden or cannabis patch, you place a sample into the jar. After sending it to the professionals, you get a complete, detailed summary of your soil's nutrient capacity.
The cannabis soil testing is perfect for people who have experienced a sudden fertility decline in their marijuana pot. Here, you're also provided with a full-blown soil guidance manual tailored only for you. This will help you deal with the nutrients your soil lacks and improve the overall proliferation of the patch.

---
.

PROS:
Accurate results;
Effortless to use;
Online counseling and instructions;
Complete nutrient and pH analysis.
CONS:
Takes time to receive the results.
3. LaMotte Turf and Garden Soil Test Kit — Lead Soil Test Kit for Professionals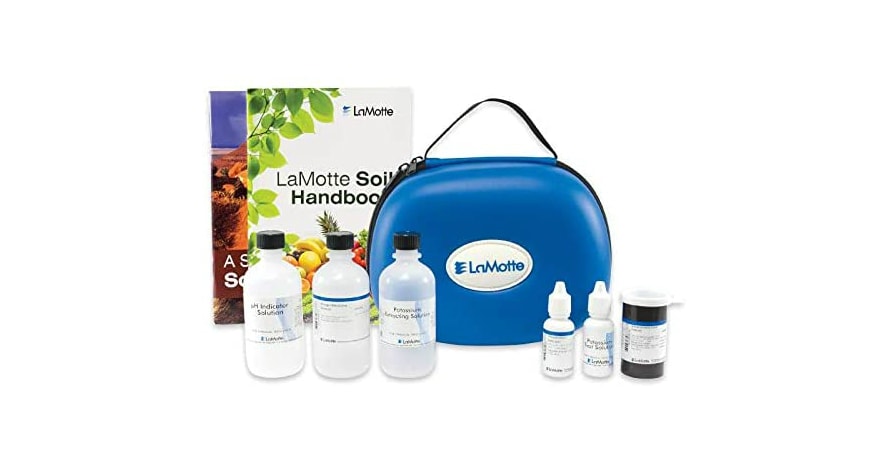 In case you prefer to deal with your cannabis privately, or you're limited in time, you can use this manual tester. The package is a fully prepared testing platform for analyzing your soil's capacity and identifying its faults. To assist you, there is a nice manual on hand.
When acquiring the kit, you receive a container with liquid and dry testers for all kinds of essential in-soil components. You can analyze and test N, P, potassium, and, of course, the acidity of your soil. Each test is provided with a clear instruction brochure that gives you the exact, step-by-step algorithm to do the procedures single-handedly.
To ensure accuracy and consider possible failures, the manufacturer has supplied the kit with a couple of the same tests. This allows for multiple tries to conduct the most precise measurements. It makes this one the best pH meter for growing weed since you can hold maintenance round the clock.

---
.

PROS:
Full-spectrum analysis;
Instant results;
Safe for cannabis;
Clear instructions.
4. Atree 3-in-1 Non-Battery Soil Tester Kit — Best Soil Test Kit for Routine Checks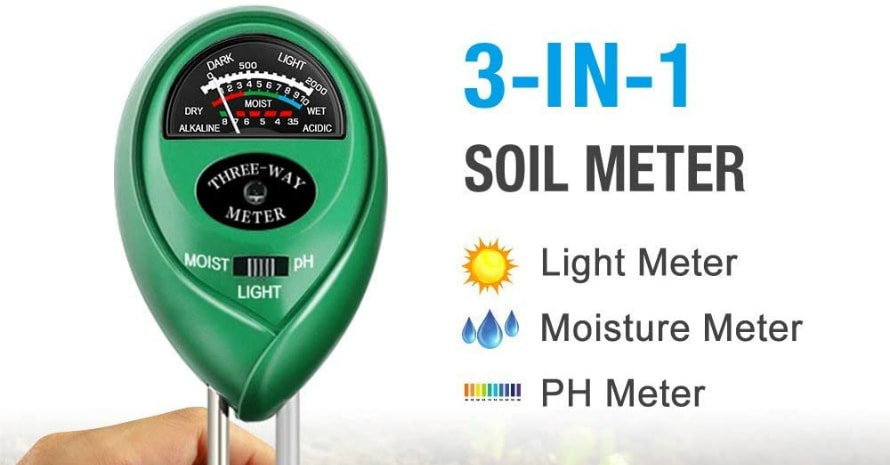 This is another automatic, electronic soil tester for those who like to conduct their soil maintenance by themselves and regularly. The appliance is completely 'hand-free' to make each analysis easy and routine for wherever you need it. Moreover, it's most durable to withstand wetness, the cold, and the heat.
When looking at this drop-like device, you will see that there is nothing complicated about it. Simply stick it in the area, which has shown the fertility decline. The long metal rods can reach the deepest layers of soil to provide a thorough overview of what's going on underneath. Leave it sunk in the ground for around 10 minutes so that the device can measure the exact indexes of acidity, water volume, and sunlight absorption.
The light receptor displays the most approximate light input your soil receives between naught and 2,000 units. As for the acidity, the panel has a scale between Alkaline and Acid with 1 as a step. It helps determine the exact pH-level index the soil contains.

---
.

PROS:
Completely automatic;
No additional equipment is needed;
Works great for all kinds of soil;
Moisture-resistant rods.
CONS:
Incompatible with liquids.
5. Ollivan Smart Plant Monitor Tester — Electronic Soil Tester for Smartphones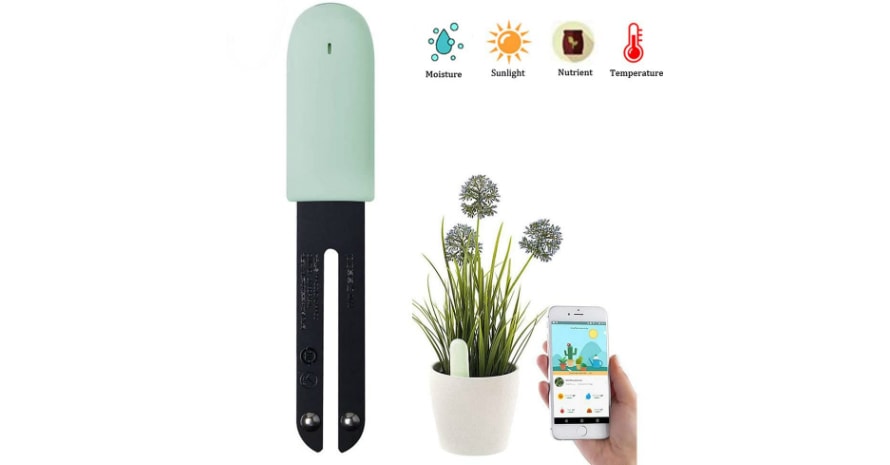 Why would you do everything on your own if someone else can do it for you, especially if this someone is your smartphone? This device is a unique application-based tester that brings all the important information to you. Extremely easy to use, and with a user-friendly interface, you can forget about constantly checking on your cannabis.
The device functions in the four most important measurement dimensions: the light, temperature, acidity, and wetness. Each of the indexes is highly accurate, leaving little to no space for a mistake. The top of the appliance is responsible for detecting the amount of heat and light that your marijuana receives. Whereas, the bottom gathers data about the water volume and nutrients.
A large number of digital soil tester reviews have testified that this one is among the best. To initiate its detections, place the tester close to the plant's stem and insert it into the soil so that only the cap remains visible. Then, install the app from your smartphone store to get regular updates on the soil's state.

No products found.
---
.

PROS:
Compact and neat;
Resistant to moisture;
Barely visible;
Smart.
CONS:
Requires regular cleaning.
6. Jowxi Automatic Soil Test Kit — Nearly Professional Soil Test Kit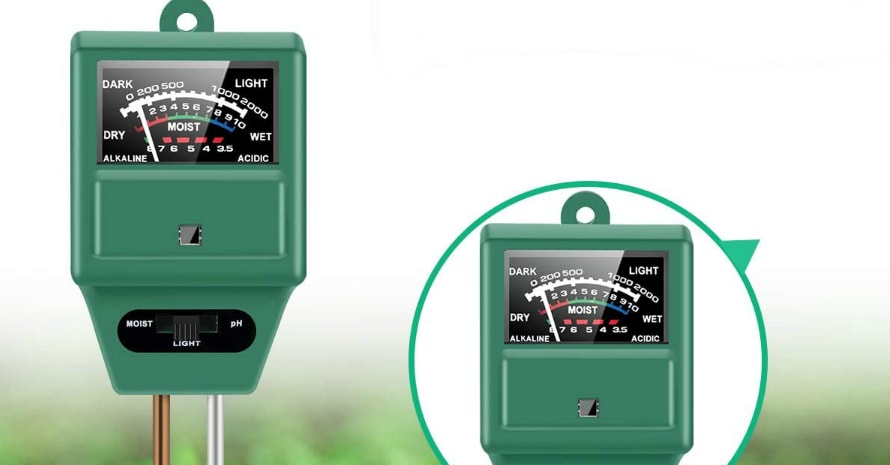 To add practicality to your cannabis growth, try this highly functioning measurer. It's rather simple in its design and made to meet even the most demanding requirements. By combining sensitivity and precision, it makes up a perfect soil testing kit.
When the appliance is stuck into soil, it uses its very responsive rods to detect the actual acidity and moisture. It triggers the mechanisms embedded into the circuits to slowly and gradually show the changes that are happening below the soil level. All the information is displayed on the panel by moving the hand within the red-blue spectrum.
The body is made of highly resilient plastic that provides durability and water-resistance to the whole device. Make sure to change the mode on the panel. This way, you will receive the most accurate measurements.

---
.

PROS:
Simplistic;
No battery;
No manual is required;
Works under any weather conditions.
CONS:
Needs switching between the modes.
7. Environmental Concepts Soil Test Kit — Handy Soil Analyzers for Indoor Use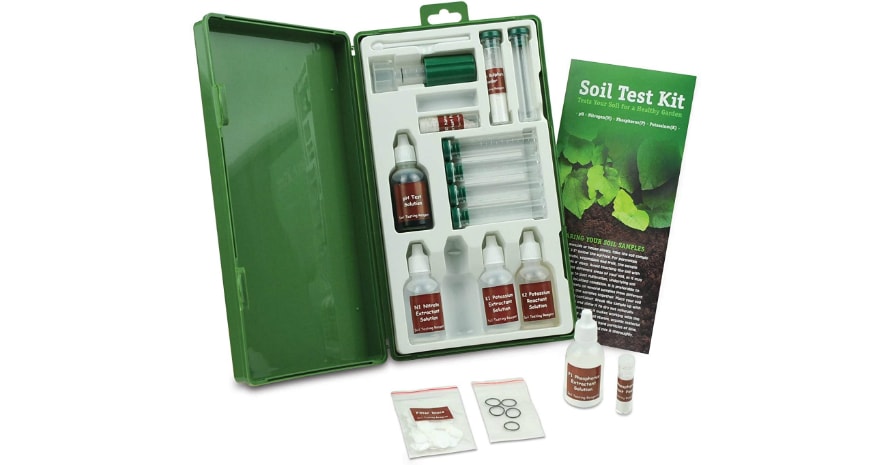 One more great way to test your soil manually is to use this Environmental Concepts Kit. It ensures a full range of probes and tests to nutrient-prove your ground for cannabis. Here, you can opt between choosing a small and a larger package, depending on your needs.
Use the probes to find out how acidic your soil is as a means of preventing high levels of pH. Also, utilize nitrogen and phosphorus testers to determine if your plant receives enough nutrients for prolific growth. The same applies to the moisture-level testers to ensure that the plant doesn't soak in water.
As a lead soil test kit, the product is meant for multiple uses. There are more than 6 dozen probes for various measurements. They can come in handy both for routine checks and thorough fertility examinations.

---
.

PROS:
No chemicals;
Simple to use;
Instructions included;
Accessible hot-line support.
CONS:
Takes time for the samples to dry before testing.
Buyer's Guide – It's More Than Just Growing, It's Caring
Apart from buying a ready water-chemistry kit, you need to know some principles on which testing is done. This includes a whole variety of characteristics that make up a good-quality tester. Before getting ahead of myself, let me introduce to you a few main types of kits that you can choose from.
Types of soil test kits:
Automatic. This device offers a fast and reliable reading of your soil indexes. It doesn't require any power input or battery and is activated by being placed in the deep soil.
Water chemistry. Used for professional and thorough checks, the kit is great for people who have profound experience in soil testing.
Digital. New and fresh, such appliances connect the tester to a real-time smartphone app. Thus, keeping you updated on the changes happening in the soil.
Electric. Offering a large array of functions, you can conduct various tests of the nutrients, acidity, and moisture. However, the device is dependent on the power supply.
Things to consider before buying a soil test kit
Though soil analyzers provide prompt results, no questions asked, it's advisable to know their basic features and needs. This will help you make the most out of your tester without it losing its quality and timely results. Let's take a look at some of them to consider when buying a kit.
Monitored characteristics
Modern kits aren't limited to detecting one or two measurements but offer multiple readings. When looking for a good, quality product, mind that the best soil tester isn't the one that deals well with moisture or acidity. Also, reliable testers will always have clear, simplified indexes and control panels. Such devices can use the red-green-blue spectrum to identify the readings.
Measurement accuracy
Depending on the type of your kit, the precision with which a tester works may rely on a variety of circumstances. For instance, a water-chemistry kit is highly dependent on the chemicals' quality and the state of the soil. Similarly, an automatic or digital appliance is better calibrated when it's still and inserted deeply into the soil.
If you're looking for a tester with high accuracy, you might want to consider buying an electric one. It might be a little complicated to use at first. But it provides extremely precise measurements.
Durability
Again, varying from a product to a product, the durability of a kit depends on the core materials. Automatic appliances are normally made of hardened plastic to repel water and the wind. Whereas the rods are designed with stainless steel to prevent corrosion. In case you're worried about a kit's longevity, make sure that it's made to be water-proof and do well with temperature fluctuations.
FAQs
Should you have some more questions left, let me answer some of them for you right away.
How to use soil test kits?
If it's a device, then insert your product into the soil next to the cannabis. Make sure that the rodes reach the lower layers to have better access to nutrients. Next, take a look at the panel to see the data.
What pH level is the best for cannabis?
There is no 'best' pH level to maintain for your pot patch because the plant may require different permutations depending on its needs. However, the advisable level of acidity is around 6.5 units.
What nutrients should I monitor?
Plants, especially cannabis, can be whimsy fellows. But they are highly sensitive to the levels of N, P, and K because their growth depends on the sufficiency of the three.
How often should I test my soil?
It's recommended to conduct soil tests every couple of years (2-3). On the other hand, if you see there is a decline in fertility or sudden withering, then you should do it at least each half a year.
Soil Testing as Preventative Care for Your Cannabis
As you can see, the market offers quite a few options to test your soil for acidity, nutrients, and many other indexes. Watch them well, and the plant will pay back greatly. To ensure that your soil is strong and nourishing enough to withstand different weather conditions, use a soil tester.
All in all, I've done my best to suggest a few test kits that do work. Now, it's your turn to decide which suits you best. What do you think? Would you rather use a water-chemistry kit or a simple automatic tester? Share your opinion down below!