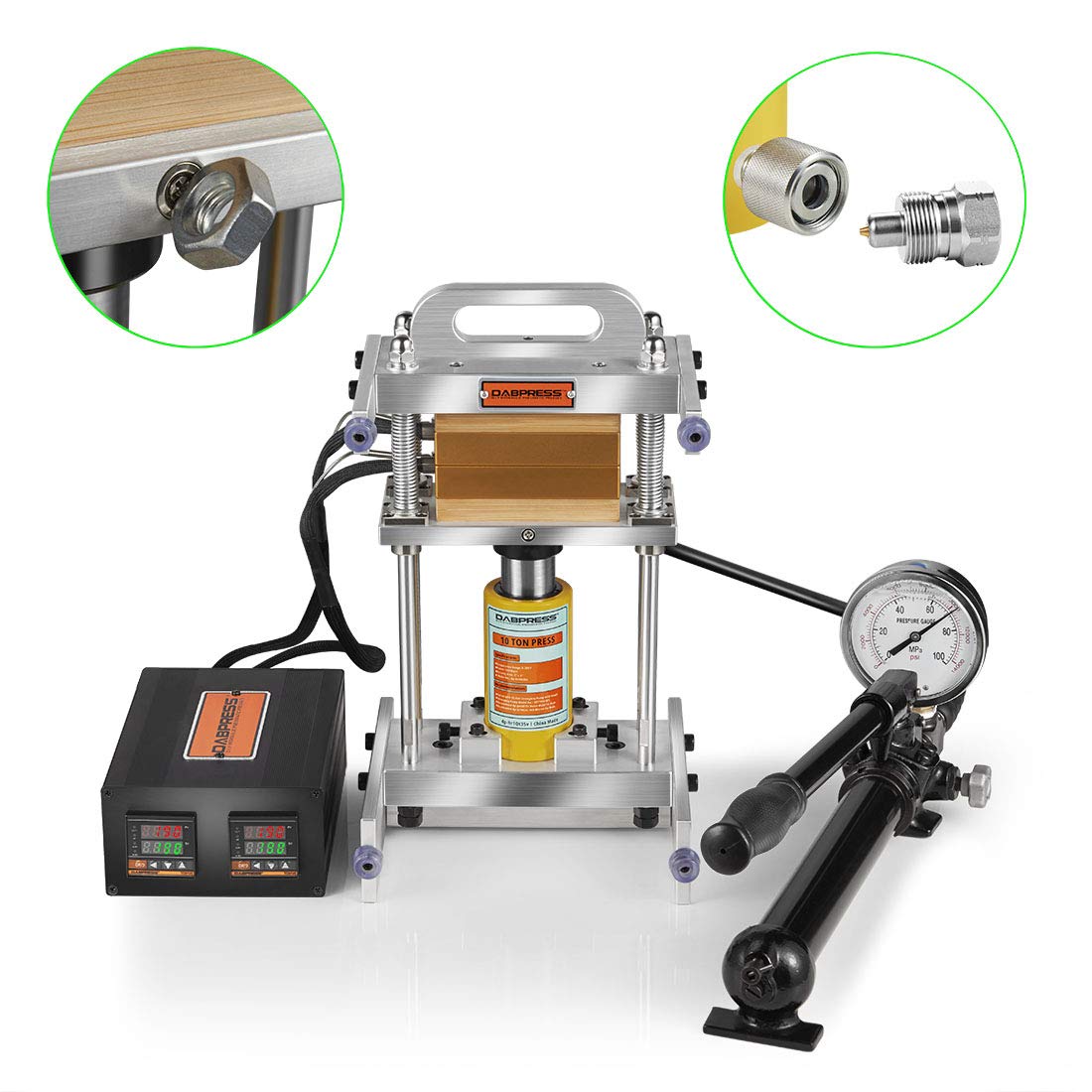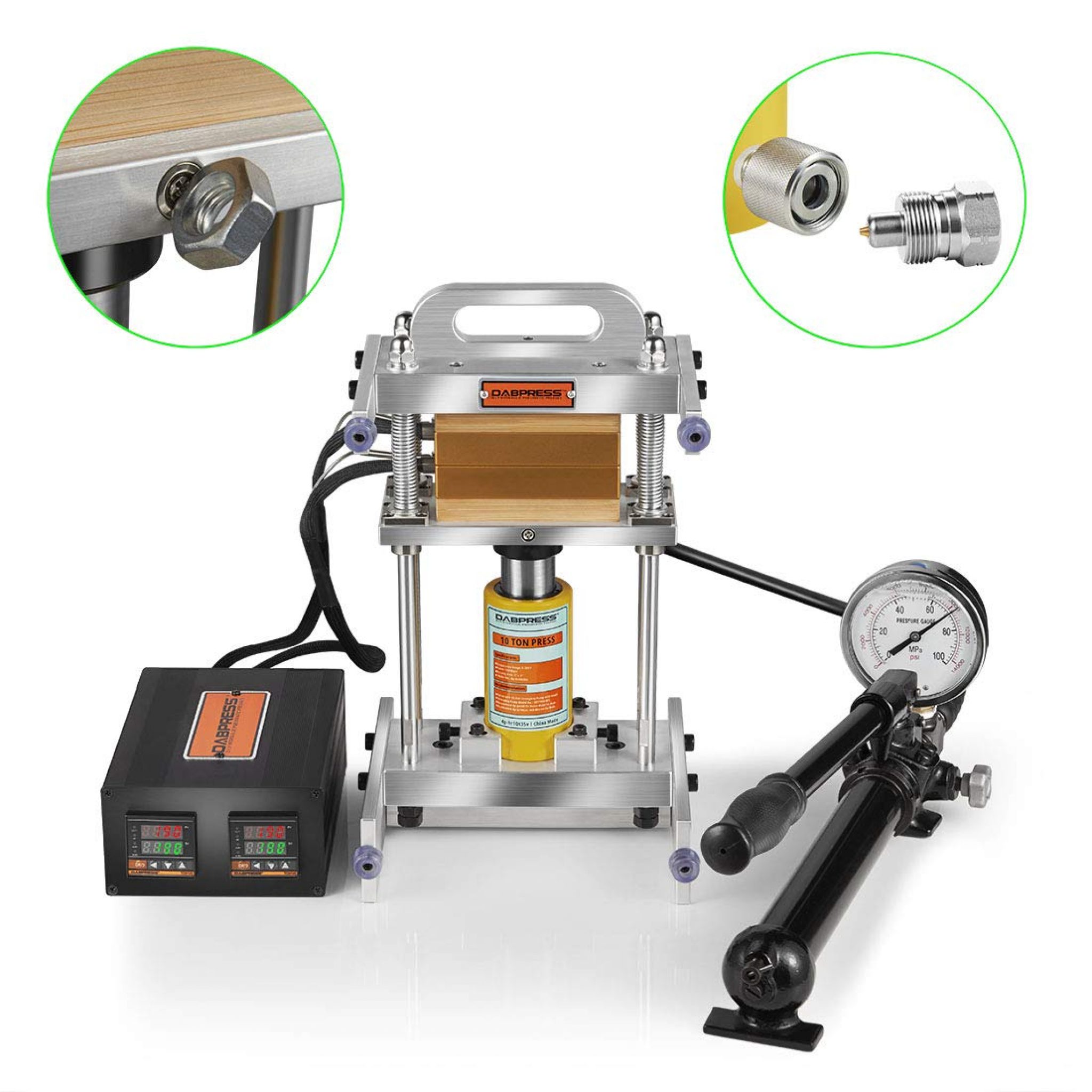 Top 6 Best Rosin Presses: What Works Best in 2023
It is almost impossible to pick one model that will fit all the requirements because of the variety of types of rosin presses available on the market. Each one can perform a different role.
Many factors should determine your pick, besides the price of the item. However, the cost remains an important characteristic. That's why here, you can find the best rosin presses for 1000 dollars, besides other options. Also, it is important to consider the pressure provided and the size of the device.
Pros
The plates distribute heat evenly.
Top Pick
Pros
The plates distribute heat evenly.
Below, I have reviewed some durable models to make it easier for you to select the right item. So, if you're looking for value for money, durability, functionality, and affordability, then you'll surely find such a device in the list below.
1. MyPress Gen 2 – Topping the Best Rosin Presses for Rosin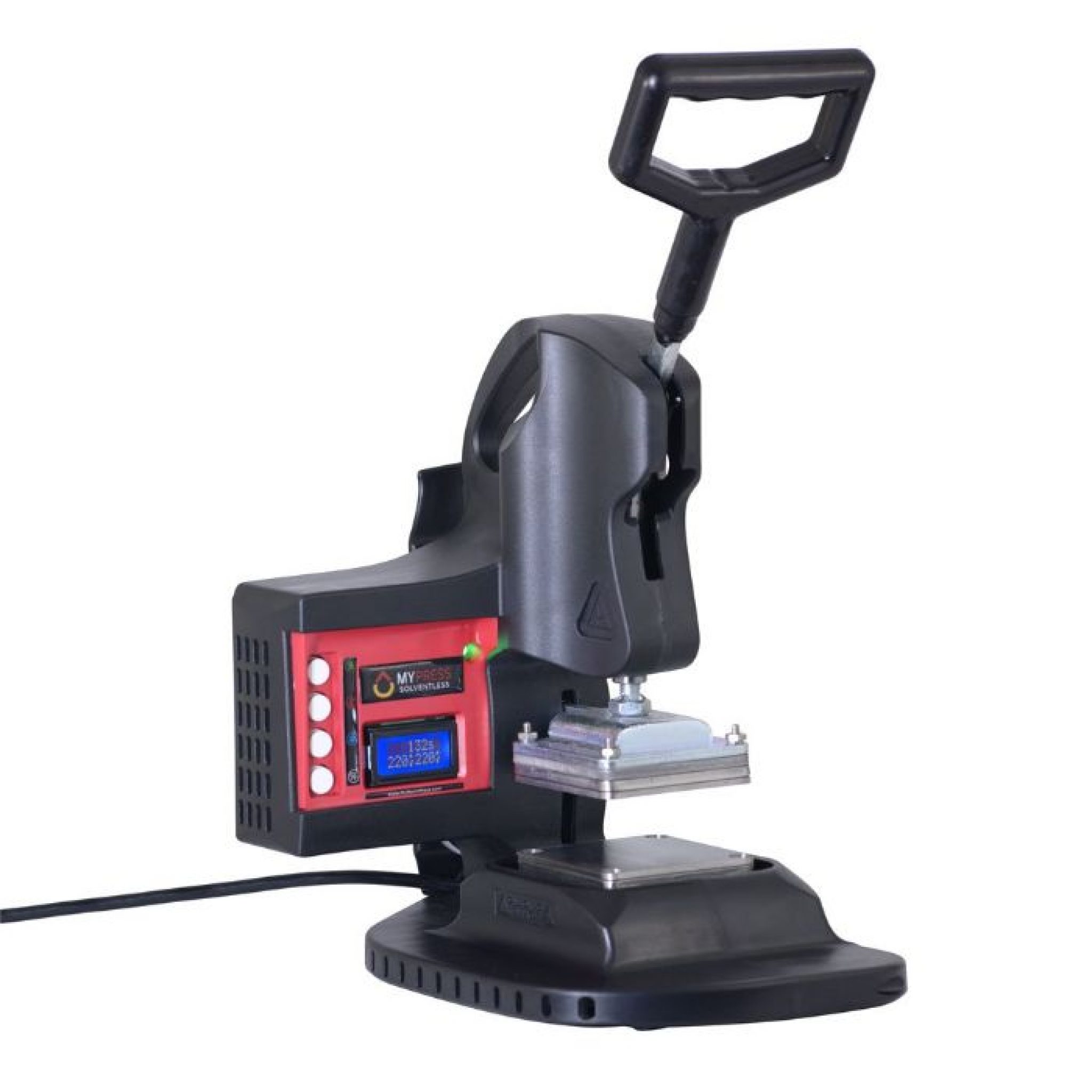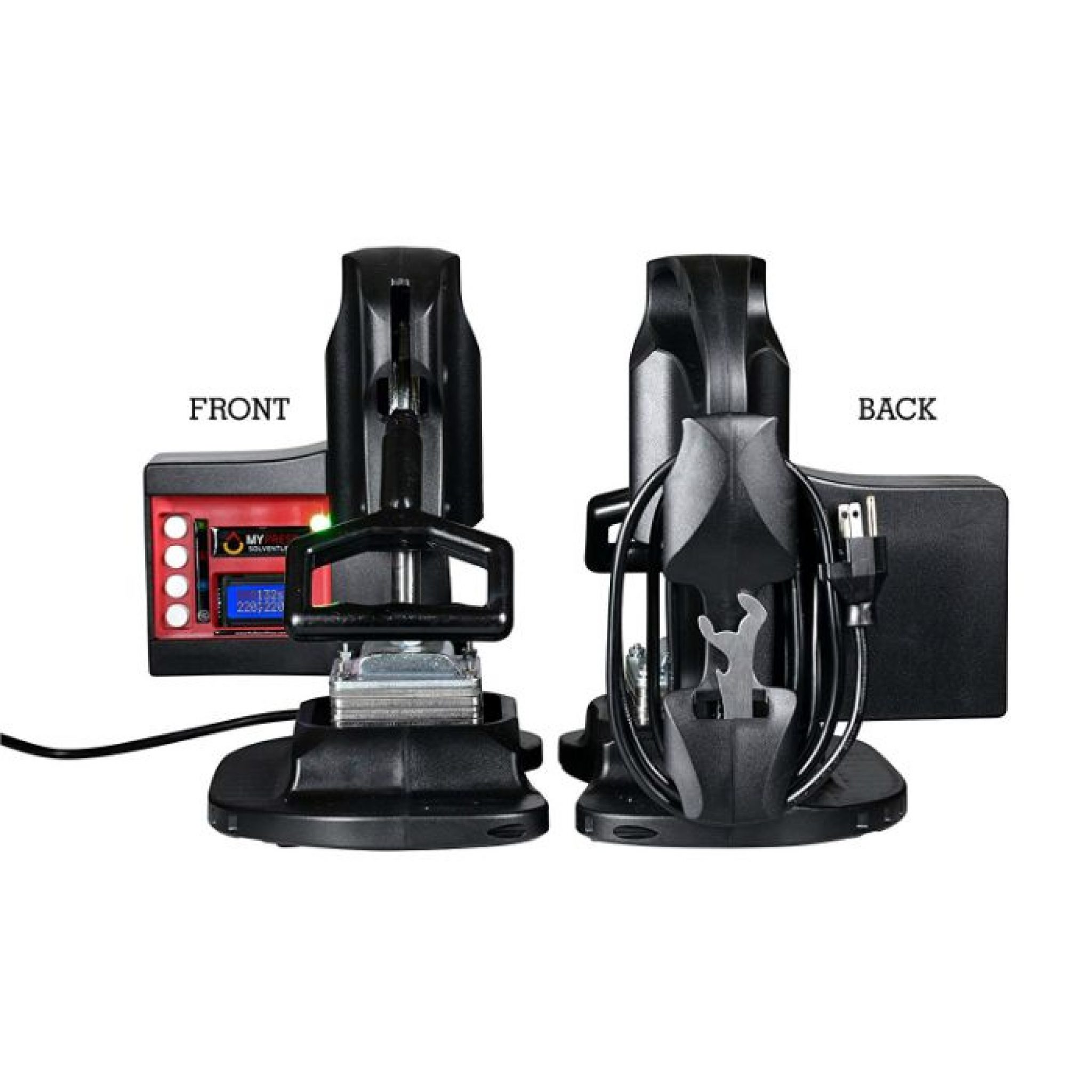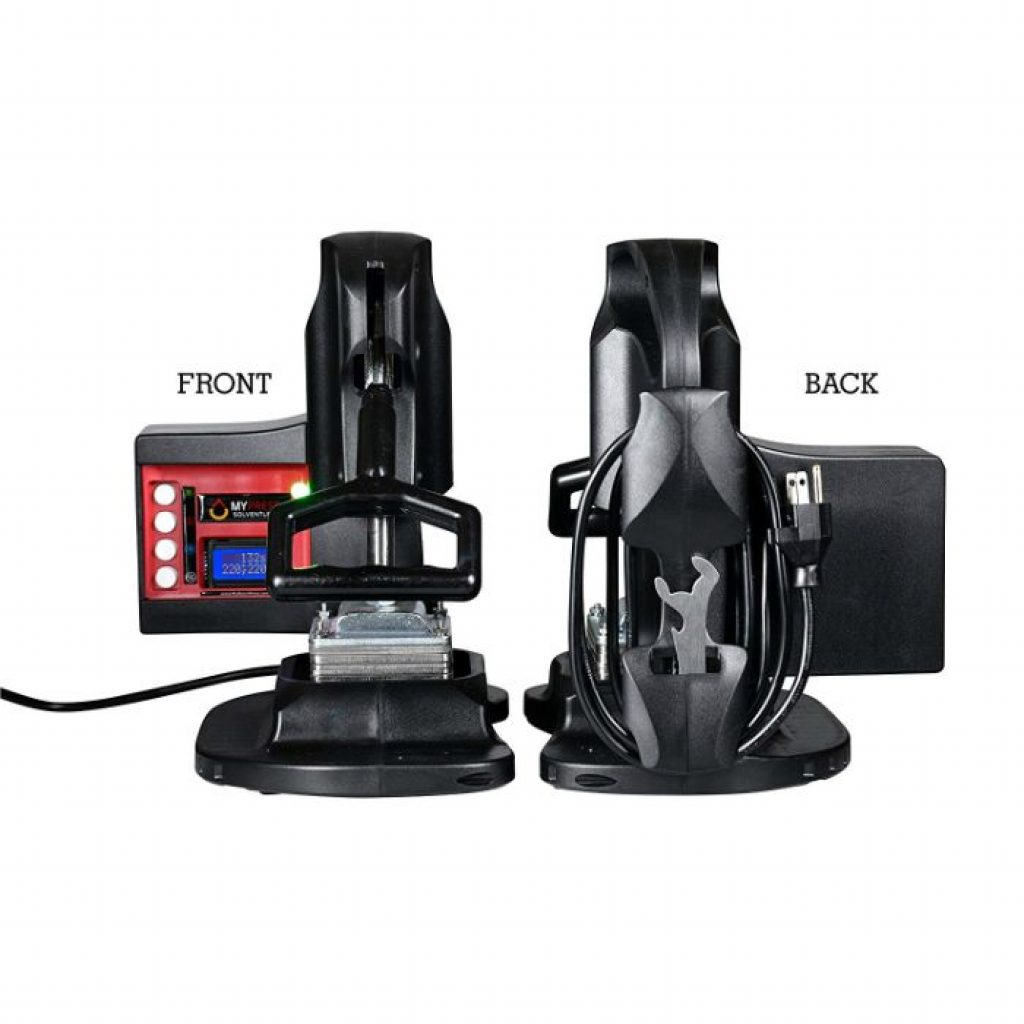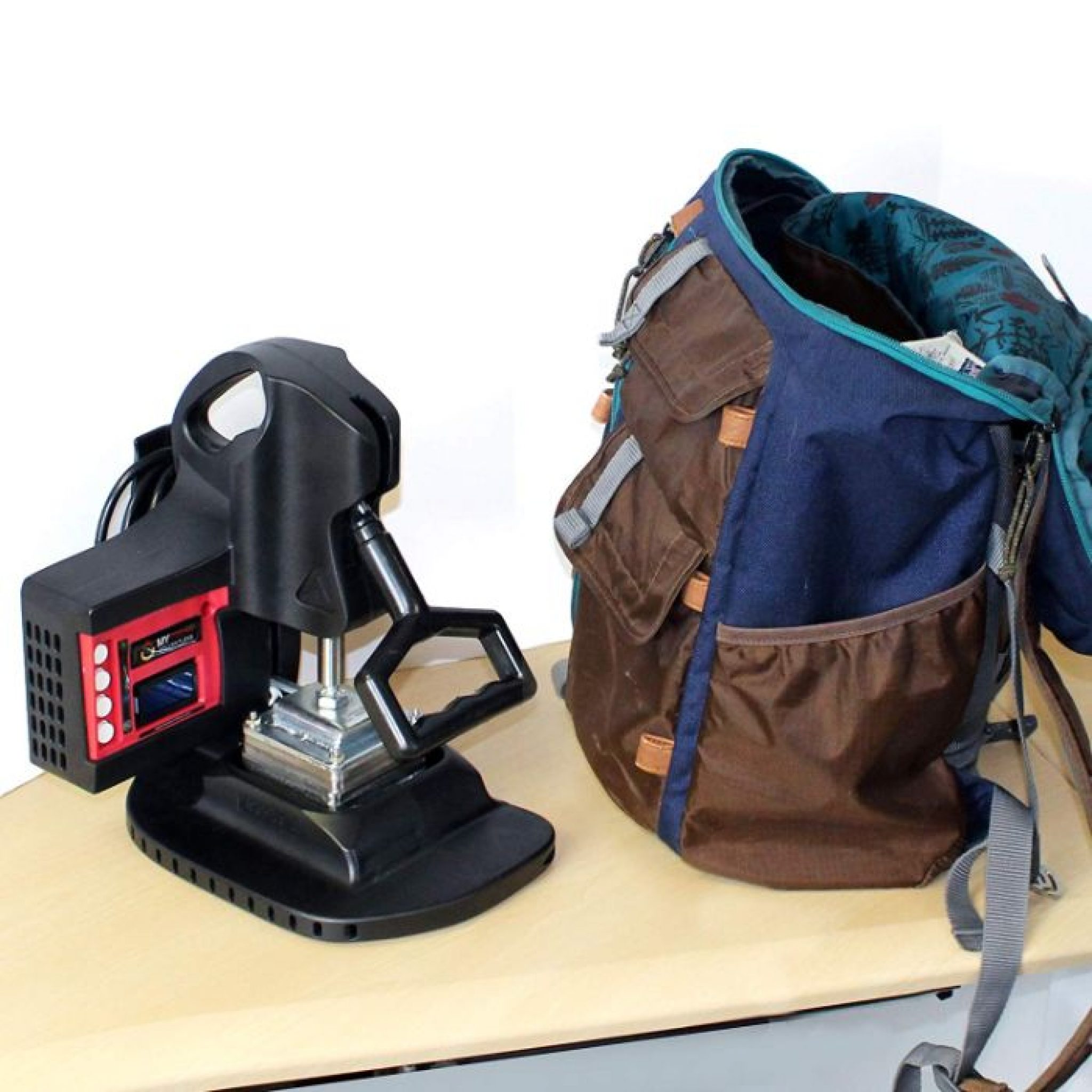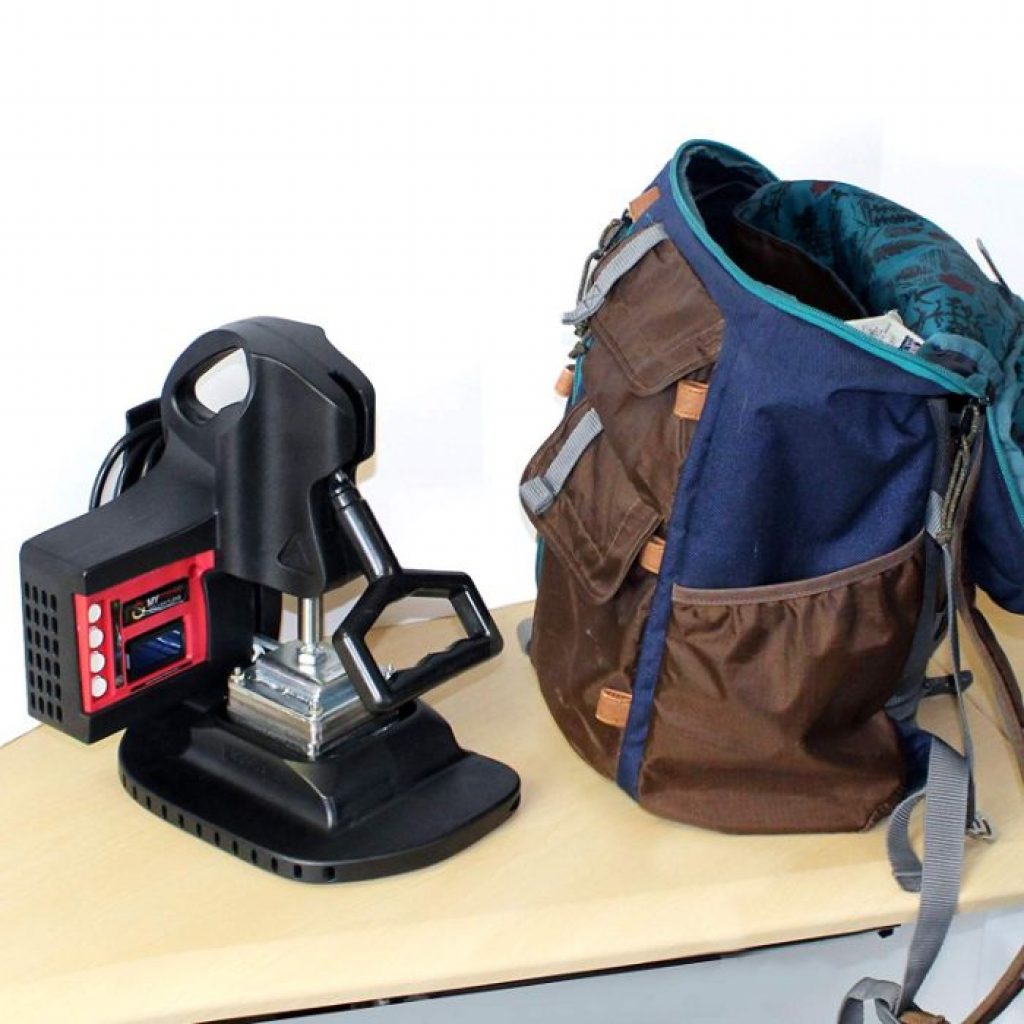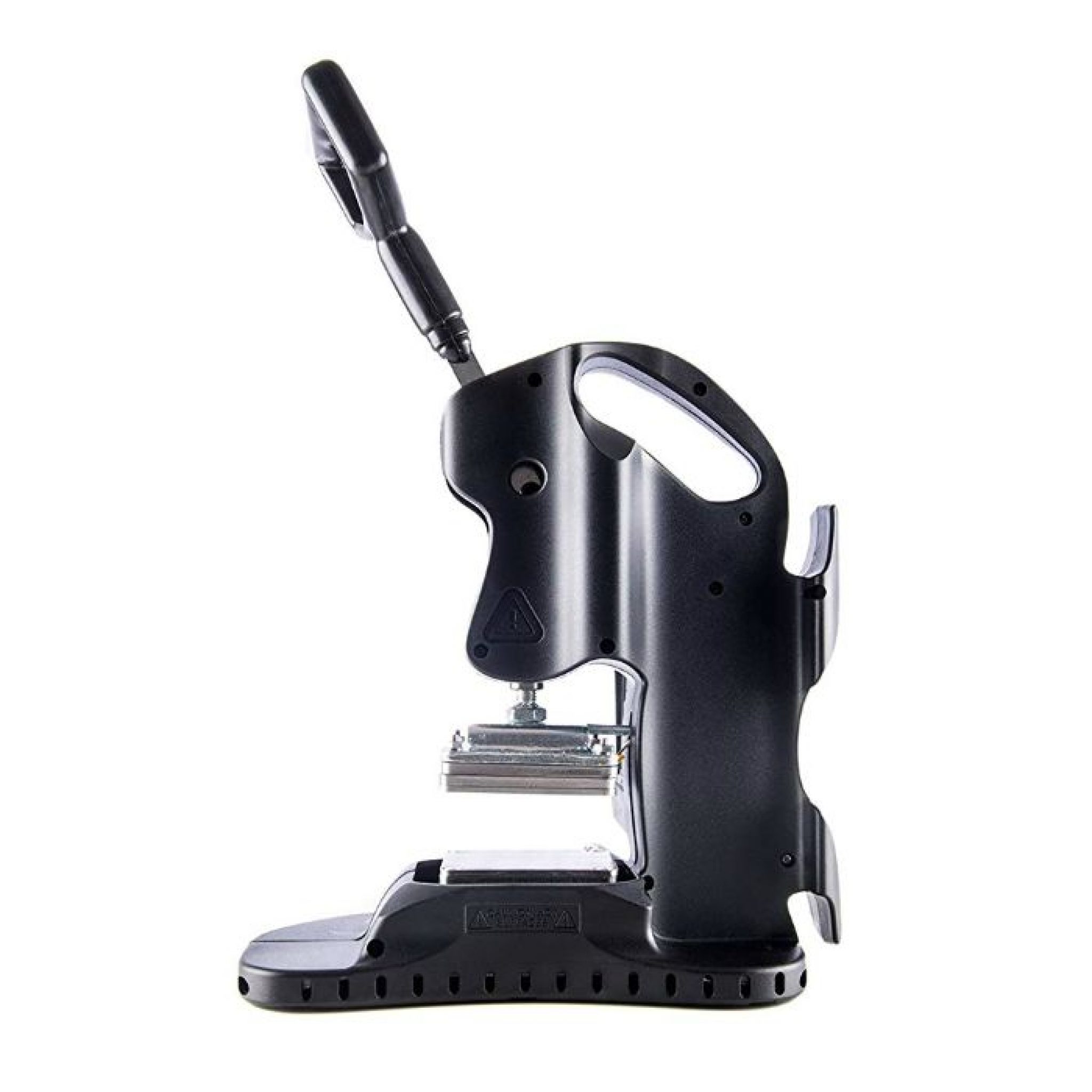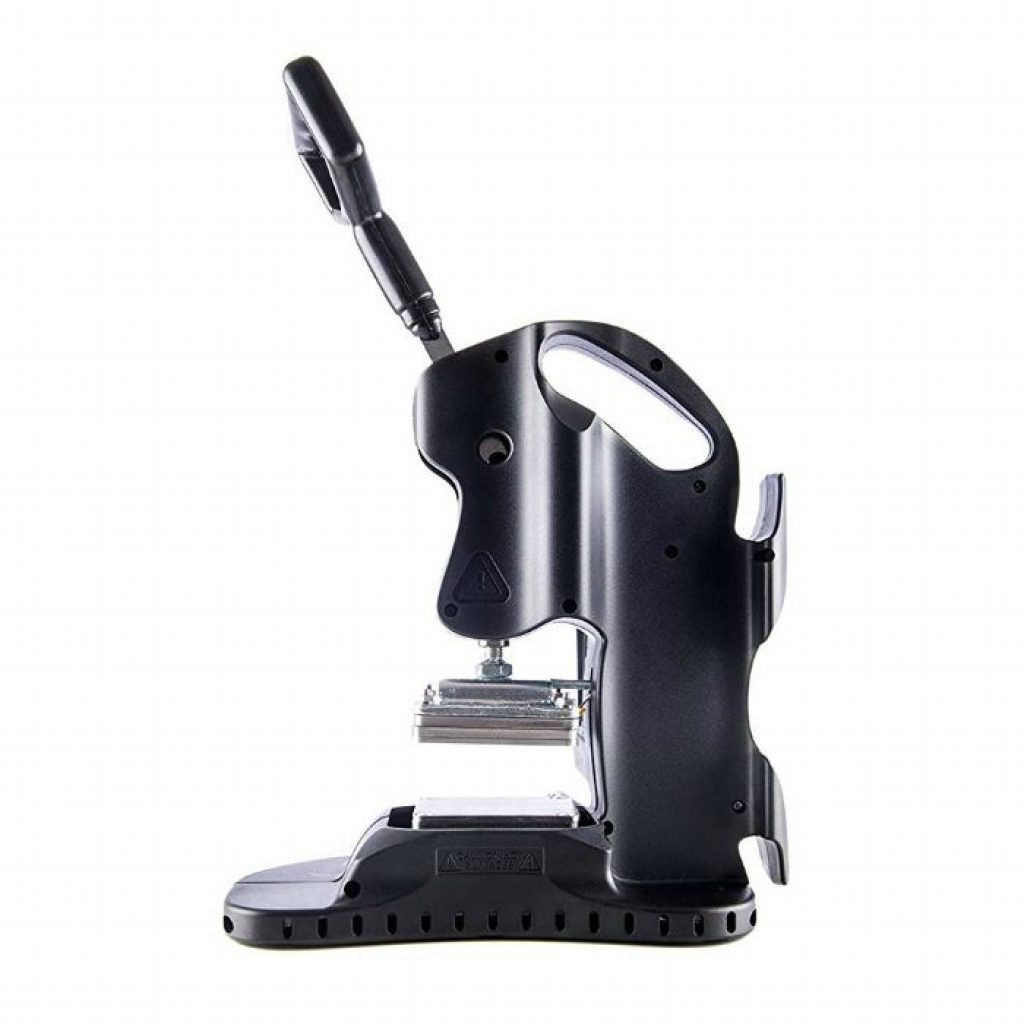 This rosin press is lightweight and, thus, portable. It can be a great option for personal use. The customized 3 by 3 inches model has Axiom plates made from stainless steel. They distribute heat evenly across the surface. Also, this model features an LCD with concise and helpful information displayed, and I like the clear layout of the buttons.
It is easy to conduct heat to these Axiom plates with temperatures ranging from 100 to 250 °F. Besides, the device is fitted with a count-up timer that, once the press is opened, stops counting. And then, once you close the appliance again, it restarts from zero. This feature allows the user to run the process smoothly and customize settings to get the best aromas or yield.
This option also allows keeping track of the ideal starting ingredients and recording particular results for later duplication. Although the ingredient's quality affects the result primarily, this model maximizes the potential of your material.
The device is easy to use, and you only need to apply a little force for closing and locking the plates. Simply set your equipment to the preferred temperature, close the plates, and that's it. If you make use of top-notch starting materials, this machine can reach even specific industry requirements.
This model has quite a variety of handy settings, and it is the best blend of power and durability you can possibly get on the market. This device has six tons of pressure, allowing you to get the maximum of the material.
However, I recommend you wait for approximately twenty to twenty-five minutes for the tool to heat up properly. Then, let the ingredients sit for a while after pressing. It is better to let the tool cool off for half an hour before you use it to get the next flavor.
This unit is ideal for DIY natural oils. Furthermore, it is small in size, even in comparison to the majority of home coffee makers. This MyPress model comes with a sleek design, meaning it can be comfortably placed anywhere.
You can fix the power cord on the unit's back for safe and smooth transporting or storing. There is no need for heavy hand pumps or loud air compressors when working with this press since this device runs quietly and needs less effort to operate compared to similar models available.
---
PROS:
easy setup;
operates silently;
the temperature is easy to control;
maximization of yields;
compact, thus, can be stored anywhere.
CONS:
needs extra precaution while handling;
a bit expensive.
2. Ton Starter Rosin Press by DabPress – One of the Best Rosin Presses Cannabis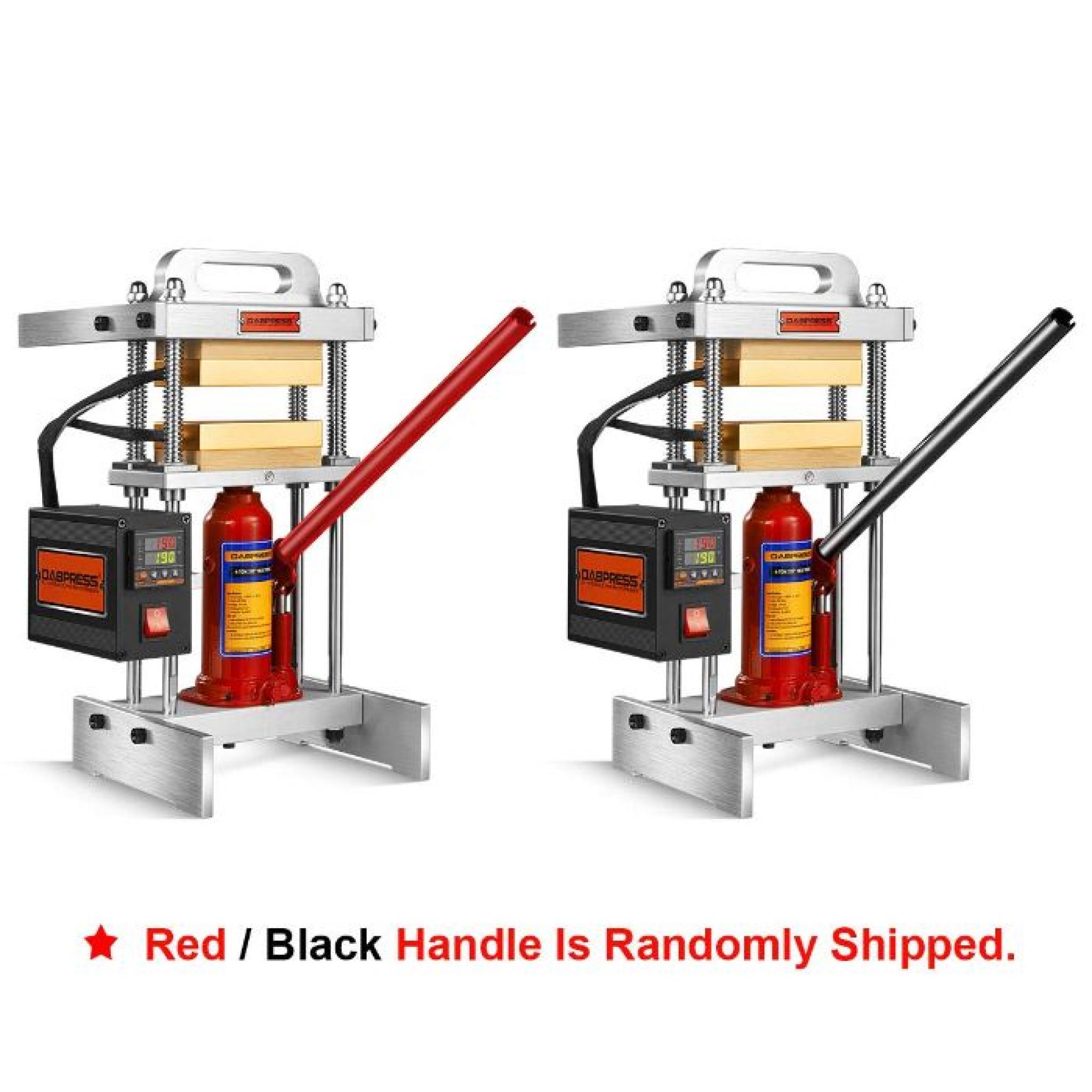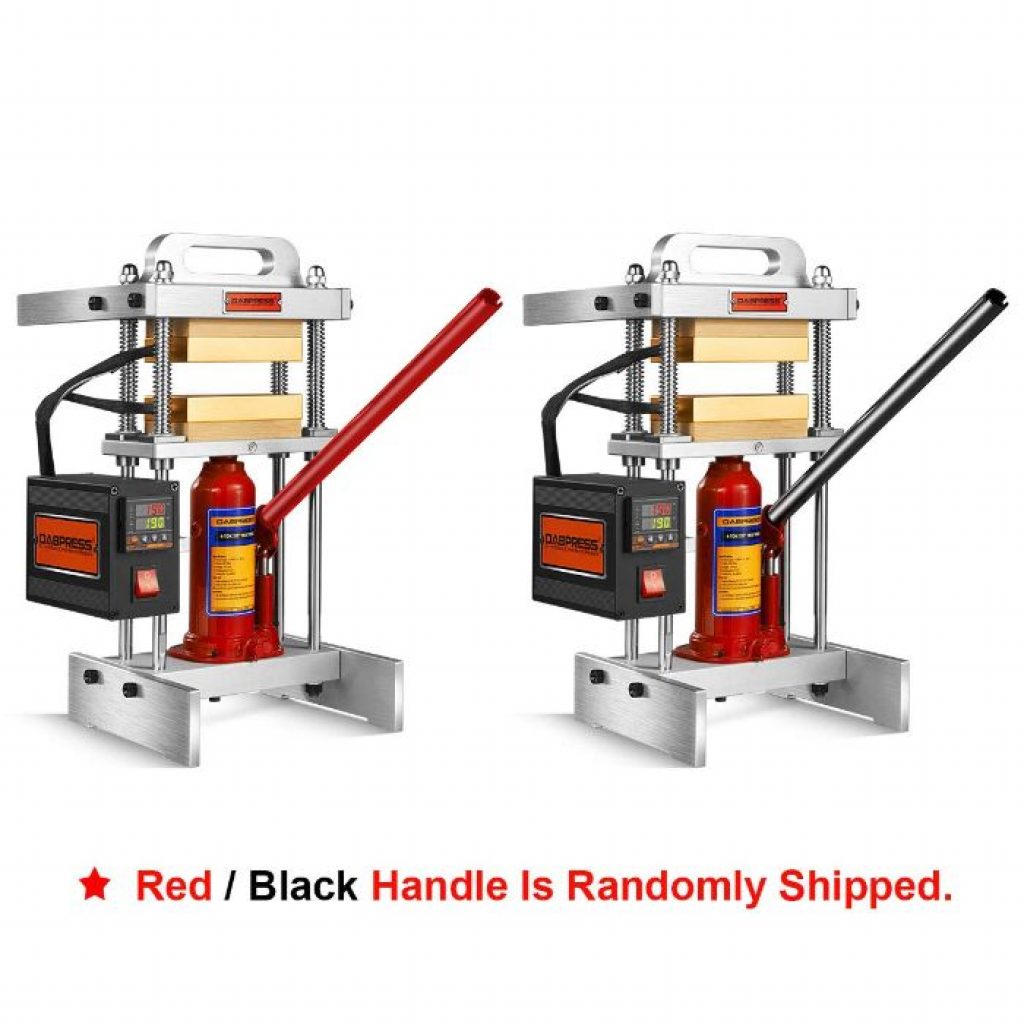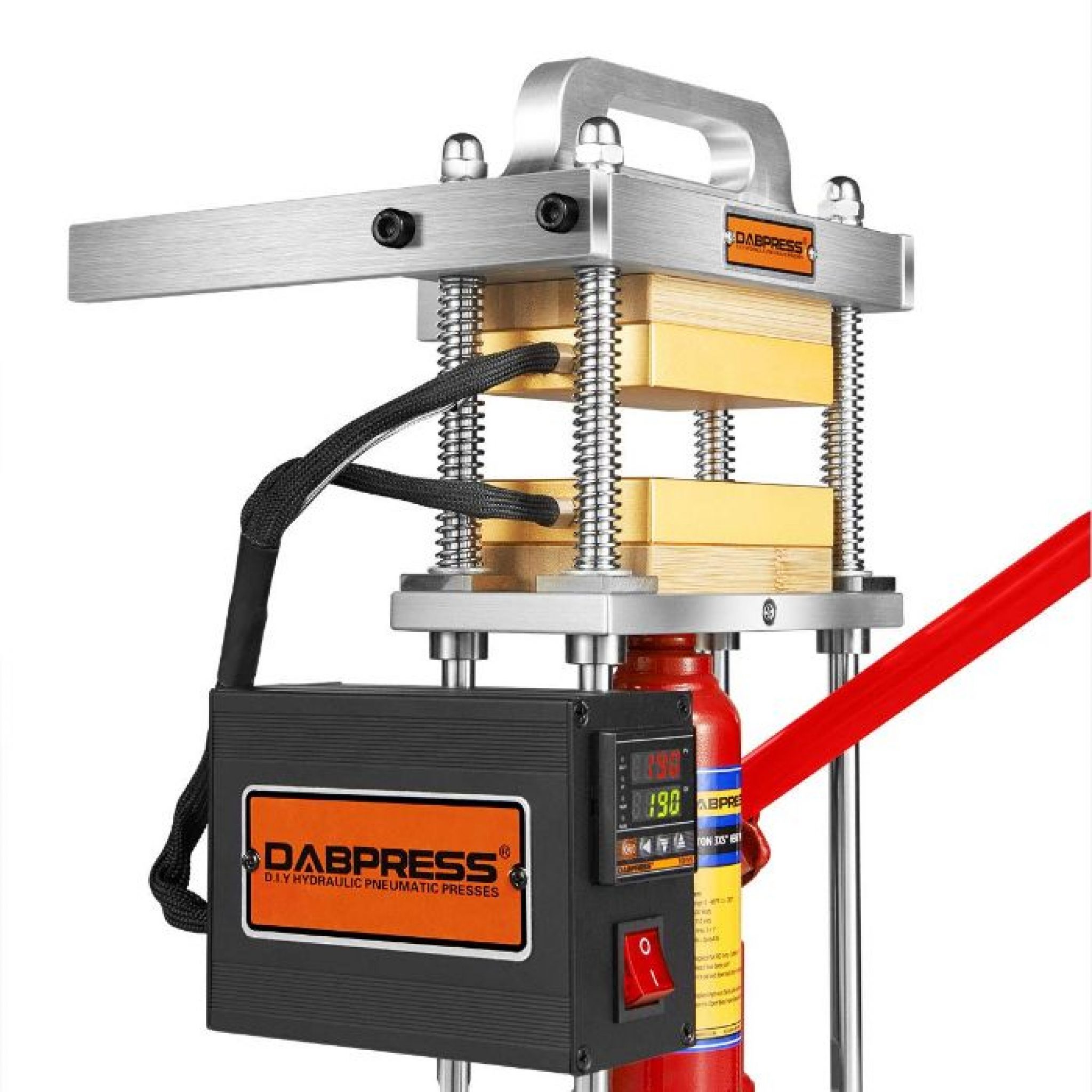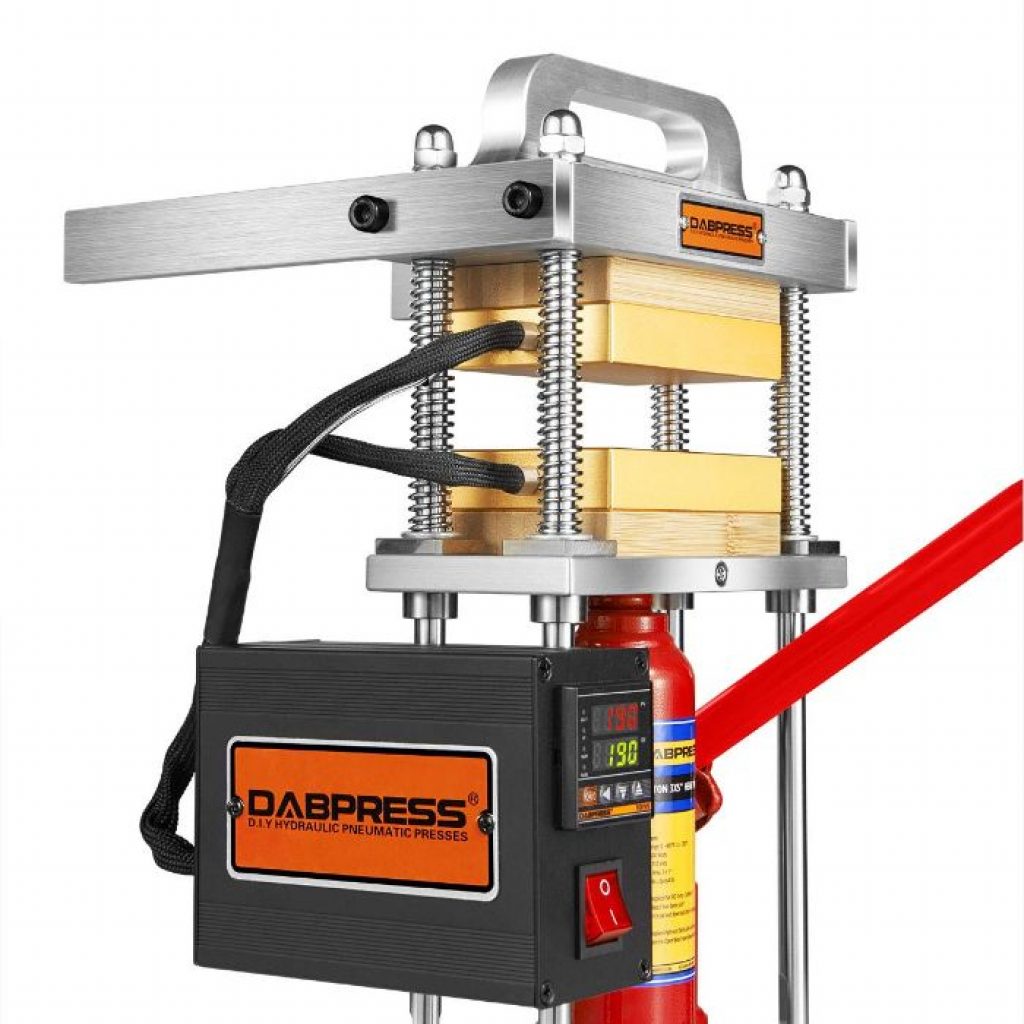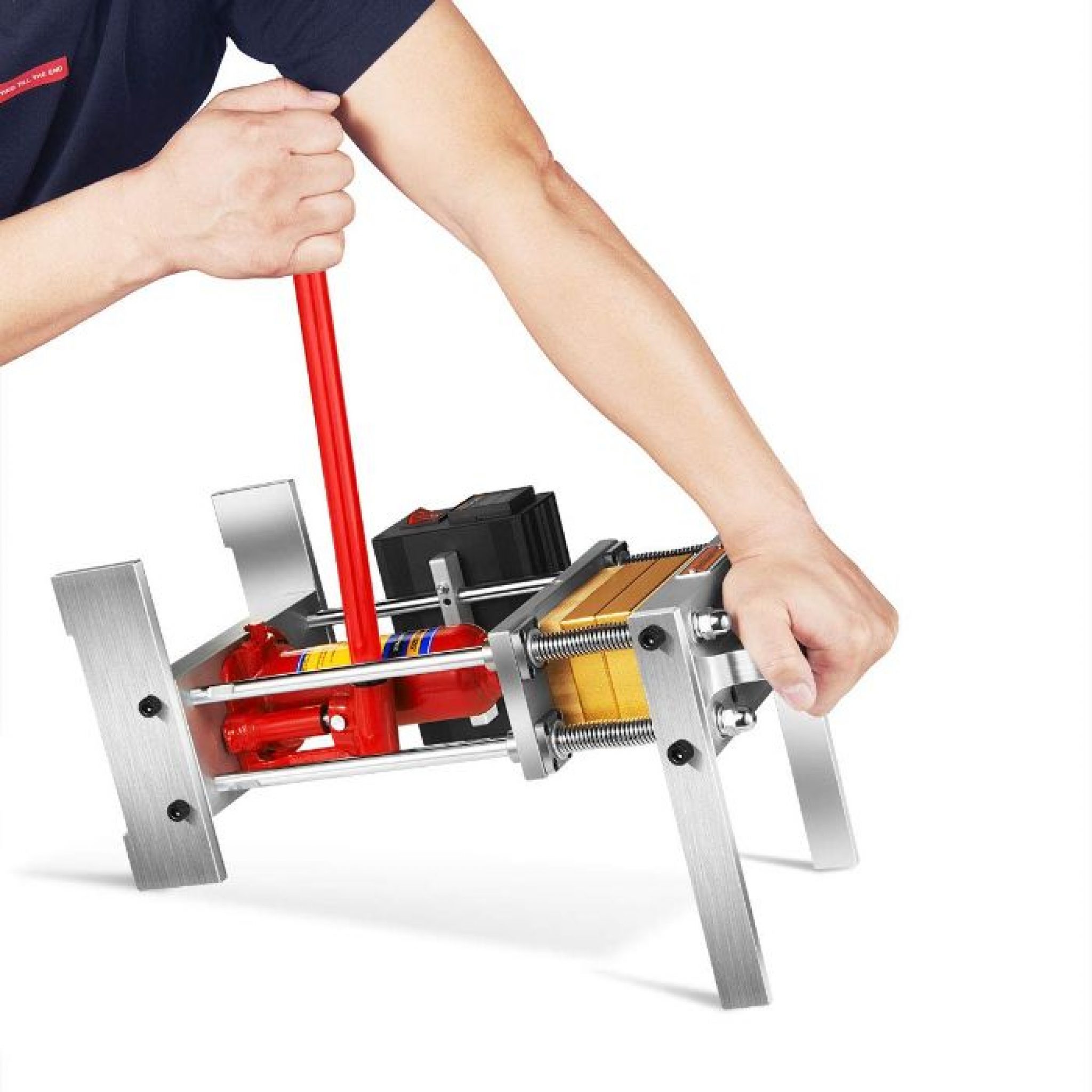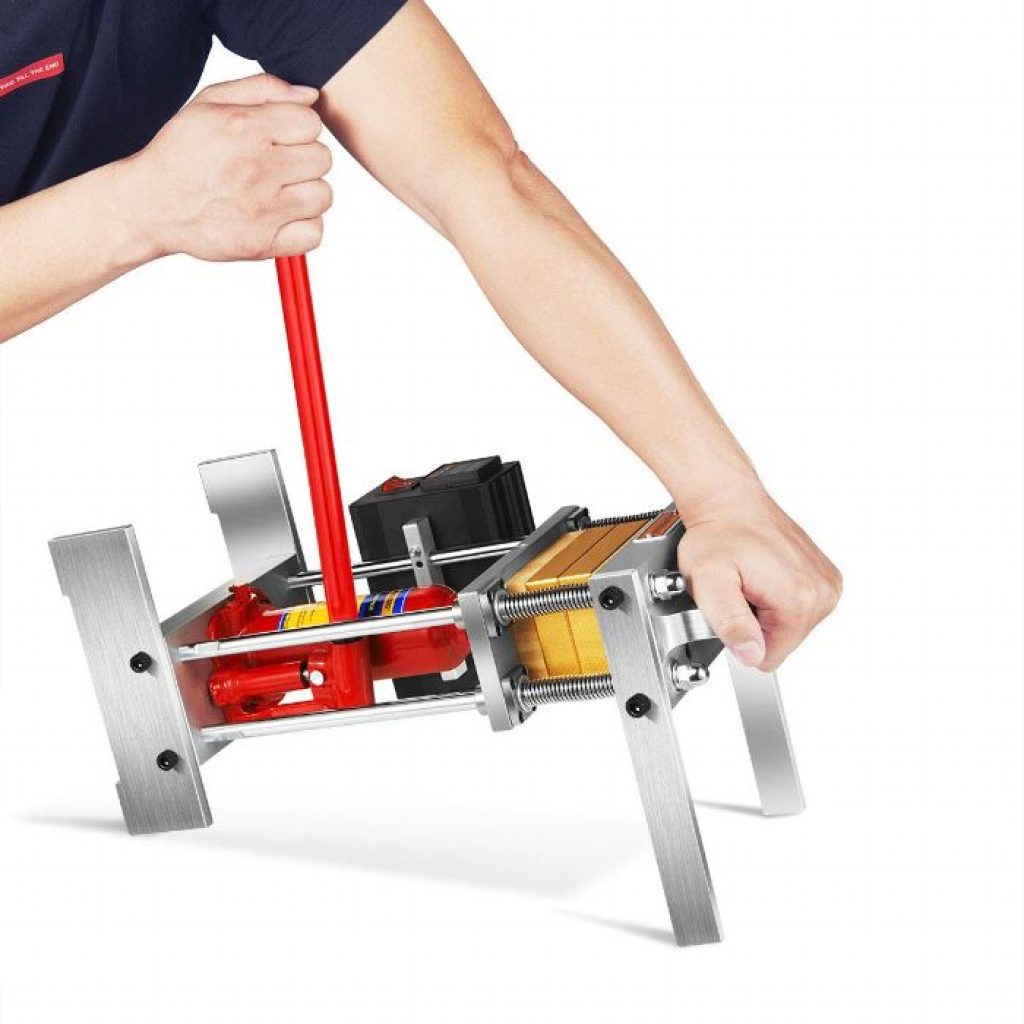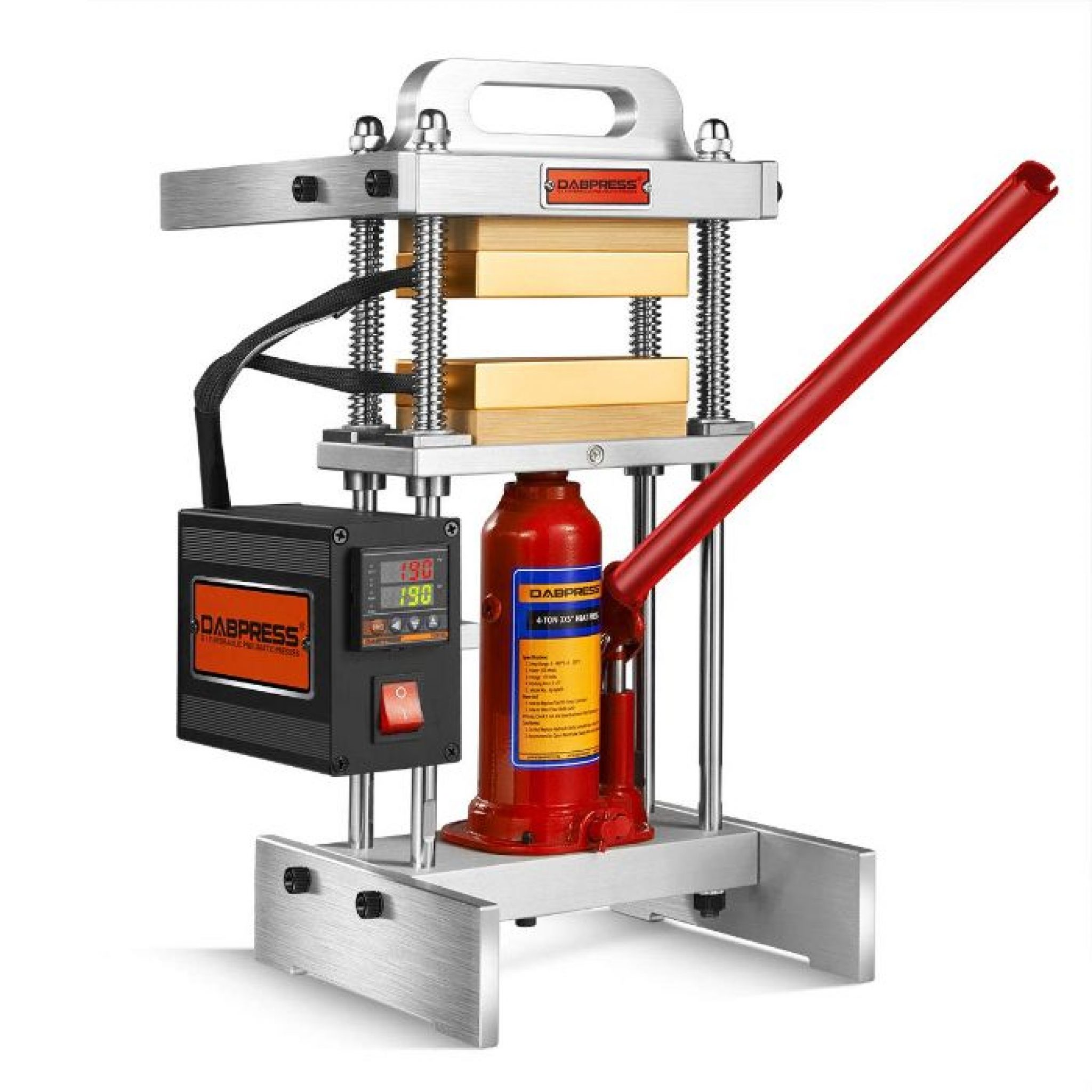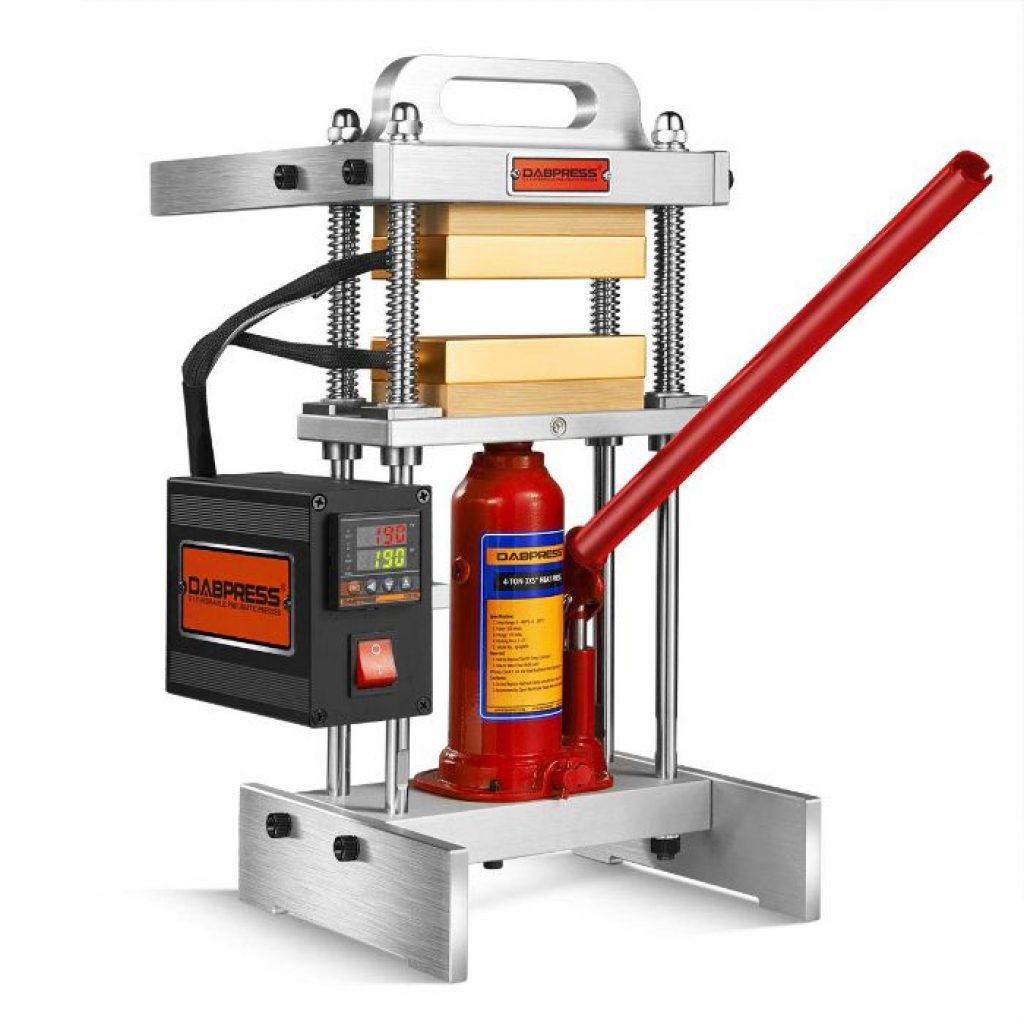 This press comes with 3 by 5 inches' anodized heated platens. They are best for squeezing roughly seven to ten grams of the material. Besides, the appliance is easy to clean because of its aluminum-made details.
If you like vaping, then this model is your go-to rosin press. It is well-known for making the best flavors for vaping. The device has a high heat-insulating performance, so there is very low heat transferred. The item has a bamboo insulator that assures the fast heating-up, as well as the protection of the bottle jack from overheating.
This Ton Starter model comes with a durable and perfectly crafted frame made from anodized aluminum. Also, it features four chrome rods made of stainless steel. So, this model won't rust, and it is long-lasting.
It delivers an optimal pressure of over 1,000 PSI since it pairs well with the rosin filter and the cylindrical pre-press mold. This device can operate within a temperature range of 0 to 399 °F, a voltage of 110 or 220V, a power of 500W, and it weighs roughly 31.5 pounds.
You can easily replace the bottle jack to achieve an extended service life of the press. If your bottle jack can't hold pressure, you need to rotate the safety valve concealed by a red cap on the detail. To alter the pressure, remove the red lid and turn your safety valve clockwise at an angle of 90 to 180 degrees. Don't make any adjustments if it works fine since it could result in the leakage of fluid.
---
PROS:
comes with a clearance to prevent scratching;
best for vaping;
easy to clean;
durable.
3. 3×5 DIY Caged Rosin Press Kit – Among the Best Rosin Presses Marijuana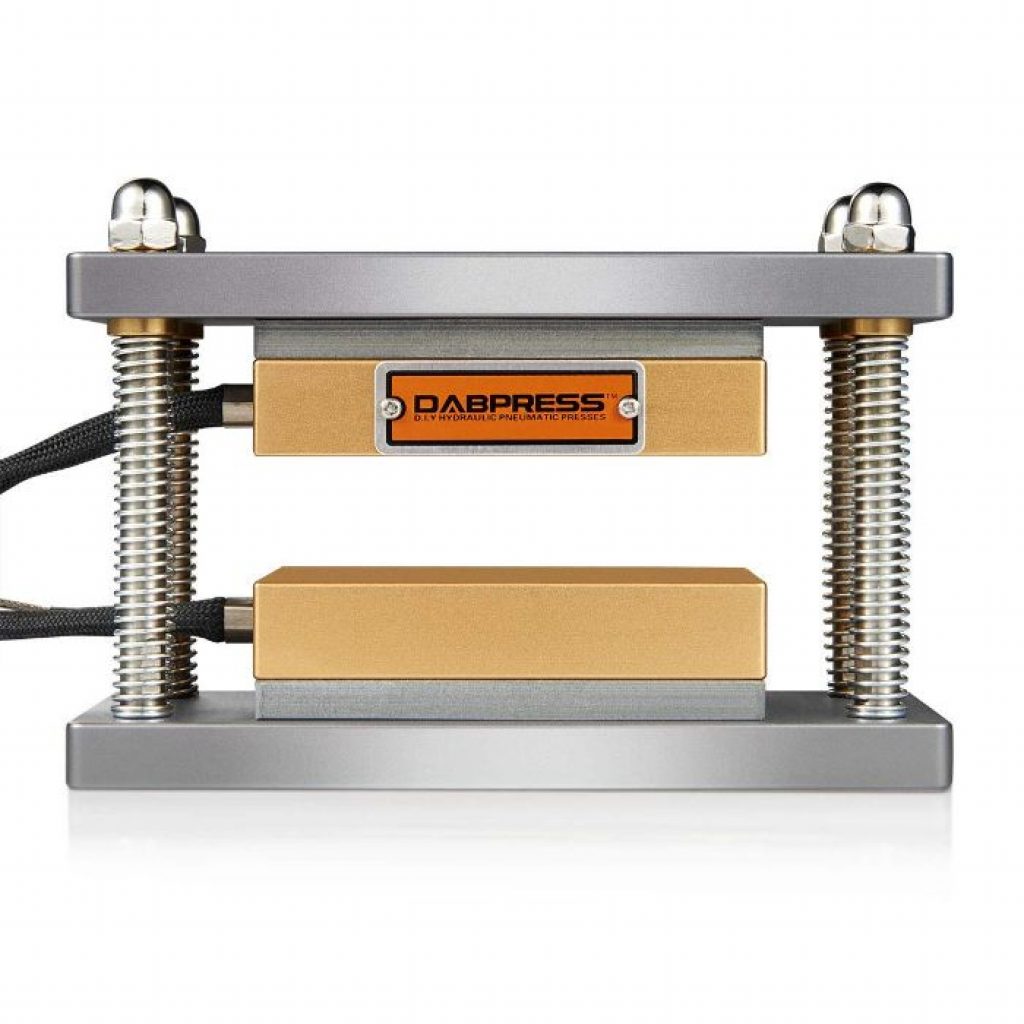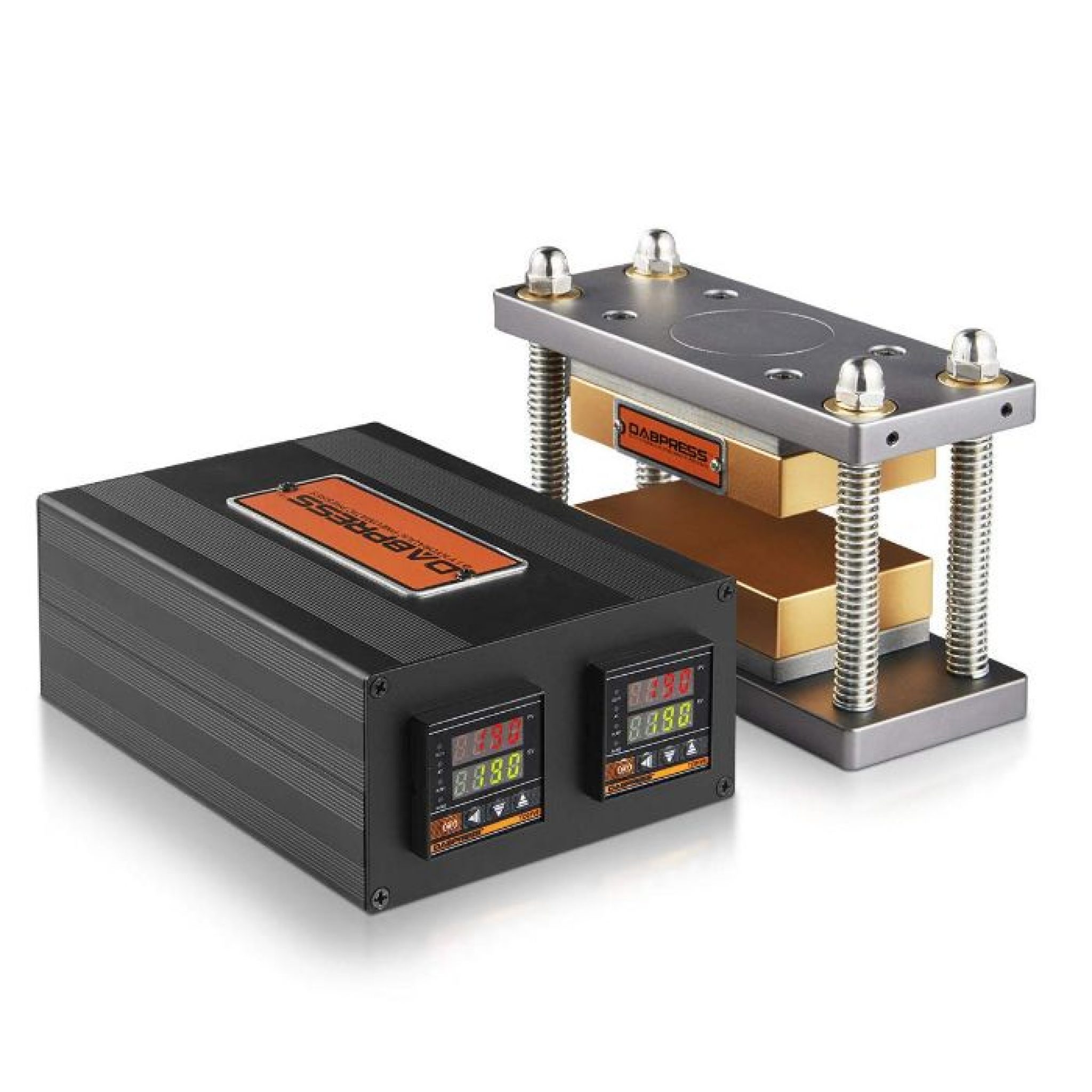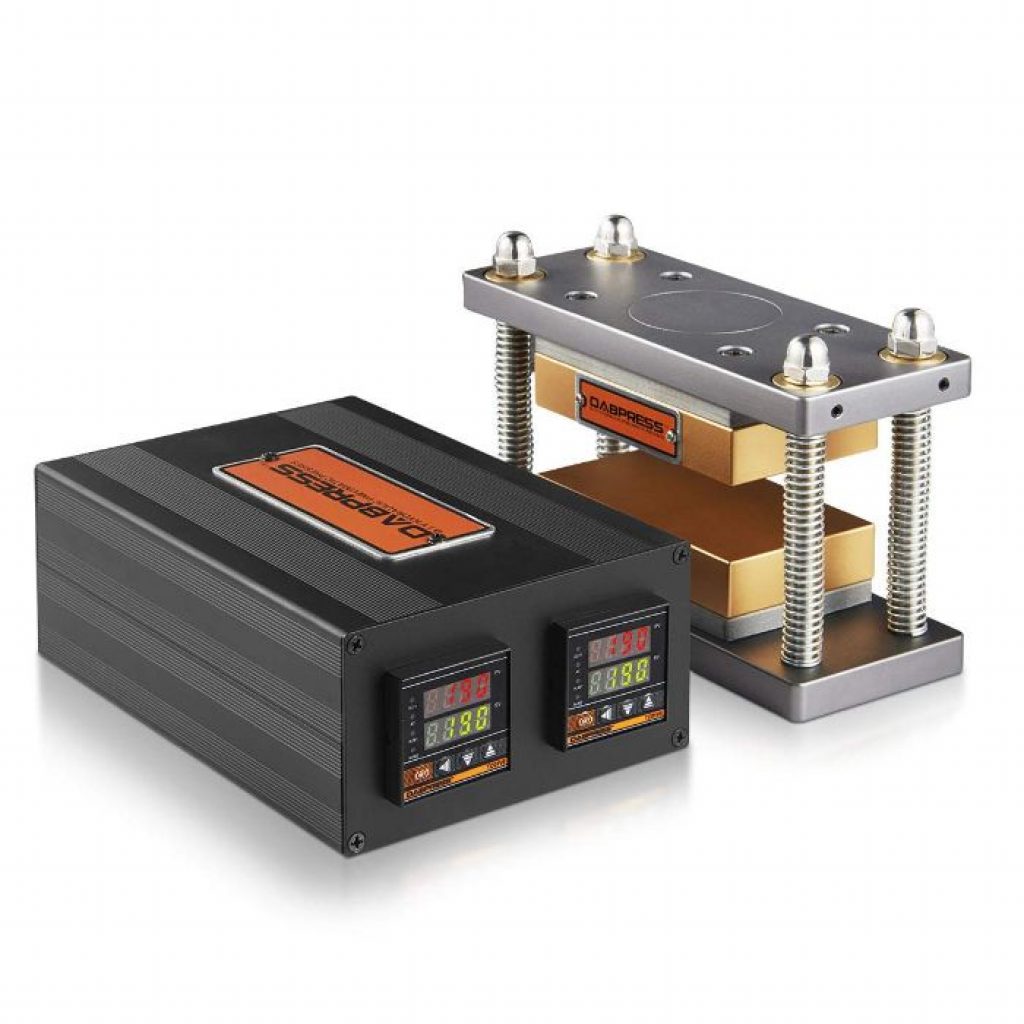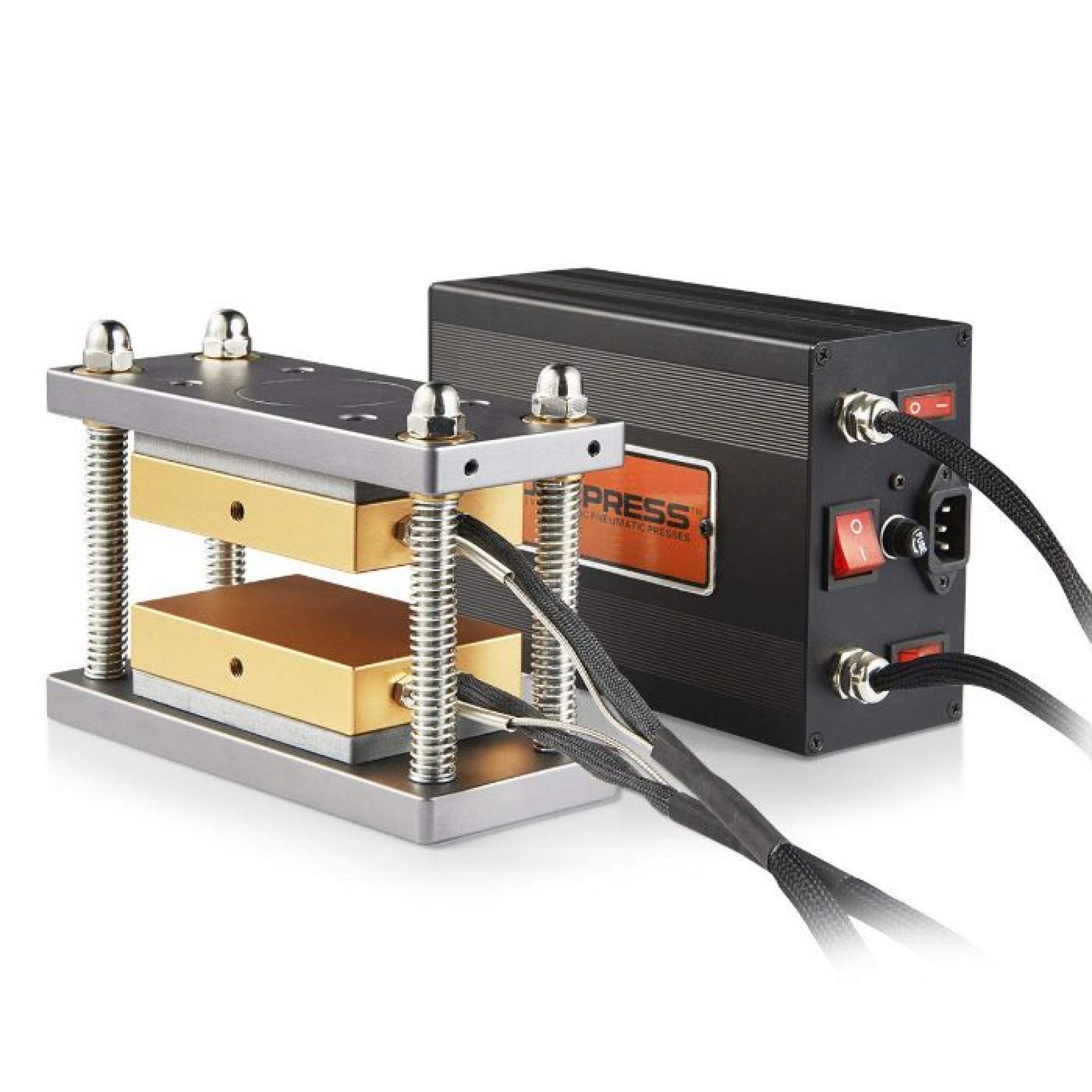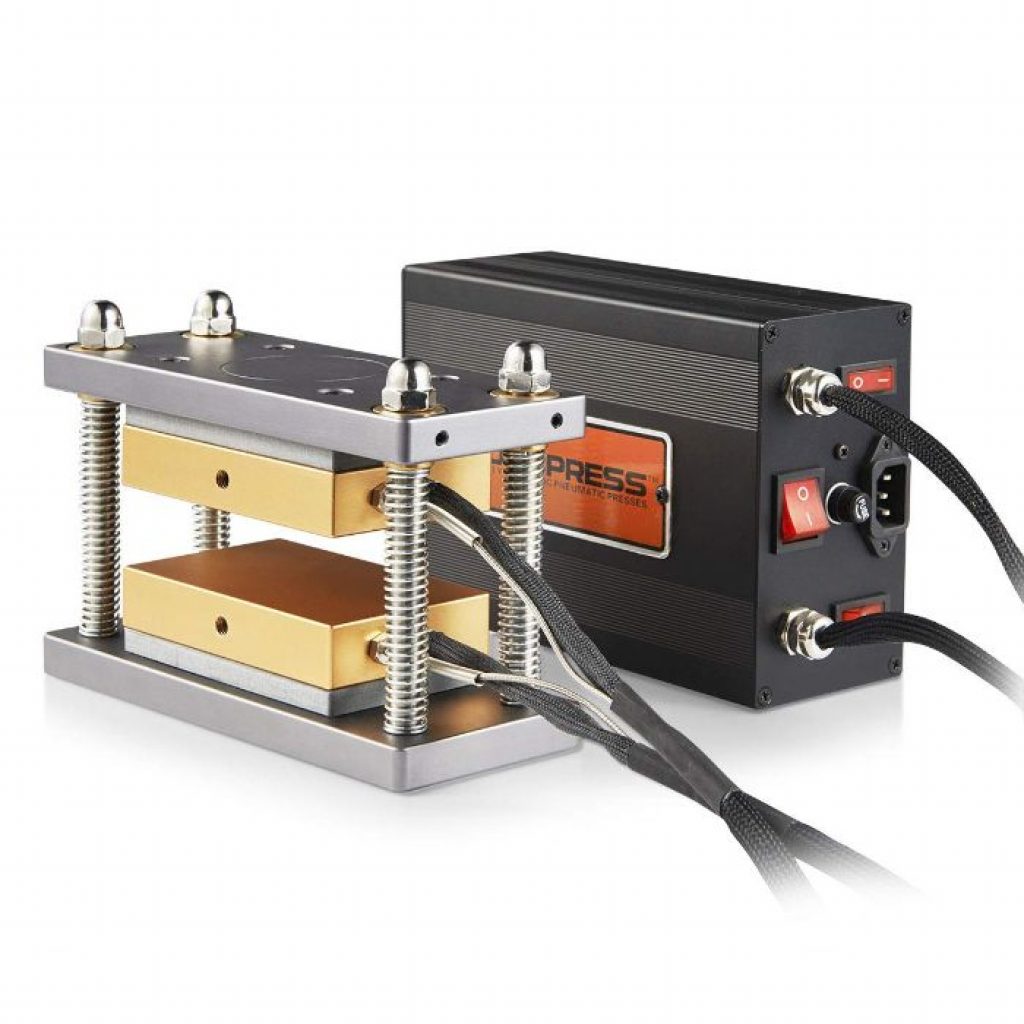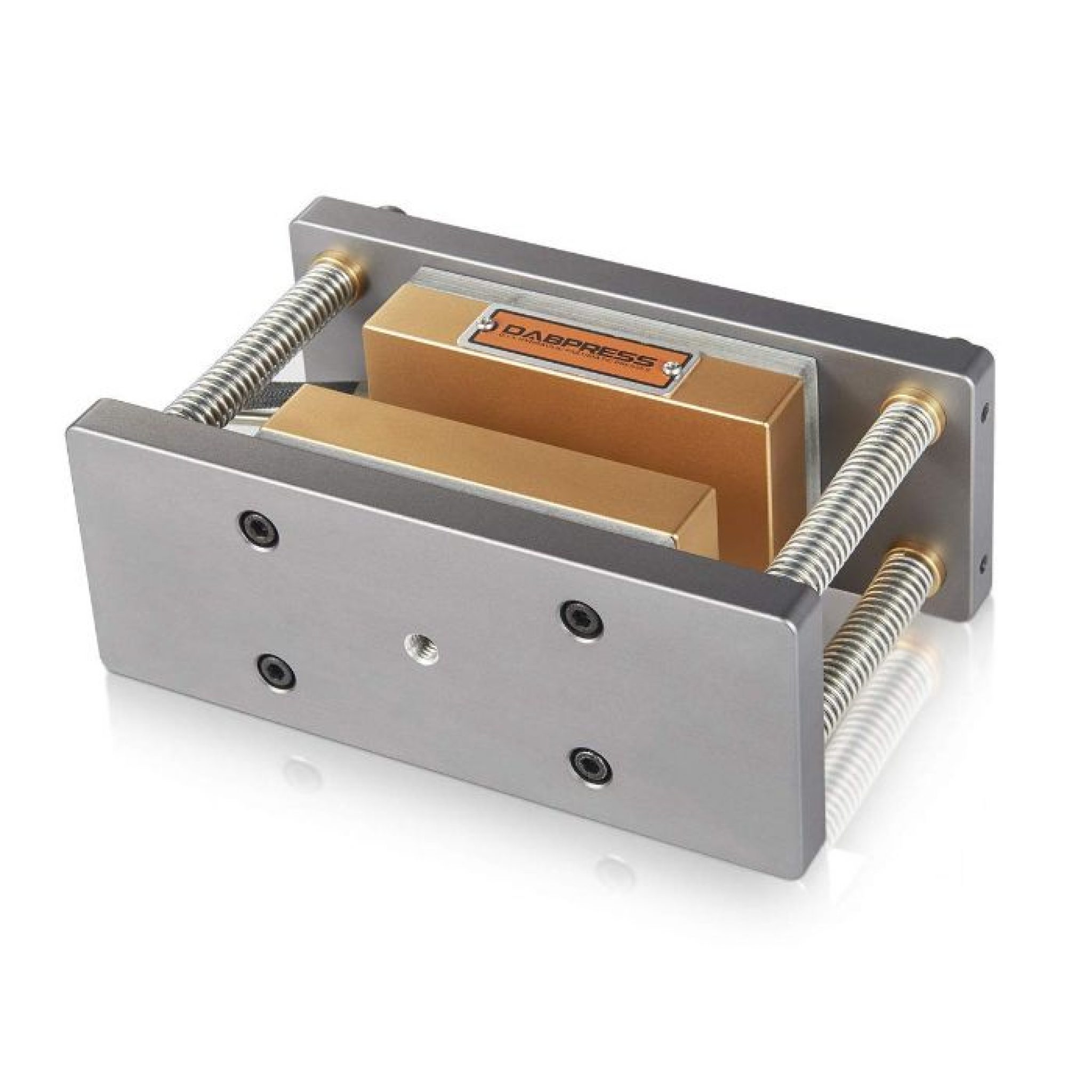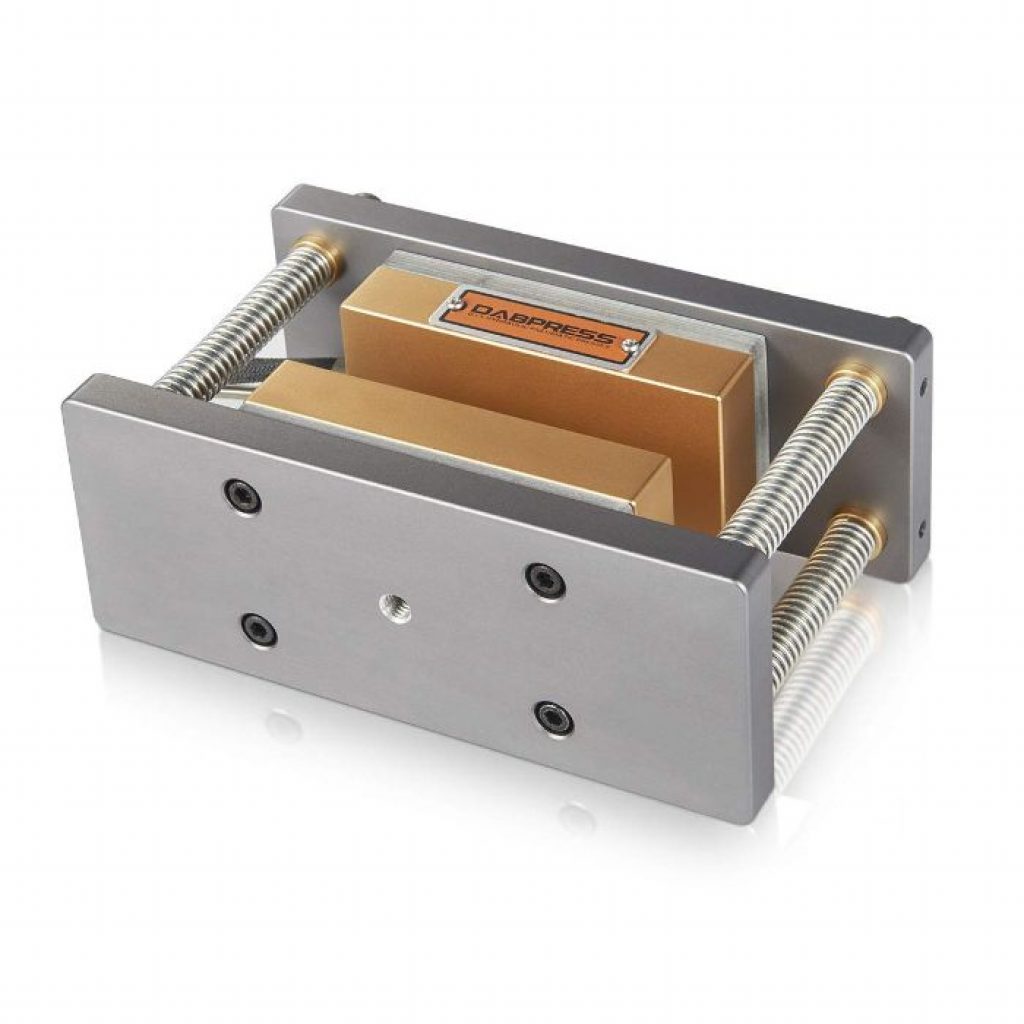 It is another model perfect for personal use. This DIY caged rosin press has an insulator with a 10-mm thickness that can reach a maximum temperature of 200 °F. It can do it in approximately four to five minutes while protecting the hydraulics from overheating. The temperature range of the device is from 0 to 399 °F.
This unit is safe to use because you can secure the cage on the hydraulic press. However, the device doesn't come with a lower plate holder. This tool comes with two 3 by 5 inches' heated platens that can handle approximately four to twenty-eight grams of the material at once. Also, the machine's working surface is made of anodized aluminum, making it pretty easy to clean.
Another benefit of this model is that it can deliver and maintain an accurate temperature. You can rest assured that this device will last long since its heating rods come with a service life of over 6000 times.
This DIY unit can achieve a maximum power of 500 watts and use a voltage of 110 or 220V. The item's total weight is 14.5 pounds, making it easy to move. It also comes with a clearance between the top and lower platens that protects from pucks and scratches on the working surface.
The device is quite easy to set up since it is shipped completely assembled. Just move the rosin press onto the hydraulic press to start operating. However, I want to warn you that the dimensions of this model do not fit in all the A-frame hydraulic presses.
The components come with a one-year warranty, including the cage, the frame, the plate, the springs, and the temperature controller box. The device is perfectly aligned with the top and bottom platens that move evenly by four pillars. This DIY caged rosin press can become a great addition to your household.
---
PROS:
durable;
heats up evenly;
easy to set up;
portable;
perfectly aligned.
4. DabPress Portable Heat Press – Heading Up Best Hydraulic Rosin Presses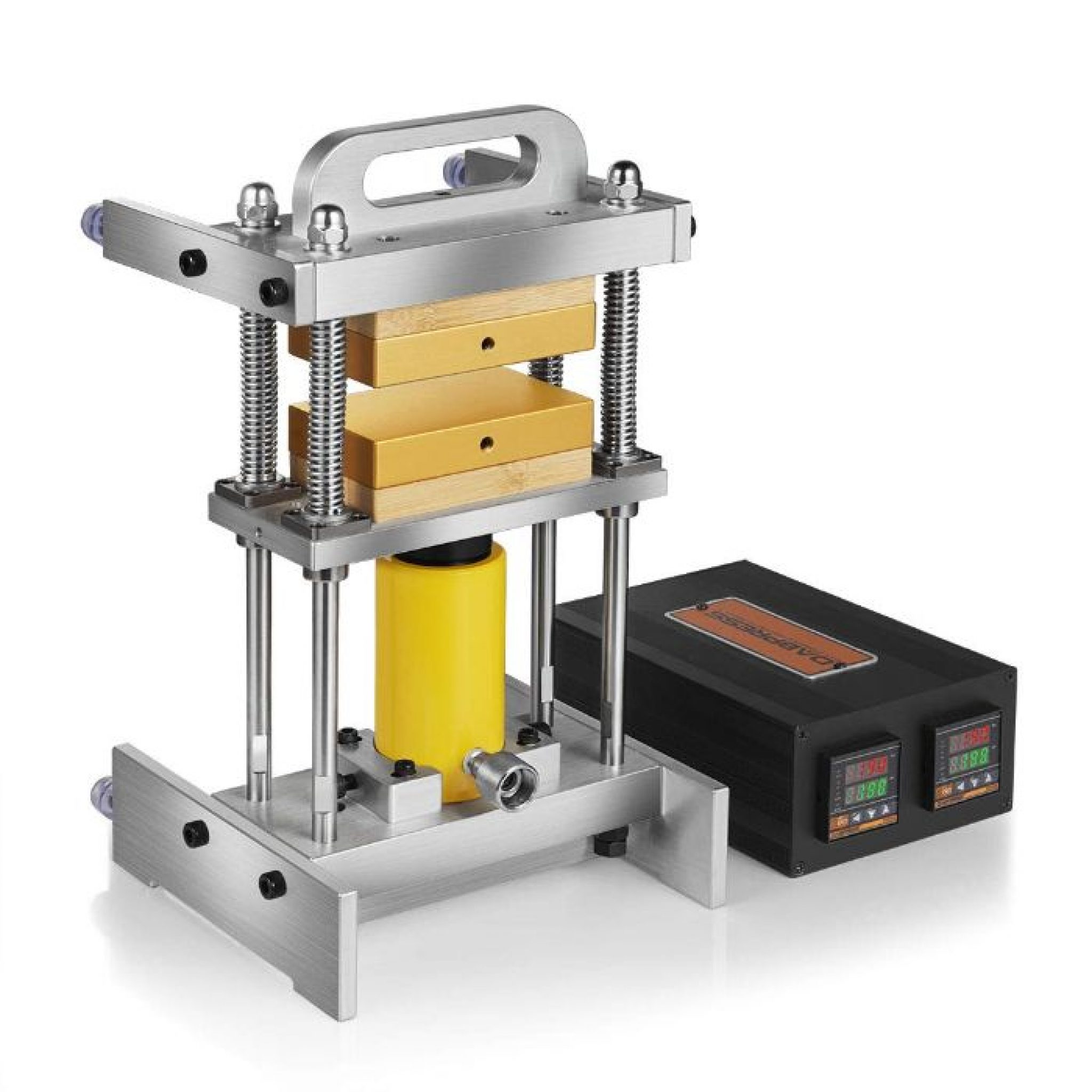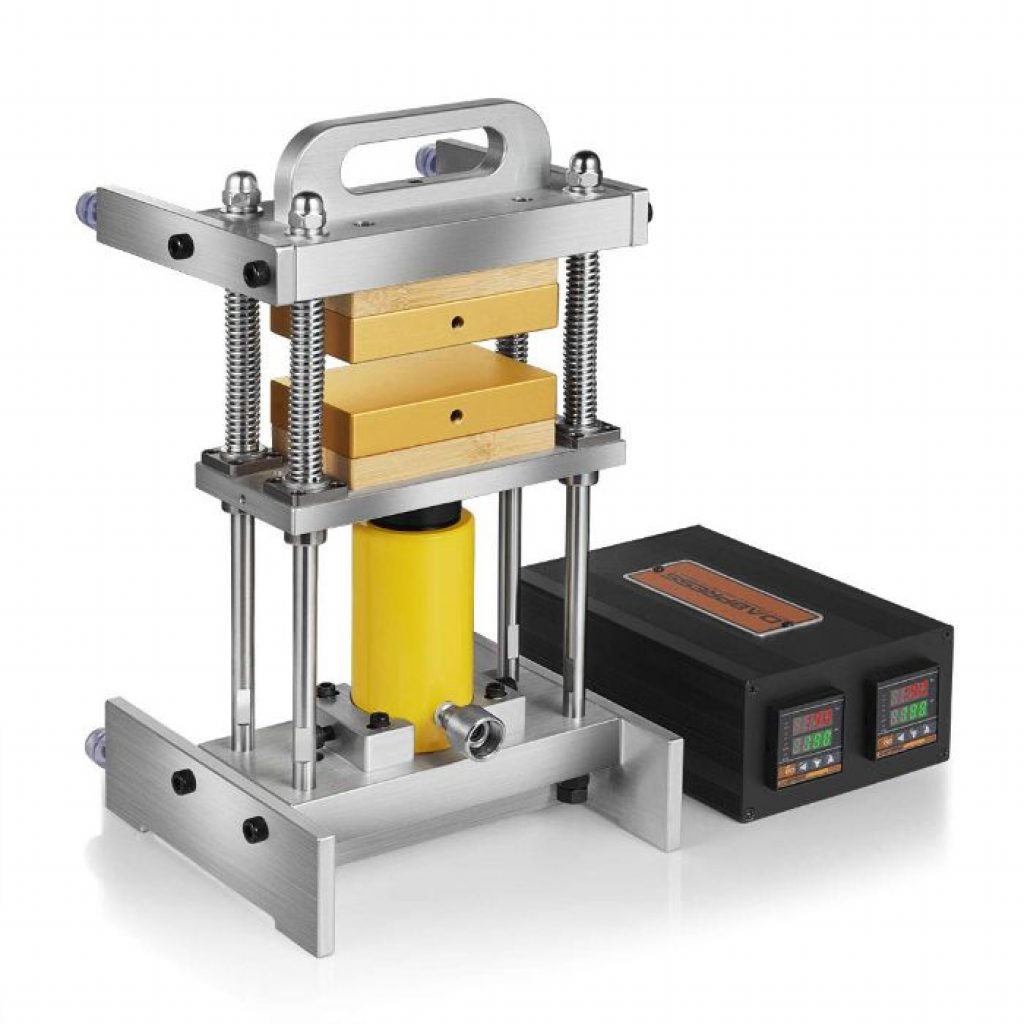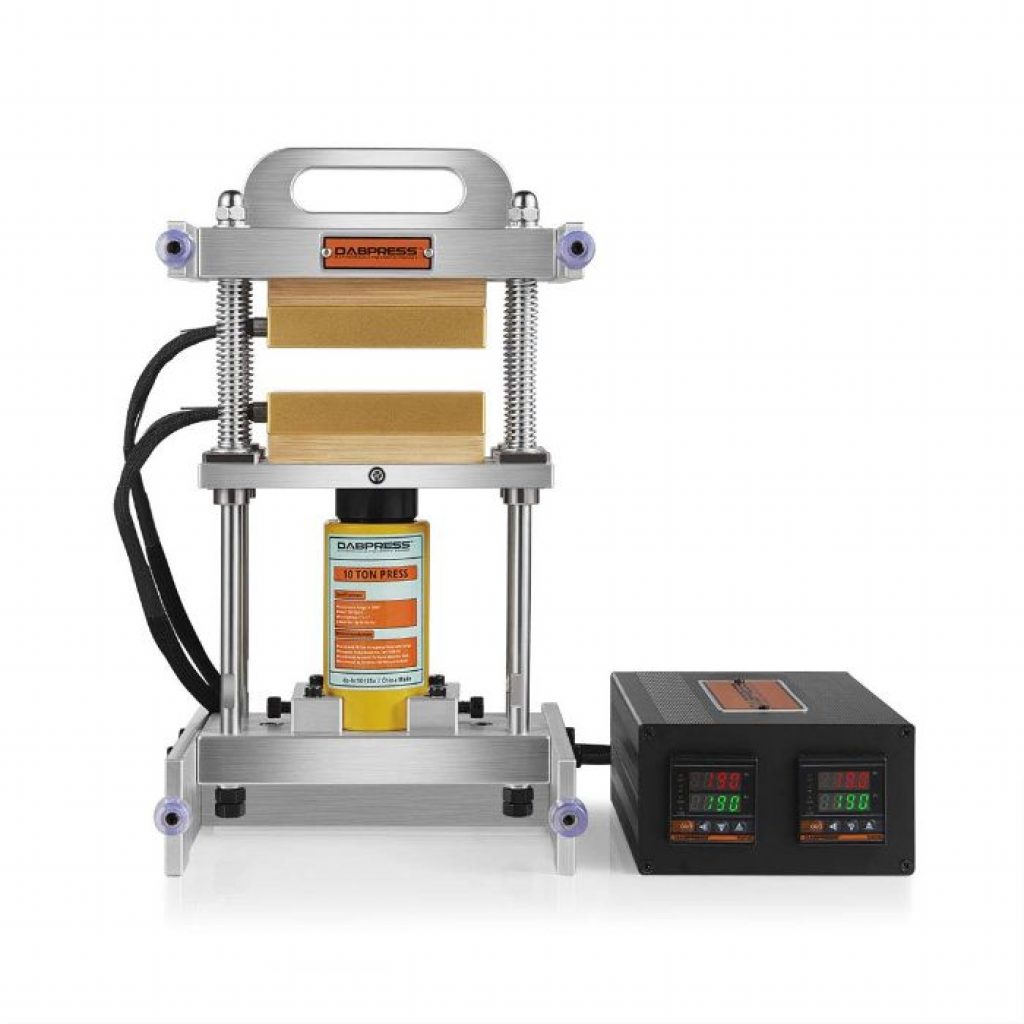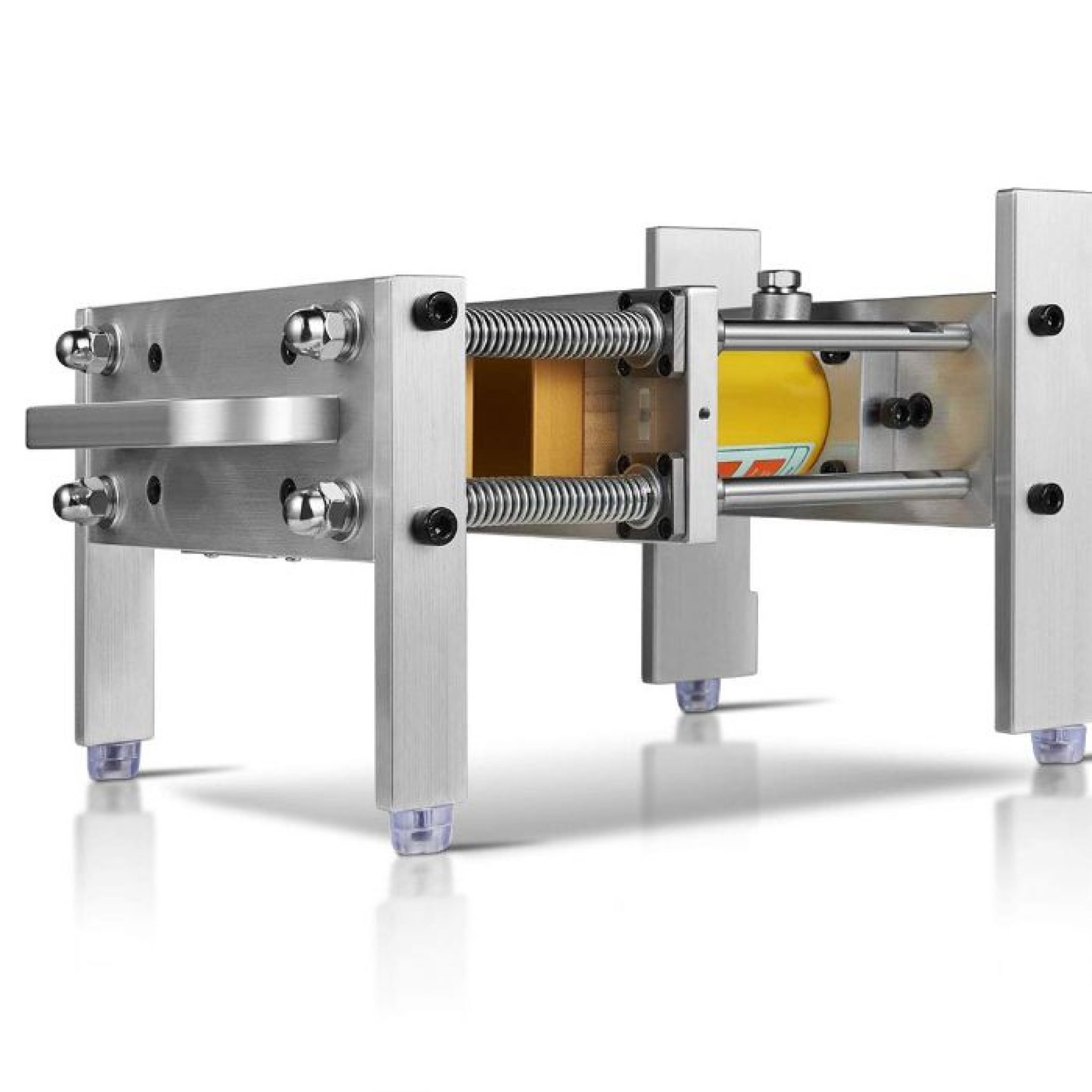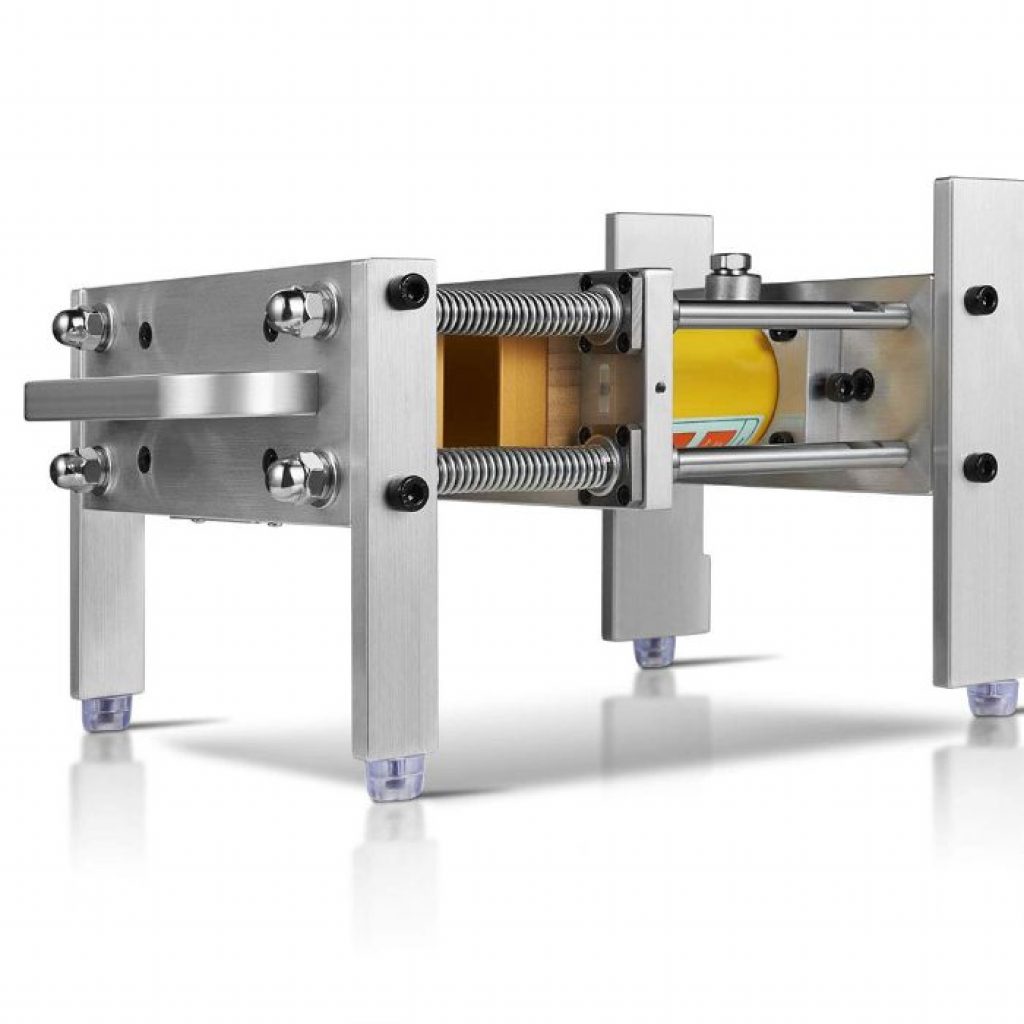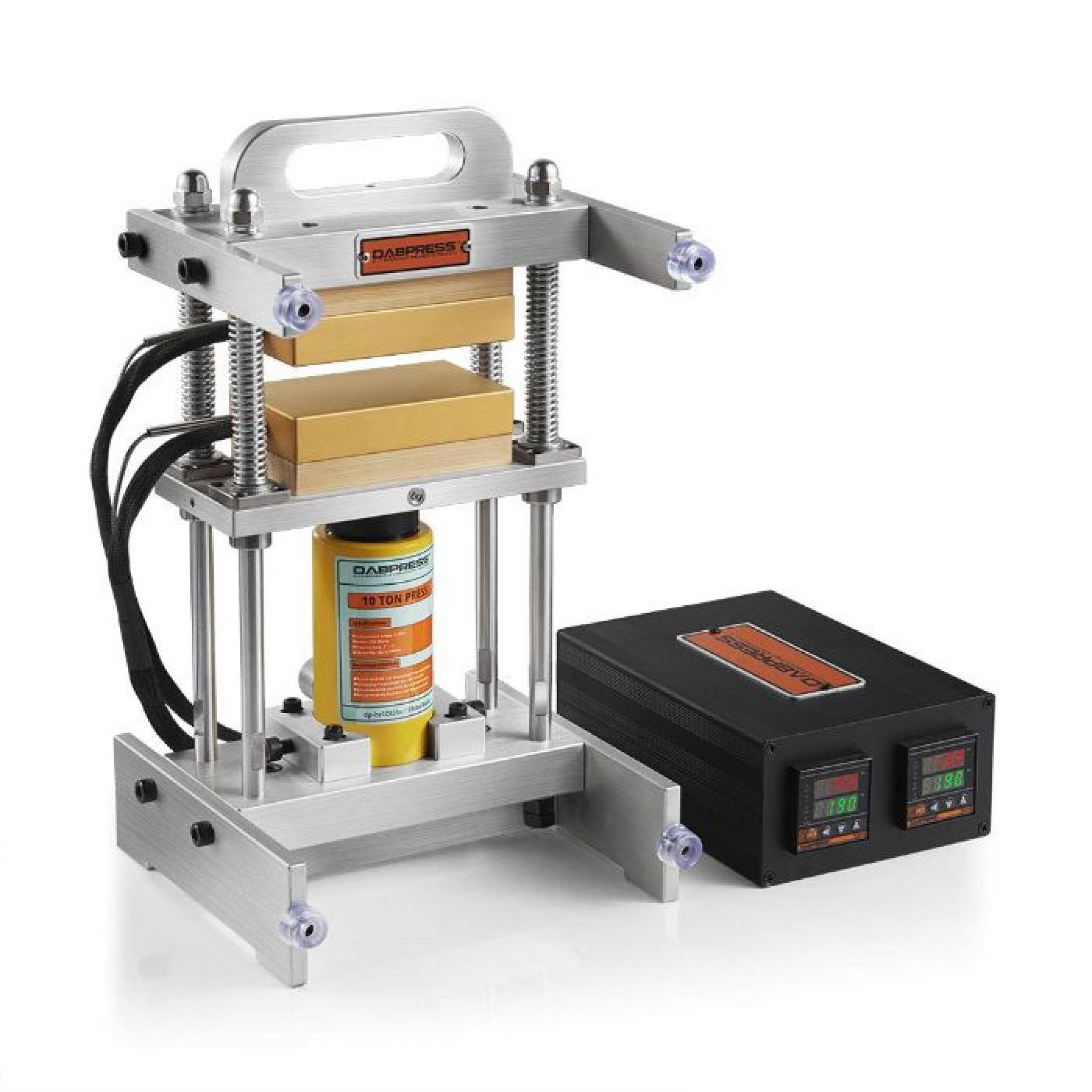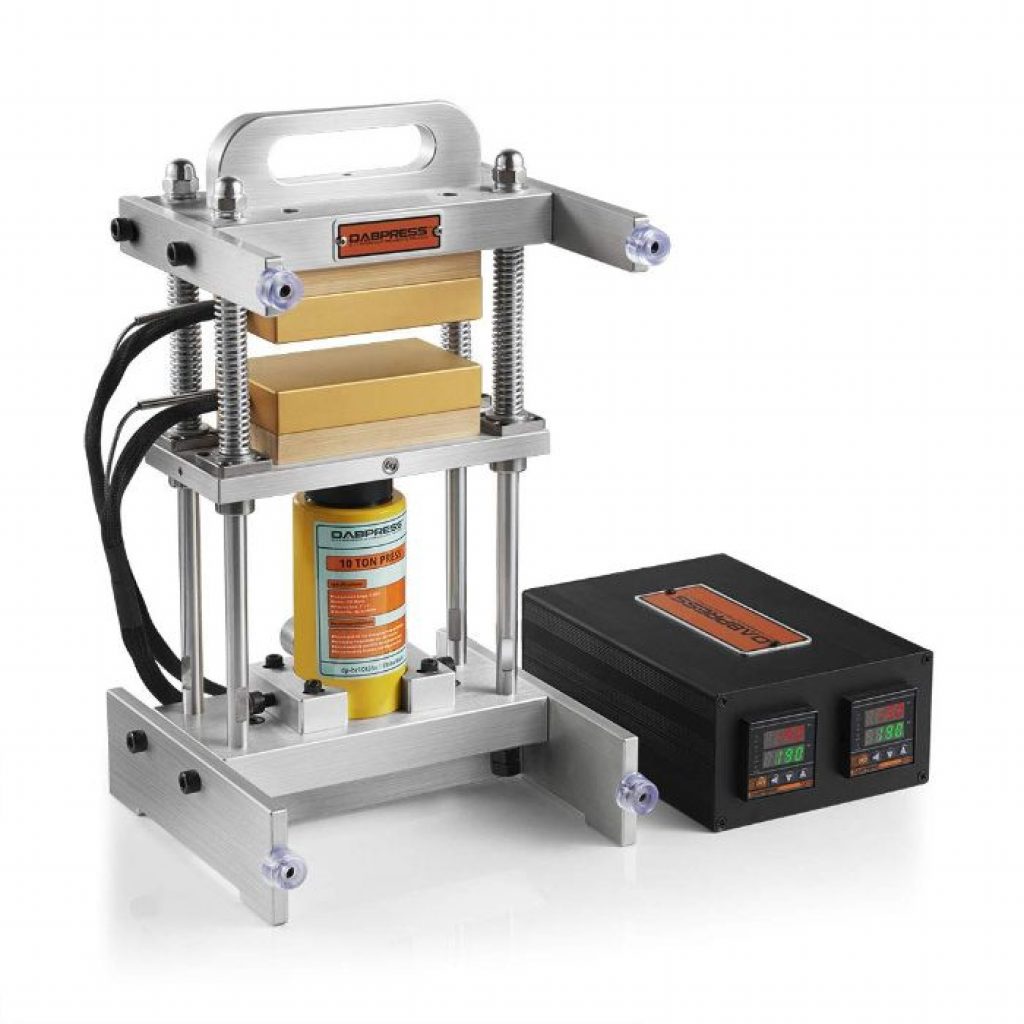 This small heat press machine has been manufactured by DabPress, a well-known company in this industry. The rosin press has been perfectly aligned with the top and bottom heated platens. Besides, it features four pieces of linear bearings.
This model is durable and non-rusty because it is made of stainless steel. The anodized aluminum plates help to heat the appliance pretty fast and evenly.
This DabPress model has a bamboo-made insulation layer. Thus, you can rest assured that this tool has reduced thermal conductivity. The insulation layer also prevents the hydraulic cylinder parts and ram from overheating.
The model comes with a long-lasting, accurate temperature controlling kit. I have also noticed that it is easy to replace this temperature controller, in case it stops working. Furthermore, the working surface doesn't scratch easily because the model comes with feet pads and magnets.
The good thing is that this unit has a high ton pressure and features an exchangeable hydraulic 10-ton cylinder. Also, it was made with Drip Technology that protects the tool from overheating.
The cylinder comes with a set of couplers placed on the barrel. However, it has to be paired with a hydraulic hand pump and a gauge. Unfortunately, the model doesn't come with a pump, meaning that you will have to spend some additional money on buying the gadget.
This small and lightweight model has a working surface of 3 by 5 inches, temperature ranges of 0 to 399 °F, and weighs roughly 32.1 pounds. These characteristics make it ideal for pressing rosin and other materials.
---
PROS:
long-lasting;
value for money;
easy to use;
heats up fast.
CONS:
doesn't come with a pump.
5. Dulytek DM800 Personal Heat Press – One of the Best Budget Rosin Presses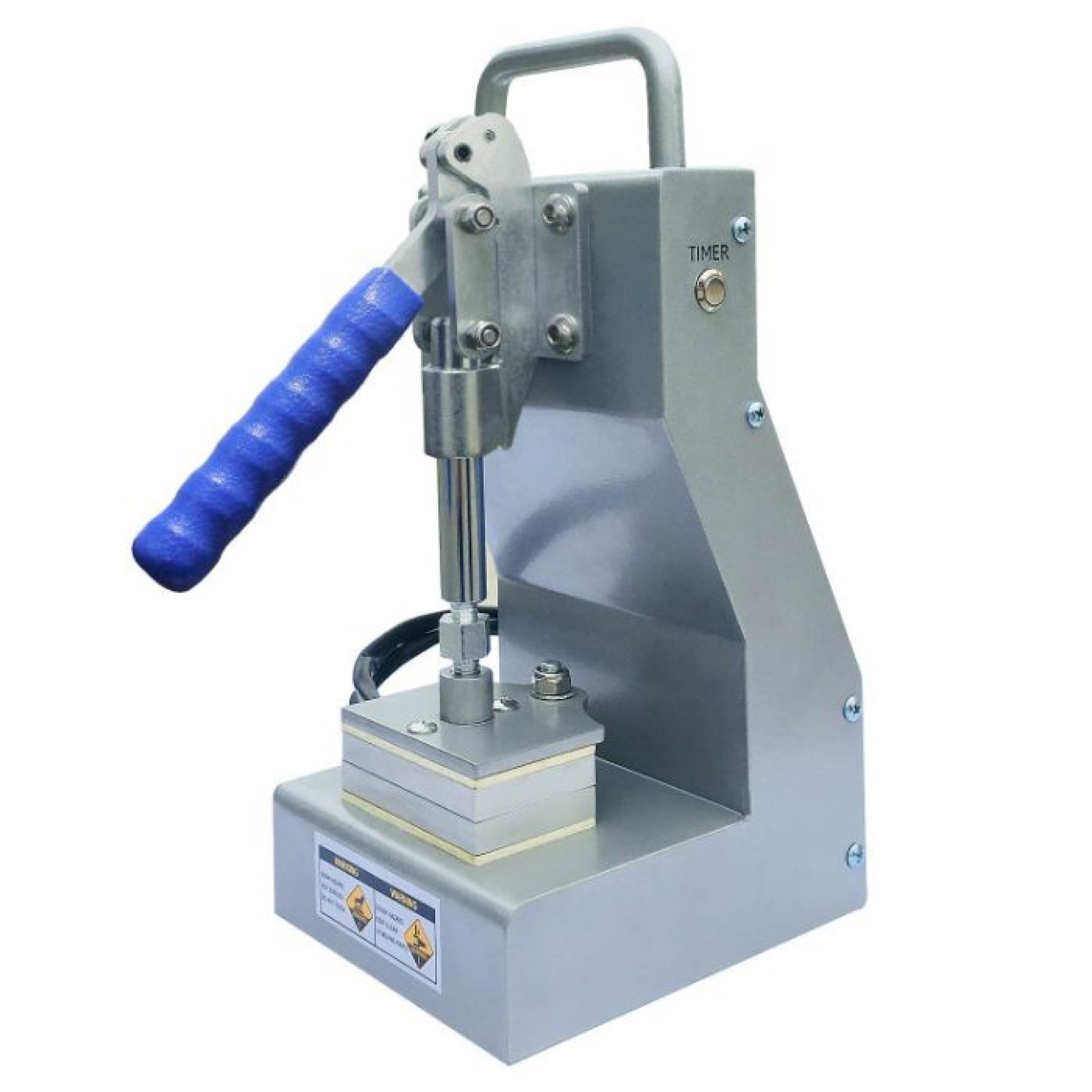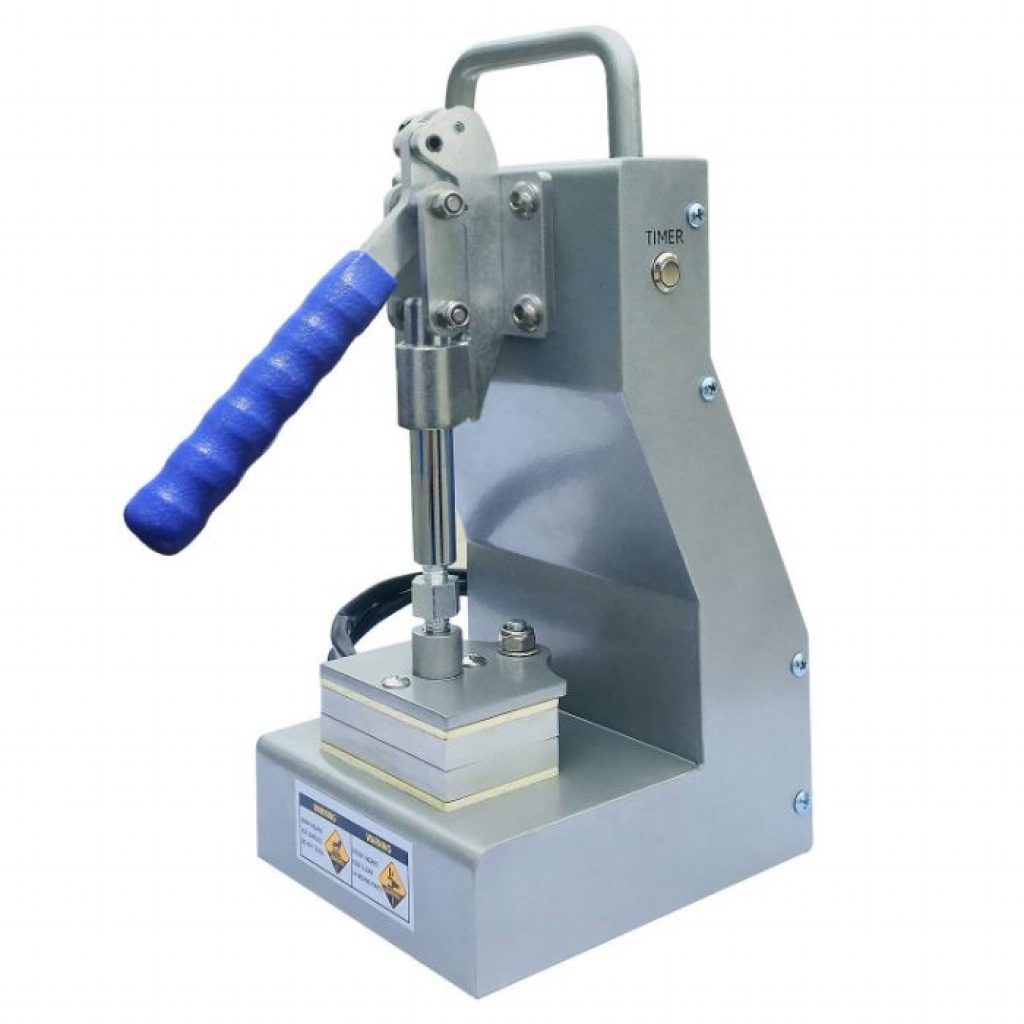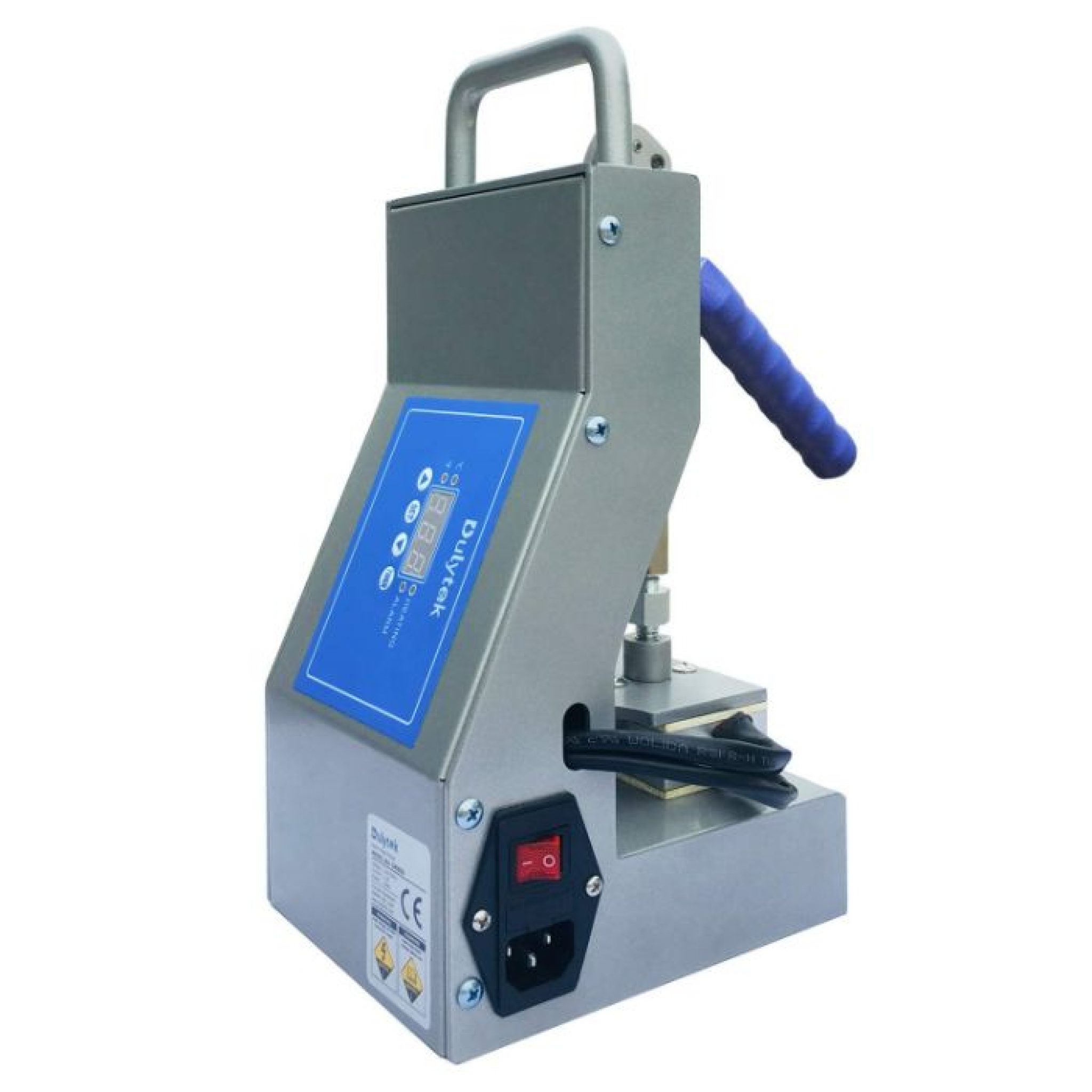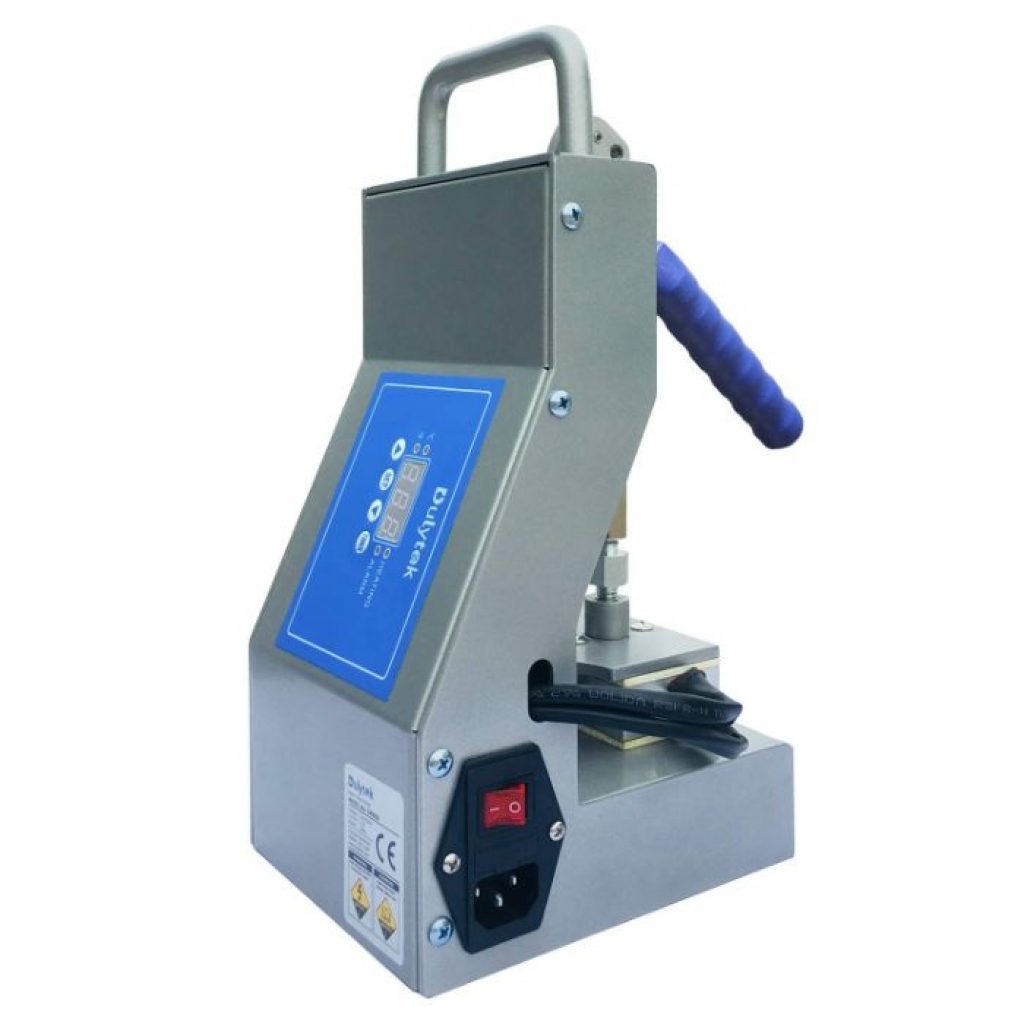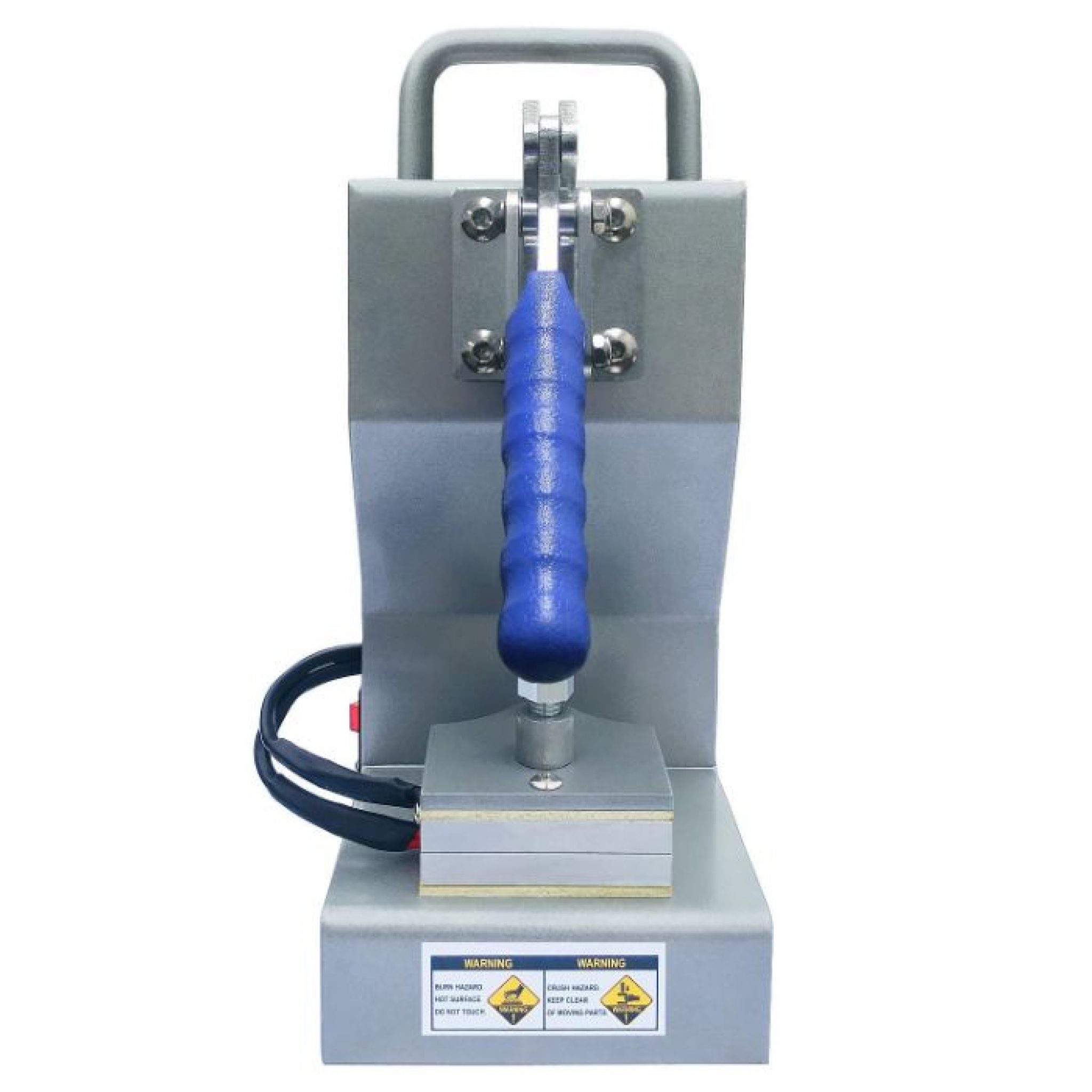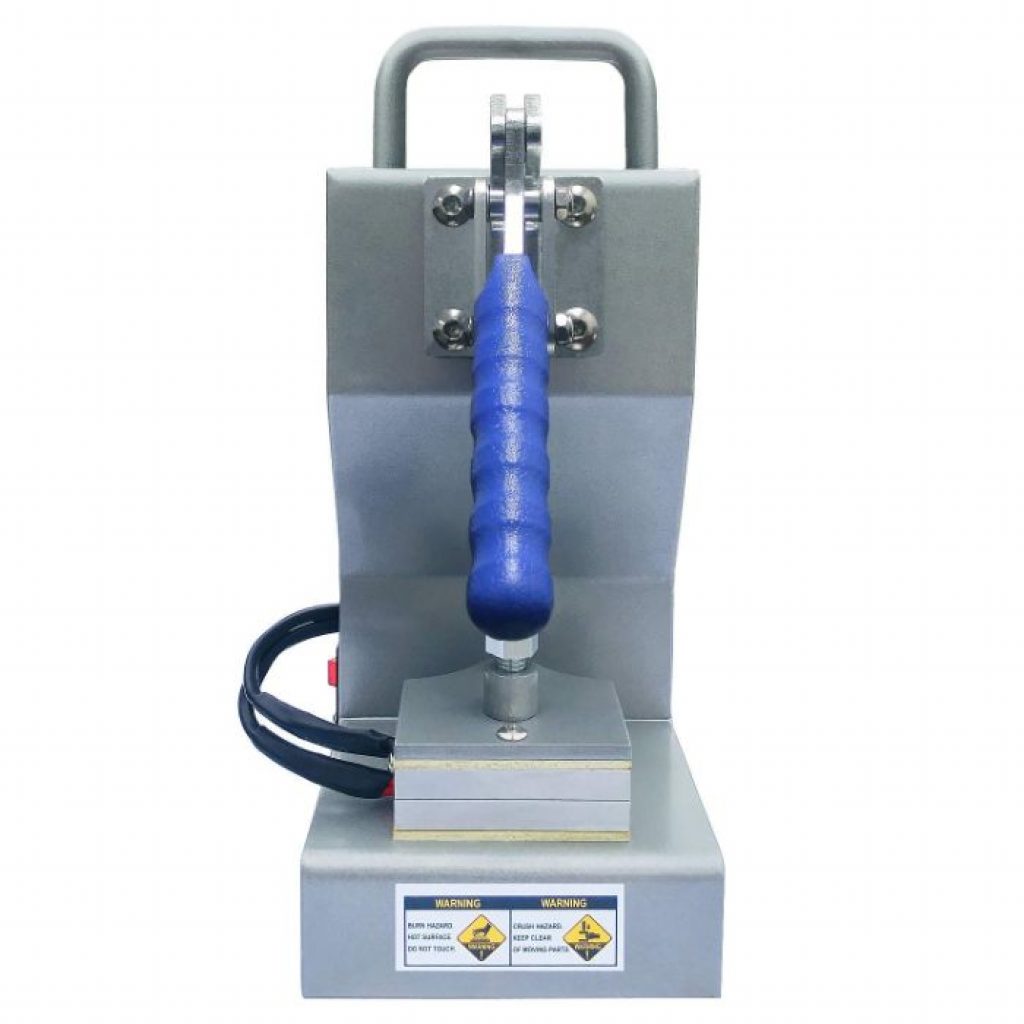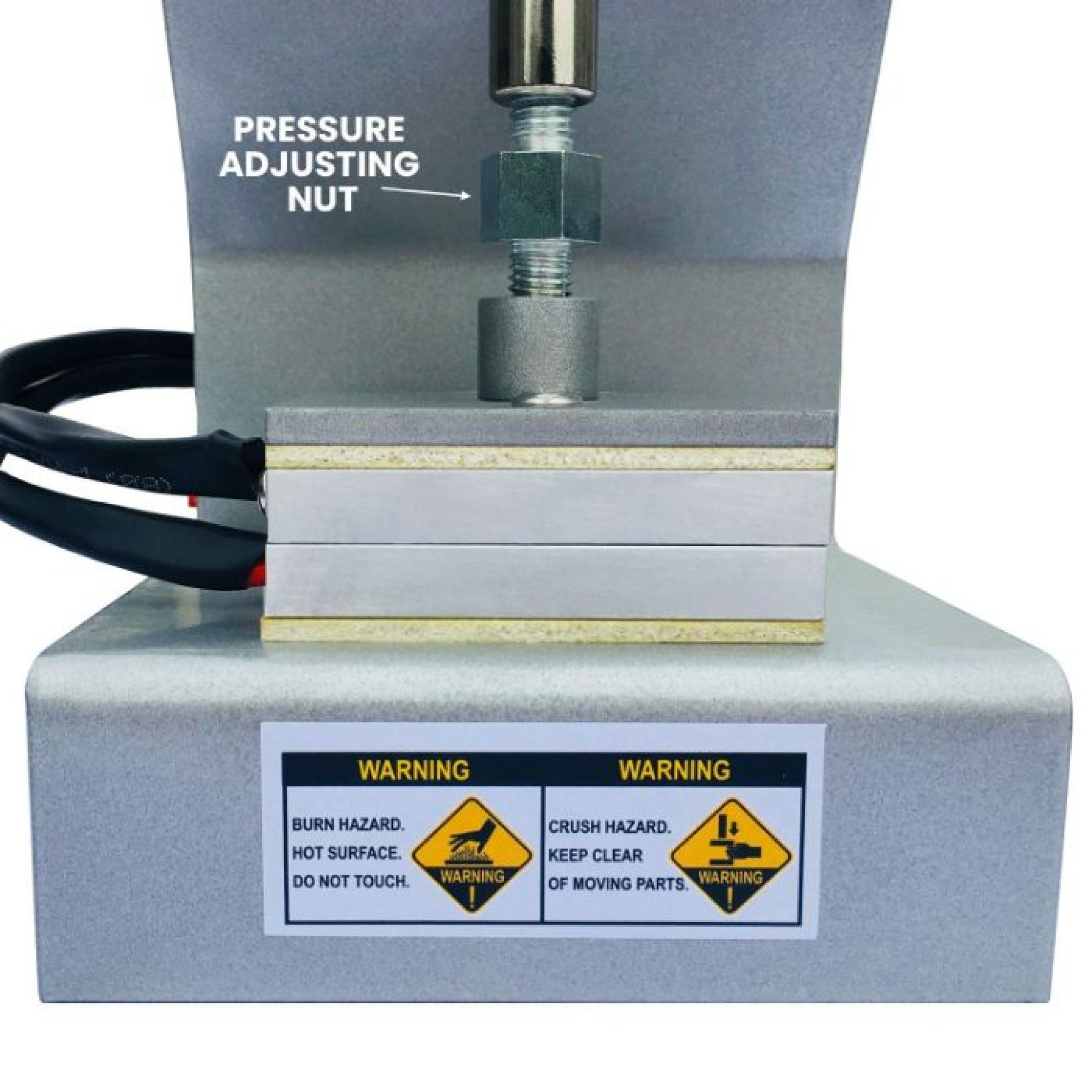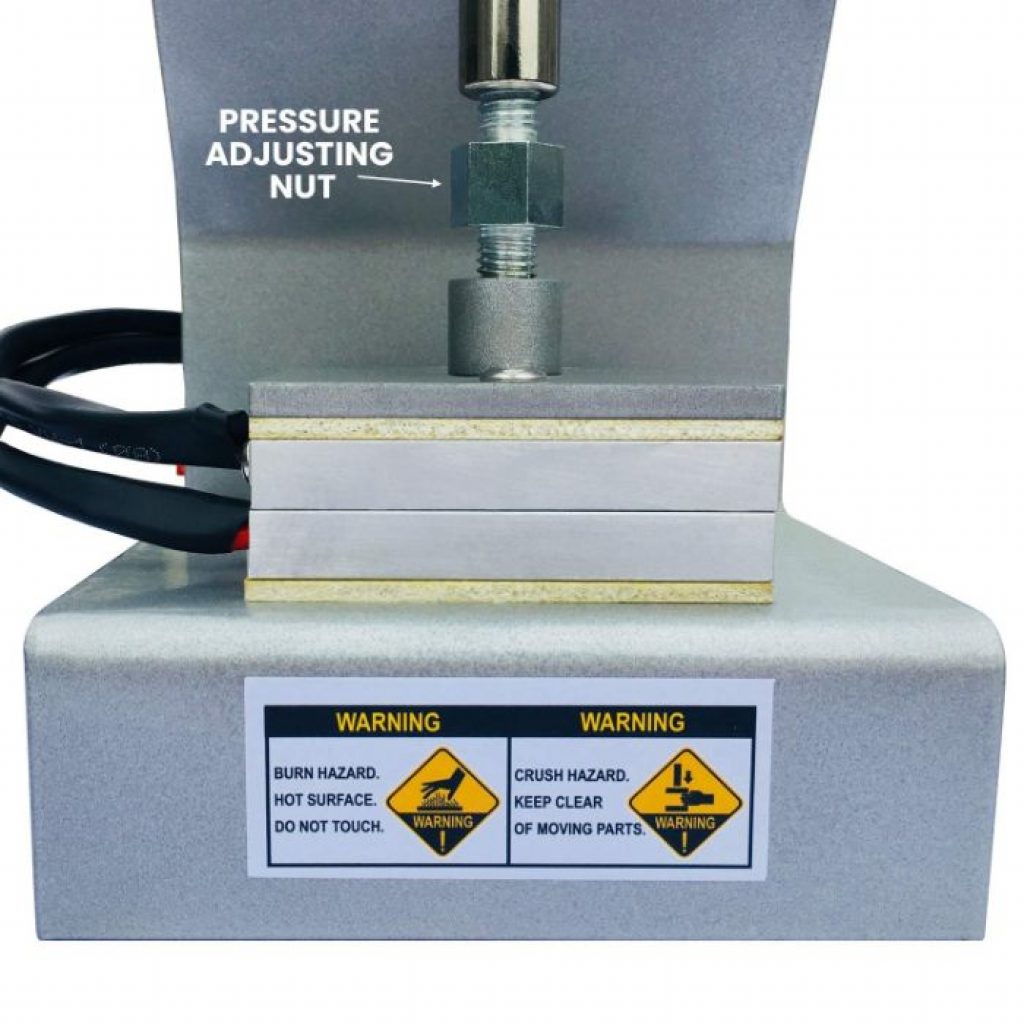 The Dulytek DM800 Personal Heat Press is another fantastic model. Its size and weight make the item ideal for any place. This device is the lightest product in the Dulytek press line, weighing only ten pounds.
If you are looking for a portable rosin press that will fit anywhere, then this device is just what you need. Although the tool is quite compact, it can produce up to 1000 pounds of pressing force. This small rosin press was manufactured with a locking lever structure.
You can smoothly alter the pressure level by using the adjusting knob on the device. This knob also controls the highest level of force put on the materials during the extraction. This small rosin press has two 2 by 3 inches' heating plates insulated with aluminum, automated time and temperature controls at the back of the machine, and a handle to carry the tool comfortably.
The unit has options to scale both Celsius and Fahrenheit temperatures and fitted with a press timer. This DM800 model can heat to the temperature of up to 482 °F, and its timer range is between 0 to 999 sec. It can reach a voltage of up to 110V.
This portable, useful, and sturdy appliance is definitely worth the cost. Besides, this device is quite easy to use and doesn't require any additional tools to start working.
The device has quite a discreet pack, and it comes with extra accessories. You will get a package with a silicone mat, four magnets, a capped silicone storage container, ten sheets of parchment paper, and two double-sided collection items made of stainless steel.
---
PROS:
ideal for personal use;
sturdy;
adjustable pressure;
affordable;
easy to use.
CONS:
not the most durable option compared to other models.
6. Dulytek DHP7 Hydraulic Heat Press – Featuring Best Yielding Rosin Presses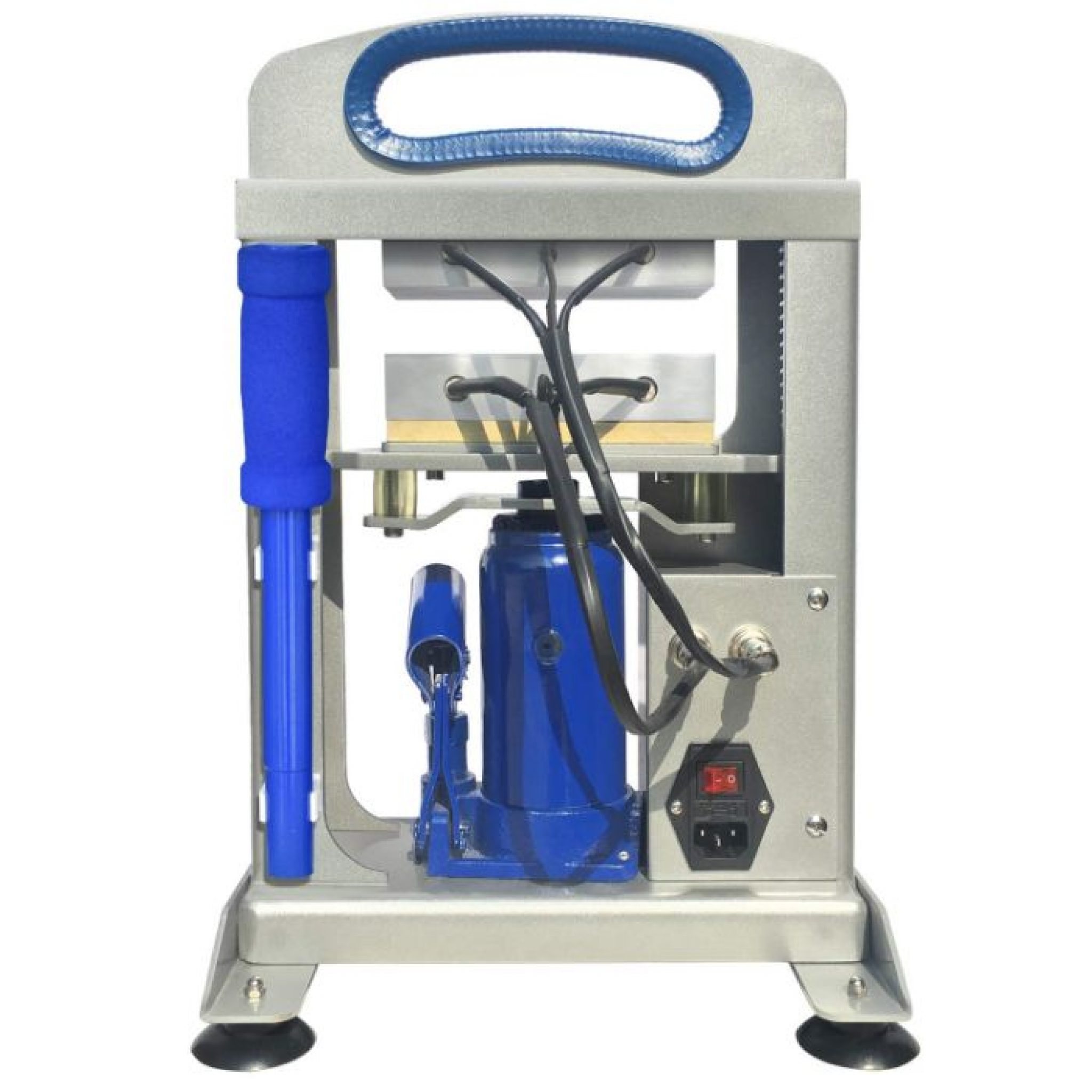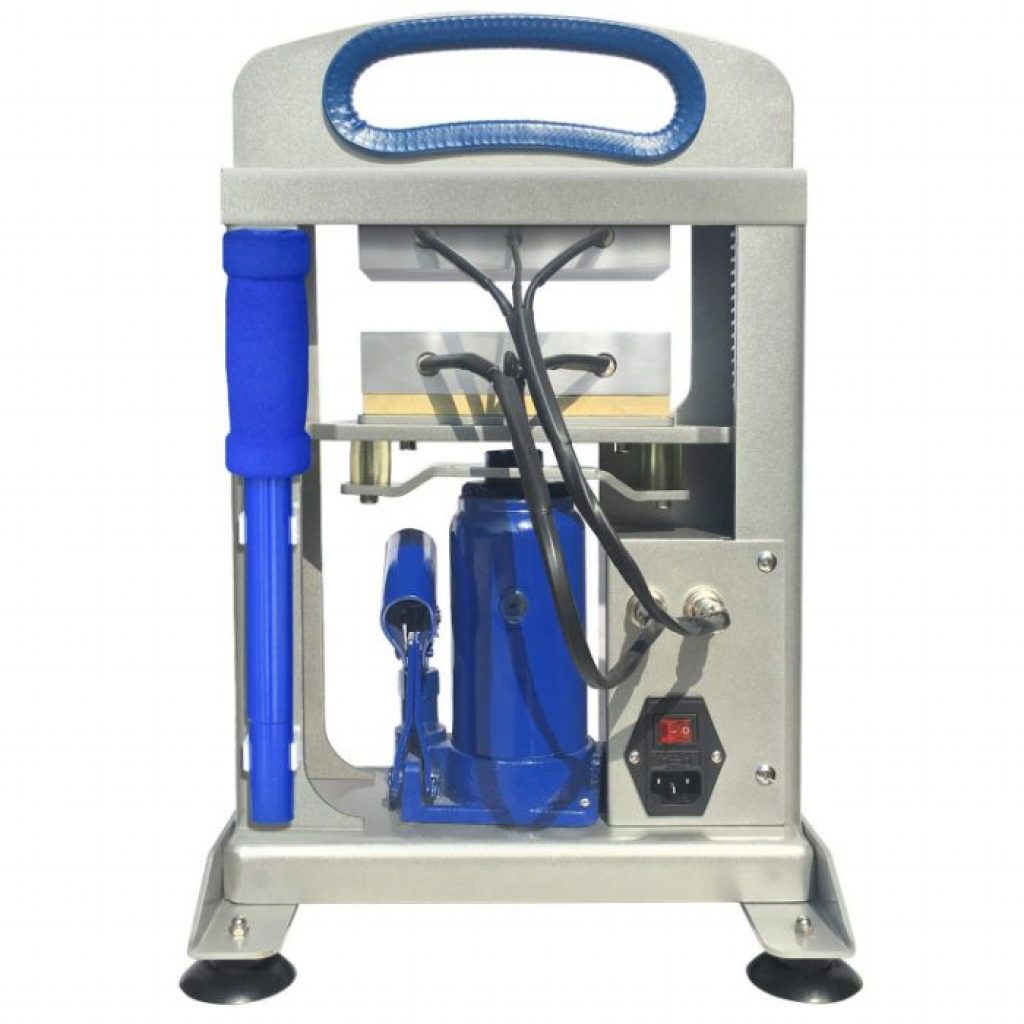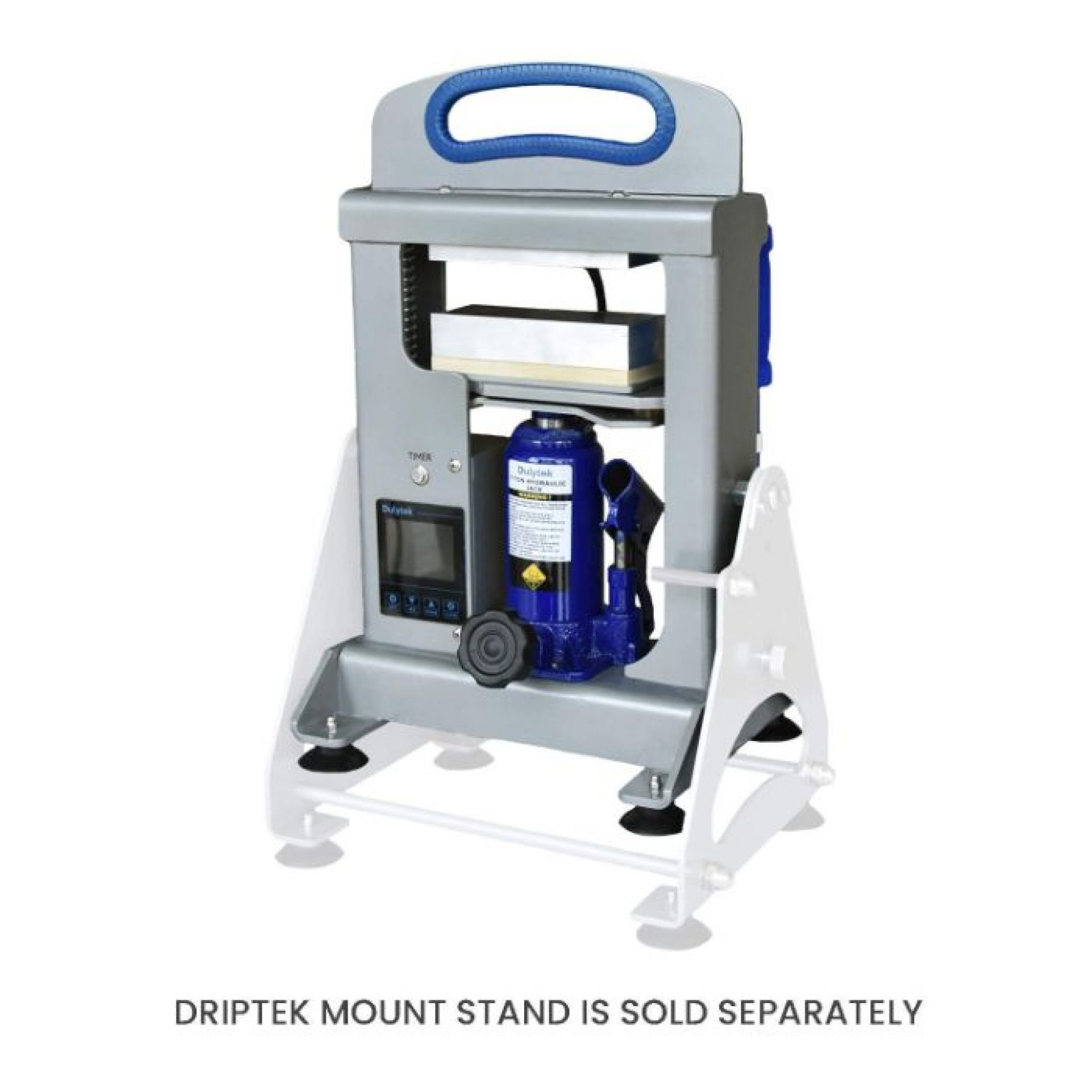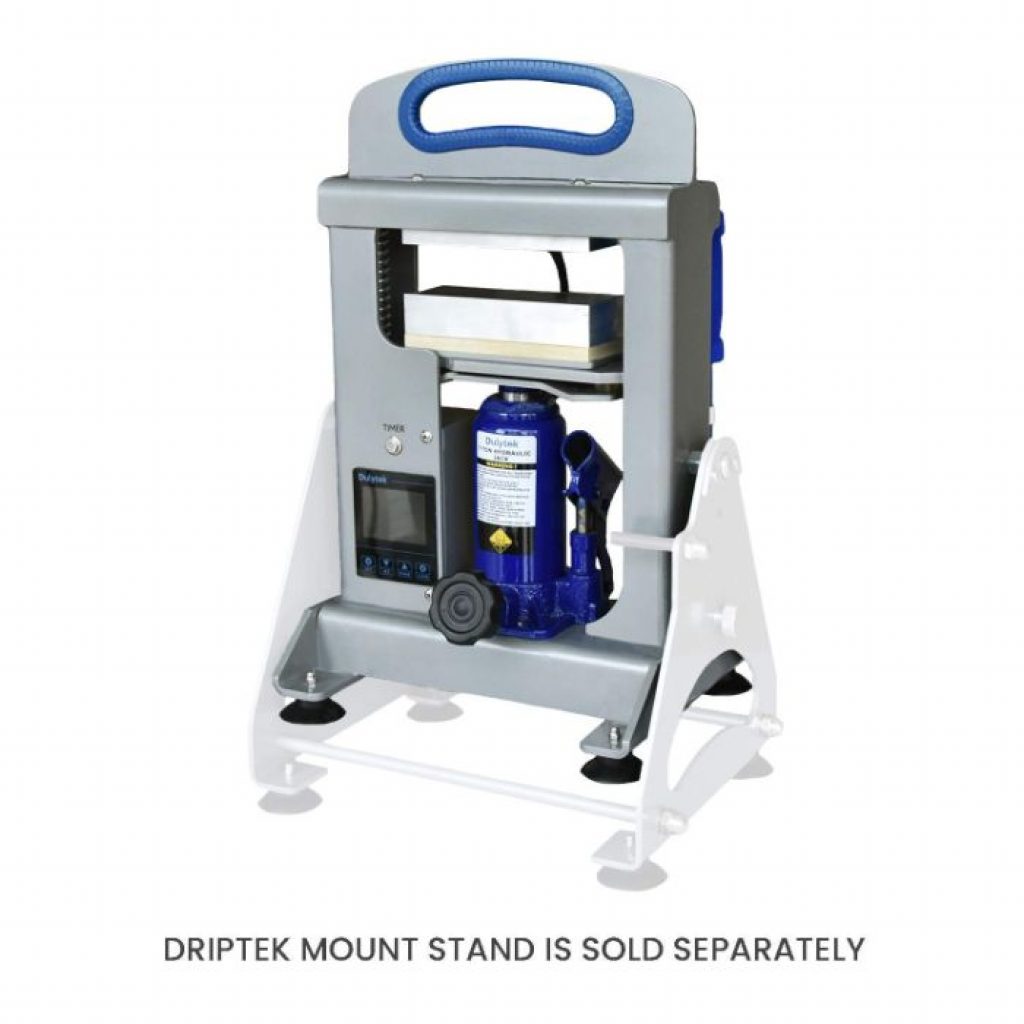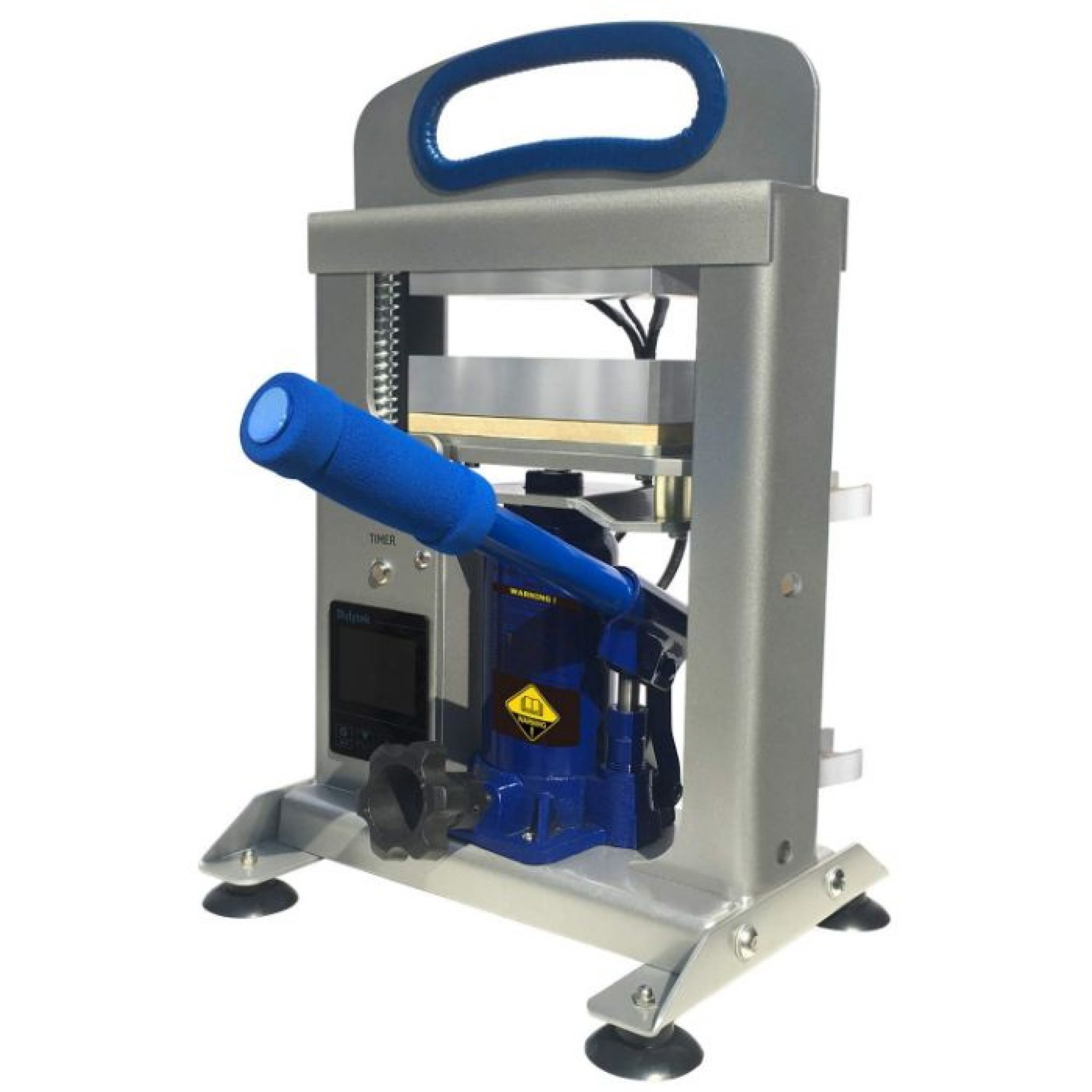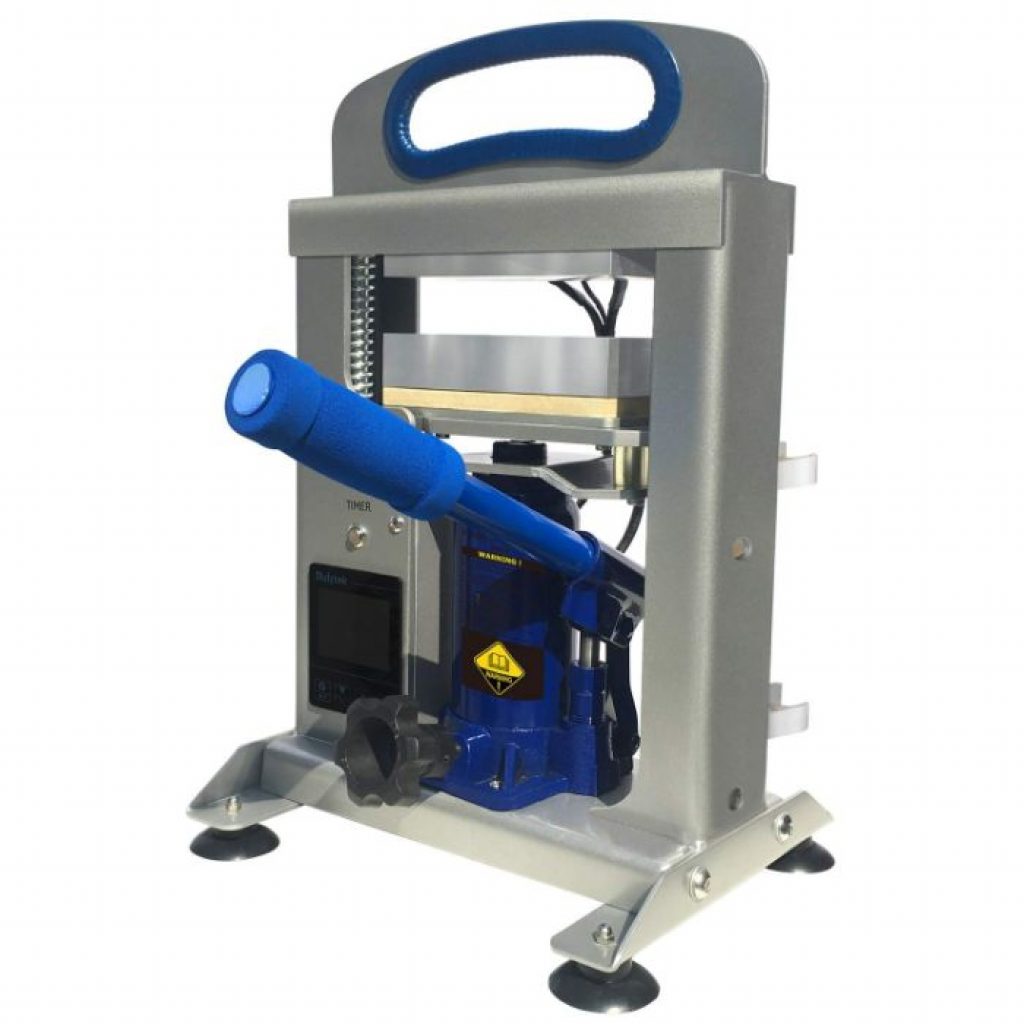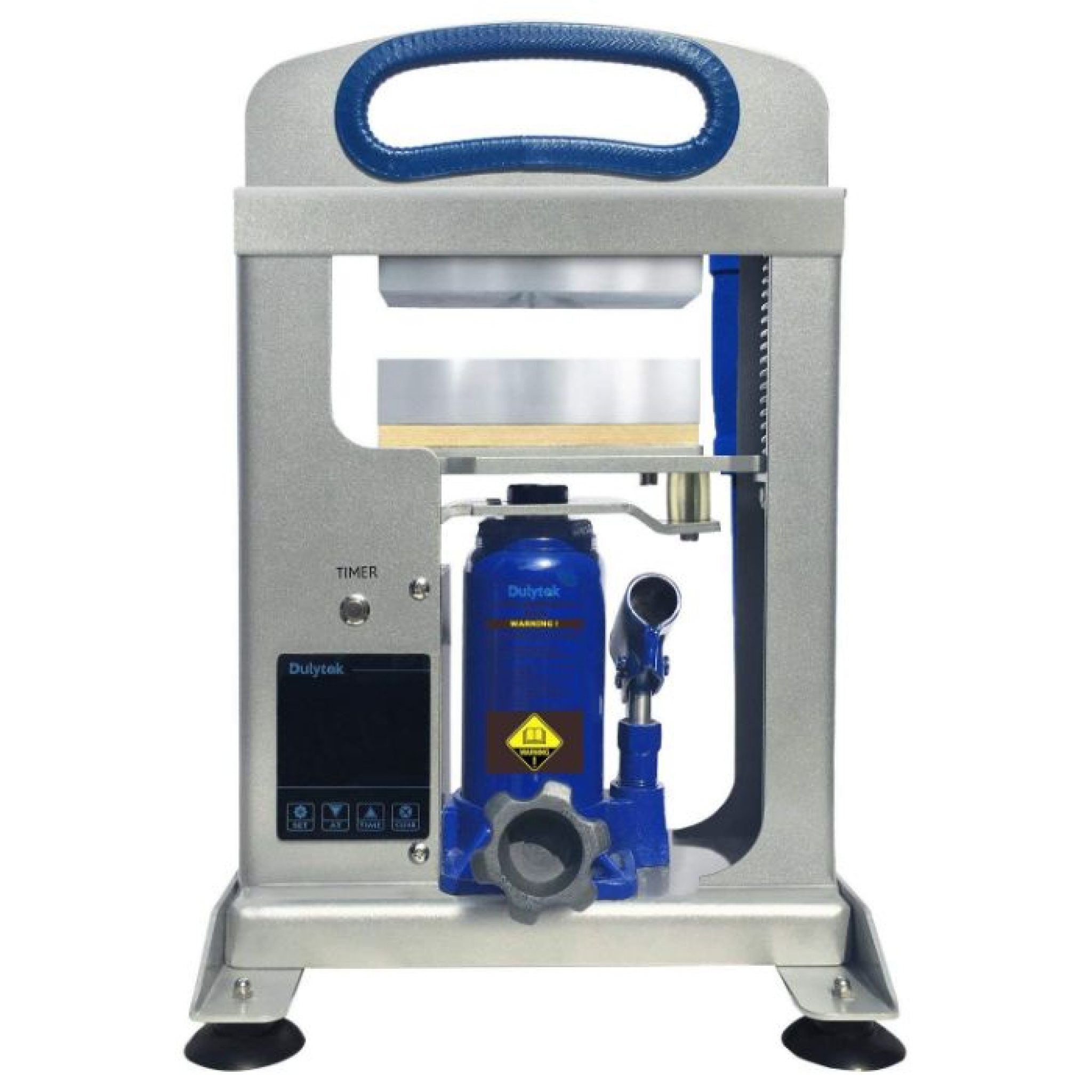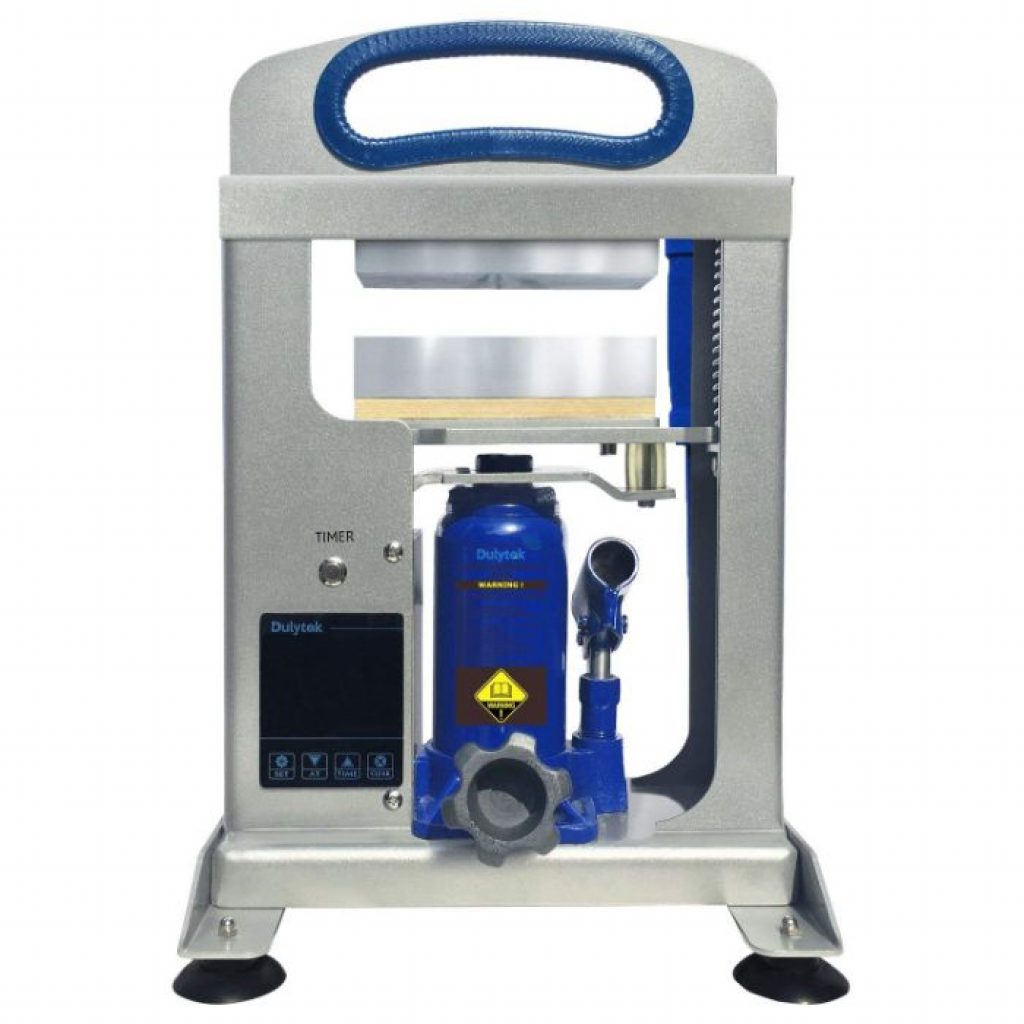 This hydraulic rosin press from Dulytek can produce up to seven tons or 14,000 pounds of force, so you will get the maximum amount of oils. The device comes with two 6 by 2.5 inches insulated solid aluminum heating plates, a precise timer, and temperature controls. Also, the equipment has a carrying handle and an in-built power-saving mode.
You can control the ram and the pressure speed with a simple pump of the cranking handle. Within the package, you will also get an instruction manual, a pump handle, and a power cord with three prongs.
This hydraulic heat press can achieve maximum temperatures of 750 °F, with a voltage of 110V, and the power of 420watts. Besides, this easy-to-use device weighs only 34 pounds. It comes with a six-month warranty for major components and a 72-month warranty for the rest of the parts.
This device is pretty effective and can press even large quantities of materials. Also, its structure has been made to last. The plates have a great heating time with evenly distributed heat.
If you're looking for a rosin press to place in your household, then this option will work fine, thanks to its attractive design and decent features. The only precaution is to make use of an average amount of hand pressure for jacking. I find this in-built handle ideal for keeping the device steady as the jacking pressure rises.
A feature I also love about this Dulytek DHP7 model is that this unit's frame gets warm rather than too hot after pressing, so the tool is safe to use. The bottle jack can be easily replaced with a five- or seven-ton jack, if necessary. Overall, the machine is of excellent quality and has even and smooth welds. The package is really heavy-duty, and the press comes with a customized fit foam so that everything would stay in place.
---
PROS:
easy to use;
durable;
the plates distribute heat evenly;
capable of pressing large volumes;
a comfortable handle.
CONS:
the bottle jack won't last long.
Frequently Asked Questions about Rosin Presses
Here, I've decided to include some additional information on how to use these devices. Check out how much pressure you need to put, and how much time you need to wait for the machine to do everything right.
How Much Pressure Do You Need to Press Rosin?
A lot of factors impact the amount of pressure necessary to produce optimal results. The pressure is a crucial one to consider, but other points also matter, such as the quality and the type of material. Also, you need to consider the humidity, the method of cure, and the age of your material.
The secret to pressing rosin is to understand the "optimal point" of force for each of these conditions. For getting the pressure just right, you need to practice and try different settings.
For example, for the initial ten seconds, do not put all the pressure on your material. Just press down till a platen touches rosin, and that would be enough for warming the material. After the first ten seconds, lock your rosin press and let it work for an entire minute.
Based on my experience, the "optimal point" for pressing rosin ranges somewhat between three hundred and a thousand pounds per square inch (PSI) of pressure. If you need to adjust the figure, each model comes with a set of instructions on how to do it.
How Long Does It Take to Press Rosin?
To understand how long it takes to press rosin, one needs to be familiar with the temperature ranges. Reduced temperatures will give you oils with a honey-like buttery consistency. Also, it will have a stronger flavor.
Increased temperatures will produce a consistency that looks like soap, with a reduced number of terpenes and a little flavor. However, you will get bigger yields in terms of weight. It is necessary to know a standard range of temperatures and times based on your starting materials:
Low-quality materials: Set your temperature from 180 to 220 °F with a pressing time from one and a half to five minutes.
Better-quality materials: Maintain the temperature from 150 to 190 °F and limit the pressing time from one and a half to five minutes.
Flowers: Maintain the temperature from 180 to 220 °F with the pressing time from one to three minutes.
Choosing the Best Rosin Press for Your Needs
After reading about the best rosin presses for rosin on the market, I hope that you're now familiar with the specifics of each of these models. While one person may look to creating small batches, another may want bigger ones. Besides, everyone has specific workspace environments, budgets, and intends to make varying rosin consistencies. Although the needs of each person vary, these devices proved to be a universal fit.
The ultimate choice remains up to you. With all these things in mind, I have described various rosin press models in detail. Among the units mentioned here, there should be something that meets your volume, workspace, and budget requirements.
Do you have any comments or questions? Have you ever used a rosin press? If yes, what works best for you? Have you tried any of the models reviewed here? Feel free to leave your comments and questions in the section below, and I'll gladly respond to all of them.