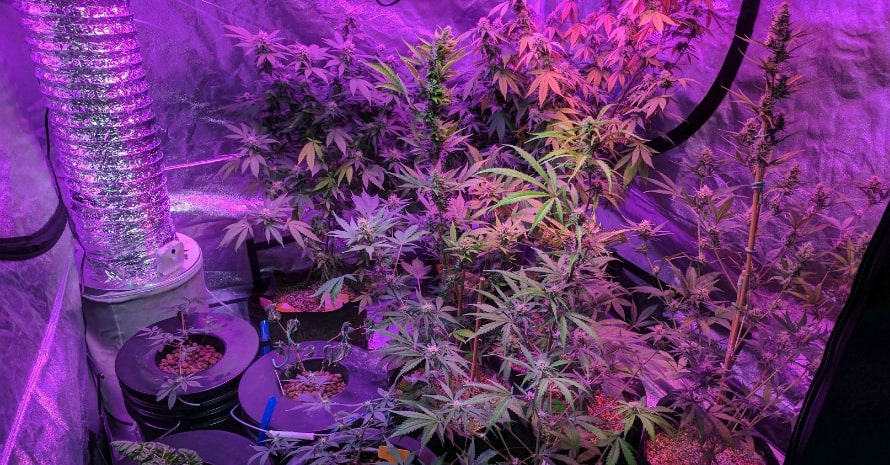 Best Hydroponic Systems – Top Products With Reviews
No matter whether you are looking for the best hydroponic systems for outdoors or indoors, it means that you are planning your own garden without soil. Marijuana is one of those plants that can be grown with the use of minerals in an aqueous solvent. It does not require soil and may survive on artificial nutrients.
This way not only saves the land from extenuation but also decreases the use of water. Besides, it is way easier to take care of the plants that are planted in their own pots, without any extra weeds and outside problems. You may forget about pests, over-drying, and other natural disasters you can't control.
Pros
Comfortable blue air tubing
Can hold multiple plants at the same time
Budget Choice
Pros
Comfortable blue air tubing
Premium Choice
Pros
Can hold multiple plants at the same time
Top-10 Hydroponic Systems
I gathered the most reliable hydroponic systems I've personally checked or got positive reviews from my friends. These systems are different in numerous features. I am going to tell you about each one. Pay attention to the list of pros and cons of these hydroponic system reviews.
1. AeroGarden Indoor Hydroponic Garden – Compact Indoor Hydroponic System
This is a smart pot that helps you to grow your plants in no time. I have one in my kitchen, and after several years of use, it is still good as new. There is a LED light above the device, which can be raised higher or pushed lower to the plants. There are 6 pods for plants. Under them is a bucket that can be filled with water and nutritious substances.
There is a seed kit that is included, in case you need it. Besides, AeroGarden offers its own creation – nutrients for plants in a 3oz bottle. There is a control panel that indicates the proper balance of water, nutrients, and light.

---
PROS:
Led lights;
Simple in use;
Smart panel;
Totally packed kit.
CONS:
Slightly more expensive than similar products.
2. Deep Water Culture Hydroponic Bubbler Bucket Kit – One of the Most Effective and the Best Hydroponic Systems
This is a perfect kit for both experiences and completely new hydroponic agriculture users. You receive an air pump, air stones, airlines, 4 buckets of 5 gallons, 6 inches basket lids, all in one pack. There is a 1-year warranty for this product. In every bucket, you find an indicator of a water level and a drain.
Power Grow is a USA-based company that develops hydroponic systems. This one allows you to grow 4 plants in 1 system. The roots of plants will be immersed in the water reservoir, rich in nutrients and oxygen. Oxygen is incredibly good for straightening roots.

---
PROS:
Everything is included in the kit;
Reach on oxygen and nutrients system;
Affordable price;
Savvy offer.
CONS:
You have to make sure there is a place for all buckets in the room.
3. Deep Water Culture Hydroponic Bucket Kit – Quick Way to Grow Hydroponic Cannabis
This is a 6 inches long basket and 5-gallon deep hydroponic bucket kit. Since there is only one bucket, it is much more affordable than similar kits on the list. Yet, this is a perfect beginning for anyone who wants to start growing cannabis without previous experience.
The kit contains air stone, air tubing, an air pump on 44 GPH, Rockwood seeds starting plugs, and a 5-gallon bucket with a 6-inch basket lid. Outside the bucket, there is a blue colored indicator of the water level. Developers offer a 1-year warranty.

---
PROS:
Complete kit for gardening;
Simple in use;
Comfortable blue air tubing;
Affordable price.
CONS:
There is only 1 bucket in the kit.
4. LAPOND Hydroponic Grow Kit – One of the Most Complete Hydro Systems for Indoor Use
I must warn you in advance that this totally awesome hydroponic system requires some space. It is 41.4 inches tall, 19.7 inches wide, and 37.8 inches long. However, you may grow the whole garden there. There are plenty of empty sockets for cannabis. Since the system is extremely simple, I recommend it even for beginners.
The kit includes water pipes, a water pump with a timer for 5 minutes after every 30 minutes of rest, a planting cup, sponge, hose, and tweezers. There are also helpful instructions on installation and recommendations about plants growing. There is no reservoir tank. You can buy it separately, in case you need it.

---
PROS:
Simple to use the hydroponic system;
Easy to install;
Can hold multiple plants at the same time;
A timer that automatically pumps water.
CONS:
The whole system is massive.
5. HTGSupply 3.5 Gallon Hydroponic Bucket System – Simple Hydroponics System for Beginners
This system contains 1 basket of 6 inches, a 3.5-gallon bucket, and a powerful pump. Since the bucket is not that big, it is beneficial for small spaces. You can plant the garden in your room. The air pump provides 7.8 liter per minute, which is 123 GPH power with a dual outlet.
The package from the HTG Supply company includes the bucket itself, air pump, air stone of 4 inches, hydro stone grow medium, and air tubing with ¼ inches connector. The air pump is electrical and requires 120V. If you are a beginner, I recommend you carefully read all the instructions provided with the kit.

---
PROS:
Self-operated system;
Suitable for newcomers;
Detailed instructions;
Affordable price.
CONS:
There is only one bucket in the package.
6. AeroGarden Farm 24 Plus – Perfect Tool for Growing Marijuana Hydroponics
I like this product mainly because of its 60 Watt Led lights above the plants. There are many more features to enjoy, but I find this particular one the most vital when it comes to growing cannabis somewhere in the darkroom, basement, or in any area with a lack of sunshine. There is also a separate control for every piece of the garden. The kit is for 24 pods. It has one shelf below the lights.
AeroGarden produces a smart solution for your plants. They offer you to download an app with remote control over the watering and lights. However, you have to water these plants yourself.

---
PROS:
24 pods for plants;
LED lights over the plants;
Comfortable to place in the kitchen;
A smart system that can be remotely controlled via the app.
CONS:
You have to water all the plants on your own.
7. HTG Supply Bubble Brothers Hydroponic System – Six Buckets Hydroponic Drip System
This is a must-have for prolific gardeners. Instead of one bucket, you receive six. They are all connected. If you want to pour water, you may take off the lid and fill each bucket. Lids with plants can be placed in another bucket of water while you will refill the system. There is a 951 GPH commercial pump that supplies the oxygen to all the buckets.
There are air stones in the package to make the roots more powerful. The kit also includes 3.5-gallon buckets, 8 inches lids, 50 inches roll ¼ inches of air tubing. It comes with a 10-liter bag of clay pebble grow medium. If you need guidance, read an instruction that is included.

---
PROS:
6 buckets;
Premium air pump;
High-quality materials;
Easy to set up.
CONS:
Slightly more expensive than similar systems.
8. The Atwater HydroPod Hydroponic Garden Kit – The Recirculating Hydroponic System for Indoors and Outdoors
Perfect for every beginner, this kit includes everything you may require to start your personal hydroponic garden. Recirculating aerated drip makes the roots of your plants stronger, providing enough air. You may use it outside, to expose your garden to the sun.
Atwater Hydroponics are well-known manufacturers that create tools for hydroponic systems. They offer 3 times faster growth. The basket is 8 inches long. There is a 16 inches HDPE Oxygenating drip ring. The bucket is 5 gallons wide, and made in the USA. The pack also includes clay grow stones, nutrients, Rockwool 6 pack, water level indicator, dry pH, liquid pH tester, elbows, and tubing.

---
PROS:
Complete kit;
Fast speed of growing;
Affordable price;
US-based company.
CONS:
There is only one bucket, which may be not enough for a huge harvest.
9. Hydrofarm Hydroponic System – Advanced Hydroponics Self Watering System
You may require more space to set up this system. There are 12 pots in a pack, but you can always extend it to 48. The system is 2 gallons with the controller. The pump is automatic. It is on a couple of times per day.
The package includes tubing, a smart control system with an LED indicator, and a fitting for the pots. Besides, there are nutrients to help you grow your plants. All you need is a plant and water to start your garden.

---
PROS:
Total package;
24 pots;
Simple to set up;
Affordable price.
CONS:
The whole system is quite massive.
10. General Hydroponics System Grow Kit – Smart Hydroponic Dosing System
The package is ideal for everyone who starts their own garden. It includes one bucket, basket, air tube, air stone, clay pebbles, and three types of nutrients. You may grow several plants in one bucket, but I recommend you start with one.
Dimensions of the bucket: 10.3 x 16.5 x 10.6 inches. There is no problem with changing the water. All you need is to lift up the basket.

---
PROS:
Suitable for beginners;
Contains nutrients;
Easy to take care of plants;
Affordable price.
CONS:
There is only one bucket for a plant.
Buyer's Guide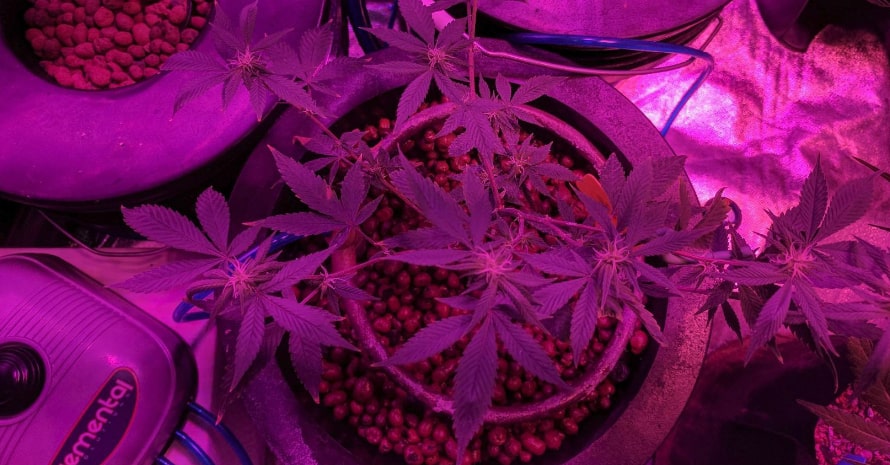 Before you order one of the hydroponic systems, I recommend you read this information. I've made it specifically for you, and hope it will help you to understand the principle of soilless gardening. While it is still not as popular as the classic one, there are more and more gardeners who consider moving to the hydroponic system each year.
What is a hydroponic system?
A hydroponic system is a garden without soil. All you need to grow cannabis is water, a hydroponic automatic watering system, and seeds. However, it does not mean that your job is done. The roots of plants are hung from the pots or holes in a special basket and touch the water with nutrients and oxygen. You may need to add clay pellets, gravel, or coconut husk, make sure that there is enough light, and check the water indicators.
Types of hydroponic systems
There are 6 different and most popular types of hydroponic systems. They have their advantages and disadvantages. Consider them when you decide to pick something for yourself.
Wick system
The simplest of them all, this system is often recommended to newcomers. There is no need for electricity, pumps, or aerators. This system is better for small plants and those that do not require lots of water. The plants are usually placed in vermiculite or perlite. Beware! This system may not spread nutrients and water equally, which builds up the toxic mineral salts inside. You have to flush extra nutrients with water every week.
Water culture
Another simple system. The roots of plants will be in the nutrients. You need to insert oxygen inside the water with a diffuser or via the air stone. Plants must stay inside their net pots. You can grow even the big plants with this system.
Ebb and flow
You place the plants inside the specific grow bed that already contains perlite or Rockwool. After that, it is flooded with water and nutrients. Yet, it must not overflow, so the water stays 1-2 inches below the highest level of the growing medium. The water pump usually has a timer. It is effective for any type of plant.
Drip
All the water and nutrients are transferred to the roots of plants via pipes. There is a drip emitter at the end of every tube. It controls the amount of water and nutrients. You may change the requirements yourself. You may decide whether you want a circulating or non-circulating system that will not drip constantly. You have to keep watching for a pH level in the system.
NFT
Nutrients are placed in a big reservoir. From there, they go through several channels and back into the reservoir again. In this channel, nutrients feed roots, moving in circles around them. Usually, this system requires net pots.
Aeroponic system
Plants are hung in the air. Mist nozzles are below the plants. They are spraying nutrients on the roots. Nozzles are connected to the water pump. This system is hard to build and keep intact.
DWC vs Ebb and flow, what's better?
The DWC or Deep Water Culture system requires net pots. It is easy to arrange, and even big plants can grow there steadily. At the same time, the ebb and flow system is better for smaller plants.
How to make a hydroponic system?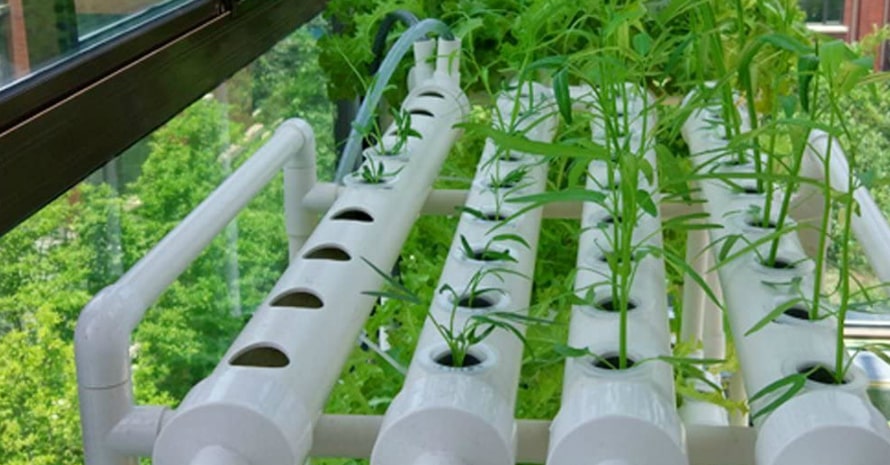 I do not recommend you make a hydroponic system yourself if you can buy it with all the tools you need. However, if you are willing to make it on your own, I advise you to make a deep water culture system that will be enough to grow cannabis:
Take a plastic coffee container and cut a hole in the lid. The hole must be the size of the net pot;
Make another cut in an X shape, near the very edge of the lid for the air tube;
Push 6 inches air tube through the X hole;
Fill ¾ of the coffee container with tap water and nutrients. Put the lid back;
Put the seed in the net pot, carefully filled with perlite or coconut hair;
Place the pod in the lid of the coffee container;
Attach the air tube's end that sticks out from the lid to the bubbler and turn it so your plant receives oxygen.
How to use a hydroponic system?
Use this system when you don't have enough soil to plant cannabis. Based on the amount of water, sun, and space, you are ready to provide, pick the type of system. Don't forget to check out your plants every day.
FAQ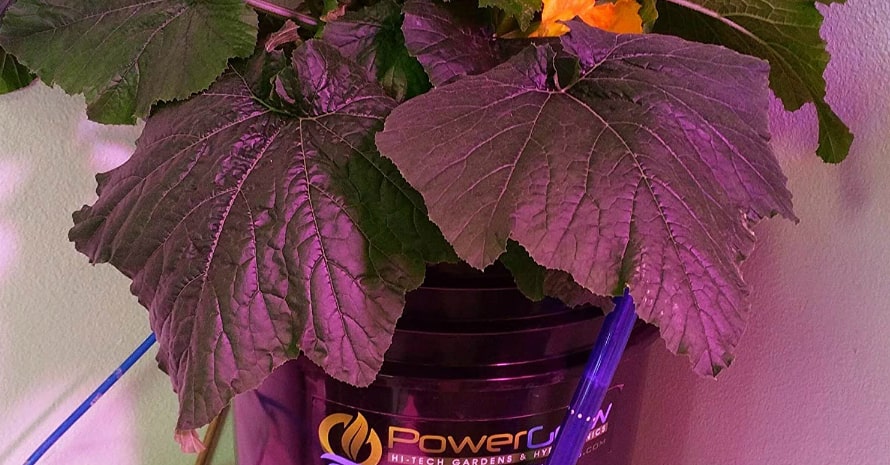 Here are some frequently asked questions and answers to them.
What happens if I don't add enough water to my hydroponic system media?
If you don't add enough water, it will quickly dry out. However, you may use an automatic watering system to make sure you will not forget about it. Check the level of water on the indicator.
How often should water be changed in a hydroponic system?
The general rule for all hydroponic enthusiasts is simple. You have to change the water in the system every 2 or 3 weeks. But if you have a wick system, you need to wash it every week.
Which growing system is better hydroponic or dirt?
The hydroponic system feeds plants with minerals much faster than the soil-based. This is why plants are growing at increased speed. It also helps to cut water consumption. However, the hydroponic system requires more attention from you and a special place to grow your garden.
Which type of water hydroponic system is best for growing marijuana indoors?
The tap water with the proper amount of nutrients may be enough for hydroponics. However, you have to monitor the pH level if you have problems with tap water. The normal pH for the plants is 5.5 – 5.8. There are regulators of pH that can be bought together with the system.
Which Hydroponic System to Choose?
You may choose any type of system that is most suitable for you. Check out my recommendations and reviews of the top systems on the market. Pay attention to the number of plants you can grow. You don't have to order just one device.
Try several of them to find out which one fits you best. If you have tried at least one of the products I've described above, share your thoughts about them. Tell us about your personal experience. Was it successful? Which system do you use for cannabis?