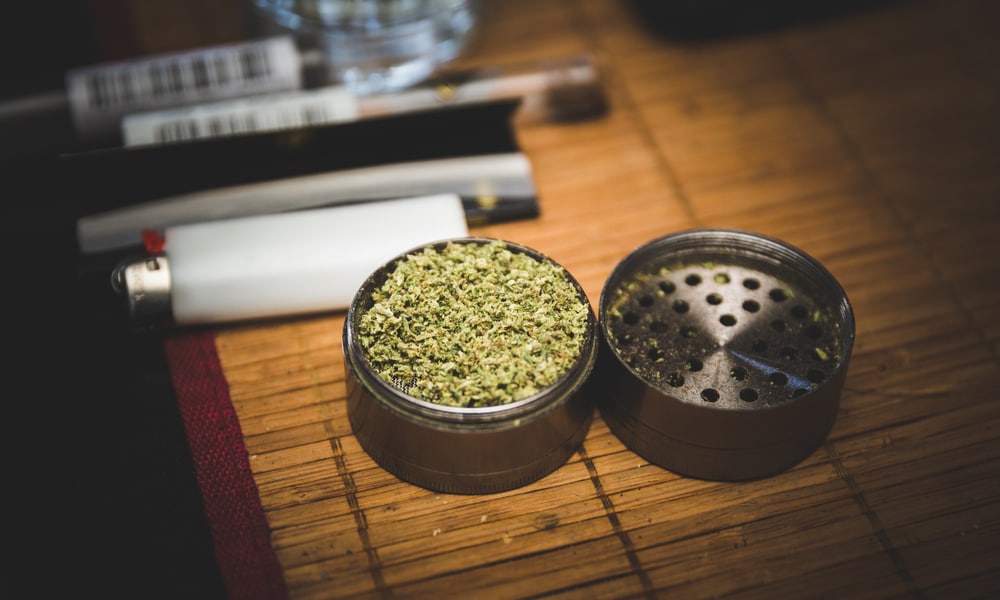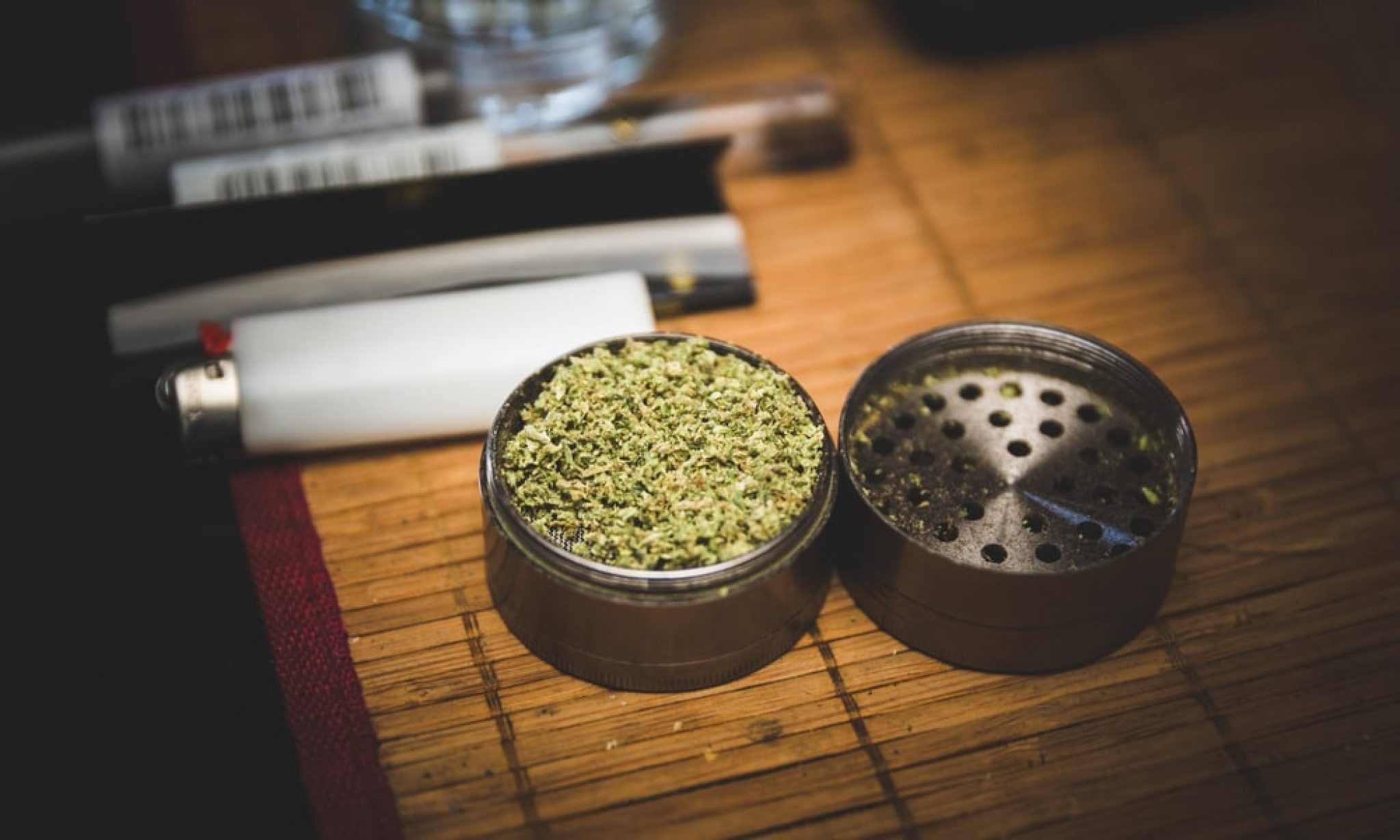 Best Weed Grinder Reviews — Grind to Unwind
Without the pot grinders, marijuana buds and rolling paper are useless. Of course, you can improvise and use your cheese grater or a Victorinox knife. You can even grind weed with a coin and an empty pill bottle as people used to do in the 70s. But it's going to be long and painstaking.

Table could not be displayed.

That's why bud grinder is a blessing to me. It saves time. It's not traumatic. It also prevents you from wasting marijuana. And, most importantly, it helps you preserve the quality of your smoke blend. Because the finer the cannabis chunks are, the more cannabinoids are being released.
Top 6 Best Weed Grinder Reviews
So, I've prepared the top 6 models that deserve your attention. These grinders will suit any taste and budget. But no matter what your choice is, I guarantee you will get a good helper crafted from organic/hazard-free materials and a set of nifty extra features. So, your smoke, vape, and pot bakery will be of excellent quality. Let's get blazing!
1. Kozo Best Herb Grinder [Upgraded Version]. Large 4 Piece, 2.5″ Black Aluminum: a Beast With a Removable Screen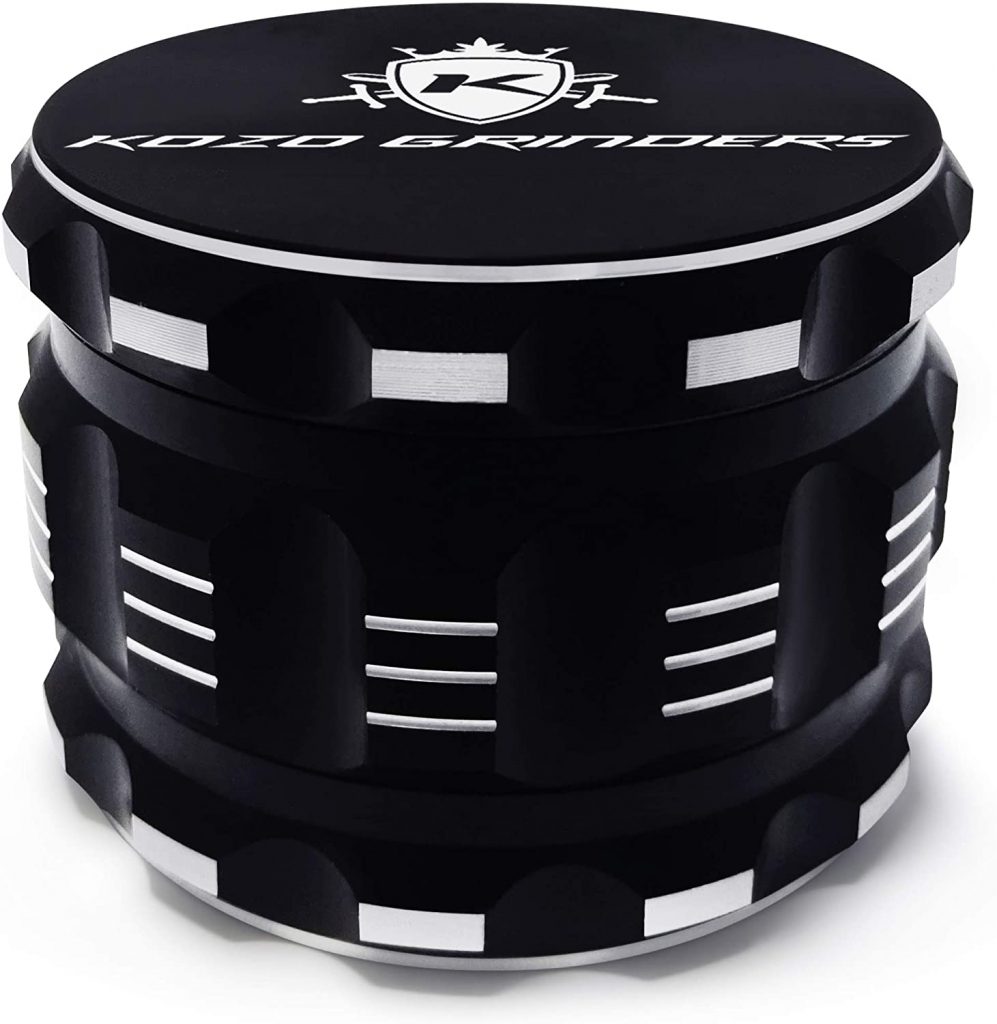 Our next item is a real game-changer. Kozo has already built up a favorable reputation among weed lovers. And this high-quality grinder is a retake on an already existing series. Only this time, it's even better.
Let's review its architecture first. It sticks to the golden medium rule in terms of size. As a result, this Kozo device is a legit portable mill, not just a grinder! It's not too small, so you can shred some tasty buds for a whole company of friends. Or prepare enough smoke supply for later.
At the same time, it's not too large. So, if you're planning a spiritual stargazing trip to Nevada's Mojave desert, take it with you. Your crusade for enlightenment will be a smashing success with this piece of weed paraphernalia. (And yes, weed has been legal in Nevada since 2017).
As for the casing, Kozo's Best grinder has a very stout body. It's crafted from a heavy-duty aluminum alloy. I wasn't tempted to try to break it myself, but the thing looks virtually indestructible. You need to throw it under an excavator or something to damage it. Not a titanium 6 herb grinder, of course. But still something.
Its magnet clutch is also praiseworthy. It allows a very tight lock, so you don't need to worry about your precious herbs getting spilled, wasted, and lost. In fact, you can grind it upside down, if you please. Or shake it like a maraca. Not a single spillage will occur.
As for ergonomics, here, Kozo may be criticized. The issue is: that its edges are a bit craggy. To weed adepts with soft and gentle hands may seem unpardonable. At the same time, this feature serves as an extra 'insurance' — it provides a tight and trustworthy grip.
The workflow with Kozo is enjoyable, to say the least. Rotations are smooth, easy, and noiseless. If you don't mind the barbed edges, working with this mill is a breeze. In a short time, you can shred enough giggle herbs to entertain a company. So, Kozo is a good call for social events.
Another feature you might applaud is the grinder's mesh screen. First, it does a remarkable job as a filter. It's lodged in the bottom part and is pretty deep. As a result, the ground stuff gets ensnared more efficiently than before.
Second, the kief screen is removable. The thing pops out easily, so you get more operational freedom over the kief. Want to put it out into a plastic bag for later? Or maybe you'd rather charge a blunt with the off-the-press kief? Go for it with Kozo!
This monster has deadly teeth. Like tiny razors, they chop your herbs non-stop. Until they turn into pieces tiny enough to go through the holes. As the examination showed, the weed was ground evenly, thanks to the sharpness + concavities. In return, this result provides a steady burn for a blunt.
And finally, I'd like to compliment its visual design. Kozo Best is gorgeous. Its black-&-white aesthetics look elegant. It has a charismatic logo on the lid. And the case details are made with finesse. In my opinion, it's the best finishing grinder on the market.

No products found.
---
PROS:
Amazingly designed teeth;
Universal size;
Various colors;
Removable kief screen;
Sturdy and reliable construction.
CONS:
Pricier than the rest of the models.
---
2. Golden Bell 4 Piece 2″ Spice Herb Grinder: Beauty & Precision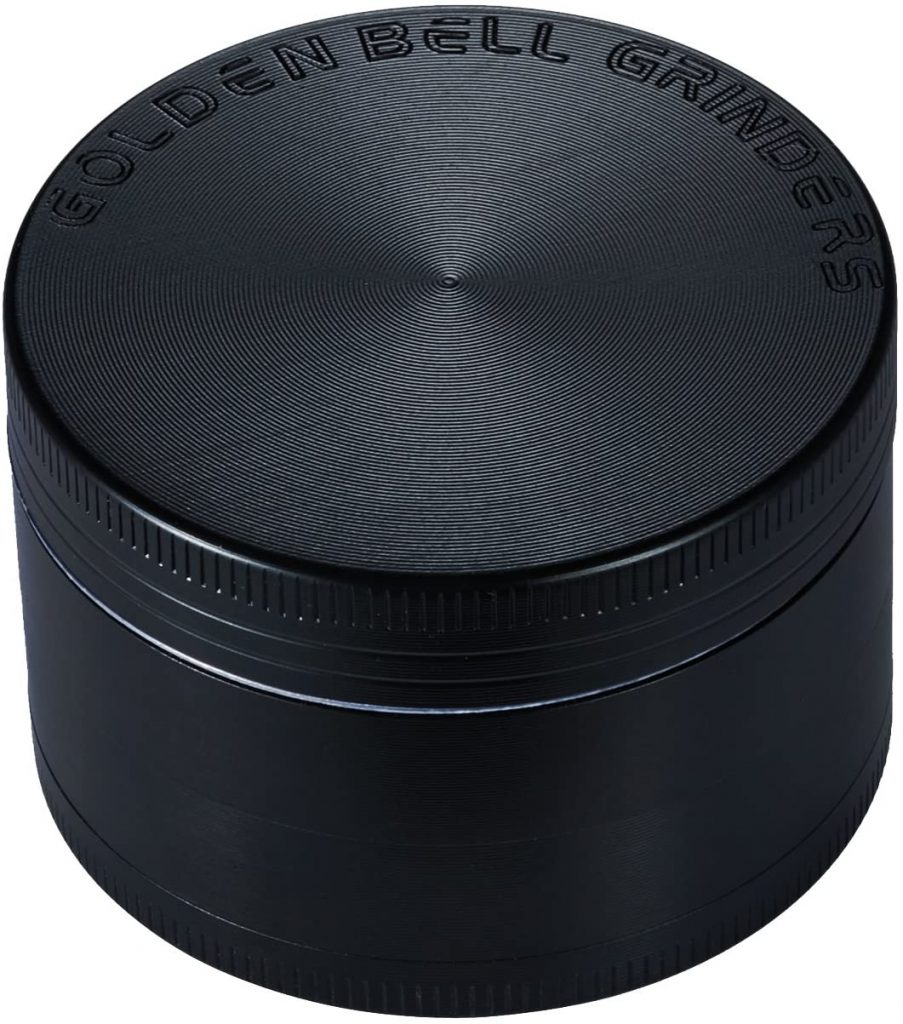 Golden Bell is a Chinese brand that is dedicated to spice grinders. And as I have empirically learned, it grinds cannabis pretty well too. Again: I don't know much about the company. But the reviews and my personal impression together form a favorable opinion.
Okay, first things first. This is a metal grinder weed tool. Its 'body' is forged from the sturdy zinc alloy with the kief screen made from stainless steel. Originally, zinc is pretty soft. But it's not our test subject's case! You will need an Orc warchief's strength to damage or deform it.
Aesthetically, our little guy's glistening case looks sleek. And it's so nice to touch too! The surface of Gold Bell is almost disgustingly smooth and polished. And it doesn't tend to slip away from your grip. So, don't worry about the work of getting sabotaged.
Its size is merely 2 inches. So be careful about formulating your goals. Golden Bells does a respectable job at cutting weed buds, hands down. But it can't chew large amounts of herb. If you try that, you risk having a pile of unprocessed leftovers in the end.
Inside, this dry 6-inch herb grinder is a multi-chamber. On top, we have a spillage-proof lid. Thanks to the magnets, it won't allow herbs to be wasted. The device is centered on the plastic O-Ring technology. It means that friction is greatly reduced. As a result, we get a noiseless and effortless work process.
The teeth perform their function wonderfully. They are quite sharp, but not shark-sharp. In other words, the herbs don't get literally pulverized. The pieces are of a medium size, which is perfect for multipurpose use. Even for preparing some vape weed, maybe.
The screen allows sieving and collecting kief easily. It looks like a tea strainer with a thin filtering structure. But despite that, I haven't seen the screen getting clogged or something so far. By the way, there's a pollen scraper included. So, you won't have to use your fingers for such a delicate operation.
All in all, I'm pleased with what I've seen. Though, there are several recommendations. First, I'd like to see the herb compartment become deeper. I know it may jeopardize its pocket size, but still. Second, if you grind herbs intensively, you risk getting tiny paint particles in your weed. So, watch out for that.
As for the rest, I like how Golden Bell looks. It feels haptically nice. It shreds weed like a pro. And I forgot to mention that there's a color variety: from ruby red to ancient silver. So, for personal use or as a gift, it is a fine herb grinder.

No products found.
---
PROS:
Luxurious metal finish;
Compact size;
Study zinc alloy;
Multi-chamber structure;
Good kief screen.
CONS:
Could use deeper compartments;
Paint particles issue.
---
3. Golden Gate Grinders #1 Best Herb Grinder 2.5 Inch 4-piece Anodized Aluminum with Pollen Catcher: Joy Precision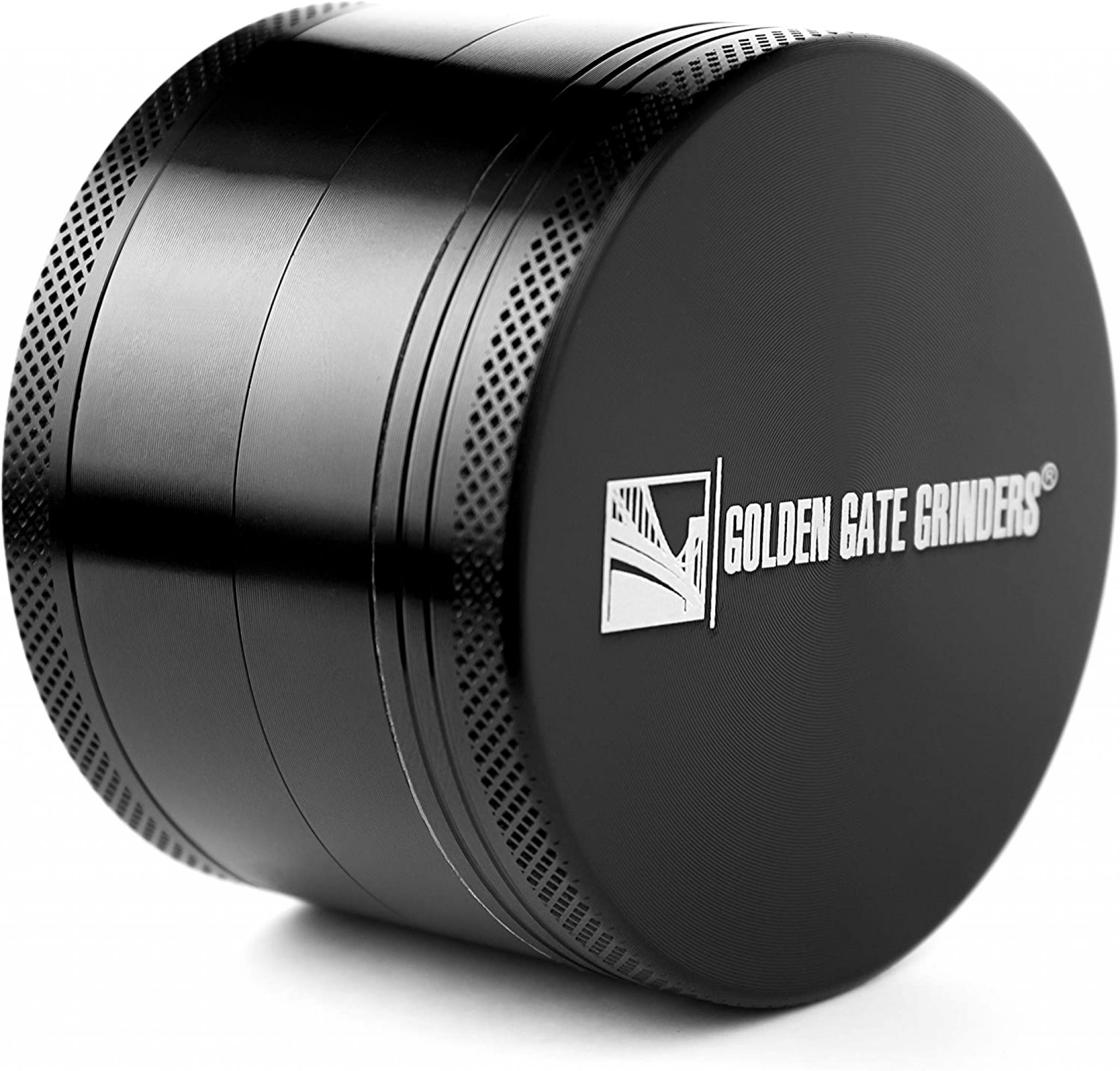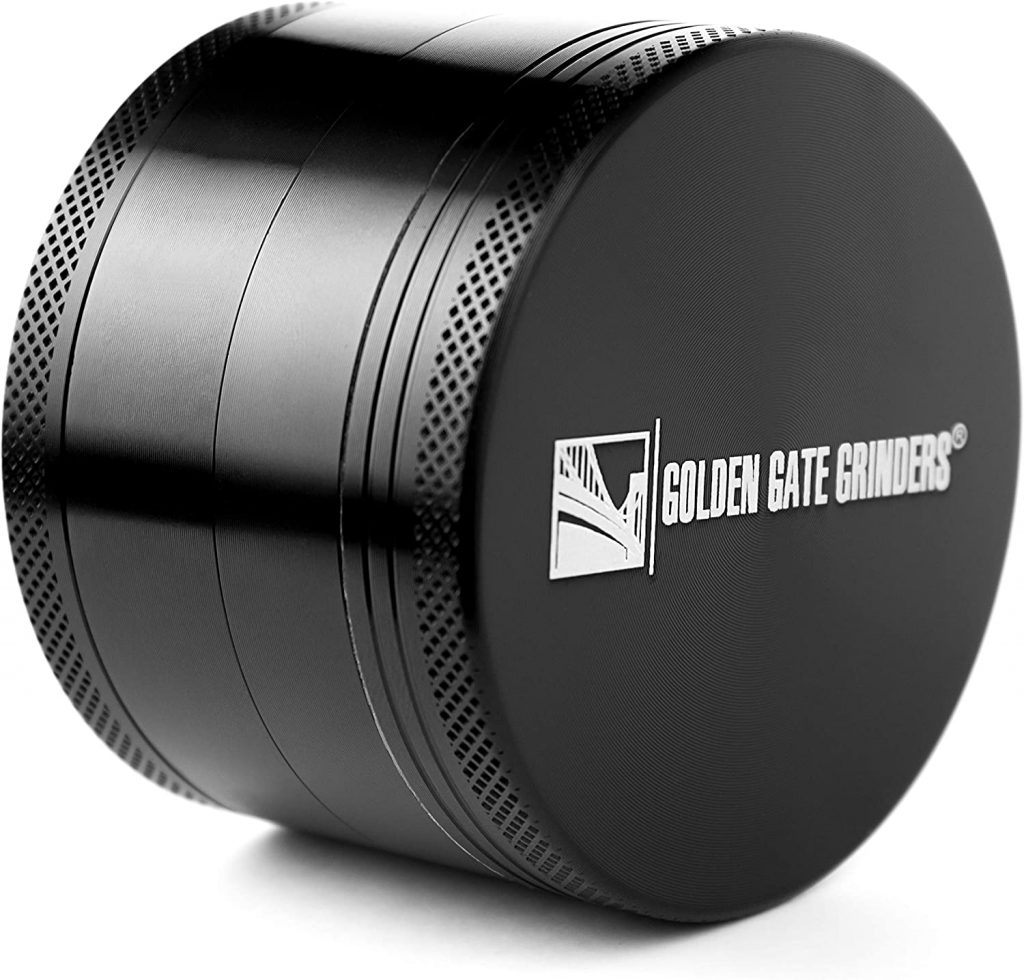 Our first test subject is the Golden Gate Grinder. The company comes from California — the Mecca of the weed game. So, it's already a good start. Golden Grinders exclusively specializes in making these gizmos. And as their logo goes: Home of the best damn grinder anywhere! Well, let's investigate and see if their motto is true.
The first thing I noticed is the grinder's nice metal casing. It's made from sturdy 'aircraft-grade' aluminum, which feels as smooth as Casanova's charms upon touch.
This model is black-colored. But you don't need to worry about greasy smudges and fingerprints left – thanks to patented anodized surfaces, the thing is immune to such misfortunes.
Now, let's see what's inside. The whole technology here is based on magnets. It means that you need to apply much less physical effort when grinding.
At the same time, this cannabis grinder generates minimal friction. In turn, it guarantees that its mechanism will last for decades. Guess, it's the same know-how that can be seen in stationary bikes and elliptical machines.
Golden Gate Grinder's teeth are sharper than those of a red-bellied piranha. This device provides almost surgical precision. As a result, the final product comes out evenly ground and gets a nice fluffy texture. So, thanks to this razor-toothed beauty, your blend won't lose a single cannabinoid.
And one more thing I really love about this bud grinder: a deep and roomy pollen chamber. Oh, and you get plenty of kief when the work is over. The kief screen is of marvelous quality. And its color, once you finish grinding, is healthy yellow.
Honestly, I'm quite pleased with this doohickey. Haptically it feels like a charm. Its design is stylish and elegant. The grinder itself is sturdy and impact-resistant.
There's no metal friction here, so you don't have to worry about the cannabis getting 'poised' with aluminum particles. And the kief production is above all praise. It's the best weed grinder I can find for this kind of money. Try for yourself and see that my ovation is fully deserved.

No products found.
---
PROS:
Affordable price;
Magnet mechanism;
Lifetime warranty;
Extremely sharp teeth;
Awesome kief screen.
CONS:
It's easy to make a chamber way too tight by mistake.
---
4. Kingtop Herb Spice Grinder Large 3.0 Inch Silver – Grinder Review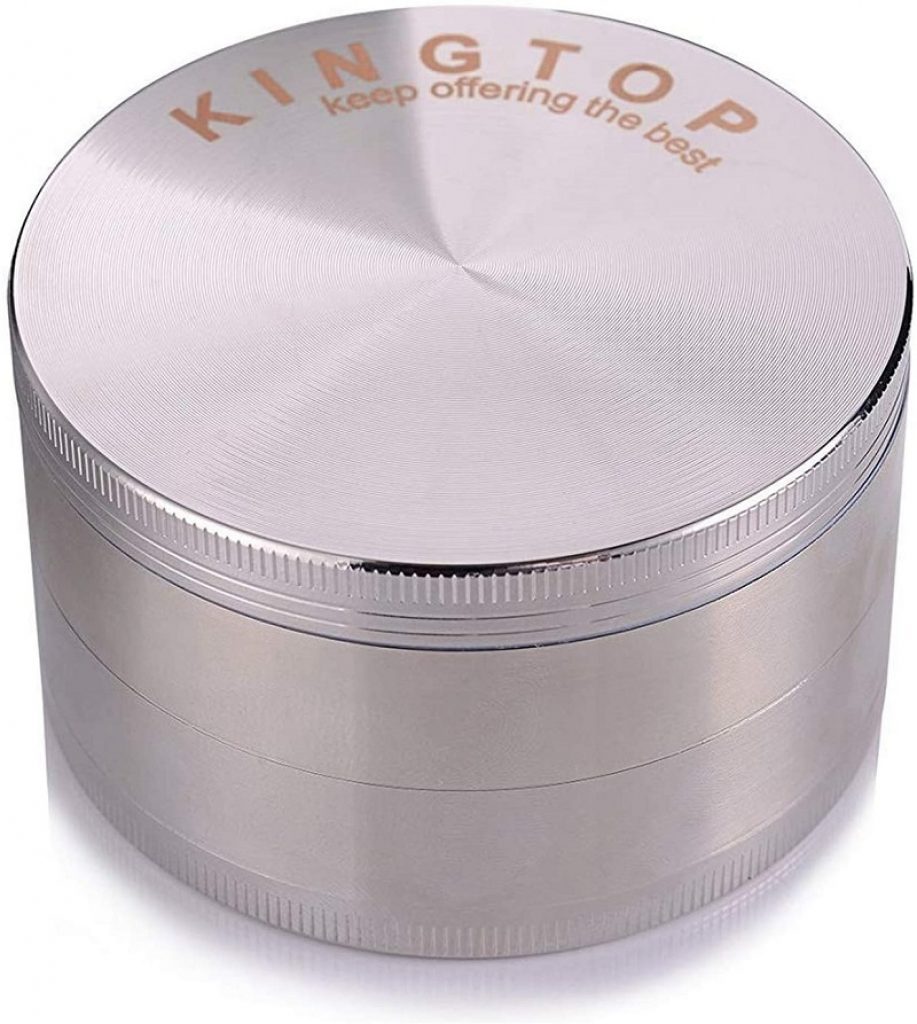 Kingtop Herb Spice Grinder is our final lot. It's a big boy with a 3-inch size. But it nicely sits in your palm. The thingy is made from a soft zinc alloy.
So, I wouldn't say that it's fragile like a crystal swan. On the contrary, zinc grinders are great at surviving physical damage. But if you drop it too often, it will wear its pretty looks off quickly. Zinc isn't immune to scratches and dents.
Now, let's see what's under the 'bonnet' here. Kingtop offers a nice set of 45 teeth. They have ample sharpness, along with clever positioning. This allows Kingtop to chew weed hunks the size of a good peanut. And what's remarkable, it rarely leaves any leftovers!
The pollen screen is also present, and it does a hell of a job. After just a few rounds, it will amass a considerable pile of kief. The ground staff is securely kept inside the collector. So, you don't have to worry about the precious pollen going to waste.
There's another engineering decision I really like. This Kingtop gizmo is enhanced with a nylon ring. This mechanism dramatically reduces friction. As a result, the work process turns into a beach walk. No arduous and painful wrist-twisting!
For its size, Kingtop delivers a good amount of product. However, I'd recommend it more as a travel choice. The thing is that it could use higher rooms than it has now. Especially in the flower chamber — its current storing capacity is a tad limited.
Then, there are some issues with threadings. At times, the threads tend to get stripped. Again, blame it on the size. And also on the fact that the main chamber doesn't have enough threads.
As for the rest, I'm fairly satisfied with this product. It has a tightly secured magnetic lid. So, a spillage chance is about 0,5%. So, my prognosis is there will be no hash rain over your rug or parquet.
Haptically, Kingtop feels very nice. Its zinc case has a smooth and soft texture. And its matte finish adds a touch of elegance and charm. As a rule, they warn you that a zinc grinder may have flaking paint. Though it's never been an issue for me, I suggest you double-check the hash.
All in all, I give this device a solid B+. It's not a platinum grinder. You can't go wrong if you choose it for weed-grinding on the go. The magnetic lid can handle any amount of shaking when putting inside the travel bag.
The sharp teeth crush big chunks easily. And the kief production is just on the spot. In a regular weed shop, they charge thrice as much for a mill with the same features.

---
PROS:
Red and blue ratio;
Good for places with cloudy climate;
Solid-body;
Extra cooling feature;
Reduced electricity consumption
CONS:
May not be suitable for the most sensitive strains.
---
5. Chromium Crusher Drum 2.5 Inch 4 Piece Tobacco Spice Herb Grinder – Cheap & Universal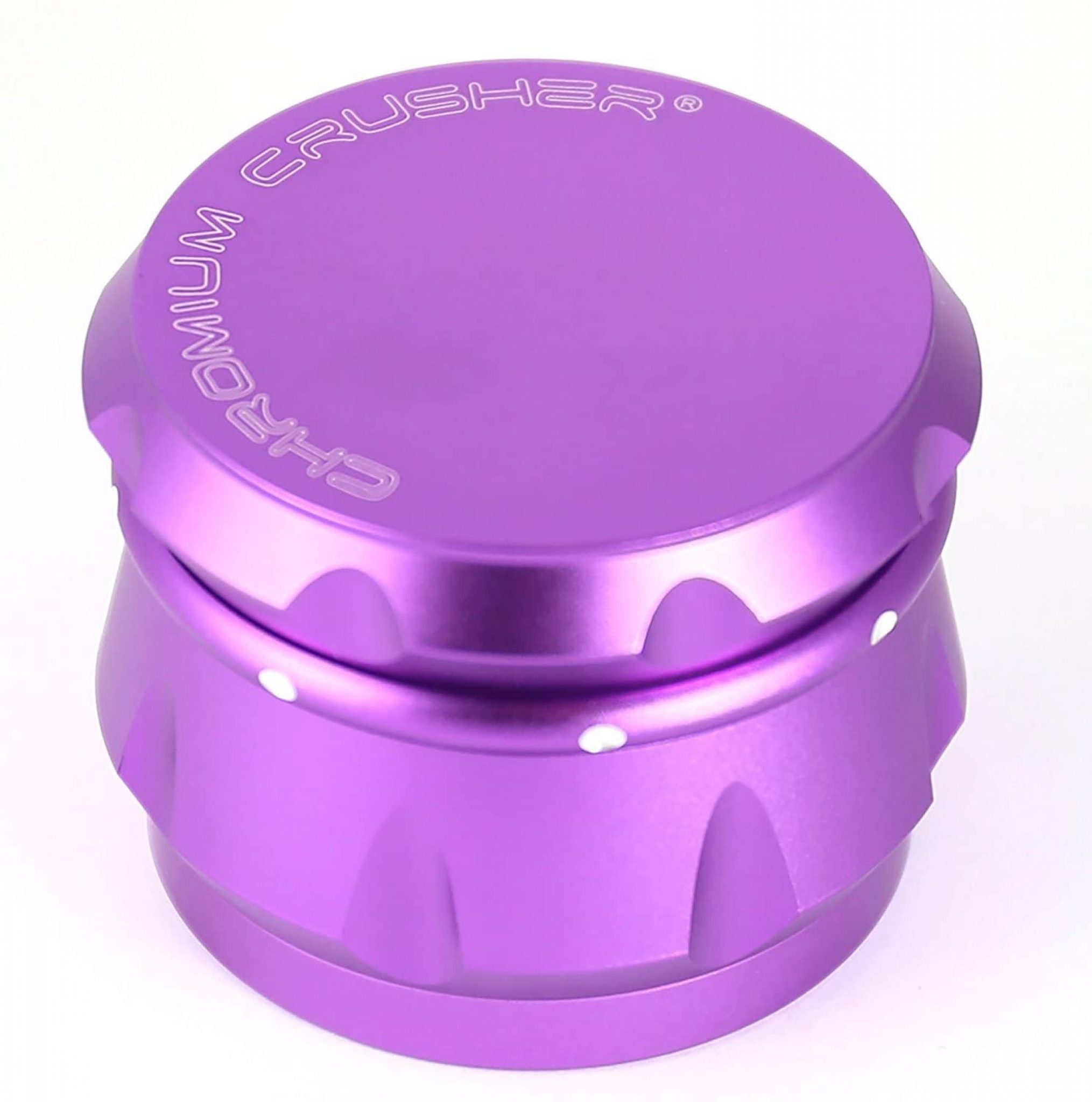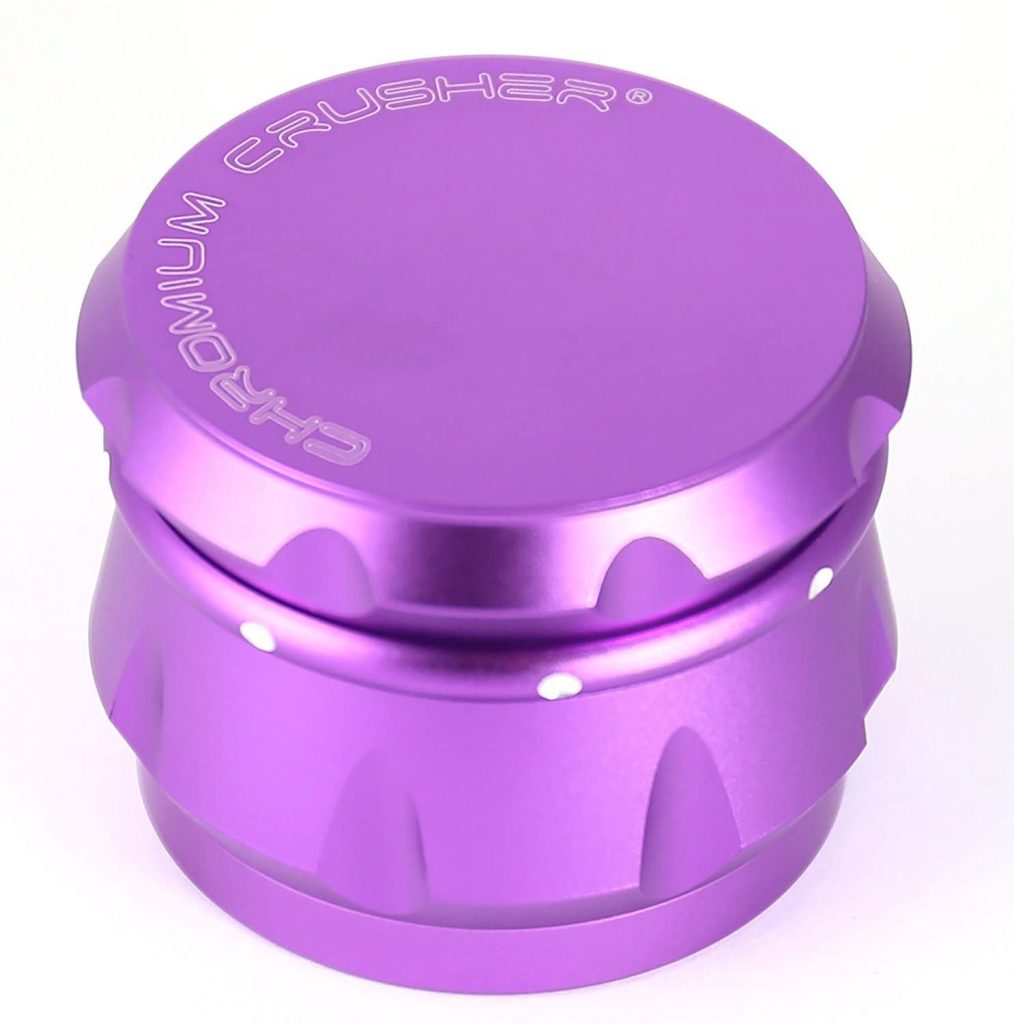 Chromium Crusher is a brand with a 10-year history. And as the company claims, they deliver the best premium grinders on the market at a low price. Besides, they reward you with a life-long warranty, which begins 'from the date of purchase. Sounds alluring!
Let's see what else we've got. Chromium Crusher seems to be a solid herb shredder. Its design is a barrel-shaped case with sharp teeth inside. The casing itself is made from smooth aluminum. However, not everyone is pleased with such a drum-like shape, since it takes a bit more physical effort to do the job.
Chromium Crusher has nicely balanced teeth. By 'balanced', I mean that they aren't either too sharp or too big. As a result, you get a golden standard weed mash. Not microscopic. And at the same time not too thick. So, the final product will fit a blunt perfectly.
Although I wouldn't recommend it if you're a vaper. The chunks of ground cannabis are too giant for this smoking technique. So, if you prefer soaring in the clouds of vape like a marijuana condor — look elsewhere.
As a fat plus, Crusher Chromium comes with a deep and roomy dish. The threadings that it produces are of fine quality. To be honest, I've rarely seen such smooth herb strings.
The pollen screen seems to do a solid job as well. Don't expect the pollen to be too puff and powdery, though. Because this is an output that more expensive grinders deliver. At the same time, it's pretty dope and delivers only a minuscule admixture of shredded leftovers.
The device seems to be a stout guy. As the crash testing shows, it handles getting dropped very well. The construction is well-built, so you don't need to worry about the crusher losing any of its teeth or something. It barely gets any scratches: you need to smash it worse before it gets a single abrasion.
With all this, I need to warn you: this is not a weed shredder for everyone. If you enjoy finer weed grinding — pass on it. If you somewhat struggle to cut through the buds at times, Chromium Crusher will be of some challenge.
As for the rest, I pretty much enjoy it. Crusher is a reliable tool for everyday work. It will deliver ready-made doobie stuffing. It's not fragile, so don't worry about slippery fingers.
Plus, there's a lifetime warranty. Oh, and it comes in three colors: blue, pink, and vivid gold. (Maybe to match Sativa, Indica, and hybrid). So, where is your Chromeo, sweet Chromeo?

Chromium Crusher Drum 2.5 Inch 4 Piece Tobacco Spice Herb Grinder
---
PROS:
Impact and scratch-resistant;
Solid pollen screen;
Balanced teeth sharpness;
Three colors;
Pollen scraper.
CONS:
It's easy to make a chamber too tight by mistake;
Not the best grinder for vaping.
---
6. Wooden Herb Grinder, Classic Yellow Wood Herb Grinder, 1.6 inches 4 Piece Herb Spice Grinders with Pollen Catcher: Compact and Affordable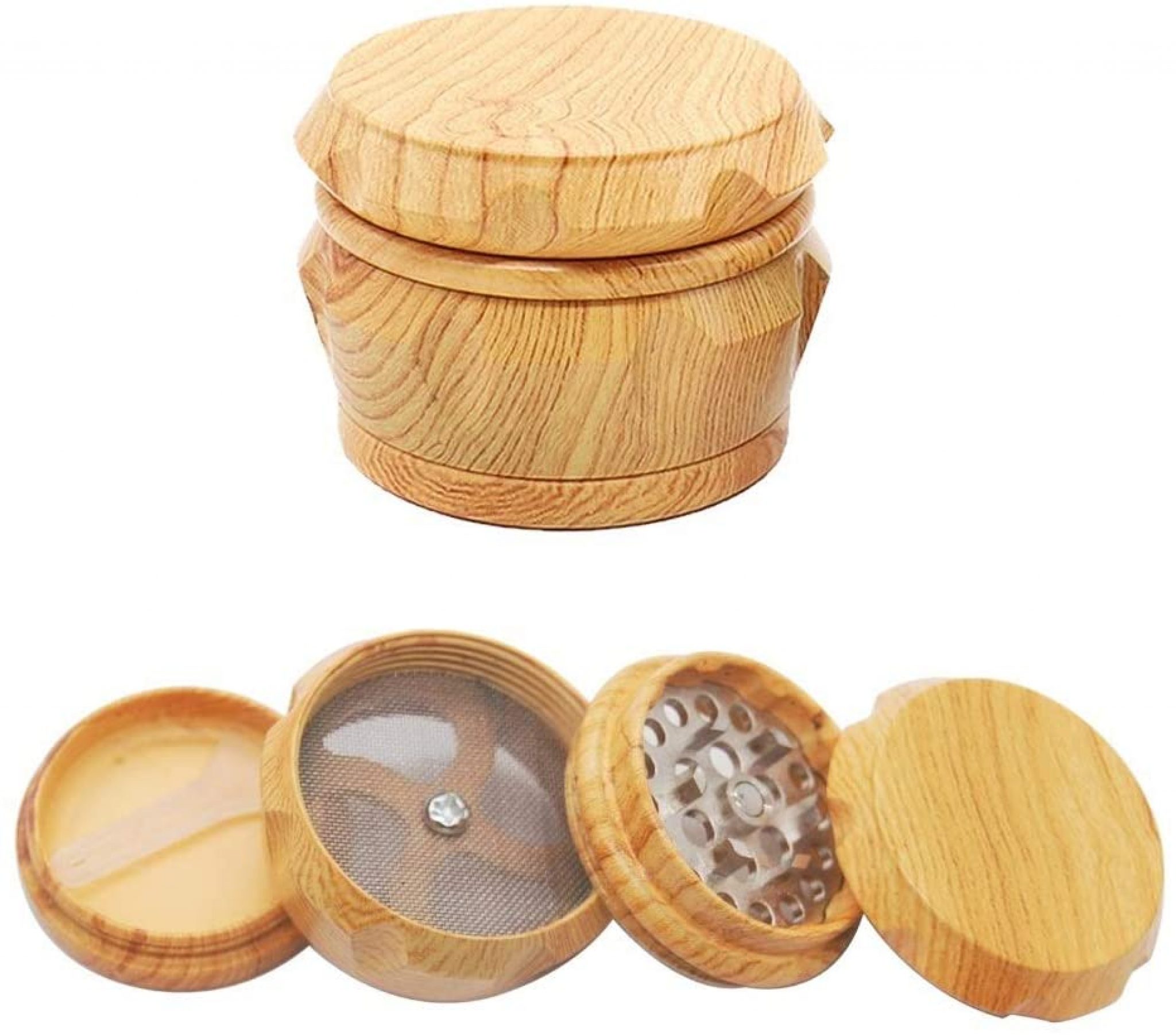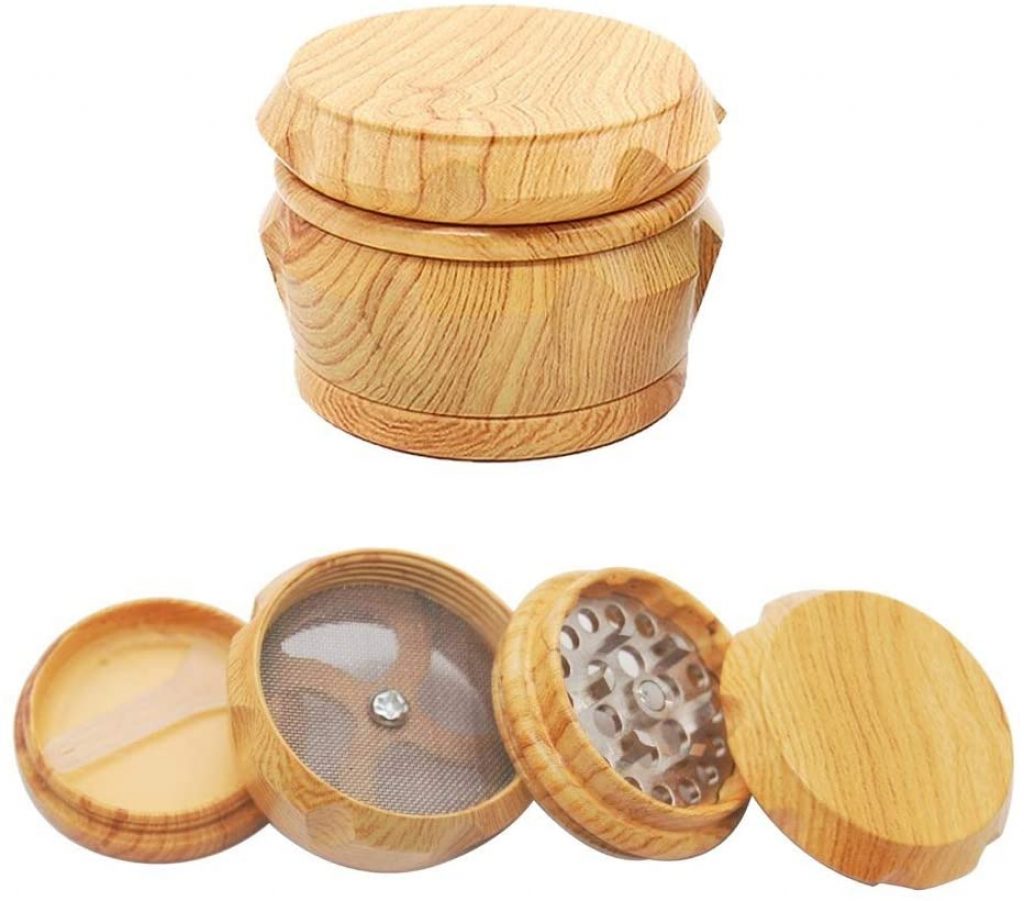 Wooden Herb Grinder is our second cheap gizmo. It's made and sold by Edevolution. This is a brand that crafts weed accessories, but I don't know much about its history/reputation. Probably this company debuted not that long ago.
So here's what we have. Wooden Herb is the most compact marijuana grinder I've seen so far. No wonder, its size is just 1.6 inches! Therefore, it's easy to place in your palm. Besides, its architecture provides a pretty decent grip. It didn't feel slippery or dodgy during the process.
If Wooden Herb Grinder could smile, its grin would be shining. The reason is its 'diamond' teeth. Of course, they aren't cut from actual Yakutian or Diavik diamonds.
No, they are just diamond-shaped. And maybe some powdered diamonds were used to strengthen the teeth. How else would you explain why they glisten so much?
I'd give Wooden Herb a solid B for its work. You don't need to apply much muscular strength to cut the buds. On the contrary: this pot crusher smoothly goes around. Basically, you need just a few intensive rotations to finish the job successfully.
Diamond teeth shred the buds nicely. But there's a little nuance. Due to its size, Wooden Herb sometimes fails to 'chew' some herbs that are on top of the pile. So, to achieve the desired effect, you need to:
a) Constantly monitor what's happening inside.
b) Patiently re-grind.
Our gizmo also has a filter for pollen, which looks like a tea sieve. For the most part, it does its job well. But again it needs monitoring: at times the sieve doesn't let a portion of the pollen go through. Blame it on the miniature size.
Now, let's dissect its anatomy. Sadly, the grinder isn't wooden at all. It's made from some composite plastic — sturdy and thick — but still, not a tinge of mahogany, oak, pine, beech, or let alone Lebanese cedar.
It's colored wooden yellow – a nice and warm tone. So, if you give up grinding weed at some point, it'll become a great kitchen tool for spices and whatnot.
There's another little downside. If you grind stuff for more than 30 minutes, Wooden Herb will make tiny squeaky noises. While some find such an 'accompaniment' soothing, others may not fancy the acoustic disturbance, especially if you grind cannabis in secret.
To sum up, Wooden Herb Grinder is a great low-cost model. It gnaws small portions of weed quickly. It has strong and hungry diamond teeth. And its design — although a tad misleading — makes it an attractive accessory. If you have a weed-loving friend whose b-day is around the corner, I recommend it as a gift.

No products found.
---
PROS:
Diamond-powdered teeth;
You can grind weed on the go;
Visually appealing design;
Affordable price;
Allows firm grip.
CONS:
Isn't made from actual wood;
Makes grinding sounds.
---
FAQ
What is a weed grinder exactly?
A weed grinder is a nifty little tool that shreds marijuana flowers. The final product can be put inside a bowl or used as a joint stuffing. Grinders make a smoker's life way easier:
They save time;
They aren't traumatic;
They have extra perks: kief catchers, multiple chambers, etc.
Let alone what quirky designs they have! Have you ever seen a weed grinder stylized as the Death Star? Well, guess what: it exists. So, if your friend, parent, or lover is infatuated with the Rastafari culture, this thing might be a great stocking stuffer.
But there's another major point of using it. A quality weed crusher contributes to the potency of your stuff. Weed, when grounded evenly and accurately, burns consistently. It retains more cannabinoids and terpenes.
Cumulatively, it increases the quality of your happy-smoky time a lot. The original taste and aromas will be intact too.
The kief catcher is a must-have if you prefer consuming weed differently. This bottom room collects kief that gets snuffed out during the procedure. This fluffy powder can later be used to press hash or put inside some pot brownies.
How to use a weed grinder?
The whole operation includes 5 steps:
Loading. Take the cannabis buds and break them into smaller nugs. Place these chunks in 'tween the teeth of a grinder.  Note: avoid putting nugs in the center. If you do so, they will remain underground.
Grinding. Now place the lid. With one hand, hold the bottom of the gizmo and use your leading hand to revolve the lid. It regularly takes 9-10 rotations to finish the job. But if you still feel some resistance, keep grinding until it wanes.
Tapping. Once the job is done, tap the grinder with the palm of your hand. It helps to get every last bit of kief, as well as force out the weed into the collection section.
Collecting. Now unscrew the grinding chamber. The collecting room will be filled with the ground stuff. Load it inside wrapping paper and enjoy your joint!
Kief. Don't forget about this goodness. Use a scraper (preferably plastic or wooden) to extract it from the kief catcher. A metal scraper may poison kief with metal particles. Not deadly, but still undesirable.
How to clean a weed grinder?
At some point, your weed mill will become sticky from all the bud resin. As a result, more chunks of cannabis will stick to the teeth. Regularly, I'd recommend getting a ceramic herb grinder: its teeth and coating prevent gumminess and clogging.
Besides, there are invisible threats. First, kief and herb leftovers can mutate into mold over time. And the hazards of inhaling mold are well-known: allergy, pulmonary hemorrhage, suffocation, etc.
Second, the grinder may just lock up due to the stickiness. Opening the gizmo up afterward may take too much effort. If you don't want to kiss goodbye to your favorite UFO-shaped mill — maintain its hygiene.
So, here's what you need to do:
Cleaning. Take some 70% isopropyl alcohol. Wet a cloth or a folded paper towel with it and clean the gooey parts of the grinder, as well as its insides. After that, let the grinder dry for a while. Then clean it again with kitchen salt.
Brushing. If you can see tiny bits of kief or buds glued to the grinder, carefully remove them with a toothbrush. Again, putting some salt on it can help.
Refrigerating. It's the same trick used with gum. Put the grinder in a freezer for about 30 minutes. The cold temperature will loosen cohesion between stubborn kief particles and the grinder's body.
Don't use salt if your grinder's coating is made from soft metal. Otherwise, it will leave scratches. Hydrogen peroxide can be the right substitute.
Warning: Never use a degreaser to clean the herb crusher. Chiefly, they are gasoline-based. It means that your next ground herbs can become toxic and poisonous. The same applies to bleach as it may cause an asthma attack.
Grinding My Whole Life
Hopefully, my guide on the pot grinders will help you make the right pick. Just remember that a good shredder must have:
Sharp teeth. Sharp enough to chomp big hunks. But not extremely sharp, so your stuff doesn't turn into unsmokable pulverized dust. Also, pay attention to the blade pattern.
Sturdy material. Metal is the best for me. It's impact-resistant, tough, and just lasts longer. Besides, a quality metal alloy has a nice texture. So, your tactile experience will be satisfying.
Kief catcher. The more chambers a mill has, the higher the pot quality will be. And the kief catcher is an important part of success. Check if its mesh is fine and narrow. But at the same time, avoid a screen that mimics an atomic sieve — kief may get stuck.
Lid. A secure and tight magnetic lid is also a must. Losing precious herbs is a no-no. Plus, it will make your traveling easier.
Accessories. Every respectable brand includes a pollen scraper as a free bonus. Sure, you can use a wooden fork, q-tip, or your own pinky to extract kief. But It doesn't guarantee precision.
Ergonomics. A herb grinder must rotate smoothly. Without a hitch. Blade construction + an anti-friction ring can guarantee that. After all, you don't want to hurt your wrist with osteoarthritis or RMS (repetitive motion syndrome).
These are the key qualities to look out for in a good grinder. My today's selection covers pretty much all of them. But if you know some other models worth of attention, it'd be super cool to hear from you in the comments.
I regularly review and test weed and weed accessories. Do you want to know tips on how to choose the best bong? Would you like to learn the difference between Juicy Jay and Raw rolling paper? Want to know how a weed tray can radically change your life? Welcome to my ganja dungeon!