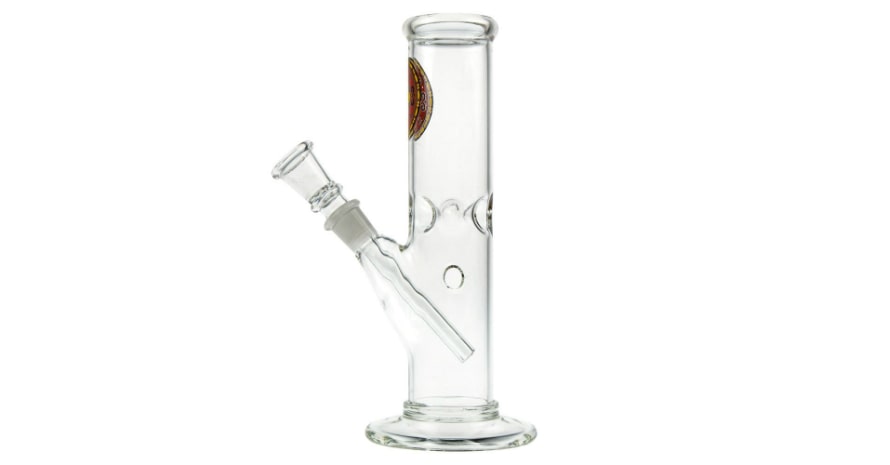 Best Ice Bong — A Gift for Your Throat
A good bong is one of the best friends a weed connoisseur could have. Of course, joints have their unique vibe. Nothing can compare to the crispy texture of the cigar paper that you feel while rolling a blunt.
But there's something special about the best ice bong too:
Taste. A bong flavor is attested as smooth and creamy. The water filters out the harshness that you'd typically get from a joint.
Saturation. Thanks to the beaker base, the weed has ample space for whirling before it enters a percolator.
Heat reduction. Water cools the smoke down. Apart from delivering that creamy taste I've mentioned, it also lets you inhale cooler smoke, which is less harmful than a regular blunt.
Health. Bong smoking isn't the safest method compared to weed pastry. However, water plays the role of a solid barrier that stops toxins from entering your body.
Besides, a bong is a one-time investment. It may cost as much as $50 or so. But it will last for years if you take care of it properly. So, to provide some insight on this delicate topic, I've prepared the ice bongs reviews featuring my top 8 picks of all sizes and prices.
It's Eight O'Bong
My ice bong selection features models of all sizes, shapes, and also various colors. Here you will find one to suit your habits, smoking technique, and even lifestyle.
Every single one of them is a worthy model that has unique characteristics. And their price range extends from the premium Royal Highness to the cheap but handy Mini Mandala.
1. Glasscity Beaker Glass Ice Bong — Top Pick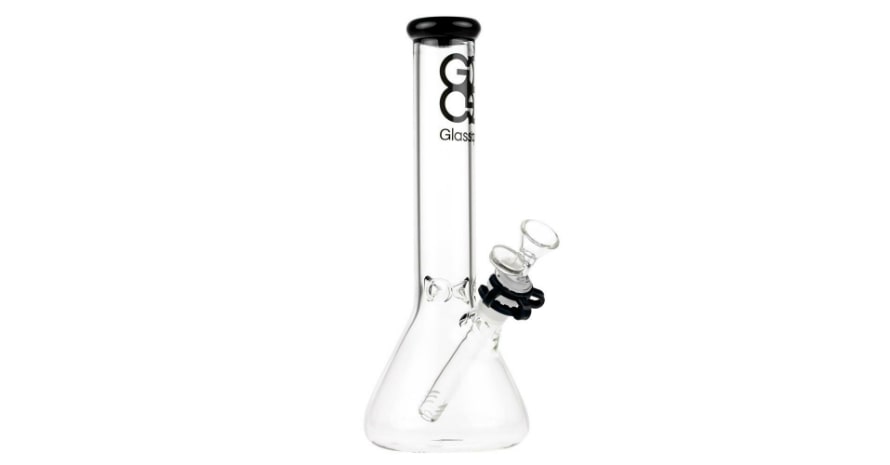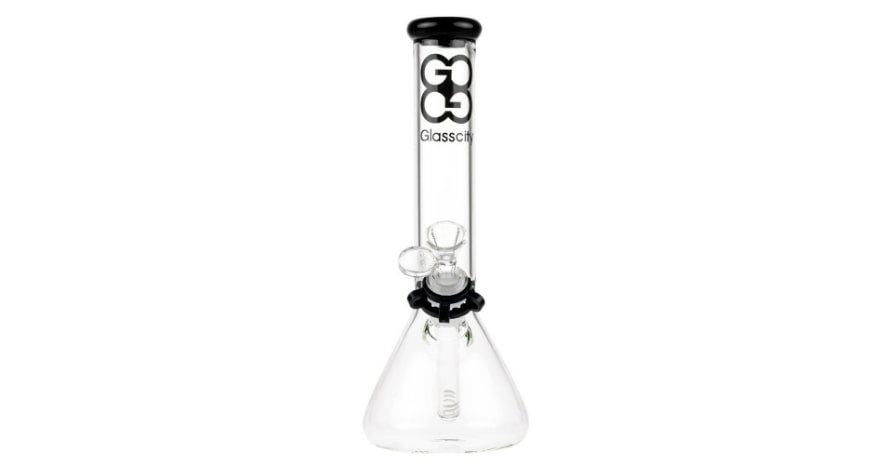 Our first item is my personal top pick. This is an ice water bong from the Glasscity line that combines both visually appealing design and practicality. And what's even cooler, it's one of the most affordable bongs of quality there is!
First things first, its beaker is made from borosilicate glass. To cut the brainiac terminology, it has a special formula with 15% boron dioxide, which makes it resistant to thermal shock. That means, if you overdo with heating the bong a bit, it won't explode like a fracture grenade.
Beaker also has a throughout construction. First, I like its roomy bottom — it allows the bong to be steady as a stone on any type of flat surface. It's like an extra safety measure that won't let it tip over and break into smithereens.
Second, such a spacey base lets the smoke cool off more efficiently. As a result, each inhale feels smooth and creamy, not making you want to cough like you've had a spoon of pepper for breakfast.
Your throat will definitely be grateful. Besides, your lungs won't be exposed to the chemicals that the burning paper, tobacco admixture, or even lighter gas — highly toxic butane that is — usually release.
Its design allows you to place a few ice cubes in the bong, there's a vast 14.5 mm bowl for cannabis, and its height is 25 cm/10 inches.
Oh, and there's a black mouthpiece at the end of the tube to provide comfort and more safety. Plus, it nicely matches the Glasscity emblem — who said that smoking can't be aesthetic?

Glasscity Beaker Glass Ice Bong
---
PROS:
Affordable price;
Heat-resistant glass;
Ergonomic design;
10 inches in height;
Looks good.
---
2. Glasscity 4-Arm Perc Beaker Bong with Ice — Runner Up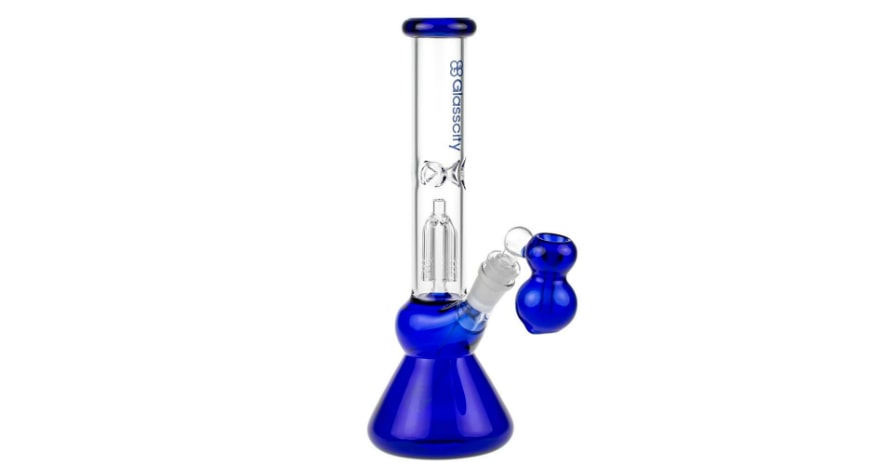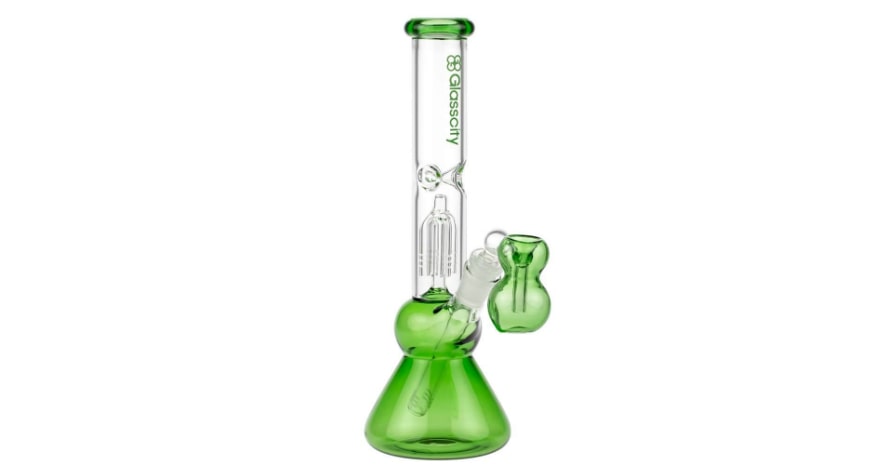 Our runner-up is another product of quality from Grasscity, a company from the Netherlands, which specializes in making everything weed-related: from hemp wick to grinders and rolling paper.
This ice water pipe is made from the 3-mm thick glass that again has boron dioxide in its anatomy. And you know what it means: you can put it on a burning stove for 10 minutes running, and its structure won't get damaged!
Its high-quality glass isn't just heat-resistant but also non-toxic. No harmful substances are being emitted while you smoke — it is a huge advantage that only glass bongs can offer: their aluminum or acrylic peers stand no chance.
I pretty much enjoy its design too. It has a 4-arm tree percolator architecture, which allows diffusing and, therefore, cooling off the weed fumes more efficiently. Again, you can put a few ice cubes in the ice notches and have a super smooth toke.
But the truly special feature here is the ash catcher. Cannabis is notorious for producing a lot of dregs, ash, and rubbish.
The catcher is like an extra filter that prevents fine particulate matter from getting into your smoke. As a result, all this debris won't make it inside your body — just what the doctor ordered.
It also looks stylish. Every detail: from the slitted diffuser to the elegant silhouette, is throughout, making it a complete visual composition. And this time, you have three colors to pick from: green, dark purple, and black.
Plus, such a bong is a worthy one-time investment. Meanwhile, joints blunt, and spliffs, let alone weed pastry, will require you to cough up money for consumables on a regular basis.

Glasscity 4-Arm Perc Beaker Bong with Ice
---
PROS:
Decent budget model;
Clever design;
Ash catcher;
Three coloring options;
Quick cool off.
CONS:
Hard to see the water level.
---
3. Glasscity Limited Edition Royal Highness — Emperor Among Bongs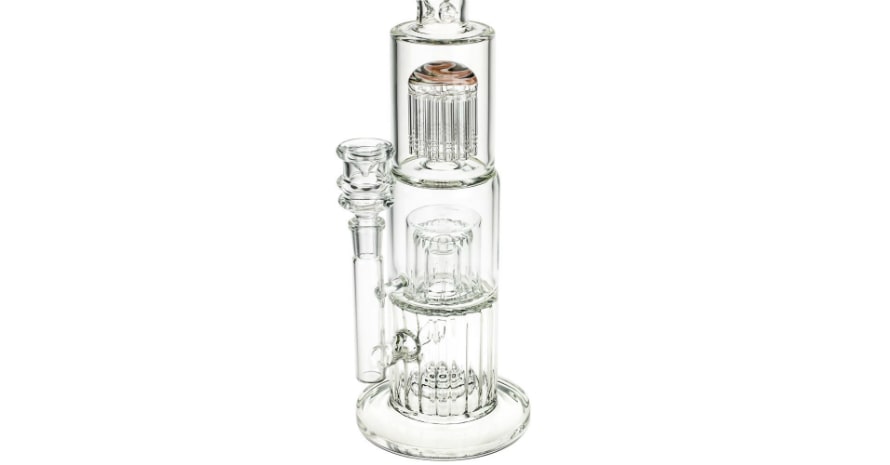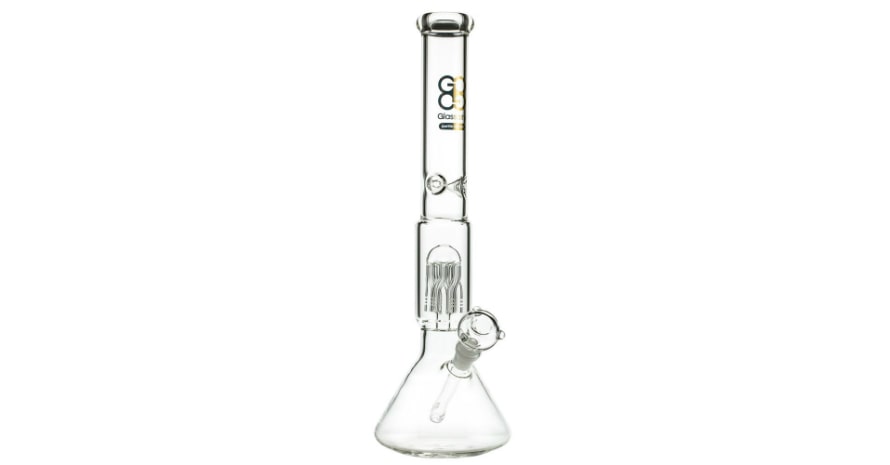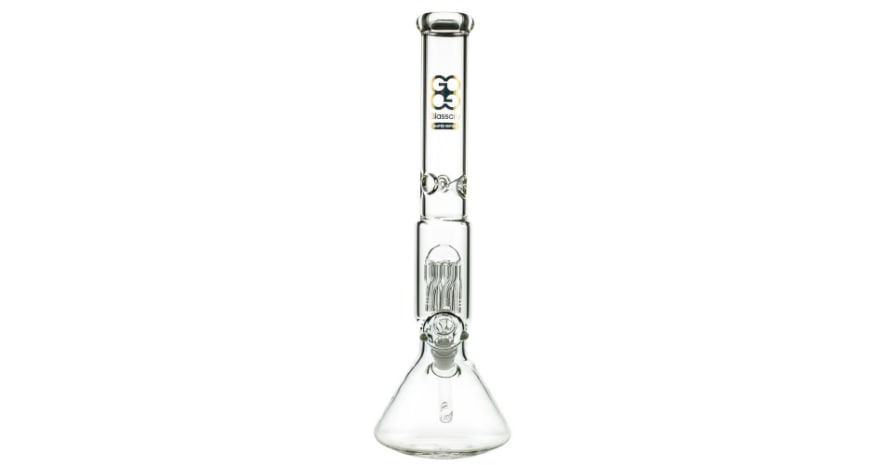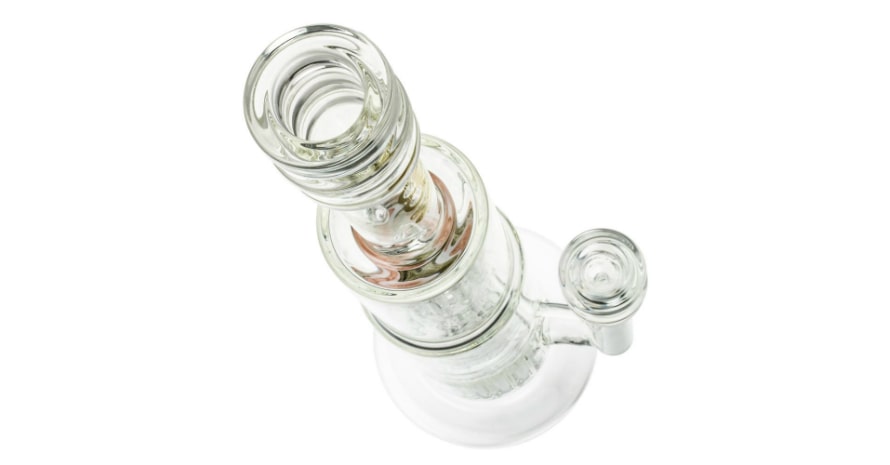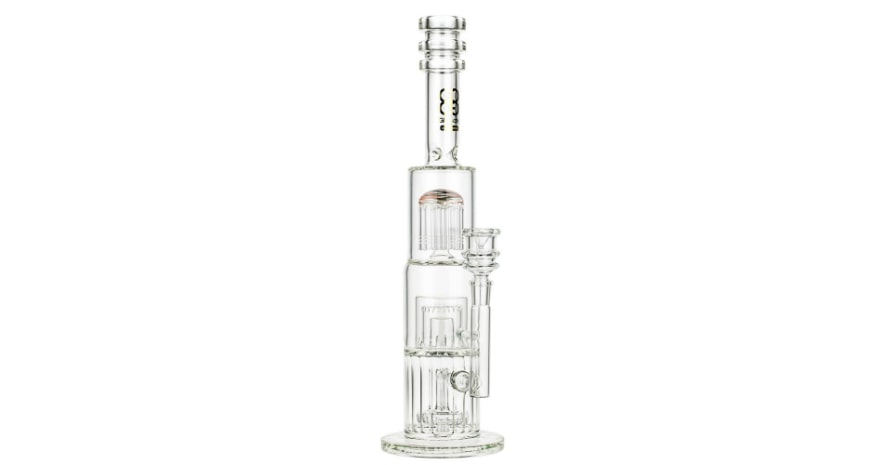 This dignified ice chamber bong is a king with three crowns. The thing is, its design includes three percolators, each of which plays a role of a filtering chamber, adding a nice touch to the haze that you inhale.
The first perc has a slitted showerhead construction. It breaks up the smoke, preparing the ganja particles for spreading into the water. This is the first filtration stage.
Then the particles are directed to the second percolator that resembles a triple showerhead dome. It breaks up the smoke into tinier particles. This makes the surface area bigger, and the weed vapor cools off even quicker.
Finally, in the third chamber, the smoke goes through 12-arm tree perc. What does it do? It adds a finishing touch that makes the smoke smooth and fresh. This three-step filtration, in other words, gives the vapor a January morning crisp — it's that refreshing!
The exterior of this bong with an ice catcher is bombastic, to say the least. You can tell that it was designed for special occasions.
Here we have a solid glass foot that allows the bong to be as motionless as a rock. The mouthpiece has a triple rim for more grip, and the golden insignia of the company adds an elusive aristocratic touch.

Glasscity Limited Edition Royal Highness
---
PROS:
Sturdy construction;
Ice notches;
Heat-resistance;
18-mm female joint;
Very classy.
---
4. Glass Straight Mini Mandala Ice Bong — Reliable Small Ice Bong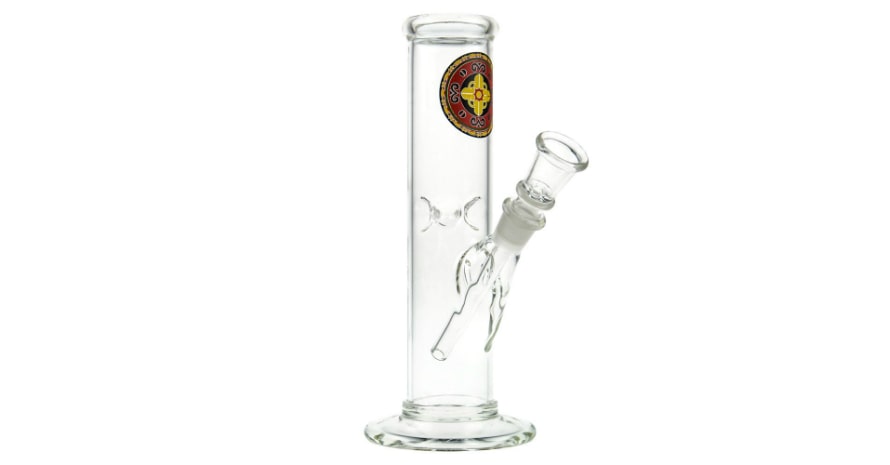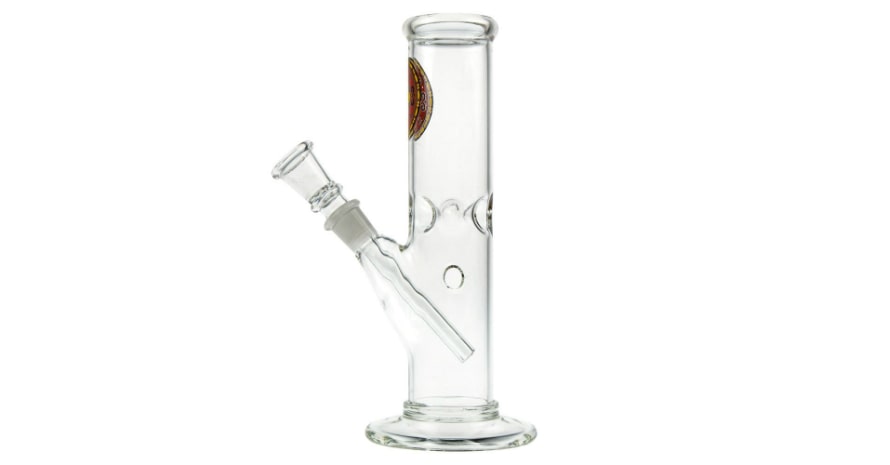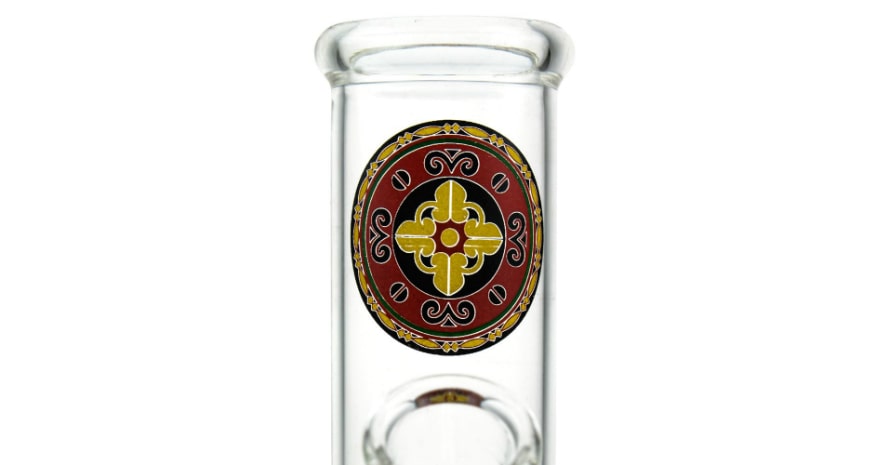 Mini Mandala is a miniature ice bong from the same brand. Its main advantage is that it fits easily in your palm with its 20 cm/7.9 inches of height. And also, it's disgustingly cheap!
So, here we have an accurate downstem length of 9.5 cm/3.75 cm. The ground joint is 14.5 mm; there's a cannabis bowl that facilitates a good pinch of weed and a carb hole. Wait, what is it for?
A carb hole is located next to the cannabis bowl. And it's a vital element: it allows you to control the airflow, so you can easily break your weed session into two parts: burning weed and inhaling it. And ice cubes add a specific, piquant chilly note to that symphony of flavor.
So, basically, it serves as a cheap and effective substitute for a percolator. Plus, the carb hole lets you clear the bong quicker and prepare it for the next round of marijuana assaying.
As for the rest, Mini Mandala has everything you'd want in an ice catcher bong. There are ice notches to make the smoke smoother. There's a nice round glass foot to protect it from tipping over.
And the whole thing is crowned with a nice scarlet-&-golden mandala logo — a hypnotic symbol of transcendental eternity and cosmos borrowed from the Eastern mysticism.

Glass Straight Mini Mandala Ice Bong
---
PROS:
Very affordable;
Miniature size;
Ice notches;
Heat-resistant glass;
Good for journeys.
CONS:
It may not work as a party bong.
---
5. Dopezilla Chimera Beaker Ice Bong — Handy Ice Pipe for Weed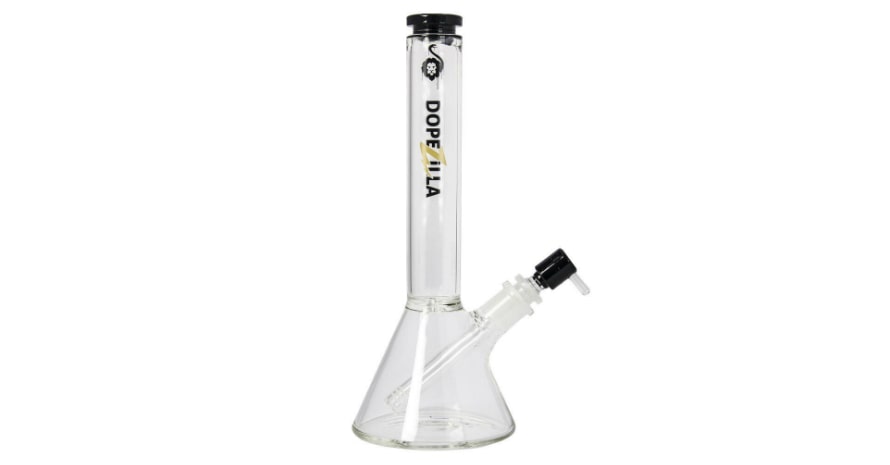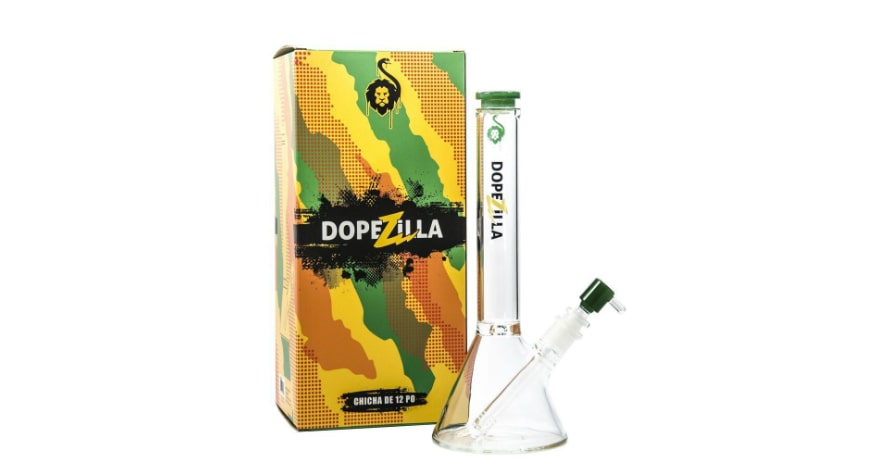 Dopezilla is a brand-new line of bongs and dab rigs from Grasscity. It's a compact device that will get you higher than Airbus A380. So, why is it good exactly?
This little contraption is made from borosilicate glass with 5-mm thickness — the bong will last for many smoke sessions as the lighter flame doesn't scare this little monster.
Dopezilla is 12 inches/30 cm tall and offers a slitted inside-cut downstem that is also removable — a flexible construction allows more efficient maintenance.
Then we have here a male 14.5 mm cannabis bowl that can accommodate a good portion of the ground stuff — enough to get a small crowd of your buddies spiritually uplifted.
Another feature I really enjoy is the small tube diameter of Dopezilla. The problem is that in some bong models, the diameter is almost as wide as a hippo's mouth, and as a result, the water will touch your lips with every toke. However, with this model, it's not an issue anymore.
From the aesthetic point of view, Dopezilla is also dope. It has a laconic design with color accents neatly placed at the foot, mouthpiece, and bowl. There are two color options: black and mint green. And as a finishing touch, there's an artful logo with a lion face.

Dopezilla Chimera Beaker Ice Bong
---
PROS:
Appealing design;
Narrow tube diameter;
Thick, long-lasting glass;
Ergonomic construction;
Affordable.
---
6. Grace Glass Pearl Series XL Frog — Large & Cool Water Bongs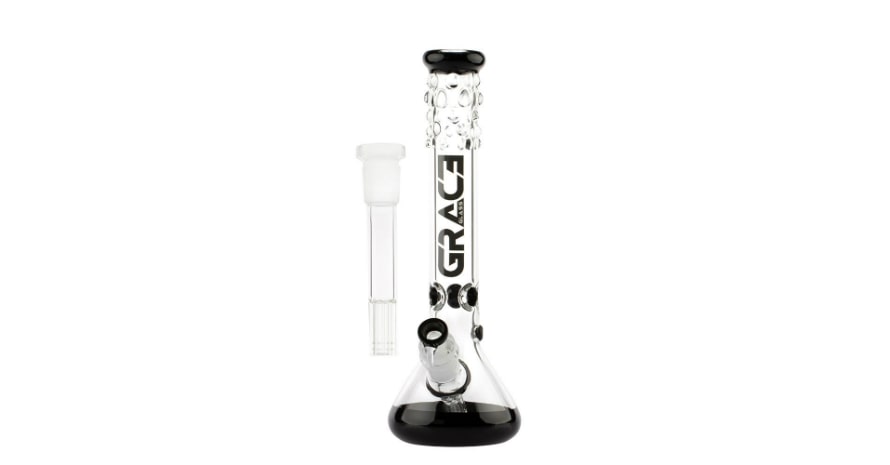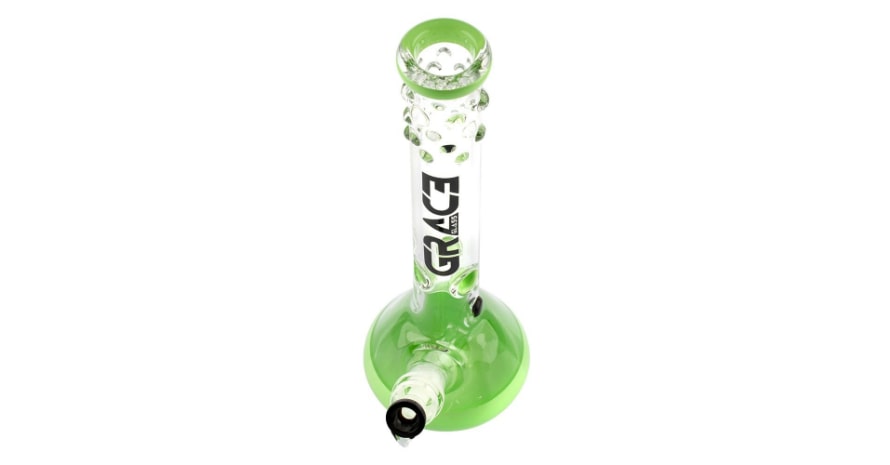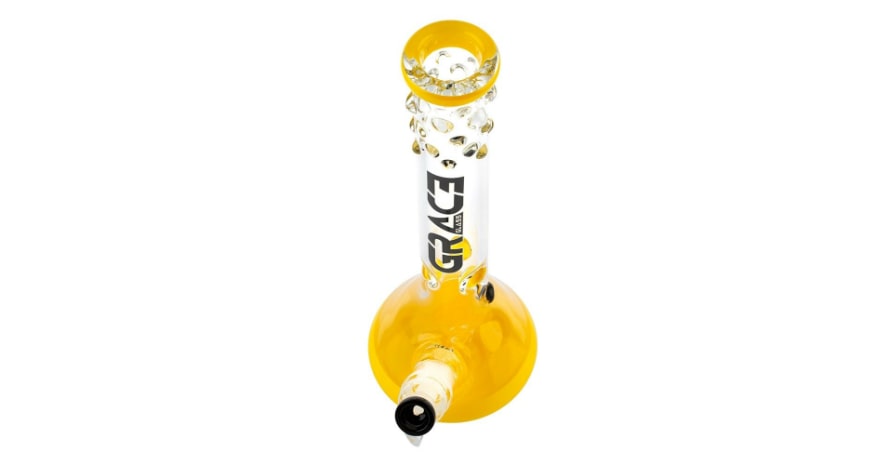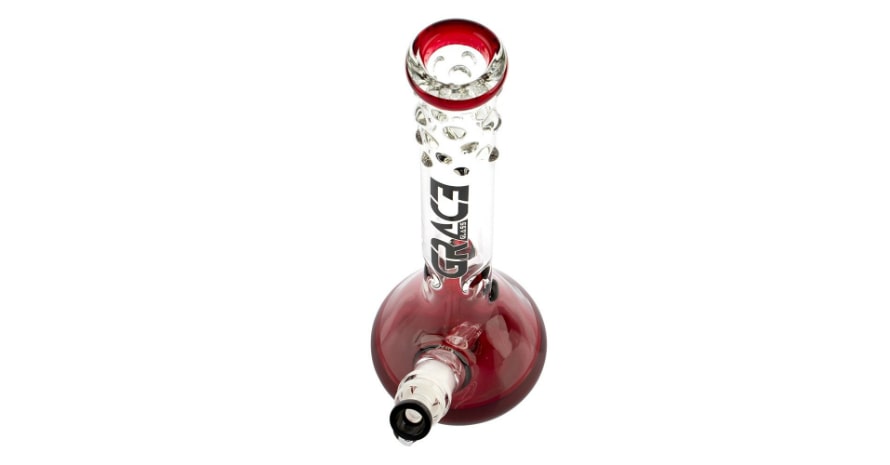 The next bong in our hit parade is Black Frog, which is a part of another Grasscity's line named Pearl Series. And if it's a frog, it must be a Goliath frog, as it's quite enormous in size.
This froggy is 40 cm/15.75 inches tall and also has a 50-mm diameter. It is a mighty device that can provide solid service, especially amidst a party.
The Frog's body is made from high-quality borosilicate that is 7 mm thick. With due diligence and regular maintenance, it will serve for years to come. So, I think it can be a worthy one-time investment.
The bong offers a smart construction with a submerged downstem. It features a 6-arm slitted architecture that does a good job at splitting up the vapor. As a result, it gets as much diffusion as it needs. Plus, unnecessary cannabis elements are filtered out.
A carb hole with a rubber grommet is also on the menu. It allows you to control the airflow manually — with one finger to be precise — and take the juiciest toke at the right moment. As for the pearls on top of the tube — they don't add anything to the Frog's magic, except for extra prettiness.
Speaking of the design. Black Frog is quite a looker. It has a laconic style with prevalent clear glass and accented color elements. This is, by far, the splashiest bong line from Grasscity as it offers four colors: black, green, red, and yellow.

Grace Glass Pearl Series XL Frog
---
PROS:
Original design;
Gargantuan size;
Stable foot;
Sturdy glass construction;
Ice catchers.
---
7. Glasscity Limited Edition Beaker Ice Bong — Smoke in Comfort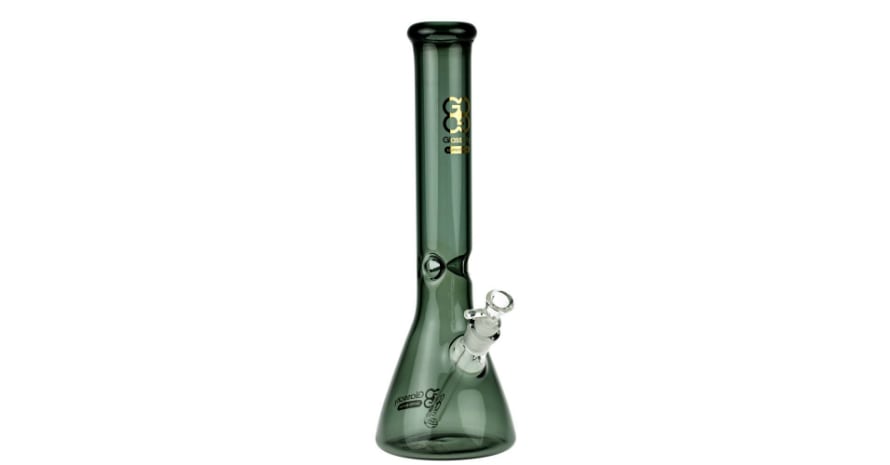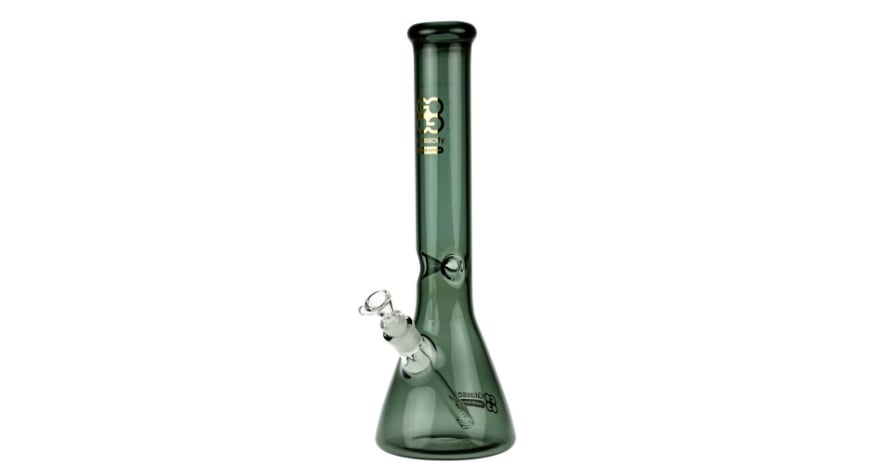 Looking like an alchemist's device, this beaker bong deserves a place in your collection of weed paraphernalia.
It is 39 centimeters/15.3 inches high, which makes it a sizable appliance that's perfect for parties and other social events involving cannabis. However, everyday use is also one of its gimmicks.
Its architecture includes a slitted inside cut downstem — 18.8 mm > 14.5 mm. It's needless to say that it does a great job at diffusing and filtering.
It also splits up the smoke into tinier elements, which automatically increases the surface area. As a result, the vapor chills much quicker — you won't scorch your lungs!
Interestingly enough, ice catchers are placed quite low. This creates a unique effect: once you load enough ice, the flavor of your stuff will get a noticeable 'frosty' admixture. I guess that's what smoking an icicle made from liquid hemp feels like.
The beaker base of the model is quite vast. It allows enough space for the smoke to whirl in before it enters the filtration chamber. As a result, each toke you take is more saturated with tetrahydrocannabinol, which is especially important if you use it for medicinal purposes.
The design of the bong is another reason why you might want to grab it. Its matte flame-polished glass with an ephemeral green tinge makes it look like one of the mysterious tubes from a mad scientist's lab. And a stylish golden logo is a neat finishing touch.

Glasscity Limited Edition Beaker Ice Bong
---
PROS:
Built-in weed bowl screen;
Visually pleasing design;
Vast beaker base;
Unique ice notch architecture;
Smooth yet saturated hits.
---
8. Glasscity Straight Ice Bong with Tree Perc and HoneyComb Perc — Double Percolation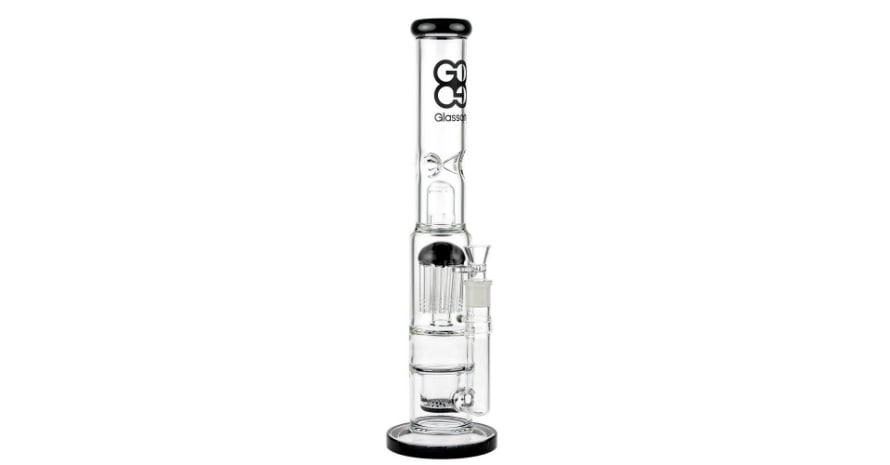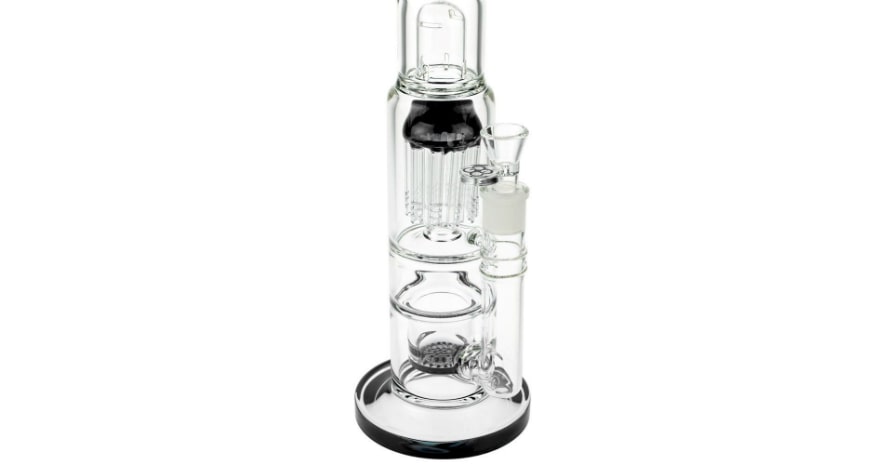 Our final item is a wonder-device that does twice as much filtering and diffusing as a regular bong can do. And it's all possible thanks to the double-percolator architecture.
So, in this dualistic system, the first percolator has a HoneyComb structure. There are a great bunch of little holes, which basically break the smoke up into tinier fragments and make it cool off at a way faster tempo.
Then the smoke travels to the second chamber — the 10-arm tree percolator, which does more surgical and precise filtration. This is the perfecting phase, the purpose of which is to make the vapor as smooth as physically possible.
And finally, the weed smoke reaches the 'ice facility'. It goes through the ice cube notches that add a finishing touch of fitness to your smoke and give it a 'winter' flavor. Ever dreamt of a smokeable weed ice cream? This is by far the closest thing we have!
What I also like is the splash guard. Located at the beginning of the smoke pipe, it prevents water from going any further and reaching your lips. Sadly, a lot of bong models do not provide this simple yet important feature.
And for those who enjoy the color variety, Straight offers two more tones. Apart from the classic black, we also have here blueberry and kiwi colors.

Glasscity Straight Ice Bong with Tree Perc and HoneyComb Perc
---
PROS:
Two percolators;
Smooth and cool weed flavor;
Nice design;
Splash guard;
Ergonomic glass handle.
---
Ice Bong FAQ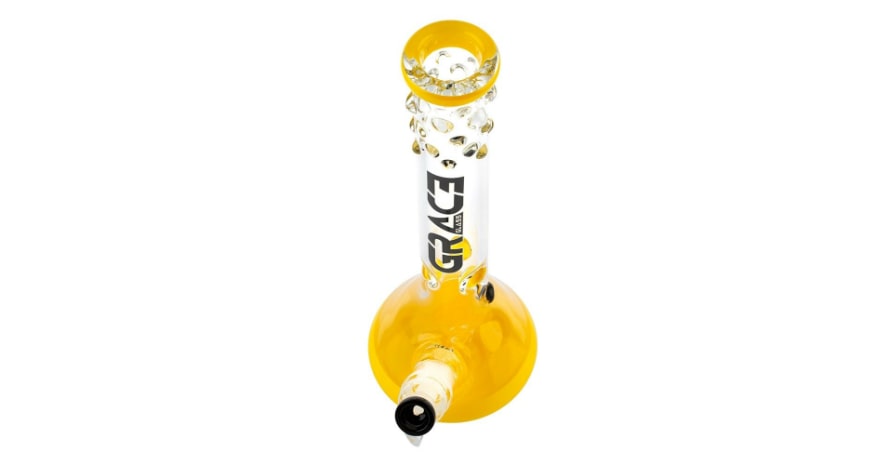 Now, let's answer some popular questions that surround the mysterious ice bongs.
Why do people put ice in bongs?
There has been a lot of misconception regarding this technique. Redditors, for example, have been arguing if ice in your bong gets you higher than a regular one or not. In reality, it doesn't.
When you heat the cannabis bowl and make a toke, smoke passes through the ice notches/catchers. Ice works like a buffer that absorbs excess heat from the weed vapor. It traps its thermal energy, not letting it enter your mouth, throat, and lungs.
As a result, the weed smoke gets chilly. It loses its harshness, and the flavor receives a unique 'frosty' tone that makes the soft blandness a bit more enjoyable.
However, you can't find much scientific research on the topic. And opinions vary — some say it's totally safe, others that it can trigger bronchitis. I guess you just need to bong responsibly and not too often to stay safe.
Do bongs or bubblers get you higher?
Another tricky question. The problem is, there isn't enough research dedicated to the issue. Some laboratory works, ordered by the cannabis company Terra Tech, have shown that water doesn't at least sabotage your weed time by trapping cannabinoids.
As a polar solvent, it can't dissolve stuff that gets you high. Besides, the same research mentions some epidemiologic proof, which shows that tobacco lovers who prefer water pipes are less exposed to the risk of getting lung cancer.
So, bongs seem to be both safe and effective. Besides, thanks to the architecture, there's some chance that your smoke will be a tad more saturated.
But even the best ice bongs won't get you high on their own — it's the job of the quality weed. Also, never try to reuse water, hoping to get more THC — it traps only bad stuff like polycyclic aromatic carbohydrates.
What is an ice catcher?
Ice catcher, aka ice notch, is a bong element in which you place ice cubes. Usually, they are located above the filtering chambers, playing the role of the last percolator, so to speak.
Why do people put ice in bongs again? To cool off the hot smoke. But there are a few other perks that an ice catcher delivers:
More smoke. Thanks to the cooling, you can take bigger tokes and, therefore, consume more THC.
Protection. Often, an ice catcher also functions as a splash guard. It's not only off-putting but also unhygienic and unhealthy: water literally traps rubbish elements and toxins.
Decor. An ice notch is often presented as a quirky decor element. And thanks to its translucent glass, you can watch the smoke flow, which can be spectacular at the right time and place.
However, it's a matter of personal taste. So, to decide which bong is better personally for you — a conventional one or with an ice chamber — you need to try both first.
Are bongs good for beginners?
They sure are to an extent. First, a water bong won't let you inhale tar, ash, PAH, benzopyrene, and other harmful compounds and toxins that a blunt may have.
Second, you won't have to spend hours mastering the blunt rolling techniques. Frankly speaking, it requires a good deal of practice and the finest motor skills to roll blunts quickly, without spilling any weed.
Also, as I've said, it's economically wiser to have one. Spending $40-50 once isn't as wasteful as having to buy rolling papers, cigars, and cigarettes all the time. A tandem of bong + weed grinder will cover your needs perfectly.
Plus, a bong is a stylish accessory. It's easy to prepare for smoking, operate, and maintain. And since it's simple, practical, and even health-preserving, I'd recommend a beginner to start their weed odyssey with a good bong. Why not?
See You Later, Percolater!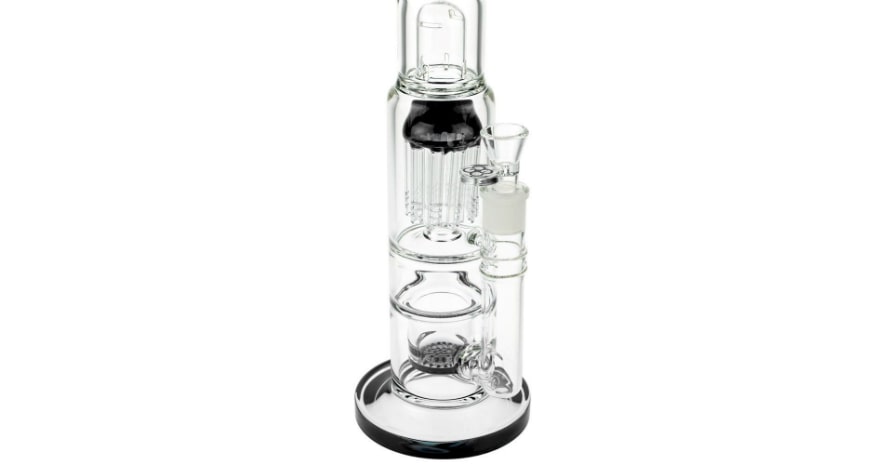 That is all for today. I hope my reviews were of help, and you've already set your sights on one of the models from my list — they all are worthy of your attention. But remember: bong smoking or any other technique requires moderation and responsibility.
How do you prefer smoking cannabis? How many bongs are there in your collection? What do you think about bongs with ice catchers — do they really get you higher? Let us know in the comments!