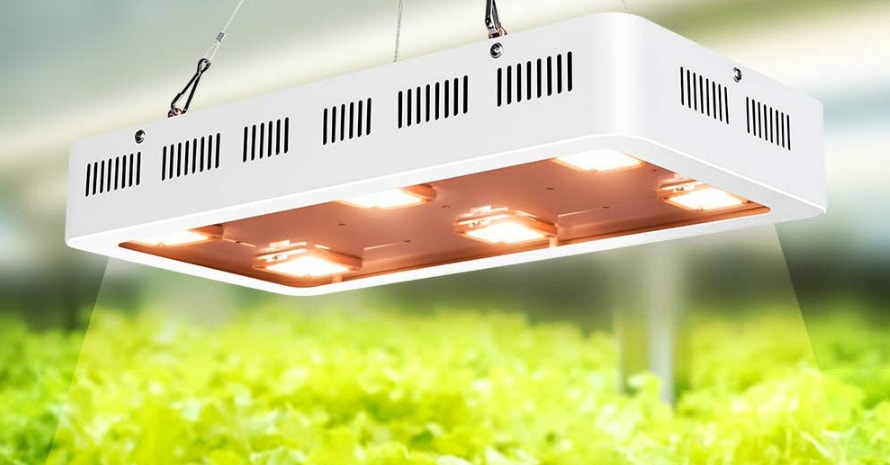 The Best COB LED Grow Light — as Good as Sunny Rays?
This system is taking indoor gardening by storm these days. The weed growers seem to appreciate the technology more and more. Why? And what is a COB LED?
COB stands for Chip-on-Board. The new tech's main gimmick is the richer, wider, and more saturated light spectrum. The concept behind the best COB LED grow light is placing multiple diodes on the surface of the light unit.
To cut the smart terminology, COB systems are famous for their energy efficiency, better heat control, and a higher ratio of lumen per watt. In the long run, COB can literally outshine SMD systems!
Top 5 COB LED Grow Lights
So, if you're still confused about the latest uproar in the weed industry, I've prepared my top 5 picks of the best COB grow lights. They will suit almost every budget as well as provide enough illumination to your cherished medicinal plants.
1. Phlizon CREE Cob Series 1000W LED — The Best COB LED Full Spectrum for Its Price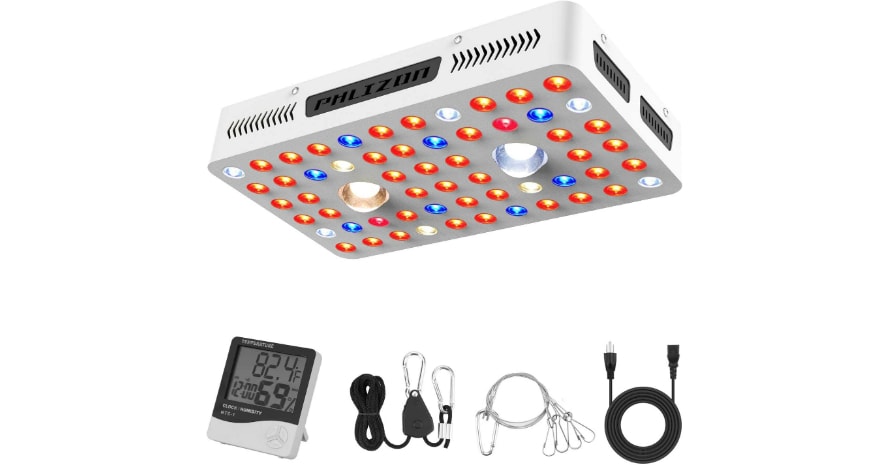 My top pick, Philzon is a true beast among COBs. The first thing to notice is its PPFD value. For every 1,000 watts, you get 941.1 umol/m²s at just 18 inches of height, which is an amazing output. (The natural sunlight gives 900-1500 umol/m²s when overhead).
The next reason to favor this COB LED technology is its architecture. First, its heat dissipation is pretty impressive. Consuming about 250 watts, it won't turn your mini-plantation into a Death Valley.
Second, it covers about 3.5*3.5ft, but thanks to the system of brightly shining LED beads, it will go easy on your monthly electricity bill.
Philzon's body is also a work of quality. Its frame is made from a solid piece of steel, probably rust-resistant, which makes it a long-lasting appliance. Although, sturdiness comes at a price: Philzon weighs 8.7 lbs. (Almost 4 kilos).
All in all, it does a wonderful job at imitating full-spectrum sunlight. Cannabis blooms and flourishes when caressed by its soft but nutritious PFFD. Needless to say that your next harvest nurtured by Philzon will have gorgeously luscious buds and a few extra ounces of pollen.
And to make things nicer, Philzon throws in a couple of free extra goodies: a hygrometer, ratchet, and eye protection. A pretty good deal, one might say.

---
PROS:
High PPFD value;
Emulates full-spectrum light;
Construction to last for years;
Doesn't waste electricity;
Free hardware.
CONS:
Pretty heavy;
The power cord is a bit short.
2. Holland Star Full Spectrum LED Grow Light 1500W — A Versatile COB LED Light System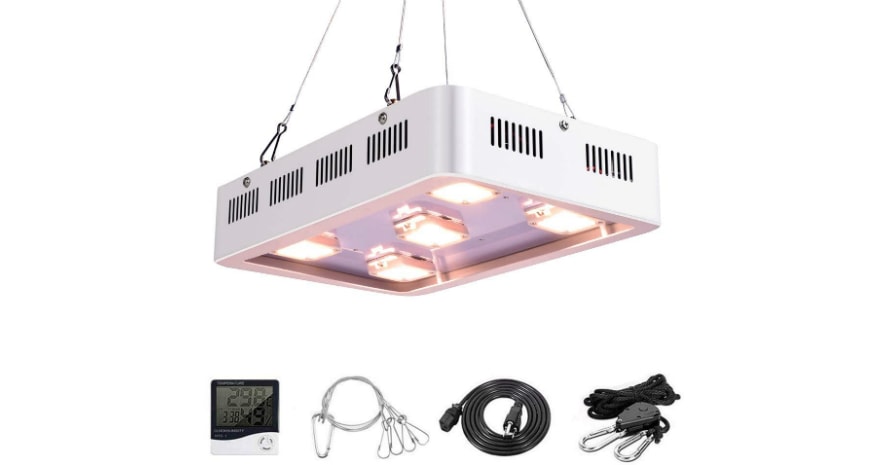 Our next contestant, Holland Star, also specializes in emulating natural sunlight. Equipped with energy-efficient LED lights, it consumes somewhat 220-250 watt to illuminate the coverage area of 3.5ft x 3.5ft. (At the height of 24 inches).
The system is encased in a nice and stylish metal frame. It doesn't get heated, though — a fan cluster takes good care of the warmth excess. Together with reflectors, they are dissipating it proportionally. Although the fans quickly get noisy.
Holland star makes sure that your plants get plenty of photosynthesis, which provides explosive growth. It can generate about 1700 mol in a 36″ x 24″ x 60″ grow tent, which is pretty impressive.
Versatility is, by far, the most vital thing about Holland Star. In case you want to expand your house plantation and try cultivating other greens — bonsai tree, acai berry, beets, goji, indigo tomatoes, papaya — this full spectrum COB LED will take care of them all.
A nice monitor/controller is in the package. It registers time, air temperature, and humidity. You can use it to program the light system for different phases: vegetative, flowering, and fruiting.
To sum up, Holland Star is a reliable workhorse. It guarantees decent yields; it will take care of any marijuana strain and deliver every promised photon to the last.

---
PROS:
Affordable;
Proportionate light distribution;
Power-efficient;
Provides explosive growth;
Versatile.
CONS:
Fans make a lot of noise.
3. Cree COB LED Grow Light Growstar 600W — The COB Light to Replace the Tropical Sun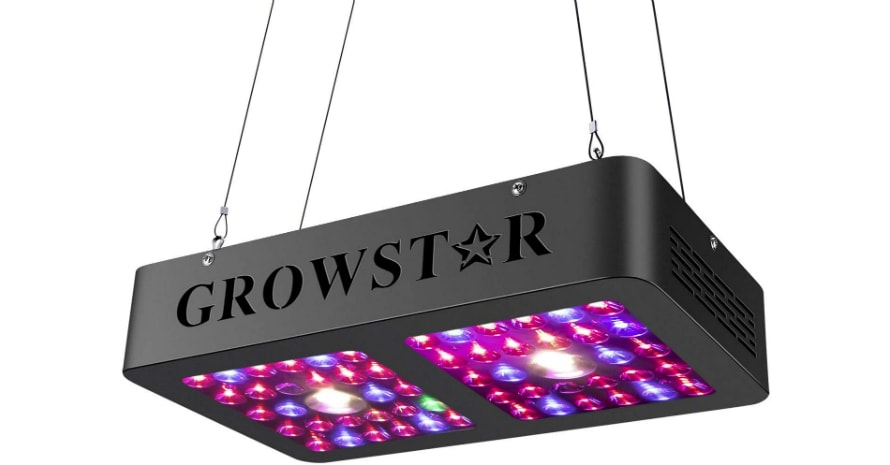 The main gimmick of Cree COB LED grow light is its light spectrum of 380nm-780nm. So, this unit knows how to emulate natural ultraviolet, which all plants are so fond of. Especially such sun-loving strains like Blue Mystic or Amnesia Haze.
Cree is powered by just 140 watts from the wall, providing a 600W output with a maximum coverage area of 2*2ft. Thanks to the system of reflectors, light is distributed evenly, and the whole plantation gets enough light.
I can say that herbs enjoy Cree's light a lot. You will see favorable changes within mere hours after installing the unit: plants turn their heads to Cree's lights immediately, seemingly enjoying the sunbaths that its dual-chip provides.
The unit itself is fairly silent: fans do their biz without making much noise. The lights are pretty bright though; you might need protective eyewear. There's an external plugin in case you want some extra light added. And the daisy chain scheme allows managing wiring wisely.
However, Cree can't brag about extra bells and whistles. You won't find here an attenuator that protects plants from the light excess and overheating — a 'sunstroke' in other words. And there is no option to program modes for vegetative/fruiting stages.

---
PROS:
Nicely emulated ultraviolet;
Consumes just 140 watts;
Affects herbs instantly;
Silent fans;
Straightforward setup process.
CONS:
No programmable modes;
Light attenuator not included.
4. 1800 Watt X6 Cob LED Grow Light Full Spectrum — Happy Harvest + Awesome Pricing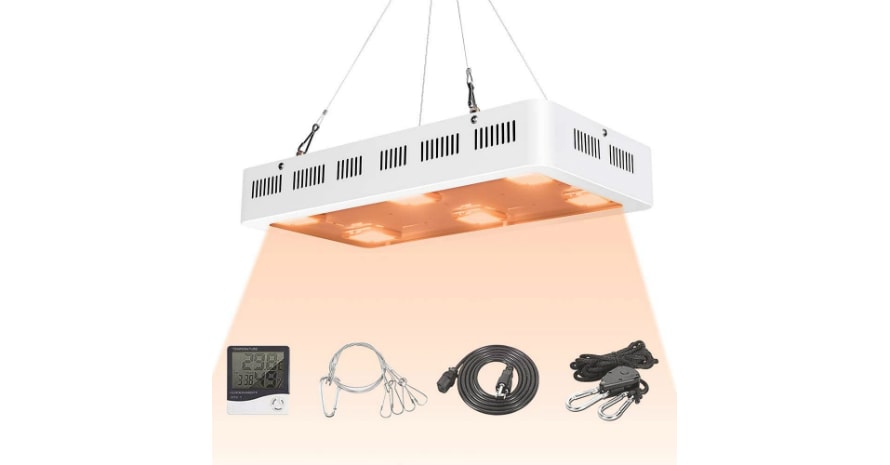 This lighting module offers a clever construction and solid sturdiness. In its steel, nicely polished casing, we have multi-chip LED clusters that work like crazy to imitate the soft and nutritious sunlight.
We have the standard 380-800nm spectrum that is vital for every growth phase. We have a nice combo of red, blue, and white produced at the cost of just 300 watts. And it's not an exaggeration; you can test it yourself with an amperemeter!
But this little guy takes exactly as much power as it's promised and delivers a fantastic output of 1,800W. As a result, your herbs will be tricked into thinking that they've been delivered to a tropical resort somewhere in Uruguay.
I also like that the package includes an adjustable hanger rope and humidity/temperature monitor. But it must've been oriented towards European buyers as it shows degrees in Celsius only.
In the long run, X6 will deliver a rich harvest. The resin will be as sticky as it gets, pollen as fluffy as possible, and buds as luscious as imaginable. But if you prefer growing in a tent, you'll need to take care of extra ventilation.

---
PROS:
Elegant design;
An impressive number of true watts;
Good sunlight emulation;
Free hardware;
Good for sun-loving strains.
CONS:
May need extra ventilation.
Bigger footprint.
5. Aglex 1200W COB LED Grow Light Full Spectrum IR Reflector — For Juicy Buds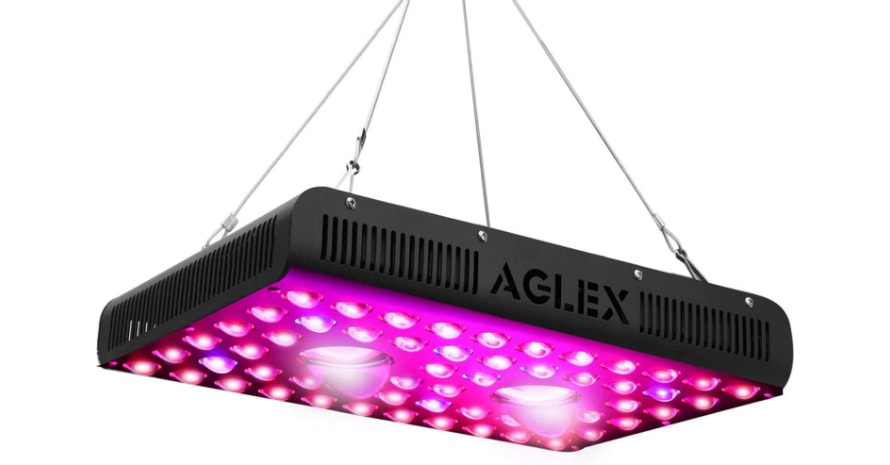 Our final COB LED grow light review features Aglex. It is a unit, which according to the manufacturer, can help you reduce the growth time and cut the costs that you invest in your home plantation.
On the menu we have a two-switch design, so you can disable/enable infra-red and ultraviolet at any time. It's pretty handy, and you can support your herbs when it's time for them to transition from the vegetative to flowering stage.
The optimal coverage area is about 3 ft. x 3 ft. Light is nicely distributed all over the 'patch'. And I haven't noticed unhealthy warmth accumulation: Aglex has heatsinks that don't let the greenhouse turn into a baking oven. The cherry on top is a 3-year warranty.

---
PROS:
Two-switch construction;
Nice cooling system;
Impressive efficiency with a 108W draw;
3-year warranty;
Full-spectrum emulation.
Buyer's Guide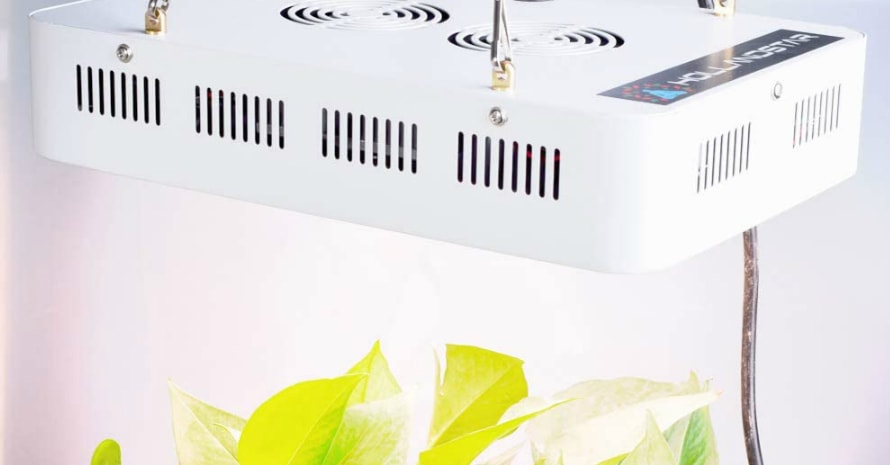 And here are a few answers to the most popular question regarding COBs.
Why is COB LED better?
As a rule, COB units are enhanced with heatsinks and reflectors for even light distribution. Plus, a circuit board of a COB unit is directly attached to the substrate, metal, or ceramic, which provides better thermal conduction.
As practice shows, a COD light system needs less electricity to provide more lumens: the ratio is about 80W/1 lumen. Plus, thanks to better heat dissipation, a COB system is safer and needs less attendance.
How to choose the best COB LED grow light?
The best COD unit should do what it's best at: provide a broad light spectrum with the red, blue, and white light. Pay attention to the materials it's made of, as no plastic frame is acceptable due to poor heat conduction.
The ratio of power draw/useful output is also important. As I've mentioned, a good COD system is capable of providing 1 lumen at the cost of 80 watts. Not only will this affect your electricity bill in a good way, but it also will extend the unit's longevity.
FAQ
After all this info, you might have some questions about COB LED. Here are the answers.
What is the best brand of LED grow lights?
While they are based on the same concept, units from different brands may greatly differ. Philzon and Cree are among the best brands so far, as they offer satisfying quality that in turn, positively affects your harvest.
Customer support and warranty are also important. While most of the COB systems are covered for 3 years by the warranty with a 50k-hour lifespan, a bit more expensive models offer 5 years.
What is the best distance for COB LED grow lights?
It depends on whether we're talking about seedlings or plants. Regularly, the distance is about 24-36 inches above the plant canopy. And 24-36 inches or higher above the soil for seedlings.
Are LED lights the best for growing?
They are certainly a worthy investment! While HID lamps are very bright and serve well for tall plants, LED lights are a perfect choice for indoor gardening. The reasons for that are:
They are more energy-efficient.
They serve for a longer period of time.
They have a wider and more natural light spectrum.
Besides, LED light systems are compact and can be easy tailored to your individual gardening needs.
Let the Sunshine In
That sums up my reviews for today. I hope you'll find a worthy option on my top 5 list that will take your cannabis gardening to the next level.
Have you already tried a COD light system? How did it affect your harvest? Or maybe do you prefer SMD lights? Let us know in the comments!