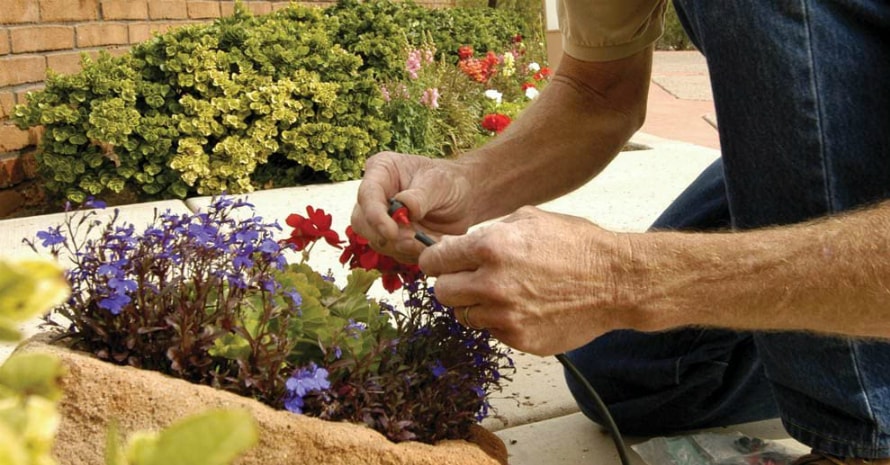 Best Drip Irrigation System for Cannabis – Guide & Reviews
Dripping irrigation systems are highly economical and efficient for any kind of growing purposes. After you learn how to use it and come through all the complexities, you will start saving a lot of water and fertilizer.
It probably won't make a significant difference if you have a small garden, but on medium and large cannabis gardens with many pots, you will save a hefty amount of money. The best drip irrigation system for cannabis will help you with that. Cannabis watering is a very important stage as the results of your long hard work heavily rely on the quality and regularity of this routine procedure.
Pros
Comprehensive kit for 20 plants
Easy to install and expand
Compensates water pressure
Top Pick
Pros
Comprehensive kit for 20 plants
Budget Choice
Pros
Easy to install and expand
Premium Choice
Pros
Compensates water pressure
Drip Irrigation Kit Reviews: Top 7 Offers
Below are the reviews of the systems that I've tested over the last 5 years of growing medical marijuana. I tested each one on a new set of pots in one and the same indoor garden, and they all still run there simultaneously, so the results are pretty objective.
1. Raindrip R560DP Automatic Watering Kit – Best Cannabis Watering System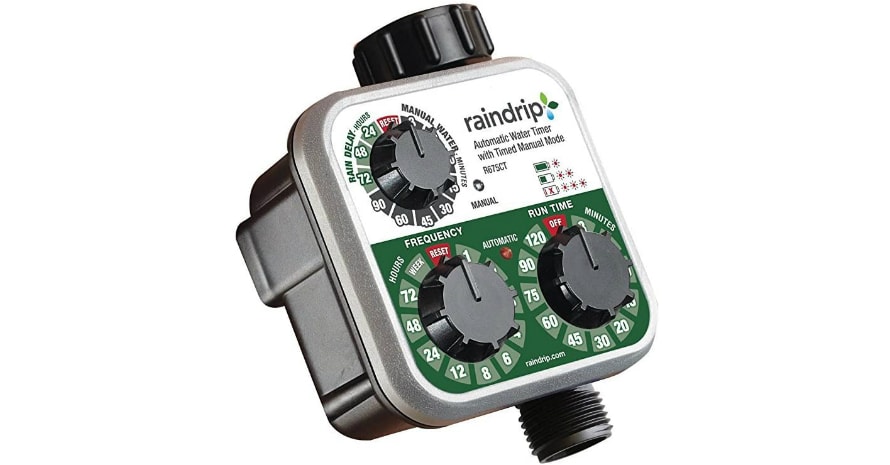 Raindrip is a trusted Canadian brand by the NDS company, established in 1972. Their garden and farm irrigation systems are widely spread across the US and CA. Even my mom used it when I was a child. The market has expanded since then, and now Raindrip systems are in high demand amongst cannabis growers.
I like this system the most as it offers a comprehensive starter pack for building your first automatic drip irrigation system. The kit includes an electronic timer and enough tubing to deliver water to 20 plants simultaneously. The timer lets you adjust the frequency of irrigation by hours and minutes as well as to set the right watering duration. You can also activate the system manually if you don't trust this task to the timer.
It takes a very short time to assemble the entire system as it doesn't require tools. It's also affordable, so you can take several packs at once to supply several plant systems at once. However, I recommend expanding the system with non-automatic kits as it may appear cheaper to use a single timer for a more complicated system. It's a worthy automatic drip watering system indoor growers like me use all over the US.

---
PROS:
Electronic timer included;
easy to assemble (toolless);
Comprehensive kit for 20 plants;
Easy to expand;
Manual and automatic modes.
CONS:
No option to order a kit without a timer.
2. WaterWise Drip Irrigation System – Best Drip System for Cannabis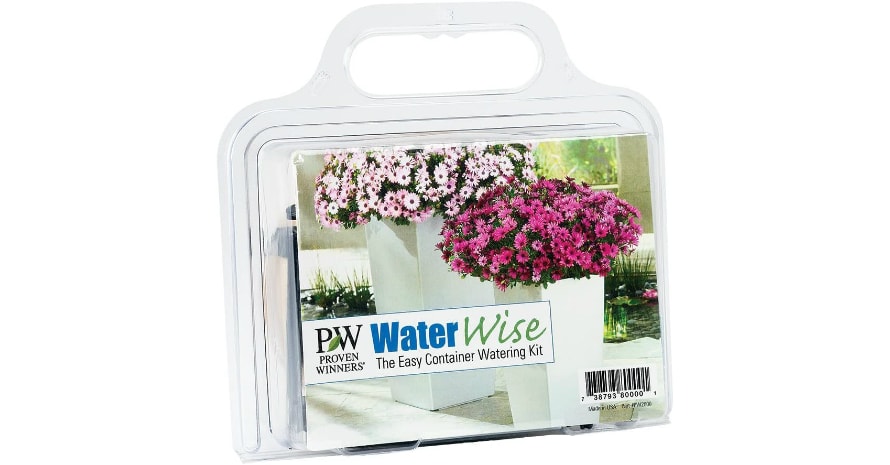 WaterWIse is a Florida-based manufacturer of water supply systems. This family company has been amongst market leaders for 40 years already! Their drip watering kit is an affordable solution that lets you connect up to 30 pots to the water supply, depending on the size of the pots you have.
This irrigation system for indoor plants includes a toolless hose adapter that converts the water stream into a gentle flow of the thin tubes. The stainless mesh water filter is included, as well. Pressure-compensating drippers are easy to flush and replace. They also don't erode the soil as the water flows without pressure at all. Actually, the number of drippers in the kit can be used differently. If you have 10-12-inch pots, a single dripper is enough, while bigger pots require 2-3 drippers.
---
PROS:
Many drippers included;
Backflow prevention valve;
Compensates water pressure;
Easy to assemble and extend if needed.
CONS:
The faucet timer is not included.
3. KORAM IR-D 50 Feet – Comprehensive Drip Irrigation System Kit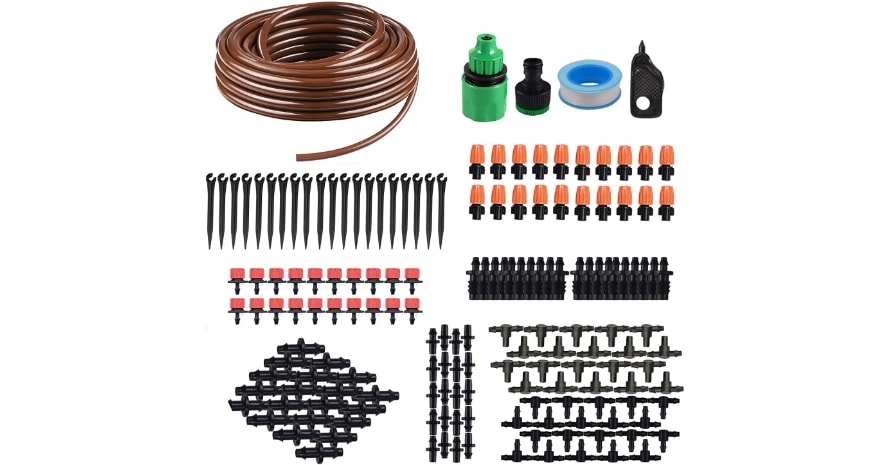 I don't know much about the KORAM brand, but their irrigation systems are really good for the money they ask. The package includes 20 drippers and enough piping to interconnect the pots of any size. The package also includes a universal hose connector, all the needed pipe connectors for easy customization, a plastic piercer, and, surprisingly, a sealant tape. It would be good if all manufacturers included it as these systems rarely work totally without tiny leaks.
However, my favorite parts of this kit are water flow controllers that can be installed on each dripper individually. It means that you can adjust watering for every pot without the need to install separate systems for each of them. That's a great option if you have plants on different growth stages put together in a single stack.

---
PROS:
Adjustable drippers;
Easy to install and expand;
Sealant tape included;
Affordable system for 20 plants.
CONS:
The sprayers are quite easy to crack.
4. Rain Bird DRIPPAILQ Kit – Automatic Watering System Repair/Extension Kit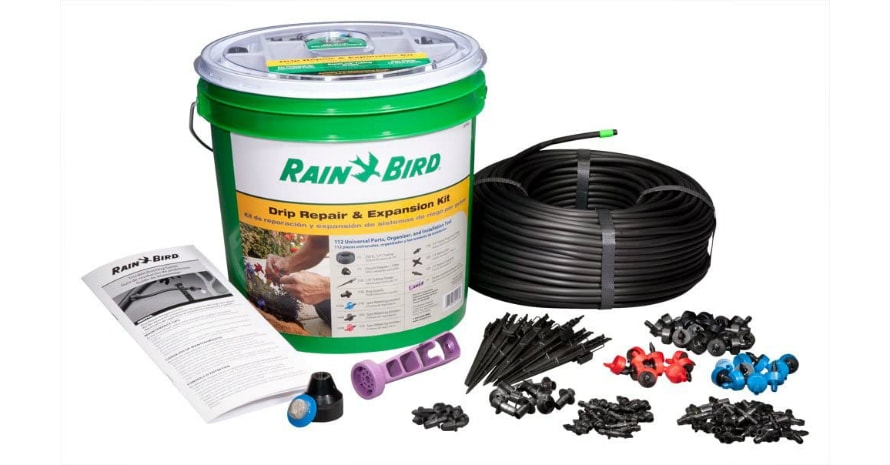 Rainbird is a brand with over 80 years of experience in manufacturing irrigation systems. It offers a convenient, sturdy drip irrigation repair and supply kit with 40 self-piercing emitters and assembly parts that let you effortlessly connect up to 40 small pots or fewer larger ones.
The process becomes even easier with a special emitter installation/removal tool. The hose adapter comes with a metal mesh filter, while the drippers are quite easy to detach and clean if needed. The kit offers great value for money and can be easily connected to any hose timer.
---
PROS:
Unique dripper installation tool;
Can serve up to 20 small pots;
Bug guards included;
250 feet ¼-inch tubing.
5. Drip Irrigation Kit – Excellent Toolless Kit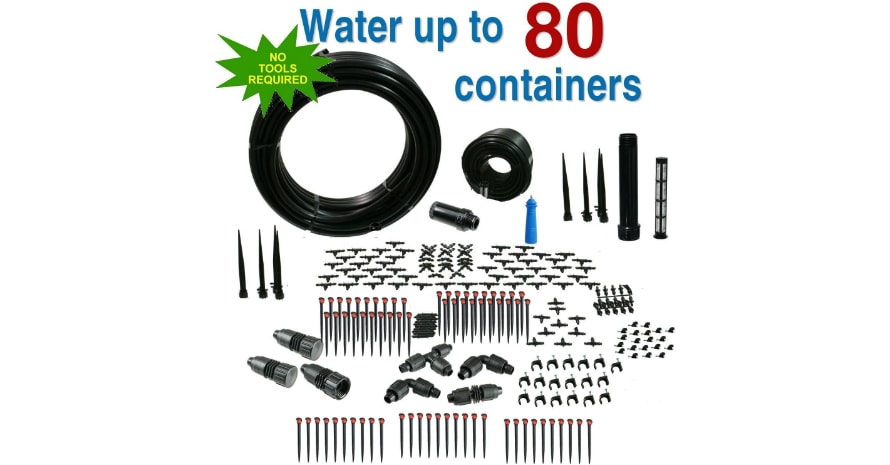 Need to build a larger system? This kit includes enough parts and tubing to supply a large cannabis greenhouse with enough water. The kit comes with 150' of tubing and hundreds of parts that let you connect up to 80 pots to the system.
The faucet adaptor is designed to provide such a number of plants with clean water and has a large stainless mesh filter that prevents drippers from clogging.

---
PROS:
Can serve up to 80 pots;
Large faucet adaptor with a heavy-duty mesh filter;
Great if you have many plants;
It can be expanded or combined with other systems.
CONS:
Extra tubing would be handy.
6. King do way 82Ft – Good Combined Dripping System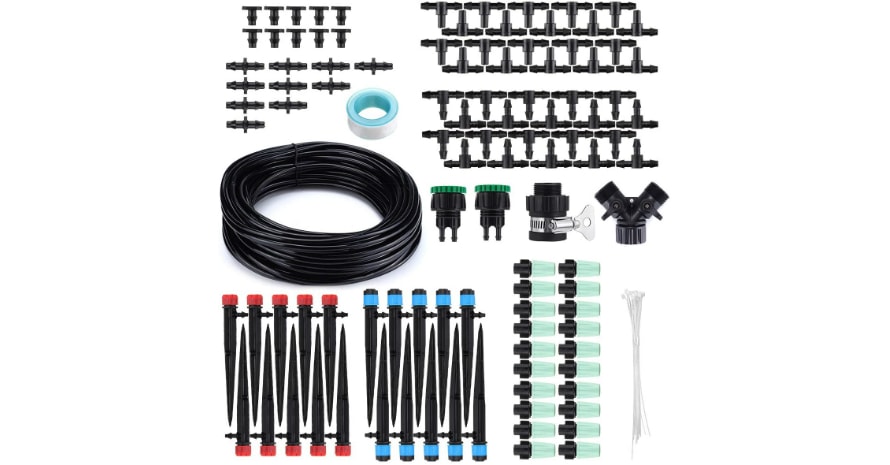 This kit model is a bit different from the previous ones as it includes average drippers and adjustable misting nozzles. Using this kit, you can simultaneously water and mist your cannabis plants if needed.
Misting is an arguable thing, but I experiment with it on some of the plants anyway, and you can do it too if you are sure about the positive effect. Don't forget about effective ventilation if you decide to use it!

No products found.
---
PROS:
Let's your water and mist your plants simultaneously;
Adjustable water flow;
Affordable 10-plant solution;
Adapters for ½'' and ¾'' faucets.
CONS:
May cause mold and mildew without proper ventilation.
7. OUTERDO Drip Irrigation Kits – Large Indoor Drip Irrigation Systems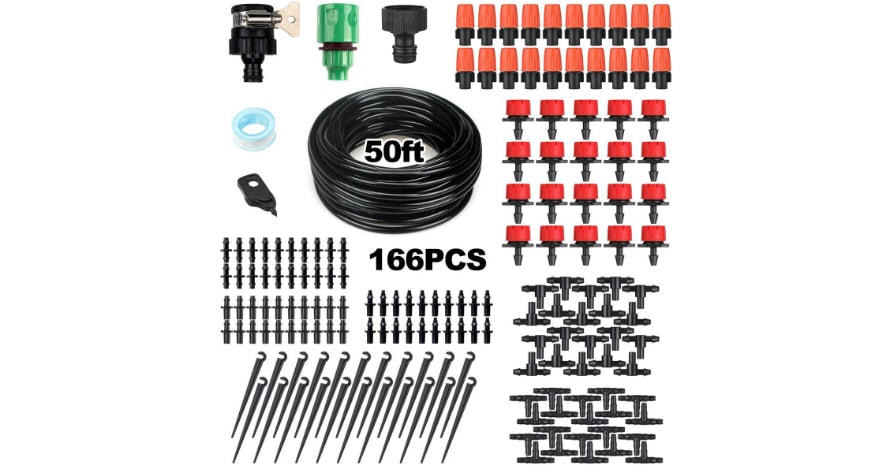 This kit is a great alternative to that 80-pot kit. It's limited to 20 pots and has a shorter cable, but the rest of the kit is almost the same. You get 50 feet of tubing for a modest price, a sturdy hose connector with adapters, and all the needed connectors, including individual dripper controllers. It's a good extension and repairment kit if you have an average number of pots.

No products found.
---
PROS:
Tight toolless connections;
Sturdy hose connector plus adaptor;
3 months satisfaction warranty.
CONS:
No timer and dripper installation tools.
Buyer's Guide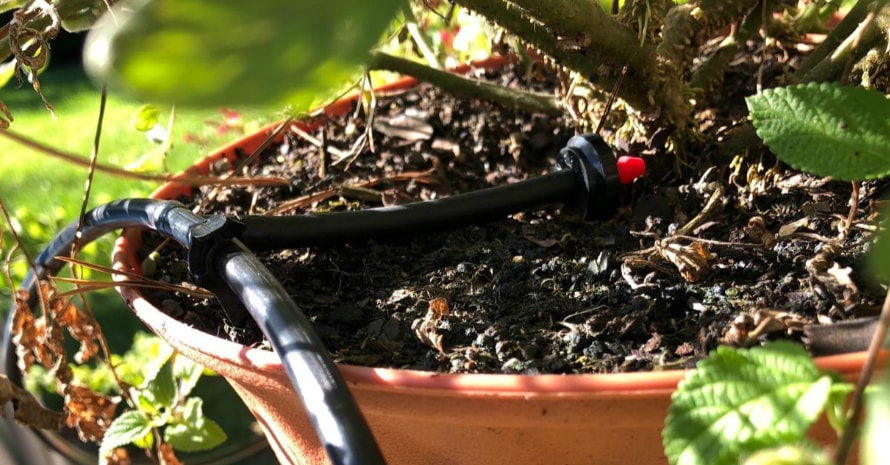 Below is a brief guide that will make it easier for you to decide whether you need an irrigation system or not. I covered all the pros and cons, along with some basic selection and installation guidelines.
Pros and cons of drip irrigation systems
While drip irrigation offers a lot of benefits, it has some downsides for cannabis growers as well. Below is a comprehensive list of pros and cons. Consider them all to make the right decision.
Advantages of these systems include:
Less water consumption – direct water supply has very little or even no evaporation. The ground soaks the entire amount of water delivered to the underground layer, and over 95% of the water is soaked if you deliver with an average on-ground system. It's also a way to save some soluble fertilizer;
Easy to install – installation of such a system doesn't require deep excavation, which means that you can get and start using it right away without disrupting your pots. If the initial position appears to be wrong, you can easily move it;
No soil disturbance – drips don't kick up the soil and don't wash it away in the place where water contacts the soil. It also doesn't wash away nutrients;
Precise watering – with dripping systems, you can easily adjust the amount of water spent on each plant.
Disadvantages of dripping systems:
They're prone to clogging – it's recommended to flush the entire system every 2-3 months to prevent clogging. This happens because all the pipes, outlets, and holes are minute and can be quite easily blocked with particles that are contained in tap water. I recommend using potable water instead, as it keeps the system cleaner longer. Regular flushing is needed anyway. I also use an irrigation filter to flush rarer.
Salt build-up around the roots – when you use a dripping system, there's no loss of fertilizer, so the salt may get collected around the roots.
How to install a marijuana watering system?
Given that you have a ready-made irrigation kit or an assembled DIY system, you have to follow these steps:
Assemble the spigot – take the instruction and assemble the spigot. Make sure that all the elements are placed in the right order to exclude failures on the start;
Link to planting beds – take the tubing and run a line to each planting bed. Use elbow connectors for sharp turns and land staples to keep tubes in place;
Install emitter lines – snake the tubes around the bases of each plant (some models are just laid near the root;
Flush the system – before irrigating the plants, run the system for around 1-2 minutes to make sure that there's no rubbish inside the tubes.
How to choose the drip system for cannabis?
Choosing the right system for your needs, you should consider:
Length of the piping – it should be long enough to get into your pots;
The number of parts – depends on the number of your pots. Get acquainted with plant limits in your region.
The difficulty of installation – most systems have similar installation guidelines, but be attentive anyway;
User reviews – read them to see what downsides may a system have.
FAQ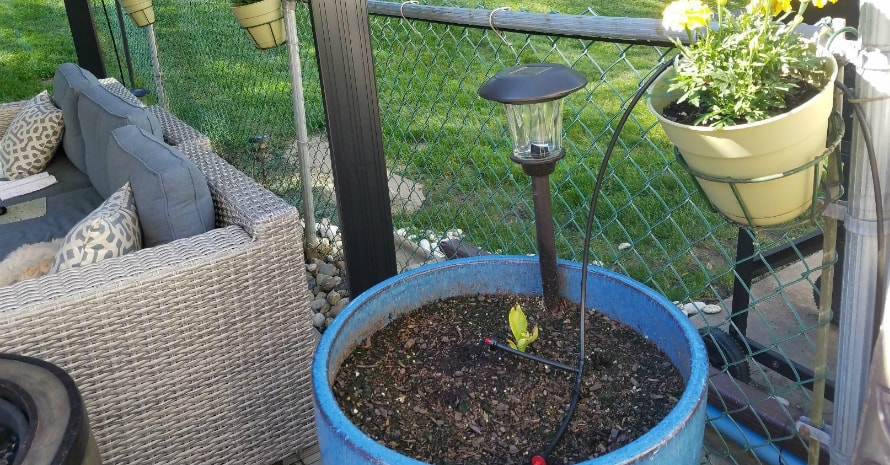 Do you still have questions? I had so many when I was a beginner grower! Below is some more information to provide you with more fluency in the topic.
How long should I run a drip irrigation system?
I usually tell a well-watered pot from a dry one by lifting it a bit. Well-irrigated pots are always notably heavier than dry ones. Try lifting the pots before watering and while the system is working. This way, you will learn this quick, handy technique and save a lot of time in the long run. There's no particular amount of water needed for a plant, so you have to practice keeping the soil wet, but not too much. The water shouldn't pool at the top when you finish.
Dripping Up
Now get ready to plant some excellent marijuana plants! A dripping irrigation system will save you a lot of time and resources during the year. It can be used for both indoor and outdoor pot-growing, so it's a universal solution. And don't forget about pest control and fertilizers!
I'm looking forward to reading your happy comments. But, wait, is everything clear to you? You're welcome to ask me any questions on the topic if needed. Have a good time growing some great cannabis!