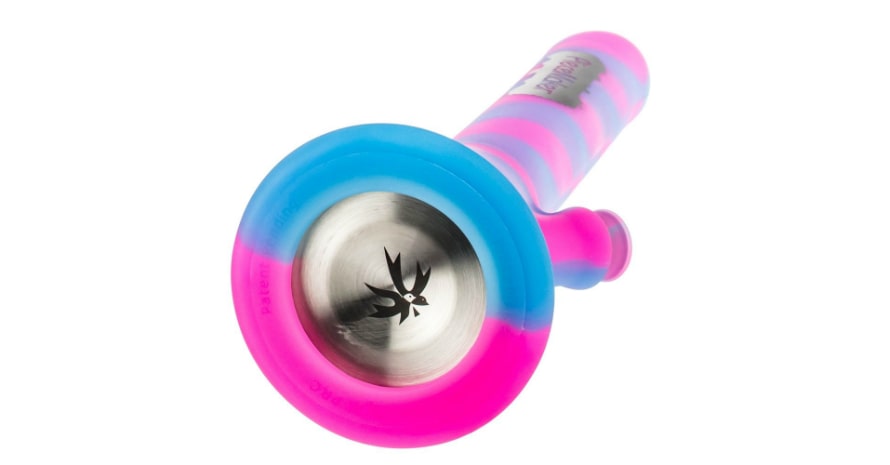 Best Silicone Bong You Can Find on the Market
A silicone bong is an excellent solution if you regularly drop everything or have a cat that drops everything on the floor. This thing can be dropped an infinite number of times, but nothing will happen to it. It has breakable parts which can be replaced easily. It's much more comfortable than changing the entire device. You can also use a metal bowl, and then you can completely avoid breakage.
In this piece, I'll walk you through how to choose the best silicone bong and highlight the best products you can find on the current market. You will find out how to select the most suitable unbreakable bong. There are also some advantages of silicone bongs that can help you make your choice.
Top 6 Silicone Bongs Reviews
It is necessary to take into account the conditions of the upcoming operation while choosing a bong. If you plan to take a smoking device with you to nature and various outings, it is more reasonable to stop choosing an acrylic or silicone bong.
A silicone bong review will help you examine the product's characteristics and understand whether you need this one. Here are the best bongs from which you can choose the best option for yourself.
1. Trailer Park Boys Silibong the Ricky — Top Pick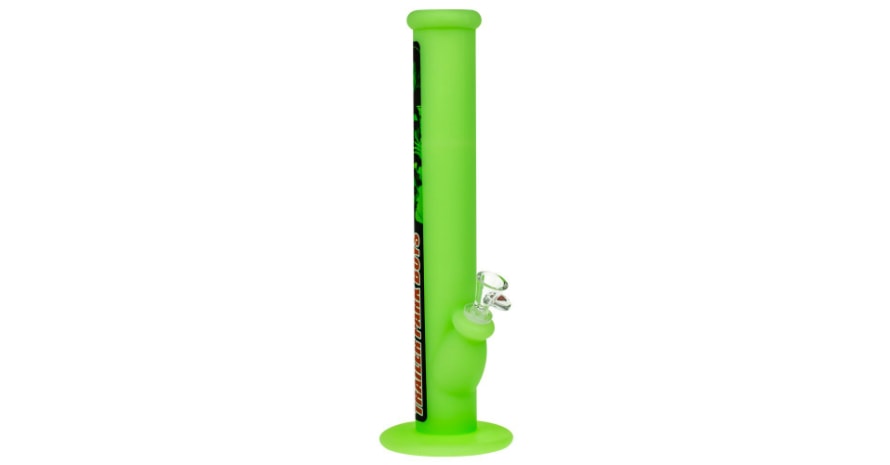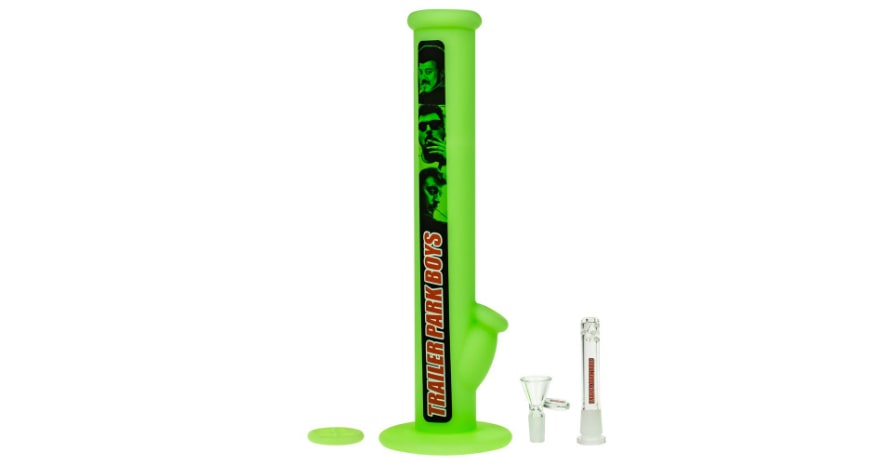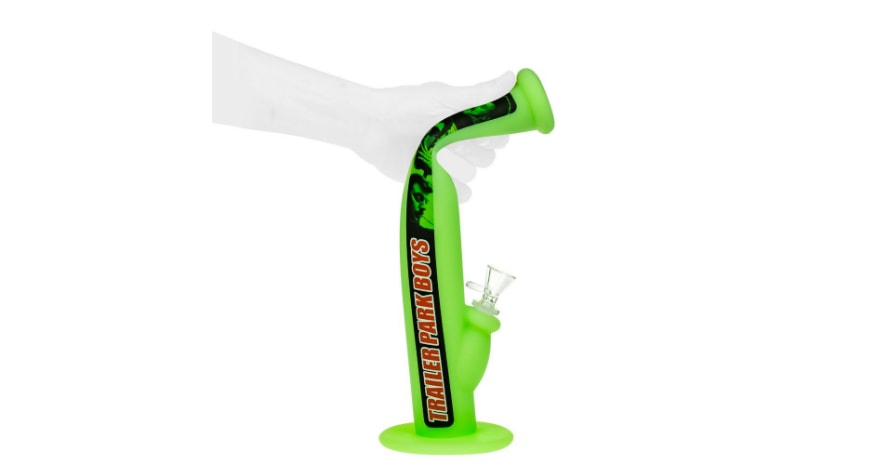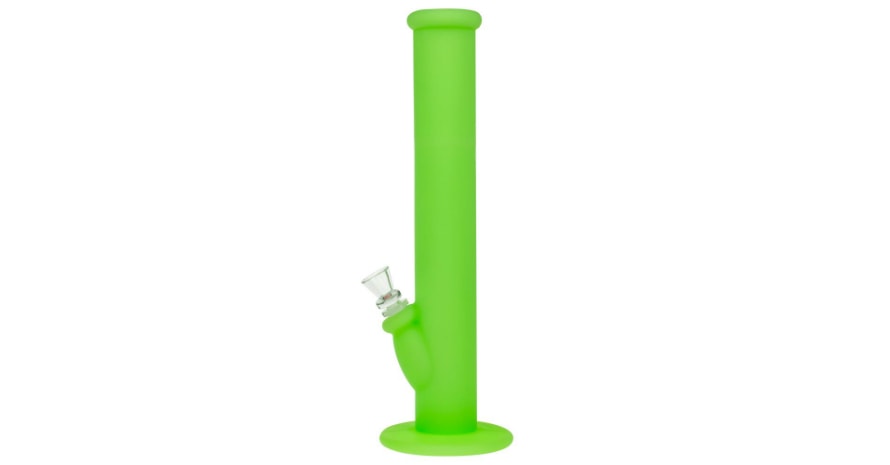 This product is my top pick, as it belongs to the category of indestructible bongs and is additionally equipped with different chips and useful functions. Trailer Park Boys worked with Famous Brandz to make the structure strong and durable. The bong is 14 inches high and is made of excellent silicone.
One of the most convenient features of this bong is the suction cup, which is easy to install on any smooth surface and provides stability to the device. The lower part is glass with a diameter of 4 inches. With the slots at the bottom, it effectively filters the smoke through the added water. The kit also includes a 14.5mm bowl and diffuser bottom to cool the smoke. There is also a removable 45-degree ice catcher.
The bong is made of food-grade silicone that is BPA-free. It can be twisted any way you like, and it will reshape itself. At the same time, the case remains shockproof. Besides, the material has heat-preserving properties. It is easy to move and can be taken with you, for example, on a hike.
Besides, this thing looks very stylish. The bong is available in four different colors, each with a large Trailer Park Boys logo. This bong combines all the best. It is the design, convenience, ease of use, and of course, its lightness and durability.

Trailer Park Boys Silibong the Ricky
---
PROS:
Durable;
Lightweight;
Made of BPA-free silicone;
Impact-resistant.
---
2. PieceMaker Kali Silicone Bong — Runner Up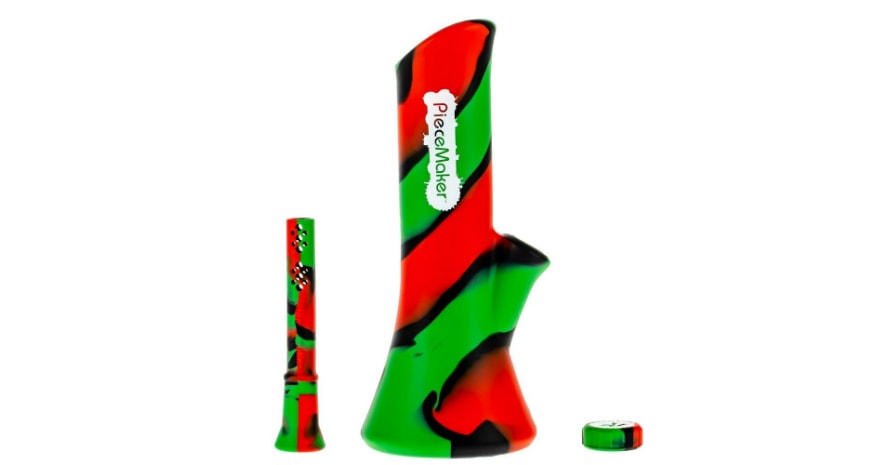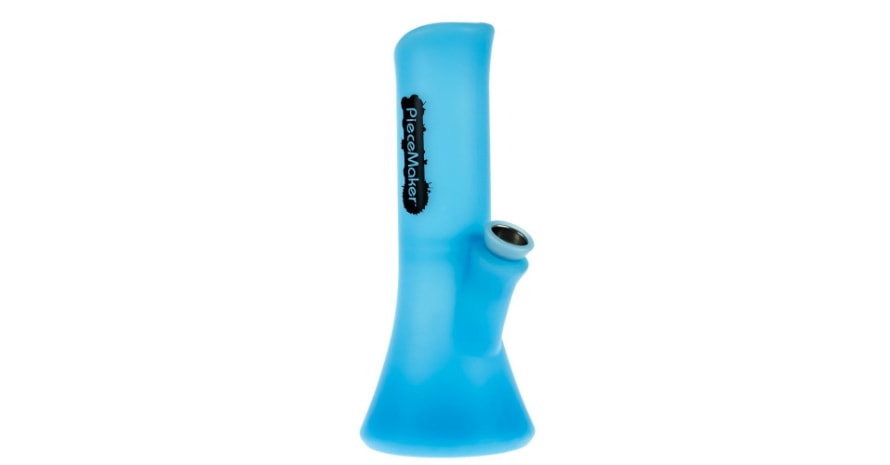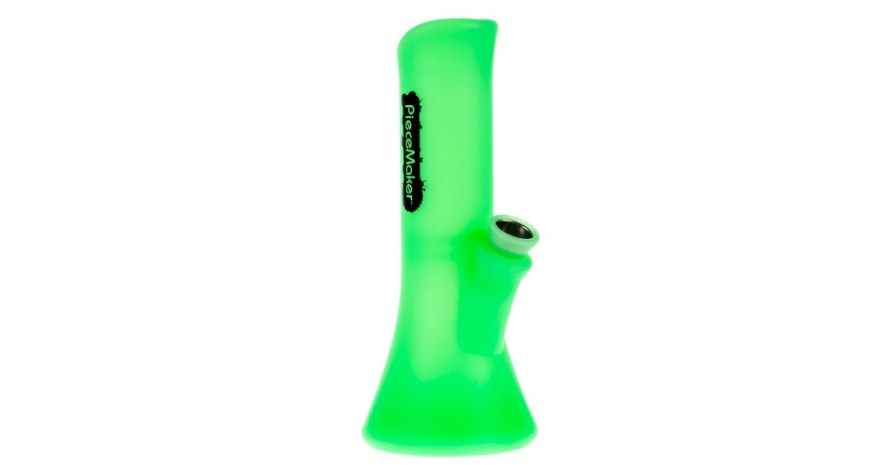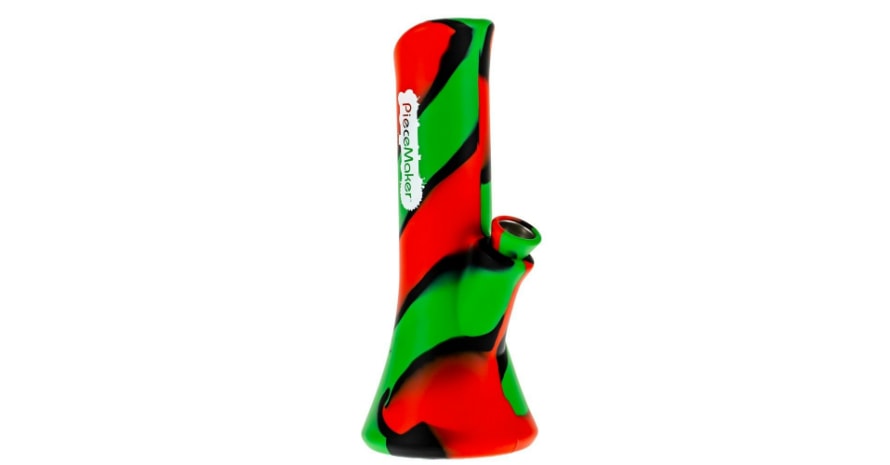 This silicone water bong can withstand any conditions of use. The primary material here is also food-grade silicone. This material is heat resistant and almost impossible to damage. It can even be washed in the dishwasher or shoved into the freezer. The lower stem is also made of silicone using PieceMakers Hex-TEK high permeability technology. The diffuse holes are arranged in a hexagon shape. Due to this arrangement, the air circulates faster than usual.
The kit includes a metal shield, which you can replace with a glass bowl yourself. It is relatively easy to do. The main thing is that the external thread is 14.5 mm. You will also receive a silicone cap. You can put it on the cup and take it with you. The cap prevents ash and debris from spilling out of the bowl after you use the bong.
This piece is excellent for those who value ease of handling, cleaning, and general use. Thanks to the food-grade silicone, this bong is also safe. The water container cools the smoke, making it much more pleasant and softer. It also has a striking design. You can choose from the monochromatic item or the super bright multicolored version.

PieceMaker Kali Silicone Bong
---
PROS:
Made of food-grade silicone;
Heat and cold resistant;
Portative.
---
3. PieceMaker Kolt Silicone Grip Bong — Budget Pick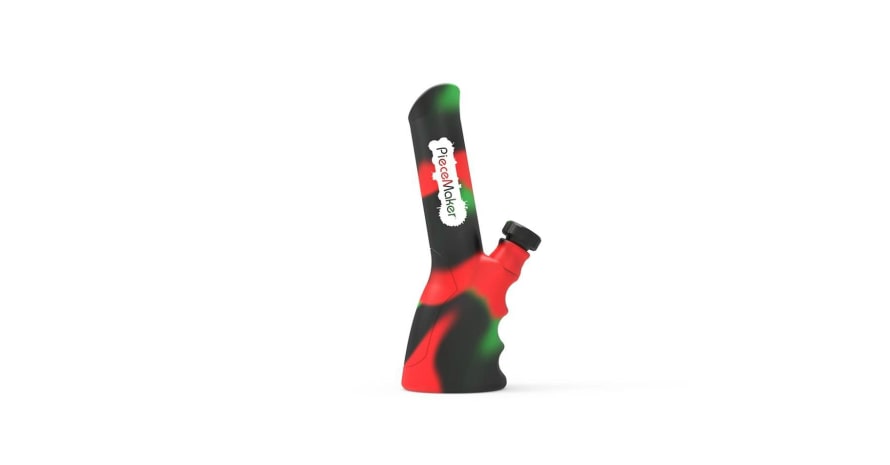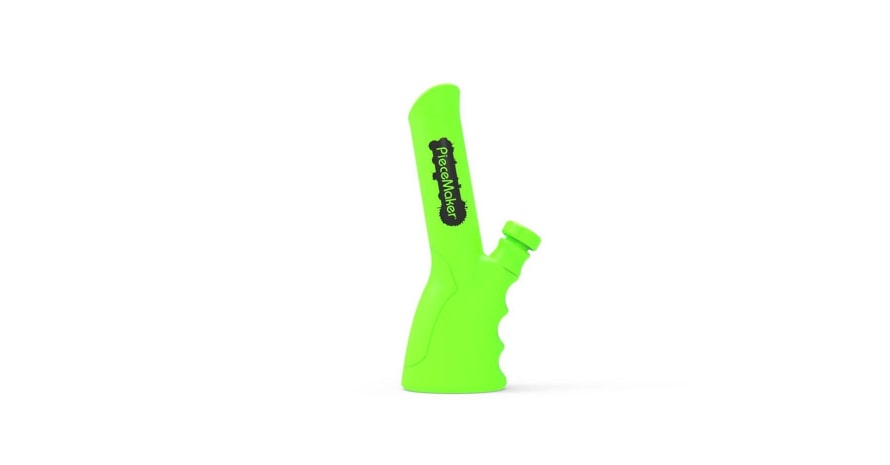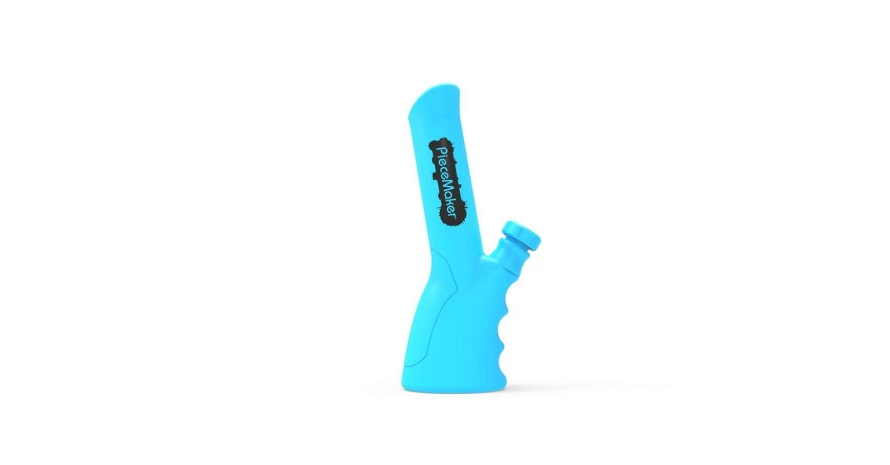 Kolt is a compact silicone water pipe ideal for traveling. It consists of a pistol-shaped grip, carburetor trigger, and silicone tube. The kit also includes a silicone diffuser. The bowl of the bong is made of metal. Before the smoke leaves the mouthpiece, it passes through the water. This way, the bong filters the smoke and makes it cooler.
To move around safely with such a device, you can simply bend it and shove it into your bag without damaging the bong itself. It is quite reliable, and it is unlikely that you will have an unpleasant surprise after such transportation. As for the cleaning process, it is generally effortless. Just rinse the bong with warm running water. Any dirt does not linger on the silicone, so you do not have to exert much effort.
Thanks to the ergonomic shape of the device, the smoking process becomes even more comfortable and relaxed.It also has a solid base that provides stability. A lid complements a thimble with a built-in metal mesh, so you can charge the device and go on a trip. There are no glass elements in the model, which means that it is quite possible to roll the device into a tube and save space in your luggage.

PieceMaker Kolt Silicone Grip Bong
---
PROS:
Easy-to-clean;
Solid base;
Perfect for traveling.
CONS:
Only a metal bowl is present in the kit.
---
4. PieceMaker Kirby — Premium Pick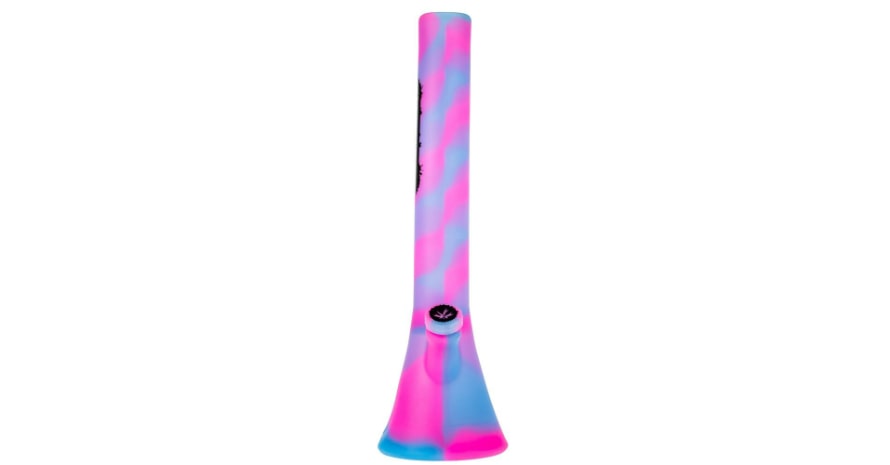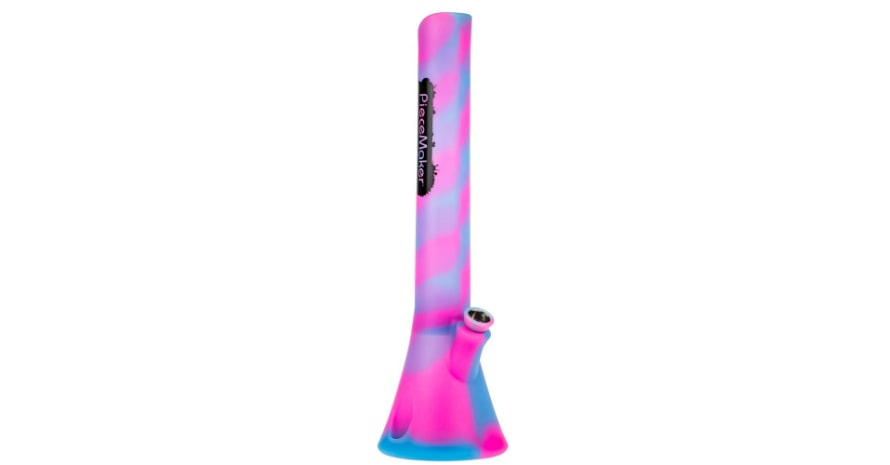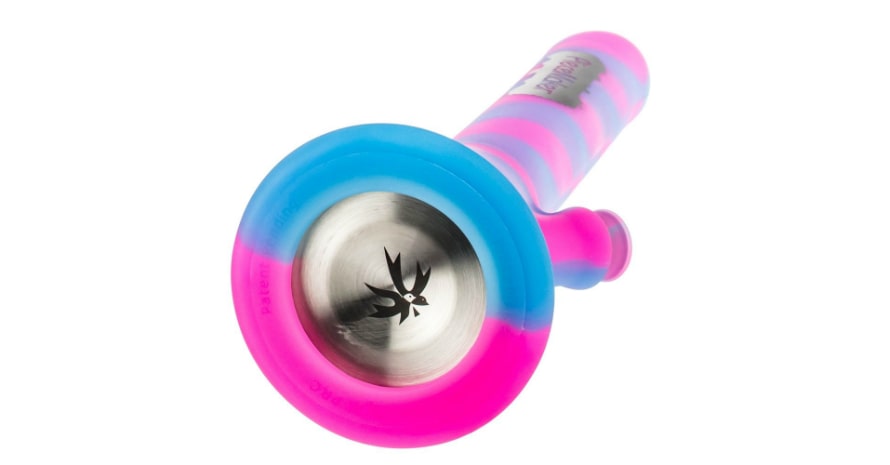 This silicone water bong will withstand all kinds of stress and conditions. It will return to the initial shape even if you jump on it if such a thought ever came to you accidentally. There is a removable plate inside the device to make it easy for you to use and clean it. It is made of stainless steel. This plate also provides stability to the bong during use. The food-grade silicone that serves as the primary material of this bong is heat resistant and safe. You can even wash it in the dishwasher after prolonged use or in case of heavy dirt. The diffuser is supplied with a metal bowl, which can also be replaced with a glass bowl with a corresponding thread.
You will also receive a silicone cap that you can put on the bowl during use or keep debris out of the bong. The bong is also equipped with modern technology that will protect you from water spills and other unpleasant incidents.
You can take the bong with you, as it is convenient to carry in a backpack or bag despite its height, which is 14.5 inches. You can bend the device or fold it as you like. It will not affect the shape.

---
PROS:
Durable;
Impact-resistant;
Stable.
CONS:
Only metal bowl in the kit.
---
5. Silicone 2 pc Herb Bong — Best 10 inch Unspillable Bong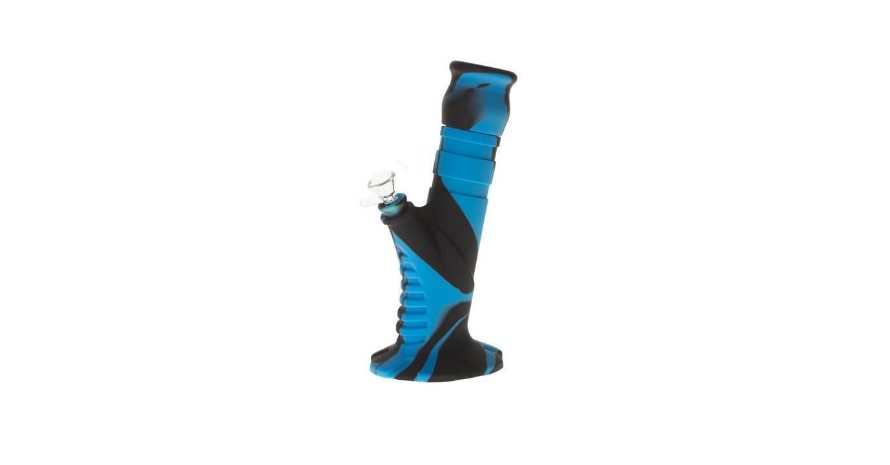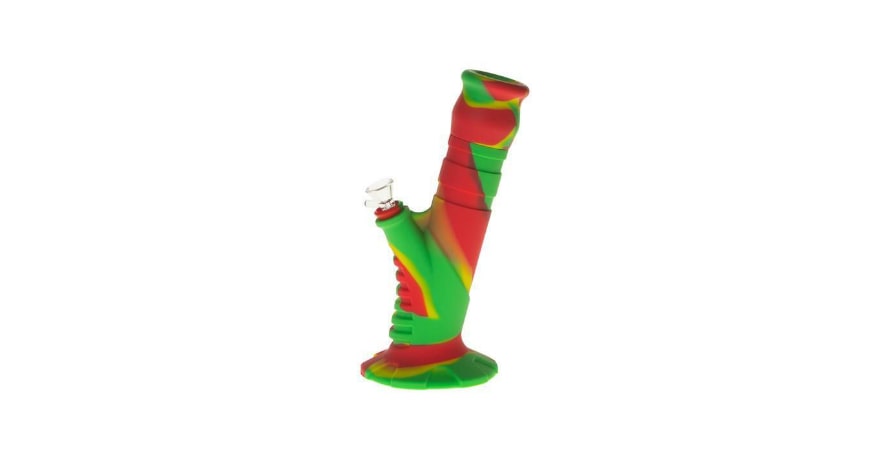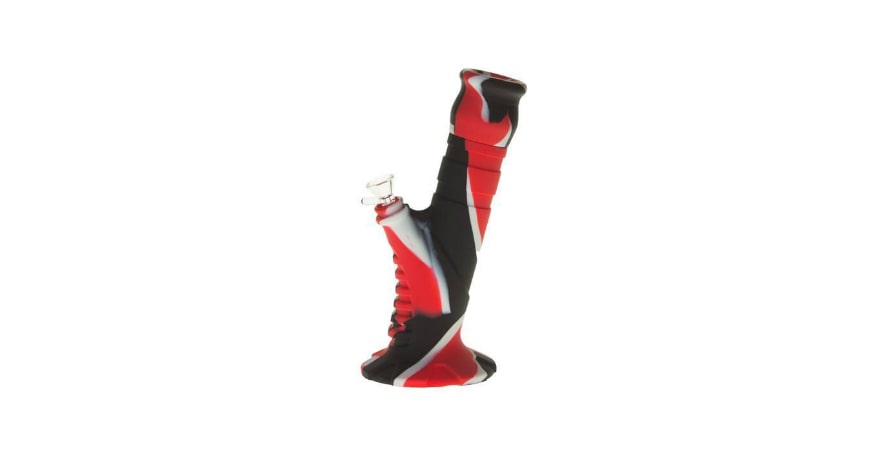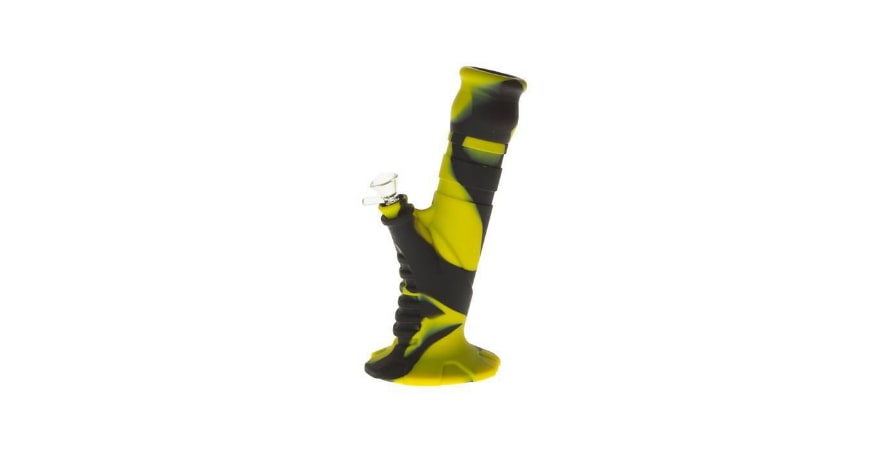 This 10 inches item is made of flexible silicone. You can carry and use it wherever you are. There is a firm round bottom and 14.5mm glass bowl. This detail can be removed for cleaning, which is easy and quick. Its curved neck protects you from splashes and spills. You can attach a strap for maximum security. The bong is designed in four different colors so you can choose the one you really like.
You can take the device with you on a hike, throw it into your bag or backpack, and not worry about it breaking like its glass brother. The smoking device is made of food-grade silicone, which does not contain harmful components. Therefore, it does not release chemicals at high temperatures.
If you decide to bend it and transfer it in this form, nothing will happen to the structure, and the bong will return to its previous shape as soon as you take it out. You don't have to waste thousands of hours cleaning the bong. The silicone is smooth, and there is nothing for debris to catch on in this material; it is enough to rinse it or wipe it with a damp cloth.

---
PROS:
Flexible material;
Stable;
Thermo-resistant.
---
6. Mr Y Beaker — Portable Base for Silicone Pipes Weed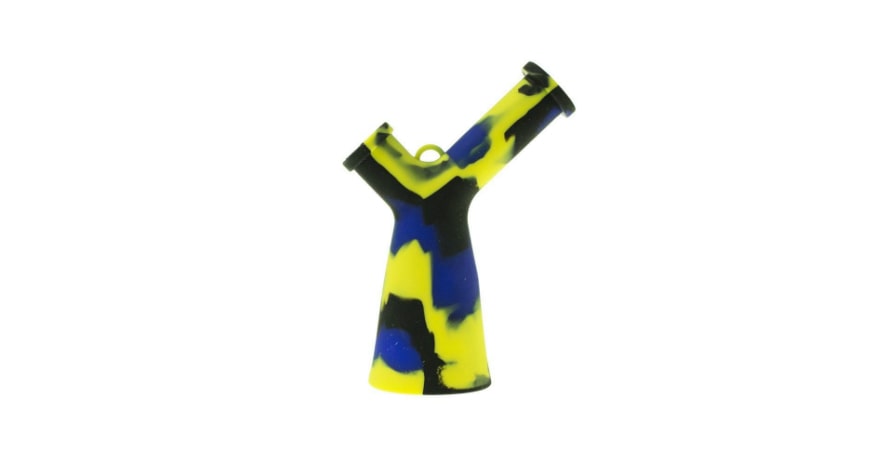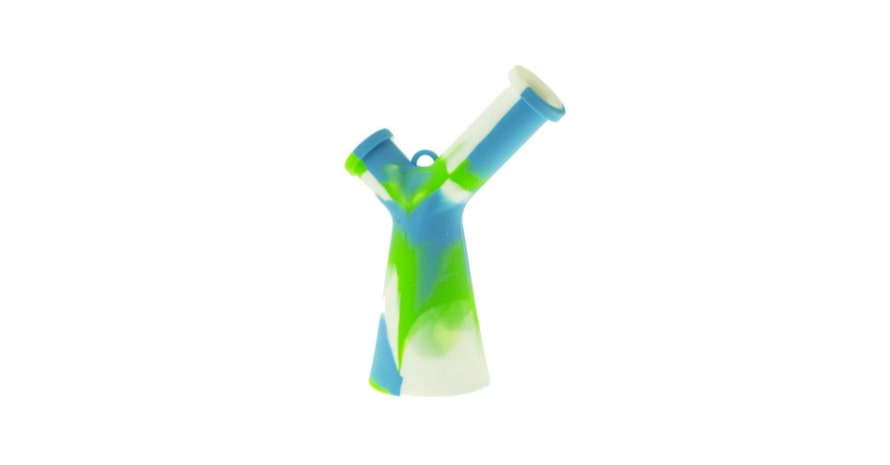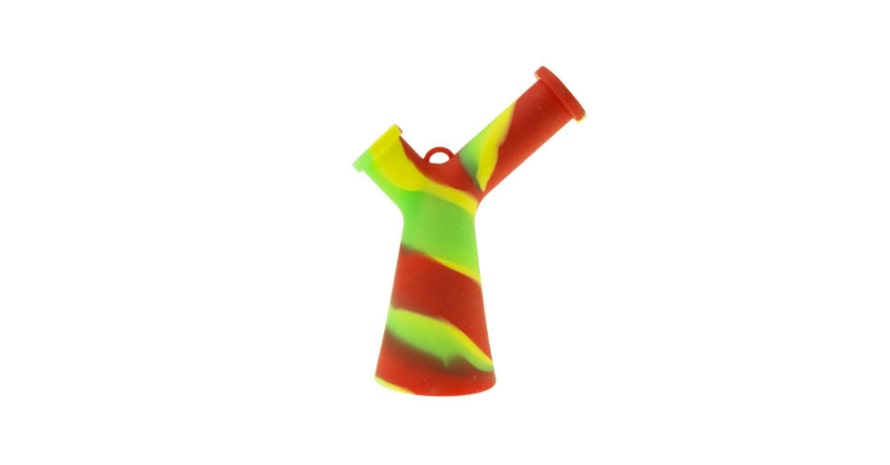 Here we have a bright and flexible Y-shaped base glass bong made of thermo-resistant silicone. This fact makes it ideal for effortless carrying and outdoor use in public areas. This heavy-duty and lightweight 6.1-inch glass bong fits easily into your purse or backpack for safe transport.
The bong has a stable glass base, an easy-to-grip Y-shaped body, and 14.5mm glass on the glass bowl and bottom. The bottom stem and bowl can be removed for easy cleaning, while the curved neck provides ease of use and splash protection. You can attach the strap to the bong hole and wear it around your neck for additional security.
The Mr. Y bong is available in four striking color combinations. Select the most appealing to you and enjoy its style. Whether you are an awkward user or you're just looking for a new damage-proof piece, the Mr. Y beaker base silicone bong is a good option.

---
PROS:
Flexibility;
Glass base;
Suitable for transportation.
CONS:
You still can break glass parts occasionally.
---
Silicone Bong Buyer's Guide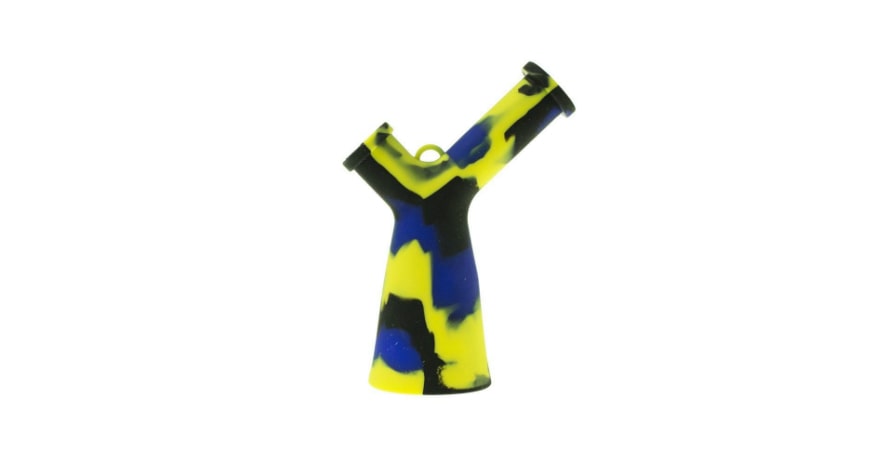 In this section, I will discuss the benefits of silicone bowl weed. Also, here you will find information on what to look for when choosing the item to your liking. It can be quite challenging if you are used to glass models, for example. Use this information to choose the right device that suits your smoking needs and that you can easily use at home or carry with you from place to place.
The benefits of silicone bongs
Silicone is a lightweight material. It does not accumulate odors and is easy to clean. You can choose different washing techniques. Heat-resistant food-grade silicone contains no harmful components. Therefore, when interacting with high temperatures, no chemicals are released. The unit, absolutely harmless to human health and nature, will make a smoking session much more comfortable in any conditions.
The main advantage of silicone bongs is that they are practically indestructible. Glass bongs look very aesthetically pleasing. However, despite its visual beauty, glass is very fragile. The acrylic bong can also break if dropped. Silicone bends and transforms under the influence of pressure. Any part that breaks can be replaced, but you don't have to buy a whole new device. It saves you not only money but also nerve cells.
It is very convenient when the silicone device has a removable glass percolator. It can be easily removed from the structure without depriving the bong of its performance and left at home. Thus, on a hike, you take a mobile unit that will not break if handled carelessly. If the design is as essential to you as other parameters, then silicone bongs win here. Whether it's a classic straight tube shape or a rubber duck-like bathtub, the choice is yours. Every smoker will be able to choose their favorite model and get a stable base, bright colors, and a variety of forms.
According to the silicone bong's characteristics, these models are not inferior to glass and acrylic bongs, and in many respects, even surpass them. Considering the design, they are visually similar to glass devices. They have a stable base, and a capacious bowl, and some specimens can be supplemented with percolators and ice spikes.
So, the most critical advantages of silicone over rubber bongs and other materials:
durable and wear-resistant, will not break or crack;
has the highest quality;
lightweight and compact;
you can take it anywhere, bend it, fold it — such a bong returns to its original shape instantly;
affordable price;
bright designs, a variety of shapes, and colors.
How to choose a silicone bong?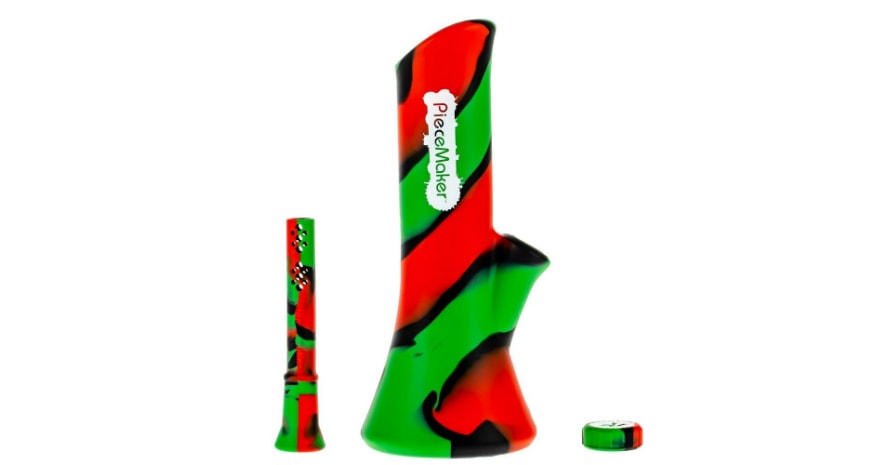 It is not difficult to choose a silicone bong. Almost every model will meet the expectations of its owner. These are mega convenient and indestructible devices that you can take with you wherever you go and not be afraid that they will break, crack, or burst.
1. Pay attention to the base sturdiness
It is worth choosing a device with a broad, reliable base that will fix it well on the surface. The shape and size are at the discretion of everyone. In any case, such a smoking apparatus can be folded into a backpack and taken with you. It returns to its original shape instantly. There are also collapsible silicone bongs — this option should also not be ignored.
Silicone bongs with the Ice system, as well as in the case of acrylic ones, are rare. However, you can also find such, as a rule, that this is a combined product made of silicone and glass. You can also choose a turbo hole.
2. Choose between the shapes
Also, pay attention to the shape of the device. At the moment, there are many different forms of this smoking device. These are bongs with a bent top tube, multi-chamber, classic straight ones, and tools in the form of a chemical beaker and a percolator device.
3. Pick your preferable height
Sizes of bongs are perhaps one of the main parameters of the difference between the products. A device with a height of up to 17 inches centimeters is considered to be an average height. However, everything is individual here. You can also purchase a small bong of 3-7 inches. The compact device's advantage is the ability to take it with you because it is lightweight and can easily fit in a backpack.
4. Consider the material quality
Also, pay attention to the type of silicone the bong is made of. Most of the models are made of food-grade silicone, but it is better to clarify this aspect beforehand. The food-grade silicone is harmless and heat resistant, so it will keep you safe. Such a device can be washed in the dishwasher and even put in the freezer. It will neither lose its shape nor deteriorate.
Silicone Bong FAQ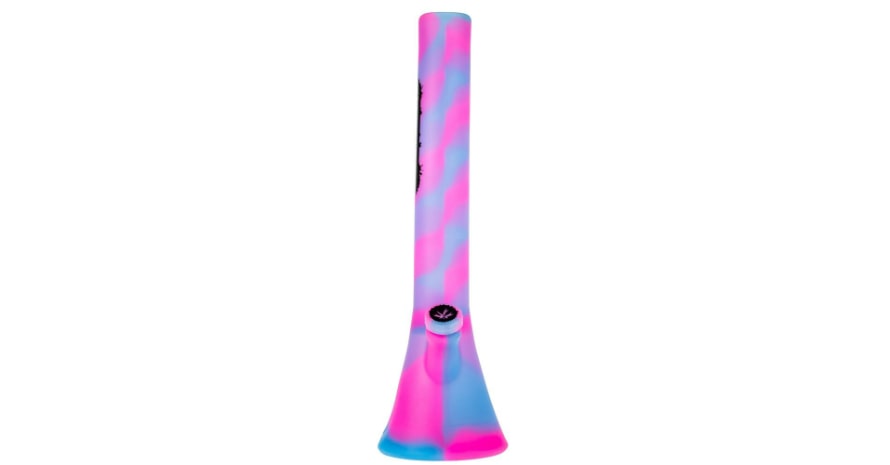 This section gives you the answers to the most popular questions about silicone portable bongs. Due to them you can get even more information and make sure that it's what you need.
Are silicone bongs good?
A silicone bong is a remarkably enduring and plastic device that is simple to shape. Food-grade silicone bongs are non-toxic and don't have any unpleasant odors. Moreover, these devices are easy-to-clean.
How to clean silicone bong freezer?
This is one of the easiest ways to clean your bong. You just need to throw the device in the freezer for a couple of hours. All the debris accumulated in the bong will freeze. Then you can simply shake out the waste due to the silicone's flexibility.
How to release smoke in silicone bong?
The primary user trick is pouring cooler liquid into the bong. The smoke, passing through strongly chilled water, cools down faster. You can also use Ice-bong technology. Usually, it is a built-in design feature, unusual protrusions or spikes in the shaft. Ice is poured here in pieces and the smoke, passing through it, cools down significantly.
How to assemble a silicone bong after cleaning?
After cleaning, you can assemble the silicone bong, as usual, starting with the base and leveling the mold. Then it would help if you put the bowl in place. I recommend not picking up a wet bong. It is better to dry or wipe it first to avoid any damage.
Verdict on the Best Silicone Bong
A silicone bong is very convenient, especially if you want to use it as a travel option or just carry it with you anywhere. It is also a much safer bong and won't break if you drop it.
I consider Trailer Park Boys Silibong Ricky the best option that is convenient and easy to use. It can be carried with you as it is lightweight and fits into a compact shape easily. It is also easy to clean in any way. You can do this both in the dishwasher and in the freezer. The bong is made of quality food-grade silicone, which is heat-resistant and non-toxic.
What do you think of silicone bongs? Which model would you choose? Share your thoughts in the comments.