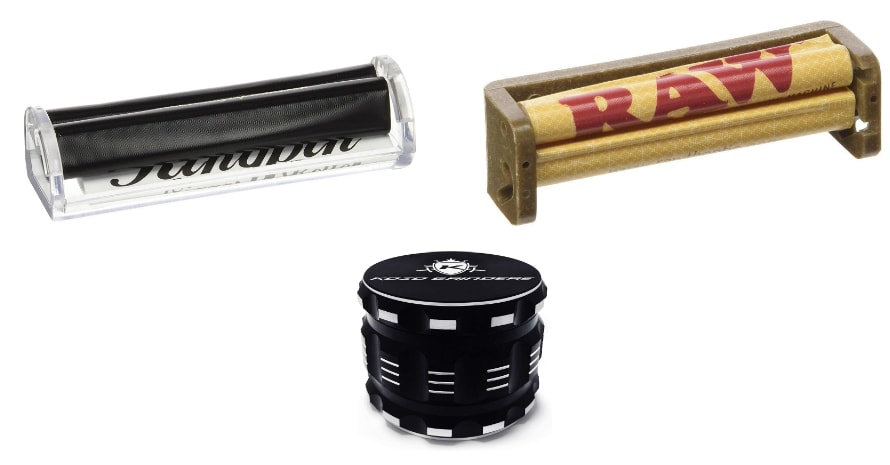 How To Roll Blunt — A Blazing Grace
A self-made blunt is surely a superb way to savor cannabis. But they don't teach how to roll a tight blunt in school, sadly. And smoking a poorly made one may result in:
Dissatisfaction. A weak blunt doesn't keep the weed tightly contained. Thus, your brain will get a much lesser dose of THT.
Waste. Even a top sort like White Widow will produce a much weaker effect.
Pain. If you smoke weed to alleviate the pain, the whole therapy may become ineffective, failing to reduce it at all.
But if a blunt is tight, you'll get a whole caboodle of benefits. First and foremost, it has the largest dose of THT among all other weed-consuming methods. And as it burns slowly, it'll get you high for a longer period of time than a bong or vape.
So, knowing cool ways to roll a blunt is crucial if you want to get the best out of your Golden Goat or Purple Haze. I'm going to share the popular blunt rolling tips as well as review a few trinkets that make it just a one-minute-job. Let's roll!
Making a Handmade Blunt
Here's how to roll a blunt easy:
Grind or manually crumble weed, so it turns into a blend.
Take a wrap or emptied out cigar/cigarillo.
Wet the wrap just a tiny bit so it won't crack while rolling.
Take 1-2 grams of your stuff and put it on the wrap.
Roll the thingy with your fingers — make sure the weed is stuffed evenly.
Run the cigarette lighter from end-to-end, lengthwise to dry it.
And the blunt is ready! If you wonder how to roll a blunt with a Swisher Sweets cigar, the technique is basically the same. You will just need to cut it open lengthwise with a razor, disembowel the cigar from tobacco, and follow the guide from Step 3.
Now, the supplies you will need:
Weed sort you prefer.
Blunt wrap or just a cigar.
Grinder with sharp and evenly patterned teeth.
A grinder isn't a must, of course. You can crush your stuff with a butter knife, scissors, etc. But nothing guarantees a steady, slow burn, like a good grinder.
One of such grinders is Kozo Best Herb Grinder. It's good for fat and skinny blunts.
It is one of the best tools to make a blunt with. It has a hard body, crafted from an aluminum alloy. And that's quite beneficial: Kozo won't go rusty over time — you don't want any particles of oxidized iron in your mash!
Besides, this type of aluminum is quite sturdy. So, if you drop it a few times, Kozo has a good chance to stay uninjured and retain its stylish, black-n-white looks.
Its blades are also praiseworthy. The grinder is armed with sharp teeth. With them, it chews even big and hefty marijuana buds like a weed-hungry piranha, providing some amazing final product.
Kozo is also quite ergonomic. It sits nicely in your palms and doesn't take much of the pocket space. The sides have a knurled pattern that won't let the gizmo slip out of your hands, making the priceless powder scatter all over the carpet. (The magnetic lid won't let it happen either).
Persnickety blunt-makers will appreciate the grinder's pollen catcher. The kief is airy and fluffy like a dandelion — all thanks to the evenly outlined teeth pattern of Kozo. What's even better, it pops out when it's time for some hygiene maintenance.
All in all, Kozo is one of the best grinders on the market. It has elegant looks, a pretty tough body, smart construction that requires little effort to prepare weed, and, of course, a solid pollen catcher. Beyond a doubt, it's a must-have for rolling a nice blunt.

No products found.
---
.

PROS:
Composite aluminum alloy;
Sharp teeth;
Kief catcher;
Nice ergonomics;
Pocket-size.
CONS:
Pricier than some competing models.
The Easiest Way to Roll a Blunt
However, whipping a perfect rolled blunt is a skill that comes through practice. If you're a newbie in the blunt game or have a malady — like arthritis or tremor — that prevents you from making a ganja cigar, then a blunt roller could help.
A blunt roller is a pocket-size gizmo that, through a simple mechanism, allows you to have a tightly rolled blunt in just a minute. Here's what rolling the perfect blunt looks like:
Step 1 — Loading
Unlock the roller.
Add the filter, push it to one side.
Put a medium/big dose of weed.
Step 2 — Pre-rolling
Close the roller.
Slowly turn the rollers towards you.
Step 3 — Put the paper in
Insert your wrap in between the rollers (sticky side facing you).
Step 4 — Rolling
Continue rolling the paper towards you.
Once a bit of the paper is left sticking out, lick it.
Give a few twists until rolling is completed.
And the blunt is ready to be served. Using a rolling machine saves a ton of time, actually. Plus, you won't need super-skilled fingers to roll a solid blunt with one of those gizmos.
A pretty cool device I know is Kingpin Blunt Cigar Roller, and it does a hell of a job at rolling big, party-size blunts.
Kingpin Blunt Cigar Roller is all you need to make a royal-sized joint. With just 2.4 ounces of weight, this metal buddy has working dimensions of 5.1 x 1.5 x 1.1 inches. That's enough to roll a cigarillo or even a whole Cuban cigar!
Therefore, you'll need a good chunk of marijuana to make a blunt with Kingpin. About 1,5 ounces will suffice. So, if you're into intensive weed therapy or there's a West Coast-style party around the corner, the Kingpin roller will take care of making sublime blunts.
It has a sturdy metal body, probably aluminum, that will last for years. Algebraically speaking, it's hundreds of blunts and generations of weed strains.
Thanks to the smartly-designed rotating mechanism, rolling a joint is really simple — no need to strain your wrists or fingers. So, I would say that employing Kingpin is like the easiest way to roll a blunt mechanically.
Finally, it has a very democratic price. At about $7-8, you'll get a great helper that will do a satisfying job whenever you need a smoke. One downside though, is that it's not really for humble and slim blunts. But if you enjoy a joint the size of Big Ben — you're in luck.

No products found.
---
.

PROS:
Rolls big blunts fast;
Ergonomic;
Nice rotating mechanism;
Sturdy construction;
Will last for a long time.
If you're more of an introvert and just need to roll a puff cigar quickly, RAW 79 Hemp Rolling Machine is what I'd recommend. Use it when rolling a blunt wrap fast is a priority.
Raw 79 is a blunt-roller that is listed among bestsellers in its category. Maybe, its vintage looks do the trick. Maybe, a tricky mechanism that can finish the job in a snap. Or maybe, it's a humble price tag?
Raw 79 rolls perfectly balanced and amazingly tight joints. The rotating mechanism should be operated by both of your thumbs for better effect. And once you get used to it, which happens quickly, you'll learn to roll blunts in under just 1,5 minutes.
I really adore the machine's looks. The roller is made from a solid piece of metal and rocks a nice color of matte gold. There's a big red Raw imprint on the roller, which makes the gizmo resemble an old-school pack of butterscotch.
The rotating part goes smoothly and reacts obediently as you push it. Blunt-rolling feels quite effortlessly with Raw, which is great: some weed users smoke marijuana to tackle finger/knuckle arthritis. And such marvelous ease of use will liberate them from depending on someone else.
What I also like about the device is that the developer has included a spare roller in the package. In case you lose one upon cleaning the gizmo — and let's face cannabis smokers can be forgetful — you can always count on its little twin.
All in all, Raw 79 does a wonderful job. I love its visual aesthetics, mechanical responsiveness, and joint quality — it's always impressive.

---
.

PROS:
Low price;
Soulful design;
Amazing ease of use;
Fast-rolling;
A spare roll.
CONS:
You can mistake the dismantled roll for a candy bar.
What Weed to Use?
The sort depends on what goals you're after. It can be medicinal or recreational marijuana. Some sorts are great at killing pain and banishing insomnia. They soothe your nerves and drive the bad thoughts away. Indica strains are particularly good at that.
Other sorts can provoke sheer appetite or make you giggle for no reason. That's Sativa's mischievous nature. And you need to be careful with it, as it's known to cause paranoia attacks.
Hybrid sorts combine the qualities of Sativa and Indica. Each has a unique effect as you can't really know how your brain and nervous system will react until you try it.
Why Is Blunt Popular?
Not everybody knows how to make a blunt out of a cigar these days. But blunts are still popular for a few reasons:
Time. It's relatively quick to roll a blunt then, say, bake marijuana brownies.
Effect. Blunt, especially with a steady burn, is the best when it comes to tetrahydrocannabinol release. You get to inhale the majority of weed's magic components. Vaping gets you higher, yes, but for a very brief moment of time if compared to a blunt.
Cheap. Wraps really cost nothing, compared to a vaping device. So, if you're on a budget, blunt rolling is the best method.
And don't forget the aesthetics! A blunt is one elegant way to consume the giggle leaves. Some just find its soft glow comforting and rewarding.
Any Possible Downsides?
Everything has downsides. Blunts are no exception. Here's what to watch out for:
Tobacco. Some smokers don't mind having a slight tobacco admixture, which turns your blunt into a spliff. In reality, it is best to avoid this, as damaging effects of the tobacco will affect your lungs as a regular cigarette would do.
Addiction. Again, remains of tobacco can develop an addiction — something that pure pot rarely does, unless we talk about chronic users who need it as much as oxygen.
Hassle. Though it looks like an easy task but rolling a solid blunt requires some prowess. Unless you have helping devices, it's more likely your very first ones will be ramshackle.
As for the rest, choosing a weed-smoking technique is always a matter of personality. Some like bongs, others crumble pot cookies.
Blunt isn't any worse than the rest of them, as it offers the same up/downsides of pot consumption. And if you smoke it responsibly, no major side effects will occur. Expect your life quality to change for the better.
FAQ
And now, a few typical questions a beginning blunt-maker may have.
What to roll a blunt with?
There are different ways to roll a blunt. It depends on your rolling experience or physical condition. If you have good fine motor skills, don't suffer from hand tremors, and can be patient — roll one with your fingers. If you don't trust your hands for some reason, a blunt roller is a solution.
How to seal a blunt?
Most smokers prefer their own saliva. As you're done rolling it, there will be a tiny seam running lengthwise. If the blunt is exclusively for you, lick it to finish the job. But if you're going to share a blunt with your friends, you'd better use alternatives for reasons of hygiene.
Tap water is the most accessible one. Some smokers use a tiny bit of honey or syrup to seal the deal. Whatever sticky agent you want to use apart from saliva, make sure it's organic and nontoxic.
Can I roll blunt without a grinder?
Yes, there are numerous ways. Most of the enthusiasts prefer a clean pair of scissors to cut the buds. Some use a simple kitchen knife or a grater. You can even take an empty pill bottle, put a clean nickel inside, and shake it like a maraca.
But these methods won't compare to a good weed grinder. It makes the blend evenly ground and allows you to get a good pinch of pollen thanks to the kief catcher. And all this, in turn, guarantees a mighty smoke.
The Sharpest Blunt
That sums up my guide for today. I hope you've learned how to roll a blunt. Let all the positive effects it brings become a stimulus to keep practicing, as smoking it surely delivers nice and healthy relaxation.
What is your favorite rolling technique? How much time does it take you to prepare a blunt? Which wraps would you recommend? Let us know in the comments!