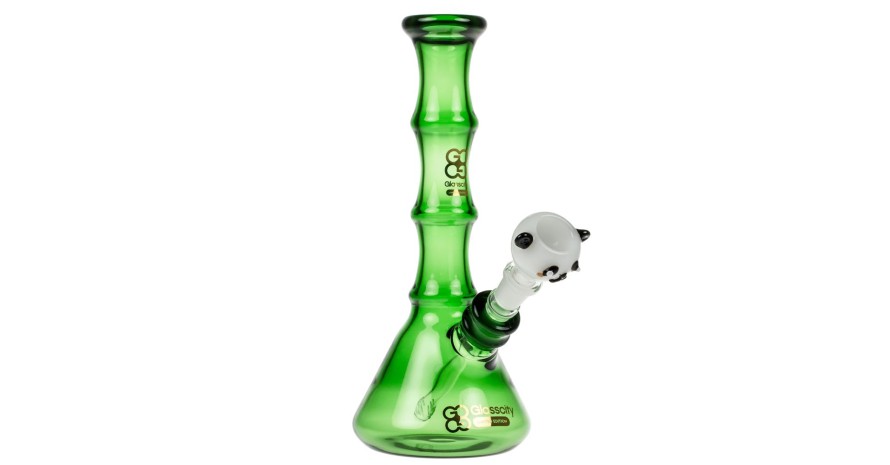 Best Mini Bong – 7 Most Popular Options for You
Medical and recreational marijuana legalization is spreading around the States, and many people are looking for the best mini bong. It is not an easy task, and the variety of expensive and cheap small bongs is growing as well. Yet, the classic bongs are still more popular than little bongs. Many weed consumers believe that mini bongs do not provide the same features as big or standard models. Yet, you can't underestimate the compact mini bong of high quality.
I hope these mini bong reviews will help you to find the most beneficial options for you. I provide detailed reviews for each of them, so you can choose only the tool you really need. Buying a small bong can be even more useful, especially if you have to travel a lot or don't want to overpay for the standard bong. Keep in mind that mini bongs work just like standard bongs. They also contain all the components of large bongs. Besides, the flavor is even stronger from the mini version of the bong. I don't claim that you have to throw away your large bong. I simply recommend you to be more open-minded towards versatile alternatives when it comes to improving your experience.
Top 7 Best Mini Bongs
Any bong that is less than 12 inches tall is considered to be a mini bong. I have made a list of the best small glass bongs with descriptions of each of them. They all were checked by the people I trust or me. They all are affordable, compact, and creative. Check out these small water bongs and choose the one you like.
1. Jay and Silent Bob – Best Portable Bong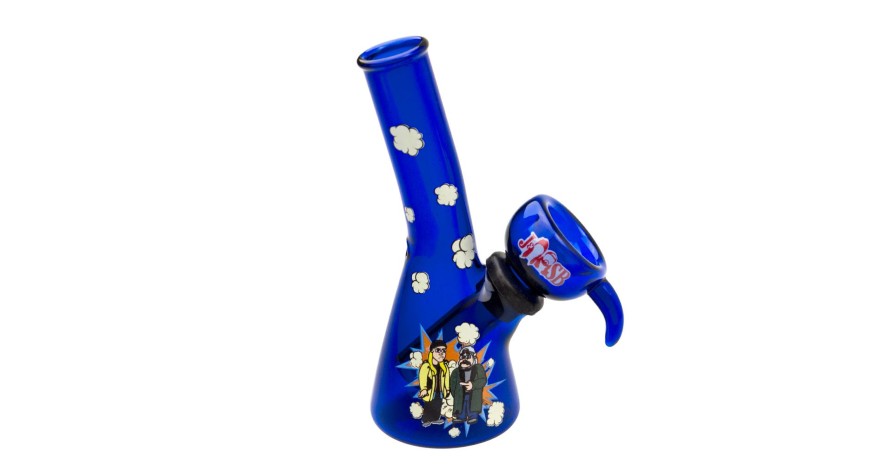 This is a solid bong with a colorful picture of Jay and Silent Bob on it. This bong is funny and creative. You may choose whether you want green, blue, or yellow glass. The beaker base is durable. The downstem is removable and equipped with the attached bowl. There is a rubber grommet that makes the whole construction simple to clean. The mouthpiece is rimmed. Besides, there is a colorful, theme-painted box, which makes this bong an ideal gift. The glass is thick, at 3.0 mm, and the bong is 4.3 inches in height. It is lightweight, easy to transport, and creative. The Jay and Silent Bob developers provide collectible bongs with the two iconic characters.

Jay and Silent Bob Portable Bong
---
PROS:
Lightweight;
Solid construction;
Thick glass;
Colorful design;
Affordable price.
CONS:
Depending on your dosage of marijuana, this bong can be too small.
---
2. Amsterdam Greenline – Small Weed Bong Set
The bong is just 6.3 inches long. All the accessories you may need during the smoking process are included in the box. It comes in a colorful metal box that secures the glass inside. The glass is 3 mm thick. The downstem has the attached marijuana bowl. There is a carb hole for ease. You need to clean this bong with specific instruments. You will find a double bubble base, a pack of rolling papers, a pack of filter tips, a completely organic, 5-metal screen, and a 2-part plastic grinder on the magnet. The tube has a funny monkey decal on it.

Amsterdam Greenline Small Weed Bong Set
---
PROS:
Perfect for traveling;
Weightless;
Protective metal box;
Organic components inside;
Affordable price.
CONS:
The double-bubble shape of the base may require specific tools for cleaning.
---
3. Glasscity Limited Edition – Small Waterpipe of Bamboo Shape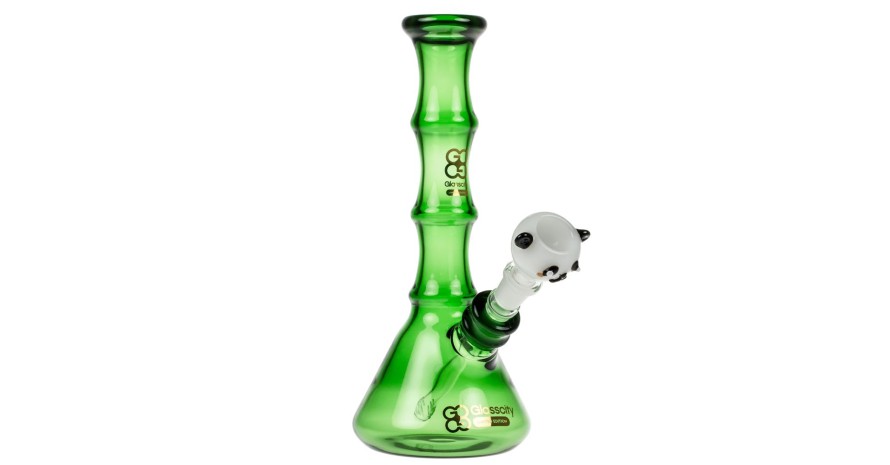 Just look at this cute panda bear on the bong! And the green bamboo-shaped base is unique. This mini bong is one of the collectibles every bong admirer needs to have. The glass is durable, and made of borosilicate of high quality. The joint is 14.5 mm. The height is 4.1 inches, making it perfect for traveling and carrying the device around with you. There is a flared mouthpiece and downstem with a slitted diffuser for the best filtration. Glasscity has developed this bong as a part of a limited edition. There are roll stopper ears on the panda bowl for rolling prevention on the flat surface.
Glasscity Limited Edition Small Waterpipe
---
PROS:
Outstanding design;
Durable glass;
Easy to clean;
Perfect filtration;
Competitive price.
CONS:
Cute little panda is breakable, and you have to use the bong carefully.
---
4. Glasscity Straight Ice – Best Small Bong with Perfect Downstem Length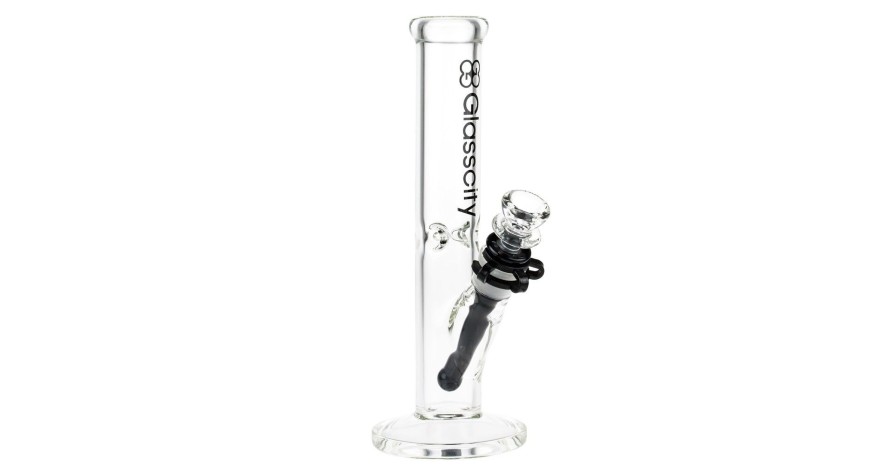 It is made of borosilicate glass of great quality for better durability. In my opinion, the tube design is perfect to clean. The ground joint is 18.8mm. There is a black slitted diffuser of 14.5 mm. The length of the whole bong equals 10 inches. The mouthpiece is rimmed. The foot is circular, wide, and, as I can judge from my experience, reliable. This is another product from Glasscity, the company that creates a wide range of bongs. I can hardly find it creative, but it is working and affordable. Borosilicate is resistant to heat. By the way, the downstream diffuser is removable and easy to clean as well. Ice notches cool down the smoke before it gets to you.

Glasscity Straight Ice Small Bong
---
PROS:
Compact size;
Ice notches;
Borosilicate glass;
Easy to clean;
Affordable price.
---
5. Glass Amsterdam – Mini Weed Bong in Bubble Shape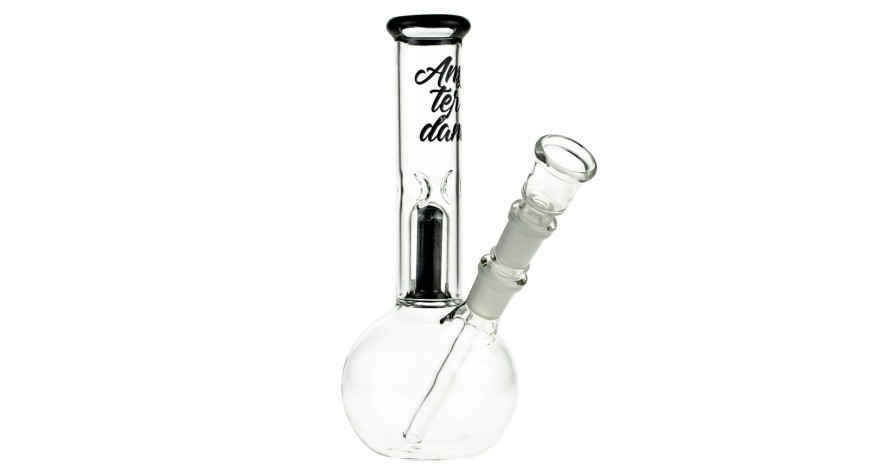 The portable design of this bong allows you to travel with it anywhere. Borosilicate glass is more durable and heat resistant than any other type on the market. The bubble base is simple to clean. You can pour more water there. This bong comes with a slitted dome percolator and a 14.5 ground joint. The 3.7-inch downstem is removable. The mouthpiece is rimmed and colorful. You can order black, blue, and green percolator and mouthpiece designs. The height of the bong is 7.5 inches. As for the manufacturer, the Amsterdam company provides a wide range of bongs for true collectors.

Glass Amsterdam Mini Weed Bong
---
PROS:
Stylish design;
Resistant to heat;
Durable;
Rimmed mouthpiece;
Affordable price.
CONS:
You have to be extremely careful with a tiny downstem.
---
6. Rasta Lion – Colorful Mini Bong Bubbler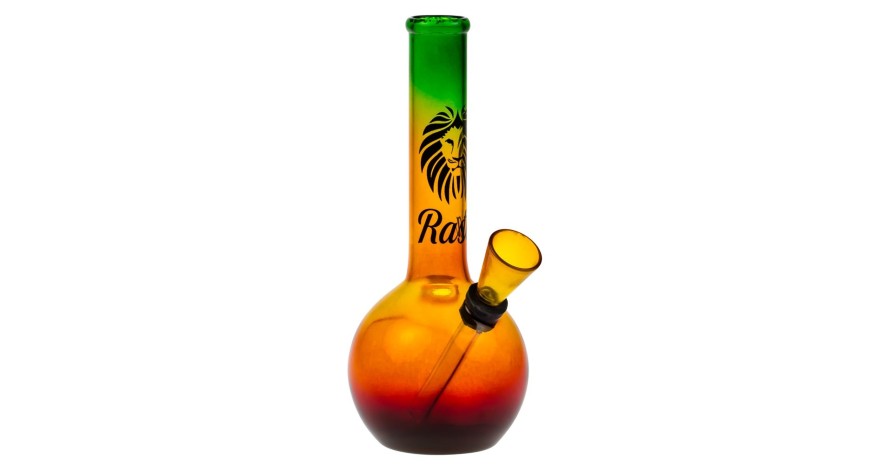 The mini bong is colored in traditional rasta colors, red, orange, yellow, and green at its top. It is made of heat-resistant borosilicate glass with a bubble-shaped base. Downstem has an attached herb bowl that is easy to clean. There is a rubber grommet for a perfect connection. The mouthpiece is rimmed. It is 6.3 inches long. The bubble shape, as I've mentioned before, can hold more water, which provides great filtration of the smoke. The bong is decorated with the decal of the lion and the sign Rasta on it. The developers also offer versatile vaporizers and hand pipes among their bongs.

Rasta Lion Colorful Mini Bong
---
PROS:
Works fast;
Simple to wash;
Advanced filtration;
Colorful design;
Affordable price.
CONS:
The glass is incredibly thin, so don't drop it.
---
7. Glass Straight Mini Mandala – Miniature Bong with Ice Notches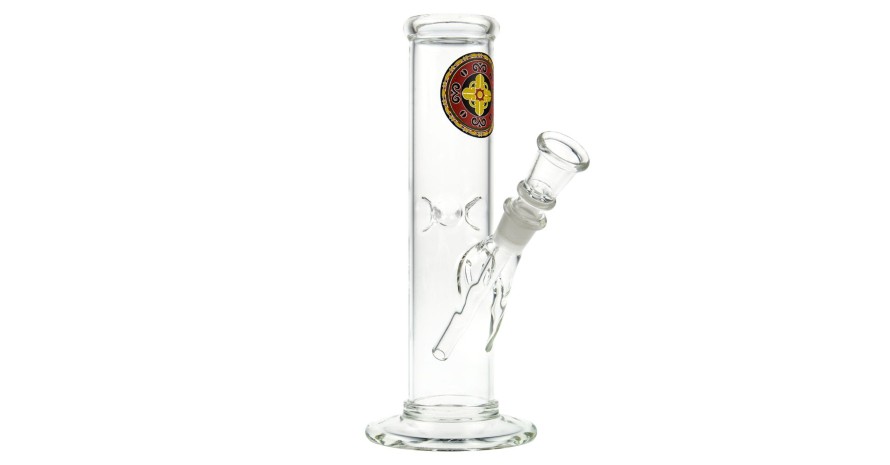 Ice notches inside the bong help to cool down the smoke, so it is less dangerous for your lungs. It is also made of borosilicate glass, resistant to heat. The ground joint is 14.5mm. The downstream is 3.75 inches, with the herb bowl securely attached to it. The foot is round and stable. There is a colorful logo of the mandala on the top of the bong. The whole instrument is 7.9 inches long.

Glass Straight Mini Mandala
---
PROS:
Compact size;
Ice notches;
Stable construction;
Easy to clean;
Competitive price.
CONS:
The bong requires a tight hold, as it can be a little bit slippery.
---
Best Mini Bongs Buyer's Guide
The difference between long and short bong is minimal. A mini bong contains all the details and performs all the services that a long bong does. At the same time, it is less expensive, less heavy, and more versatile in decoration. If you still have problems choosing the mini bong for you, I hope you will find this guide helpful.
How to choose the best mini bong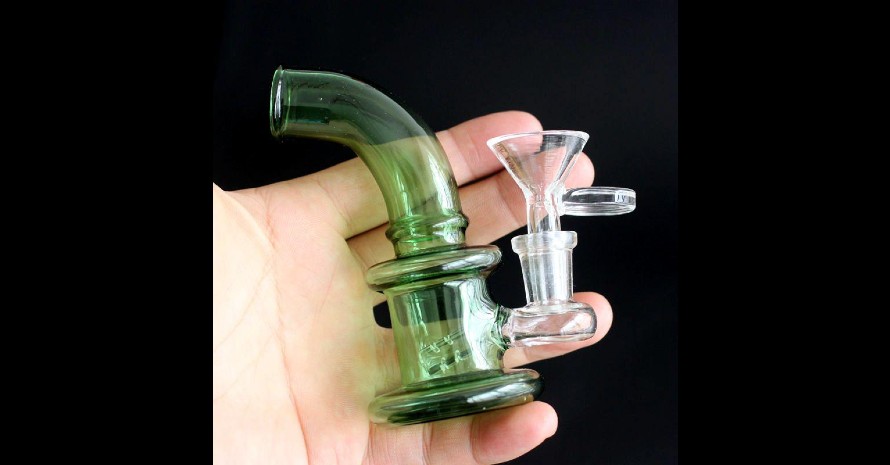 A mini bong was originally made to provide lightness and comfort during travel. It is a great alternative to the large massive bong. There is a wide range of mini bongs that I've mentioned on my list, including bubblers, beaker bongs, small rigs, and double bubblers. Finding the most suitable option for you may not be that easy. Here are the main features to look for in the bong:
The portability. All the mini bongs on the list are less than 12 inches but vary in height. I believe that 7.5-8 inches is the universal height for these tools. Yet, only the most durable mini bongs can be portable, or else you can break them in no time.
The simplicity of use. All the bongs on the list have classic features and the way you use them. Still, make sure that you don't have to spend more than an hour mounting and heating it. Some of these bongs contain extra features like ice notches.
The flavor. It must be strong and dense. Smaller bongs provide a better flavor to your smoke if they are made from high-quality materials.
Design. Mini bongs offer more fun designs than classic ones. If you are tired of simple, clear glass, you can buy a bong with a lion or Jay and Silent Bob on it.
The price. Forget about expensive bongs that you can't afford. No matter how great and superb the mini bong is, it is still less pricey than a standard large bong.
Differences between small bongs and big bongs
The difference between both types of bongs may help you with your decision. While they work the same, there are not so many similarities you can find. Here are a few differences you have to pay attention to before ordering the bong:
Price. A large bong costs more than a small one. It is simple to explain by the amount of glass you have to use for its production, the level of complexity, and brand. The prices for small bongs usually vary from $18 to $60. Large bongs cost from $80 to $200.
Portability. Large bongs can't be hidden in a small bag, unlike mini bongs. You can damage a large bong while carrying it around in no time.
Hit quality. Mini bongs are considered to hit harder. However, the effect is bigger in large bongs. They hold a higher volume of smoke. Yet, small bongs offer a stronger flavor mainly because of the smaller ratio of air to smoke. Before you start using it, read the marijuana laws of your state.
Accessories and decoration. Big bongs are more beneficial and offer a wider range of accessories compared to mini bongs. Downstems, ash catchers, and percolators are more customizable in big bongs. Mini bongs can be turned into a small dab rig.
Pros and cons of small bongs
Although all the mini bongs on my list offer numerous advantages, they also have minor flaws. For me, there are more pros than cons. But if you want to get rid of all the cons while getting all the pros, you can start by buying several bongs and enjoying their benefits.
Pros:
Portable;
Affordable;
Better design;
Strong flavor;
Lightweight;
High durability;
Simple to use.
Cons:
Small hits;
Hard to clean;
Fewer accessories.
Popular Questions About Mini Bongs
Compare the benefits you expect with the description I've given to choose the best bong. Read these most frequently asked questions and my answers to them.
How to clean mini bongs?
The same way you clean a classic bong. All you need is water, salt, and some of the specific small brushes. You can find everything for cleaning at the same store where you order a bong. I recommend purchasing cleaning supplies in advance. Clean your bong with warm water after every use. Clean the bong with cleaners and gels once in two weeks. Don't forget to use pipe cleaners and cotton buds to reach all the places of different types of bongs.
How do transport mini bongs properly?
Some of the mini bongs on my list already come with solid boxes for their protection. If you don't have the box, you can make it yourself. Many users prefer to carry mini bongs in duffel bags. I recommend cushioning the bag from the inside at first.
Perfect Mini Bong for You
My recommendations will definitely help you to limit your options. However, I can't decide which one to buy instead of you. All 7 of them are my favorites, and I believe they all have a wide range of benefits. Choose one or several options based on your priorities.
If you have already used or are currently using some of the bongs on the list, please share your thoughts in the comments below. How do you like the particular mini bong? How long do you use it? Did you face any problems with the bong?