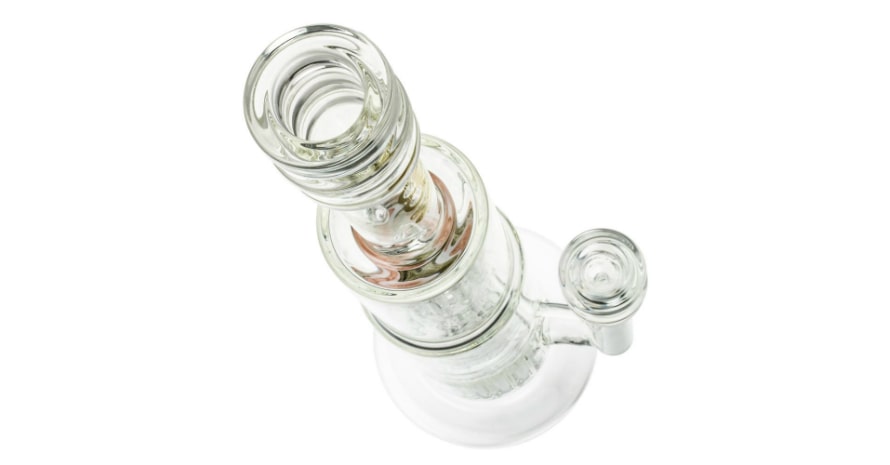 Best Percolator Bong Models for Ultimate Weed Smoking Experience
Whether you are entirely new to the marijuana community or an experienced user willing to take their smoking routine to a whole new level, getting a bong that has a percolator installed might prove a great idea. The glass contraption just makes things so much smoother.
While there's hardly any evidence that moderate cannabis use can affect your respiratory system no matter which formulation you prefer, many people would be glad to skip the coughing phase associated with smoking a regular bong as it compromises the rewarding experience.
But how do you choose the best percolator bong?
This article contains seven percolator bong reviews with all the pros and cons of each model to help you navigate the ever-expanding market and choose the one that best fits your preferences and budget.
For those interested in what different types of bong percolators there are, I've included a brief Buyer's Guide section as well. Stick around if you want to know why the Glasscity Limited Edition Beaker Ice Bong beats all the rivals and what other noteworthy options you have for a smoother rip.
Top 7 Perc Bongs: Detailed Reviews
Here's my list of seven best percolator weed smoking devices. Each stands out in its own way depending on what your priorities are when it comes to pot, so be sure to factor in whatever is good or, probably, not so good before you make the important decision!
1. Glasscity Limited Edition Beaker Bong with a Perc: Top Pick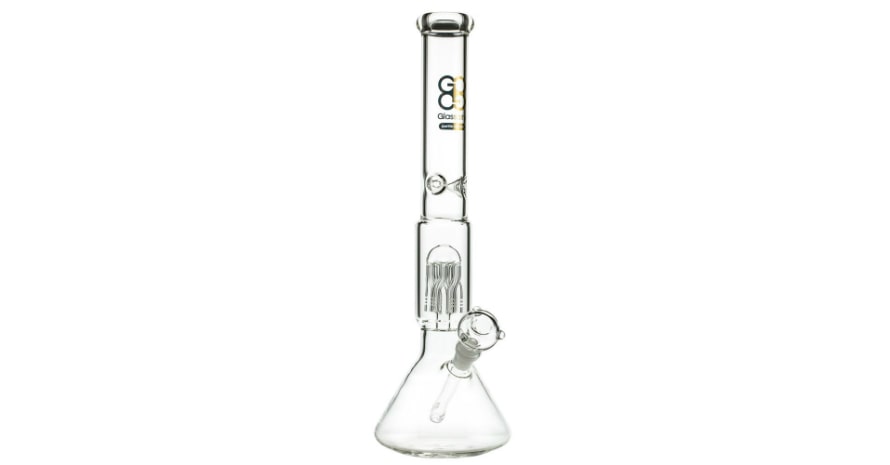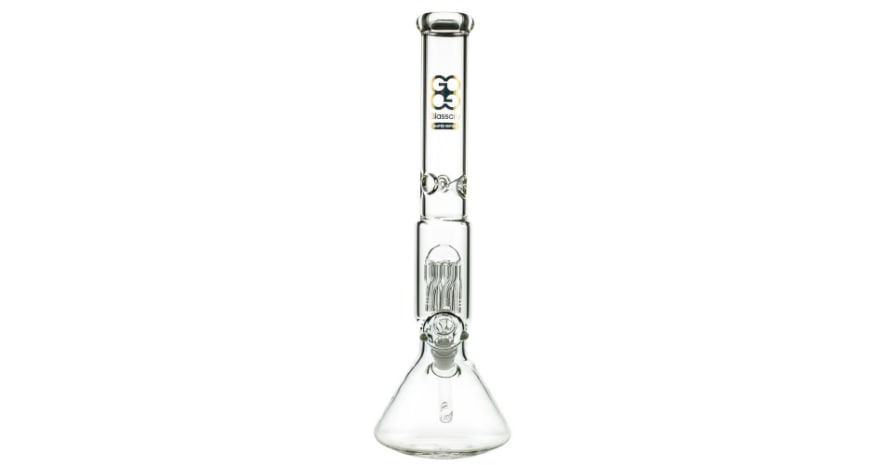 This towering bong combines a timeless, unsophisticated look with excellent filtering efficiency. It was made to be lovingly used on a regular basis and over a long time. You can tell this by looking at the thickness of its walls, made of borosilicate glass, a material some of us use and abuse in our kitchens as it's known for its resistance to thermal stress.
The model uses the tried, tested, and true beaker design. As the smoke swirls around the base and rises up, it hits an 18.8mm > 14.5mm slitted diffuser downstem that's cut inside, breaking it into smaller particles to facilitate cooling.
Next, the smoke hits a tree-style percolator with as many as 6 arms, adding another layer of filtration. What comes out is pure pot smoke deprived of its initial harshness and cooled to a point where it's unlikely to cause any unpleasant sensation even in beginners.
It's not the perfect model to begin your journey with, though, given its 17.5-mm height as it might take a pair of well-trained lungs to milk it up.
This straightforward bong comes with a rimmed mouthpiece for increased smoking comfort. A 14.5-mm herb bowl with a male connector that features a roll stopper design to prevent instability when on a flat surface is included in the set. Finally, there are ice notches that you might want to fill with ice cubes for additional cooling as the smoke travels up.
What I love about this item is how it is reasonably priced and pretty simple but still good at doing its job and highly usable. The dual percolation system largely eliminates the clogging problem that's common in tree percs.
Please note that the item is part of a limited edition series, so you probably want to hurry if you're thinking of getting one!

Glasscity Limited Edition Beaker Bong with a Perc: Top Pick
---
PROS:
Sturdy design overall;
Excellent stability;
Produces smooth, easy-to-drag smoke;
Made of strong borosilicate glass;
Comes with ice notches for further cooling.
CONS:
The tree perc is not the most robust design;
Might take time to get going.
---
2. Black Leaf Glass Perc Bongs: Runner-Up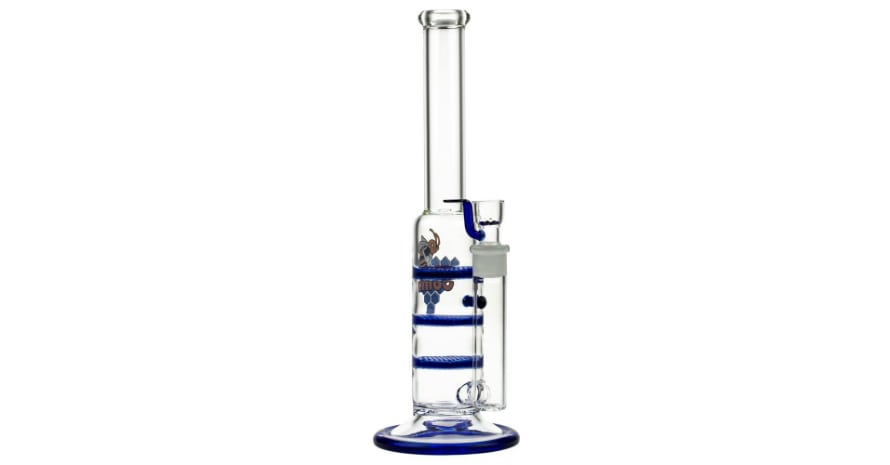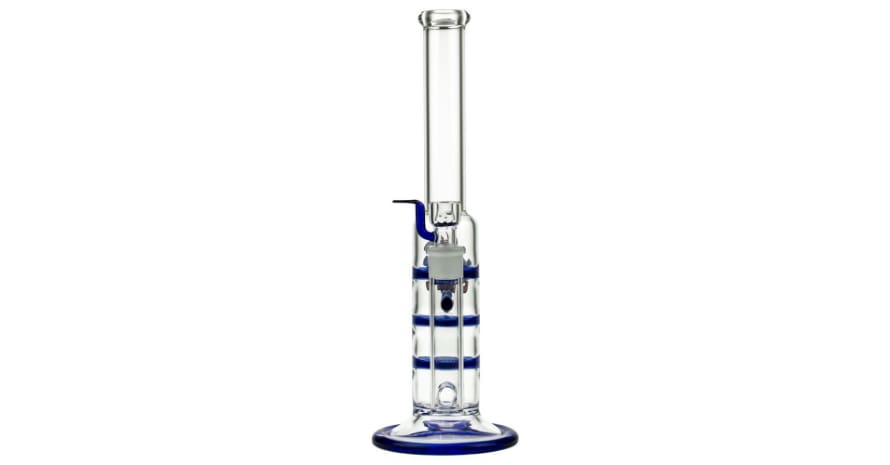 If you prefer minimalist shapes to bongs that have something about them that makes them look like invaders from outer space or simply don't have that much room, you'll appreciate the stemless design of this model. It looks like a lot of effort went into keeping it as simple as possible without compromising the feel and durability.
Just like the top pick above, my No. 2 is made of high-strength scientific glass, which is the common term for the thermal shock resistant borosilicate glass 5 mm thick.
The whole 12.6-inch tall structure rests on a fairly robust and stable base with a rim colored the same characteristic blue as the other details (if there is something I don't like about the design here, it's the fact you only get the clear and dark blue color option!).
This Black Leaf bong uses an 18.8-mm joint to hold a matching male glass herb bowl. The travel-friendly model has a comfortable lifting handle on the side that also prevents it from rolling down the table by accident, further adding to stability.
Complete with three honeycomb percolators, this bong provides an amazingly smooth smoking experience given the fact that it falls on the small size of things. It comes at a cost, though – the disks are likely to clog easily unless you clean them on a really frequent basis.
I recommend this model as a space-saving solution to people who experience cough and unpleasant sensations while smoking that won't cost a fortune. Complete with the loud bee decal, it can also make a great present.

Black Leaf Glass Perc Bongs: Runner-Up
---
PROS:
Sturdy, thick borosilicate glass body;
Efficient filtering and diffusion due to the stacked triple honeycomb disk design;
Novice- and travel-friendly;
Space-saving yet stable.
CONS:
Only comes in one (bright) color;
A comfortable mouthpiece would be a plus.
---
3. Glasscity Limited Edition Royal Highness Glass Bongs with Percolators: Premium Pick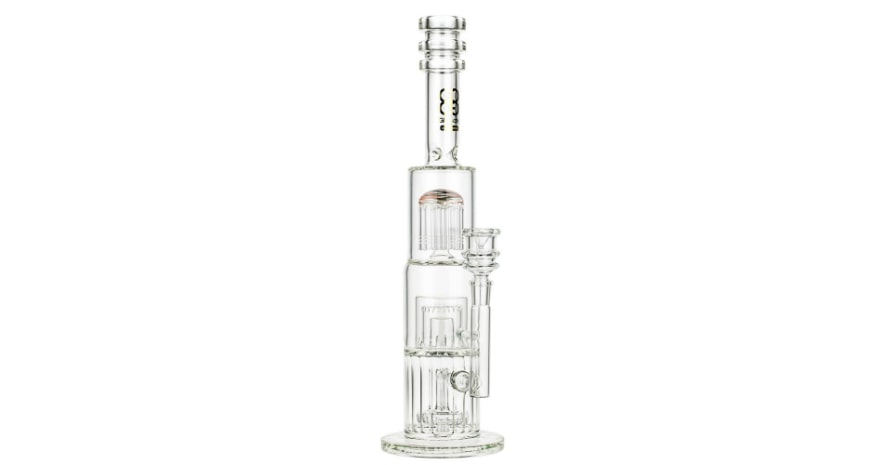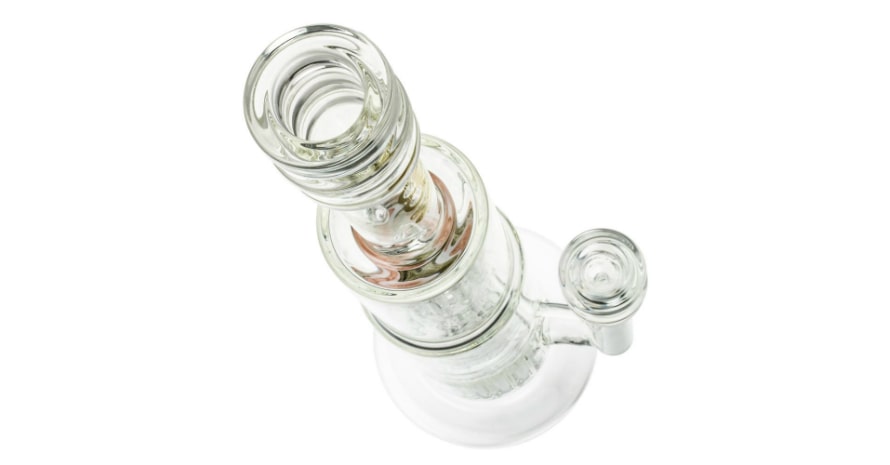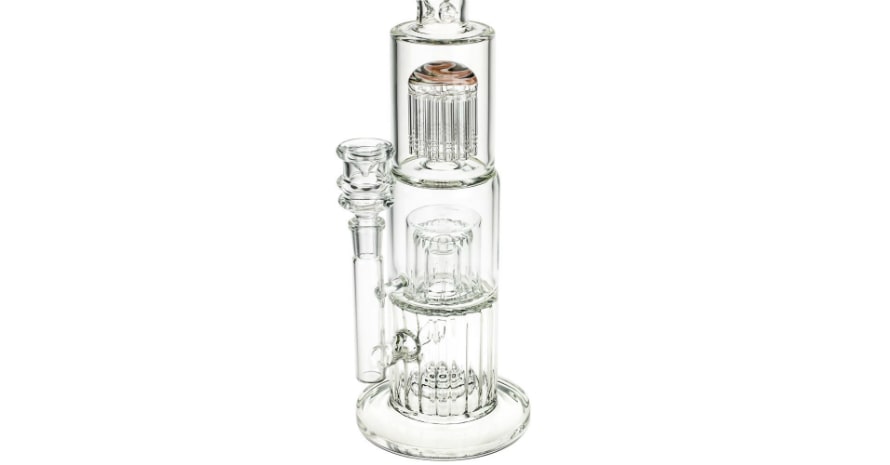 If there's nothing you wouldn't give to make your rip even more buttery smooth, consider this premium bong by Glasscity as a worthy investment. Aptly named Royal Highness, the futuristic-looking contraption is as tall as 18,7 inches and hosts as many as three different percolator types, each enjoying its own chamber.
Made of high-strength borosilicate glass, the beast comes with 7.0-mm extra-thick walls, making it highly unlikely to break or crack, forming a straight towering body.
Inside, it all starts with a showerhead percolator at the base of the device. It has multiple splits that break up the smoke and direct it into the water, where the first round of filtering beings.
Upstream, there's a dome-shaped percolator with a triple design represented by a showerhead trio to diffuse the smoke even further. The intricate shape works well to increase the contact surface area, promoting faster cooling.
The icing on the cake is a worked 12-arm tree-type percolator in the third chamber that brings the smoke to perfection.
The highness offered by this bong wouldn't be that royal if not for the ice notches added to its design. These compartments allow you to load the device with extra ice for even more cooling (as if what you already get from the three sophisticated chambers weren't enough!).
The model accommodates a standard 18.8-mm male herb bowl on its female joint of the same size. Complete with a triple-rim mouthpiece and a stable round base, this Royal Highness bong is all shiny glass. Watching the smoke as it makes its way up past and through the clever perc is surely a pleasure on its own.
Just like the top pick, it's not something I'd recommend to a novice, and it's bound to take some extra cleaning effort given the complicated structure, but if smoothness is the only thing that matters to you, this might be a good way to pamper yourself.

Glasscity Limited Edition Royal Highness Glass Bongs with Percolators
---
PROS:
Breathtaking to look at;
Three percolating chambers combine showerhead and tree-type percs for ultimate smoothness;
Comes with ice notches for even quicker cooling;
Comfortable mouthpiece shape;
Extremely thick and sturdy borosilicate glass.
CONS:
Difficult to clean;
On the pricey side.
---
4. Glasscity 4-Arm Tree Percolator Bongs: Budget Pick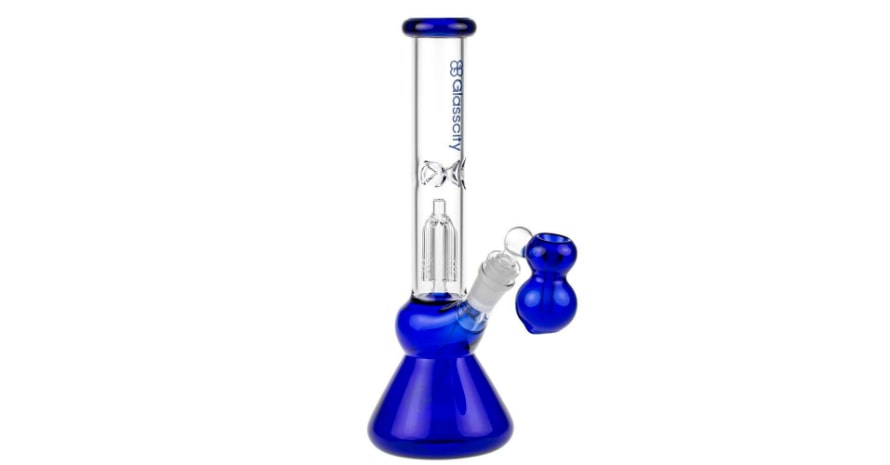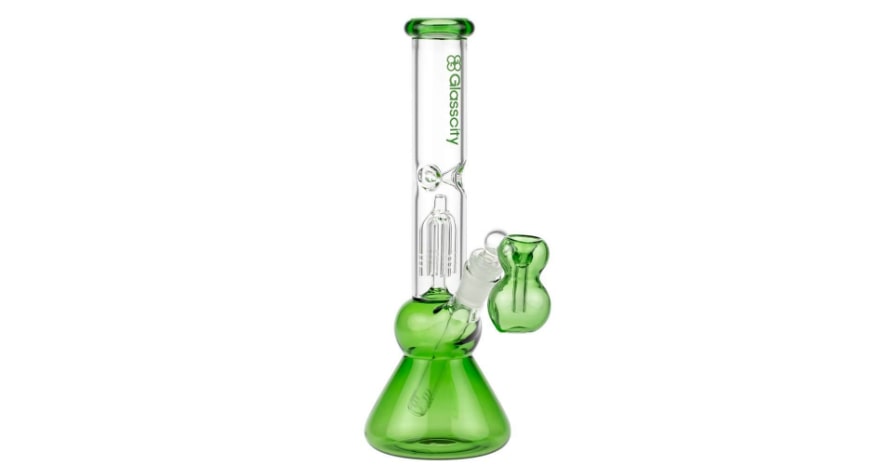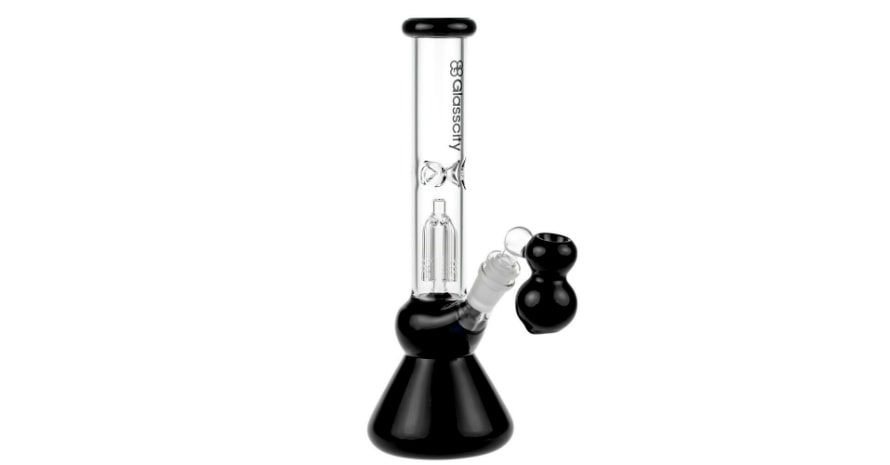 For those who doubt whether percolation is worth it at all, a budget-friendly straightforward tree-type bong that doesn't have too much detail is a great choice. It turns out Glasscity has one just like that!
Made of 3.0-mm borosilicate glass, this model utilizes the iconic chemist's beaker design, livened up by bold color accents with three color options available, which makes it a great gift for a beginning pot enthusiast.
It's surely less rugged than more expensive models but still reasonably dependable. At the base, there's a 4.7-inch inside-cut diffuser downstem that goes from 18.8 to 14.55 mm. The overall height of the device is just 11.8 inches, meaning it might keep your company on your next trip.
Yet, it works well to make your hits easier on the throat and lungs with its tree percolator that features four slitted arms for increased smoke break-up efficiency. Clogging is dealt with effectively in this model. There's an ash catcher included, which removes most of the potentially contaminating compounds from the smoke before they can reach the percolator and clog it.
With a stable flat base and ice notches for added cooling, this model has all the essentials for a smooth hit at an affordable price and is perfectly newbie-friendly.

Glasscity 4-Arm Tree Percolator Bongs: Budget Pick
---
PROS:
Will make a great first bong;
Effective 4-arm slitted tree perc;
Comes with an ash catcher to reduce cleaning effort and time;
Ice notches make smoke cool down faster;
Simple to use and portable.
CONS:
The glass is thinner than in more expensive models;
Not as smooth as premium options.
---
5. Evolution Heat Wave Turbine: A Smooth-Yet-Heavy Percolator Weed Smoking Device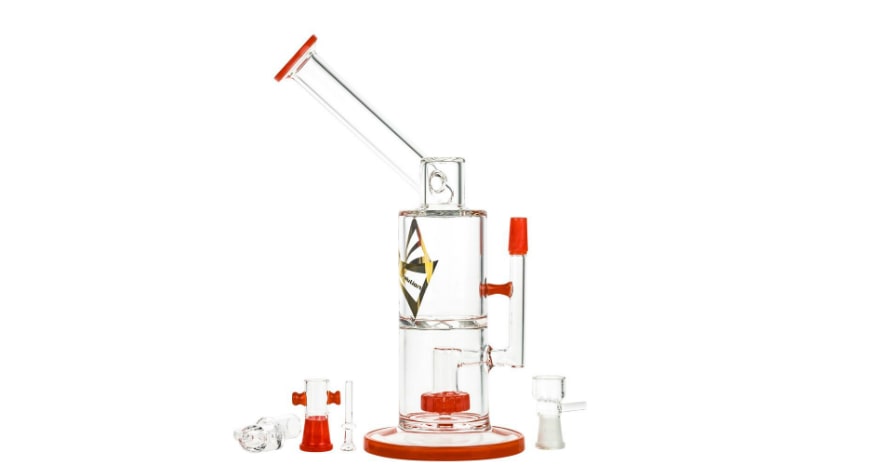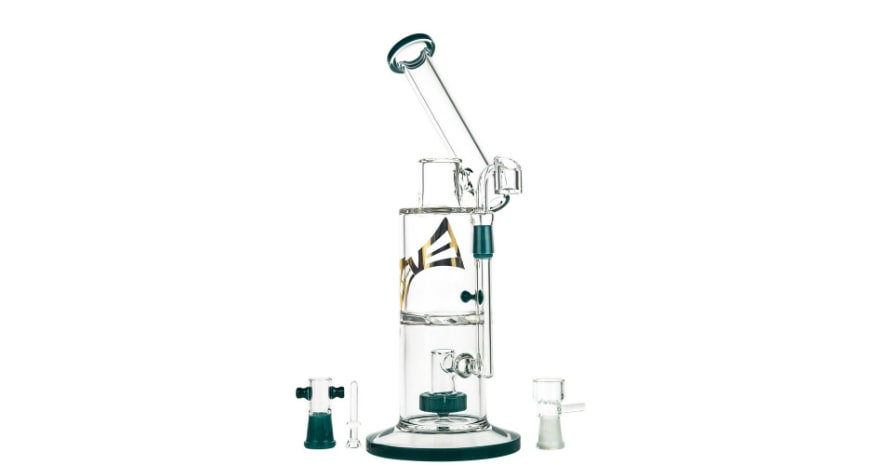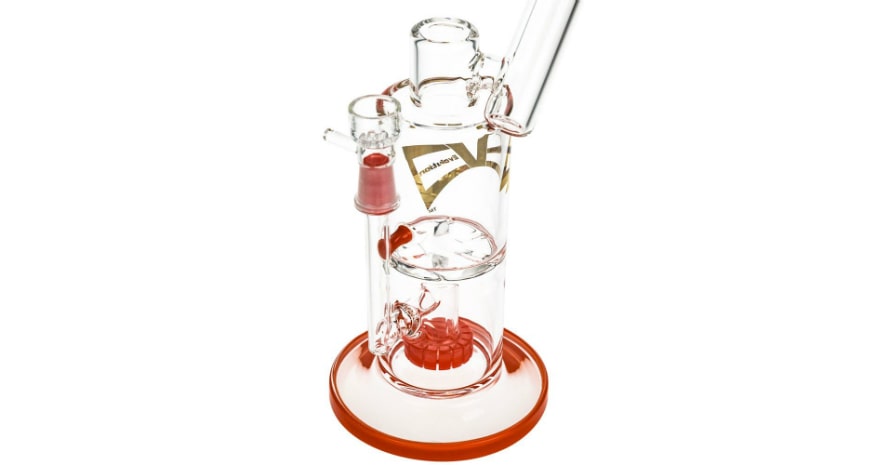 While not a bong but rather a dab rig, catering to adepts of the fast-growing trend that consists in inhaling vaporized concentrated found in plant essential oils, there's nothing to prevent you from using this device as a kind of perc bong. It comes with all the required accessories included. Apart from a vapor dome and a quartz banger, there's a standard 14.5-mm herb bowl that features a handle to facilitate lifting.
The borosilicate glass straight body is 12.5 inches tall and features a characteristic sidecar mouthpiece design, boasting a color-accent rim for added user comfort as well as a flared shape and a backward angle, which makes it perfect for cozy reclining pot sessions. All this rests on a wide, stable foot, with a bright color accent that appears throughout the design (four color options are available).
At the bottom of the device, there is a showerhead percolator to create multiple bubbles and cool the smoke down before it's directed into the central turbine disk perc. This intricate design creates a spin to cool the smoke even further as it travels up to the mouthpiece.
I find this hybrid contraption to be the perfect choice for those who like to switch between dab and regular pot without too much hassle and like their drags really smooth.

Evolution Heat Wave Turbine: A Smooth-Yet-Heavy Percolator Weed Smoking Device
---
PROS:
Combined dab rig and bong;
Efficient dual perc design;
Sturdy borosilicate glass walls;
Mouthpiece design enables you to smoke while reclining comfortably;
Simple yet bright design with four color options.
---
6. Snoop Dogg Pounds LAX: A Simple But Efficient Water Bong with a Percolator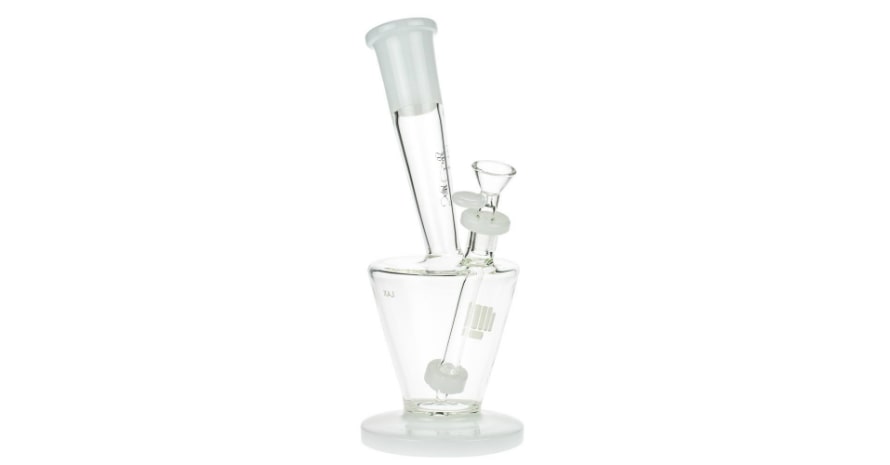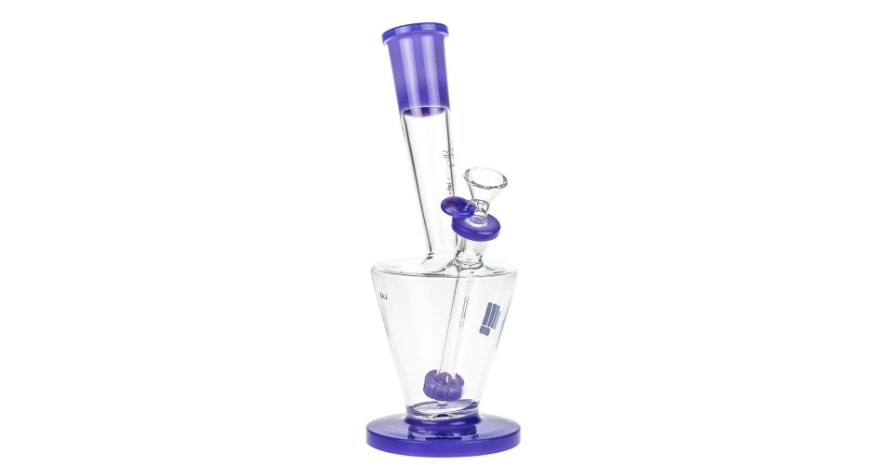 One of the highly anticipated bongs by the celebrity, Pounds LAX has received a lot of positive reviews for producing a smooth yet powerful hit that's still packed with flavor.
This 11-inch upside-down beaker has a relatively low yet wide cup with an extra-long flared mouthpiece and a fixed 14.5-mm downstem. The somewhat extravagant shape means more room for the smoke to swirl around and cool as it travels up and into the said mouthpiece.
The latter features a thought-out backward angle for maximum comfort when lying down or reclining.
Made of thick borosilicate glass and resting on a hefty base, the model is both stable and durable. The part responsible for the smoothness that it provides is a fixed showerhead perforator with additional slits, which breaks up the smoke into smaller bubbles and thus speeds up the cooling process considerably.
With three colors available to choose from and Snoop Dogg Pounds' stylized fist decal as well as a decorative box, the celeb-made bong will make a great present and is generally a good option for beginner smokers and those who like to have their weed sessions while reclining comfortably.

Snoop Dogg Pounds LAX: A Simple But Efficient Water Bong with a Percolator
---
PROS:
Roomy upside-down beaker design for efficient cooling;
Smoothness delivered by a single showerhead perc;
Sturdy borosilicate glass material;
Comfortable to use when lying back.
CONS:
Somewhat premium-priced given the functionality.
---
7. Blaze Glass Tower Straight: An Extra Sturdy Premium Double Perc Bong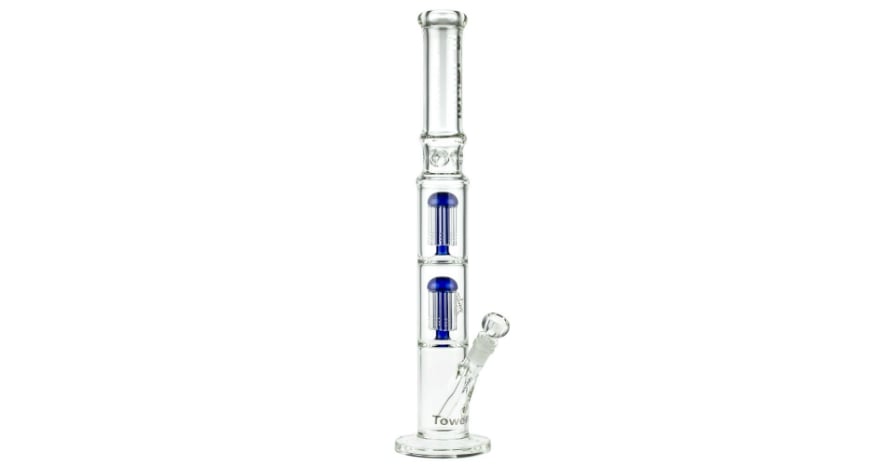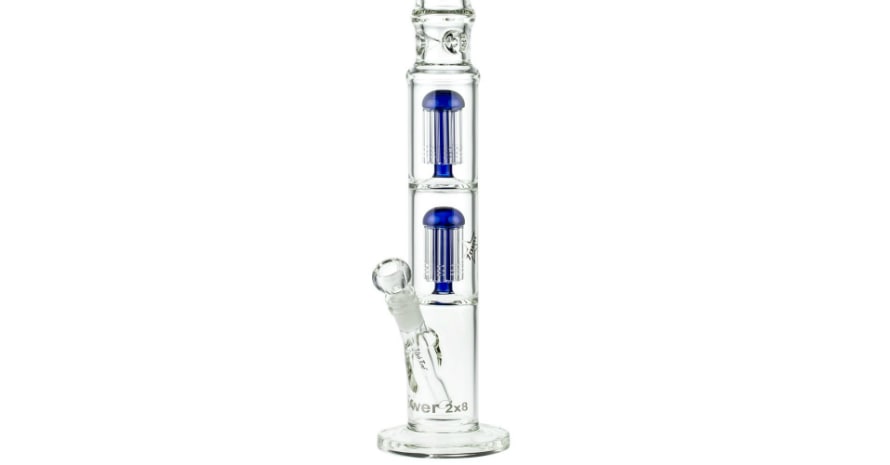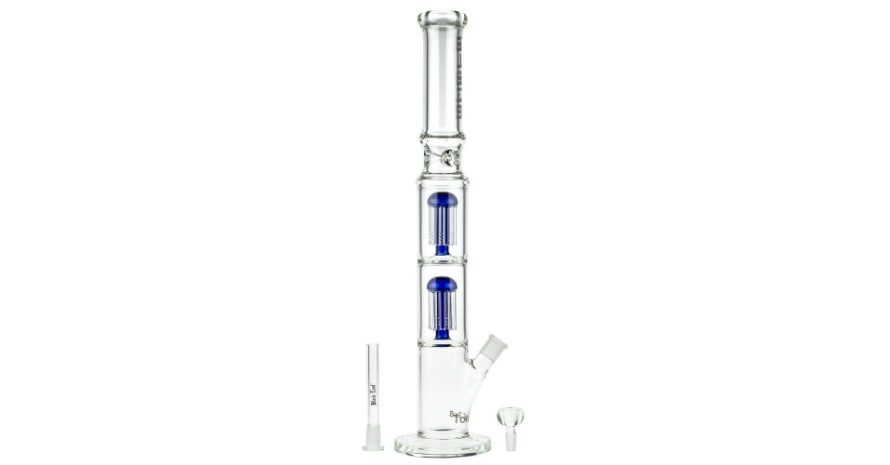 Another premium option on the list is the 22-inch tall tower that combines clear glass with characteristic deep blue accents for a sophisticated look. The walls are as thick as 7 mm, making it a truly sturdy model even though it carries two eight-arm tree-like percs. Each of those is fused individually to further improve shock resistance, and the percolation takes place in three steps.
First, there's an 18.8mm > 14.5mm diffuser downstem with a slitted design at the base, which then sends pre-filtered air up for a sequence of two filtration rounds with the tree percs. The dual-tree system increases the contact surface area for increased cooling efficiency. Extra-long ice notches are also included if you want to boost the functionality even more. A 14.5 mm herb bowl comes with the set, too.
The flared mouthpiece is easy to hold in your mouth but might prove shorter than ideal if you like to recline when you smoke. Another thing I don't quite like about the pricey piece is that the base, although reasonably wide, does not offer complete stability given the overall height. Yet, the spectacular design and the efficiency that comes with it might prove well worth it.

Blaze Glass Tower Straight: An Extra Sturdy Premium Double Perc Bong
---
PROS:
Impressive look;
Extremely sturdy 7-mm borosilicate glass walls;
Efficient double tree perc filtration;
Long ice notches for added cooling potential.
CONS:
Not the most stable option;
Expensive.
---
Perc Bong Buyer's Guide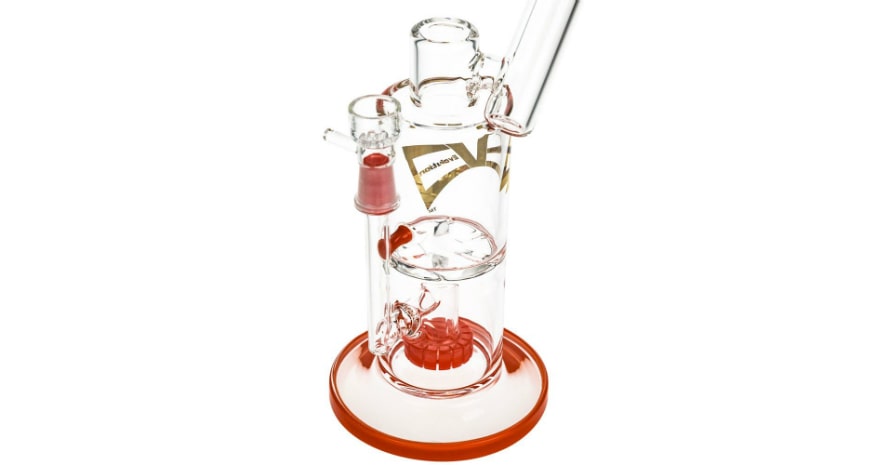 Percolators are essentially additional structures within a bong's design that make it a somewhat more complex system physically. Their main purpose is to increase the amount of water and air present, which cools the smoke that passes through the perc and makes it smoother.
Percolator Varieties
Bong percs come in a wide range of shapes that all have their strengths and weaknesses. Given how quickly the industry's developing, it would be nearly impossible to name all, so here are at least the ones that you're most likely to come across when shopping.
Diffused downstem percs
This is the simplest bong percolator design that features a straight tube sitting at the base of the device to aid cooling. While less sophisticated and generally not as efficient and perc styles with numerous intricate slits, the accessory (because in some models it's detachable, giving you more freedom to experiment as long as you stick to the right connector size) works well to remove the unwanted harshness from the smoke.
It's perfect for those new to pot as well as experienced users who value the timeless look, robustness, and ease of cleaning that come with the design.
Inline percs
These horizontal tubes that bear slits for increased diffusion are efficient and robust but clog easily, so it's best to pair them with an ash catcher. The horizontal positioning of this perc type often brings about a futuristic submarine-like appearance.
Showerhead percs
With a circular base rife with holes that make it look like a tiny UFO in your bong, the showerhead perc offers excellent filtration and diffusion as well as ease of maintenance, making it one of the most prized percolator styles out there.
Honeycomb percs
This is a nearly flat, often stackable design. Just like the showerhead variety, honeycomb percs take up little space and are hard to break while being even smoother.
Tree percs
This recognizable design with multiple arms is extremely efficient in terms of diffusion. Its key drawbacks are that it's susceptible to clogging and breaks rather easily.
What Bong Do I Need?
If you're not sure if percolation is your cup of tea, a bong that accommodates a detachable diffused downstem perc is the best type of percolator for you. However, users who like their pot really smooth might prefer the showerhead or tree type, or turn to honeycombs for a nearly chug-free experience. Don't forget to factor in shape, durability, and possible cleaning complications.
Make Your Pot Journey a Smooth Ride
Coughing might be part and parcel of weed smoking, seemingly adding to the high as it causes increased heart rate. If coughing your lung out doesn't sound particularly enjoyable to you, though, a percolator bong can be the solution.
Add another filtering stage to your smoking process with a cleverly engineered device such as the Glasscity Limited Edition Beaker Bong for an extra-smooth rip that brings you as much high as a regular water pipe.
Have you already tried a perc bong? If no, what makes you look for one? Share your ideas in the comments section!