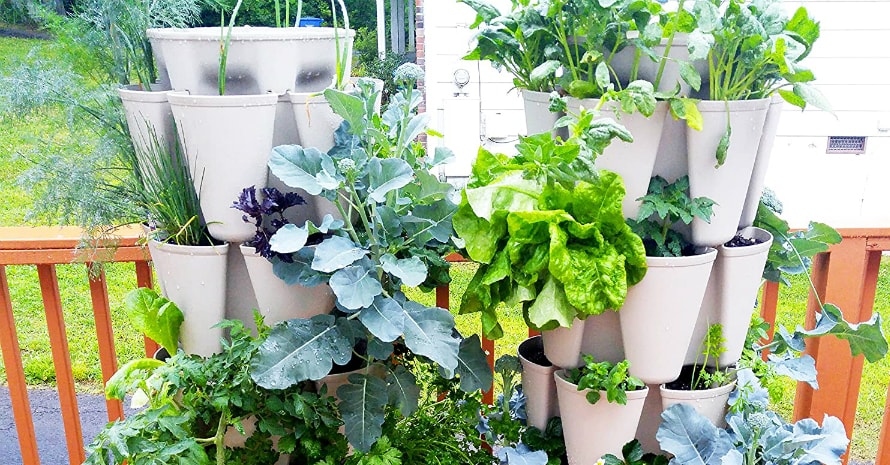 Hydroponic Tower: All You Need to Know
Hydroponics was invented over 2 millenniums ago. Today, this growing method is still applied by horticulturists all over the world, and the cannabis growing business doesn't stand aside. This horticultural tool offers a variety of opportunities, the main of which is expanding the growing surface. You already see what it means for the business!
Despite all the bonuses you can gain by installing a hydroponic tower, you should work hard to maintain the right nutrient equation in water. Otherwise, you won't get healthy plants no matter how cool your towers are.
Pros
Up to 30 plants per 5-tier set
Premium Pick
Pros
Up to 30 plants per 5-tier set
Hydroponic Tower Reviews: Top Picks
Below are my experience-based tower garden reviews. Actually, I've tested many more models, but only these five products had proven to be good enough for my growing needs. I'm sure there are more high-quality towers like this, but I haven't purchased them yet!
1. Mr. Stacky 5-Tier Herb Garden Planter – Best Hydroponic Tower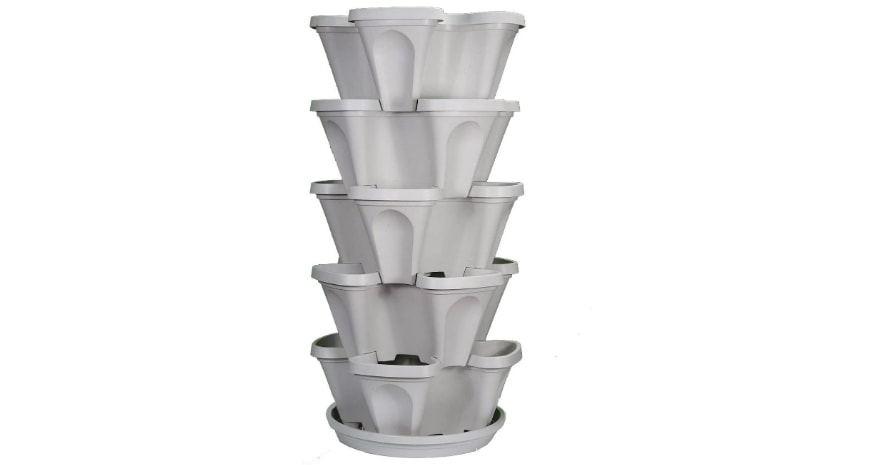 Mr. Stacky is a dedicated manufacturer of hydroponic gardening equipment. Well, these guys aren't focused on marijuana growing tools, but their products are 100% suitable for that. You may notice that my favorite planter isn't very tall and lets you grow, not more than 20 plants.
That's true, but the design of the tower means that it's totally convertible. Each section of it can be easily replaced with a new one if it's broken. But what's even better is that you can take a long pole and put an unlimited number of these sections one on another. There's just no limit to the height of one tower. The set of 5 sections usually comes below $40, and you can order as many of them as you need at once and build an entire hydroponic farm.
The pots are quite big, so it's convenient to put plants inside, and there's plenty of space for the roots. The drainage quality is also very good; the water is distributed evenly, but you will have to organize the closed-cycle watering system yourself as it's only a part of the full-stack hydroponic system. Still, it's very easy to combine with DIY parts and parts by other manufacturers.
This particular model is made for strawberries, so it is quite compact. Each cup is 10 inches in diameter, so it's a good choice for smaller plants. As a bonus, the product is available in different colors (black, green, white, and brown).

---
PROS:
Excellent drainage;
Easy to assemble, expand, and fix;
Affordable planter sections for home and professional use;
Large cups, 4 per section;
It can be put on a pole.
CONS:
It's only a planter part of the system.
2. Large 5 Tier Vertical Garden Tower – A Larger Vertical Hydroponics Planter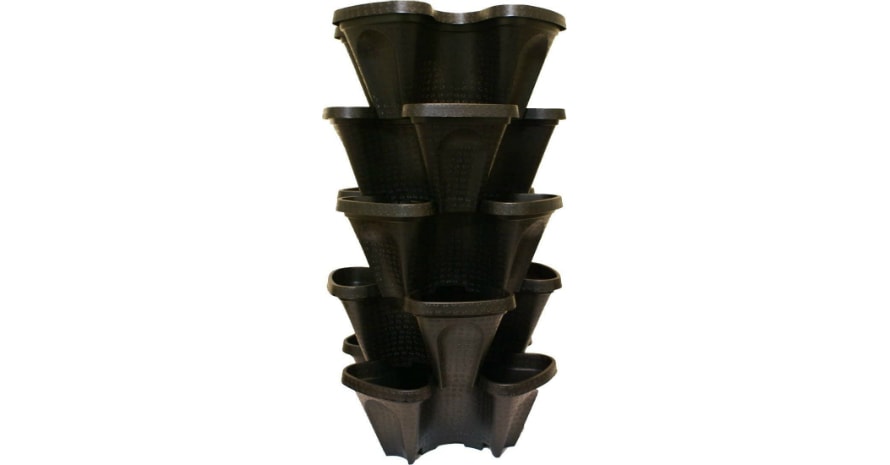 Here's one more excellent product by Mr. Stacky. Actually, this US-based brand has a lot more to offer, but only these two are really convenient for cannabis growing. This garden tower has larger dimensions and lets you grow plants with more developed root systems. There's just more space within the cups.
Similar to the previous version, this one lets you grow up to 4 plants per section, so it's still pretty capacious. You can stack sections without height limitations as well. The larger sections' drainage system looks the same but works a bit less effectively, so I made a few more drainage holes in each section for better water flow. However, even if you don't do so, the water won't get stuck and overwater the roots, so there's no need to worry about root disease and rotting.
You can safely stack around 7 sections, one another without a support pole, but I don't recommend stacking more pieces without a firm stand. It's an excellent and affordable option for indoor hydroponic cannabis plantations, as it's easy to install and modify if needed. You can take it if you know how to build a tower garden for full-cycle hydroponics. As for me, this product is excellent, but I recommend trying a single 5-section stack before buying a bunch of these for your farm.

No products found.
---
PROS:
Easy to install with/without a stand;
Good water flow;
Up to 4 plants per section;
Great for grown-up root systems;
Affordable planters for hydroponic systems.
CONS:
Includes only a planter part.
3. GreenStalk Large 5 Tier Vertical Garden Planter – Alternative Indoor Tower Garden Planter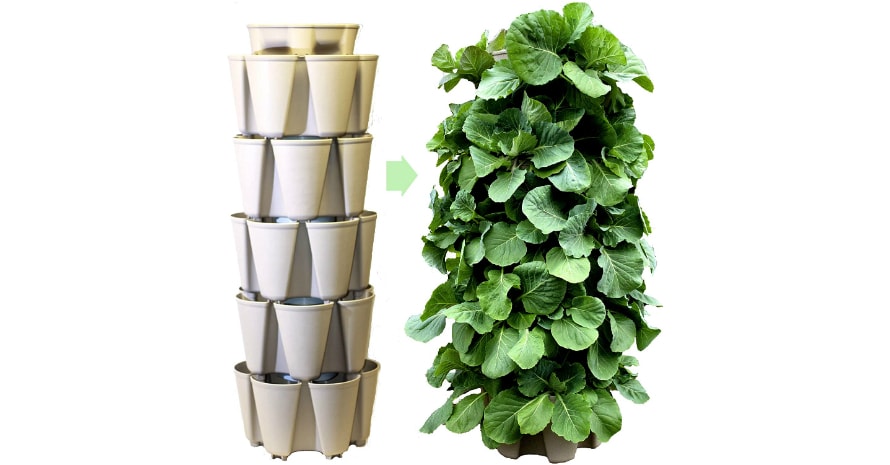 GreenStalk is another domestic US manufacturer. They make their products in Knoxville and have a patented hydroponic tower design. I understand why they decided to patent it. This system only requires a pump to be connected and it starts working right away.
Every section has a built-in water container inside, which accumulates water to ensure that every level is watered similarly well. It's a good time-saving feature that sets you free from frequent root inspections.
Similar to Mr. Stacky, you can stack many sections on one another to achieve the needed capacity, but the number of smaller plants you can grow is higher. It means that you can grow 10 more plants per default 5-tier tower. There's a height limit, though. I recommend you to stack sections only until you can be sure that they stand steadily. The central shaft of the construction takes part in water circulation, so it's impossible to put them on a pole stand. The only option to support the construction is to use exterior supportive constructions.

---
PROS:
Up to 30 plants per 5-tier set;
Effective patented drainage system;
Excellent water flow;
Easy to maintain.
CONS:
Modifications may be needed;
No central shaft for a pole stand.
4. SuitMade PVC Vertical Grow Tower – Compact Pendant Hydroponic Buildings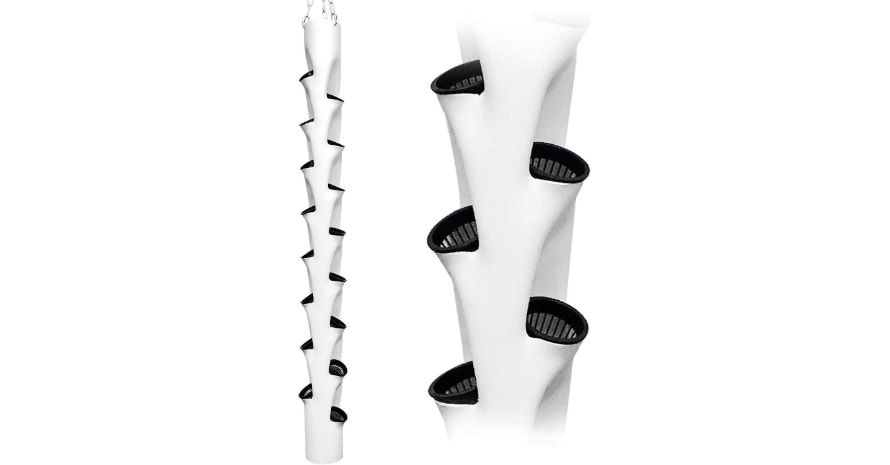 I haven't found much information about the SuitMade brand as it doesn't have its own online store, but I like the quality and utility of their pendant growth towers. Unlike the previous models that I reviewed, this one is made of a unibody PVC. On the one hand, you cannot change the capacity of your tower. On the other hand, you won't feel the need to.
Such a design is very compact and lets you hang as many towers as you want under the ceiling. Another benefit is that you can use a single large water tank with a single pump for several towers and create a simple cycled system for dozens of plants at once. What's more, you don't have to put the tower into water.
One 4-feet tube is equipped with 15 holes and convenient net pots. The construction can hold up to 20 pounds of plants simultaneously, which means it's a solid item that can be reused multiple times.

---
PROS:
16 net pots and chain included;
Easy to hang above the water tank;
Compact free-flow design;
Professional solution.
5. Amazing Creation Vertical Garden – Large Stackable Grow Towers Hydroponic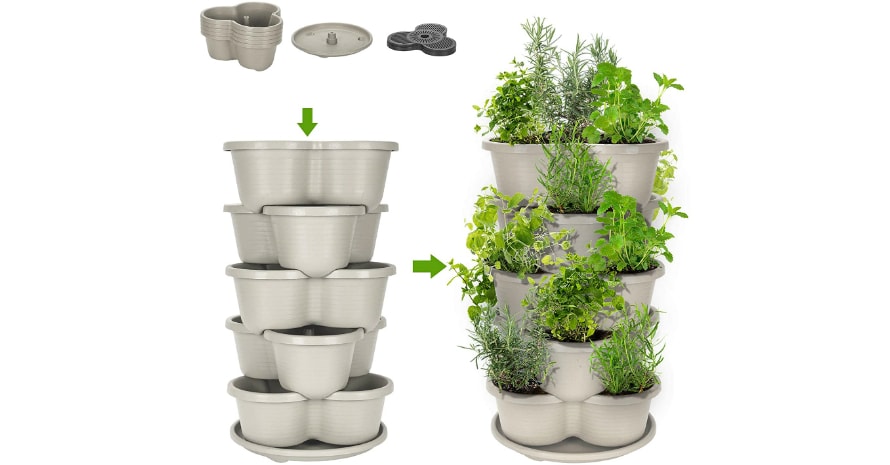 Amazing Creation offers a sturdy, stackable vertical garden that's very similar to what other brands offer. The major difference is that it's designed to carry grown-up plants with developed root systems. Each section includes 3 4-inch cups and a soil separator that promotes even water delivery even if you don't use soil. The central shaft is too thin for pole stands, so you can use it for water supply or cut them to fit poles.

---
PROS:
Good for adult plants;
Soil separators modify water distribution;
Thick, sturdy plastic;
Up to 15 adult plants.
CONS:
May require modification;
3 plants per section.
Buyer's Guide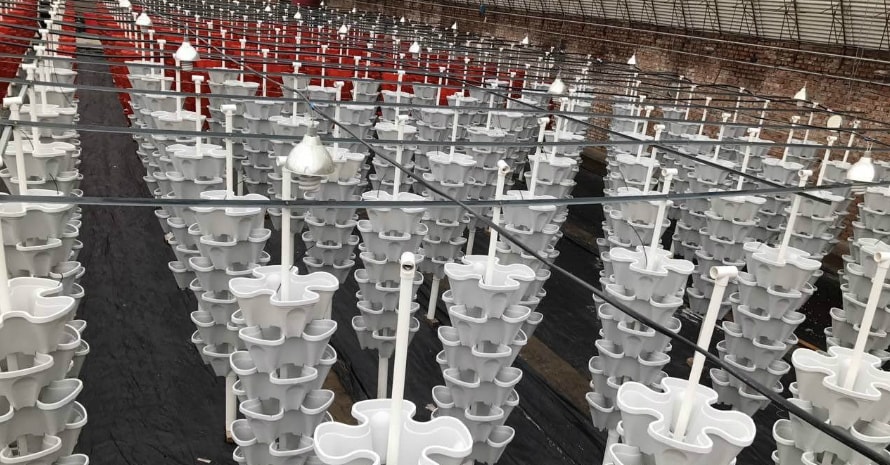 Below are some useful tips to provide you with a deeper understanding of the topic. Read on to gain more expertise if you're new to hydroponics.
Benefits of vertical hydroponic grow systems
Going vertical has many advantages, including:
No weeds – just a great bonus;
Fewer pests – towers aren't very attractive to insects;
24/365 – like growing tents, towers let you grow all year long;
Compact – growing 50 plants vertically takes a lot less space than horizontally;
Less back strain – it's not as tiresome to serve towers as they require you to bend down and stand up all the time;
Water and nutrient saving – the closed-cycle system consumes significantly less water and nutrient solution;
Less mess – no soil means no mud.
How to choose the best hydroponic tower system
Choosing the tower system, you should consider the following aspects:
Water container size – is it big enough to contain enough water for the number of plants you will grow?
Pump power – it should provide the even flow of a consistent water amount;
A number of slots – this reflects how many cannabis plants you can grow simultaneously;
Extras – some models can not only pump water but also mix the nutrients, saving you a lot of time.
FAQ
You've been asking me these questions about hydroponic growing towers since the launch of my blog. Finally, I wrote an article about them and decided to include the answers to the most common questions to save time.
What else can you grow in a hydroponic tower?
The hydroponic garden tower can be used for a variety of crops, including broccoli, spinach, chard, lettuce, kale, strawberry, and many more edible and flowering plants. You can purchase a tower for particular plants or build a custom one to have the right slot sizes. Actually, it can be made for any plant.
How does a hydroponic tower work?
The most frequently implemented and the easiest hydroponic technique is NFT (nutrient film technique). It involves producing a constant water flow over the roots of your plants. The pump takes water from one and the same reservoir in the bottom of the tower delivers it to the top and lets the water flow down. The water will get through netted cups and feed the roots of each plant.
What is a hydroponic tower?
It's a vertical structure designed to let horticulturists grow plants on a high vertical pole. It's a great way to organize growing and save up loads of space. There's no soil inside. Instead, a water pump irrigates the roots with a nutrient solution.
Water it Up
Congratulations! You're now one step closer to boosting the growing efficiency of your marijuana business. Some growers decide to make it the only growing method on their farms, but I recommend combining conventional potting with hydroponics. Regardless of your choice, don't forget about safety and don't stop learning new growing techniques as it's a rapidly developing and highly competitive business today.
Will it be your first hydroponic tower, or you already have experience? It would be nice if you share what you know about the particular tower models and growing tips. If something's not clear enough, ask questions, and I will reply asap. Stay on my blog for more useful information for cannabis growers.