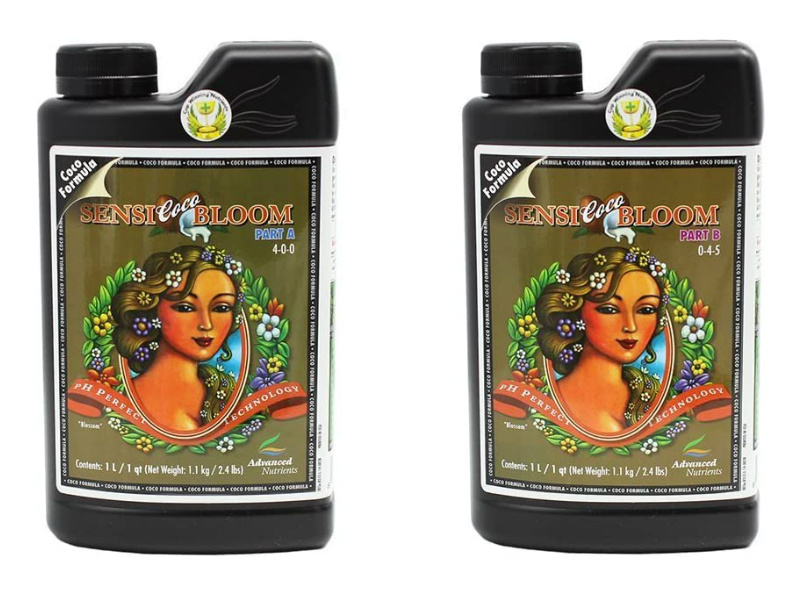 Coco Nutrients: Why Your Cannabis Needs Them
Welcome to Lucie and Bryan's blog! We specialize in reviewing everything weed-related: from dragon-shaped bongs to analyzing the sub-irrigation method in hydroponics.
Our today's topic is weed fertilizers. As you know, they are the food for your herbs. Along with proper photosynthesis, a correctly picked nutrient helps your plant grow luscious leaves and juicy buds.
Top Pick
Advanced Nutrients 5070-12 Big Bud Coco, 250 mL, 0.25 Liter, Brown/A
Advanced Nutrients 8550-14AB pH Perfect Sensi Grow Coco Part A+B, 1 Liter, Brown/A (2pks)
CANNA CA1280 5 L Coco Part A & B-Veg & Bloom Nutrient-Developed for Run to Waste Growth, Green
Works for soil and hydroponics, Plenty of nutrients & vitamins
Makes growing in coco easy
Rich with minerals & vitamins
Top Pick
Advanced Nutrients 5070-12 Big Bud Coco, 250 mL, 0.25 Liter, Brown/A
Works for soil and hydroponics, Plenty of nutrients & vitamins
Advanced Nutrients 8550-14AB pH Perfect Sensi Grow Coco Part A+B, 1 Liter, Brown/A (2pks)
Makes growing in coco easy
CANNA CA1280 5 L Coco Part A & B-Veg & Bloom Nutrient-Developed for Run to Waste Growth, Green
Rich with minerals & vitamins
Coco coir nutrients seem to be an optimum choice. They contain basically every element that the weed needs: from nitrogen to sulfur. They keep pathogens and plant pests at bay. Plus, they help save a couple of bucks — with the right treatment, coco fertilizer can be reusable.
We've prepared the top 7 picks of the best coco coir for cannabis. So, like piña colada or Tom Kha Gai, your mini-farm will only become better with a tinge of coconut.
For multiplying your cannabis plants, you need cloning gel.
Coco Coir to the Rescue!
1. Advanced Nutrients Big Bud Coco Plant Nutrient: A Solid Coco Fertilizer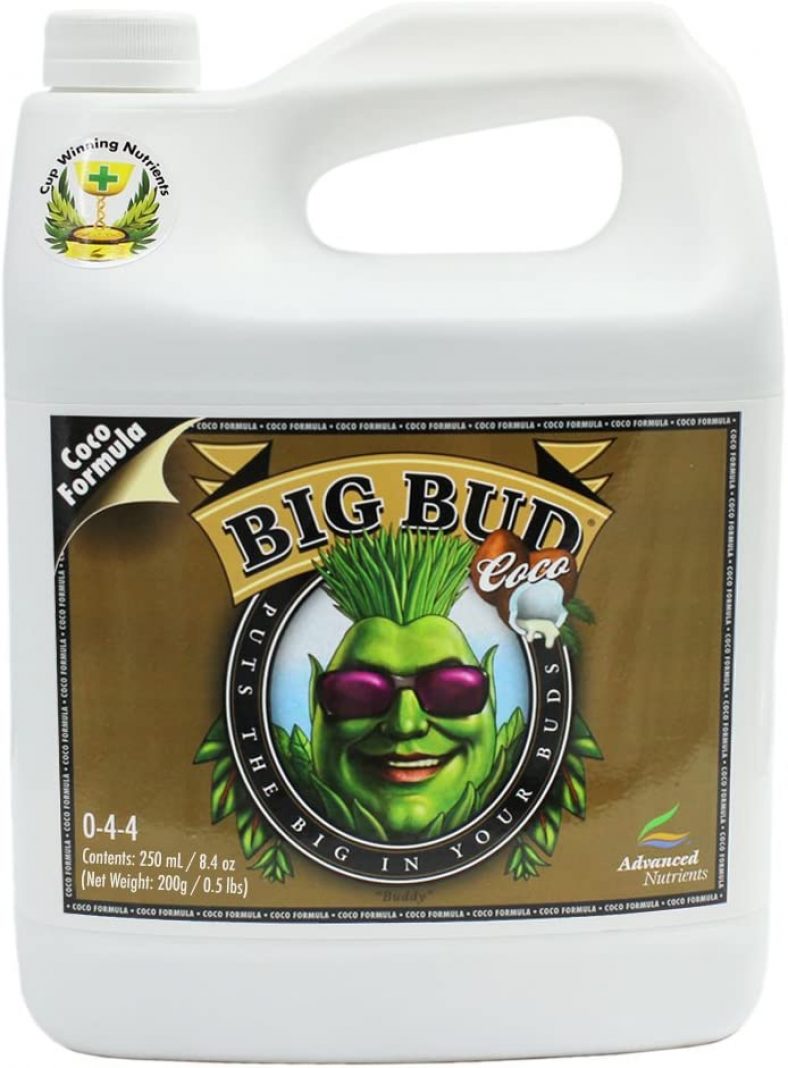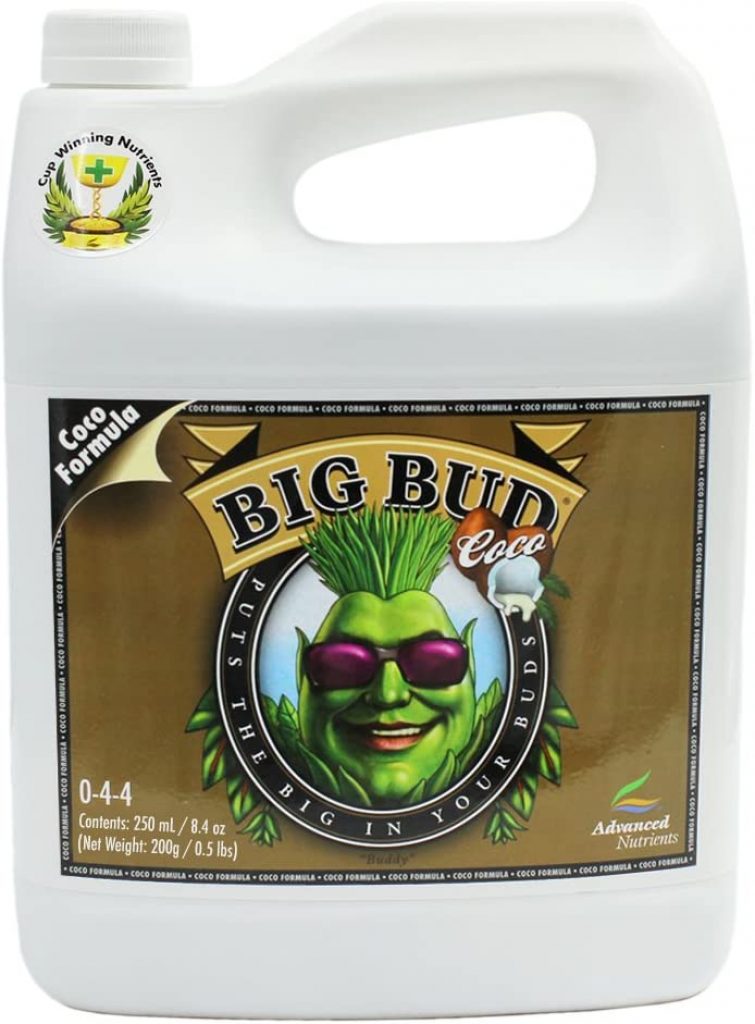 Despite the disturbing logo looking at you from the bottle, Big Bud is a solid coco fertilizer. I guess it has 'big' in its name for a reason. Everyone who used it for growing crops — from Tabasco peppers to weed — reports that the harvest is visibly sizeable than before.
Advanced nutrients for coco, I mean the typical ones like lignin, make Big Bud a good choice. Thanks to them, the number of benevolent microbes and fungi will drastically multiply. In return, it provides more of that healthy nutrition that guarantees explosive growth.
One canister of Big Bud contains 250 ml of that power juice. It's enough to prepare a rich harvest. Even if you're working with sativa-dominant super autos, like Super Cali Haze. They demand a rich and nutritious diet due to the vigorous growth, as you know.
Another intriguing feature of our big buddy is that it's 100% universal. This liquid bad boy is compatible with both soil and water-based systems. So, if you're looking for a stupidly simple and versatile solution — Bid Bud could be a go-to choice.
I haven't used stuff from Advanced Nutrients much. But from their line of fertilizers, Big Bud is a total champion. Its chemical formula is like steroids to the weed (and not only weed). Stems, leaves, buds, roots — they literally get charged with energy, robustness, and health.
What ruffled my feathers with Big Bud, though, is its price. It's not ridiculously expensive, of course. But they charge a handsome price for only 250 ml. At least, you know where this money goes. And with proper cultivation, the harvest you'll get in the end may rock your world.
Big Bud also balances pH levels nicely. So, root starvation and withering aren't an issue at all. With that in mind, it's cool to know that the product contains a rich amount of citric, L-amino acids, etc.
---
PROS:
Rich & luscious harvest;
Plenty of nutrients & vitamins;
Preserved pH balance;
Works for soil and hydroponics;
Worth its money.
---
2. Advanced Nutrients pH Perfect Sensi Grow Coco: One of the best coco nutrients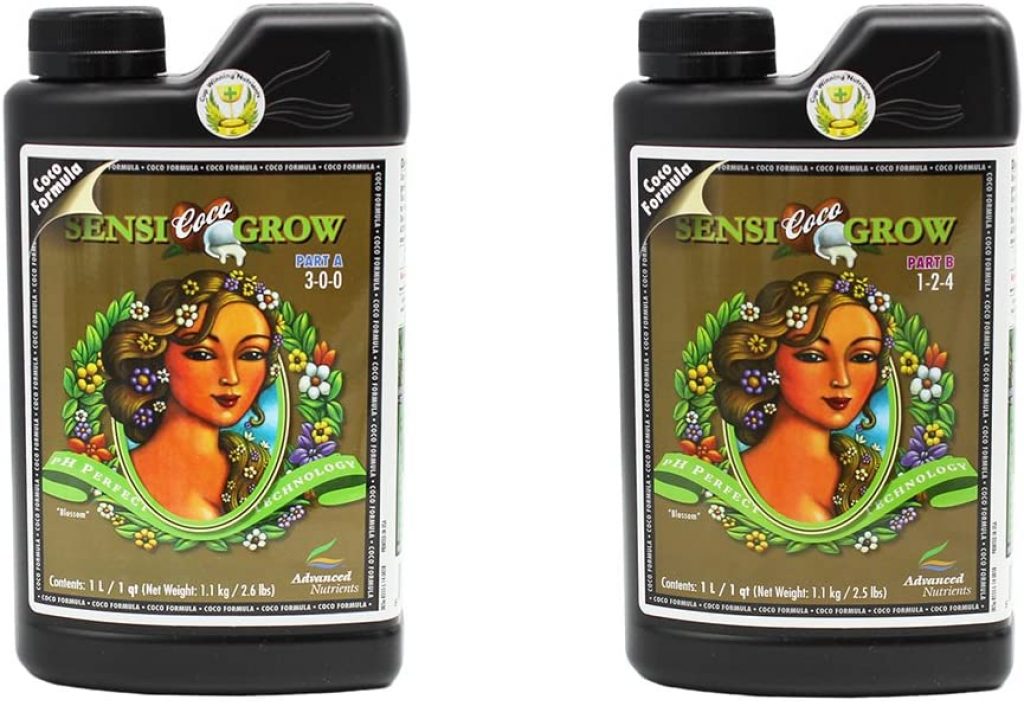 Perfect Sensi Grow isn't just a coconut coir liquefied. No, this is a cleverly made blend that prevents a common issue that many coconut-based fertilizers cause: extreme cation exchange rate. Wait, what does it mean?
Brainiac words aside, immense cation exchange rate doesn't let your cannabis get enough of iron, magnesium, and calcium. And if the plant doesn't have enough of those on its plate — say hello to withering leaves. And even herb's an early death.
Plus, Sensi Grow offers chelated iron elements. In other words, your plant will get ample iron saturation that is responsible for the plant's strength, healthy and steady growing cycle, and overall well-being.
Another favorable feature here is the pH neutrality. In case you hear it for the first time, pH level measures the acidity of your soil. The more acid there is, the 'hungrier' your plants will be. (Until starving to death).
Various vitamins, carbohydrates, micro/macro-elements — their absorption can simply be sabotaged. But Sensi Grow seems to prevent the misfortune with acid and alkaline balancing.
The only nuisance I've noticed with the fertilizer was the leakage problem. For some reason, the lid doesn't keep the precious 'growth sauce' from wasting.
So, avoid putting the bottle horizontally. I'd even recommend wrapping it with a few layers of plastic or dry rags. Otherwise, you risk getting crystallized bits of it all over the place.
All in all, Sensi Grow is a superb choice. It's charged with all vitamins that a giggle bush needs. It doesn't poison your soil with acidic excess, which leads to the plant's starvation. And also, it's a solid choice for other plants: begonia, ficus, and so on.
---
PROS:
Makes growing in coco easy;
Medium price;
Well-balanced pH levels;
Rich with vitamins & nutrients;
Helps grow bigger buds.
---
3. Canna Coco 5 Liter A+B Set Nutrients Hydroponics: The Best Pick or Hydroponics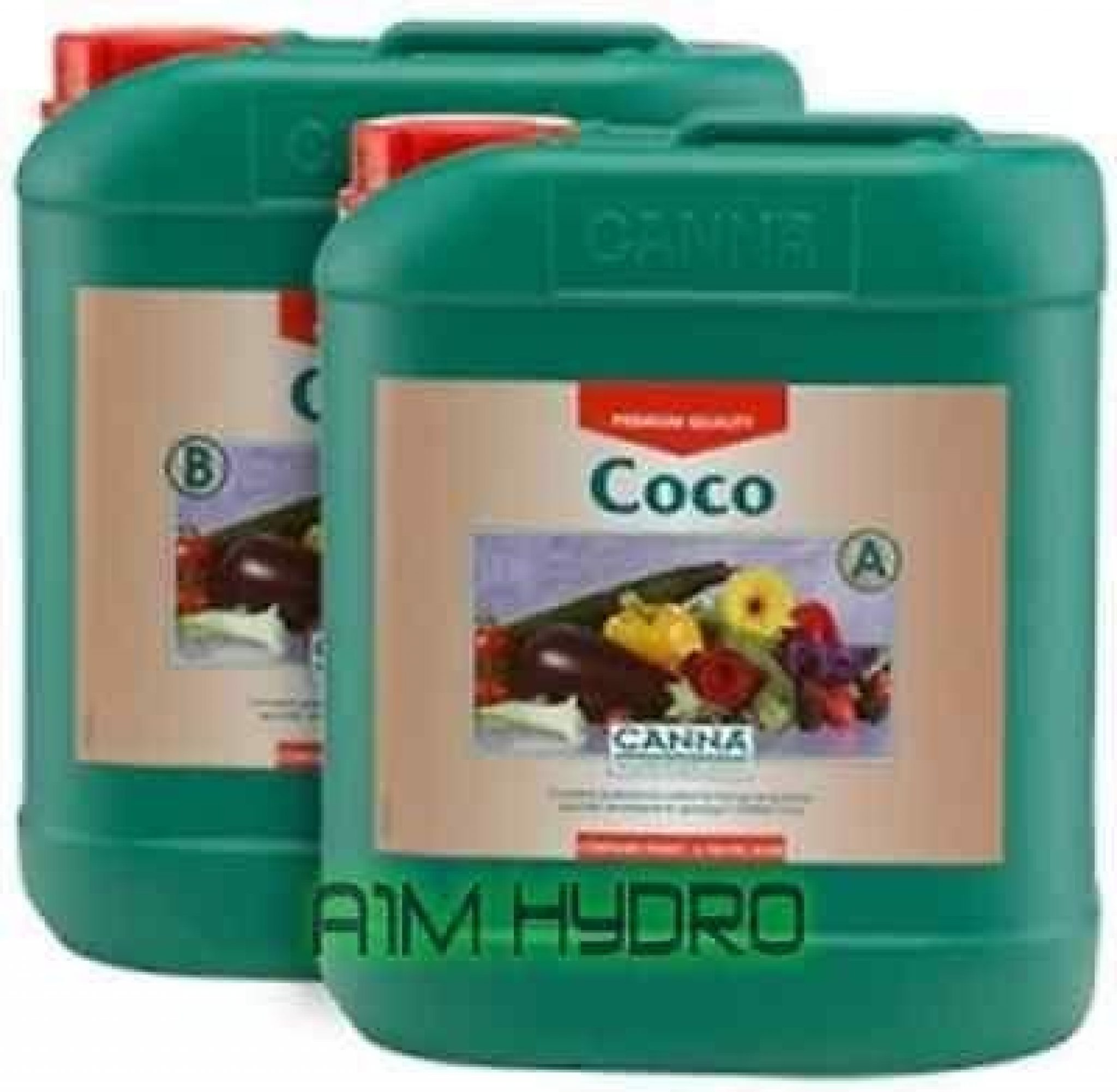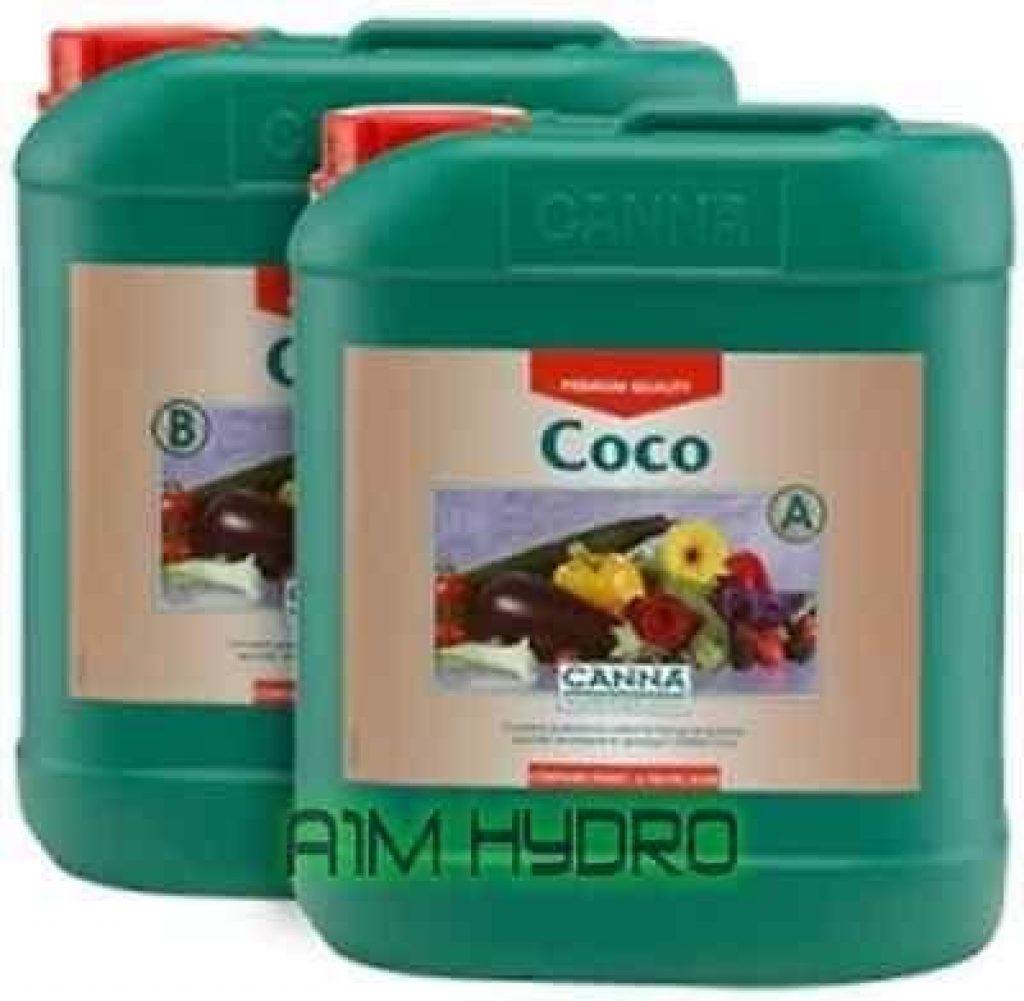 Another great product by Canna, Coco A+B is an optimum choice for hydroponics users. This product comes from Europe, so it provides smooth fertilizing together with a simple user experience.
As the description says, the same liquid can be used for both vegetation and the flowering stages. Sounds alluring, especially if you don't want to have an armada of fertilizer bottles in the room or garage.
Instead, you get two A and B canisters. They come in 1, 5, and 10 liters respectively. So, if you plan a long farming career, benefit from a bigger canister. But if you decide to keep some extra stuff in the back pocket, don't forget that nutrients need proper storage.
Just like the previous product, Coco 5 Liter is rich with minerals and vitamins. There's a well-balanced menu featuring a magnesium, calcium, etc. Plus we have the standard chelates, fulvic and humic acids. You already know what it is: properly fed and happy herbs!
Canna Coco is amazing stuff to use in every water system. You may operate drip irrigation, nutrient film technique, deep water method, flow system… whatever it is — Canna is one of the best choices, hands down.
But every medal has two sides. Canna is no exception and it has a few minor faults. First, if you overdo with the fertilizer a bit, it will produce a subtle smell. Maybe not a big deal, but marijuana growers have a gentle sense of smell, as a rule.
Second, there's no English instruction whatsoever. Since Canna is from France, everything's written in French. Unless you're a polyglot, estimate the fertilizer dosage according to your weed strain's demands, your own experience, etc.
As for the rest, if you're running a water-based system, you might want to try this product. A bit pricier than rival fertilizers, it offers a better cost-efficiency. Plus it has a clever packaging and the finest coco substrate.
---
PROS:
Rich with minerals & vitamins;
Suits every water system;
Cost-effectiveness;
Convenient packaging;
High-quality substrate.
CONS:
Instruction is in French.
---
4. Canna Coco A & B: Coco Coir Nutrients for Both Veterans and Beginners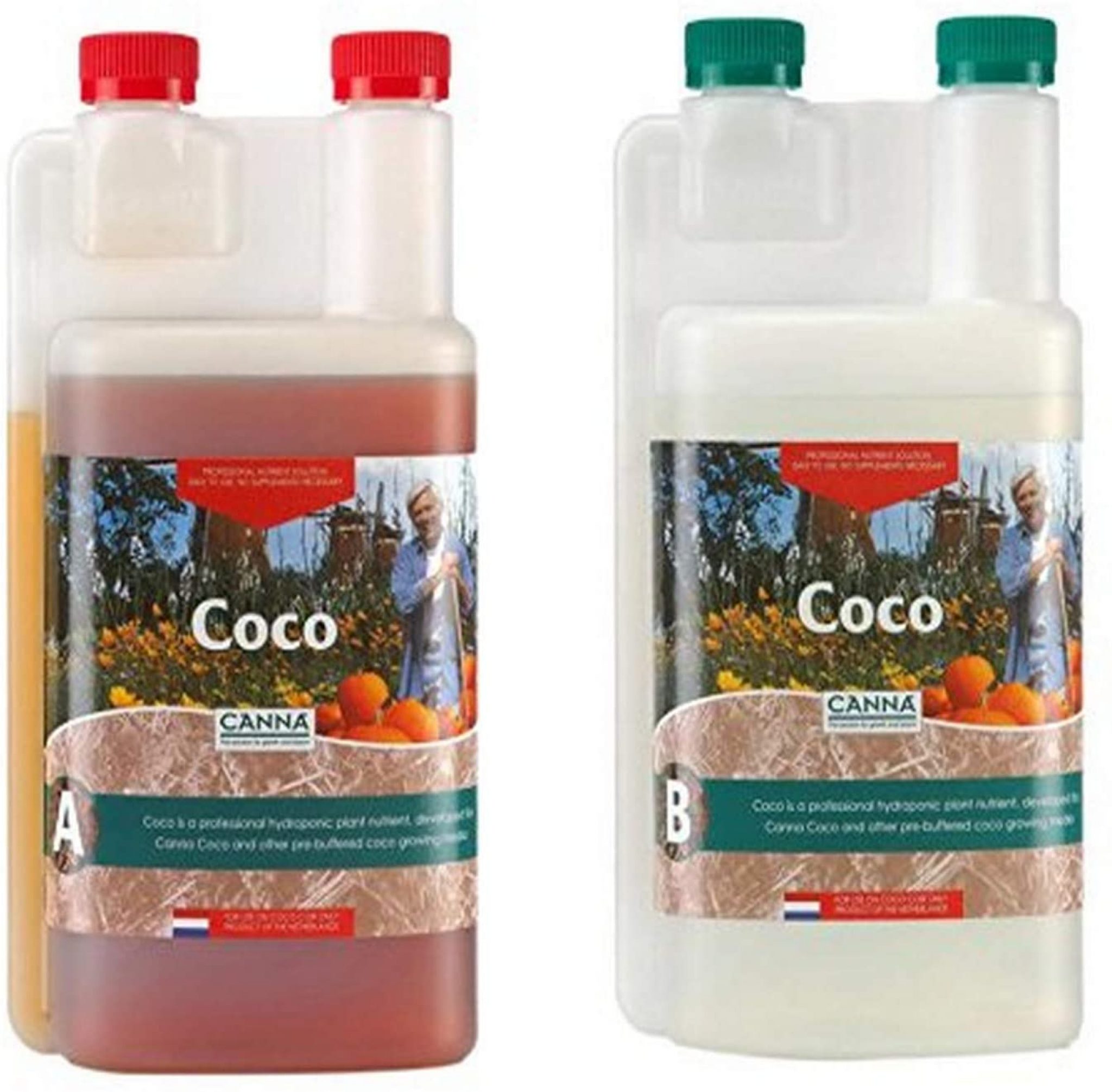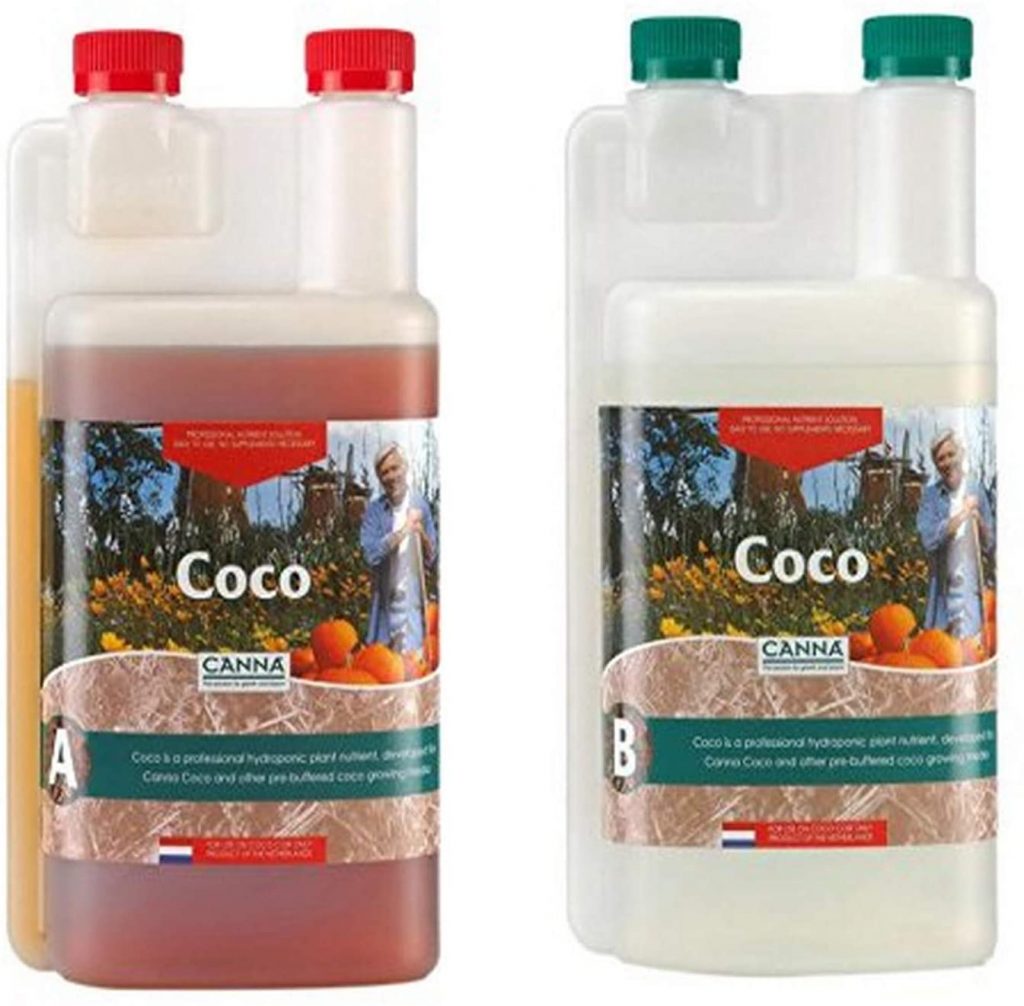 Canna Coco is the next product that deserves your attention. I personally find it the best coco coir nutrient for weed. The reason why: this coconut-based elixir has a whole spectrum of great features.
To start with, it's a very forgiving fertilizer: if you exceed the necessary dosage — it's no biggie. Your plants won't choke on all the food you gave them. (Although you must avoid overfeeding).
It also has a great coco coir nutrient schedule. With Canna Coco, you don't need to worry about preparing a different fertilizer for a different phase. No, the package is cleverly organized into A and B bottles with double necks. So, you're fully covered for every stage: from germination to flowering.
Another nuance to like is the cost-efficiency. You need just about 3 ml per gallon. The dosage may seem tightfisted, but it's optimal. In return, our harvest will have mouthwatering nugs and luscious, rich foliage.
All vitamins and nutrients, necessary for the weed development, are in the package: magnesium, iron, etc. The smart combination of chemicals won't let your plants decay from malnutrition.
Besides, we have here chelated minerals and fulvic acids. Which means, your herbs will be on a healthy, consistent diet. Plus, the normal acidic balance is neatly preserved, so you won't have to worry about your plant losing access to its 'food'.
The only thing about the Canna's formula that arises my suspicion is that it can cause excessive salinization. I haven't dealt with it so far. But I suggest you monitor the salt buildup just in case.
As for the rest, Canna can be a miracle-worker. It has on the menu every mineral your cannabis needs. It doesn't cause acidic imbalance or anything else that might lead to starvation. And it's super easy to use. Great for both veterans and those who only learn how to grow in coco.
---
PROS:
Small consumption rate;
Cheaper than similar products;
Forgiving to beginners;
Smart packaging;
Causes lush vegetation.
---
5. House & Garden Cocos A&B 1L Set: Fancy Nutrient for A-grade Weed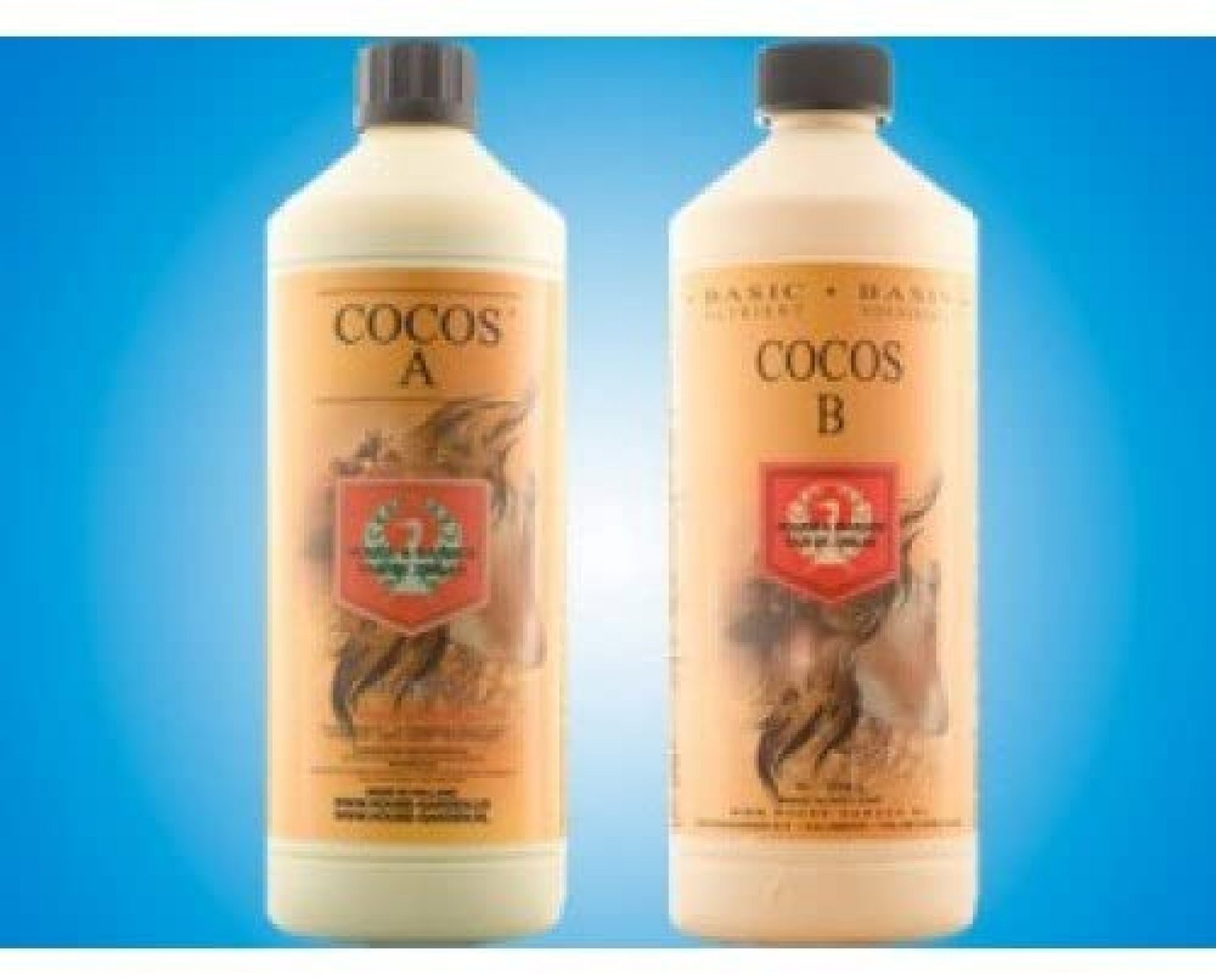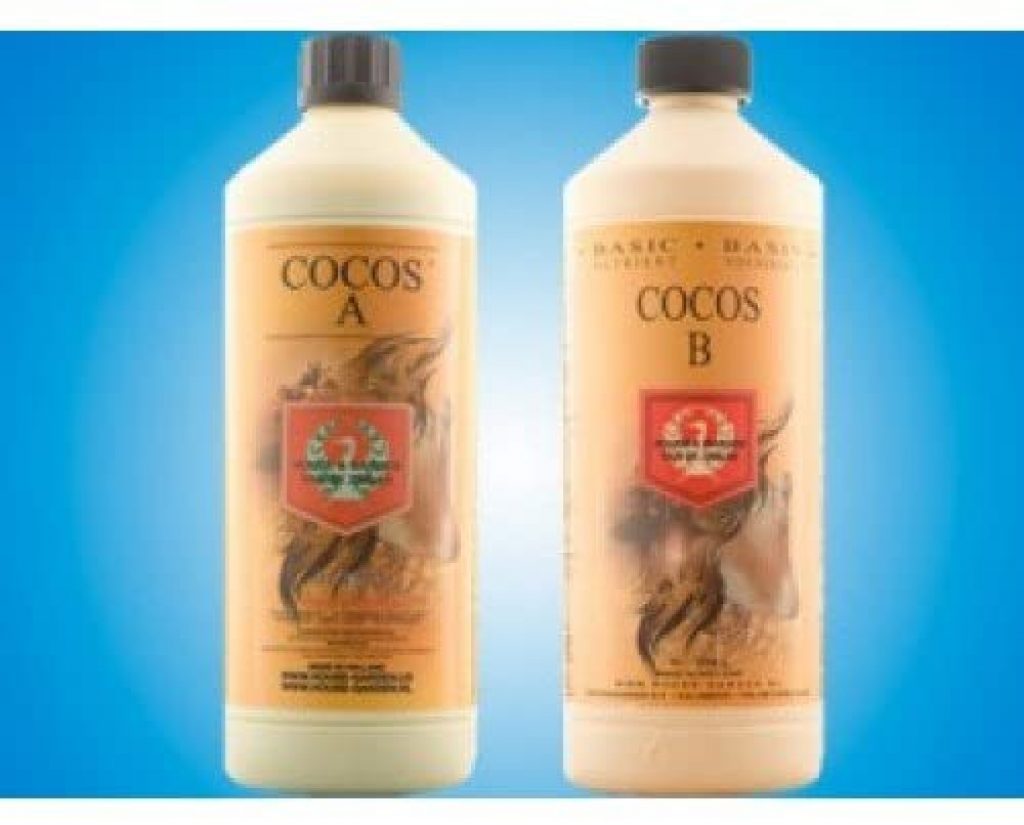 House & Garden is a company that specializes in anything related to fertilizers. Their website even offers a nutrient calculator and an app. (Both are free).
So, their product, Cocos A& B presents itself as a fertilizer suitable for both 'food and medical regime'. Whether it implies pharmaceutical herbs or medicinal weed — I can't say. But the product itself is pretty intriguing.
The formula for House & Garden success is making nutritious liquids. As the company claims, only raw and organic materials — coconut shells in other words — were used for making substrates.
No bulking elements were added to make it viscous. As a result, it's easier for the Coco to travel from the root base to other parts of the plants. This way, leaves, and buds should get their 'munchies' much faster and in bigger quantities.
The package comes in two A & B bottles: for vegetative and flowering cycles, respectively. The liquid contains a portion of Eddha-Fe or ethylenediamine fertilizer. This is basically chelated iron.
First, this highly soluble agent provides a pH interval normal for plant growth. Second, it eliminates all possible iron deficiencies. And once its job is done, it says adios! and dissolves without leaving any toxic traces.
The potion also contains a considerable admixture of benevolent acids: humic, fulvic, and so on. This is a standard, yet pretty important element, which stimulates growth speed.
Now, every gardener is aware that all coconut nutrients have one issue — high levels of potassium. Although it's one of the building bricks for a healthy cannabis plant, its excess can ruin the whole thing. H& G solved the problem by reducing potassium level a bit. So it's all cool now.
But be prepared: all this luxury has a price. One package of Cocos A& B will charge you around 50 bucks. I know I can find a cheaper solution. But at the same time, growing quality cannabis — that will take your lungs to the seventh cloud — requires investing.
---
PROS:
Reduced potassium;
High-quality substrates;
Stimulated weed growth;
Versatile use.
Plenty of good acids.
---
6. Advanced Nutrients pH Perfect Sensi Bloom Coco Part A+B Soil Amendments: Extra health & vitamins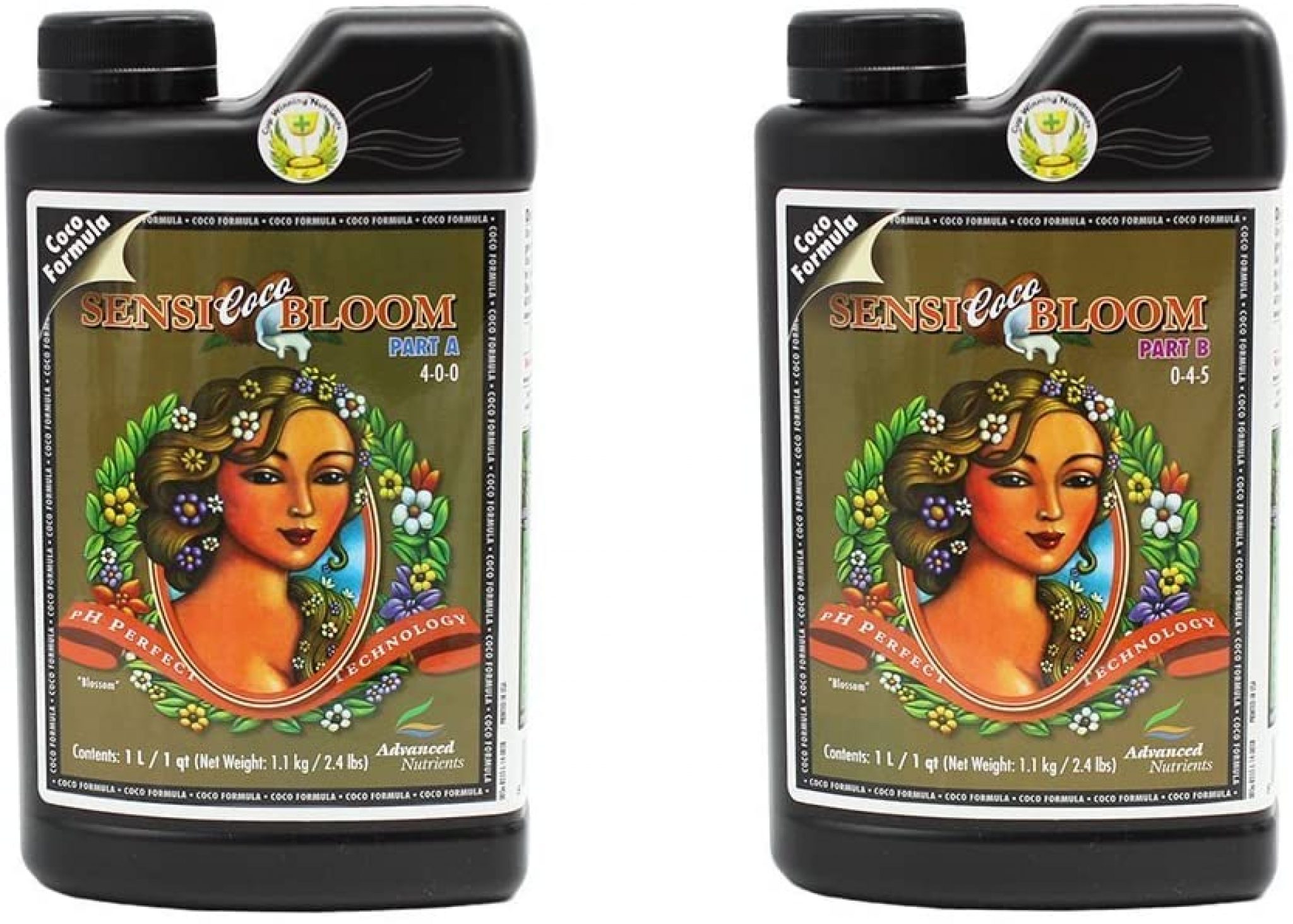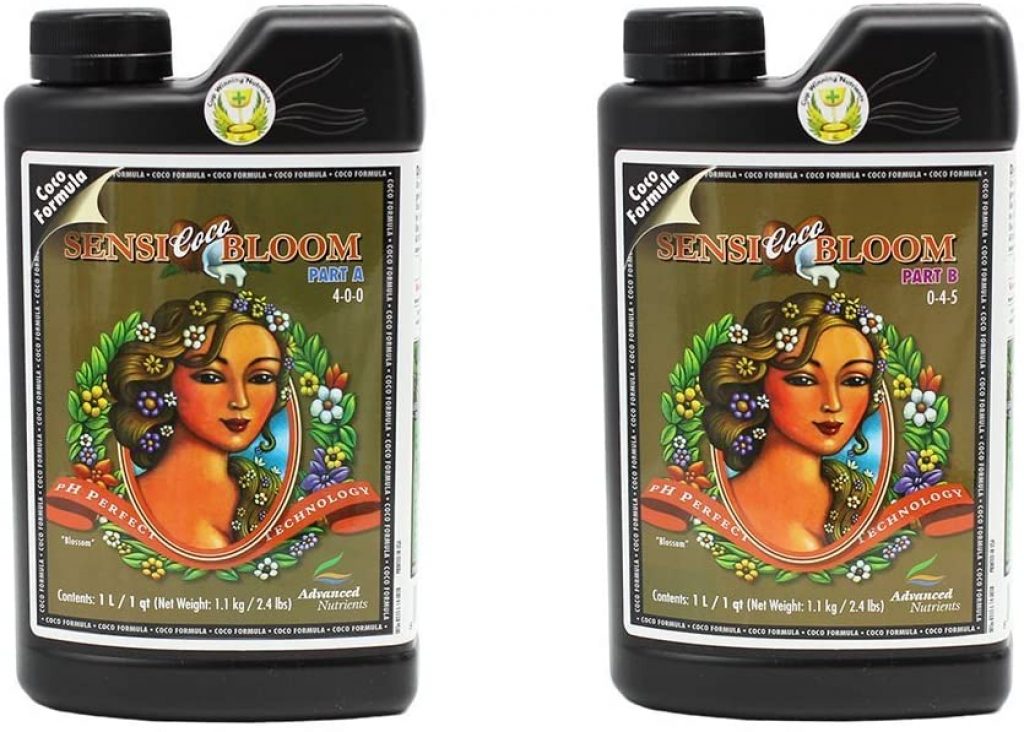 Sensei Bloom is another sweetheart nutrient among gardeners. This is because it's an average coco syrup that goes inside the soil. No, it's a life-giving elixir that makes sure your plant gets all of its vitamins. Thank Sensi Bloom's special formula for that!
As I have learned, the fertilizer doesn't 'steal' magnesium and calcium from cannabis. Typically, cheaper coco coir puts a plant at the risk of starvation. That's because it's a natural magnet to those elements.
Sensi Bloom doesn't do this, as it has a compensating element in its formula. Mg and Ca go straight to the roots, leaves, and buds filling them with juice and resin.
Besides, Bloom has an interesting know-how. Its chemical composition includes organic surfactants — compound elements that reduce the tension of the nutritious water. Funnily, they are called Wetty Betty.
As a result, nourishing chemicals are absorbed much quicker by your plant. Plus, a lesser portion of the microelements goes to waste (inside the soil).
---
PROS:
Doesn't bind magnesium and calcium;
Removes liquid tension;
Faster nourishment;
Contributes to the bigger size of the harvest.
---
7. General Hydroponics Floragro, Florabloom & Floramicro Fertilizer: A Good Bunch of Coco Nutrients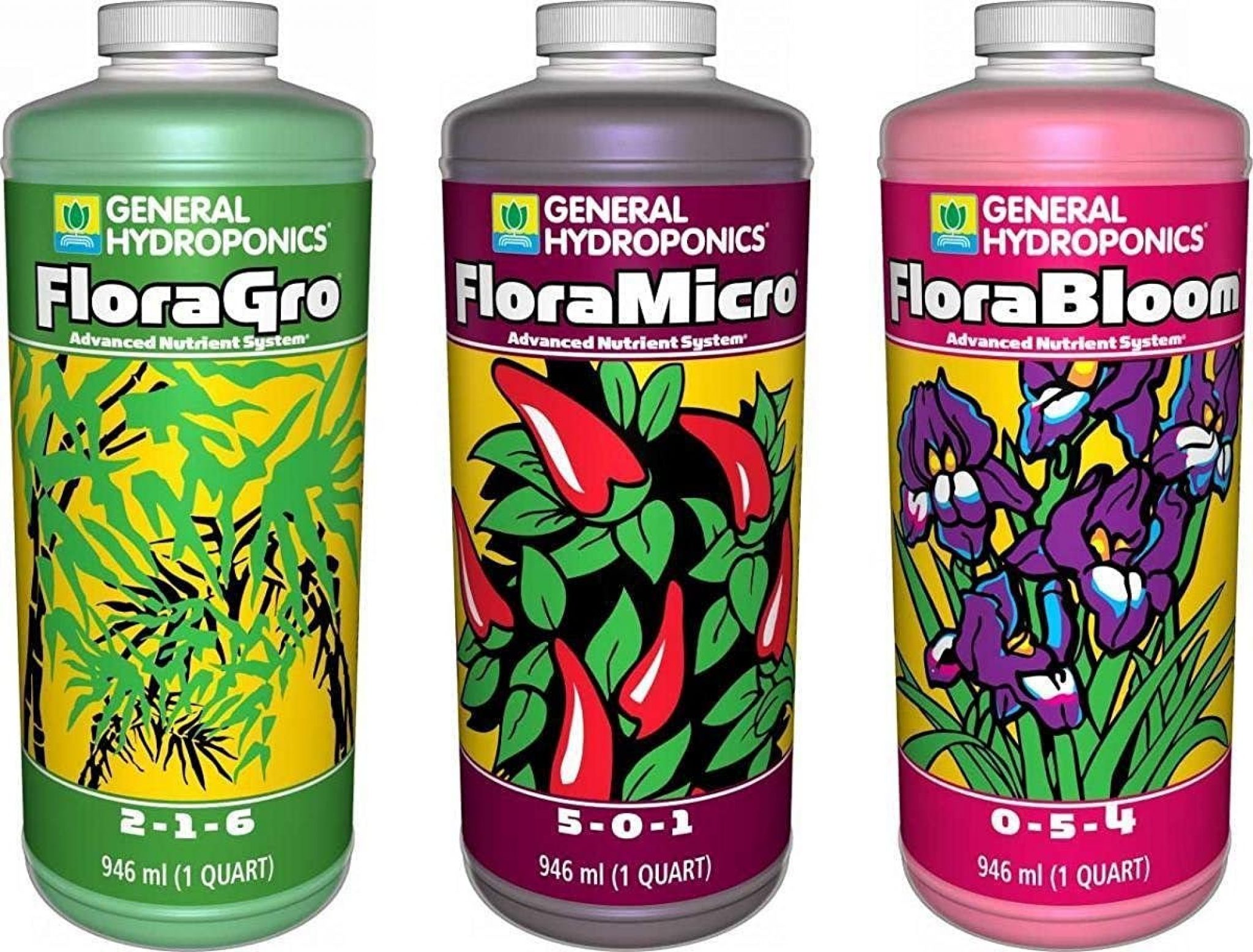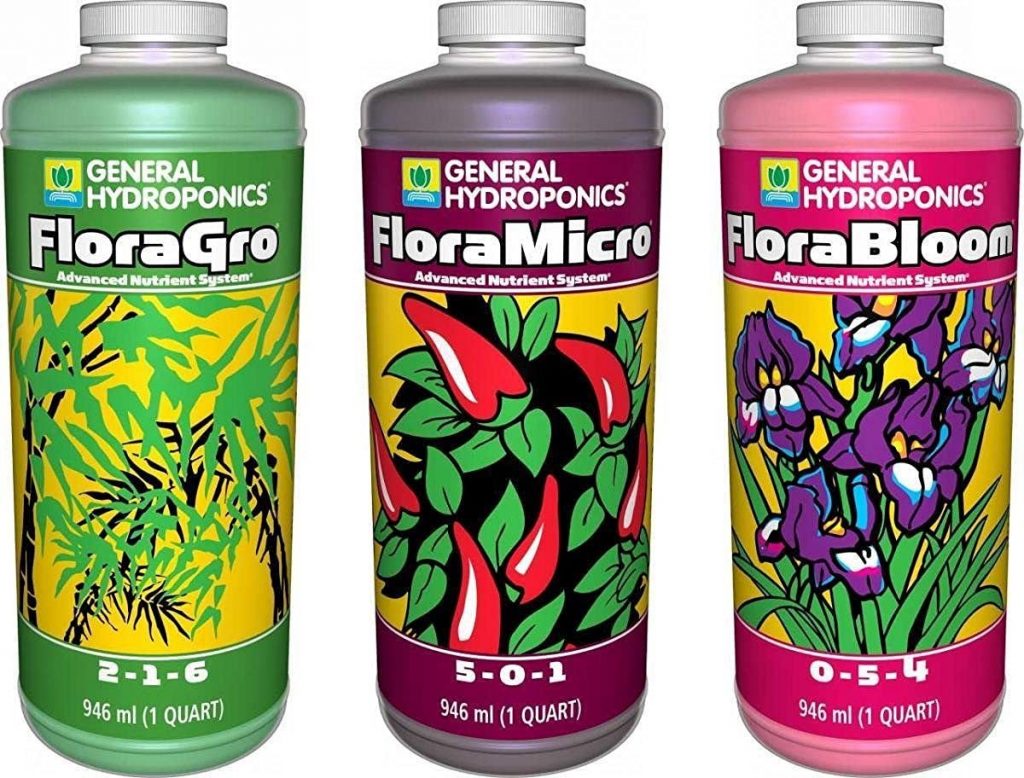 Our next product has been designed by General Hydroponics. The brand's history makes it a name to reckon with: GH has been producing agricultural stuff for 40 years. Plus the company is from South Cali. And as you know, it's the home of the best weed paraphernalia.
This GM cocktail is made of a wholesome trio: Floragro, Floralbloom, and Floramico. They have been in use by gardeners for years to grow tomatoes, reddish, marigolds… And it turns out, cannabis reacts pretty well to this nutritious trifecta too.
The blend allows for easy adjusting for your needs: 5-1-1, 1-1-1, etc. So, you can balance the amount of nutrients: nitrogen, sulfurs, potassium, and so on. I like that the fertilizer comes in large 946 ml bottles. Plus, it's pretty cost-efficient per liter. (Compared to other similar fertilizers).
Triple F does a wonderful job of stimulating cannabis growth. I think that it's a mighty choice for the auto-flowering weed. Although you should mind the dosage. For some reason, the recommended one is about three times more than it's needed! I suggest you stick to 1/3 of what the instruction advises or even less.
There's a good bunch of coco nutrients here. But don't worry about the pH balance. Triple F seems to keep it in the middle ground, driving away unwanted chemical aggression.
To sum up, I think General Hydroponics did a splendid job. It stimulates the growth like crazy, giving 'extra meals' to the buds. As a result, they grow at least 15% bigger. It easily befriends auto-flowering strains. So, if you're growing Sour Diesel, Lowryder #2, or Super Skunk — pay attention to GH.
Besides, the blend is easy to use for the rookies. If growing in coco is yet a novelty to you, try this package first.
---
PROS:
Helps the buds grow bigger;
Cost-efficient;
Easy to regulate nutrients;
Respectable brand;
No unpleasant smell.
CONS:
Recommended dosage is much higher.
---
No products found.
Buyer's Guide
Coco coir vs. Soil
What is the difference between coco coir and soil? Well, you can grow in soil and use coco nutrients to feed your beautiful herb. But generally, experienced weed farmers prefer coco coir.
The thing is, coconut coir is a super environment for cannabis. With it, you have freedom over:
Nutrients. You can calibrate the ratio of magnesium, potassium, iron, and so on. Coco coir is flexible. So, minimizing or boosting the presence of one of those elements is easy.
Growth. Most of the coconut fertilizers I tried, provide fast and explosive growth.
Maintenance. Drainage and aeration are pretty easy with coco. The plant gets more oxygen.
Protection. Coco peat is also known for being a pest repellent. Aphids or fungus gnats don't favor it.
With that, soil is easier for beginners. It requires less effort and time. So, if you're making your first steps in the weed farming — soil is for you.
Coir + Soil — Sweet Union?
Some ask: Is it advisable to mix coco coir with soil? Well, why the heck not? In fact, coconut coir is widely used as a substitute for moss peat in soil mixtures. The reasons for that are:
It is renewable.
Coco stuff is more organic.
It absorbs water faster than peat.
So, mixing it with soil is a green light. You just need to balance proportions properly: somewhat 40% of coir vs. 60% of soil. If you have a brick of dry coco coir, then:
Put the brick in water for at least 15 minutes.
Mix the wet coir, until the fibery matter separates.
Now mix them together by stirring in the proportion you want — like 40% to 60%. You can also add extra fertilizers or vermiculite to enhance drainage.
I need to add two notes. First, remember that coir expands 7 times in volume after hydration. So, you will need to keep in mind the size of your container when preparing the blend. Second, coco coir is notorious for salinization issues. You need to check your blend with the soil to water ratio method, etc.
pH Levels
What should be the pH level of my coco coir? The golden standard is between 5.8 and 6.0. This is the ideal pH level when growing weed. If you're above that mark — your plants will suffer a terrible death of starvation.
To avoid that:
Use high-quality, trusted fertilizers.
Water the coir to overflow, so about 10-20% of water drains out at the container's bottom.
Check the pH level regularly.
To measure pH, you will need an electronic pH-meter. Simply dip it into the water to get the quick results. By checking the level, you will also understand how to better supply your cannabis with water. It will drop a hint on how much you need to increase/decrease watering for the next time.
If your pH level is off the chain, you might need a rescue operation. Run 2x/3x of your container's size water through it to flush the pH excess out. Repeat the thing in one hour. But do it slowly, or you won't 'disarm' places where pH is concentrated.
When you get to the desired level, let your plant have some pH-ed water with vitamins and nutrients. It's like feeding chicken soup to a patient with a severe hangover.
FAQ
How to grow in coco?
It's easy with due diligence. You just need an arsenal of power tools to pull the job off:
Coco coir of solid quality.
Some drainage enhancer like perlite or vermiculite.
Drainage facilitation — marble rocks, rinsed gravel.
Vessels to catch the water runoff.
pH meter.
Nursery pots.
A large spoon for stirring.
Before usage, you need to sterilize the weed containers to prevent a pest invasion. Then you need to set the thing up, measure pH levels, take care of watering/runoff, check the salt buildup, aeration, etc.
When to start adding coco nutrients?
The only right answer is from the beginning. Apply the nutrients with every watering — the schedule is individual, of course. Don't forget to measure pH — it mustn't exceed 5.9 mark. Rinsing the plants after rehydration is also a good move.
You can also measure the EC — Electric Conductivity. It measures soluble salts and shouldn't exceed 1.0 during the first 6 weeks. To measure it, you will need a pH/EC meter.
I'm in Love With This Coco!
I hope my coco nutrient reviews will help you make the right choice. Basically, any from my list is a reliable fertilizer that will reward you with a mighty harvest. Follow my advice, use my tips on soil blend, pH and watering and stay tuned for more.
For how long have you been growing weed indoors? Do you have any coco nutrients you like? How did they affect your cannabis? Let me know in the comments!