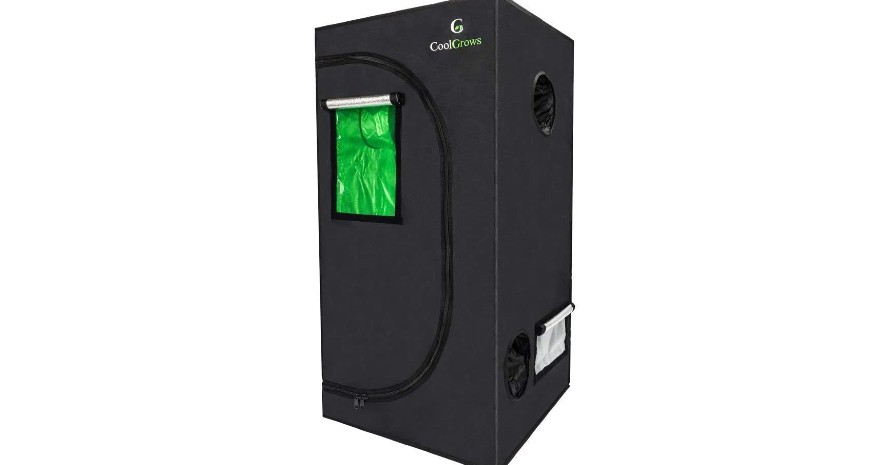 2×2 Grow Tent – Choosing the Best Model
There are many opportunities to set up a greenhouse for growing plants at home all year round. You can adapt an old closet for this, equip a garage with lamps and heating, or arrange a mini-plantation on the windowsill of an apartment, providing a sufficient amount of light. But the most practical, convenient, and compact way is to buy the best 2×2 grow tent.
Compared to setting up your own grow room or buying an automatic grow box, the tent is a perfect alternative. It has special holes for attaching fans and lamps. Furthermore, these items are usually airtight, light, and waterproof. It is easier to keep track of temperature, humidity, and pests using a tent than a large room, an attic, or a basement. Let's figure out what its advantages are and how to choose the right model.
5 Top Grow Tents 2×2 Reviews
Choosing the proper grow tent can be a big deal. Here I have the 2×2 grow tent reviews of the best items you can find on the market. They will help you find out about different tent variants and what tent is the best option for you.
1. CoolGrows Hydroponics — Top Pick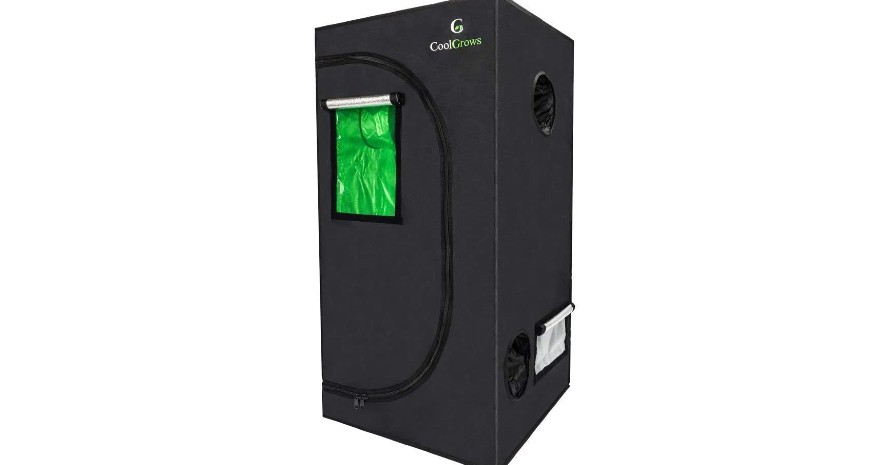 CoolGrows awning is an excellent option for those looking for a combination of excellent quality and ease of use. This grow tent catches the light inside. It ensures the versatility of this item. The inner layer is 99% reflective mylar. This increases the efficiency of the lighting system and reduces leakage.
The awning frame is of durable metal, so it will not lose shape over time and will last you a long time. All supports and connectors are also metal. The case cover is made of oxford fabric and durable PVC. The density of the material is 600 den. The entire structure is designed to help you provide your plants with a comfortable environment.
The zippers are equipped with thick black flaps. Closed closure lines reduce light leakage. The viewing window filters out white light from the outside. This window allows you to observe cannabis plants without affecting the environment inside. The tent has ports for ventilation ducts. They are fitted with flaps for safety.
What I like most about this tent are its compactness and durability. You can use it even in small spaces. Plus, this tent is excellent for beginners as it has a pretty affordable price tag.
I also appreciate the convenience of cleaning. You do not need to completely disassemble the structure, as there is a removable spill tray.
---
PROS:
Durable construction;
Affordable price;
Easy-to-use.
CONS:
You may need extra support bars.
2. MARS HYDRO Grow Tent — Light-Blocking 2 by 2 Grow Tent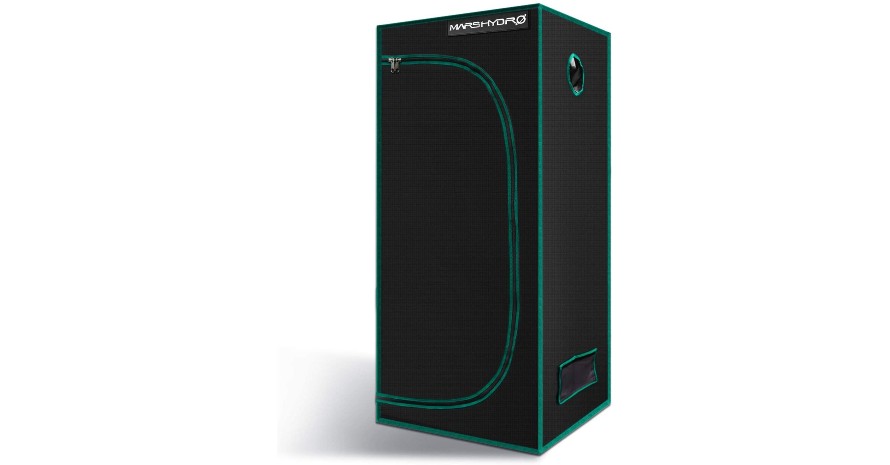 This item has mylar reflective sheeting and support straps to attach your grow lights easily. The inside of the grow tent is essential for reflection. Reflective layers of this material help to distribute the light evenly.
Mars Hydro`s tent is made from durable, non-toxic materials. Manufacturers also took care of the design. If this growing tent doesn't compliment your interior, at least, it won't ruin it. Metal corner posts provide significant support and stability of the entire structure so that you can use the item for a long time.
I like that setup of this tent doesn't take much time. Besides, the manufacturer provides clear and concise instructions on how to do this. The simple construction includes a durable metal frame and heavyweight 1680D fabric with double stitching. The roof is secure and will hold both fixtures and fans. The kit also includes a waterproof floor tray, the straps to support lighting devices, and a hanging pole. These straps are great for adjusting the light.
There are also several windows in the tent so you can check your cannabis inside. It is very convenient because I don't have to open the tent every time. I can have complete control over the growing process without disturbing the plants or interfering in their environment.
---
PROS:
Clear set up instructions;
High-quality materials;
Convenient straps for lighting devices.
CONS:
Better to set up by four hands.
3. MARS HYDRO Kit — Best 2×2 Grow Tent Kit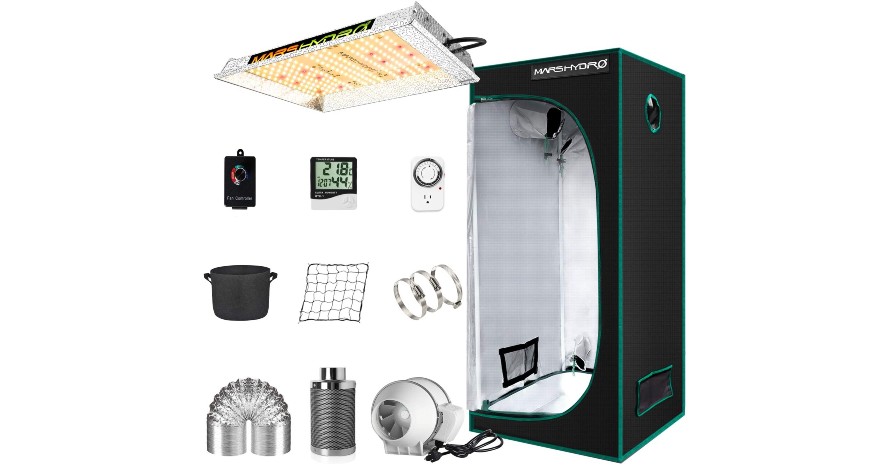 The Mars Hydro Grow Kit contains everything you need to grow your weed and other plants indoors for a year. There is a tool bag on the side of the tent to keep everything close at hand. It has a mylar-lined canvas tent with which you can adjust and reflect the light correctly. The steel support frame ensures the stability of the structure. You can place a removable pallet on the floor.
The kit includes a full spectrum LED indicator. You also get a digital hygrometer. A three-speed fan and a carbon air filter are provided to adjust the airflow. There is also a 32-foot flexible duct and a grounded timer. The awning is made of 1680D black tarpaulin. The lining has a pattern providing 99% reflection. All zips and seams are double-stitched. The tent is sized to accommodate the plants up to 4 feet.
The tent features a viewing window, which is incredibly useful for you if you don't want to disturb the plants by changing their growing environment. The included lamp provides the full spectrum of sunlight needed to strengthen different parts of the plant.
The fan, filter, and duct can be configured as an air intake or exhaust system, and the three-speed fan provides both temperature and humidity control. The digital hygrometer monitors both temperature and humidity, and its alarm alerts you to harmful changes.
---
PROS:
Complete growing kit;
A full spectrum of light;
Durable tent construction.
4. MAXSISUN 2×2 — Two Plants 2×2 Grow Box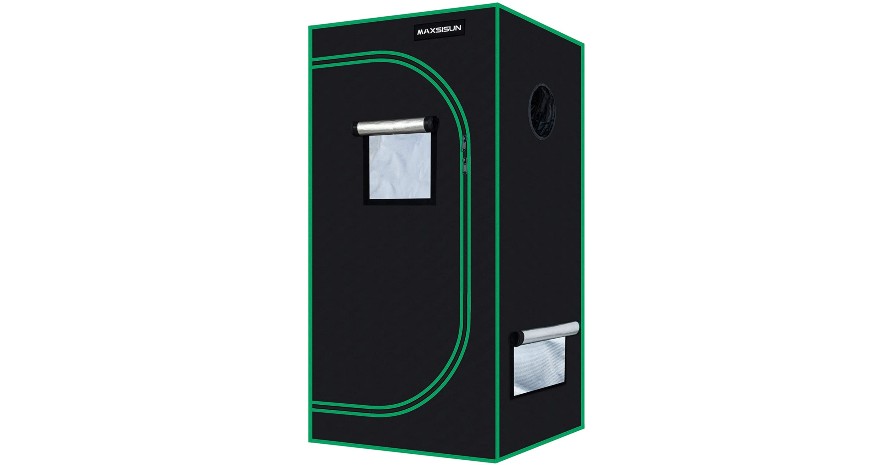 There are two chambers to give you more growing space. This tent is an excellent option if you have several plants with different growth phases. It will allow you to create conditions suitable for each plant individually.
It is black on the outside and has a reflective coating on the inside. The mylar coating provides the proper lighting of your plants at every growing stage. There are windows made of transparent polymer foil, which open when necessary for observation and light penetration. At the same time, the microclimate remains closed. The awning is made of 600 den Oxford fabric. A metal tripod complete with hanging rods that can hold a whopping 120 pounds. The tent's zippers are durable, and double stitching allows the tent to serve you for a long time. Setting up your tent doesn't take long, even if you're new to the craft.
The item is delivered in a regular box, as there is nothing fragile. The manufacturer gives a 30-day warranty. The service is provided for 12 months.
---
PROS:
Affordable price;
Two chambers;
Installation without tools.
CONS:
There could be some zipper issues.
5. Green Gear Tent — Simplest 2×2 Grow Tent Setup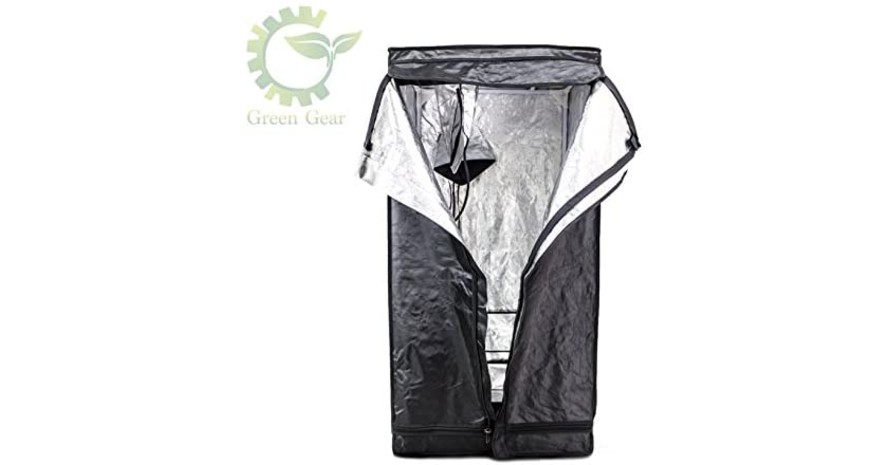 This tent is entirely lightproof and lined with reflective material inside. The dense material on the outside provides plants with reliable protection and shelter from water. The tent is closed tightly with strong zippers. Simultaneously, the zippers are easy to fasten and will last a long time, so you do not have to replace them or buy a new awning. There is also a tray that you can easily clean of debris or excess moisture. This 2×2 grow tent ventilation can be regulated due to three holes. It improves the air supply and lets you find the best option for your plants.
This is the simplest model of all. It does not require much effort to set it up. But it has one obvious drawback: there is no window for viewing. To see how the plants are developing and check the environment, you need to open the tent, which has a negative effect.
---
PROS:
Easy-to-setup;
Lightproof;
Durable.
2×2 Grow Tent Buyer's Guide
Let's talk in more detail about what a grow tent is and how to use it correctly. I will also explain some of the advantages of this device.
What is a grow tent?
A grow tent is a tent equipped with special lighting, ventilation, and an irrigation system for the indoor cultivation of various plants. This is not just a structure, but a full-fledged technology, in which all life support systems are provided for growing in the closed environment. There are many types of such devices, different in shape and size. Generally, grow tents are used in combination with a hydroponic or aeroponics system.
Grow tents of different sizes are designed for different harvest quantities and plants. The variety of offerings on the market today can be easily confusing. It would help if you chose a grow tent based on your needs and goals.
First, you need to determine the number of future plants. Each of them needs 0.36 m² of area for comfortable accommodation. If you want to know how big is a 2×2 tent, here's the answer. A 2×2 tent is enough for one sprout. If there are 3-4 of them, you will need a 5×5 module. A 2×2 grow tent yield is approximately 0.12 lbs.
The advantage of a 2×2 tent is that you have the perfect place to grow one plant. The uniformity of illumination favorably affects the growth and development of the plant's genetic potential since the tops and the side branches of the plant placed in the tent are illuminated. With completely closed zippers and awning entrance openings, such a grow tent is entirely opaque. Outside light radiation does not get inside the awning, which significantly improves plant metabolism.
A grow tent 2×2 allows you to control the microclimate and achieve high humidity conditions during rooting and vegetation. Besides, a 2×2 grow tent is relatively compact. It will not take up all the space, even in a small room.
How to choose the best 2×2 grow tent?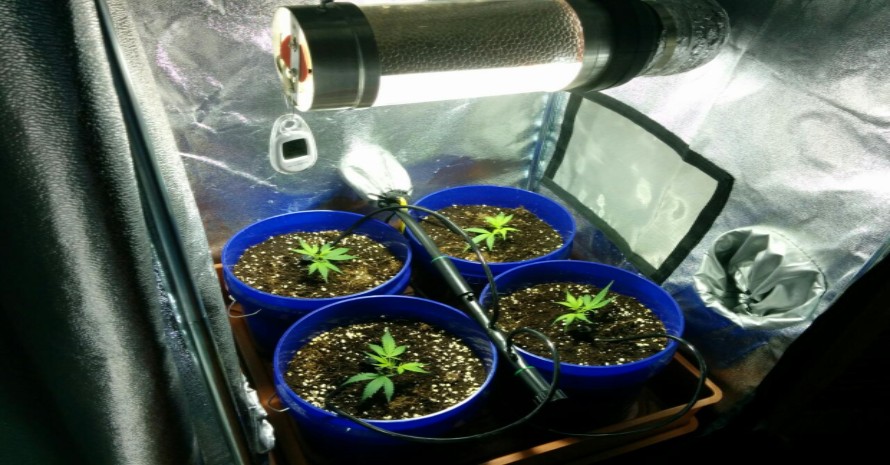 To choose the right 2×2 grow tent, you need to consider a couple of aspects. Compact structure and ease of installation are very significant. It also includes a relatively lightweight feature. This parameter gives you a chance to remove the system at any time or move it to another place.
You have to think about the durability and easy-care material of the frame. It should not be easily soiled but easy to clean. The air is supplied to the tent and leaves it by passing through special openings. The fabric does not allow it to pass through, enabling you to avoid getting any odors outside. The perfect tent should have a reflective layer. It gives the plants the maximum of light.
2×2 Grow Tent FAQ
If you want to have more information about this type of item, there are the answers to the most popular questions. They can be significant before buying a tent.
How many plants can 2×2 grow tent accommodate?
A 2×2 grow tent is perfect for one plant. However, you can buy a tent with two chambers for your plants, even if they are in different growing stages.
What size tent do I need for 2 plants?
If you have two young plants, you can get a 2×2 growing tent with two chambers.
But actually, for two plants, a 5 by 5 tent would be ideal.
Do you need two fans for a grow tent?
It is perfect to have at least two medium-sized fans in a grow tent. They provide proper air circulation. You can set one fan over the plants and the other on the floor.
Final 2×2 Grow Tent Thoughts
A grow tent 2×2 is a compact device for your plants that you can use even in a small room. In my opinion, CoolGrows Hydroponics is the best option in this category, thanks to the simplicity of installation, operation, and use of this grow tent. Even beginners can count on a good result. The convenient design will significantly simplify the cultivation process.
Have you used a 2×2 grow tent? Share your experience in the comments.